When the day comes to an end, it is finally time for us to let go of all that happened in our day and just rest. But sadly, it isn't so. It is at the end of the day that we think about how the day went and all of our problems. Sometimes, these thoughts can keep us awake at night.
But sleep is very important because it helps us to give our body rest and re-energize. Lack of sleep can have adverse effects on our health in so many ways, so letting go of the troubles of the day and getting some sleep is a basic necessity.
Luckily, there are some comforting bedtime bible verses that can put your mind at ease and help you to relax.
Comforting bedtime bible verses to help you relax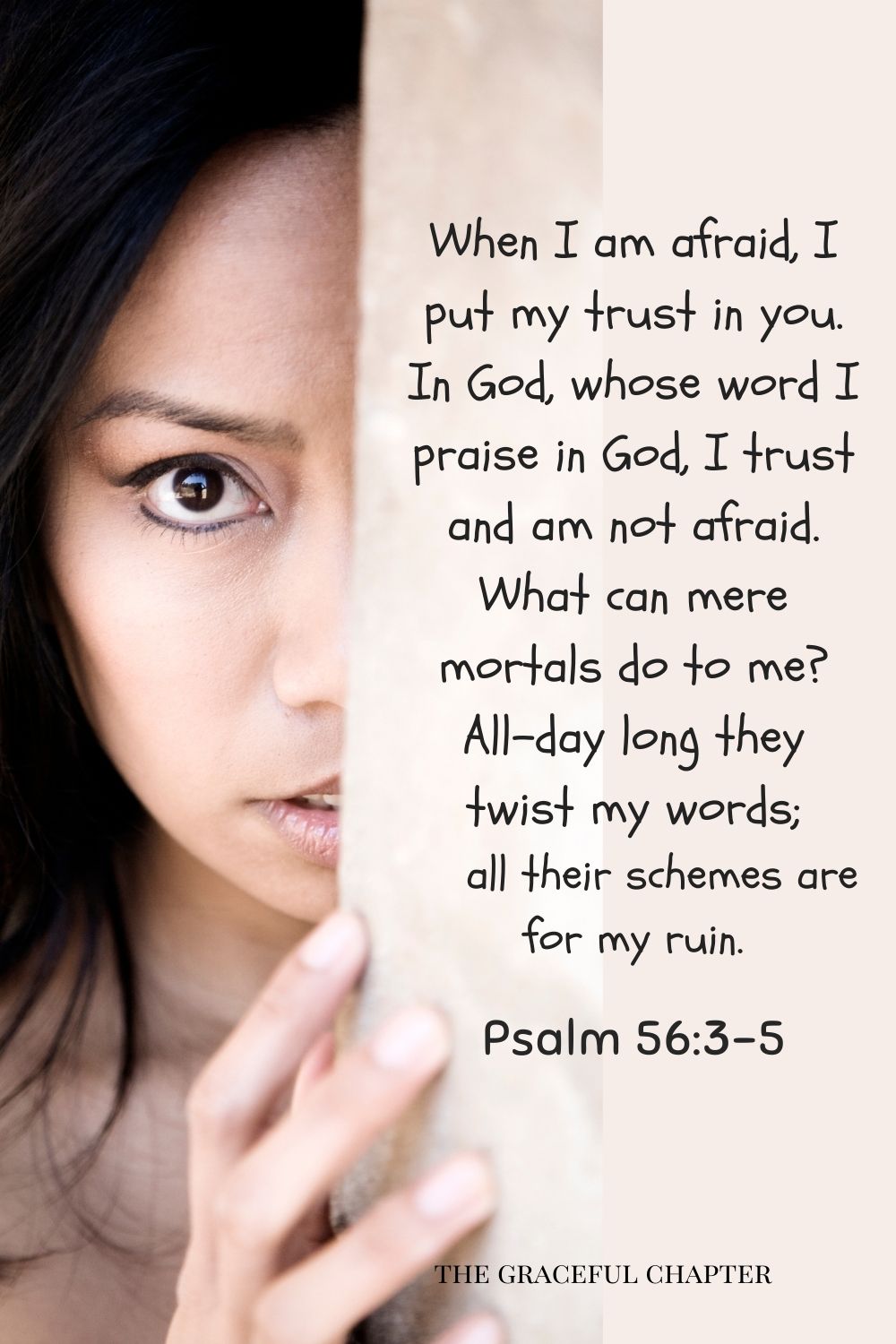 Psalm 56:3-5
When I am afraid, I put my trust in you. In God, whose word I praise, in God, I trust and am not afraid. What can mere mortals do to me? All-day long they twist my words; all their schemes are for my ruin.

Matthew 11:28-30
Come to me, all you who are weary and burdened, and I will give you rest.  Take my yoke upon you and learn from me, for I am gentle and humble in heart, and you will find rest for your souls. For my yoke is easy and my burden is light."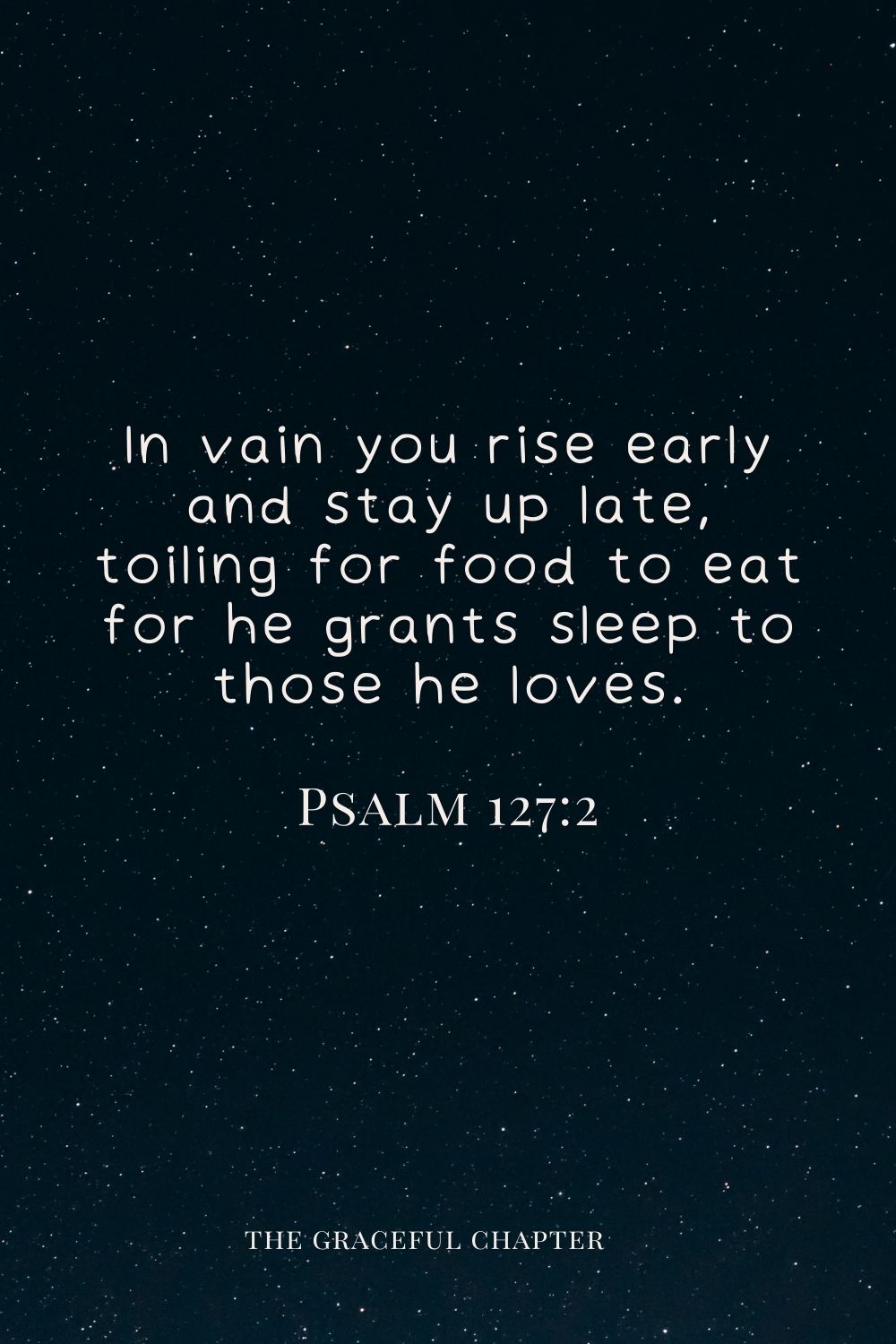 Psalm 127:2
In vain you rise early and stay up late,
toiling for food to eat for he grants sleep to those he loves.

Philippians 4:6-7
Do not be anxious about anything, but in every situation, by prayer and petition, with thanksgiving, present your requests to God. And the peace of God, which transcends all understanding, will guard your hearts and your minds in Christ Jesus.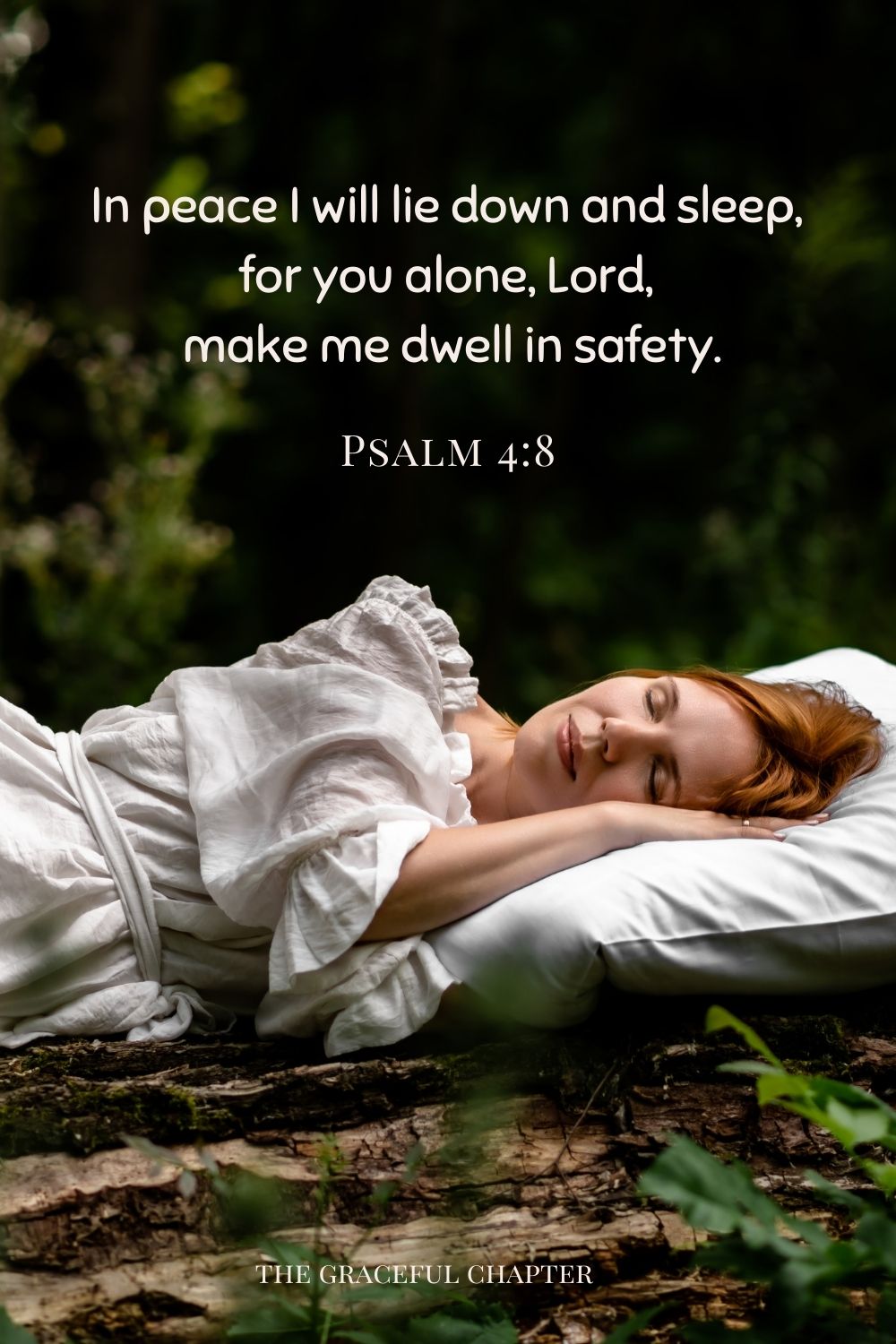 Psalm 4:8
In peace, I will lie down and sleep, for you alone, Lord, make me dwell in safety.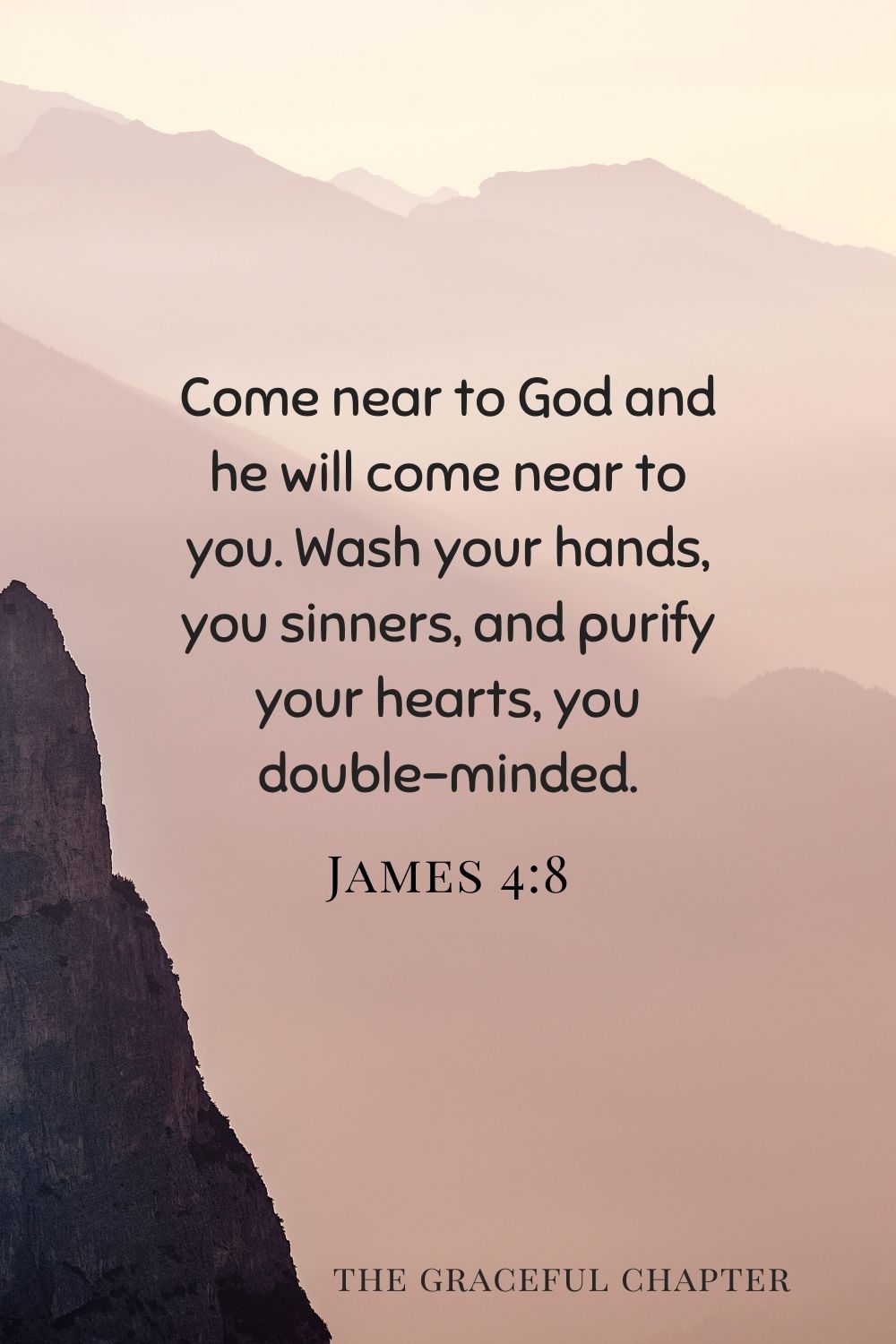 James 4:8
Come near to God and he will come near to you. Wash your hands, you sinners, and purify your hearts, you double-minded.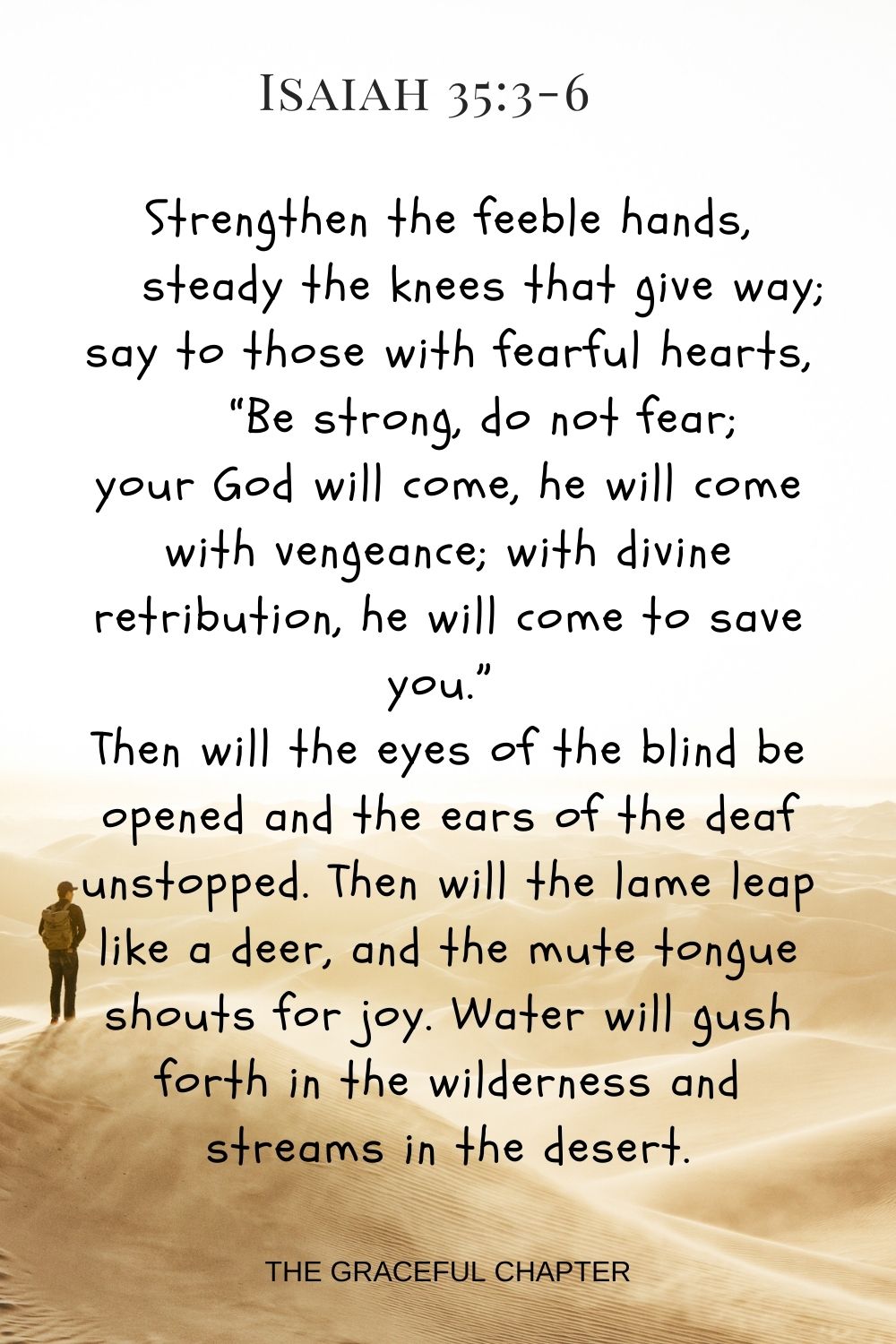 Isaiah 35:3-6
Strengthen the feeble hands, steady the knees that give way; say to those with fearful hearts, "Be strong, do not fear; your God will come, he will come with vengeance; with divine retribution, he will come to save you." Then will the eyes of the blind be opened and the ears of the deaf unstopped. Then will the lame leap like a deer, and the mute tongue shouts for joy. Water will gush forth in the wilderness and streams in the desert.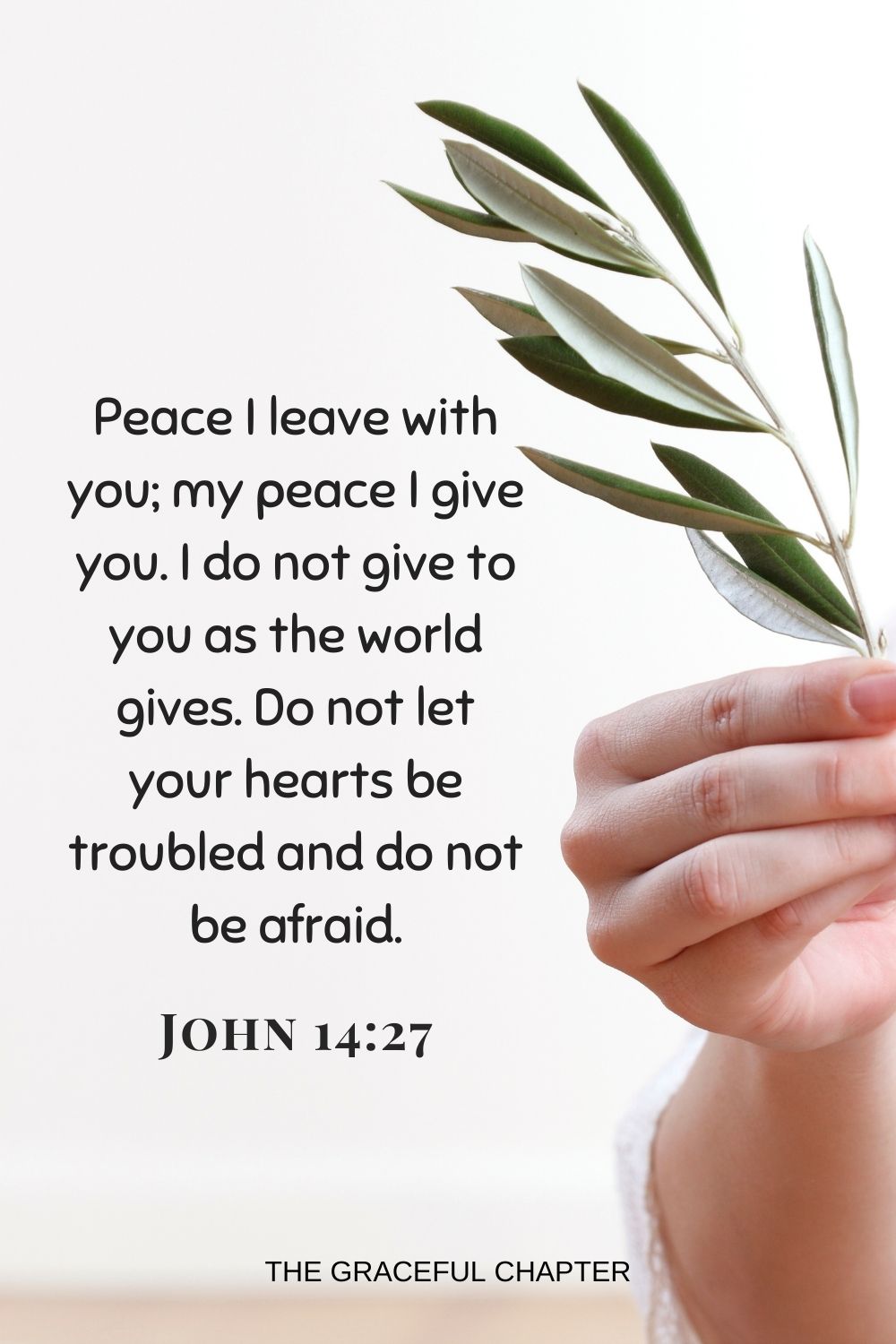 John 14:27
Peace I leave with you; my peace I give you. I do not give to you as the world gives. Do not let your hearts be troubled and do not be afraid.

John 11:12
His disciples replied, "Lord, if he sleeps, he will get better."

Psalm121:3-4
He will not let your foot slip he who watches over you will not slumber; indeed, he who watches over Israel will neither slumber nor sleep.

Psalm 91:1-6
Whoever dwells in the shelter of the Most High
will rest in the shadow of the Almighty. I will say of the Lord, "He is my refuge and my fortress, my God, in whom I trust." Surely he will save you from the fowler's snare and from the deadly pestilence. He will cover you with his feathers, and under his wings, you will find refuge; his faithfulness will be your shield and rampart. You will not fear the terror of night, nor the arrow that flies by day,  nor the pestilence that stalks in the darkness, nor the plague that destroys at midday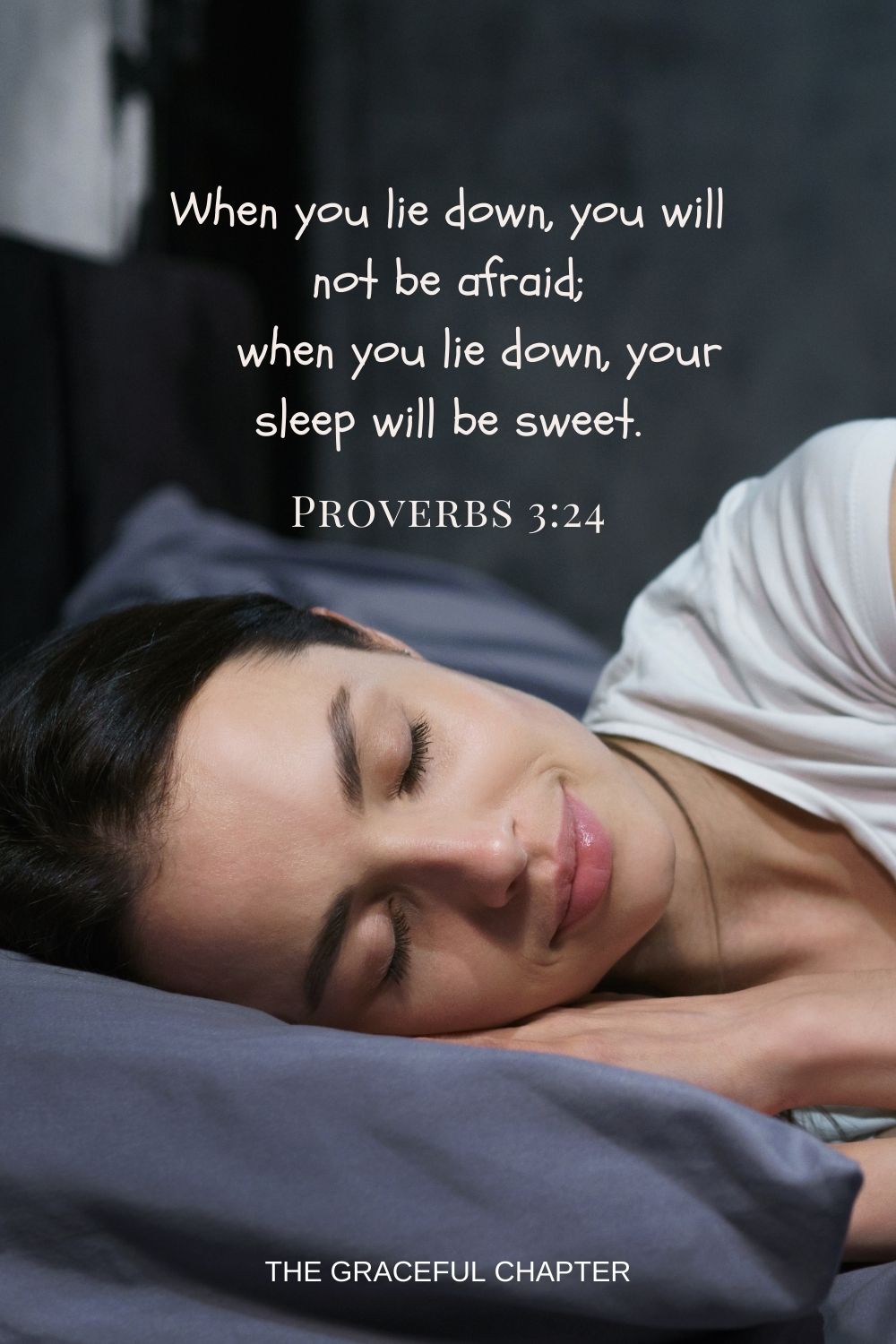 Proverbs 3:24
When you lie down, you will not be afraid; when you lie down, your sleep will be sweet.

Related Posts
Psalm 3:5
I lie down and sleep; I wake again because the Lord sustains me.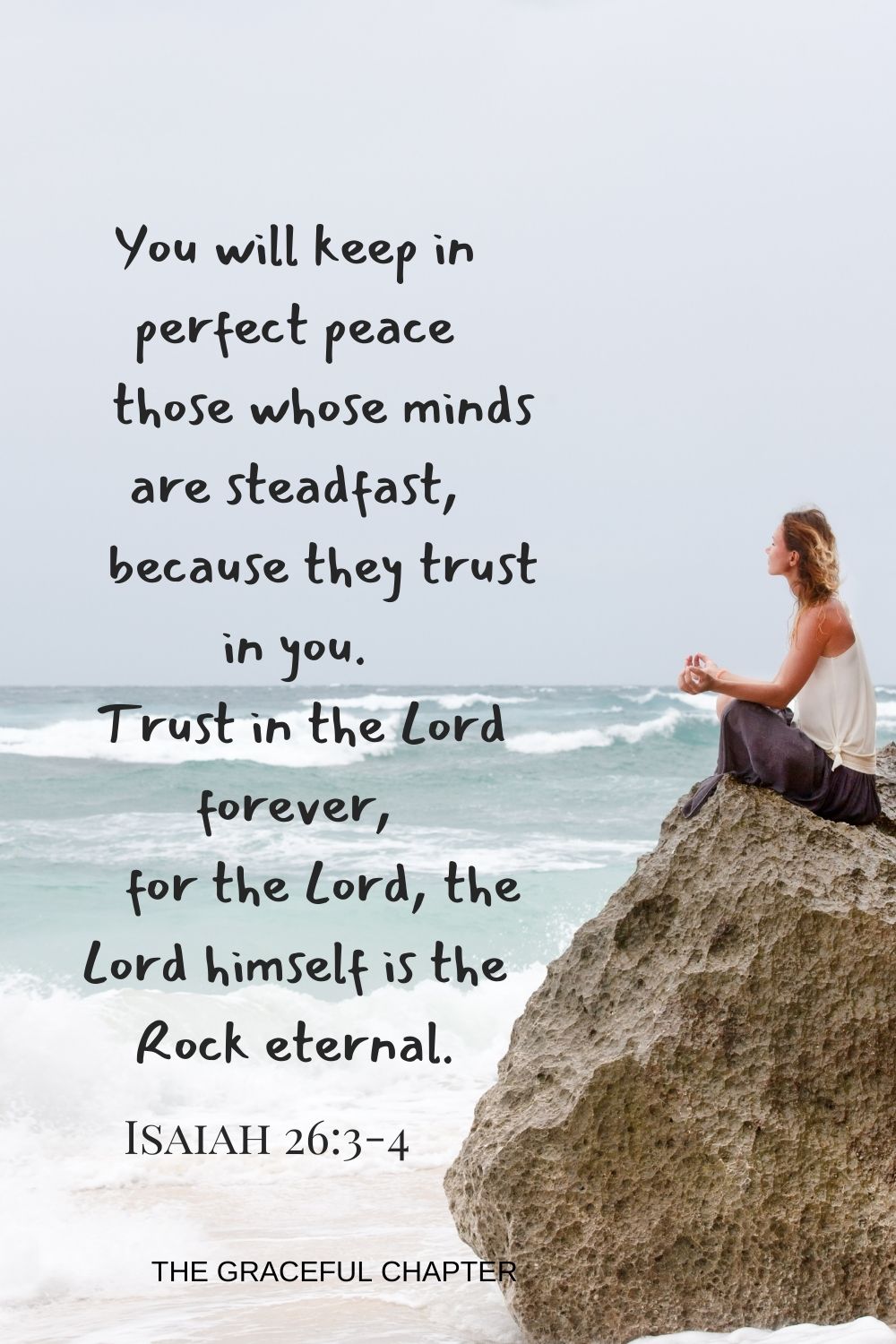 Isaiah 26:3-4
You will keep in perfect peace those whose minds are steadfast because they trust in you. Trust in the Lord forever, for the Lord, the Lord himself is the Rock eternal.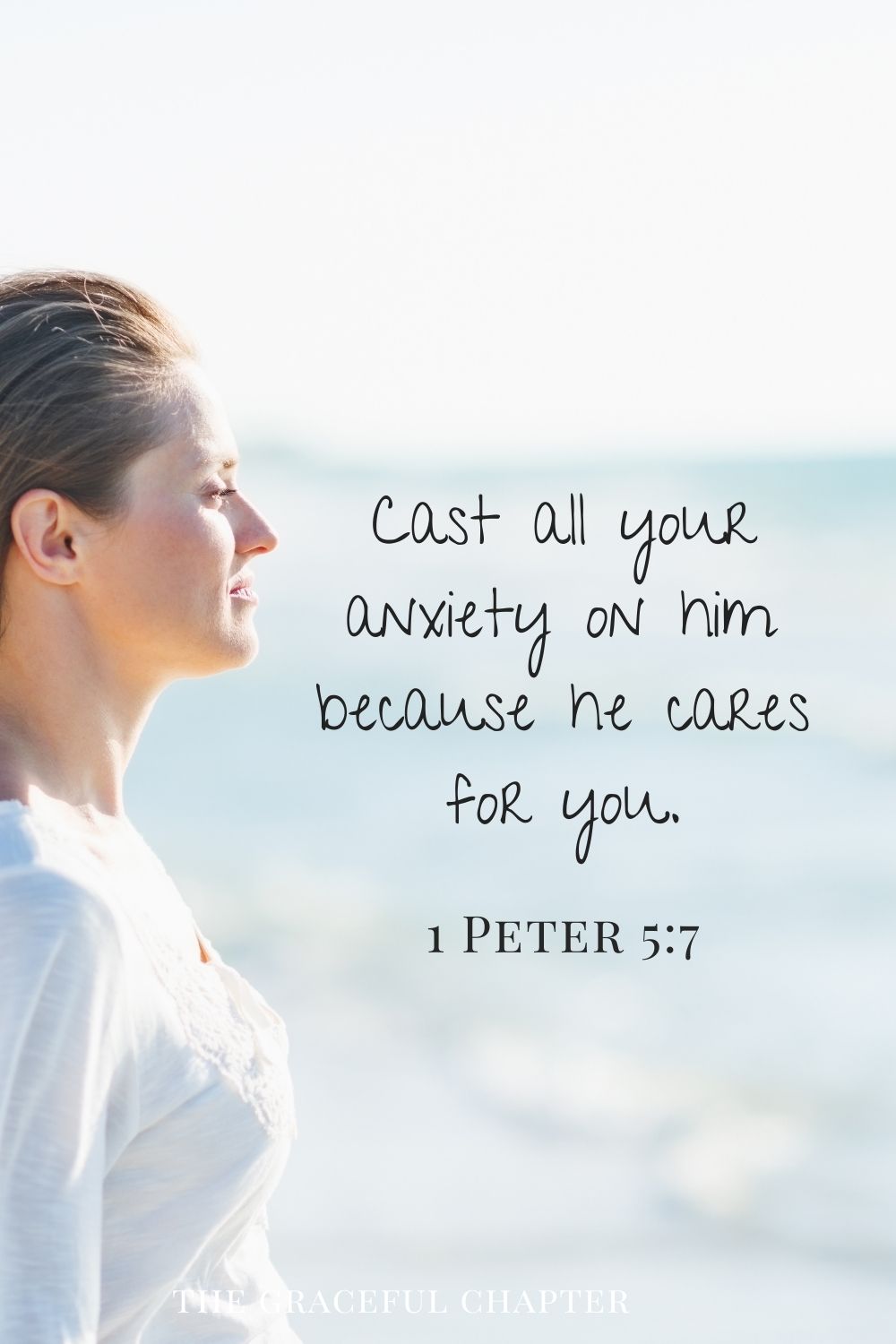 1 Peter 5:7
Cast all your anxiety on him because he cares for you.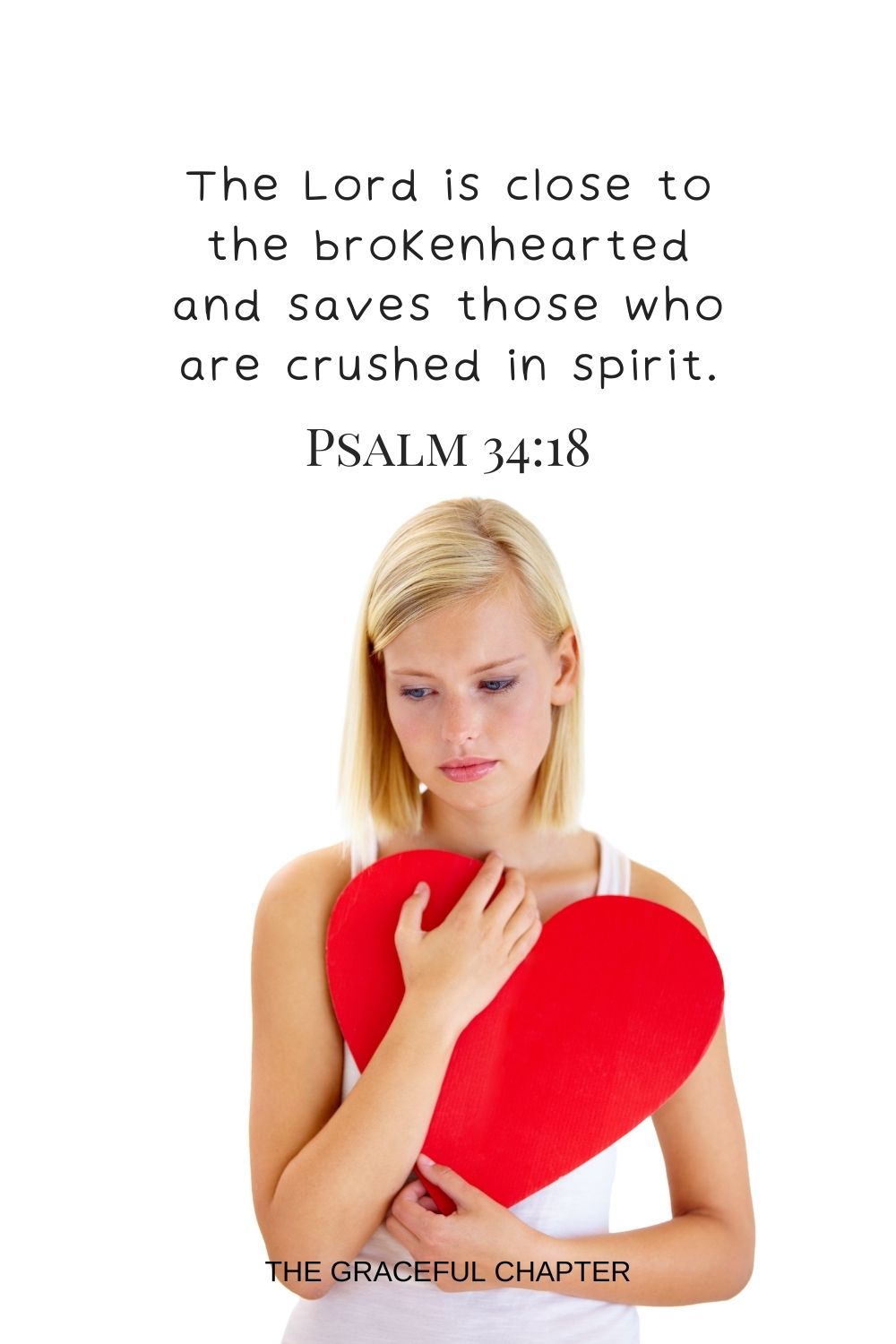 Psalm 34:18
The Lord is close to the brokenhearted
and saves those who are crushed in spirit.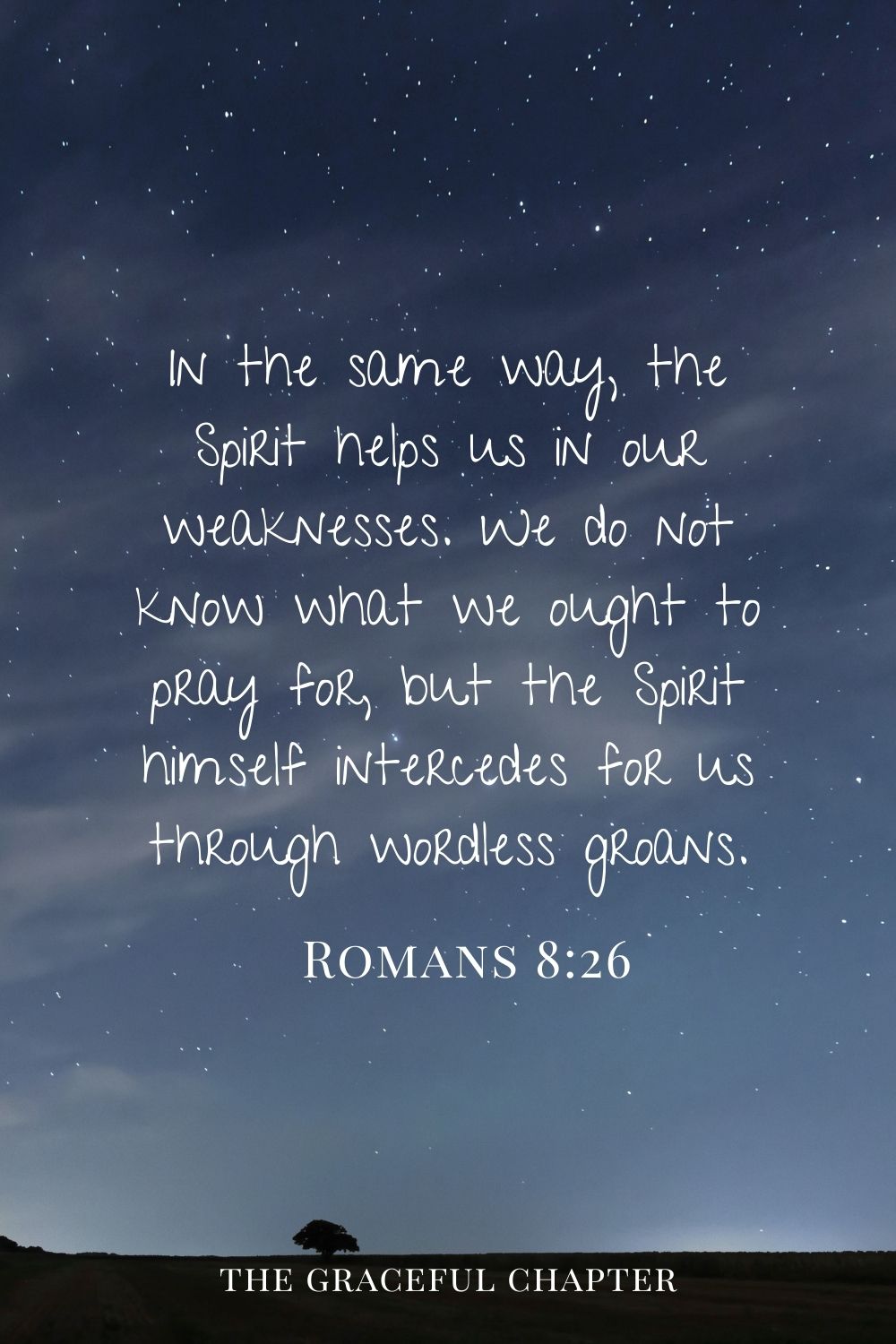 Romans 8:26
In the same way, the Spirit helps us in our weaknesses. We do not know what we ought to pray for, but the Spirit himself intercedes for us through wordless groans.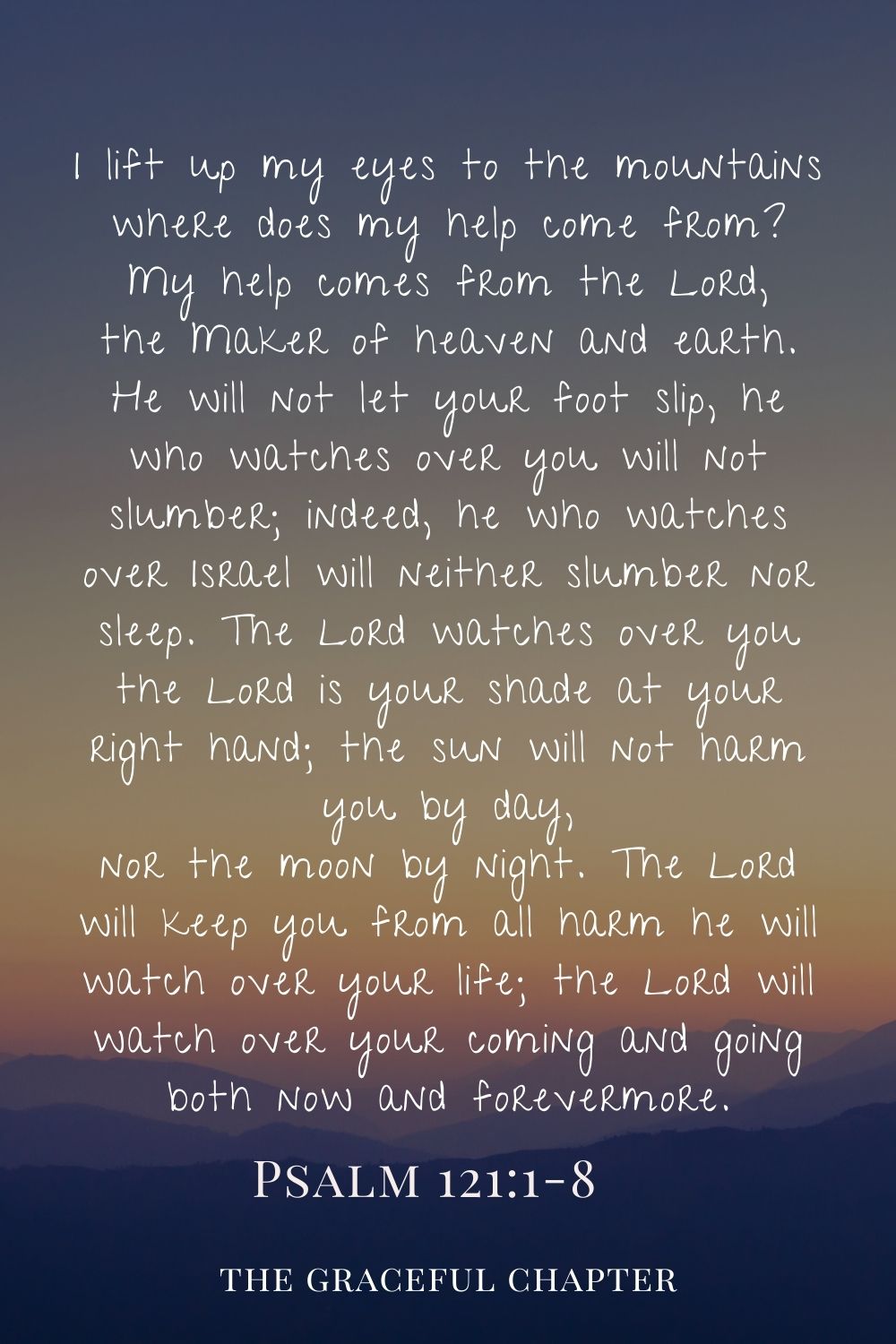 Psalm 121:1-8
I lift up my eyes to the mountains where does my help come from? My help comes from the Lord,
the Maker of heaven and earth. He will not let your foot slip, he who watches over you will not slumber; indeed, he who watches over Israel will neither slumber nor sleep. The Lord watches over you the Lord is your shade at your right hand; the sun will not harm you by day,
nor the moon by night. The Lord will keep you from all harm he will watch over your life; the Lord will watch over your coming and going both now and forevermore.

Isaiah 41:10
So do not fear, for I am with you; do not be dismayed, for I am your God. I will strengthen you and help you; I will uphold you with my righteous right hand.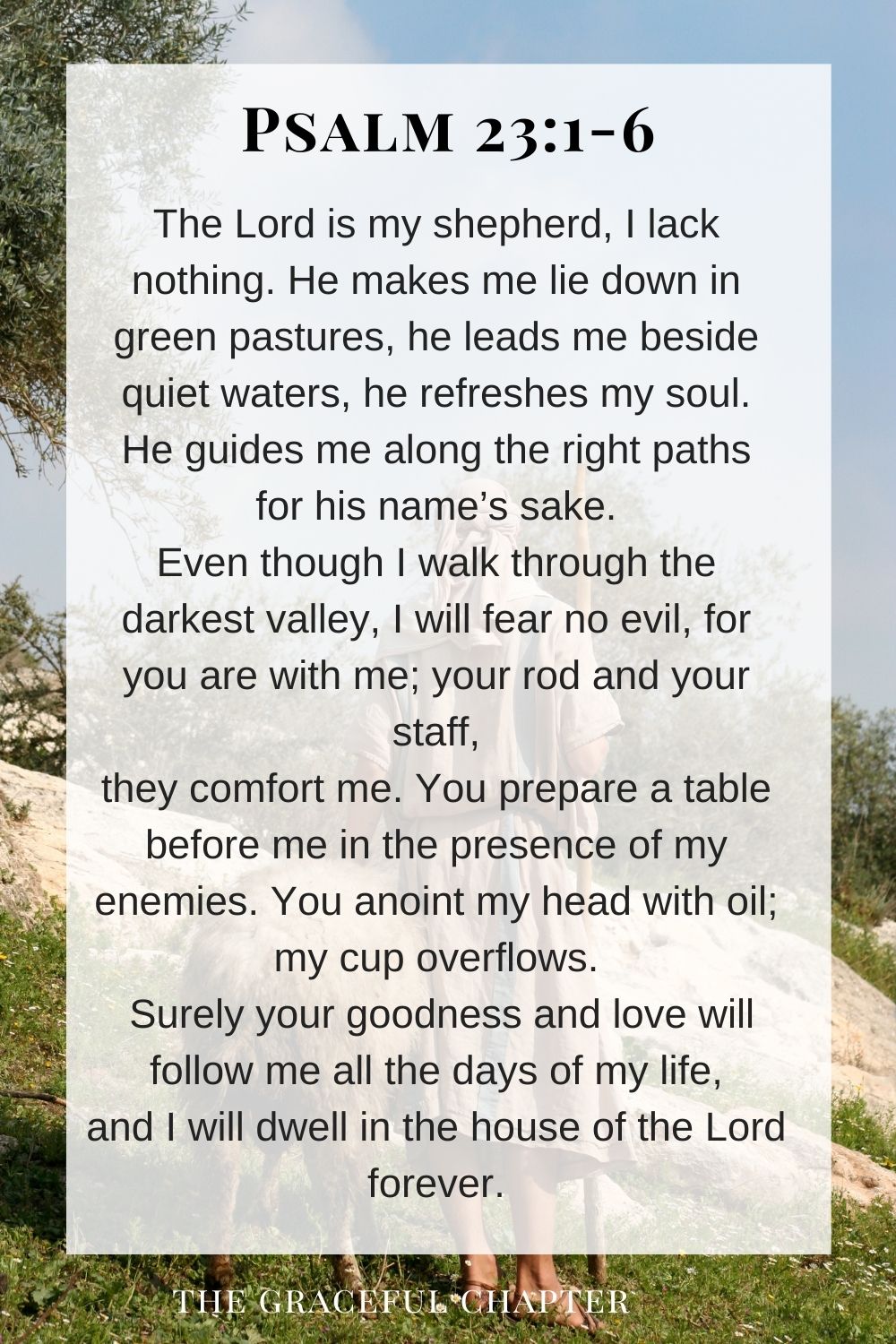 Psalm 23:1-6
The Lord is my shepherd, I lack nothing. He makes me lie down in green pastures, he leads me beside quiet waters, he refreshes my soul. He guides me along the right paths for his name's sake. Even though I walk through the darkest valley, I will fear no evil, for you are with me; your rod and your staff, they comfort me. You prepare a table before me in the presence of my enemies. You anoint my head with oil; my cup overflows. Surely your goodness and love will follow me all the days of my life,
and I will dwell in the house of the Lord forever.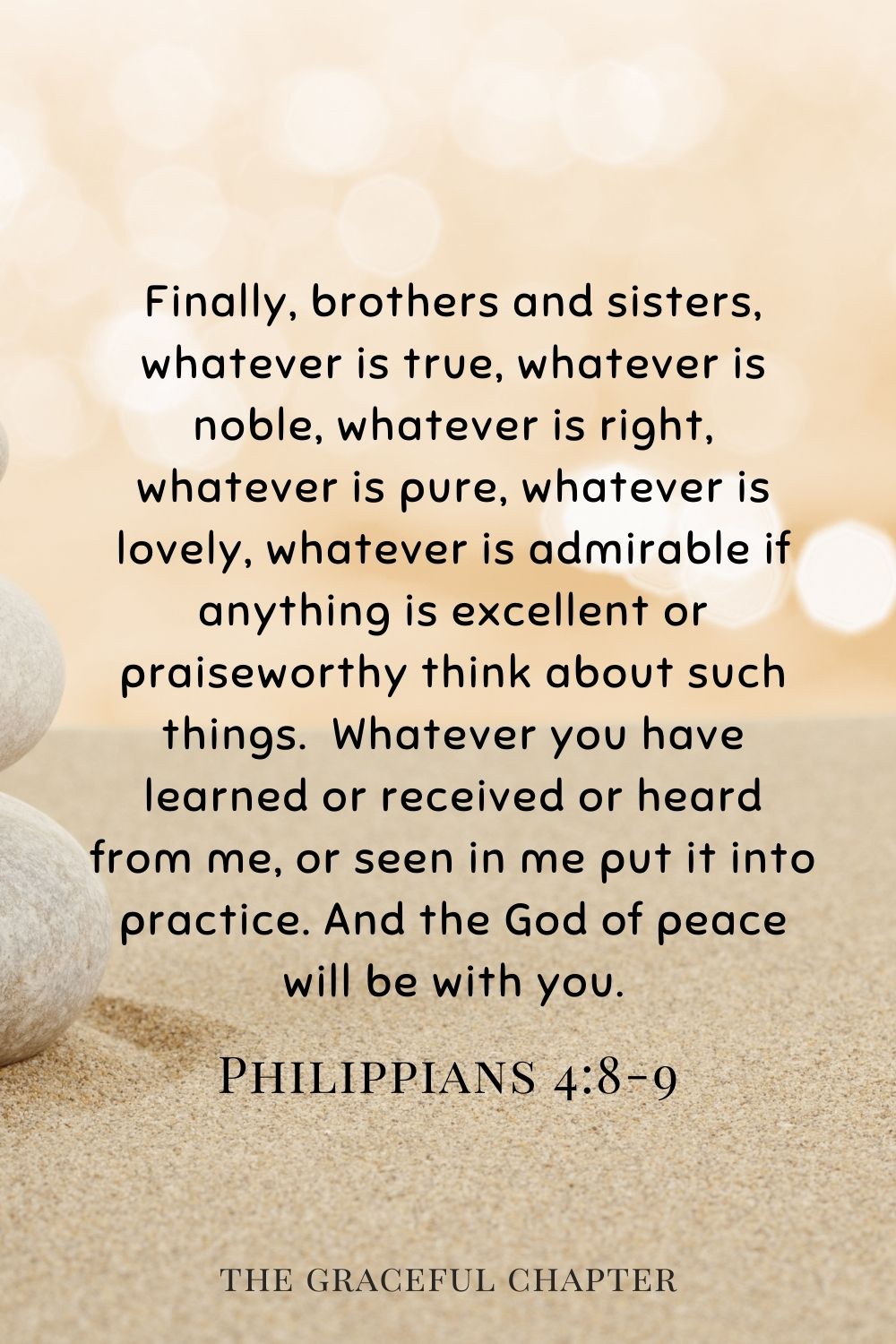 Philippians 4:8-9
Finally, brothers and sisters, whatever is true, whatever is noble, whatever is right, whatever is pure, whatever is lovely, whatever is admirable if anything is excellent or praiseworthy think about such things.  Whatever you have learned or received or heard from me, or seen in me put it into practice. And the God of peace will be with you.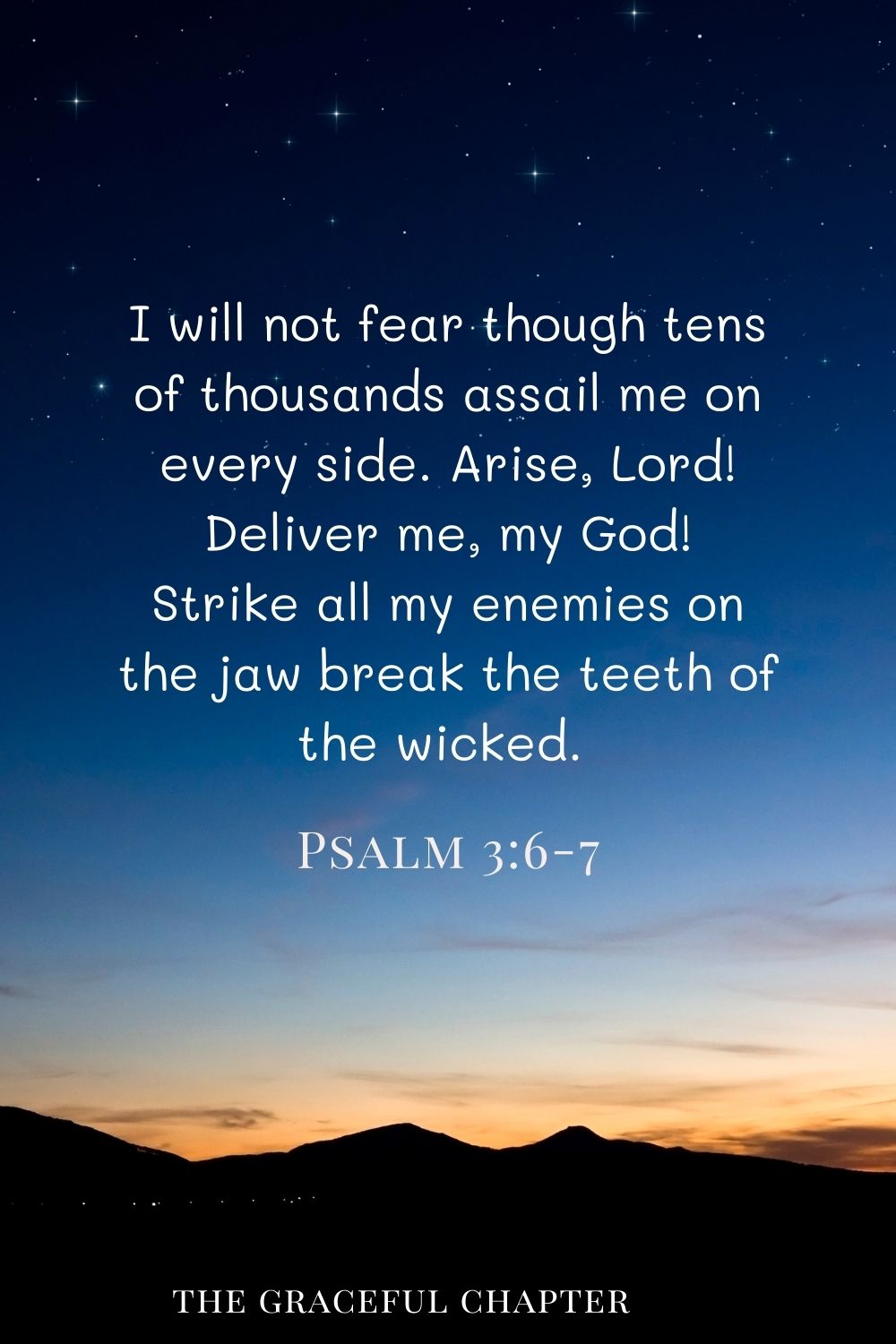 Psalm 3:6-7
I will not fear though tens of thousands assail me on every side. Arise, O Lord! deliver me, my God strike all my enemies on the jaw break the teeth of the wicked.

Matthew 8:24-27
Suddenly a furious storm came up on the lake so that the waves swept over the boat. But Jesus was sleeping.The disciples went and woke him, saying, "Lord, save us! We're going to drown!" He replied, "You of little faith, why are you so afraid?" Then he got up and rebuked the winds and the waves, and it was completely calm. The men were amazed and asked, "What kind of man is this? Even the winds and the waves obey him!"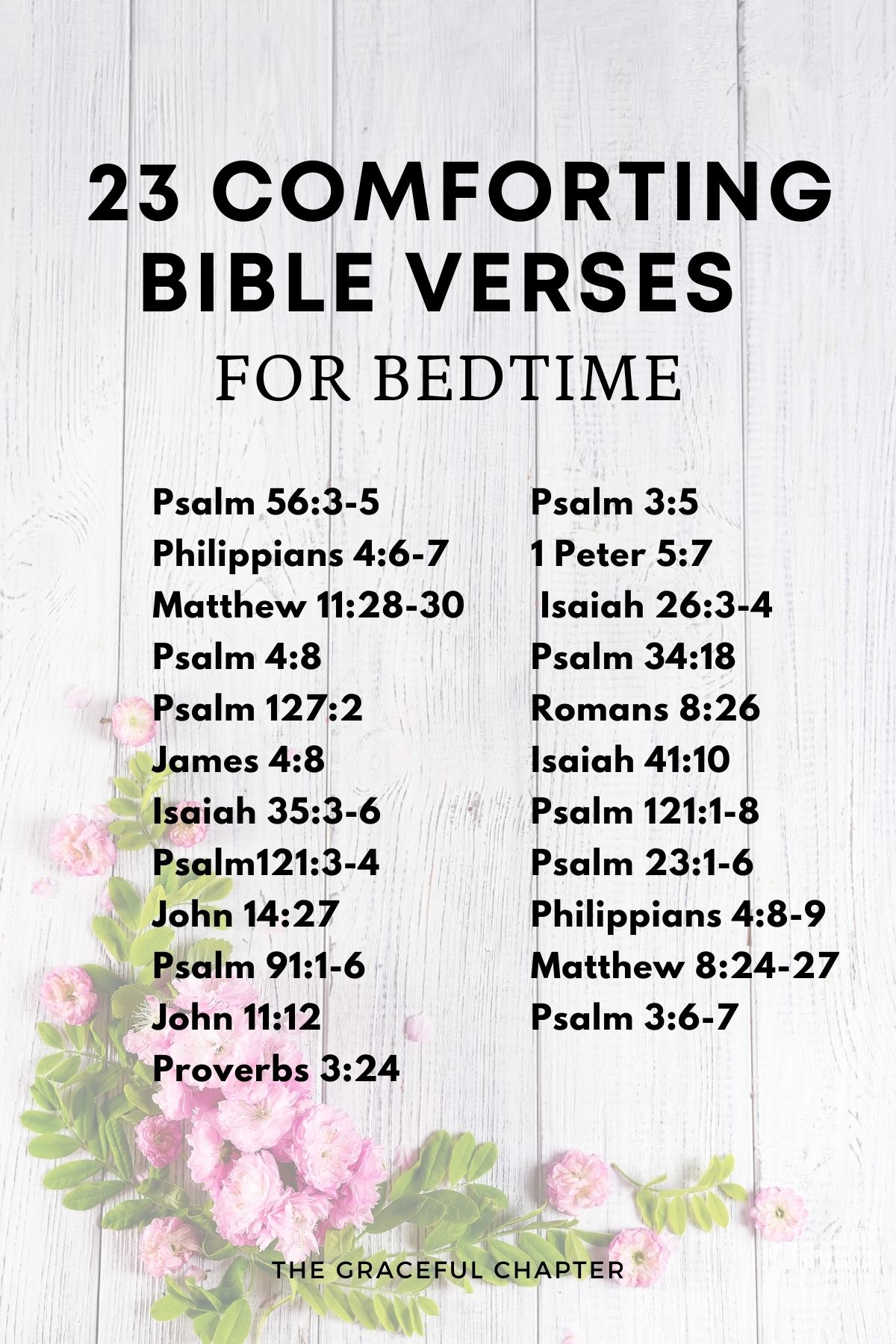 Bedtime prayer for comfort
Heavenly Father,
Thank you for seeing me through the day
Thank you for your guidance and protection throughout the day
Forgive me all my sins and help me to love and forgive others too
As I'm about to sleep, Please take my anxieties and fears away
And replace them with peace and faith.
Please keep my heart safe from the troubles of the night
Guard me through the night and cover me with the blood of Jesus
Amen