Ending your day with prayer is just as important as starting your day with one. Most people are guilty of falling asleep at night without saying a prayer. But God is a merciful and compassionate God, that even when we fall asleep without praying, he still watches over us till morning.
Yet still, it is important to make bedtime prayer a part of your nighttime routine. Most people don't pray before they sleep because they fall asleep without realizing it. Maybe you are watching a movie, then you fall asleep. Or you are scrolling through your phone and you fall asleep. Or maybe you are in bed talking with your spouse and you fall asleep.
One way to go about this is to pray even before you do these things. Bedtime prayer doesn't mean you should say the prayer right before you sleep. Most people fall asleep without realizing it, so if you wait till you want to sleep before you say a prayer, you might fall asleep without praying.
Also, if you are sleepy when you are praying, you might lose focus and fall asleep without ending the prayer. So you have to say this prayer at the end of the day before you even feel sleepy.
If you are fond of browsing the web or scrolling through social media before you sleep, then say your bedtime prayer before you grab your phone to start scrolling.
If you usually fall asleep watching a movie, then say your bedtime prayer before you start the movie. If you fall asleep while reading, then say your bedtime prayer before you pick up the book. Whatever it is you do that makes you fall asleep without realizing it, make sure you say your bedtime prayer before doing that.
Importance of bedtime prayer
1. It helps you to practice gratitude
God watched over you throughout the day, so it is important that you say thank you to God at the end of the day. Even if you had a hard day, you are still alive at the end of the day, and that is worth thanking God for. Doing this helps you to focus more on the good side of your day and practice gratitude. It helps you realize that no matter how bad things were for you, you still had God by your side.
2. It gives you peace
Life is hard and day in and day out we all face various challenges. These challenges can weigh on our minds and keep us up at night. But no matter what challenge you faced in the day, God is there for you and he says in Matthew 11:28, that you should come to him with your burdens and he will give you rest.
So with all the challenges that life throws at us in the course of the day, it is important to remember that in the night, we can lay them all at God's feet and have a sound sleep.
3. It gives us hope
We serve an almighty God, so coming to him at the end of the day with our problems, gives us assurance that tomorrow will be a better day.
4. For protection
I know we all feel safe once we get home at the end of the day. Somehow we feel that the dangerous part of the world is outside and our home is safe. But the safest place for us to be is with God. God is our refuge and our fortress. He is our guardian and our protector.
The bible says in Psalm 127 that if God doesn't watch over the city, the watchman watches in vain. This means that God is the only protector and protection we will ever need. So it is important to go to God for protection at the end of the day. A night in our own home can be as scary as a day outside, so it is important to seek protection from God at night.
Related Posts
Short bedtime prayers
Night prayers are mostly reflective and introspective. This means that we say a night prayer based on how our day went and what we want from God. But if you are not sure what to say, below are some bedtime prayers to serve as a guide.
Bedtime prayer for peace
Dear God,
Today was a hard one, but I know you were with me throughout the day. As I'm about to sleep, I pray that you provide me peace. I trust and believe that you will take care of all my difficulties so, I will not let my heart fret. Please guard my heart against all the troubles of the night. Fill me with your peace and your love. In Jesus' name, I believe and pray, Amen.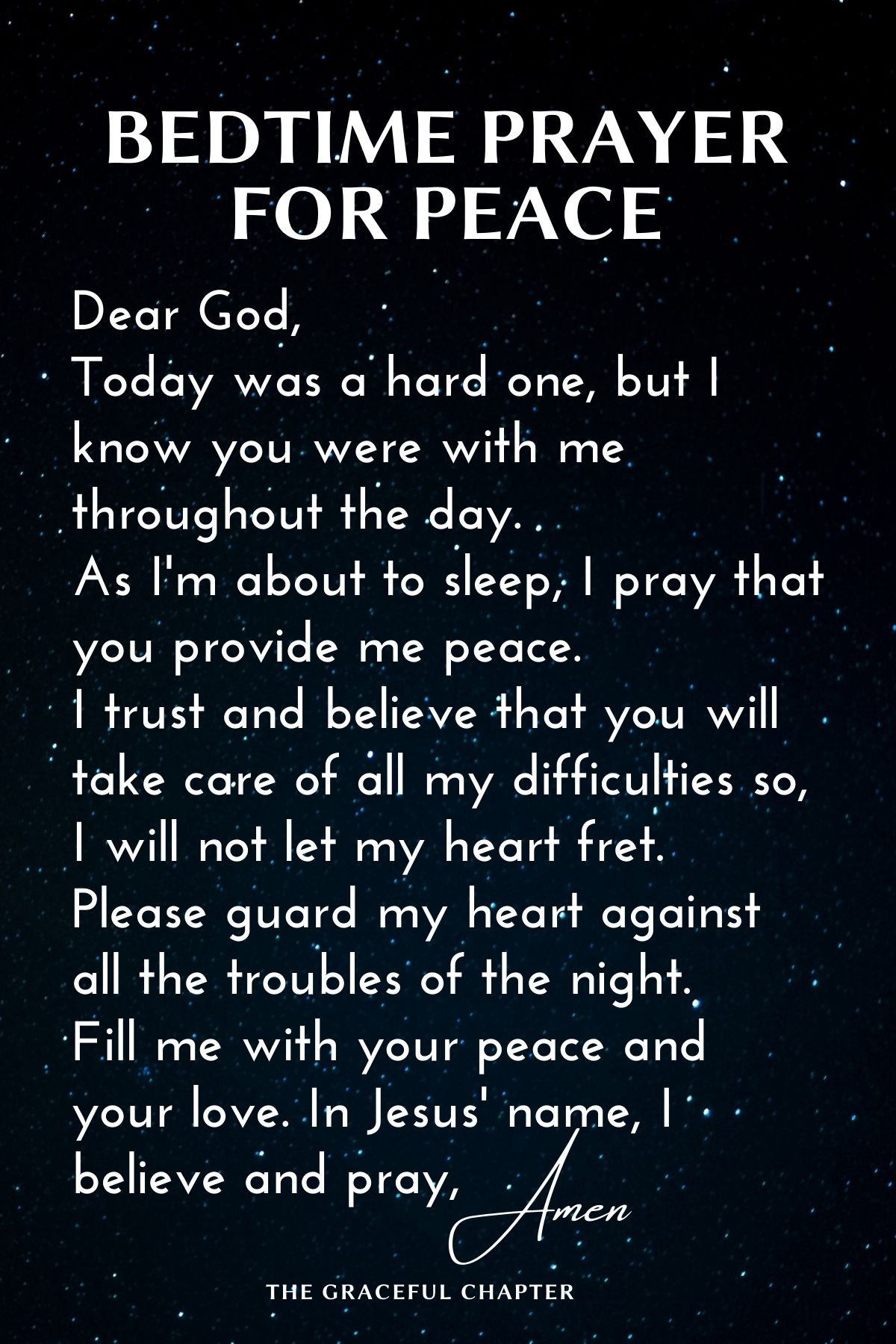 Replenish my strength
Dear God,
As I lay to sleep, I pray that you set me free from all my worries and replenish my strength for the day ahead.
Please, watch over me and my family, so we can have a peaceful night and wake up to a brighter day, Amen. ~Benedicta Pokua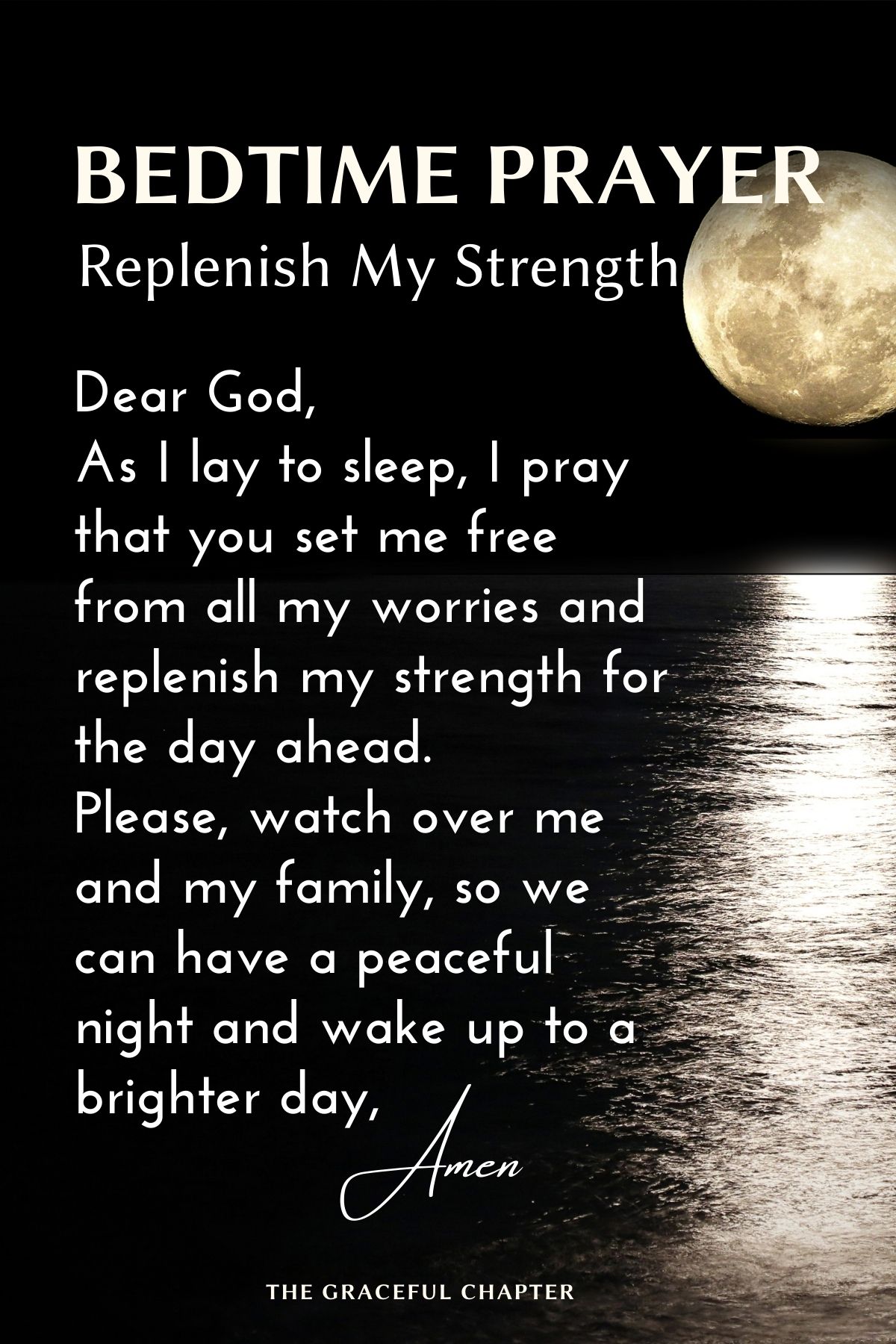 Bedtime prayer of thanks
Lord, I thank you for your grace and mercy for my family and my friends. Most of all, thank you for seeing me through every step of the way. May I have good dreams and arise tomorrow to thank you once more. Amen. ~Grace Awuakye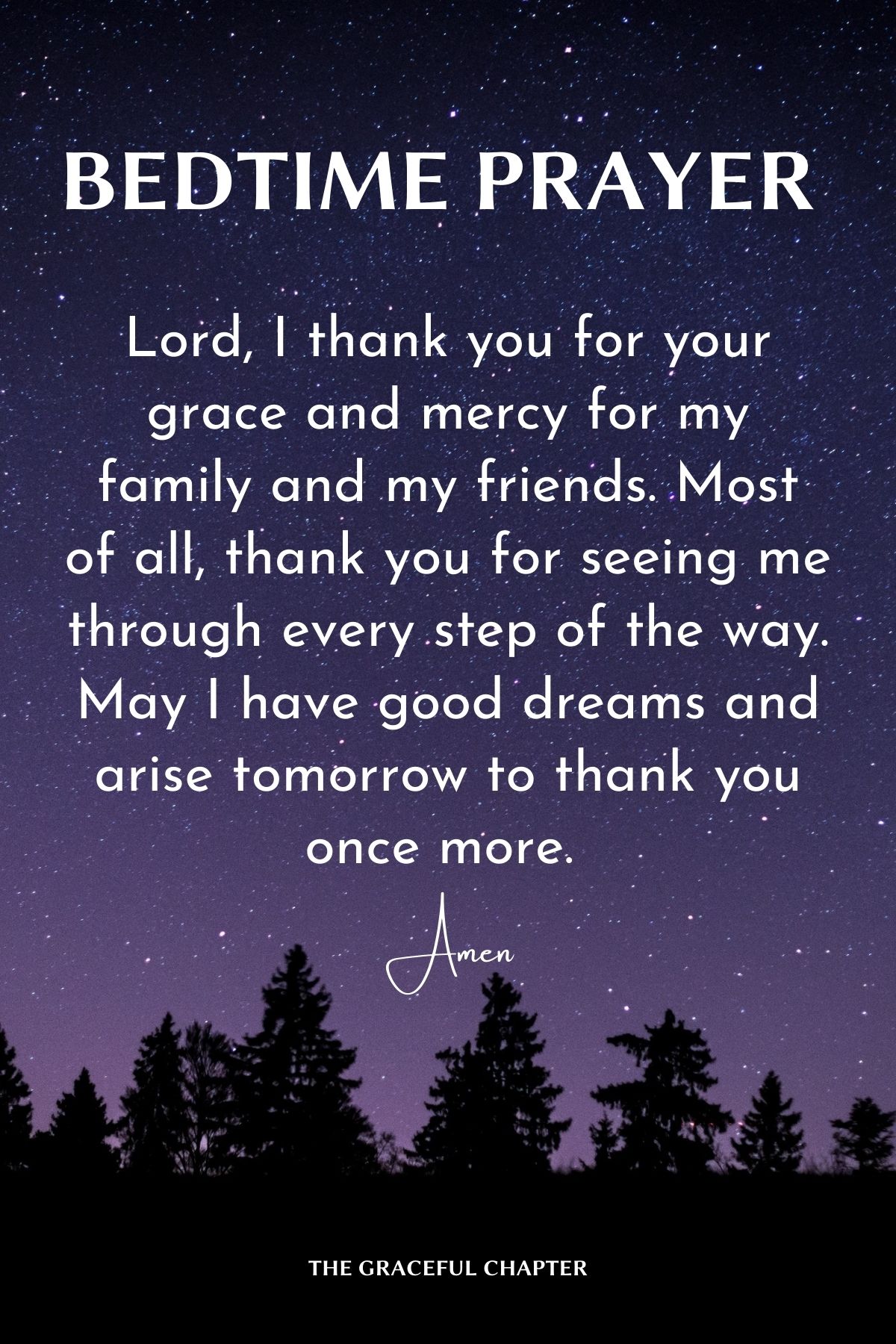 Bedtime prayer for protection
Heavenly Father,
As I'm about to sleep, I commit myself and my family into your mighty hands. Shield, protect, and guide us with your blood. Forgive us our sins and make us better versions of ourselves. Amen ~Tony Adabie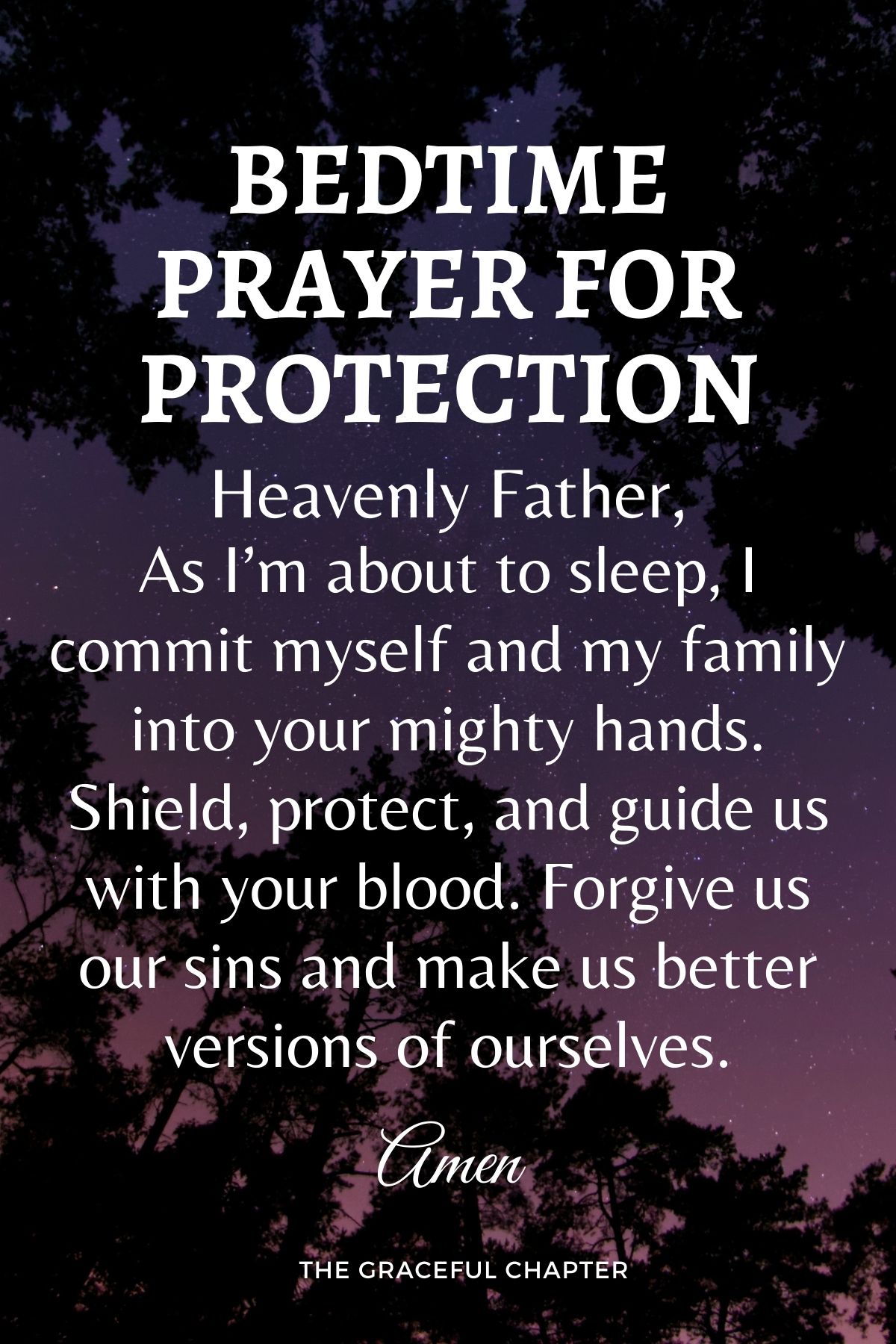 Cover us with the blood
Our Heavenly Father,
We thank you for this day. Thank you for protecting us through thick and thin. We give you all the praise. Lord, we are going to bed now, we pray that your Holy Spirit protects us and guides us through the night. Cover us with the blood of Jesus, Amen ~Belinda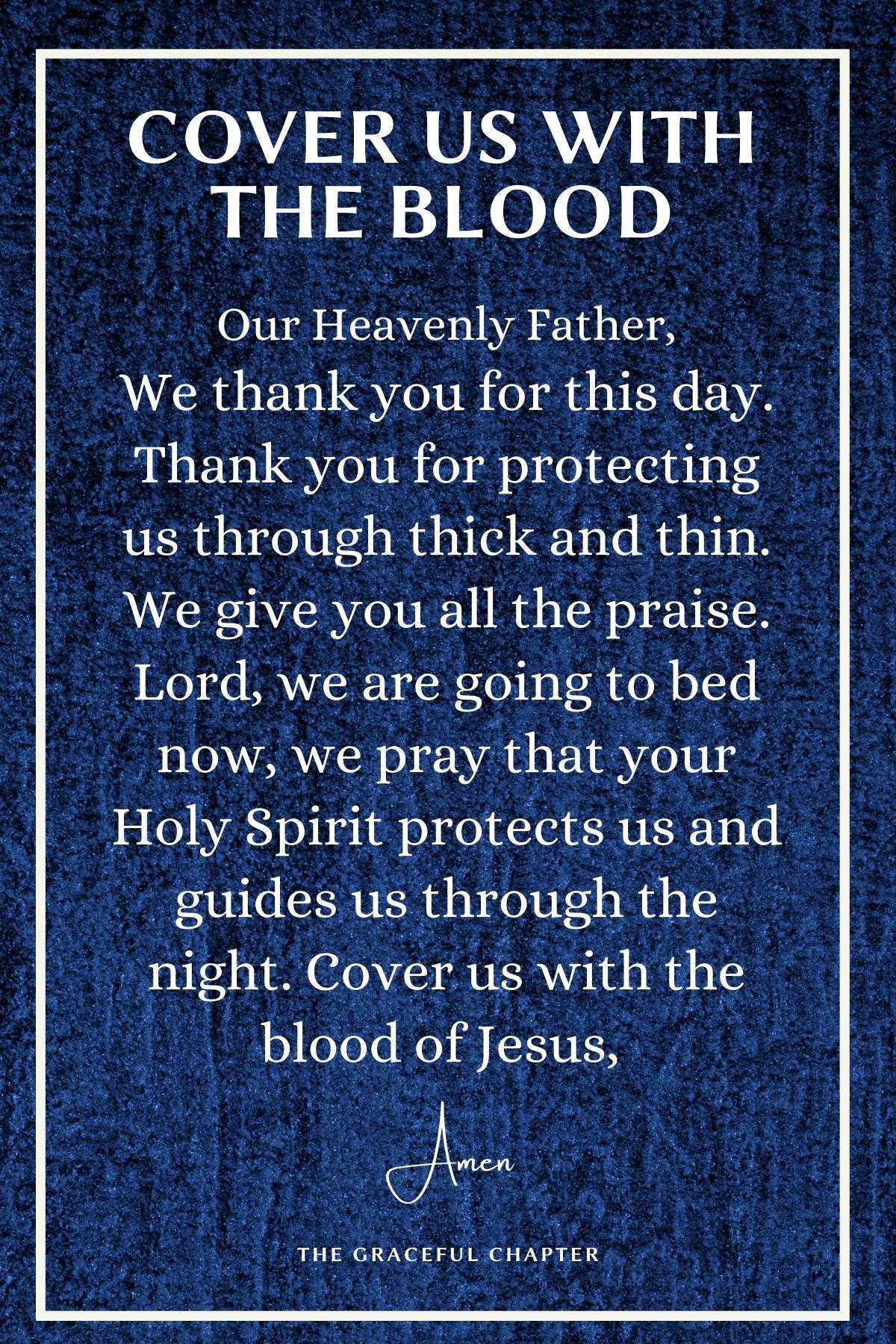 Guard me through the night
Dear God,
I thank you for a loving and wonderful day.  As I sleep, Lord guard me through the night and cover me with the blood of Jesus. Wake me up in the morning with your loving mercies and grace in Jesus name, Amen ~Irene Atuobi
Protect me from the evil one
O Lord,
Thank you for everything you do for me, including the answers to my small prayers. Please forgive me for my lack of faith sometimes and please help me to rely on you more. I pray for my family, job and finances. May your power sustain me and may I live in the confidence of your provision for me. You are my God and I appreciate your loving, kindness, and grace. As I go to bed, protect me from the evil one and bless me with good dreams. May your will be done, in Jesus' name. Amen ~Vera Dokyi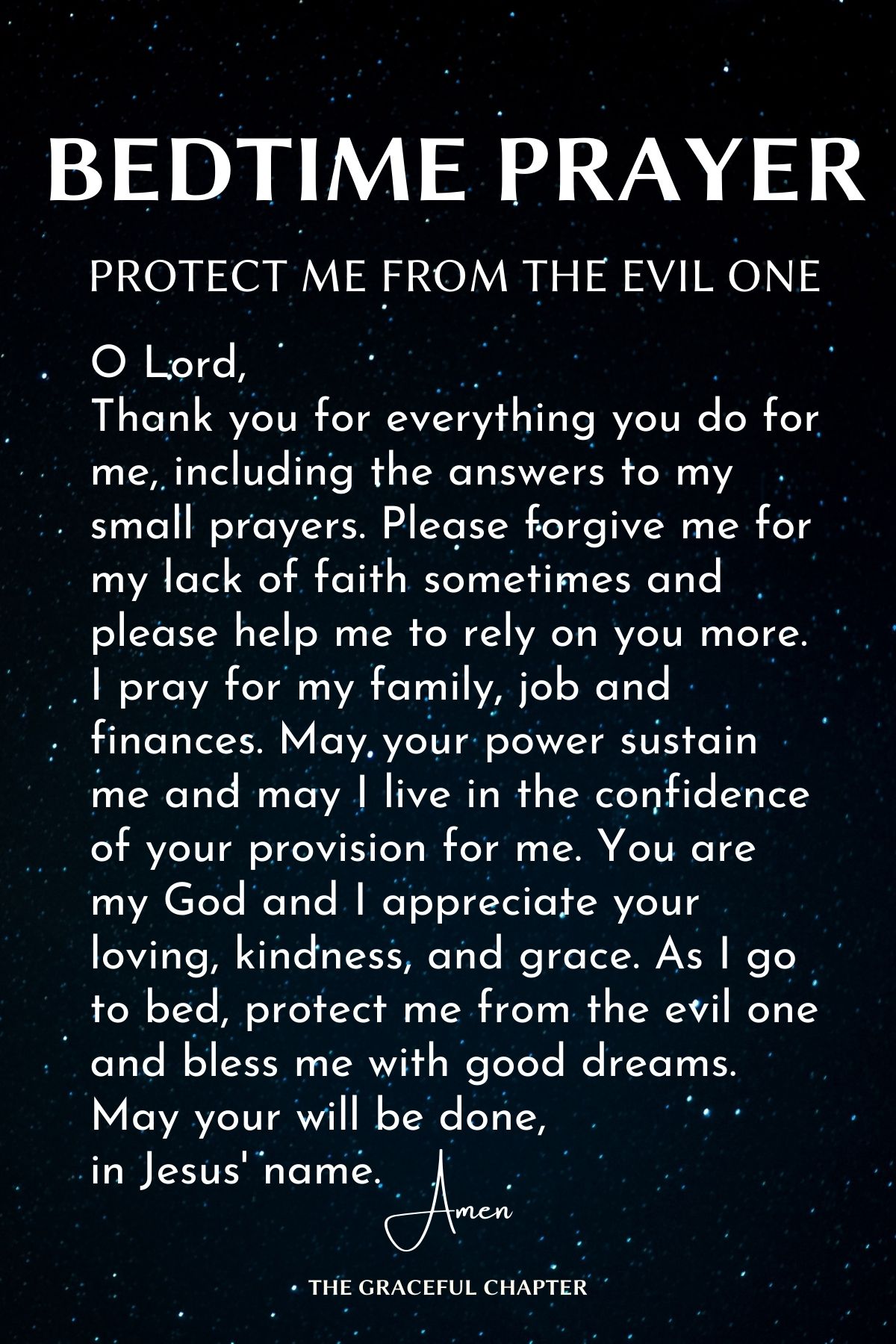 Cover me with thy wings
Father of creation,
I want to thank you for everything that went on today in my life. Your love was sufficient to keep me throughout the day till now. Thank and bless your Holy name. Father, I pray thee this evening that as I'm about to sleep, cause your angels to take charge over me, cover me with thy wings and protect me with thy mighty hand in Jesus name I pray with thanksgiving, Amen ~Florence Gyedua
Keep us safe this night
Lord, keep us safe this night. Secure us from all our fears and cause your angels to guide us while we sleep till the morning light appears. Amen ~Eric Mensah
Forgive me all my sins
Father Lord,
I come before you this evening, thank you for guiding and protecting me today. Many are the things I may have done this day that may not have been pleasant in thy sight. Forgive me all my sins. As I lay on my bed tonight, send forth your angels to take care of me and my household and I shall forever praise your name. Amen ~Bernice Dompreh
Thank you, Lord, for the day. Am so grateful for all that you've done for me today. Father, may you send me your Holy Angels to guide me this night. In Jesus' Mighty Name I pray. Amen ~Dorcas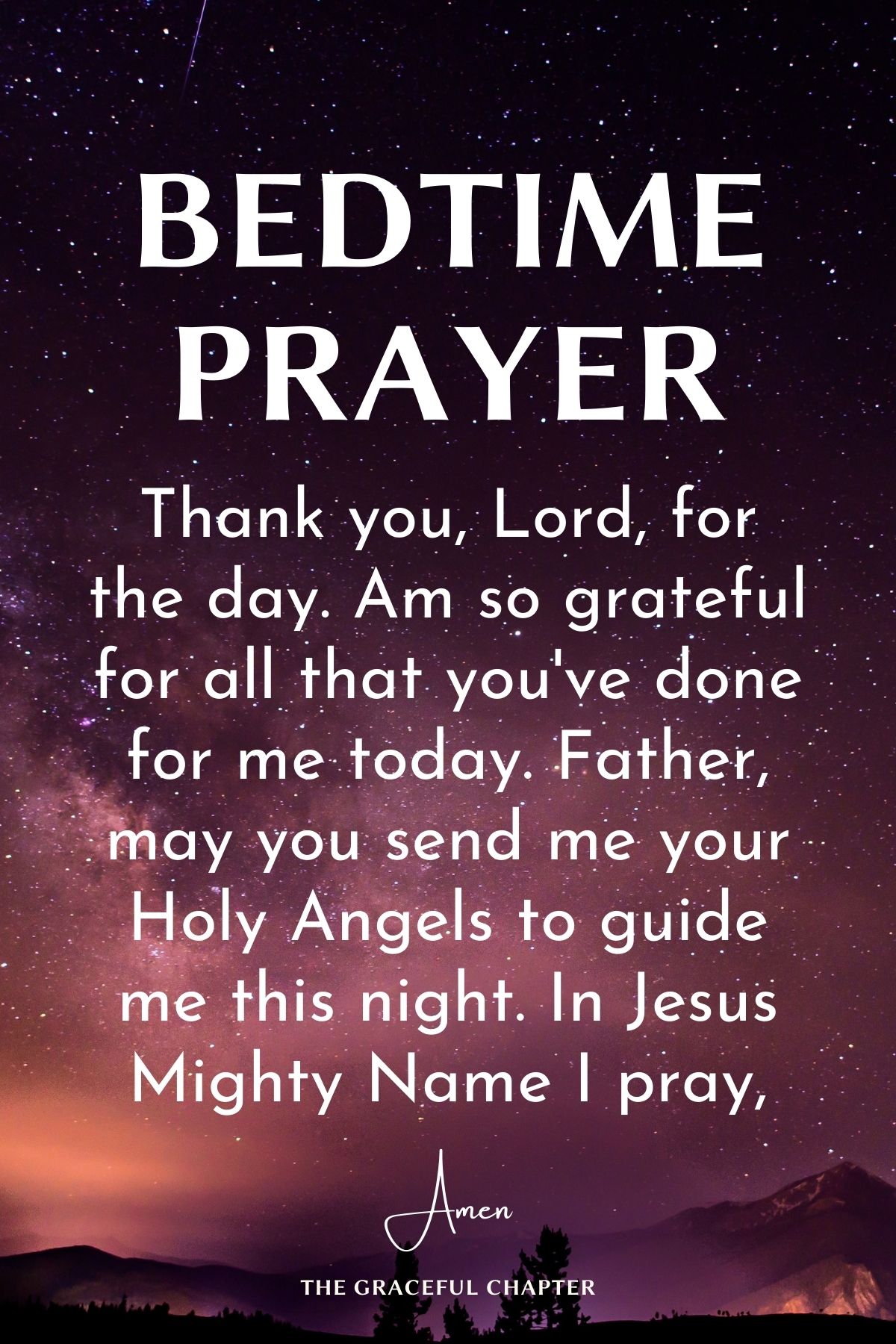 Grant us a peaceful sleep
Thank You, Lord, for a great day today. Thank you for the gift of life you gave me to enjoy this day. For every blessing that I missed this day, I believe You'll grant them unto me. Forgive me for anything I did that didn't bring You glory and I pray for the grace to do better. As I lay to sleep, keep Your watchful eyes over me and protect me through the night from any preying enemy. Protect my family and friends and grant us a peaceful sleep and a blessed new day, tomorrow. In Jesus' name, Amen ~Stanley Yeboah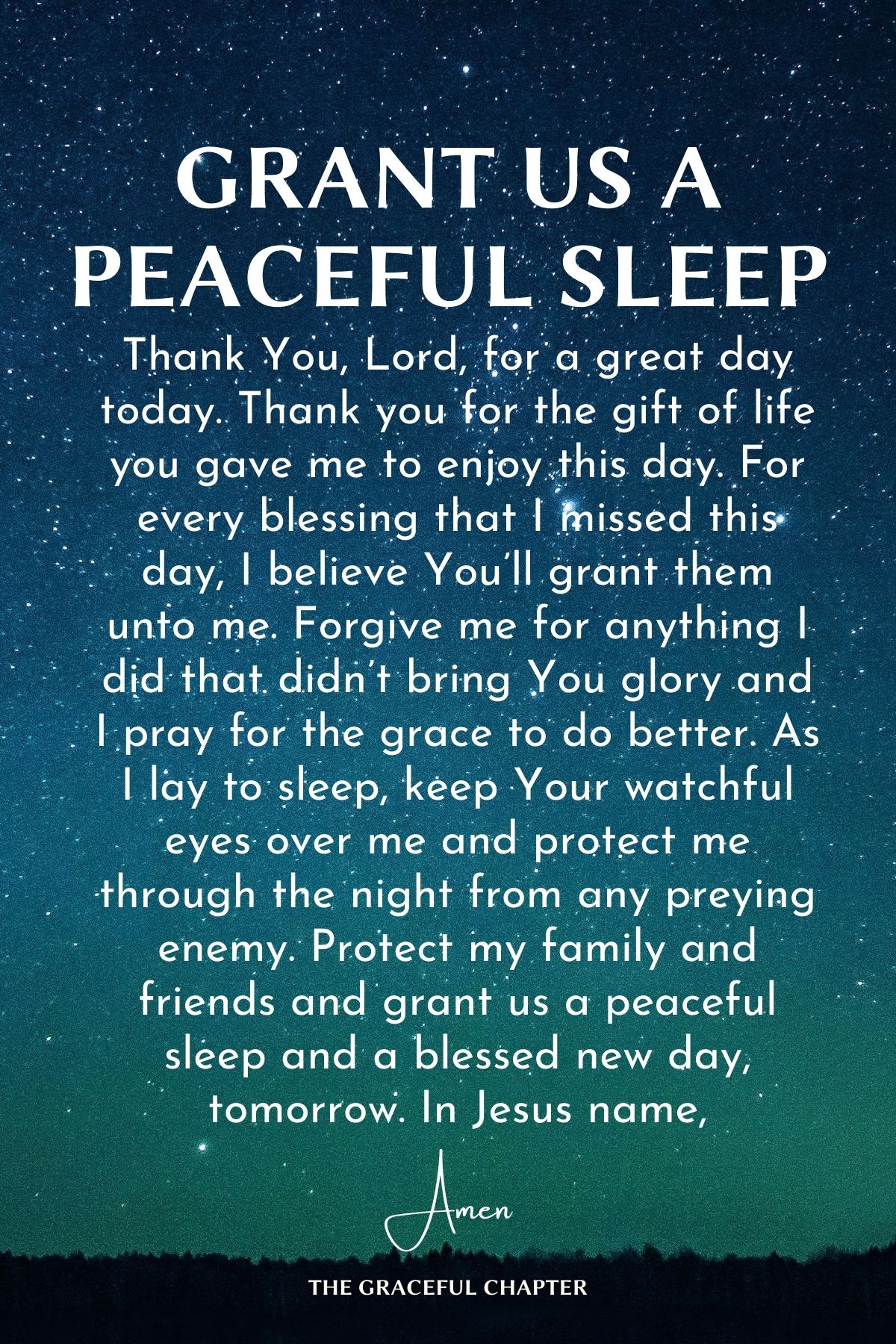 Protect me from seen and unseen evil
Our Father in heaven,
I come to you with my head bowed, and my mind quiet. I truly acknowledge your supremacy above all things. I acknowledge that my going out and coming in was because of your grace. I give you honor for my life and my concerns. May your name be praised in the highest heavens and from the deepest parts of my heart. Thank you for directing my steps today, may your will continue to be done in my life.
As I lay on my bed to sleep, I beg you for the forgiveness of sins I may have committed today, knowingly or unknowingly. May your spirit not depart from me on account of my sins, and give me the grace to let go of any part of today which did not happen as intended.
I pray for a peaceful night's rest, and for health to carry on tomorrow. Give peace to my heart, please God and protect me from seen and unseen evil. In Jesus' name, I've prayed. Amen. ~Dr. Henry Eze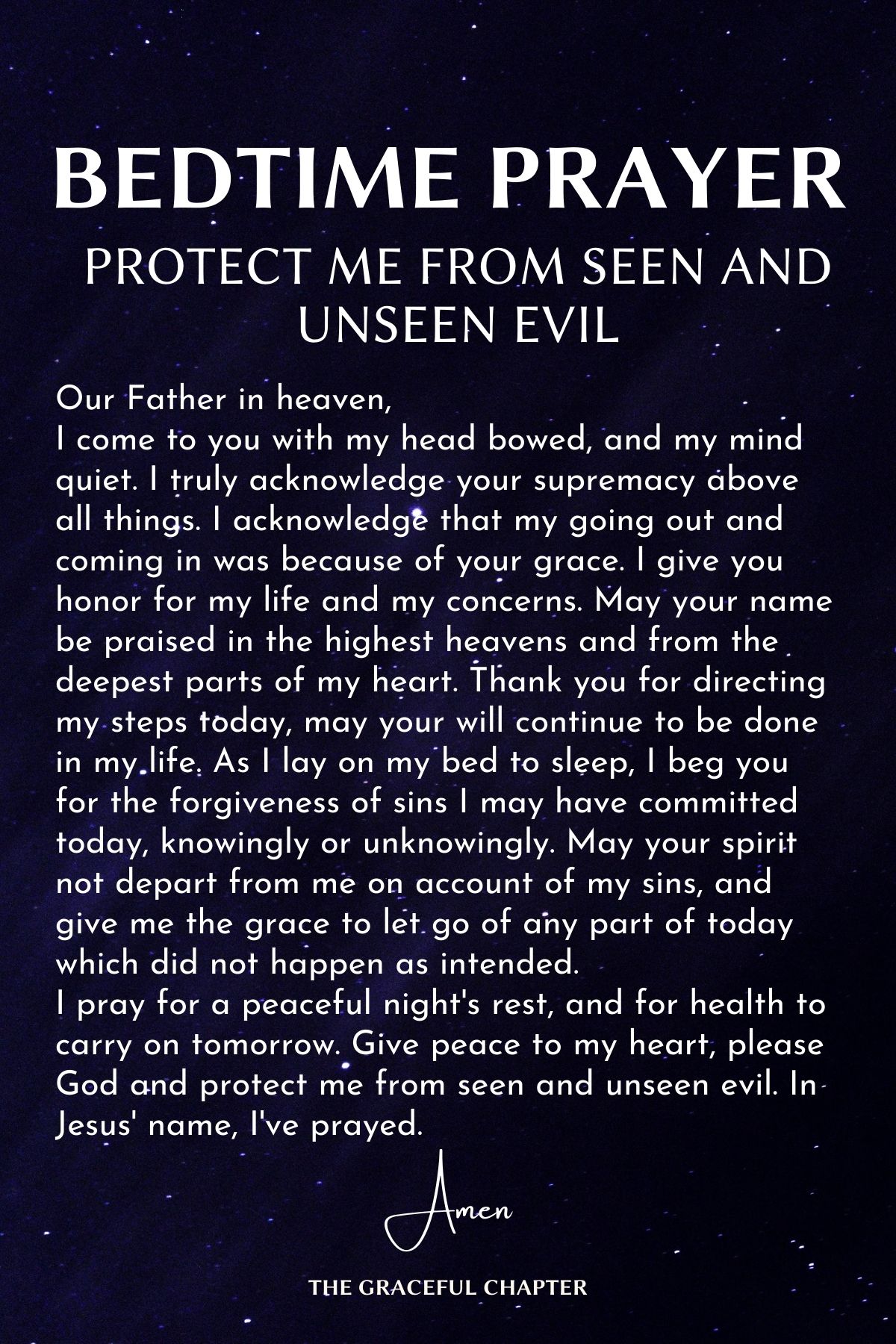 Psalm 91 prayer for bedtime
O Lord, I submit my soul unto You, and I turn my face towards You, and I totally rely on You, and I entrust my affair unto You, in hope and fear of You. Verily there is no refuge nor safe haven from You except with You. 
He who dwells in the shelter of the Most High will rest in the shadow of the Almighty. I will say of the LORD, "You are my refuge and my fortress, my Lord, in whom I trust." Surely You will save me from the fowler's snare and from the deadly pestilence. You will cover me with Your feathers, and under Your wings, I will find refuge;
Your faithfulness will be my shield and rampart. I will not fear the terror of night, nor the arrow that flies by day, nor the pestilence that stalks in the darkness, nor the plague that destroys at midday. A thousand may fall at my side, ten thousand at my right hand, but it will not come near me. I will only observe with my eyes and see the punishment of the wicked. 
If I make You my dwelling, you LORD, who is my refuge, then no harm will befall me, no disaster will come near my tent. Oh Lord, You alone I worship. You alone ask for help. Protect me and my family throughout the night. Amen ~Victoria Osei-Wusu