Everyone at some point is going to experience anxiety for whatever reason.
Anxiety can stem from work, finances, relationships, sickness, parenting, and even things happening in the world.
But the word of God consistently reassures us of God being there for us through everything because He cares for us. (1 Peter 5:7)
So when your heart is troubled and you can't stop worrying, just turn to the Lord in prayer and tell him all your problems. (Philippians 4:6)
While you are waiting for God to change things, it's easy to live worried, stay focused on the problem and think about why it's not going to work out.
Clear your mind. Isaiah said, "If you'll keep your mind on Him, He will keep you in perfect peace". So all you have to do is to keep your mind on God.
Worry turns your focus away from God, so instead, give thanks to God and trust that He has a plan for you and everything is going to work out in the end.
Giving thanks turns your focus towards God. So no matter how bad things are, no matter how big your problems may seem, find something to thank God for.
Below are 8 prayers for anxiety you can pray, when worry takes over you and you don't know what to say.
8 Prayers for anxiety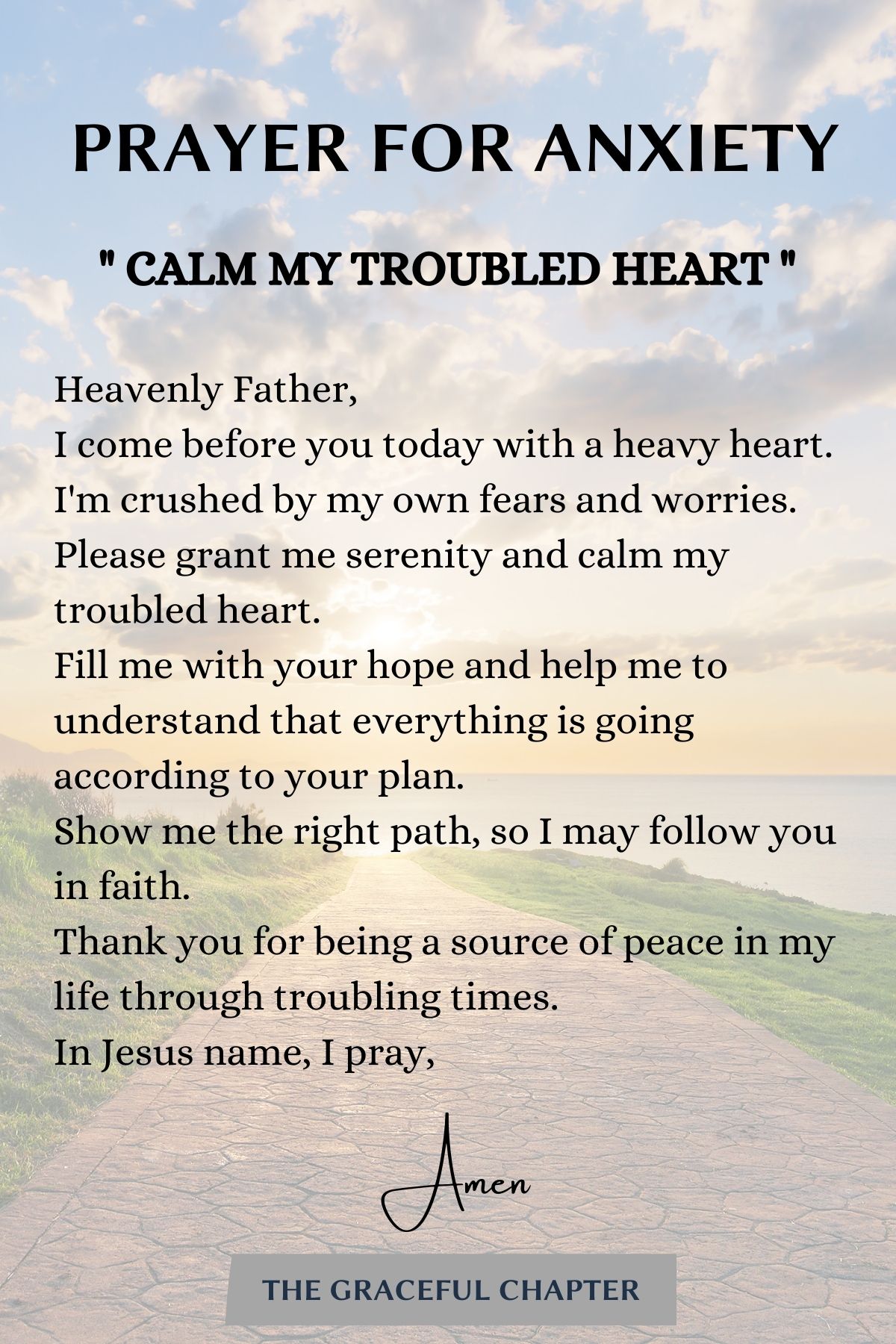 Prayers for anxiety – Calm my troubled heart
Heavenly Father,
I come before you today with a heavy heart.
I'm crushed by my own fears and worries.
Please grant me serenity and calm my troubled heart.

Fill me with your hope and help me to understand that
everything is going according to your plan.
Show me the right path, so I may follow you in faith.
Thank you for being a source of peace in my life through troubling times.
In Jesus name, I pray,
Amen.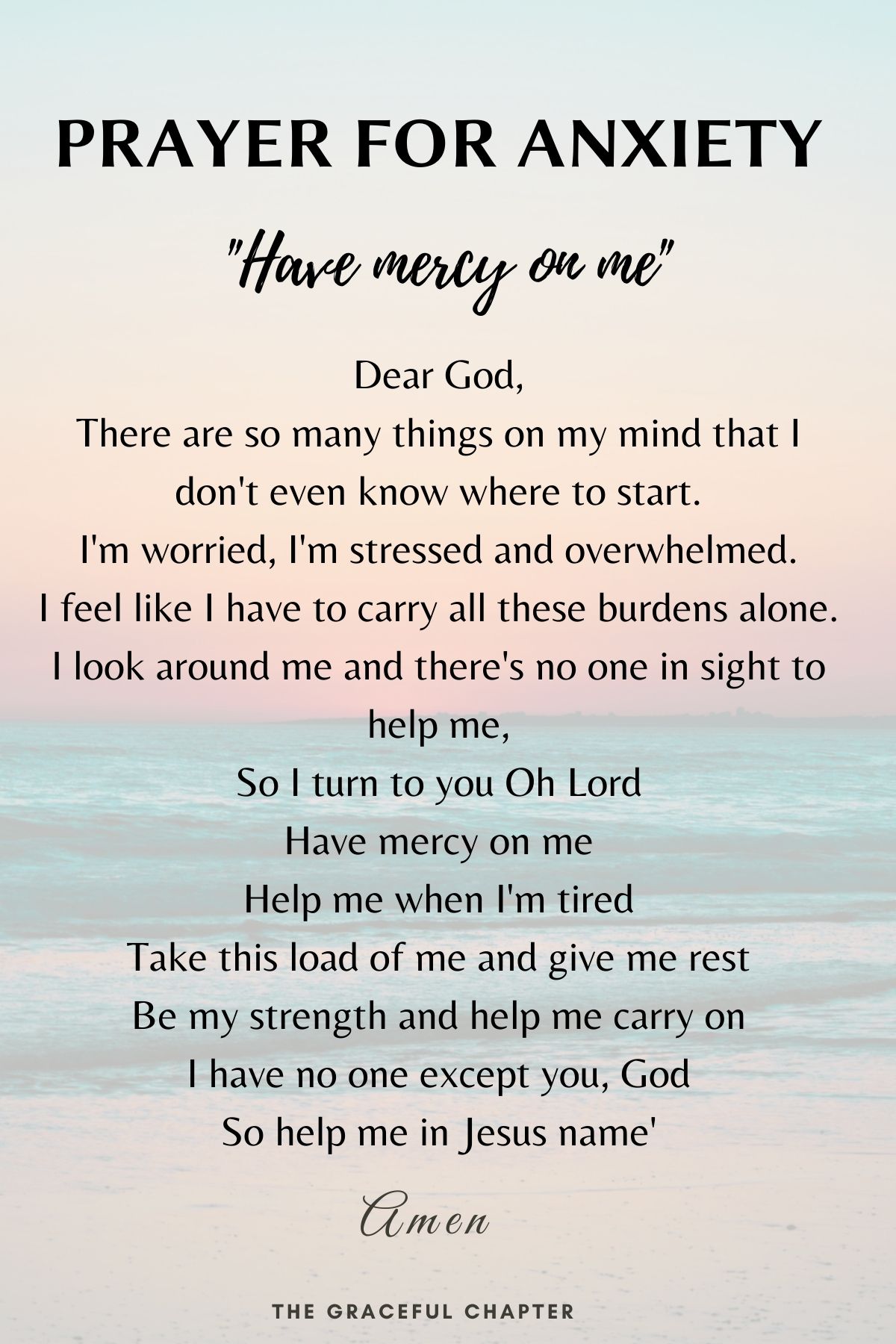 Prayers for anxiety – Have mercy on me
Dear God,
There are so many things on my mind that
I don't even know where to start.
I'm worried, I'm stressed and overwhelmed.
I feel like I have to carry all these burdens alone.
I look around me and there's no one in sight to help me,
So I turn to you Oh Lord
Have mercy on me
Help me when I'm tired
Take this load of me and give me rest
Be my strength and help me carry on
I have no one except you, God
So help me in Jesus name'
Amen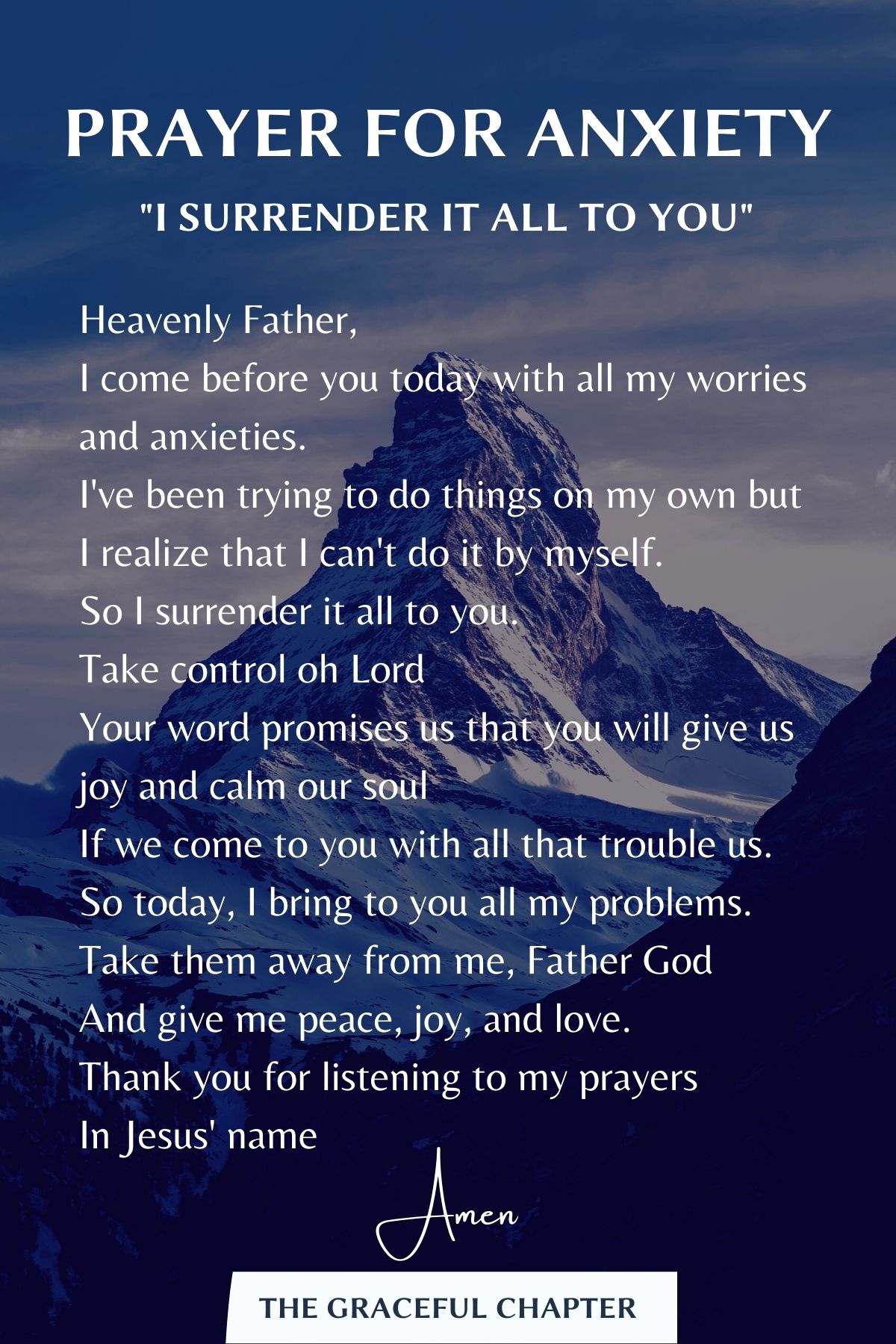 Prayers for anxiety – I surrender it all to you
Heavenly Father,
I come before you today with all my worries and anxieties.
I've been trying to do things on my own
but I realize that I can't do it by myself.
So I surrender it all to you.
Take control oh Lord
Your word promises us that you will give us joy and calm our soul
If we come to you with all that trouble us
So today, I bring to you all my problems.
Take them away from me, Father God
And give me peace, joy, and love.
Thank you for listening to my prayers
In Jesus' name
Amen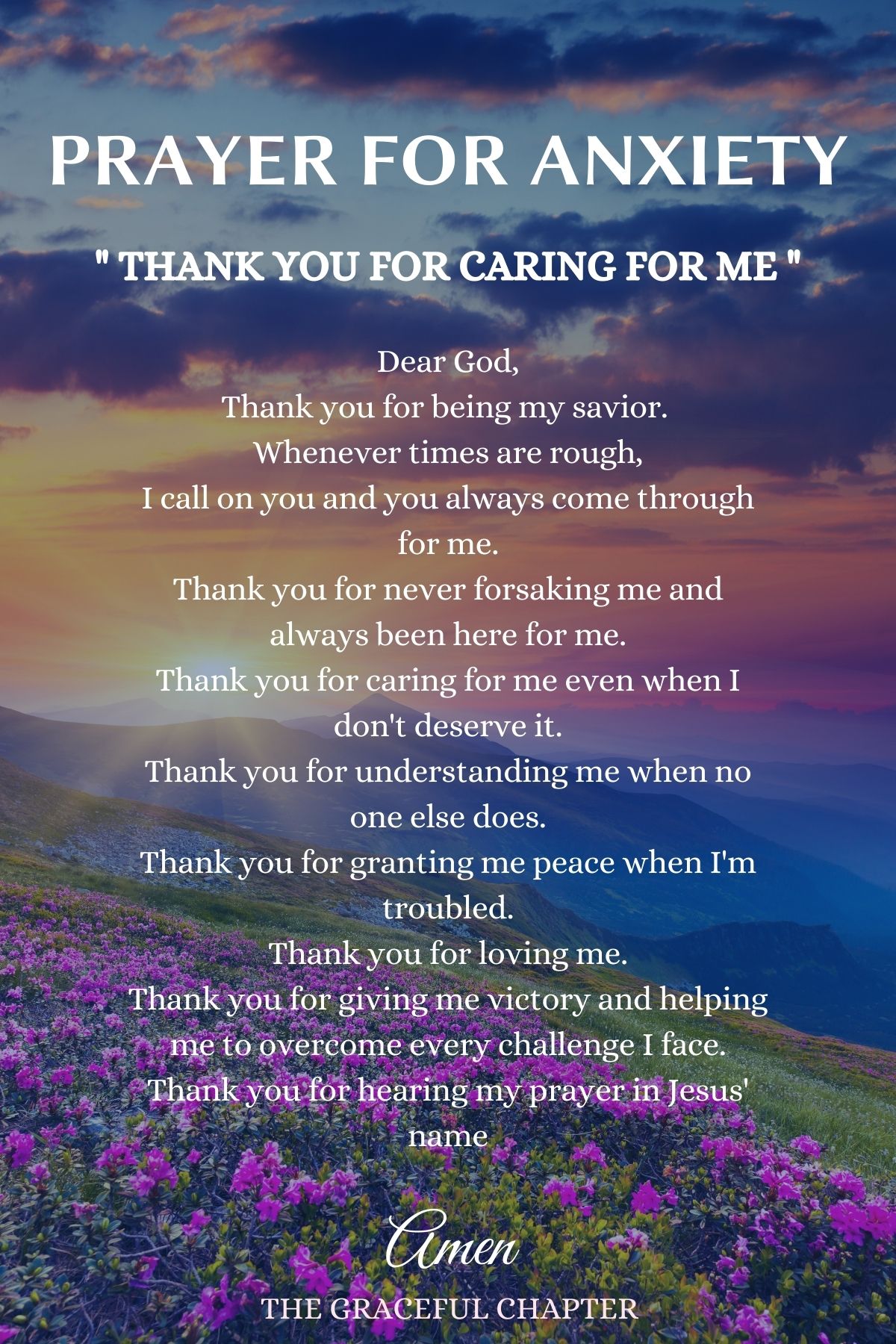 Thank you for caring for me
Dear God,
Thank you for being my savior.
Whenever times are rough,
I call on you and you always come through for me.
Thank you for never forsaking me and always been here for me.
Thank you for caring for me even when I don't deserve it.
Thank you for understanding me when no one else does.
Thank you for granting me peace when I'm troubled.
Thank you for loving me.
Thank you for giving me victory and helping me to overcome every challenge I face.
Thank you for hearing my prayer in Jesus' name
Amen
Related Posts
Prayers for anxiety – Come into my life
Father,
I'm tired, I'm broken and I'm worried.
At this point in my life, everything seems like a struggle
And nothing is going my way.
Seems like I've taken a wrong turn in life and
Everything is headed downhill.
I need you more than ever in my life
I trust and believe that once you come in,
You can turn everything around in my life.
So please, come into my life
Take control of my life and everything I do.
Order my steps, Father
Show me the right way.
I don't want to keep struggling
I want to stop worrying
So help me to truly surrender everything to you
In Jesus' name
Amen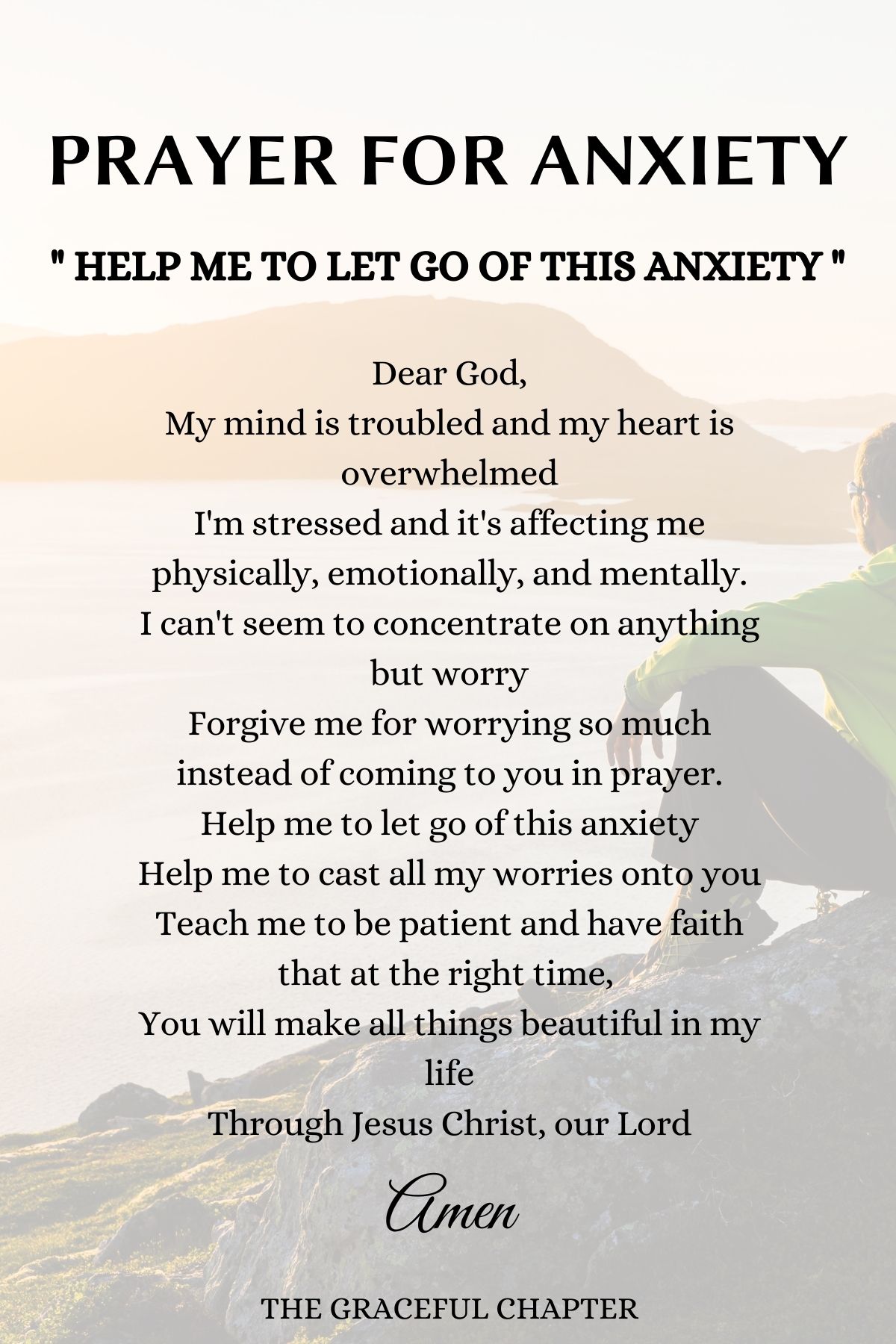 Anxiety prayer – Help me let go of this anxiety
Dear God,
My mind is troubled and my heart is overwhelmed
I'm stressed and it's affecting me physically, emotionally, and mentally.
I can't seem to concentrate on anything but worry
Forgive me for worrying so much instead of coming to you in prayer.
Help me to let go of this anxiety
Help me to cast all my worries onto you
Teach me to be patient and have faith that,
At the right time, you will make all things beautiful in my life.
Through Jesus Christ, our Lord
Amen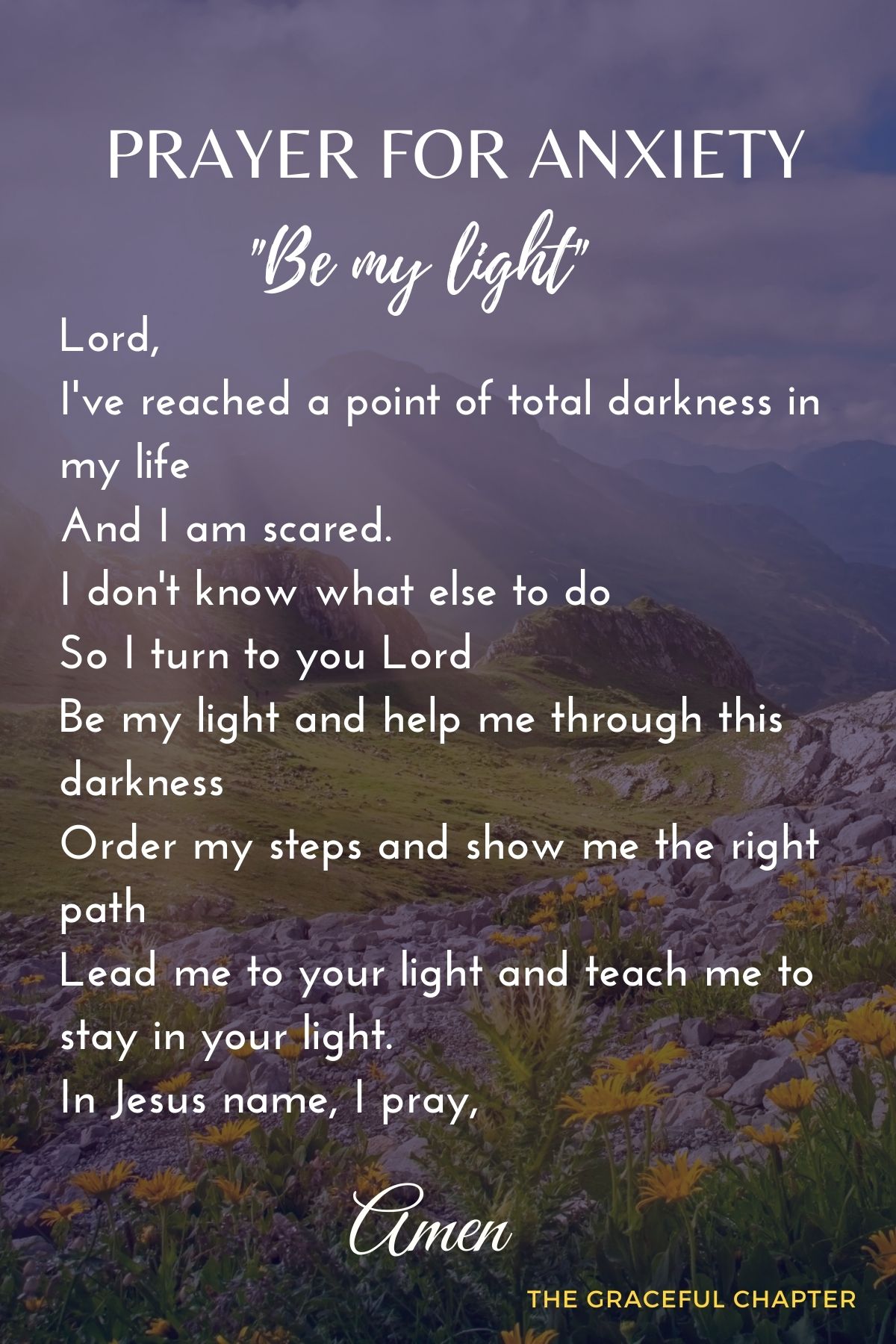 Anxiety prayer – Be my light
Lord,
I've reached a point of total darkness in my life
And I am scared. I don't know what else to do
So I turn to you Lord
Be my light and help me through this darkness
Order my steps and show me the right path
Lead me to your light and teach me to stay in your light.
In Jesus name, I pray,
Amen
Prayers for anxiety – Help me to trust Your timing
Father,
I've been praying and waiting for you for an answer
But my problems seem not to be going anywhere
I'm beginning to feel stressed and my faith is beginning to waver.
Help me to be patient and keep waiting on you.
Help me to understand that everything is going
according to your plan and I'm exactly where you want me to be
Help me to be positive as I keep waiting for you
Please give me hope and strengthen my faith in you.
Help me to trust in your timing
Thank you that what you promised is on the way
In Jesus' name
Amen