I lost my dad when I was 13 years old and 4 years after that, I lost my mom too. To date, it still hurts sometimes and I still wish they were here with me to see how I turned out. To see that I'm doing well and I have my own little family now.
Growing up, one of the things that helped me through most of my days was this photo frame that hung in our living room. In the frame was a hand, holding a weeping woman with the words "there is someone holding you when grief overwhelms your spirit".
There were days I would wake up with no will to even be here. I would cry and ask why am I here? What am I doing here? And I would think to myself that even the people who brought me here are gone, so why am I here?
But on days like that, I looked up at the photo frame and I felt that, yes, the people through who I came to be here are no more but that doesn't mean I'm alone. Because the one who actually brought me here is still with me and at this point in my life when I feel like I'm all alone and I can't do anything, He has got me, He is holding me and so I'm going to be alright.
That photo frame was a reminder that God was my comforter. That photo frame was a reminder of God's love for me. That photo frame was a reminder that I shall never be alone. And even to date, every time I feel sad about something, I tell myself, "there is someone holding you when grief overwhelms your spirit".
I know I'm not alone. Everyone suffers some kind of loss at one point in their life. It can be the loss of a parent, a child, a friend, a spouse, a loved one or even a pet. It can even be the loss of a job or a contract you were hoping to secure.
When something like that happens, we grief. Grief is the emotional pain we feel when we lose something or someone we love. It is a natural response to loss but sometimes, the pain can be too overwhelming for us to bear.
So we are going to look at what you can do when grief overwhelms your spirit. Everyone grieves in their own way and that's okay. But when the pain becomes so unbearable for you, what do you do?
What to do when grief overwhelms you
Remember that it is okay to grief
Blessed are those who mourn,
For they shall be comforted.

Matthew 5:4
Some Christians feel like it is not right to grief. They believe that God gives and God takes, so God knows what He is doing and so you don't have to grief when you lose someone.
Well, the truth is, God does give and He knows what He is doing but it is very okay to grieve the loss of someone you loved or something you cared for. Grief is a natural response to pain and it is okay to feel pain. You are human, pain is how you know you are alive.
So when you feel like crying, just cry. If you want to weep, don't feel as though you are doing something wrong. If you want to mourn just do it. It is very okay to grief.
In John 11:35, the Bible says that "Jesus wept". That scripture describes Jesus' reaction when Lazarus died. When He got there, Lazarus was dead and they showed Him where he laid. He is Jesus Christ, the son of the Most High God, He had the power to resurrect Lazarus and He did, yet He wept.
So it is very much okay to grief. It is okay to mourn. It is okay to cry if you want to. Never feel as though you are doing something wrong.
Don't rush the process
Everybody grieves in their own way. I was in the boarding house when my mom died. When I got home that vac and I asked of her, they said she had gone out. Honestly, my heart skipped a beat when they said that.
It was very unlike my mom to go anywhere when she knew I would be coming home that day. Moreover, she had been sick for months, so it didn't sound right that she would go anywhere.
But I was like, okay. cool. Then I got something to eat and decided to rest awhile. A few minutes later, my grandfather came over and my aunt called me to the living room. When I got there, they were both sitting down looking at me. My aunt was trying to smile like there was nothing wrong but when I saw them, I just knew.
It was like a deja vu. That was the same way they called me to tell me my dad had died. Except for that time, it was my mom and aunt and this time it was my aunt and my grandpa. I saw the look on her face and I knew what they wanted to say to me.
They broke the news to me and I just sat there quietly. In case you are wondering, the answer is no, I didn't cry. I just felt numb. I couldn't cry. And at that point in time, it was like they were waiting for me to cry as that is the natural response to hearing that your mom was dead. But I didn't.
I just couldn't cry. And at that moment, I wasn't even sure what I was feeling or why I was feeling that way. It was like everyone expected me to cry and I wasn't.
I know I'm not alone. We all grieve in our own ways. Someone will break down in tears the second they get such news. I broke down in tears the very second they told me my dad had died. But with my mom why wasn't I crying?
Did it mean I didn't love her? Did I have to force myself to cry in order for people to see I loved her? The answer is no. Feeling numb and not crying doesn't mean you don't love the one you lost. And you don't need to rush the grieving process and force yourself to cry just to make people see that you are hurting.
Few days after that was the funeral, and that evening, they brought the body home from the morgue. When the car got to the house and they pulled a body out, I almost passed out. My mom's best friend held me as I was falling and told me to be strong. That was when the tears started flowing.
As she laid down and I knew there laid my mom and I couldn't talk to her ever again and that was the very last time I was ever going to see her, I just couldn't stop crying.
There is no one way to grieve. Grieve your own way. Don't feel like you need to rush the process. There were days I would wake up feeling like oh, I'm better now, I'm not going to cry again and a few hours after that, I would be crying again.
The grieving process is like a rollercoaster, that keeps going up and down. Some days you feel good and other days you feel miserable and that is okay. Don't put off the feeling. Feel it all. Experience it all.
Because grief isn't something you ignore and move on. Grief is something you move through. You need to feel the pain. You need to allow yourself to experience the pain, that is how you can survive it.
Related Posts
Appreciate and acknowledge what you still have
Too often, when we lose someone we love, we spend all our time, crying over our loss that we fail to acknowledge the ones we love who we still have.
It's okay to grieve, but in your grieving process, don't push away the people who love you and want to be there for you. Let them in and let them know you appreciate them.
I had lost my mom and dad but I still had my aunt and my grandpa. And my aunt turned out to be an amazing mom to me that it didn't even feel like I didn't have a mom.
So, only a few people from my childhood know I lost my mom. Most of the people in my life now think my aunt is my mom and they have no idea that I even lost my mom.
I know that it's not always possible to find someone to take up the role of the one you lost and have them do an amazing job. Even so, you don't have to drive away the people in your life who want to be there for you. Acknowledge them and appreciate them.
Find comfort in The Lord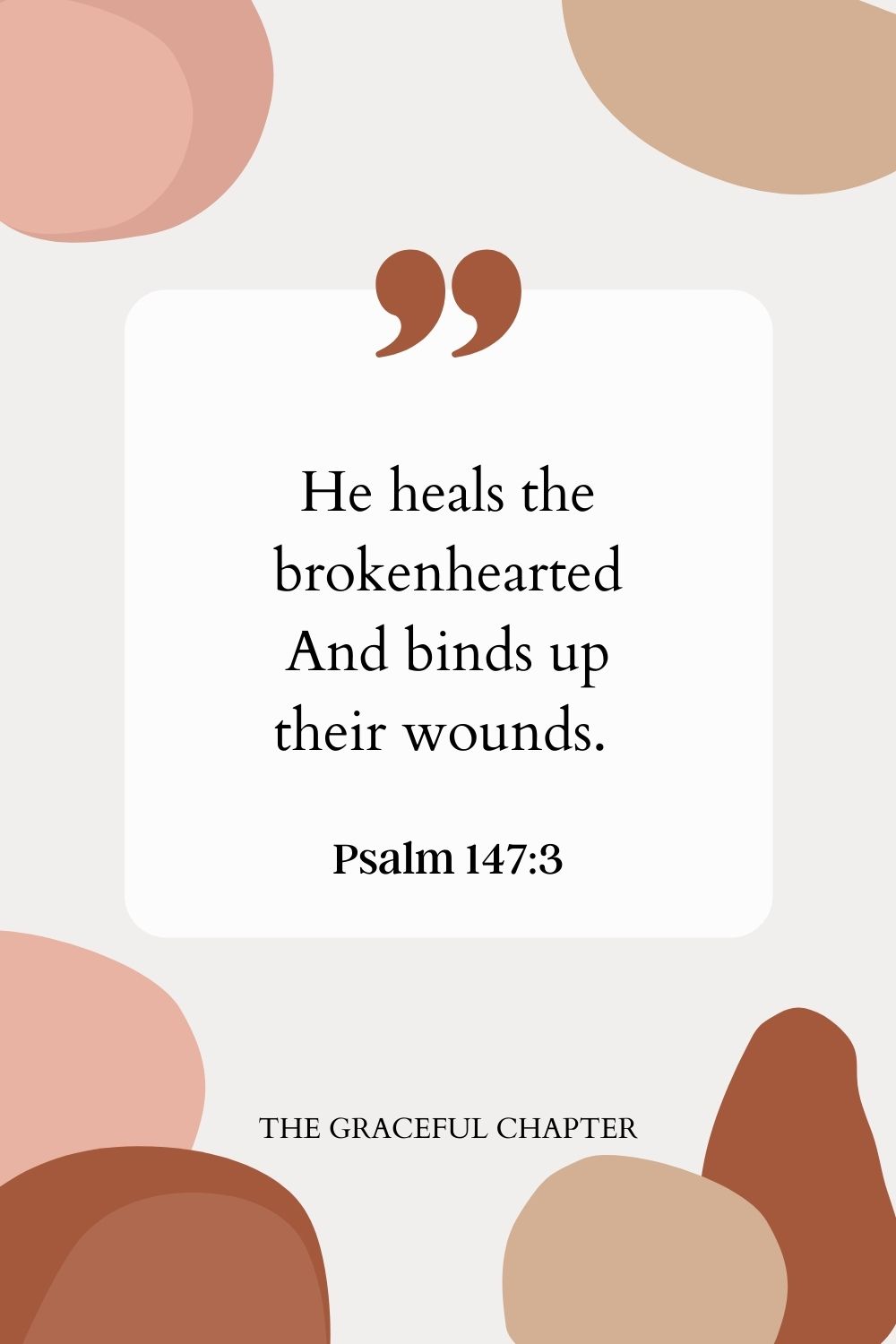 He heals the brokenhearted
And binds up their wounds.

Psalm 147:3
Now, when the pain becomes so unbearable for you and grief starts to overwhelm you, find comfort in the Lord. You can pray or read Bible verses to comfort you and make you feel at peace.
You can even get some scripture cards and print them out for use for times like these. Keep the scripture cards where you can always see them.
You can keep them in your purse or wallet. You can stick some infront of your mirror and paste some around the house. Just like the photo frame that hung in our living room. And on days when the pain becomes so unbearable, read it and find comfort in the Lord.
Comforting Bible verses to help you overcome grief
He gives power to the weak,
And to those who have no might, He increases strength.

Isaiah 40:29
Blessed are those who mourn,
For they shall be comforted.


Matthew 5:4
For the mountains shall depart
And the hills be removed,
But My kindness shall not depart from you,
Nor shall My covenant of peace be removed,"
Says the Lord, who has mercy on you.

Isaiah 54:10
And you would be secure because there is hope;
Yes, you would dig around you, and take your rest in safety.

Job 11:18
You are my hiding place and my shield;
I hope in Your word.

Psalm 119:114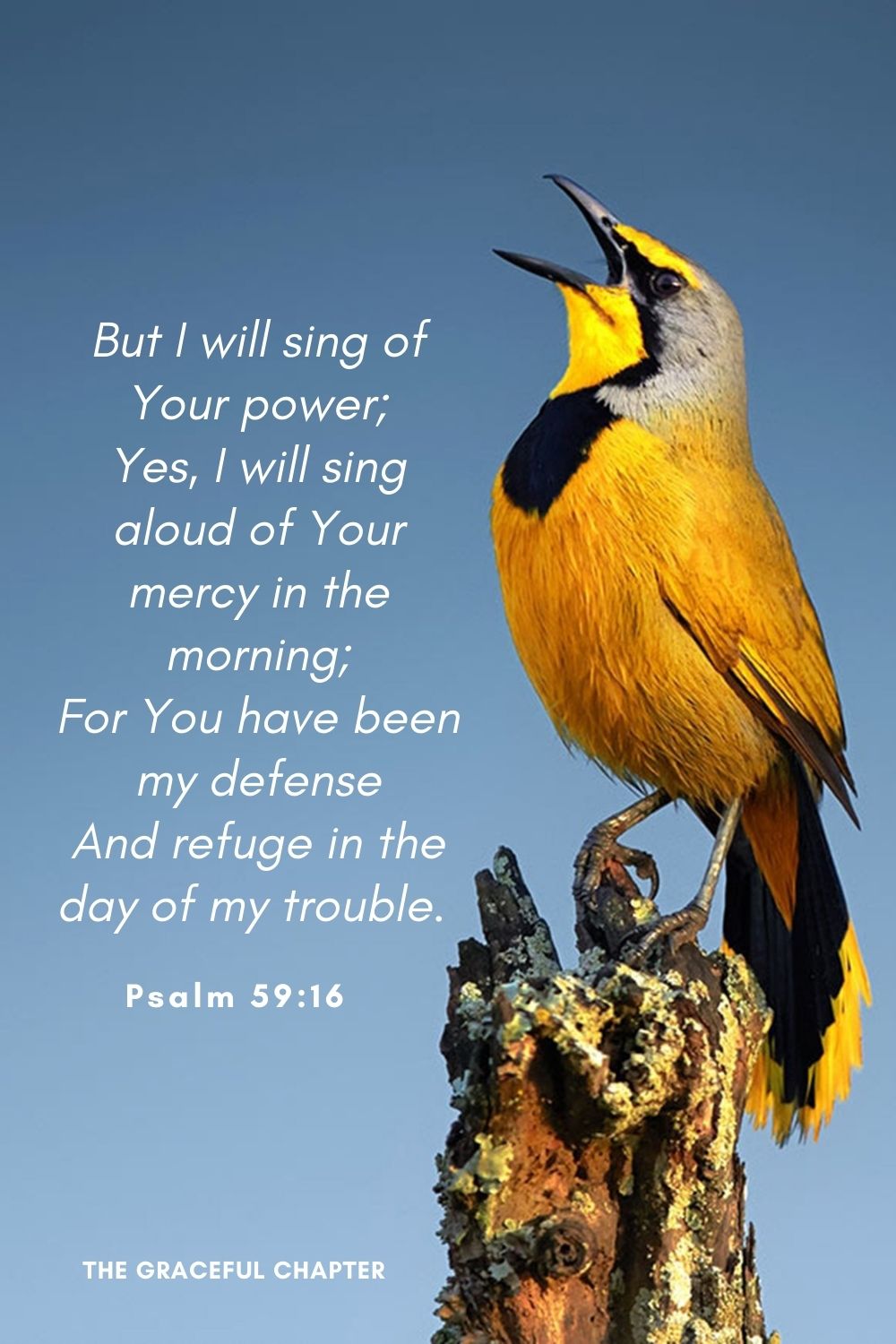 But I will sing of Your power;
Yes, I will sing aloud of Your mercy in the morning;
For You have been my defense
And refuge in the day of my trouble.

Psalm 59:16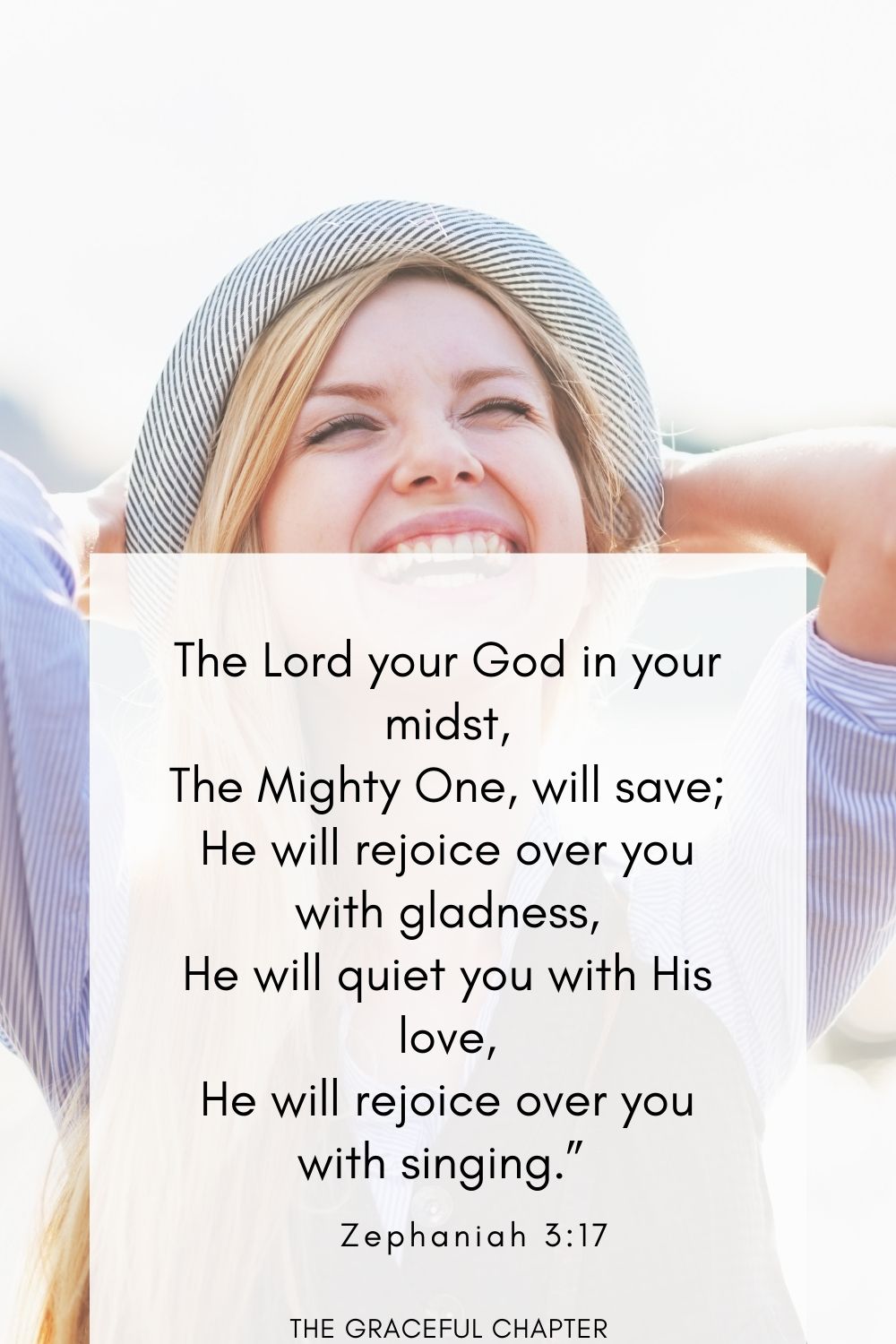 The Lord your God in your midst,
The Mighty One, will save;
He will rejoice over you with gladness,
He will quiet you with His love,
He will rejoice over you with singing."

Zephaniah 3:17
The Lord is my rock and my fortress and my deliverer;
My God, my strength, in whom I will trust;
My shield and the horn of my salvation, my stronghold.

Psalm 18:2
Now may the God of hope fill you with all joy and peace in believing, that you may abound in hope by the power of the Holy Spirit.

Romans 15:13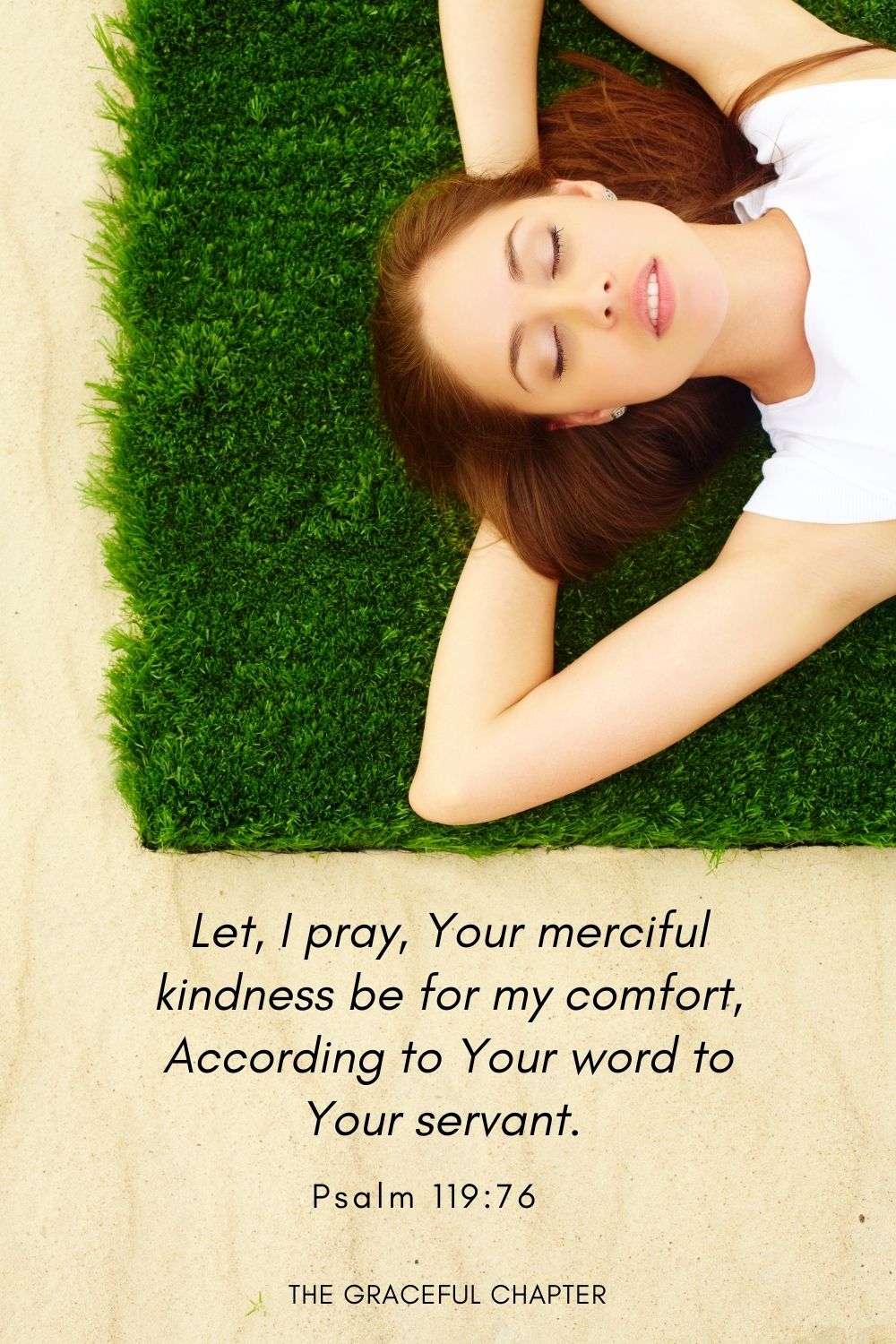 Let, I pray, Your merciful kindness be for my comfort,
According to Your word to Your servant.

Psalm 119:76
And God will wipe away every tear from their eyes; there shall be no more death, nor sorrow, nor crying. There shall be no more pain, for the former things have passed away."

Revelations 21:4
A prayer for the grieving heart
Father Lord,

I come before you today to cast all my
pains and anxieties unto you.
Father, I'm at that point in my life
where all I do is cry because I'm in pain.
And I need you more than ever.
Please comfort my soul in these times.
Please give my heart and my mind peace.
Give me the strength and courage I need
to move on with my life.
Take away my sorrows and grant me with serenity.
In Jesus name I pray.
Thank you, Father.
Amen.