Everybody worries at a point and sometimes we worry so much that it develops into anxiety.
But the truth is, worrying really does nothing. Being anxious about a situation doesn't change the situation or the outcome.
Yet still, as humans, we can't help but worry about situations we know we very well we can't control. Knowing we can't control or do anything about a situation causes us to panic and get scared.
But when such moments arrive, it is important to remember that you serve a living God. And there is nothing that He can't do.
So instead of panicking and being anxious, go to the Lord in prayer about your anxieties and he will take care of them for you.
God also provides comfort for us in such times through his word. So when faced with situation that make you anxious, read your Bible and pray.
Below are some Bible verses about anxiety to help you cope when you are worried and afraid. I hope that these verses calm your troubled mind. May God grant you peace and help you through these troubling times.
Bible verses about anxiety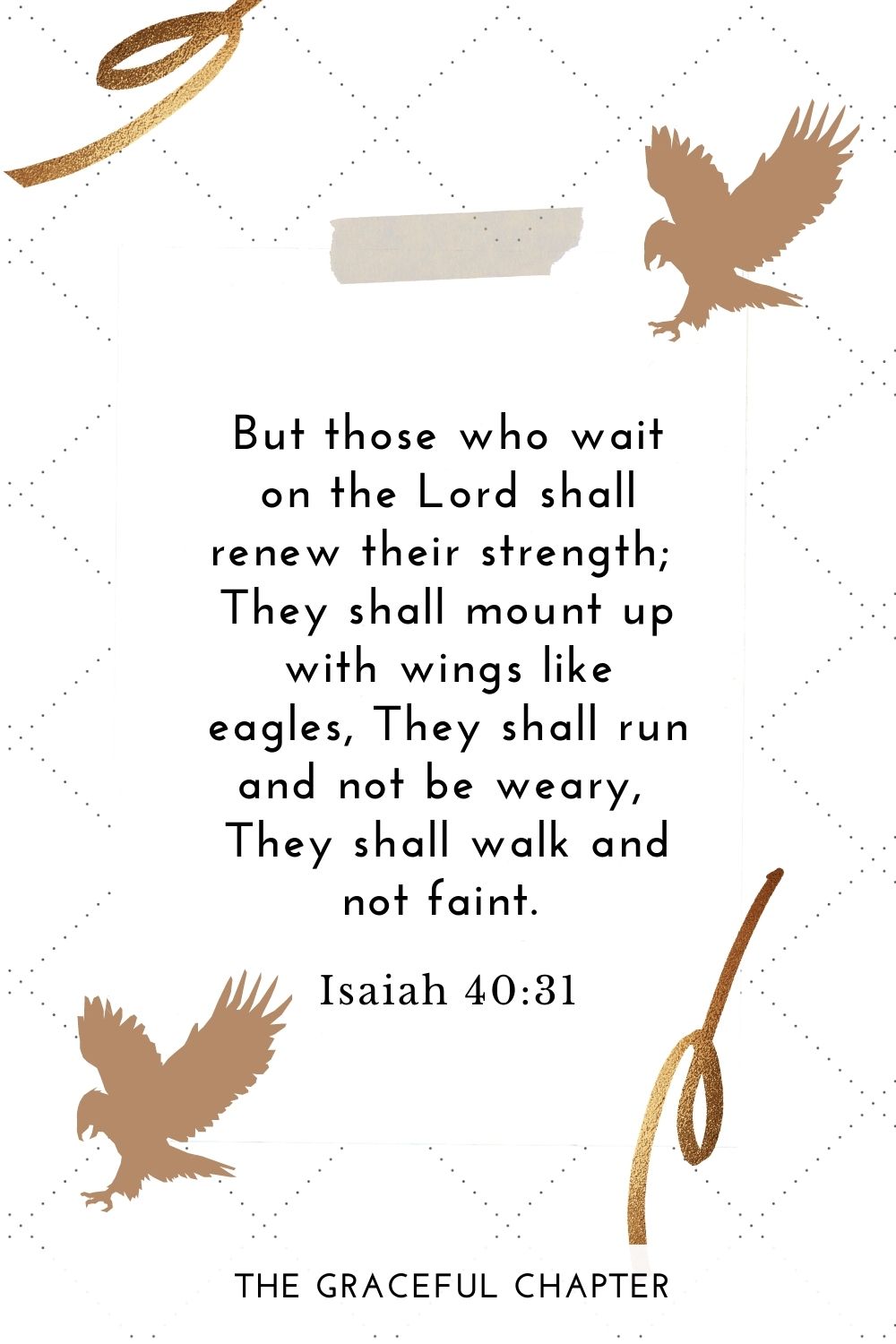 Isaiah 40:31
But those who wait on the Lord
Shall renew their strength;
They shall mount up with wings like eagles,
They shall run and not be weary,
They shall walk and not faint.

Psalm 94:19
When anxiety was great within me, your consolation brought me joy.

1 Peter 3:14
But even if you should suffer for righteousness' sake, you will be blessed. Have no fear of them, nor be troubled,

1 John 4:18
There is no fear in love. But perfect love drives out fear because fear has to do with punishment. The one who fears is not made perfect in love.

Isaiah 41:10
Fear not, for I am with you; be not dismayed, for I am your God; I will strengthen you, I will help you, I will uphold you with my righteous right hand.

Proverbs 12:25
Anxiety in a man's heart weighs him down, but a good word makes him glad.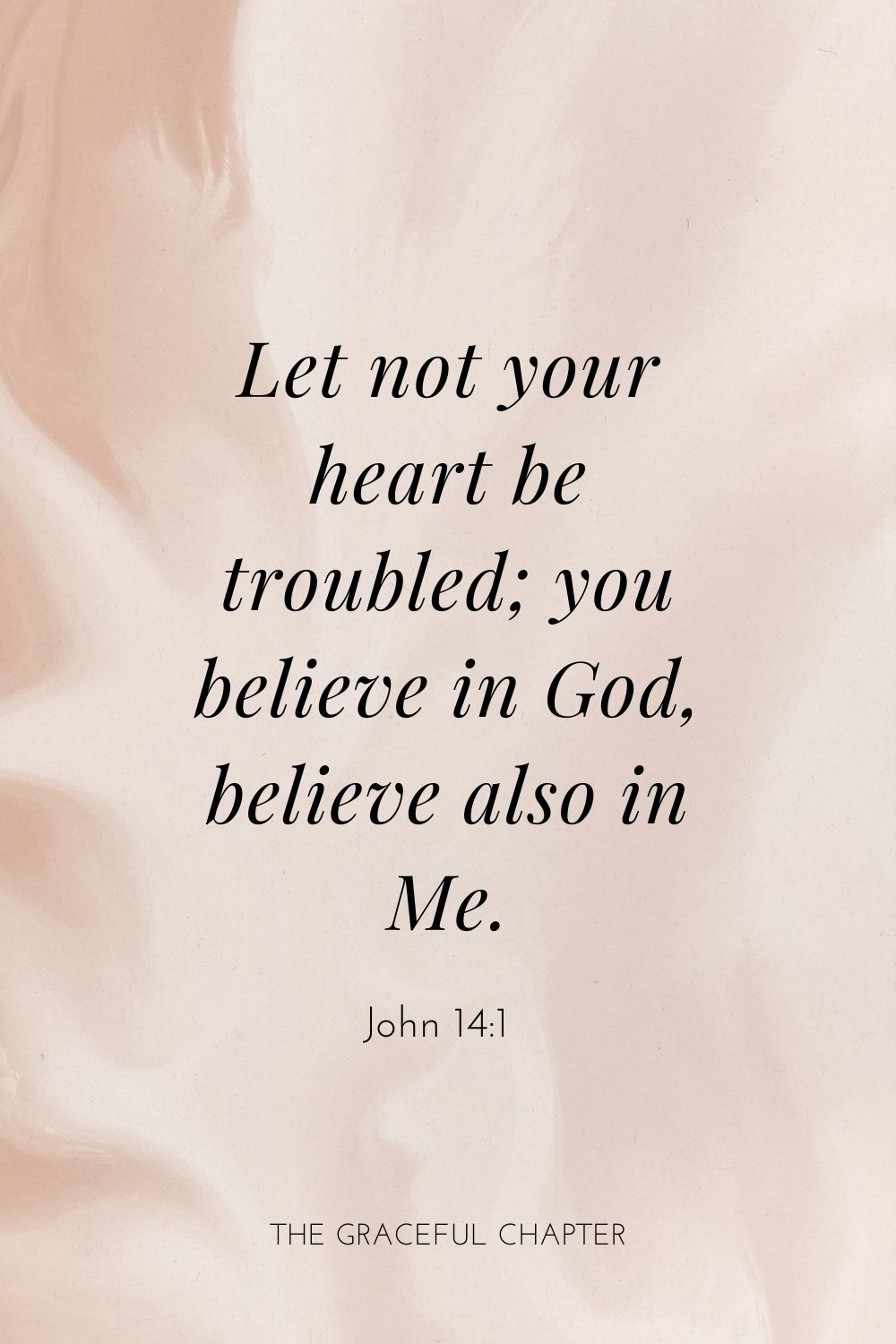 John 14:1
Let not your heart be troubled; you believe in God, believe also in Me.

2 Timothy 1:7
For the Spirit God gave us does not make us timid, but gives us power, love, and self-discipline.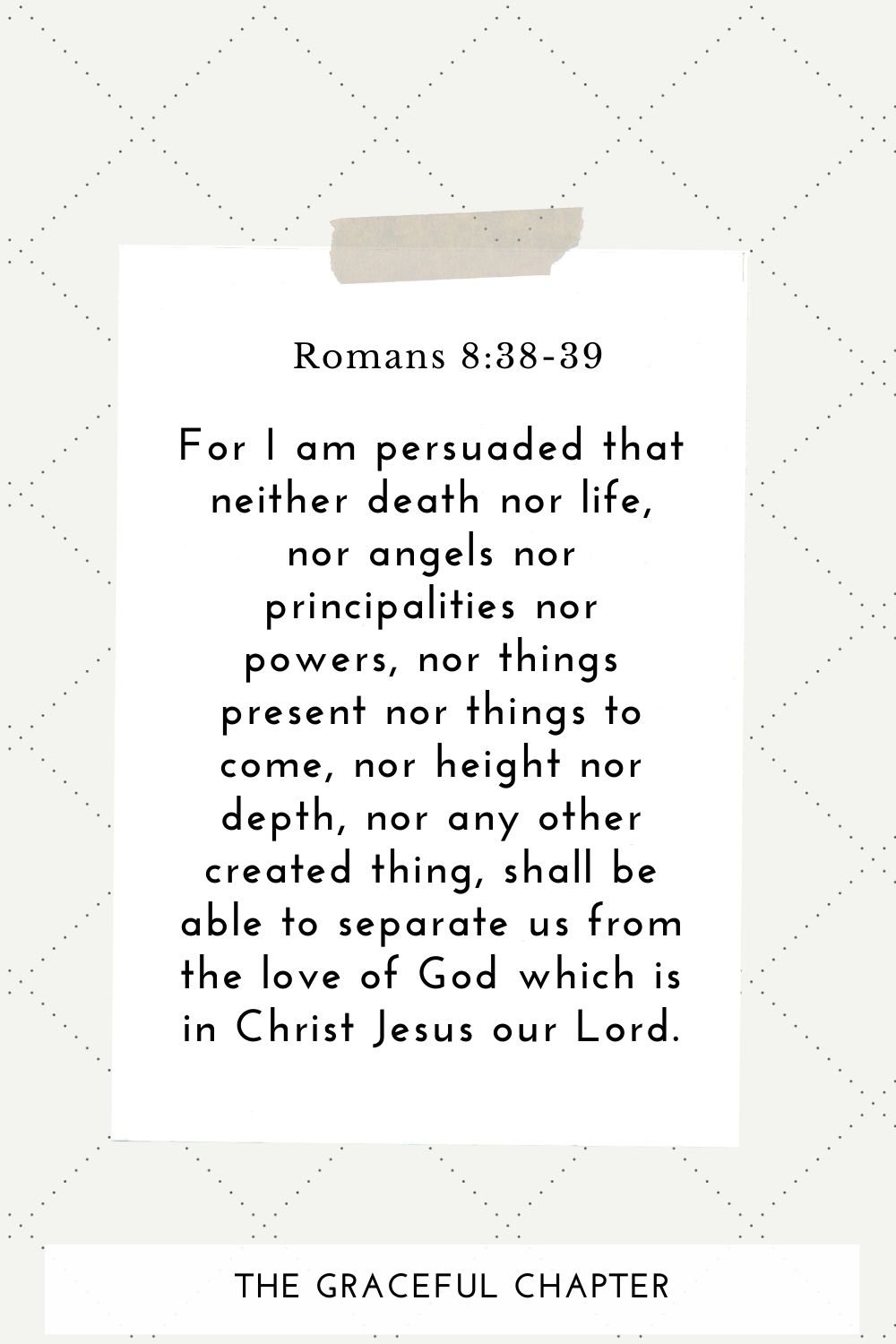 Romans 8:38-39
For I am persuaded that neither death nor life, nor angels nor principalities nor powers, nor things present nor things to come, nor height nor depth, nor any other created thing, shall be able to separate us from the love of God which is in Christ Jesus our Lord.

Psalm 56:3
When I am afraid, I put my trust in you.

Isaiah 35:4
Say to those with fearful hearts, Be strong, do not fear; your God will come, he will come with vengeance; with divine retribution he will come to save you."

Luke 12:22-26
Then He said to His disciples, "Therefore I say to you, do not worry about your life, what you will eat; nor about the body, what you will put on. Life is more than food, and the body is more than clothing. Consider the ravens, for they neither sow nor reap, which have neither storehouse nor barn; and God feeds them. Of how much more value are you than the birds? And which of you by worrying can add one cubit to his stature? If you then are not able to do the least, why are you anxious for the rest?

Joshua 1:9
Have I not commanded you? Be strong and of good courage; do not be afraid, nor be dismayed, for the Lord your God is with you wherever you go."

1 Corinthians 7:32
But I want you to be without care. He who is unmarried cares for the things of the Lord, how he may please the Lord.

Psalm 23:4
Even though I walk through the darkest valley, I will fear no evil, for you are with me; your rod and your staff, they comfort me.

Psalm 34:4
I sought the Lord, and He heard me and delivered me from all my fears.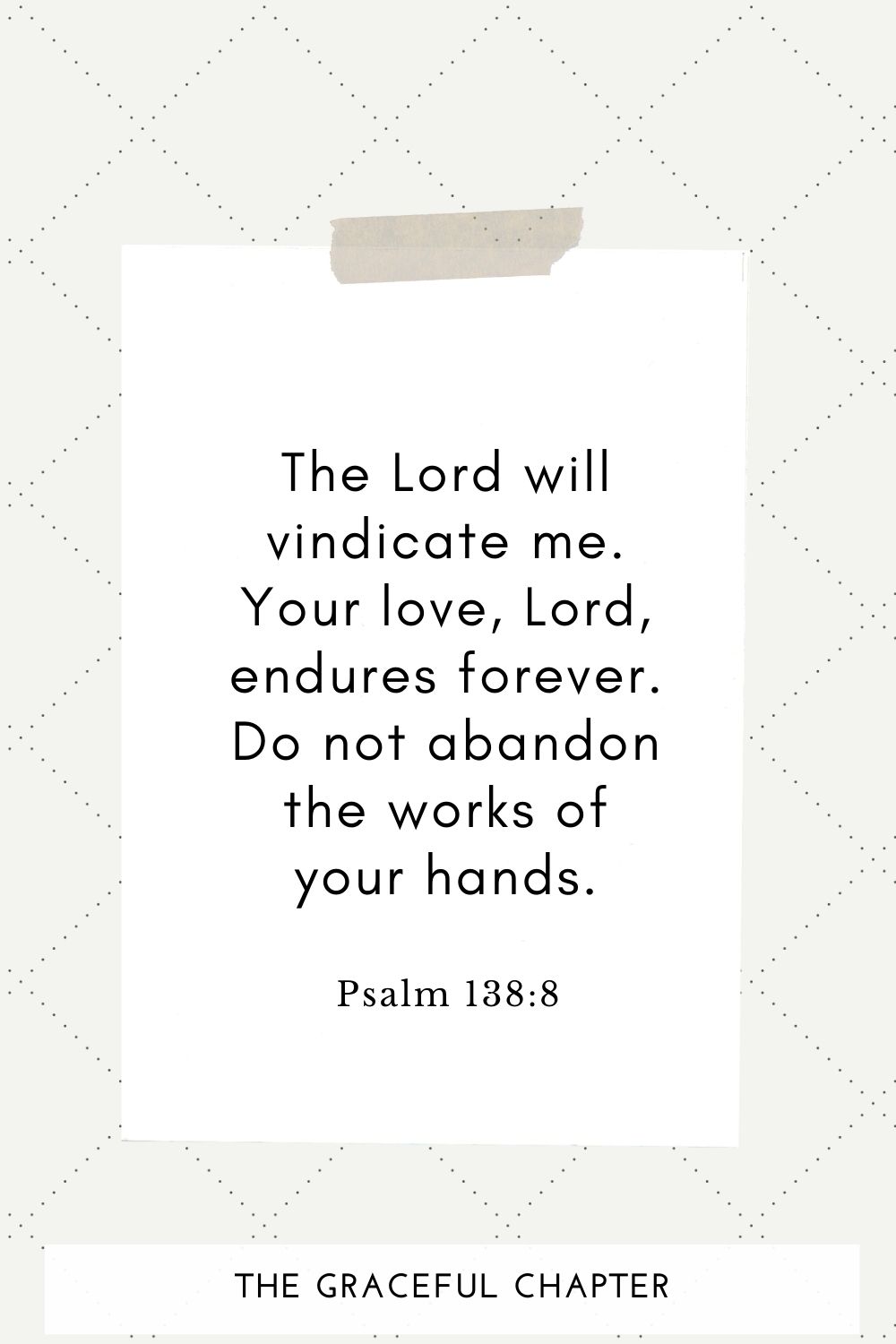 Psalm 138:8
The Lord will vindicate me; your love, Lord, endures forever do not abandon the works of your hands.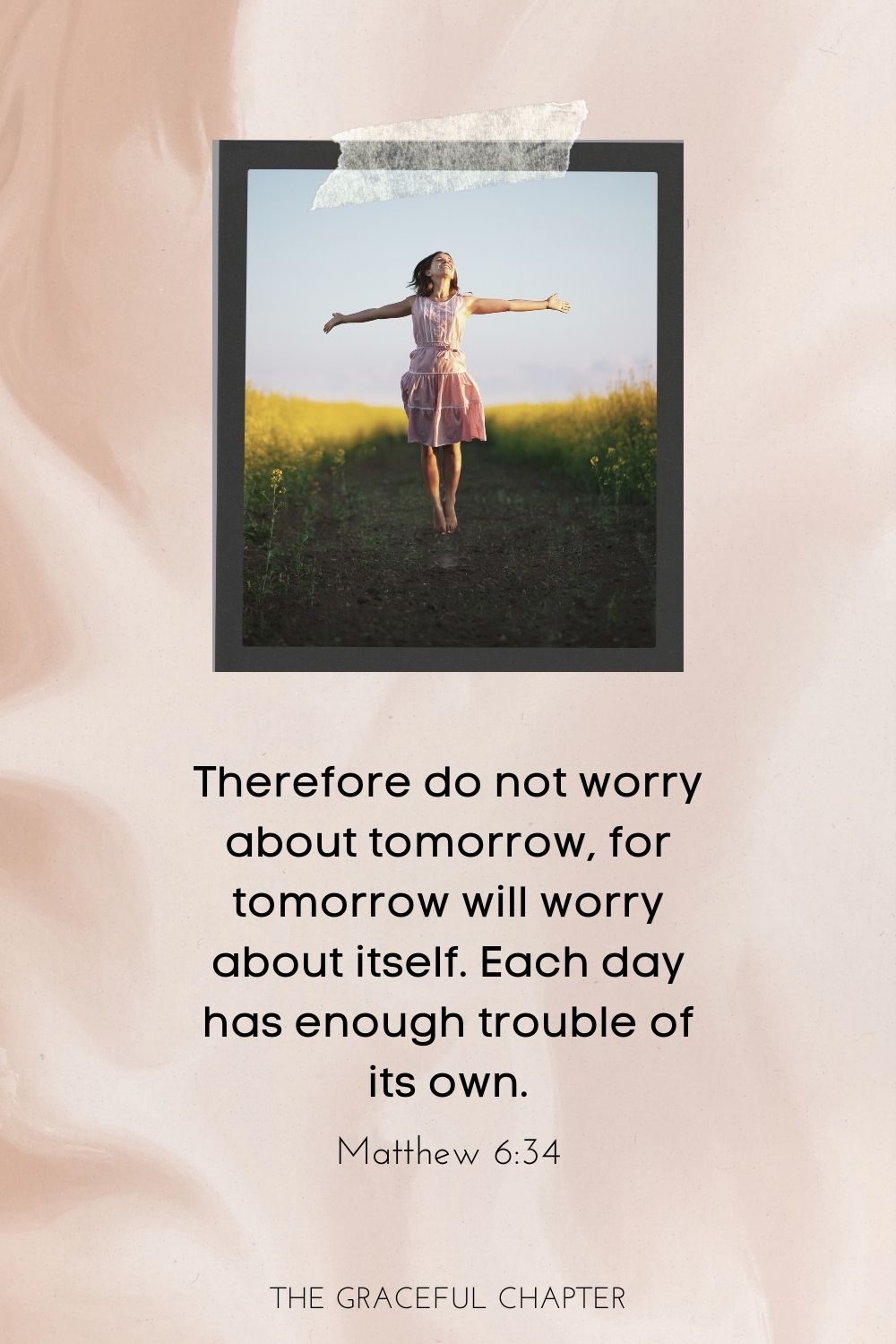 Matthew 6:34
Therefore do not worry about tomorrow, for tomorrow will worry about itself. Each day has enough trouble of its own.

Proverbs 3:5-6
Trust in the Lord with all your heart and lean not on your own understanding; in all your ways submit to him, and he will make your paths straight.



1 Peter 5:6-7
Humble yourselves, therefore, under God's mighty hand, that he may lift you up in due time. Cast all your anxiety on him because he cares for you.
Hebrews 13:5-6
Keep your lives free from the love of money and be content with what you have, because God has said, "Never will I leave you; never will I forsake you." So we say with confidence "The Lord is my helper; I will not be afraid. What can mere mortals do to me?"

Jeremiah 17:7-8
But blessed is the one who trusts in the Lord, whose confidence is in him. They will be like a tree planted by the water that sends out its roots by the stream. It does not fear when heat comes; its leaves are always green. It has no worries in a year of drought and never fails to bear fruit."

Matthew 6:27
And which of you by being anxious can add a single hour to his span of life?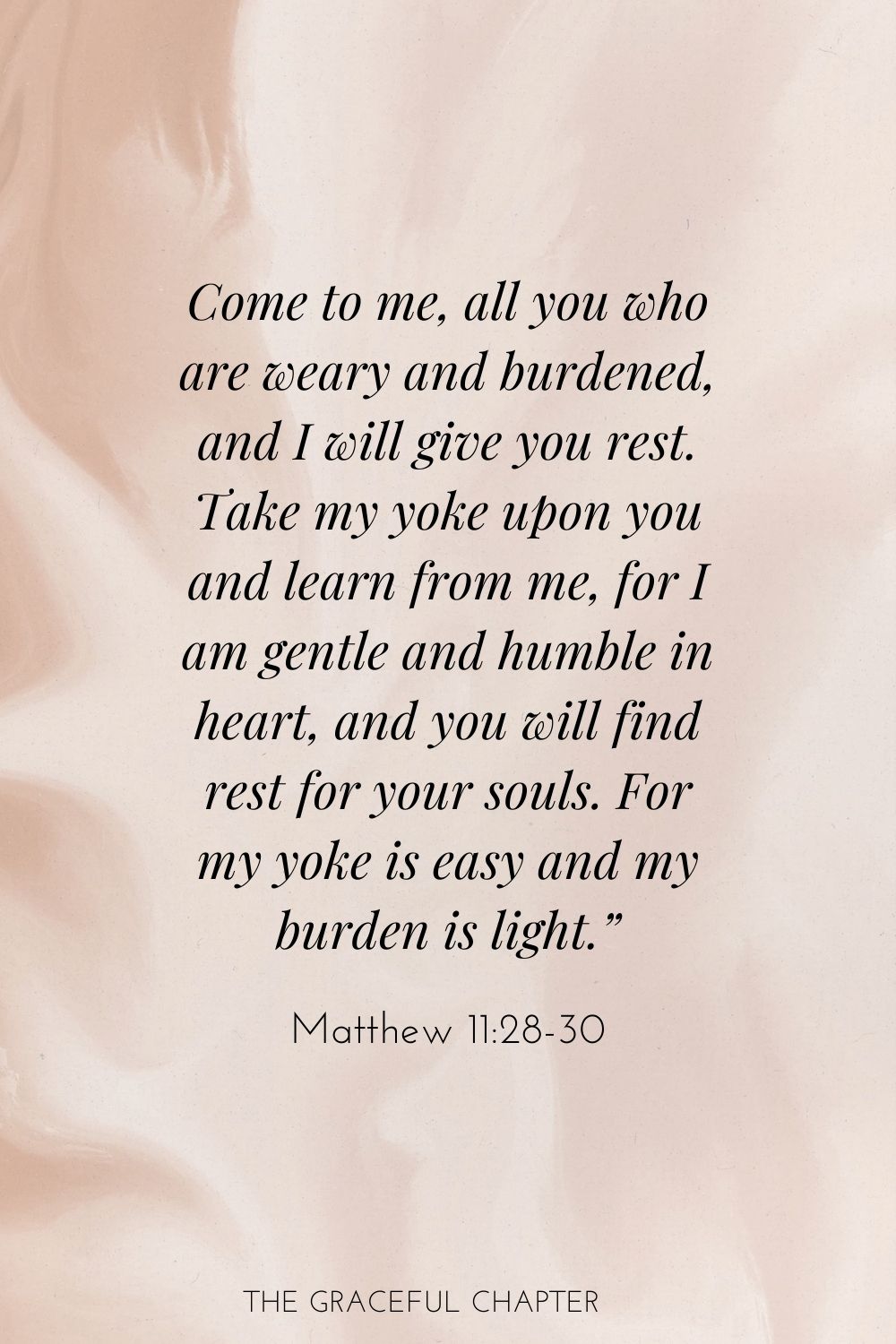 Matthew 11:28-30
Come to me, all you who are weary and burdened, and I will give you rest. Take my yoke upon you and learn from me, for I am gentle and humble in heart, and you will find rest for your souls. For my yoke is easy and my burden is light."

Related Posts
2 Thessalonians 3:16
Now may the Lord of peace himself give you peace at all times and in every way. The Lord be with all of you.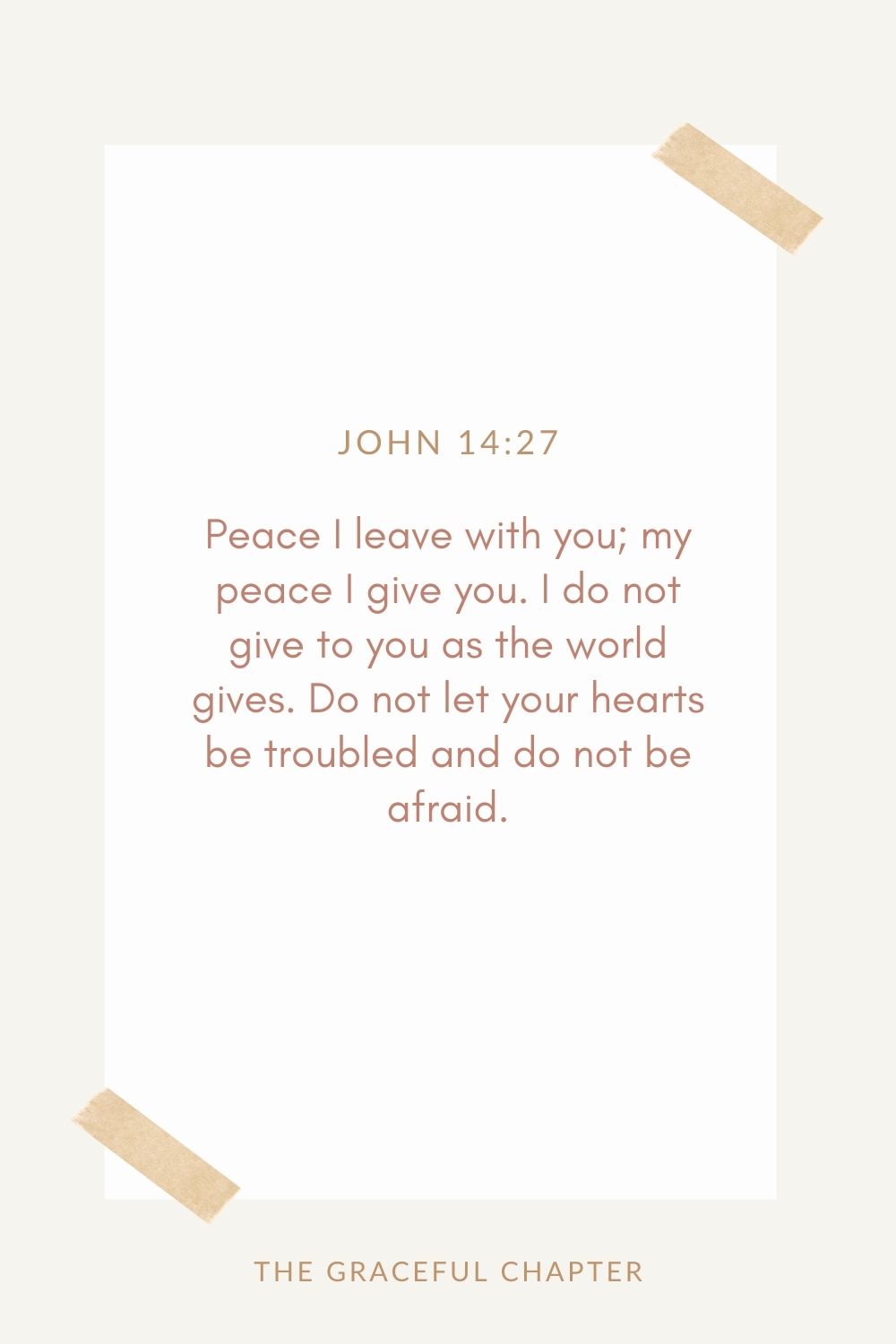 John 14:27
Peace I leave with you; my peace I give you. I do not give to you as the world gives. Do not let your hearts be troubled and do not be afraid.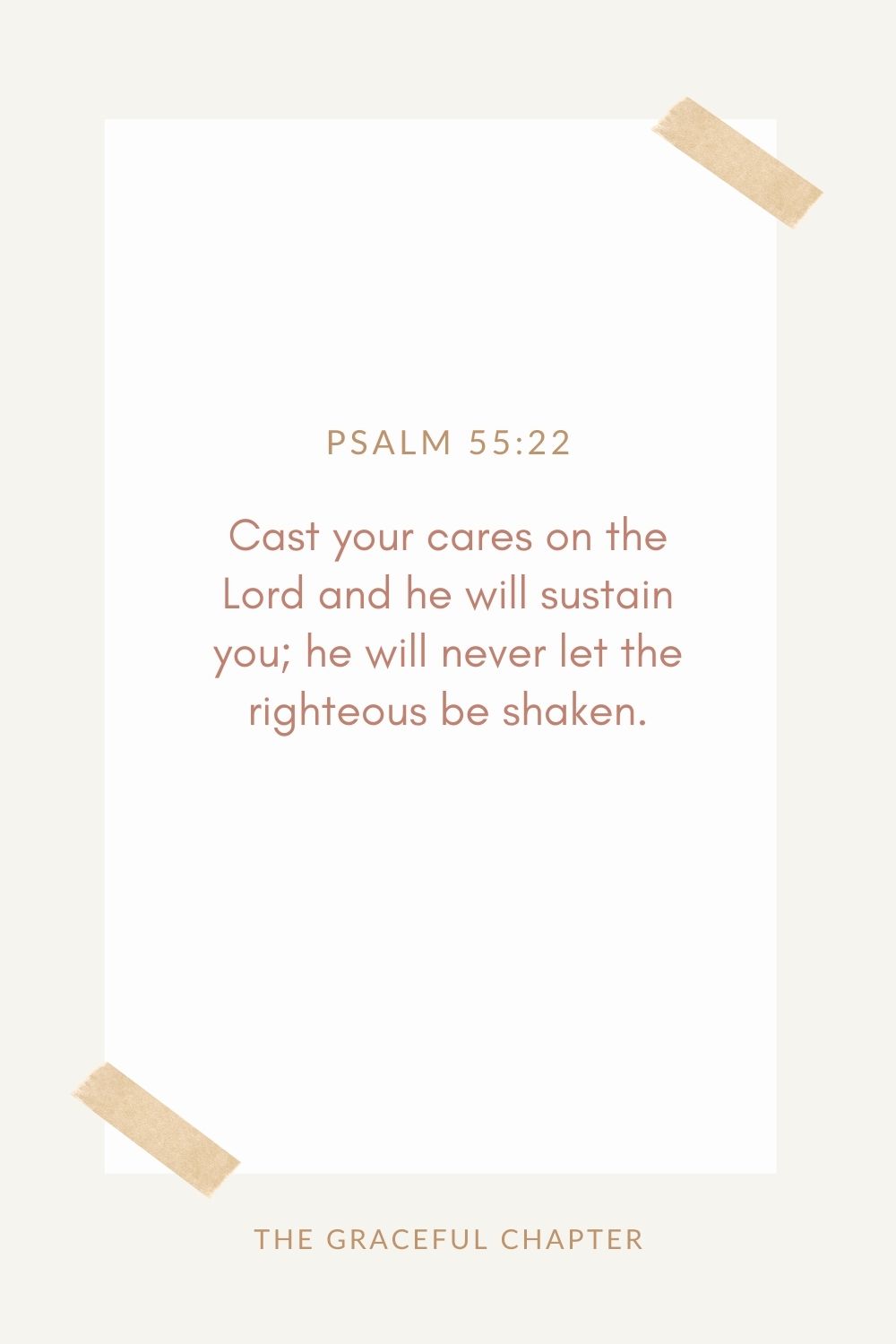 Psalm 55:22
Cast your cares on the Lord and he will sustain you; he will never let the righteous be shaken.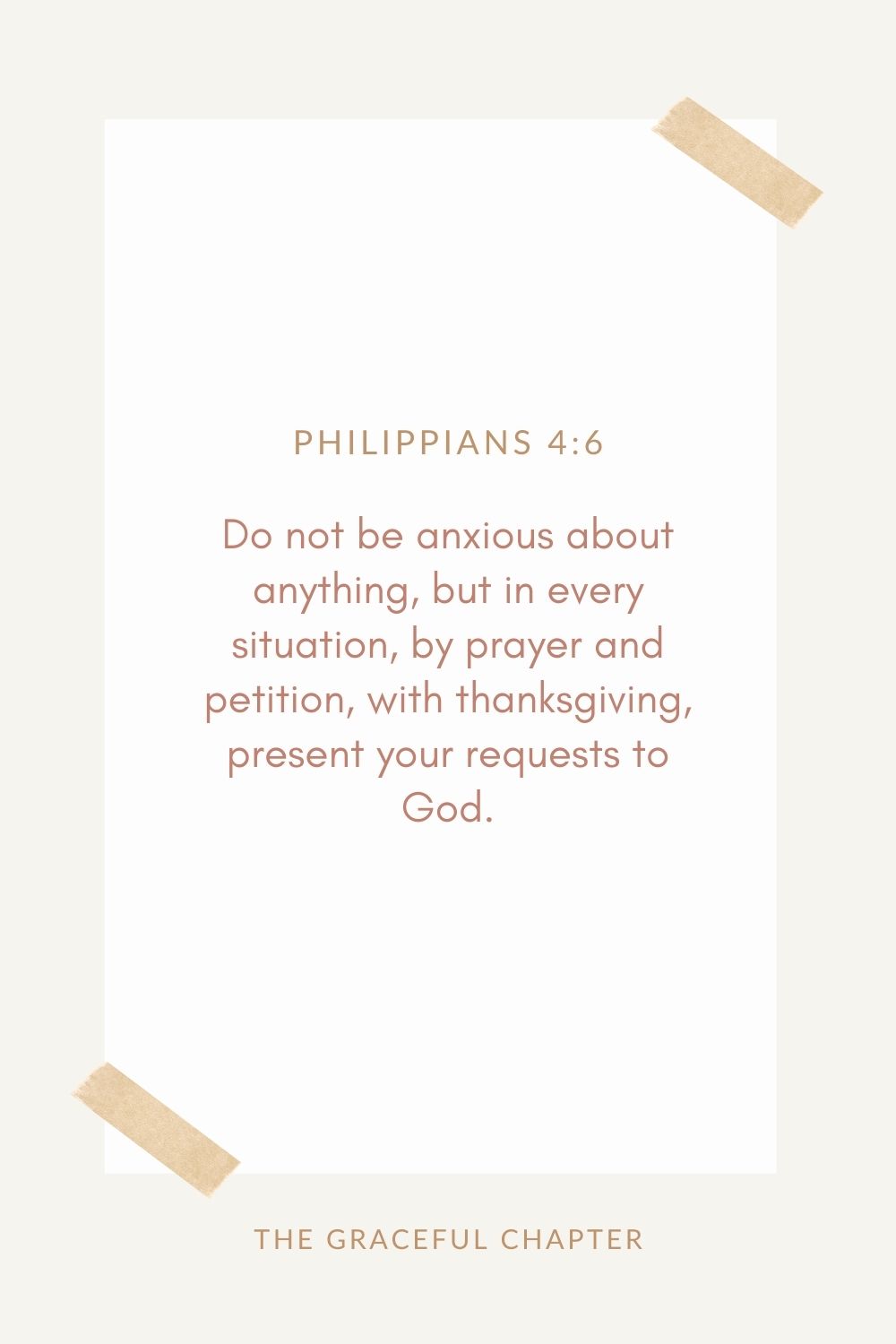 Philippians 4:6
Do not be anxious about anything, but in every situation, by prayer and petition, with thanksgiving, present your requests to God.

Hebrews 11:1
Now faith is confidence in what we hope for and assurance about what we do not see.

Colossians 3:15
Let the peace of Christ rule in your hearts, since as members of one body you were called to peace. And be thankful.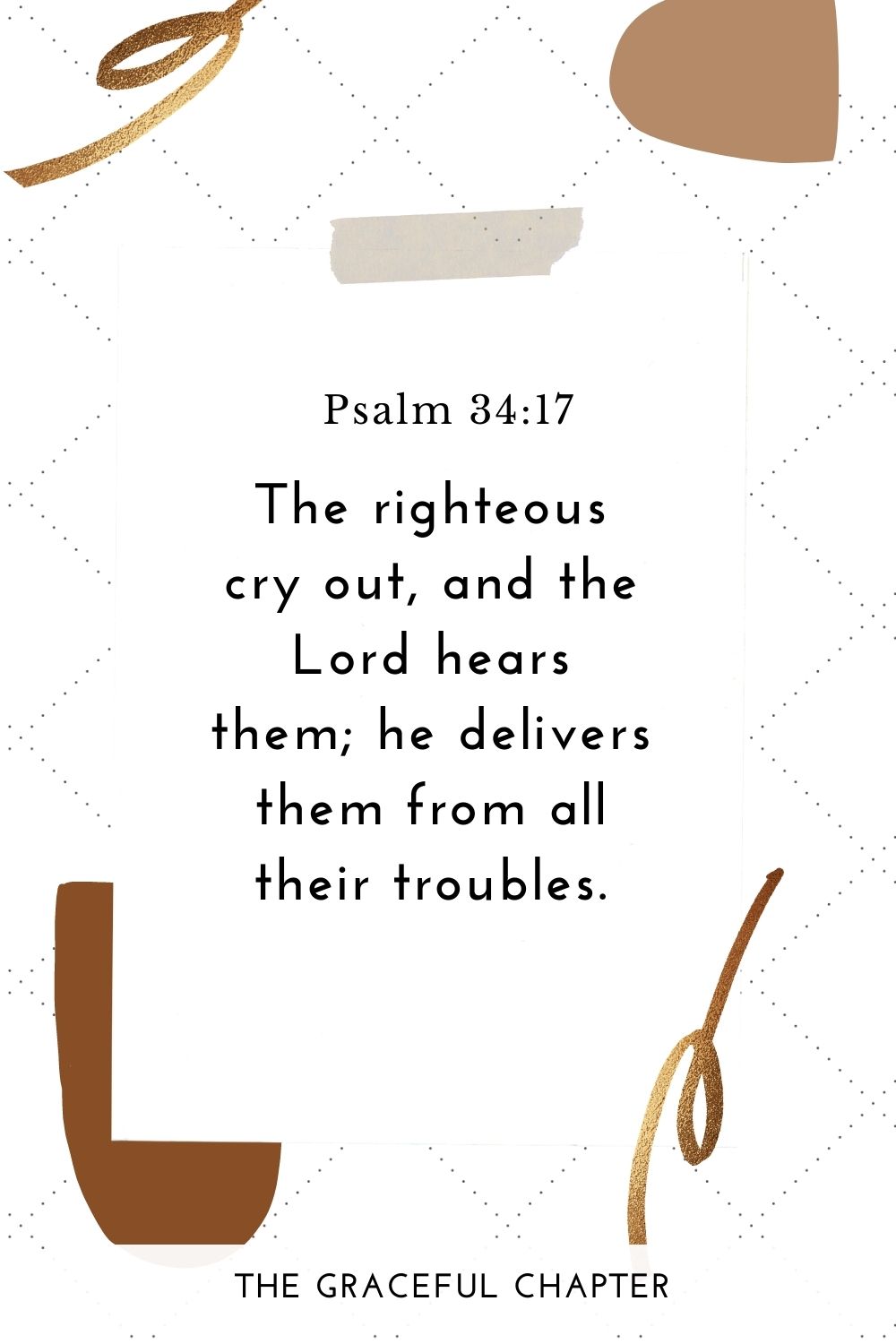 Psalm 34:17
The righteous cry out, and the Lord hears them; he delivers them from all their troubles.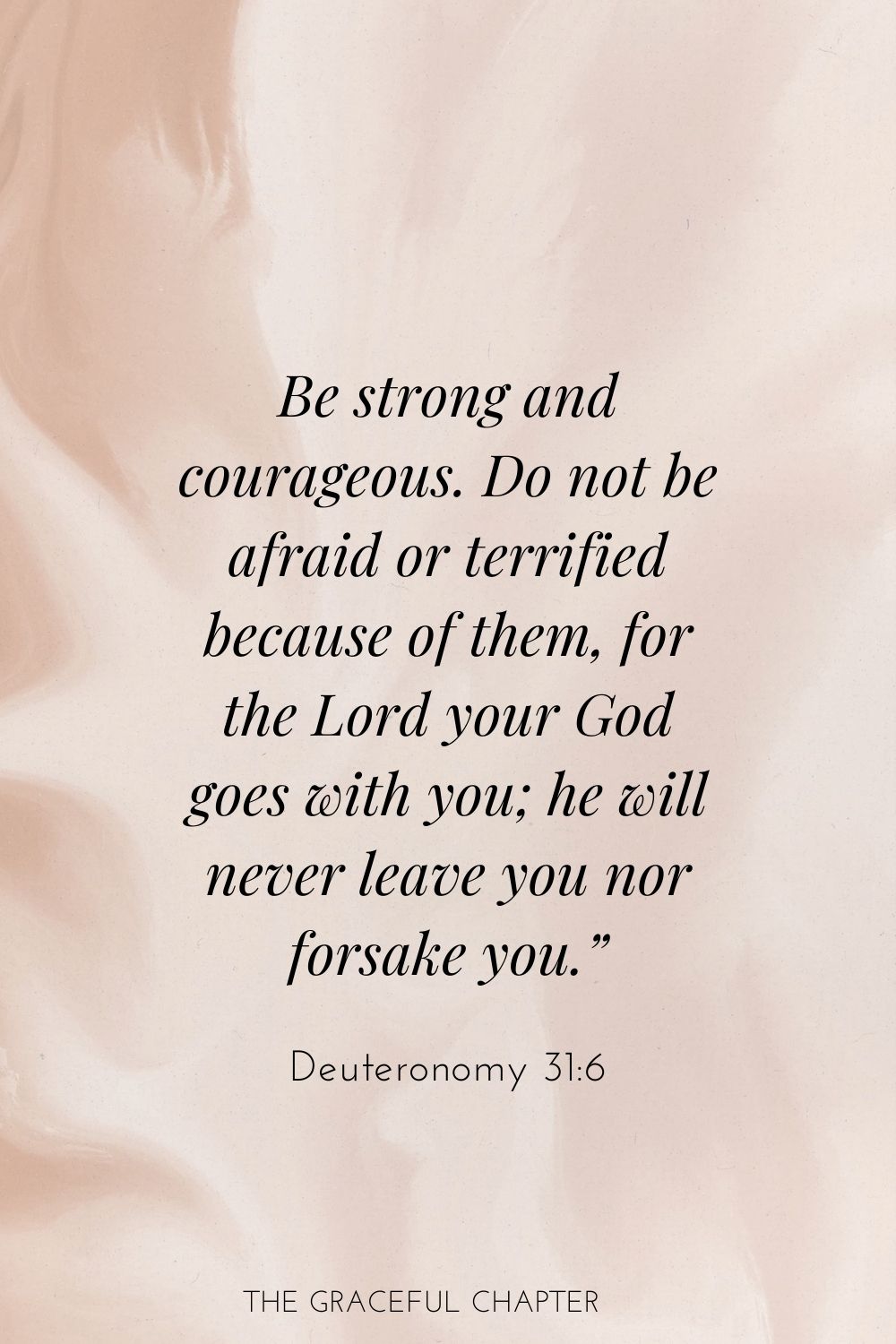 Deuteronomy 31:6
Be strong and courageous. Do not be afraid or terrified because of them, for the Lord your God goes with you; he will never leave you nor forsake you."

Mark 5:36
Overhearing what they said, Jesus told him, "Don't be afraid; just believe.

Zephaniah 3:17
The Lord your God is with you, the Mighty Warrior who saves. He will take great delight in you; in his love he will no longer rebuke you, but will rejoice over you with singing.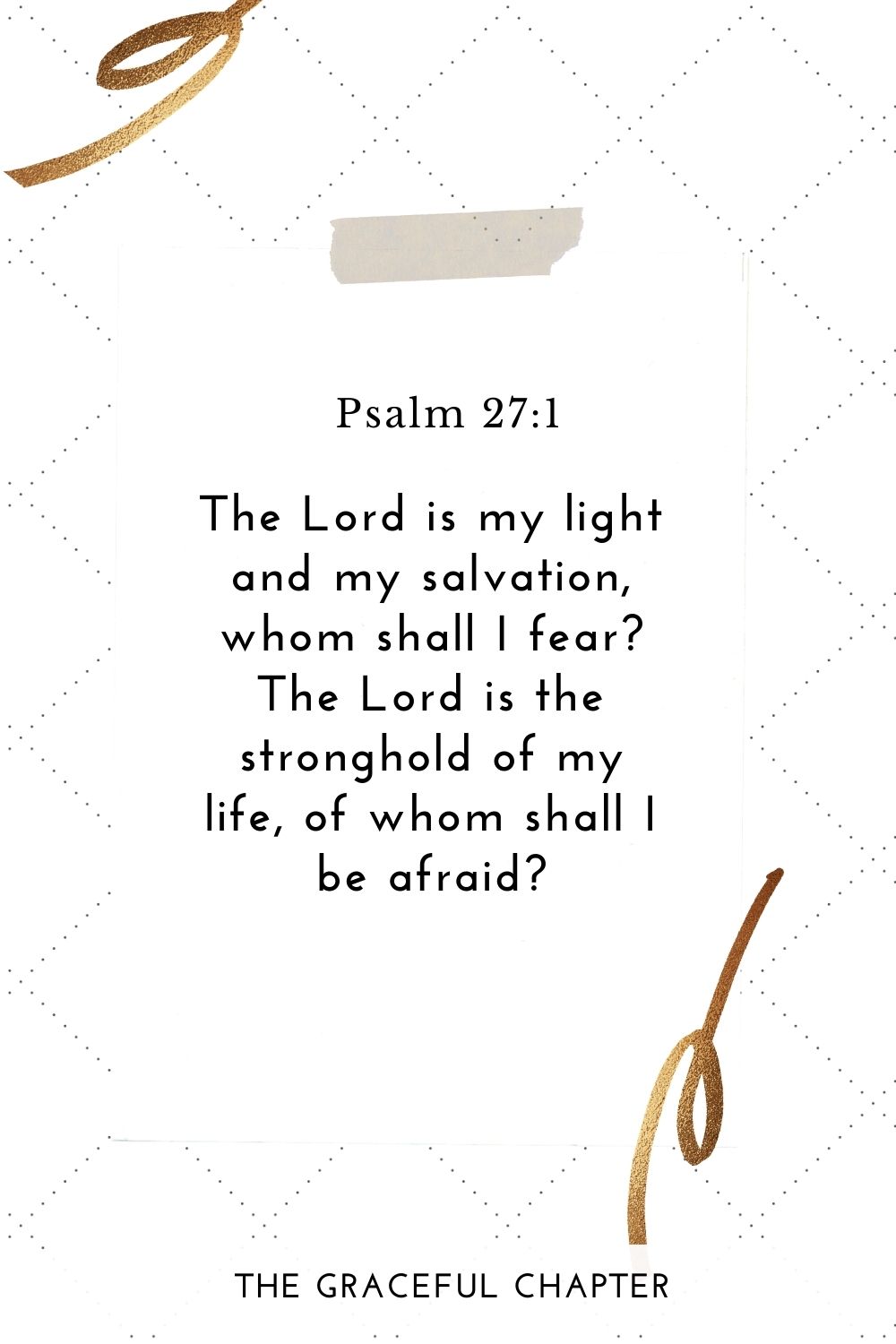 Psalm 27:1
The Lord is my light and my salvation, whom shall I fear? The Lord is the stronghold of my life, of whom shall I be afraid?

Psalm 46:1
God is our refuge and strength, an ever-present help in trouble.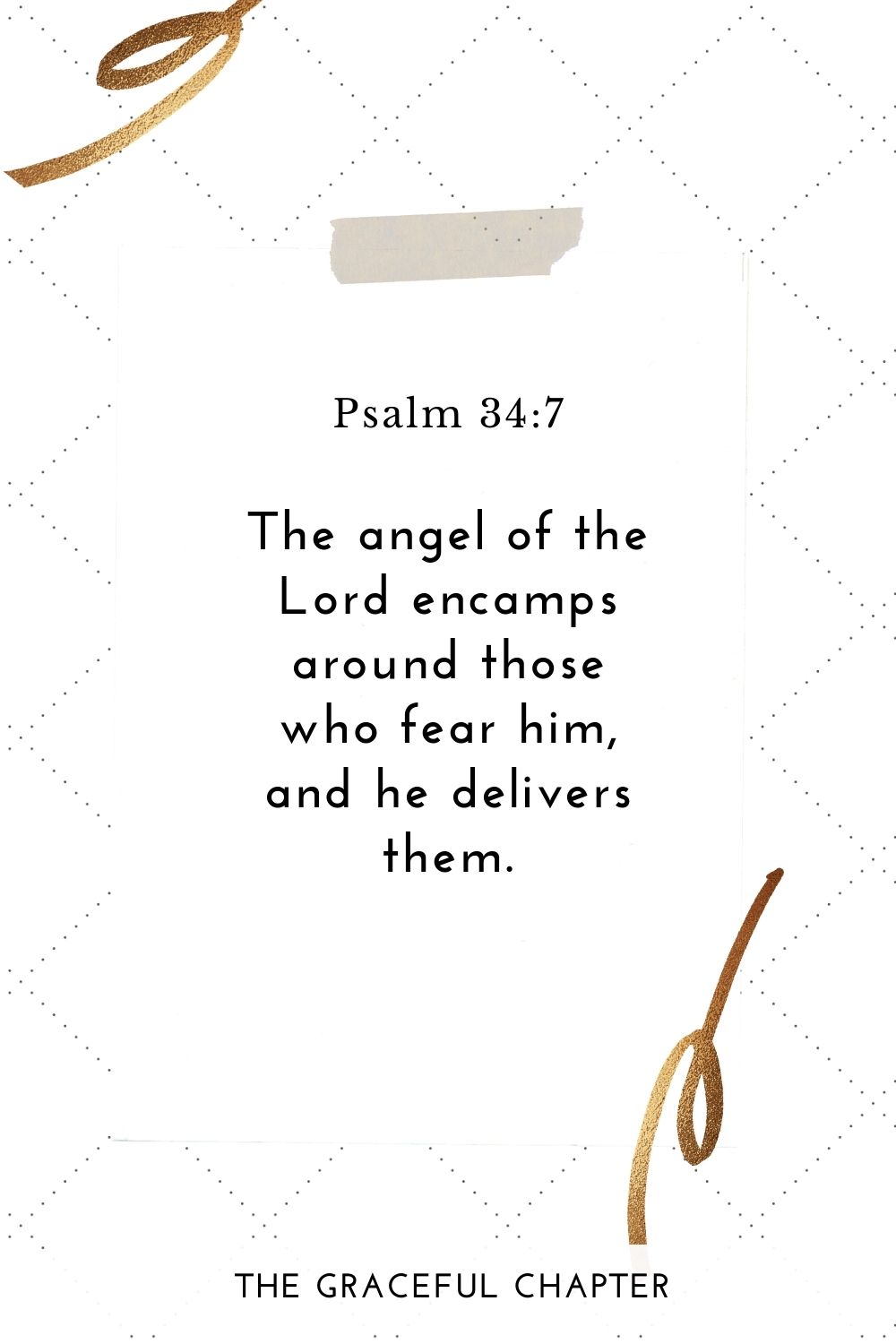 Psalm 34:7
The angel of the Lord encamps around those who fear him, and he delivers them.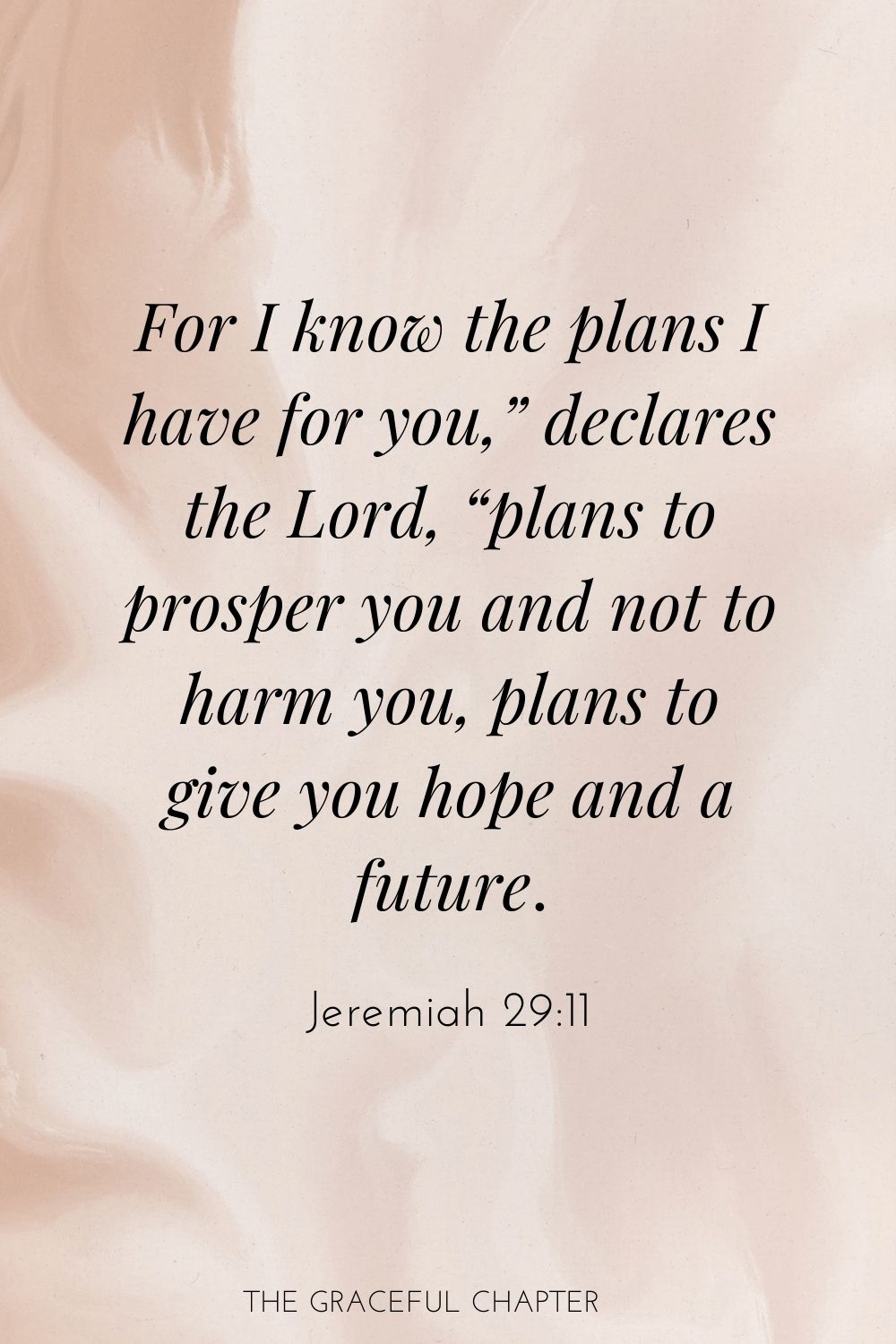 Jeremiah 29:11
For I know the plans I have for you," declares the Lord, "plans to prosper you and not to harm you, plans to give you hope and a future.

Prayer for when you are worried
Heavenly Father,
Thank you for your love and mercy in my life.
Today, I come before you to lay down my burdens and my worries.
I've been so worried lately but the truth is, the things I worry about are out of my control.
But you Oh Lord, there is nothing that you can't do.
And so, I know that if I cast my worries and my fears on you, everything will be okay.
So I surrender it all to you.
Please see me through this situation I'm facing.
Teach me not to worry about what I can't control.
Calm my heart and grant me peace.
Give me the strength and courage to let go of this fear and anxiety.
In Jesus' name, I pray,
Amen.