He will wipe every tear from their eyes. There will be no more death or mourning or crying or pain, for the old order of things has passed away. Revelation 21:4
There are moments in life when we lose people we care deeply about. These people sometimes leave long-lasting prints in our lives. Some of them are people we know we can never replace. The impacts these people have on our lives are sometimes unmatched.
They may also be people you are so close to and haven't imagined how life would be if they suddenly left this world.
When sin was born, so was death. There will come a time when our bodies are so weak that they cannot continue to live on this earth. There will also come a time when you will lose someone dear to you to a disease or an accident.
Sometimes we lose people through the wickedness of others and the evil that exists on this earth. It's impossible to know exactly when we will lose the people we love but God wants us to know that he will heal our broken hearts and wipe away our tears. There will be no more death in paradise and all things will become new again.
As Christians, we must draw close to those who grieve and are in mourning. We must make them understand that there is no end with God and that one day everything will be alright.
When their whole world looks shattered and cloudy to them we must be their light and comfort. The Lord is Father, provider, and protector to all of us and will take care of anyone that is grieving or in pain.
We must pray for those who are mourning and going through deep pains due to the loss of a loved one. We must always be there for them and let them know that God's plans for them are glorious and secured.
They should not lose hope because of the loss but rather keep faith in God. They must understand that the God who has existed from the beginning of creation and continues to exist knows the reason behind everything that happens. He is the husband to the widow, the father to the fatherless, mother to the motherless, and he is the One we all lean on.
Comforting prayers for the grieving
Prayer for the grieving heart
Lord,
I come to you in prayer today to seek comfort and solace
Father, I'm crushed and my heart is filled with so much sadness
It feels like I can't go on and all I can do is cry
Father, I pray for your strength
Please strengthen me and fill my heart with hope
Help me to accept this loss that has befallen me
And grant me the grace to persist in life
Heal my broken heart, Lord
And help me find joy in life again.
Amen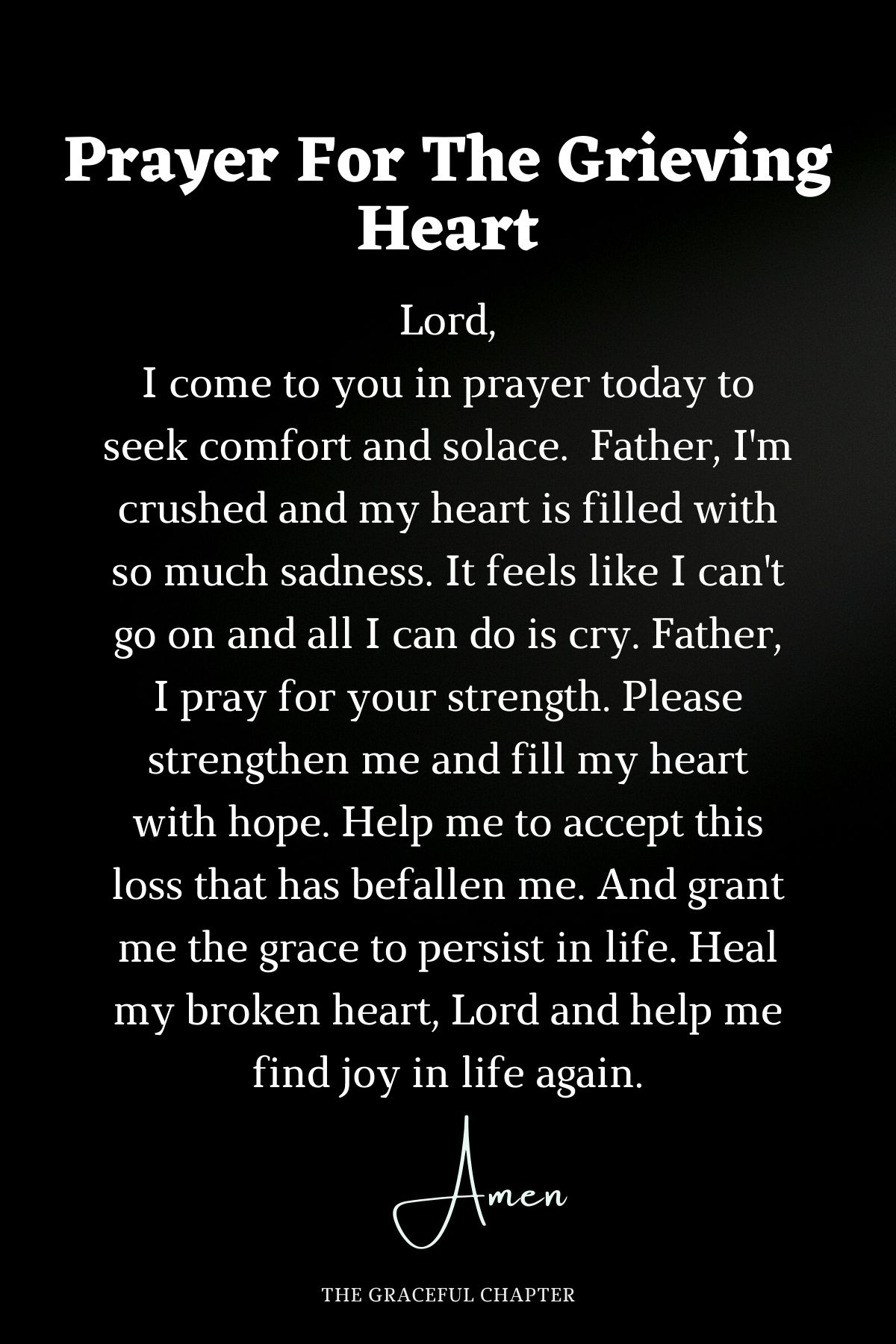 Prayer for the grieving parent
Father Lord in heaven
We pray for all grieving parents today
We ask that you comfort them and wipe away their tears
Please restore the strength that they have lost all these years
Reward them for the selfless sacrifices they made for their child
Replace everything they lost on this child
Grant them the strength to move on from this tragedy
Let them not lose faith because of this
Do not let their suffering be in vain
Help them find joy again
and heal their broken hearts in Jesus' name
Amen
Prayer for the grieving widower
Dear Lord in heaven
We pray for men who have lost their wives
We ask for grace and peace in their hearts
Please relieve them of any anguish and pain in them
Wipe the tears from their eyes
Help them find comfort going forward
Help them forget the hurt so they can move on
Only you know why things happen
Let your presence be felt in their lives
Help them take care of their family
And fill every emptiness that has been created in the family
Amen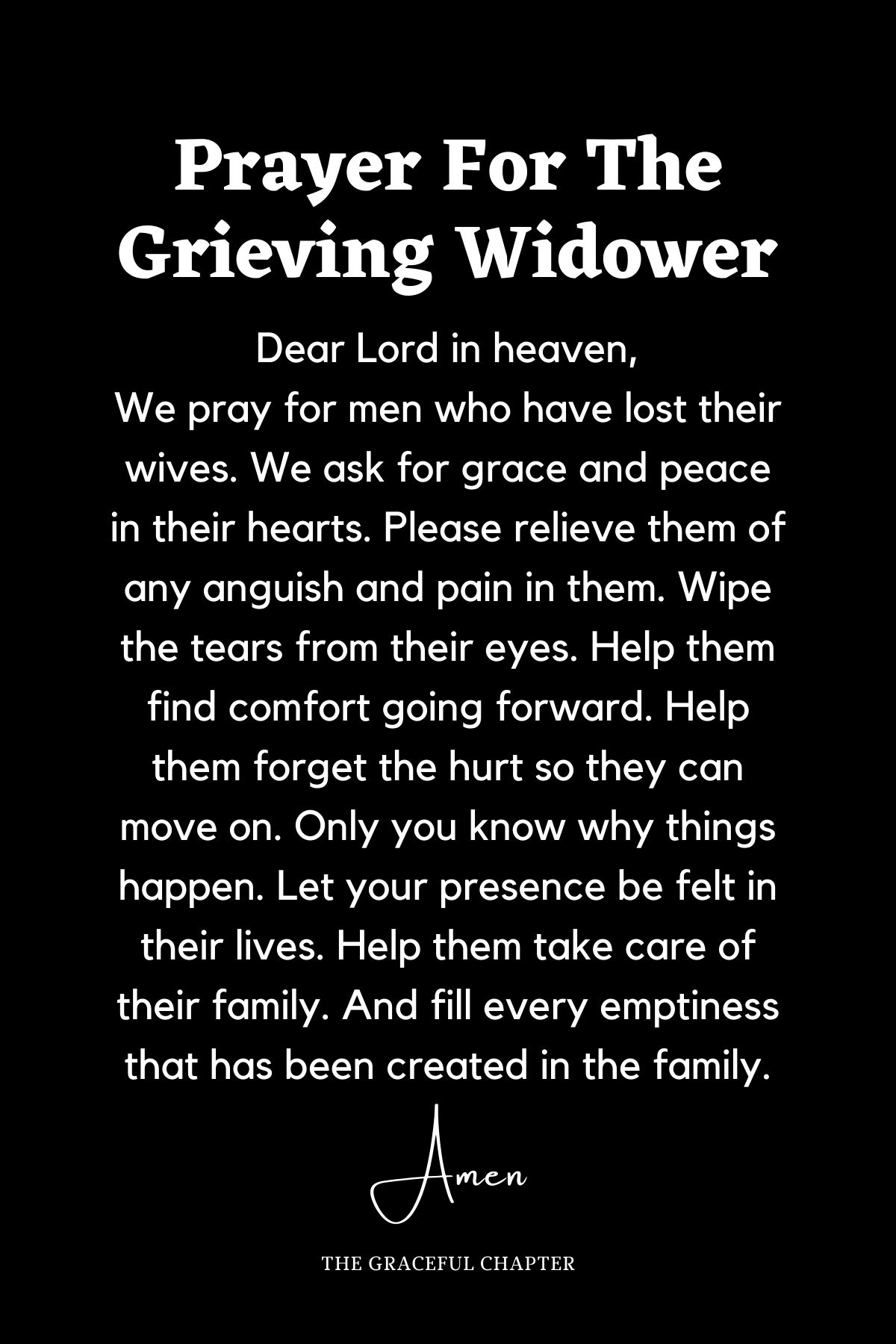 Prayer for the grieving widow
Dear Lord,
We pray for all grieving widows
Please calm their hearts and souls
Be their shoulder to lean on
Take away any burden that they may be feeling
Come and take control of their homes
Let them see clearly
Do not let them want anything
Replace anything they have lost as a result of this tragedy
Let them feel you now more than ever
We cancel any spirit of poverty from their lives
And we pray that you sustain and strengthen them from now on
Amen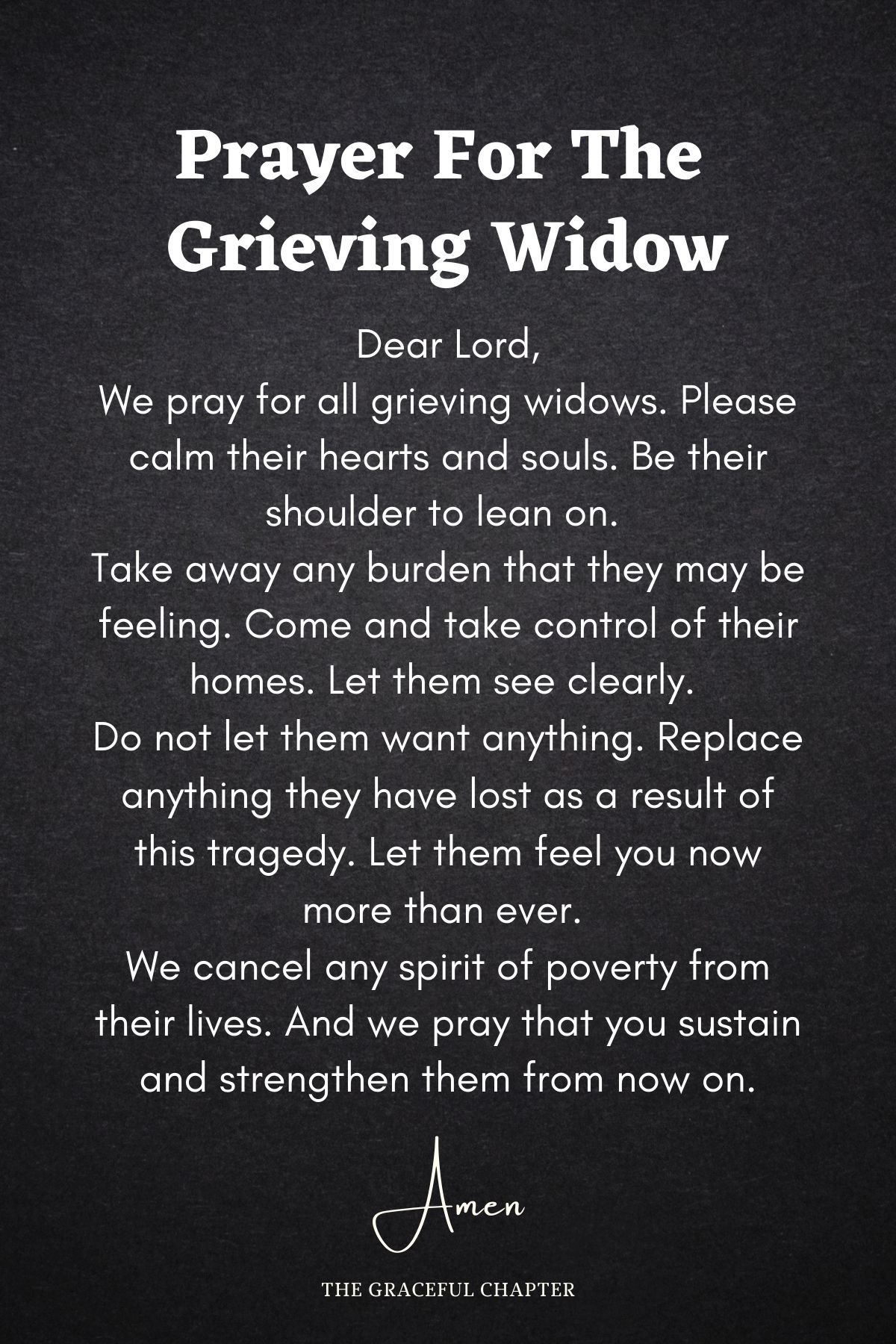 Prayer for the grieving child
Heavenly Father,
We call for strength for all grieving children
We ask that you bless them and help them overcome this sad period
Let them remember the good things they learned from their parents
Let them live to make their parents proud
We ask that you prepare a place for these parents
Let them find rest and comfort in your bosom
Help these children find peace and hope in you
Let no child be lost or left behind because of this
Help them find solace and grace
And remove any pain that is in their hearts
Amen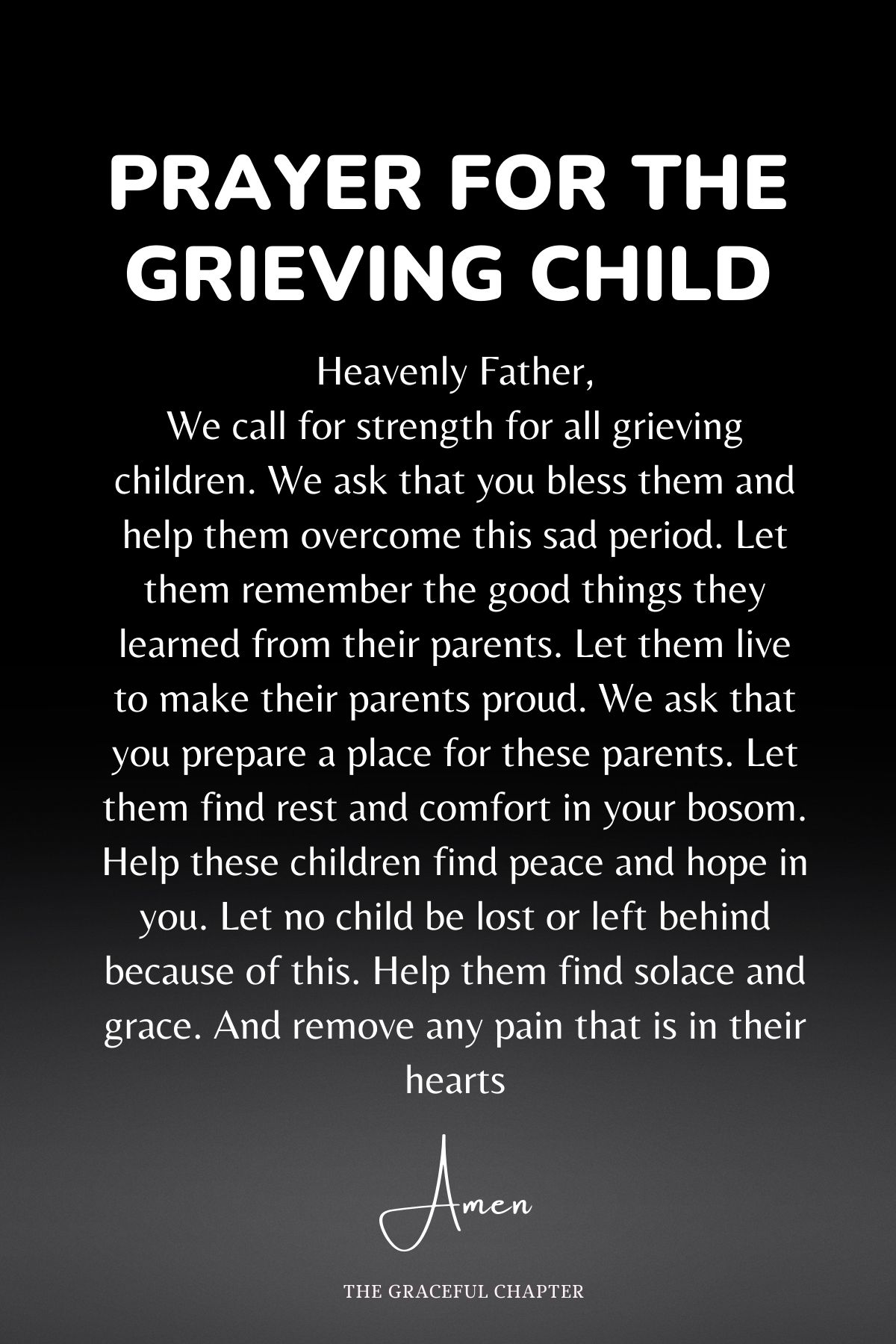 Related Posts
Prayer for the grieving grandchild
Heavenly Father
We pray for those who have lost grandparents
Help them through this
Let them never forget the nuggets of wisdom they received from them
Let them use it in their own lives
Let them transfer the good values to their own children
Let this moment bring them together
Let them find love in you
and replace all they have lost in Jesus' name
Amen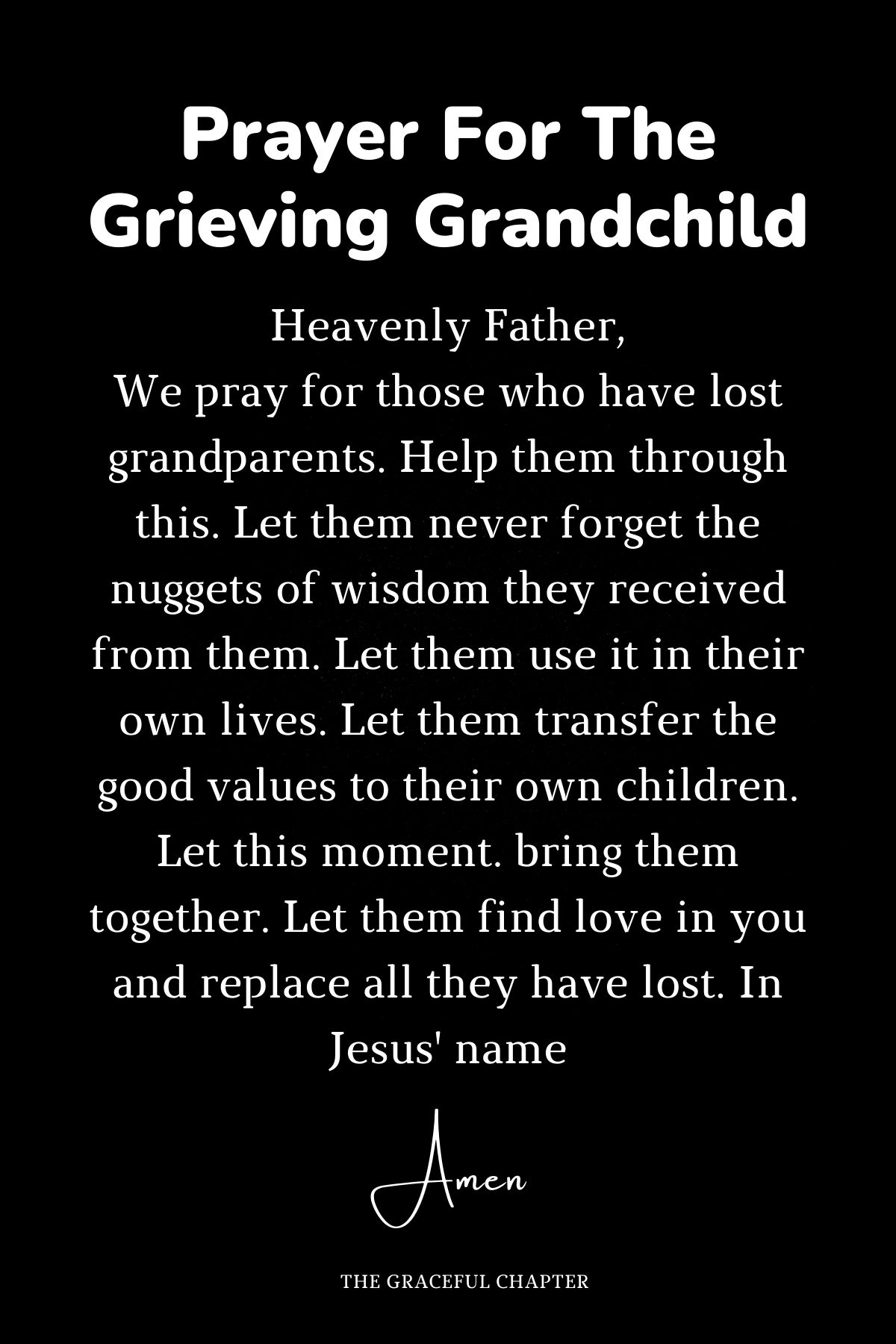 Prayer for a grieving friend
Dear Lord
We pray for all grieving friends
Let them find comfort in you
Heal their broken hearts
Let them learn from the good parts of their deceased friend's life
Let this serve as a reminder for them to work on their own salvation
Let this be a reminder of your love and how they will one day come to you
Let this be a day they learn to forgive all wrongs against them
Wipe away their tears and crush their pain
And replace it with joy and perspective
Amen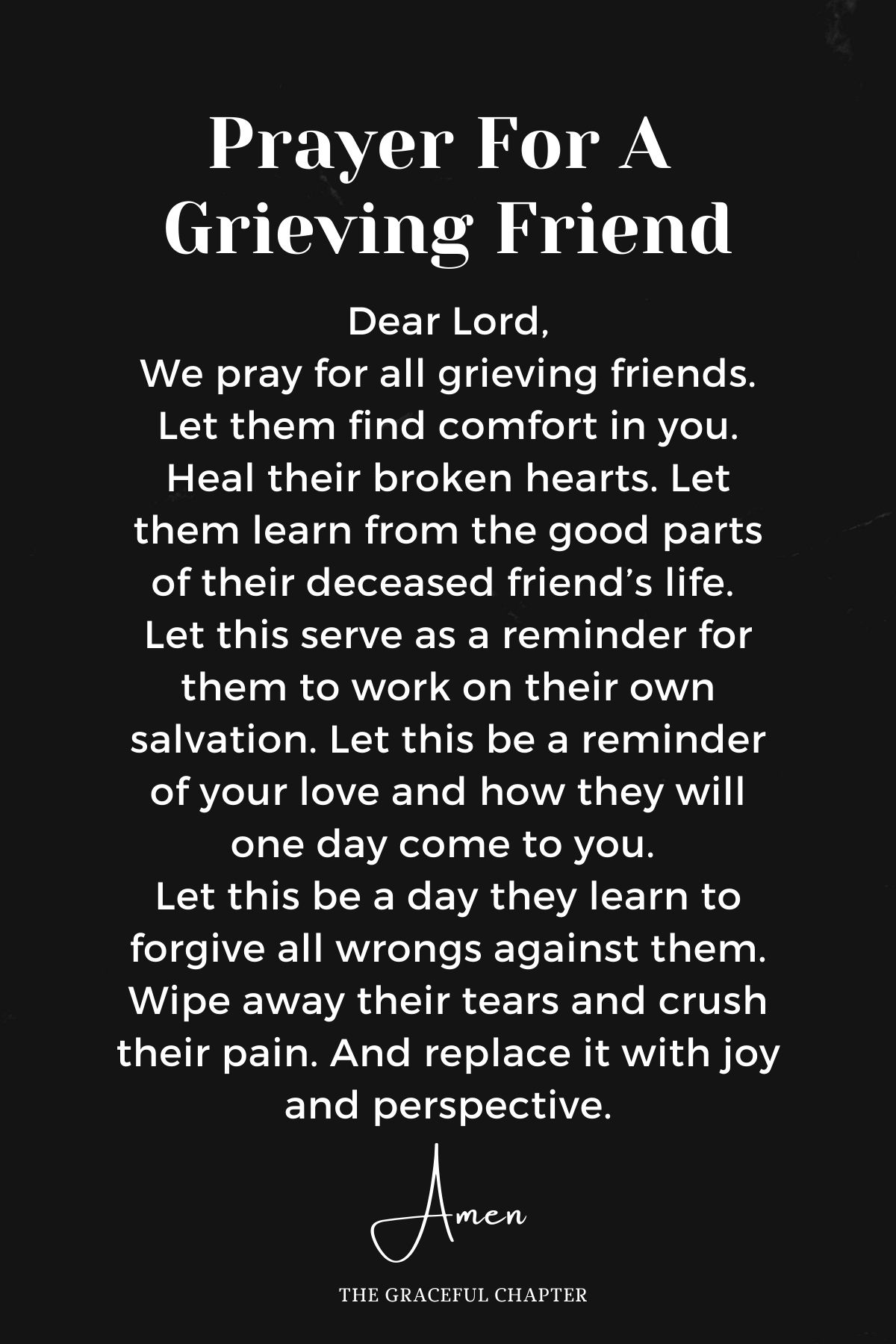 Prayer for the grieving co-worker
Dear Lord
We pray for all those who mourn their former colleagues
Let this loss not break any of them
Let them continue to find favor in you
Help them move on from this grave loss
Let your spirit replenish any energy that has been sucked out of their lives
Restore their faith in you
Take all fear from their hearts and let them lean on you
Bless them in their everyday lives
And let their foundations remain strong
Amen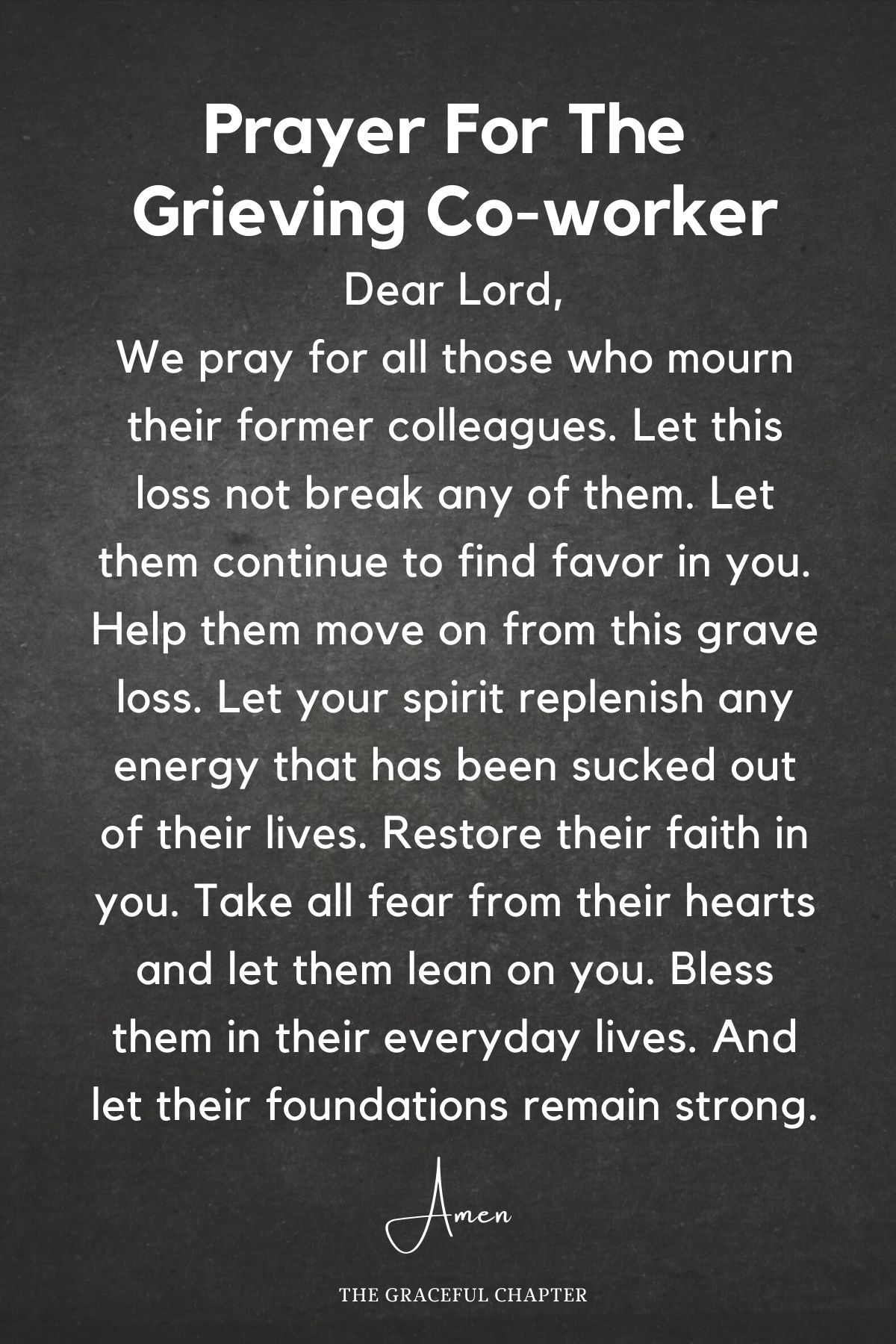 Prayer for the grieving schoolmate
Dear Lord
We give thanks for the experience they shared together
Only you know when the time is right to come for your children
We pray for all schoolmates in mourning
Help them with the strength to focus on their studies
Comfort their hearts and souls
Remove any spiritual connections they may have had with the dead
Hold them in your arms
Let them not feel broken
Be their hope and strength forever
Amen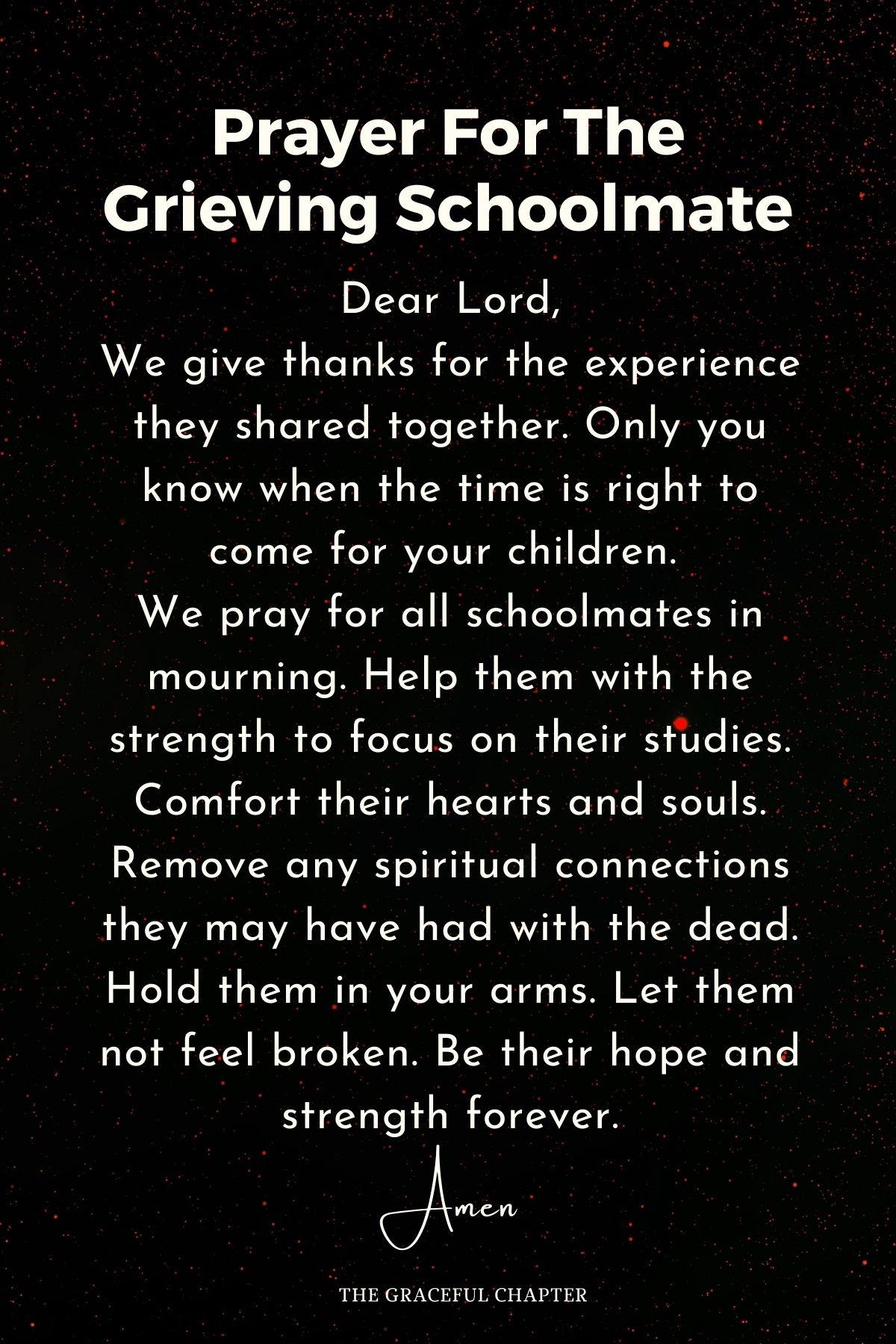 Death is not the end but only another path the spirit takes. Even though we are broken because we do not see those who die anymore, we should pray for their souls so they go to God. This is the only way we can go to them and see them again.
We must help those who grieve to put their faith in God. We must strengthen them to be able to let go of the pain and hurt. We should hold them closer to us and not let them feel alone and dejected.
I consider that our present sufferings are not worth comparing with the glory that will be revealed in us.

Romans 8:18