Fear is a part of life. Everyone, no matter who you are or what you have is afraid of something. Sometimes, fear can be so overwhelming and take over your life. Fear can cause panic attacks and make you feel physically sick.
Usually what scares us the most, what makes us afraid, are mostly things we can't control. Things we have no power over causes us to be afraid. This can be anything from health issues, accidents, unemployment, relationships, death, our kids, and a whole lot more.
But the thing about fear is that fear shuts you down and stops you from moving forward in life. Once you let fear take over you, you slowly start losing faith as you worry more about your fears and your problems.
So instead of letting fear in, you should rather focus more on God and draw closer to Him. That way your faith in Him will keep growing stronger because once you believe in Him, everything is possible.
The bible is full of scriptures that empower you and strengthen you in times of trouble. Here are some bible verses for overcoming fear, to give you courage, and strengthen your faith in God.
Isaiah 35:4
Say to those with fearful hearts,
Be strong, do not fear; your God will come, he will come with vengeance; with divine retribution he will come to save you."

Joshua 1:9
Have I not commanded you? Be strong and courageous. Do not be afraid; do not be discouraged, for the Lord your God will be with you wherever you go."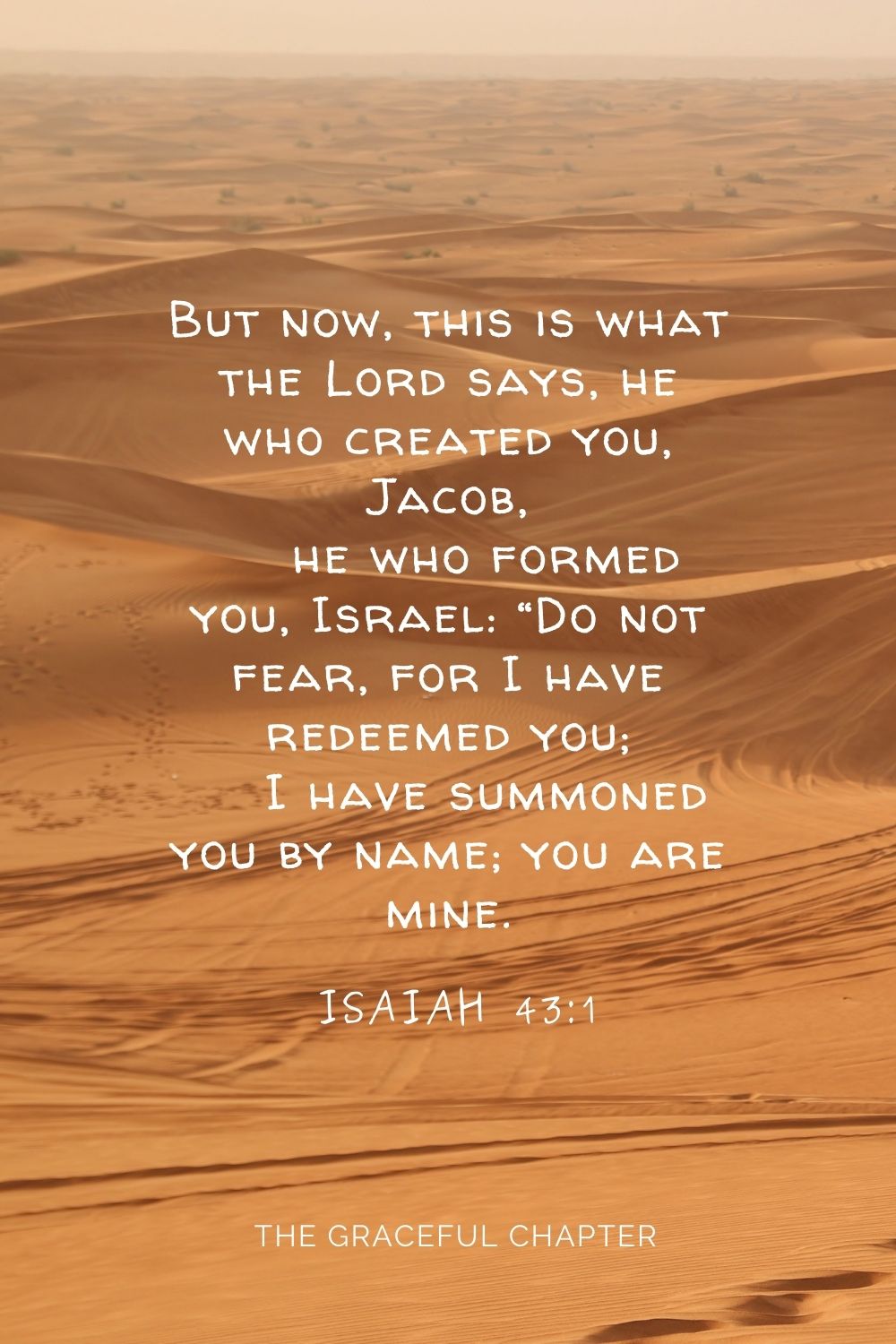 Isaiah 43:1
But now, this is what the Lord says he who created you, Jacob, he who formed you, Israel:
"Do not fear, for I have redeemed you; I have summoned you by name; you are mine.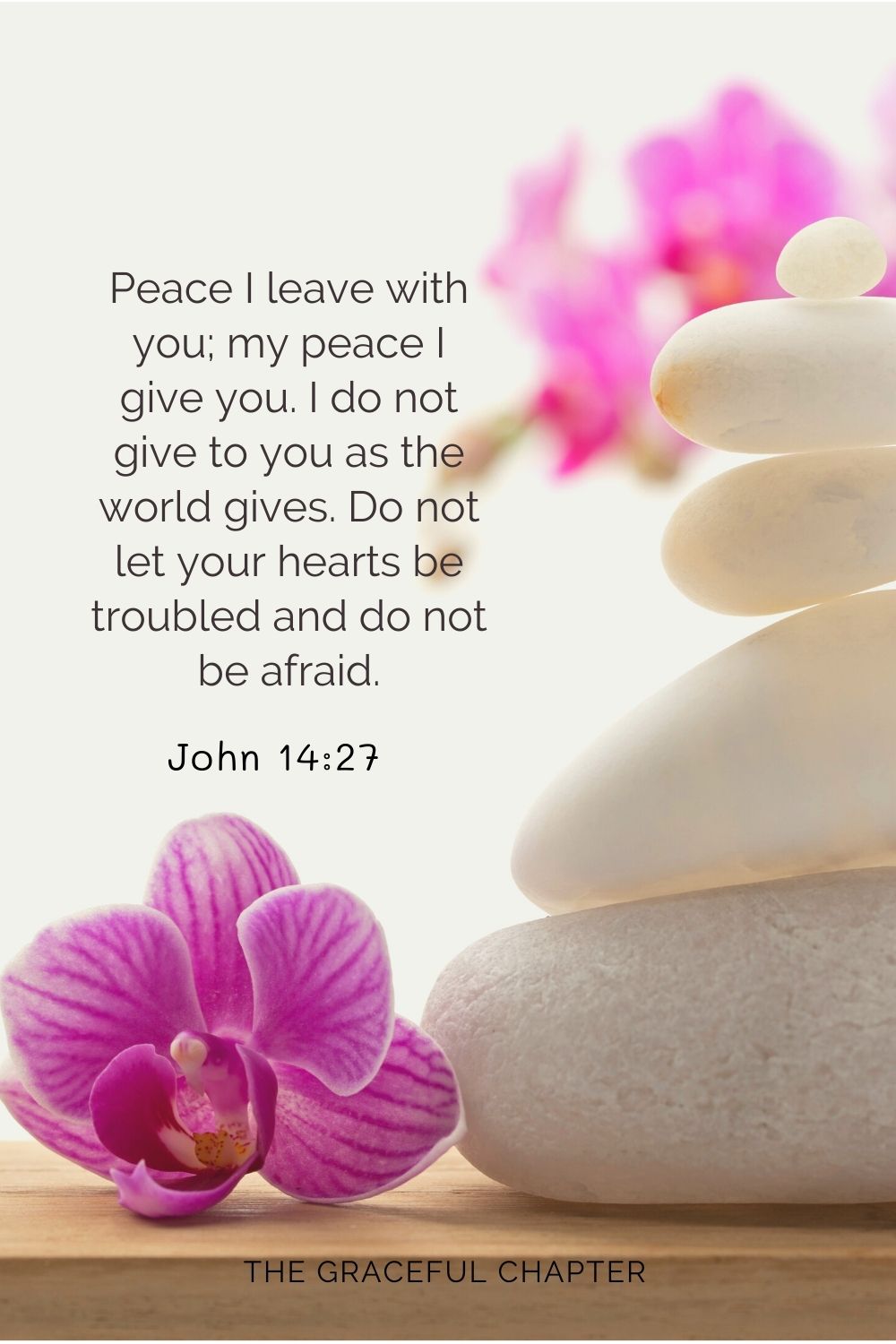 John 14:27
Peace I leave with you; my peace I give you. I do not give to you as the world gives. Do not let your hearts be troubled and do not be afraid.

Matthew 6:34
Therefore do not worry about tomorrow, for tomorrow will worry about itself. Each day has enough trouble of its own.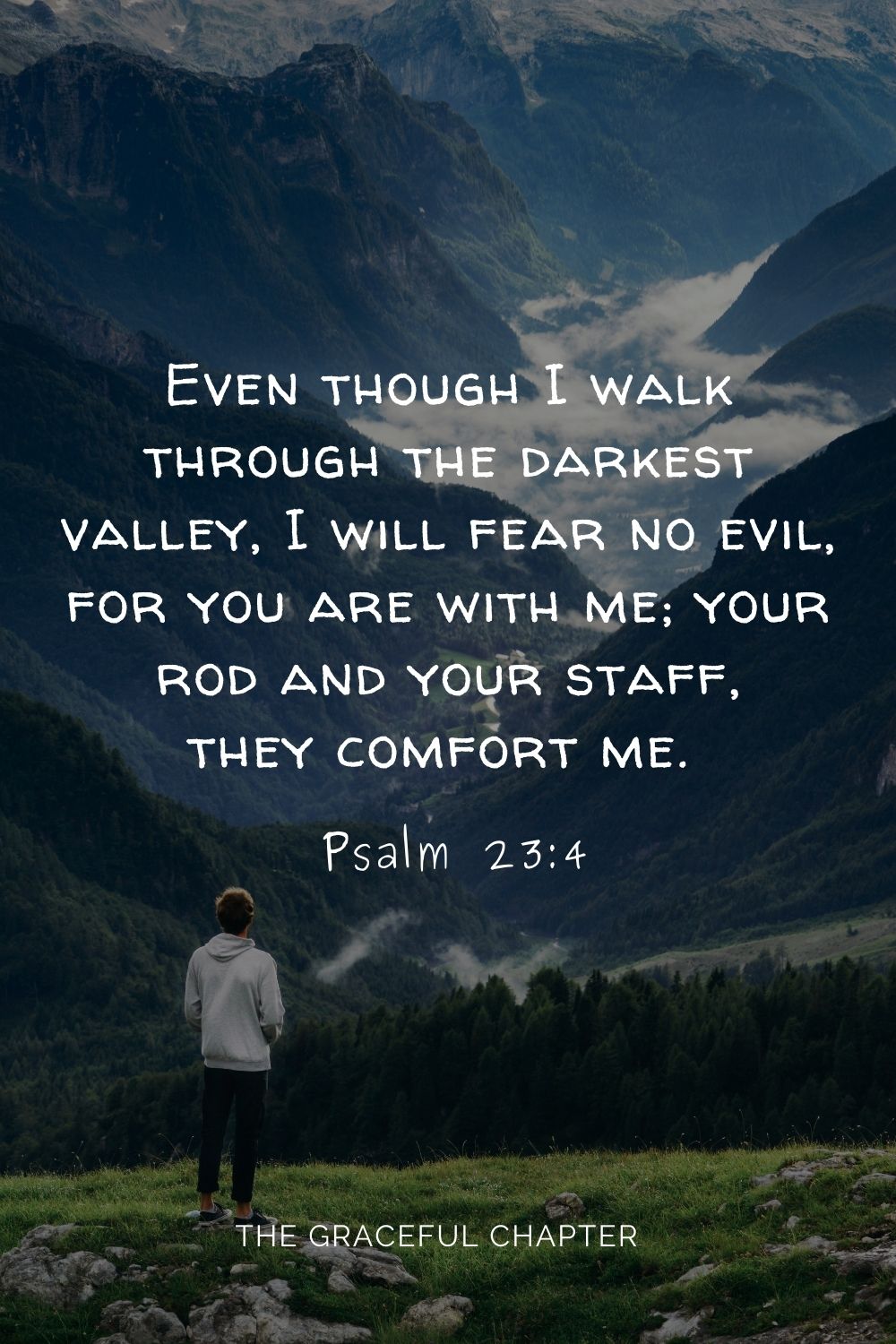 Psalm 23:4
Even though I walk through the darkest valley,
I will fear no evil, for you are with me;
your rod and your staff, they comfort me.

Psalm 34:4
I sought the Lord, and he answered me;
he delivered me from all my fears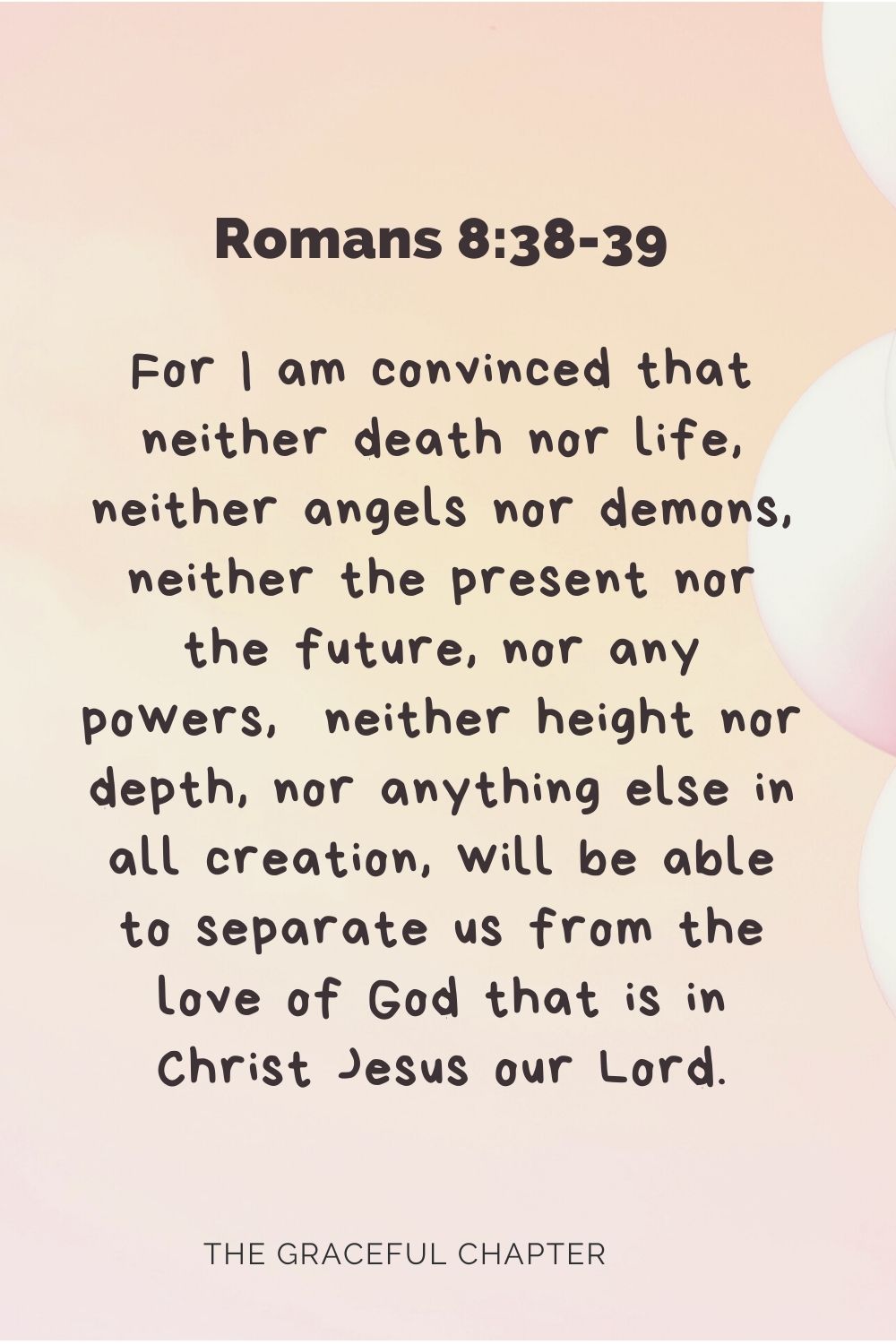 Romans 8:38-39
For I am convinced that neither death nor life, neither angels nor demons, neither the present nor the future, nor any powers,  neither height nor depth, nor anything else in all creation, will be able to separate us from the love of God that is in Christ Jesus our Lord.

1 Peter 5:6-7
Humble yourselves, therefore, under God's mighty hand, that he may lift you up in due time. Cast all your anxiety on him because he cares for you.

2 Timothy 1:7
For the Spirit God gave us does not make us timid, but gives us power, love and self-discipline.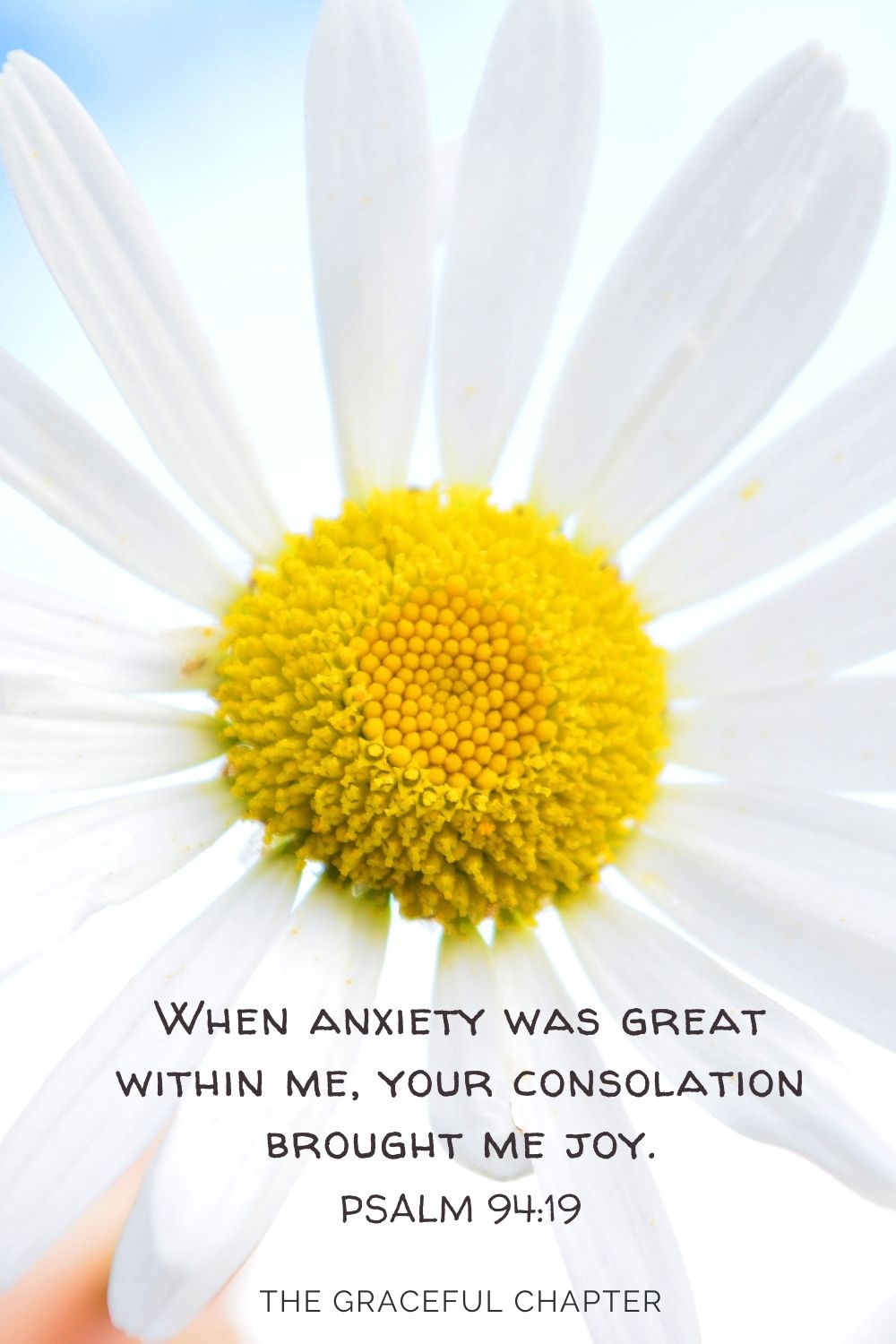 Psalm 94:19
When anxiety was great within me,
 your consolation brought me joy.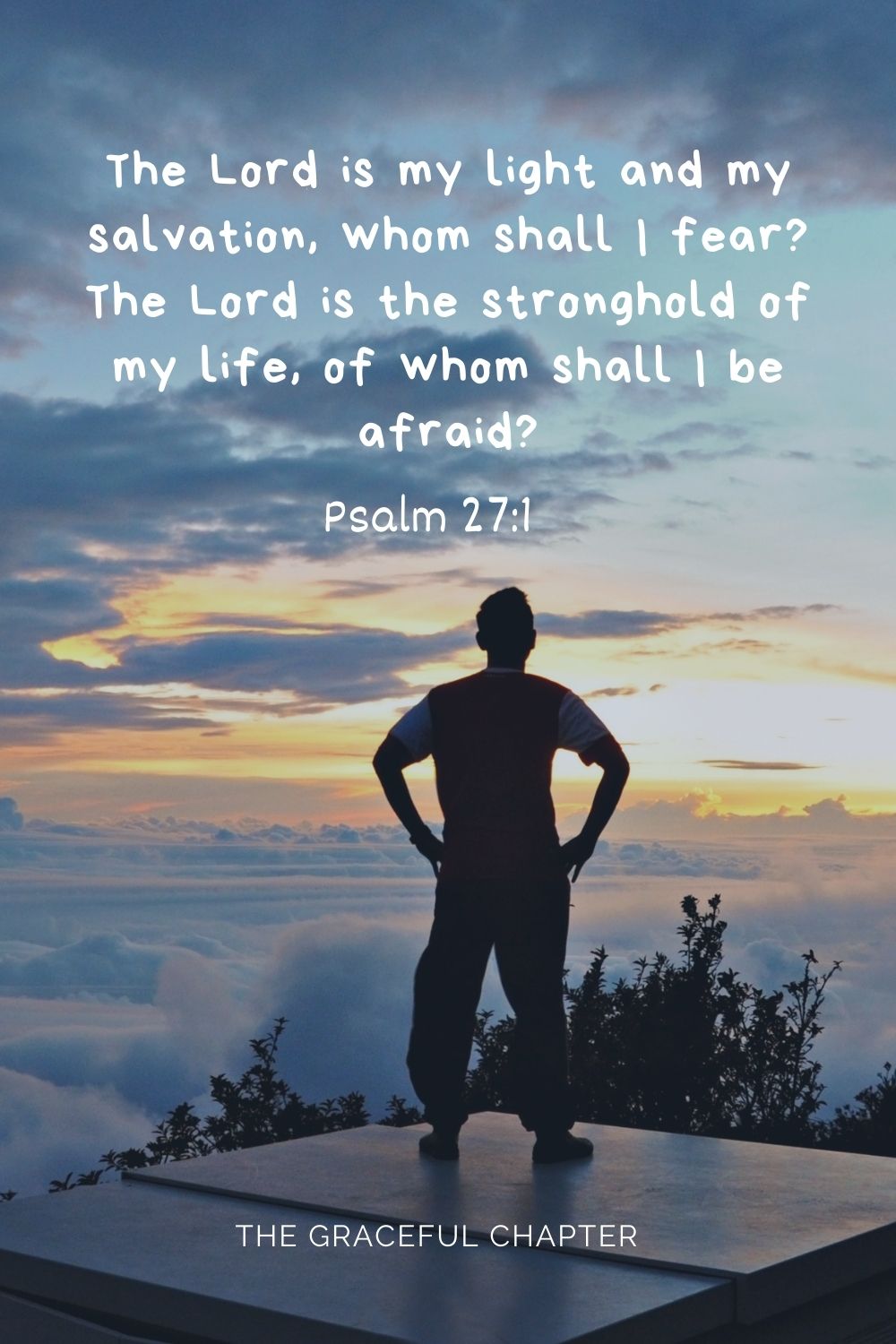 Psalm 27:1
The Lord is my light and my salvation whom shall I fear? The Lord is the stronghold of my life
 of whom shall I be afraid?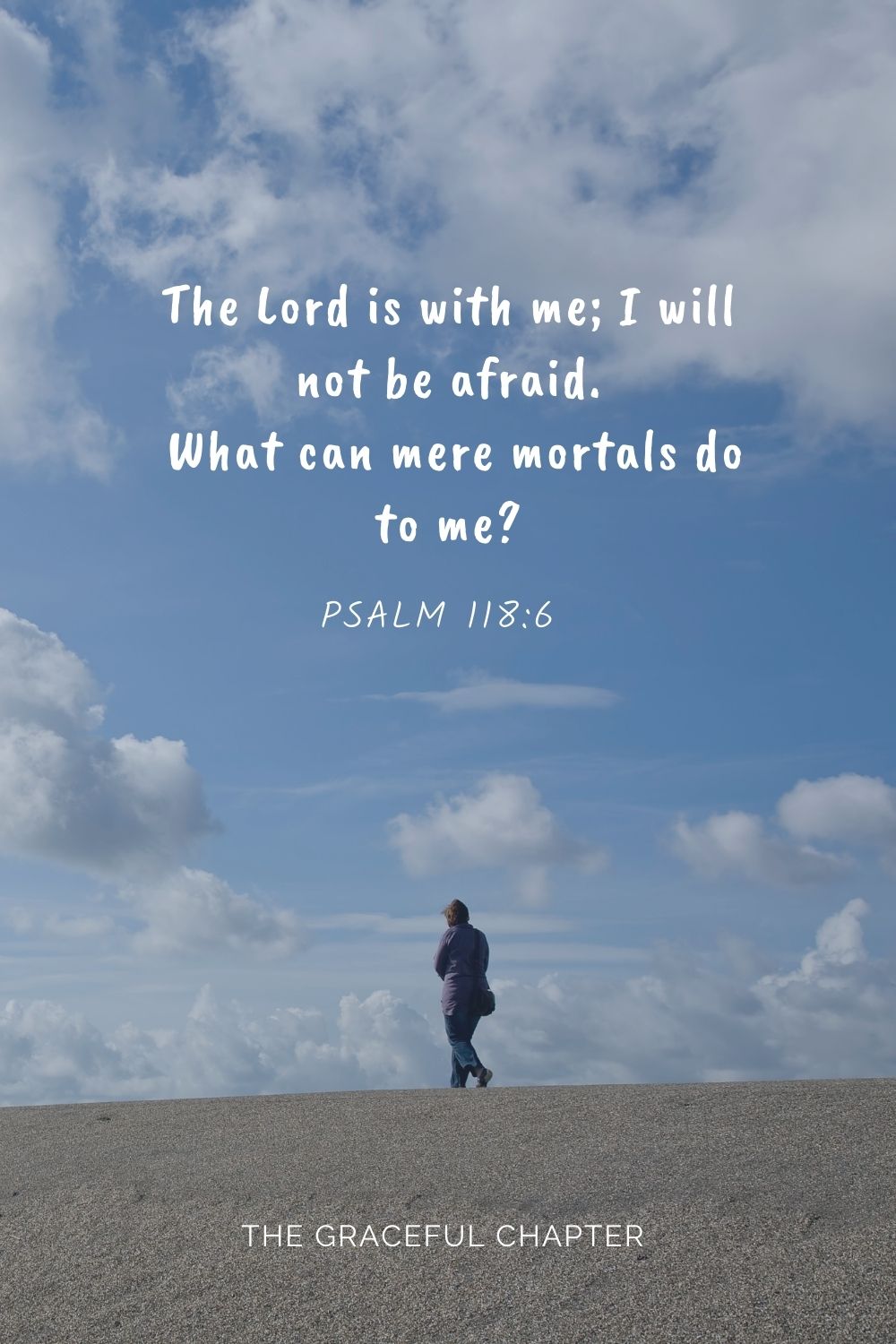 Psalm 118:6
The Lord is with me; I will not be afraid.
 What can mere mortals do to me?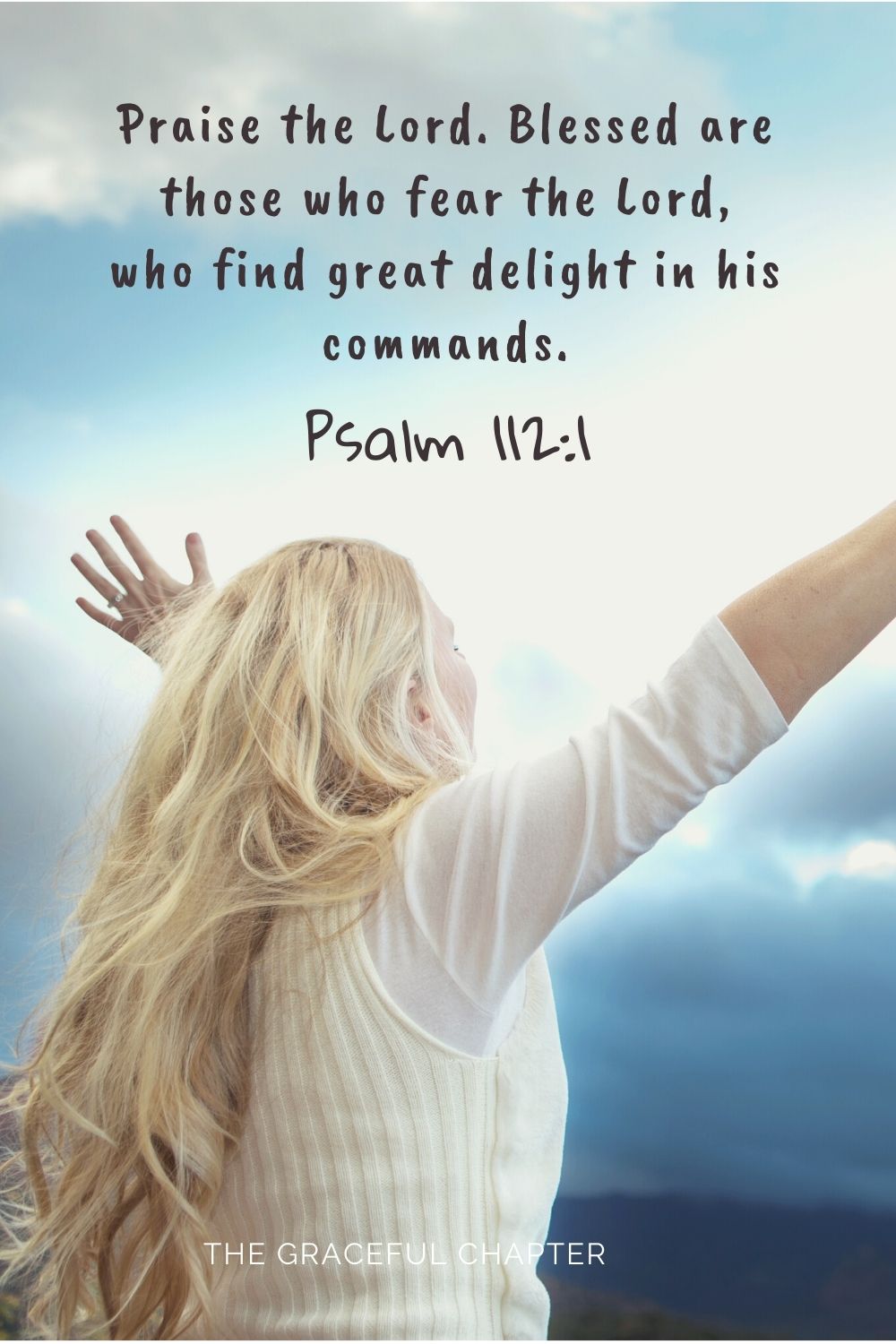 Psalm 112:1
Praise the Lord. Blessed are those who fear the Lord, who find great delight in his commands.

Psalm 103:17
But from everlasting to everlasting the Lord's love is with those who fear him, and his righteousness with their children's children

Deuteronomy 31:6
Be strong and courageous. Do not be afraid or terrified because of them, for the Lord your God goes with you; he will never leave you nor forsake you.

Psalm 56:3-4
When I am afraid, I put my trust in you. In God, whose word I praise in God I trust and am not afraid. What can mere mortals do to me?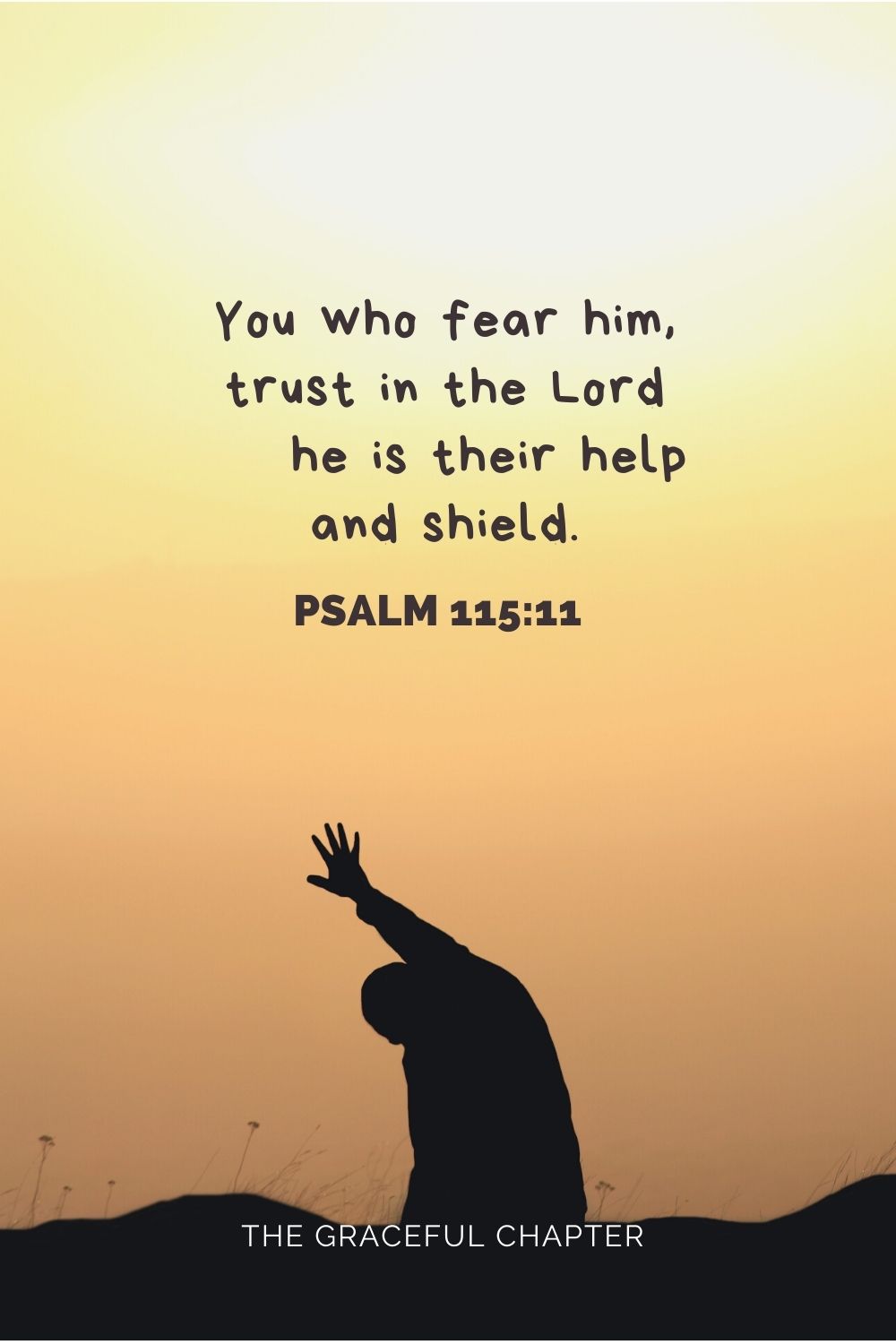 Psalm 115:11
You who fear him, trust in the Lord
he is their help and shield.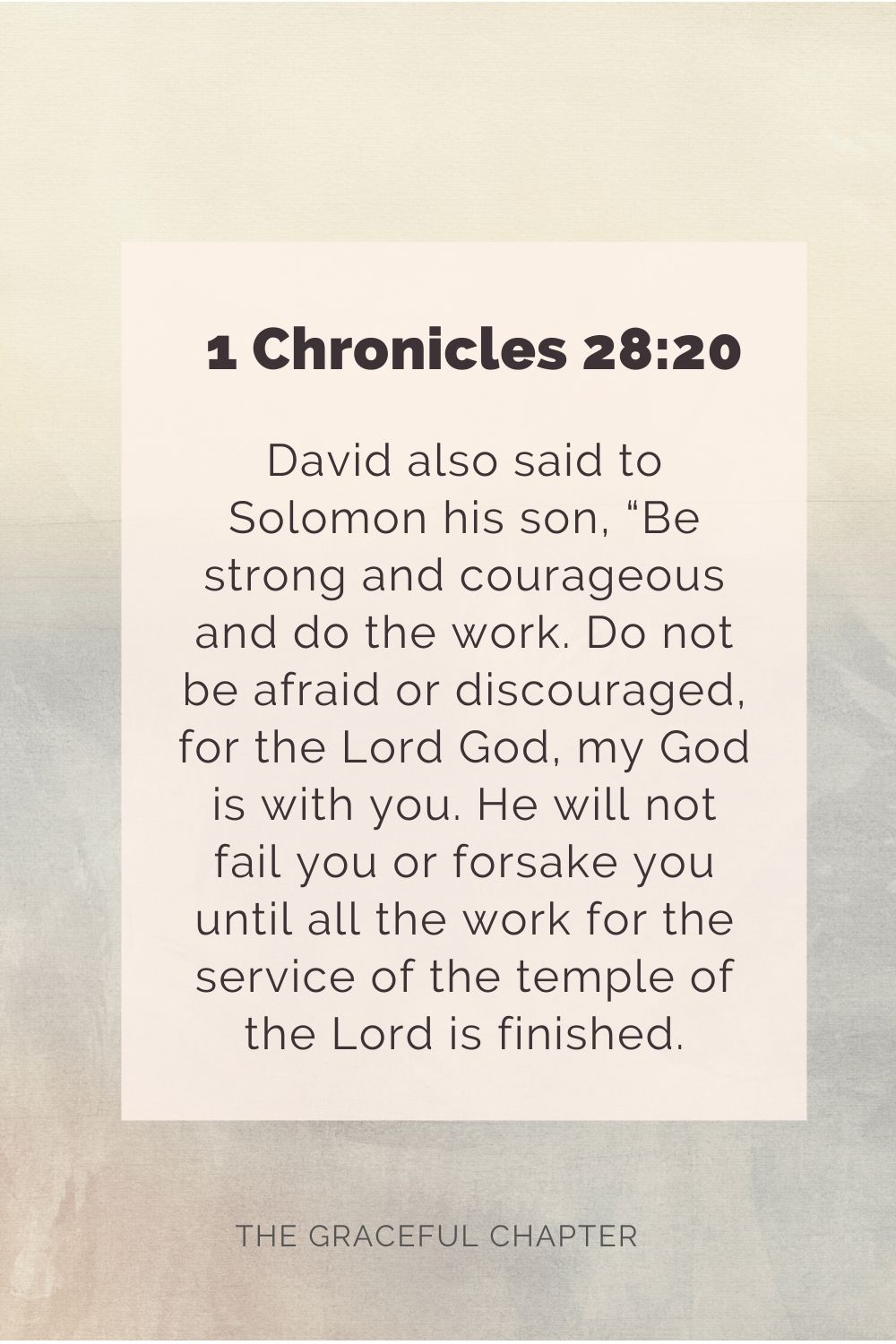 1 Chronicles 28:20
David also said to Solomon his son, "Be strong and courageous, and do the work. Do not be afraid or discouraged, for the Lord God, my God, is with you. He will not fail you or forsake you until all the work for the service of the temple of the Lord is finished.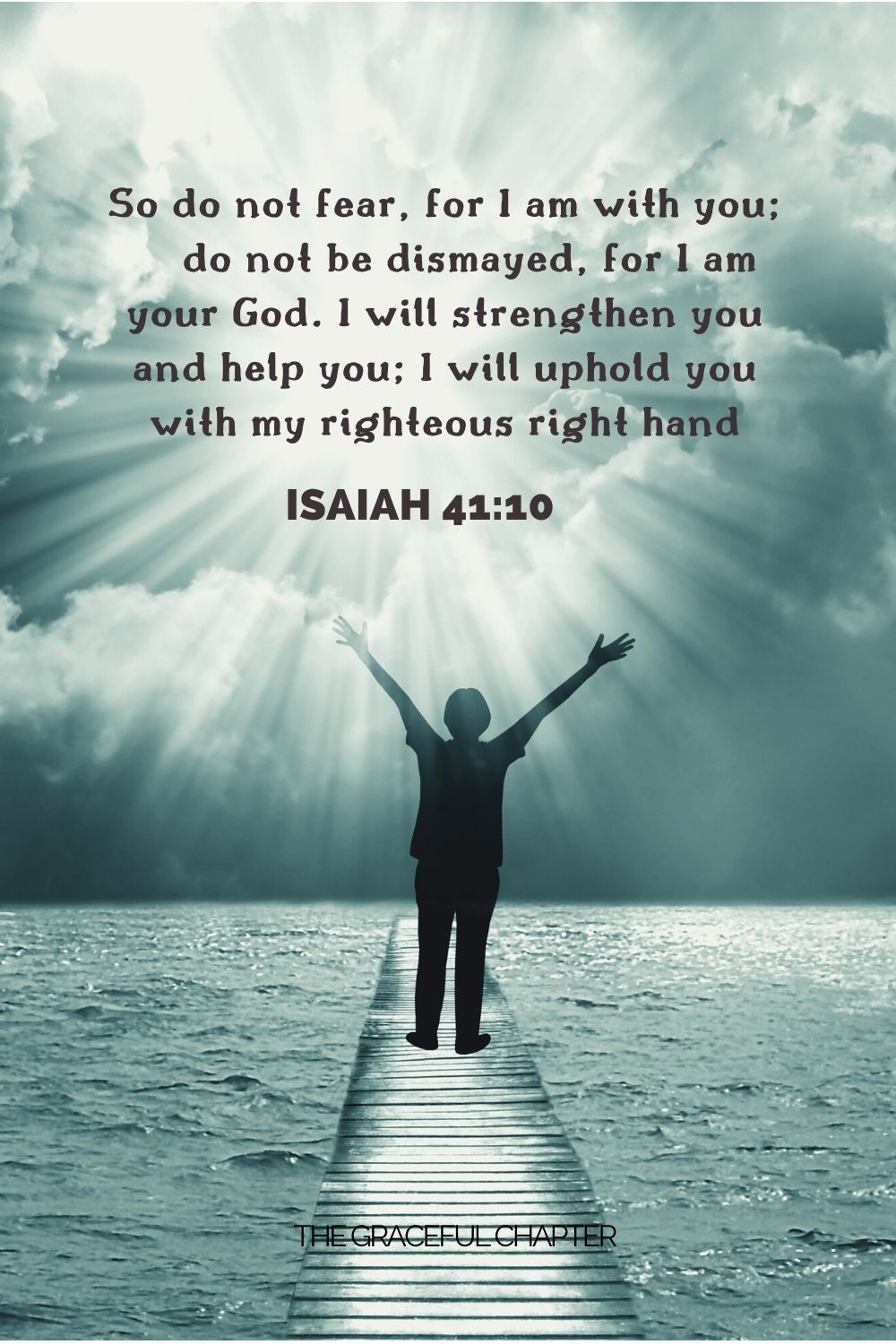 Isaiah 41:10
So do not fear, for I am with you; do not be dismayed, for I am your God.
I will strengthen you and help you; I will uphold you with my righteous right hand

Isaiah 41:13
For I am the Lord your God who takes hold of your right hand and says to you, Do not fear;
I will help you.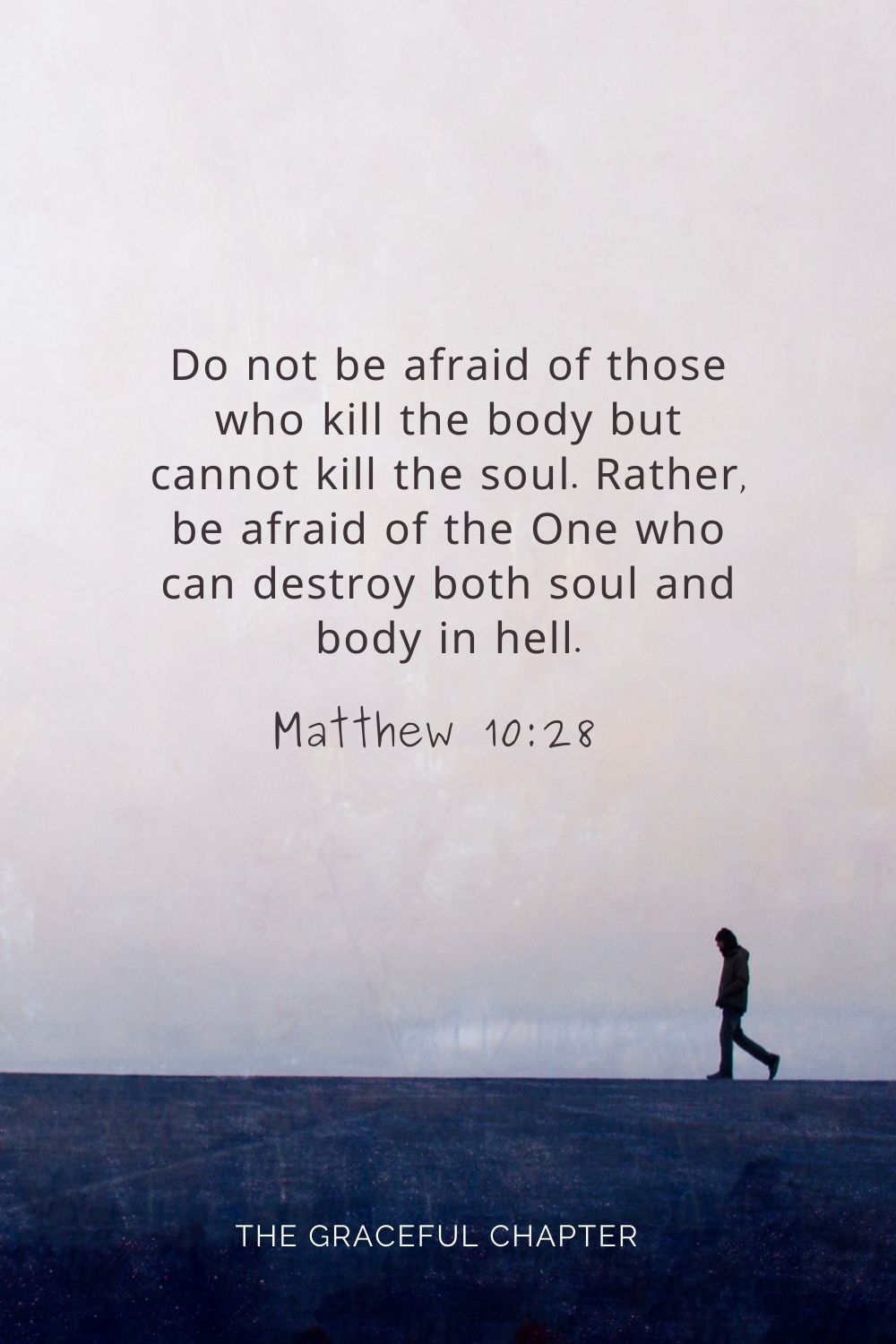 Matthew 10:28
Do not be afraid of those who kill the body but cannot kill the soul. Rather, be afraid of the One who can destroy both soul and body in hell.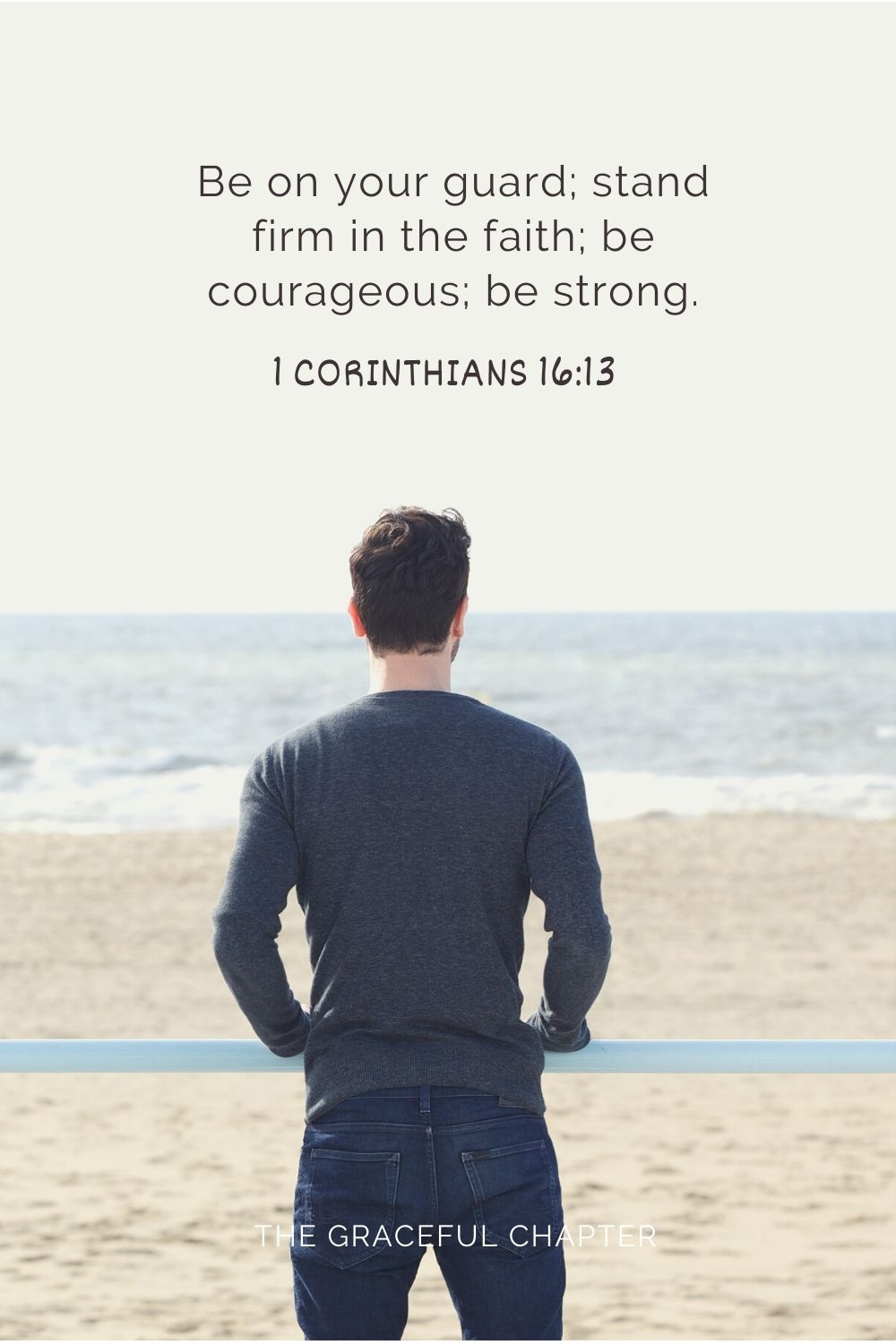 1 Corinthians 16:13
Be on your guard; stand firm in the faith; be courageous; be strong.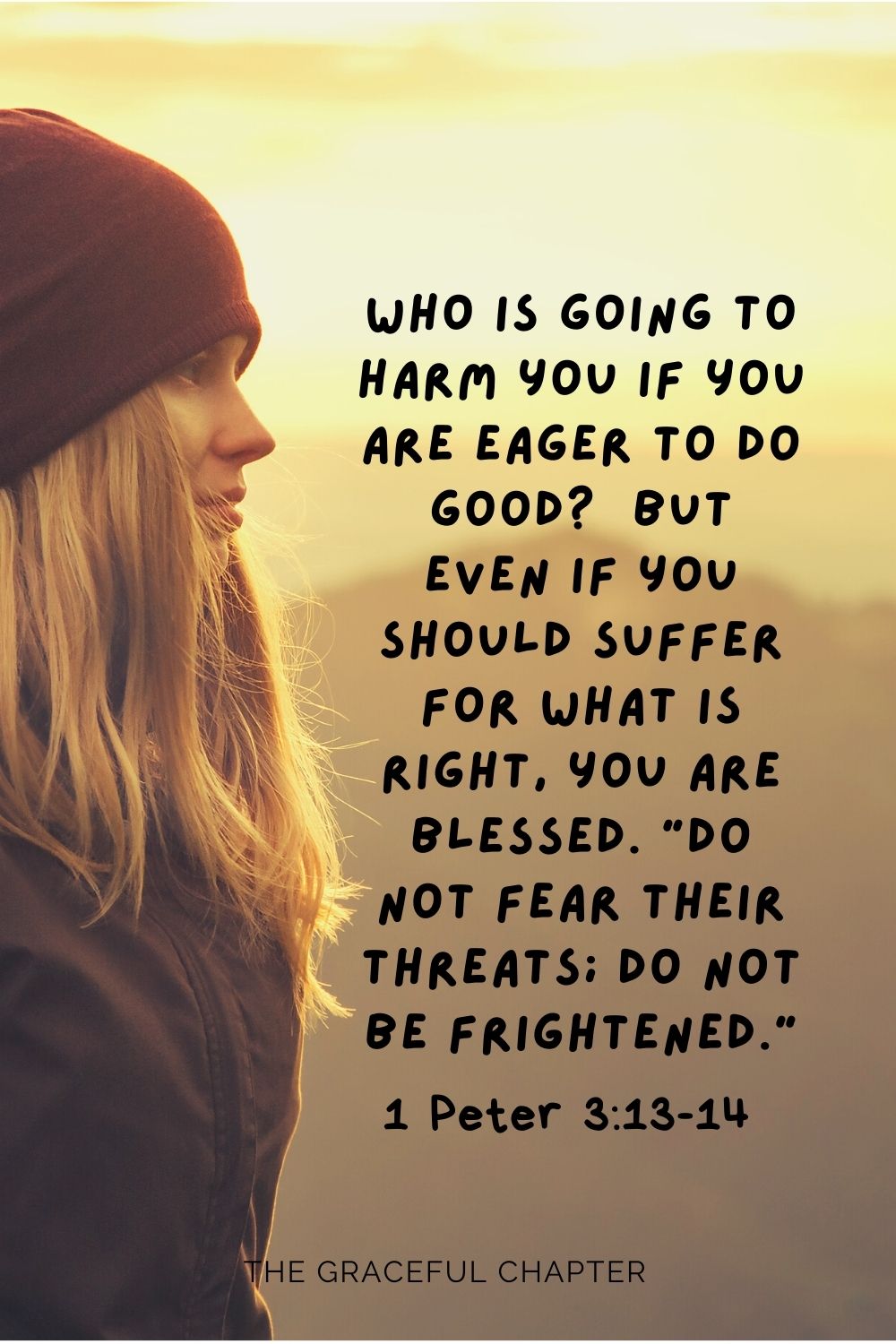 1 Peter 3:13-14
Who is going to harm you if you are eager to do good?  But even if you should suffer for what is right, you are blessed. "Do not fear their threats; do not be frightened."

Isaiah 54:4
Do not be afraid; you will not be put to shame.
Do not fear disgrace; you will not be humiliated.
You will forget the shame of your youth
and remember no more the reproach of your widowhood.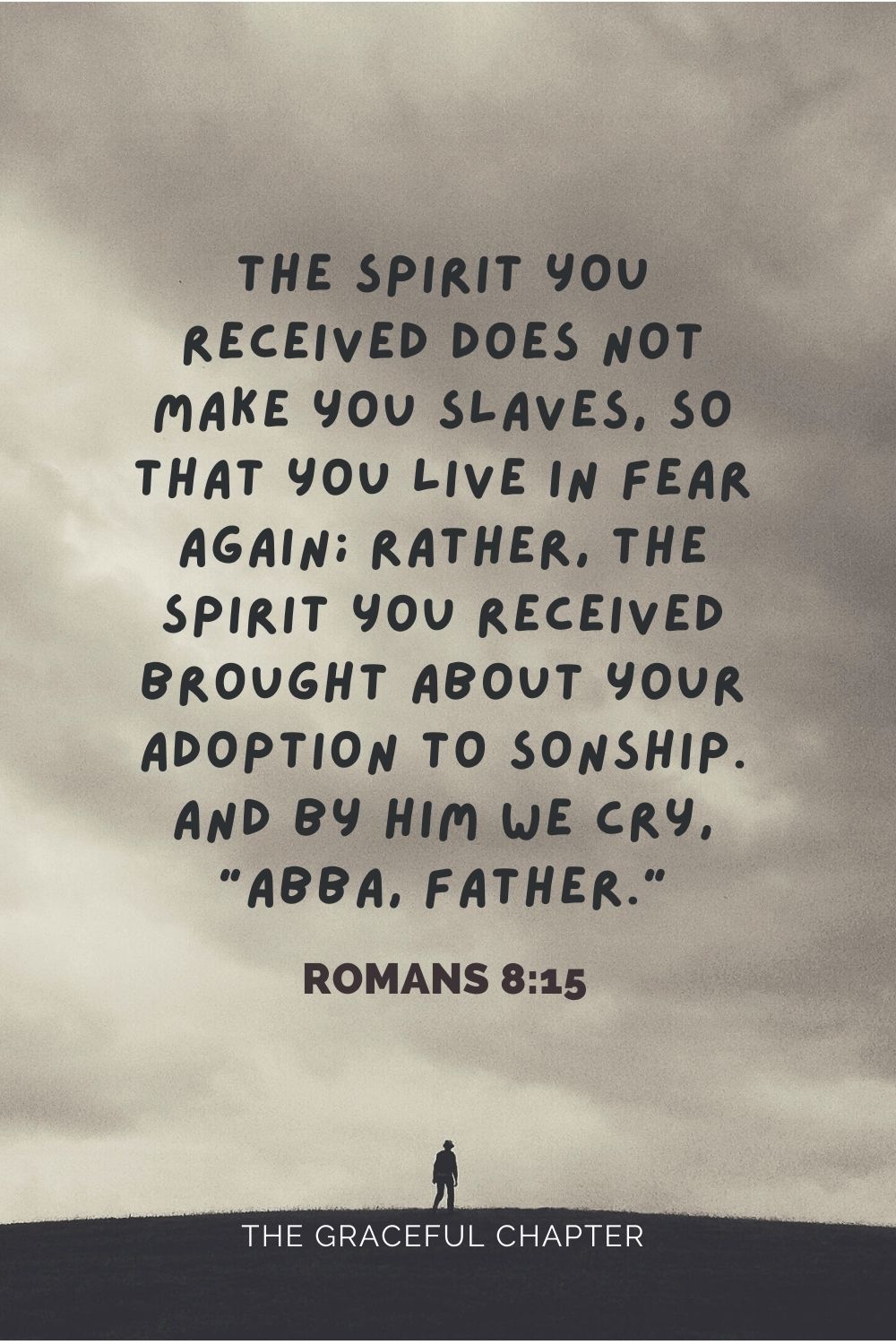 Romans 8:15
The Spirit you received does not make you slaves, so that you live in fear again; rather, the Spirit you received brought about your adoption to son ship. And by him we cry, "Abba, Father."

Hebrews 13:5-6
Keep your lives free from the love of money and be content with what you have, because God has said, Never will I leave you; never will I forsake you." So we say with confidence, The Lord is my helper; I will not be afraid. What can mere mortals do to me?"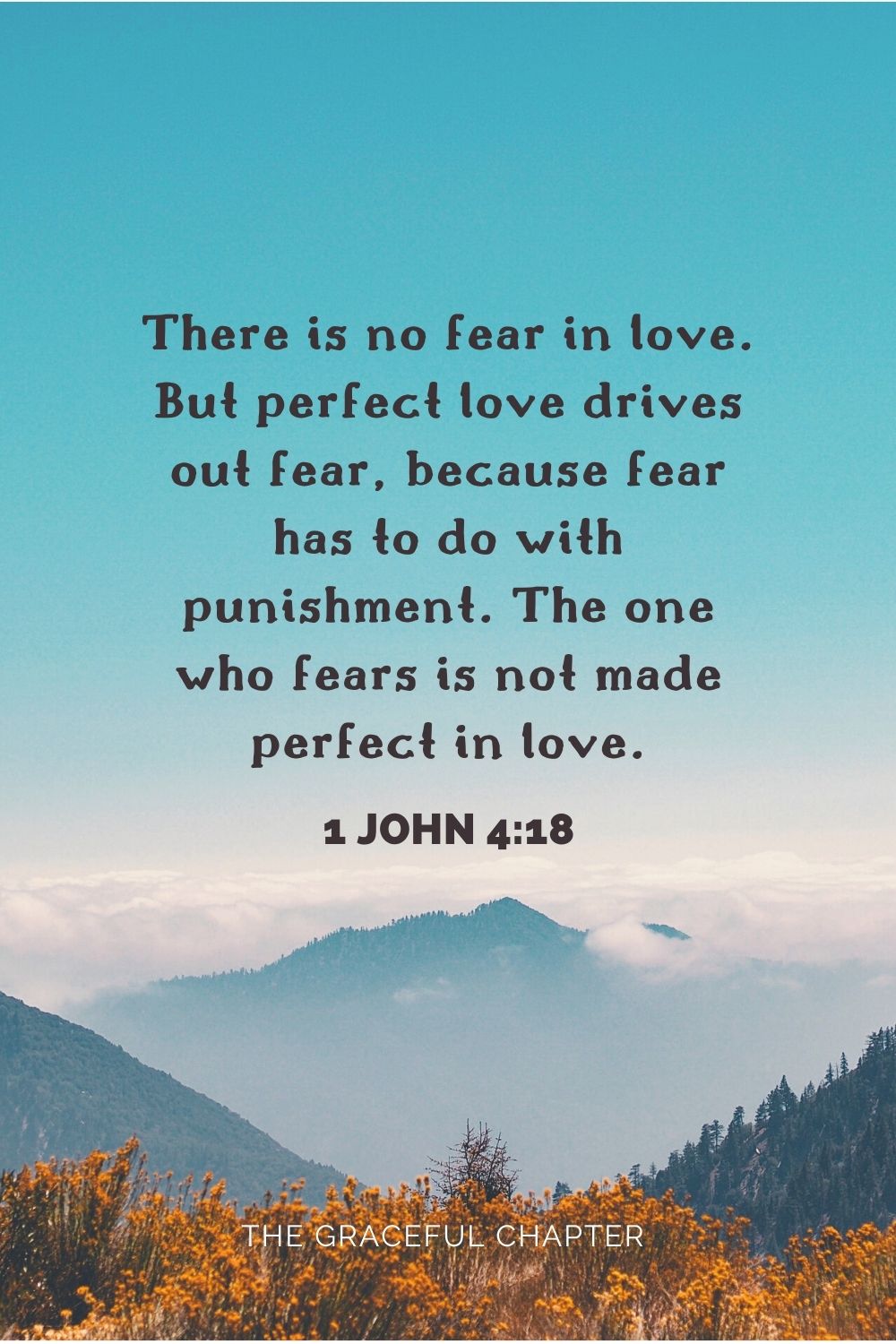 1 John 4:18
There is no fear in love. But perfect love drives out fear, because fear has to do with punishment. The one who fears is not made perfect in love.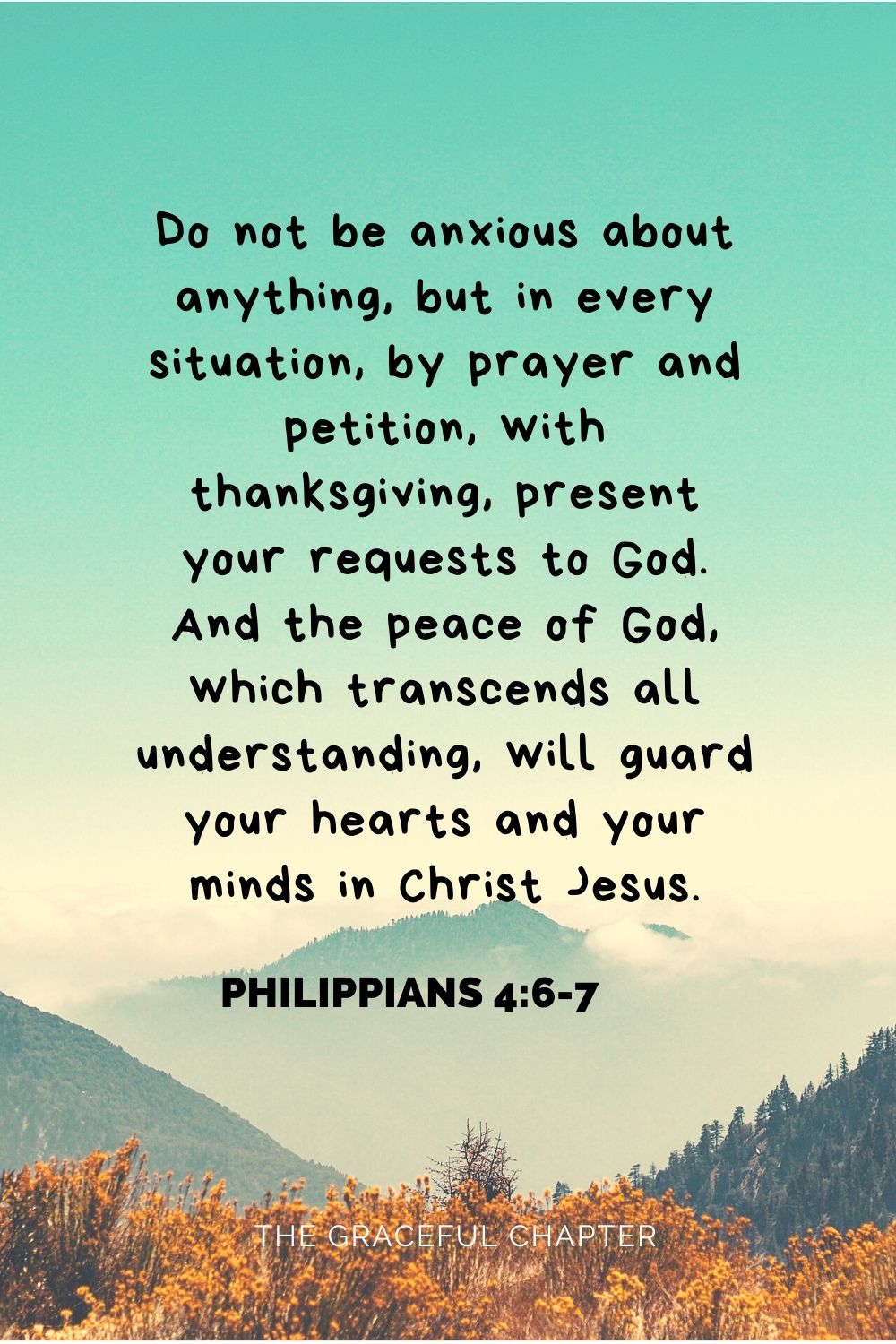 Philippians 4:6-7
Do not be anxious about anything, but in every situation, by prayer and petition, with thanksgiving, present your requests to God. And the peace of God, which transcends all understanding, will guard your hearts and your minds in Christ Jesus.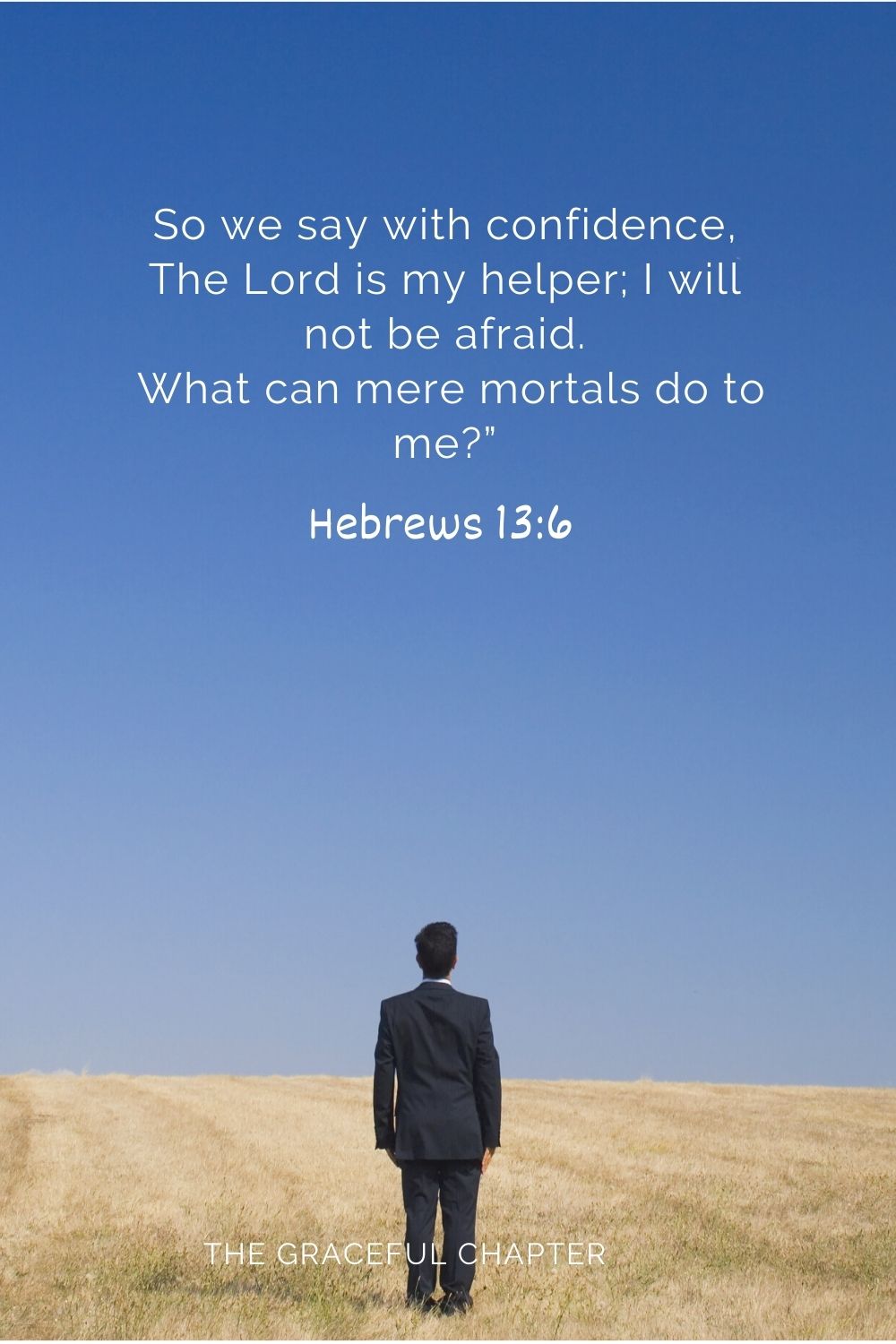 Hebrews 13:6
So we say with confidence, The Lord is my helper; I will not be afraid. What can mere mortals do to me?"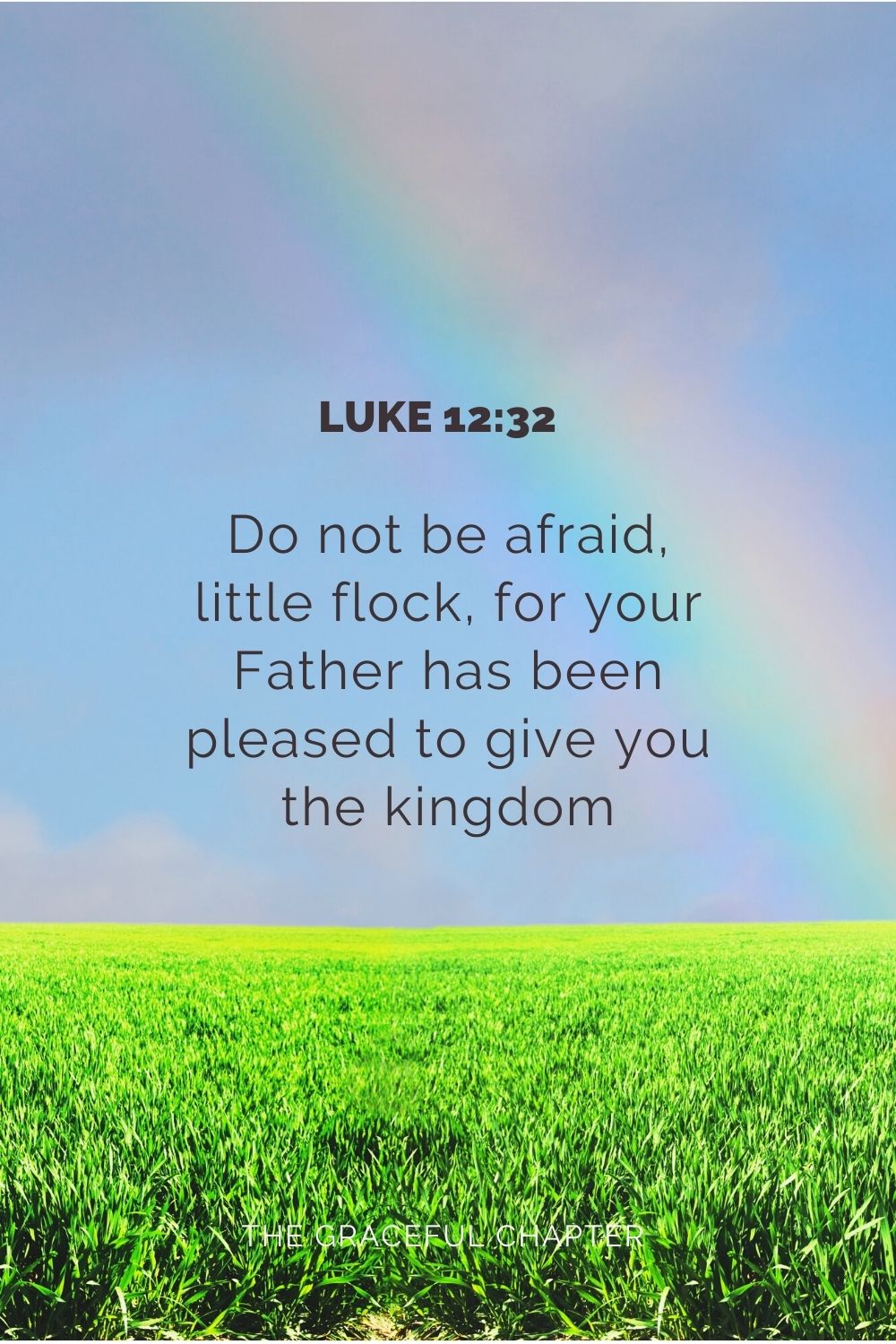 Luke 12:32
Do not be afraid, little flock, for your Father has been pleased to give you the kingdom.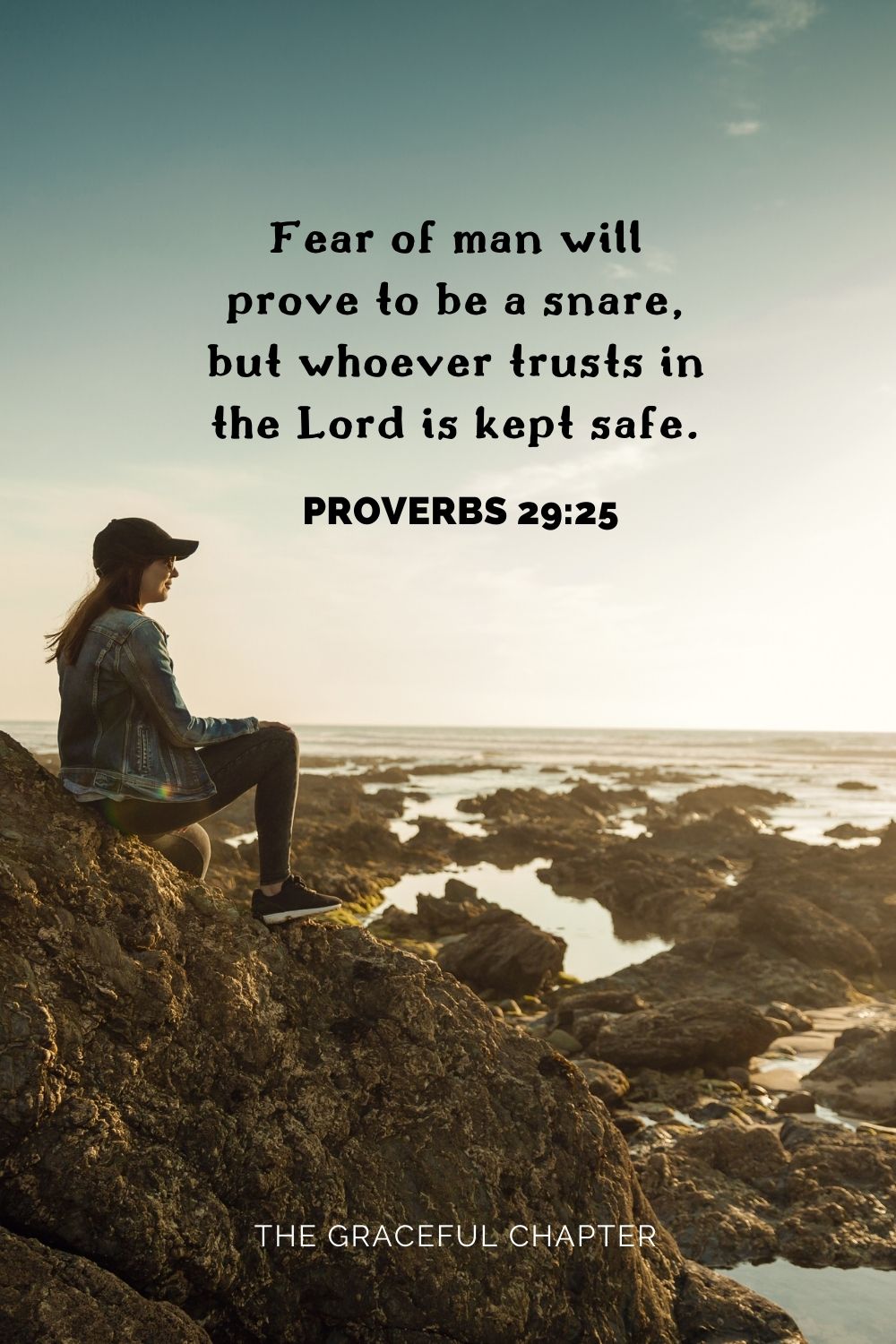 Proverbs 29:25
Fear of man will prove to be a snare,
but whoever trusts in the Lord is kept safe.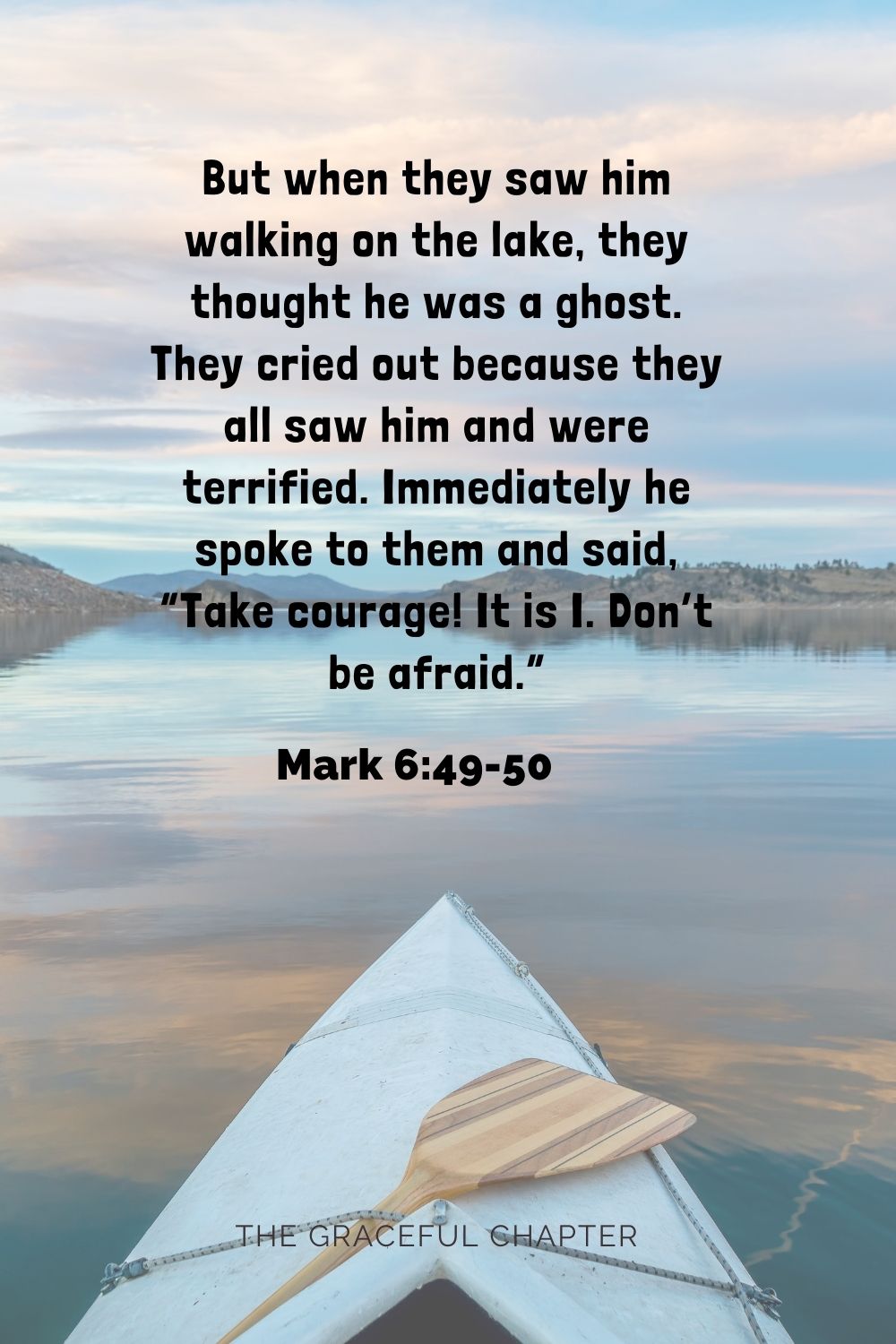 Mark 6:49-50
But when they saw him walking on the lake, they thought he was a ghost. They cried out, because they all saw him and were terrified. Immediately he spoke to them and said, "Take courage! It is I. Don't be afraid."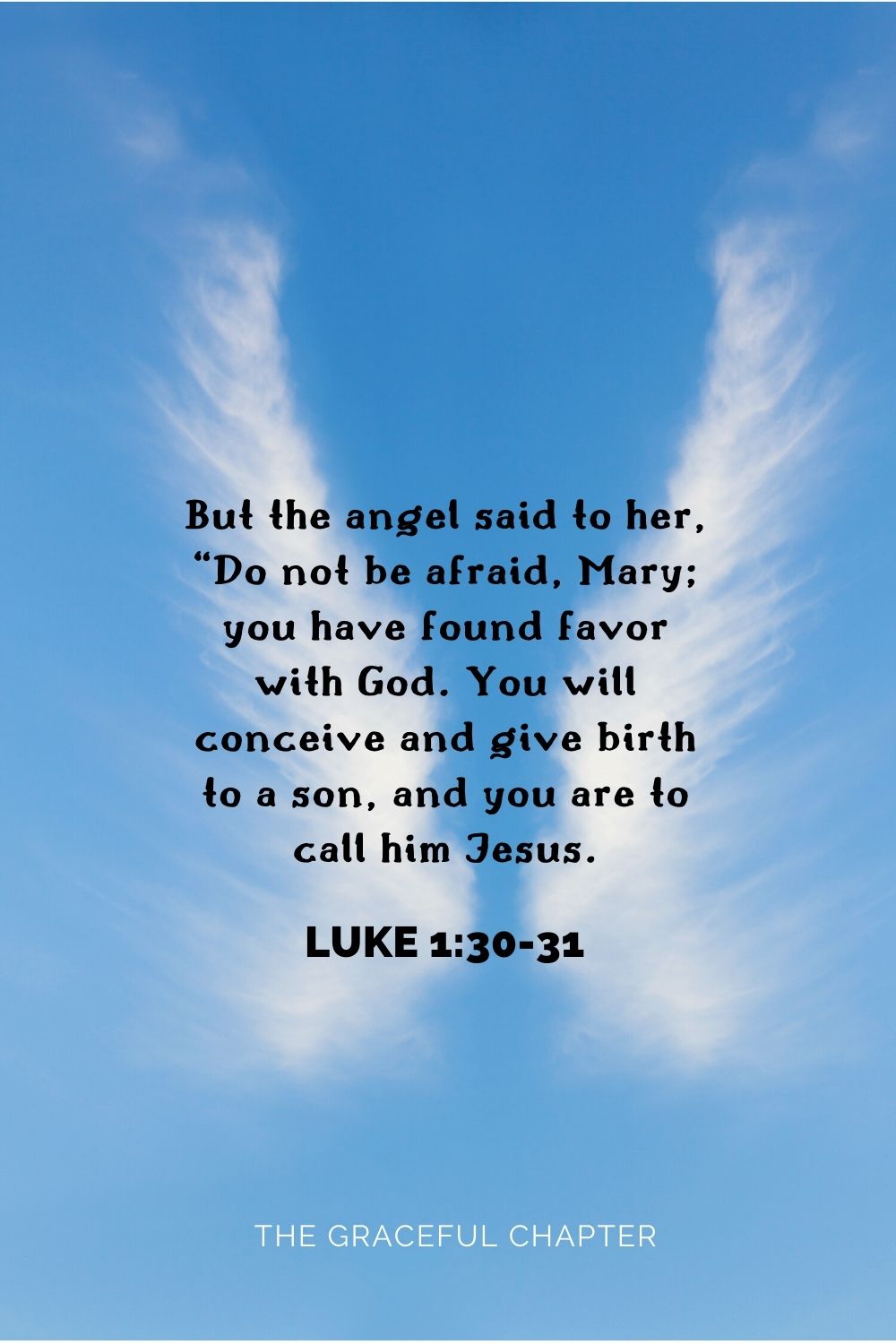 Luke 1:30-31
But the angel said to her, "Do not be afraid, Mary; you have found favor with God. You will conceive and give birth to a son, and you are to call him Jesus.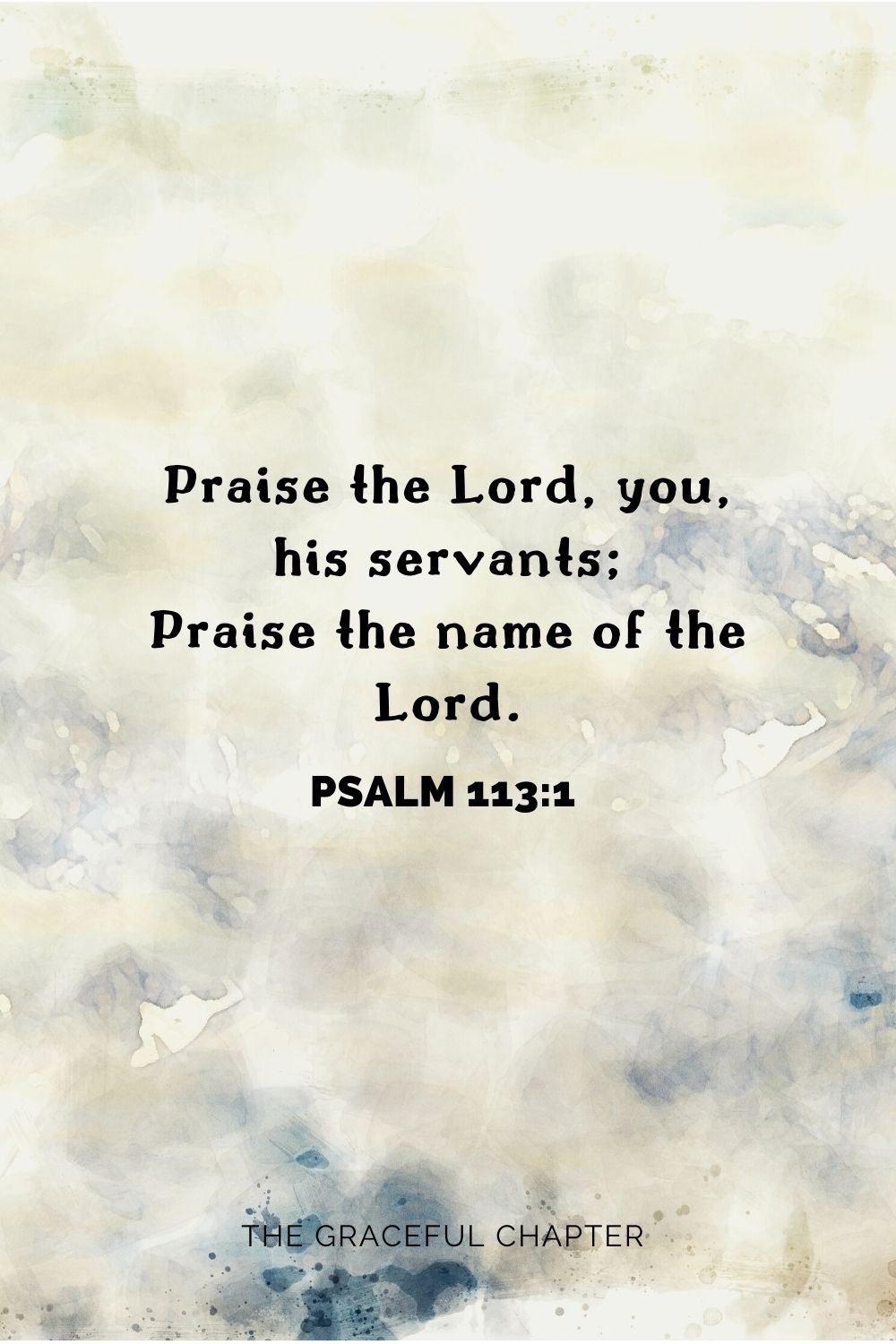 Psalm 113:1
Praise the Lord, you his servants;
praise the name of the Lord.

Mark 6:50
Because they all saw him and were terrified. Immediately he spoke to them and said, "Take courage! It is I. Don't be afraid."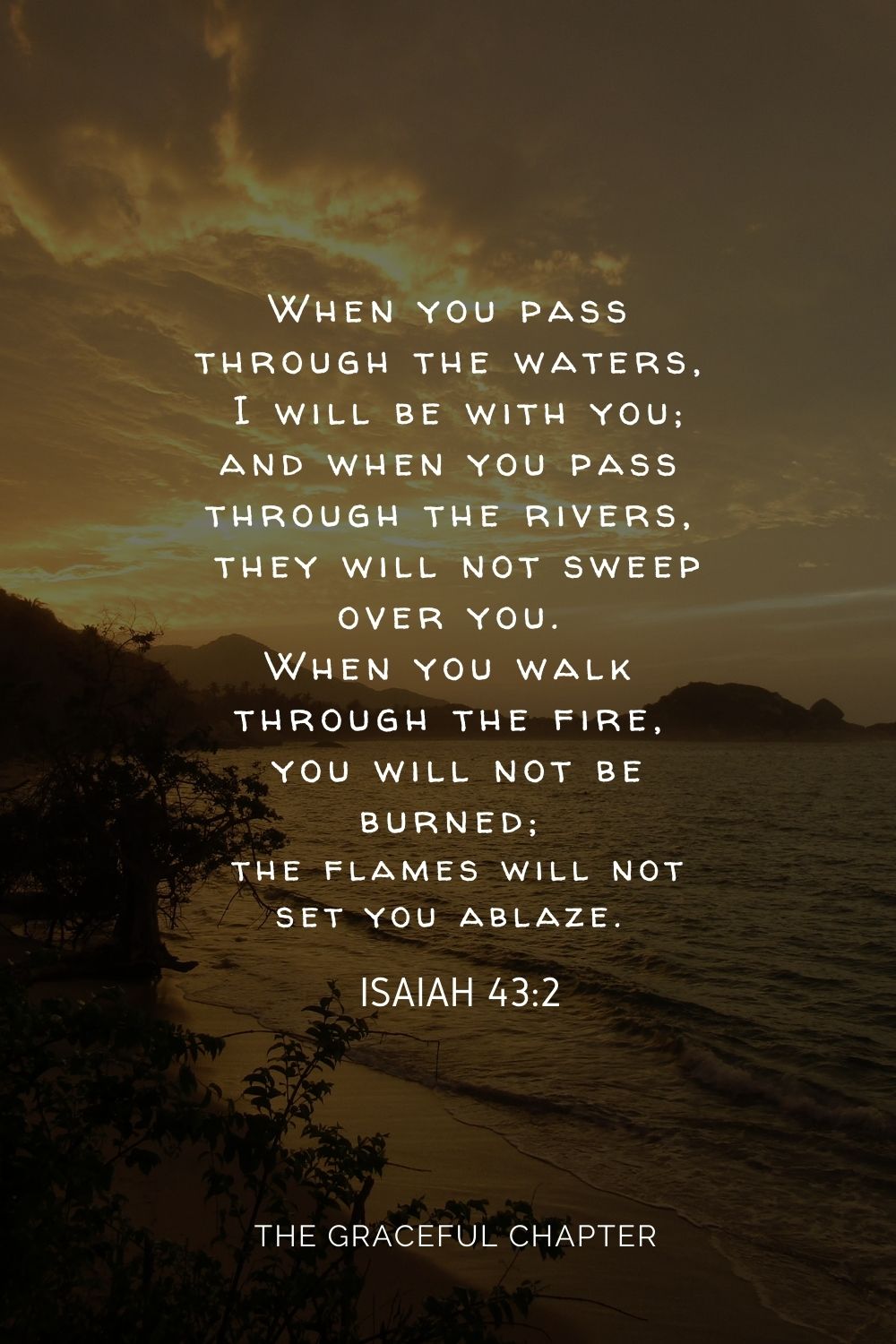 Isaiah 43:2
When you pass through the waters, I will be with you; and when you pass through the rivers, they will not sweep over you. When you walk through the fire, you will not be burned; the flames will not set you ablaze.

Prayer for when I'm afraid
Dear God,
Thank you for your love and protection
Today, I come to you for peace
I worry too much about things beyond my control
And these worries do nothing but fuel my fears and anxieties
I don't want to live in fear anymore, Lord
I want to live in peace and joy
So I lay all my fears and anxieties at your feet
Please take them and give me peace
Fill me with joy and hope for the future
In Jesus' name, I pray,
Amen