You were taught, with regard to your former way of life, to put off your old self, which is being corrupted by its deceitful desires; to be made new in the attitude of your minds; and to put on the new self, created to be like God in true righteousness and holiness.

Ephesians 4:22-24
A new day, month, or year signifies a new beginning. It is the passing of the old self and an awakening of the new you. In the body of Christ, all old things are dead and buried. There is a renewal of the self through a change in your mind. The old you which was prone to deceit, sin, lies, and weakness has now been removed and replaced with a righteous and holy being through the grace and power of our Lord Jesus Christ.
Every new month brings its own troubles and trials as well as victories and joys. Every new month in the Lord is an opportunity for you to grow and be glorious in His grace through your faith in Him. Just as you set new goals for yourself each month, do the same for your growth as a Christian.
Your life in Christ is a journey that must bring you closer to Him each month. If there was a weakness in your character last month that caused you to sin against God or your fellow man, this month should bring cleansing and renewal to your mind.
Because of the Lord's great love, we are not consumed, for his compassions never fail. They are new every morning; great is your faithfulness. I say to myself, "The Lord is my portion; therefore I will wait for him."

Lamentations 4:22-24
God's love for you never expires. They are new every morning and they go with you everywhere you step. It doesn't matter what has gone before but what is yet to come. A new month is a new chance and as long as you remain in Christ Jesus, you will always have a chance to grow.
Every month must signify and result in growth for you. When it comes to an end you must have some sort of increase and improvement in your life. Old goals must be surpassed and new targets must be set.
In your walk with Christ, different levels must be reached because you have gotten closer to Him. You must be stronger in faith and abundant with hope in Him. Things that used to trip or trap you shouldn't be able to do that anymore. You must have a stronger influence in winning souls for Christ and your knowledge must increase in God so no one can deceive you with any godless tales.
To start everything right, it is important to start with God. Life is full of unknowns but when you dedicate your life to God, it gives you the assurance that everything will be alright no matter what.
When you dedicate everything you do to God, it takes out fear because you know that he who goes before you and after you will keep you safe and deliver you from all evil.
So, start this beautiful new month with God. Commit your life and everything you will do in the month to God. Below are prayers to serve as a guide for you when praying for the new month.
Prayers for the new month
Thanksgiving for the new month
Heavenly Father
Thank you for the month that just passed
Thank you for your protection and grace upon my life
Through my struggles and my joy you stayed with me
Thank you that I have seen this new month
Others wished to see it but they could not
You have favored me and my family through it
You have brought peace and love to my home
Thank you, Lord, for your mercies on me
Thank you for healing me when I was sick
Thank you for being my Lord
Amen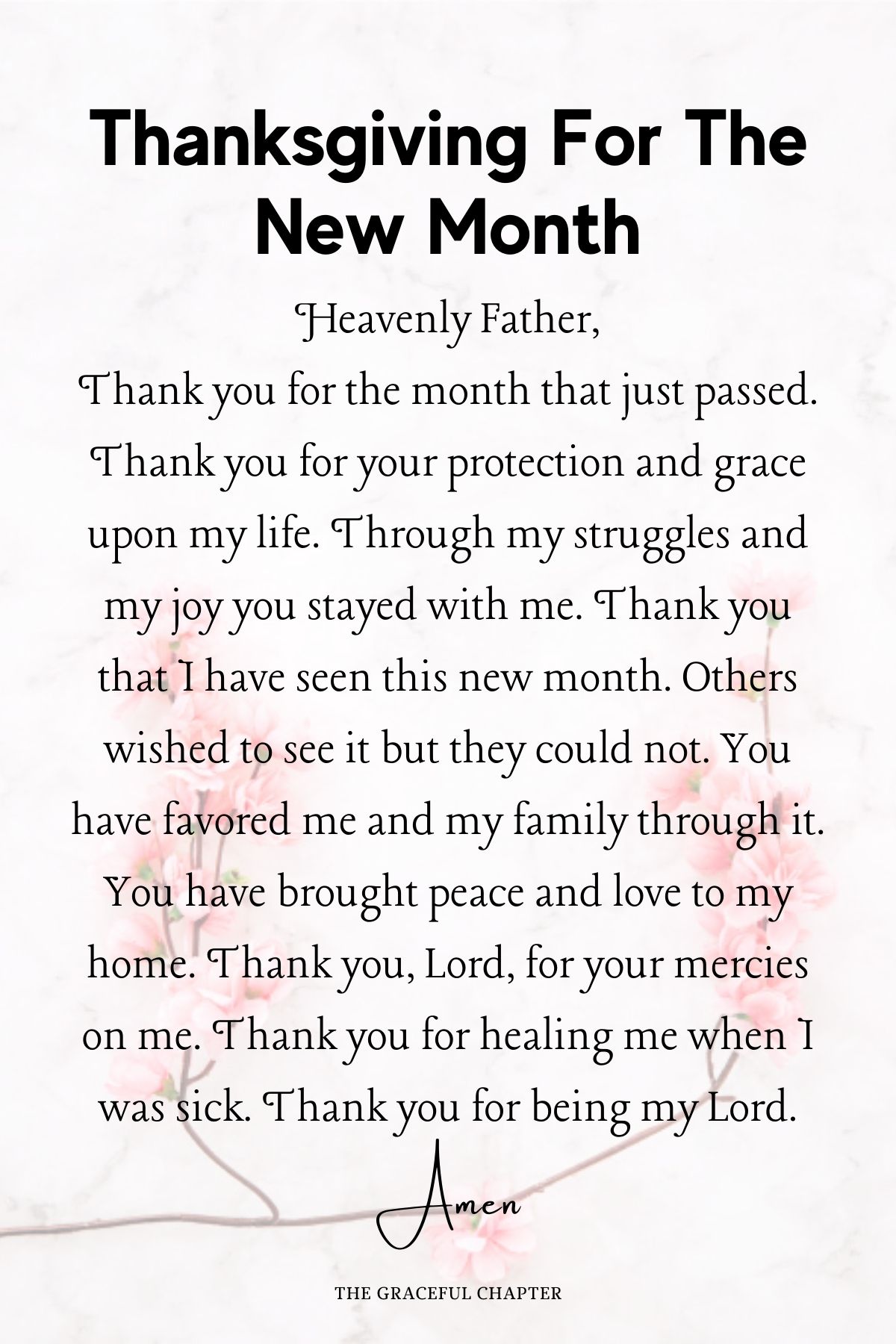 Help me abide in you
Father Lord,
Thank you for your guidance and protection
Thank you for your goodness and mercies in my life
As we begin this new month,
I pray that you Lord will help me to fix my heart on you and abide in you
Help me to let go of any kind of distraction that will interfere with my connection with you.
Teach me to love you and help me to keep my focus on you.
Cleanse me of my sins and help me to let go of anything that does not honor your Holy name
Help me to live a life that is right in Christ
Let your Holy Spirit be my guide in everything
Let it be my reminder to always put you first no matter what
Help me to study your word more and give me the wisdom and understanding to be able to apply your word in my life.
When things don't go as I plan, remind me that your plan for me is better than what I think I want. Help me to grow in faith in each passing day, in Jesus' name, Amen.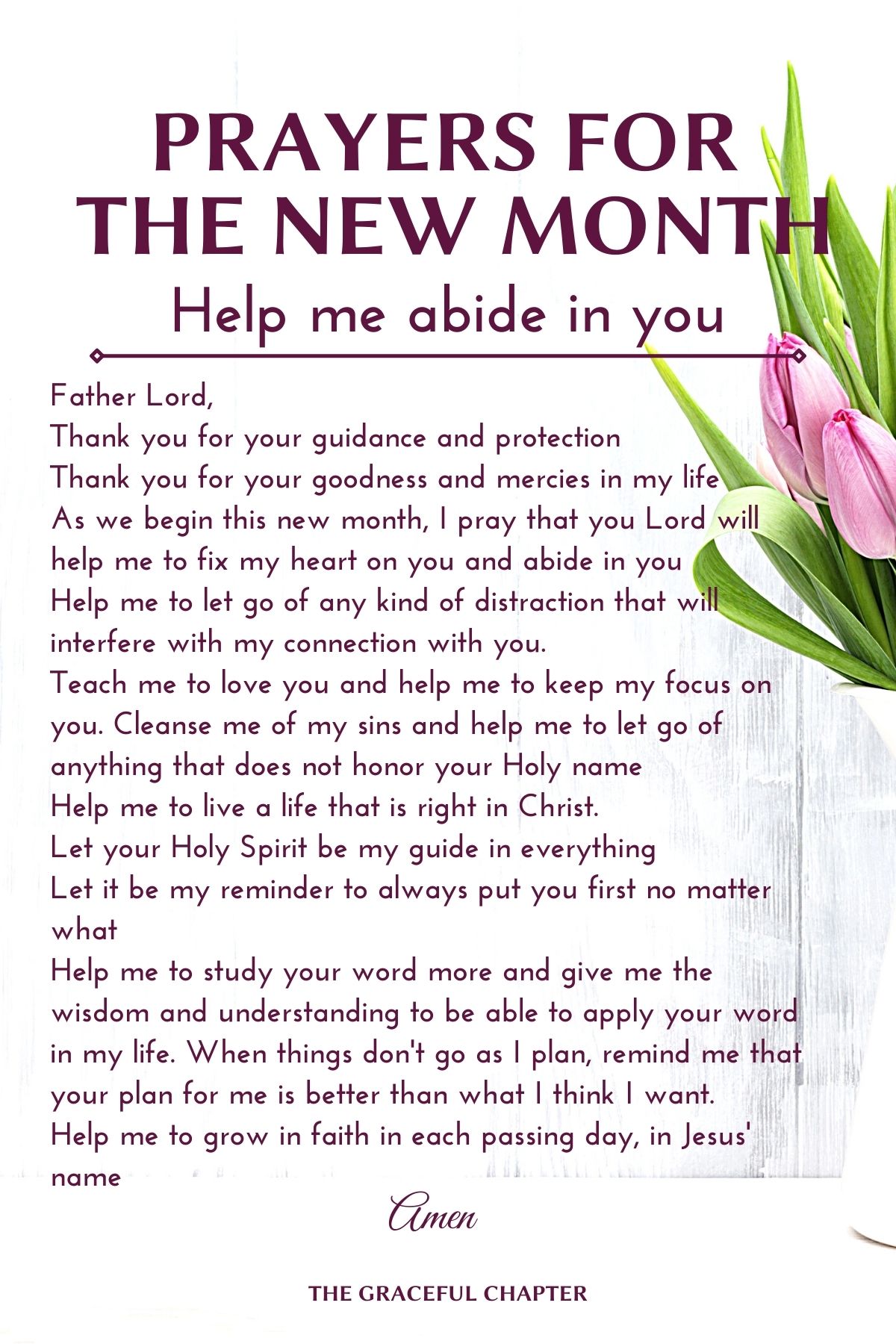 Spiritual Growth in the new month
Dear Lord in heaven
Help me grow in your faith
Let my spiritual life be strengthened always
Be a light unto my path
Do not let the darkness overcome me
Let me withstand any hardship that comes on me
Let my days be filled with testimony
Let me strive to do your work each day
Let me never sway from the path and purpose you have prepared for me
Use me as your instrument
and let me not live for myself but for you
Amen
Recommended Resources
Prayer for divine health
Dear Lord
I commit my health to your hands this month
Be my life and my strength
Keep sickness away from me and my family
Let me overcome any ailment and smile with strength
Let your divine healing be present in my household
I resist all diseases in Jesus' name
My life is full of strength and ability this month
Let there not be any accidents in this house
Be our companion and protector this month
Bless our home with grace
And let your healing power never depart from us
Amen
Something new this month
Dear Lord in heaven
I begin this month in your name
I ask that you do something new for me this month
Let me be renewed every morning in strength and grace
Let me sing a new song this month
Let me open my mouth in gleeful shock this month
Stretch my boundaries and give me new territories
Conquer my fears and make me brave
Break new grounds for me
Let what was difficult for me in the past be easy this month
Help me forgive anyone who has wronged me
and let my month be unrecognizable from those that have passed
Amen
Prayer for protection for the new month
Father Lord in heaven
I ask for divine protection this month
Through my movements and travels grant me mercy
When I drive or fly, be my partner
Protect me and my family from accidents
Remove all traps of doom from my path
Take me through this month without any disasters
Carry me in all my difficult moments
Where others fall, let me pass gracefully
Destroy all evil that is meant for me
Keep me away from thieves and dangerous attacks
Let your divine protection surround my family
In Jesus' name, I pray,
Amen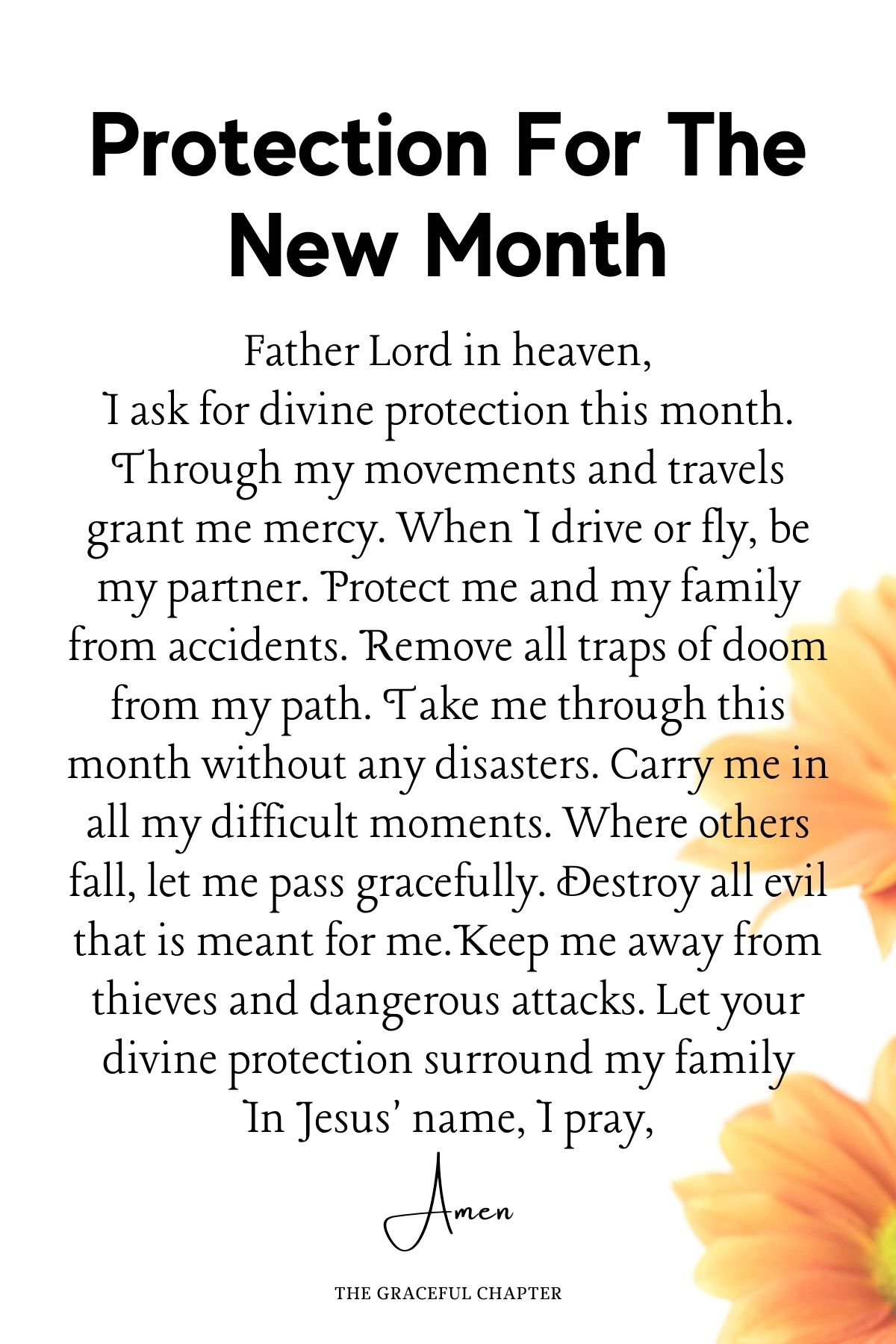 Deliver me from evil
Gracious Lord,
I give you all the glory and adoration for all the good things you keep doing in my life.
I bless your Holy name for being my guide and my protector
As we begin this new month,
I pray that you will continue to keep watch over me
Order my steps and keep me on the right path
Deliver me from any form of evil
I give myself to you Oh Lord,
Be my shield and keep me under your wings
Always go before me and after me
Defend and protect me in everything
In Jesus' name, I pray, Amen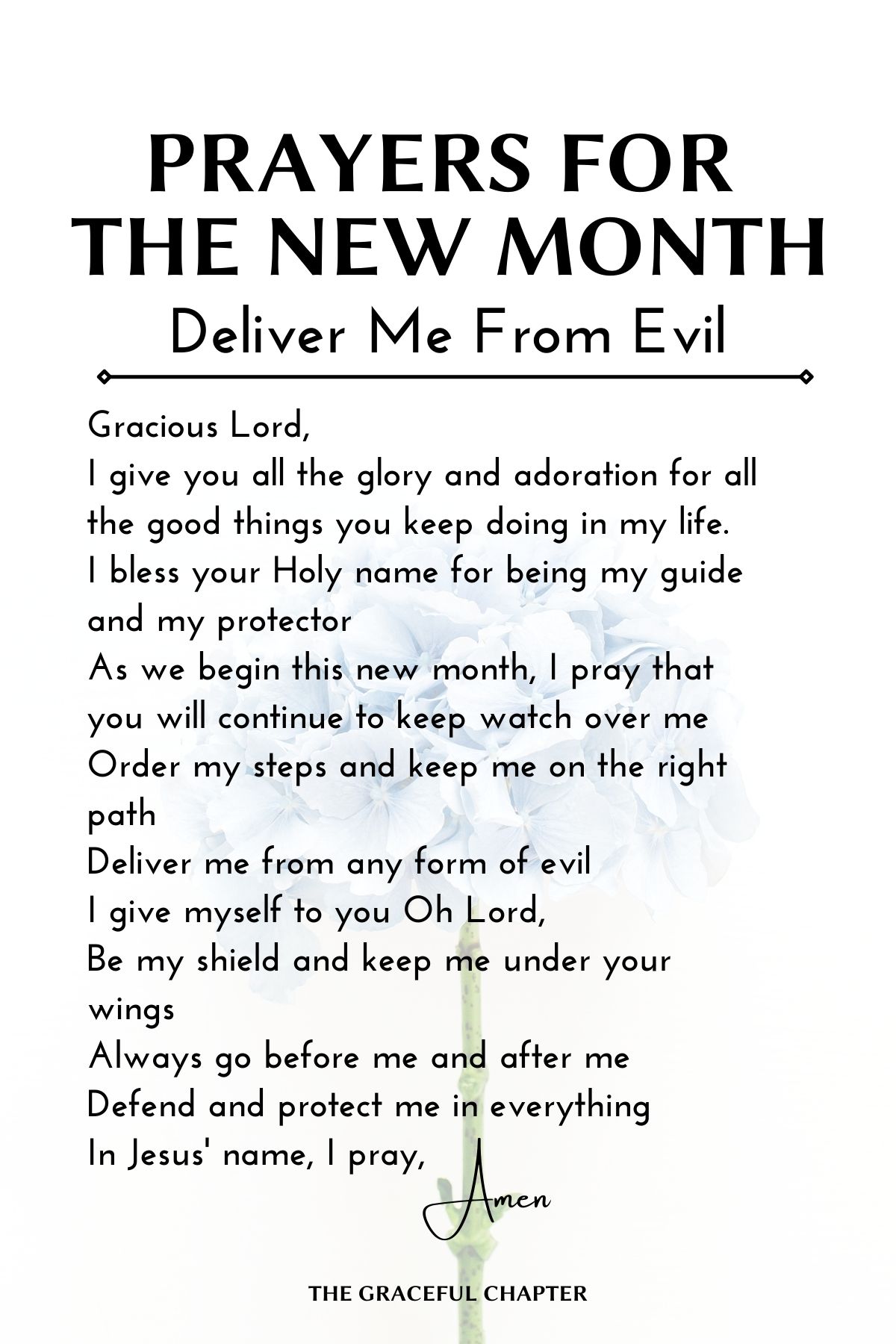 Strength and wisdom for the new month
Father Lord,
I pray for divine strength this month
Let me not try to go through with my own strength
Let me depend on you for guidance and direction
Strengthen my hand against my enemies
Lift me up when I fall
Strengthen me when I feel weak so I don't give up
Give me the wisdom to see through dark times
Help me make decisions that will benefit me
Let me be wise to the ploys of evil
Help me discern between your voice and that of the devil
and lift me up with the grace that abounds for me
Amen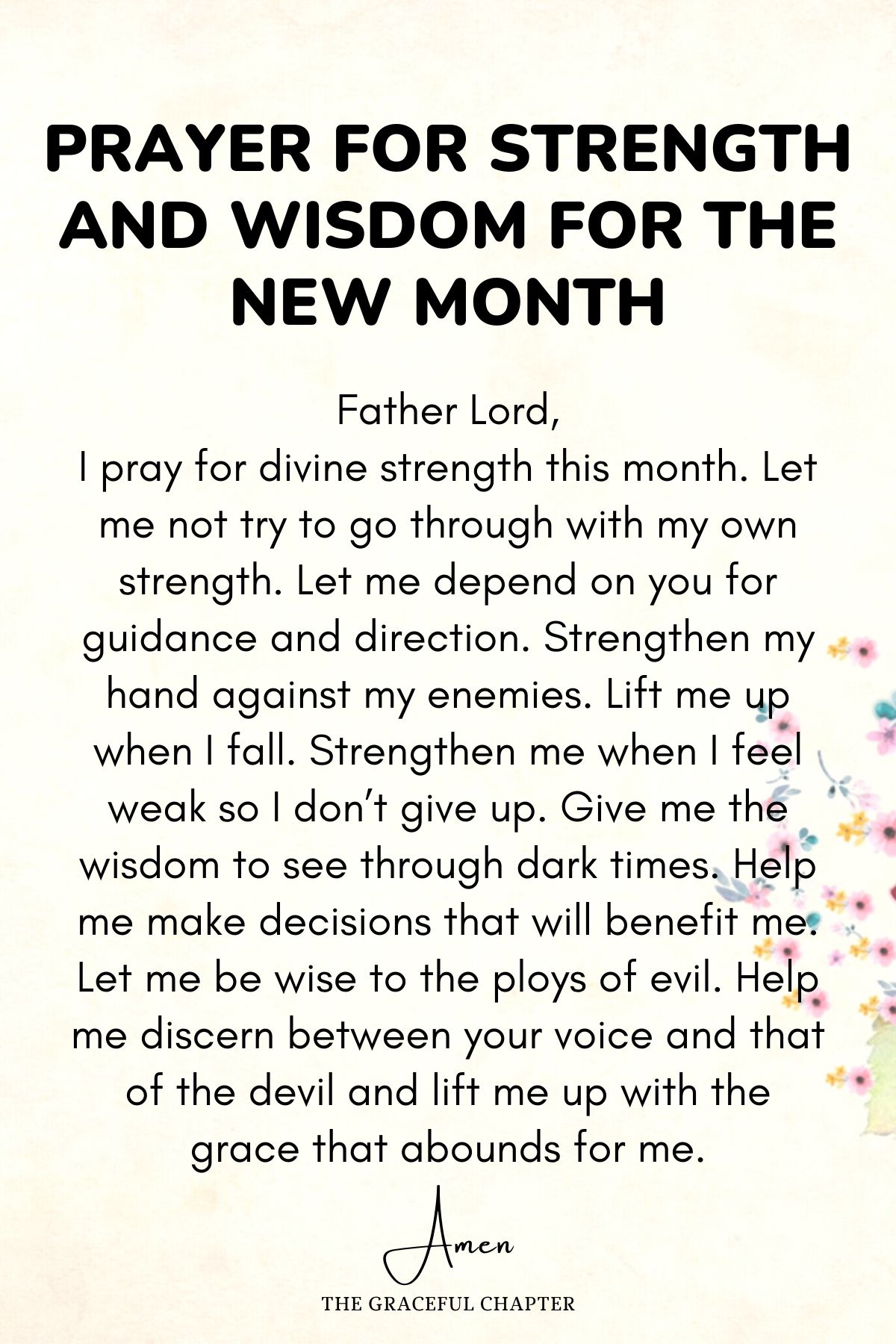 Prayer for favor and grace for the new month
Father Lord in heaven
Let your grace follow me throughout this month
Let me not trip on any traps set for me
When I walk through fire, let me not be burned
When I stumble, do not let me fall
Let your grace follow me everywhere I go
Favor me in all I do
Let only good things come to me
Bless everywhere I step
Let all I do be a success
Let the evil people plan for me be destroyed and go back to them
and let my toil not be in vain
Amen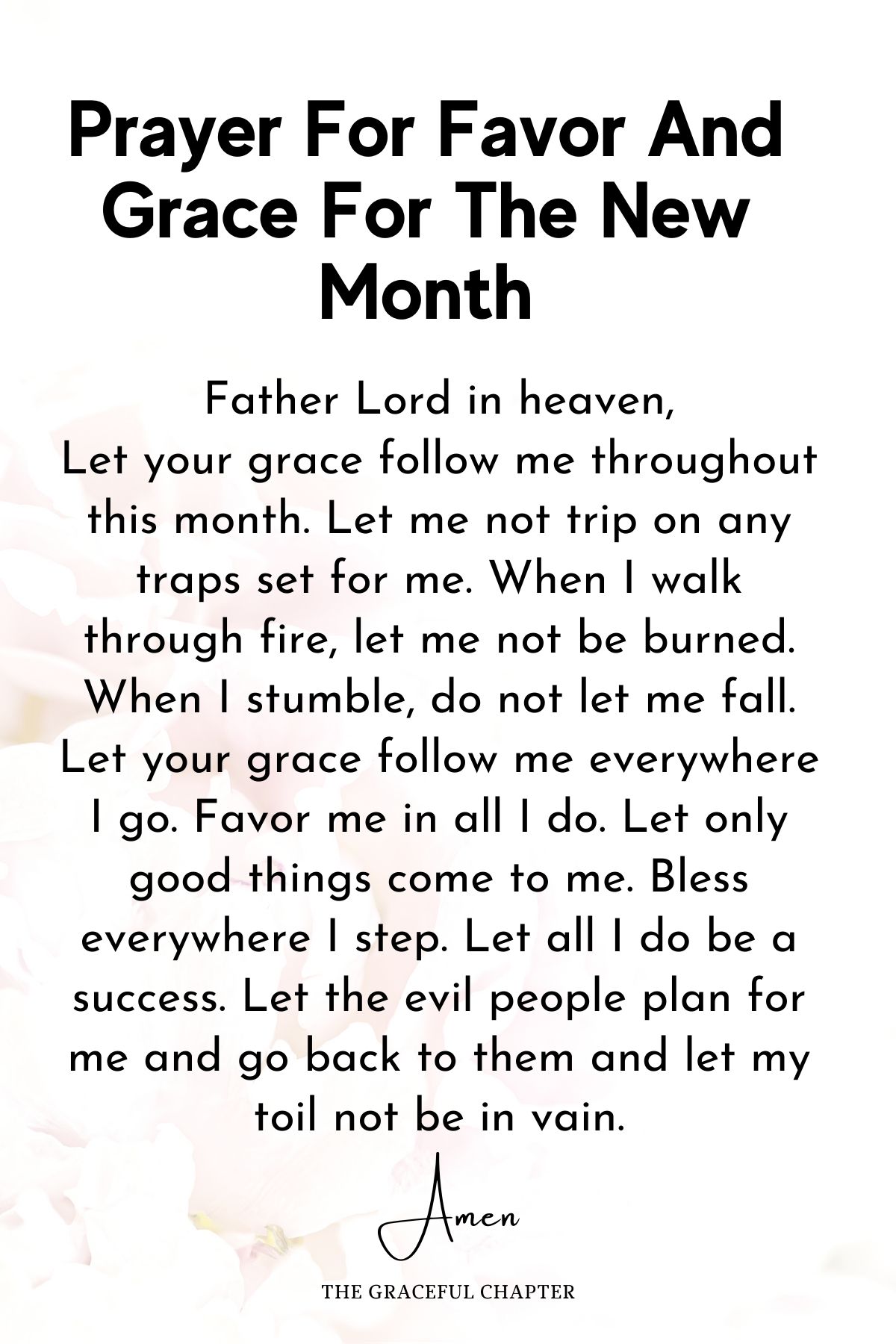 Related Posts
Let your grace and favor locate me
Merciful Father,
Thank you for your love and mercies
Thank you for giving me the opportunity to enter this new month
I pray for your favor and your blessings upon my life this month
Let this new month bring to me goodness and blessings
Help me to let go of sin and do what is right
Let my thoughts and my actions be ones that bring glory to your Holy Name
Father, I humbly ask that you bless me and bless everything I do
Help me to be diligent in my work and bless the work of my hands
Let your face shine on me so that your grace and your favor will locate me
through Jesus Christ our Lord,
Amen
Prayer for an increase in harvest
Dear Lord in heaven
I pray that you set your light on me this month
Let my seeds be watered with your abundant spirit
Bless my job and everything I do
Let me reap more than I sow
Let my harvest be bountiful
Let me exceed all my expectations
Fill my home with plenty of food
Fill my life with plenty of joy
Let us marvel at your grace and favor this month
Take me where I have never been before
and let your blessings overflow in my life
Amen
Open new doors of opportunity for me
Father in heaven,
I thank you for my life
Thank you for your love and mercy in my life
Thank you for all that you do for me
I pray for your continuous blessings upon my life in this new month
Open new doors of opportunities for me this month
I pray that you also restore whatever opportunities I missed in the past
Open my eyes and order my steps so that I don't miss any more opportunities
Help me to meet the right people who will contribute to my success in life
Teach me to hear and understand you when you speak to me
In Jesus' name, I pray,
Amen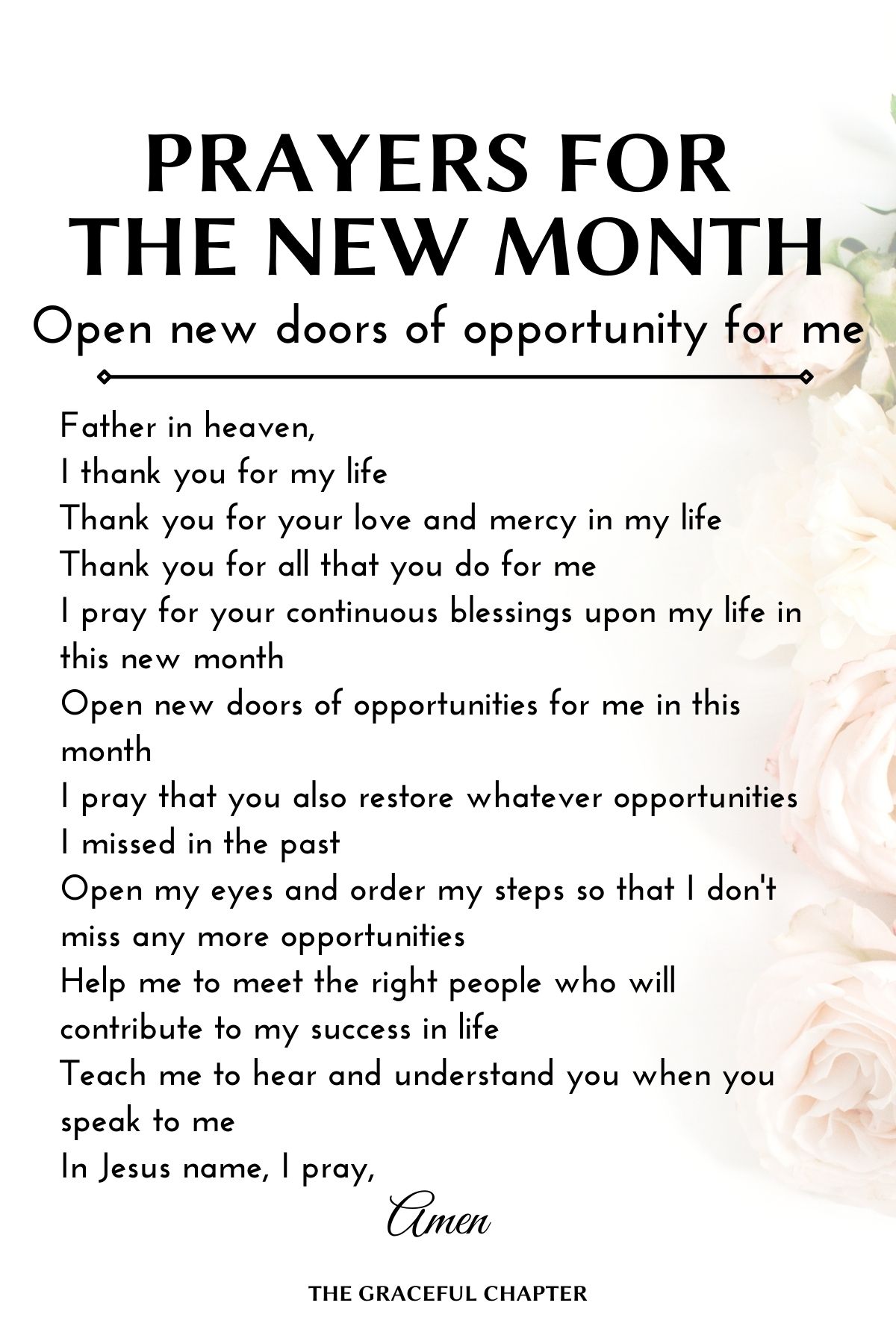 Fill my days with joy and happiness
Heavenly Father,
As we begin this new month,
I pray that you bring me peace and joy
With everything going on in my life,
I oftentimes find myself worrying and feeling sad
So I pray that you Oh Lord will fill my days with joy and happiness
When I begin to worry, please remind me that, you, my God are bigger than my problems.
Breathe your joy into my life and give me peace.
I pray that this new month brings me good news and happiness
I pray against any plans of the evil one in my life
Let your will be done in my life in Jesus' mighty name,
Amen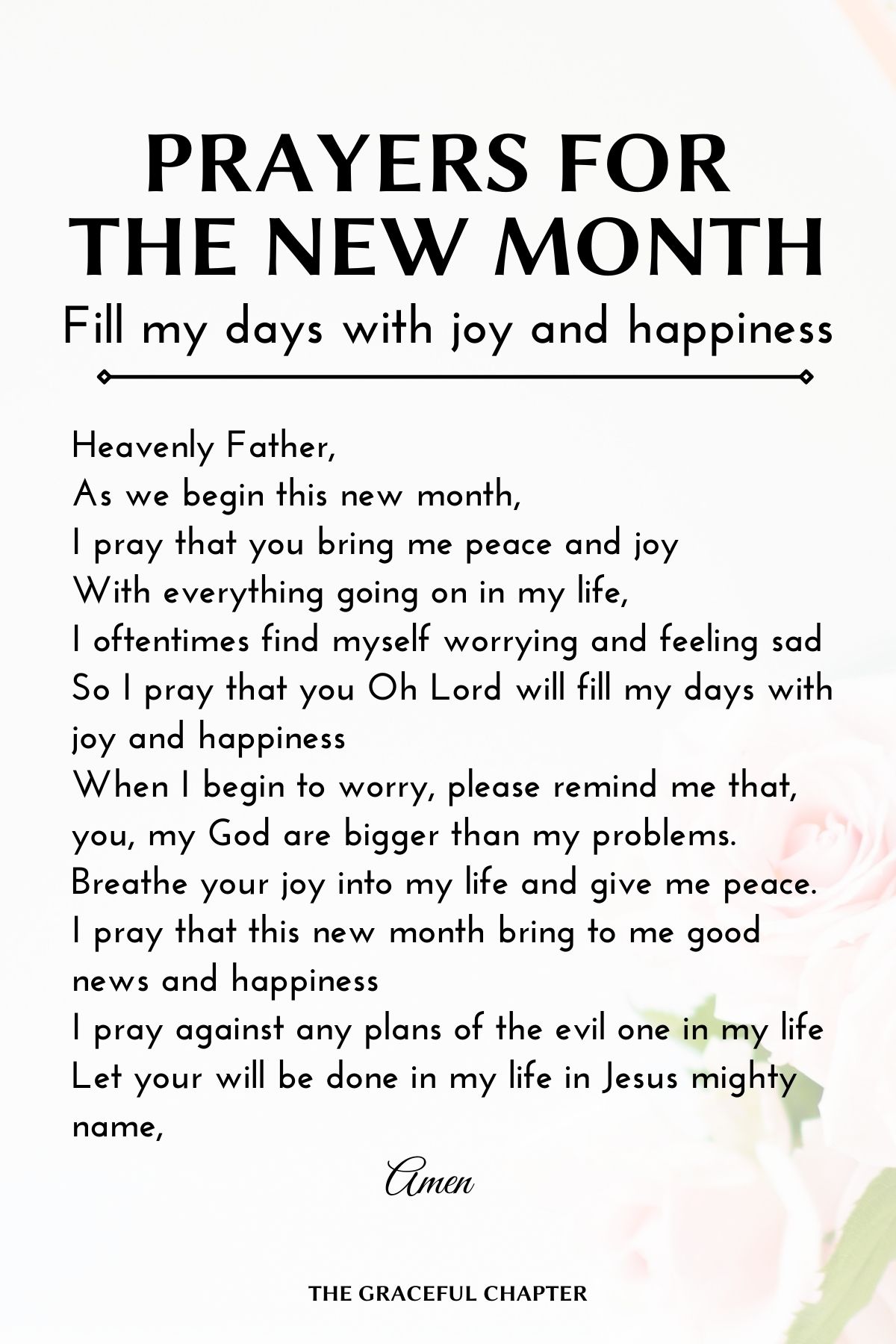 A new month is God's renewal of your membership with Him. It's His way of telling us that he still loves you and has not deserted you. The same God who has brought you this far is willing to take you to the very end.
This month is your chance to change a lot in your life. Do not carry any baggage from last month into this one. Let all your bygones stay buried and let this mark a brand new you.
But those who hope in the Lord will renew their strength. They will soar on wings like eagles; they will run and not grow weary, they will walk and not be faint.

Isaiah 40:31