Psalm 127:3 says that "Children are a gift from the Lord; they are a reward from him." When we receive these gifts from God he expects us to cherish them. He expects us to dedicate their lives to him.
Child dedication to God tells him that we know he is the creator of all beautiful things. It also means that we know that only he can create and that we accept his wonderful addition to our family.
It is true that children are not really conscious of what is happening at the time of dedication. Dedication is really for the parents and the caretakers of the child. It is an important moment between them and God where they promise to raise the child with His values and principles.
Prayers for child dedication are meant to ask for the guidance of the Lord for the child's life and also ask for strength and favor for the caretakers to be able to train up the child in the way they should go.
Dedicating a child to the Lord is only the first step in their upbringing. You are then responsible for the way the child turns out in the future. The strength and stability of a tree depend on how that tree was cared for, protected, and watered as a small seedling or plant.
You have to straighten a crooked plant before it grows and becomes strong at which point it will be very difficult to straighten. These examples tell us that we have to draw close to our children and train them to live day by day for the Lord. That way he will not be a stranger to them when they grow.
Pray for strength and direction as you begin this journey with your seed. Ask God to help you nurture them and water them with his spirit until they are grown and full of his teachings. He will be their light in the darkness and they will not stray even when you are no longer alive.
Prayers for Child Dedication
Prayer for the Child
Dear Father in heaven,
We commit this child into your hands,
We pray that you protect their future
We ask that you be the light unto their path for all the days that they shall live
We commit their health into your care
Be their healer when they are sick
We reject any generational disease that wants to transfer unto this child
We pray that you protect this child from any ailment and preserve their lives so they can grow in you
We pray for their education
We ask that you bless them with wisdom
Help them reach the potential that you have placed in their hearts
Let them climb and climb in life without falling
Give them grace and favor in everything that they do
We pray for their social life
Draw them to people who will have positive impacts in their lives
Guide them away from destructive friends and company
Let them want to please you at all times
Make them obedient to your word and help them live for you
Let them remain in your dwelling place forever
Amen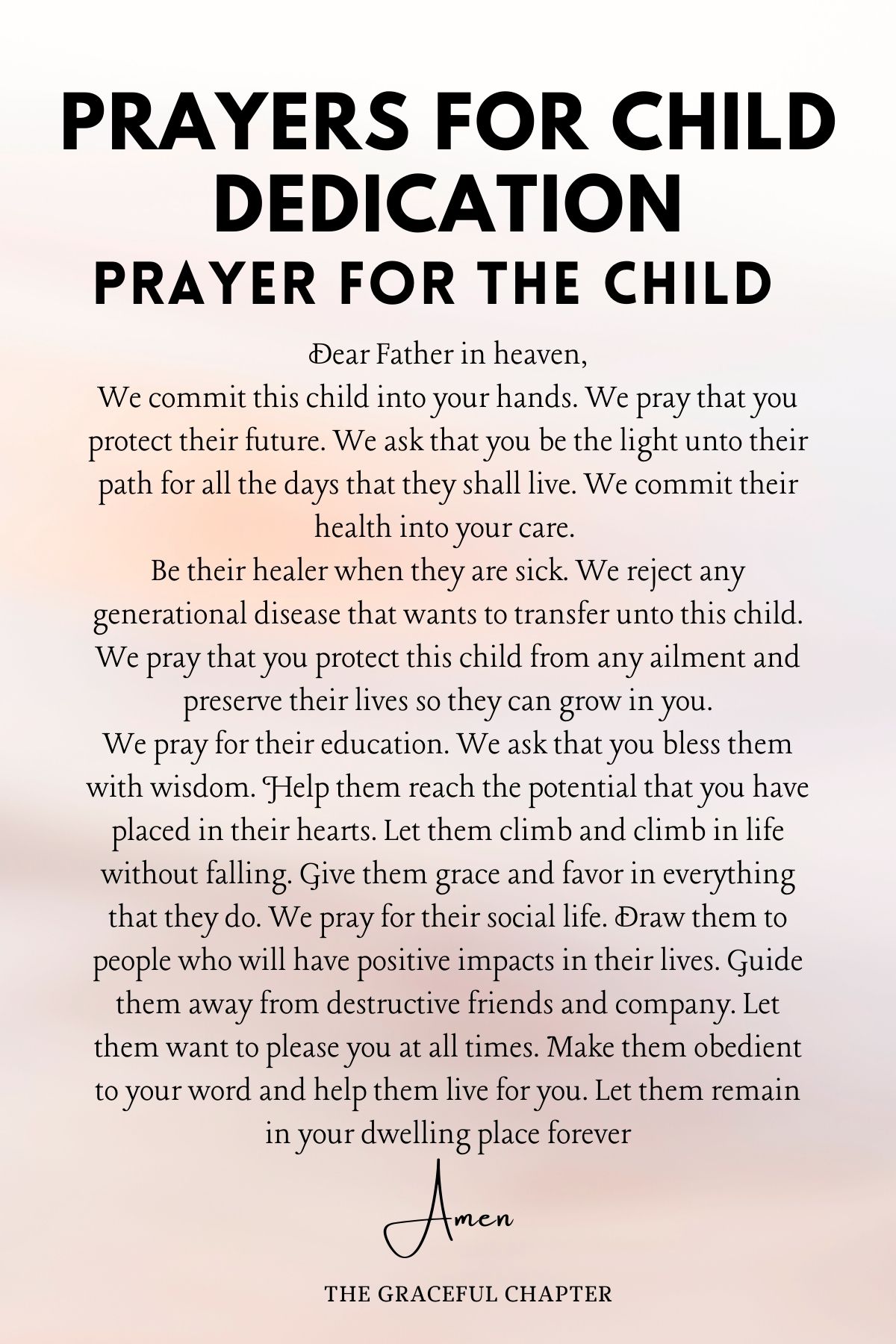 Prayer for the Parents
Dear Lord,
We pray for the parents of this child today
We know that raising a child is a very difficult task
We ask for your strength and love for these parents
Please help them make the right decisions concerning this child's life
Help them bring up this child in your love and your directions
When times seem hard for them, we pray that you are their comforter
Help them keep their family bond strong, so this child can grow in a stable supportive home
We pray that you continue to bless their union
Help them teach this child the strongest of family values
Let them not give up on this child when things get difficult
We know that all good gifts come from you
Help them cherish and nurture this gift of life
Help them not repeat past mistakes
Let them create a home of peace, love, and hope for his child
Help them correct the child when they stray
Grant them riches to be able to care for them
Help them educate this child to the highest level
Grant them long life to see all the fruits this child will bear
In Jesus' name,
Amen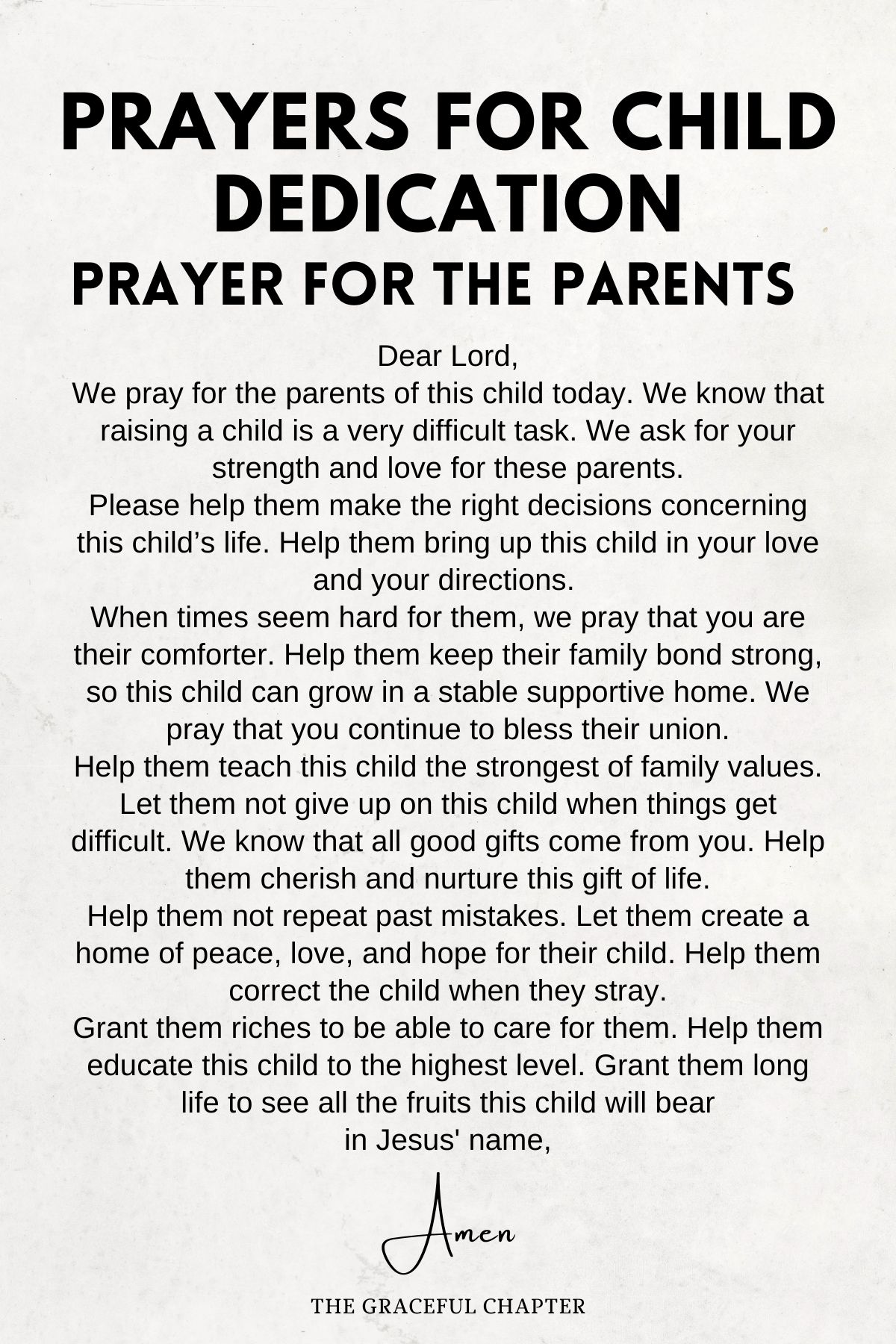 Related Posts
Prayer for the Family
Heavenly Father,
Thank you for this new addition to our family
We are truly grateful for this wonderful gift of love and life
We ask that this child become a blessing to this family
Let the birth of this child become a symbol of unending prosperity in our lives
Let their presence be a connection between you and us
We pray that through this child, this family will receive honor and grace
Help us bring them up in your knowledge and your favor
Let them grow to be a strong pillar of unity for this family
Let our love for each other grow stronger and stronger because of this child
Grant us strength and long life to care for this child
Let them be our savior, our comforter, and our peacemaker
Make them wise as a Solomon and strong as Sampson
Give them the beauty in their hearts and make them kind and accepting to everyone in the family
Make them gracious and merciful to everyone they meet
Let them grow to be wise leaders for this family
And let them multiply and bring nothing but prosperity to us all
Amen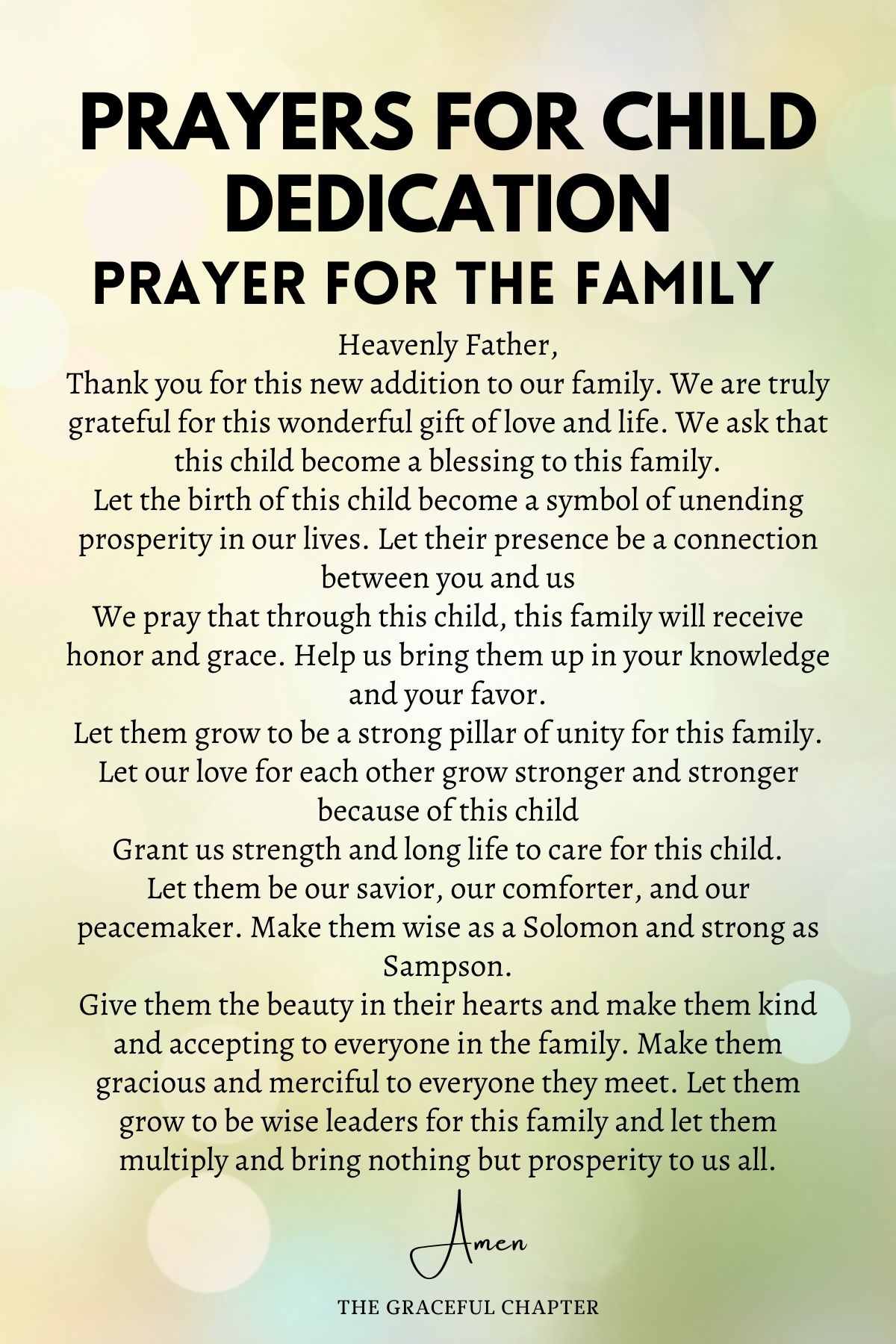 Prayer for Godparents
Heavenly Father,
We ask for your love, guidance, and protection for these godparents
We ask that you give them the financial strength and willingness to help whenever they are needed
Help them treat this child as one of their own
Give them the grace to be able to help raise this child in your glory
Give them the courage to intervene when this child is being led down a bad road
Bless them to always be there when they are needed
Bless their own family and bless their occupations
Let whatever they touch be a blessing because of what they have agreed to do for this child
Help them reap bountifully whenever they sow
Lead them from grace to grace
Bless their homes with your healing spirit
Please answer their prayers and grant them the desires of their hearts
We pray that they don't lose anything in their sacrifices for this child
Help them nurture this child in the way they should grow
Thank you for answering our prayers
Amen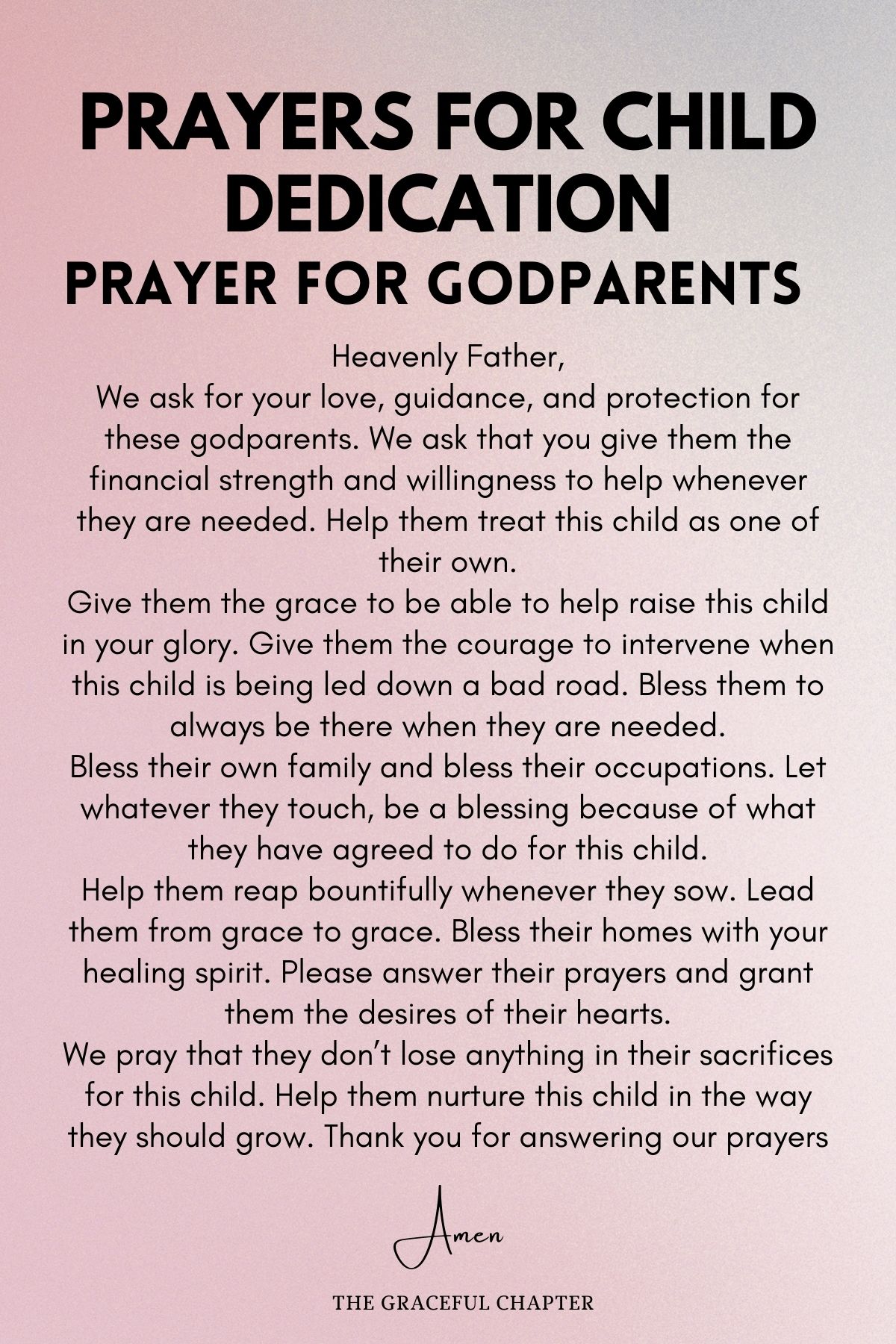 Prayer against Evil
Dear Lord
I commit this child's future to your hands
We pray against any evil plans concerning this child's life
We burn any traps that have been set for the future of this child
We fully commit them to you, Lord
Please take dominion over their lives
Fill their heart and soul with only your love
Let them not be swayed by the evil and riches of this world
Do not let them lust after the flesh but rather hunger for your spirit
Preserve their souls for your purposes only
Lead them away from companies that will destroy their lives
Let their interests be placed in things of spiritual importance
Let them build their homes in heaven and reject the deceptions of the devil
We destroy all evil plans of any family member
We reject any evil calculations concerning their lives
We speak blessings unto their heads
We pray for goodness and mercy to follow them all their lives
We bind any demonic spirit that wishes to take dominion over them
Let them walk hand in hand with you all their lives
Grant them a fulfilling life in Jesus' name I pray,
Amen
Dedicating a child to God is a lifetime commitment. It is an acknowledgment of God's presence in their lives and an endeavor to keep them in the house of the Lord forever. Ask God for strength, power, and ability to be able to achieve this.
Help the child grow in the spirit, truth, and strength of the Lord. One day when you see a fully grown, strong, gentle child who loves the Lord and do according to his will you will be duly rewarded in heaven.