King Solomon asked God for wisdom and God gave him wisdom and a lot more. Today, we all know King Solomon as a wise king. Wisdom comes from God. He is the all-knowing God. This means that if you need wisdom, you have to go before the one who possesses all knowledge and wisdom.
The good news is that God gives. He possesses all the wisdom and he gives generously to all who ask. The Bible encourages us to ask God for wisdom if we lack it.
God will always provide the wisdom and guidance you need in life, all you have to do is ask, just like King Solomon did. Just ask. Here are some bible verses about wisdom, you can read and meditate on.
Bible verses about wisdom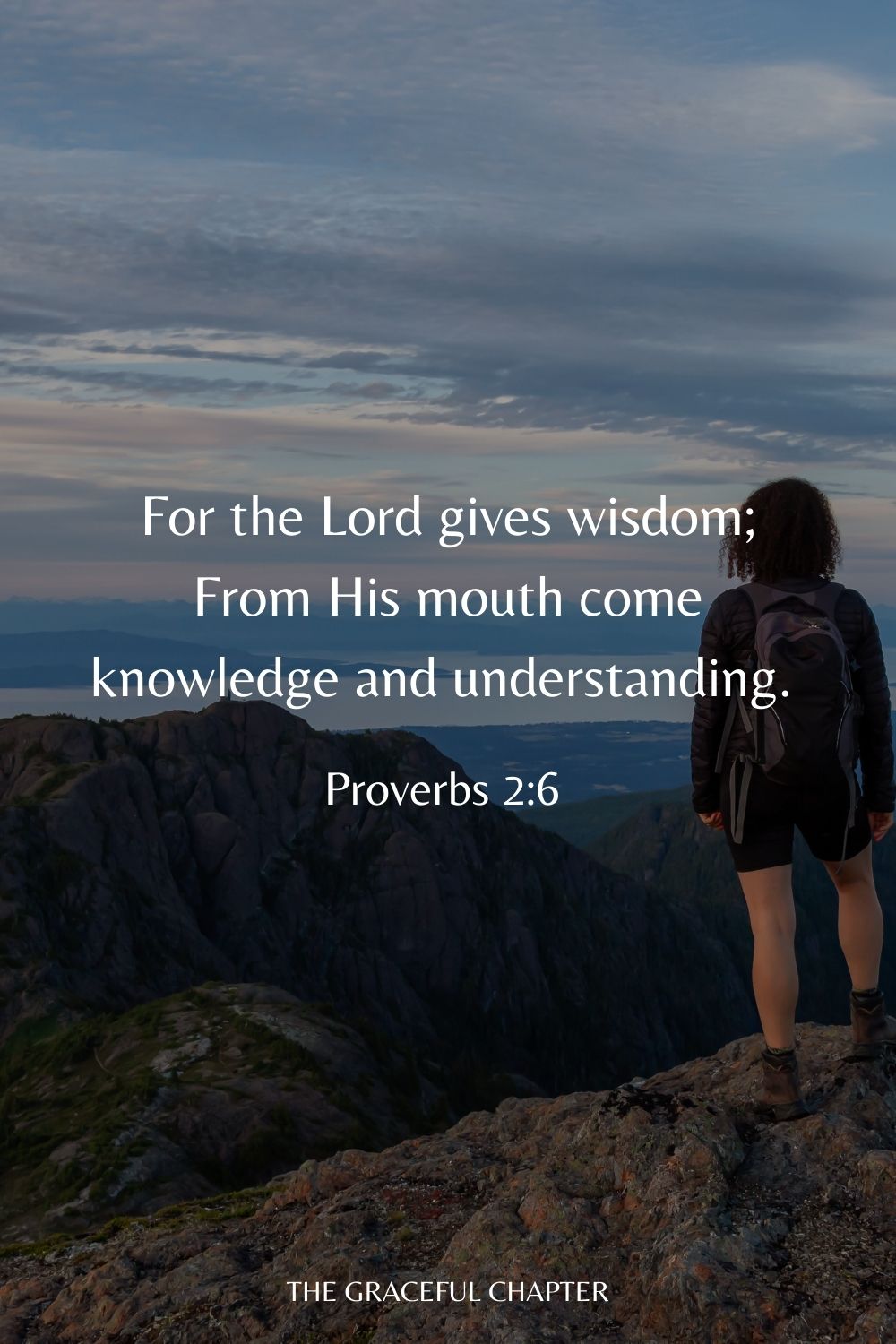 For the Lord gives wisdom; From His mouth come knowledge and understanding.
Proverbs 2:6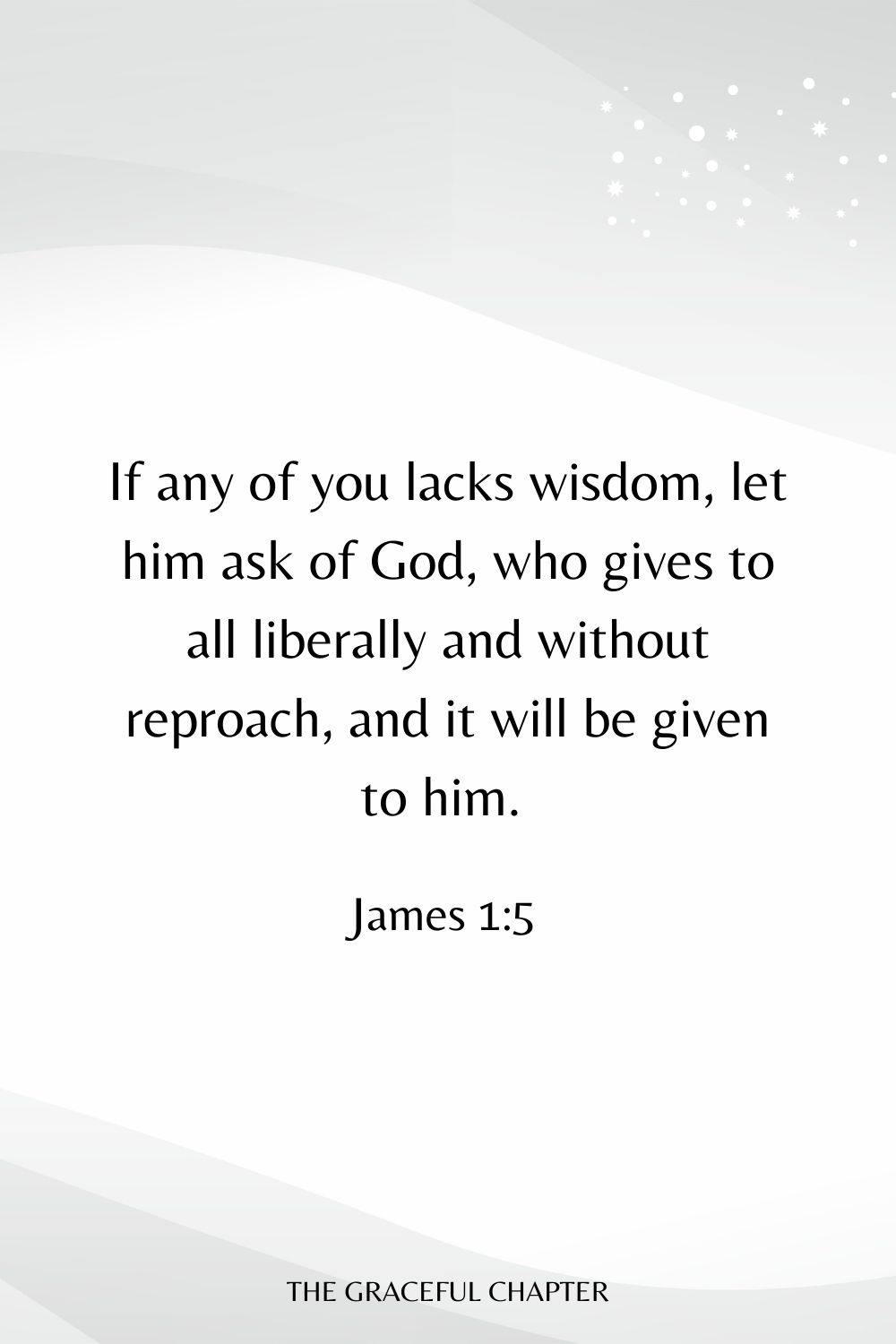 If any of you lacks wisdom, let him ask of God, who gives to all liberally and without reproach, and it will be given to him.
James 1:5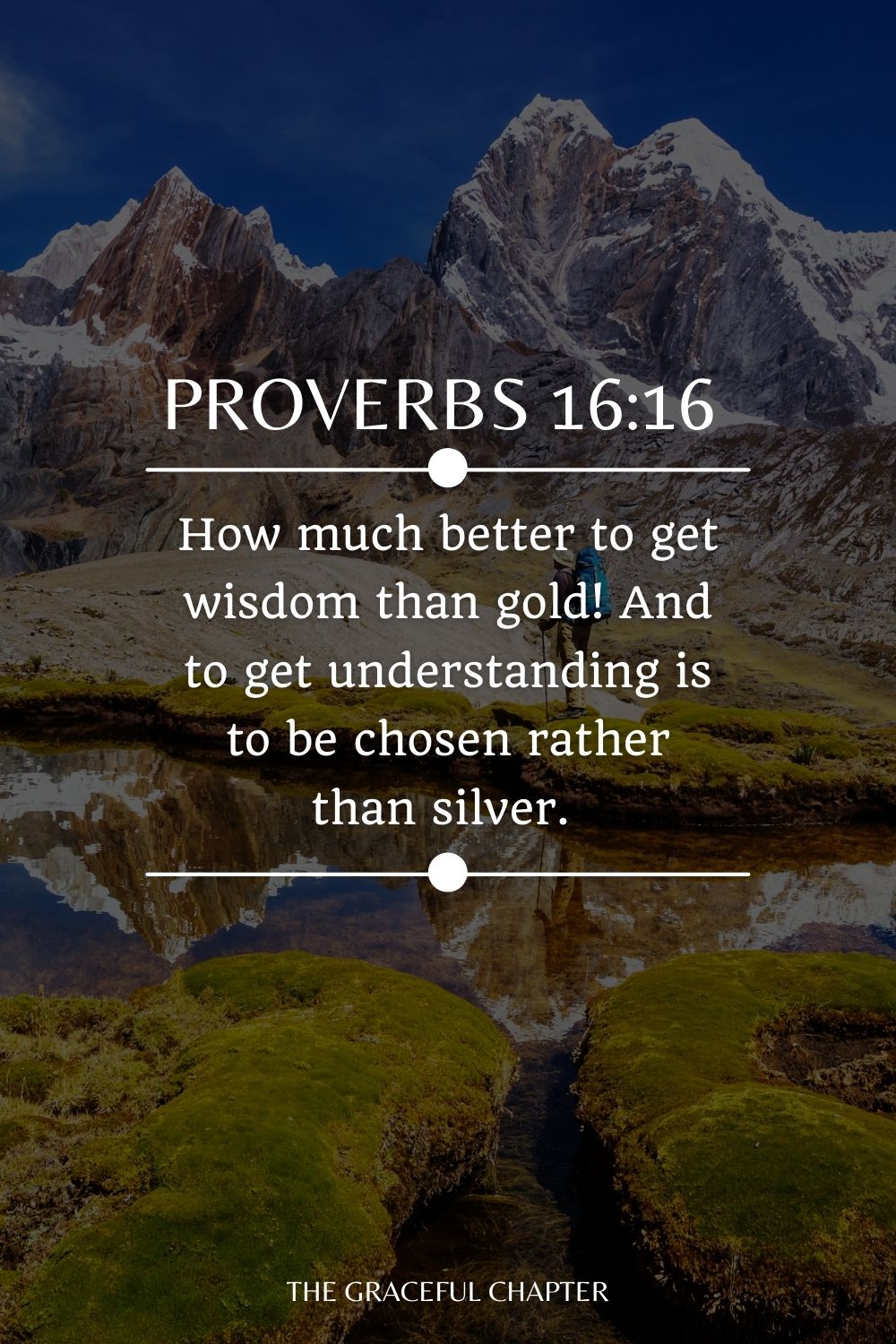 How much better to get wisdom than gold!
And to get understanding is to be chosen rather than silver.
Proverbs 16:16
See then that you walk circumspectly, not as fools but as wise, redeeming the time, because the days are evil.
Ephesians 5:15-16
But the wisdom that is from above is first pure, then peaceable, gentle, willing to yield, full of mercy and good fruits, without partiality and without hypocrisy.
James 3:17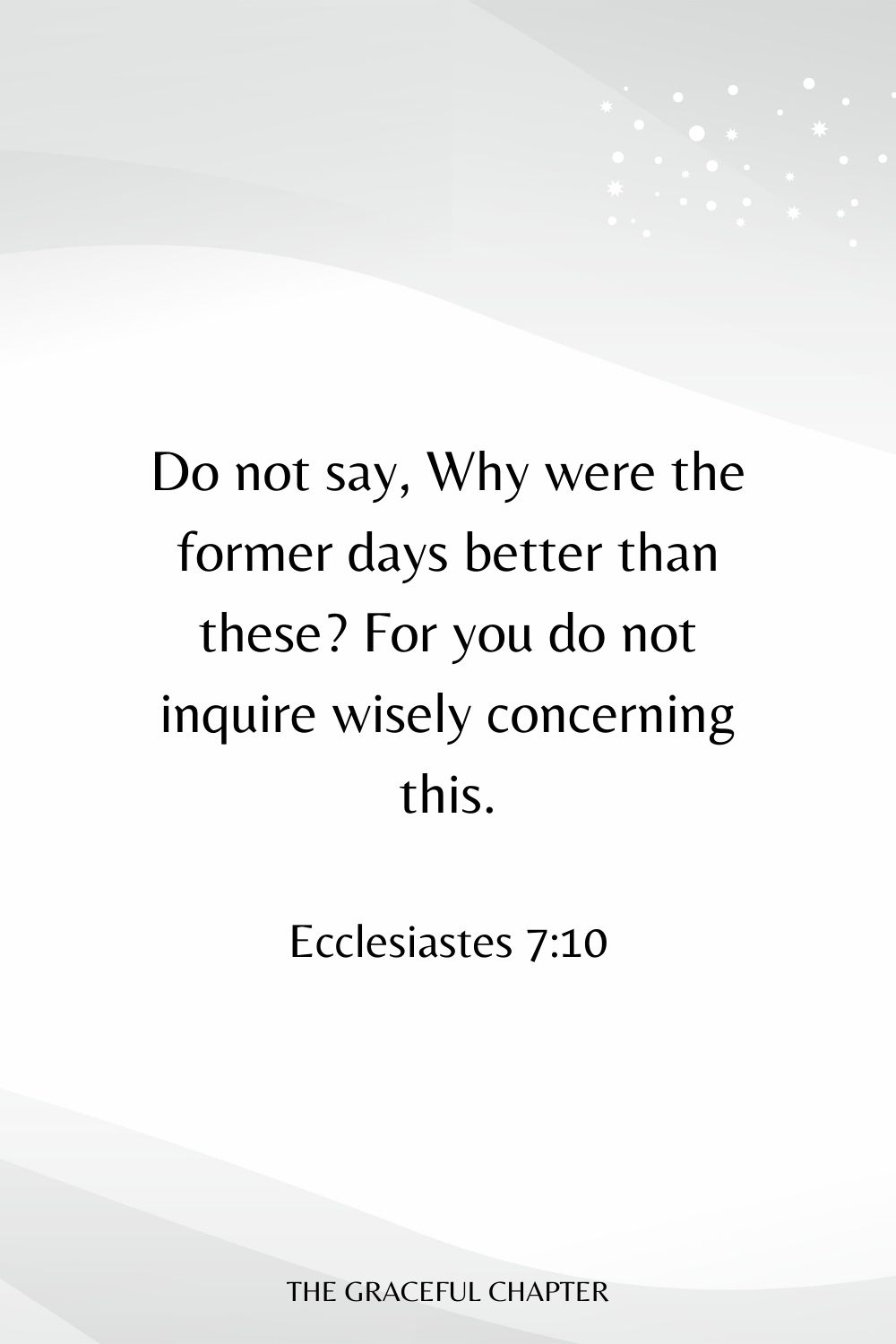 Do not say, Why were the former days better than these? For you do not inquire wisely concerning this.
Ecclesiastes 7:10
Walk in wisdom toward those who are outside, redeeming the time. Let your speech always be with grace, seasoned with salt, that you may know how you ought to answer each one.
Colossians 4:5-6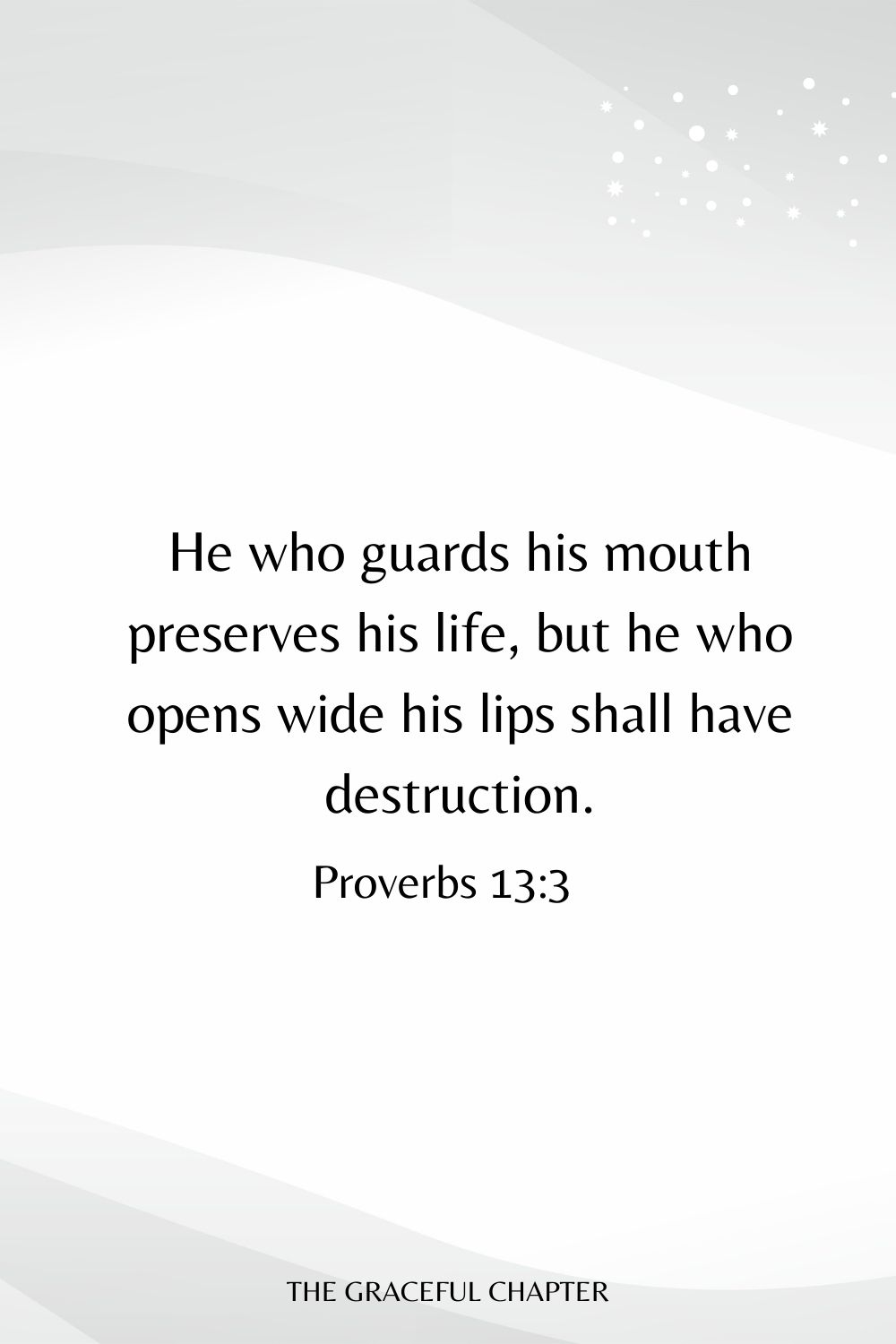 He who guards his mouth preserves his life, But he who opens wide his lips shall have destruction.
Proverbs 13:3
Wisdom rests in the heart of him who has understanding, but what is in the heart of fools is made known.
Proverbs 14:33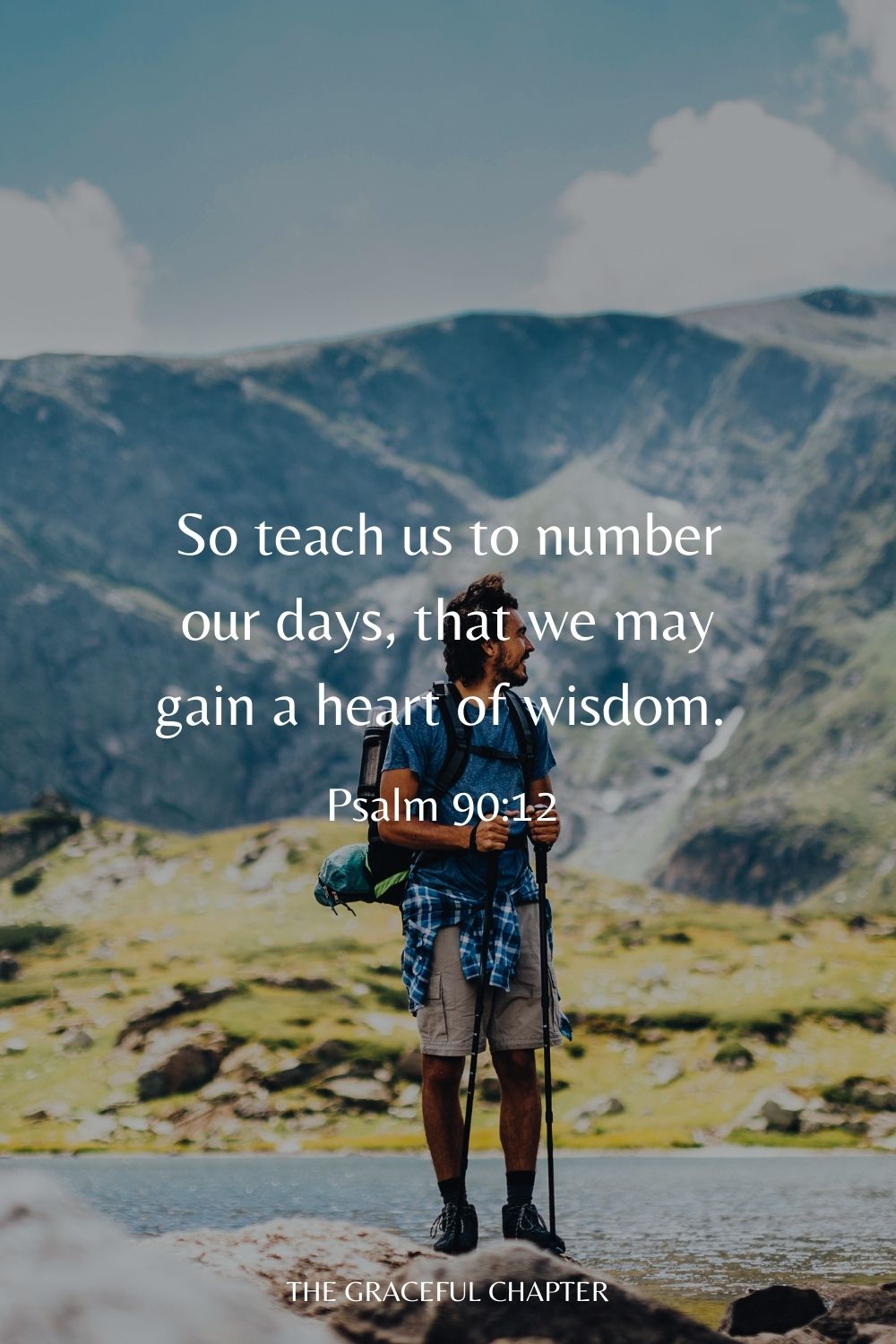 So teach us to number our days, That we may gain a heart of wisdom.
Psalm 90:12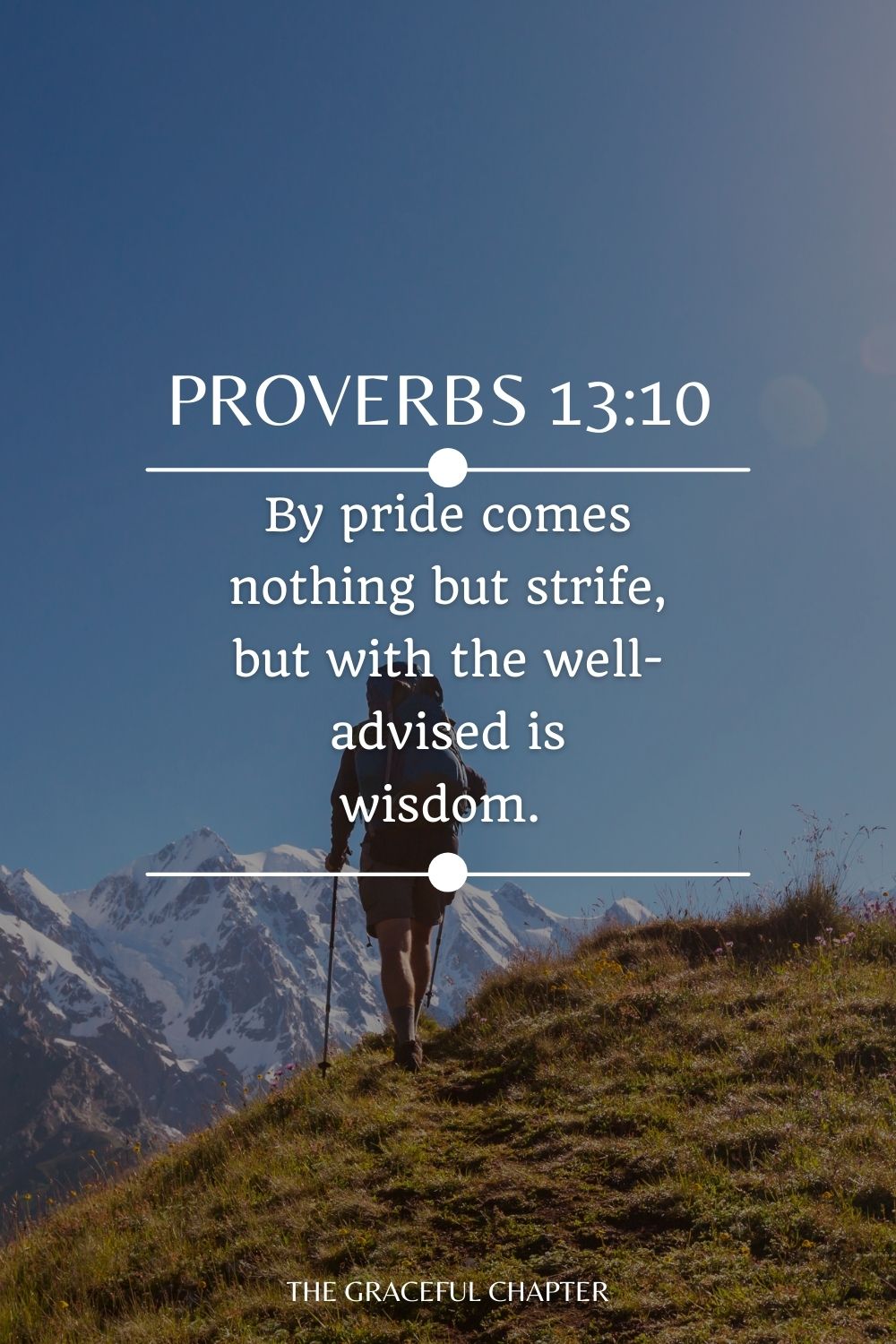 By pride comes nothing but strife,
But with the well-advised is wisdom.
Proverbs 13:10
Let no one deceive himself. If anyone among you seems to be wise in this age, let him become a fool that he may become wise.
1 Corinthians 3:18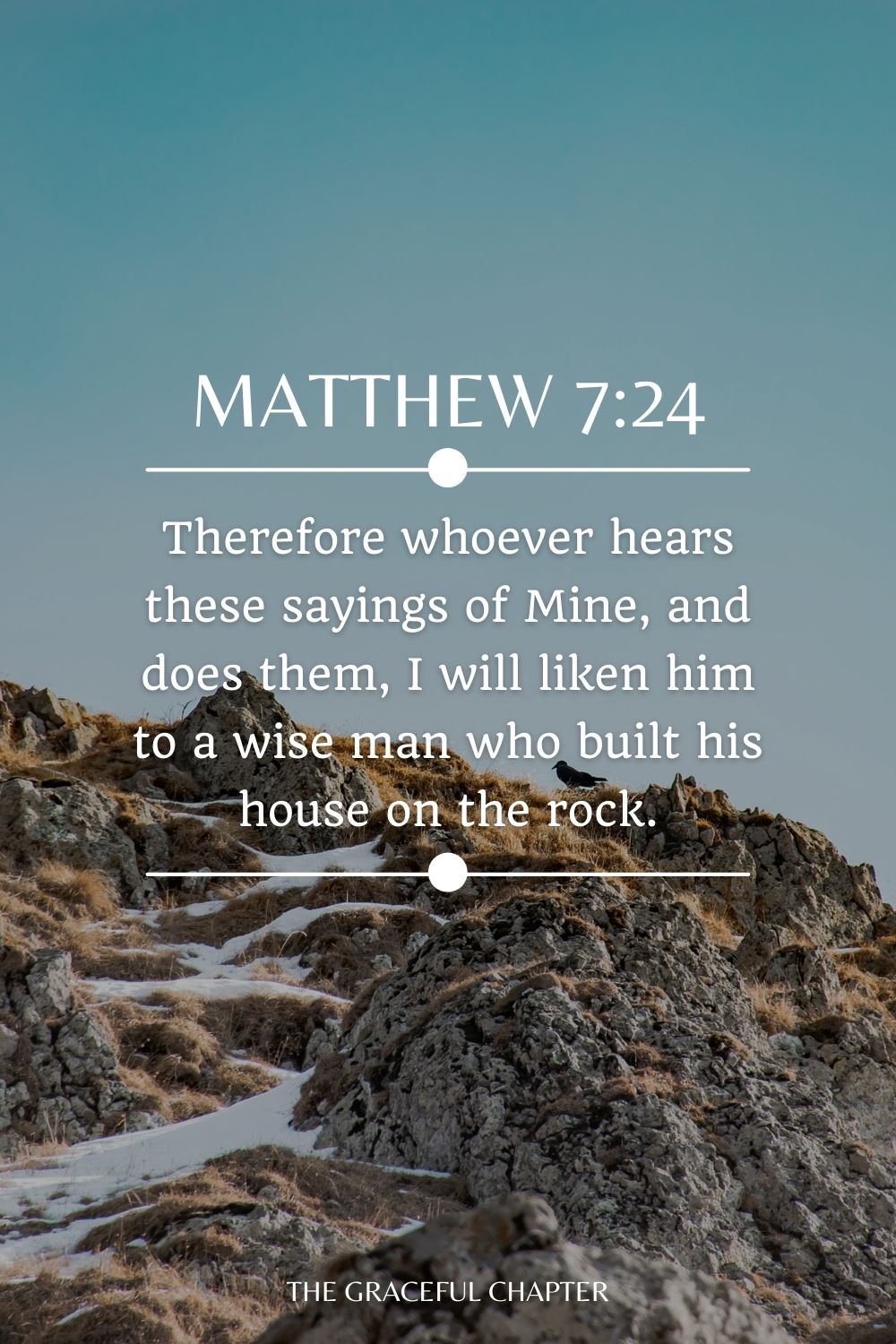 Therefore whoever hears these sayings of Mine, and does them, I will liken him to a wise man who built his house on the rock.
Matthew 7:24
When pride comes, then comes shame;
But with the humble is wisdom.
Proverbs 11:2

For whoever finds me finds life, And obtains favor from the Lord.
Proverbs 8:35
A fool has no delight in understanding,
But in expressing his own heart.
Proverbs 18:2
The wise in heart will receive commands,
But a prating fool will fall.
Proverbs 10:8
For My thoughts are not your thoughts, Nor are your ways My ways," says the Lord.
Isaiah 55:8
The fear of the Lord is the instruction of wisdom,
And before honor is humility.
Proverbs 15:33
This also comes from the Lord of hosts, Who is wonderful in counsel and excellent in guidance.
Isaiah 28:29
Related Posts
I thank You and praise You, O God of my fathers;
You have given me wisdom and might, And have now made known to me what we asked of You, For You have made known to us the king's demand.
Daniel 2:23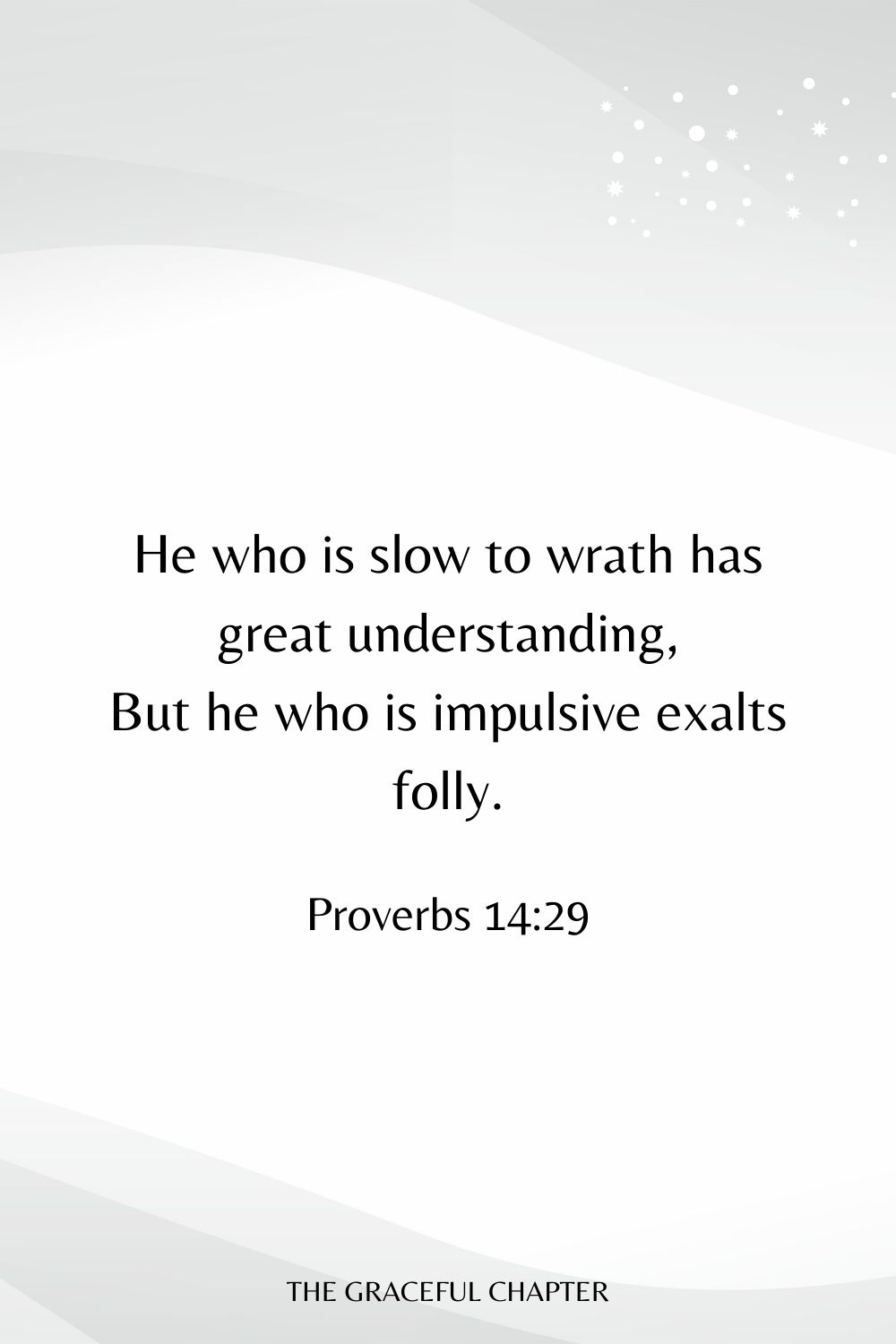 He who is slow to wrath has great understanding,
But he who is impulsive exalts folly.
Proverbs 14:29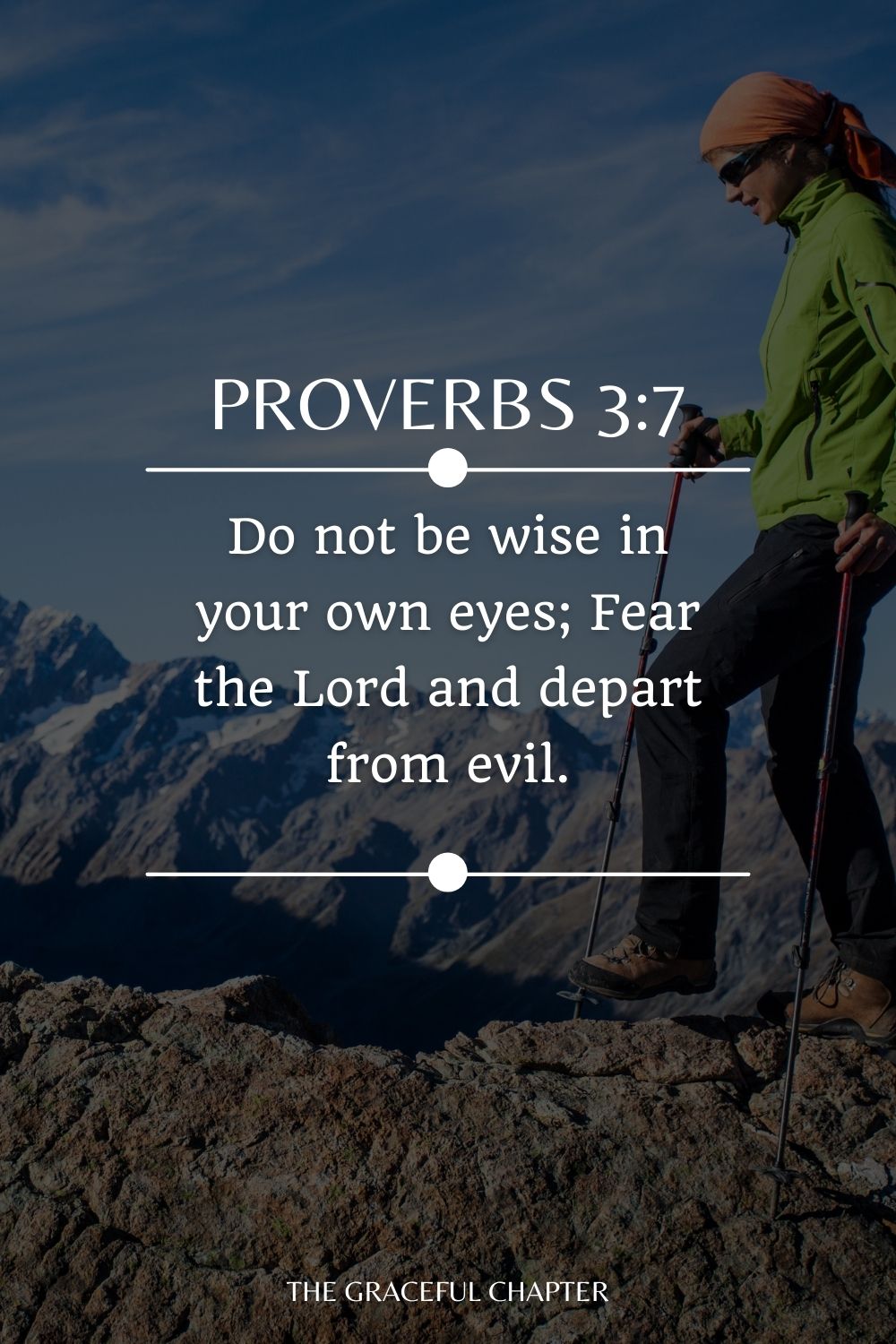 Do not be wise in your own eyes; Fear the Lord and depart from evil.
Proverbs 3:7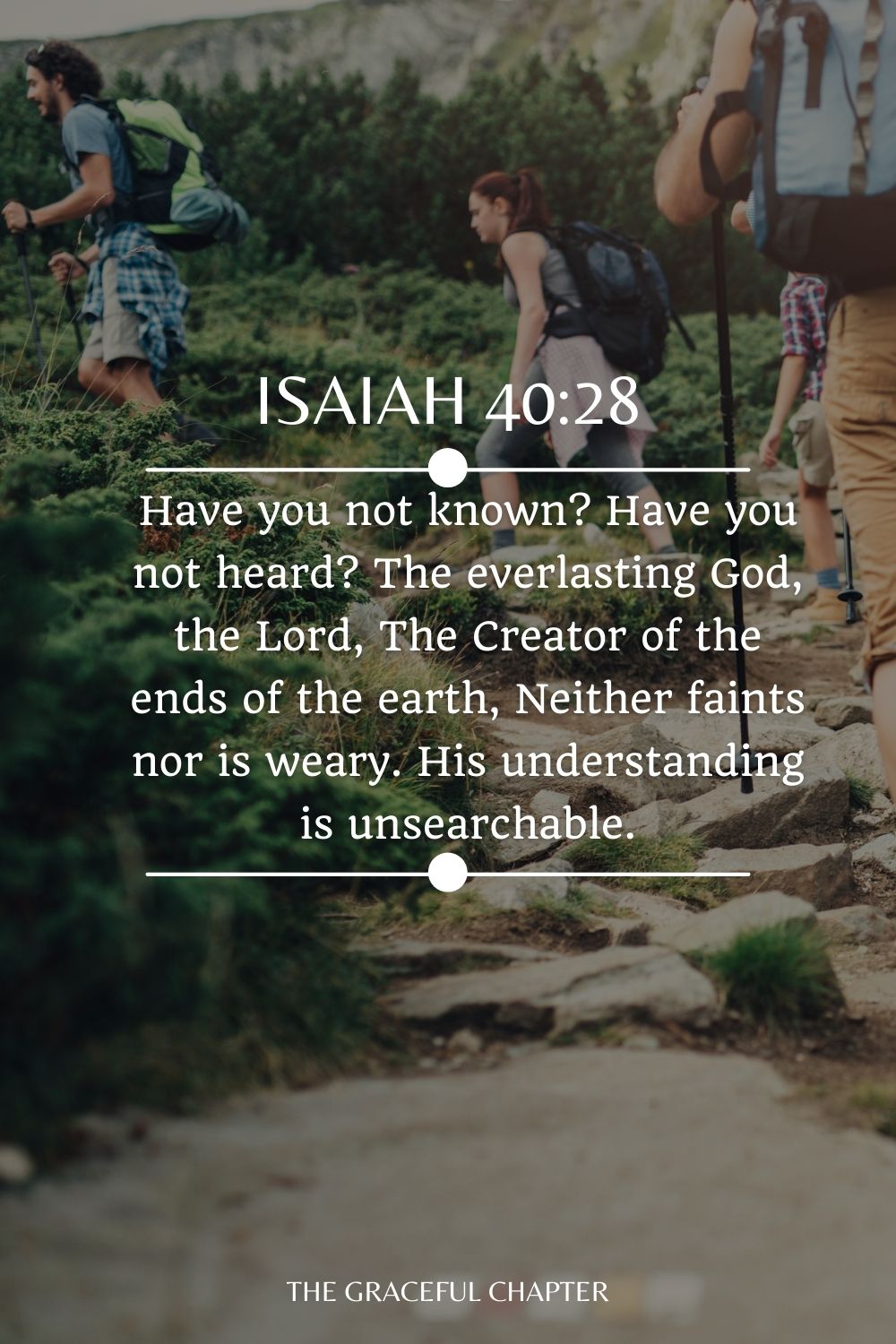 Have you not known? Have you not heard? The everlasting God, the Lord, The Creator of the ends of the earth, Neither faints nor is weary. His understanding is unsearchable.
Isaiah 40:28
Wisdom is with aged men, And with length of days, understanding.
Job 12:12
Great men are not always wise, Nor do the aged always understand justice.
Job 32:9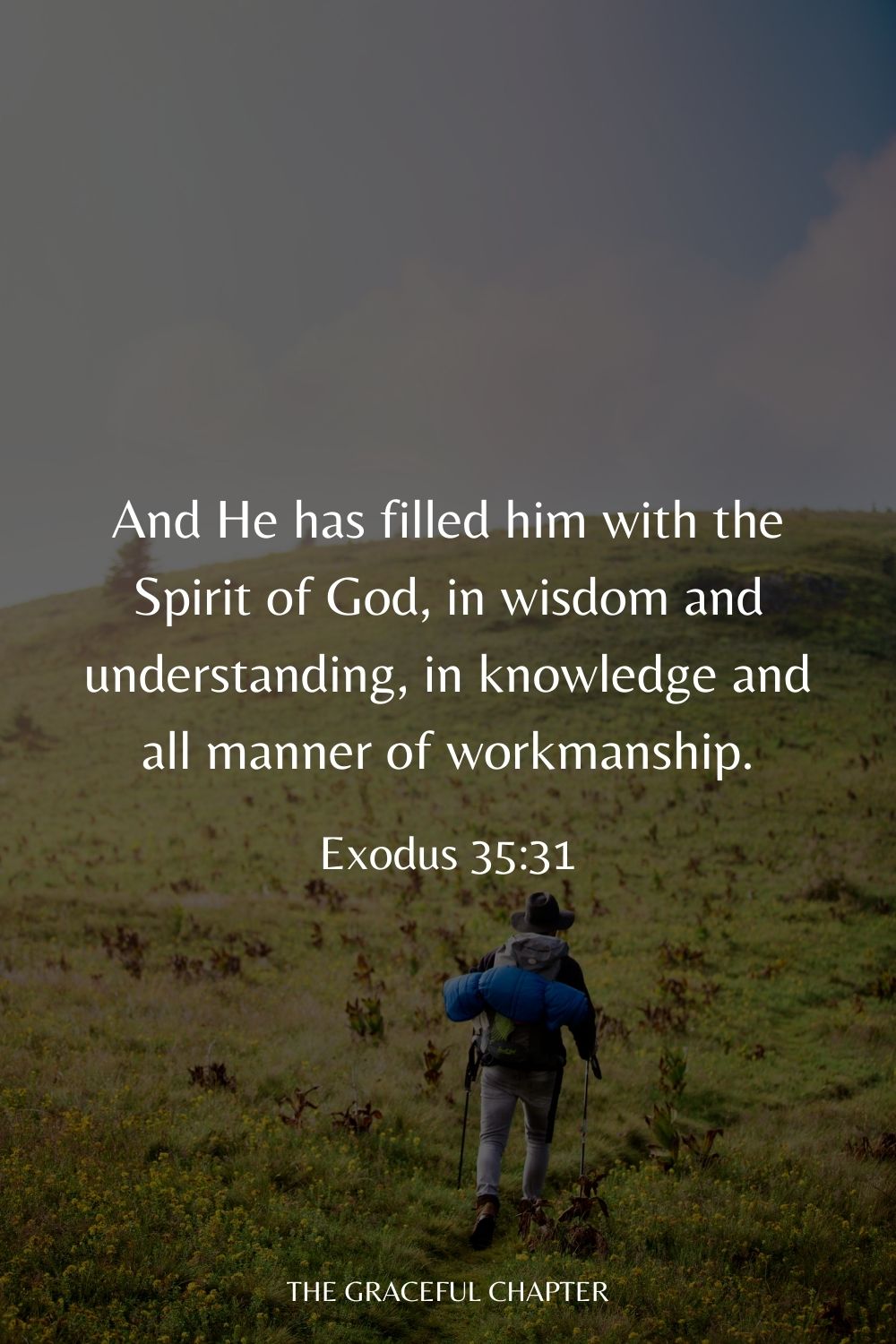 And He has filled him with the Spirit of God, in wisdom and understanding, in knowledge and all manner of workmanship.
Exodus 35:31
What strength do I have, that I should hope?
And what is my end, that I should prolong my life?
Job 6:11
I said, Age should speak, And multitude of years should teach wisdom.
Job 32:7
I have not departed from the commandment of His lips;
I have treasured the words of His mouth more than my necessary food.
Job 23:12
But there is a spirit in man, And the breath of the Almighty gives him understanding.
Job 32:8
God is wise in heart and mighty in strength. Who has hardened himself against Him and prospered?
Job 9:4
And I have filled him with the Spirit of God, in wisdom, in understanding, in knowledge, and in all manner of workmanship, to design artistic works, to work in gold, in silver, in bronze, in cutting jewels for setting, in carving wood, and to work in all manner of workmanship.
Exodus 31:3-5
Wine is a mocker, Strong drink is a brawler,
And whoever is led astray by it is not wise.
Proverbs 20:1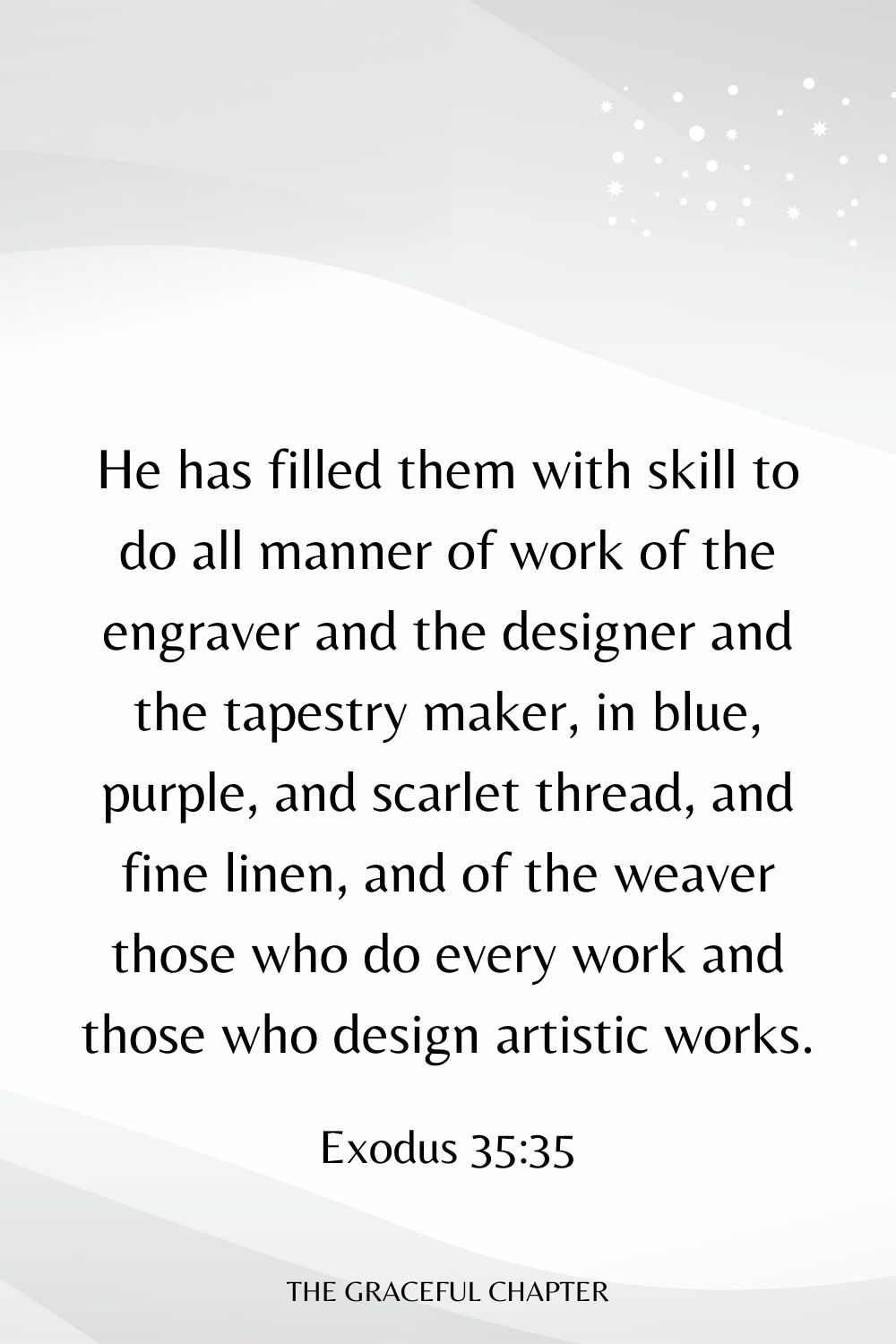 He has filled them with skill to do all manner of work of the engraver and the designer and the tapestry maker, in blue, purple, and scarlet thread, and fine linen, and of the weaver those who do every work and those who design artistic works.
Exodus 35:35
And to man He said, Behold, the fear of the Lord, that is wisdom, And to depart from evil is understanding.
Job 28:28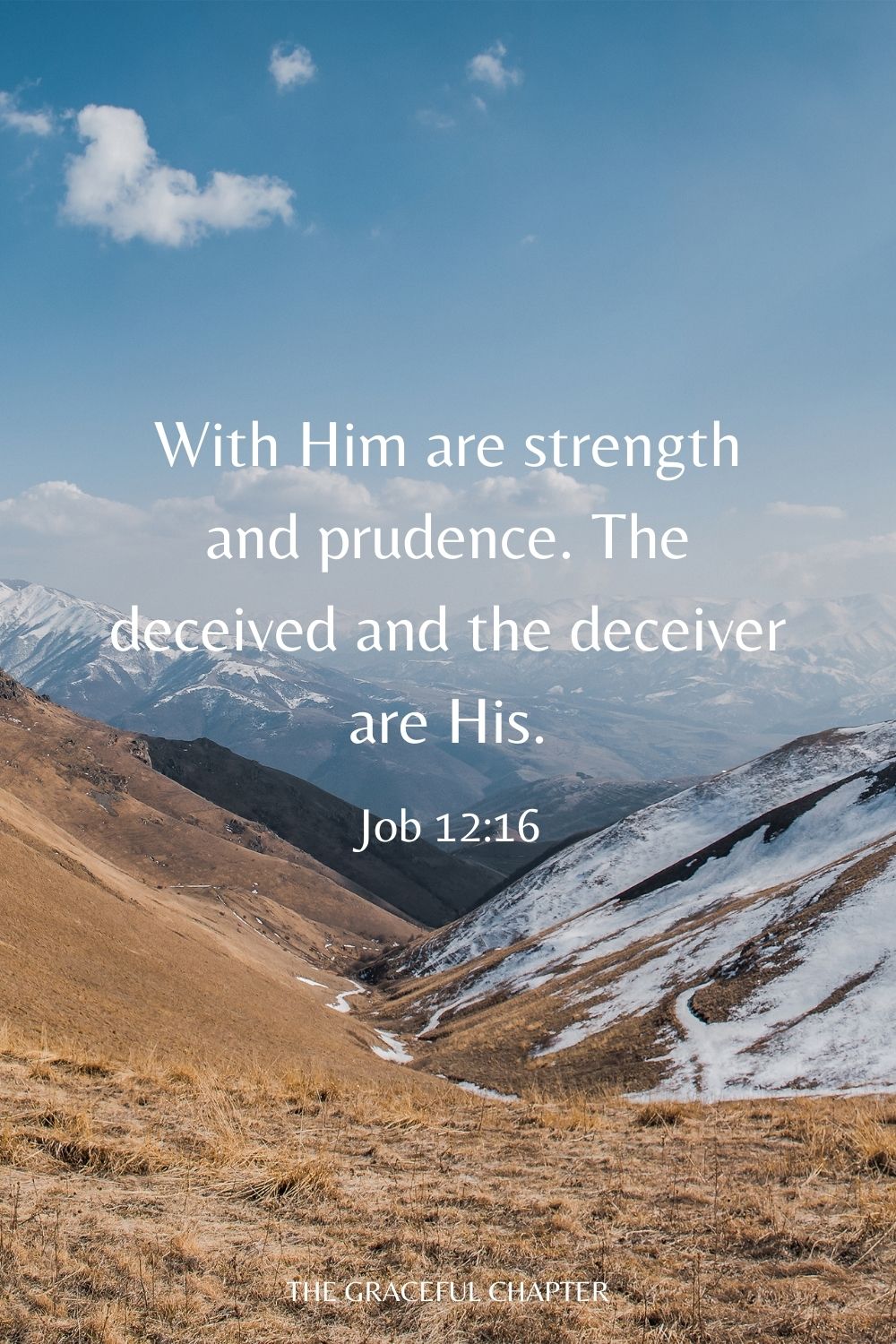 With Him are strength and prudence. The deceived and the deceiver are His.
Job 12:16
For an empty-headed man will be wise, When a wild donkey's colt is born a man.
Job 11:12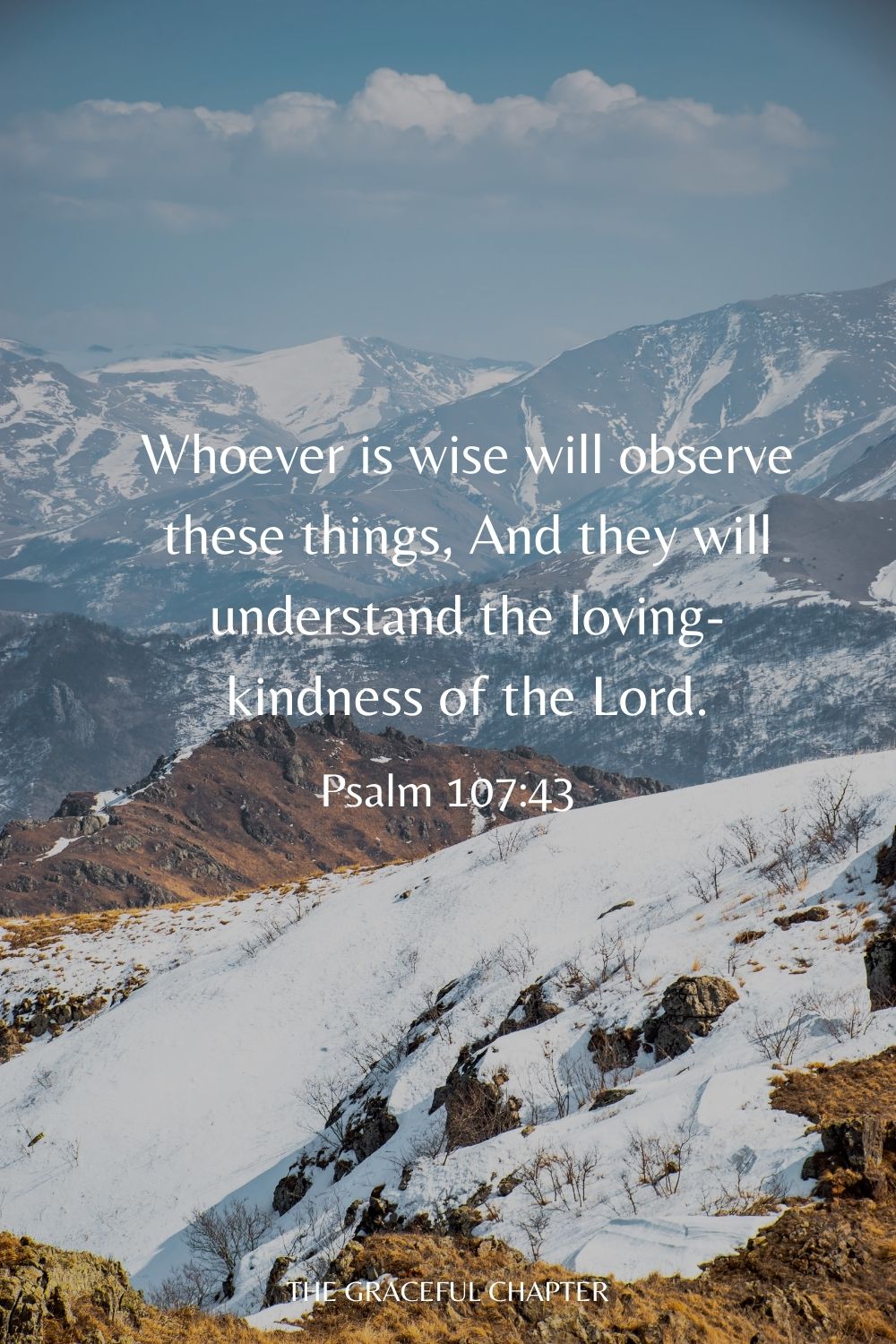 Whoever is wise will observe these things, And they will understand the loving-kindness of the Lord.
Psalm 107:43
The mouth of the righteous speaks wisdom and his tongue talks of justice.
Psalm 37:30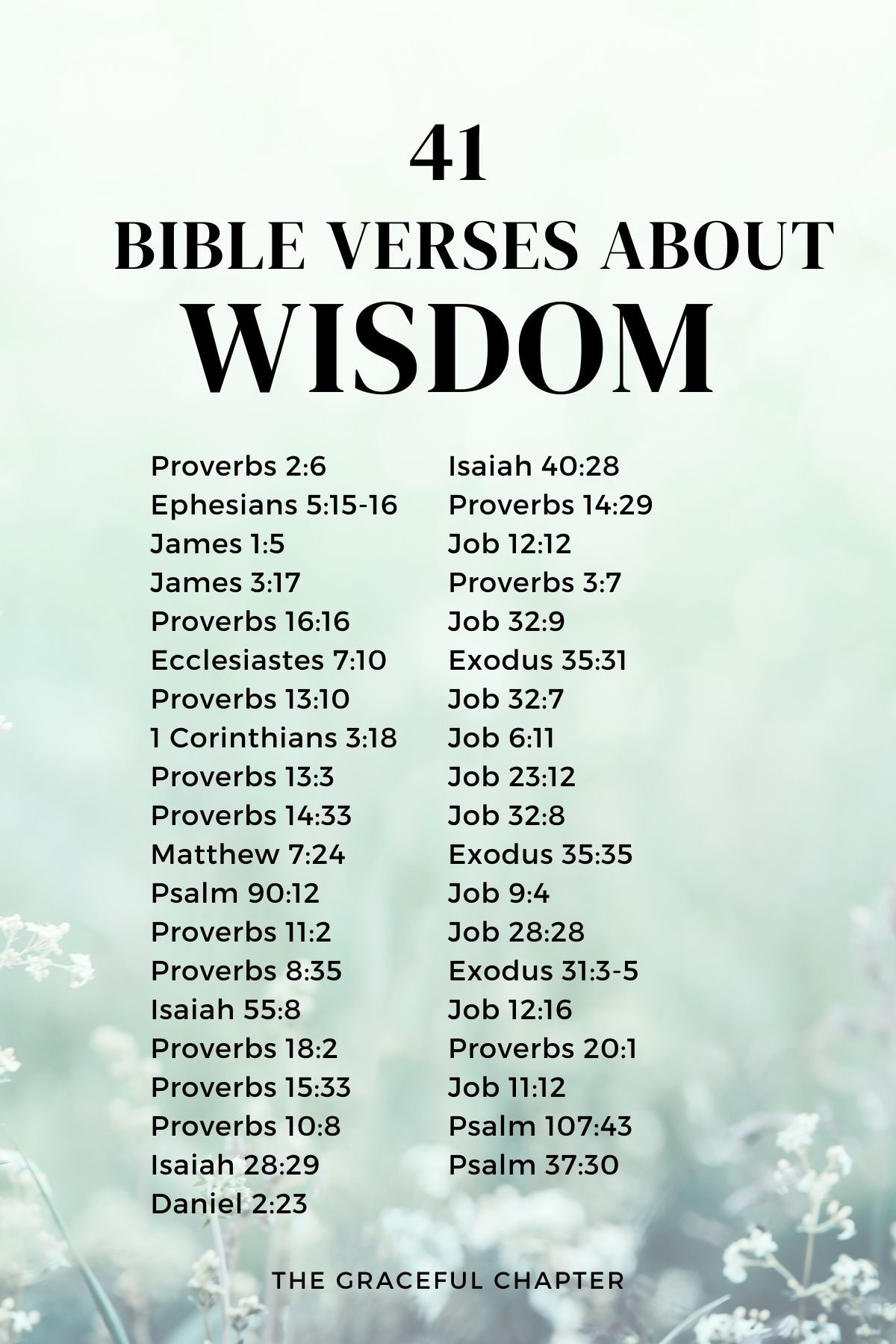 Prayer for wisdom
Almighty Father,
I present myself to you today in complete submission.
Please take control of my life and direct my thoughts and actions.
I surrender my mind and my heart to you.
Please help me to rely on you in everything I do.
Please make it possible for me to follow your path
In all I do, grant me insight and understanding.
Teach me to hear and understand your voice when you speak to me.
Help me to make the best decisions in life
Teach me to recognize the advantages and disadvantages of whatever I pursue.
As I make decisions, please guide me so that I can always make the best choices in life.
Thank you, Father, for hearing my prayer,
Through Jesus Christ,
Amen