For you formed my inmost being. You knit me together in my mother's womb. I will give thanks to you, For I am fearfully and wonderfully made. Your works are wonderful. My soul knows that very well. My frame wasn't hidden from you, When I was made in secret, woven together in the depths of the earth. Your eyes saw my body. In your book they were all written, the days that were ordained for me, when as yet there were none of them. How precious to me are your thoughts, God! How vast is the sum of them! If I would count them, they are more in number than the sand. When I wake up, I am still with you.

Psalm 139:13-18
Finding out you are going to be a parent can be a very exciting and thrilling time in your life. From the day you find out you are pregnant, you look forward to meeting your little one with excitement. But as much as you want to meet them, you also want them to be born strong and healthy and that means you look forward to having a full-term baby.
But when that doesn't happen and your baby is born prematurely, the excitement you feel turns into fear and anxiety. You want to be happy that your baby is here but on another hand, you are scared that they might not make it, and that makes you sad.
Whiles all these feelings are normal, you should always remember that God is in control. So instead of worrying and being sad, you should go to the Lord in prayer.
God's plans for us are perfect but the earth that we live on has different effects on us. Consider buying a brand new car which has never known any accidents in the past. All the parts are in perfect condition and there will be no fear of a breakdown or any faulty developments as long as the road you drive on is smooth and nobody crashes into you.
However, also imagine you are driving at night on a road you don't know that well and a giant pothole suddenly appears in front of you. Chances are you might crash your car and cause it to look nothing like the brand new shiny perfect thing that was delivered to you.
Was it your fault? No. You did not put that pothole there. Your car might never be the same again but you will always love and adore it because it's your car.
Well, your conceived baby is your perfect car, the unknown road and pothole represent the uncertainties of this earth, and the dinged-up car is your premature baby.
In God's eyes, the gift he gave you will always be perfect regardless of what this earth does to it. It is our duty as Christians and parents to care for and nurture these precious gifts from God no matter what may have happened to them.
It is our duty to watch them each day and take care of their every need. God does the same for us. There are times when we are broken by the uncertainties of this life.
Whether it is breakups, losing your job, testing positive for a disease, getting cancer, being in an accident, being cheated on, losing a loved one, surviving a traumatic experience, or losing a business, God always takes care of our broken selves and nurses us back to strength.
He never gives up on us no matter how unworthy, broken or downtrodden we may feel. His love is never-ending because he sees us for the perfect spirits he created in his image and not the physical disabilities we may possess.
Your premature baby is a perfectly created spirit by God and even though their physical bodies may be dinged up, God expects you to be there for them and give them strength just as he does for us when we need him.
So don't be sad. Instead, go to the Lord in prayer for your little one and before you know it, they'll be home with you. Below are some prayers for premature babies you can say for your little one.
Prayers for premature babies
Prayer for parents of premature babies
Dear Lord
Thank you for this perfect gift we received
We want to care for them and love them tenderly just as you love us
We want to raise them to feel accepted, loved, and adored
We ask you today for strength and compassion to be able to be good parents
Please grant us the wisdom to know what they need and when they need it
Give us the strength to push them to reach their full potential in life
Help us to show them love and teach them to be strong
Help us raise them to be in you and love you all the days of their lives
Bless us financially to be able to pay for their medical bills and other needs
Let us not be overwhelmed by their needs
Let us not give up on them and always be there for them
Let us see the beauty in their eyes and open our eyes to see their perfect spirits
Grant us the wisdom and strength to raise them into wonderful responsible adults
Amen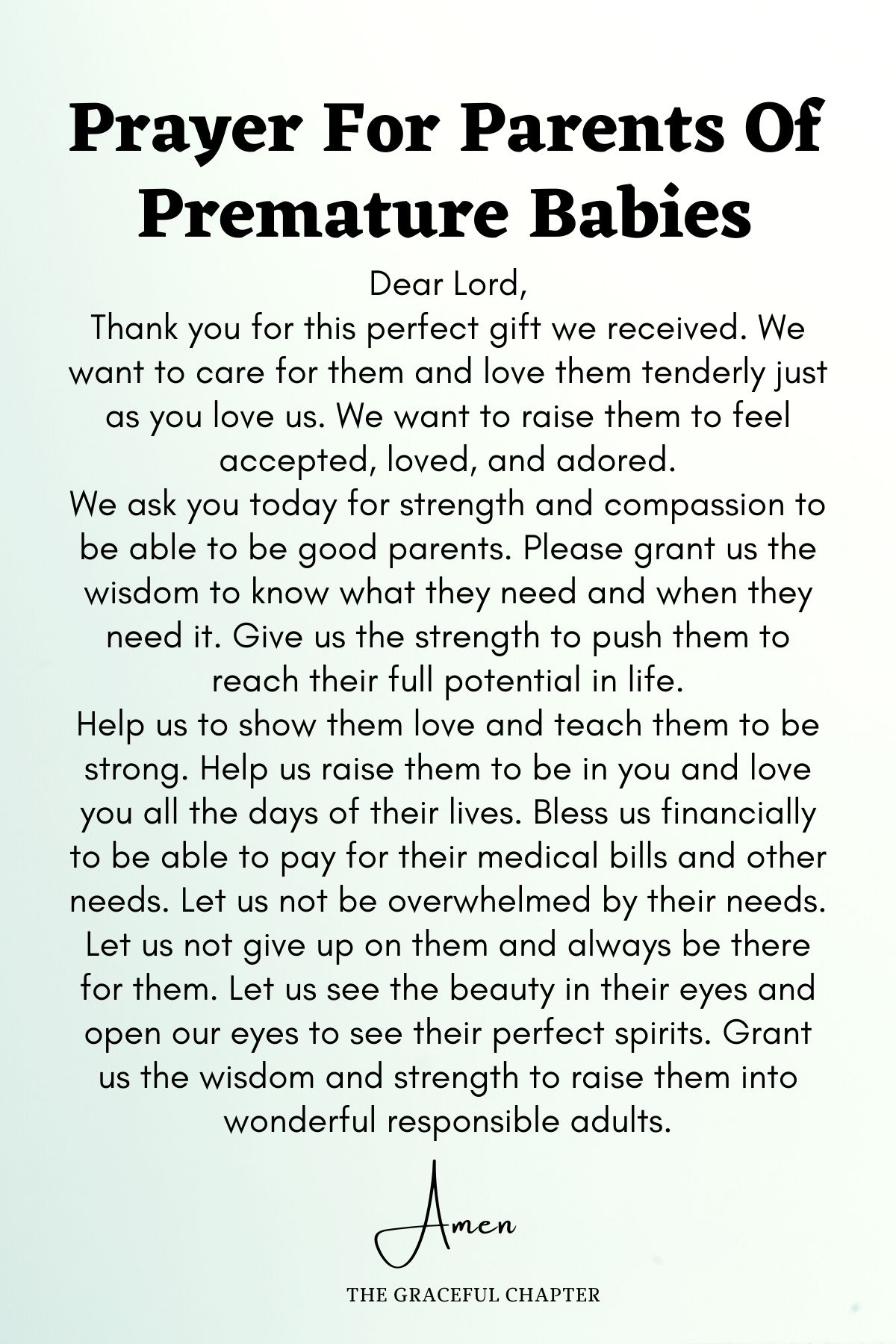 Healing prayer for premature baby
Heavenly Father,
Thank you for this perfect gift we have received
Today, we pray that you fill them with divine grace
Grant them the gift of divine health
Form their premature hearts into fully functional hearts
Let their organs be fully formed and strengthened
Bless their bodies and let their brains be sanctified by your healing spirit
Straighten their limbs, clear their eyes, cleanse their blood and restore their strength
Cause them to grow in perfect health
Let them walk and run with perfect strength
You are the creator of the universe
If they are missing any vital body parts create for them new and better ones
Let them live and breathe as you meant them to
Do not let this earth take anything away from them
Let them be strong in spirit and in body
Amen
I dedicate my baby to you
Dear God,
I thank you for the life of my newborn baby
Thank you for bringing her to this world
Thank you for giving me a chance at motherhood
Father, I dedicate my baby to you
My baby came too soon and so I can't take her home
I pray that just as you took care of her when she was inside of me,
You continue to take care of her in the incubator
Father, please give her everything she needs to survive
Please guide and protect her from any sickness or infections
Fill her with strength and help her to grow healthy
In Jesus' mighty name,
Amen
Premature baby prayer for divine health
Heavenly Father,
I come to you in prayer for my baby
Father, my baby needs your divine touch
Stretch forth your mighty hands on this baby
And let him receive your divine healing
Medical reports say my baby is weak
Doctors say my baby might not make it
But Father, I believe that you have the final say
And your word says that you give strength to the weary
And increases the power of the weak
So standing on your word, Lord,
I decree and declare that my baby will grow stronger and healthier
Please have mercy on this little one and save him in Jesus' name,
Amen
Prayer for my baby in NICU
Gracious Lord,
I come to you to pray for strength and healing
Not for myself but for my baby in Nicu
Lord, I'm terrified and distressed
Because the doctors believe my baby won't survive
But I put my faith in you, Lord
Keep your protective arms around my baby
Be her guardian, deliver her from evil
Sustain her by your grace and make her whole
In Jesus' name, I pray,
Amen
Prayer for preterm baby
Heavenly Father,
Thank you for the life of my newborn
Father, my baby was born too soon before her time
And so she needs to stay in the hospital
I pray that you will be her protector and her comforter
Please protect her against any sickness or health problems
Put your loving arms around my baby and keep her in your warm embrace
Let her feel your love and your presence
Fill her with strength and joy
And be with her till we can bring her home,
Thank you for all that you do for us
Amen.
Prayer for preemie baby
Merciful Lord,
Please have mercy on my baby
My baby was born too soon and the doctor says there's a high chance he might not make it
Father, please look with pity upon my child and save him
You are Lord, the Almighty, the Creator, the Healer
You created this child Lord
You formed this baby inside of me
And so I know and believe that you can save my baby
Let your healing power flow through every cell of his body
Let it flow through his veins and his blood
Let him grow and develop exactly as he was supposed to inside of me
In Jesus' name, I pray,
Amen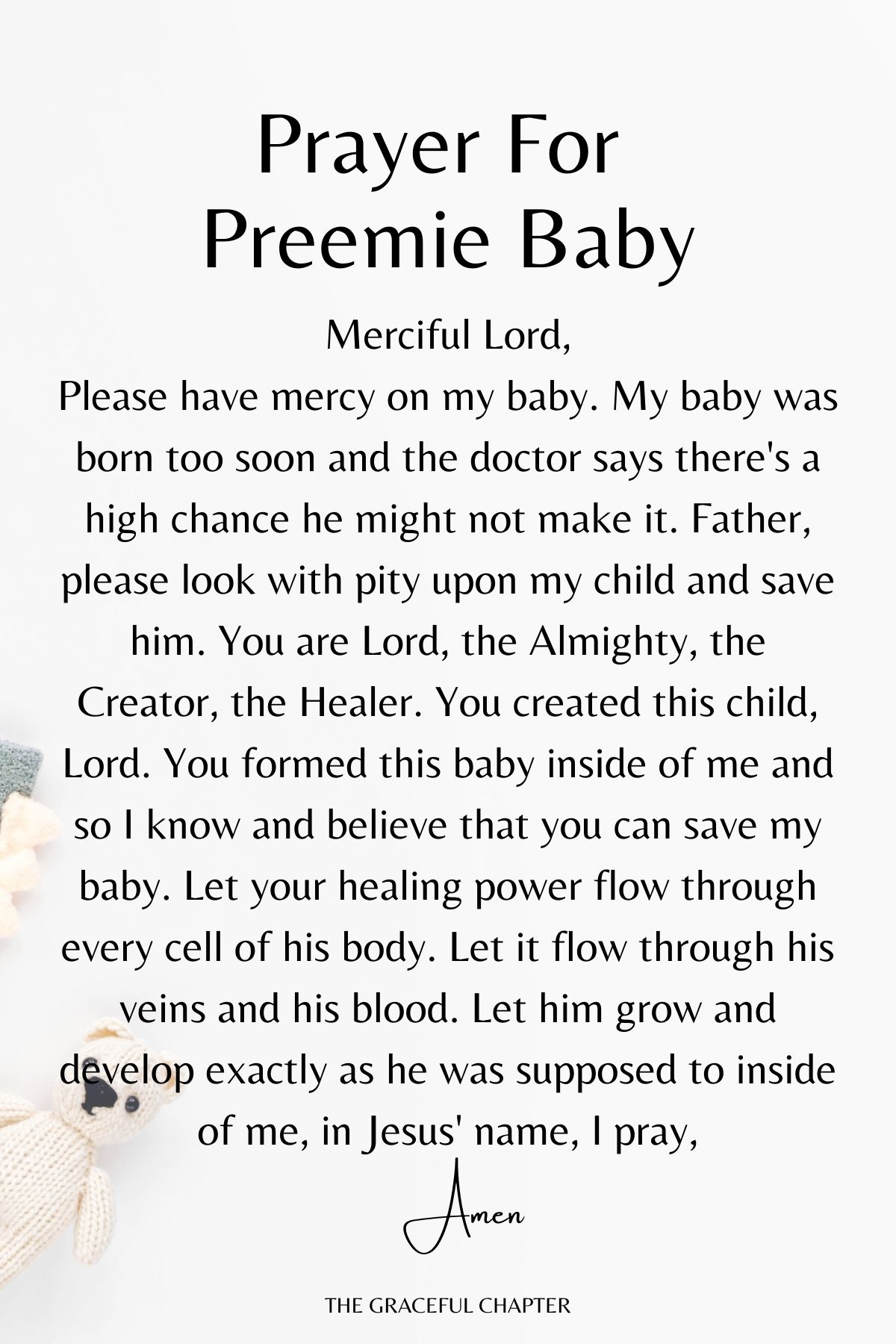 Please preserve her life
Heavenly Father,
I bow before you in prayer for my baby
Please preserve her life and save her from early death
Let your spring of living waters flow over her
Heal her of whatever ails her
Take control of her body, her heart, and her mind
Let every part of her being develop and function properly
Let your powerful energy surround my baby
Fill her with strength as she fights for her life
Grant her divine health with long life
Through Jesus Christ, our Lord,
Amen
Shield and protect him from ailments and afflictions
Almighty Father,
Thank you for the life of my baby
I'm thankful for the fact that although my baby came prematurely, he's still alive
I pray that you will continue to preserve his life
Please grant my baby divine strength
And cover him with your mighty wings
Shield and protect him from ailments and afflictions
Surround him with your warmth and love in the NICU
Let my baby come home stronger and healthier
In Jesus' name,
Amen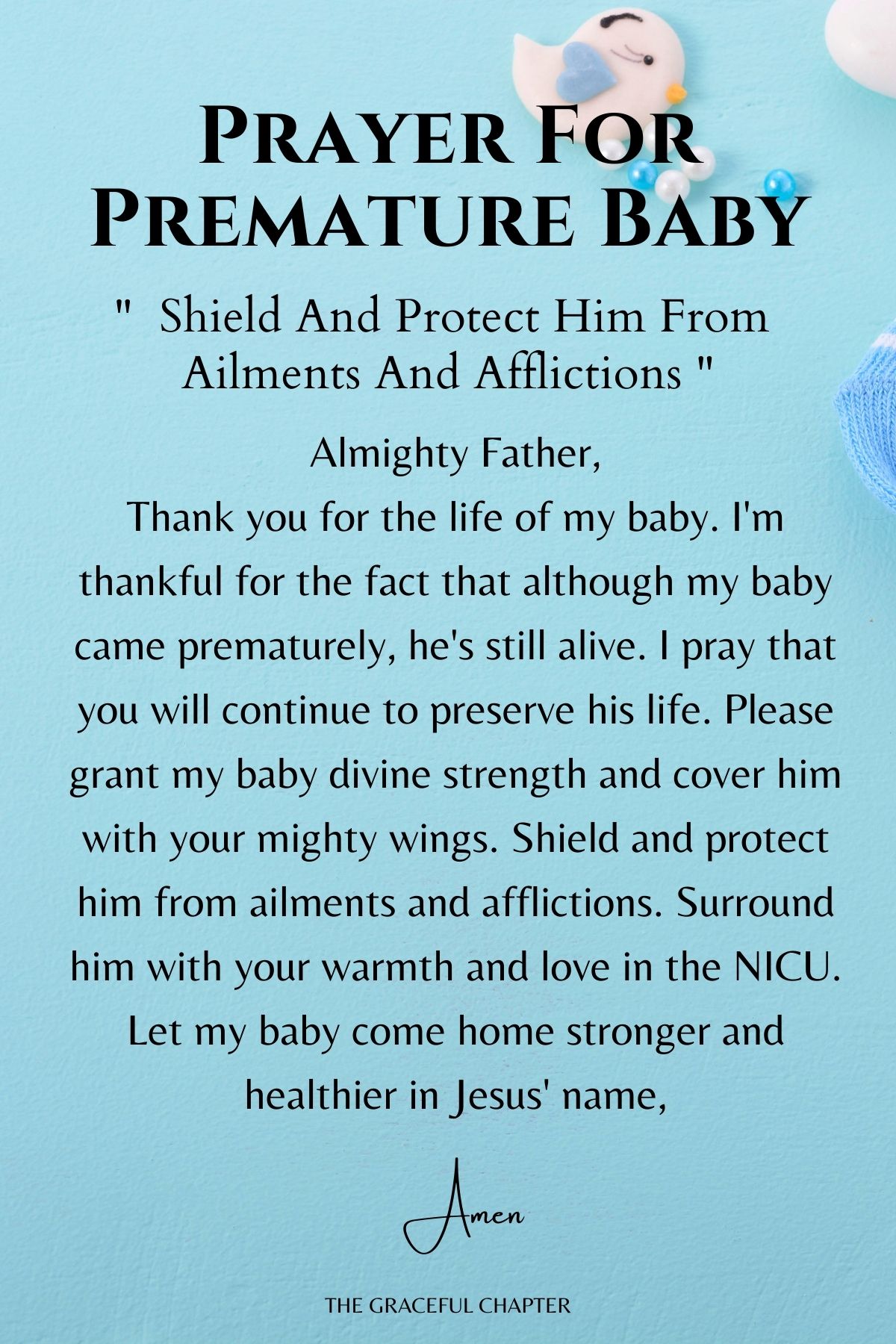 Related Posts
Fill my baby with strength
Merciful Father,
I come before you today with a heavy heart
Father, the child you blessed me with came too soon and so has to stay in the hospital
Lord, I'm scared and worried and because of that I'm restless
Please take control of my situation and calm my anxious mind
Keep watch over my baby and protect him from harm
Fill my baby with strength, love, and warmth
Provide for him everything he will need to survive
Please do not let any harm come to my child
Even in my fears, I choose to put my trust in you Lord
You gave me this child, Lord, You created this child
And so I know that you will continue to preserve his life
With you in control, I believe that my baby will not die
With you in control, I know that my baby will come home stronger and healthier
Thank you for your abundant grace on our lives,
Amen
Touch her, heal her and make her whole
Almighty Healer,
I lift my baby unto you
Touch her, heal her and make her whole
Let your healing power flow through her
Fill her with your strength and power
Let her continue to grow and develop
Touch her with your healing grace
And breathe new life into her
Let my child live, Lord, let her survive life in NICU
In Jesus' name, I pray,
Amen
Sustain her by your grace
Everlasting Lord,
My baby was born prematurely, and for humans, that is a bad thing
But I believe in your word that says that all things work together for good
And so I know that it doesn't matter that my baby came too soon,
I believe that you have great plans for this baby
And so all things will work together for good for this baby
Thank you for your word
Thank you for the hope and assurance that your word gives us
Strengthen my baby and carry her through her recovery process
Sustain her by your grace and fill her heart with joy
Thank you for the gift of this child,
Amen
We surrender our child to you
Gracious Lord,
Thank you for the gift of this child
Lord, although our child was born before his time,
We believe in your word that you will not leave this child
So we surrender our child to you
Please be with our child through his time in the incubator
Help him grow stronger and healthier with each passing day
Shield this child under your wings and keep him far from all evil
In Jesus' name,
Amen
Prayer against premature death
Almighty Father,
Thank you for this wonderful baby you have bestowed onto this family.
Thank you for saving him from premature death
We pray that you will keep preserving his life throughout his time in NICU
Put your arms around him and keep him warm
Comfort him and fill his heart with peace and joy
Be his strength, and help him to grow stronger and healthier,
Amen.
Let your healing power descend on our baby
Everlasting Father,
In this time of uncertainty, we call on your name for consolation
Fear and doubt have taken over our hearts,
Please comfort us and calm our anxious hearts
Lord, you are our strength and our refuge,
So we call on you in our hour of despair
Please put your mighty hands on our precious little baby
Let your healing power descend on our baby
Heal him, protect him, take away his pain
Help him to grow and develop gracefully
Bless this young one in Jesus' mighty name,
Amen
Prayer against premature baby death
Lord,
Thank you for listening to my prayers
Thank you for hearing my cry and blessing my womb with a child
Lord, the baby you blessed me with came too soon
And so right now she's fighting for her life in an incubator
Thank you for providing us with a way to help save premature babies
Lord, I come to you now with another prayer request
That you will protect my baby and preserve her life
Lord, after so many years of trying for a child,
I don't want to lose this one
Please have mercy on me
Please have pity on my precious little one and save her life
Protect her, shield her from sickness,
Deliver her from any afflictions associated with premature birth
Thank you, Lord, for hearing my heartfelt prayer
Thank you, for being my comforter and my refuge,
Amen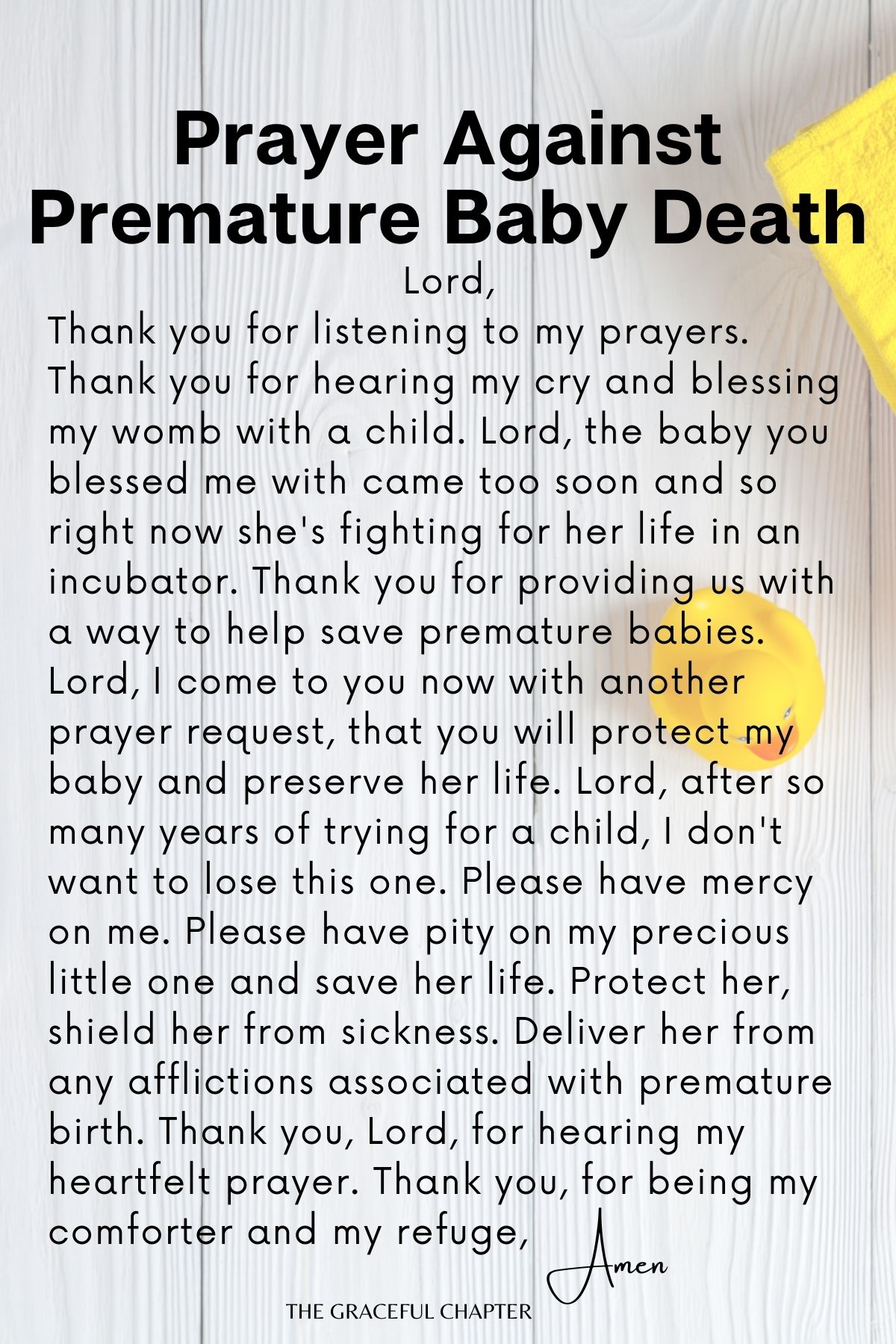 Prayer for preemie baby boy
Dear Lord in heaven
Thank you for creating such a beautiful spirit
Thank you for helping us through this pregnancy
Through all the sleepless nights and pain you have been faithful to us
We pray that you strengthen the spirit of this baby
Help him grow up to know you and all that you did for him
Let him receive your holy spirit and let it guide him in his life
Be his pillar and his shield in times of trouble
Let him lean on your word and let it be a light unto his path
Let him edify and sanctify his spirit with your word every day
Let nothing break his spirit and let him be successful in all his endeavors
in Jesus' name
Amen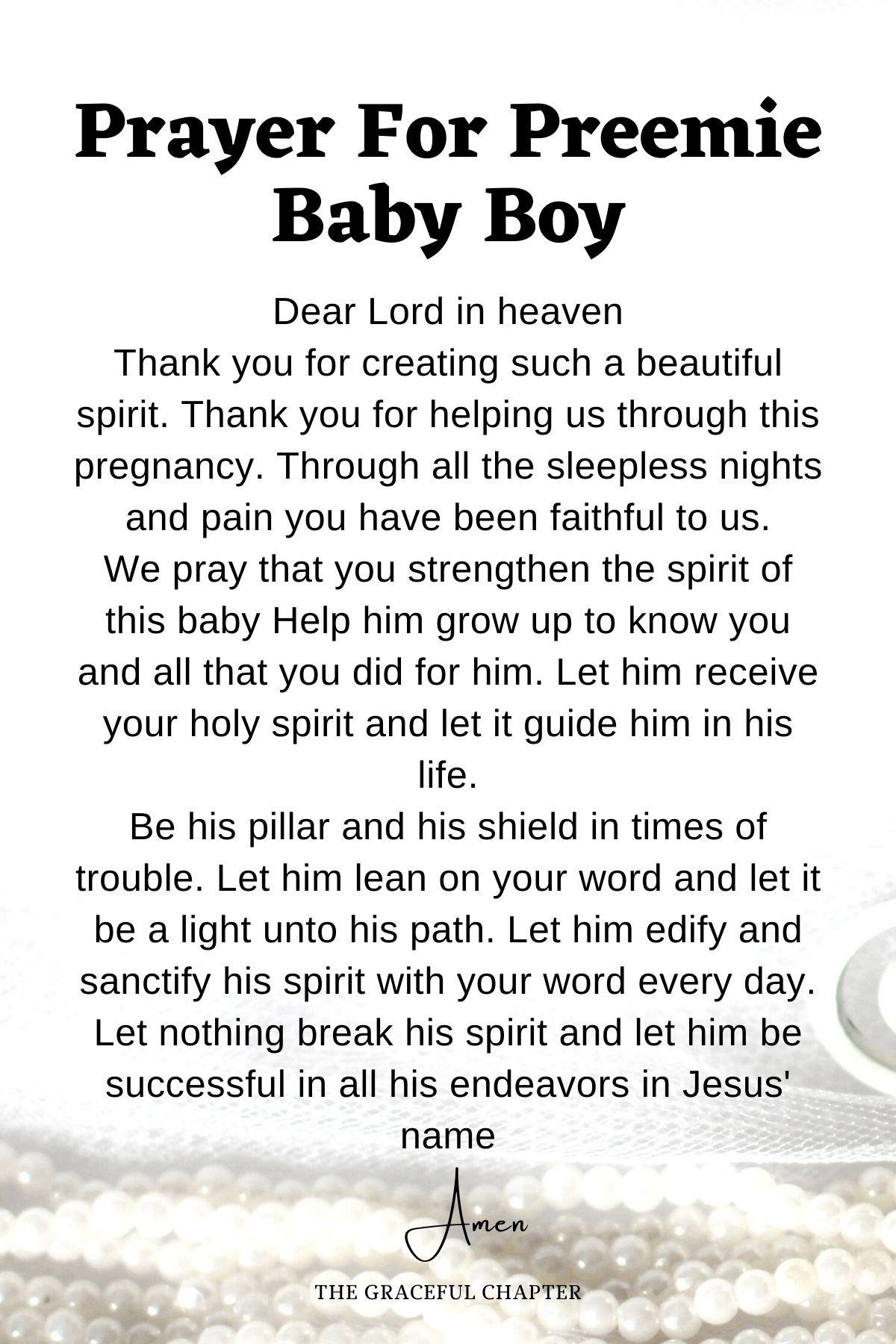 Prayer for favor and grace for preterm baby
Dear Lord in heaven
Thank you for the life of my baby
Today, I pray that you give her grace and favor
Heal her and make her strong
Give her a healthy long life
and make her feel your hand and favor always in her life
Let her steps be ordered into success and prosperity
Let nothing hold her back in her life
Give her the grace to be able to do all she wants to accomplish
Do not make her feel disadvantaged
Let her rise above any challenge
Do not let her feel isolated but rather let her always be drawn to your love and your grace
Pick her up when she falls and strengthen her when she is weak
Thank you for hearing our prayer
Amen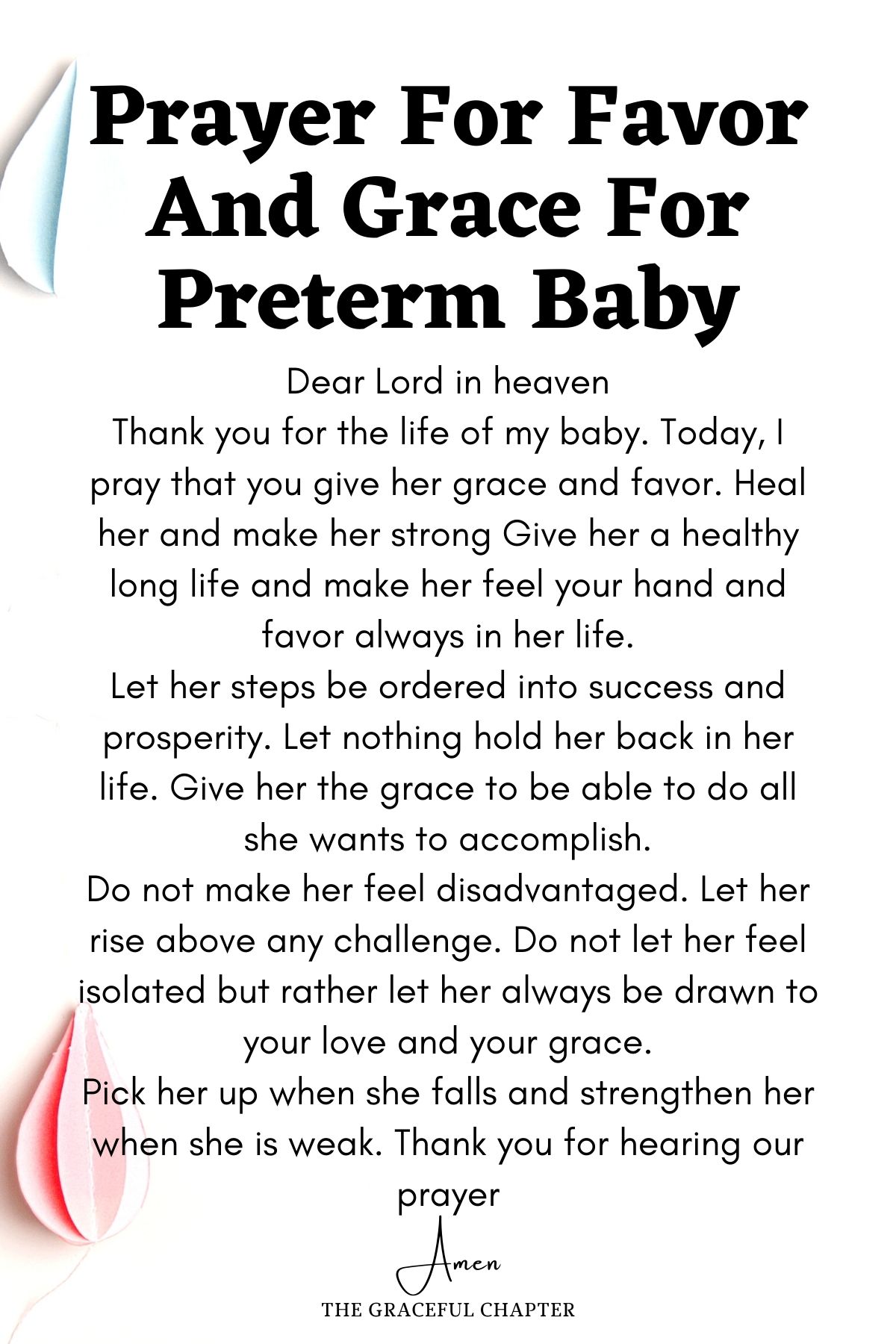 Prayer for the future of preemie baby
Merciful Father in heaven
I pray for the future of my baby
I ask that you walk with them throughout their time on earth
I pray that you never let them feel inferior to anybody
Stay in their hearts all the time and be their comforter
When they are in pain, please be their reliever
Give them the strength to fight through any difficulty they may be facing
When they look in the mirror let them see the beauty of your creation
Never let them lack anything
Never make them feel like they can't do anything
Make them limitless in all that they do
Give them the will to live and accomplish all that they wish to do
Don't let them ever feel discouraged or disadvantaged in any part of their lives
Give them love in abundance and give them a never say die spirit
Amen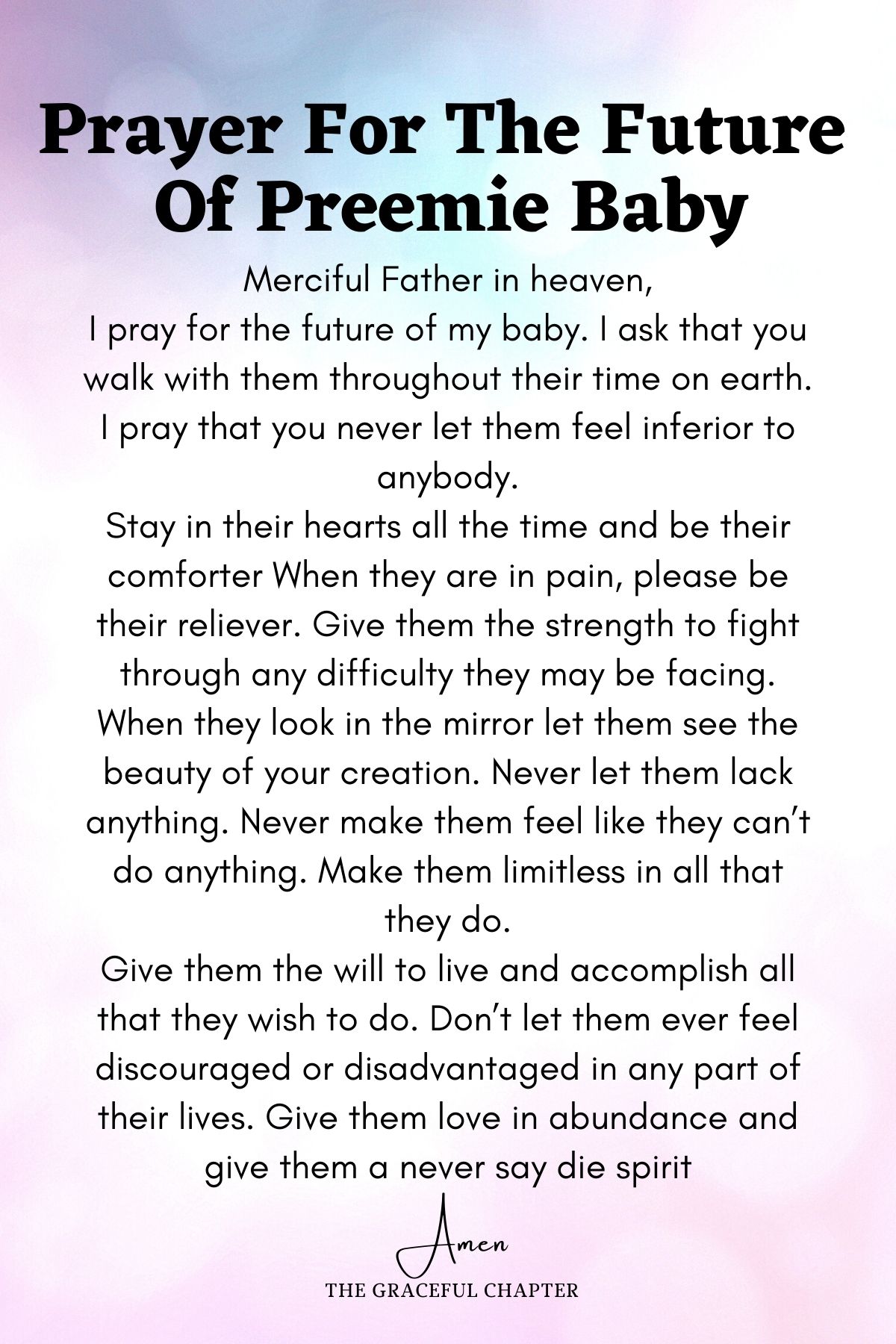 As parents, we play the role of God on earth in our children's lives. They look to us for guidance, protection, and love. It is our duty to provide these things to them unconditionally.
The way our children will turn out in the future is highly dependent on how we love them in the early stages. Nurture them to be strong and they will grow up strong. Care for the gift given you by God with all your heart and with all your strength. Like someone cares for a precious diamond, care for your children and you will receive your reward in heaven.
Don't you be afraid, for I am with you; don't be dismayed, for I am your God; I will strengthen you; yes, I will help you; yes, I will uphold you with the right hand of my righteousness.

Isaiah 41:10
Every good gift and every perfect gift is from above, coming down from the Father of lights, with whom can be no variation, nor turning shadow.

James 1:17