Matthew 19:14 "Let the little children come to me, and do not hinder them, for the kingdom of heaven belongs to such as these." Jesus loved children. He mentions here that the citizens of the kingdom of heaven are those like children. He mentions again that men need to born again of the spirit to be eligible for heaven.
Children need to be raised in God so they never depart from his word. Make praying for your children a daily habit. Pray for their future, pray for their school, and pray for their health. Keep these bedtime prayers for kids in handy.
Bedtime is a daily routine for kids. After homework and shower time kids need rest. They spend most of the day playing around which means they are mostly exhausted at night. Do not let them fall asleep before prayer time.
Let your kids get used to the habit of saying a prayer before bed every night. You can teach them these prayers and in time they will be able to pray themselves. They should learn how to ask God for anything. When they are facing difficulties in school they should be able to pray about it. Plan a prayer for each day of the week for them and let them grow spiritually.
Short bedtime prayers for kids
Thanksgiving
Heavenly Father,
Thank You for protecting me today.
Thank You for protecting my parents, siblings, friends and teachers.
Thank You for protecting me at school and making me so happy today.
I enjoyed school and playtime with my friends.
Thank You for providing for my parents to take care of me.
Thank You for bringing me to bed after today's activities.
In Jesus' name,
Amen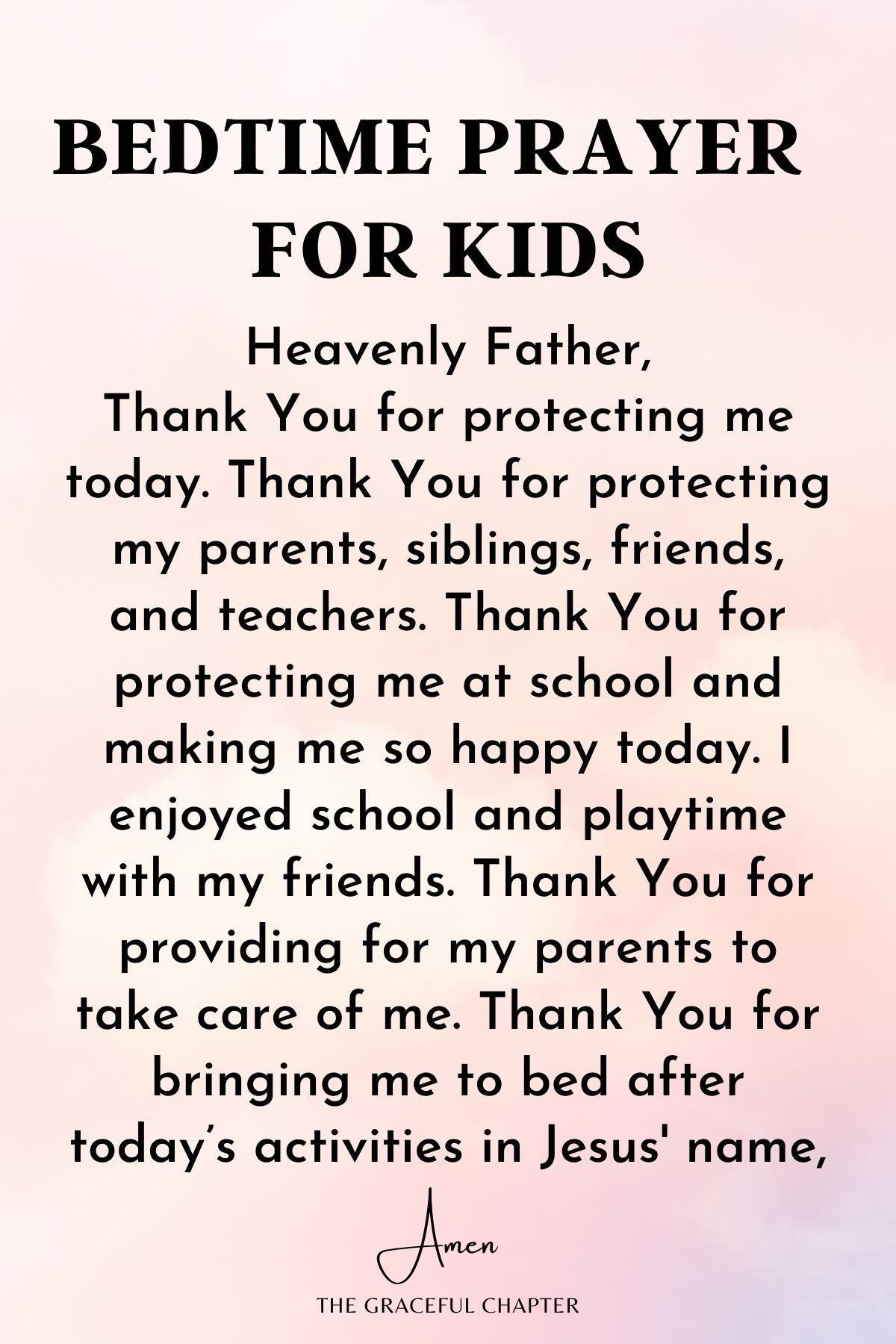 Bedtime Prayers – Please protect me
Father Lord,
I'm thankful for the love in my home.
Thank You for the love from people and my friends at school.
Thank You for the love in my community, country, and the world.
I pray the love continues to grow bigger and better. 
As I am coming to sleep, please protect me, my parents, and my siblings from any evil.
Protect us from Satan, witches, and armed robbers.
Let your angels surround our house and give us angelic protection.
Also, protect the homeless children who have not been privileged like me.
In Jesus' name,
Amen.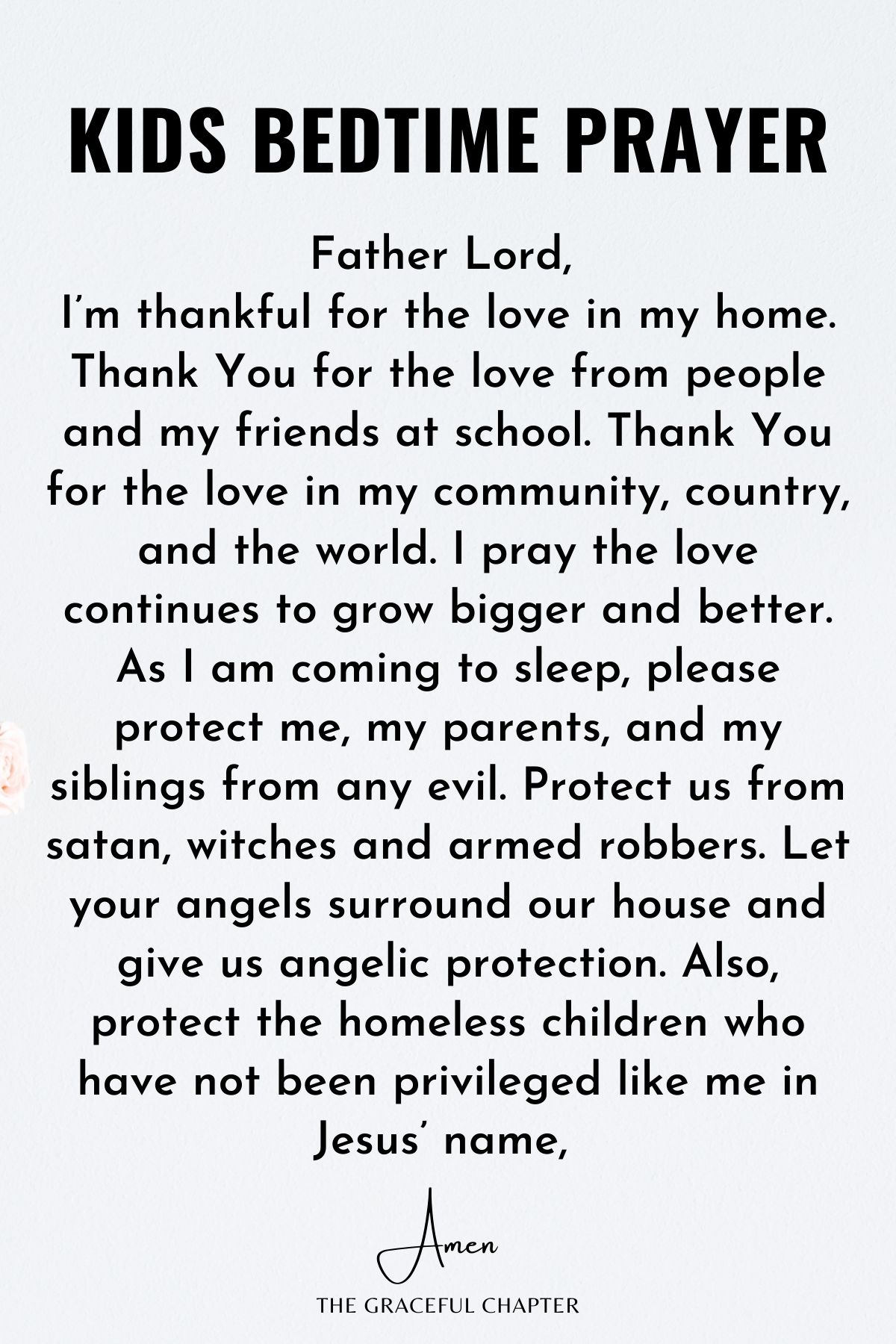 Bedtime prayer of protection for kids
Father Lord in heaven,
Thank you for taking care of me and my family today
As I am about to sleep
I pray for your divine protection
Cause your angels to come to watch over me and my family
Let me dream dreams of love and harmony
Watch over me all through the night
Let your angels be as stars in the night sky
And grant me the soundest of sleep tonight and forever
Amen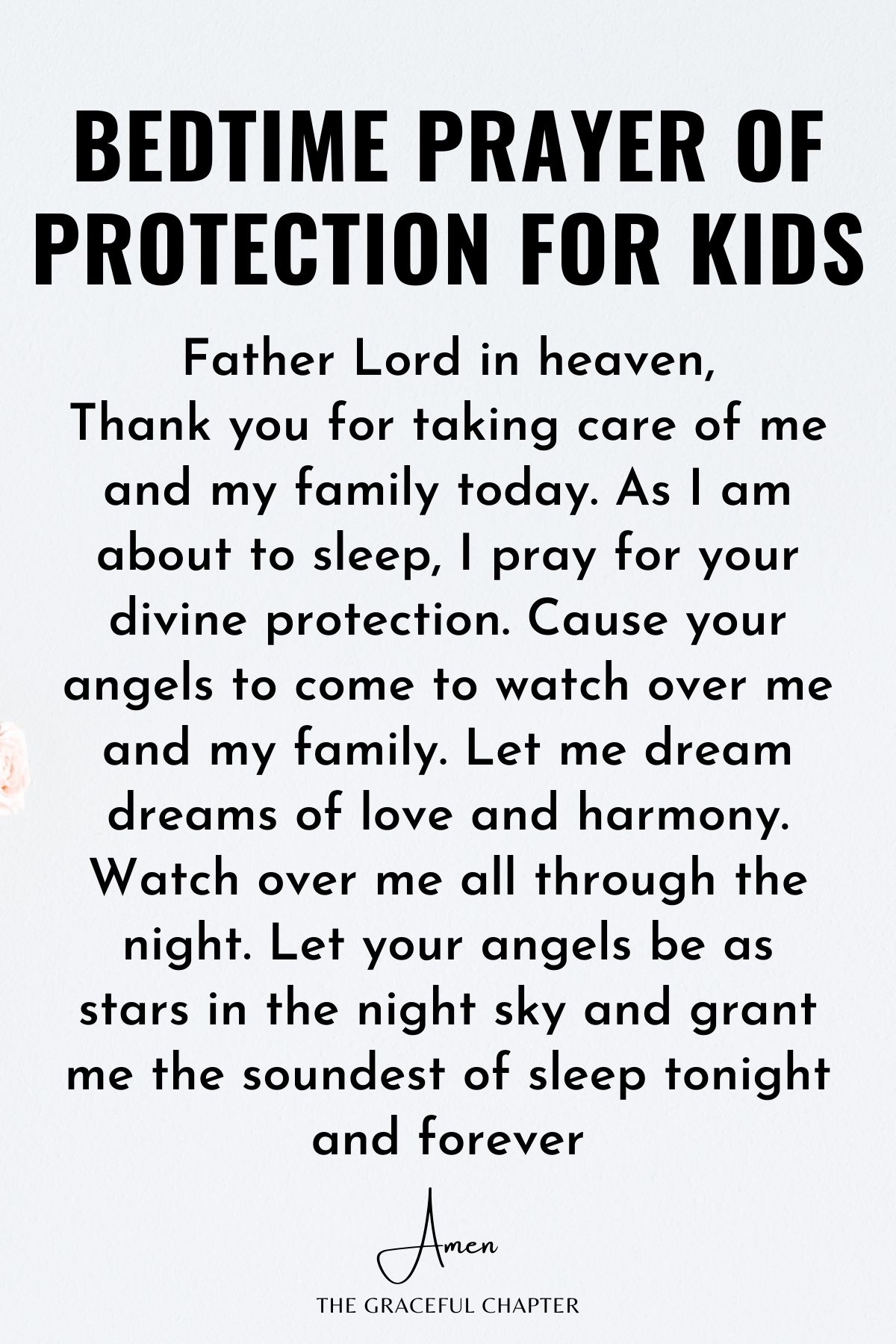 Bedtime prayer for sweet dreams
Thank You Lord for Your Protection and guidance for today.
Thank You for bringing my family safely home.
Lord grant me sweet dreams tonight.
Take away any nightmares God,
I do not want to be scared tonight.
Protect me Lord and make my dreams so beautiful and peaceful
In Jesus' name,
Amen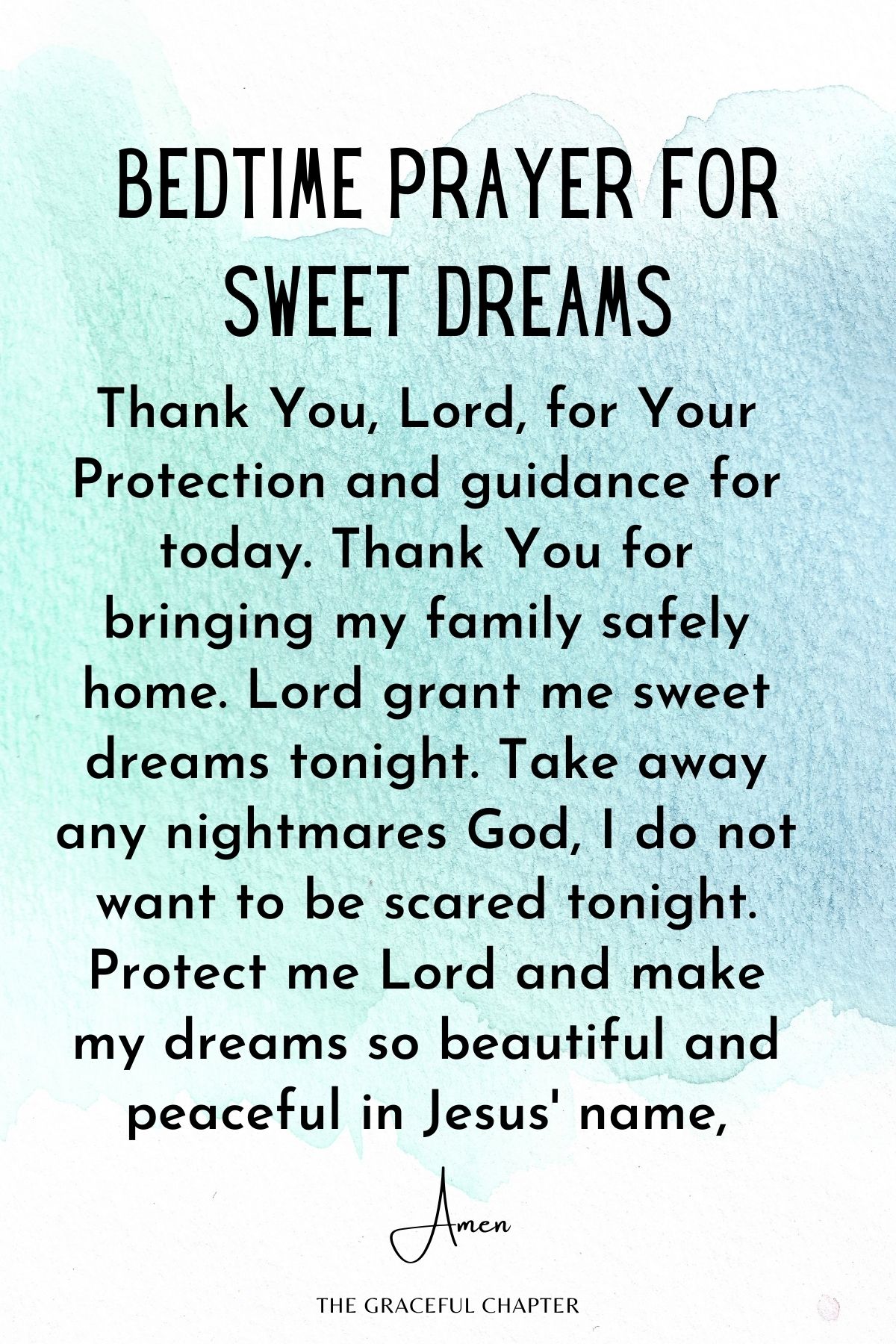 Bedtime prayer for peace
Lord of peace,
I pray for peace for my home and the world tonight.
Please let me sleep peacefully so I get a sound mind for school tomorrow.
Please take away my troubles and disturbances.
Cover me with Your wings so I sleep peacefully and wake up healthy for school.
In Jesus' name,
Amen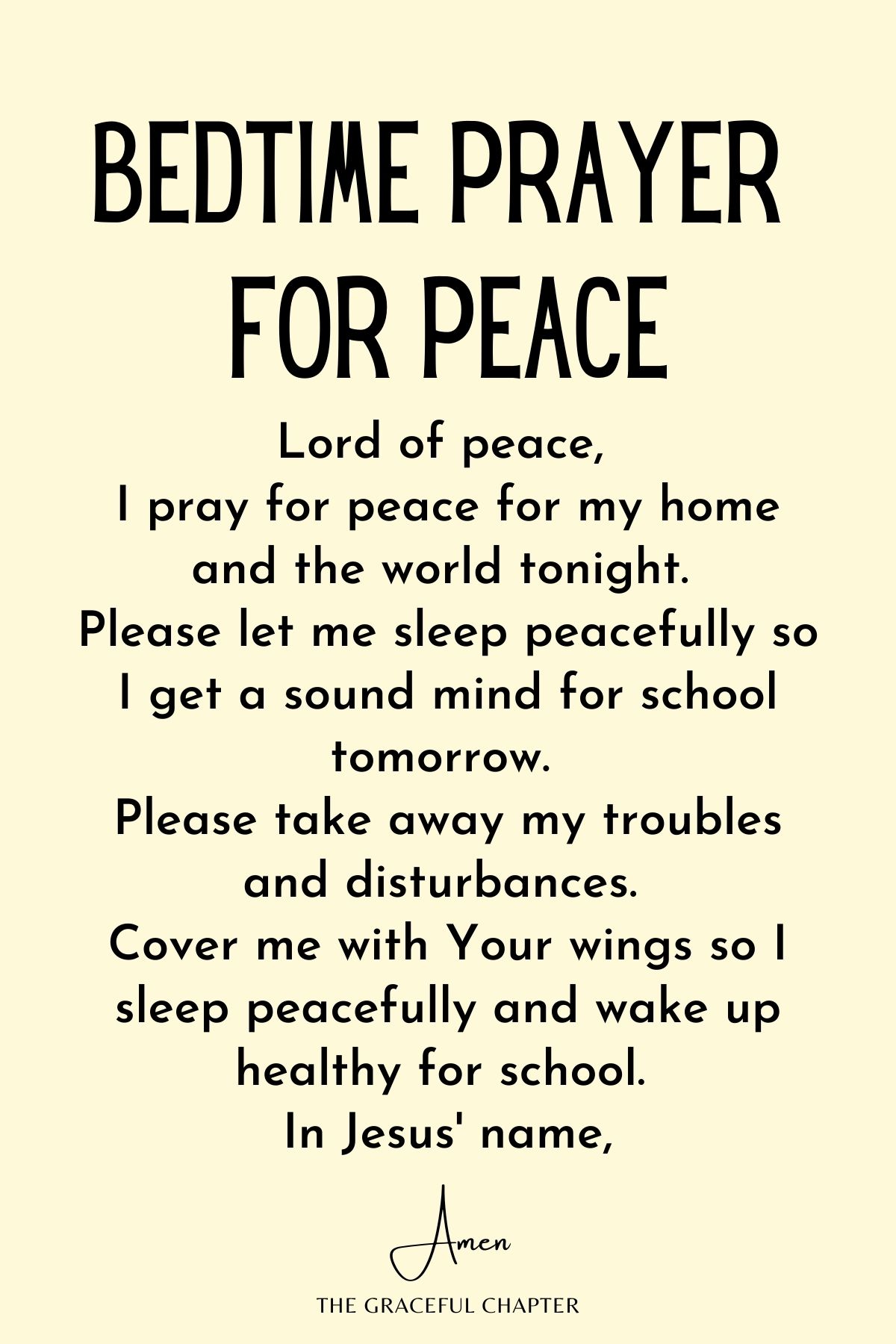 Bedtime prayer of wisdom for kids
Dear God in Heaven,
I bless your holy name tonight
Thank you for watching over me and protecting me from harm
I ask you tonight to make me wise
Help me obey my parents and not be a bad child
Help me choose my friends wisely and not get into trouble in school
Bless my brain so I understand everything I am taught in school
I want to grow up to be a wise child
I want to grow up to make my parents proud
Grant me your blessed wisdom, dear Lord
And let me be a child after your own heart
Amen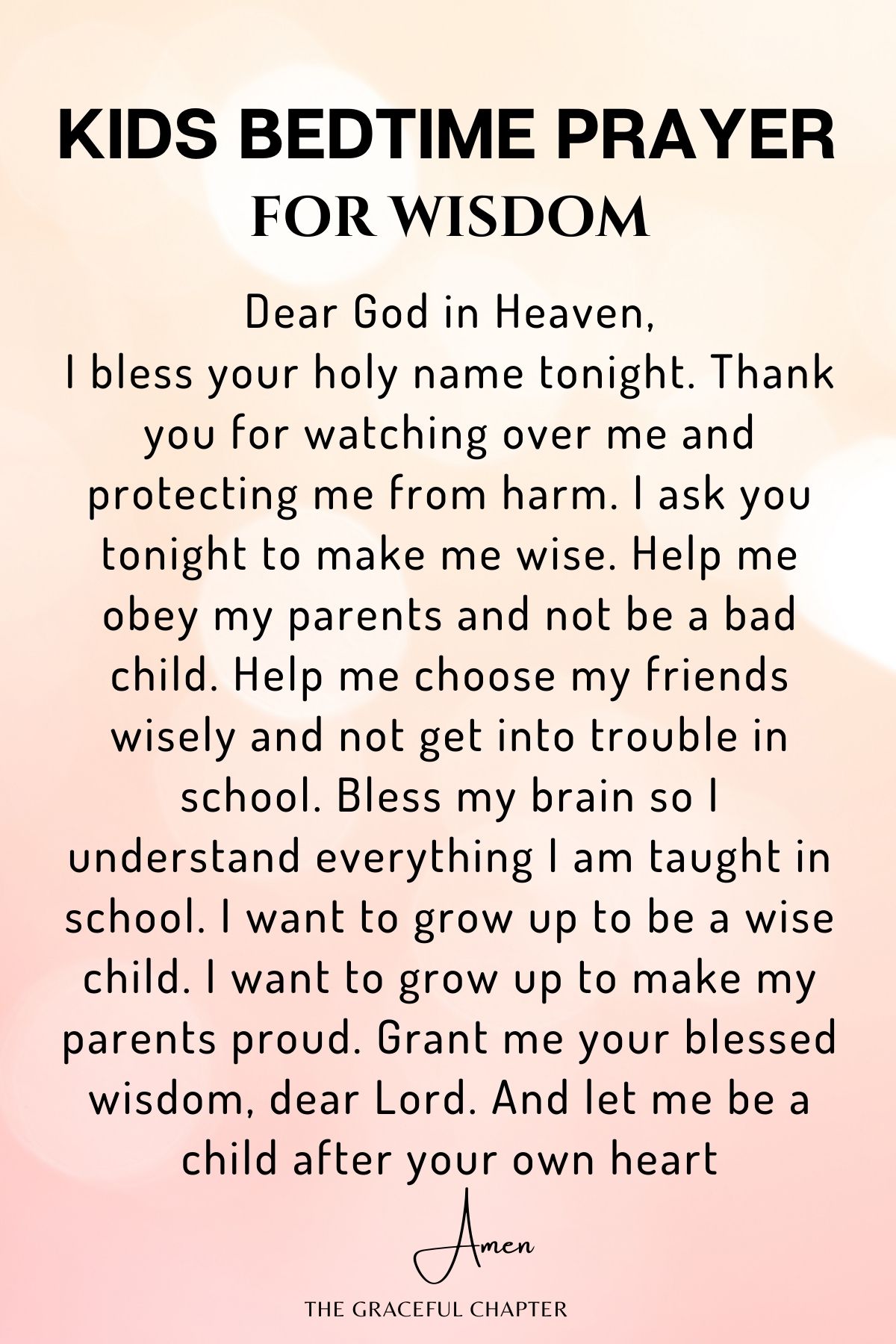 Prayer for my sick friends
Father Lord,
As You know, there are children who are sick.
Some of my friends did not come to school today because their parents called in sick.
Please heal them Lord, so they can play and be happy like me.
Provide for their families so they settle their hospital bills
and buy them all the drugs the doctors have prescribed for them.
Please take away their pains so they sleep soundly this night.
In Jesus' name, I pray,
Amen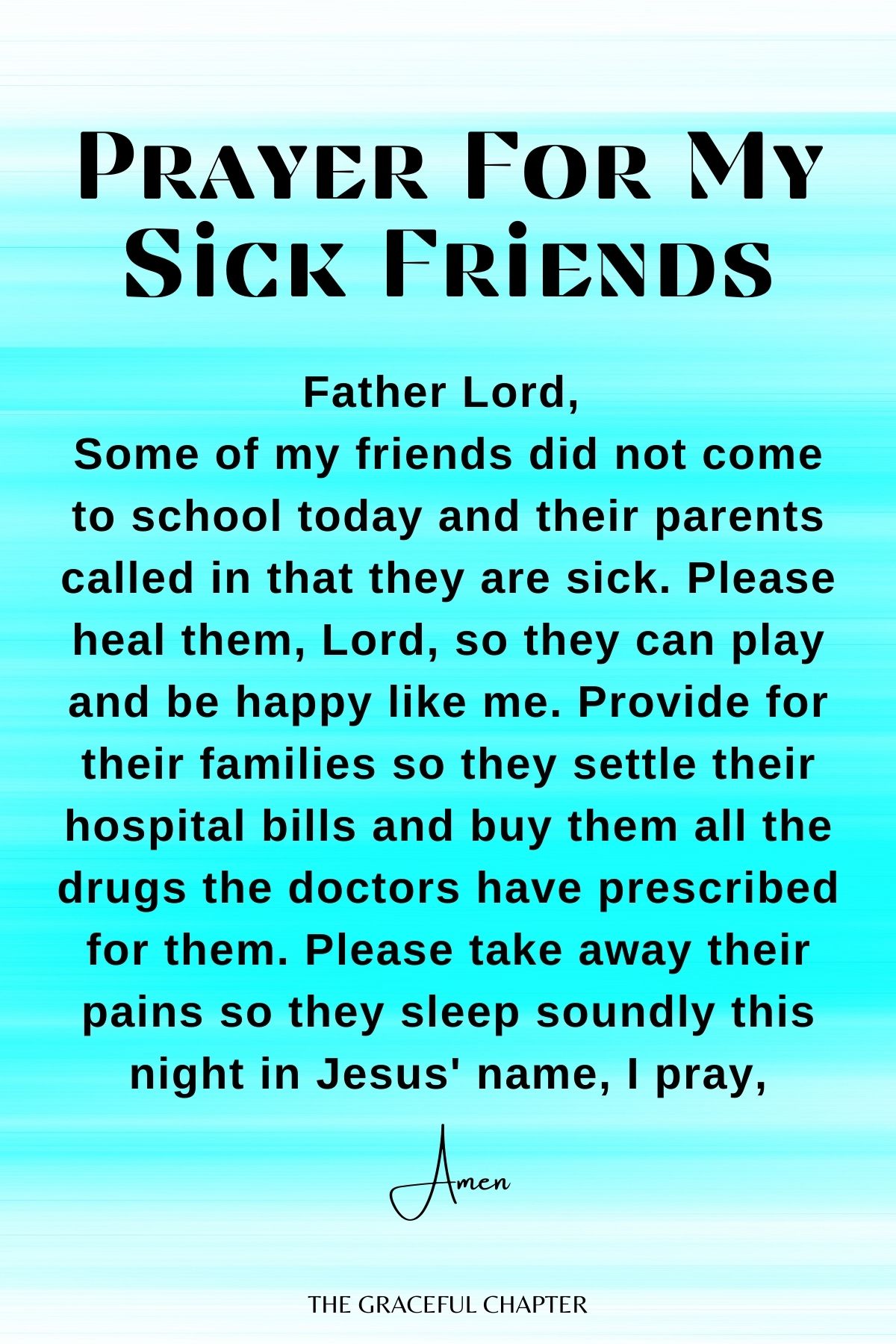 Kids bedtime prayer for parents
Dear Father in heaven,
Thank you for this family that I am in
Thank you for all the love that we give and receive each day
Thank you for the lives of my parents
I love them very much
I pray that you bless them so they can take care of me
I pray that you bless their marriage so I can grow up in a loving home
Please bless the jobs that they do
Keep them healthy and strong so they can provide for me
Give them the grace to live their lives every day
Please protect them from trouble and harm
Let them be thankful each day
Let the love between us stay forever and ever
Amen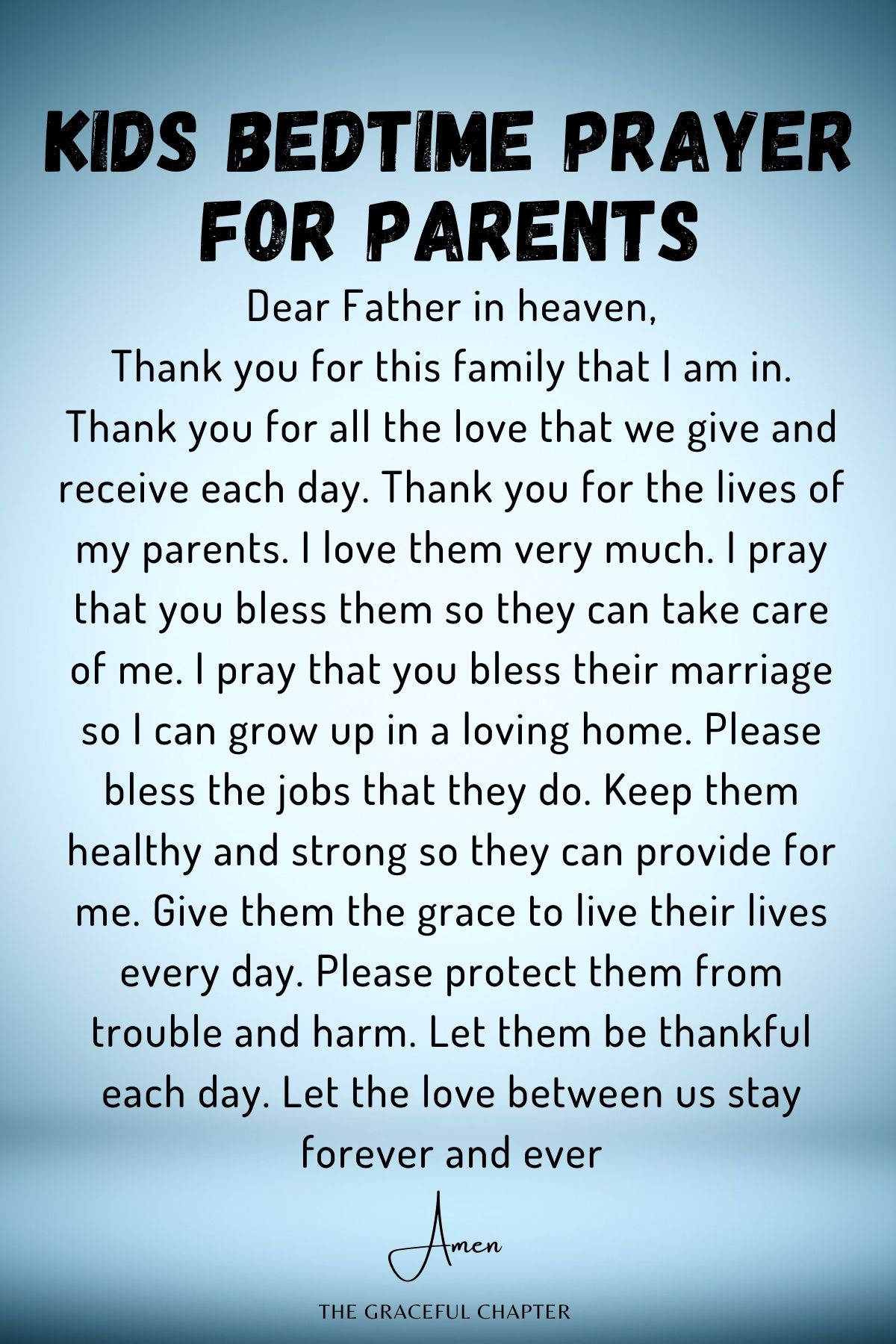 Prayer for my mom and dad
Father in Heaven,
Thank You for giving me my parents.
They are so good to me and my siblings.
Please God, continue blessing mom and dad.
Make them get lots of money so they can buy me whatever I request and pay for everything for me.
Never let them lack money or ever be in need of money.
This and other blessings I ask through your son Jesus Christ,
Amen.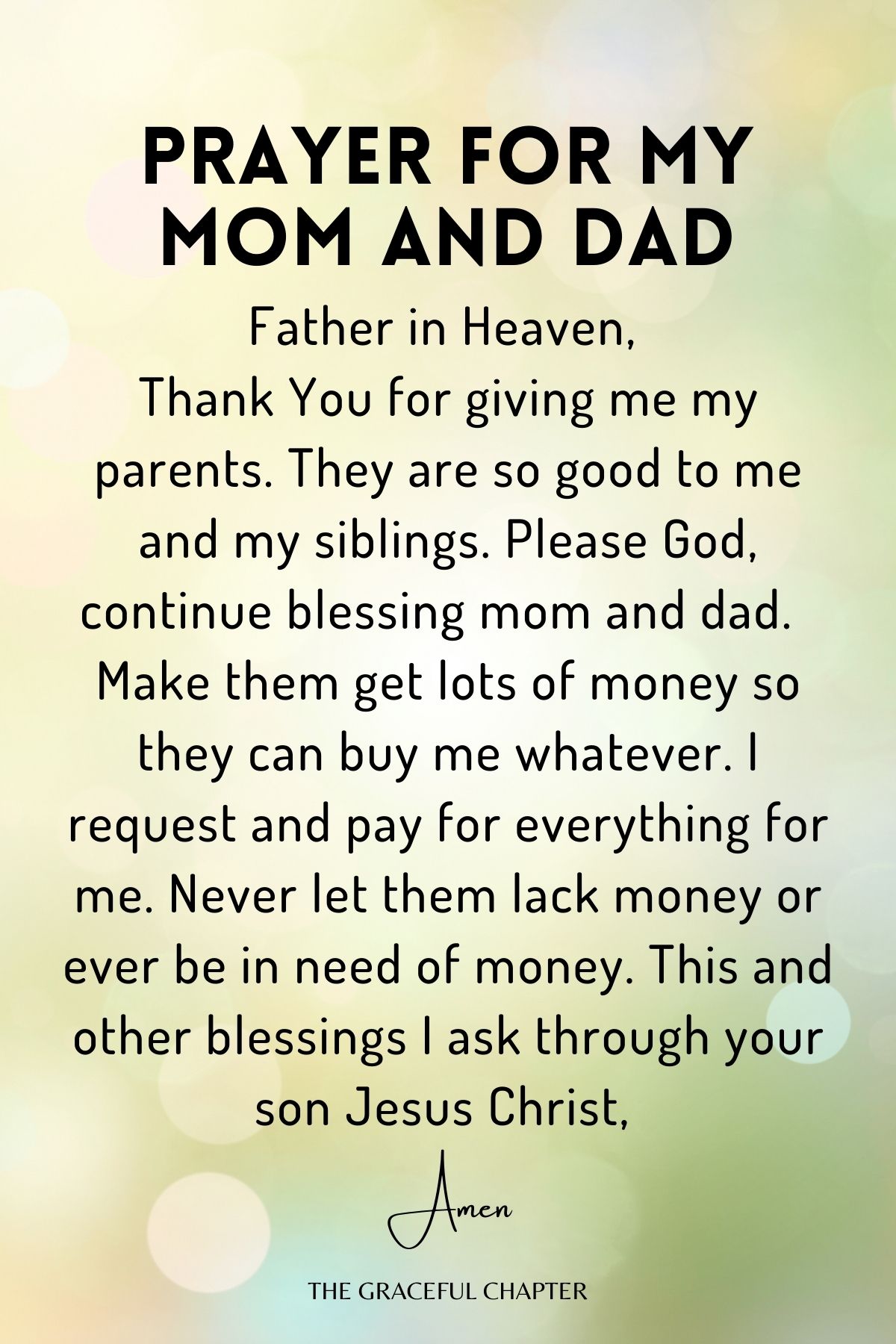 Kids bedtime prayer for school
Father Lord,
Thank you for my life
Thank you for the lives of everyone at school
I pray for my teachers and all my caretakers
I pray that you bless them with long life and health
Give them the patience and wisdom to teach me
I pray for all the other kids too
Give their parents the strength and love to take care of them
Let them play in love and harmony
Bless all my classmates and let them have bright futures
Let your angels watch over us in school so we don't get into trouble
Let us make our parents proud by passing all of our exams
Thank you for hearing my prayer
Amen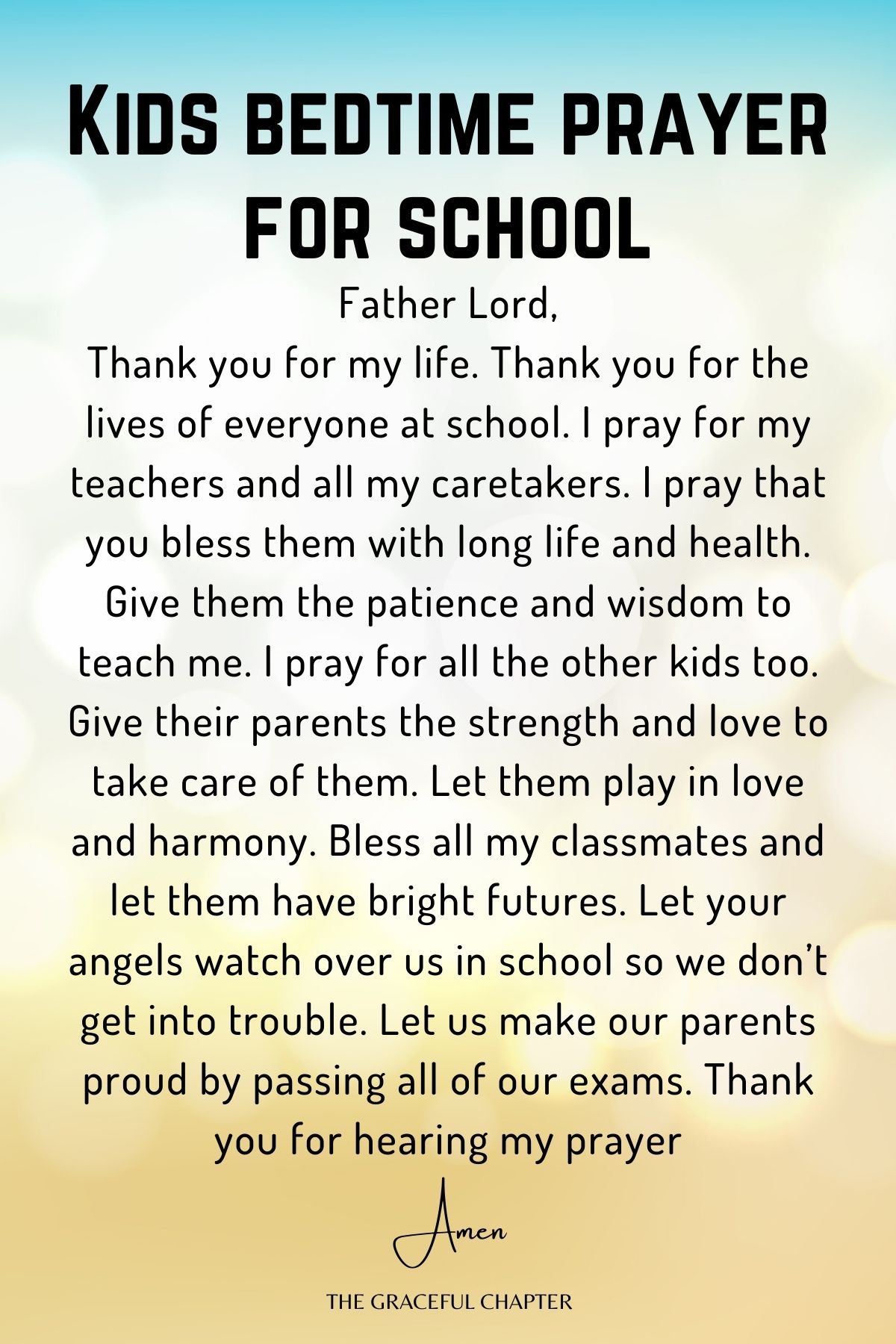 Kids bedtime prayer for health
Our Father in heaven,
Thank you for giving us this day
Thank you for the air we breathe and the water we drink
Thank you for all the birds and nature around us
I pray today that you make me healthy always
Take all sickness away from me
Make me strong always
I pray for all the sick kids in this world
Hear their prayers and make them well again
Keep me safe when I play or cross the street
Do not let me fall or break any part of my body
Carry me on your mighty shoulders always
Thank you, father
Amen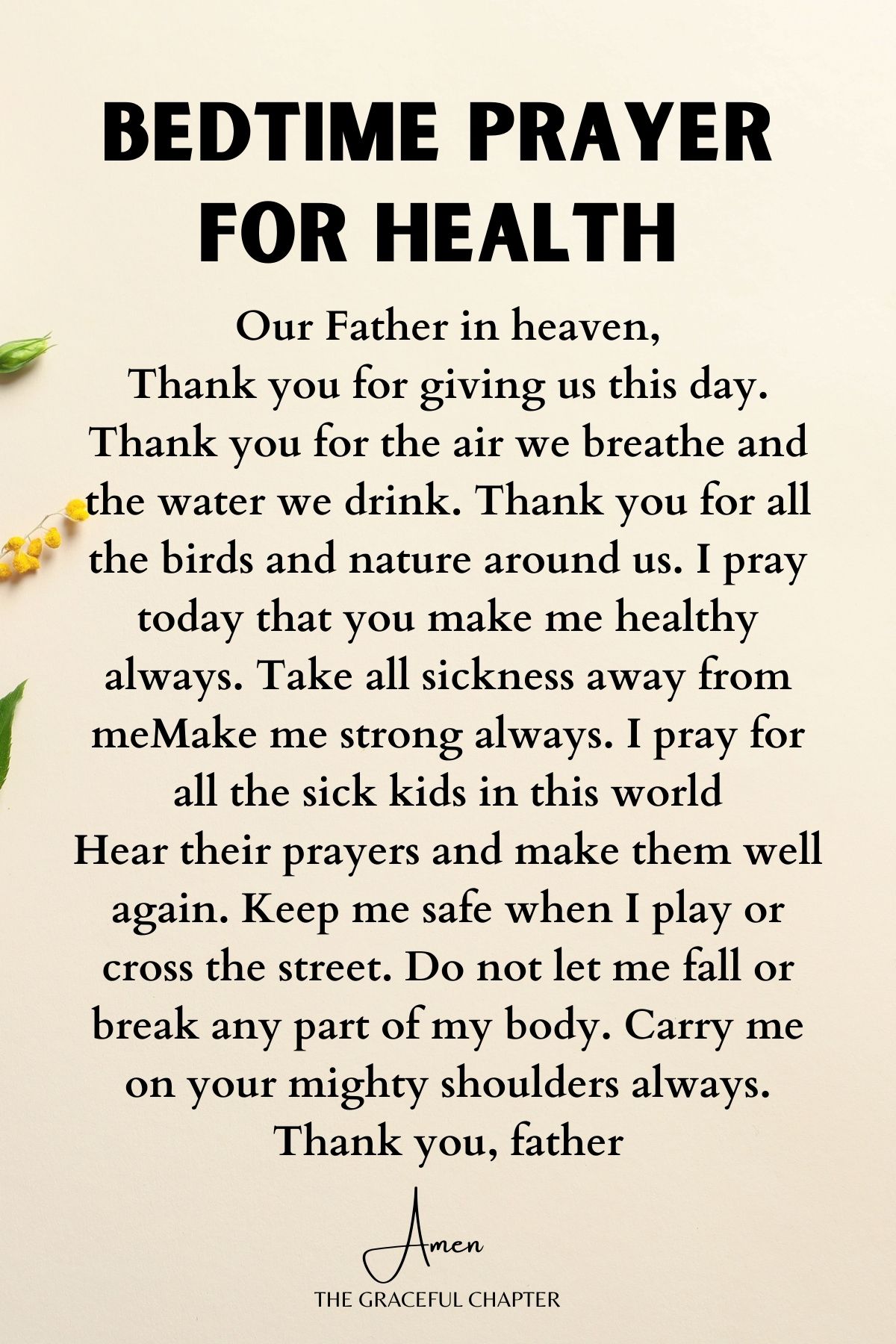 Related Posts
Bedtime prayer for forgiveness
Holy Lord,
Thank You for today.
I know I have sinned against You and my parents.
I'm sorry and I ask for forgiveness.
Please help my parents to forgive me too
I want to be a good kid and only do what is right,
Please help me to always do what is right
And teach me how to please you with my actions always,
Amen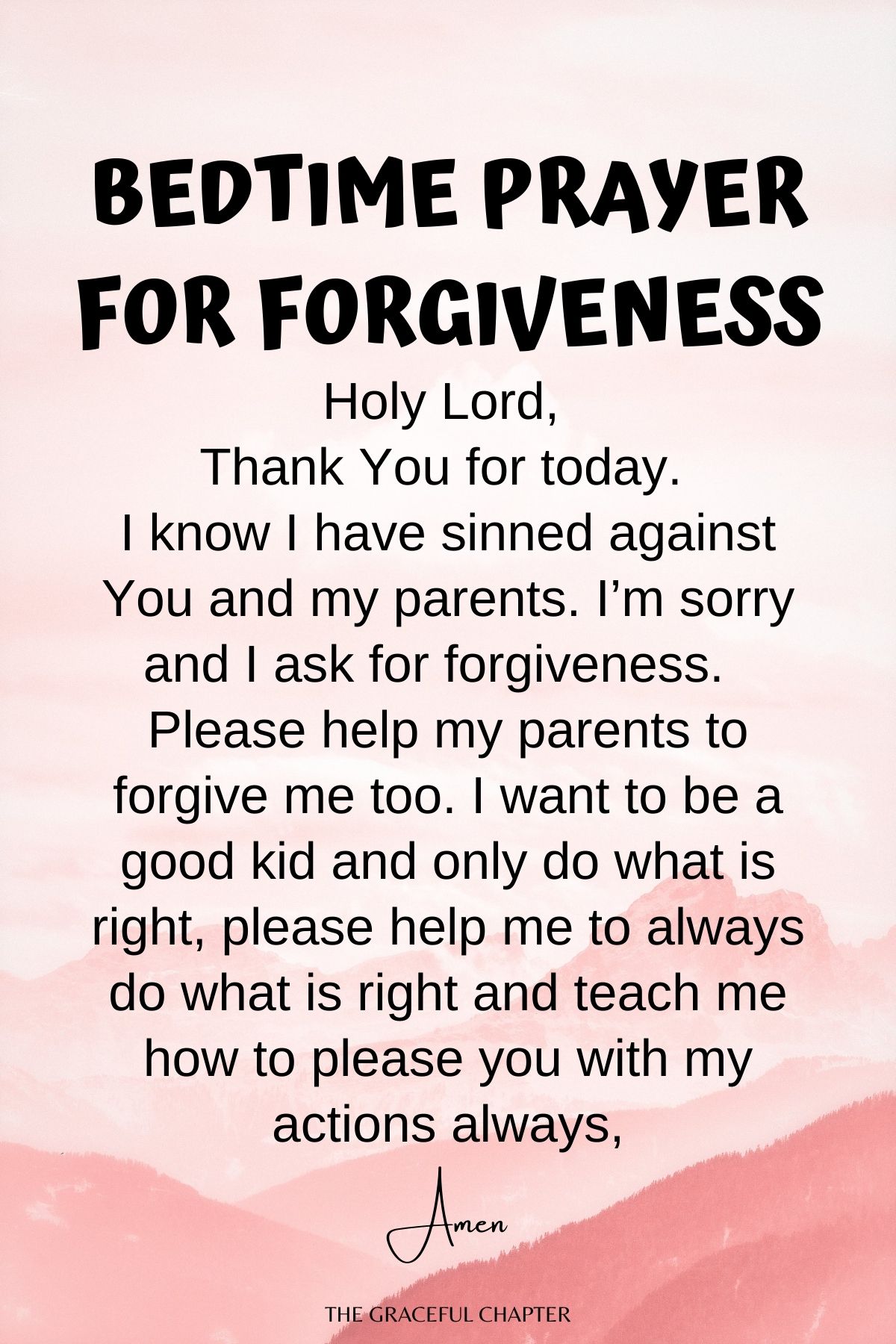 Kids bedtime prayer for siblings
Father Lord,
I bless your name and thank you for my siblings
I love them so much
Thank you for making them a part of this family
I pray that you protect them from harm
Please keep them safe from trouble
Let us all grow up loving each other and being there for each other
When one of us is in trouble let us help and protect each other
Keep them healthy and grant them your wisdom to do well in school
Help our parents love us and provide for us equally
Let us always be together in harmony in Jesus' name,
Amen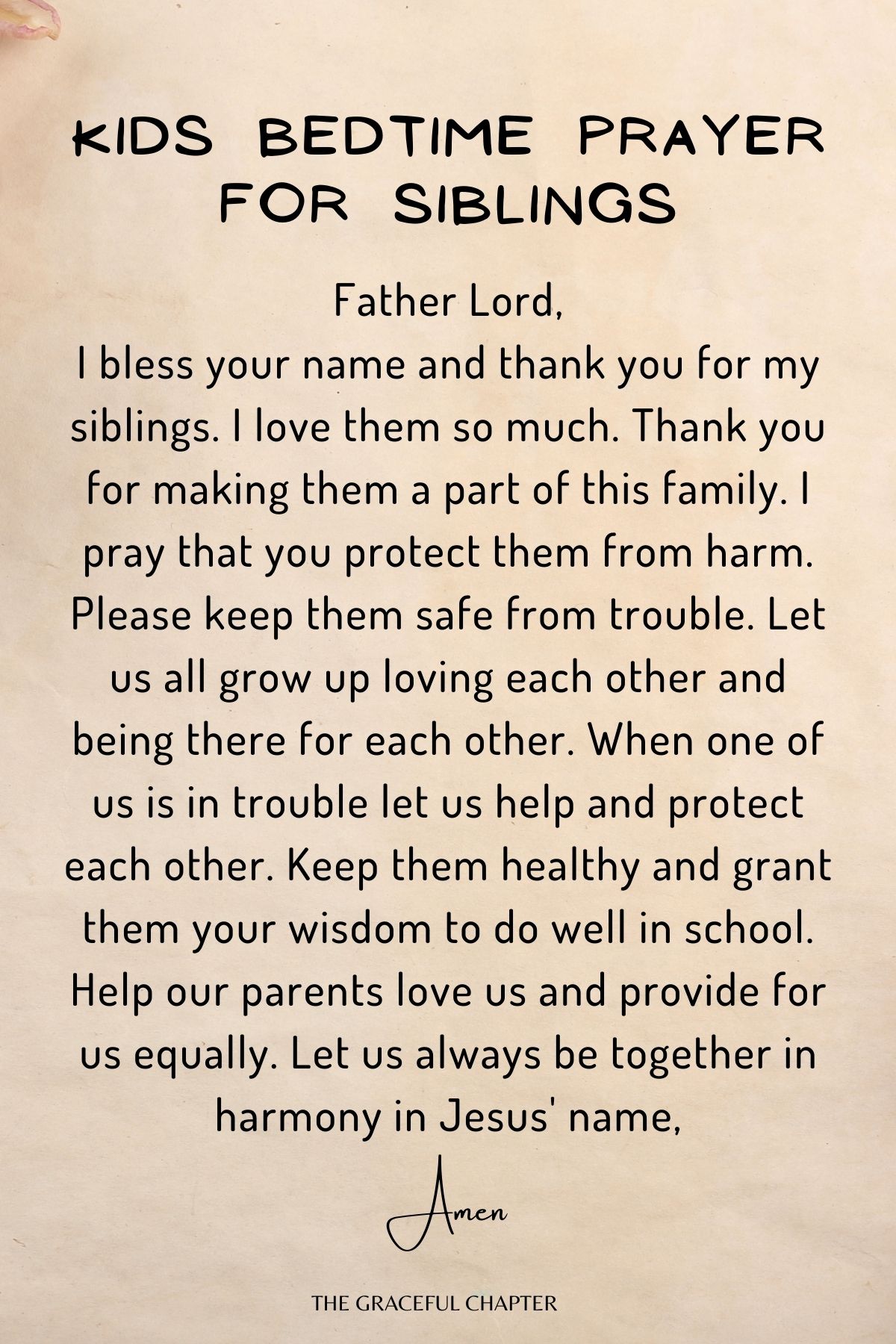 Draw me close to you
Lord in heaven,
Thank You for the gift of life for myself, my family and my friends.
Father, I want to have a strong connection with You forever more.
Please help me trust You in all my ways.
Please help me to obey Your word and place my faith in You in everything I do
Draw me close to you, Lord
And teach me to lean on you always,
In Jesus' name,
Amen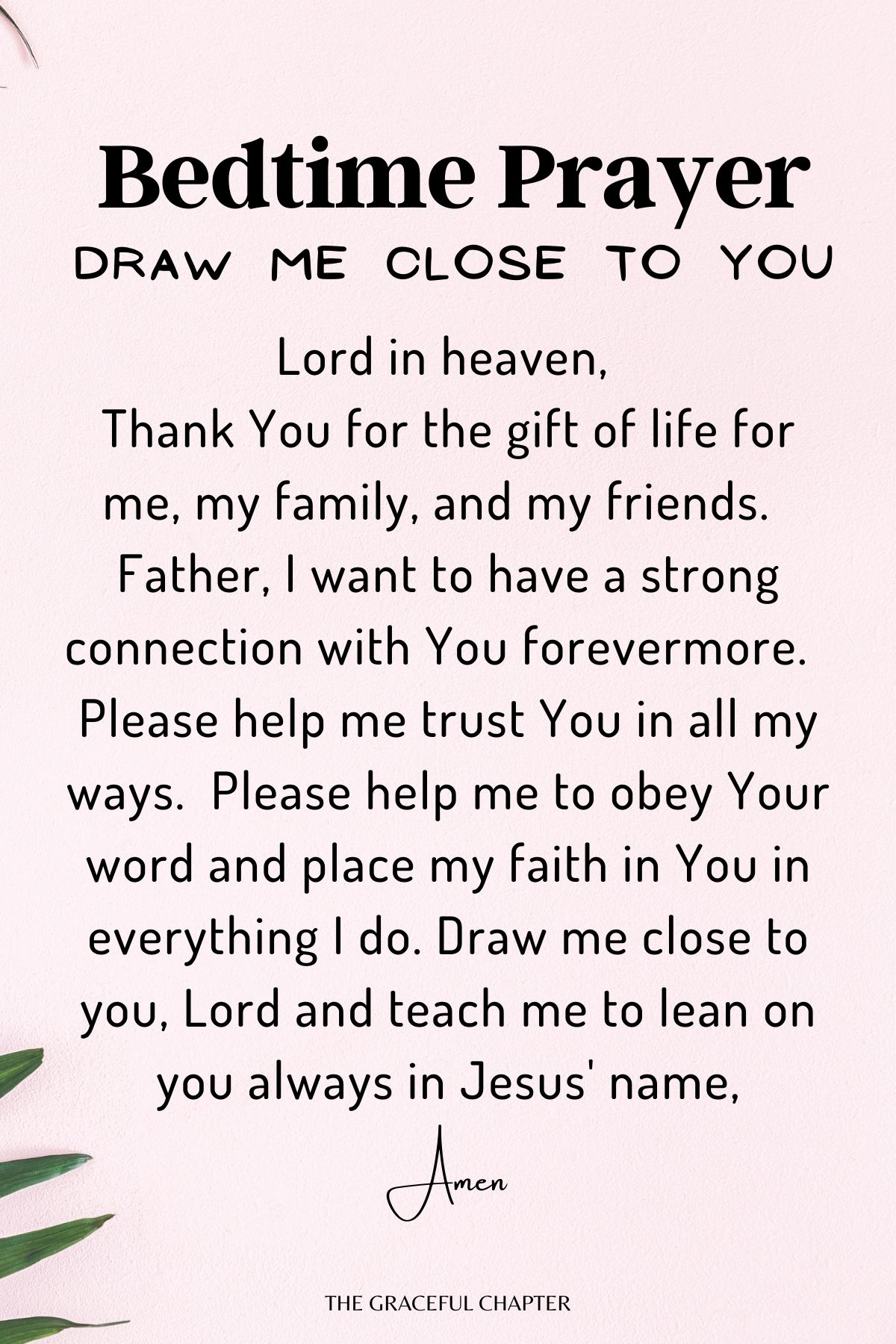 Kids bedtime prayer for family
Heavenly Father,
Thank you for all the love that we share in this family
Thank you for the lives of everyone here
I pray that you keep our bond strong always no matter where we go
Let the love between our parents grow stronger and stronger
I pray that you continue to protect our grandparents and all other family members
Let our grandparents live long healthy lives to see us grow up and make them proud
Keep our cousins safe from harm and bless our uncles and aunties in everything they do
Let this family be a happy one
Keep the bond between us stronger and let nothing destroy it
Amen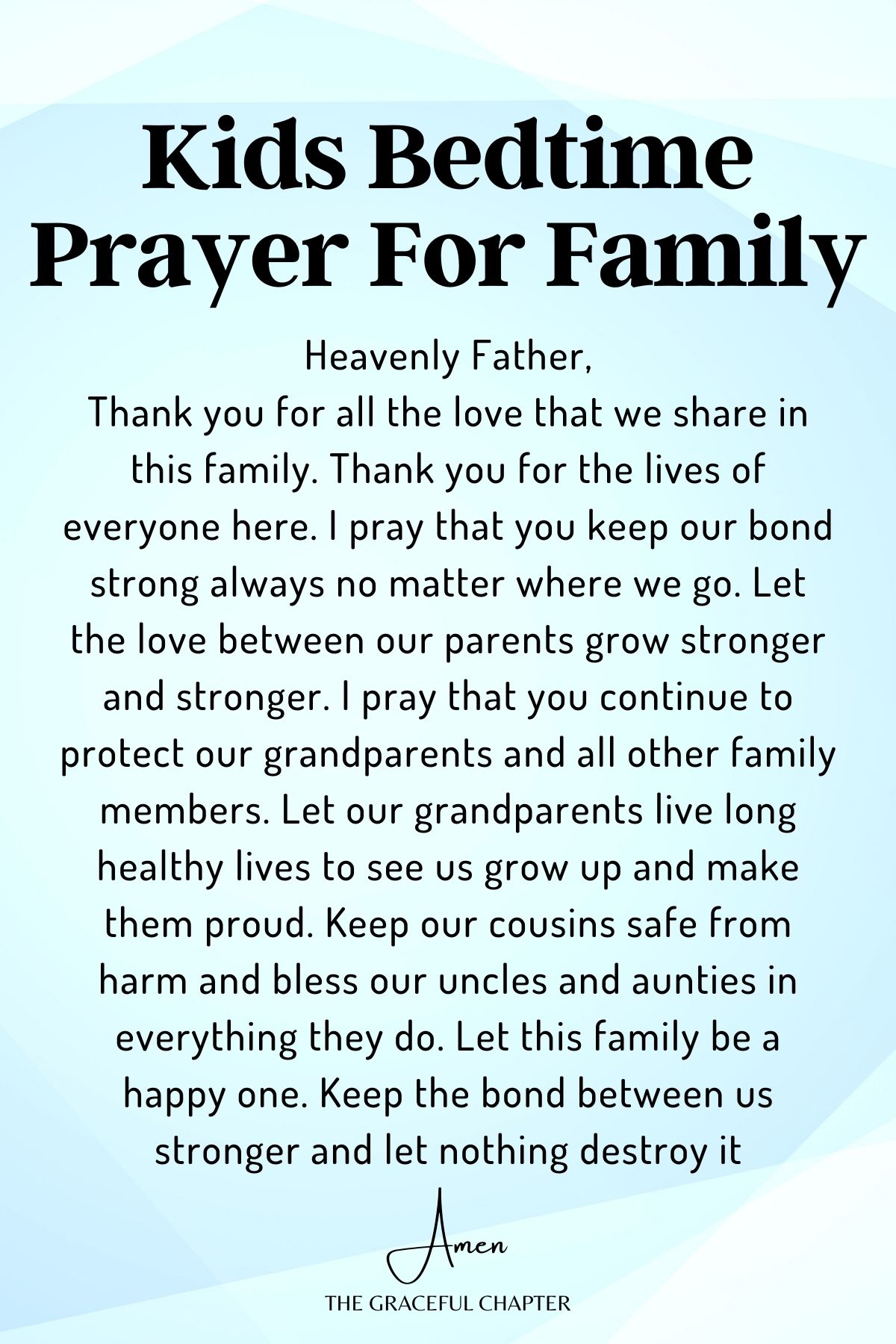 Kids bedtime prayer for friends
Dear Lord,
Thank you for today and all that happened
Thank you for the friends I have
I pray that you make them wise and protect them from harm
Teach them to be good children and have a good influence on me
Help them stay out of trouble

I pray for their families also
Spread your love and harmony in all of their homes
Keep their families under your protection
Help them grow in your wisdom and strength
Bless them to be good people in future
Amen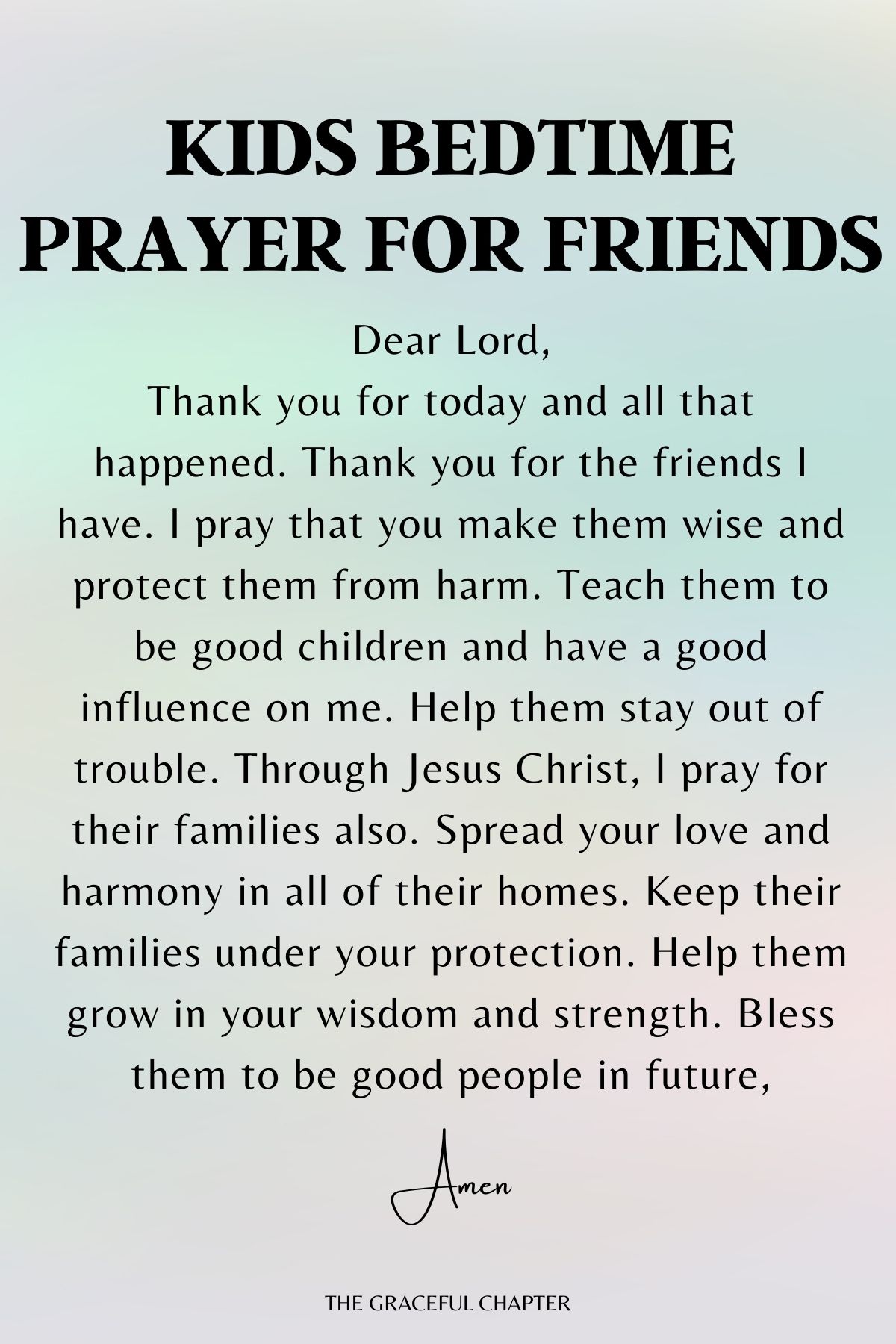 Kids Bedtime Prayer for Country
Heavenly father
Thank you for my life today
Thank you for this country
I pray for wisdom for the leaders
I pray for protection for all the men and women and children
Take away any pandemic that is destroying the future of my country
Give us your Holy Spirit and let it teach and lead us in all we do
Lead this country into prosperity and not poverty and war
Give us understanding and peace
Take away any evil from this country
Grant us the power to resist the devil
In Jesus name, I pray,
Amen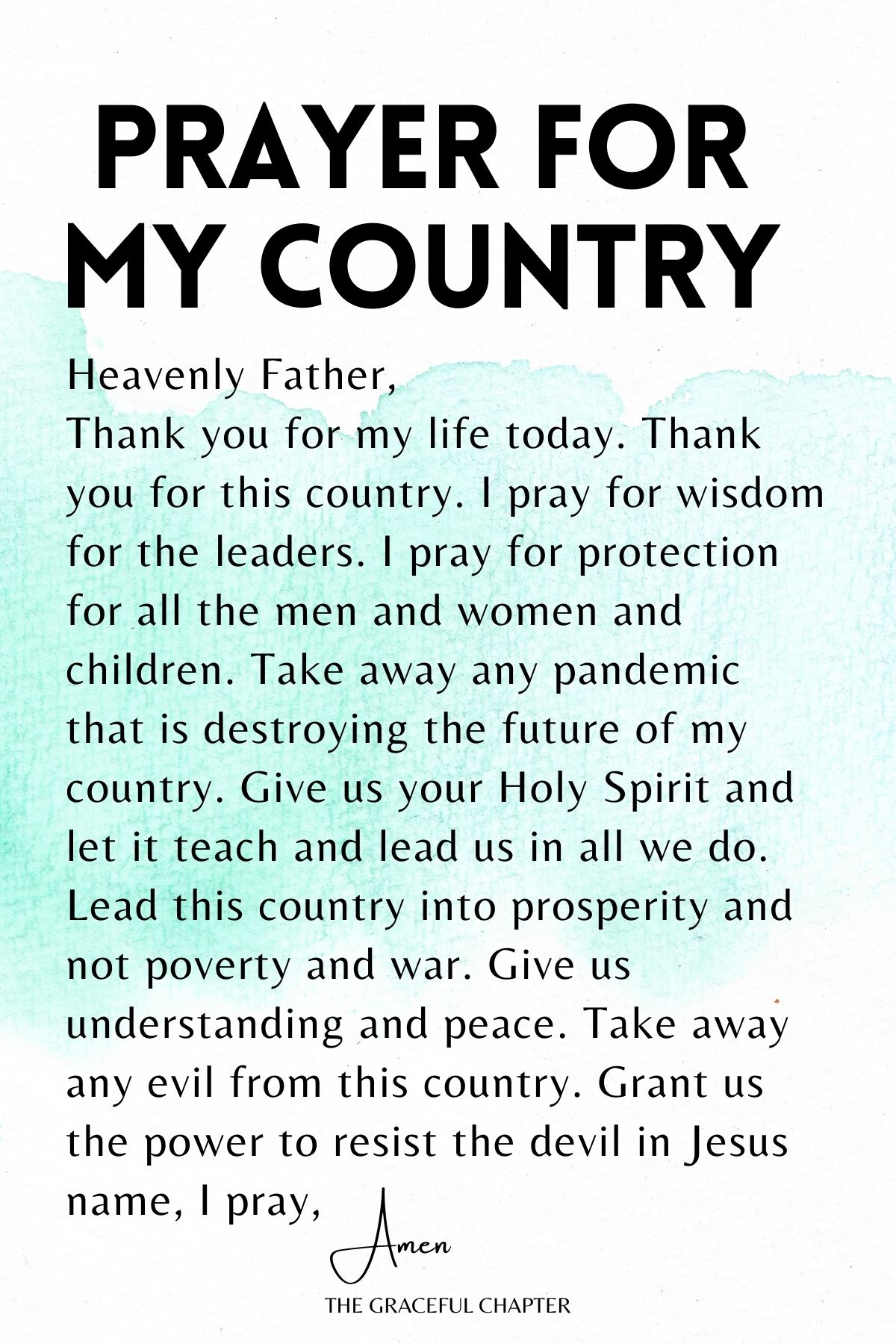 Bedtime prayer for children of the world
Lord in Heaven,
I pray for the children of this world tonight
Please let them receive love each day
Heal all the sick children of this world
Bless them and give them the strength to grow in your love
Please feed all hungry children in the world today
Please be the father of all children without parents
Be their protector and keep them from bad company
Feed and protect all the street children today
Please let them not fall into the wrong hands
Let your peace be in their hearts
Let them grow up to be important people in future
Hear their prayers each night they pray and give them the strength to carry on
Amen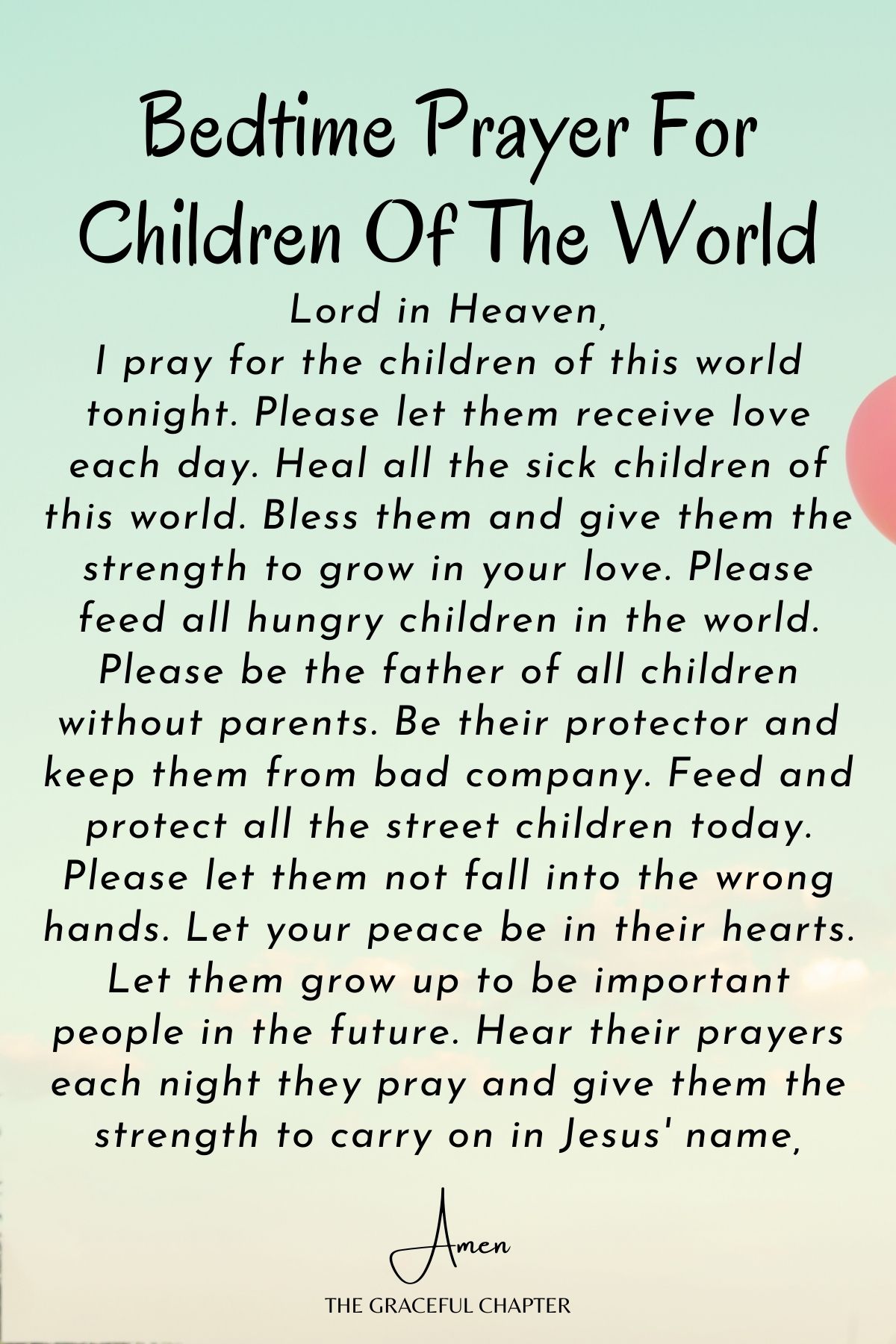 Praying with your children teaches them that there is a whole world out there besides the home. It helps them realize that they need to care for others in society as well as themselves. Most importantly it makes them know that there is a God who made them and is watching over them each step of their lives (Isaiah 41:10).
Let them get to the point where they pray by themselves even without you. God wants this from us. Teach them the way to go so they won't depart from it when they are alone (Proverbs 22:6).