See, I am doing a new thing! Now it springs up; do you not perceive it? I am making a way in the wilderness and streams in the wasteland.

Isaiah 43:19
There comes a time in our lives when it seems as though there are no immediate solutions anywhere. These are the times we hear whispers from the devil and his followers telling us to choose other paths that will help us. In these desperate times, nothing seems to go our way. We sometimes feel like the end is near and we should just give up.
Every one of us or someone we know has been stricken by an affliction or has been in some trouble during which it looks like all hope is lost. Some people get bad news from their doctors concerning diseases they have been battling for long periods of time. Others find themselves wrongfully accused of crimes they did not commit. Others find themselves in bondage. Some are slaves in their own homes, others are abused by spouses and bosses. No matter what the situation is for you, you must remember that the God we serve is a God over impossibilities.
When the Israelites were being chased by the Egyptians they got to a point where there was nowhere to go. Staring at them was a big ocean that was not accessible to them. Their enemies got ever closer to them and were almost upon them to wreak havoc and destruction upon them.
During this time, they started to turn on Moses and accused him of bringing out of slavery to die. We do the same when things get hard and rough. We start to question the faith that has been so good to us in the past. We forget where we started from and how far that faith has brought us.
The Israelites were free from their slave masters and the hardships they incurred from them. However, as soon as things got difficult in their eyes they started doubting their freedom and the man who led them out of bondage. God responded to their groaning and moaning and made a path in the sea for them to escape from their enemies.
When we face difficult adversity, those are the times God expects us to put complete faith in him. Those are the moments he proves his power to strengthen our faith in him. No matter what situation you find yourself in, pray to him for divine intervention. He will create a way where there is no way. That is the Lord we serve.
Prayers for divine intervention
Failing marriage
Dear Lord
We thank you for joining us together
Thank you for bringing us all this way
Now we are at a crossroads
We have been disagreeing and fighting over every little decision
We don't want to split up so we ask that you intervene
Help us rediscover our purpose
Touch our marriage with your diving hand
and let all the winds be calm in Jesus' name
Amen
Terminal illness
Heavenly Father
My heart trembles today
The news from the doctors has been bad ones
They have given me a very short time to live
But you are the God of impossibilities
You make a way where there isn't one
I ask that you command new life into my bones
Make me whole again
Bless me with new breath
and let this disaster pass me by, in Jesus' name,
Amen
In finances
Dear Lord in heaven
I ask for your intervention in my life
I am in need of money, money to feed myself and my family,
money for my children's education and their wellbeing
I pray that you create breakthroughs for me
Let doors open for me
Let opportunities arrive in my life
Destroy all curses of poverty and affliction in my life
Remove all seeds of emptiness and replace them with an abundance
in Jesus' name, I pray
Amen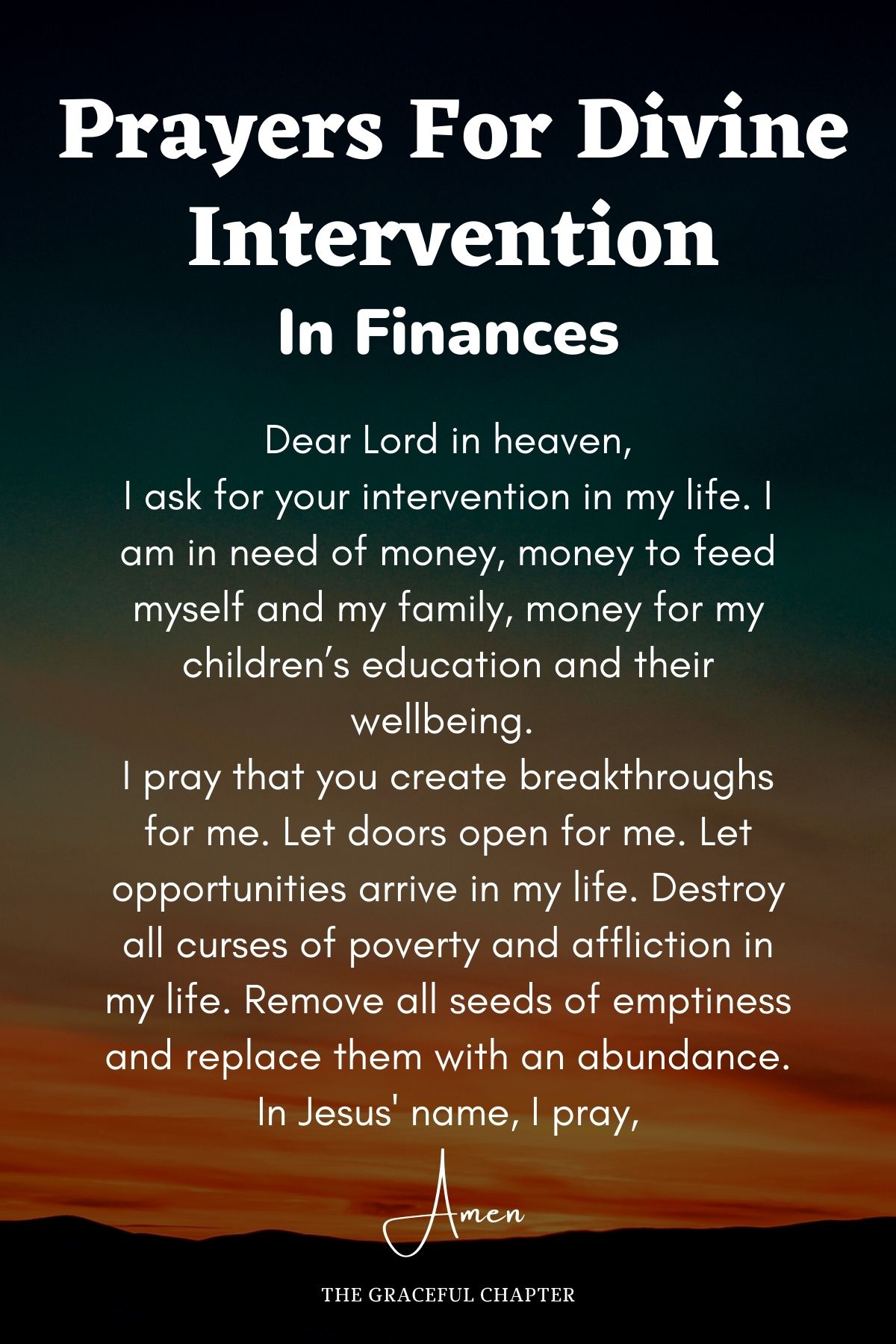 Job search
Heavenly Father
I have sought employment for a while now, but I haven't found any job
I pray for a breakthrough
Let me find work for my hands
Let my next interview be the one that goes through
Let me find favor when I walk in there
Let grace and blessings follow me out of there
Hold my hand and lead me through this difficult period
Let me glorify your name for this miracle
and let me be a blessing wherever I end up
Amen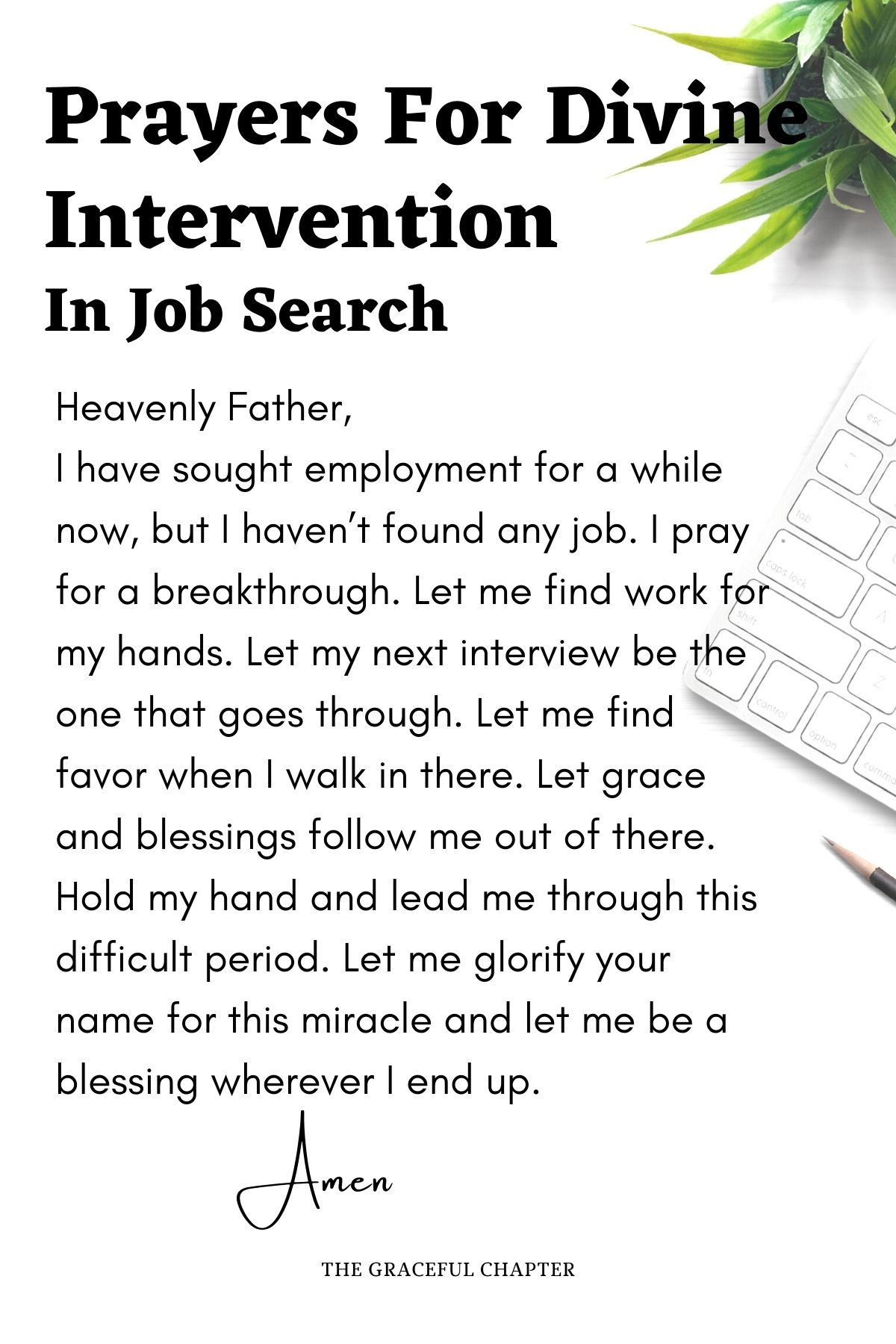 In conflicts
Dear Lord
We ask for an end to this conflict
We pray that you touch every angry heart
We ask that you calm all nerves
Come and take control of this situation
Let peace reign where there is war
Let understanding be the order of the day
Let there be a dialogue between all parties
Let them come to a simple and peaceful solution
Bless them and remind them of your love for them
and bring this conflict to an end
Amen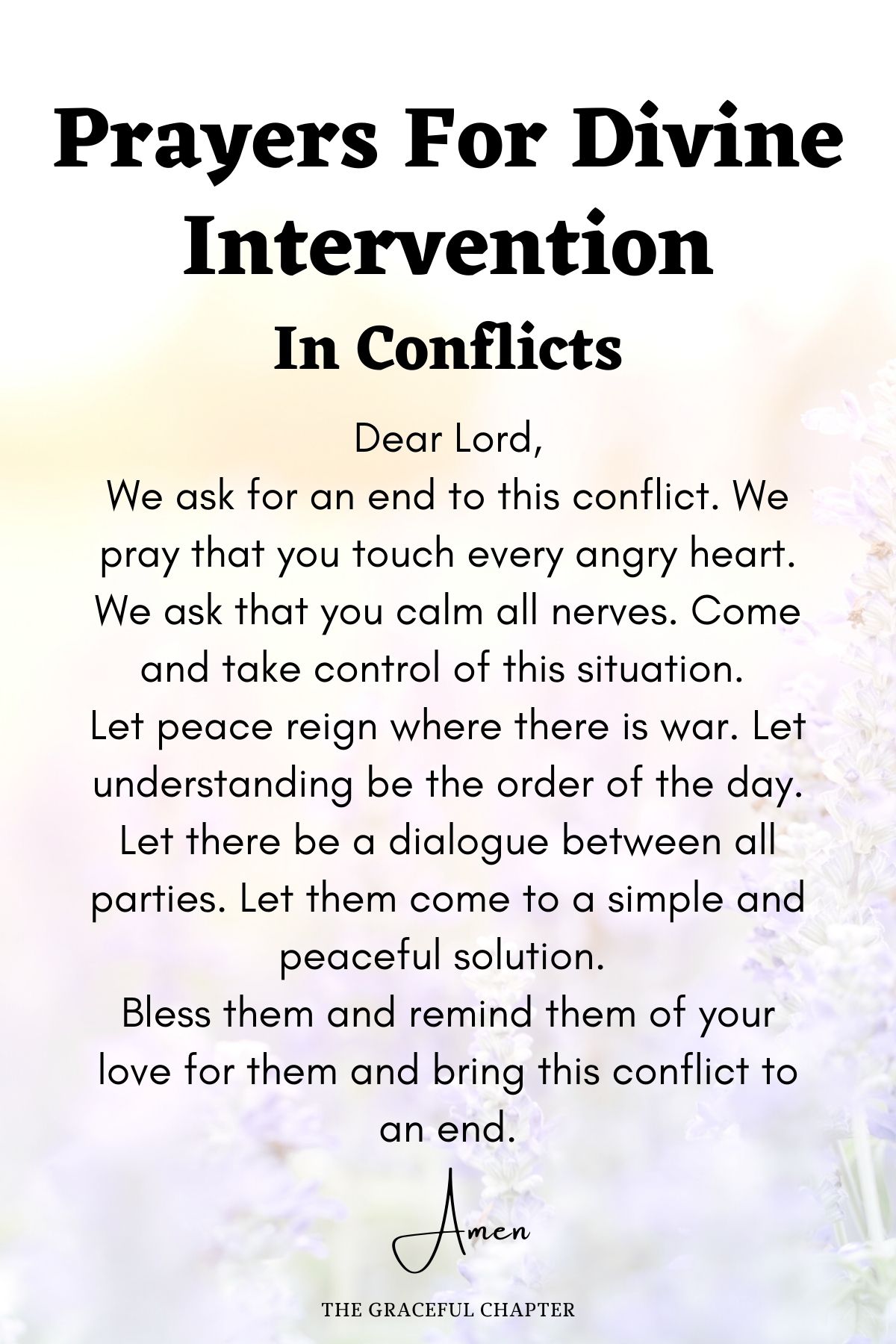 Related Posts
For the wrongfully accused
Dear Lord in heaven
Only you know of my innocence
I have been wrongfully convicted of what I didn't do
Only you can lay bare the truth
Let your divine wonders take control
Please vindicate me and take me out of this bondage
Have mercy on me and deliver me back to my family
Give me the strength to withstand this huge temptation
Don't let this episode make me doubt you
Come through for me and make me victorious again
Amen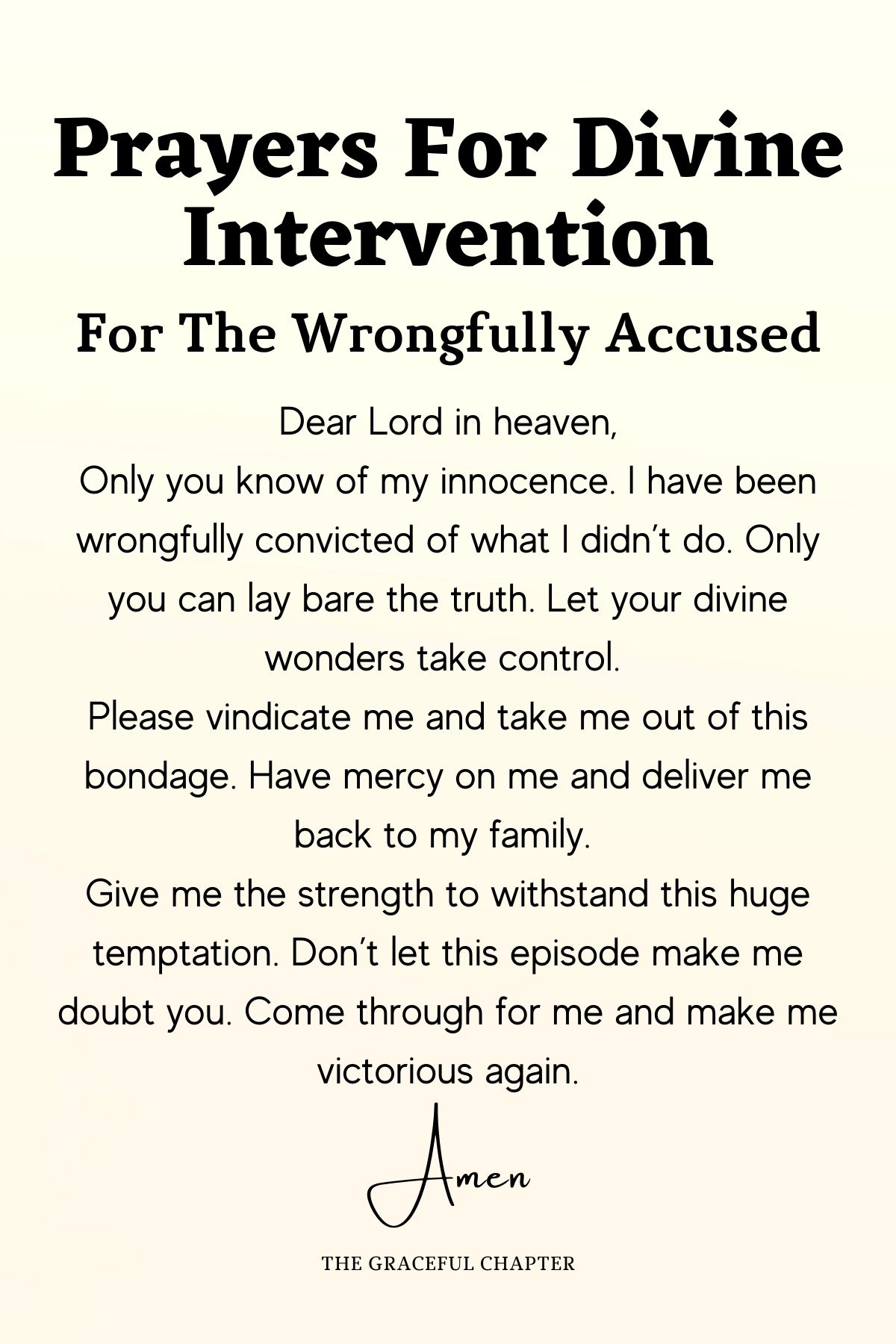 In failing business
Dear Lord in heaven
I pray for my business
Nothing I do seem to be able to sustain it
I am at the end of my rope
I need your assistance
I ask that you restore my strength and my faith
Boost my business with your divine ways
Strengthen my pillars
Strengthen my foundations
Sustain this business and remove all destructive influences
Extend the boundaries of this business and make it the envy of all others
Amen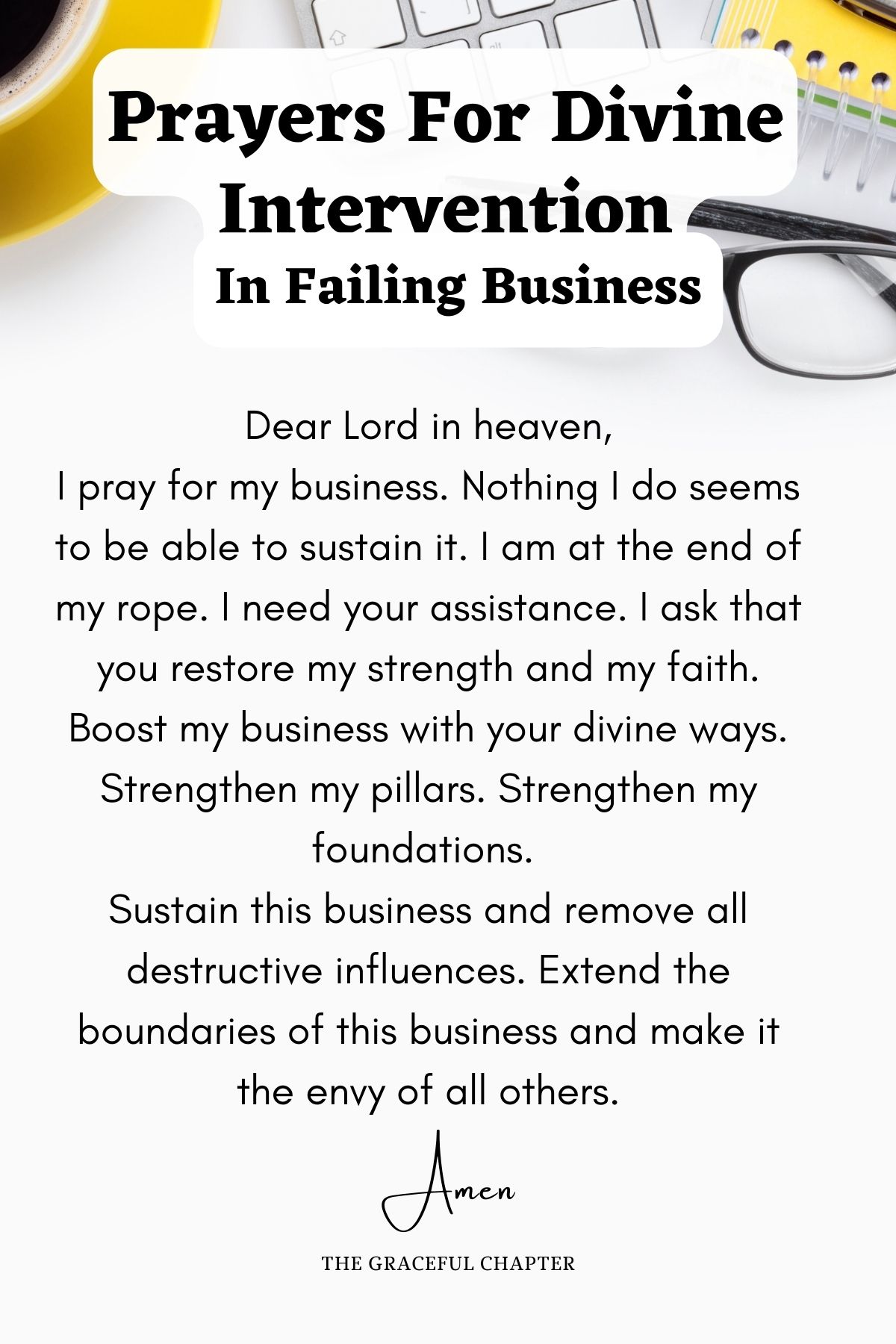 Impending accident
Heavenly Father
I ask that you deliver us from this accident
Come and rescue us from this crash
Take control of the driver
Help them secure this vehicle
Save us from premature disasters
Carry us on your wings of love
Deliver us from the cold grips of death
Take dominion over this vessel
Save us all, adults and children
Death is not of you and we resist it in Jesus' name
Amen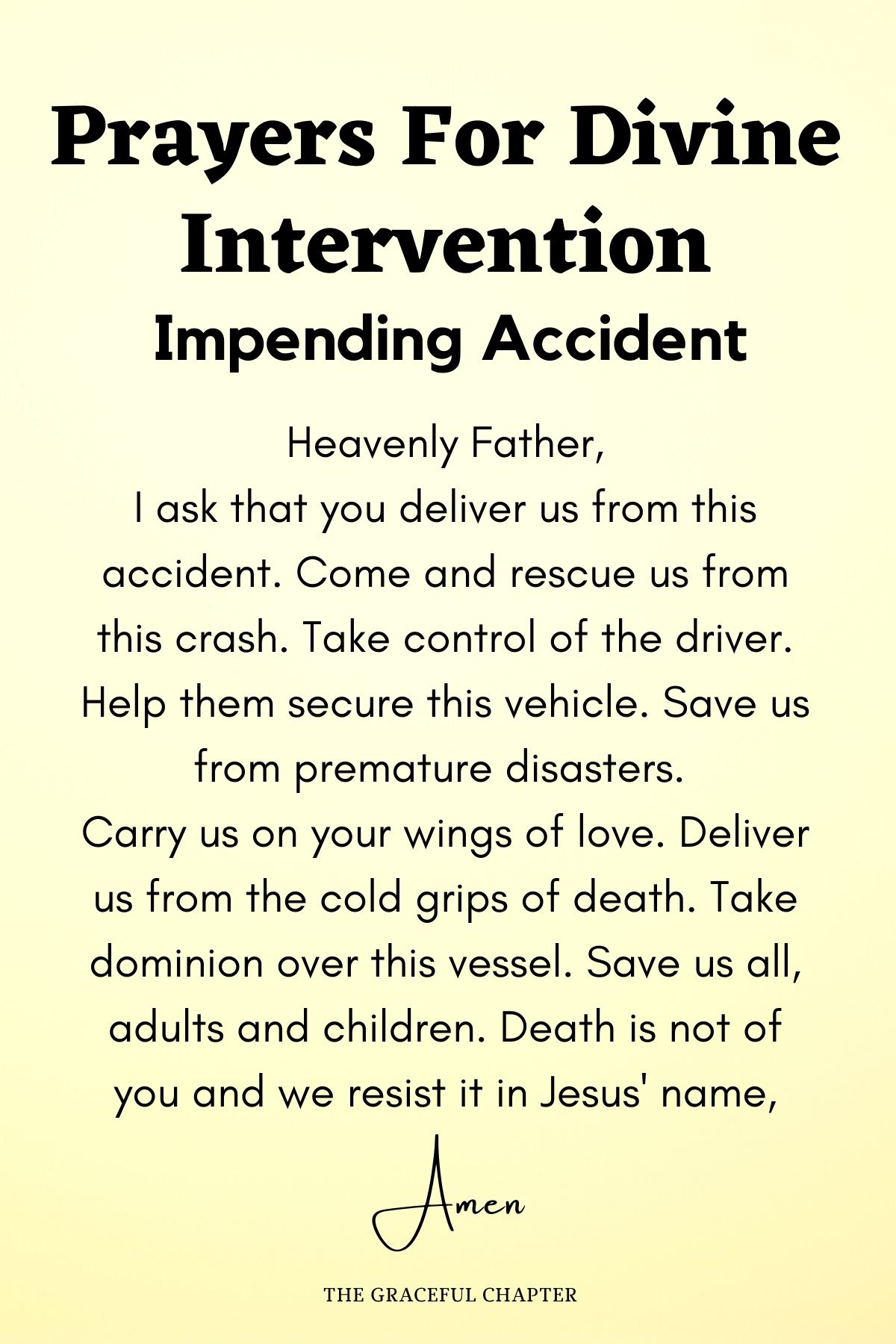 We all get to that point where it seems like a stronger hand is needed to open the door. Some other force is needed to smash the obstacle in the way so we can make our way through. Let the Lord be your force. Call upon him when all hope seems lost.
He will let you live to see your victory and appreciate his love for you. This is how we grow in faith. When we make it out to the other side of our problems we have an innermost acceptance and conviction of the Lord's favor and love for us.
In the same way, the Spirit also helps our weakness; for we do not know how to pray as we should, but the Spirit Himself intercedes for us with groaning too deep for words.

Romans 8:26