The Lord gives strength to his people; the Lord blesses his people with peace

Psalm 29:11
Be strong and courageous. Do not fear or be in dread of them, for it is the Lord your God who goes with you. He will not leave you or forsake you.

Deuteronomy 31:6
Imagine being amongst the Israelites who were traveling to the Promised Land through the desert. Walking through the sand under the sun with no food or water is a very daunting prospect but the Lord was their strength. He gave them food and water when they needed it and he led them to conquer their enemies and claim their territories.
When we walk with the Lord we are entitled to his goodness and strength. He has ordained us into his favor and grace so we need not fear for where we will get our food or water. We must move through life knowing that he is prepared to assist and strengthen us to conquer all our fears. When we hit bumps and blocks in our lives we should look up to the Lord for strength.
Sometimes we lose hope because we feel like the obstacles we face are bigger than us but we must remember that the One who created and lives in us is far greater than any blockade you may come up against. It is during these times that we must seek the strength of the Lord and conquer all our blocks, barriers, or resistance.
You are already victorious in God so all you need to do is move with confidence and conviction in the fact that God has already broken through for you. As Christians, we must know that no weapons or problems are too big for the Lord.
Strengthen your faith with the words of the lord and continually fortify your spirit by always praying to him. When you seek him always he will always be there for you when you need him.
Prayers for strength
Prayer for strength in marriage
Dear Lord in heaven
Thank you for sustaining my marriage up to this point
Today, I pray for courage and strength
Strength to overcome every obstacle that we face in this marriage
I pray that you crush all spiritual and physical impediments that are threatening to destroy this marriage
Help us communicate and relate better
Give us soft and peaceful hearts to tolerate and accept each other
Give us the strength to overcome our anger and jealousies
Help us sustain this marriage in your holy name
Amen
Prayer for strength in business
Dear Lord
I pray for strength in this business
Help me overcome all the financial and human challenges that I face
Give me the wisdom to sustain this business in times of financial crisis
Let my business move from strength to strength
Grant me the courage to take bold decisions that will benefit my business in the long run
Strengthen me to resist any ideas of the devil that will collapse my business
Help me identify all the cracks that will cause my business to fall and fill it
Let me be a blessing in every aspect of my business
Amen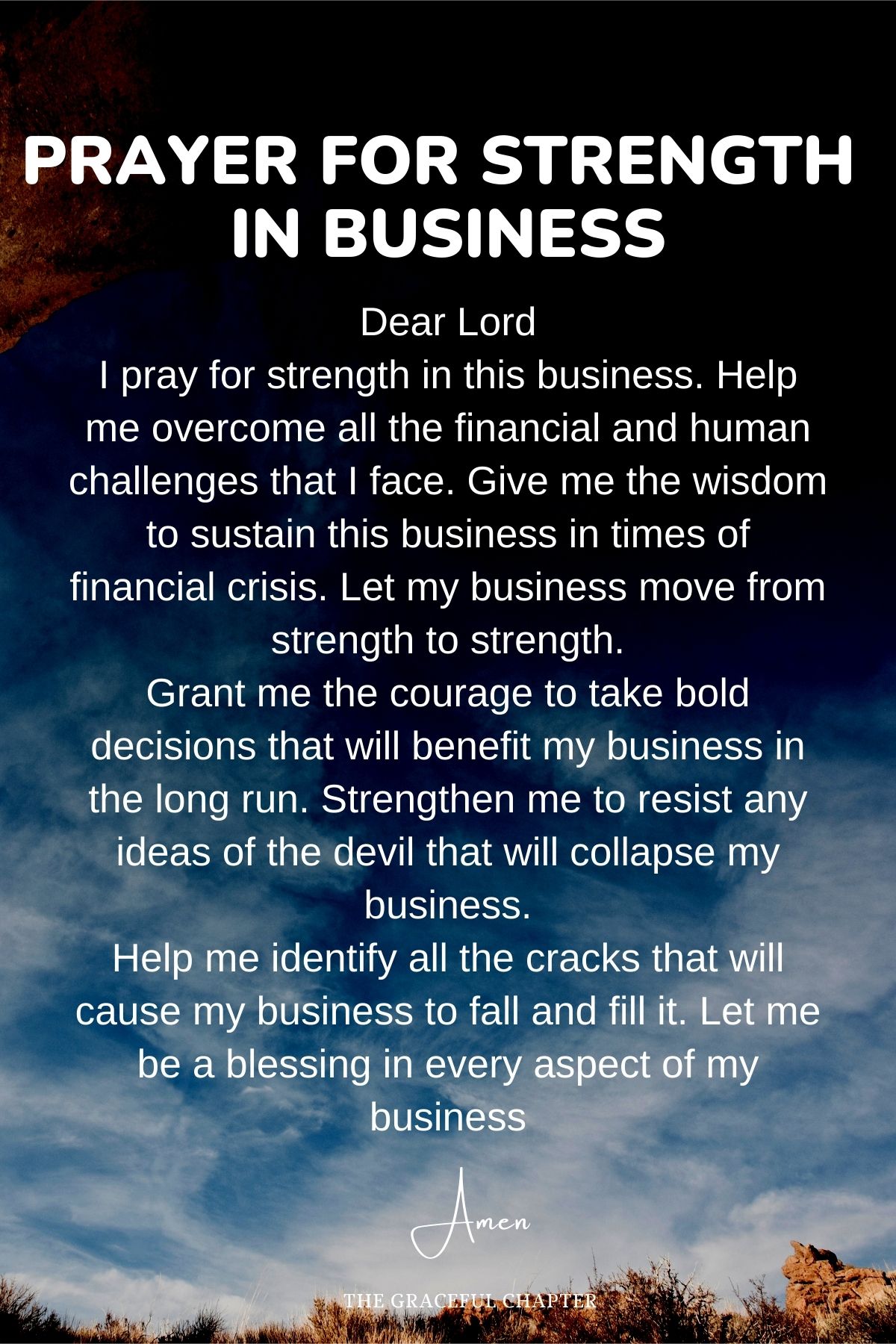 Prayer for strength at work
Dear Lord
Thank you for the work of my hands
Today I ask that you strengthen my hand against any evil at work
Help me grow in strength and stature at work
Help me reach my full potential and realize the goals you set for me
Give me the courage to not fall into traps disguised as gifts
Give me the endurance to be patient and wait for my opportunities and promotions
Help me focus on the tasks assigned to me and help me not sway from the right path
Help me respect authority and not sabotage myself before my time of glory arrives
Amen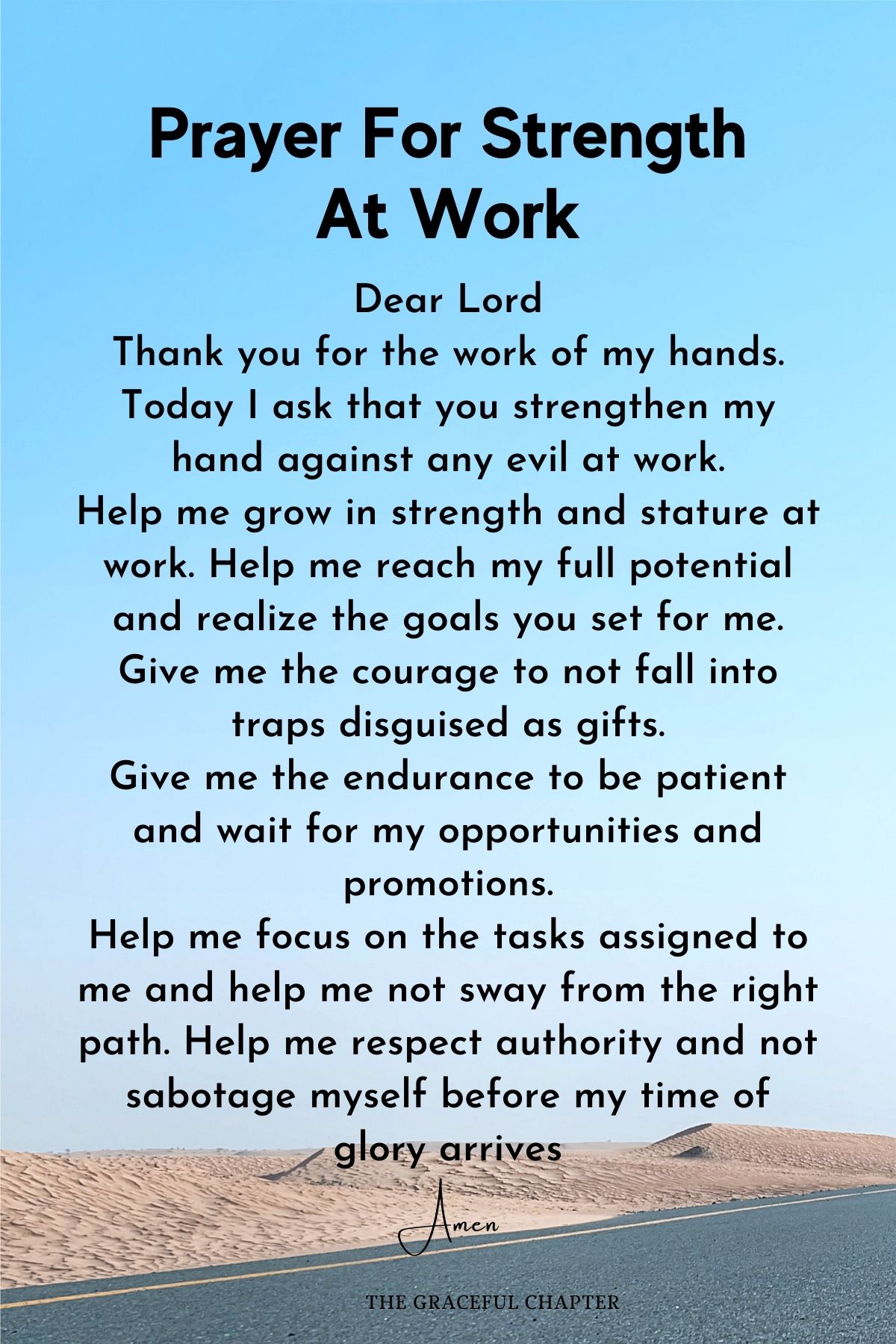 Prayer for strength for parenting
Dear Lord
Thank you for these children that you have given us
We ask for strength to raise them
Give us good healthy long lives to be able to guide them in life so they do not need us anymore
Help us raise them in you so they do not stray from your word
Help us teach them the right paths to follow so they can be strong and responsible adults
Help us to be there for them in times of struggle and confusion in their lives
Grant us financial blessings to be able to provide for their physical needs
Give us the power to know and respect them so they can count on us always
Let us set a good example for them to follow
Thank you for an answered prayer
Amen
Prayer for strength to move on
Dear Lord
Thank you for my life today
I ask for your strength in this difficult time
I have thoughts of giving up every day
This situation is causing me so much pain
I pray that you heal my broken heart and strengthen me
Help me to rise above this situation
Let your words of strength be on my mind and my lips each day
Wipe away my tears and make me laugh again
Grant me the strength to move on and heal this pain in my heart
Amen
Prayer for strength in sickness
Heavenly Father
I pray for your grace and strength
This sickness is troubling my heart and my soul
I am living in fear. Fear for my life and for my children's future
I pray for strength to overcome this disease
Help me battle this goliath in my life
Help me resist death and be healed
Help me strengthen my faith and not lose hope in you
Heal me, dear Lord. and make me whole again
Amen
Prayers for strength in difficult times
Heavenly Father
Thank you for the gift of life and grace
I pray for your intervention in these difficult times
Our finances are taking a big hit right now
I pray that you give us the strength to fight our way out of this
We resist poverty in Jesus name
We remove  any obstacles preventing us from making money
Give us the wisdom to know what to do
Help us through these times of difficulty
And grant us financial glory in Jesus' name
Amen
Related Posts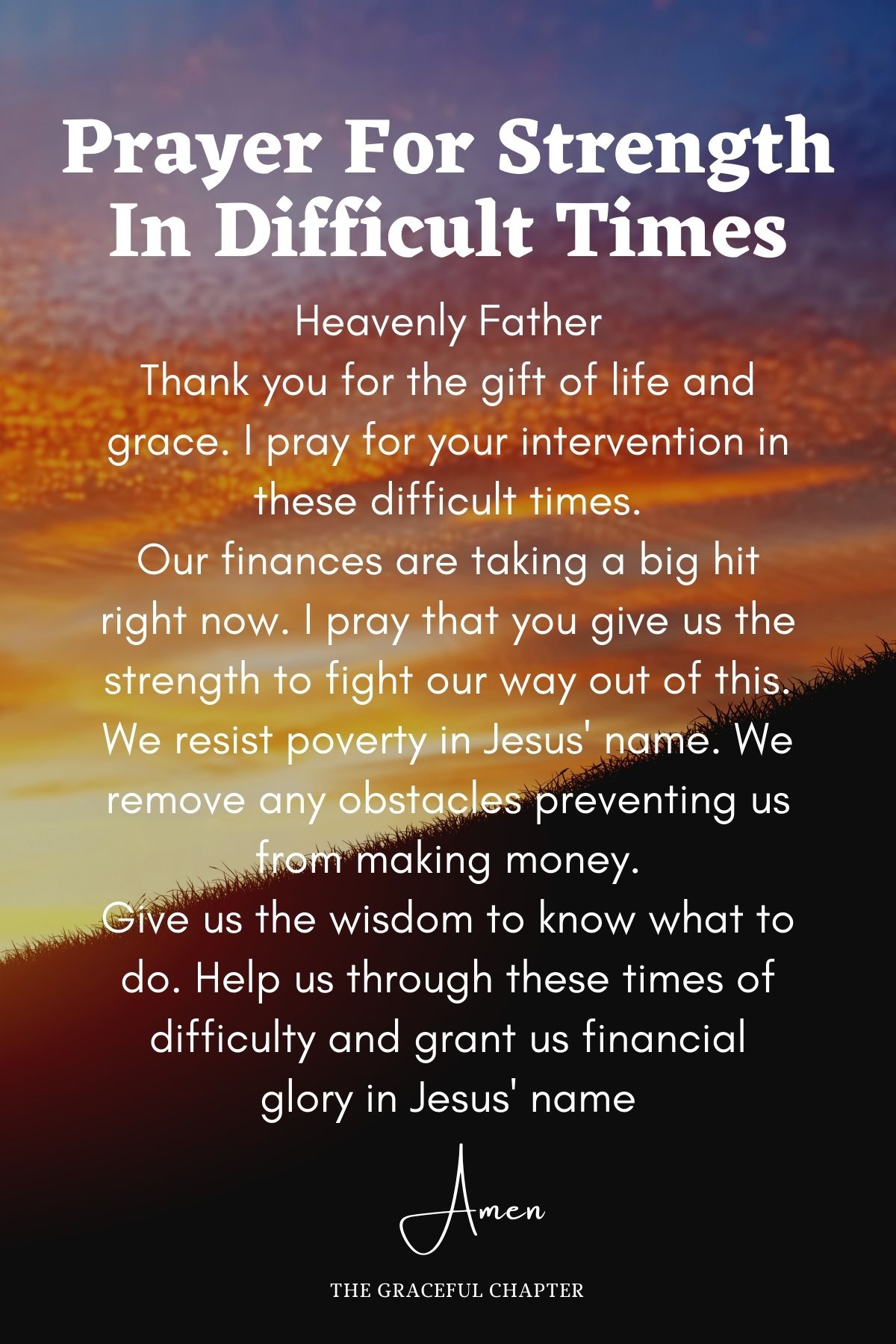 Prayer for strength after loss
Gracious Lord,
Hear my cry today for I am in pain
Embrace me in your arms Lord, for I am falling apart
Comfort my heart, Lord, and soothe my soul
I don't know what to do
I don't know how to deal
And I certainly don't know how to move on with my life
But you, Lord, are the Almighty Lord
You are my comforter, my strength, and my solace
Lift my spirit, Lord, and dry my tears
Infuse me with your peace and fill me with joy
Give me the strength to move on in life
and let your grace sustain me in Jesus' name
Amen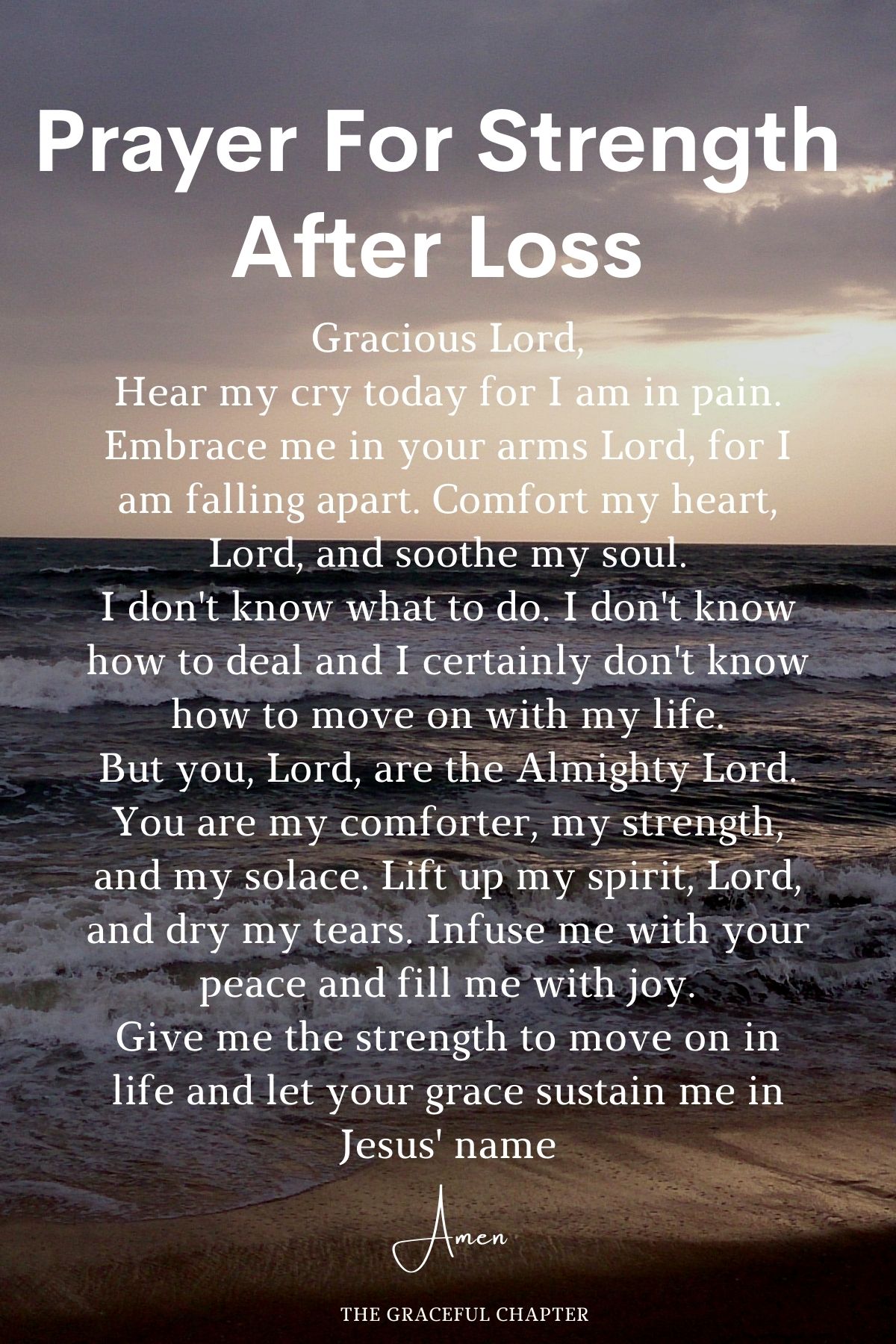 Prayer for strength and faith
Dear Lord
I pray for strengthened faith today
Help me know more of your word and
face all adversities with the confidence of victory
Let me move mountains with my faith and
command things to fall in line in my life
Let me conquer all the evil in my life
Let my words cause healing and life
Let my faith build all the broken pieces in my life
help me remain strong and not be moved by any adversities
In Jesus' name,
Amen
Prayer for strength and courage
Heavenly Father
I pray for strength and courage
I pray that you take away all fear in my heart
Help me push through on all the plans I have made
Don't let me be swayed by temporary obstacles
Let me follow through on everything I want to
Bless my endeavors and make them fruitful
I don't want to lose my glory because of fear
Make me courageous and victorious in all I do
Amen
Prayer for strength to forgive
Heavenly Father
Help with the strength to heal my broken heart
Grant me the courage to forgive those with wrong me
Help me love those who hate me and want my downfall
Just like you forgive my wrongs, help me forgive others too
Help me forget their transgressions and draw them closer to me
Grant me the strength to not hold grudges
Help me soften my hardened heart
Help me remove any toxicity from my body
Open my heart to love
and help me resist evil thoughts about those who hurt me
Amen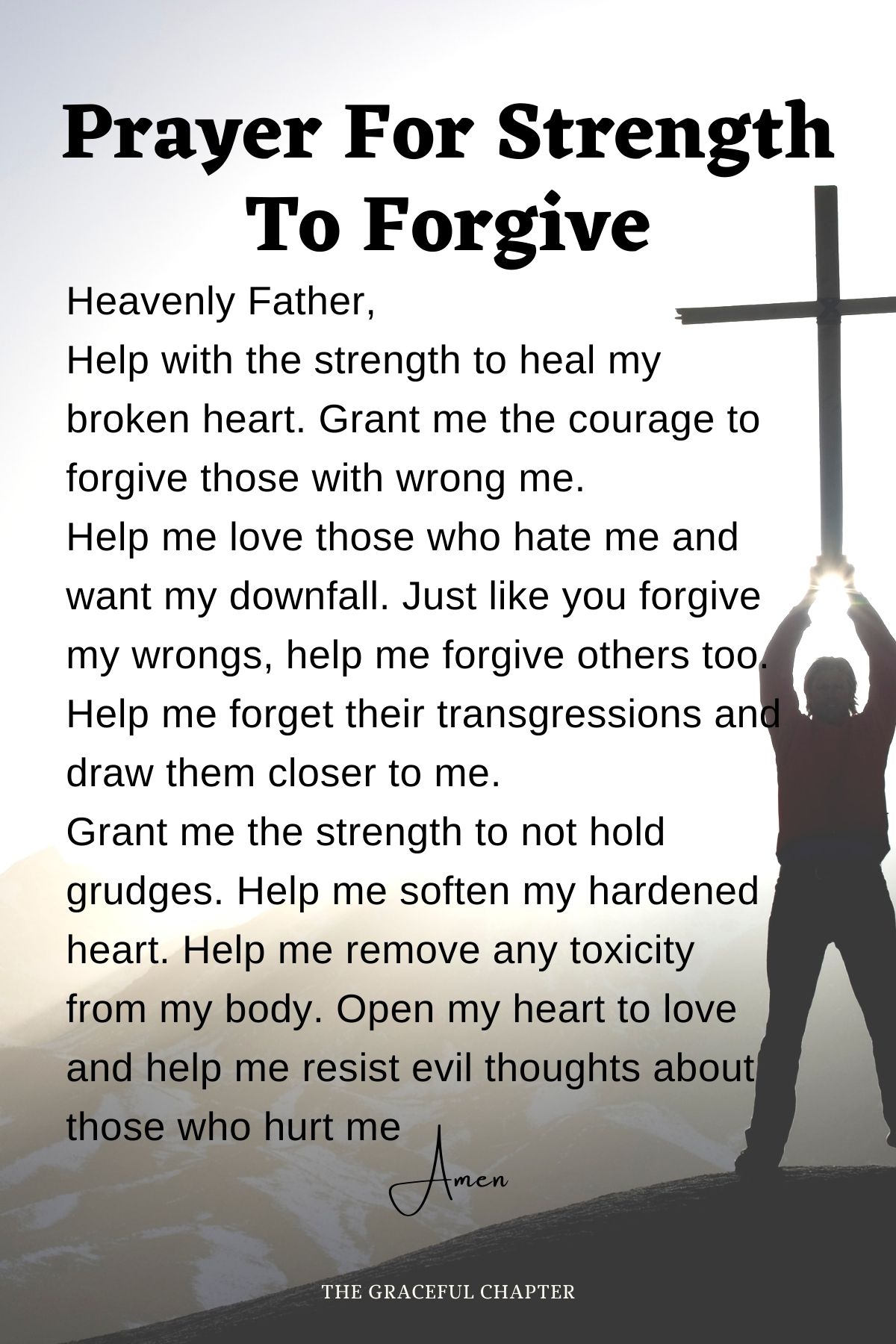 Just as we need the energy to live every day, we need the strength of God in our daily spiritual and physical battles. Call on him each morning for strength to go through the day. There are unexpected things that will happen every day. The strength of God will carry through all adversity that lurks in the darkness waiting for you. Even Christ prayed for strength when he was troubled. God is always there for us when we need him, talk to him.
The Lord is my light and my salvation—whom shall I fear? The Lord is the stronghold of my life—of whom shall I be afraid?

Psalm 27:1.
God is our refuge and strength, an ever-present help in trouble. Therefore we will not fear, though the earth gives way and the mountains fall into the heart of the sea, though its waters roar and foam and the mountains quake with their surging.

Psalm 46:1-3.