One of the best things you can do for your family is to pray for them. Usually, we ask God to help someone in our family when we know what they are going through.
But it is important that we say a prayer for our family each and everyday. You don't have to wait for their time in need to pray for them. Sometimes, someone in the family might be fighting a battle you do not know of.
But if you say a word of prayer for your family everyday, that will help build their faith in the Lord and help them through whatever they are going through.
This is the more reason why it is important for the whole family to come together at least once every week to have a family devotion. This will help unite you as a family whiles bringing you closer to God.
How to pray for your family
1. Give thanks
It is important that you start each and every prayer with thanksgiving. So thank God for your family and the life of everyone.
2. Pray that they seek God
Seek the Lord and His strength;
Seek His presence continually!

1 Chronicles 16:11
Although you are all one family, each one of you as an individual has their own belief. So pray that God helps each one of them to realize that He is the Almighty and they need Him. Pray that they submit themselves to God and put their trust in Him. Pray that they find salvation in the Lord.
3. Pray for each member of your family
Pray for your husband, your wife, your children, your mother, your father and also your extended family. Pray that they dedicate their lives to serving the Lord.
Pray for strength and guidance for everything they do. Pray that they find courage to overcome their fears and their struggles.
Pray that God's purpose for them be manifested in their lives.
4. For unity, love and understanding
I appeal to you, brothers and sisters, by the name of our Lord Jesus Christ, that all of you agree, and that there be no divisions among you, but that you be united in the same mind and the same judgment.

1 Corinthians 1:10
Every family has its own issues and as family is made up of different people with different desires and different point of views, it is easy for misunderstandings and fights to occur.
So pray for love and understanding for your family. Pray that you live in unity and harmony no matter what. Pray that you learn to tolerate and forgive each other easily.
5. Good health and long life
Pray that God blesses your family with good health and long life. It can be very heartbreaking if someone close to you falls sick. So pray that God delivers all of you from any form of sickness or infections.
If there is a member of your family who is presently sick, pray for them too. That they may be healed in Jesus' name.
6. Make good friends
Whoever walks with the wise becomes wise,
but the companion of fools will suffer harm.

Proverbs 13:20
Friends are a big part of our lives as they influence our behaviors and our decisions. So pray that you all make the right friends. Friends that will bring you closer to God and help you lead a righteous life.
Pray that God delivers each and every one of you from bad friends that might corrupt you.
8 Prayers for your family
Below are 8 powerful prayers you can pray for your family.
Be the center of our home
Father God,
Thank you for the life of my family.
I pray that You Oh, Lord will be the center of this home.
Forgive us our sins and help us to extend that forgiveness to each other.
Guide and protect us, Lord. Root us in your word.
Let our actions be ones that bring honor onto your Holy name.
In Jesus' name, I pray.
Amen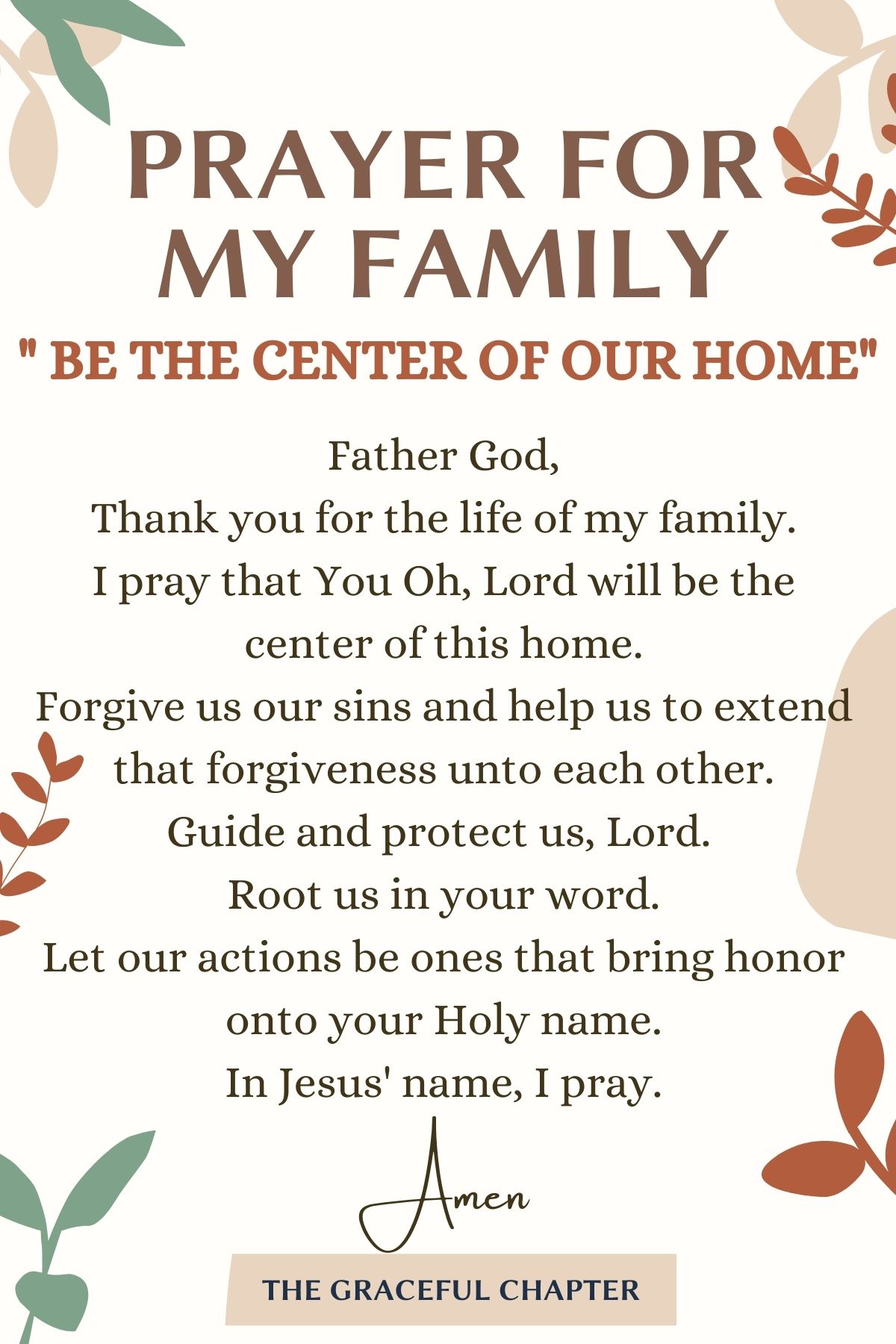 Be our strength
Dear God,
I come before You today with my family.
Be our strength and our guide.
Help us to overcome any bad situation that may come our way.
You are our safe place God, help us to trust in You.
Preserve us and deliver us from our sins.
Thank You for all that You do for us through Jesus Christ we pray.
Amen

Help us seek more of You
Father,
Thank You for giving me a family of my own.
Help my family to realize that they need You.
Let them seek more of You each passing day.
Guard their hearts and help them make choices that will bring honor onto your name and this family.
Keep them safe under your shelter.
In Jesus name,
Amen.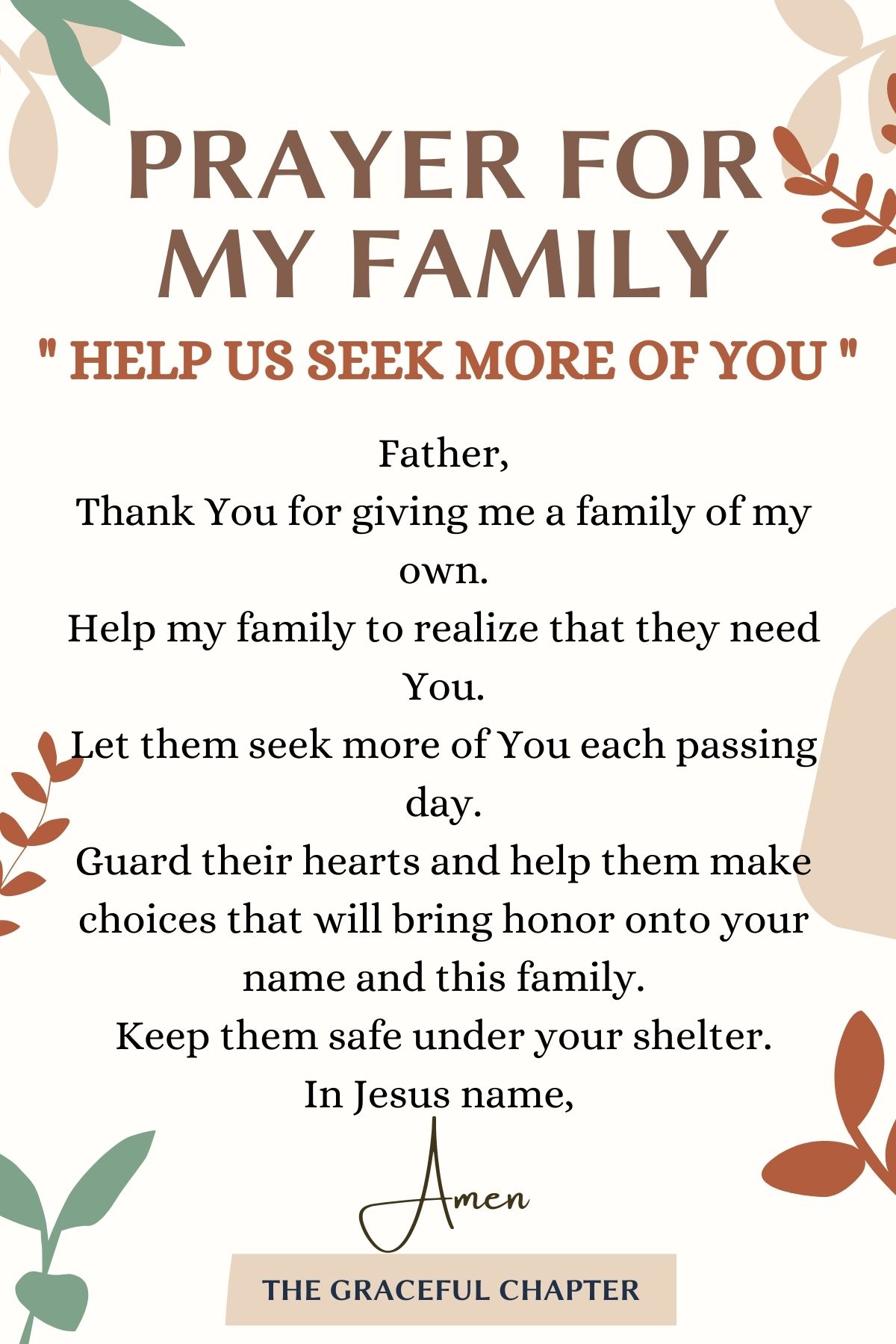 For the head of our home
Dear God,
Thank You for the life of my husband.
Help him to open his heart to You and put his trust in You.
Establish him as the head of our home.
Give him the strength and courage to
overcome any difficulties that may come his way.
Direct his mind and help him lead this family
in a way that will glorify your Holy name.
Amen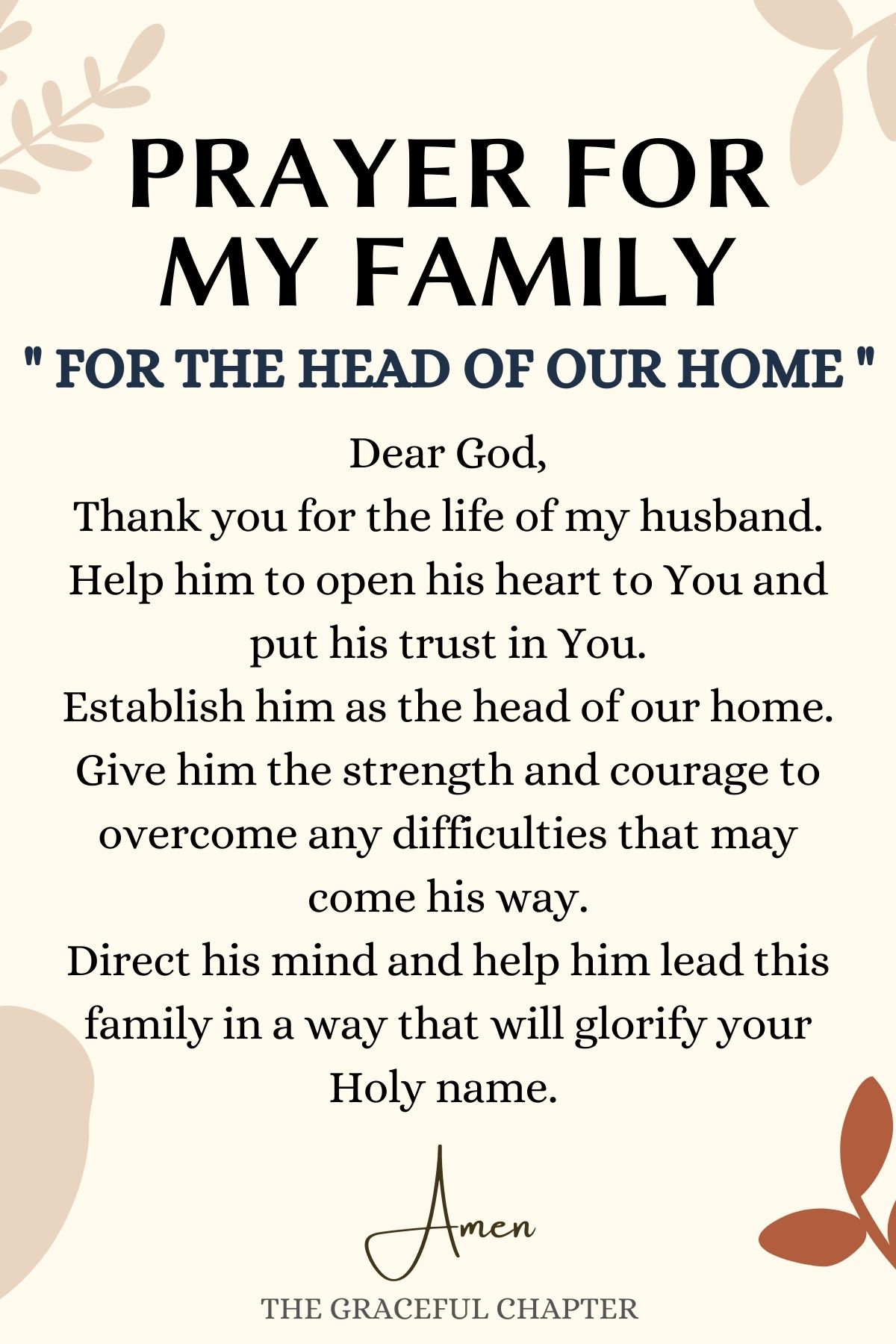 Related Posts
For our children
Father Lord,
Thank You for the gift of motherhood.
Give me the wisdom to be able to bring up these children in the admonition of your name.
May your plans for them come through for them.
Help each one of them find their purpose and be their guide.
Help them live in peace and harmony as a family all the days of their lives.
In Jesus' name, I pray.
Amen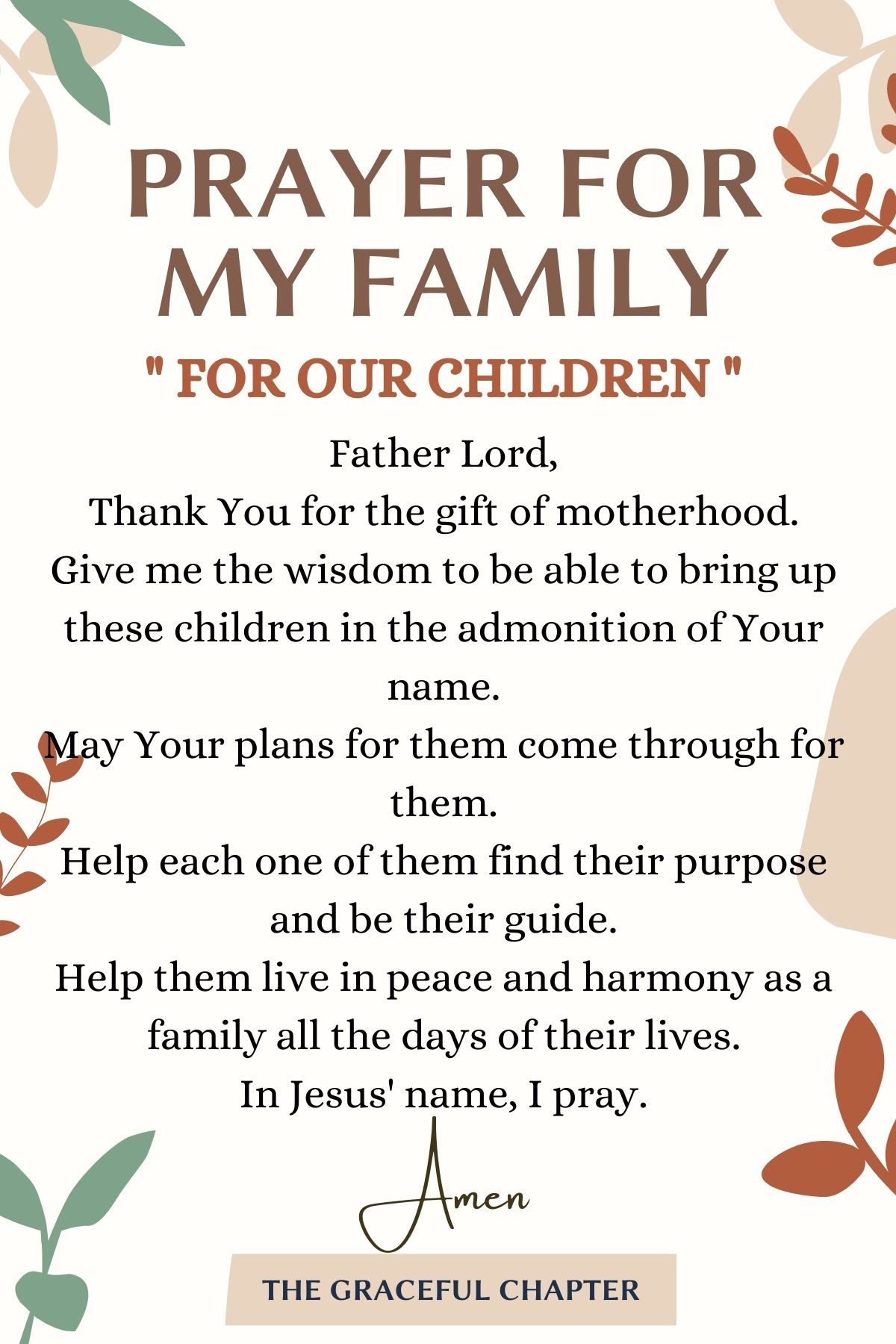 Help us be unified
Dear God,
I come before You with my family today.
Be our guide in whatever we do.
Help us to live in unity.
I pray that each one of us will grow in understanding.
Help us to love and accept each other as we are,
with all our strengths and our shortcomings.
I pray that no ploy from the wicked to divide us will prosper.
Keep us unified in Jesus name I pray.
Amen
Guard our minds and our hearts
Father,
Thank You for my family.
Thank You for the blessings and all that You do for us.
Guard our minds and our hearts,
Help us to make the right choices when it comes to
friends and people we associate with.
Help us to connect with like-minded people
that will bring us closer to You.
In Jesus' name.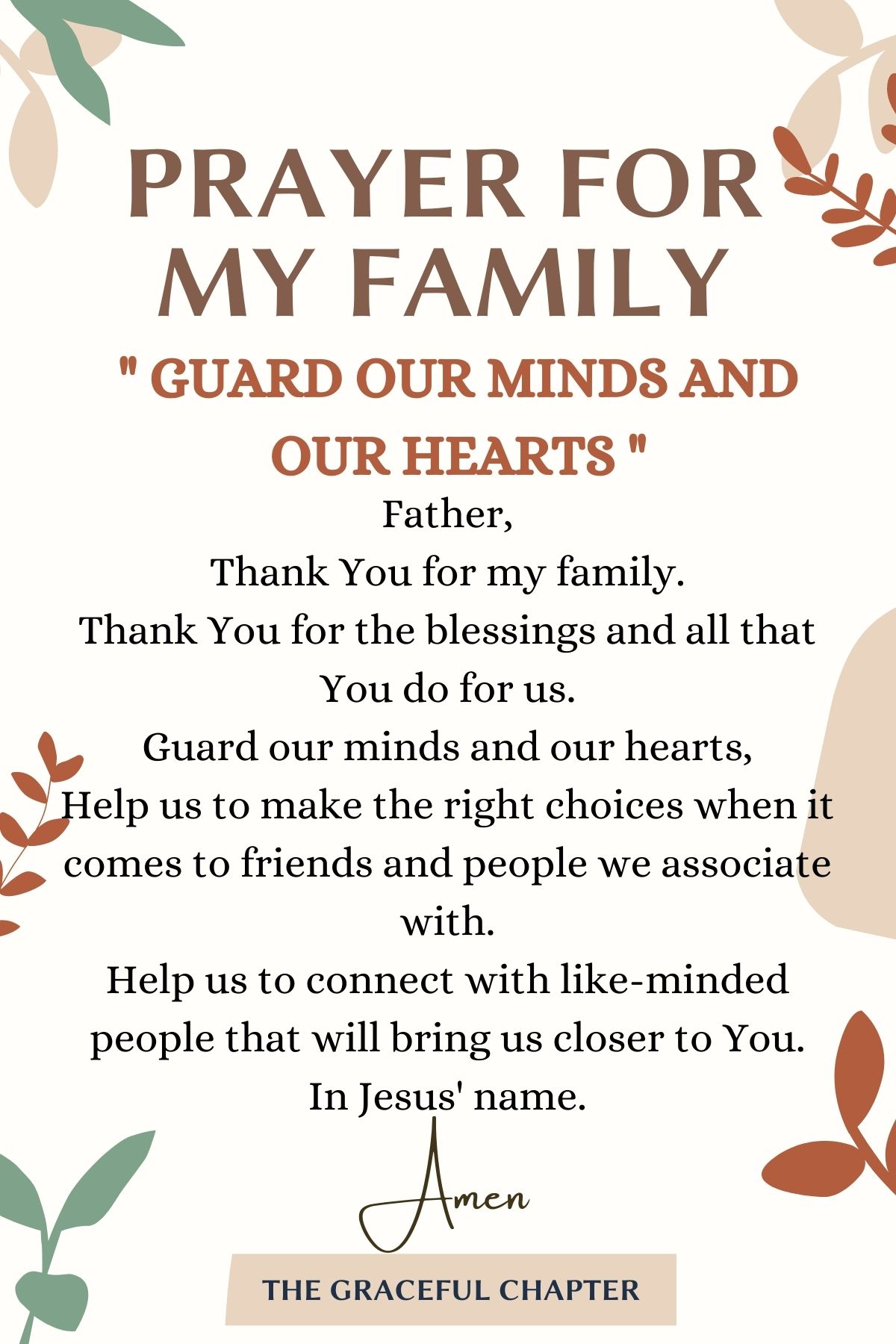 Help anyone fighting a silent battle
Father,
Thank you for my family.
I pray that you draw them closer to you and
they submit to you with all their hearts and all their minds.
Help them in all their doings.
Father, you are the only one who knows what each one of us is going through and what weighs on us.
I pray that You Oh Lord will give my family the strength to overcome whatever problems that will come their way.
Help anyone fighting a silent battle.
Let them find peace and comfort in You,
through Jesus Christ our Lord,
Amen.