Children are born into this world, helpless and innocent. Whatever a child will grow up to be is highly influenced by his or her environment and teachings from childhood. This is why it is important to expose your children to the right things and surround them with the right people.
Whatever you teach your children when they are young is going to be a part of them when they grow up. Yes, sometimes, children can be influenced by other outside forces like friends in school or even things on the internet. So it is important to bring up the child in the Lord.
Teach the child the word of God, and help them to establish a relationship with God. Teach them to pray and to use the bible as a life manual. By doing this, the Holy Spirit can take control of your child when you are not around to guide and protect them.
When your child has a relationship with God, you can be at peace when they are not close to you because you know that God is always with them and they are never alone.
Once a child is born, it is important to dedicate the child to God and seek his guidance and protection in raising the child. Below are some bible verses about child dedication you can use when dedicating your child to God. Even if you didn't dedicate your child as a baby, it is never too late to dedicate them now to God.
Bible verses about child dedication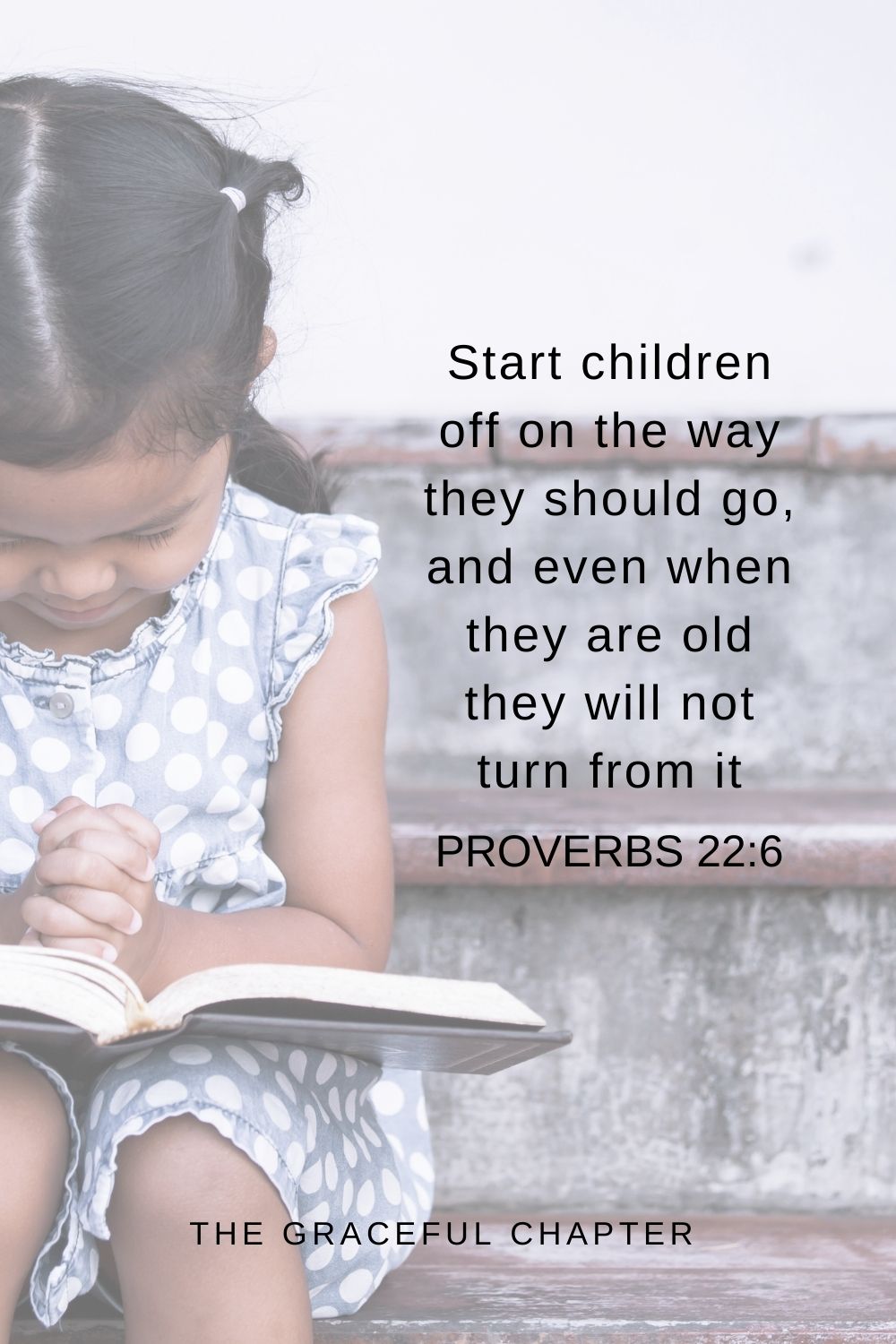 Start children off on the way they should go,
and even when they are old they will not turn from it.
Proverbs 22:6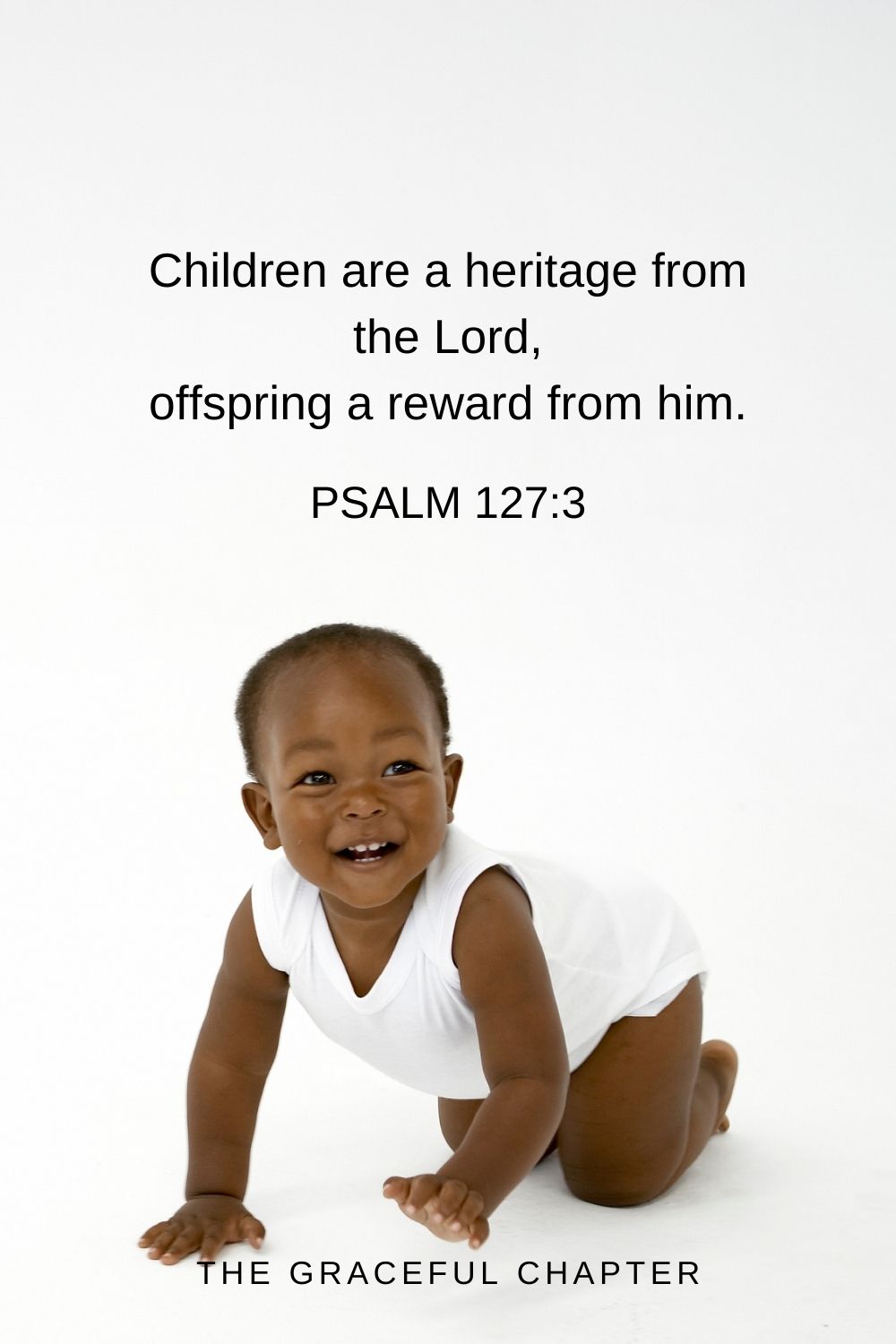 Children are a heritage from the Lord,
offspring a reward from him.
Psalm 127:3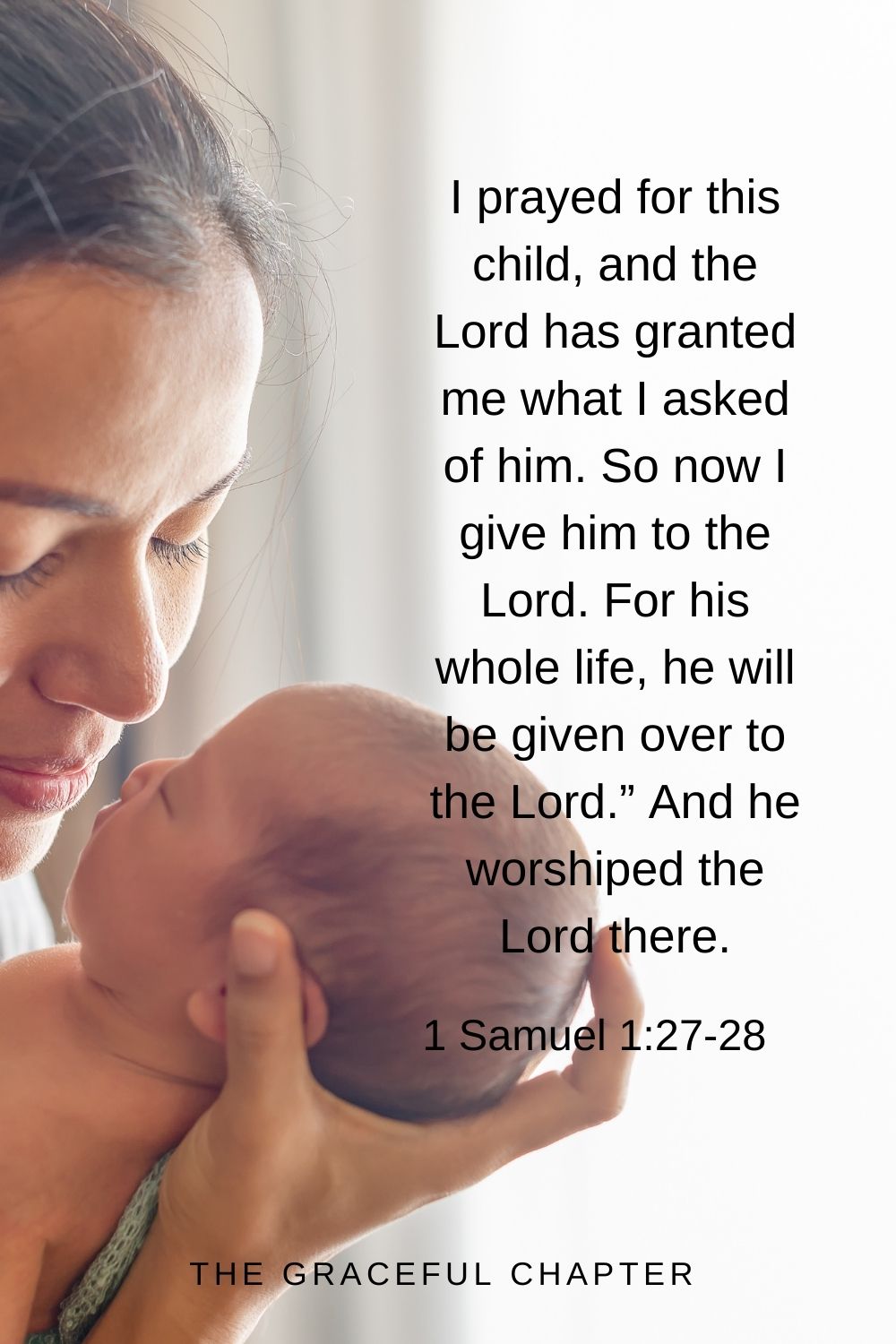 I prayed for this child, and the Lord has granted me what I asked of him. So now I give him to the Lord. For his whole life, he will be given over to the Lord." And he worshiped the Lord there.
1 Samuel 1:27-28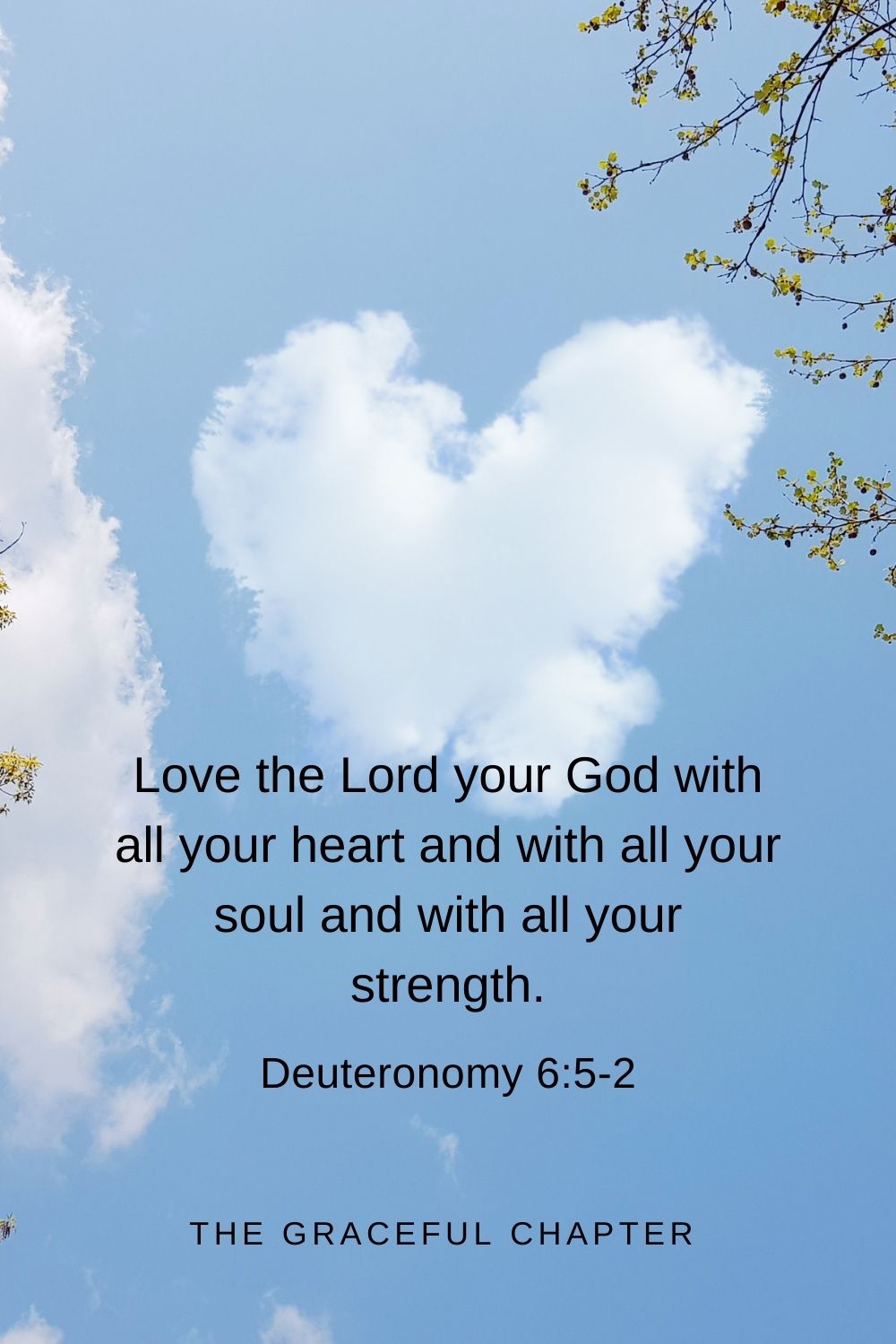 Love the Lord your God with all your heart and with all your soul and with all your strength.
Deuteronomy 6:5-2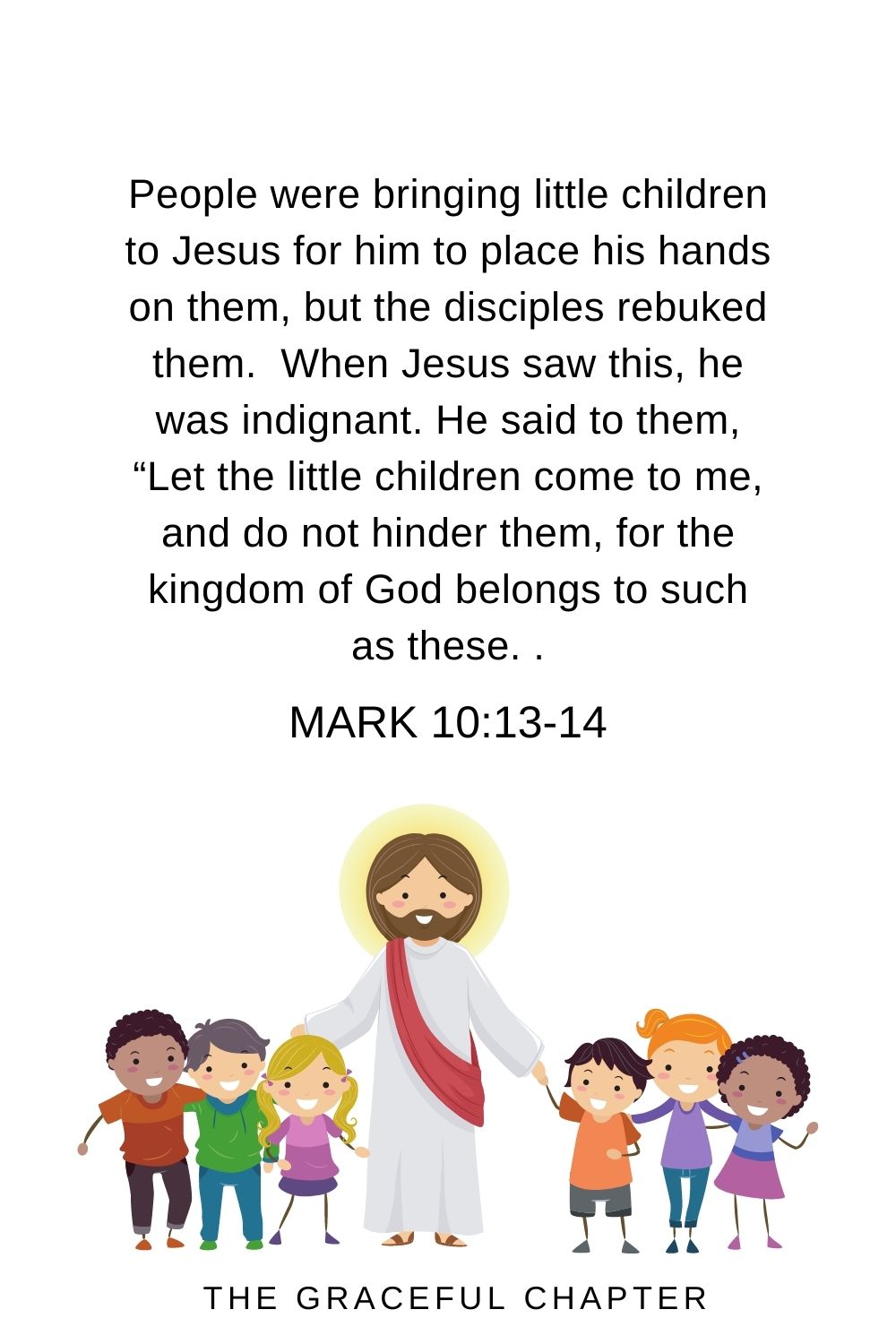 People were bringing little children to Jesus for him to place his hands on them, but the disciples rebuked them.  When Jesus saw this, he was indignant. He said to them, "Let the little children come to me, and do not hinder them, for the kingdom of God belongs to such as these.
Mark 10:13-14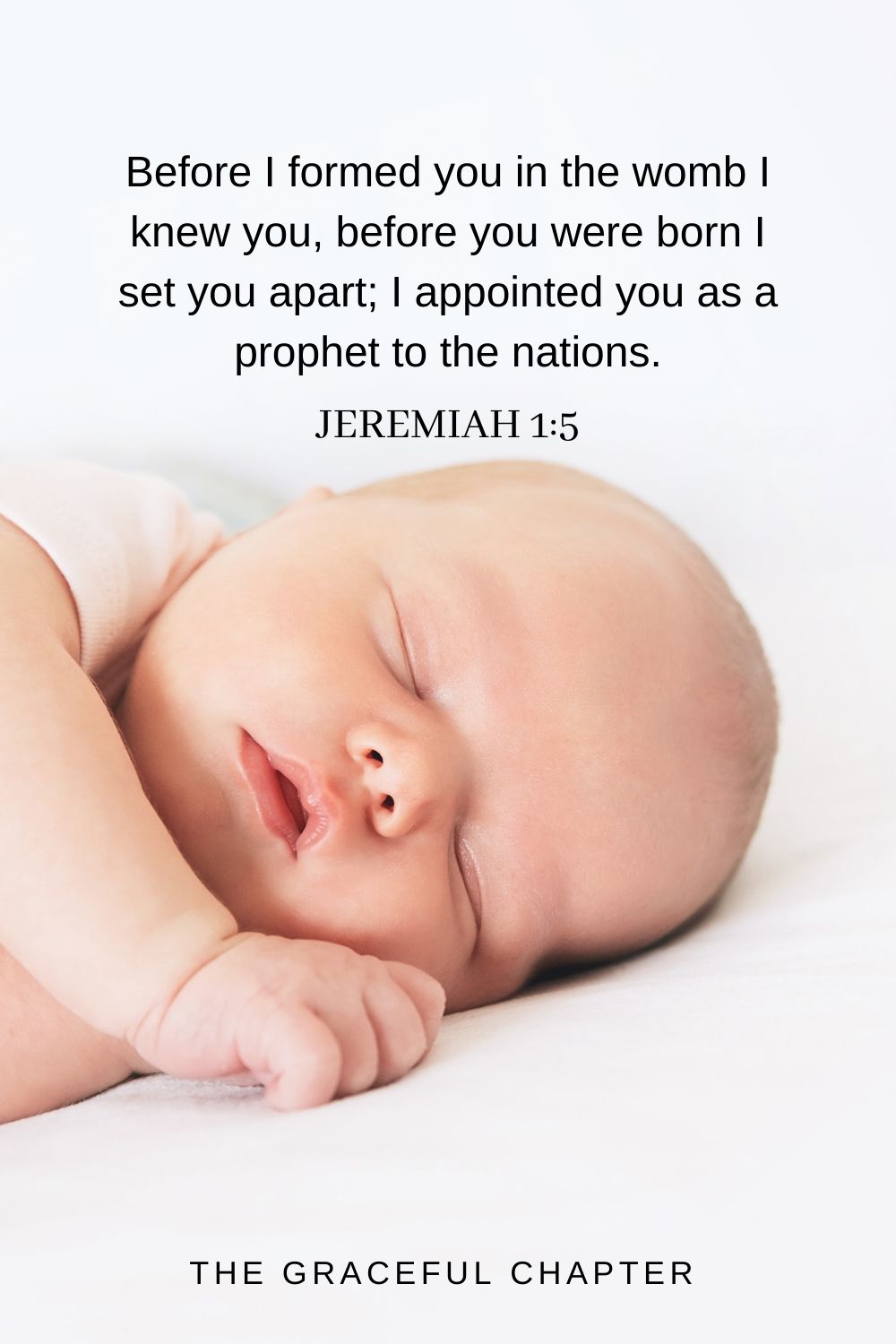 Before I formed you in the womb I knew you,
before you were born I set you apart;
I appointed you as a prophet to the nations.
Jeremiah 1:5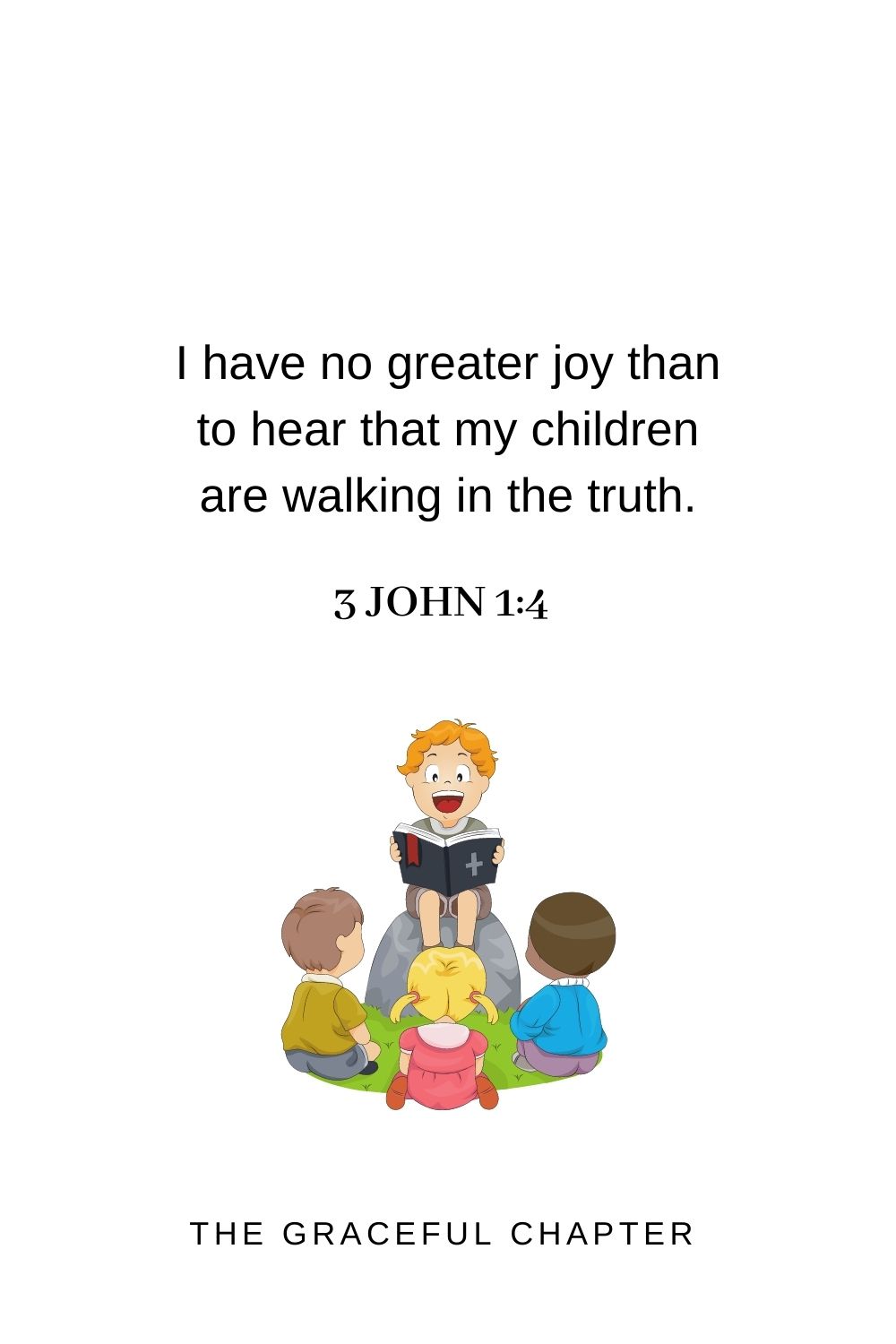 I have no greater joy than to hear that my children are walking in the truth.
3 John 1:4
For you created my inmost being; you knit me together in my mother's womb. 
Psalm 139:13
These commandments that I give you today are to be on your hearts. Impress them on your children. Talk about them when you sit at home and when you walk along the road, when you lie down and when you get up.
Deuteronomy 6:6-7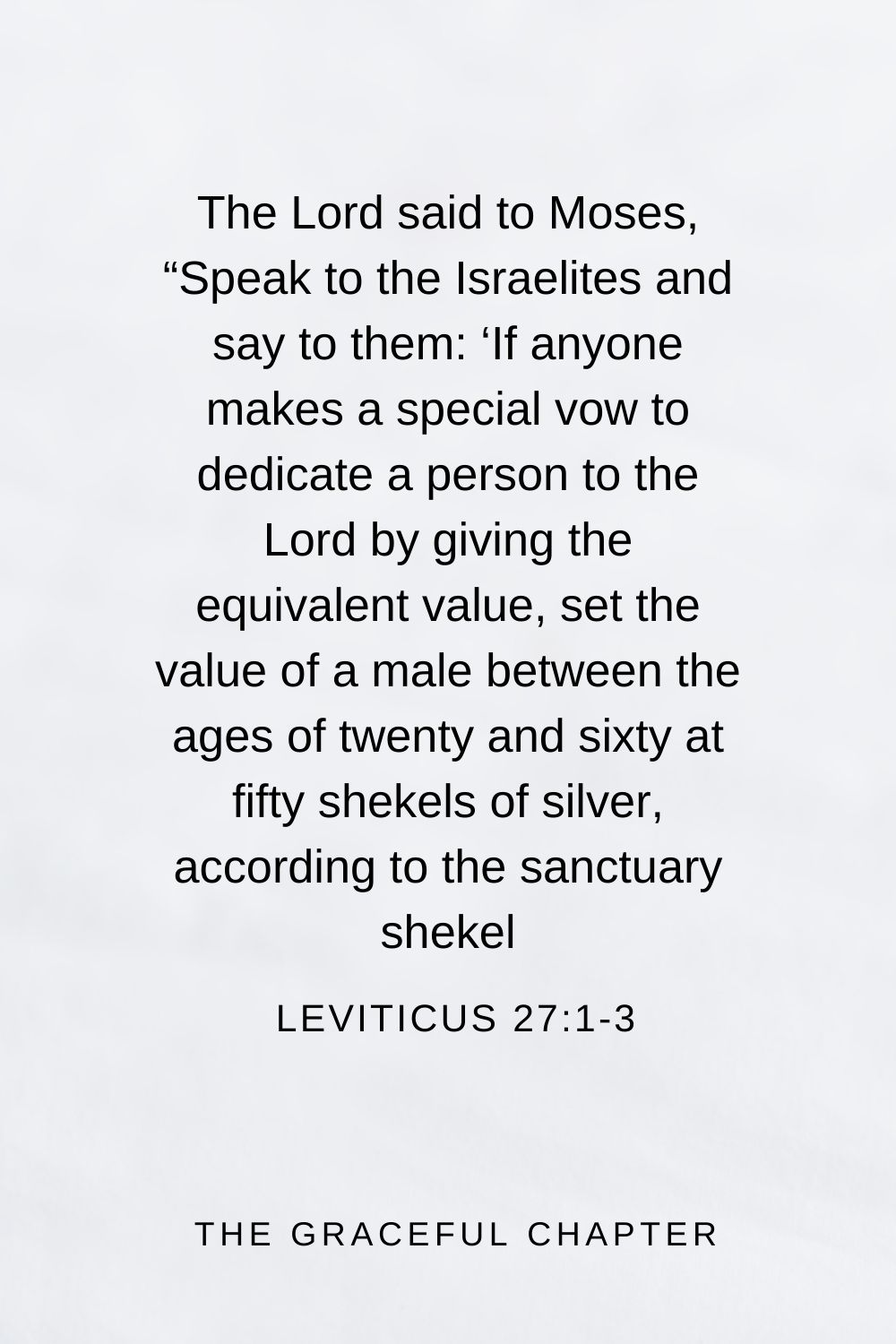 The Lord said to Moses, "Speak to the Israelites and say to them: 'If anyone makes a special vow to dedicate a person to the Lord by giving the equivalent value, set the value of a male between the ages of twenty and sixty at fifty shekels of silver, according to the sanctuary shekel
Leviticus 27:1-3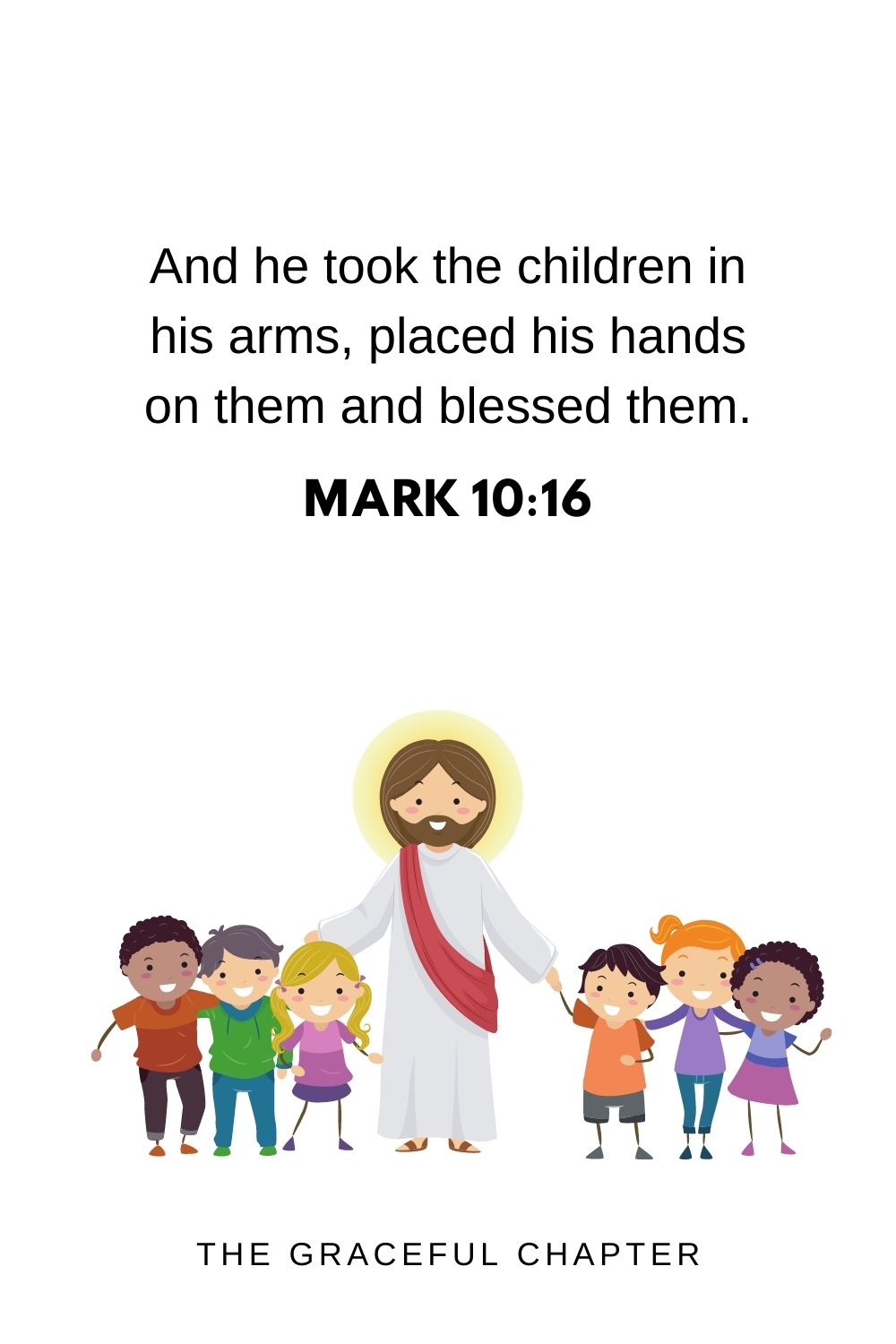 And he took the children in his arms, placed his hands on them and blessed them.
Mark 10:16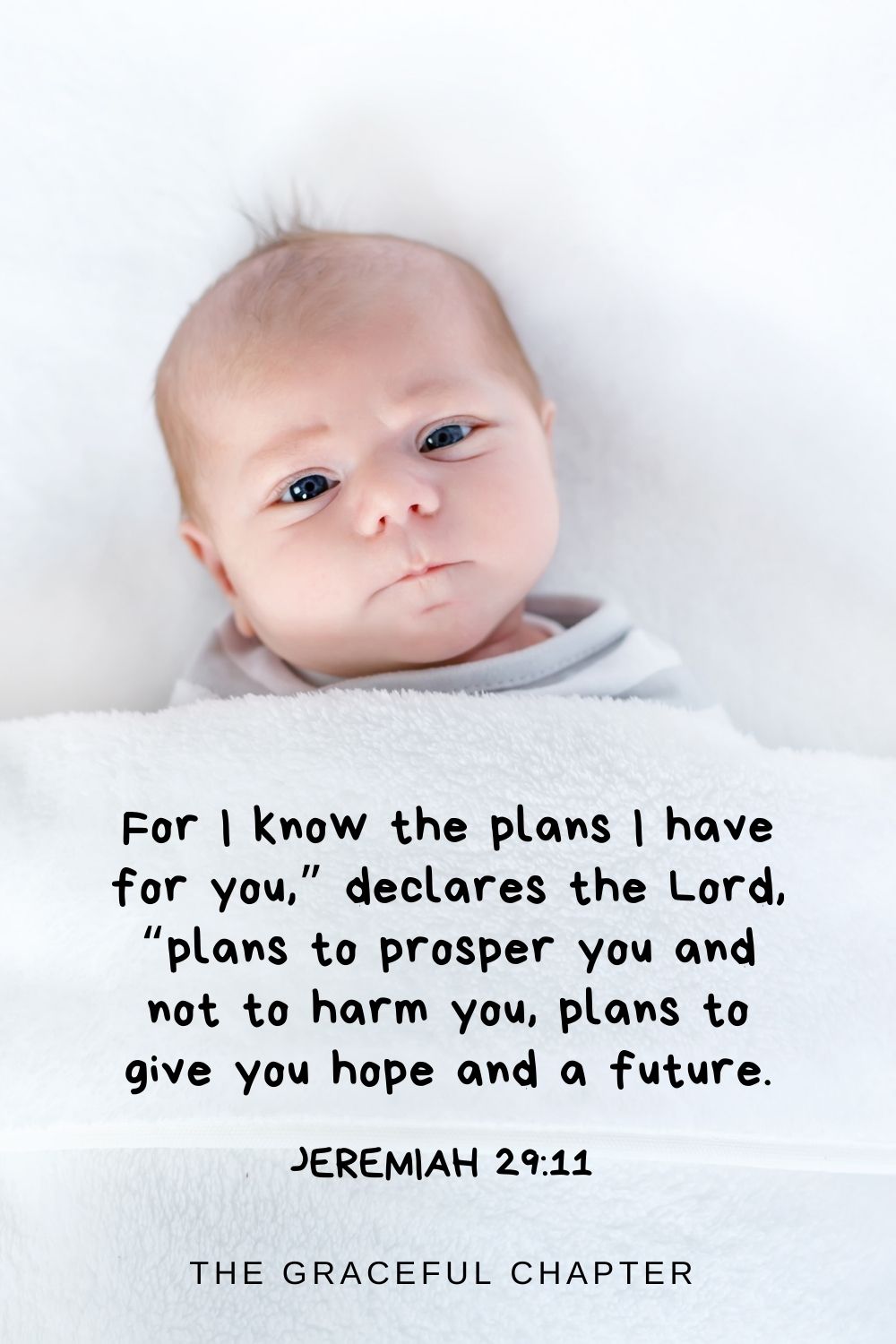 For I know the plans I have for you," declares the Lord, "plans to prosper you and not to harm you, plans to give you hope and a future.
Jeremiah 29:11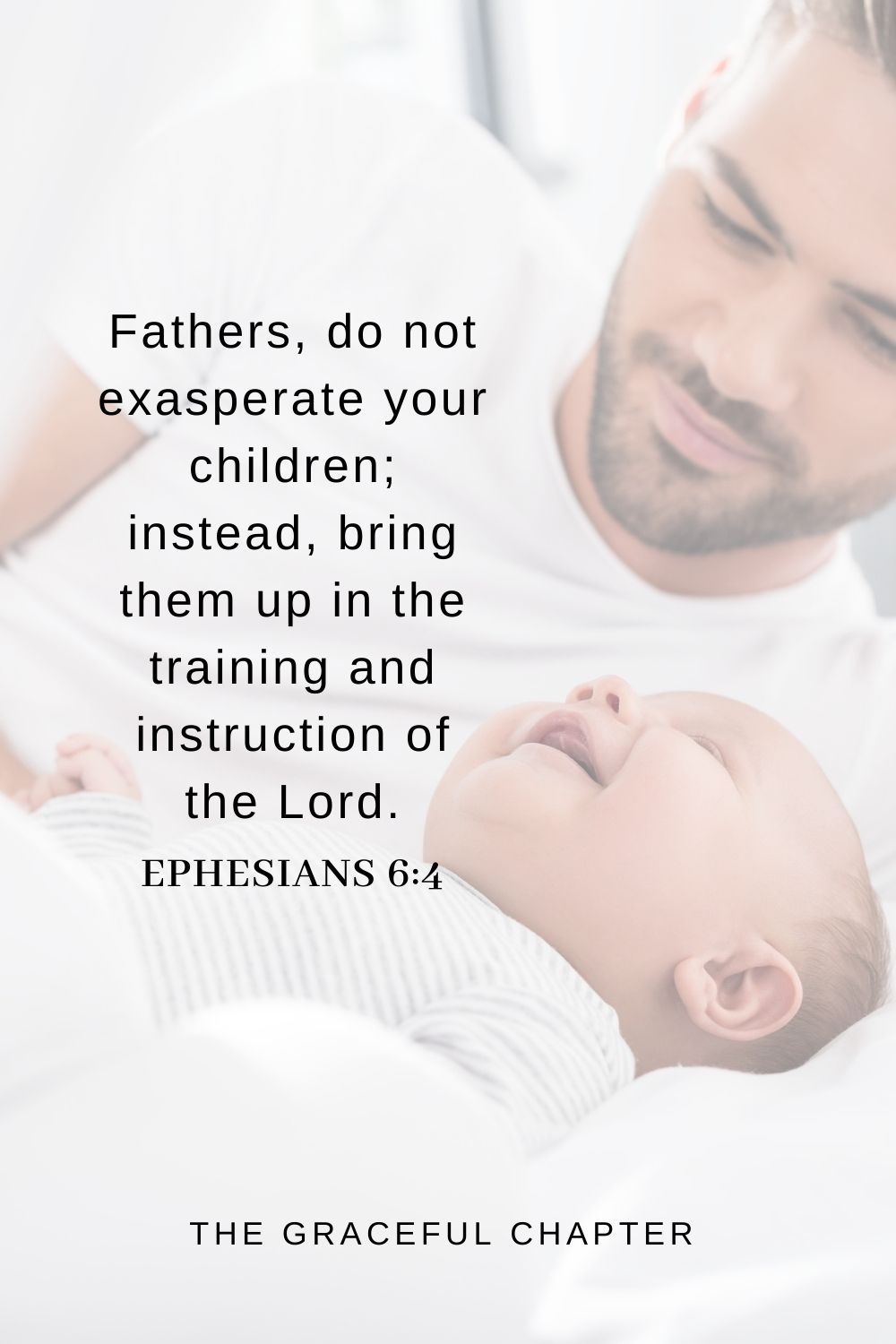 Fathers, do not exasperate your children; instead, bring them up in the training and instruction of the Lord.
Ephesians 6:4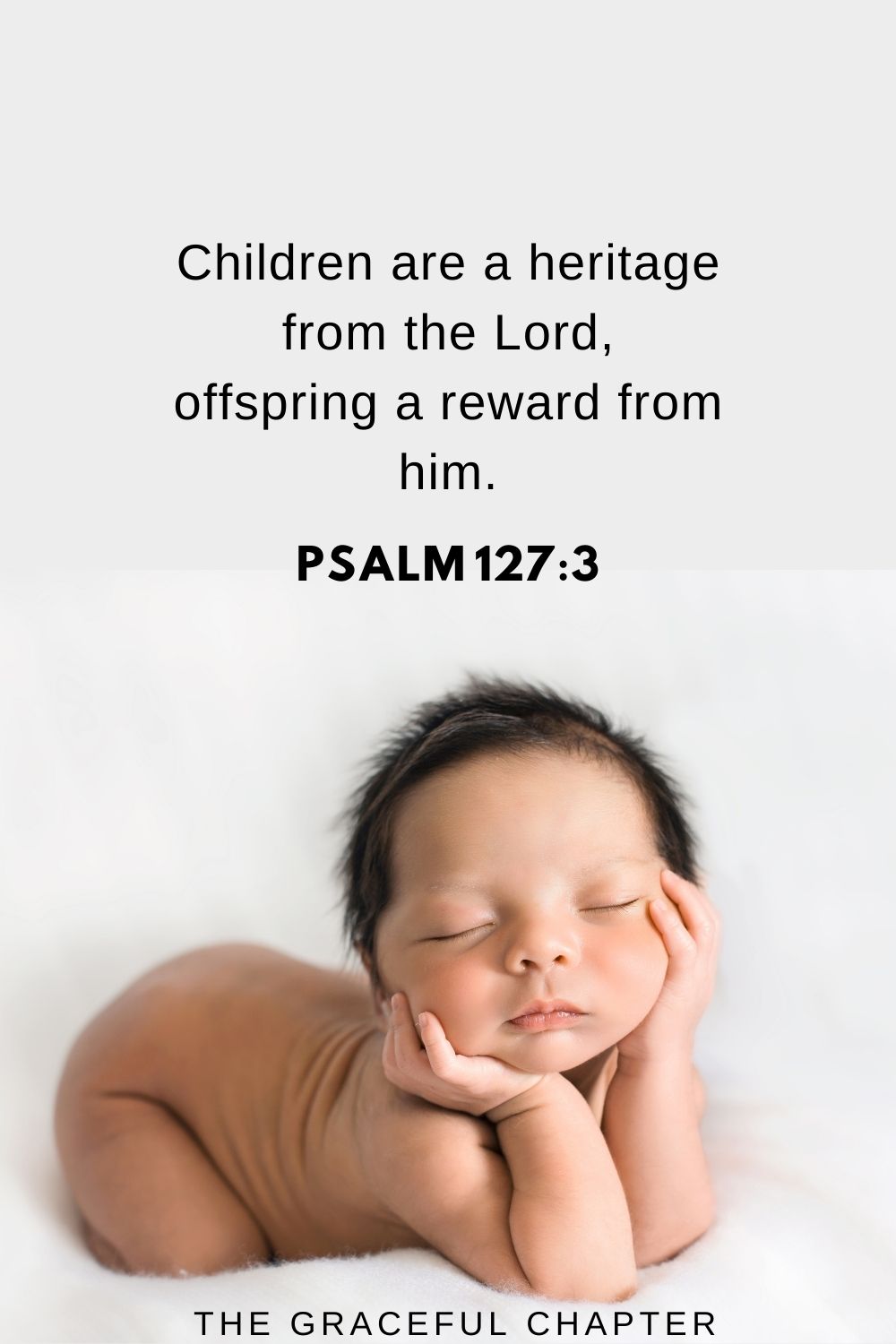 Children are a heritage from the Lord, offspring a reward from him.
Psalm 127:3
Related Posts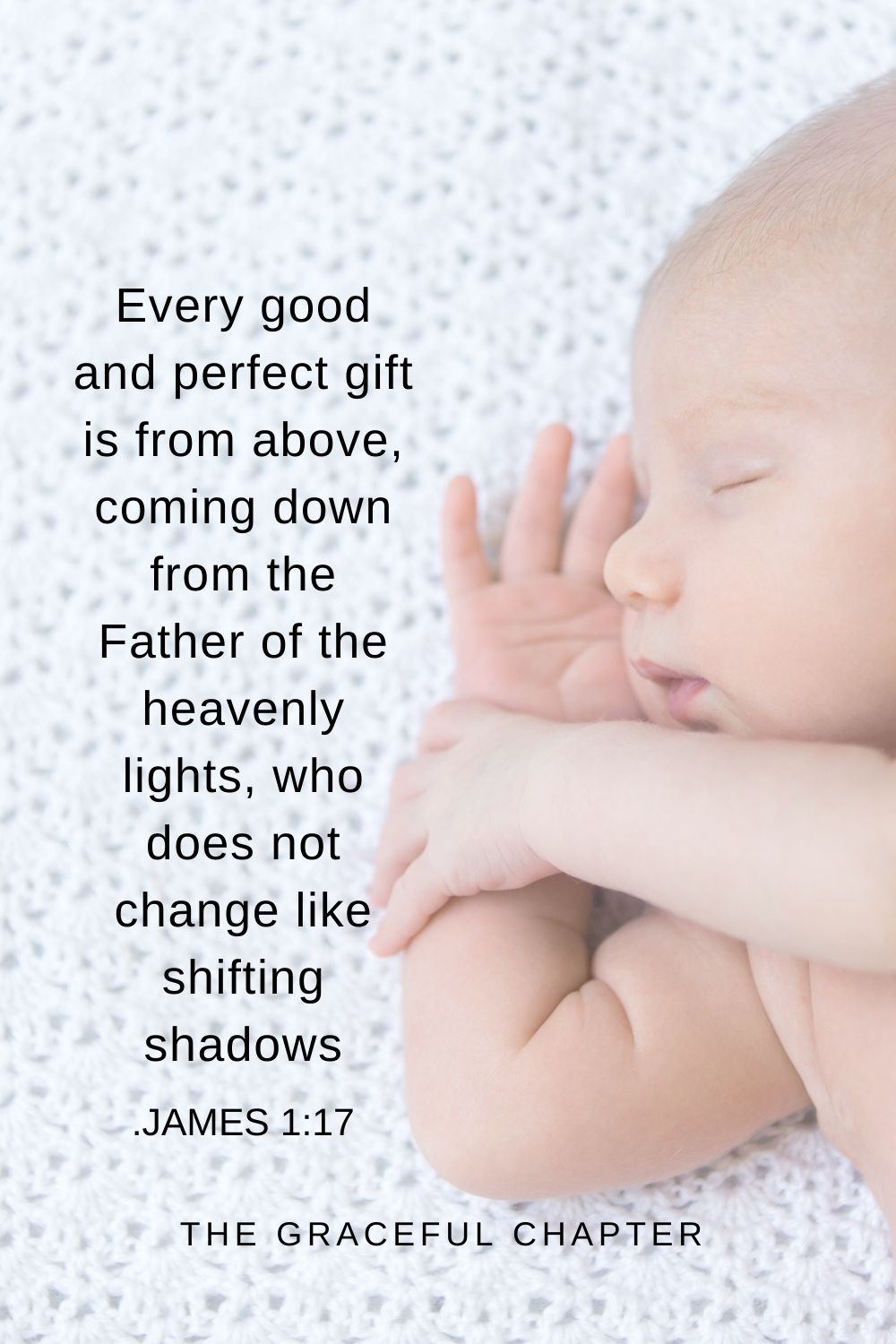 Every good and perfect gift is from above, coming down from the Father of the heavenly lights, who does not change like shifting shadows
.James 1:17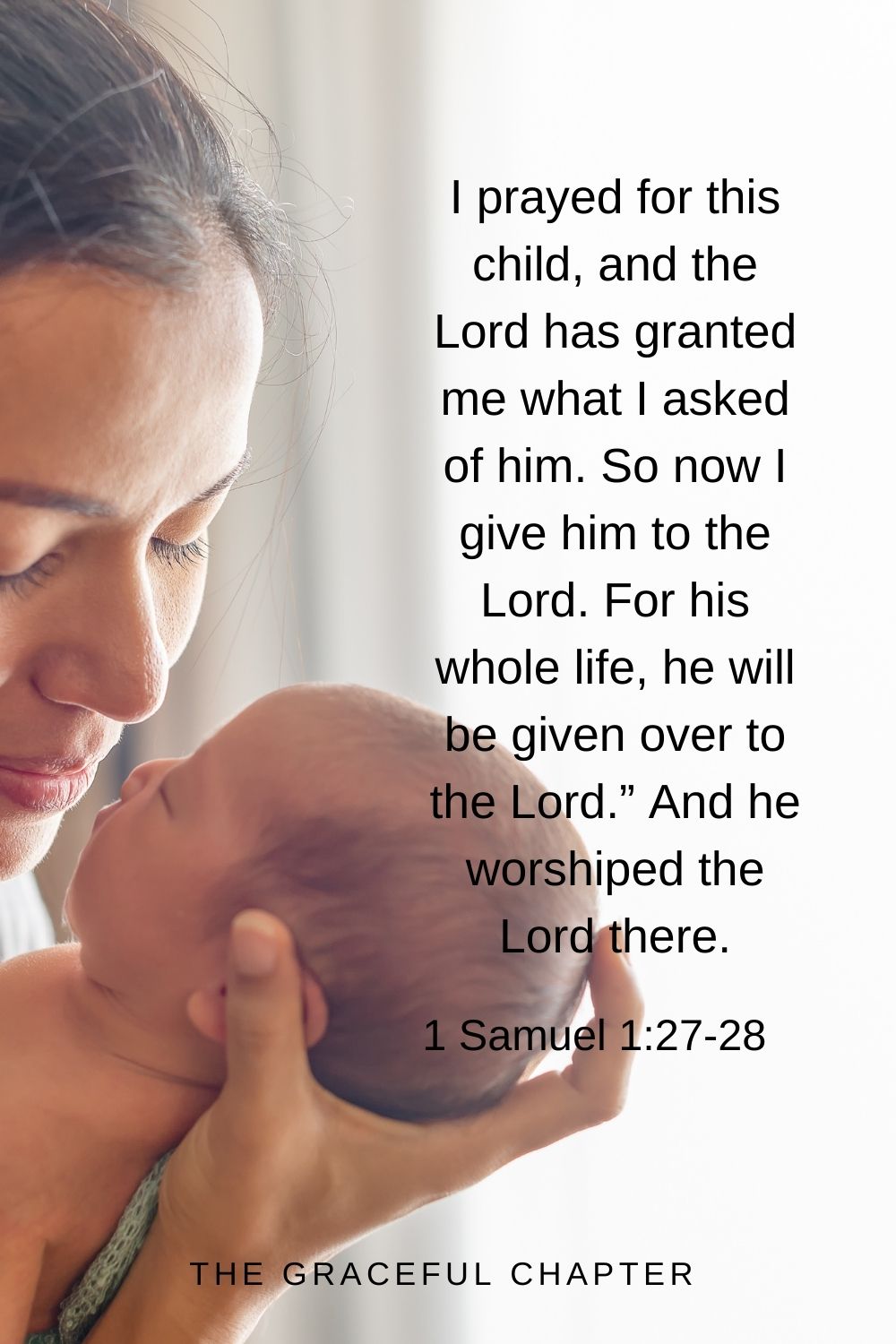 I prayed for this child, and the Lord has granted me what I asked of him.  So now I give him to the Lord. For his whole life, he will be given over to the Lord." And he worshiped the Lord there.
1 Samuel 1:27-28
Consecrate to me every firstborn male. The first offspring of every womb among the Israelites belongs to me, whether human or animal.
Exodus 13:2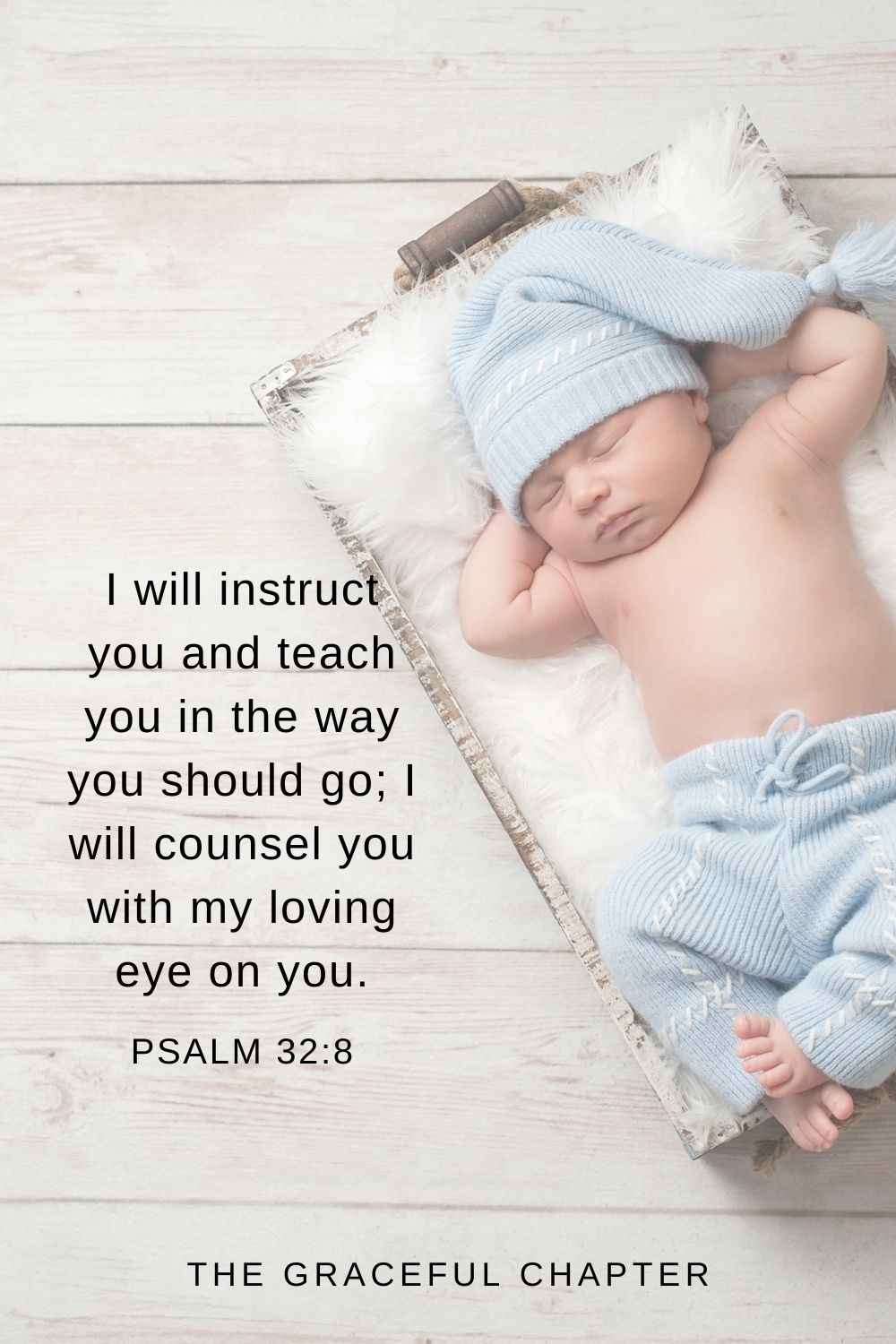 I will instruct you and teach you in the way you should go; I will counsel you with my loving eye on you.
Psalm 32:8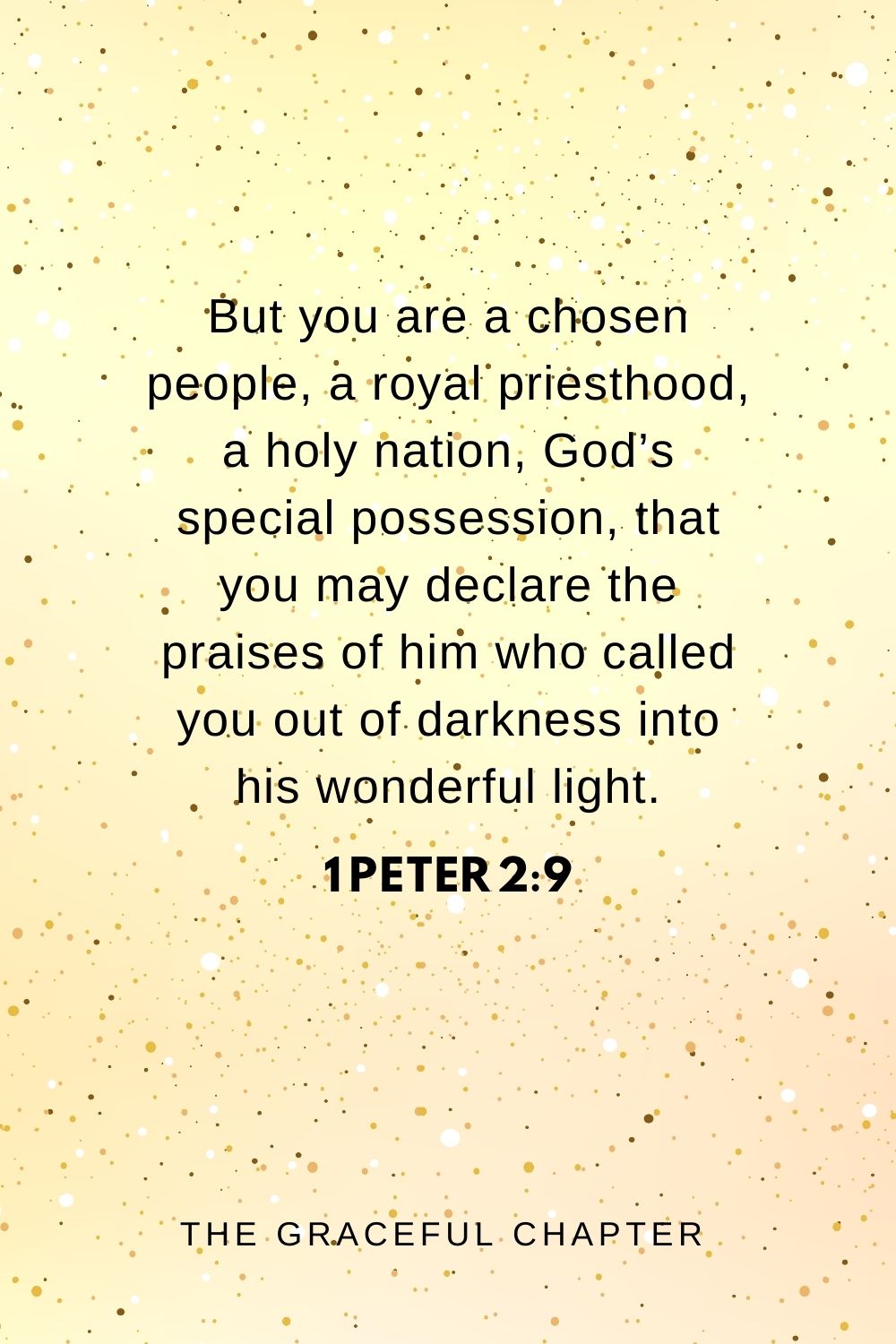 But you are a chosen people, a royal priesthood, a holy nation, God's special possession, that you may declare the praises of him who called you out of darkness into his wonderful light.
1 Peter 2:9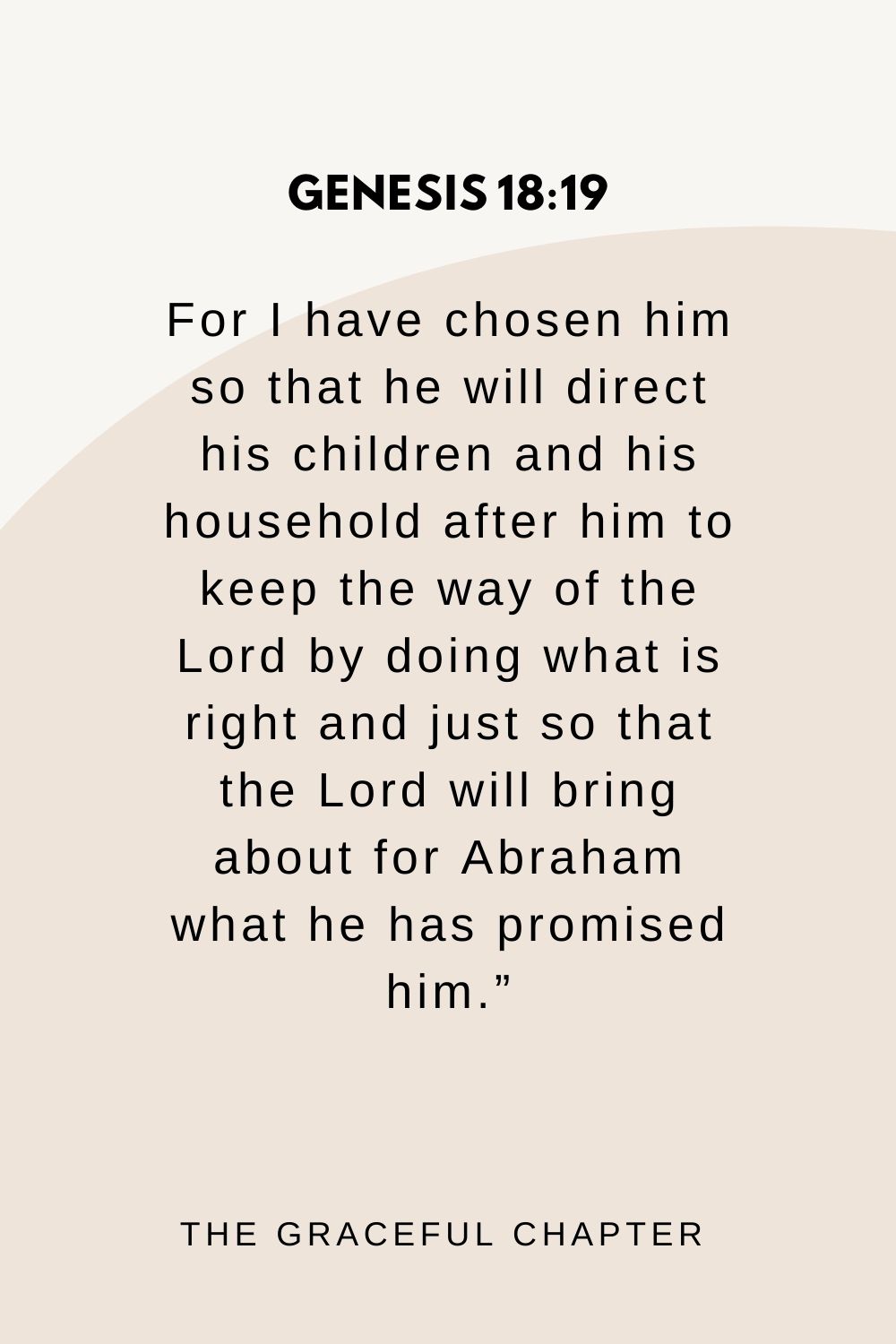 For I have chosen him so that he will direct his children and his household after him to keep the way of the Lord by doing what is right and just so that the Lord will bring about for Abraham what he has promised him."
Genesis 18:19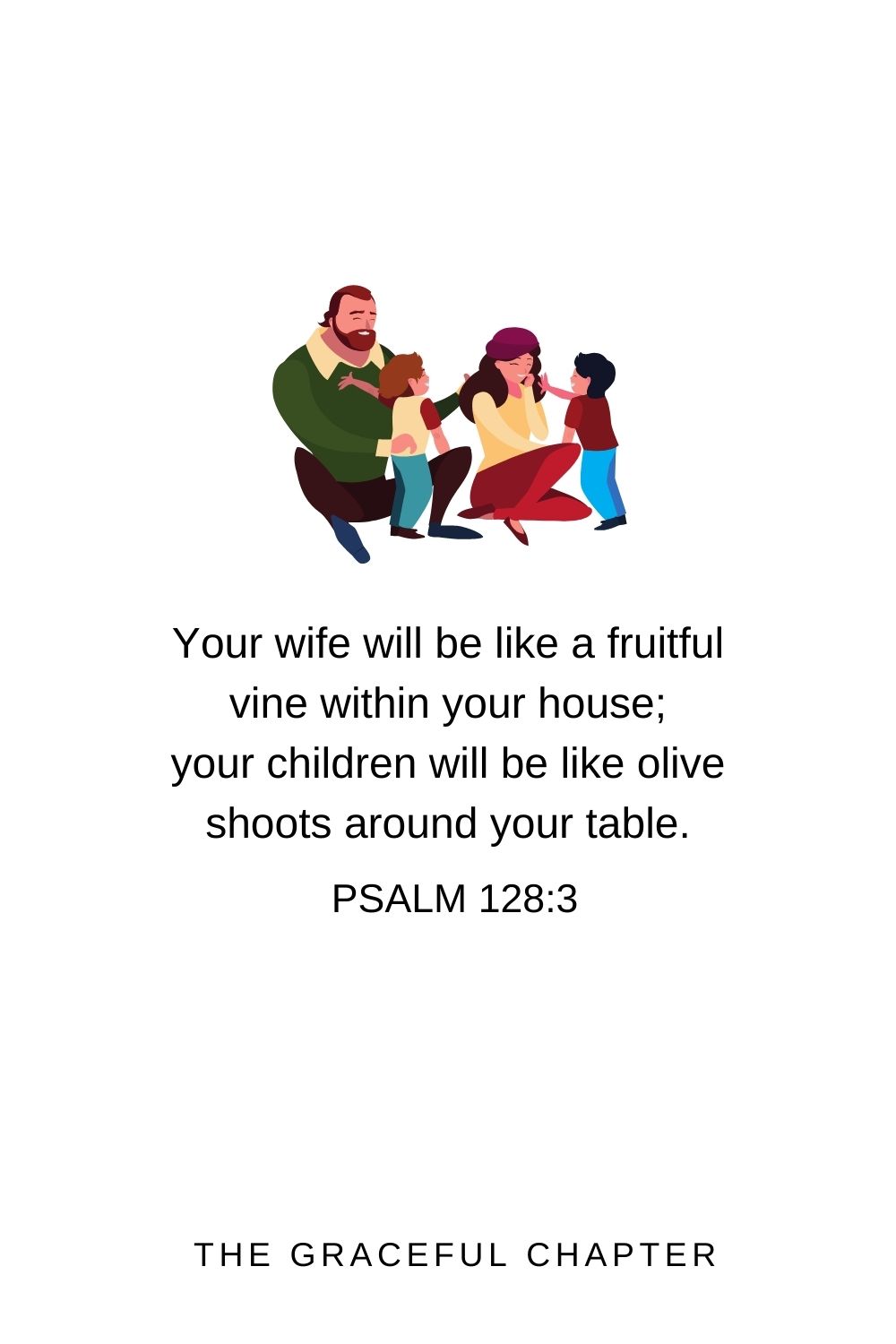 Your wife will be like a fruitful vine within your house;
your children will be like olive shoots around your table.
Psalm 128:3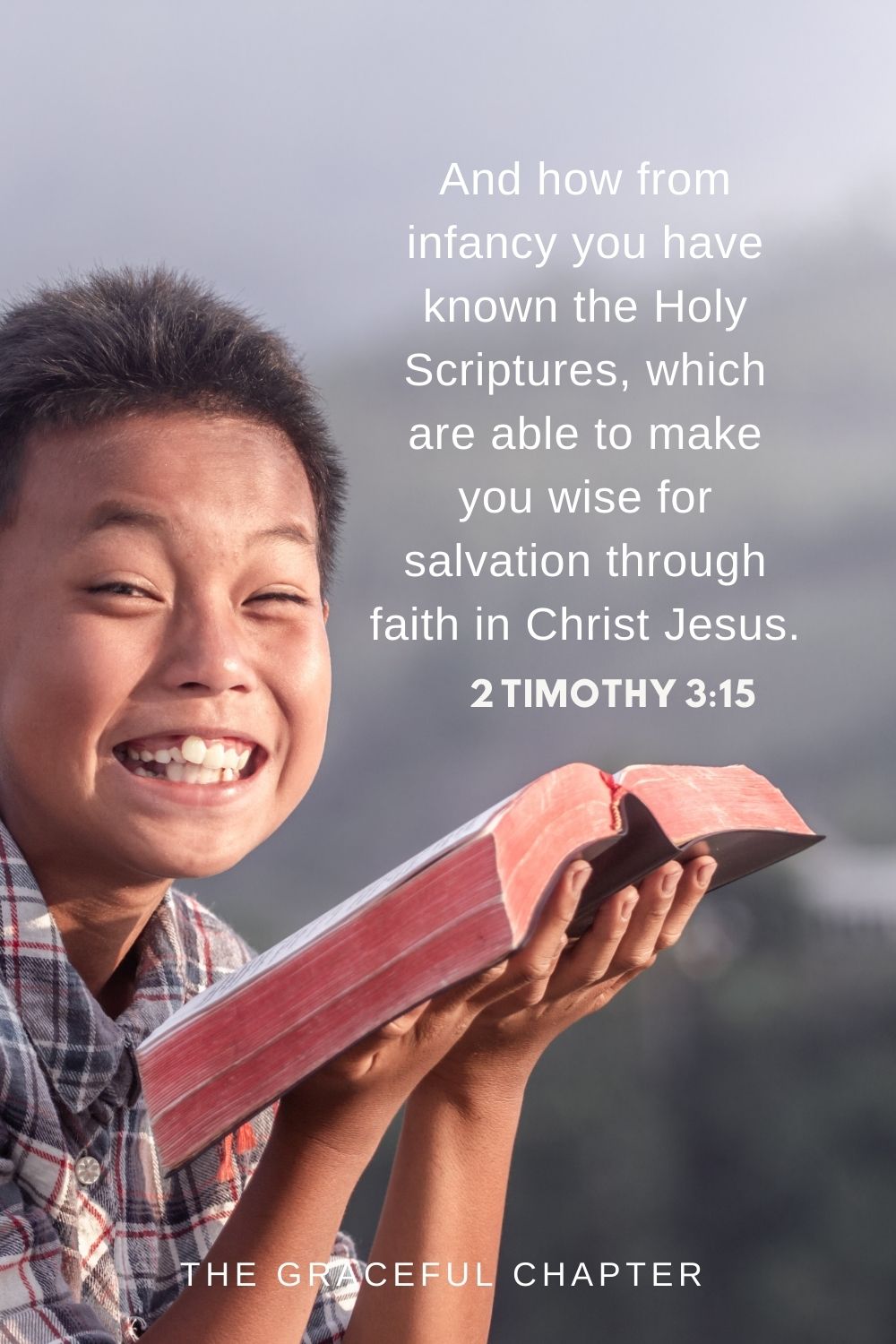 And how from infancy you have known the Holy Scriptures, which are able to make you wise for salvation through faith in Christ Jesus.
2 Timothy 3:15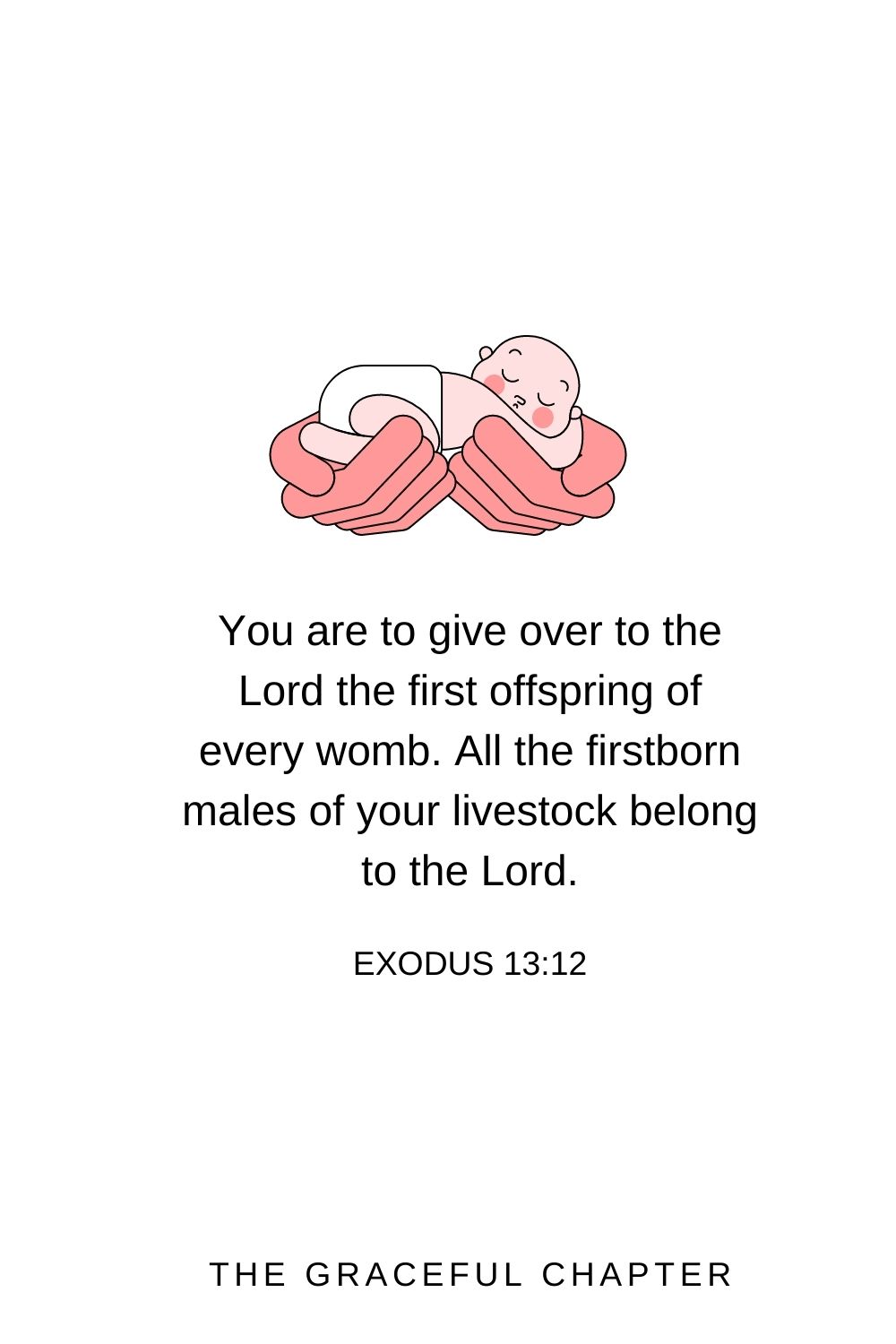 You are to give over to the Lord the first offspring of every womb. All the firstborn males of your livestock belong to the Lord.
Exodus 13:12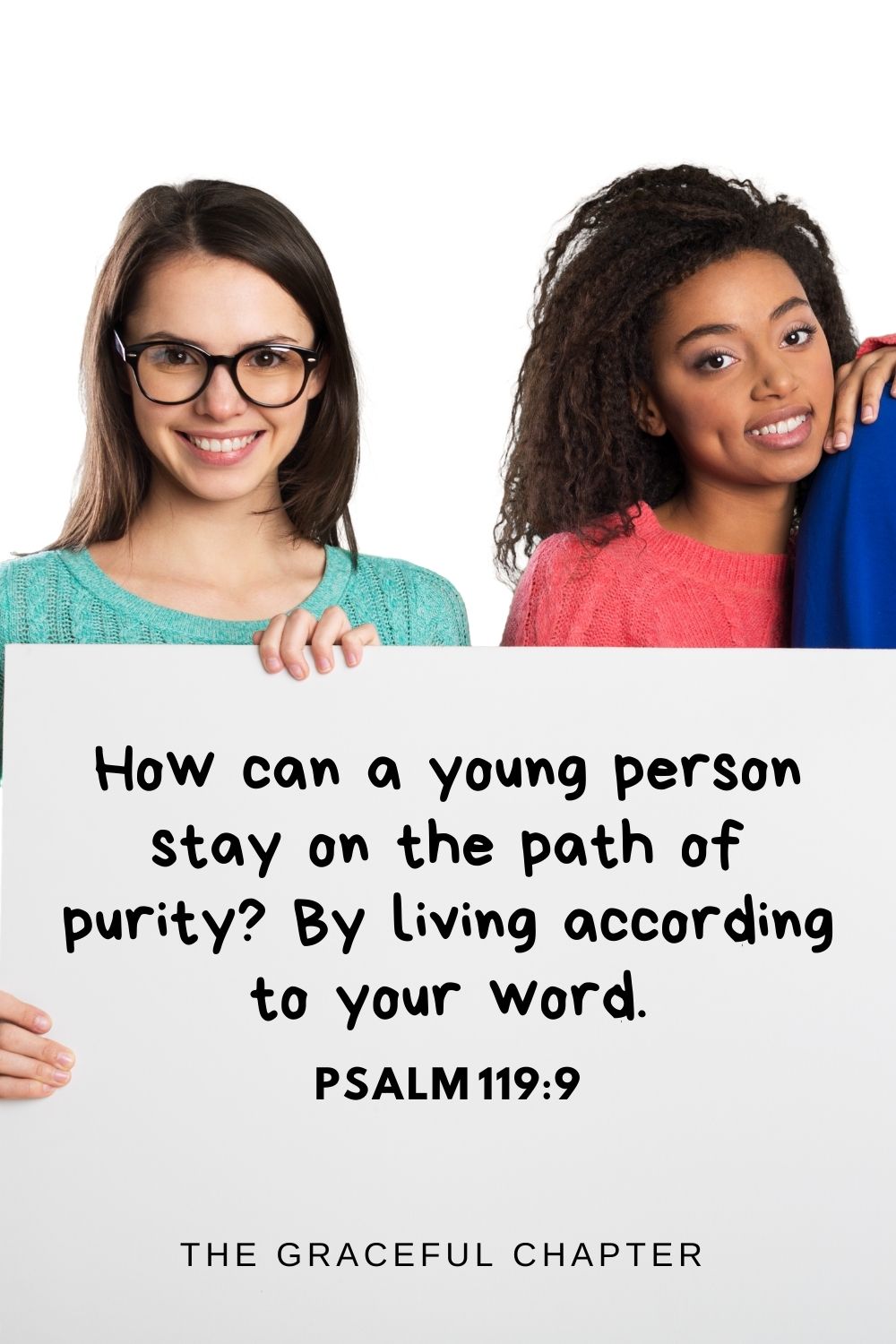 How can a young person stay on the path of purity? By living according to your word.
Psalm 119:9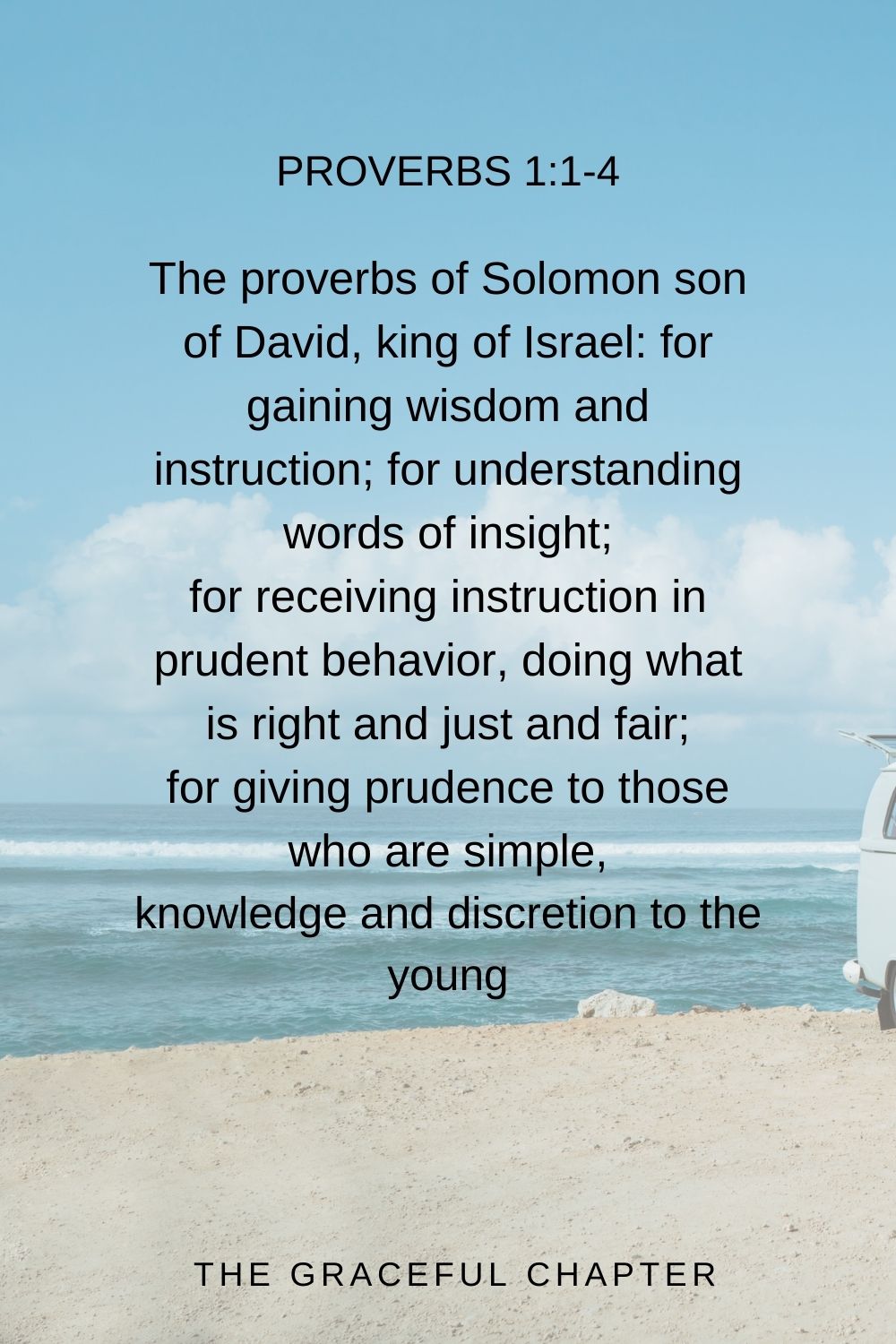 The proverbs of Solomon son of David, king of Israel: for gaining wisdom and instruction; for understanding words of insight; for receiving instruction in prudent behavior, doing what is right and just and fair;
for giving prudence to those who are simple,
knowledge and discretion to the young
Proverbs 1:1-4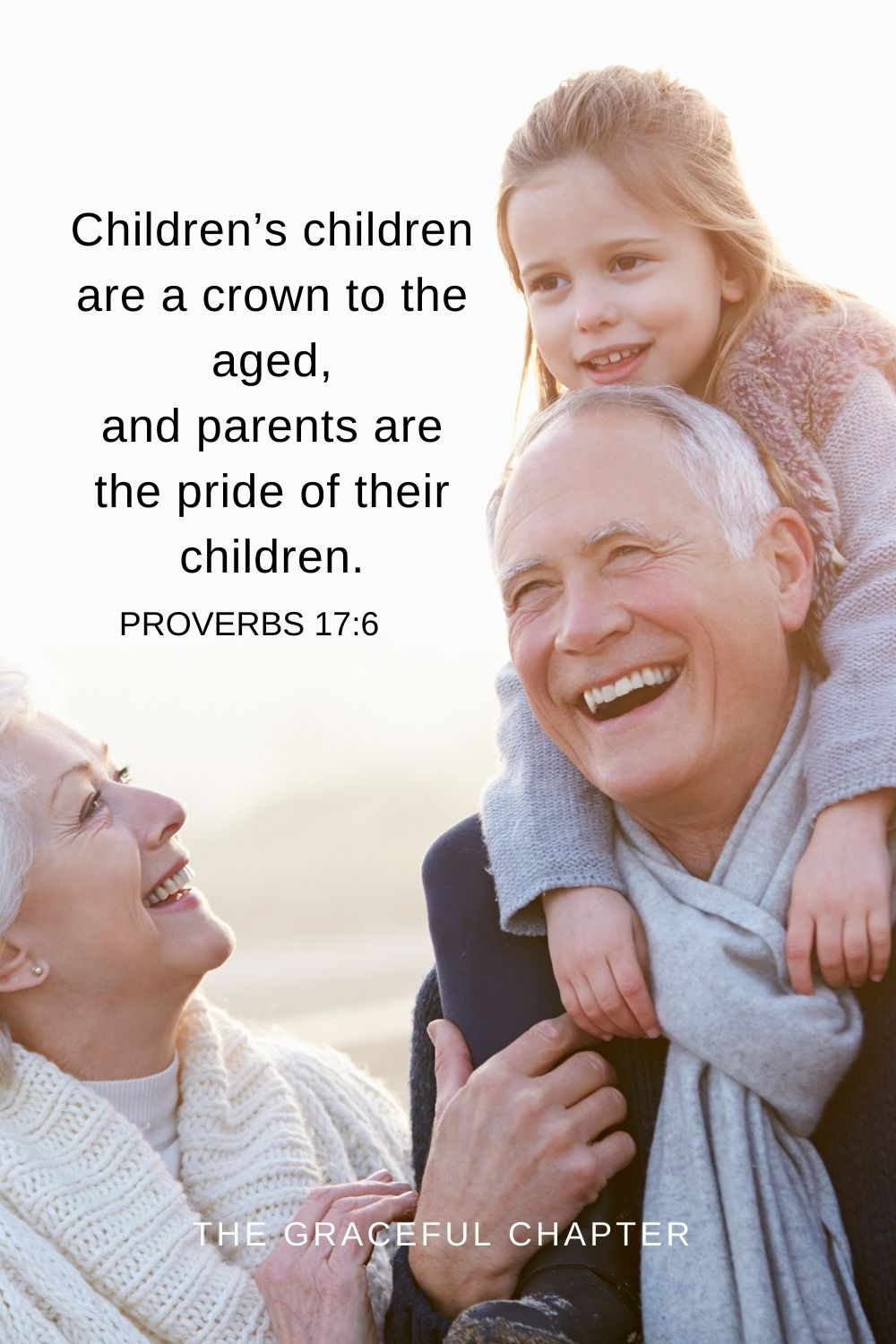 Children's children are a crown to the aged,
and parents are the pride of their children.
Proverbs 17:6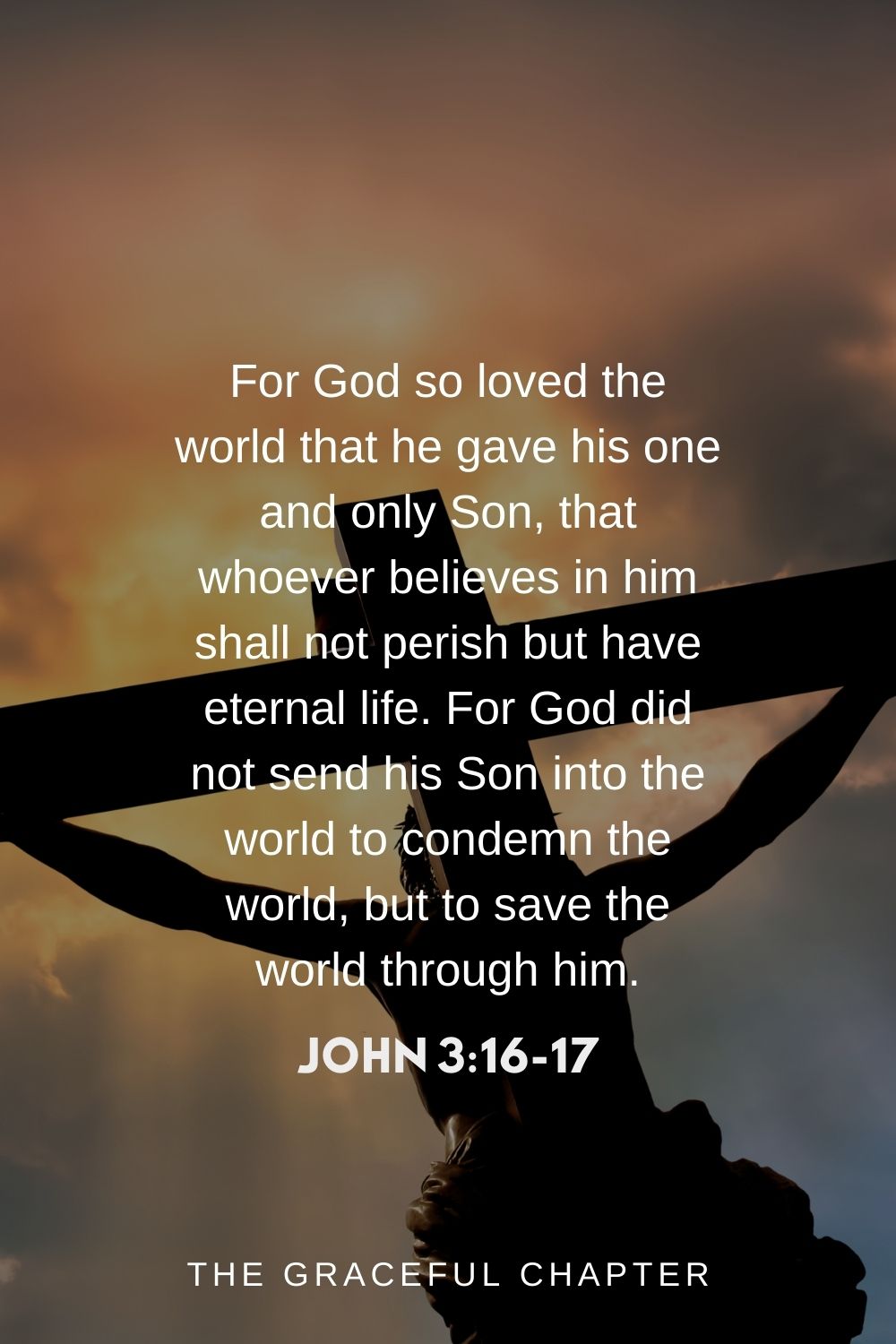 For God so loved the world that he gave his one and only Son, that whoever believes in him shall not perish but have eternal life.
John 3:16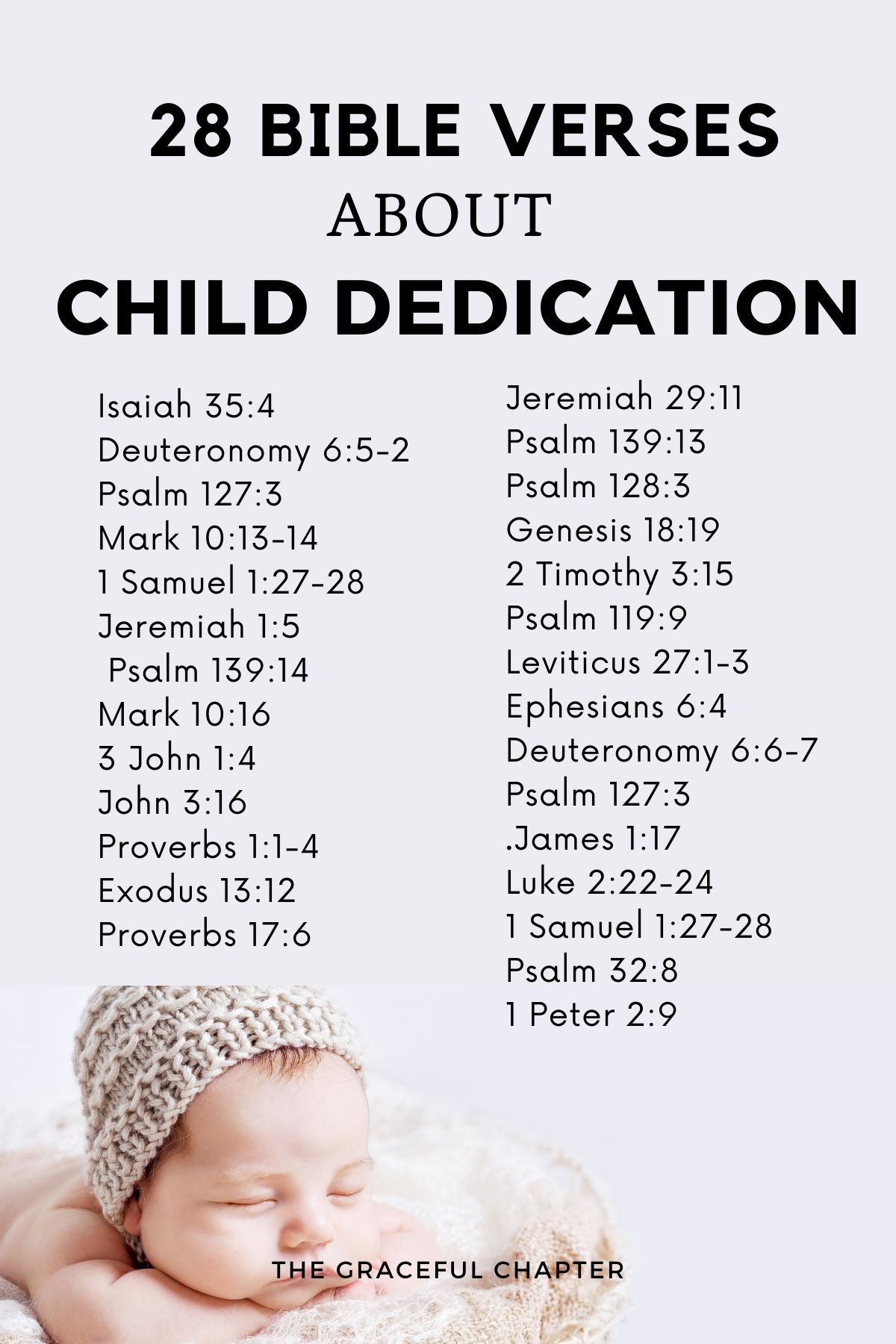 Prayer to dedicate a child to God
Dear God,
Thank you for the gift of this beautiful child
Thank you for entrusting us to teach and help this child grow
Father, We dedicate this child to you today,
You have given this child to us but we know that they belong to you
And so we pray that you will watch over them and protect them always
Take evil eyes and evil minds of this child and cover them with the blood of Jesus
Please let your Holy Spirit come and be their friend to help them grow in you and love you
Bless this child and let all that they do be fruitful,
Let them grow in grace through grace to grace
Give us strength and wisdom to raise this child right
Fill us with peace and love, so this child can grow in a loving home
Thank you for your love and guidance through Jesus Christ our Lord,
Amen