A newborn baby is a gift from God. Prayers for newborns are as essential as water for a newly sprouted seed. A new life is a new chance. It gives you a fresh start. God wants us to procreate (Genesis 9:7). New life gives us continuity. A lot of people find it hard to create new life so when God gives us the gift of a newborn we need to be grateful.
Having a child is a lifetime commitment. Children get to be with us for all our lives but we only get to be with them for some of their lives in most cases. Do not forget that trees begin very fresh, small, and weak but end up big strong and very tall. You have to train a child in a way that you want them to grow in the future (Proverbs 22:6).
Prayer is a way for our spirit and soul to communicate with God. When you pray for your newborn, you create a world of favor in the spirit realm for them. You usher your baby into the world in God's hands when you pray for them.
You will not be with them physically every step in their lives so you have to spiritually commit them into the Father's hand so He becomes a light unto their path in dark times. It is very critical that you understand the importance of prayer for a newborn child. Give them the strongest of foundations to grow on and they will never be uprooted.
Prayers for newborns
Thanksgiving prayer for newborns
Heavenly Father,
Thank you for taking us through this 9-month journey
Thank you for the favor and grace you have gifted us
Through the hospital visits and the restless nights you have been faithful to us
We are grateful for this beautiful gift of life
We thank you that you have bestowed upon us a new branch in this family
Through this, we know that you plan to establish us for ages to come
Like you promised to do for Abraham and his seed we know that you will do the same for us also
We thank you for the essence of life you give us
We thank you for the purpose you have delivered to us
We know that others have not been this lucky
We pray that through our little miracle you give others the hope of their own new life
We pray that you answer others whose prayers were the same as ours
Give them their newborns so they know that we serve an ever-living, loving, prayer-answering and omnipotent God
Amen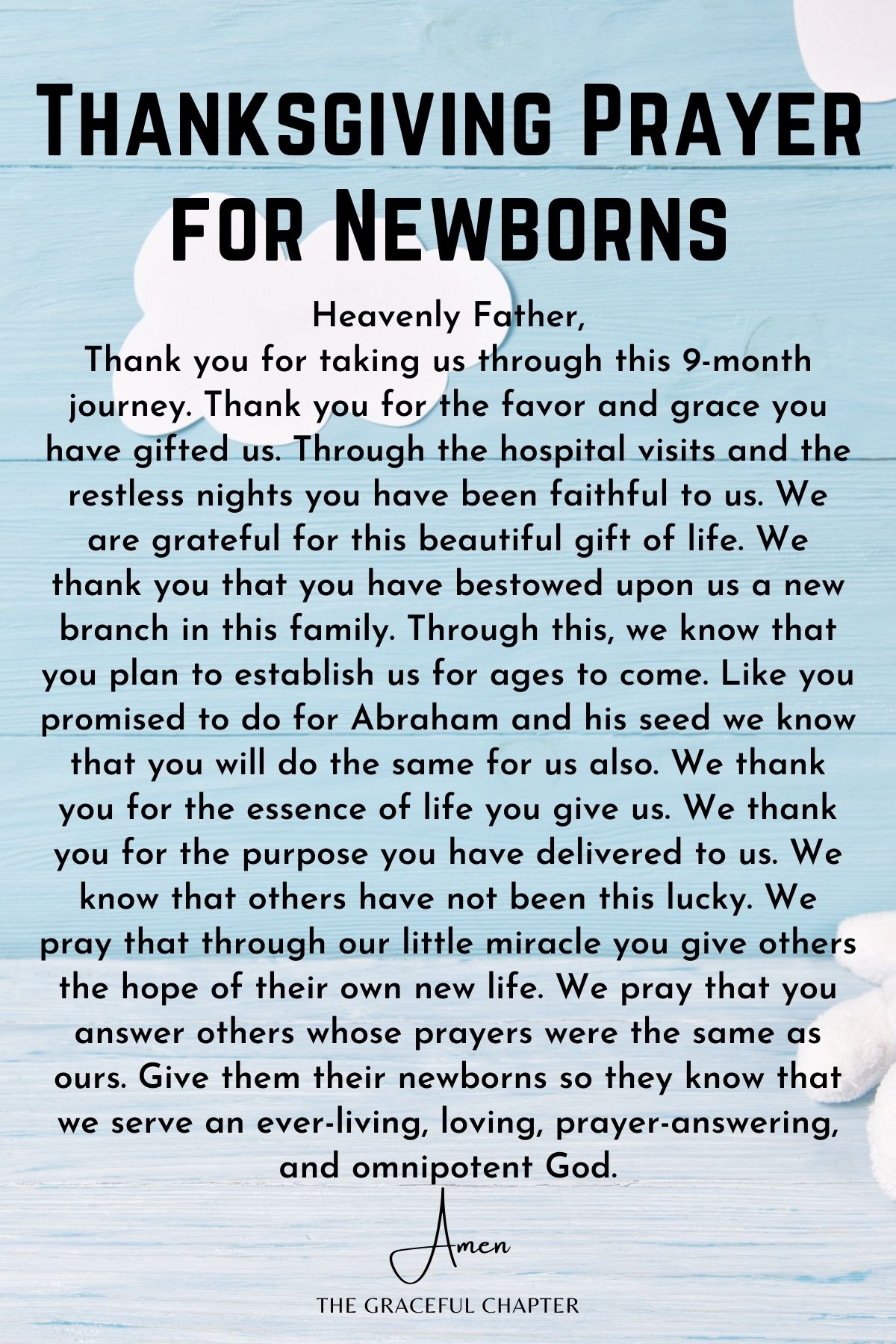 Prayer for a healthy newborn
Everlasting Father,
We thank you again for this new life you have blessed us with
We thank you that you chose this family as their home
We are so grateful for this wonderful life that will be called by our family name
We pray that you deposit your spirit into the bones of this new life
We ask that you take away any ailment from this baby
Whatever parasites that will cause them any discomfort we pray that you fight against
Come and take dominion over their mortal bodies
Let them drink daily from your healing spring of life
Let them be strong and fit all the time
We bind and evil schemes of the devil concerning the health of our newborn baby
We destroy any bad plans of the people who will come close to this baby
We dedicate this baby's health to your hands
Give it the strength of Sampson
We pray for your utmost protection for this beautiful life
Please prevent any bad falls, bad colds, bad fevers, and bad diseases from tormenting this beautiful child
In the mighty name of Jesus have we prayed
Amen
Prayer of Wisdom for Newborn
Omniscient Father,
We bless your name for this perfect gift today
We love you and praise your Holy name
Thank you for remembering us despite our many flaws
Thank you for depositing a living soul in the midst of us today
We pray that you grant them the wisdom and knowledge of Solomon
Bless them with your Holy discerning spirit and let them grow in your glorious power
Let them stand out in everything they do
Let every word they speak be uplifting for others
Let their tongues be an instrument of motivation
Let their company be a relief to those in distress
Let their words be powerful pillars of stability
Present them as angels on earth
Let their utterances settle disputes and join together
Let them speak words of wisdom and not destruction
Be their shining example throughout their lives
In Jesus' name,
Amen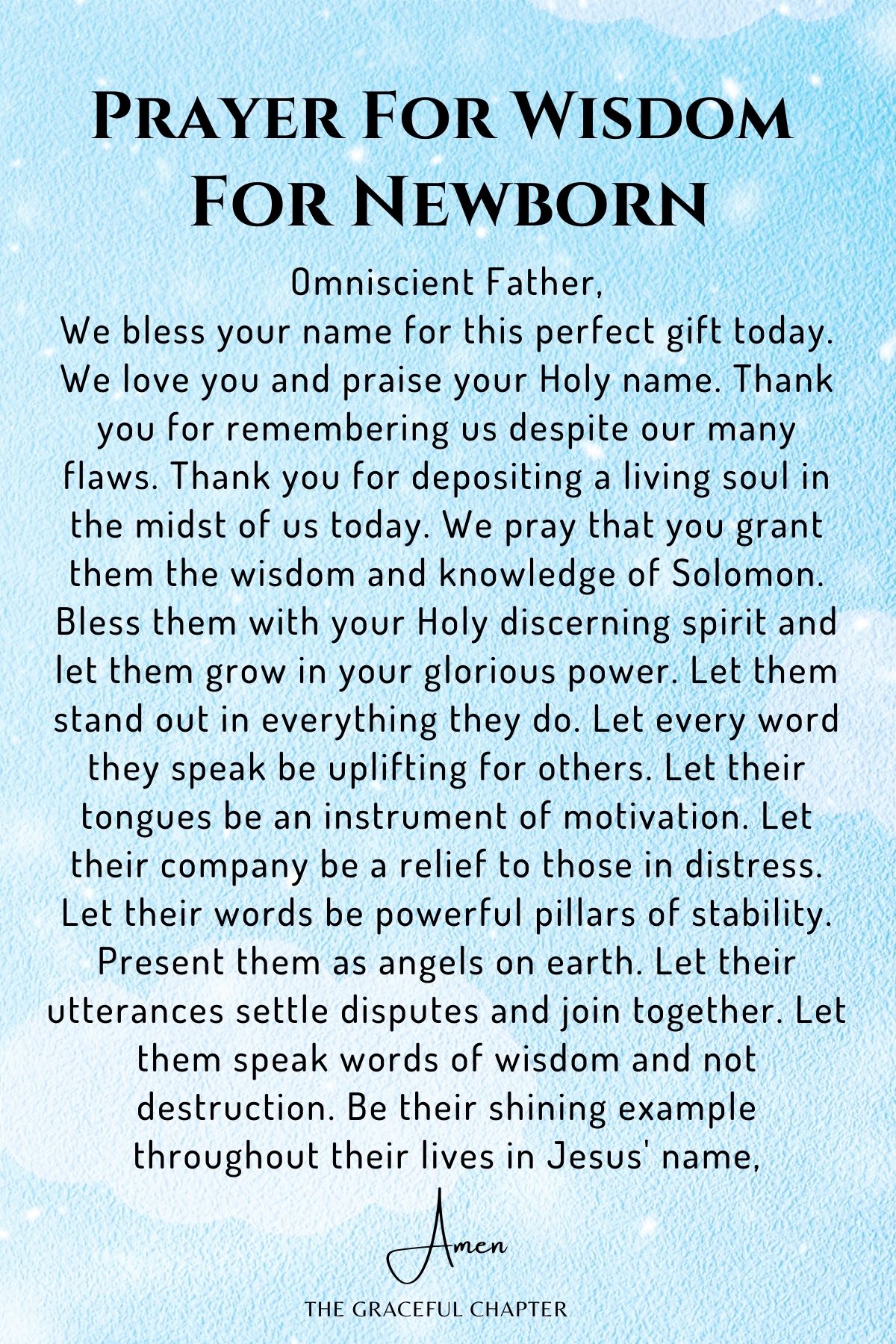 Prayers for newborn against evil plans
Dear Lord,
We bless you for continuing to do wonderful things in our lives
We praise your ever-loving nature
Thank you for this miracle of life that we have received
All good things come from you, Heavenly Father
We pray to you today to keep our gift away from the gaze of evil people
Whatever plan of evil that has been prepared for them, we nullify in Jesus's name
Let those who plot evil against our child fall in their own pits
Direct the focus of evil away from the life of our beautiful bundle of joy
Be it physical or spiritual we destroy all the bad plots laid in front of our newborn
Save them from the hands of covetous,  mischievous, and backward company
Strengthen their hand against deceivers, witches, soothsayers, psychics,
and let only your plan for their lives be real
Let their guidance from you know no bounds
Let your spirit be one with theirs
Fill them with your everlasting love
Let your shield and your sword be in their armory all the days of their lives
Amen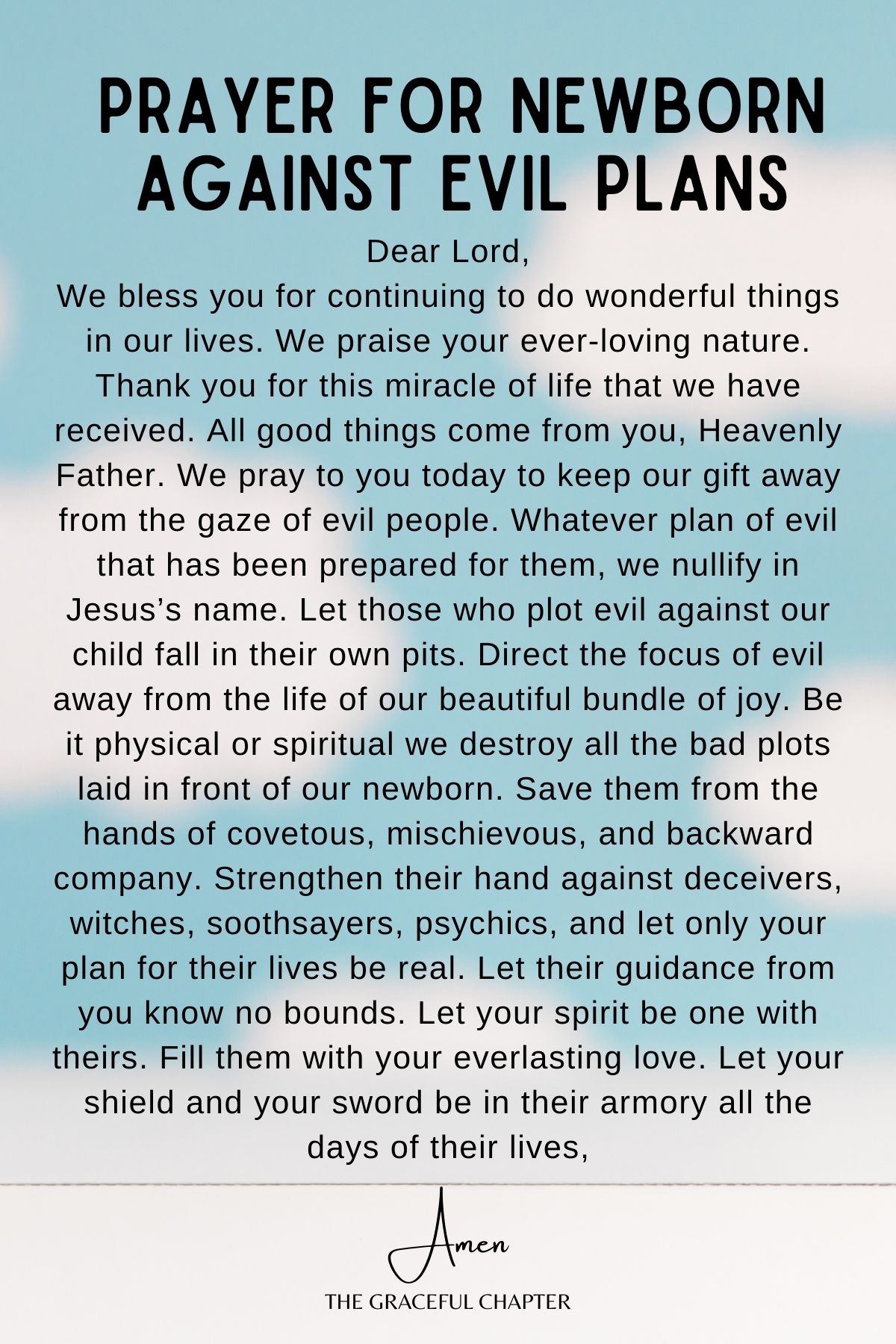 Prayer for God's favor for newborns
Merciful Lord,
We praise and lift you up for your grace upon us today
Thank you for this light in the midst of our darkness
We are delighted that you have remembered us in our pain
Thank you for having us in your heart
We can also be called blessed
We pray for favor on this gift of ours
We pray that you order their steps to lead to victory
Give them the favor of David
Let them be counted for joy
Do not let their shortcomings be laid bare
Cover their shame with your glory
When they stumble, be their rod of support
Let their lights shine no matter where they find themselves
Favor them, push them and hide them from their enemies
When they falter, please forgive them
When they fall, please raise them up
Keep them in your herd and make them immune to evil
Thank you for answering our prayer
Amen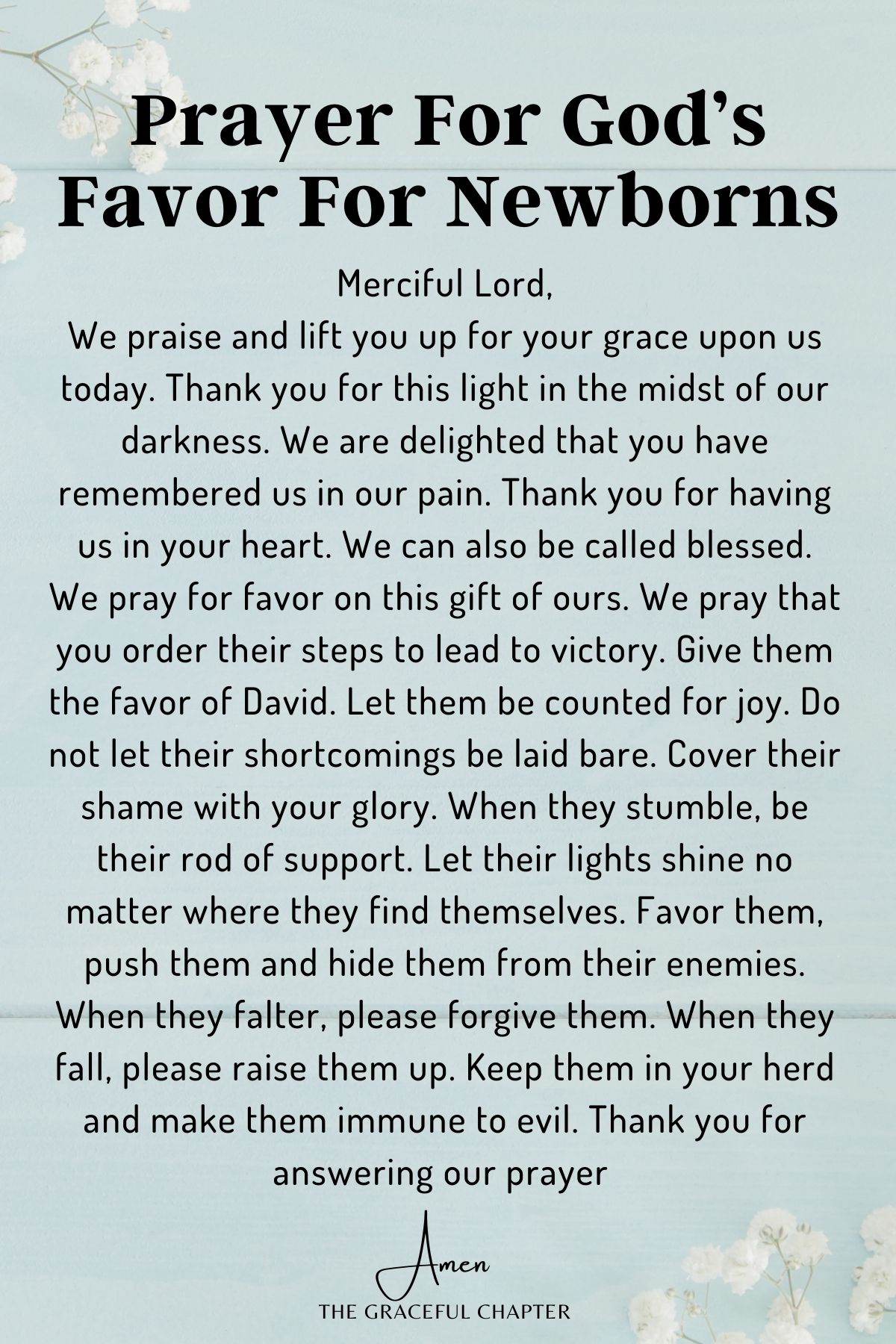 Related Posts
Prayer against birth defects
Dear Lord,
We are grateful for the breath of life you give us every day
We are particularly grateful for this new life in our lives today
We pray today against any generational, ancestral, or natural birth defects
Only you are nature and what you say goes
We put the life of this baby in your hands today
Whatever scientific irregularity that may arise within this life, we burn it down in Jesus' name
Whatever hereditary defect that may exist in the genes of this baby, we bind in Jesus' name
If this baby picked up a defect during its birth, we correct it in the name of Jesus
Let all that is physically wrong with this baby be made spiritually right through your power
Let your living spirit raise any dead cells that may be in this baby's brain
Let the blood of Jesus fill the veins of this perfect gift
Be the beat in their heart
Be the air in their nostrils
Keep count of all the hairs on their body
Let your angels be their guide
We resist any evil transfer from the ancestral world to this baby, in the mighty name of Jesus
Thank you, Lord, for answering our prayer
Amen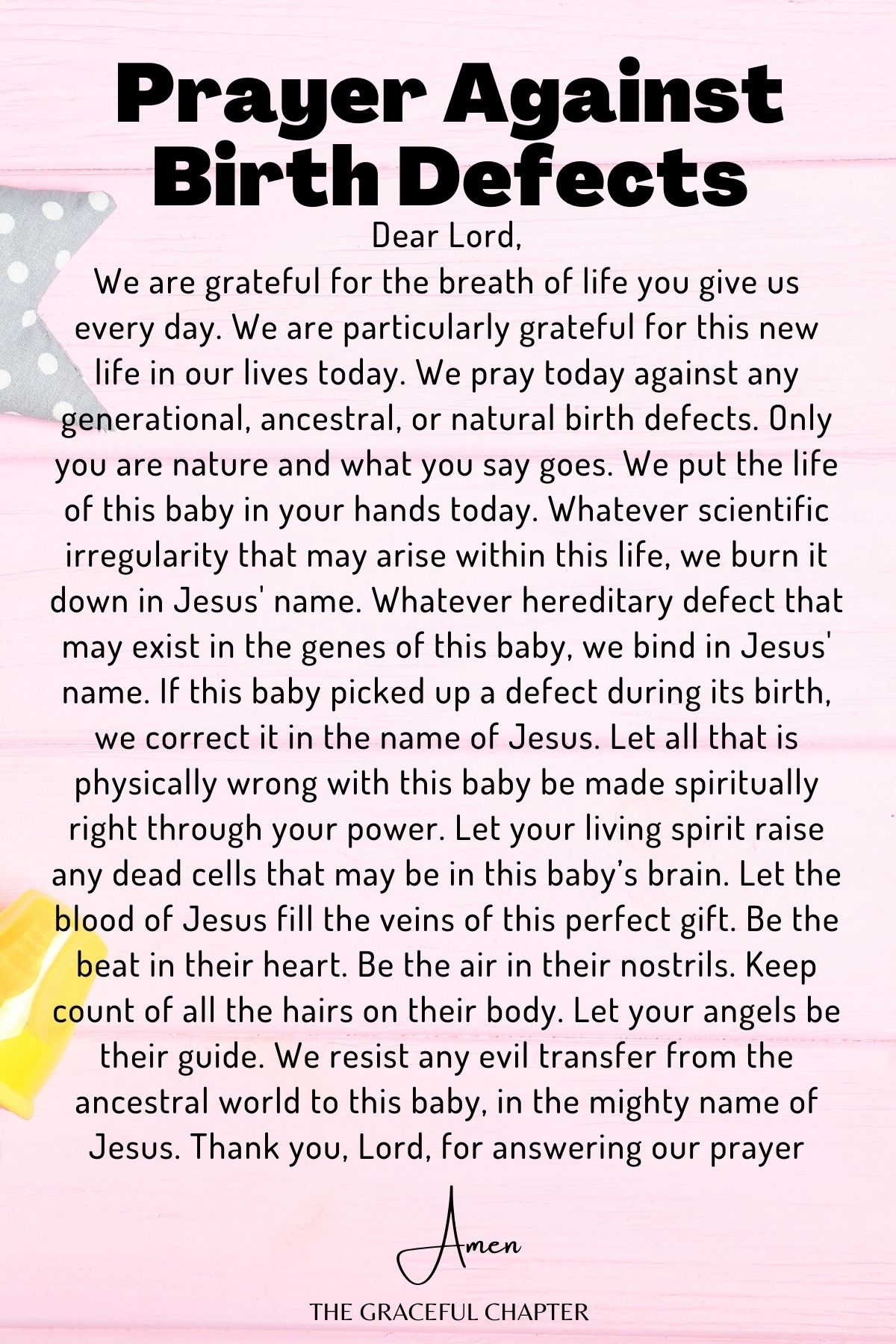 Prayer for strength for newborns
Merciful Lord,
Thank you for the light that we receive each day
Thank you for the food we eat and the water that we drink
We bless and adore you for who you are in our lives
Thank you for answering our prayer for this child
You father of the fatherless
You deliverer of the barren
You make water appear on deserts
You make a way in the red sea
Thank you for the gift of this child
We pray for strength for our newborn
Grant it the strength of Sampson and David
Let there be ripples wherever they step
Grant them the will to do as you please
Let them not be lured by the fables of this earth
Let them not be influenced by bad company
Let them be able to discern between good and evil
Grant them the strength to resist the devil and all his fake promises
Be the author and finisher of their faith in you
Let them be the best influence on whoever they touch
Help them draw people to you and not away from you
In Jesus' name,
Amen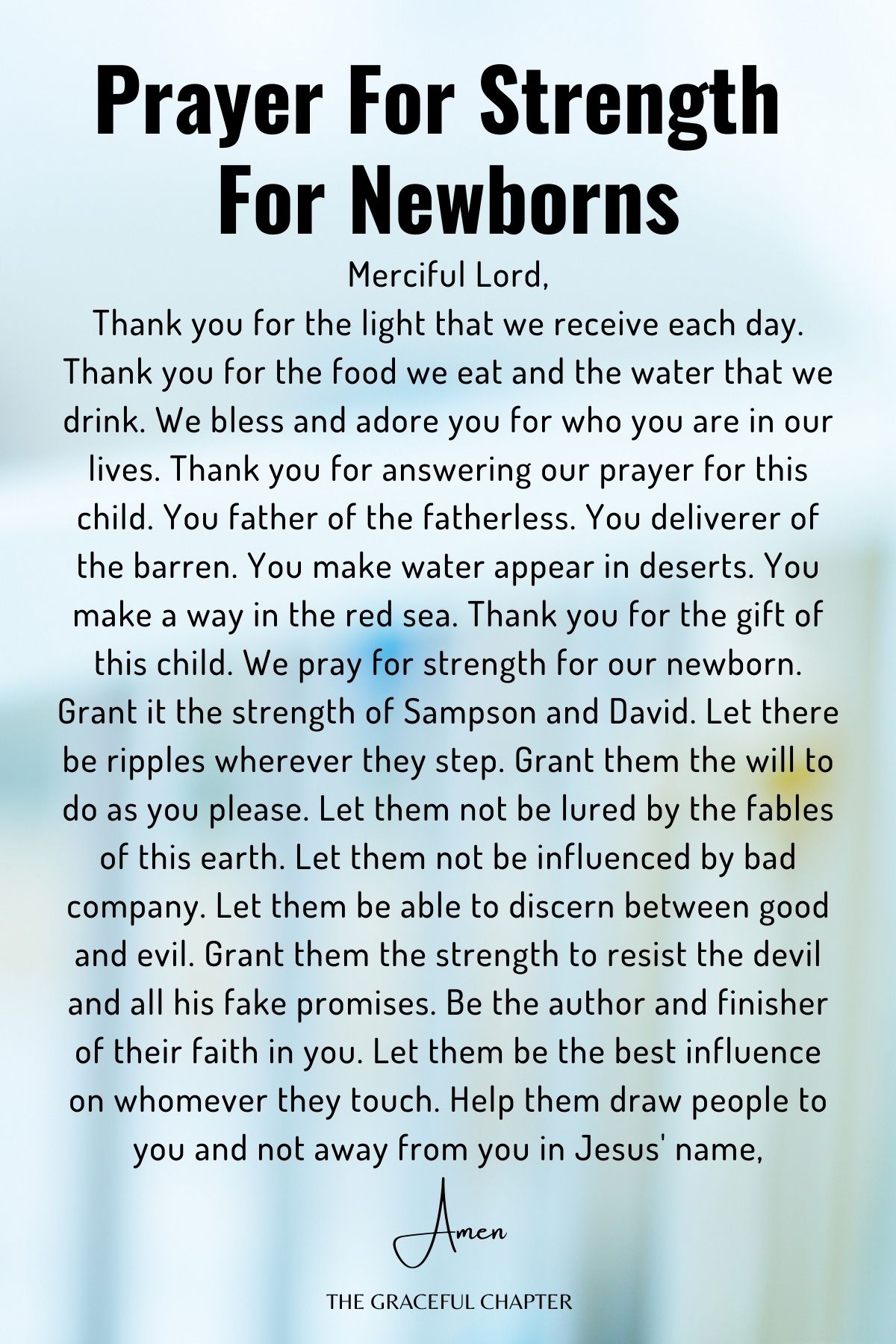 Prayer for a bright future for newborns
Father Lord,
Thank you for this wonderful gift of life today
We are truly grateful for all you have done for us this past 9 months
From its conception, through hospital visits to the delivery
We commit this baby's future into your Holy hands
We pray that you design this baby's world according to your plan
From the time they crawl to the time they come to you, be their friend
Let the future be bright for this baby
Let this baby be a point of contact between you and your people
Use this baby to touch the lives of your people
As Hanna dedicated her son's future to you we do the same today
May this newborn be a shining example amongst its peers
Let prophecies come out of its mouth
May their future be full of grace and prosperity
Let everything and everyone they touch turn to glory
Bless them through their schooling, their professional lives, and their marriage lives
Let them be drawn to you all the days of their lives
Let them dwell in your presence all their days
Thank you again for this beautiful gift
Amen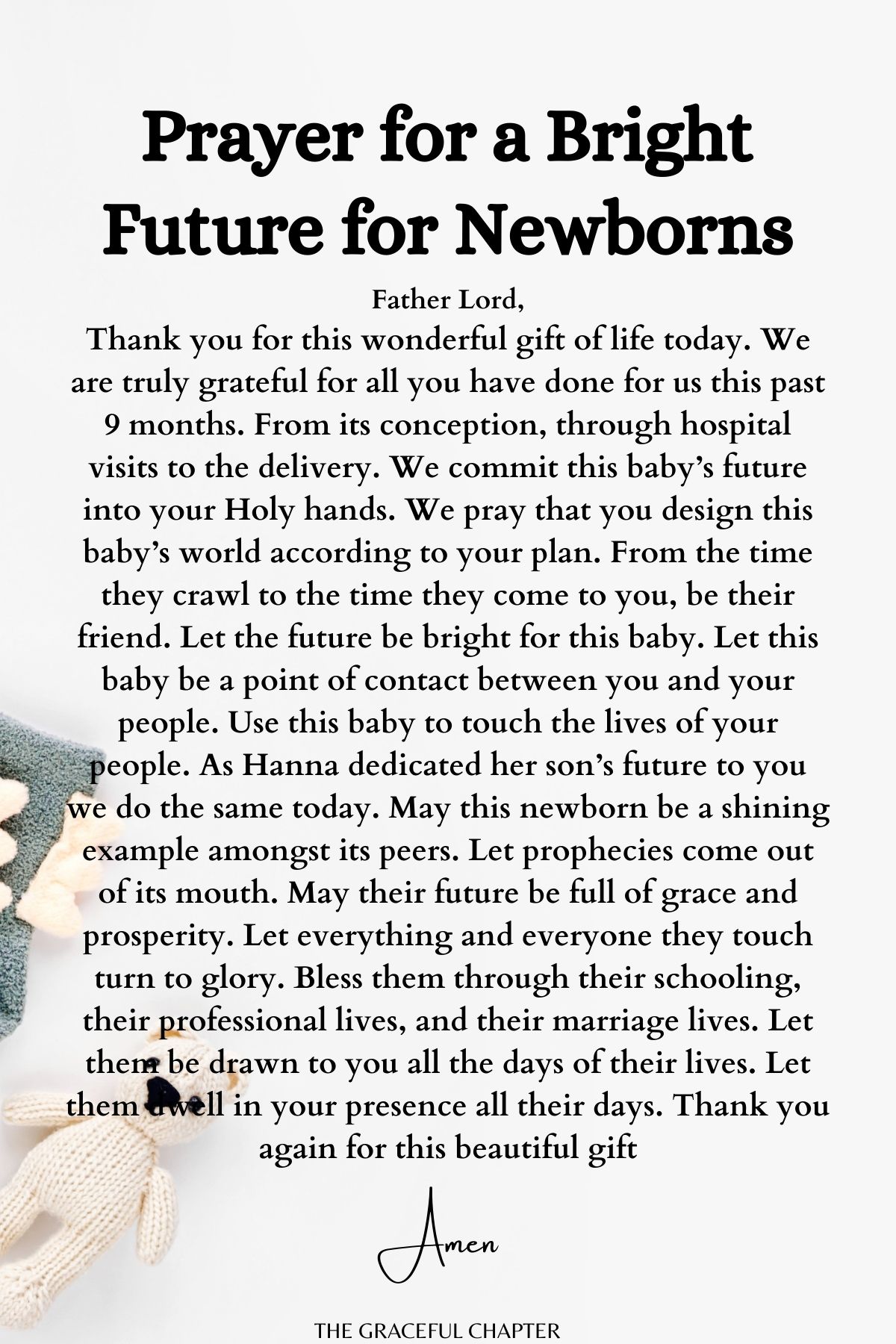 Prayer for God's protection for a Newborn
Heavenly Father,
Thank you for the life of this baby
We pray for divine protection for them
Hide them from the perils and evils of this earth
This world is not our home
Prepare this child for your kingdom in Jesus' name
Protect them from any physical or spiritual evil plans
Let your rod and your shield be their portion throughout their lives
Save them from the shadows and valleys of the devil
Let their feet be unharmed when they walk on stones
They shall trample on serpents and they won't be bitten
They will fall down and not be hurt
They will walk through fire and not be burnt
They will walk on water and not drown
Make them safe from thieves and robbers
Be the shining light unto their paths in all their lives
Let them be a living testimony of your greatness
In Jesus' name,
Amen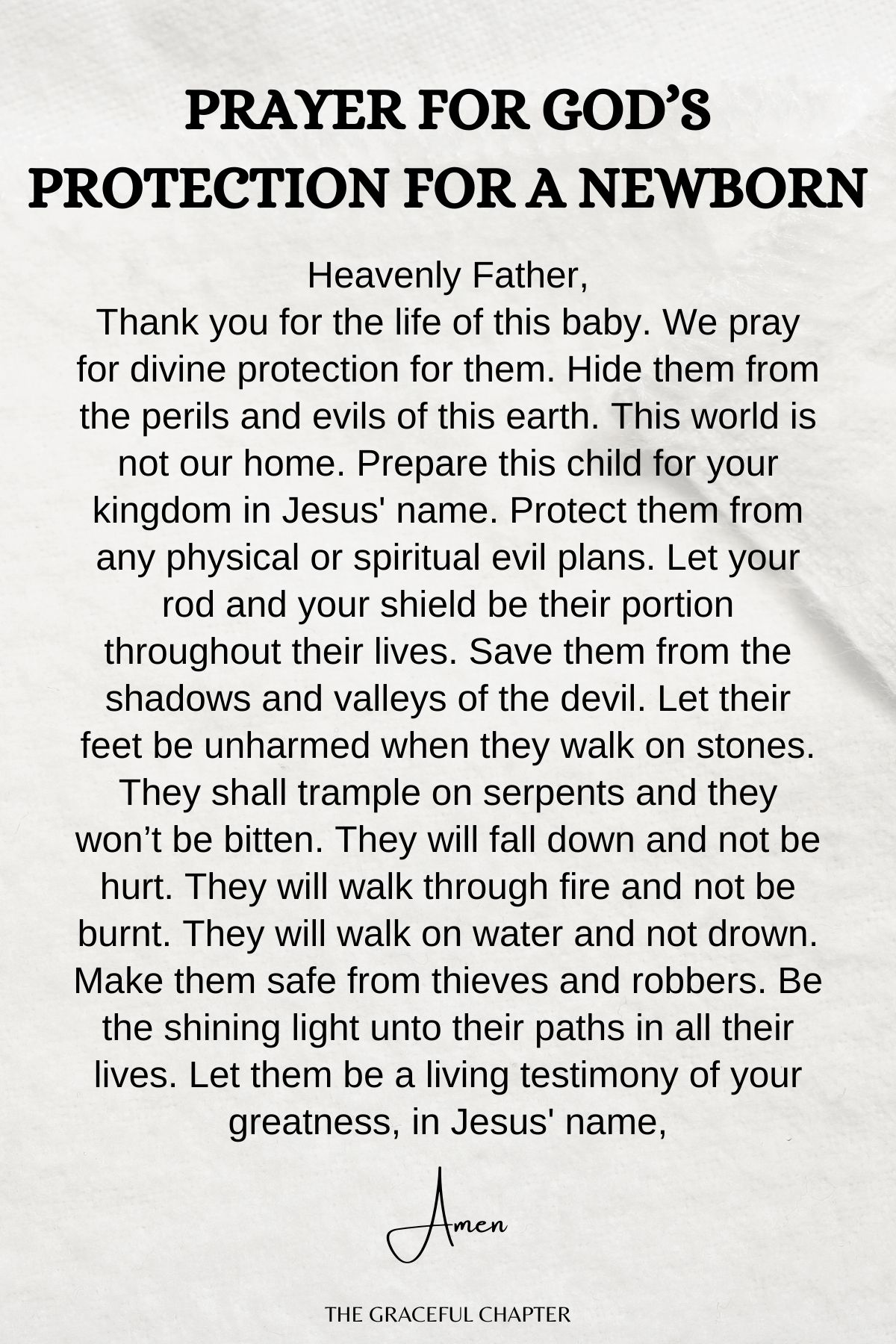 Prayer for newborn to be light in the family
Dear Lord,
Thank you for the gift of life today
Thank you for this bundle of joy that you dropped on us
We pray that this child will be a shining beam unto this house
Let this child be a spiritual and physical replacement for everything that we have lost
May this gift inspire this family to do great things
May this gift be a pillar of love and understanding in this family
Let this moment be a benchmark for all this love that we will continue to enjoy
If there were any misunderstandings in this family
Let this baby be the glue that mends us
May this gift cause you to release more blessings upon us
Let this baby grow up to be the best this family can offer
Bless the house because of this baby
Let your peace and love continue to dwell within us because of this baby
May your love forever be our companion
Bless this baby forever
Help us love this baby forever
Let this baby never lack anything
May this newborn be a symbol of your grace forever and ever
Thank you for answering our prayer through Jesus Christ, our Lord,
Amen


A baby is God's way of making us feel how He feels about us. Everything we expect from God is what He expects us to give to our children. Psalm 127:3-5 heralds children as blessings. Love them the way God loves you. Be their companion, strength, friend, and provider through all things. May the grace of our Lord be with you throughout this wonderful journey.  Amen