James 1:2, 3 tells us to be joyous even in difficult times because when our faith is tested, we learn how to be strong and persevere. Even Jesus Christ was tested in the wilderness by the devil. As children of God, we should know that our journey in this life will not be smooth however we should be joyous knowing that we will overcome in the end because God is on our side.
Proverbs 10:28 says that the prospect of the righteous is a joy but the hope of the wicked comes to nothing. This tells us that our final destination will always be joy. In our journey with the Lord, there will be times where we feel dejected, rejected, sad, unhappy, and abandoned. These are just ways the devil tries to cloud our judgment and deceive us to follow him.
Sometimes we are deceived into thinking that worldly possessions are equivalent to joy and happiness. We spend our lives and energy searching for material things that we think will solve all our problems and give us eternal happiness. Prayers for joy are meant to ask God for joy in our hearts.
Joy has nothing to do with the worldly materials you possess. This is why you can see a very rich person who is very unhappy and see a poor person who is so joyous and content with themselves. Pure joy comes from within.
Christians are full of joy because in their hearts they know that they have a father in heaven who loves them so much and will protect and keep them for as long as they live on earth and even beyond death.
True joy does not care about what is going on around you. You still feel self-assured that everything will be fine. When you have joy in your heart you are not afraid of the perils of this earth. You are sure within you that all is well.
Be joyous always. Feel the spirit of joy in your heart. Look for things that will give you joy. The kingdom of heaven gives me joy because I know that all other worldly possessions will perish but Christ in my heart means that I have eternal life.
Prayers for Joy
Prayer for Joy in your Heart
Heavenly Father,
Thank you for my life today
Everyone is chasing after money and property these days
That is now the measure of happiness in a man's life
People are doing anything they can to have the best things in this life
The best cars, the best houses, and the best friends
They don't care who they have to hurt to get these things
I pray to you today to help me focus on the things of your kingdom
I want to know your word and know you even better
I want your joy in my heart
The joy that makes me smile even when things are going crazy around me
When I feel like I can't get anywhere in this life, please give me joy in my heart
When people see me like a nobody and neglect me, please give me joy in my heart
Help me feel content with all you have given me
Keep me from chasing after this world and hurting people over the things of the devil
Help me stay faithful to your word and hold on to my salvation
Through Jesus Christ our Lord,
Amen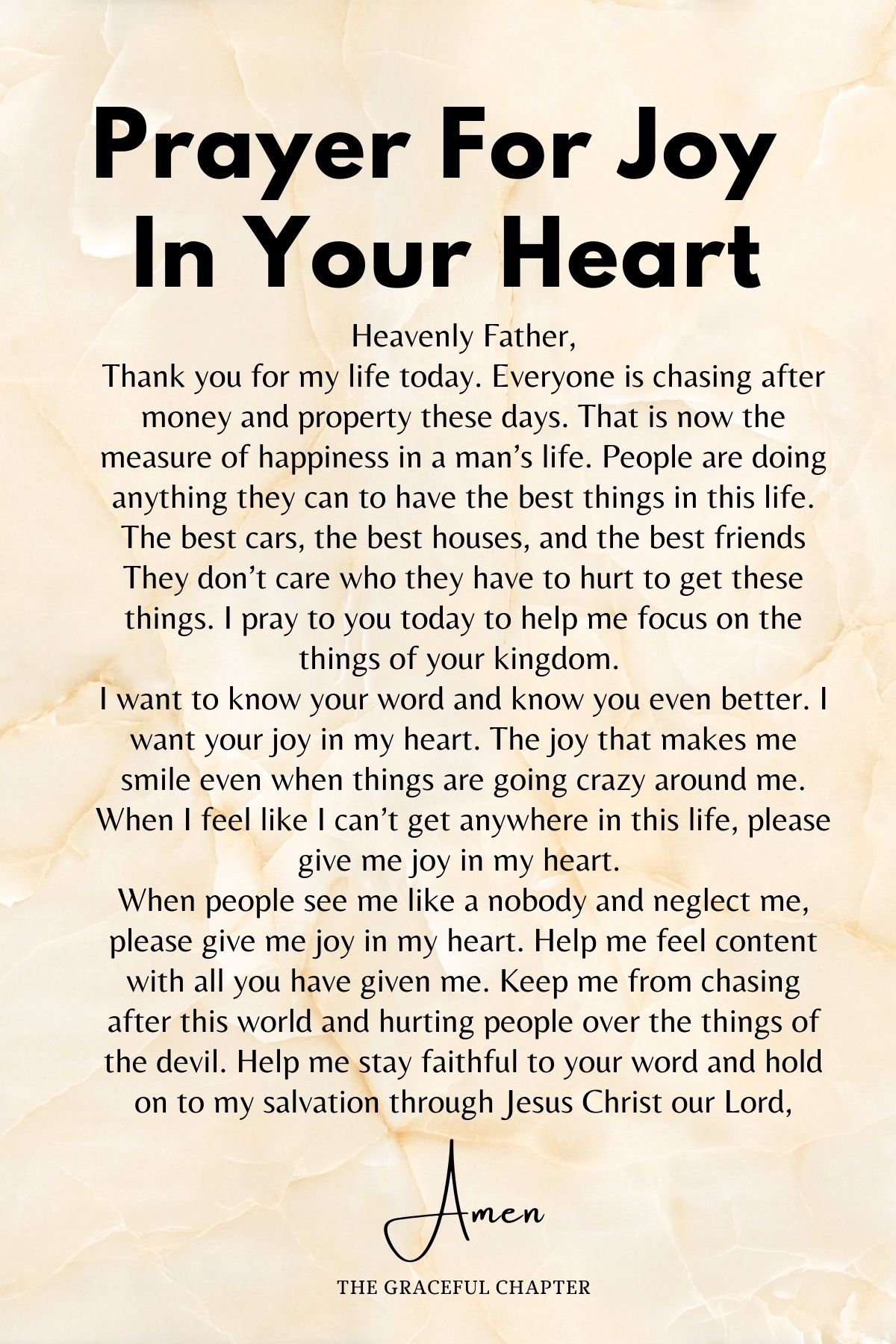 Prayer for Joy in Marriage Life
Heavenly Father
I pray for my marriage to be a place of everlasting joy
Let our lives together be a journey of laughter and pure happiness
Let our children be filled with love peace and hope
Let our household always be a place of happiness
Even when we have misunderstandings, let them come from a place of love
We reject any evil ploys by any spiritual entity to cause chaos in our marriage
We destroy all physical plans to sabotage our union today
We pray for your divine protection no matter where we go
We cancel all plans of death, disasters, and diseases in our marriage life
We cover our entire family with the holy ghost fire
We remove any generational curses or diseases that want to follow our children and grandchildren
We ask that joy and happiness follow us all the days of our lives
Let us reap abundantly whenever or wherever we sow
Let us love each other forever
Let us be each other's rock and shoulder to cry on
Be with us throughout this journey
And fill our hearts with joy in all our days together
Amen
Related Posts
Prayer for Joy in Professional Life
Dear Lord,
I commit my work life into your hands
I only want there to be good news at work
I do not want to fall into any traps the devil has set for me over there
I pray that you elevate me to the level that I deserve to be in
I cancel all evil ploys or plans by any evil coworkers
I burn all plans to sabotage me at work
I pray that everything I touch will produce excellent outcomes
Let every step I take in my professional life yield blessing upon blessings
help my enemies repent and bless those who love me and want me to succeed
I receive promotions and progress in Jesus name
I declare that I shall not be a failure
Let your spirit lead me through all my projects at work
Let joy and laughter follow me in everything I do
Cover me with your glory and let me rise and rise until my zenith
Amen
Prayer for Joy in Relationship
Dear Lord,
I commit this relationship into your hands today
I pray that you fill it with happiness and joy
Help us understand each other always
Help us remove stubbornness from our hearts
Help us remove arrogance and pride from our relationship
We pray for understanding always
This is the person I plan to spend the rest of my life with
I pray that you prepare us well for this journey
Help us know each other and love each other well
Let our families experience joy and happiness through our relationship
Help us appreciate and support each other through every obstacle that we may face
Help us be each other's strength
We pray for your grace and love in our lives
Help us find happiness in every endeavor
Bless our work and our families
Bless our finances and make us productive and live in abundance
Amen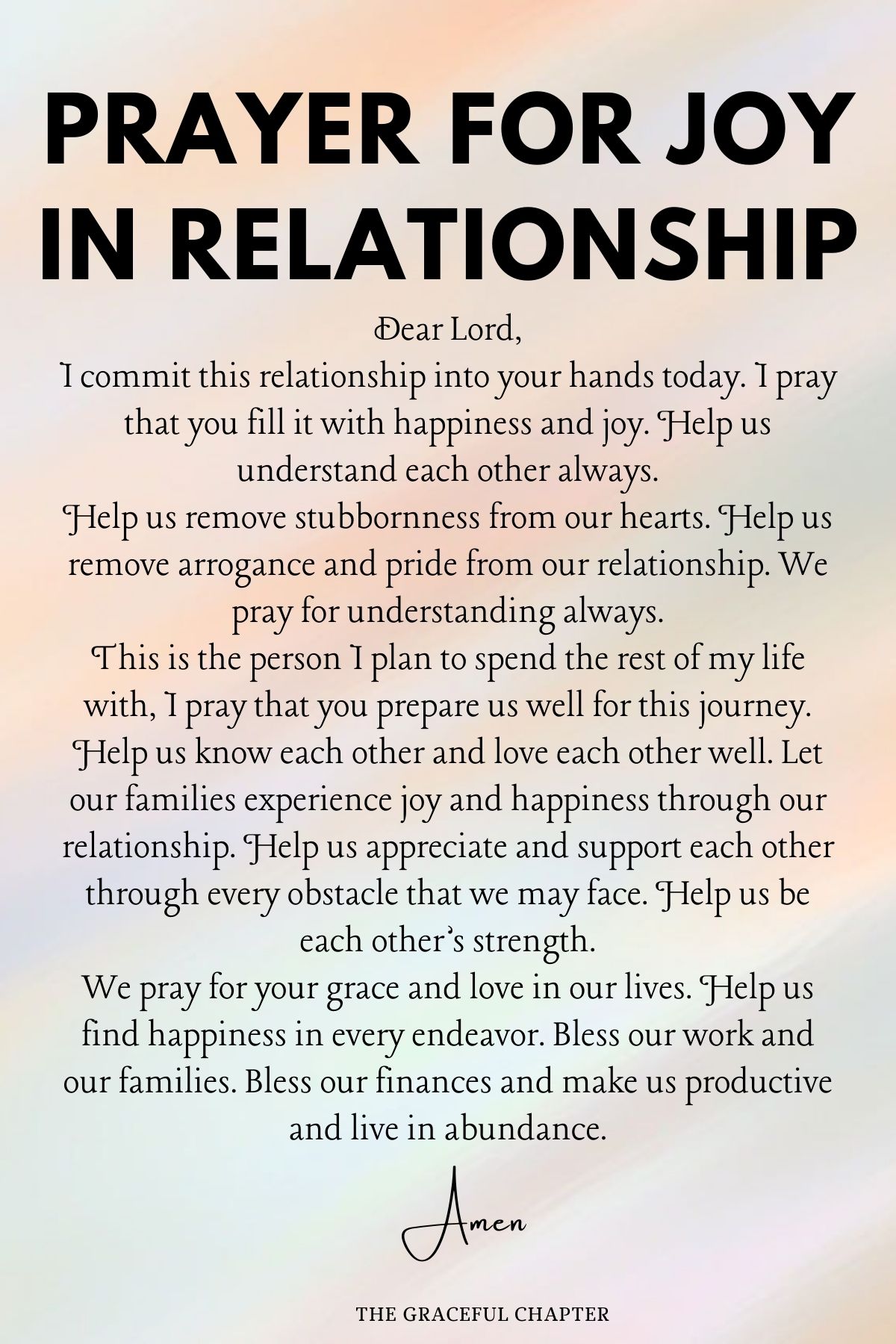 Prayer for Joy in your Family Life
Heavenly Father
I pray and commit my family to your care
I pray for everlasting joy and happiness
Let our households be filled with smiles
Sanctify our family and save us from all the evil plans of the devil
We pray for our extended family
Please protect and keep every member and fill their hearts with everlasting joy
We declare that from today all we shall hear will be good news
Let this family receive healing in every cell and every bone
Let our houses and workplaces be filled with the joy of the lord
Let us be content with everything that you give us
Bless our businesses and our professions
Let our dreams be real
Grant us the desires of our hearts
Fill childless homes with children
Fill poor homes with riches
Destroy all curses and misfortunes in our family
Give us love and peace
And let us live for you all the days of our lives
Amen
Joy is a priceless gift. Having joy in your heart makes you immune to any other difficult physical feeling you may be going through. When the joy of the Lord is your strength, there is no problem you cannot face or conquer. When you are happy within yourself it doesn't matter what anyone says to change that. Let your heart be filled with the good words of God and carry them with you as a light in your life.