For it is You who blesses the righteous man, O Lord, You surround him with favor as with a shield.

Psalm 5:12
While growing up, we witness different types of inter-human relationships. Some of such relationships are between authorities and subordinates. Parents and children, teachers and students, kings and subjects have a certain way they must relate to each other.
These relationships must be fair, meaning that these subordinates may be many looking up to one authority to love and provide equally for them all.
A king must rule fairly so that all his subjects can be happy and love him for being a just and fair king. However, within all these relationships there may be one or two subordinates who enjoy a far better relationship with the authority figure better than anyone else does.
Teacher's pets, favorite child to mention a few are examples of this.  God loves everyone equally but there were some men and women in the bible who found favor in the eyes of God.
In the same way, there is a child who is loved very deeply by a parent like Jacob and his son Joseph. There is a ruler who cares deeply for a subject like Potipher and Joseph and a God who cared deeply for Abraham, Jacob, Sampson, Esther, Noah, and many more.
As Christians, we must strive for favor always. We must get to that point in our relationship with God where he cares for us above all else and is willing to speak to us directly if he wishes to.
When you find favor in God's eyes you enter places no one else can and break walls that looks impossible to break. God only chooses those he knows will do the job he has destined for them to show favor to. Avail yourself for him to favor you and use you for his work.
When God wants something important done, he doesn't just send anyone. He sends people who are close to him and know exactly what he wants from them. God will bless and raise you above all men so that they will see his glory in you and look up to you for guidance and direction.
When you are a favorite of God, your way is always straight, everything you do is a success. You are favored in all endeavors in your life. Everything you touch becomes a blessing and no plots against your life will prosper.
Prayers for favor
Prayer for divine favor
Almighty Father,
I thank you for my life and your goodness in my life
Thank you for your favor upon my life and
the blessings I get to enjoy because of your favor
I pray for the forgiveness of sins
Please forgive me for my wrongdoings and help me turn my back on sin
Restore every favor I have lost for walking in sin
Pour uncommon favor unto my life
Let me receive favor in the sight of all men in Jesus' name
Let your divine favor cancel any cycle of failure and disappointments in my life
in the name of Jesus
Amen
Prayer for favor at the workplace
Heavenly Father
I pray that you put your hand on me at my workplace
Separate me from the herd
Make me shine differently from everyone else
Let everything I touch be a blessing
Let my presence solve all problems
Let me receive endless favor there
Let my face be a good news magnet
Let me touch lives positively there
Let my words reflect yours and let my actions be what you want them to be.
Amen
Prayer for favor in marriage
Heavenly Father
I pray that you favor me in my married life
Select someone perfect for me
Let me marry someone you have ordained for me
Someone who will not let me sway away from you
Let my marriage be full of favor, blessings, laughter, and happiness
Let me have blessed children
I am highly favored in Jesus' name
Let my marriage be a shining example for people
Let my partner share my dreams and aspirations
and let this union be pleasing in your eyes
Amen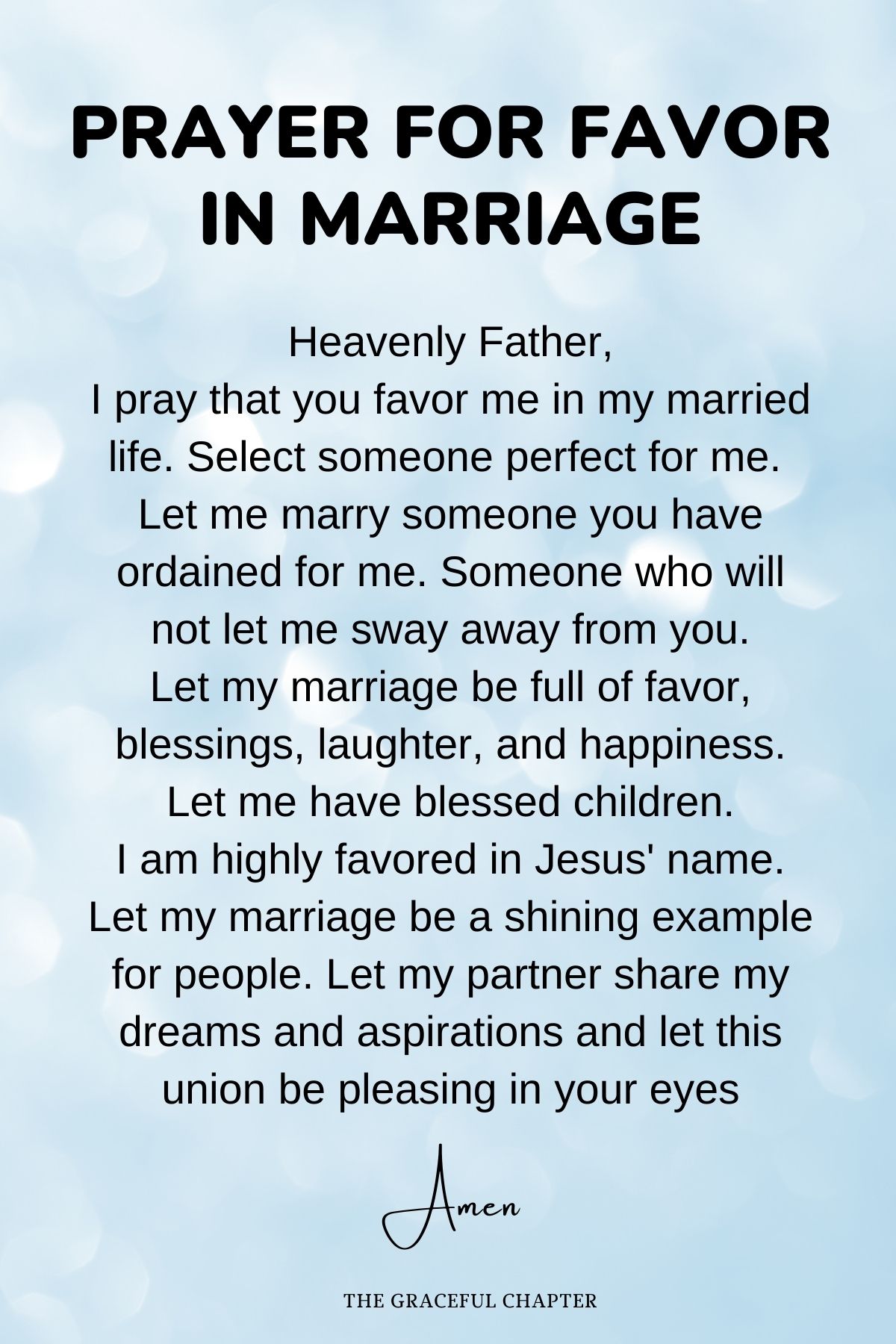 Prayer for favor and protection
Dear Lord
I pray to ask for your favor
I ask that you shield me and my house from any dangers
Blind evil eyes when they look at me
Hide me and my family from harmful predators
Highly favor us even if we walk through the valley of death
Let us always carry your special armor of grace
Let our feet never lead us into destruction
Let your special favor be our portion always
When we travel, carry us safely there and back
Let those who hate us feel shame
Let those who want our downfall fall into their pits themselves
Amen
Prayer for favor and prosperity
Everlasting Lord,
I come before you today
To humbly ask that you crown me with favor
Let me receive favor in all areas of my life
Let your favor come upon every decision I make in my life
Let your favor be upon every action I take concerning my life,
my business, my education, and my marriage.
I pray against every form of struggle in my life
By the light of your favor, let me succeed effortlessly in all I do
In Jesus' name,
Amen
Prayer for grace and favor
Gracious Lord,
Thank you for your grace and mercy at work in my life
Anoint me with your favor in Jesus' name
By that favor, let all closed doors be opened in Jesus' name
I pray against any arrow that the devil has shot into my life
By the power of favor, let them all backfire in Jesus' name
Grant me your grace, dear Lord and
Let the spotlight of your favor locate me and cause my destiny to stand out.
Bless me, Father, and make me flourish in life
In Jesus' name, I pray,
Amen
Prayer for favor in my business
Heavenly Father
I ask for a favor in this business
Let my products stand out because you are my source of power
Let my workers be protected and blessed
Let my customers be fully satisfied and keep coming back to me
Let my enemies eat their words
Let my business push and break boundaries
Let them go international
Cover my transactions with your heavenly favor
Push me to go higher and higher
Let all my targets be reached and exceeded
In the mighty name of Jesus do I lay claim to my favor
Amen
Related Posts
Prayer for favor for a new job
Lord of mercy,
I give you all the glory for all that you are and all that you do for me
I pray against every evil working against my search for a new job
I receive uncommon favor in my search for a job
Open doors of opportunities for me, Lord
and let your favor lead me through those doors
By the power of your favor, I break every curse of joblessness in my life
Let me find a job to do according to your will
Where others have failed, let me succeed
Let your face shine upon me during job interviews
and help me secure a job in the mighty name of Jesus,
Amen
Prayer for favor in school
Heavenly Father
Grant me favor in my studies
Help me do well in all my courses
Grant me wisdom and understanding to always progress
Increase my focus and make me the best
Let me stand out in every test
Cause me to always be amongst the best
Help me focus on my exams
Let me mingle with the right people
Let me stand out amongst my peers
Let your influence give me glory
Let others look at me and glorify you
Amen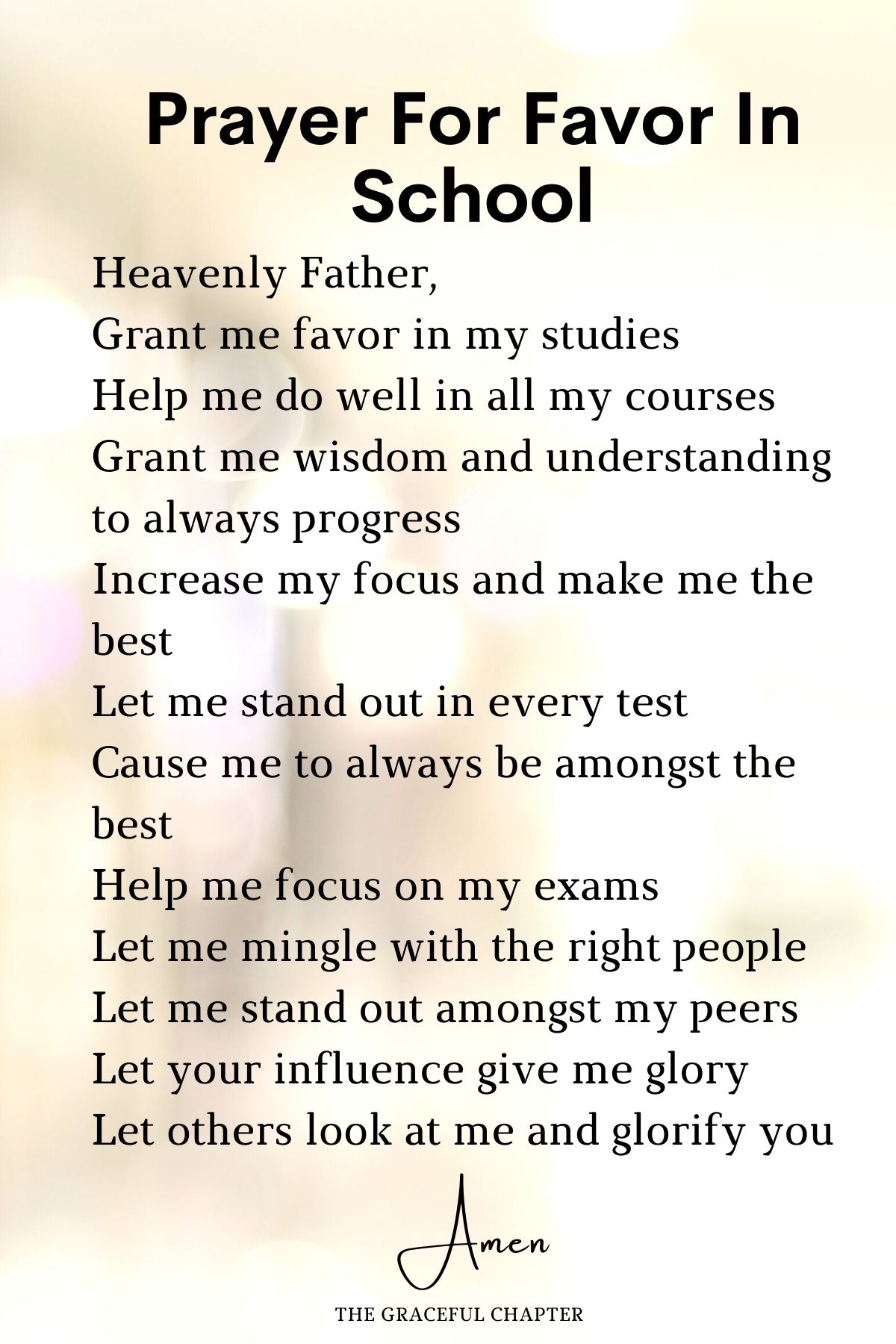 Prayer for favor and healing
Dear Lord
Let your favor wash over me during this difficult time
What is hard for man is easy for you
If men can't find a cure, let your healing spirit visit me
Be my special doctor
Let your special healing blessing wash all over me
Let my recovery be a miracle
Let people marvel at my victorious glory
Let those who wished this on me be put to shame
Let these limbs be strong again
Raise my body from weakness
Give life to all dead cells
and let my blood be filled with life
Amen
Prayer for favor for my children
Father Lord in heaven
I thank you for the life of these kids
I pray for unending favor upon their lives
Let their lives be scripted for victory
Keep them on the path of enviable success
Let their lives reflect greatness
Let their peers marvel at their rise
Let them grow to be well established
Let your guiding hand be with them always
Keep them closer to you always
Never let them wander from you
Let them live exemplary lives
and let them glorify and exalt you all the days of their lives
Amen
Prayer for financial favor
Heavenly Father
I command financial favor on me and my family
Open the floodgates and let them fall on us
Let all our avenues create lots of riches
Let all our businesses see an abundance of riches
Let money come to us
Bless our bank accounts and let them constantly receive money
Let our lives be full of favor
Open doors of opportunities for us every day
Let those who plan poverty on us fall on their faces
Bless us to know what to do always
Give us the wisdom to harvest riches
Plan our routes to find gold and other fineries
Bless us, o Lord
Amen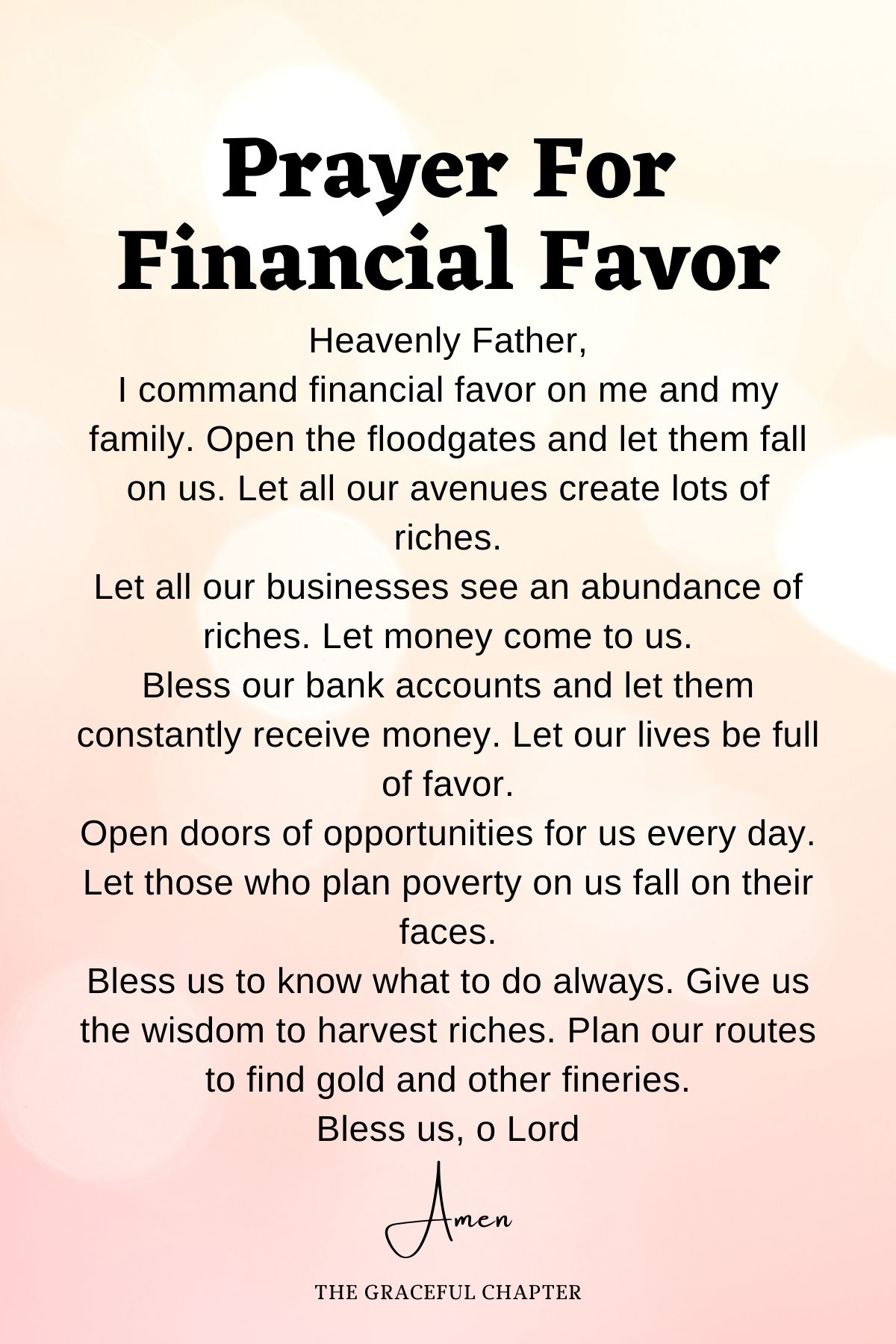 Prayer for court favor
Precious Lord,
Thank you for your divine element of favor
Please pour your favor on me as I prepare for court
Baptize me with your divine favor for acceptance and visibility
Wherever my matter or my name is mentioned, let your supernatural favor follow suit
By your divine element of favor,
let any controversies over my life be settled in the name of Jesus
Let your favor turn every disadvantage into an advantage in my life
Let me win this case, Lord, and restore my reputation
In Jesus' name, I pray
Amen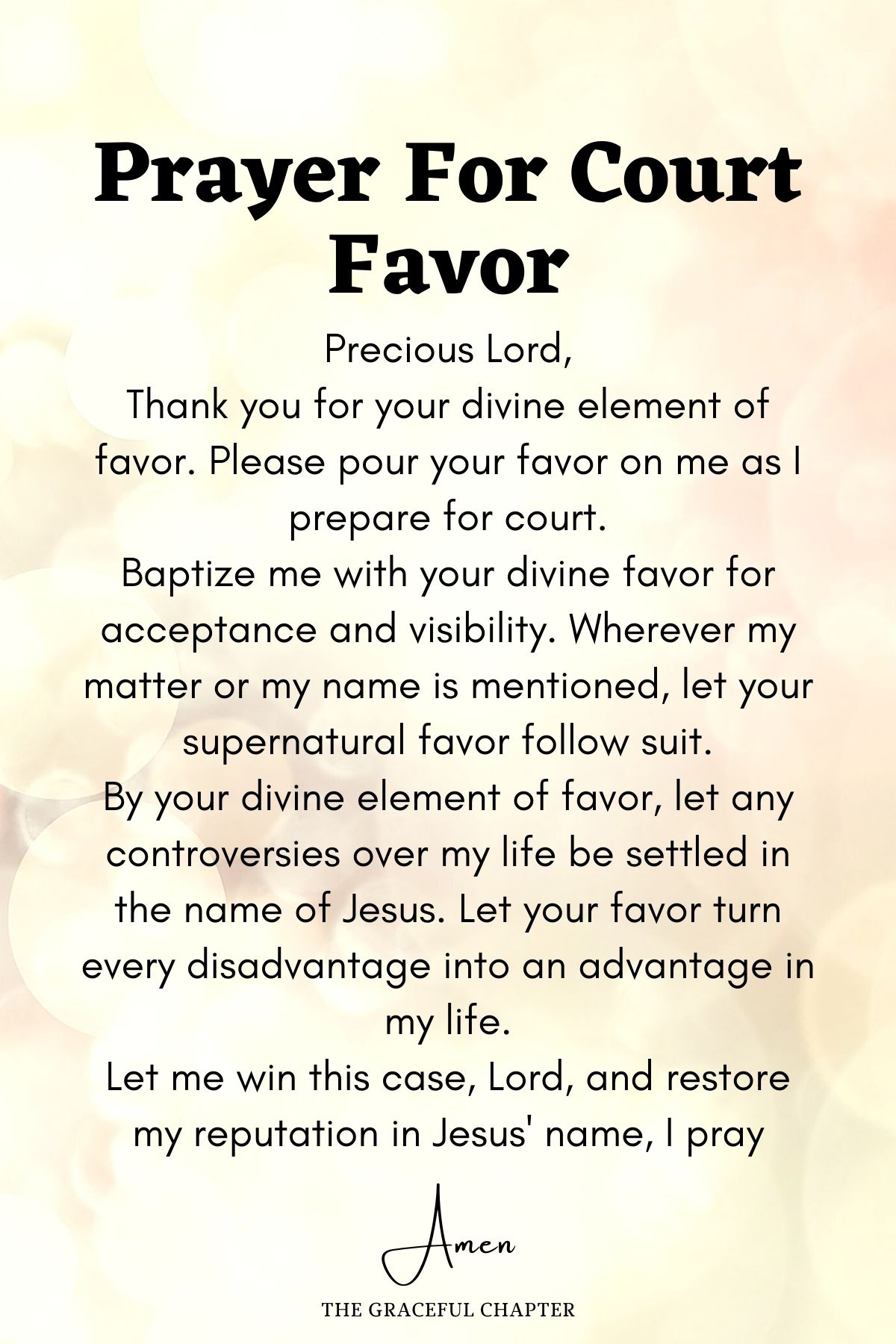 When someone is favored by an authority, it means that they possess a quality that others do not have. When the king sees something in you that can benefit them, they pull you closer to them and give you blessings others cannot receive.
Let God favor you. Show him qualities in you that no one else has. Prove to him that you will answer him day or night, rain or shine come what may.
Daniel decided not to defile himself with the king's meat and food but God still kept his strength up and highly favored him even in the face of death.
Now God granted Daniel favor and compassion in the sight of the commander of the officials

Daniel 1:9