"So we fix our eyes not on what is seen, but on what is unseen since what is seen is temporary, but what is unseen is eternal."

2 Corinthians 4:18
Hebrews 11:6 says that 'Without faith, it is impossible to please God.' Hope is an assurance we have within us that something good will happen in the future. The steps we take to accomplish this glory demonstrate our faith. When we begin to take action towards a glorious destination we act on faith to realize the hope within us.
Others may see our actions as fruitless or mind-boggling, but this should not discourage us. We must walk on towards our goals despite the difficulties we may encounter in front of us.
As Christians, we must share in the common hope of Christ's return. We should always remember that this life on earth is not a permanent one and that there is hope for redemption and salvation from the struggles and toil in this miserable world.
Christ is our hope of glory. His death and resurrection bought eternal life for all those who believed and accepted him. Our day-to-day walk with him and our prayers to him for grace and favor demonstrates the faith we have achieved in him and the belief we hold on to that we will dwell in his house forever eternally.
Our faith and hope in God will carry us through many trials and tribulations. Hope keeps us grounded in the Lord. It is our little glow of light in the thick forest of life. Without hope, there is little reason for living.
When we travel on the road of hope it doesn't matter how many twists and turns we encounter, we remain hopeful that the path we are on is the right one. We are not blown away by the strong winds of despair or disappointment. We always maintain the hope that we will get to our destination in the end and that nothing can come between us and the glory God has prepared for us.
We show our faith by continuing to persist on the same road even though there may be strong resistance and opposition that constantly try to compel us to quit. We also show faith by encouraging others in Christ to continue on the same path.
This shows that not only are we convinced of the choices we have made but it shows also that we are ready to bear witness for others to follow the same path for their salvation. We must always pray to God to strengthen our faith especially during trying times. We must keep hope alive in God all the time because it is the only way we can keep our flames burning for him till his return.
Prayers for faith and hope
Prayer for faith and hope in having a child
Dear Lord,
Thank you for the gift of life today
Thank you for blessing our union
We have been trying to have children for a while now without success
We know you are the God that never sleeps
We know that when the time is right, you will glorify yourself in our lives
Keep our faith strong in you
Let us continue to depend on you for our help
Let us lean on you for all understanding
Let us be patient and keep our eyes on you
and we know that we shall receive our gift of a newborn very soon
Amen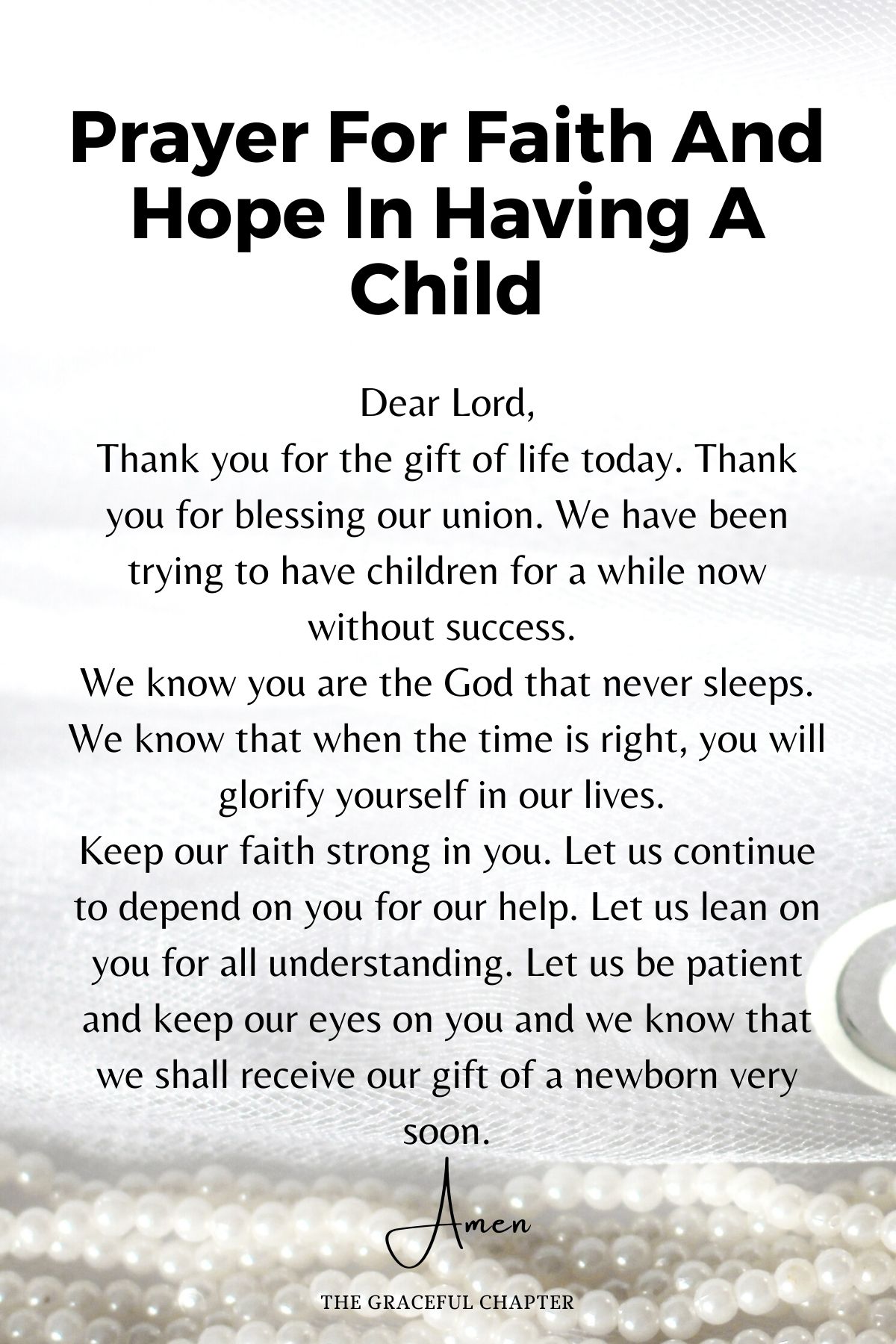 Prayer for faith and hope in recovering from a disease
Father Lord in heaven
This disease has taken away a lot of strength from me
It has stolen my joy and my happiness
It has broken me and almost caused my death
But in all things, I continue to give thanks to you
I will raise my voice in songs of exaltation to you
Please help me keep faith and hope alive in you
Let my candle of hope never be blown off
I know that you will heal me
Let me stay on the road to your redemption in Jesus' name
Amen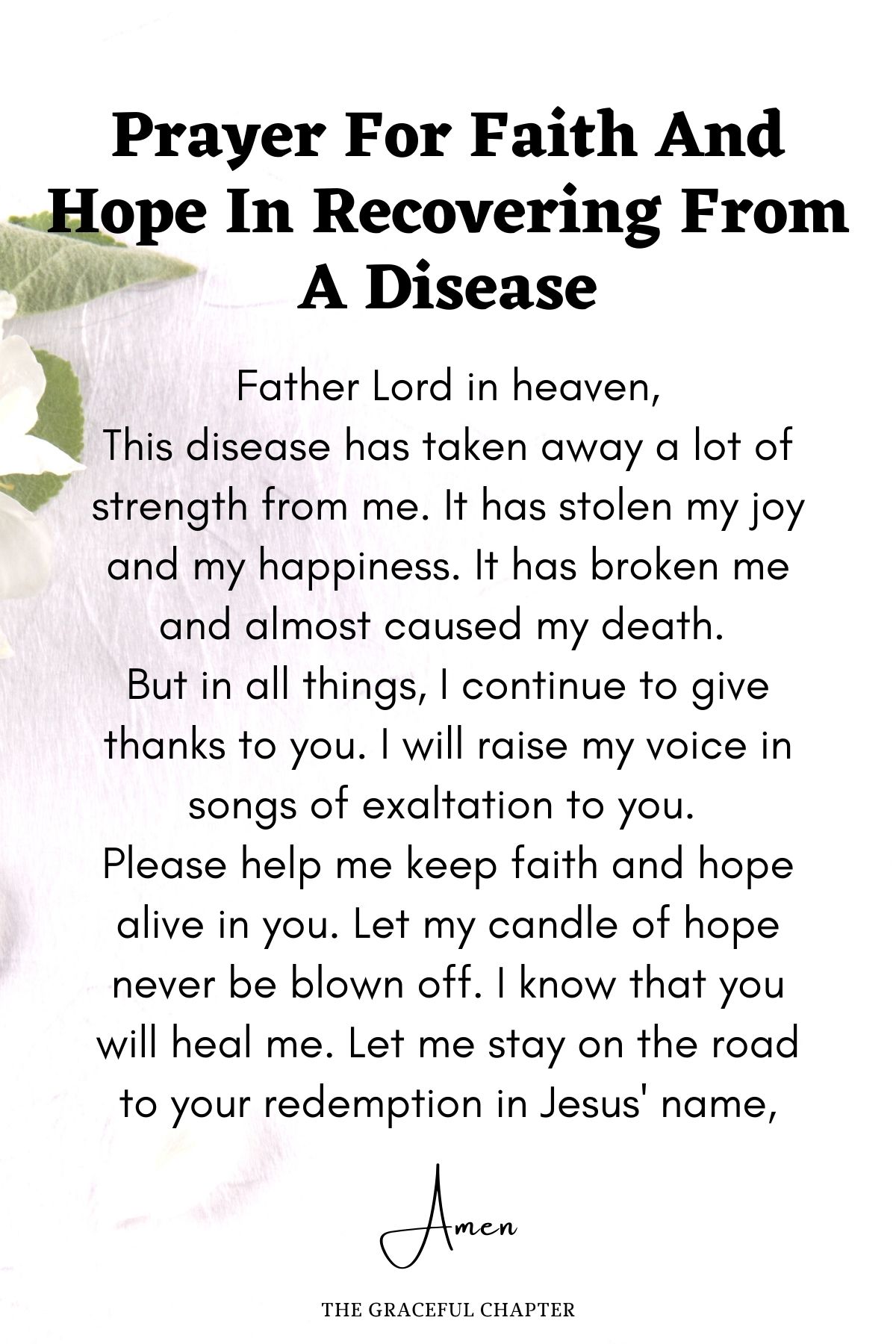 Prayer for faith and hope in finding a job
Dear Lord
I have searched for employment without success all these years
I have toiled in interviews and wasted resources in the name of finding employment
I have been misled by a lot of people who could not help me
My hand is quivering and shaking
I have been used by those who promised me employment but didn't deliver
But I will keep my faith in you
Help me stay strong on this path
Hold my hand when I stumble
Pick me up when I fall
Let my heart be filled with hope
and let my faith in you not be in vain
Amen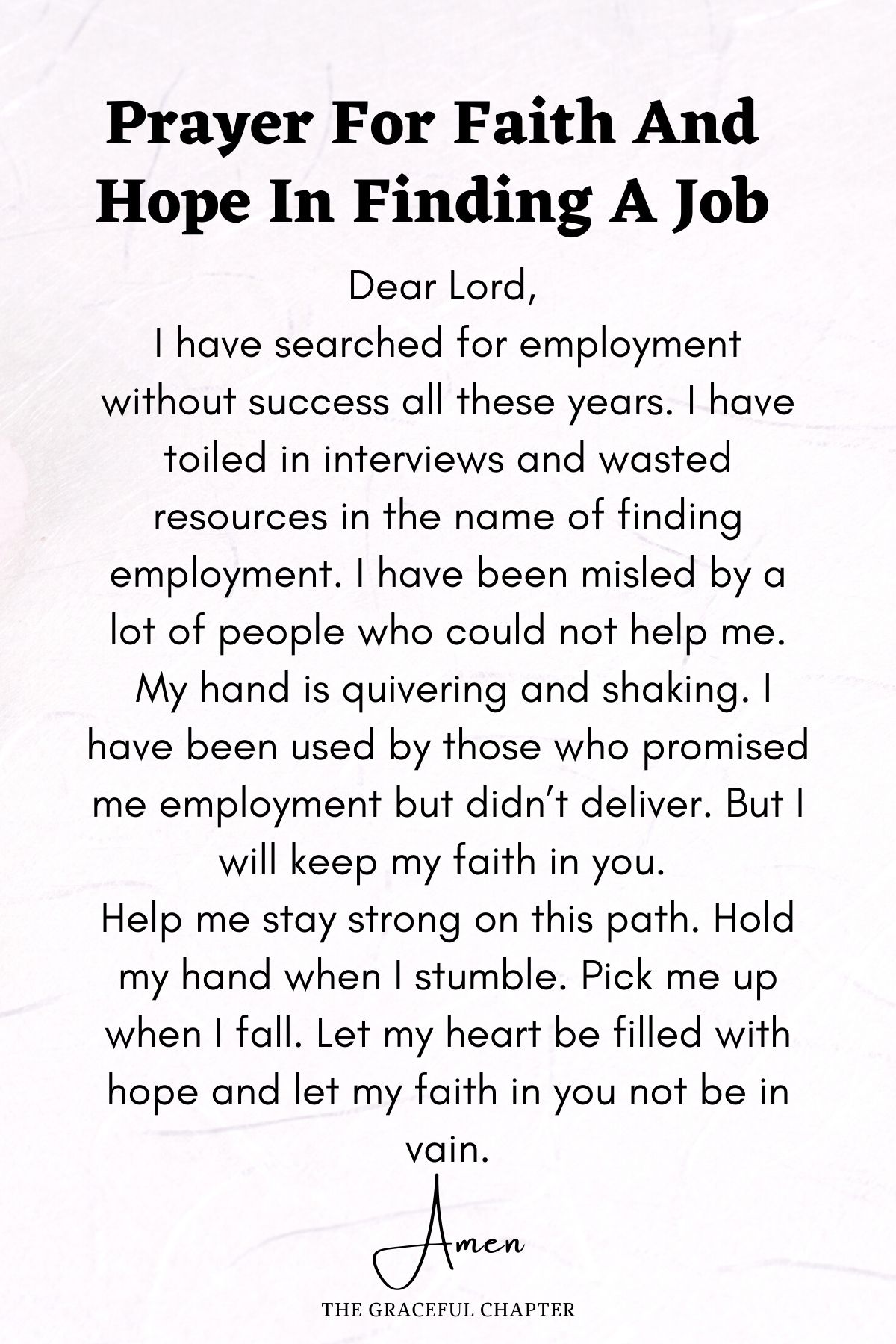 Prayer for faith and hope in healing a broken marriage
Dear Lord
Our marriage is in tatters
We don't see eye to eye anymore
We are always fighting
We don't seem to love each other like we used to
Lord, we need your help
You put us together in love and in hope
We ask that you rekindle our hope
Let us see your face in our marriage
Raise it up and let it flourish
Bless our hearts and let peace reign between us forever
Amen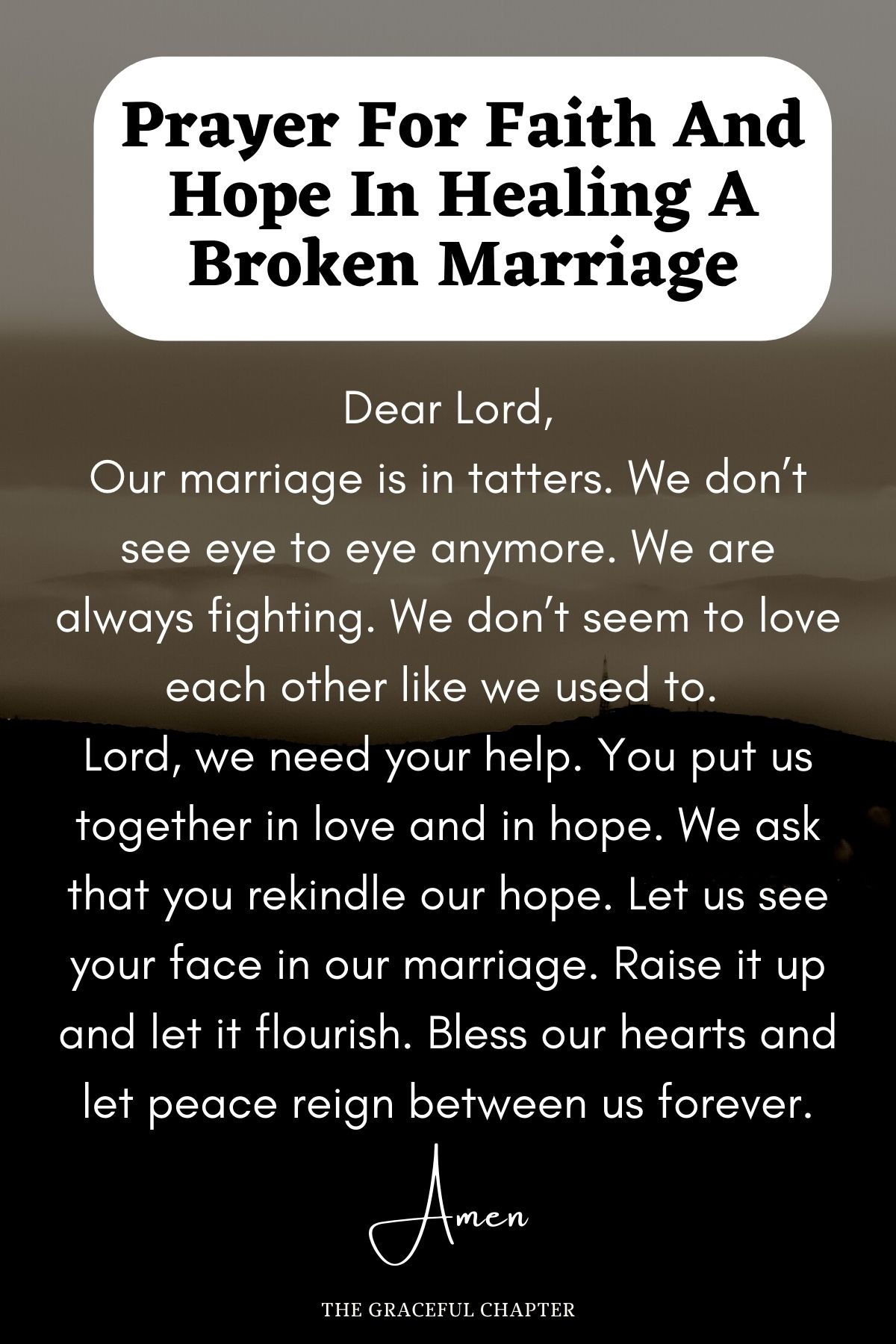 Prayer for faith and hope in trying times
Father Lord in heaven
I am at a crossroads now
All I do doesn't seem to work
My job is lost and I cannot survive
I am in a bad place right now
I seek your hand to take me out of this dungeon
Lift me up from the fires of distraction
Let my hope be renewed with each passing day
Let my faith not fall by the wayside
and let me be sustained in your glory
Amen
Related Posts
Prayer for faith and hope in recovering from a grave loss
Dear Lord
This loss has had a huge impact on me
My life has been turned upside down
Things are going from bad to worse each day
But I will not lose my faith in you
I will dwell in your boat even when the winds of life blow the strongest
I will cling to you when darkness is upon my life
No matter what is taken from me, you will be my provider
I will set my eyes on you and will not lose hope in you
Please replace all that I have lost
and renew my blessings every morning
Amen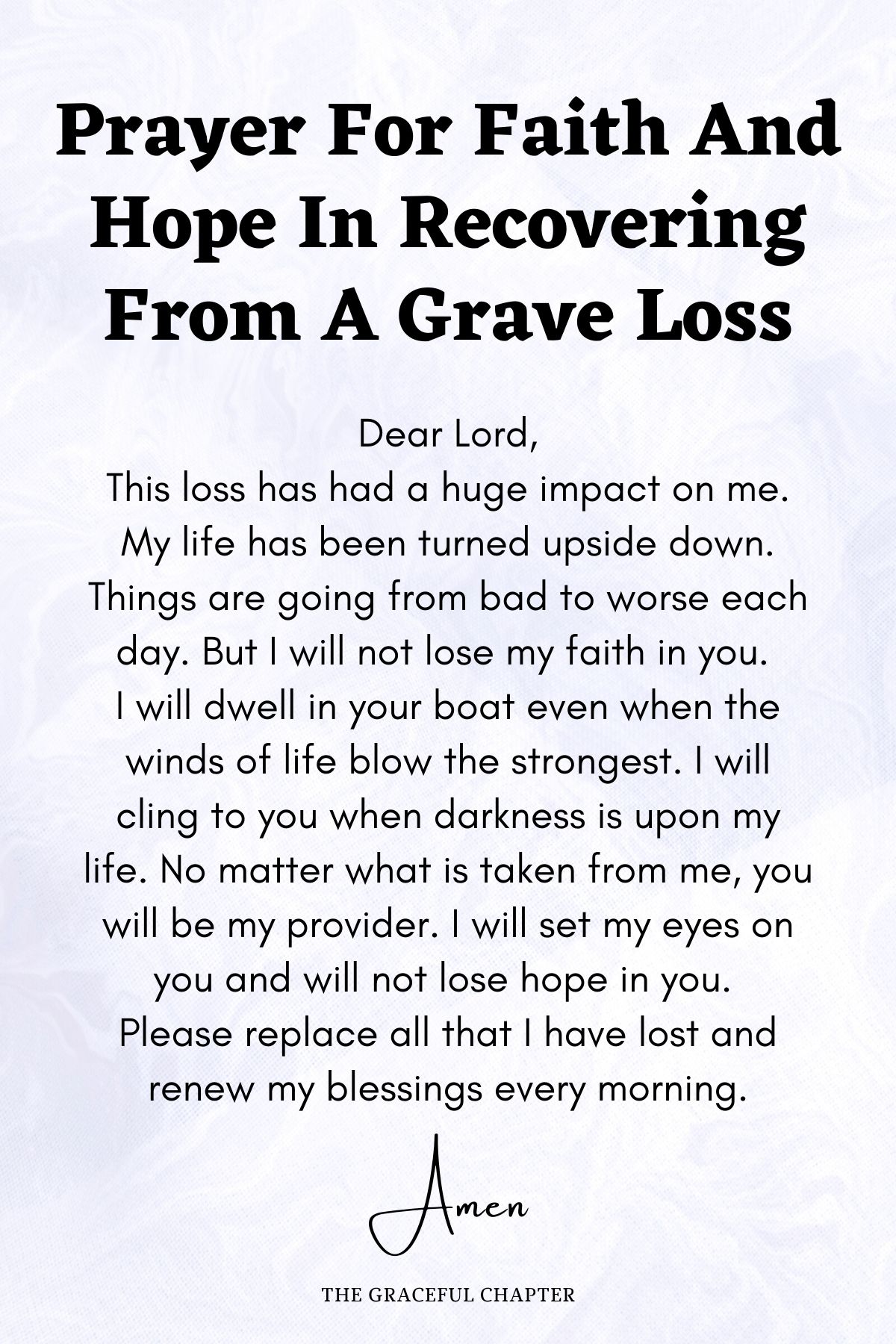 Prayer for faith and hope in reviving a failing business
Father Lord in heaven
My business is failing
Everything I do seems to make things worse
Please come and redeem me
Give me the strength to rescue this situation
Strengthen my faith in you
Let me not be drawn unto measures that will destroy me
Let me not be deceived by others who want my downfall
Renew my hope and faith in you every day
and let me smile in front of my enemies
Amen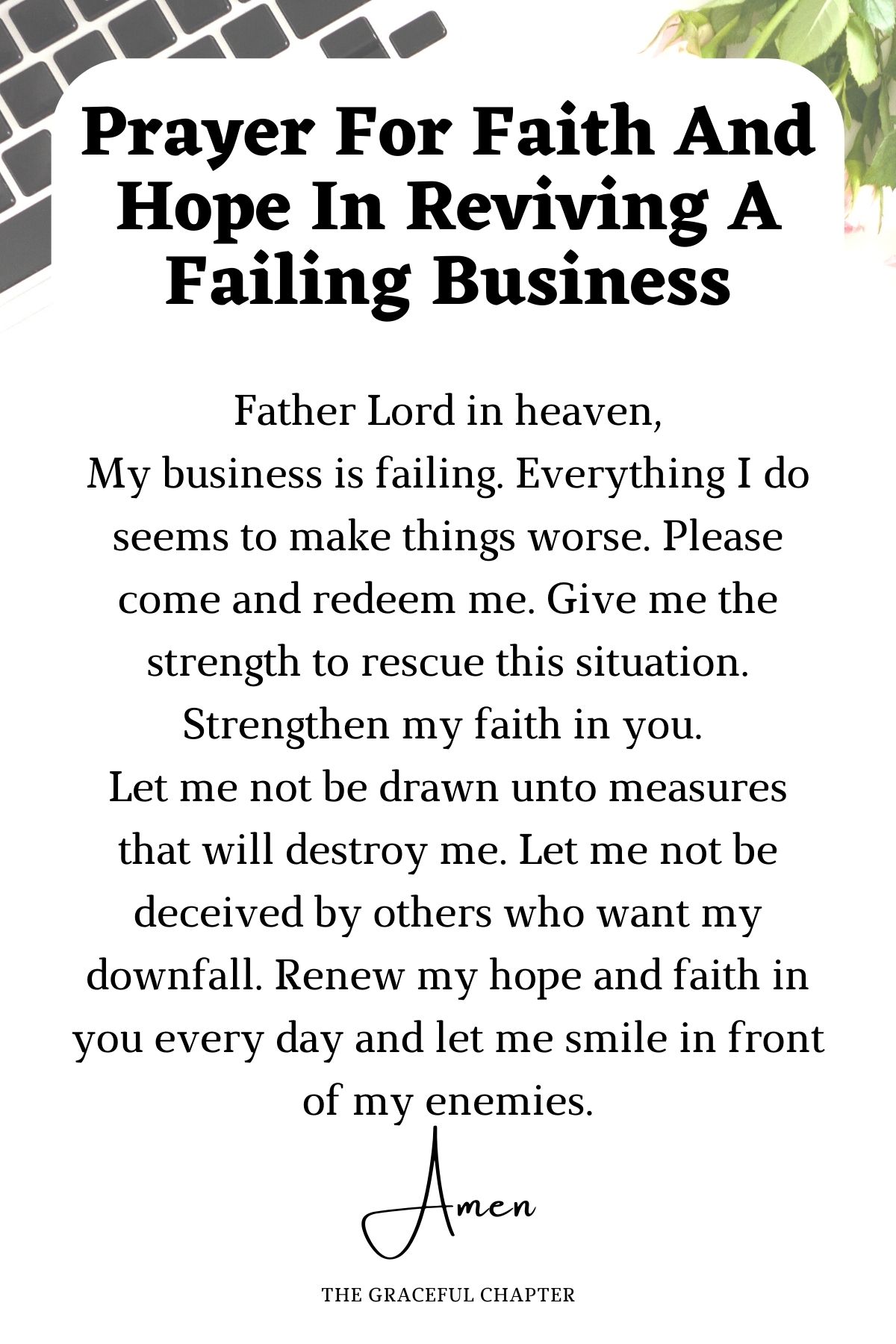 Prayer for faith and hope in finding marriage
Dear Lord in heaven
I come to you in hopeful prayer
I ask that you come and take over my life
I need a partner of my own
Let me keep on trusting in you
Let me not lose hope in myself
Strengthen my faith and let what I need come to me
Let your grace be sufficient in my life
Let me not make poor choices in desperation
Let my hope in you be sustained and rewarded
and I know that I will not be disgraced
In Jesus' name,
Amen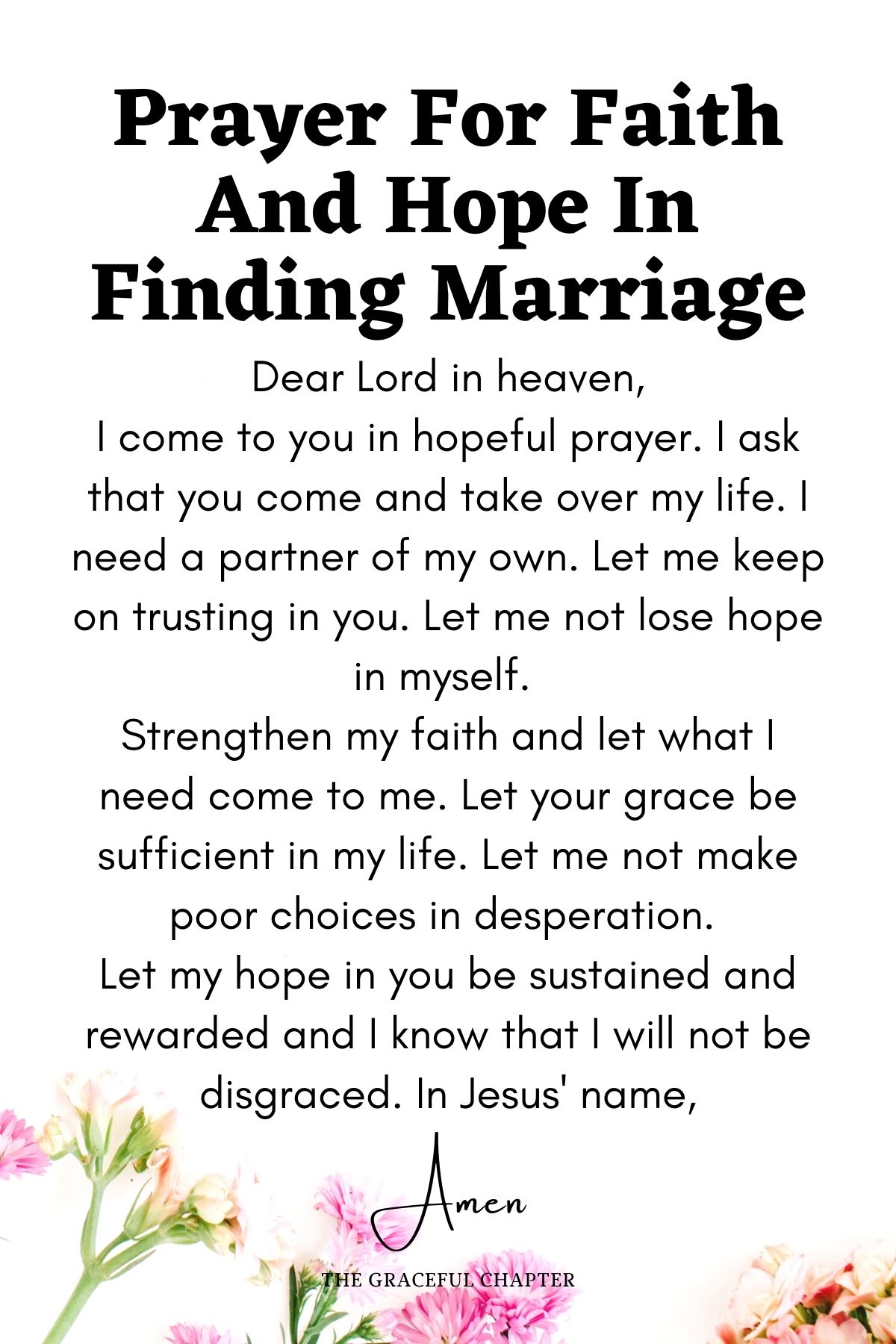 Prayer for faith and hope in finding a lost treasure
Dear Lord
I pray for your guidance
Strengthen me and hold me through this
I have misplaced something dear to me
Please help me find it
Do not let me give up on it
Let me keep hope alive
Help me recover what I have misplaced
I know that it will come back to me
Let your grace follow my every move to find it
and let me always believe that I will find it,
In Jesus' name,
Amen
Prayer for faith and hope in progressing in life
Dear Lord in heaven
I pray for my journey in life
Let me not be at a standstill
Let me always move forward
Stretch my boundaries and bless me each day
Let me move from strength to strength
Let me never bet against you
Let me always believe in you
Help me keep hope alive even in bad times
and allow me to receive success upon success
in Jesus name
Amen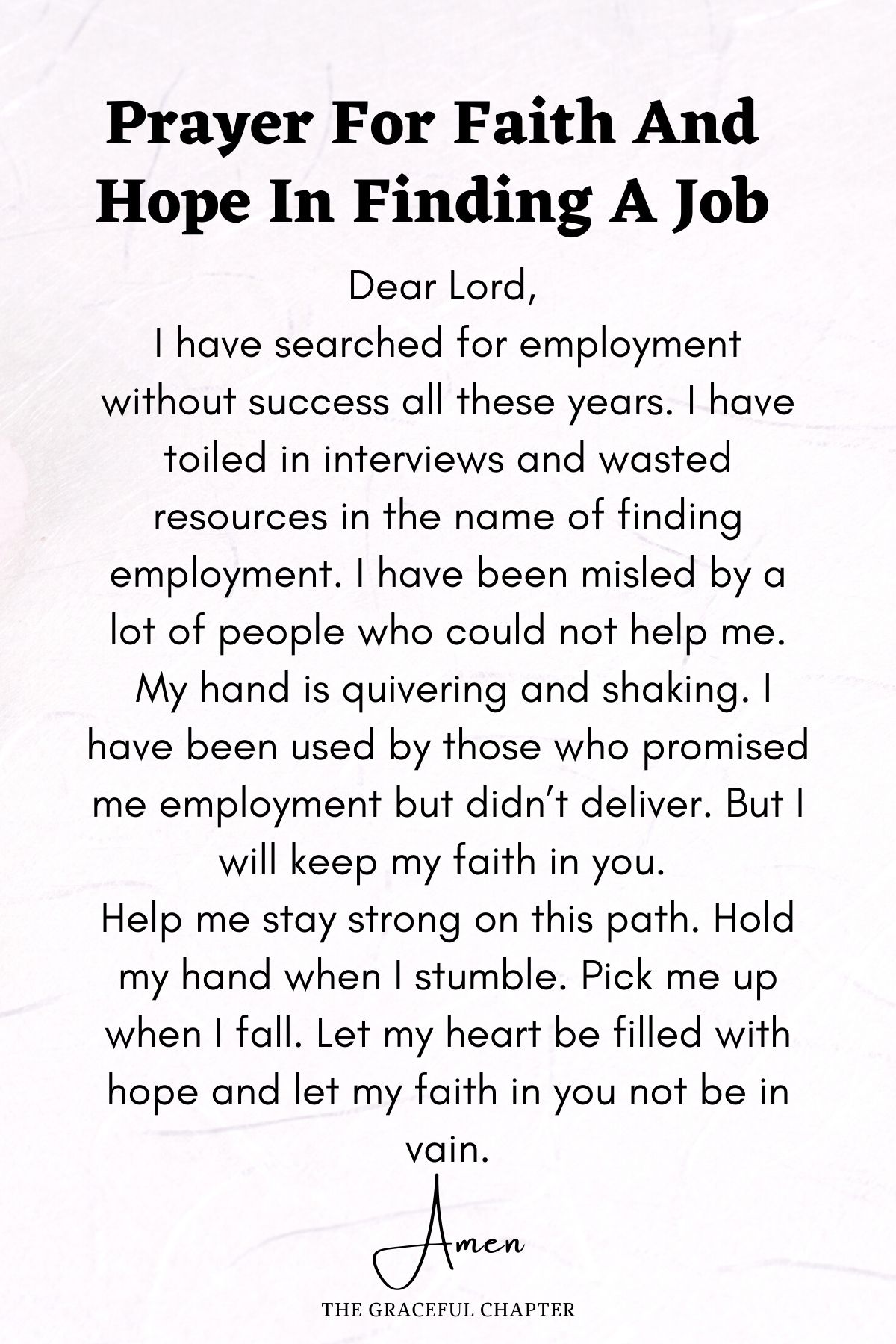 Faith and hope are our weapons in the battle of life. We don't need to be rich to have hope and faith. Therefore, we must hold on to them as strongly as possible so we are not blown away by the perils and hardships of this life.
It doesn't matter what hole or strain you may find yourself in, as long as there is breath in you, hope can be alive also. Hope breeds faith and faith breeds freedom and glory. When you are strong in faith there are no mountains you cannot climb and your victories are assured in the Lord always.
For everything that was written in the past was written to teach us, so that through the endurance taught in the Scriptures and the encouragement they provide we might have hope.

Romans 15:4