One thing about being a parent is constantly being worried about your children. Children come into this world innocent and helpless. It is up to the parents and caregivers to teach them what is right and to defend and protect them.
As a parent, you teach your child, you take care of their needs, you care for them, you protect them, you train them up, you encourage them, you help them and above all, you love them. You do all these things and yet still you can't help but worry about them.
This is because you know that certain things are out of your control. As much as you try and as hard as you try, you can't control everything. And so when your child is out of your sight, you can't help but worry about them.
You worry about the decisions they make, if they can make the right ones that will help them. You worry about the people they encounter, if they are good people or they are people that want to harm your children, you worry about their life and their health, you worry about everything.
But as a Christian parent, instead of spending your days worrying about all the above, you should rather go to the Lord in prayer and pray for your child. He's God. He's the one in total control of everything and the amazing part is he's everywhere.
So when you can't be around to protect your children and help them make the right choices, he's ever present and will always be there for them. So don't worry about your children, instead, go to the Lord in prayer and prayer for your children.
Aside from praying for your children, it is also very important to teach your child how to pray. You can teach them a short prayer or teach them how to communicate with God, this will help the child bring a strong relationship with God. It will also give the child a sense of confidence and security when you are not with them because they know they are not alone.
Below are some prayer points for children that you can pray over your child.
10 Prayer points for children
Wisdom
Pray that God gives your children wisdom. Before anyone does anything, they first have to decide what to do and just one decision can change your life for good. That is why it is important to pray that God gives your children wisdom and helps them to make the right decisions.
Good health and strength
You also have to pray for your child's health. No one can really do anything if they are sick and unhealthy. So pray that God gives them the strength to do everything that they should.
Courage and confidence
Ask God to give your child courage and confidence to be able to go through life. Life can be scary and especially for children, this can cause fear and panic. So pray that God helps your child to be brave no matter what comes their way.
Peace
Worrying is not something for just adults too. Children worry too. Pray that God gives your child peace and give their mind rest.
Protection
Pray that God will be your child's refuge and protector. He's the only one who can always be with your child. So pray that he protects your children wherever they go.
Their education
You are going to teach your children a lot of things but your children will learn a lot more from their school and their surrounding. Pray that God gives your child wisdom and knowledge, so they can learn.
Pray that they will be exposed to teachers, friends and neighbors who will teach them what to right. Pray that they will be able to understand what they learn in school and they will be able to apply what they learnt in their lives.
Their future
Nobody knows what the future holds but God does. The bible says in Jeremiah 29:11 that "For I know the plans I have for you," declares the Lord, "plans to prosper you and not to harm you, plans to give you hope and a future."
God have plans for your child's future, so pray that God's plans for your child's future manifests. Pray that their future is prosperous and God's will for the prevails in their life.
Their friendships
You can teach your child all the right things in life and you can train them up well, but it can only take one bad advice from a friend to change your child's life. Children are very impressionable, so it is very important that you pray that your child makes the right friends who will draw them closer to God.
Pray that your child will be able to discern between what is right and what is wrong. Pray that your child will only be concerned about pleasing God with their actions and not pleasing their friends.
Love
Pray that your child knows they are loved and that they will also be able to give out love to others. Pray for their heart. Pray that they are kind and compassionate. Pray that they are filled with love.
Joy and happiness
Pray that God fills their heart with joy and happiness. It is so common to see children who are sad and depressed for various reasons. It doesn't mean you are doing something wrong as a parent. It is just your child expressing how they fill deep within.
SO pray that God fills your child with joy and happiness. So that they can have a positive outlook on life.
Related Posts
Prayers for children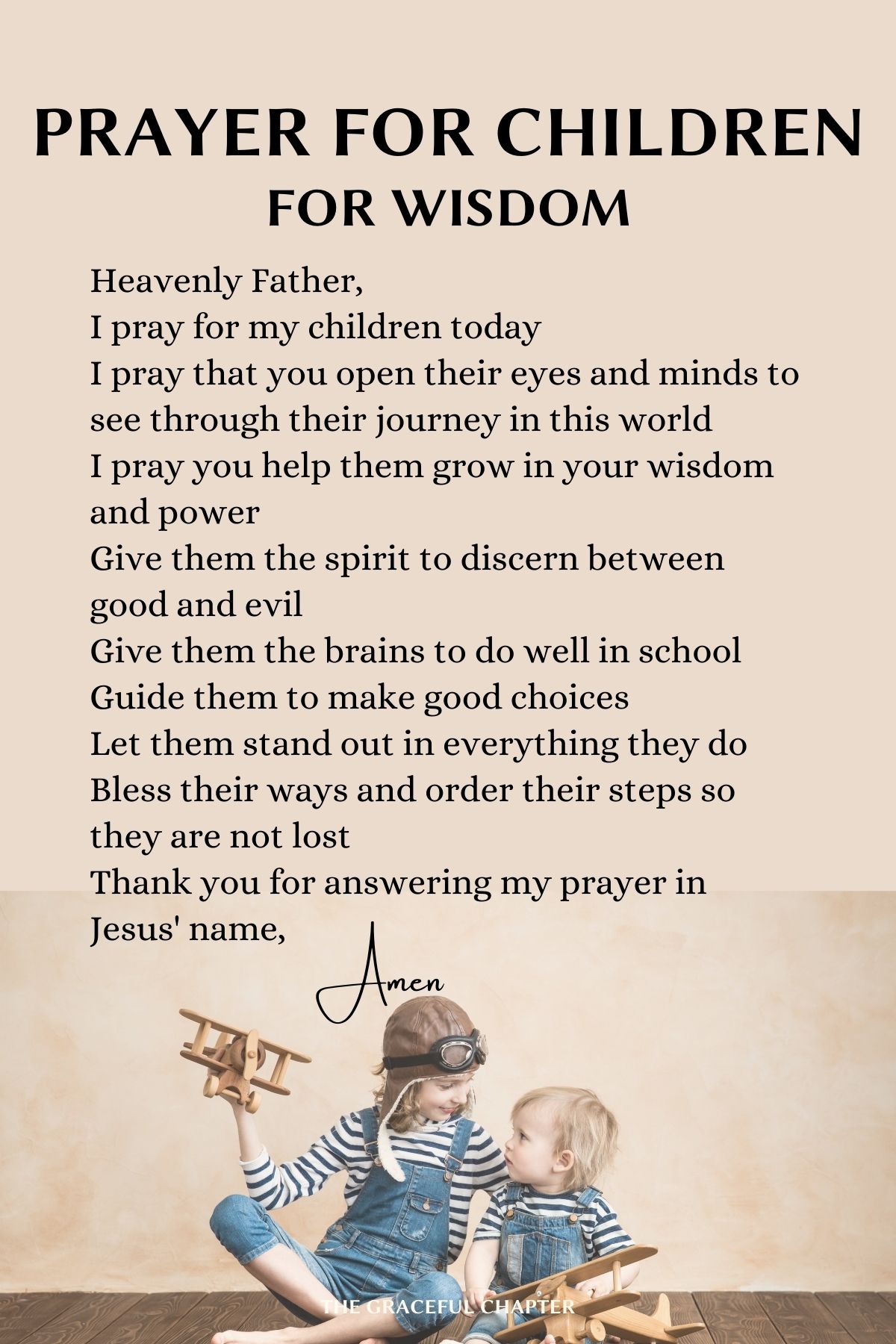 For wisdom
Heavenly Father,
I pray for my children today
I pray that you open their eyes and minds to see through their journey in this world
I pray you help them grow in your wisdom and power
Give them the spirit to discern between good and evil
Give them the brains to do well in school
Guide them to make good choices
Let them stand out in everything they do
Bless their ways and order their steps so they are not lost
Thank you for answering my prayer in Jesus' name,
Amen
Strength and health
Dear Lord,
Thank you for blessing me with these kids
I pray for their bodies
I pray for your divine healing on their bodies 24/7
Help them recover from any ailment in their bodies
Give them the power to fend off any infections or abnormalities within their body
Protect them from physical harm
Help them grow in your divine strength
Bless them with a healthy life from their childhood to their adulthood
Thank you for hearing my prayer in Jesus' name
Amen
Prayer for your children to be united
Gracious God,
I come before you today to pray for my children
I pray that you will help them to grow in love and unity
Fill their hearts with love and understanding for each other
Let them find a friend in each other and be there for each other
Teach them to forgive and not hold grudges against each other
Teach them to treat each other with love and respect
I destroy whatever seed of discord that the devil have sowed between them
I pray against any enemy who wants them divided
Let the works of the evil one in their life be futile
Deliver and protect them from all evil
In Jesus' mighty name I pray,
Amen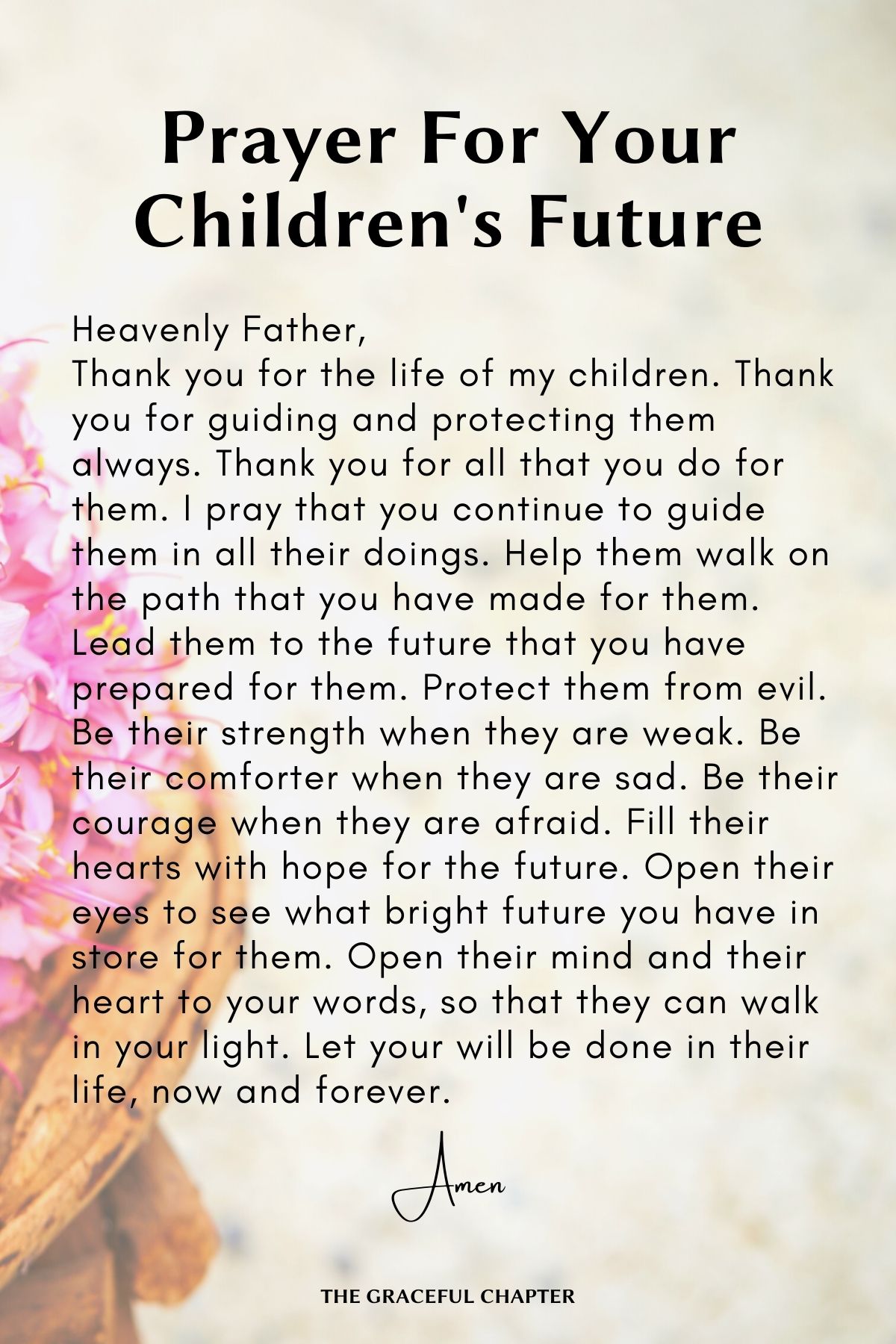 Prayer for your children's future
Heavenly Father,
Thank you for the life of my children
Thank you for guiding and protecting them always
Thank you for all that you do for them
I pray that you continue to guide them in all their doings
Help them walk on the path that you have made for them
Lead them to the future that you have prepared for them
Protect them from evil
Be their strength when they are weak
Be their comforter when they are sad
Be their courage when they are afraid
Fill their hearts with hope for the future
Open their eyes to see what bright future you have in store for them
Open their mind and their heart to your words, so that they can walk in your light.
Let your will be done in their life, now and forever
Amen.
Prayer for a child in the womb
Dear father
Thank you for this gift in my womb
Thank you for blessing us with this seed
I pray for your divine protection and guidance for this new life in me
Give it all the nutrients and vitamins it needs to survive
Grant me the strength to remain healthy for it
Carry me through safely these 9 months safely
Remove any impending accidents that could harm this baby
Save me from the plans of the evil one concerning this baby
Let me meet my baby in one holy piece
Amen
Prayer for a sick child
Father Lord,
I pray for my child today
She has been diagnosed with a disease
That is just a physical diagnosis
You Lord are the creator of the entire universe
Only you can create and destroy
You made my baby
You raised people from the dead
You can make my baby well
Please make her well
Let my baby enjoy the life you created for her
Grant her your divine healing and let her live a long healthy life
Thank you for answering my prayer,
Amen
Prayer for the schooling child
Heavenly Father
Thank you for the lives of my children
Thank you that they have grown in strength and grace
They are in school now,
I pray for your divine protection and guidance during their time in school
Keep them from violence, remove any accidents from their path
Help them focus on their studies
Remove any distraction that will retard their progress in school
Help them graduate successfully without any problems
In jesus' name,
Amen
Prayer for the child struggling in school
Dear Lord,
I commit my child to your care
He has been struggling to maintain his focus in school
His schoolwork is suffering as a result
You Lord can change anything
Bless my child with your divine wisdom
Help him keep his focus on the right things
Help him develop a healthy attitude towards learning
Grant him understanding for what he learns
Transform him into a bright and brilliant kid
Help him grow in excellence to achieve the goals you have set in his life
Amen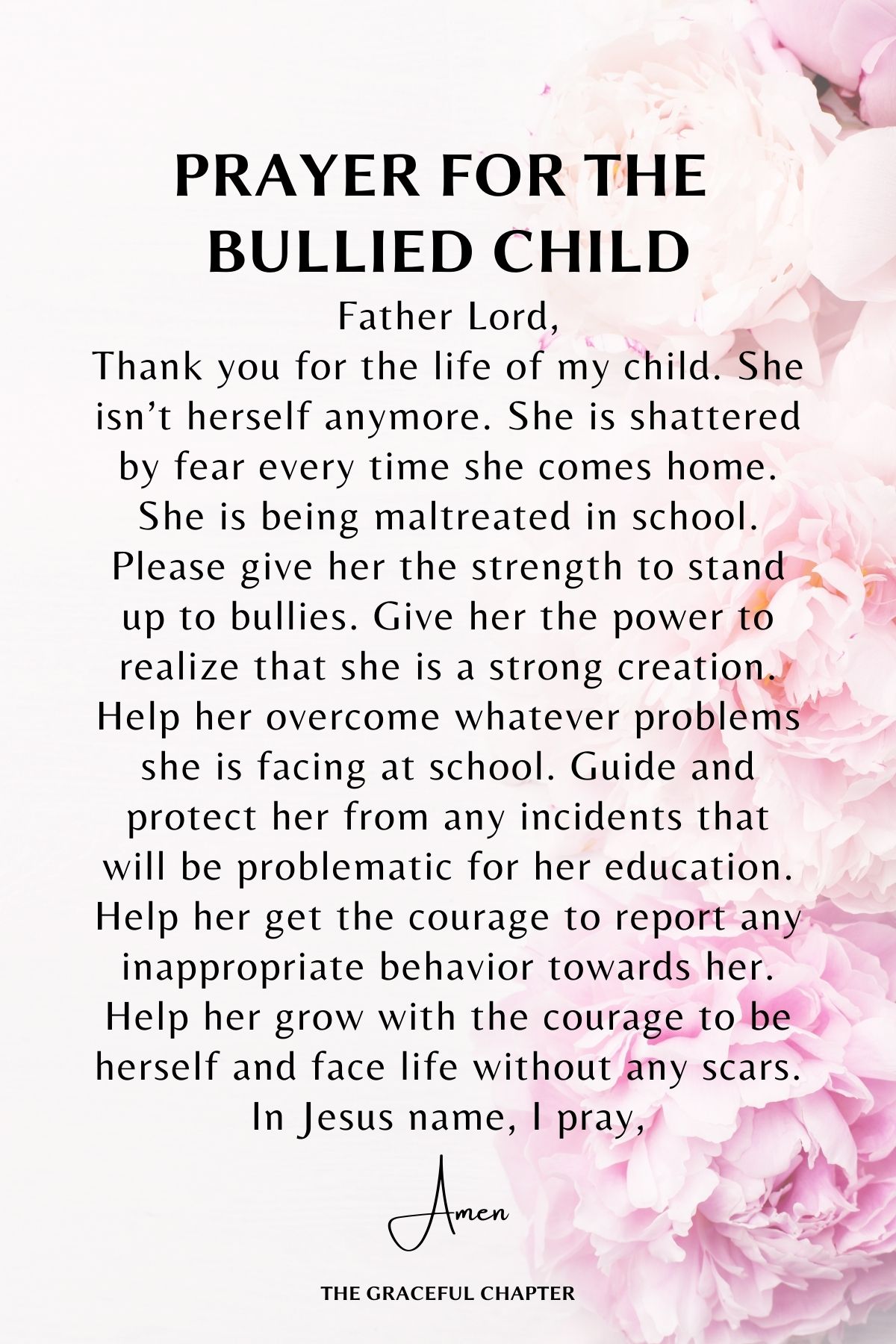 Prayer for the bullied child
Father Lord,
Thank you for the life of my child
She isn't herself anymore
She is shattered by fear every time she comes home
She is being maltreated in school
Please give her the strength to stand up to bullies
Give her the power to realize that she is a strong creation
Help her overcome whatever problems she is facing at school
Guide and protect her from any incidents that will be problematic for her education
Help her get the courage to report any inappropriate behavior towards her
Help her grow with the courage to be herself and face life without any scars
In Jesus name, I pray,
Amen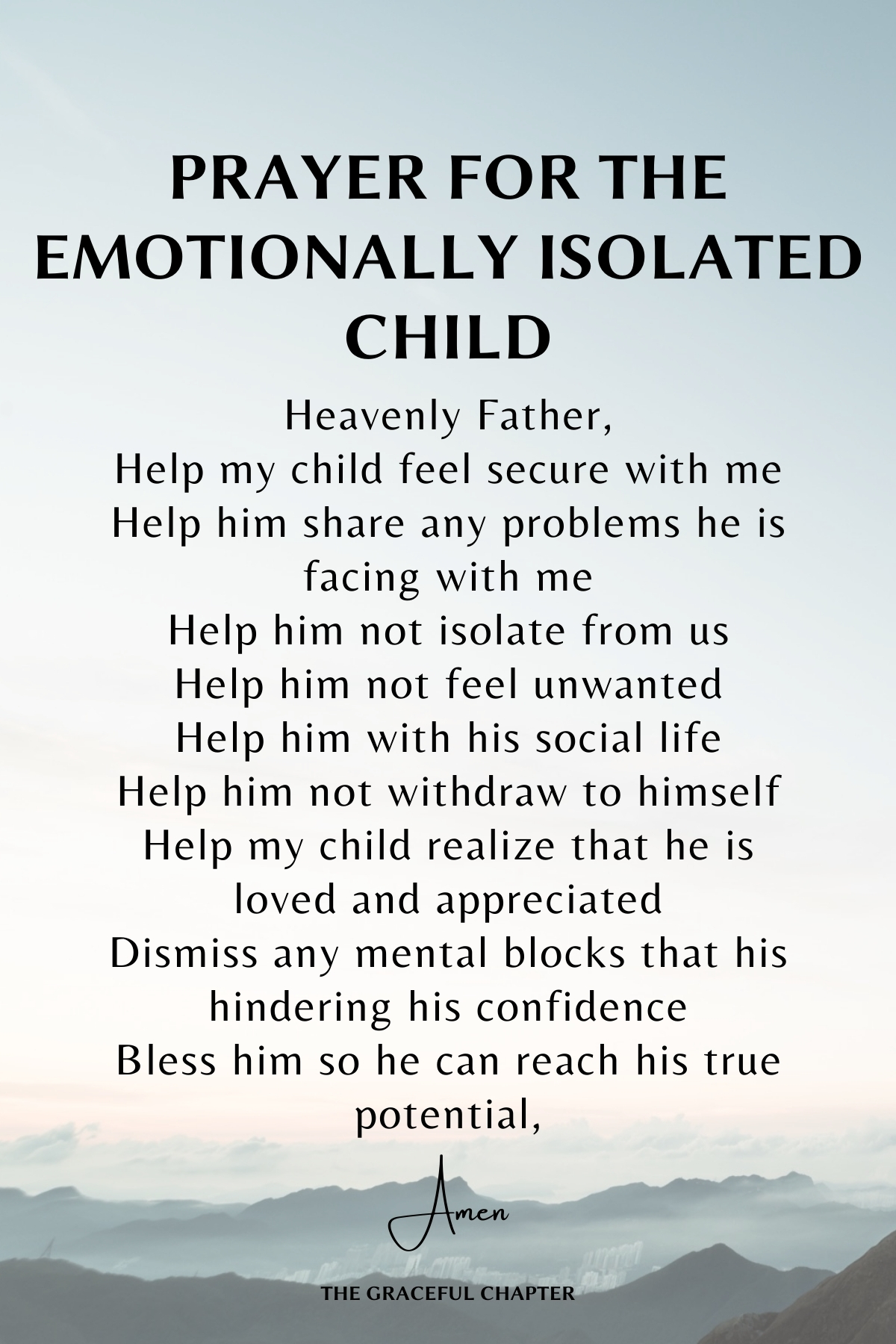 Prayer for the emotionally isolated child
Heavenly Father,
Help my child feel secure with me
Help him share any problems he is facing with me
Help him not isolate from us
Help him not feel unwanted
Help him with his social life
Help him not withdraw to himself
Help my child realize that he is loved and appreciated
Dismiss any mental blocks that his hindering his confidence
Bless him so he can reach his true potential,
Amen
Prayer for the emotionally scarred child
Dear Lord,
Thank you for raising my child with your word and wisdom
She has become a little distant lately
It's like she has gone through or seen something she shouldn't have
Please help her know she doesn't have to go through this alone
Help her understand that she needs to share this with us
Give her the strength to want to talk about this
Help her with the courage to deal with this and move on with her life
If she is still going through it help us find out what it is and stop it
I pray for your guidance to help her through this
I pray that you give her the courage to move past this so it does not affect her in the future
Thank you for hearing my prayer through Jesus Christ, our Lord,
Amen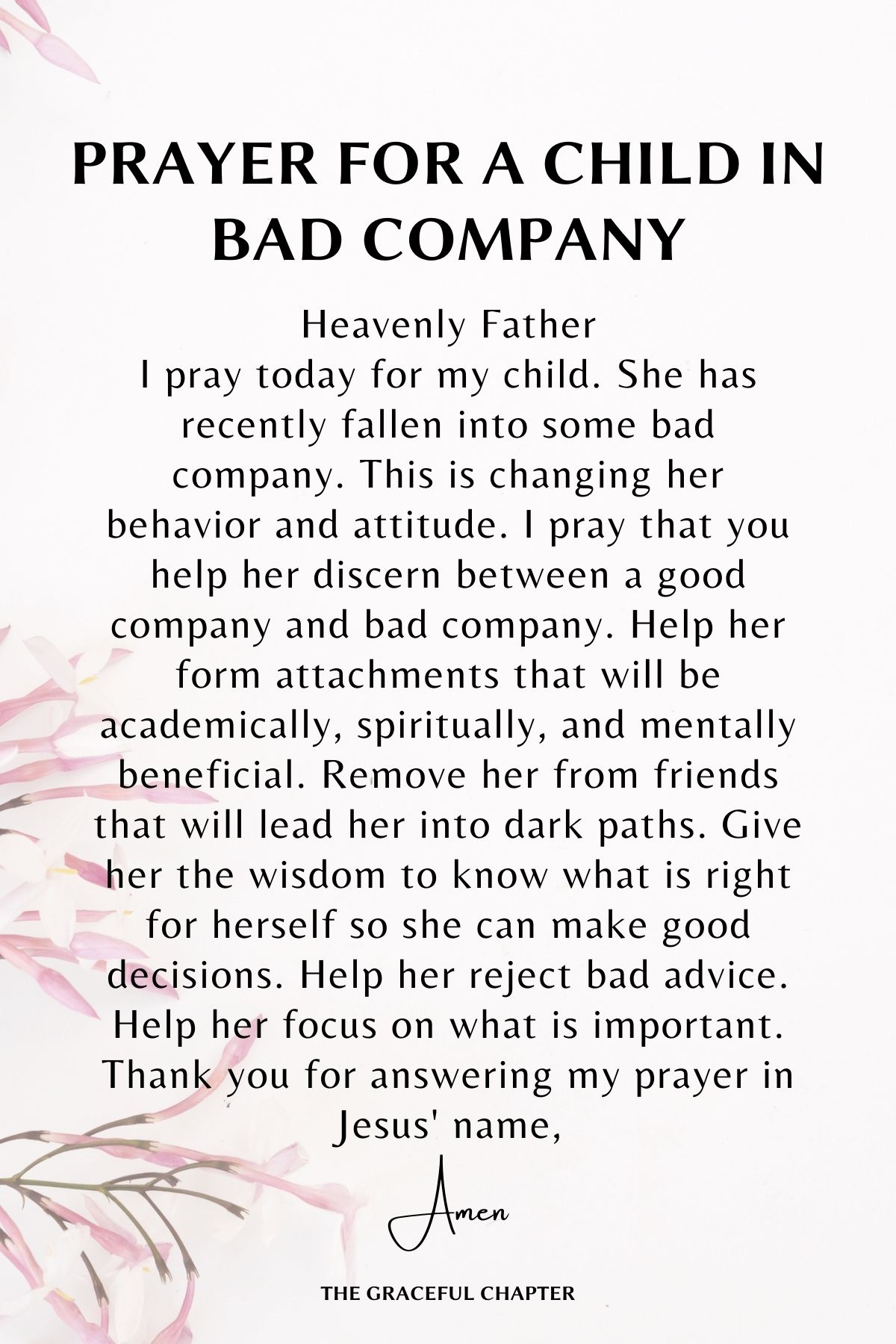 Prayer for a child in bad company
Heavenly Father
I pray today for my child
She has recently fallen into some bad company
This is changing her behavior and attitude
I pray that you help her discern between a good company and a bad company
Help her form attachments that will be academically, spiritually, and mentally beneficial
Remove her from friends that will lead her into dark paths
Give her the wisdom to know what is right for herself so she can make good decisions
Help her reject bad advice
Help her focus on what is important
Thank you for answering my prayer in Jesus' name,
Amen