A job hunt can be very frustrating. Getting countless rejection letters is normally a stressful period for anyone. For a fresh graduate searching for a job can be an ordeal since most organizations are looking for experienced people who can hit the ground running and not incur any training costs.
For older people, an employment search can be equally as grueling because you may not get the level of salary you were on at your last job. Well God wants us to find work for our hands.
Prayers for employment put you in tune with the spirit and open your spiritual eye. It strengthens your faith in God's ability to open opportunities and doors for you in places where you can fit in and realize your full potential. Think about what you are good at and also where you can thrive by using the knowledge or experience you have acquired.
Instead of stressing out and giving up spend your spare time with God and talk to him about what you need. Tell him to show you the right doors to knock. Be confident in yourself and your abilities. See yourself filling a particular hole or need in an organization and doing it in excellence. Prepare yourself well and feel the strength of God within you.
Ecclesiastes 11:6 teaches us to not be idle and give up because we do not know when the opportunity arrives. Put yourself out there and do not be pessimistic. With God by your side, the right doors will open for you. Keep knocking and keep trying and show persevering faith and your chance will come.
Prayers for employment
Prayer of Perseverance During a Job Search
Dear Lord
I pray that you give me strength and ambition
I have been trying to get employment but I keep hitting brick walls
Every place I try to get doesn't call back or reject me
But I know that you love me and will give me what my heart desires
I pray for your strong hand to keep me from giving up
Keep pushing me forward and let me not stop having faith
Give me the calmness to push on even after receiving bad news
I do not want to be a quitter
I want to keep my trust in you and be victorious
Let me not be shaken by rejection letters, delayed callbacks, or failed interviews
Let me not be discouraged by the failures of others to get jobs
Let me maintain my trust in your word and rely on your mighty strength
Bring me comfort when I stumble and let me not lose faith
Bless me to land the best job suited for me
Thank you for answering my prayer
Amen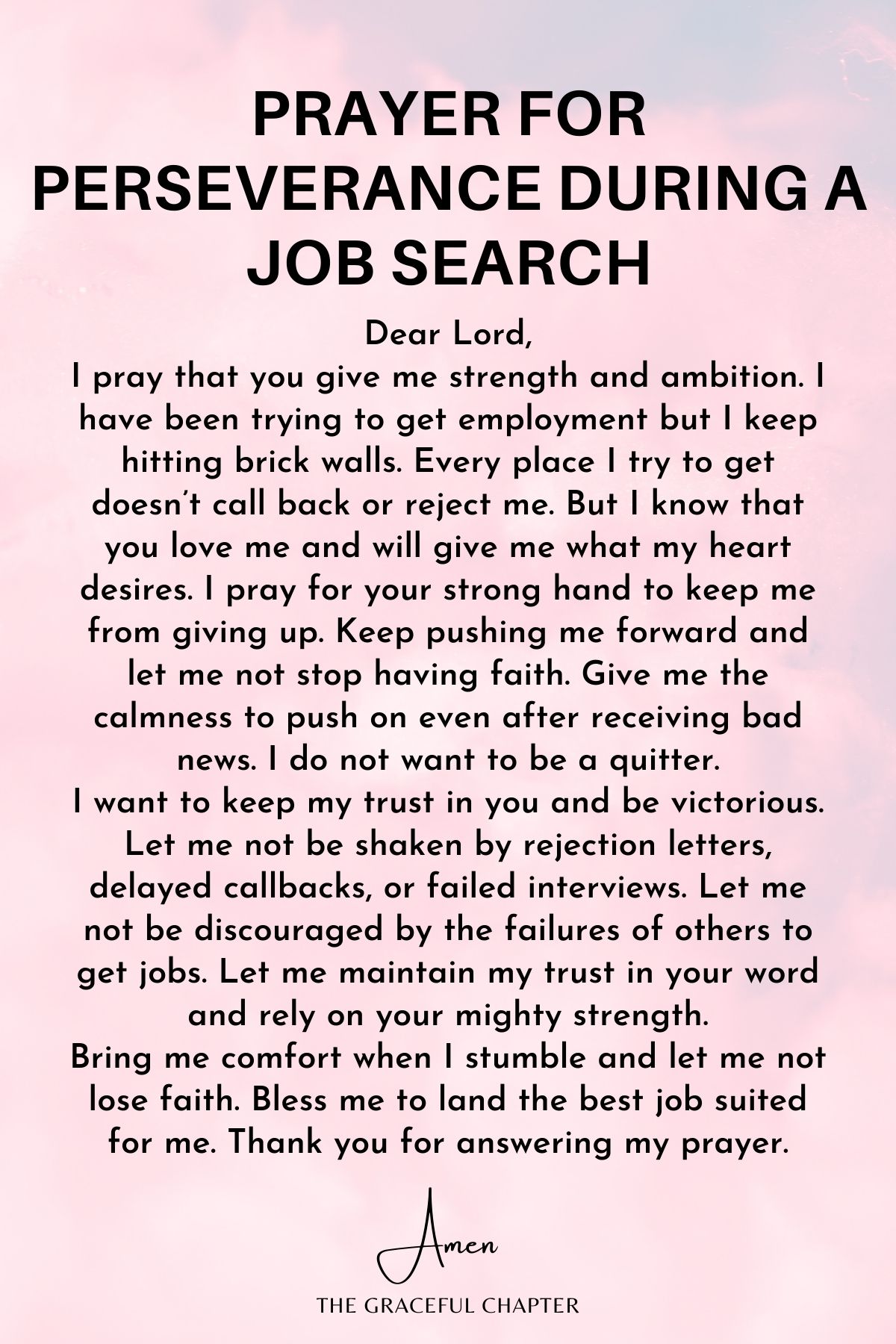 Prayer for Interview During a Job Search
Father Lord,
Thank you for my life today
Thank you for taking me through my education and helping me graduate
I pray that you come and take control of my job search
I have gone on many interviews which have not yielded results
I commit my next interview into your hands
Come and take control of it
If there is anything that I am doing wrong, please fix it for me
Let my next interview be my last one
Let me get accepted and employed
Let your favor follow and lead me through my interview
Order my steps into victory and let me not do it of my own accord
Bless my words and let them be exactly what is required
Grant me confidence in everything I do at the interview
Give me the courage to show exactly what I am capable of
Thank you, Lord, for answering my prayer
Amen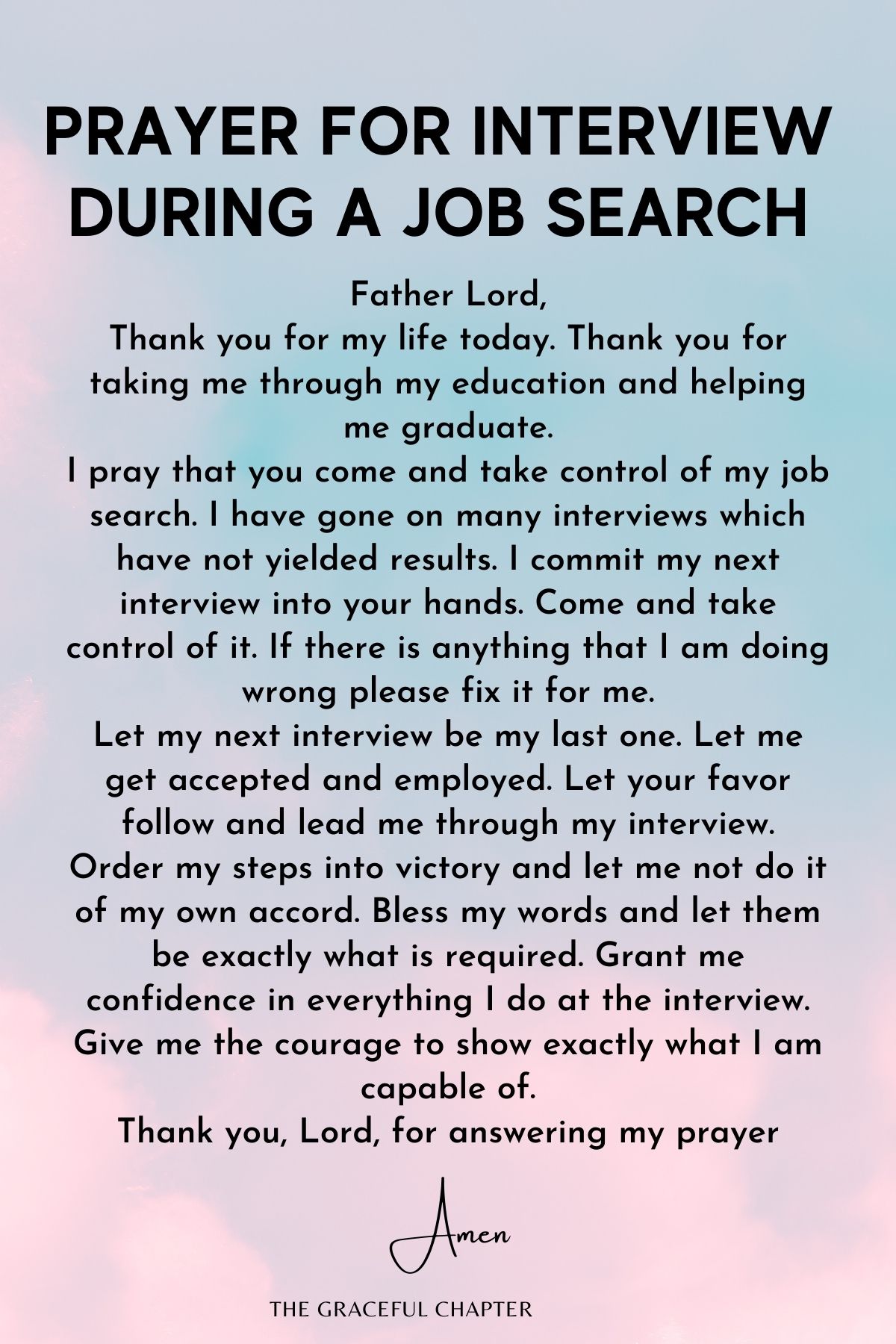 Prayer for Guidance During a Job Search
Gracious Father
Thank you for my life today
I require a job right now
I have not lost my faith in you even though I have been searching for a very long time
I pray for guidance, Dear Lord
I pray that you point me the right way and let me knock on the right doors
Guide me in the letters I write and in the interviews, I go to
Help me seek the right jobs and help me say the right things
Guide me when I pray about this issue and help me be victorious
Do not let me be misled by any character who will take advantage of me through this job search
I resist all plans of evil concerning my search for employment
Show me the way to opportunities
Grant me the eye for knowing where chances lie
Bless my applications and cover them with your spirit and favor
Let your light shine on my applications in front of those who access it
Bring me joy and happiness when I hear back from potential employers
Bless me today, dear Lord, and help me in my struggle for a good job
Thank you for answering my prayer
Amen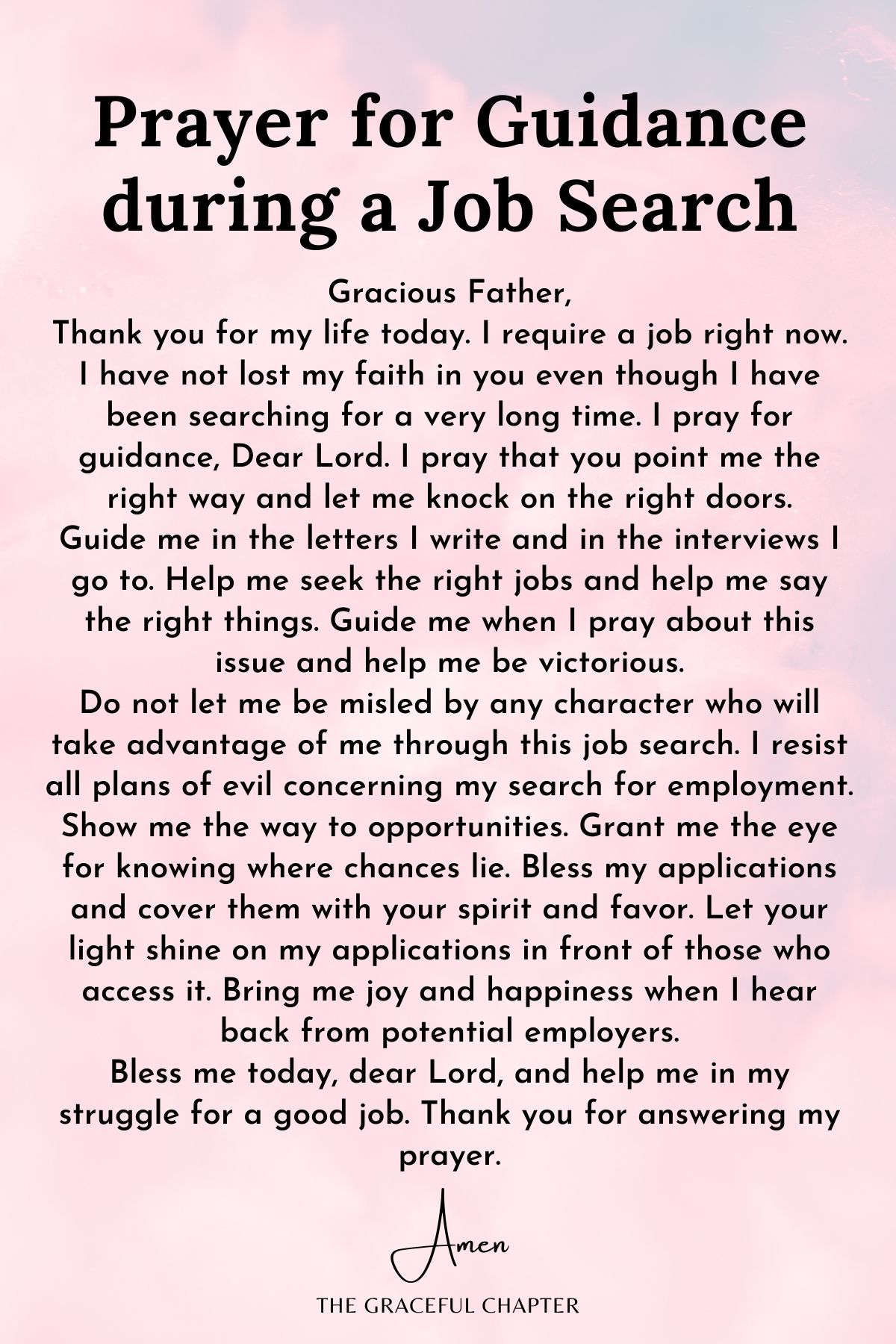 Prayer for Confidence During a Job Search
Father in Heaven,
Thank you for my education and for helping me graduate after all these years
Today, I pray for your divine confidence
Give me the wisdom and courage to conduct myself during this process
Let my words and mannerisms inspire confidence wherever I may venture
Remove fear from my heart and let me not be discouraged easily
Let no job seem too herculean to me
Let me believe in my abilities
Guide me to reveal to them my potential so they can trust in my abilities
Let me not shake or quiver regardless of the challenge I might face
Let me be bold and calm in my approach
Let me fit in no matter where I go
Fill me with hope, dear Lord
Let your grace follow me wherever I go
Let your light shine on my face and let me be accepted
This I ask in the name of Jesus
Amen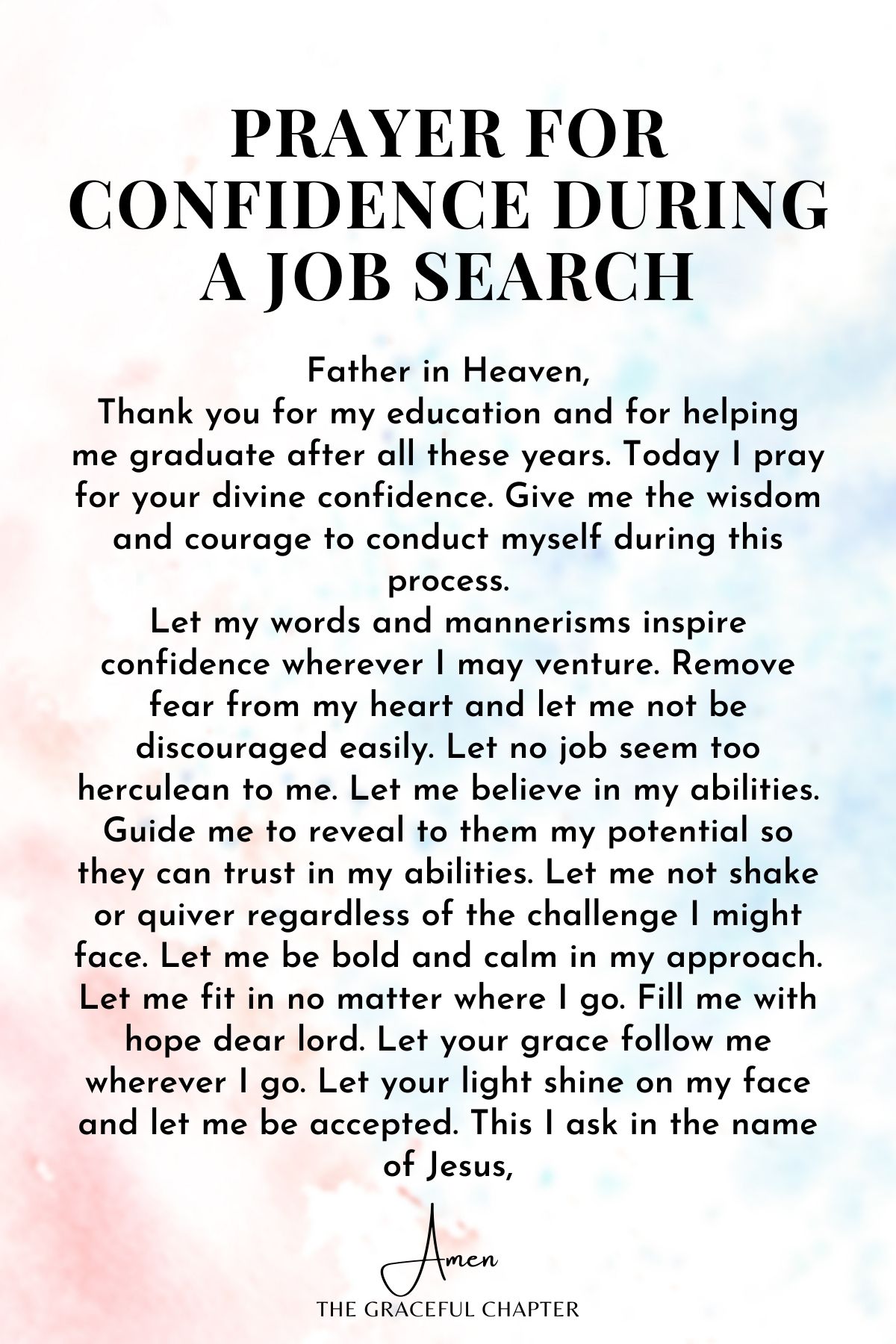 Related Posts
Prayer for Faith During a Job Search
Father Lord,
Thank you for the gift that is today
Thank you for my life
Let me hold on to my faith in you during this job search
Let my thoughts, words, and actions be positive and reflect the faith that I have in you
Remind me of your word whenever I think of quitting
Let me stand firm in your word and your grace
Let me grow in faith
I declare that I shall have my dream job in Jesus' name
I speak blessings into my life
I speak favor into my job hunt
I declare that I shall not be rejected anymore
I decree that all doors shall open for me when I knock
I receive acceptance letters in the name of Jesus
I accept letters of appointments
I stand firm in your favor
I receive my job appointment in Jesus' name
Thank you for your answered prayer
Amen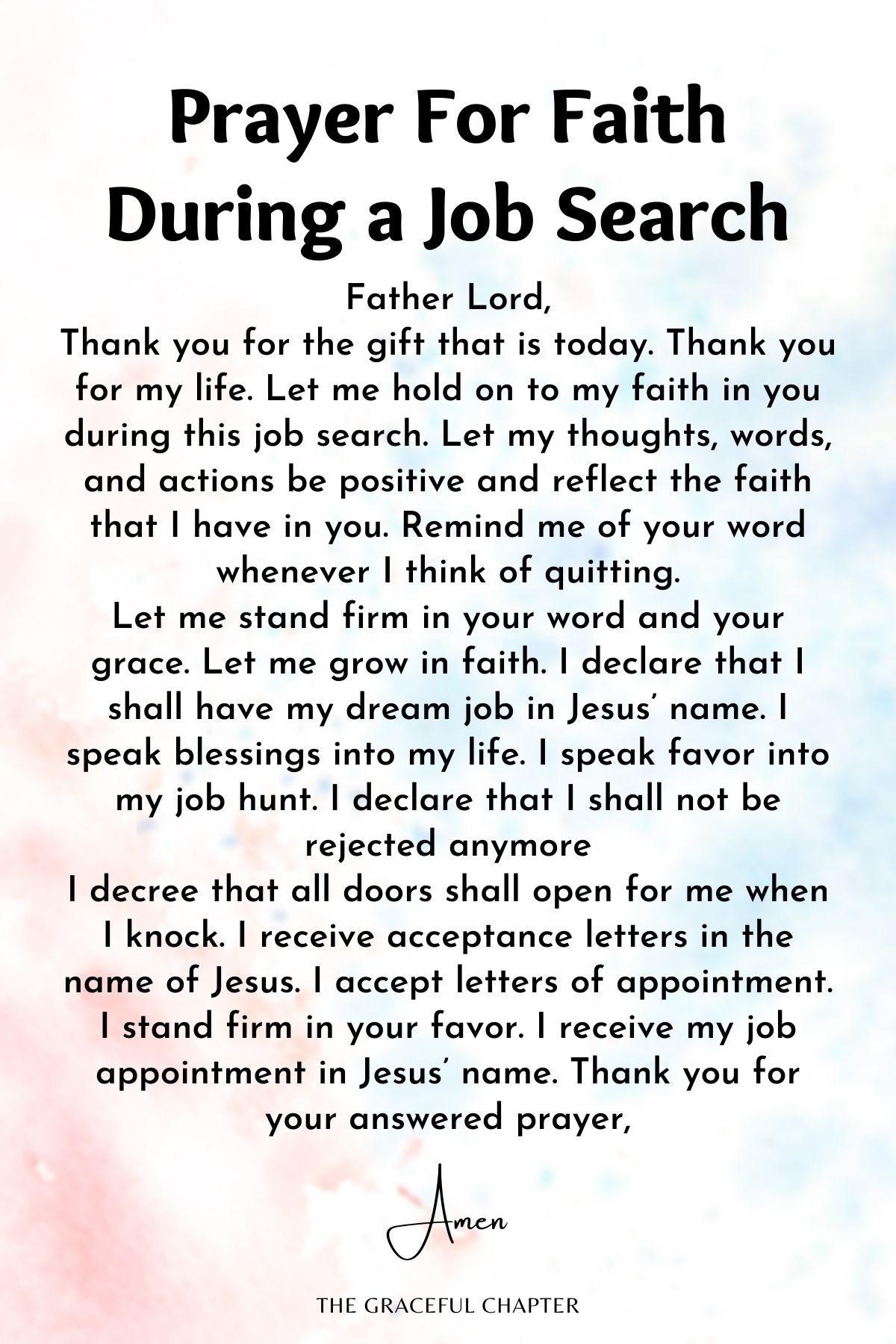 Prayer for a new job
Almighty Father,
Thank you for my life
Thank you for all that you do for me
Thank you for providing me with a job and a means to provide for myself and my family
Father, I want to find a new job,
One that will help me utilize my skills and abilities and also help me earn more
So I humbly place my request before you
Please help me find a new job
I pray that you help me to find a job that suits my skills
Guide me in my search for a better job that will fulfill me emotionally and financially
Let your favor and your blessings be upon me through this time of my life
Thank you for always hearing my prayer,
Amen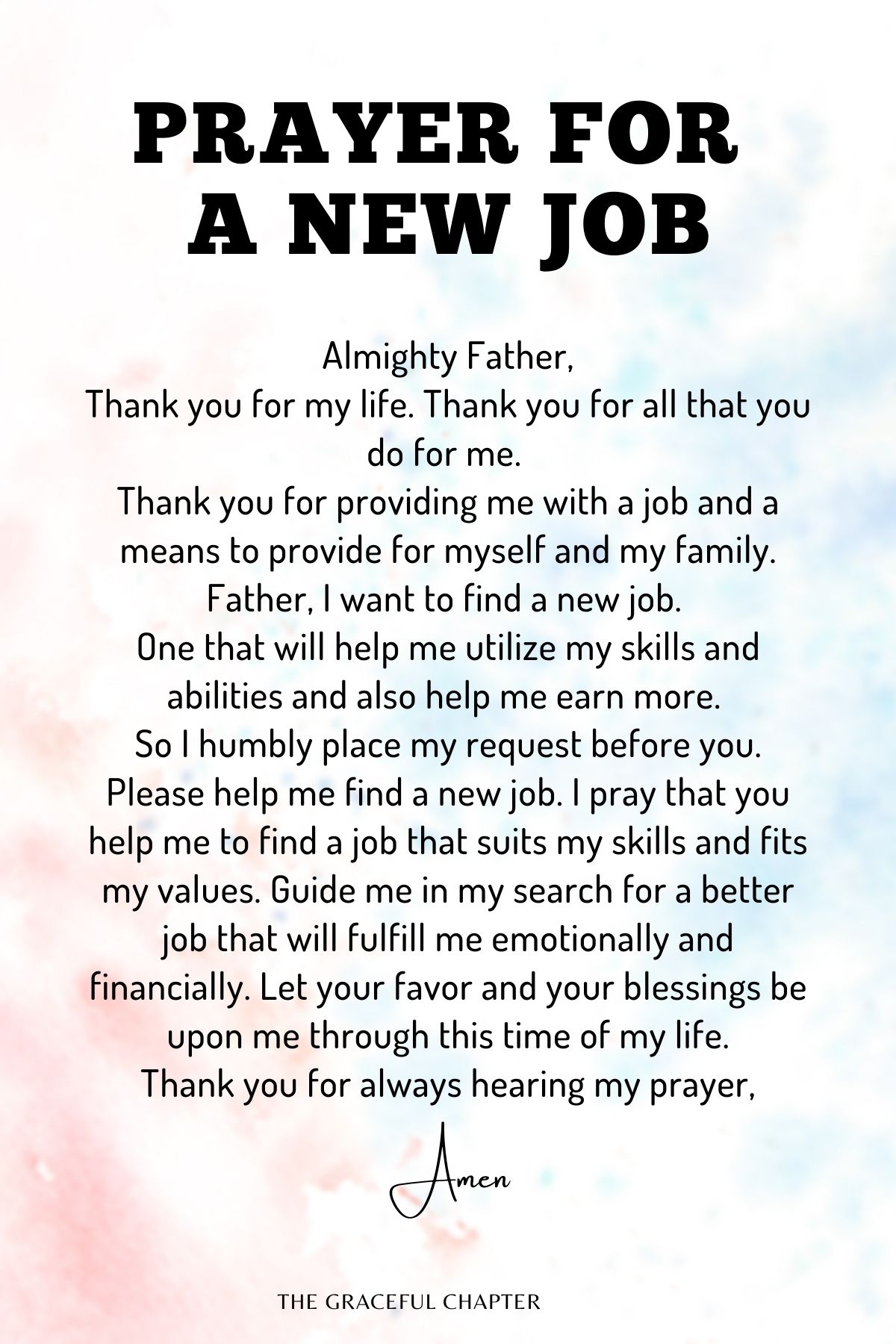 Prayer for career guidance
Dear God,
I've reached a point in my life where I'm at a loss as to what to do
I need help trying to figure out what career path to take
God, you are the alpha and the omega
You are the all-knowing God
You know the end from the beginning
So you know which career will be best for me
Please take my hand and point me in the right direction
Give me clarity, Lord, and help me make the right decision
Lead me to the career path that will align me with your plans for me
Fill me with the values and skillset I need to succeed in the career
Guide me in my pursuit of a suitable career
In Jesus' name, I pray
Amen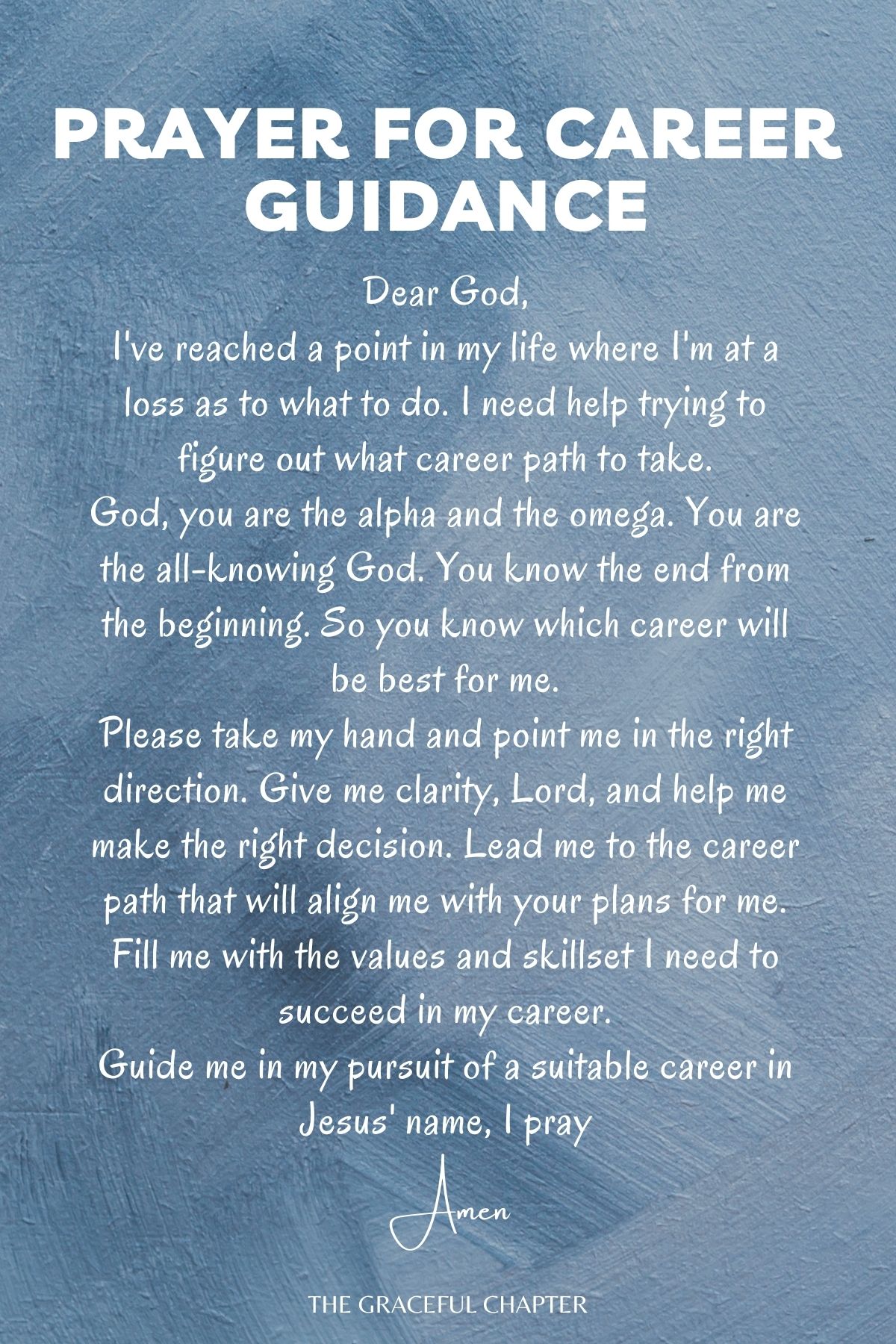 Prayer for employment breakthrough
Gracious Lord,
I come to you today, so you may fill me with your hope
Father, I've been searching for employment for months and I'm still jobless
The stress of unemployment is beginning to get to me
I feel empty and hopeless, but I refuse to accept defeat
Please cleanse me of these negative emotions
Take away my worry and give me peace
Fill me with your strength and hope to keep pushing
Please pull me out of the chain of joblessness and unemployment
And walk me towards success in my job hunt
Lead me to the right career opportunity
In the name of Jesus, I receive the anointing to succeed
Grant me divine favor in front of every employment interview panel
Amen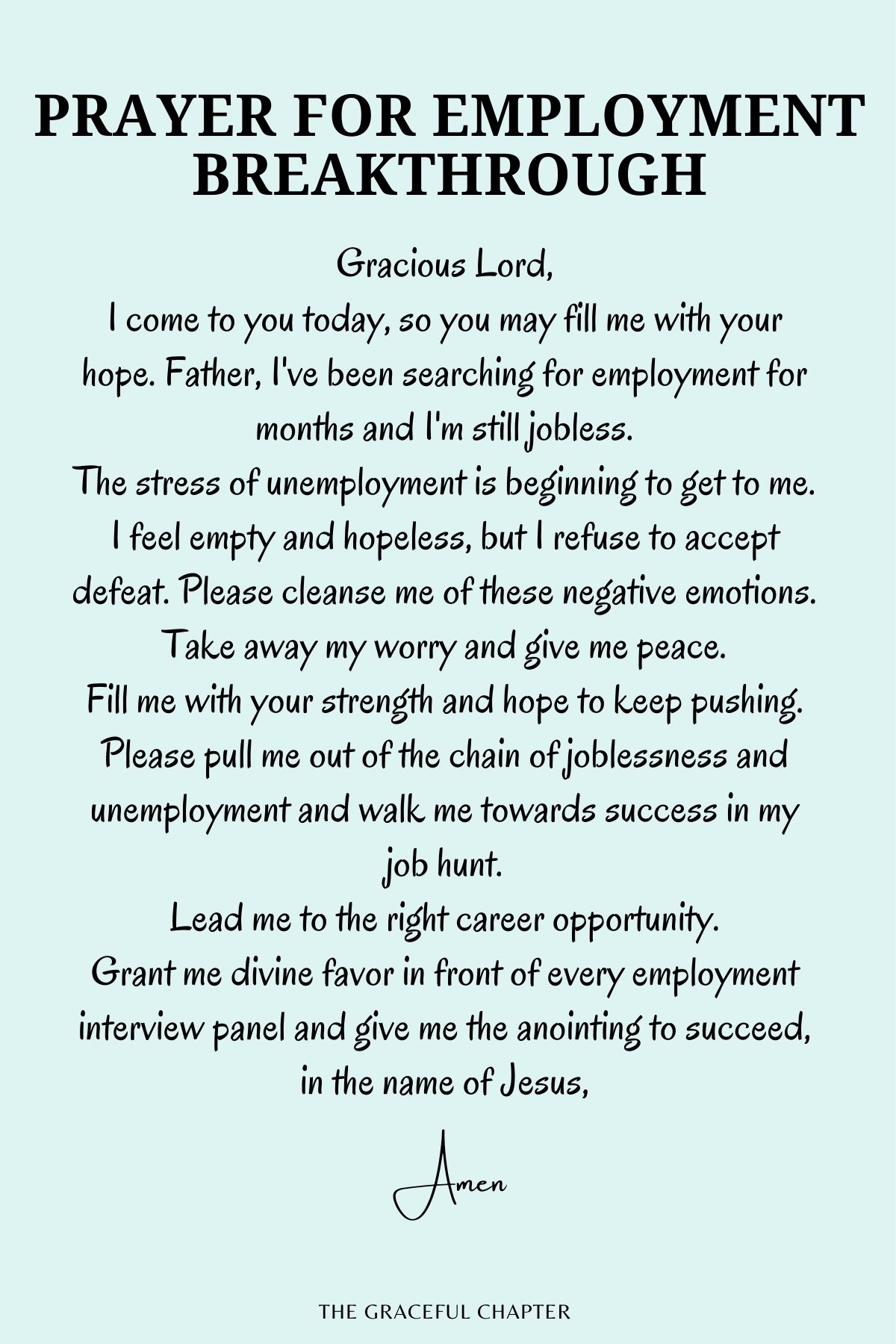 Prayers for employment are meant to enhance your spiritual walk with God during your job hunt. God speaks to us every day and he will point you in the right direction with whispers in your ears.
He talks to you when you are feeling discouraged or tired. He prompts you when you are about to say something inappropriate. He cautions you and teaches you throughout your journey. He is that voice in your head. Start with him and he will end with you.