Thanksgiving is not just a holiday set aside to enjoy dinner with your friends and family. Thanksgiving is a practice that expresses our gratitude for God, for his goodness and favors upon our lives.
This is why it is important to make thanksgiving a daily practice. This will help to remind you of how much God loves you and all the incredible things he keeps doing in your life. Even on bad days, there is still something to be thankful for. You can check out our 30 days of gratitude journal and download it for free.
Below are some Thanksgiving Psalms verses to help you give thanks and praise to God. You can memorize one or two and say them every day.
Thanksgiving Psalms Verses
Praise the Lord. I will extol the Lord with all my heart in the council of the upright and in the assembly. Great are the works of the Lord; they are pondered by all who delight in them. Glorious and majestic are his deeds, and his righteousness endures forever.
Psalm 111:1-3
In God, we make our boast all day long, and we will praise your name forever.
Psalm 44:4-8
to the music of the ten-stringed lyre and the melody of the harp. For you make me glad by your deeds, Lord; I sing for joy at what your hands have done
Psalm 92:3-4
In the council of the holy ones God is greatly feared; he is more awesome than all who surround him.
Psalm 89:7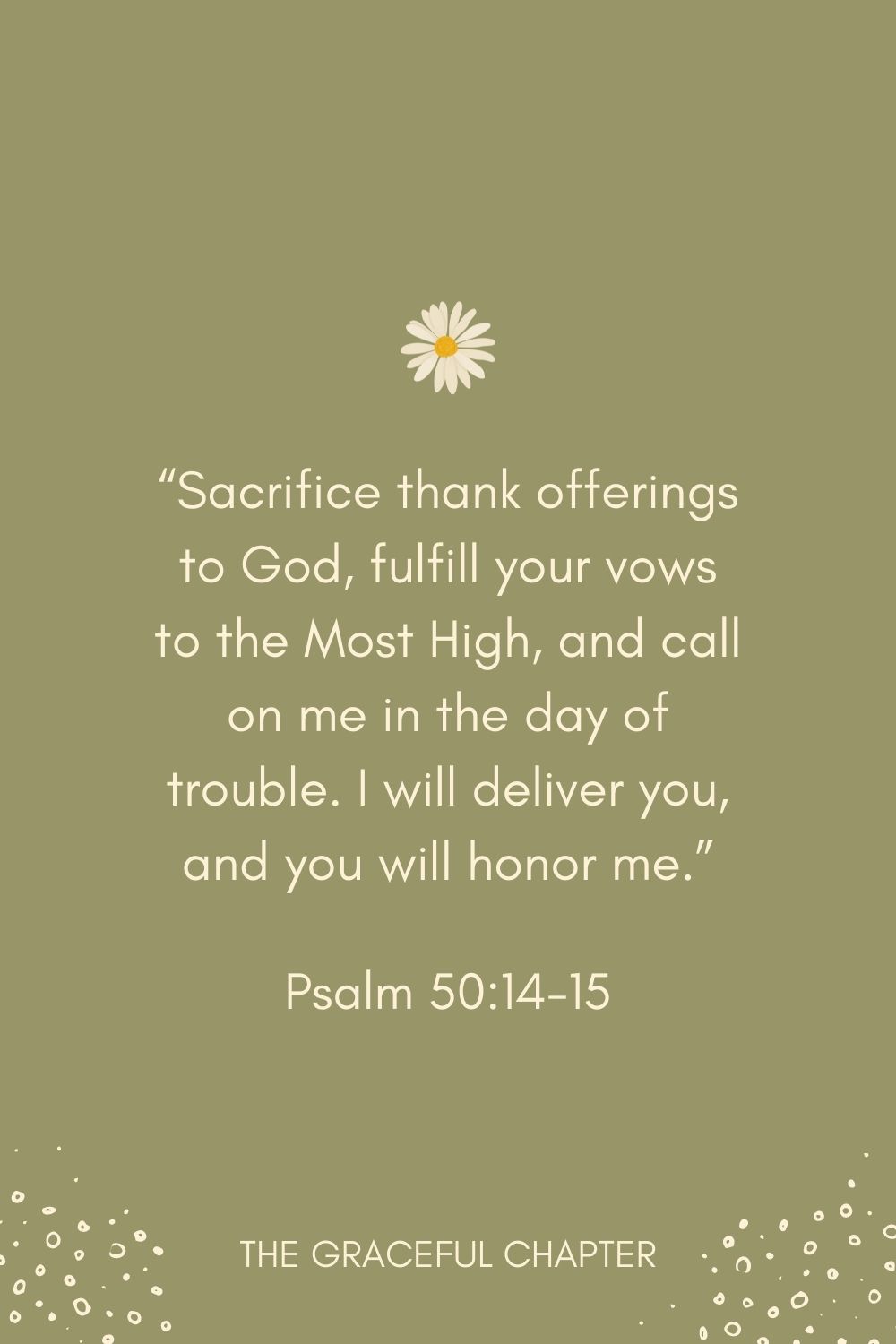 "Sacrifice thank offerings to God, fulfill your vows to the Most High, and call on me in the day of trouble. I will deliver you, and you will honor me."
Psalm 50:14-15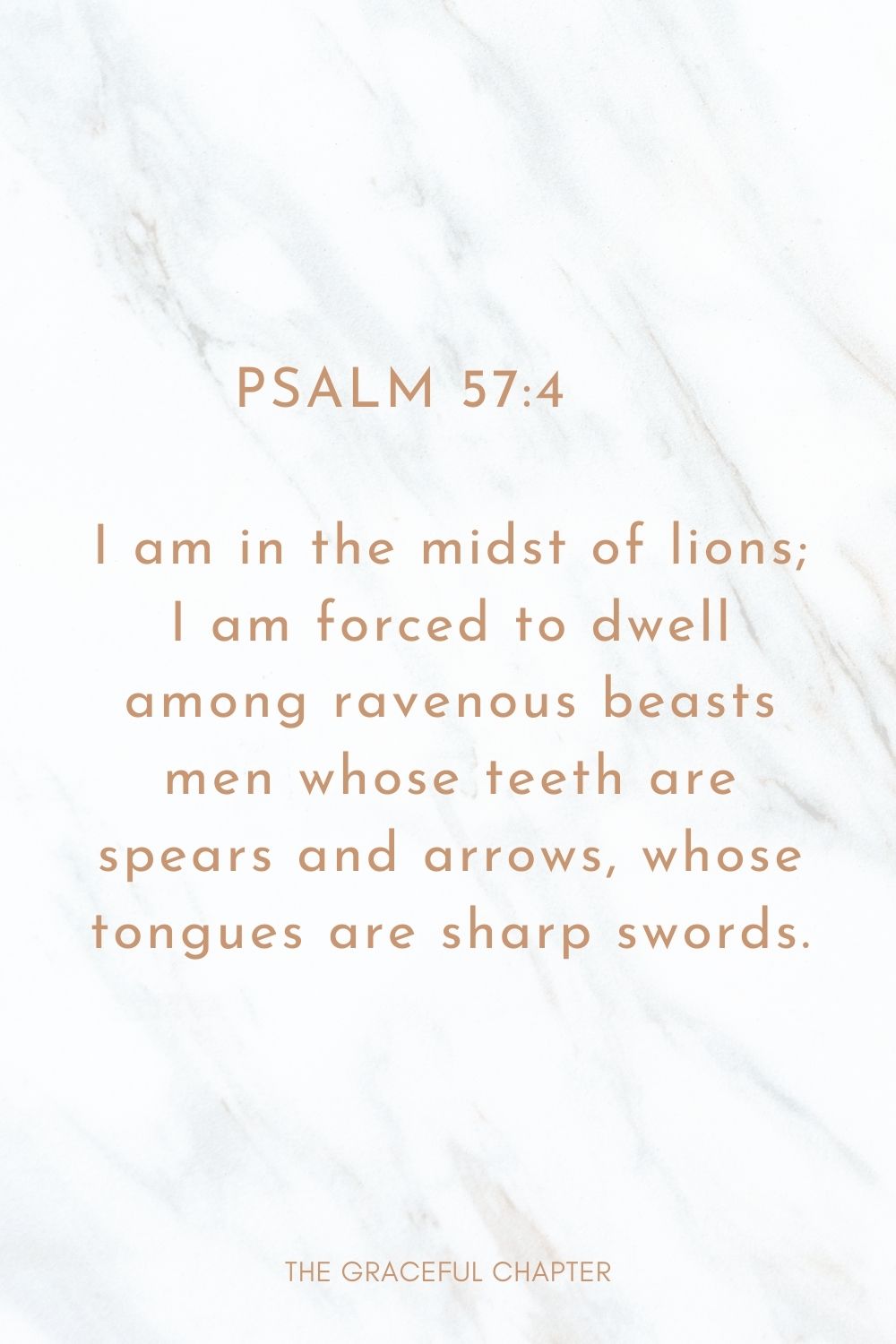 I am in the midst of lions; I am forced to dwell among ravenous beasts men whose teeth are spears and arrows, whose tongues are sharp swords.
Psalm 57:4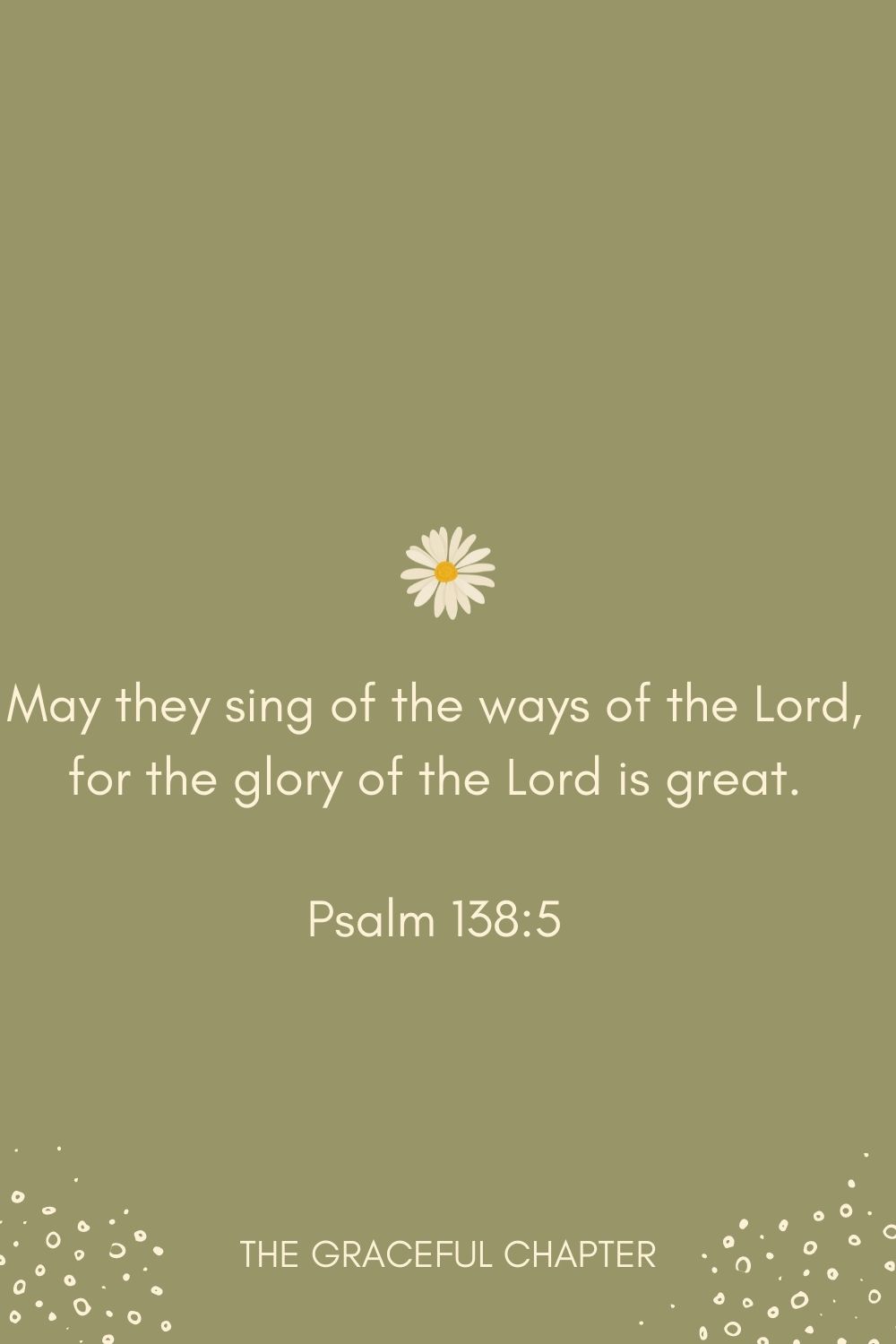 May they sing of the ways of the Lord, for the glory of the Lord is great.
Psalm 138:5
Give thanks to the Lord, for he is good; his love endures forever. Let the redeemed of the Lord tell their story, those he redeemed from the hand of the foe, those he gathered from the lands, from east and west, from north and south.
Psalm 107:1-3
Enter his gates with thanksgiving and his courts with praise; give thanks to him and praise his name.
Psalm 100:4
Glorify the Lord with me; let us exalt his name together. I sought the Lord, and he answered me; he delivered me from all my fears. Those who look to him are radiant;
their faces are never covered with shame.
Psalm 34:3-5
Come, let us bow down in worship, let us kneel before the Lord our Maker.
Psalm 95:6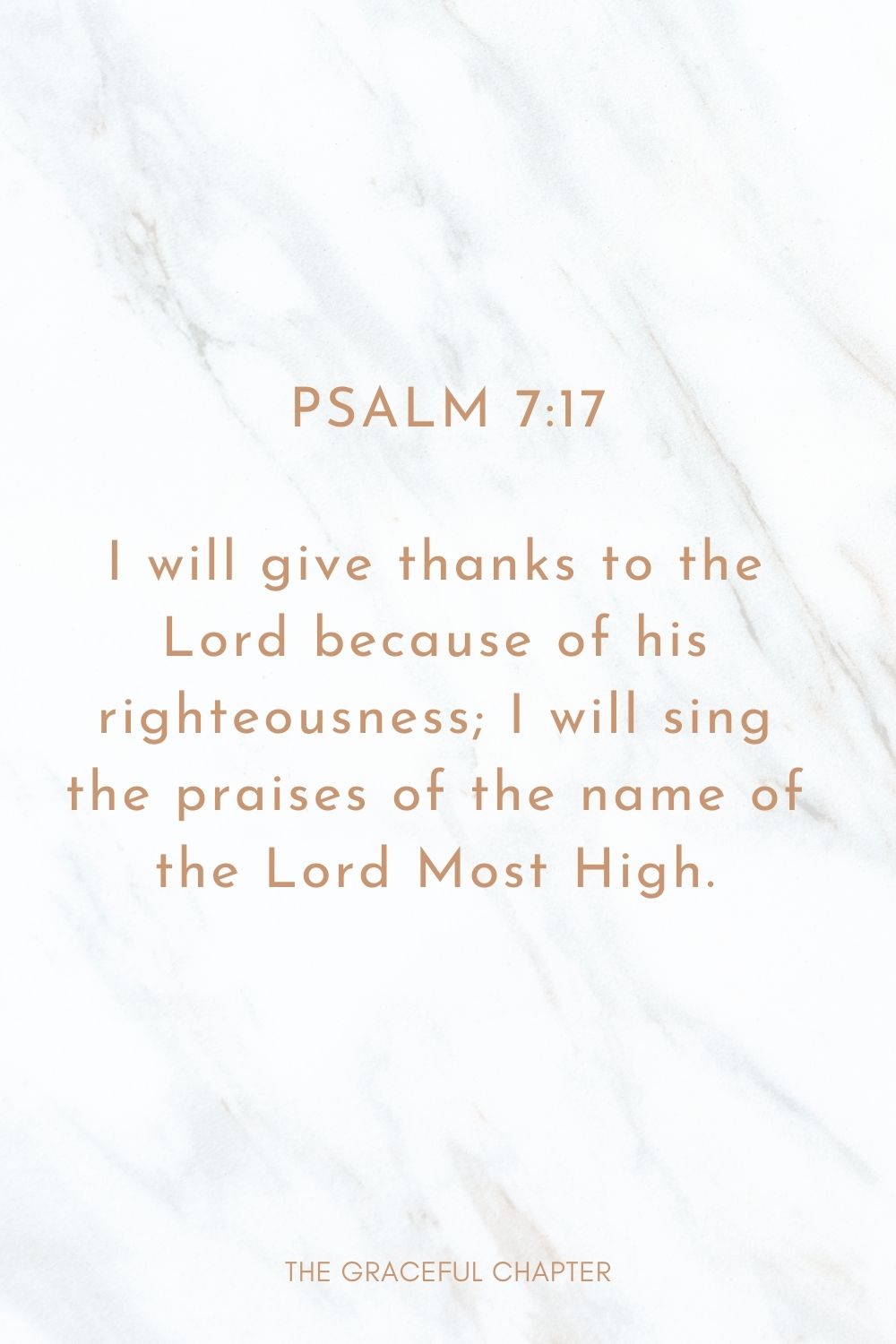 I will give thanks to the Lord because of his righteousness; I will sing the praises of the name of the Lord Most High.
Psalm 7:17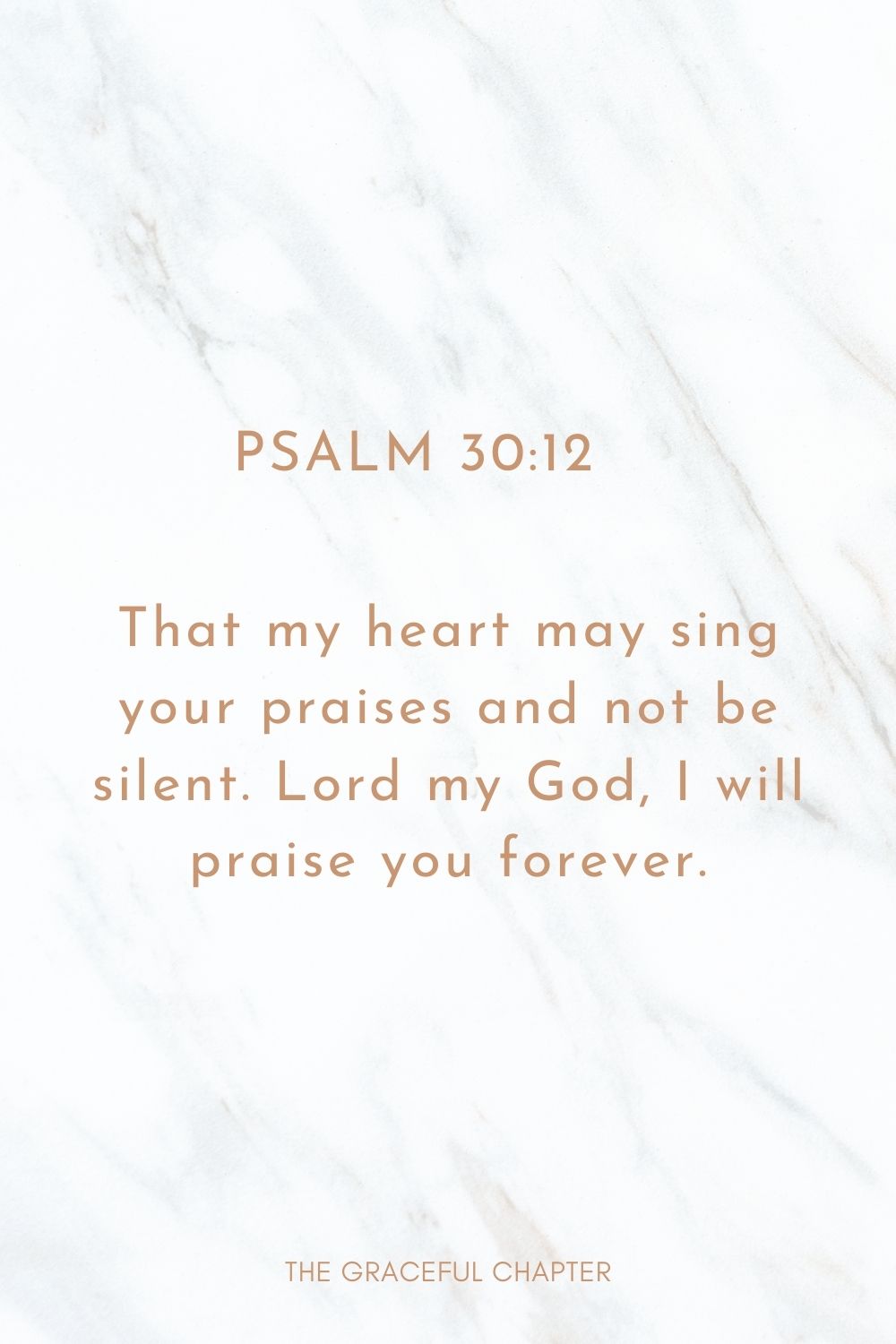 That my heart may sing your praises and not be silent. Lord my God, I will praise you forever.
Psalm 30:12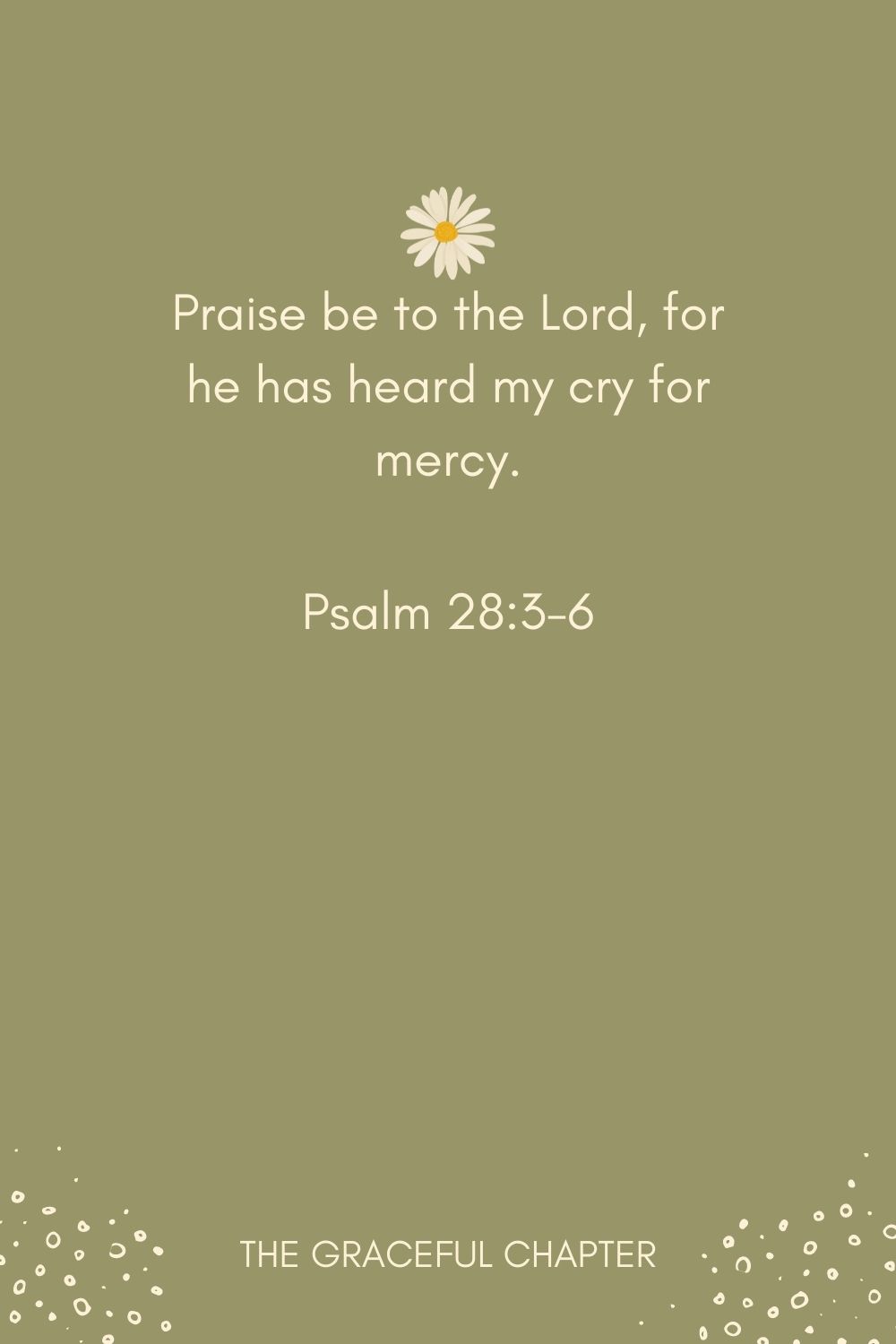 Praise be to the Lord, for he has heard my cry for mercy.
Psalm 28:3-6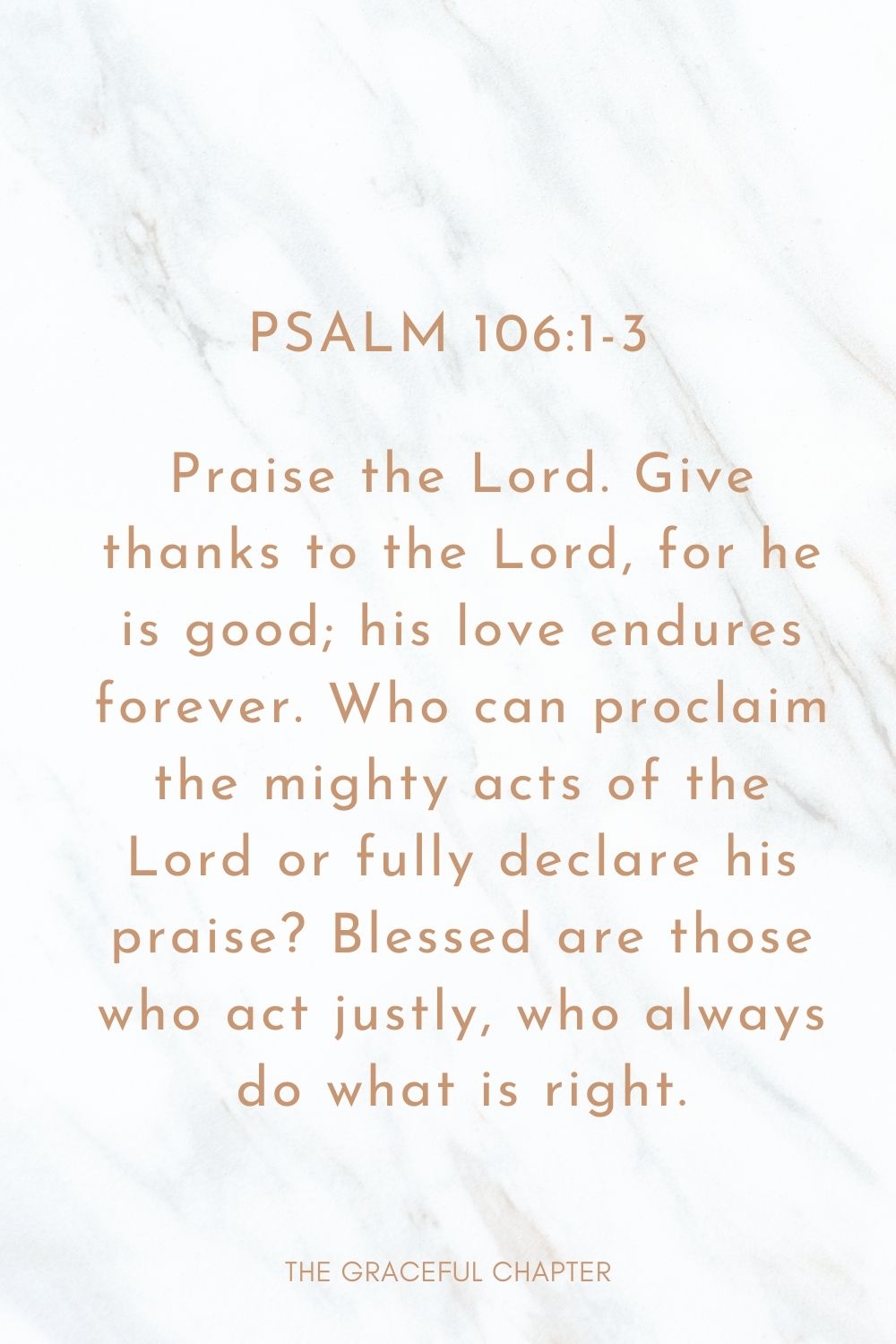 Praise the Lord. Give thanks to the Lord, for he is good; his love endures forever. Who can proclaim the mighty acts of the Lord or fully declare his praise? Blessed are those who act justly, who always do what is right.
Psalm 106:1-3
One thing I ask from the Lord, this only do I seek:
that I may dwell in the house of the Lord all the days of my life, to gaze on the beauty of the Lord
and to seek him in his temple.
Psalm 27:4
Give thanks to the Lord, for he is good; his love endures forever. Let Israel say: "His love endures forever. Let the house of Aaron say: "His love endures forever." Let those who fear the Lord say: "His love endures forever." When hard pressed, I cried to the Lord; he brought me into a spacious place. The Lord is with me; I will not be afraid.
What can mere mortals do to me?
Psalm 118:1-6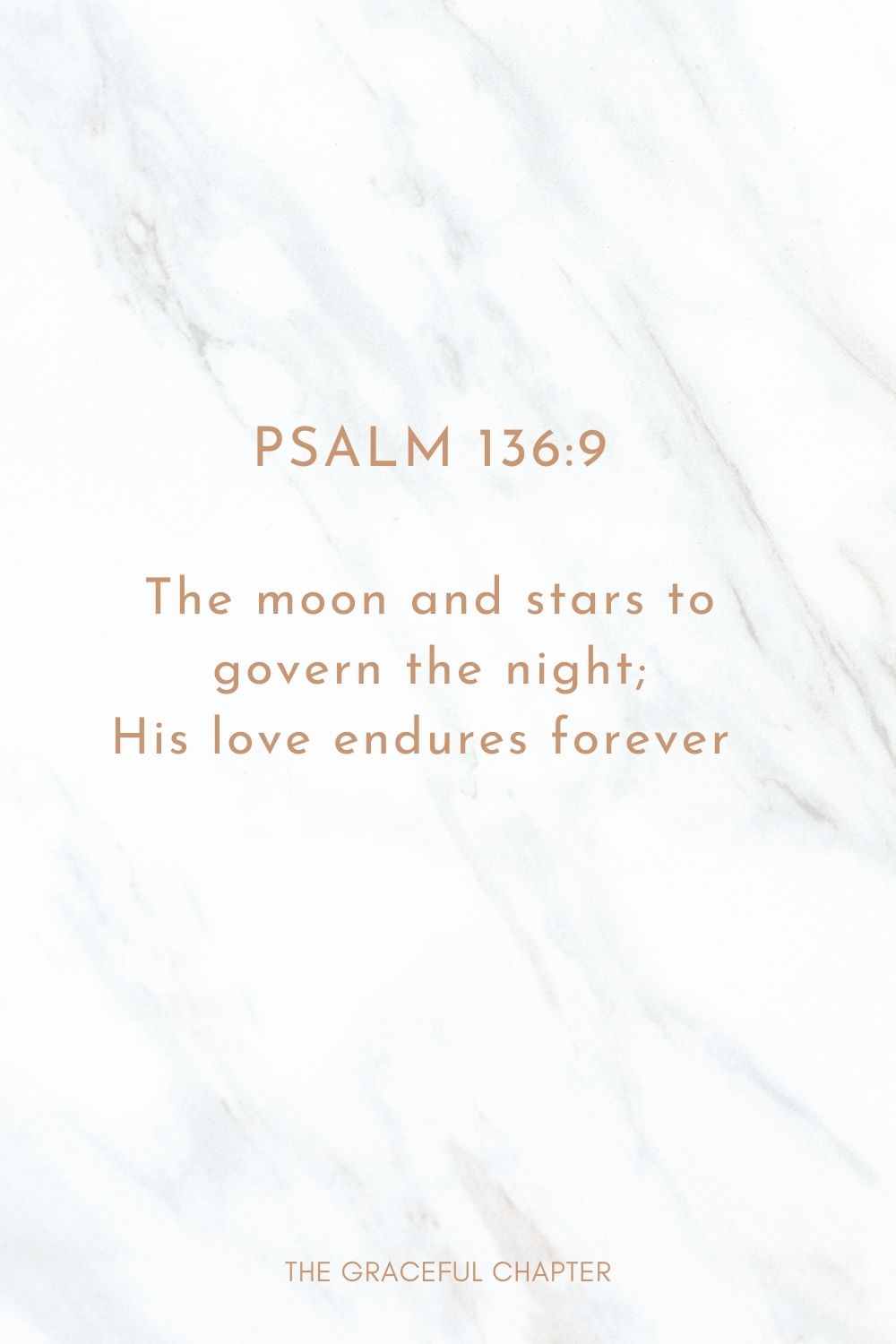 The moon and stars to govern the night;
His love endures forever
Psalm 136:9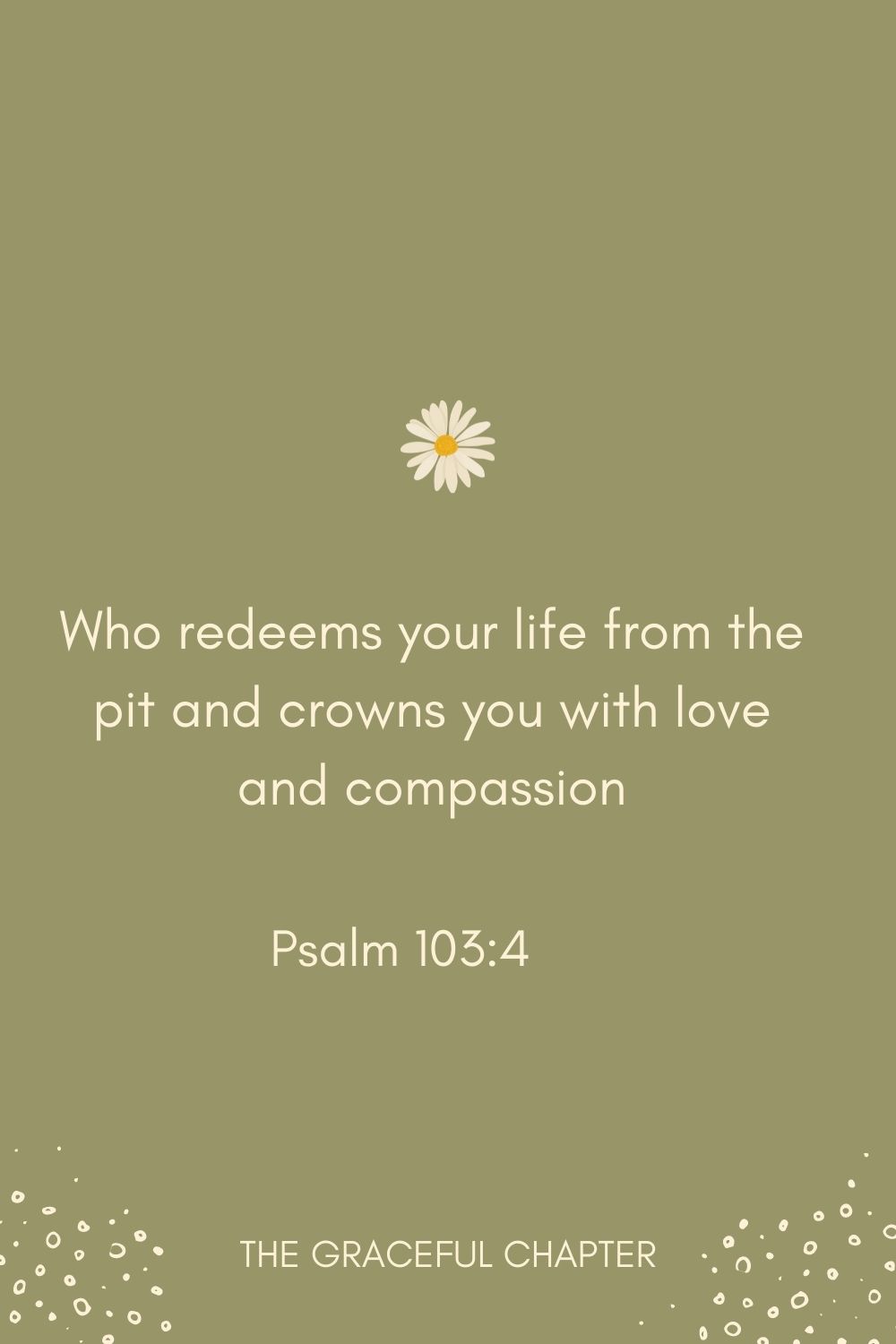 Who redeems your life from the pit and crowns you with love and compassion
Psalm 103:4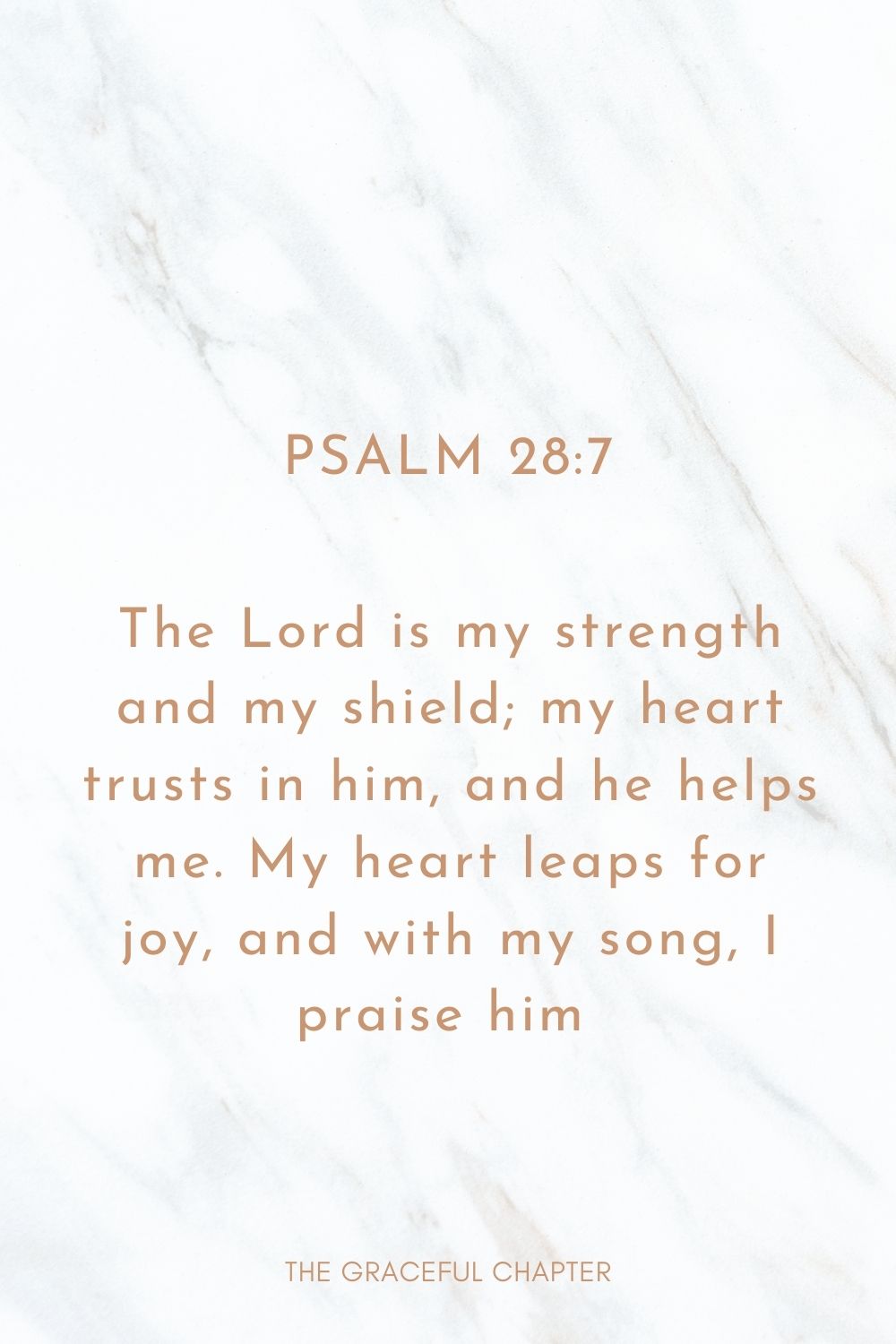 The Lord is my strength and my shield; my heart trusts in him, and he helps me. My heart leaps for joy, and with my song, I praise him
Psalm 28:7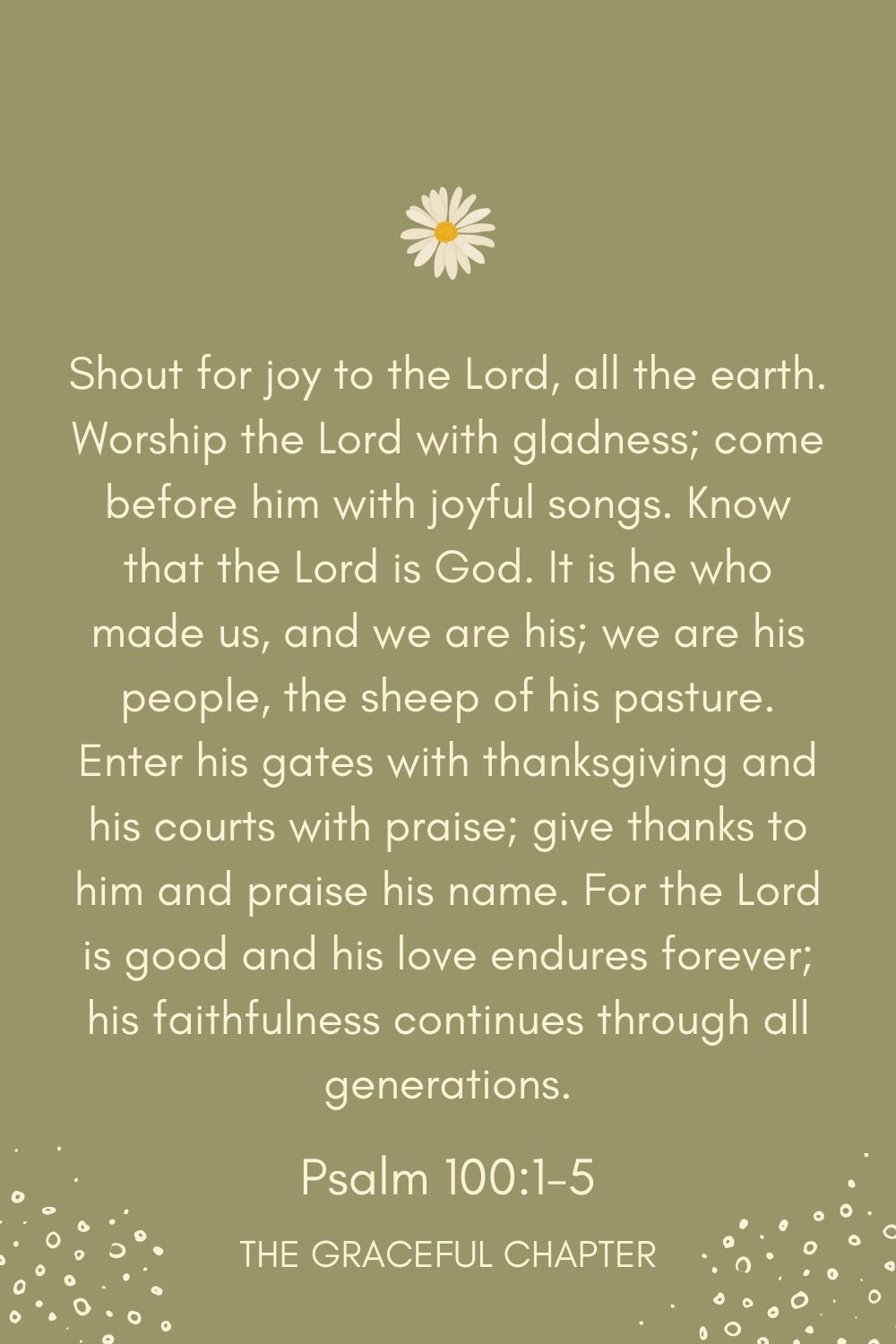 Shout for joy to the Lord, all the earth. Worship the Lord with gladness; come before him with joyful songs. Know that the Lord is God. It is he who made us, and we are his; we are his people, the sheep of his pasture. Enter his gates with thanksgiving and his courts with praise; give thanks to him and praise his name. For the Lord is good and his love endures forever; his faithfulness continues through all generations.
Psalm 100:1-5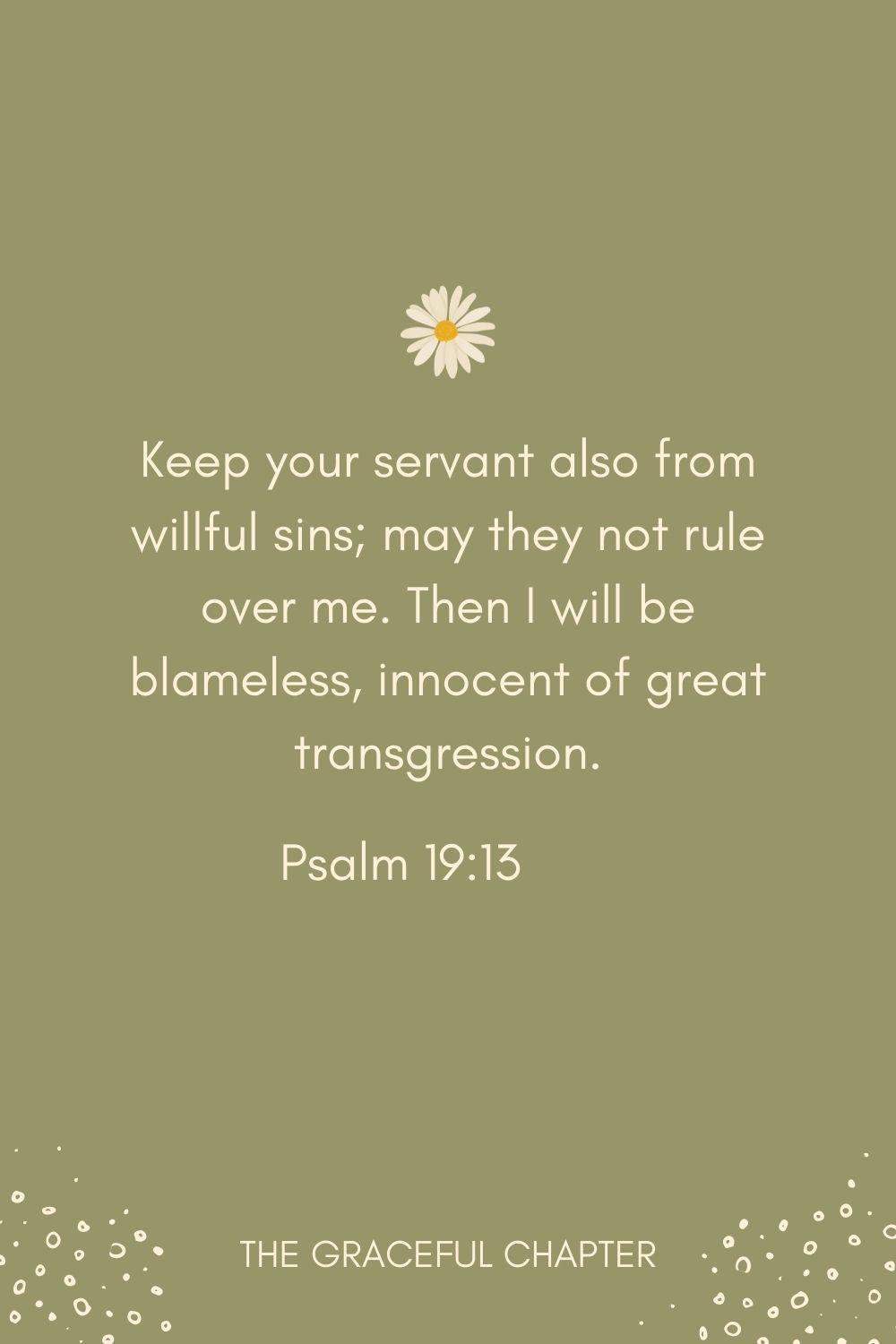 Keep your servant also from willful sins; may they not rule over me. Then I will be blameless, innocent of great transgression.
Psalm 19:13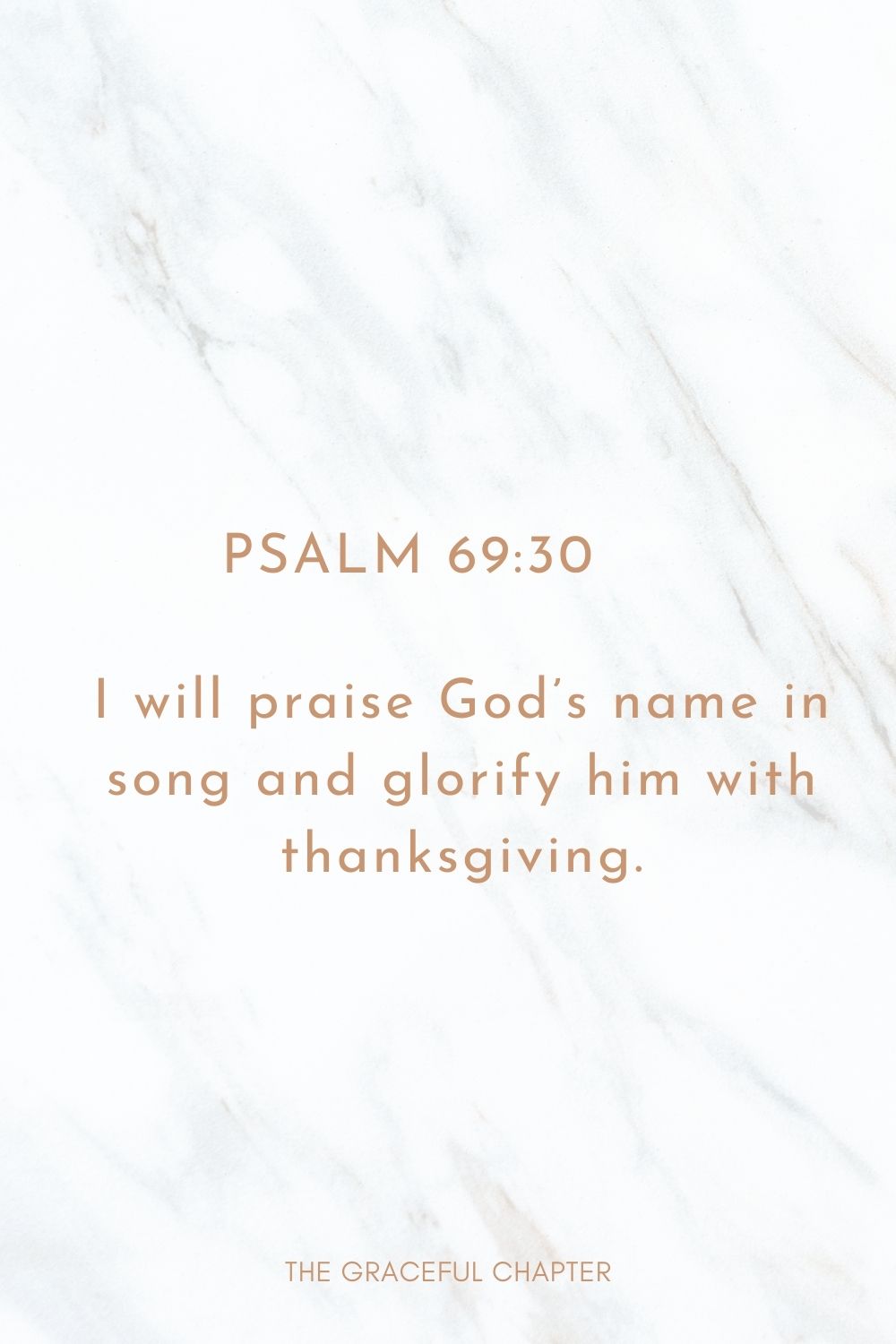 I will praise God's name in song and glorify him with thanksgiving.
Psalm 69:30
Let heaven and earth praise him, the seas, and all that move in them.
Psalm 69:34
Praise the Lord, my soul; all my inmost being, praise his holy name. Praise the Lord, my soul, and forget not all his benefit, who forgives all your sins and heals all your diseases.
Psalm 103:1-3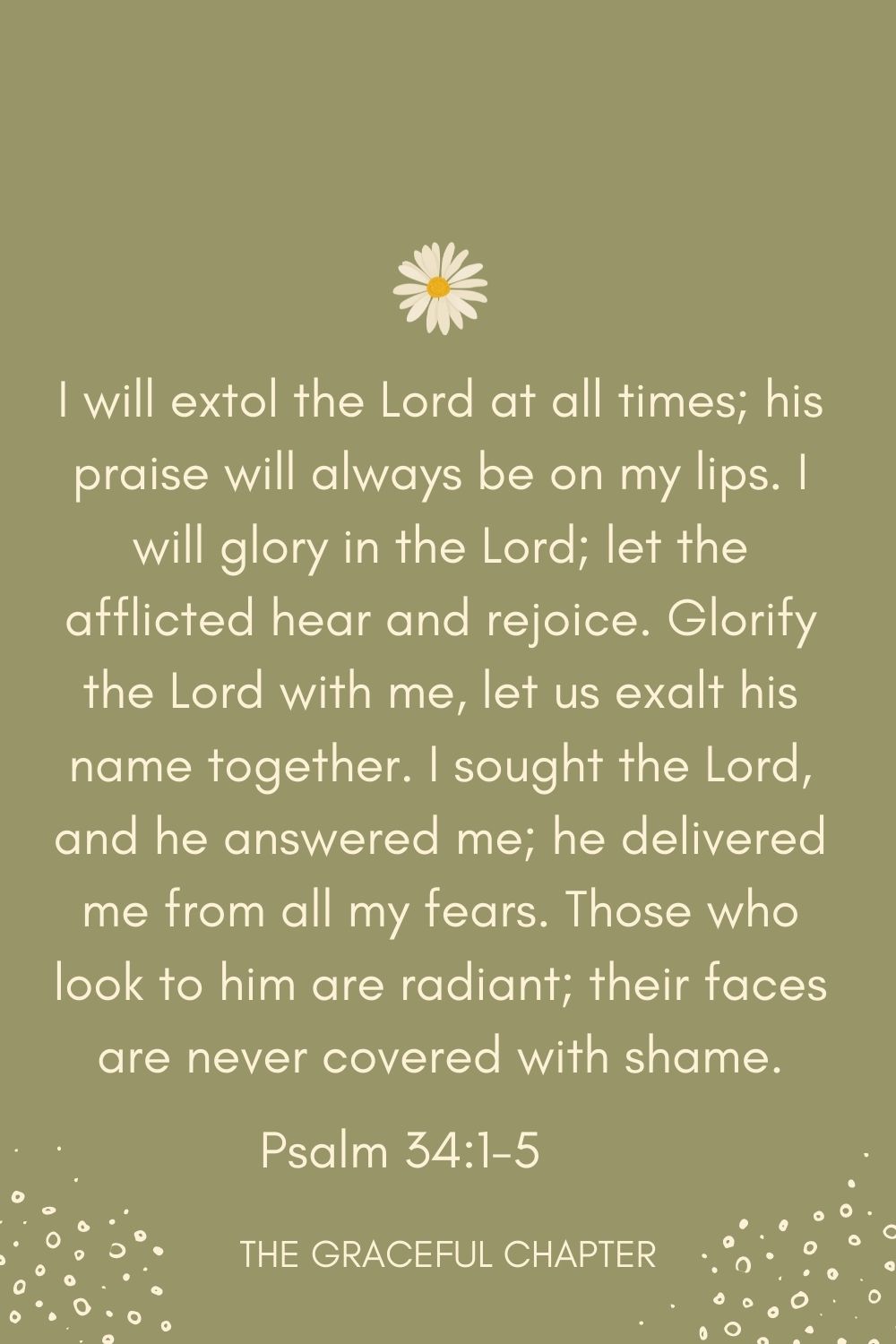 I will extol the Lord at all times; his praise will always be on my lips. I will glory in the Lord; let the afflicted hear and rejoice. Glorify the Lord with me, let us exalt his name together. I sought the Lord, and he answered me; he delivered me from all my fears. Those who look to him are radiant; their faces are never covered with shame.
Psalm 34:1-5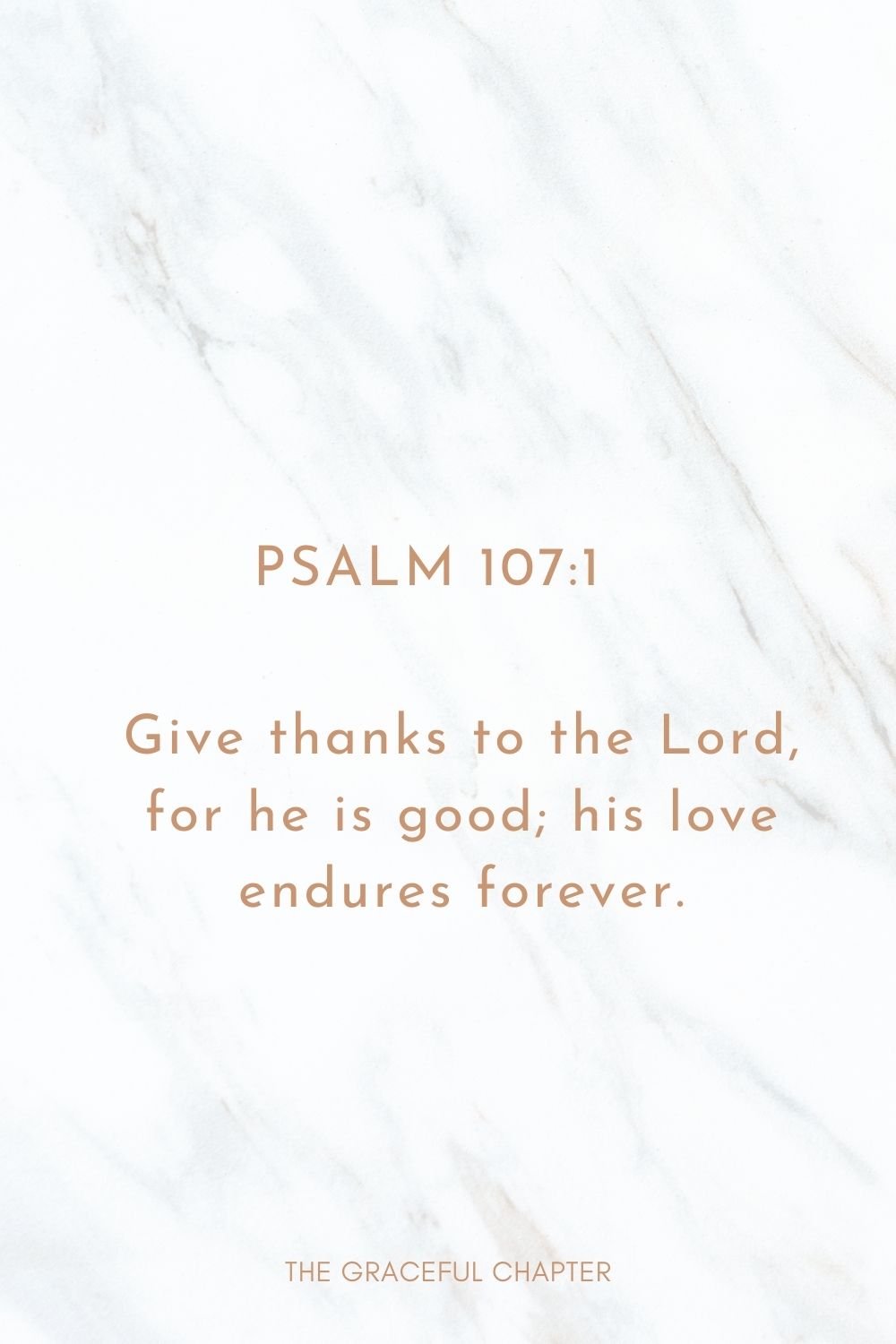 Give thanks to the Lord, for he is good; his love endures forever.
Psalm 107:1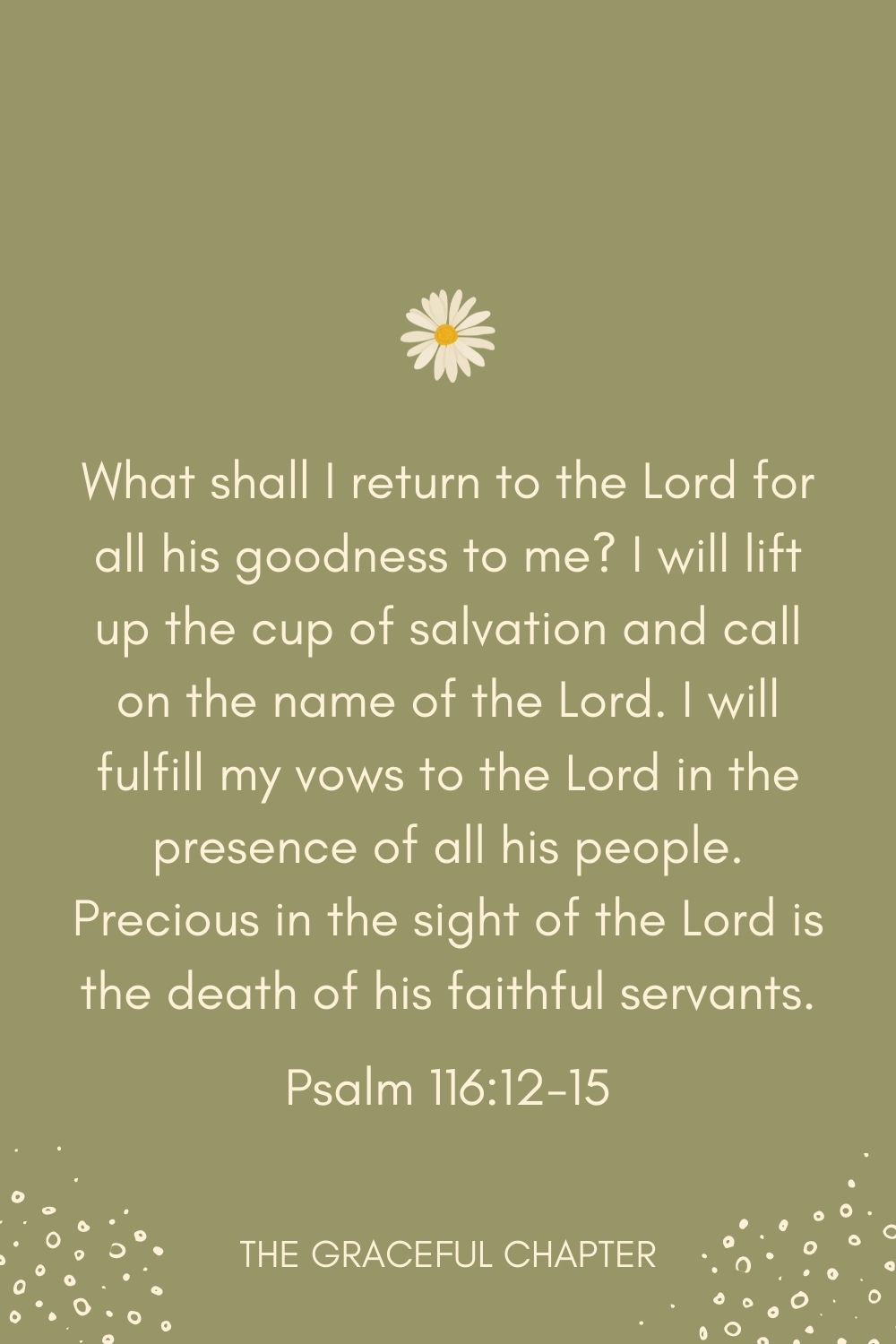 What shall I return to the Lord for all his goodness to me? I will lift up the cup of salvation and call on the name of the Lord. I will fulfill my vows to the Lord in the presence of all his people. Precious in the sight of the Lord is the death of his faithful servants.
Psalm 116:12-15
Proclaiming, "The Lord is upright; he is my Rock, and there is no wickedness in him."
Psalm 92:15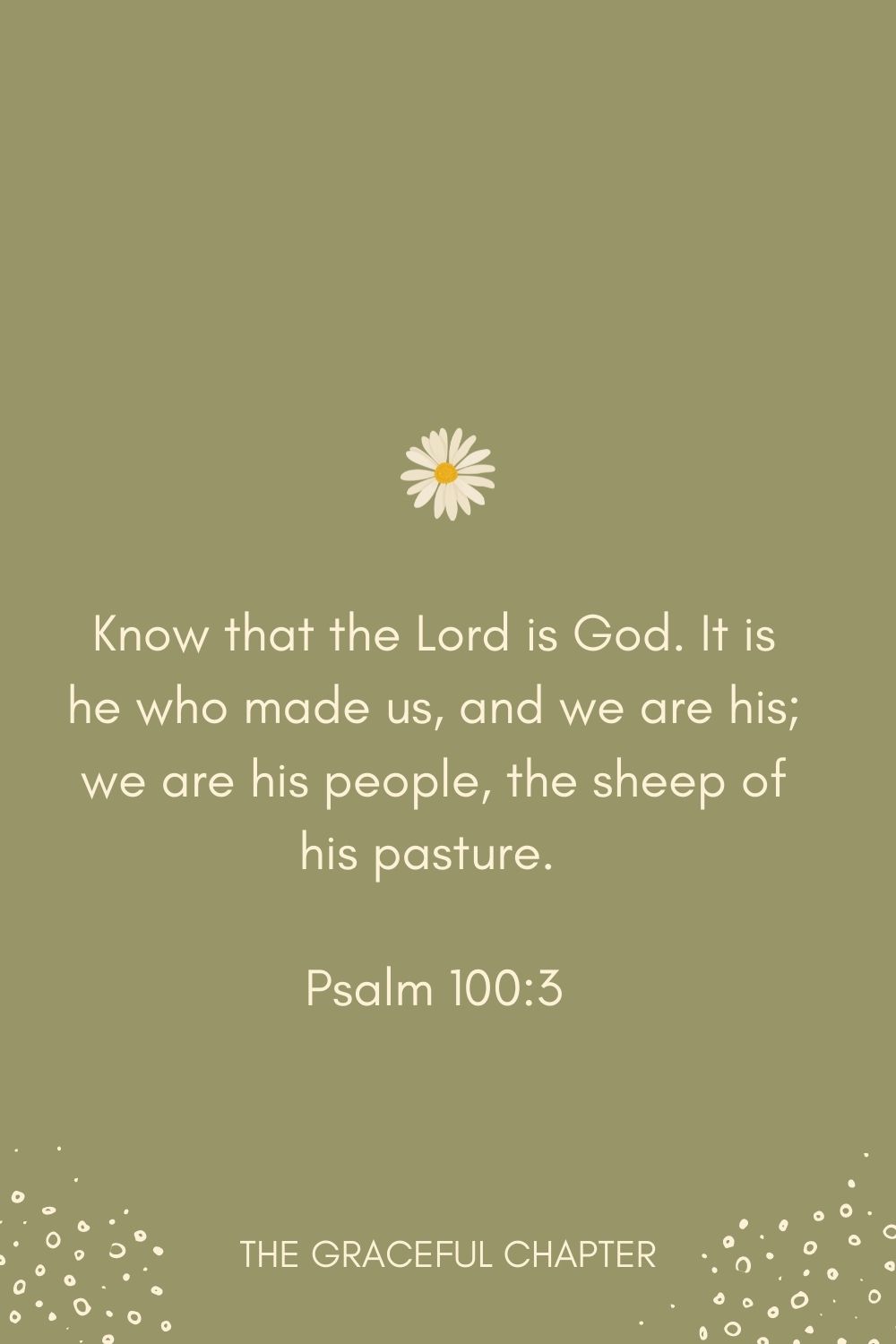 Know that the Lord is God. It is he who made us, and we are his; we are his people, the sheep of his pasture. Psalm 100:3
For you created my inmost being; you knit me together in my mother's womb. I praise you because I am fearfully and wonderfully made; your works are wonderful,  I know that full well.
My frame was not hidden from you when I was made in the secret place when I was woven together in the depths of the earth.
Your eyes saw my unformed body; all the days ordained for me were written in your book before one of them came to be.
How precious to me are your thoughts, God! How vast is the sum of them!
Psalm 139:13-17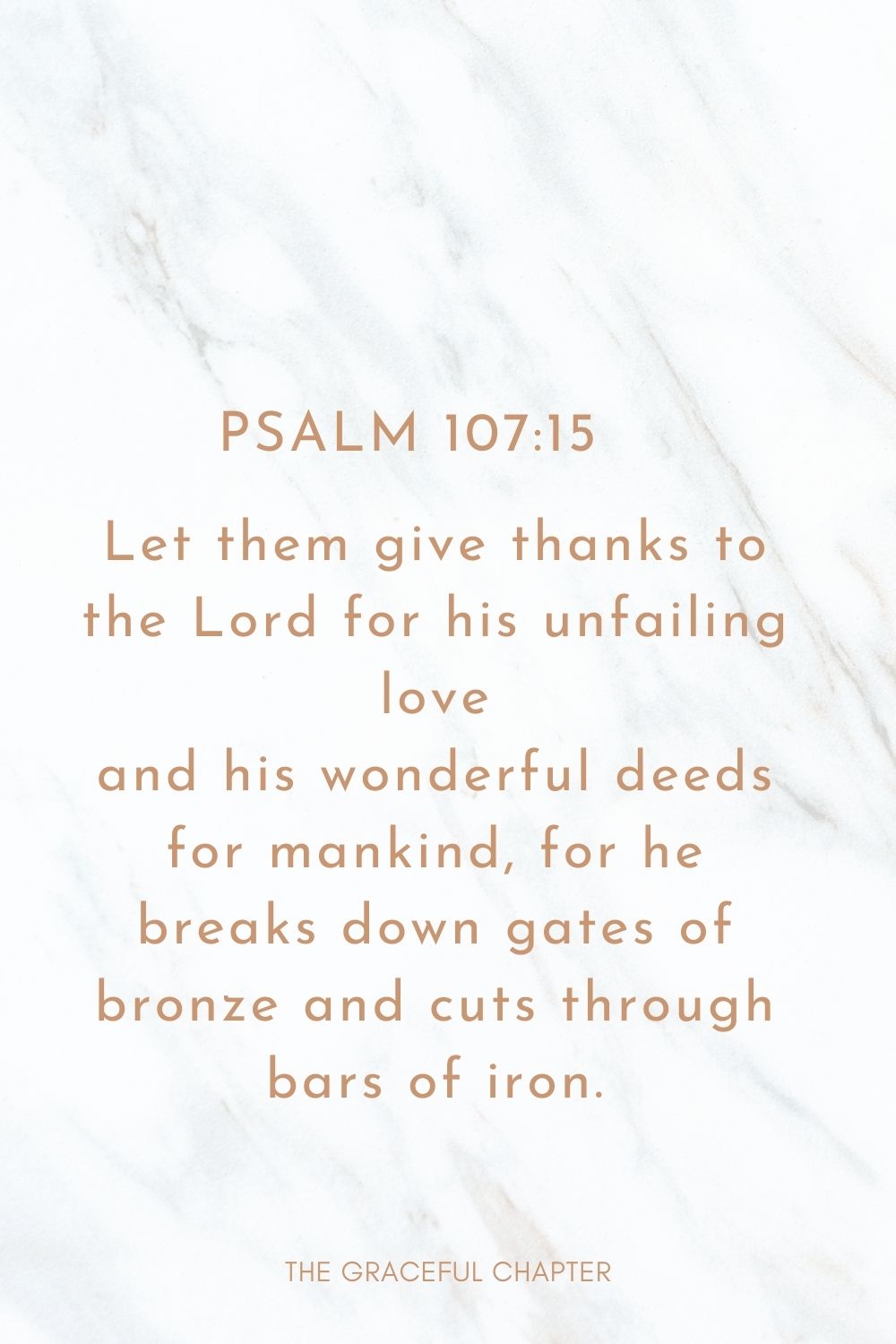 Let them give thanks to the Lord for his unfailing love
and his wonderful deeds for mankind, for he breaks down gates of bronze and cuts through bars of iron.
Psalm 107:15
I will sing of the Lord's great love forever; with my mouth, I will make your faithfulness known through all generations. I will declare that your love stands firm forever, that you have established your faithfulness in heaven itself.
Psalm 89:1-2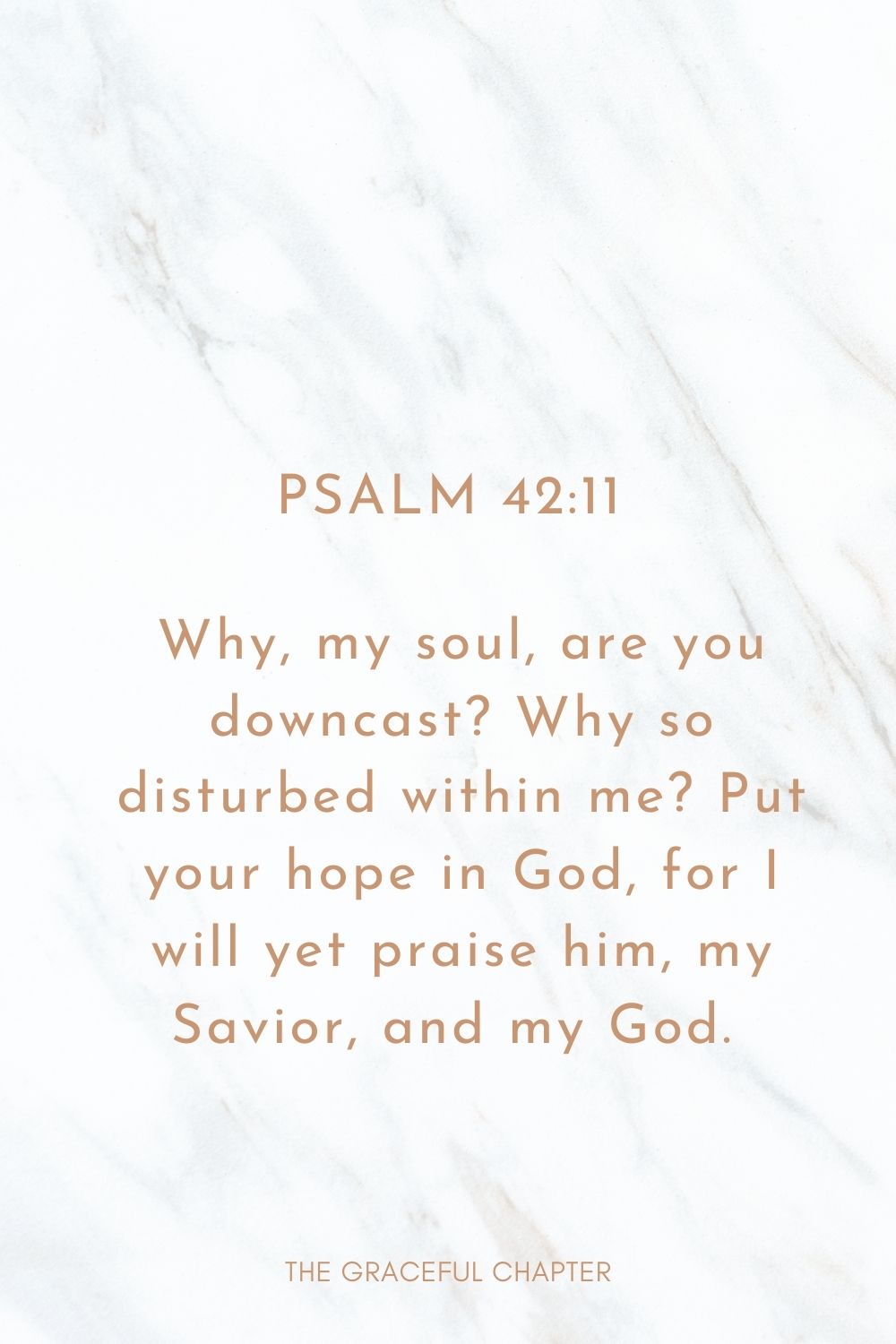 Why, my soul, are you downcast? Why so disturbed within me? Put your hope in God, for I will yet praise him, my Savior, and my God.
Psalm 42:11
You prepare a table before me in the presence of my enemies. You anoint my head with oil; my cup overflows.
Surely your goodness and love will follow me all the days of my life, and I will dwell in the house of the Lord forever.
Psalm 23:5-6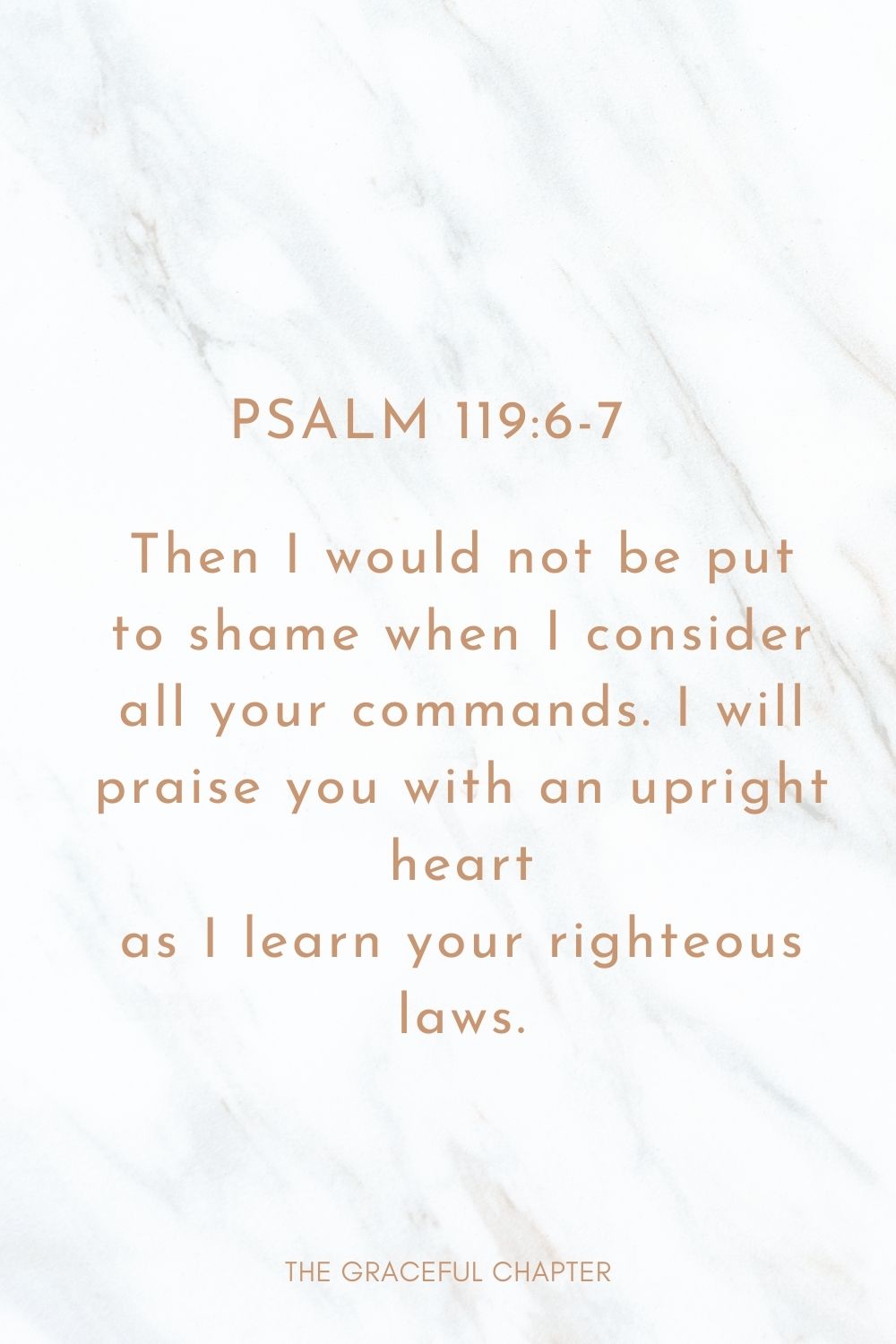 Then I would not be put to shame when I consider all your commands. I will praise you with an upright heart
as I learn your righteous laws.
Psalm 119:6-7
Who is this King of glory? The Lord strong and mighty, the Lord mighty in battle. Lift up your heads, you gates; lift them up, you ancient doors, that the King of glory may come in.
Psalm 24:8-9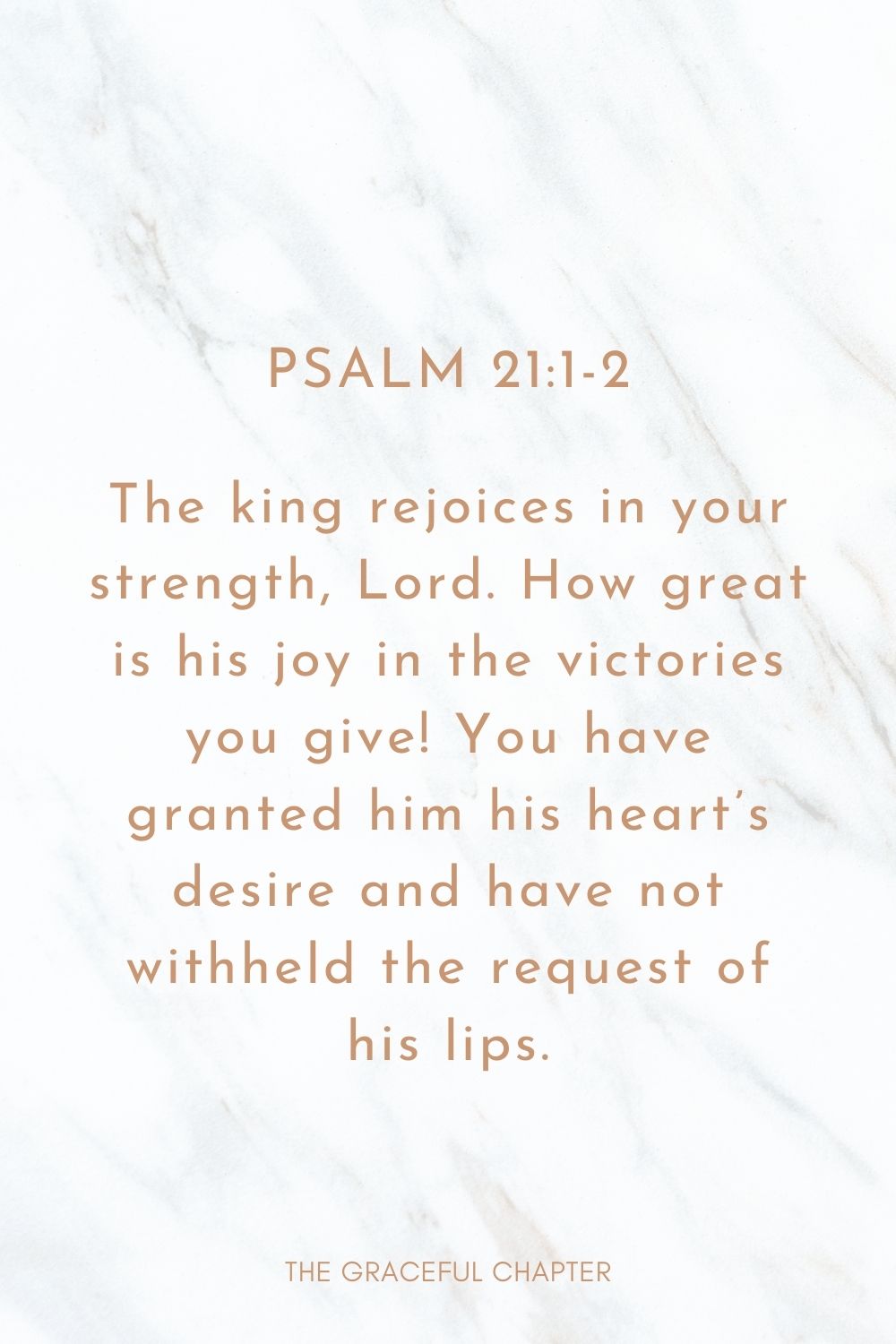 The king rejoices in your strength, Lord. How great is his joy in the victories you give! You have granted him his heart's desire and have not withheld the request of his lips.
Psalm 21:1-2
Who is he, this King of glory? The Lord Almighty, he is the King of glory.
Psalm 24:10
The king rejoices in your strength, Lord. How great is his joy in the victories you give! You have granted him his heart's desire and have not withheld the request of his lips. You came to greet him with rich blessings and placed a crown of pure gold on his head.
Psalm 21:1-3
I wash my hands in innocence, and go about your altar, Lord proclaiming aloud your praise and telling of all your wonderful deeds.
Psalm 26:6-7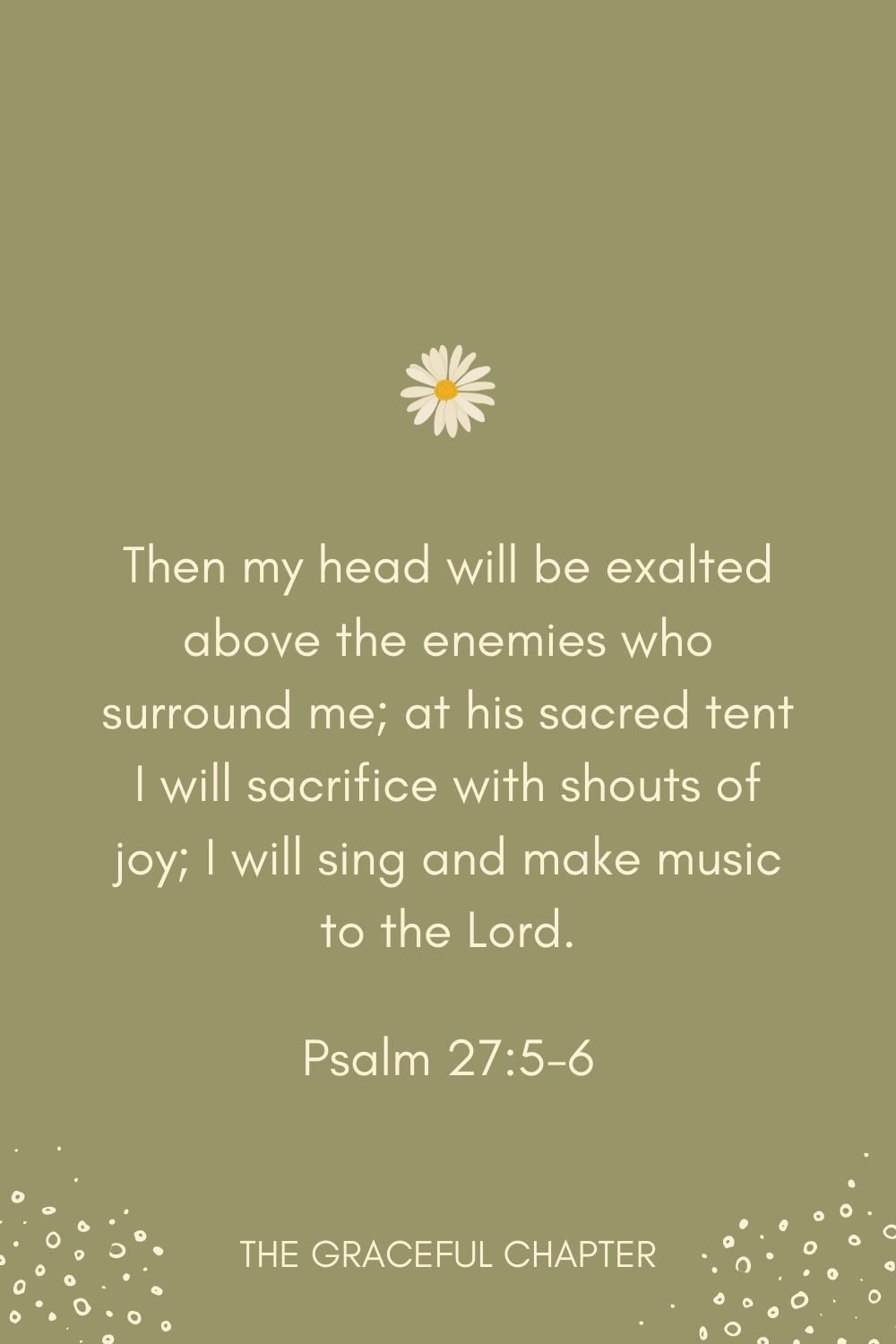 Then my head will be exalted above the enemies who surround me; at his sacred tent I will sacrifice with shouts of joy; I will sing and make music to the Lord.
Psalm 27:5-6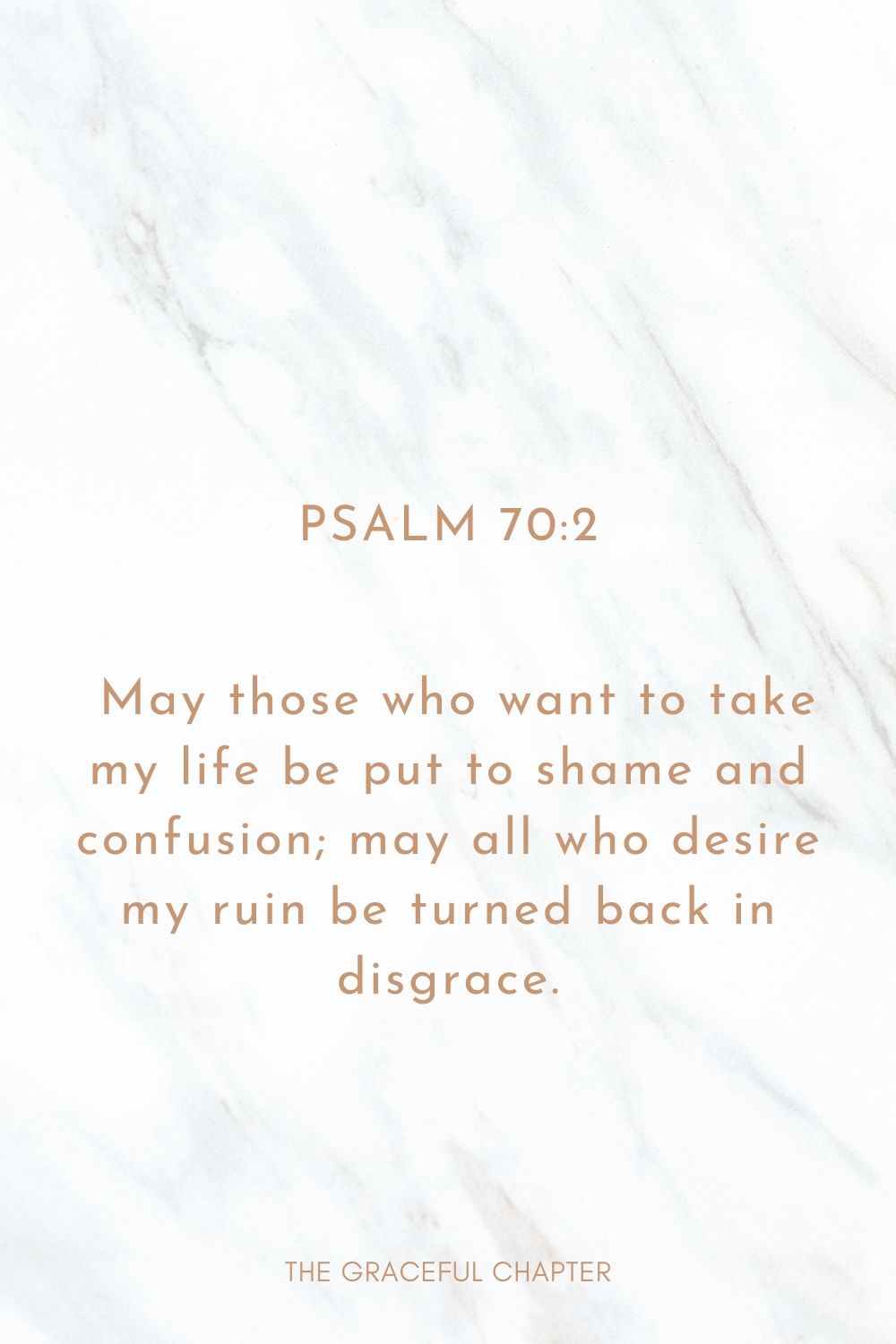 May those who want to take my life be put to shame and confusion; may all who desire my ruin be turned back in disgrace.
Psalm 70:2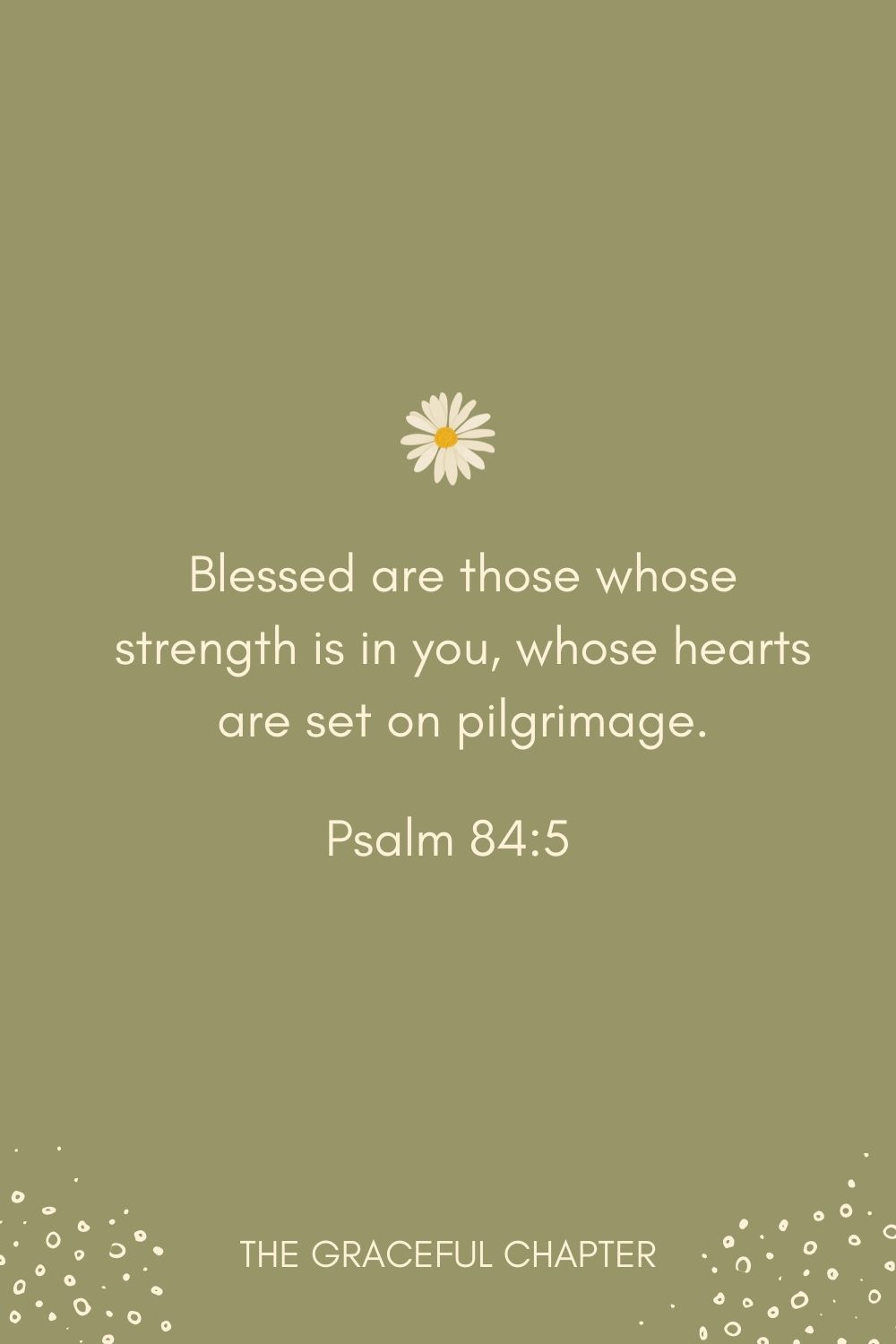 Blessed are those whose strength is in you, whose hearts are set on pilgrimage.
Psalm 84:5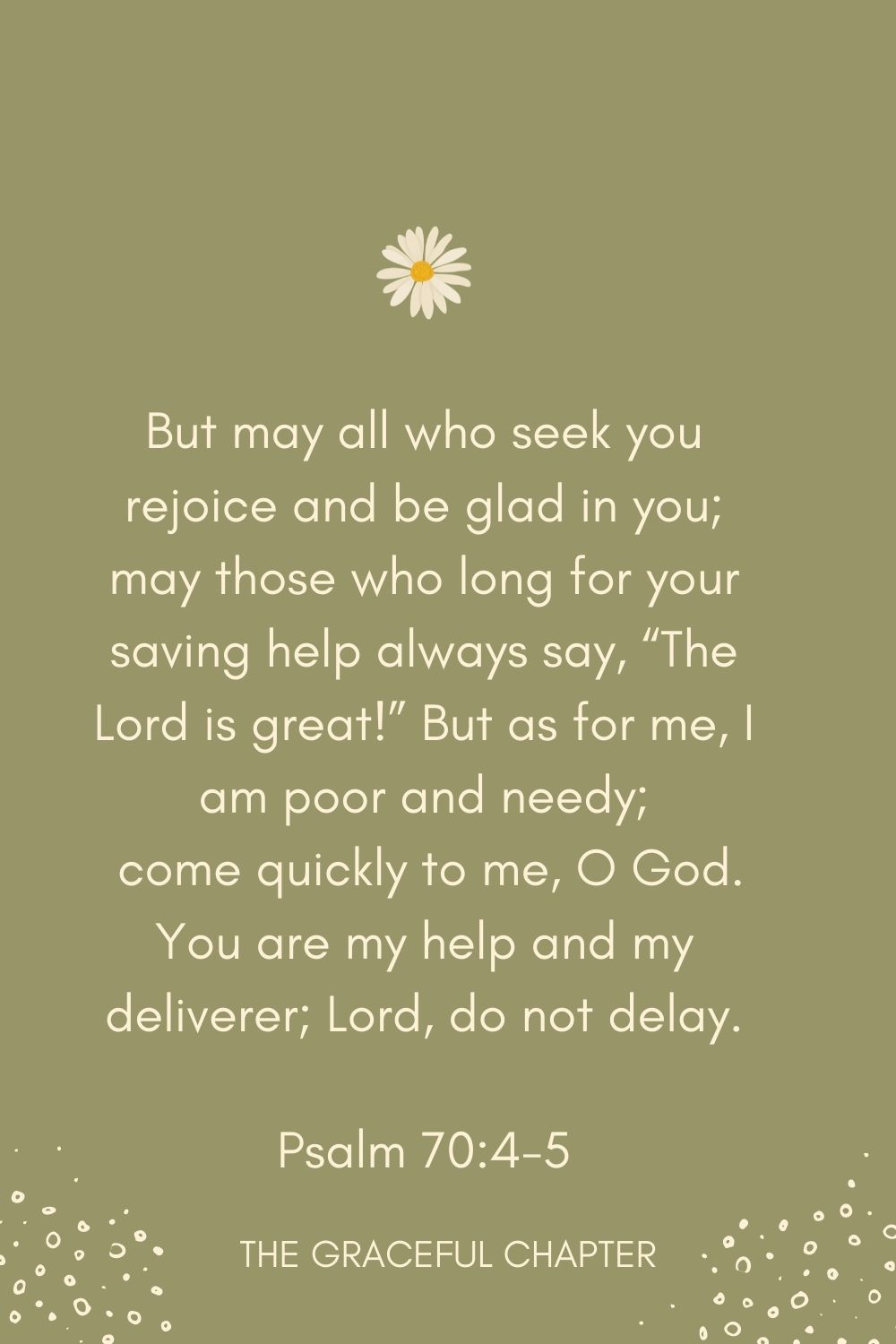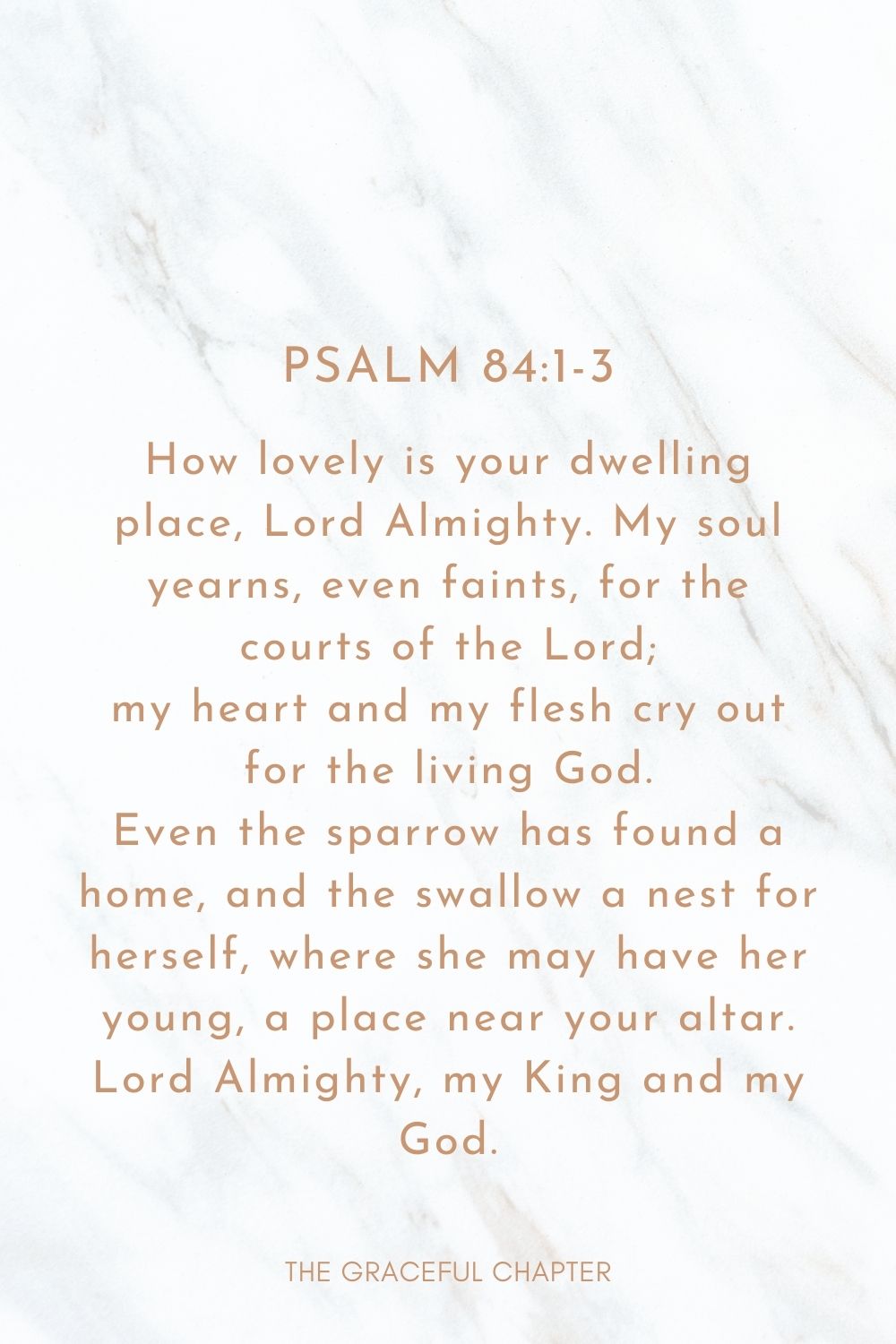 How lovely is your dwelling place, Lord Almighty. My soul yearns, even faints, for the courts of the Lord;
my heart and my flesh cry out for the living God.
Even the sparrow has found a home, and the swallow a nest for herself, where she may have her young, a place near your altar. Lord Almighty, my King and my God.
Psalm 84:1-3
Prayer of thanks
Dear Lord,
I come before your throne today, not to ask for anything
But to simply say thank you.
Thank you for the gift of life, and the lives of my family
Thank you for my job and for all the food you provide for us
Thank you for your strength and the health you've given us
Thank you for giving us a place to lay our heads
We are truly grateful, Lord
Thank you for your traveling mercies
For being our shepherd through dark times, we want to say thank you
For saving us from our own traps, we say thank you
For saving us from the traps of our enemies, we thank you
We give you all the glory and adoration for all that you do for us
I am humbled by your grace and your everlasting love for me
Thank you, Dear Lord
Amen