Self control is the ability to regulate your emotions, behaviors, and urges, especially when you are faced with temptations.
As Christians, in order to live a righteous life, it is important that you practice self-control in all aspects of your life.
In Matthew chapter 4, the Bible talks about how Jesus was tempted by the devil in the wilderness.
He fasted for forty whole days and 40 nights and after the 40 days he was so very hungry. Anyone who had been starving for that long will jump at any opportunity that meant they get to eat.
But when the devil offered him food, he was able to say no to him. Not because he wasn't hungry, but because he knew that if he didn't control himself and he ate what the devil was offering him, it will go against the Lord.
We all struggle with self control at a point in our lives. Everyone has something that they wish to keep under control in their life. It could be food, lust, money, an addiction or even quick temperament.
Whatever your struggle is, the word of God provides teachings on self control and how important it is in our lives.
So to help you practice self control, you can meditate on these scriptures whenever you are faced with temptations.
Bible verses about self control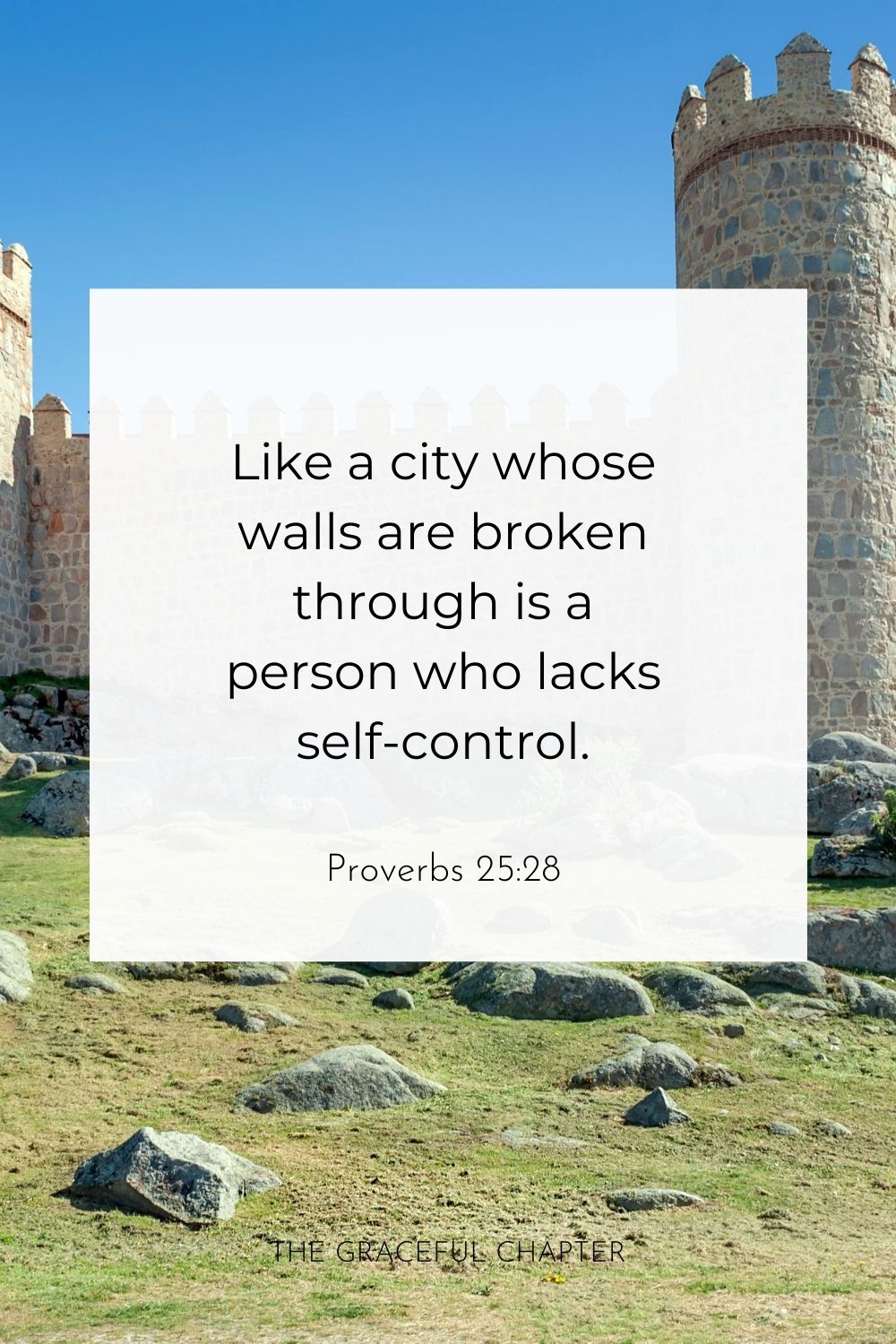 Proverbs 25:28
Like a city whose walls are broken through is a person who lacks self-control.

Proverbs 16:32
Better a patient person than a warrior, one with self-control than one who takes a city.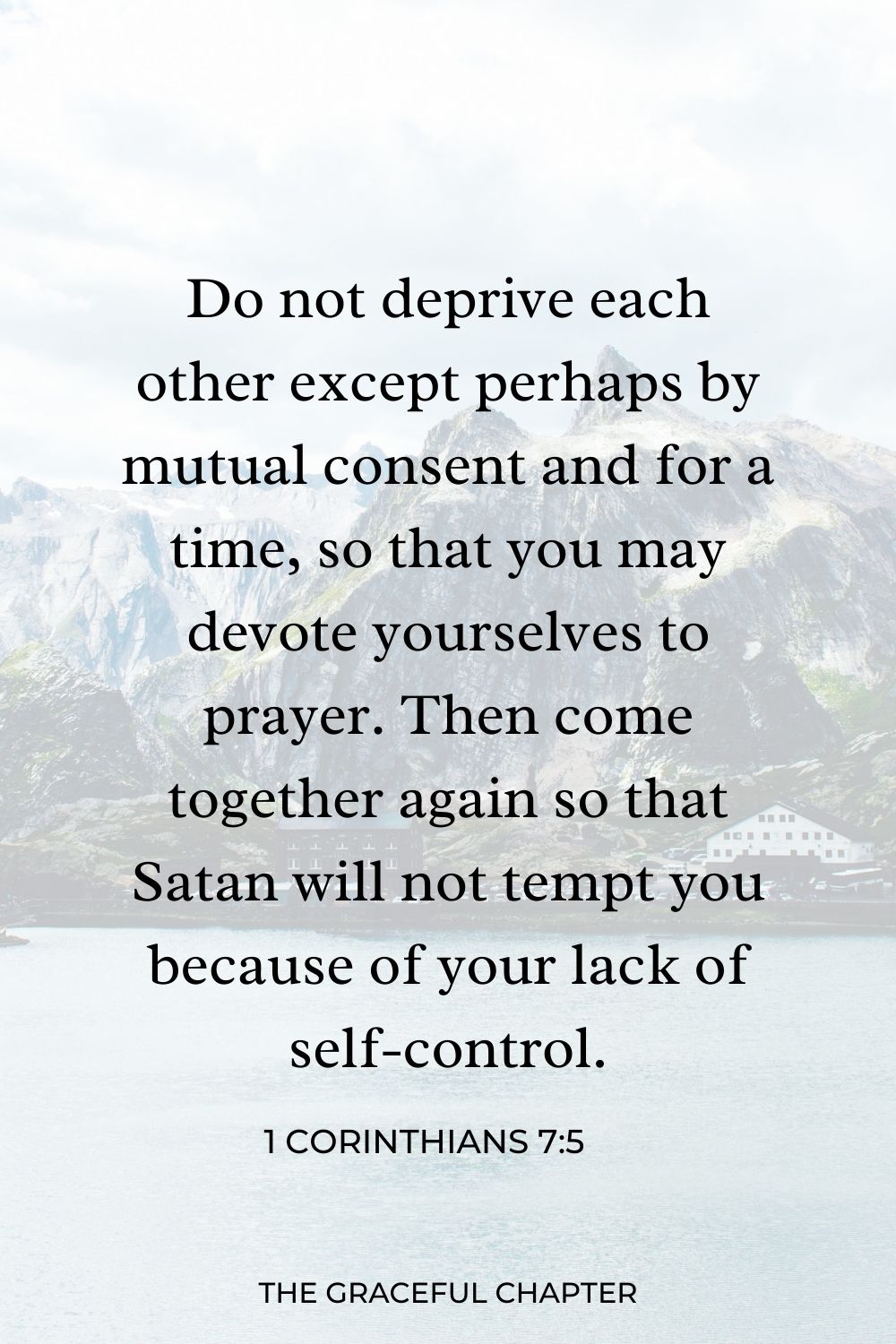 1 Corinthians 7:5
Do not deprive each other except perhaps by mutual consent and for a time, so that you may devote yourselves to prayer. Then come together again so that Satan will not tempt you because of your lack of self-control.

Galatians 5:21
And envy; drunkenness, orgies, and the like. I warn you, as I did before, that those who live like this will not inherit the kingdom of God.

2 Peter 1:5-7
For this very reason, make every effort to add to your faith goodness; and to goodness, knowledge; 
and to knowledge, self-control; and to self-control, perseverance;  and to perseverance, godliness; 
and to godliness, mutual affection; and to mutual affection, love.
2 Peter 1:5-7




2 Timothy 1:7
For the Spirit God gave us does not make us timid, but gives us power, love, and self-discipline.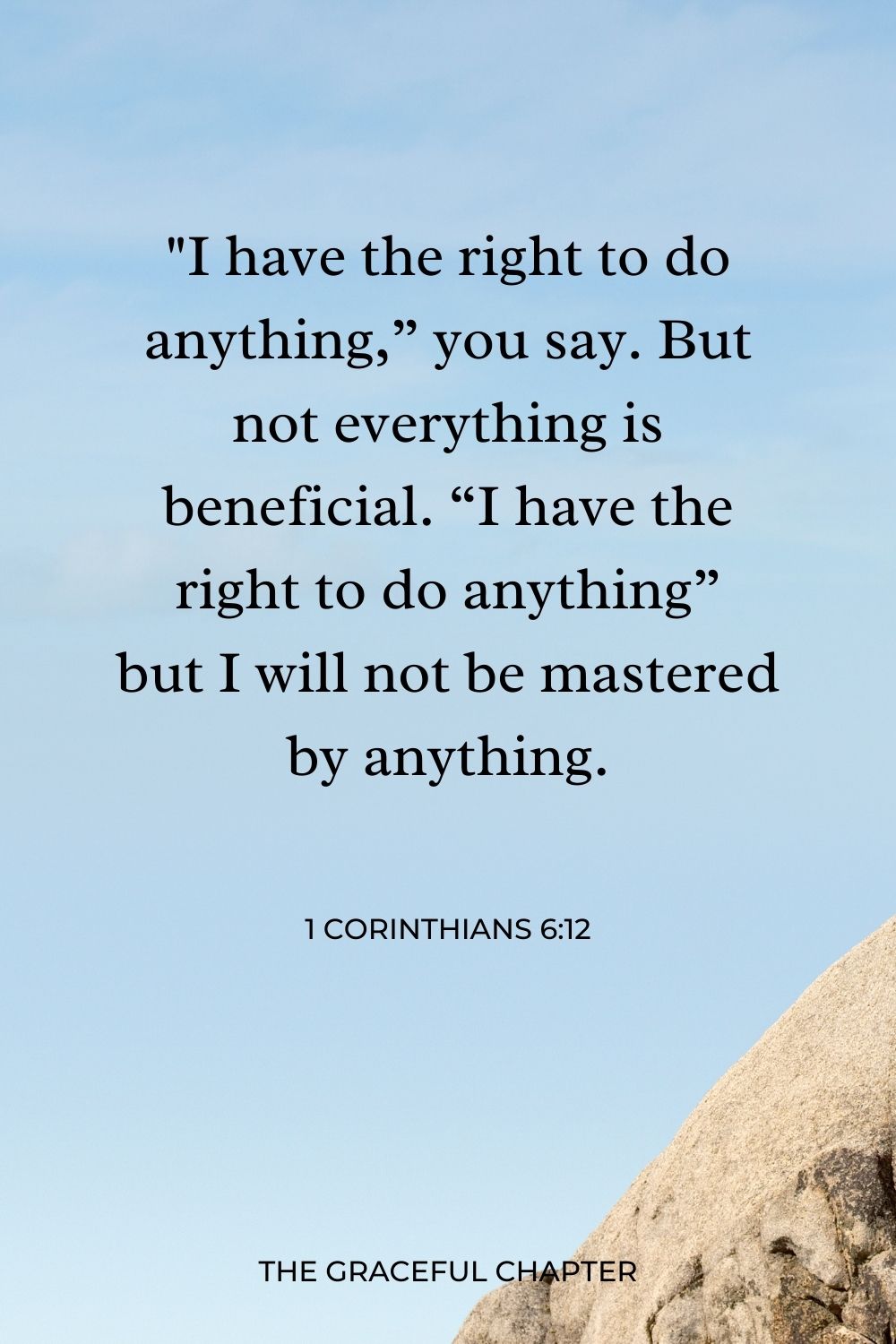 1 Corinthians 6:12
I have the right to do anything," you say. But not everything is beneficial. "I have the right to do anything"—but I will not be mastered by anything.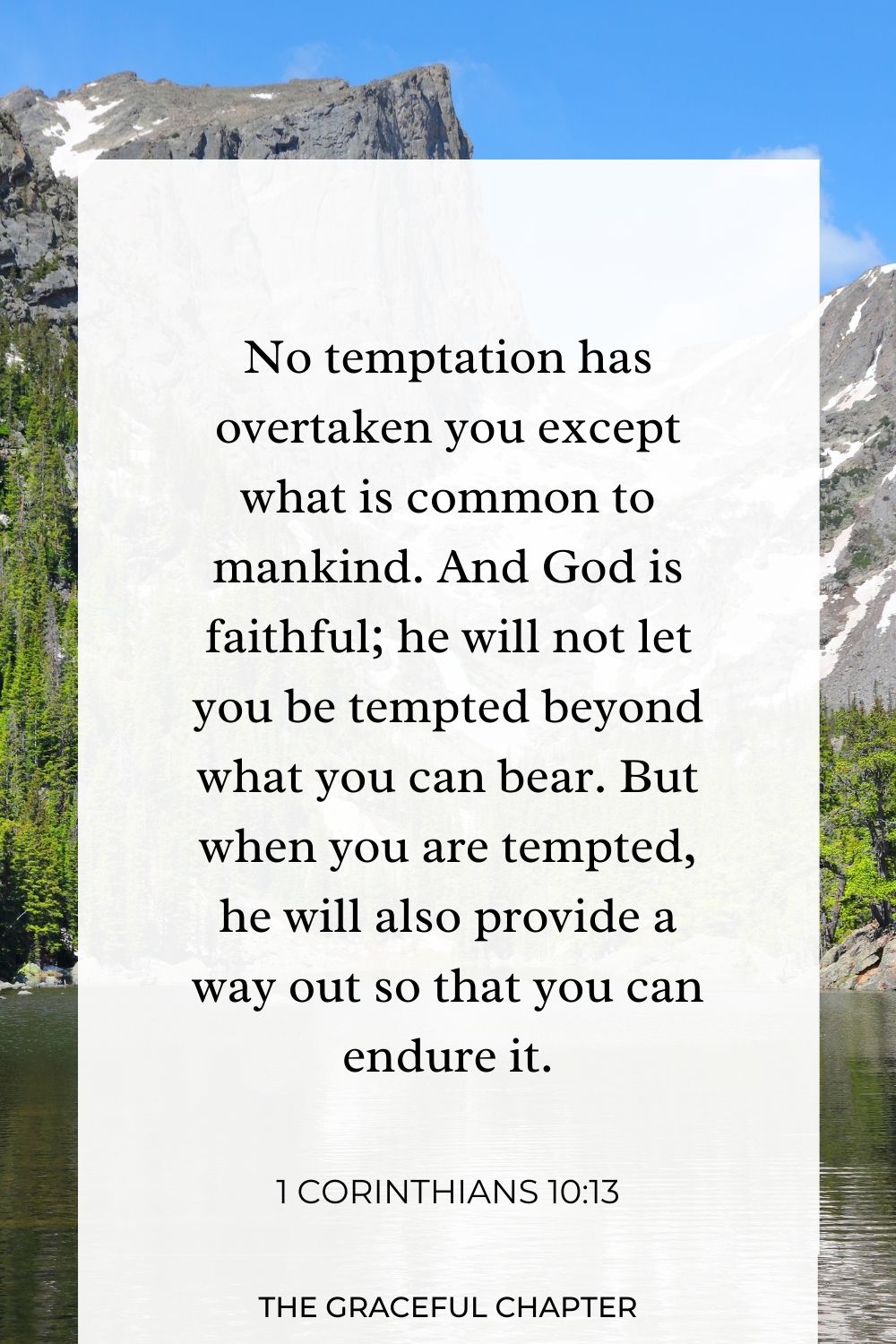 1 Corinthians 10:13
No temptation has overtaken you except what is common to mankind. And God is faithful; he will not let you be tempted beyond what you can bear. But when you are tempted, he will also provide a way out so that you can endure it.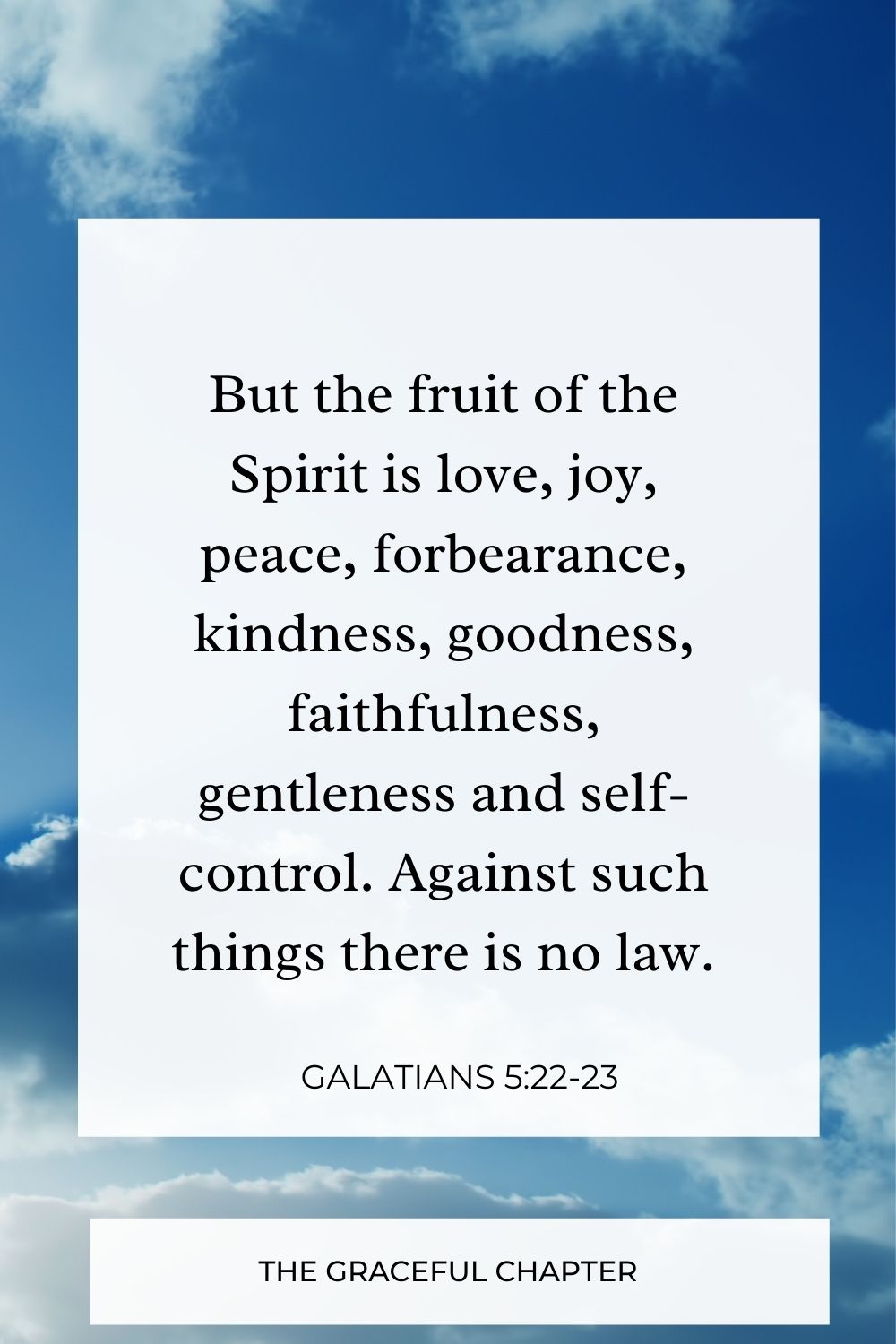 Galatians 5:22-23
But the fruit of the Spirit is love, joy, peace, forbearance, kindness, goodness, faithfulness, gentleness and self-control. Against such things there is no law.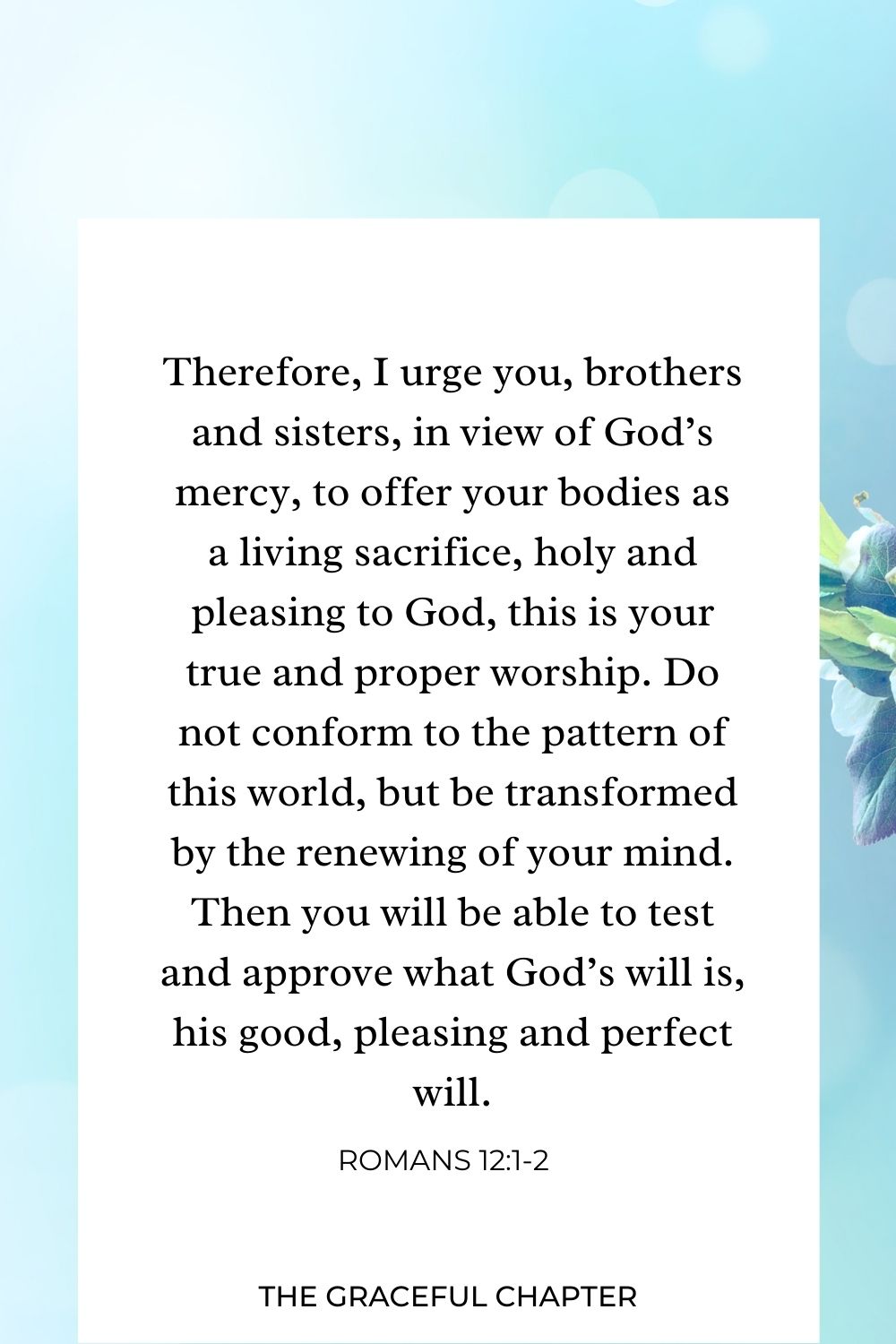 Romans 12:1-2
Therefore, I urge you, brothers and sisters, in view of God's mercy, to offer your bodies as a living sacrifice, holy and pleasing to God, this is your true and proper worship. Do not conform to the pattern of this world, but be transformed by the renewing of your mind. Then you will be able to test and approve what God's will is his good, pleasing, and perfect will.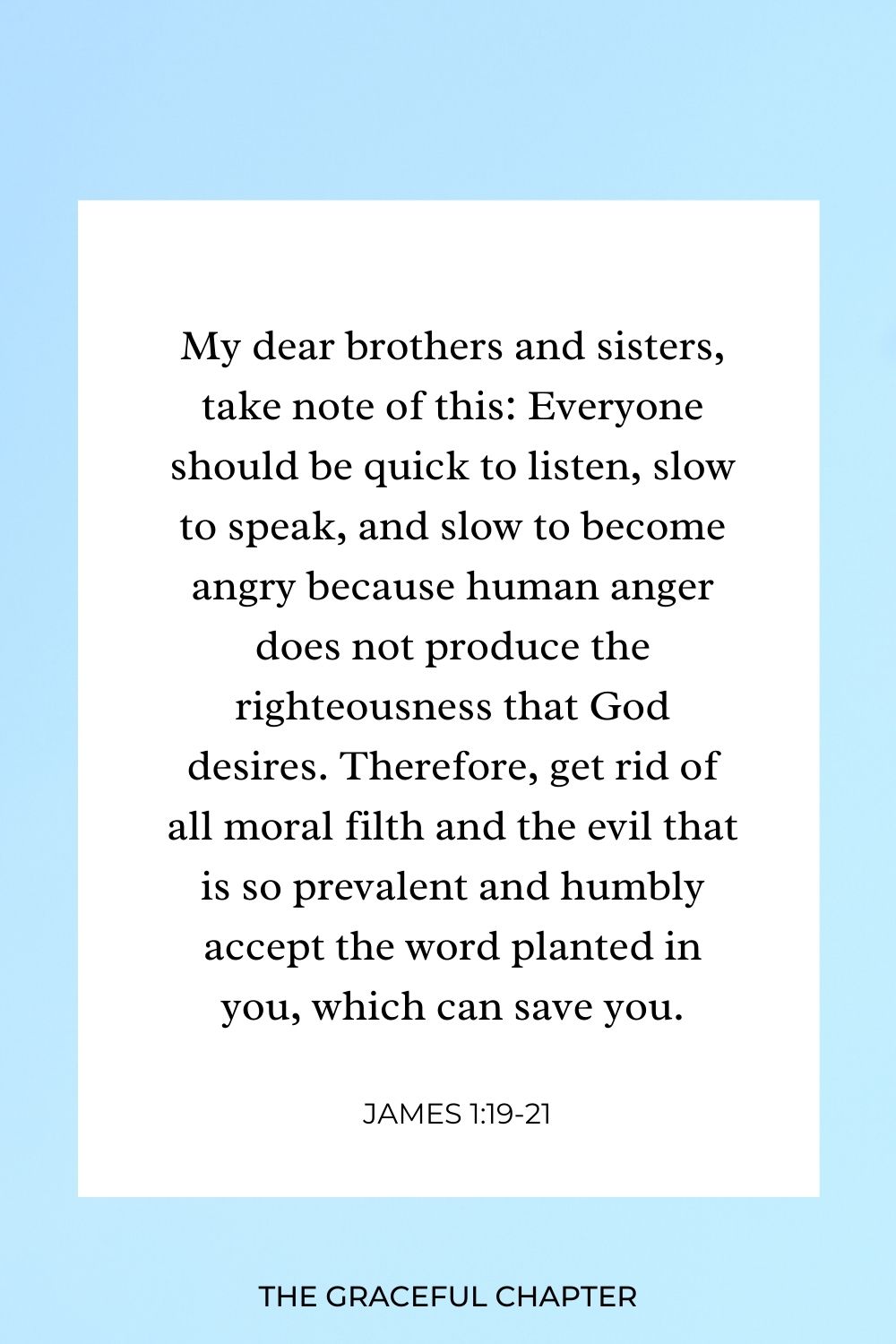 James 1:19-21
My dear brothers and sisters, take note of this: Everyone should be quick to listen, slow to speak, and slow to become angry because human anger does not produce the righteousness that God desires. Therefore, get rid of all moral filth and the evil that is so prevalent and humbly accept the word planted in you, which can save you.

1 Thessalonians 5:6
So then, let us not be like others, who are asleep, but let us be awake and sober.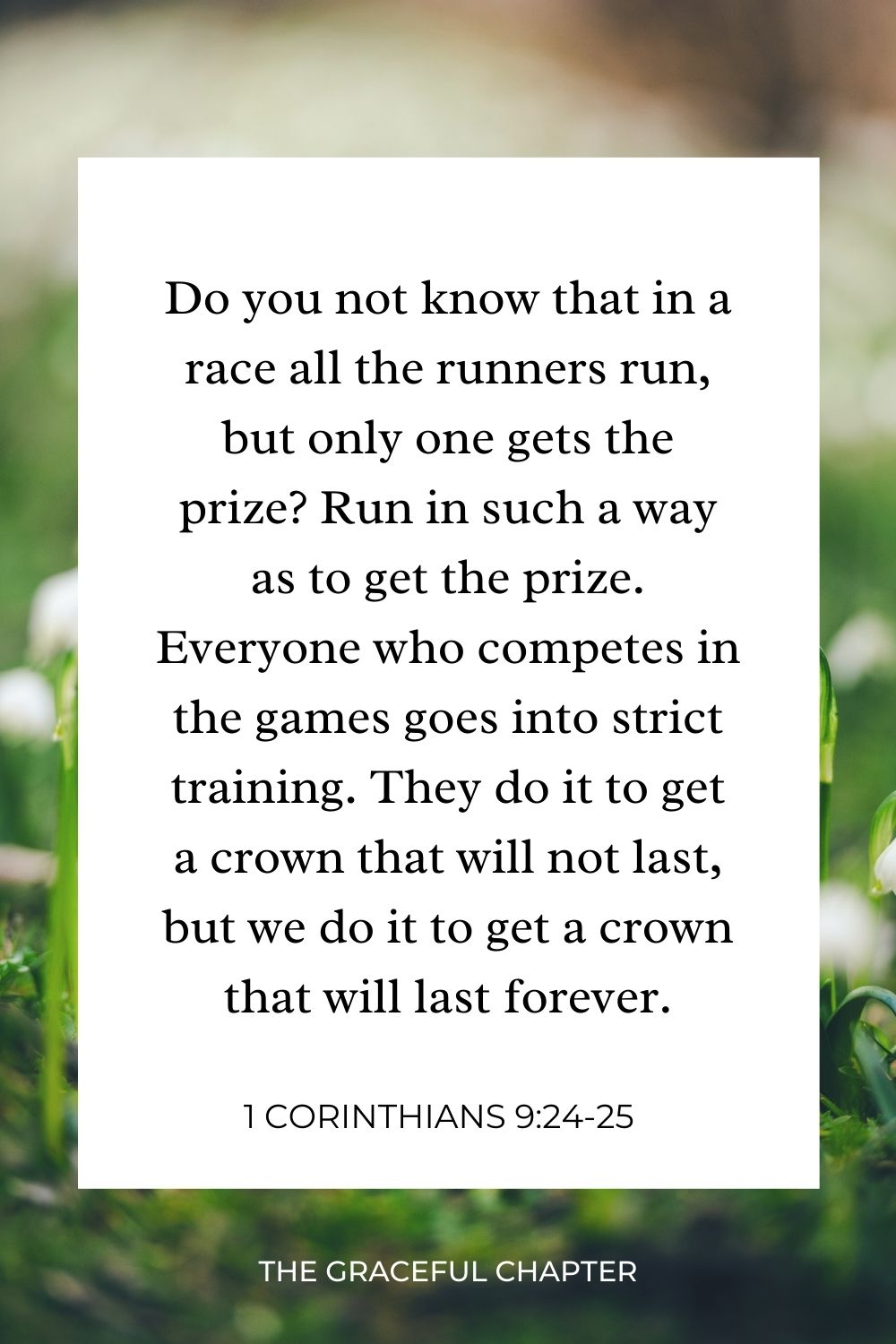 1 Corinthians 9:24-25
Do you not know that in a race all the runners run, but only one gets the prize? Run in such a way as to get the prize. Everyone who competes in the games goes into strict training. They do it to get a crown that will not last, but we do it to get a crown that will last forever.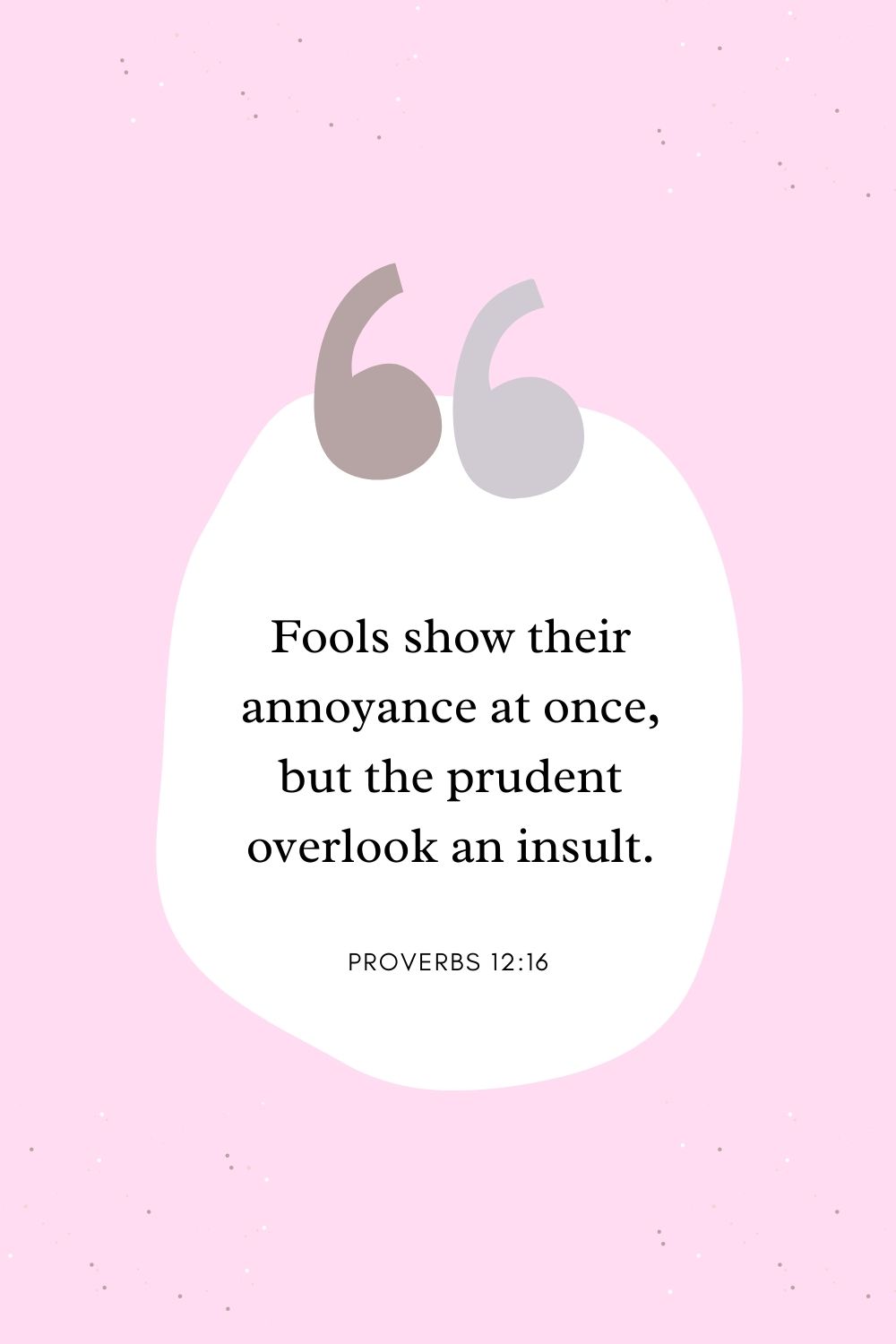 Proverbs 12:16
Fools show their annoyance at once, but the prudent overlook an insult.

1 Timothy 3:2-3
Now the overseer is to be above reproach, faithful to his wife, temperate, self-controlled, respectable, hospitable, able to teach, not given to drunkenness, not violent but gentle, not quarrelsome, not a lover of money.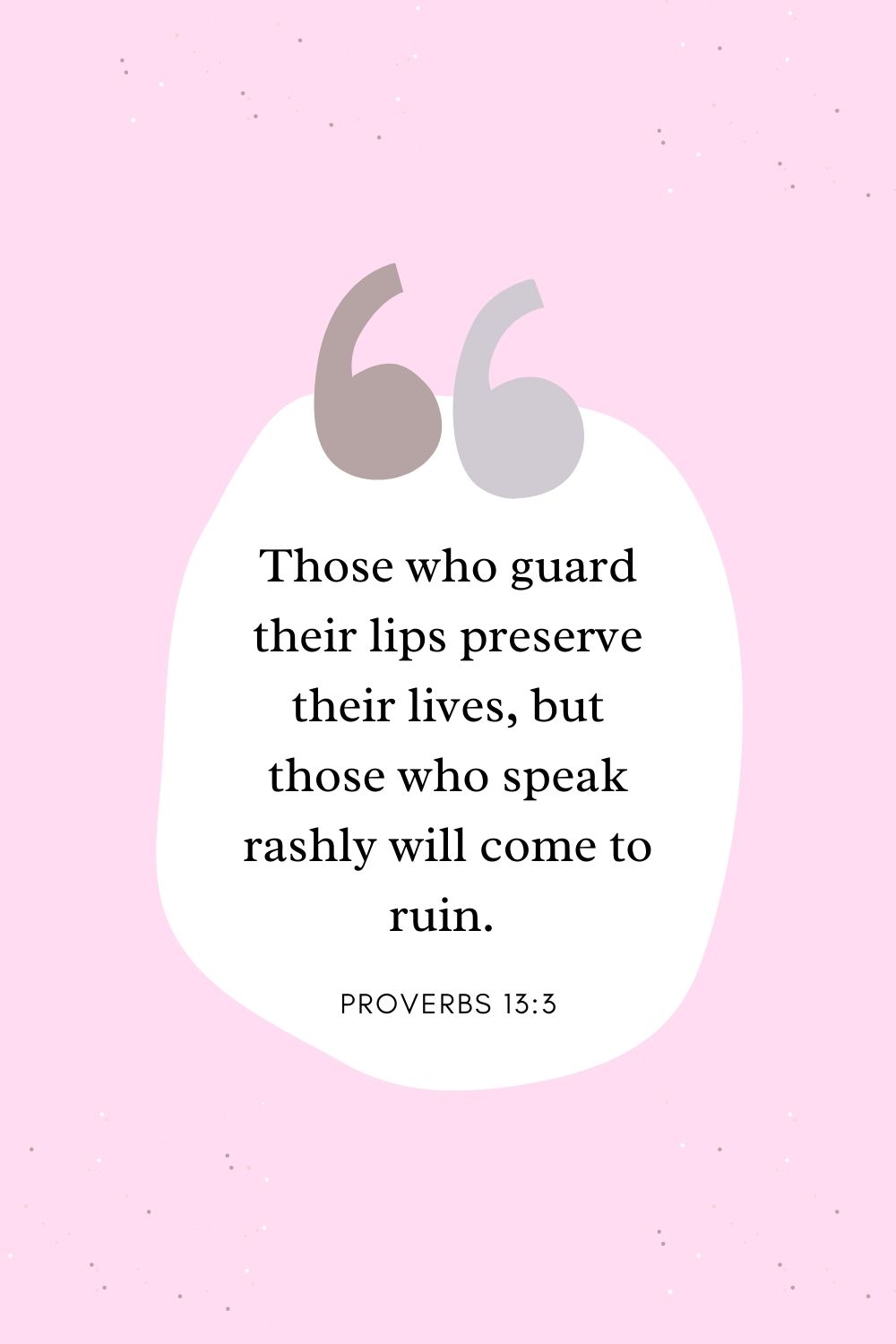 Proverbs 13:3
Those who guard their lips preserve their lives, but those who speak rashly will come to ruin.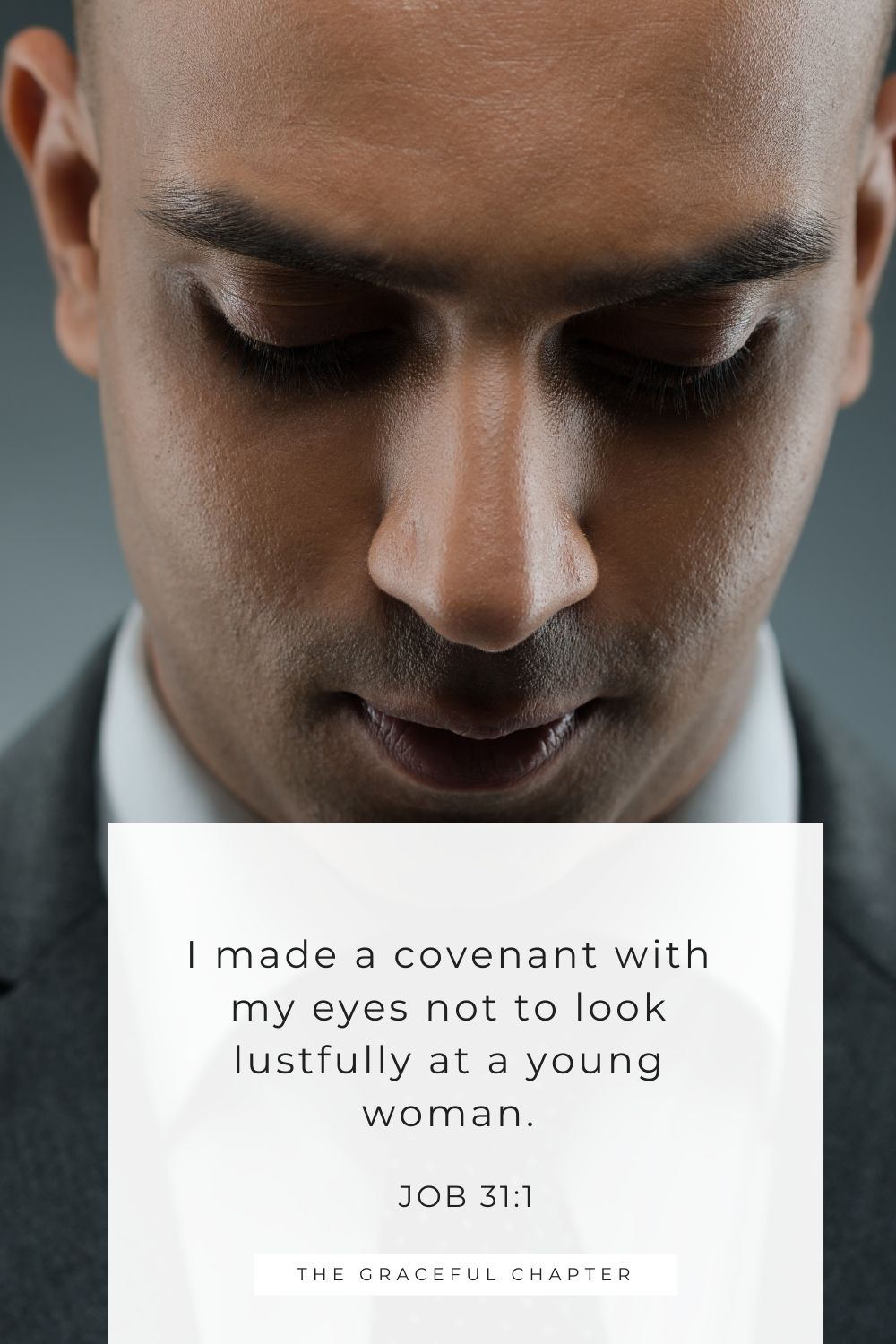 Job 31:1
I made a covenant with my eyes
not to look lustfully at a young woman.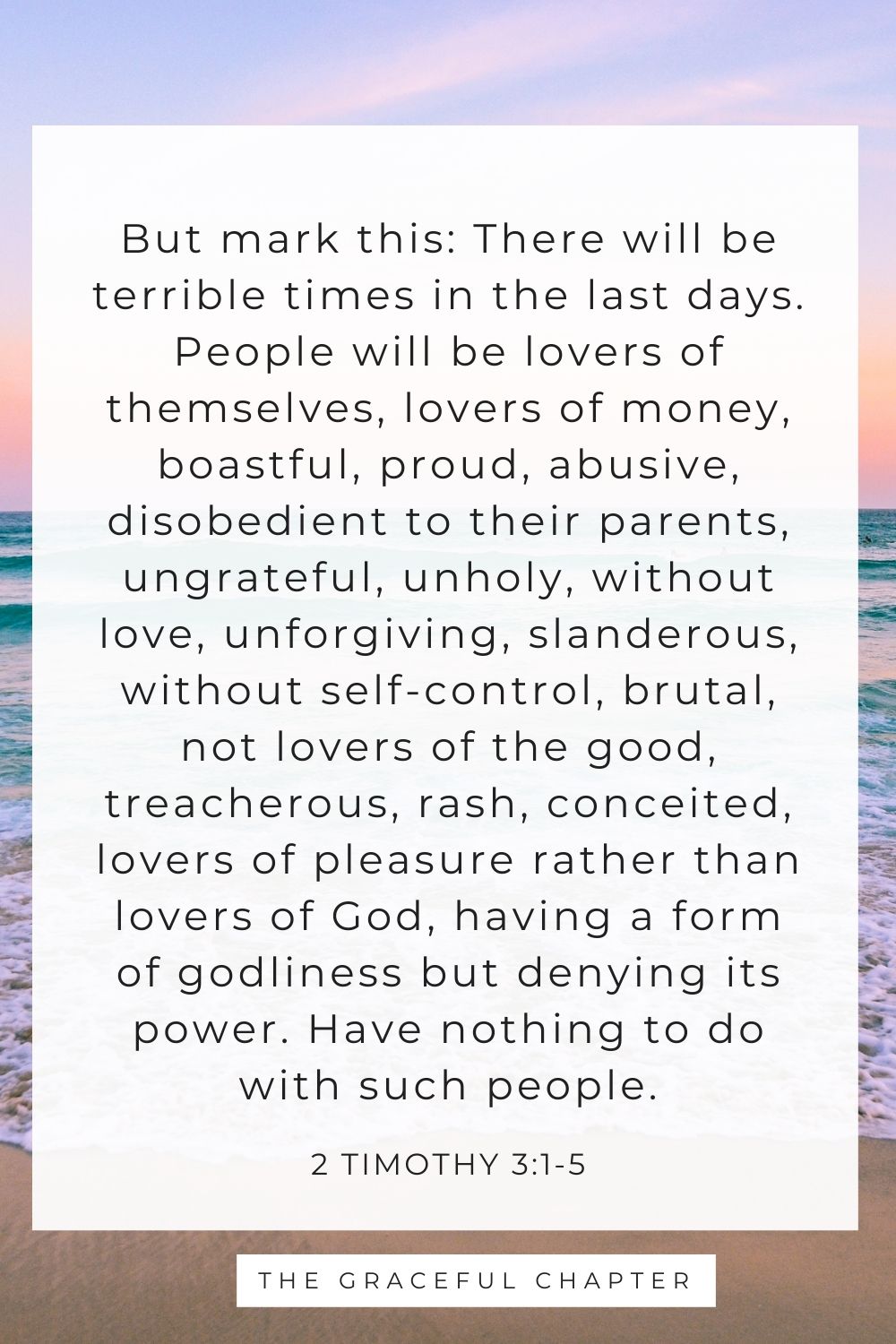 2 Timothy 3:1-5
But mark this: There will be terrible times in the last days. People will be lovers of themselves, lovers of money, boastful, proud, abusive, disobedient to their parents, ungrateful, unholy, without love, unforgiving, slanderous, without self-control, brutal, not lovers of the good, treacherous, rash, conceited, lovers of pleasure rather than lovers of God, having a form of godliness but denying its power. Have nothing to do with such people.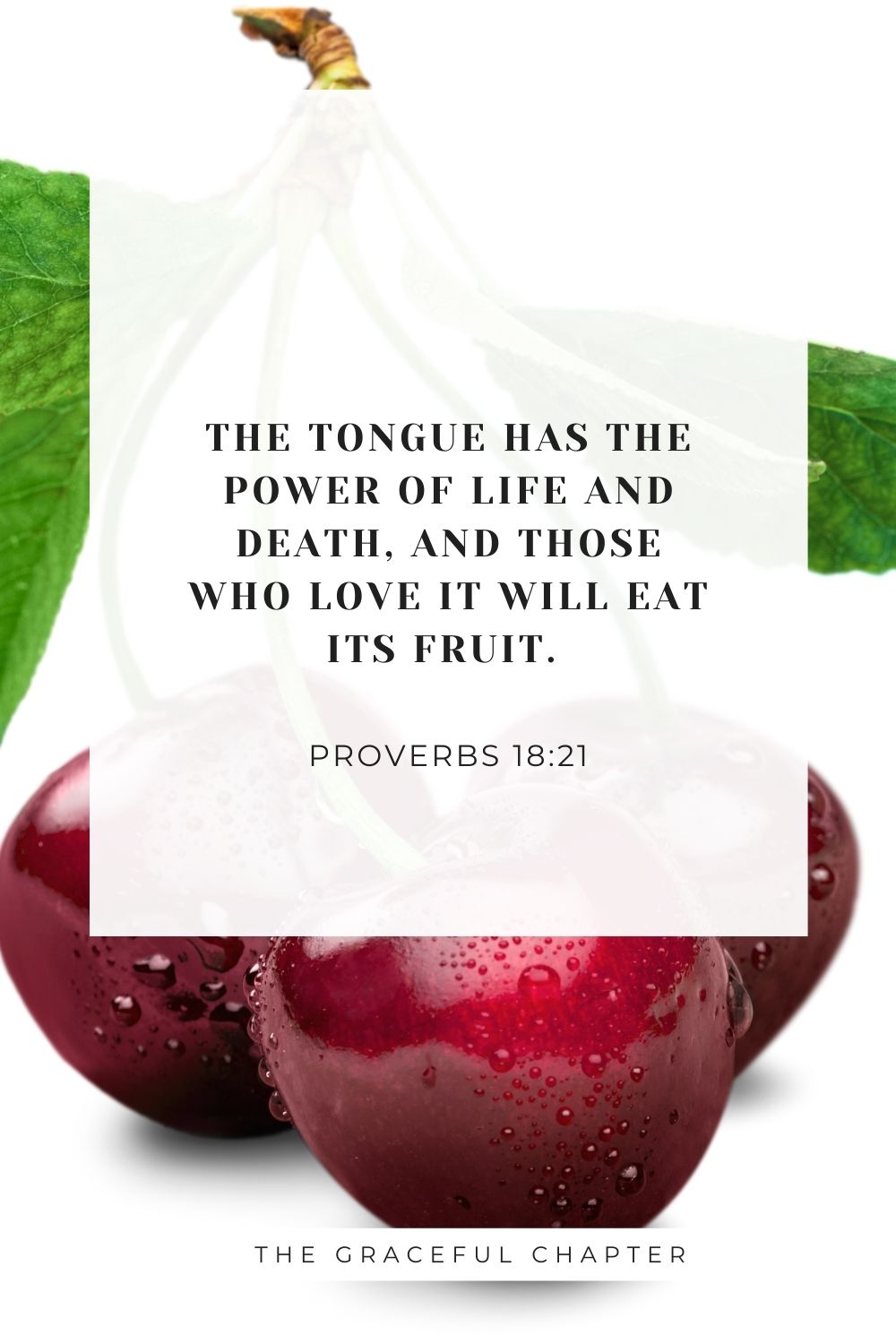 Proverbs 18:21
The tongue has the power of life and death, and those who love it will eat its fruit.

Romans 12:1
Therefore, I urge you, brothers and sisters, in view of God's mercy, to offer your bodies as a living sacrifice, holy and pleasing to God, this is your true and proper worship.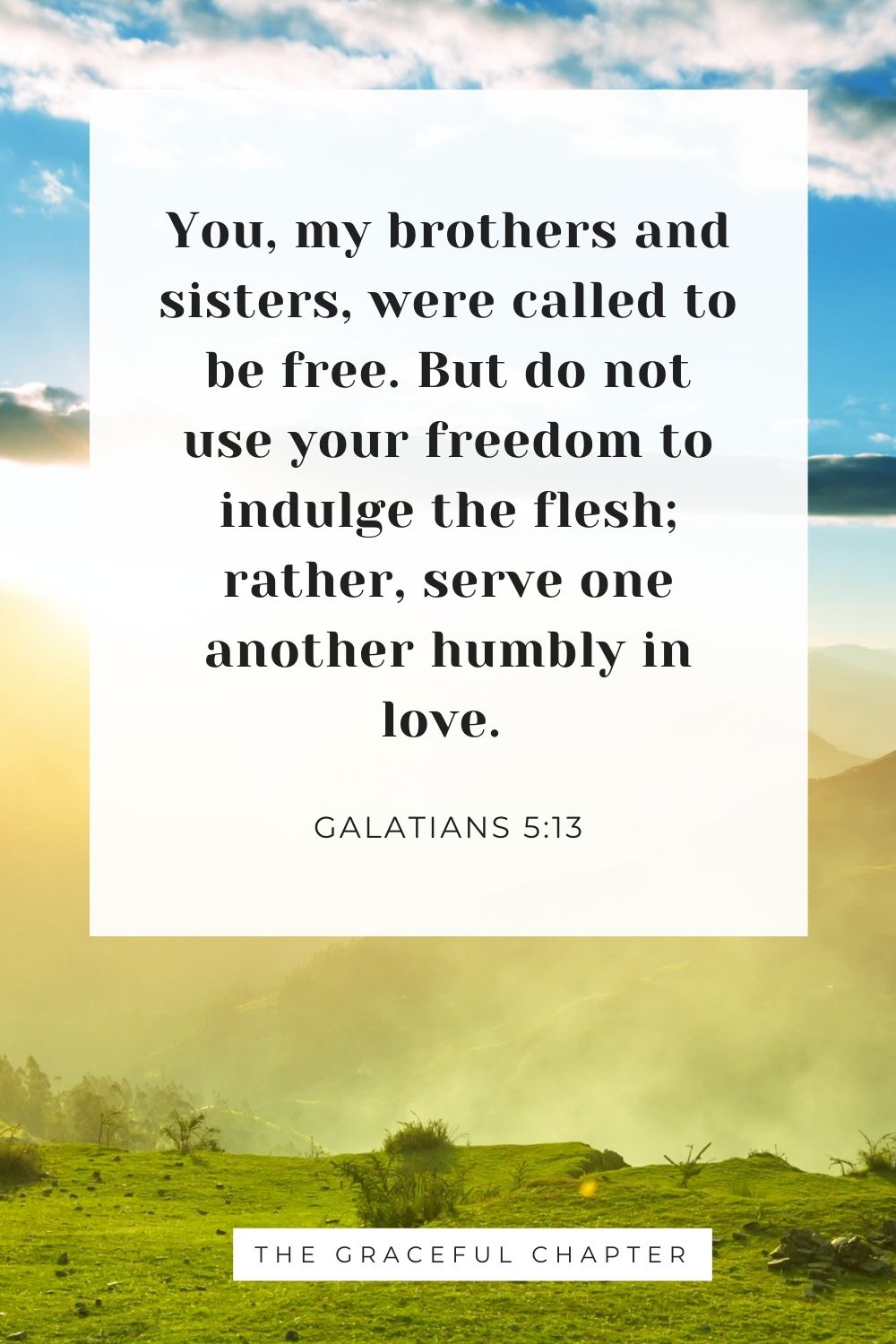 Galatians 5:13
You, my brothers and sisters, were called to be free. But do not use your freedom to indulge the flesh; rather, serve one another humbly in love.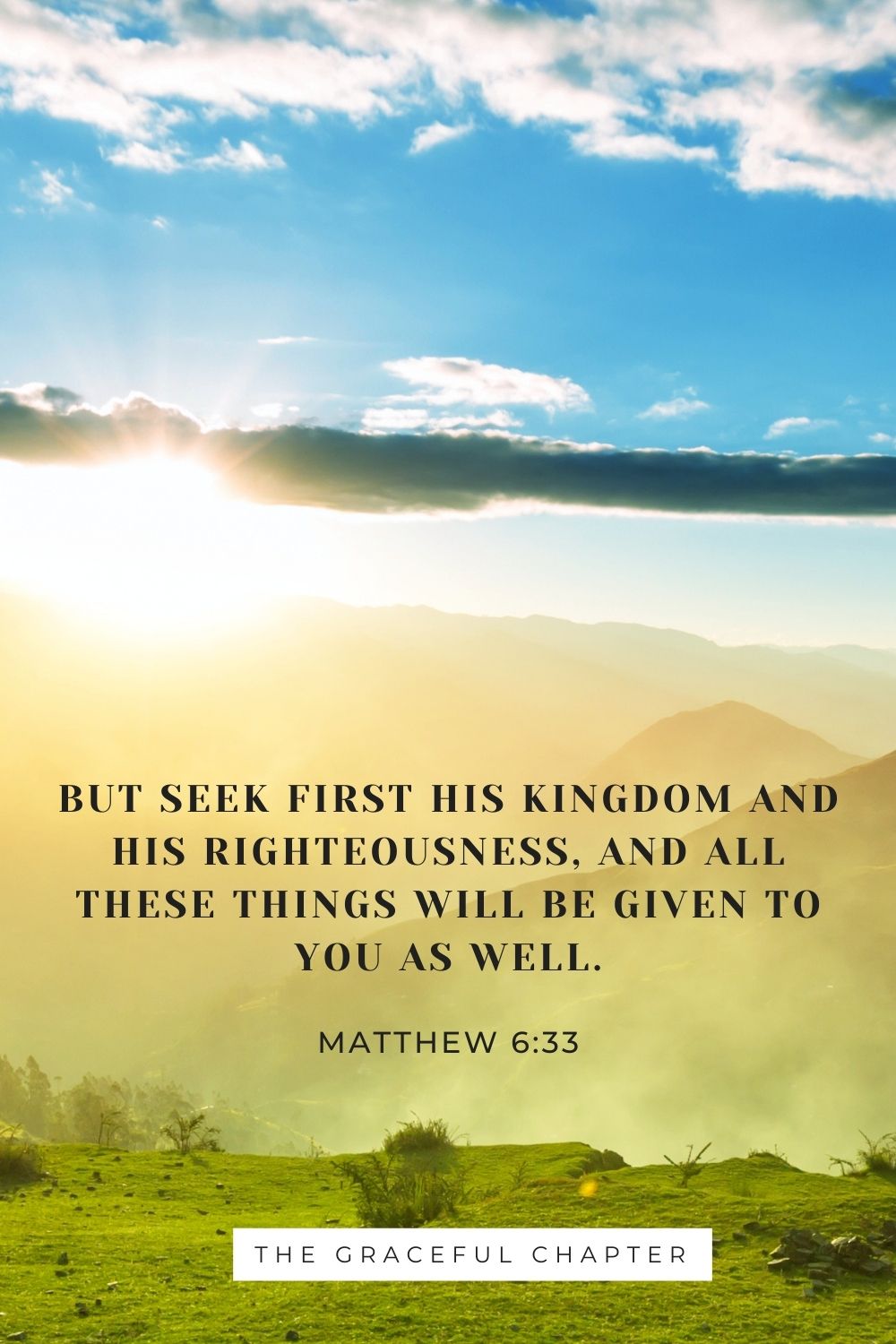 Matthew 6:33
But seek first his kingdom and his righteousness, and all these things will be given to you as well.


Titus 2:6
Similarly, encourage the young men to be self-controlled.

1 Timothy 4:7
Have nothing to do with godless myths and old wives' tales; rather, train yourself to be godly.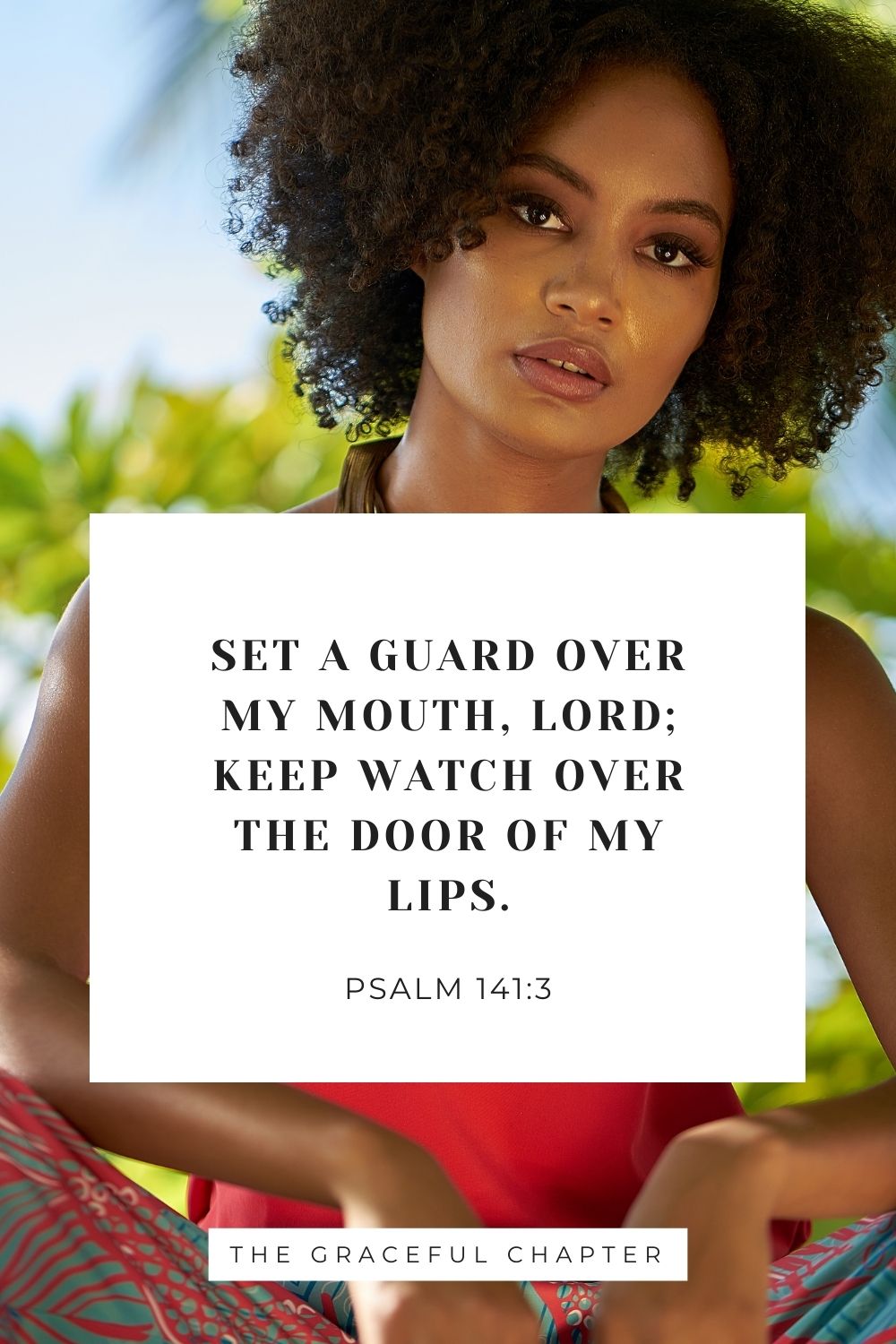 Psalm 141:3
Set a guard over my mouth, Lord;
keep watch over the door of my lips.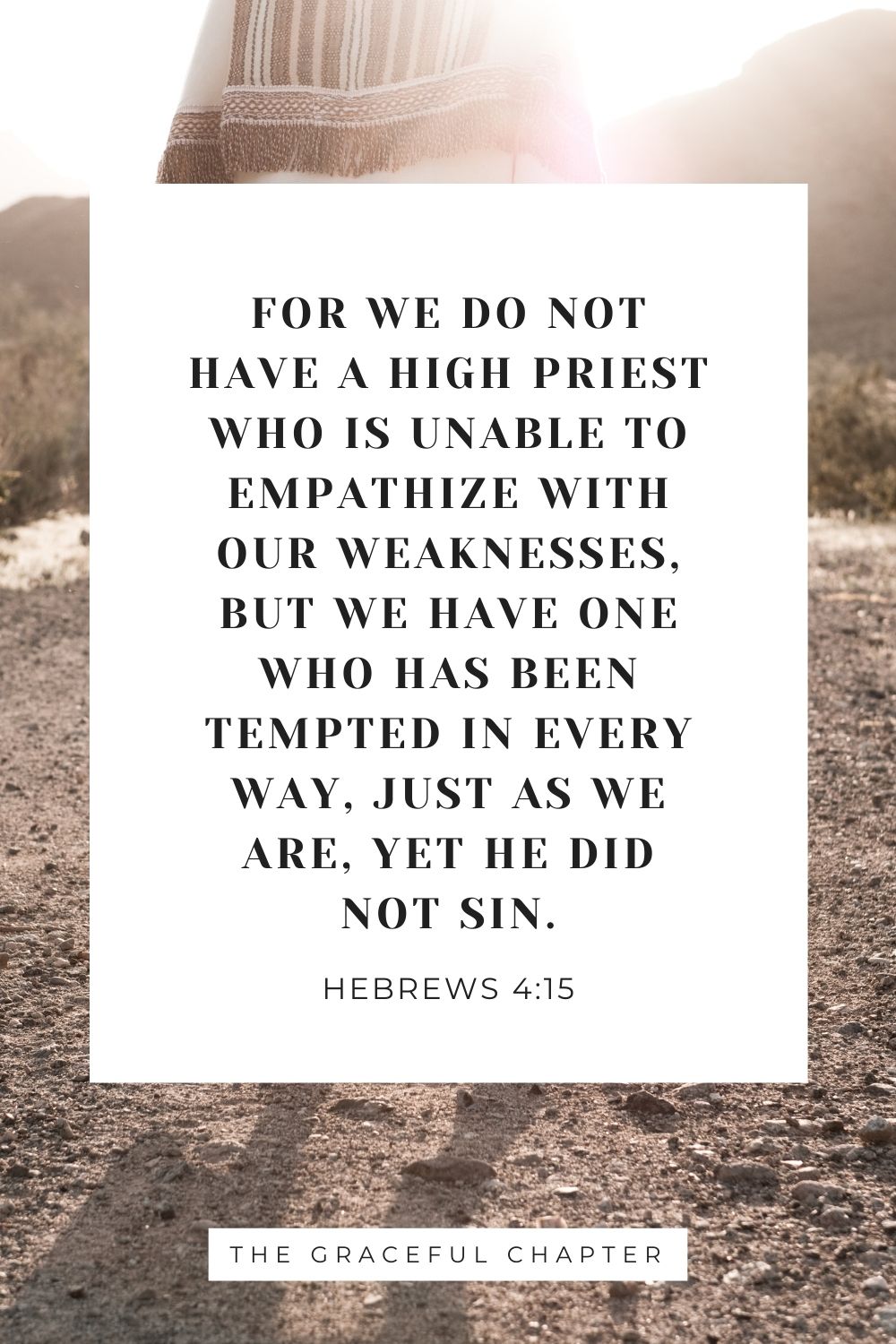 Hebrews 4:15
For we do not have a high priest who is unable to empathize with our weaknesses, but we have one who has been tempted in every way, just as we are, yet he did not sin.

Galatians 5:16-17
So I say, walk by the Spirit, and you will not gratify the desires of the flesh. For the flesh desires what is contrary to the Spirit, and the Spirit what is contrary to the flesh. They are in conflict with each other, so that you are not to do whatever you want.
Galatians 5:16-17

2 John 1:8
Watch out that you do not lose what we have worked for, but that you may be rewarded fully.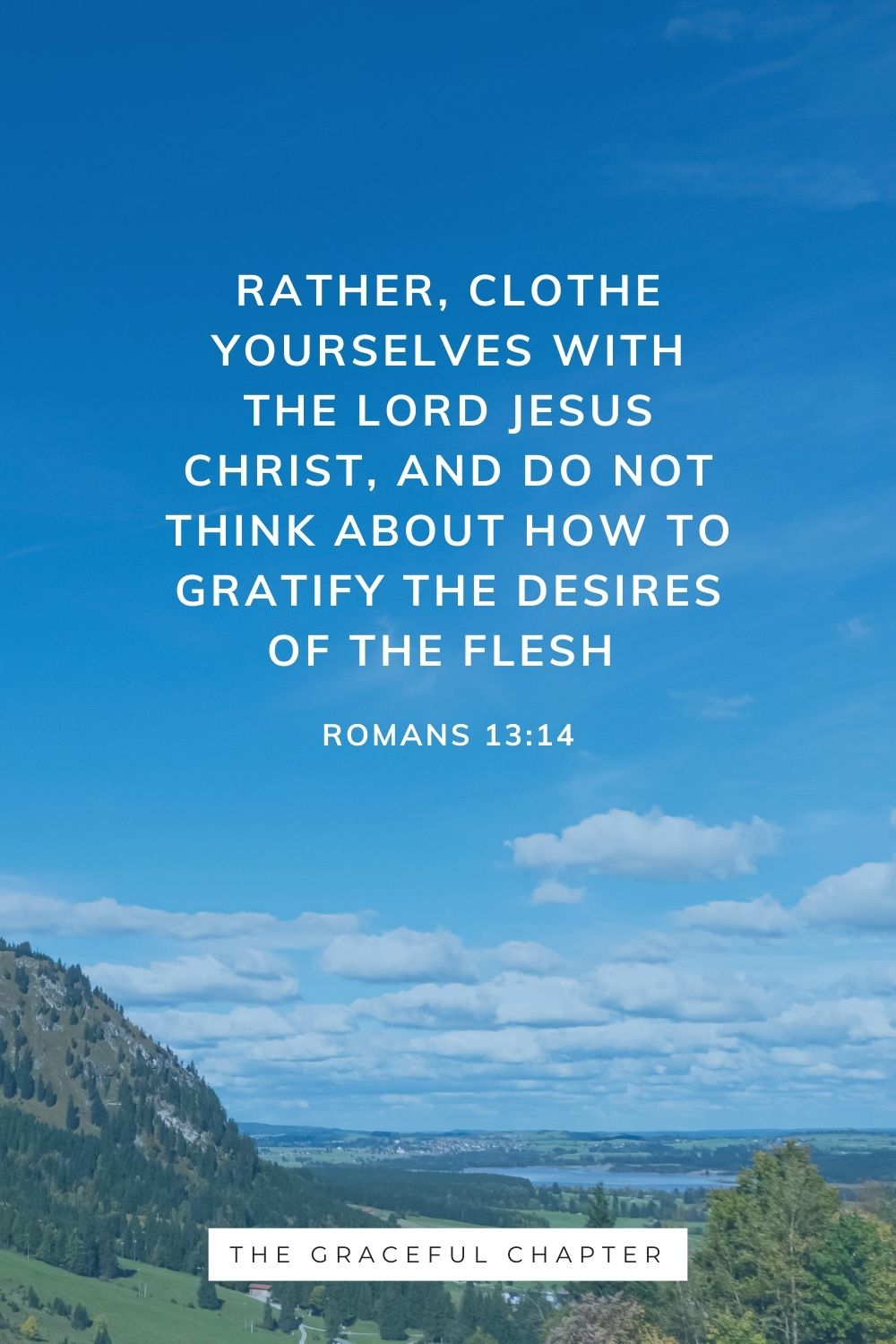 Romans 13:14
Rather, clothe yourselves with the Lord Jesus Christ, and do not think about how to gratify the desires of the flesh

Proverbs 20:1
Wine is a mocker and beer a brawler; whoever is led astray by them is not wise.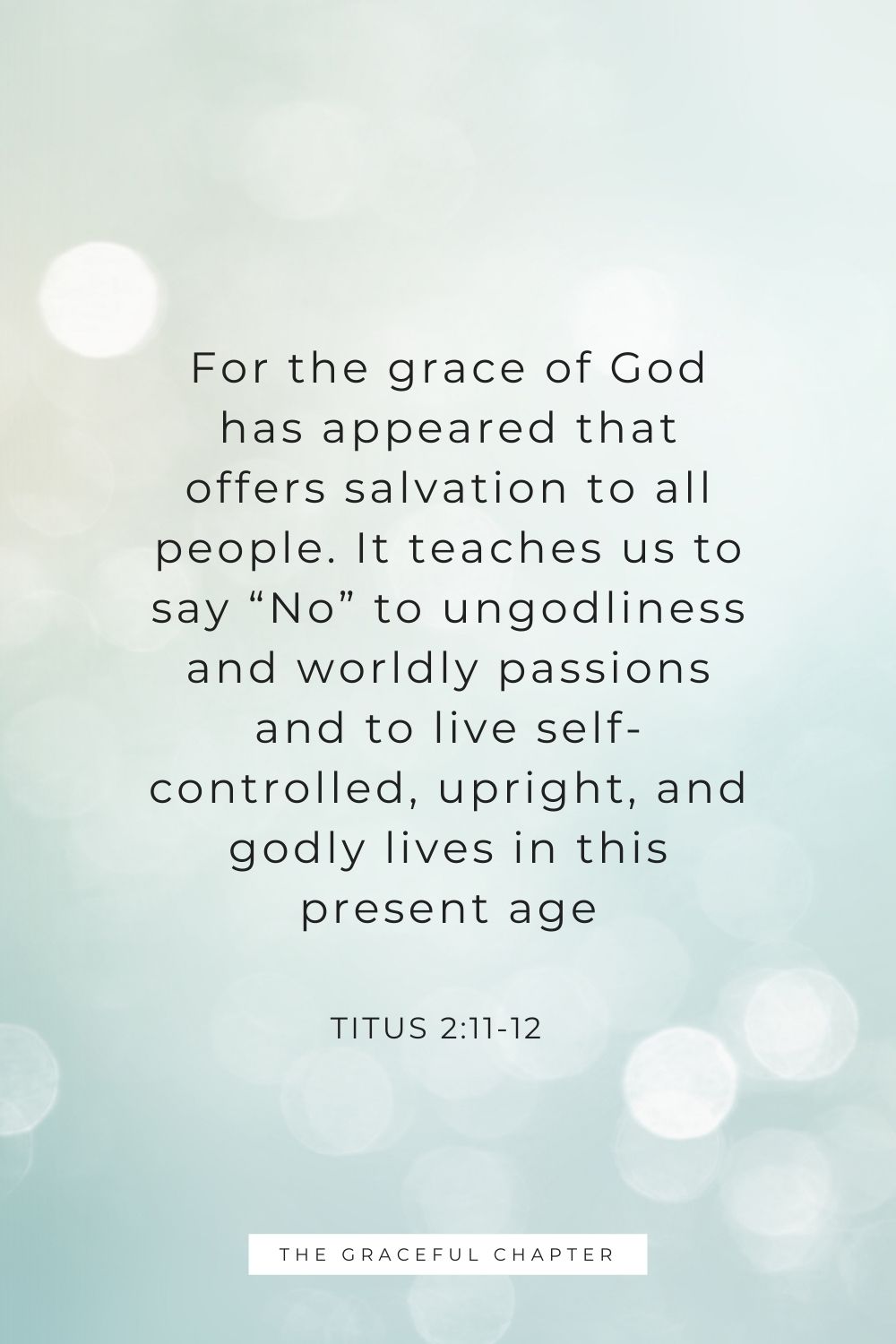 Titus 2:11-12
For the grace of God has appeared that offers salvation to all people. It teaches us to say "No" to ungodliness and worldly passions and to live self-controlled, upright, and godly lives in this present age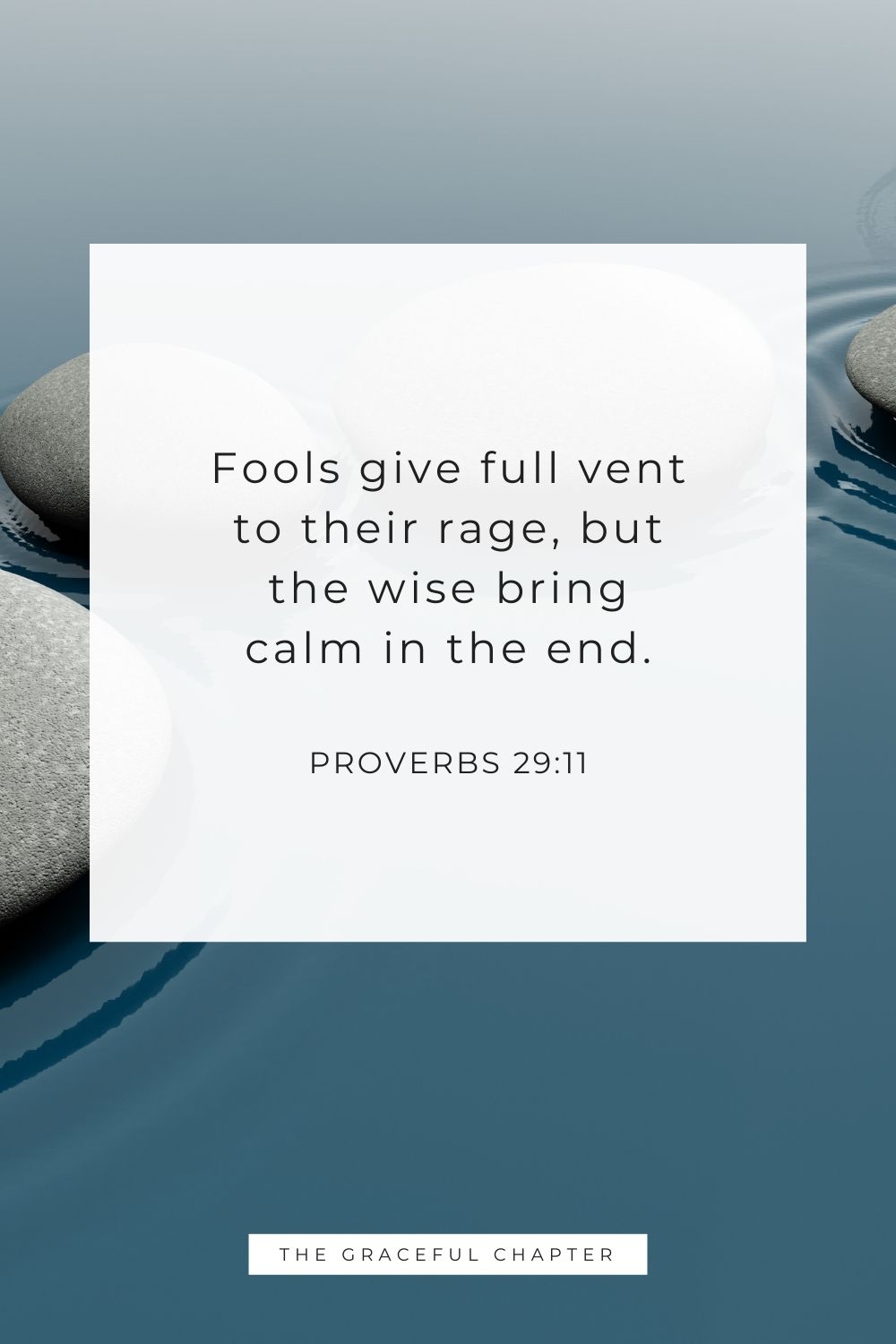 Proverbs 29:11
Fools give full vent to their rage,
but the wise bring calm in the end.

Proverbs 4:27
Do not turn to the right or the left;
keep your foot from evil.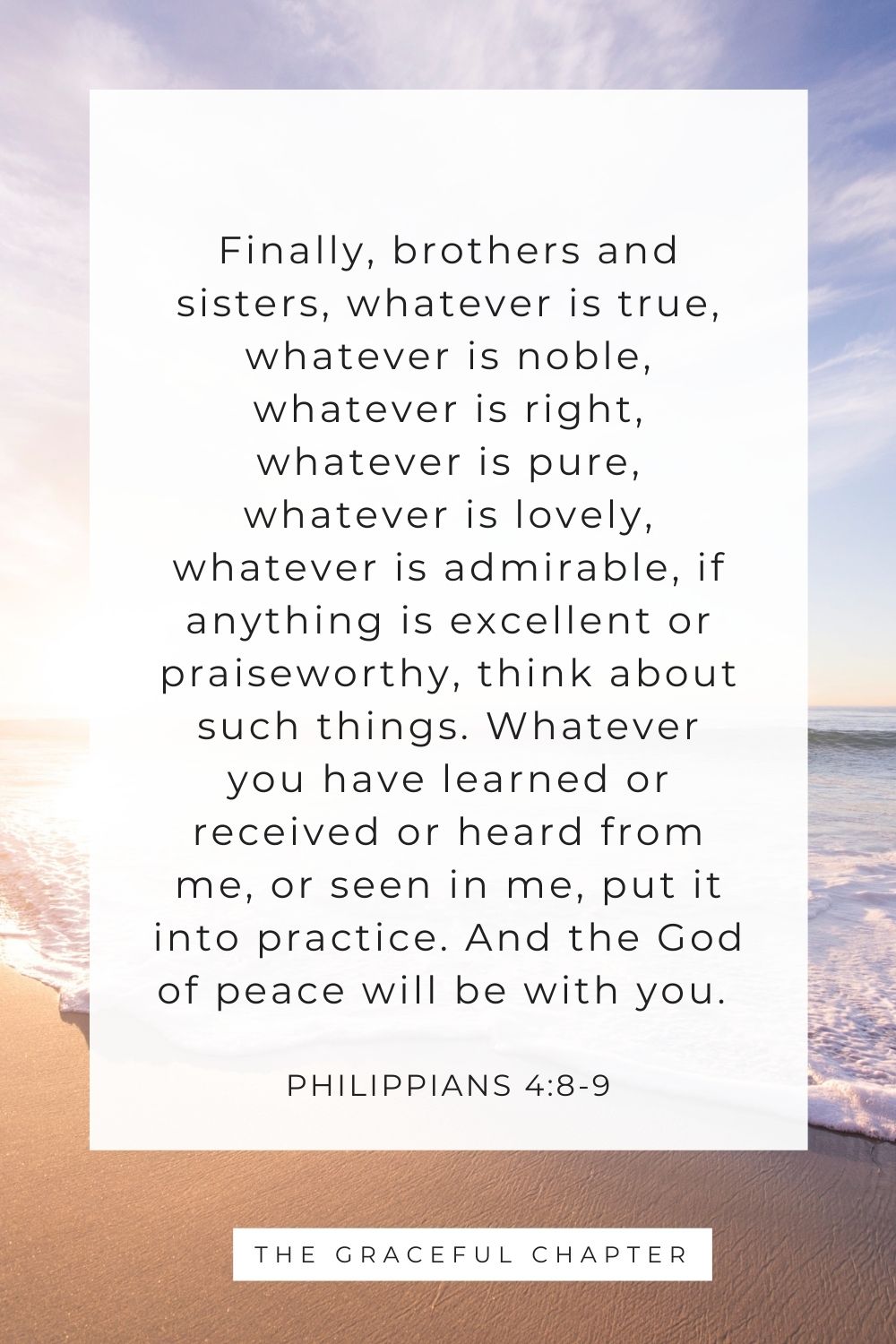 Philippians 4:8-9
Finally, brothers and sisters, whatever is true, whatever is noble, whatever is right, whatever is pure, whatever is lovely, whatever is admirable, if anything is excellent or praiseworthy, think about such things. 
Whatever you have learned or received or heard from me, or seen in me, put it into practice. 
And the God of peace will be with you.




Titus 1:8
Rather, he must be hospitable, one who loves what is good, who is self-controlled, upright, holy, and disciplined.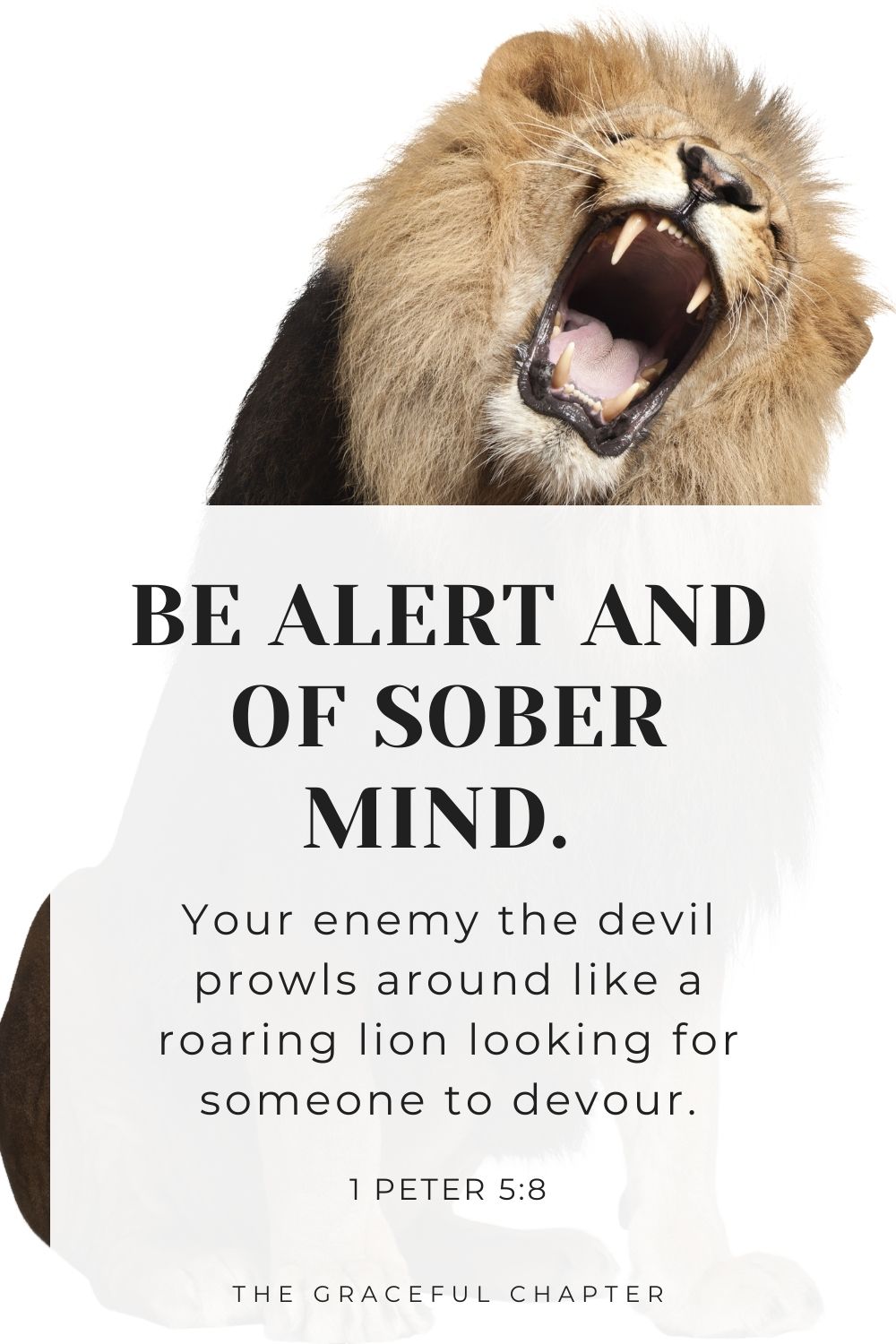 1 Peter 5:8
Be alert and of sober mind. Your enemy the devil prowls around like a roaring lion looking for someone to devour.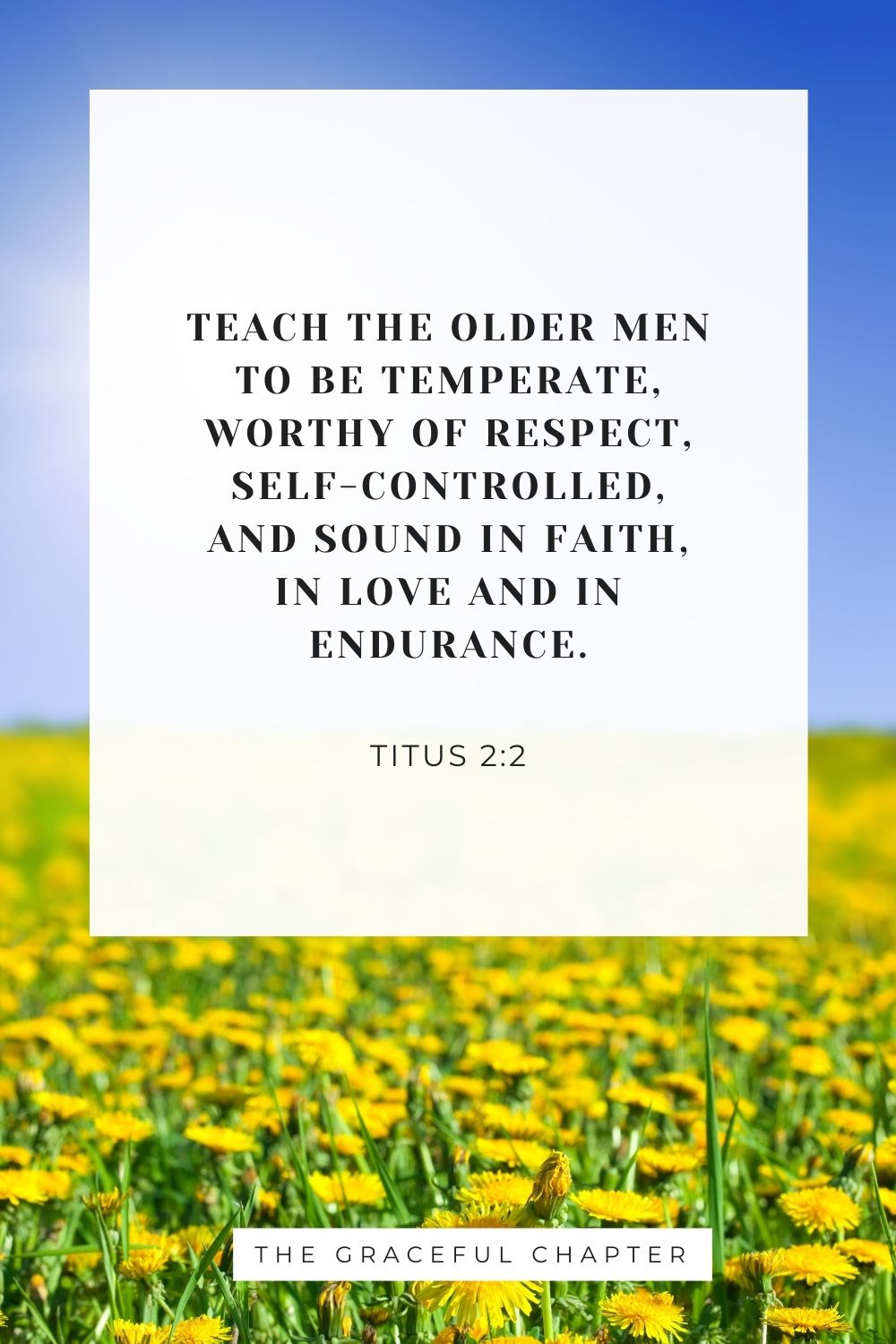 Titus 2:2
Teach the older men to be temperate, worthy of respect, self-controlled, and sound in faith, in love and in endurance.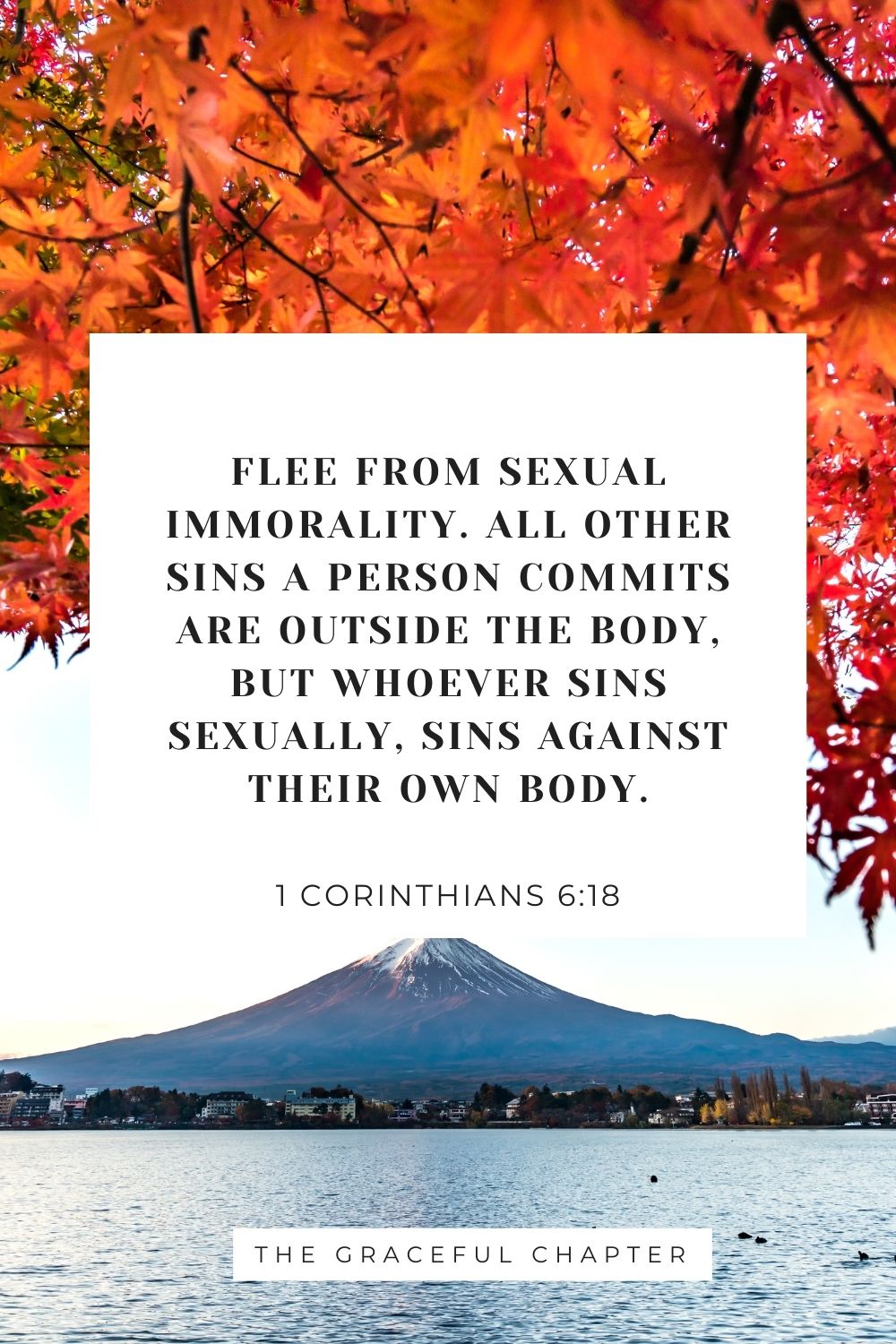 1 Corinthians 6:18
Flee from sexual immorality. All other sins a person commits are outside the body, but whoever sins sexually, sins against their own body.

Ephesians 5:18
Do not get drunk on wine, which leads to debauchery. Instead, be filled with the Spirit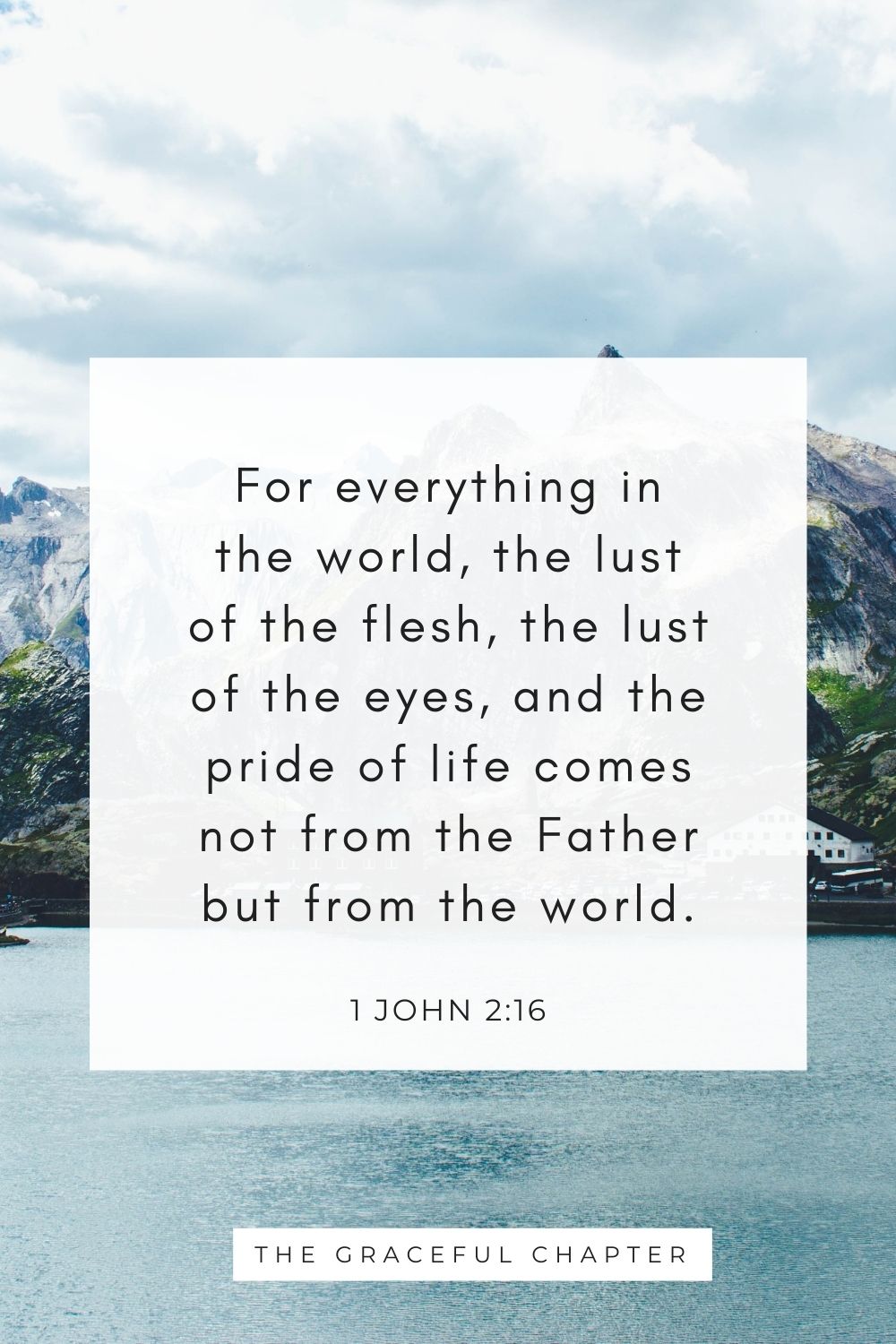 1 John 2:16
For everything in the world, the lust of the flesh, the lust of the eyes, and the pride of life comes not from the Father but from the world.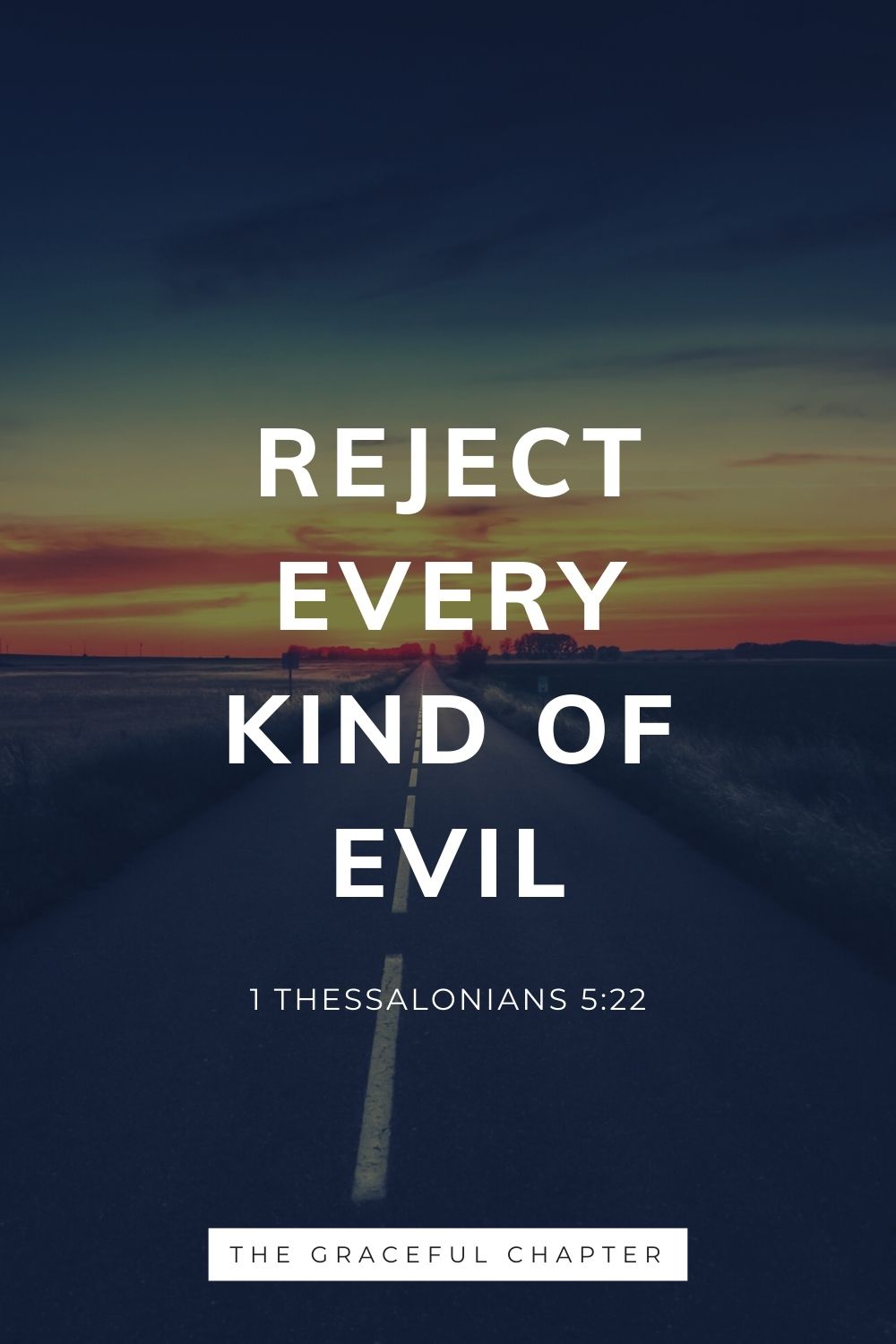 1 Thessalonians 5:22
Reject every kind of evil.


Romans 8:13
For if you live according to the flesh, you will die; but if by the Spirit you put to death the misdeeds of the body, you will live.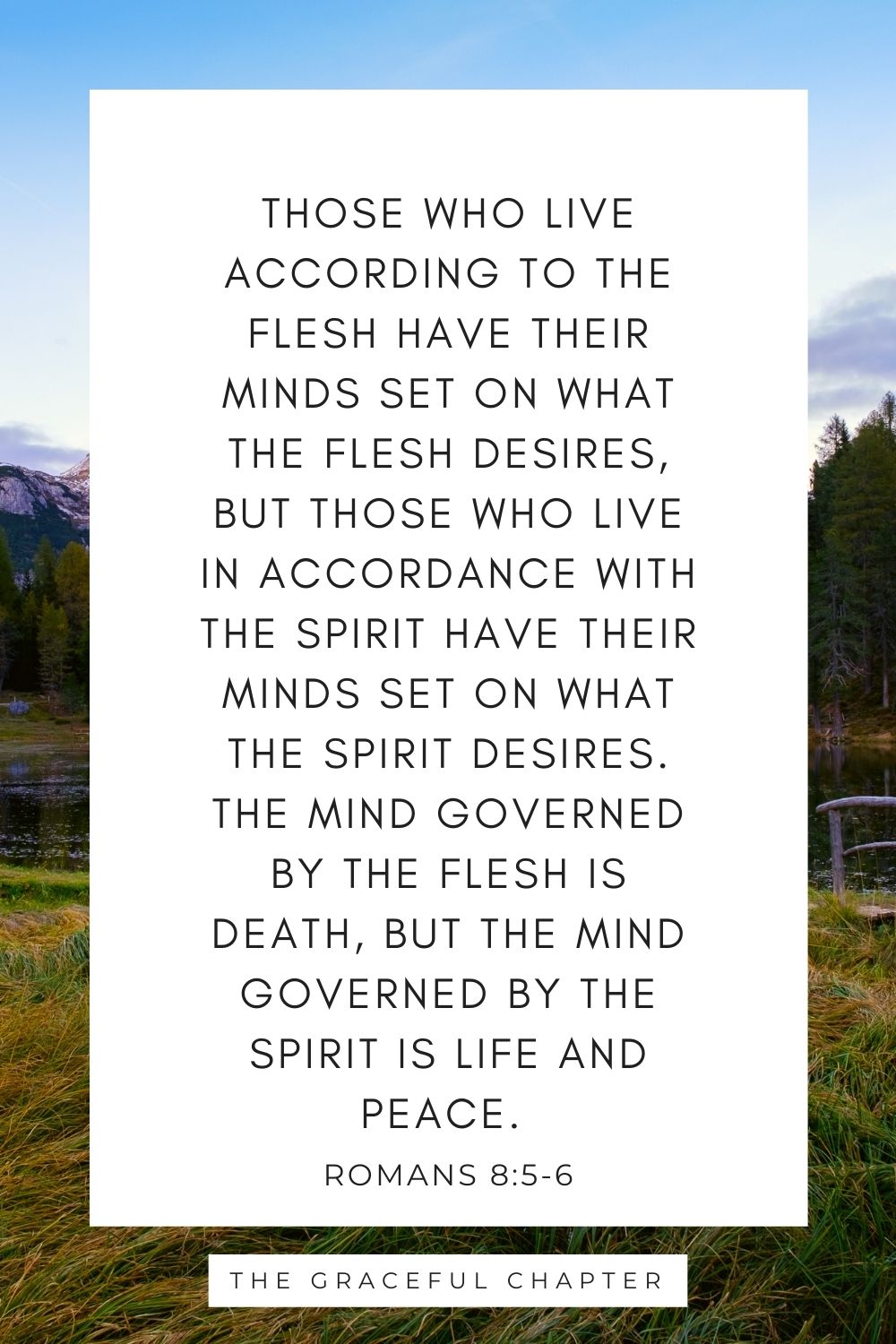 Romans 8:5-6
Those who live according to the flesh have their minds set on what the flesh desires; but those who live in accordance with the Spirit have their minds set on what the Spirit desires. The mind governed by the flesh is death, but the mind governed by the Spirit is life and peace.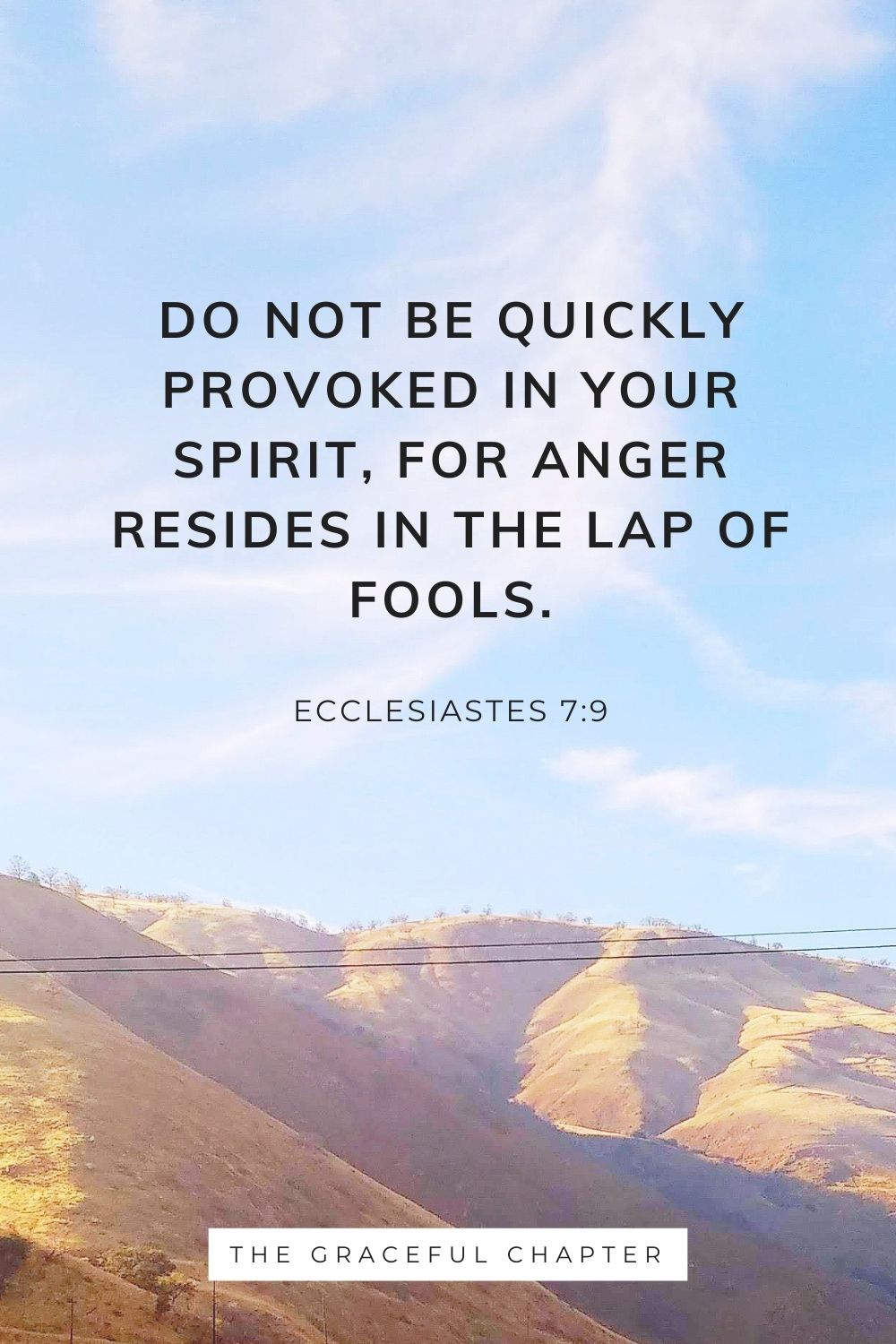 Ecclesiastes 7:9
Do not be quickly provoked in your spirit, for anger resides in the lap of fools.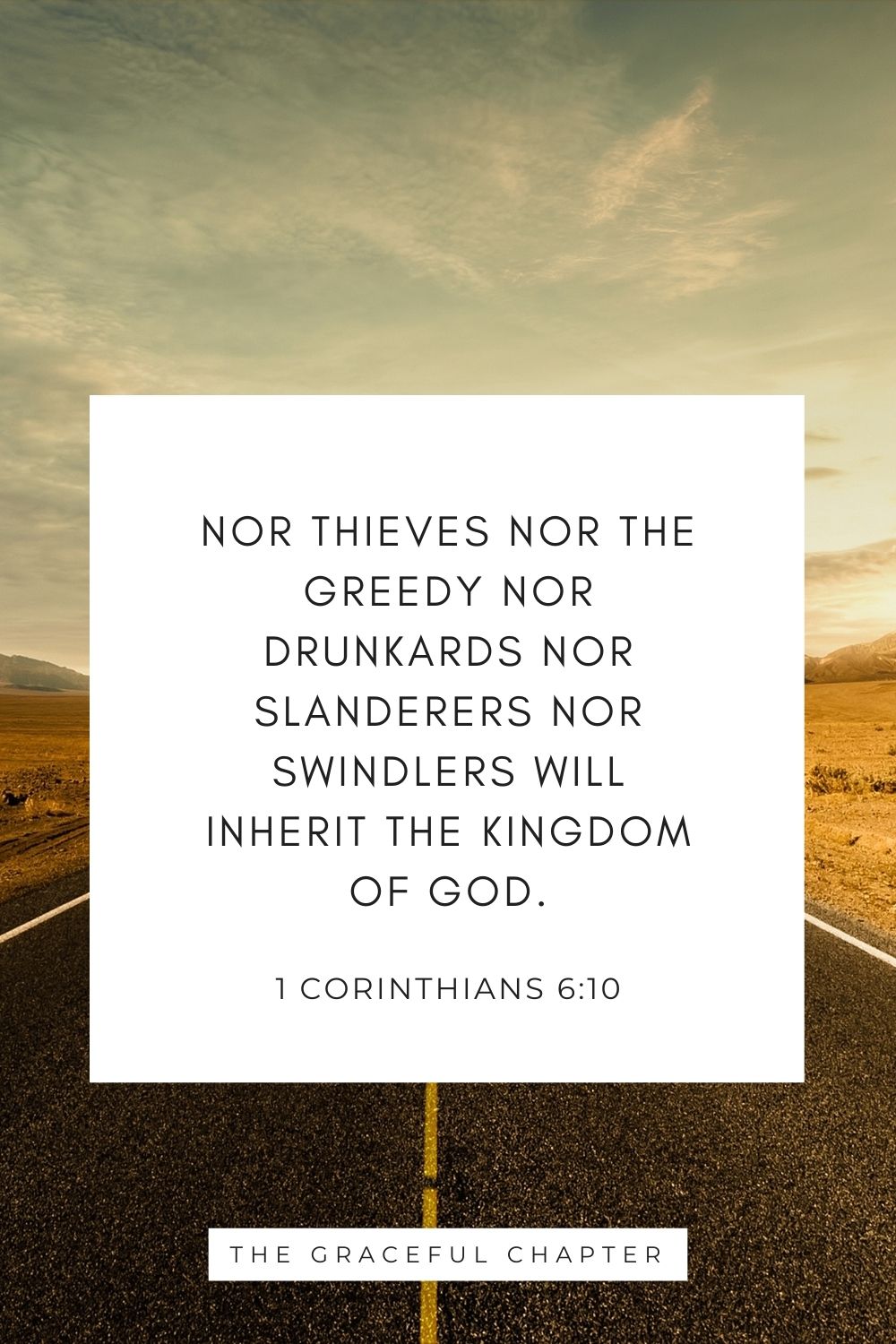 1 Corinthians 6:10
Nor thieves nor the greedy nor drunkards nor slanderers nor swindlers will inherit the kingdom of God.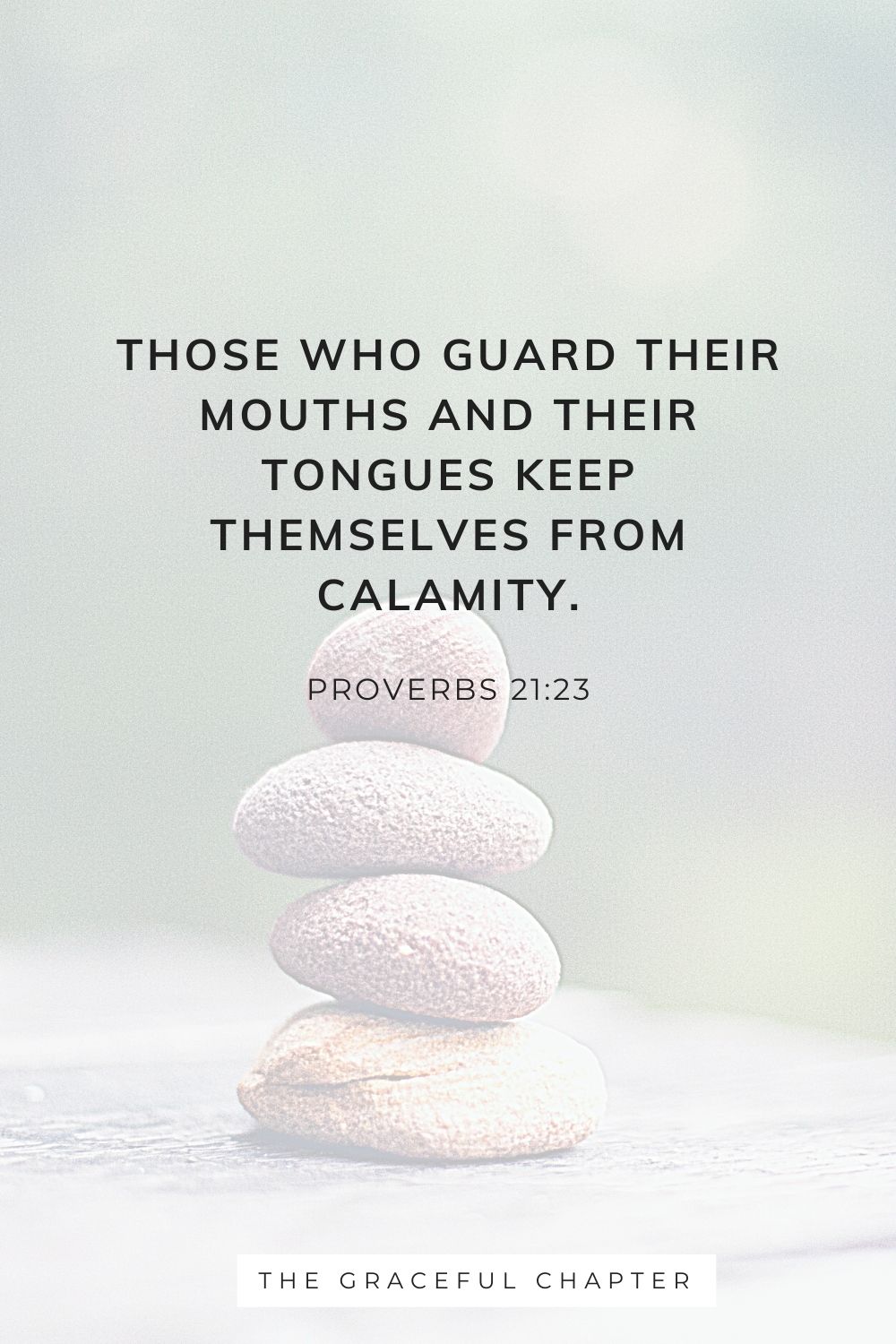 Proverbs 21:23
Those who guard their mouths and their tongues keep themselves from calamity.

Prayer for self control
Gracious Father,
Thank you for your goodness and mercies in my life.
Today, I come before you with a weakness in me.
I'm struggling to be able to control myself when it comes to……
So I ask you to please give me the strength to be self disciplined
and the willpower to stay away from anything that goes against your word.
Help me to live a righteous life that is pleasing in your eyes.
Help me so that my words and my actions are ones that bring honor to your name.
Help me to avoid people and places that will draw me closer to this habit.
Give me control over anything that will destroy my relationship with you
And help me to do things that draw me closer to you.
In Jesus' name I pray,
Amen.