Love is patient, love is kind. It does not envy, it does not boast, it is not proud. It does not dishonor others, it is not self-seeking, it is not easily angered, it keeps no record of wrongs. Love does not delight in evil but rejoices with the truth. It always protects, always trusts, always hopes, always perseveres. Love never fails. But where there are prophecies, they will cease; where there are tongues, they will be stilled; where there is knowledge, it will pass away.

1 Corinthians 13:4-8.
A wedding is a spiritual union in the eyes of God. It is a day when two people decide to spend the rest of their lives together. They invite everyone that's important to them to come and witness this union and also help them celebrate their love. While we celebrate we must not forget the spiritual implications of what happened that day.
Love is the strongest emotion one human being can express towards another. When love reigns in the heart the fruits are beautiful and calming. When we love each other we don't hurt each other, we are patient with one another and we respect each other.
During the celebration of this spiritual union, we must remember the union we share with God. God's love for us is the perfect example for us to follow when we love each other. He is forever loving, caring, protective, and giving. We must do the same.
While we celebrate people's love we should look at our own lives and examine ourselves and our relationships to see if we do what God expects from us. There are questions we should ask ourselves about our own marriages and relationships during these celebrations;
Are we selfless? Do we listen? Do we love unconditionally? Do we protect? Are we there for them no matter what? We must truthfully answer these questions inside us. We should search our hearts and look back to the day we also made those vows and see whether we are following and honoring them or not.
If we are, we must pray for God's strength and guidance to be able to continue doing the same. If we have deviated from our vows then we must ask God to fill our hearts with humility and patience. We must pray for forgiveness and be prepared to stop the wrong we are doing and turn around to do the right thing.
Prayers for wedding reception
Opening prayer for wedding reception
Dear Lord in heaven
Thank you for reigning over today
Thank you for letting everything go to plan
Thank you for bringing these two souls together in holy matrimony
Thank you that they decided to form their union with you
We ask that you come into our midst today
Preside over this august occasion
Let today mark a new beginning in our lives
Let us all renew our vows in front of you
Let this celebration please you
and let today be a memorable one in Jesus' name
Amen
New bride prayer
Heavenly Lord
We present this bride to you
Sanctify her and bless her
Open her womb and fill her with glorious children
Let her be a mother of many nations
Let her greatness know no bounds
Grant her wisdom and strength to protect her breed
Let her be a protector of her home and her marriage
Grant her humility and grace
Favor and bless her in her career life
and let her home be a home of joy and laughter all through her life
Amen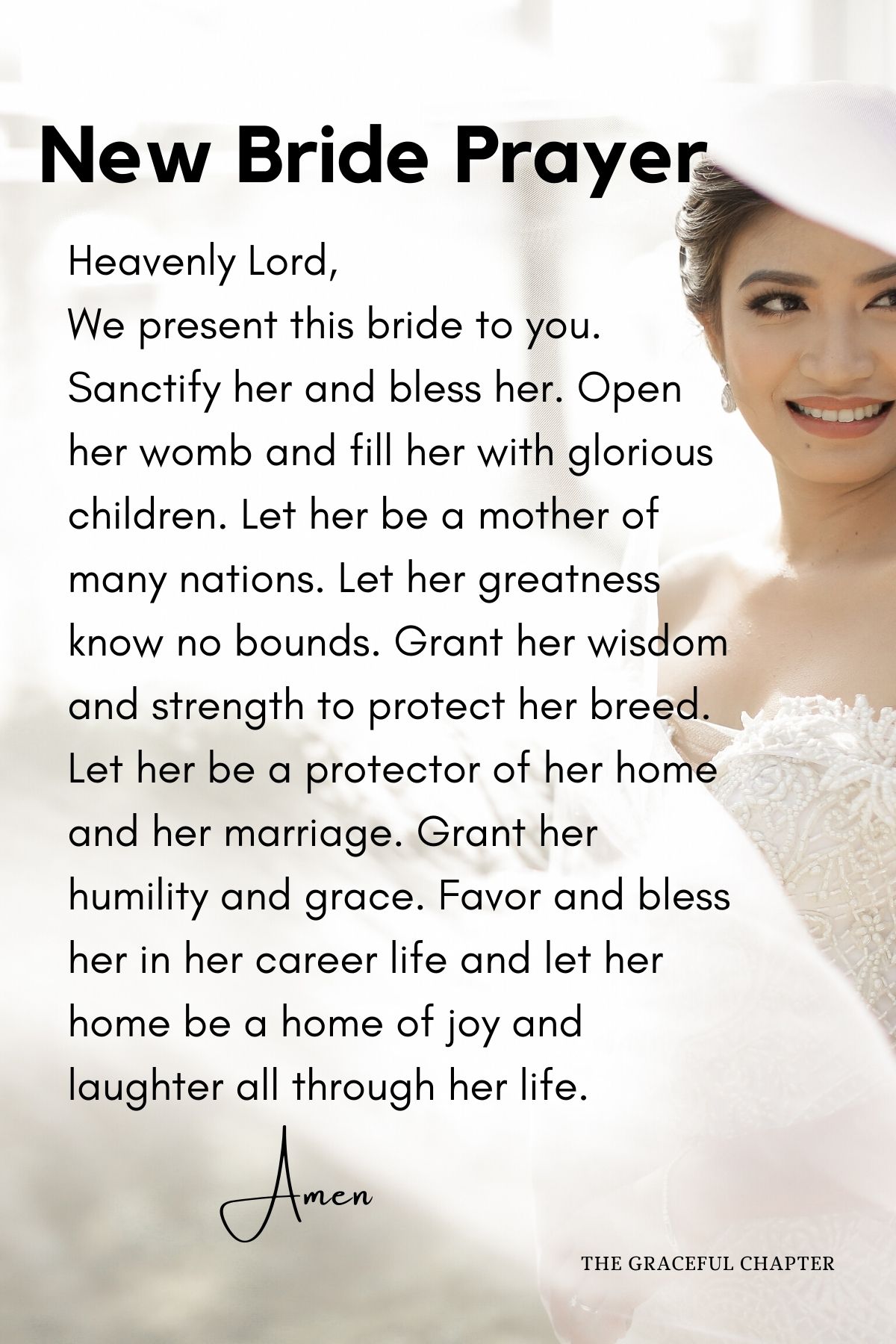 New groom prayer
Dear Lord in heaven
Strengthen this man's foundations
Open doors of opportunity for him
Bless his business and his career
Give him the strength to provide for and protect his family
Spread his boundaries and let him sing your praises each day
Let his faith in you grow stronger each day
Grant him peace of mind and remove toxicity from his home
Make him greater and greater
Let your presence never depart from his home
Grant him his heart's desires and be his companion throughout his life
Amen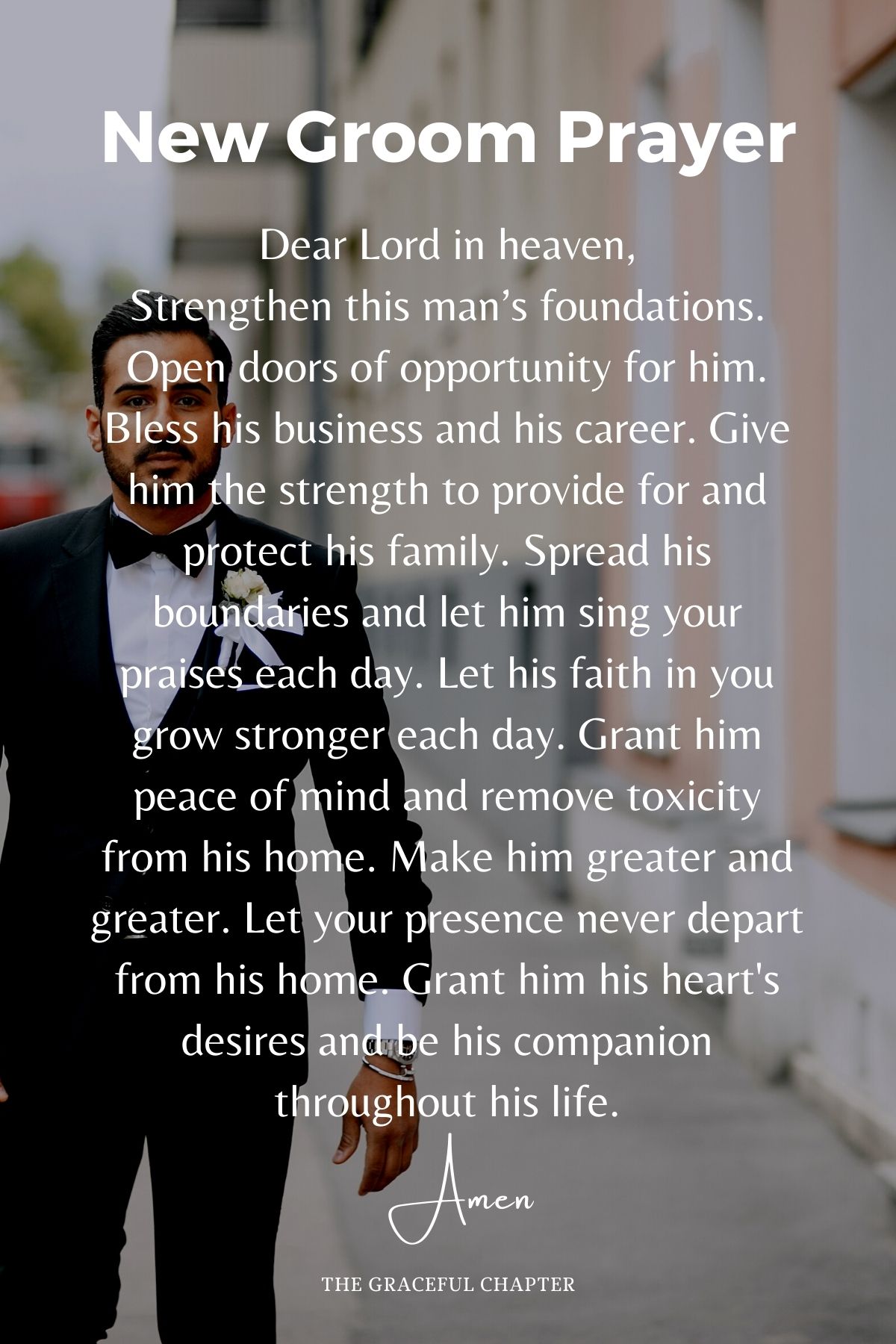 New family prayer
Dear Lord
We pray for these families that are being joined together
We pray for perfect peace and harmony between them
We ask that you remove and destroy demonic transfers
We burn all generational diseases or curses that want to transfer between these families
Let your light shine through these families
Be their mediator and their protector
Let joy and happiness be their portion always
We destroy all conflicts and disagreements
What you have joined together no one can destroy
Let this union bring new friendships and open new doors
Amen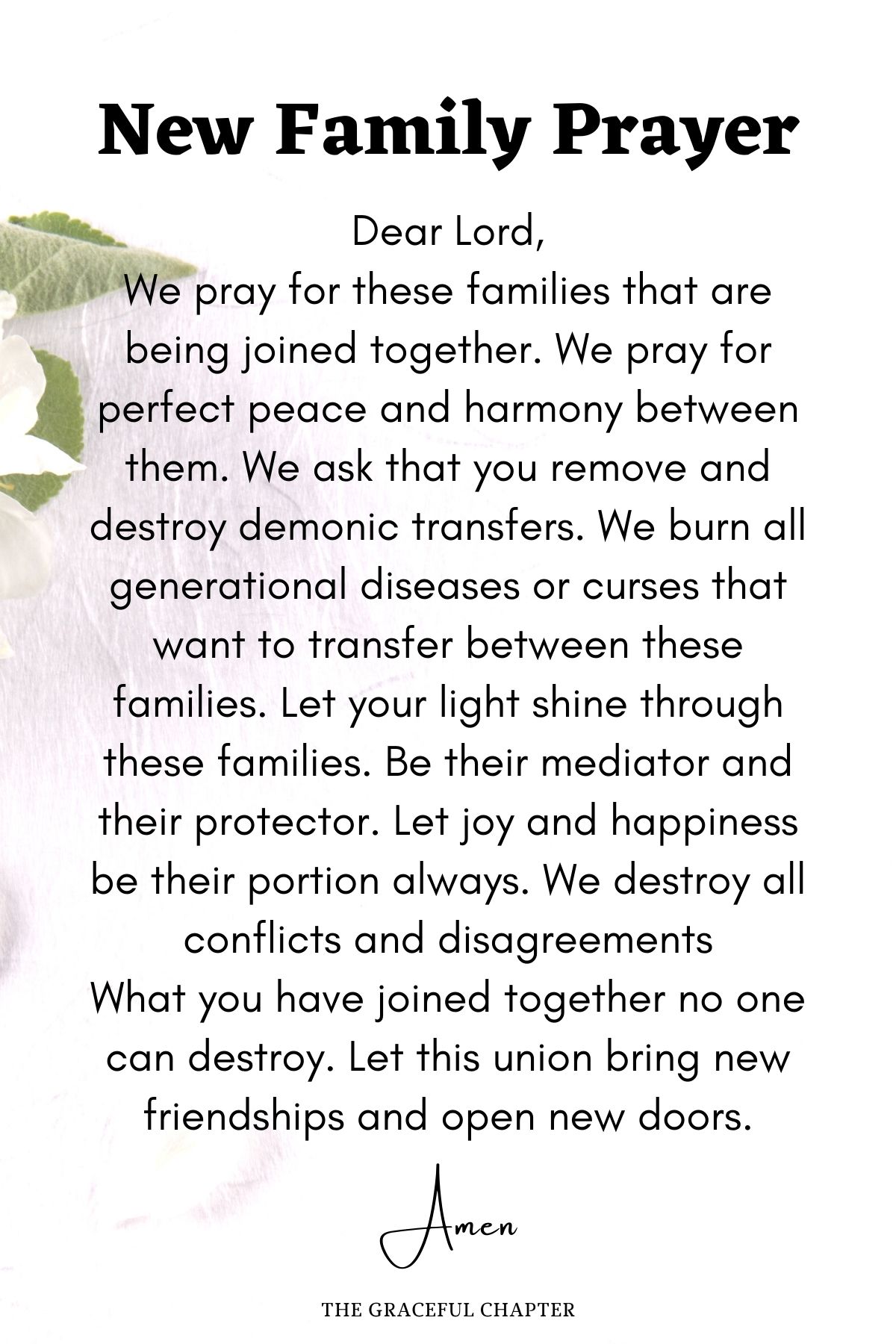 Prayer for the marriage
Dear Lord
We bless this union in your name
We ask that you come and take center stage in this marriage
Be their provider, protector, and mediator
Calm their hearts during disagreements
Do not let their anger see the light of day
Always let them be there for each other
Through their perfections and imperfections let them seek you
Bless their careers and let poverty not be their portion
Give them the desires of their hearts
Let them be blessed with children and riches
Let their union and their life please you forever
Remove any evil eye that looks at their union
in Jesus name
Amen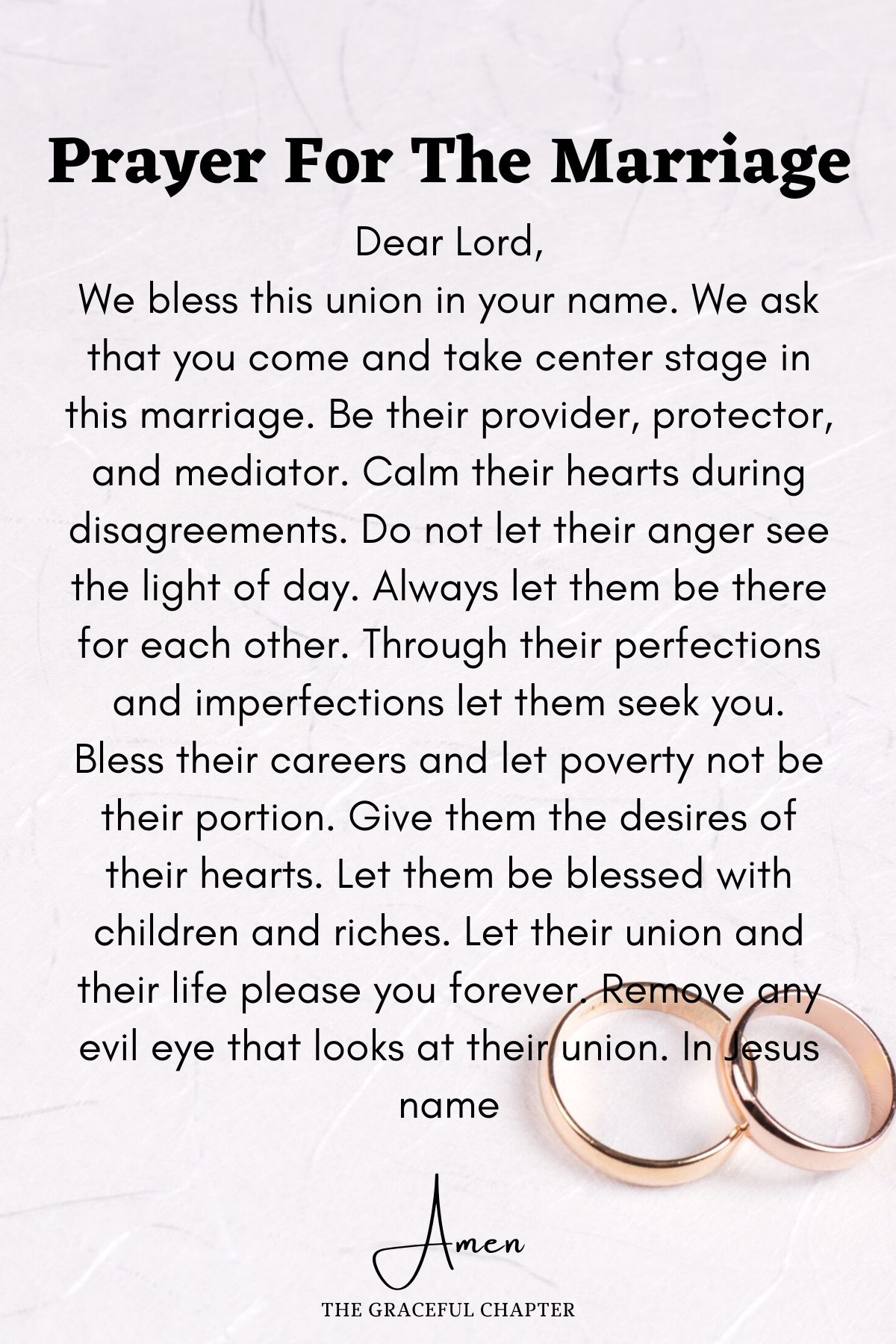 Related Posts
Prayer for wedding reception dinner
Dear Lord
We sanctify all food and drinks here today
We remove any physical and spiritual impurities from them
Cleanse them from all evil
Turn all evil into the light today
Let us not hear anything bad from today
Let your grace fill this occasion
Protect everyone who came to celebrate with the couple
Heal them of any sickness
and let them be joyful and merry to your glory
Amen
Prayer for other married people present at the wedding
Dear Lord
We pray for other married and committed people here
We ask for grace and favor in their marriages
Help them solve any issues they may be going through
Break all demonic chains in their marriage
Help them draw closer to you
Let today remind them of all the vows and promises they made
Give them the strength to get back on track
Bless childless marriages with children
Bless poor marriages with riches
Restore faith and hope in hopeless marriages
and let them rediscover the love they once shared
Amen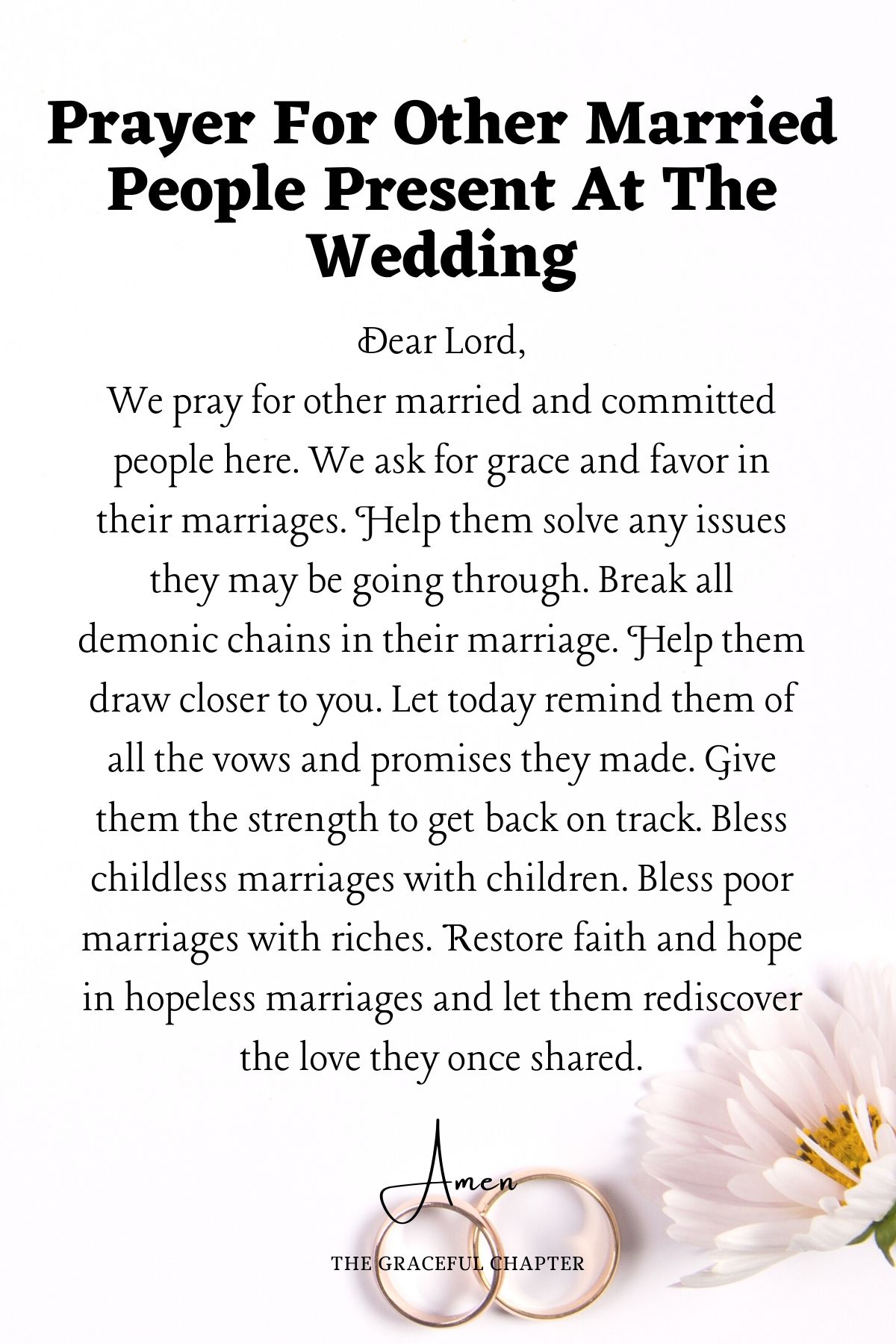 Closing prayer for wedding reception
Dear Lord
Thank you for a successful day
Thank you for these two souls
We pray that you make their future a bright one
We pray that you take everyone home safely
We ask for safe flights and safe driving
Remove all accidents from their paths
Let them leave here full of blessings and inspiration
Let today reassure them of the love they have for each other
Let them take blessings and glory back to their homes
and let them never depart from your grace
Amen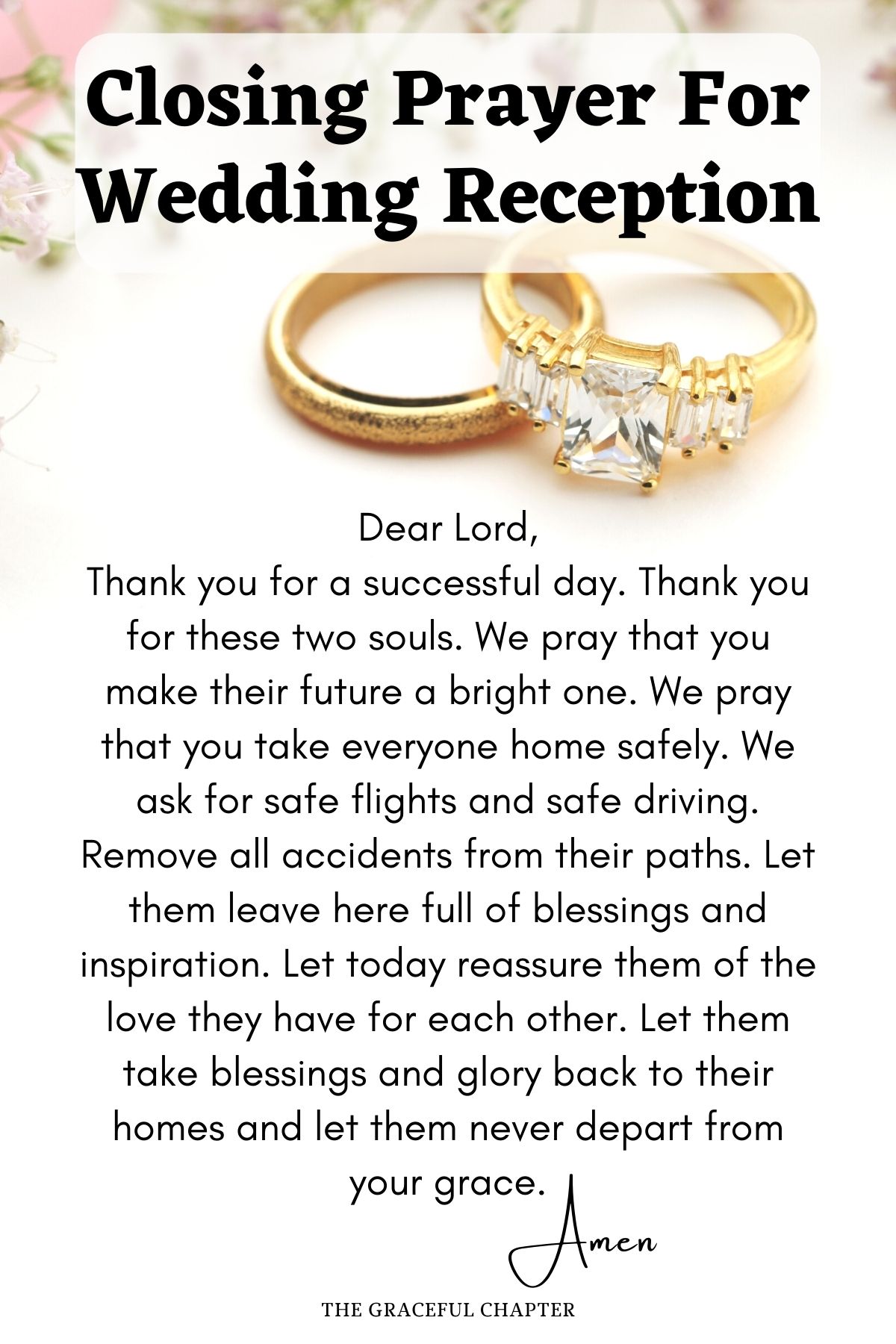 Wedding receptions are celebrations of the lifelong journeys people decide to embark on together. It is a chance for us to share in their joy and also give them our blessings for the future. They should also remind us of our lifelong journeys with God and our partners.
We must not live for ourselves but lay down our lives for other people. When you place the lives of your partners above yours you are exhibiting divine love and you please God at the same time.
There is no fear in love. But perfect love drives out fear because fear has to do with punishment. The one who fears is not made perfect in love. We love because he first loved us.

1 John 4: 18-19