God created wives to be their husbands' helpers. This means that a wife is supposed to be a husband's help and support system.
Life can be very overwhelming but no matter what comes at him in life, you have to let him know he is not alone and you are with him, loving and supporting him.
One of the best ways to show your husband such love and support is through prayers. Praying for your husband should be part of your daily routine. Let us go through 7 important prayer points that you need to remember when praying for your husband.
Prayer points for your husband
His relationship with God
To have a healthy relationship with everyone, including you, your husband must first have a strong relationship with God. Without a strong foundation in God, a man cannot create a good relationship with his wife and neighbors.
As a result, it's important to pray for him and his connection with God. Your husband will be firmly planted in God's word and live according to it if he has a solid connection with Him. God can draw closer to him and God's plan for his life can be realized when he has a healthy relationship with God.
Prayer for your husband's relationship with God
Almighty Father,
Thank you for the life of my husband
I pray that you draw closer to him so that he can draw closer to you too
Let him open up his heart to you, so that you may dwell in him
Help him to trust that you have a plan for his life and
you know what is best for him.
Fill his heart with the desire to know you
Let him make the Bible his companion and live by it
Let him love you above all things and
Help him to know and understand that you love him
and it is only in you can he find purpose and fulfillment in life.
Amen.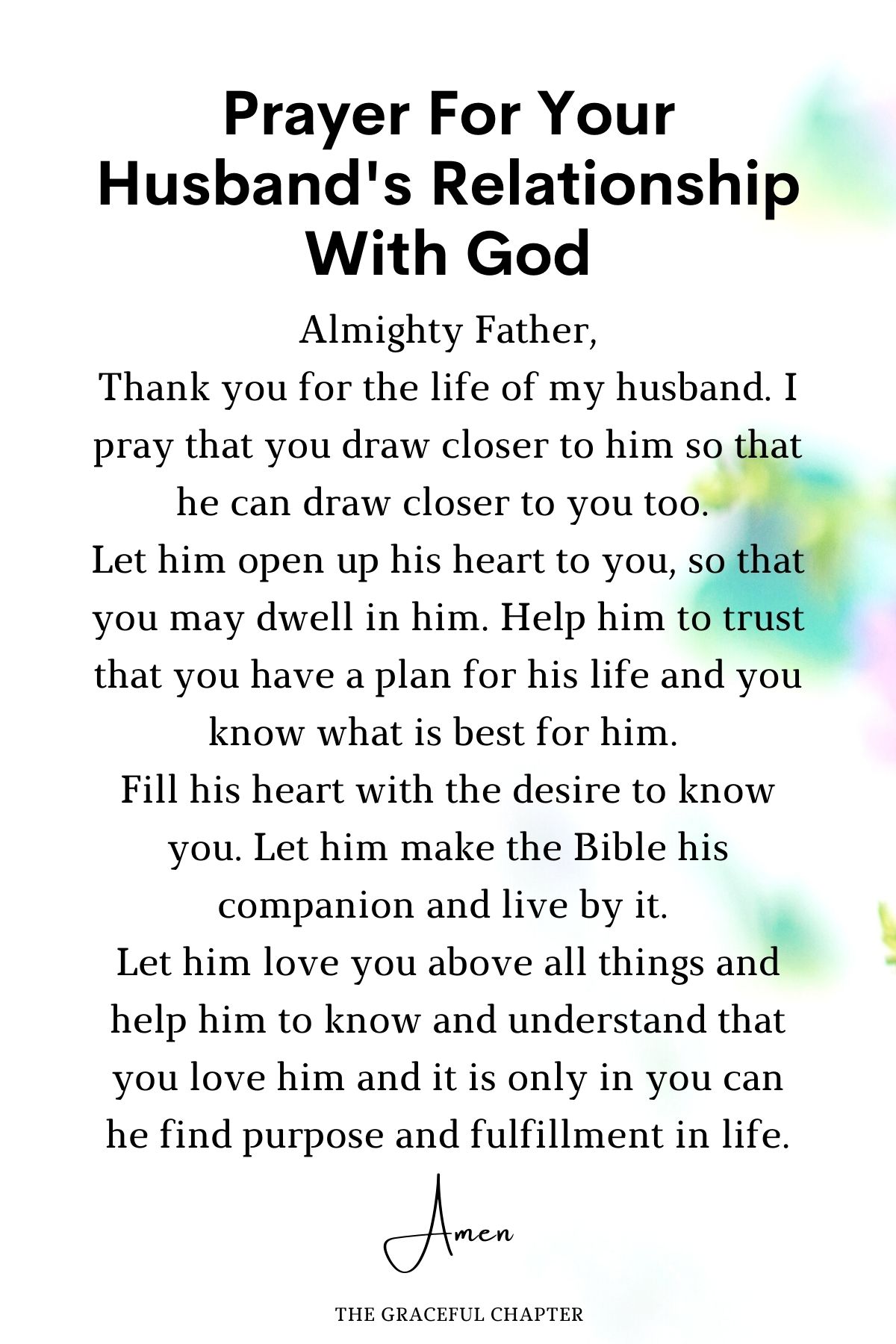 For wisdom
Your husband is the leader of your family. This means he'll be making a lot of decisions for the family, including house rules.
Whether it's a job decision or a family decision, every decision a man makes has an impact on his life and family, so you must pray for wisdom for him. So that any decision he takes for his family is in keeping with God's purpose.
Prayer for wisdom for your husband
Dear God,
I bring my husband before You
Help him in everything he does
Bless him with knowledge and godly wisdom
Teach him not to lean on his own opinions and thoughts
Open his eyes to see the truth,
Grant him understanding for the things he does not understand
Walk with him, Lord, and order his steps
Help him to rely on you in everything
Guide him to the right friendships
Help him build relationships with people that will be helpful
for the purpose that you have for him
Amen
For his role
Life isn't always easy. Being a husband and raising children are both difficult tasks. All of these obligations can weigh heavily on your husband's mind and cause him to be concerned.
As a result, please pray for his role as a father and husband. Seek God's counsel for him so that he can properly treat you as his loving wife and raise his children in the Lord.
Prayer for your husband's role
Dear God,
Thank you for the husband you have blessed me with
Teach him to love me as his wife
Help him to stay committed in this marriage and to his duty as a father
When his responsibilities begin to overwhelm him,
please calm him and remind him that you are the one in control
Fill his heart with love and joy for this family
Help him to be a good role model for our children
Grant him the wisdom and understanding to raise these kids right
Bless him father, and let everything he does bring him peace and joy
In Jesus' name,
Amen
For peace
Men worry a lot, yet they may appear unconcerned because they don't talk as much as women. Most husbands feel overburdened with all of the responsibilities that come with being the head of the home. Some people even have extended family who rely on them, which can be incredibly stressful.
Even if your husband does not tell you about all of his difficulties and concerns, it is critical that you pray for him. So that when you can't be there to reassure him that everything will be fine, God will soothe him.
Prayer for peace for your husband
Dear loving God,
I bring my husband to your care this instant
Help him to stop worrying and cast his anxieties unto You.
When life begins to burden him,
Please save him and give him rest
Do not let whatever he is going through in life overwhelm him.
Grant him inner peace and comfort his soul
As the man of the house, I know he worries a lot about all of us
Please let him know that you are our provider and our protection
So he need not worry about us
Thank you, Father, for taking away his anxiety and
filling his heart with peace and joy
Related Posts
For good health and protection
Your husband's health is a major concern. You must pray for the Lord's strength to be upon his life. Pray for his divine health and protection, so that no bodily or spiritual harm comes to him.
Prayer for health and protection for my husband
Father Lord,
I thank you for the life of my husband
Thank you for the amazing things you keep doing in his life
I pray that you will continue to guide and protect him
Always go before him and after him and bring him back home safely
Do not let any evil come close to him
Be his shield and keep him safe from harm
Please give him strength when he is weak
and courage when he is afraid
Protect him and grant him good health
In Jesus' name, I pray,
Amen
For his work
Pray for your husband's work to be blessed by God. He is able to provide for his family because of his work, so please pray that all of his endeavors are fruitful.
Work and finances are two big concerns for men, therefore pray and dedicate that aspect of his life to God so that he can be at ease.
Prayer for your husband's work
Almighty Father,
I dedicate my husband's work to you
Please bless his hands and everything he does
Bless his work and make him excel at what he does.
Open new doors of opportunities for him and walk him through the doors
Remove any impediments that may prevent his work from progressing
Grant him the wisdom to solve any problems he faces in his work
Give him the confidence to do his job and do it right
Establish the work of his hands and let him excel
Grant him your grace and favor and make him prosperous
In Jesus' mighty name,
Amen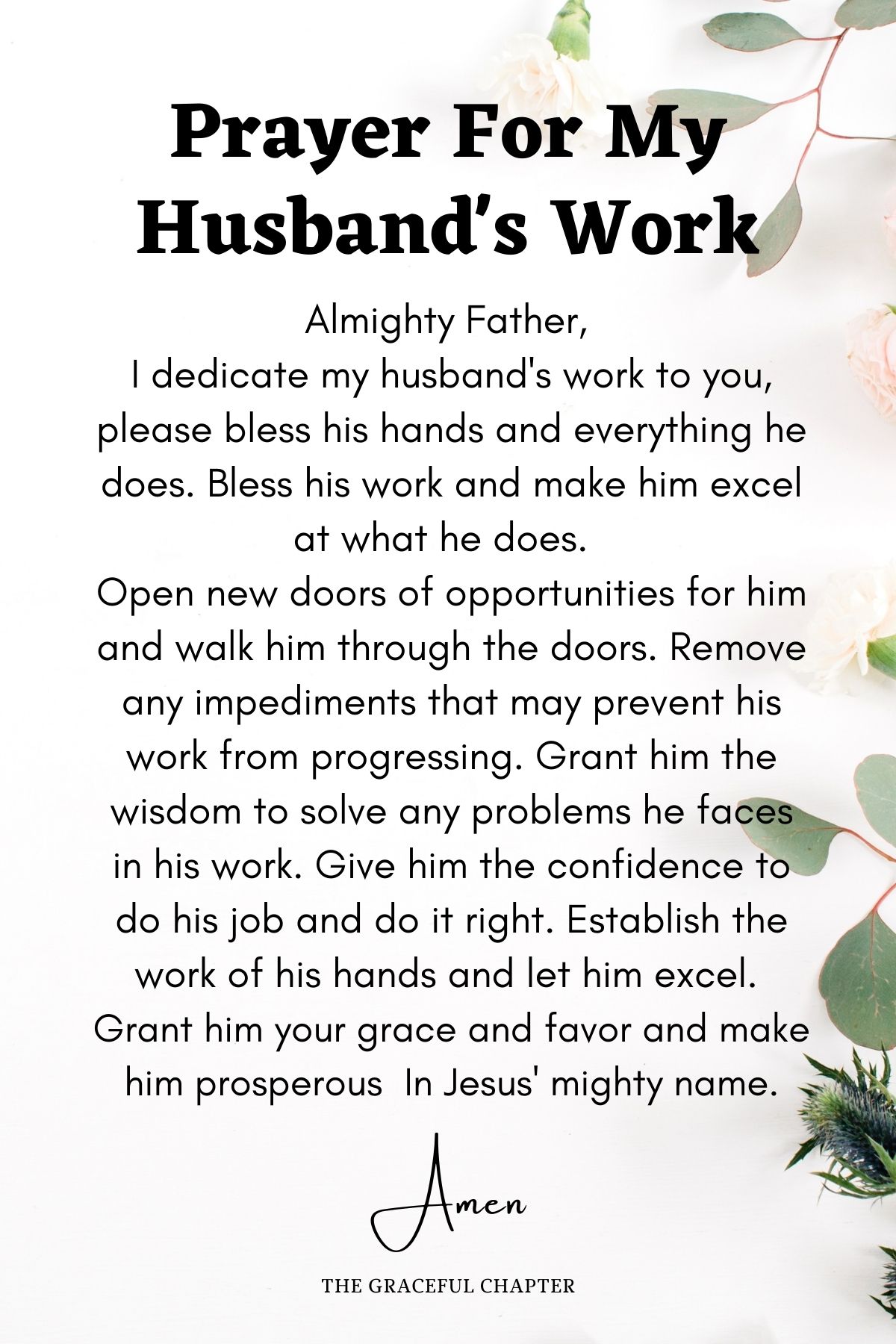 Against temptations
Temptation can be the source of a man's downfall. So please pray for your husband's protection from temptation. The devil discovers your deepest desires, then tempts you with them. Look about you and you'll notice that temptations abound; therefore, pray for your husband so that he doesn't fall for the devil's deceit.
Prayer against temptation in my husband's life
Dear God,
You know my husband's heart and his desires.
Give him the strength to overcome temptations.
Help him seek You first and not think about earthly things
that way his mind will be fixed on You
and he will not fall into temptation.
I pray for his relationships
Please help him to be involved with people that will draw him closer to you
Please remove persons that will lead him to sin from his path
Give him the strong will to live an honorable life that will glorify your name
Help him turn his back on sin always
In Jesus' name,
Amen