For I received from the Lord what I also delivered to you, that the Lord Jesus on the night when he was betrayed took bread, and when he had given thanks, he broke it, and said, "This is my body which is for you. Do this in remembrance of me. In the same way, also he took the cup, after supper, saying, this cup is the new covenant in my blood. Do this, as often as you drink it, in remembrance of me. For as often as you eat this bread and drink the cup, you proclaim the Lord's death until he comes

1 Corinthians 11:23-26
Communion signifies a sharing of the body and blood of Christ among Christians. When we take communion we accept that we are all drinking from the same fountain of grace and love.
We display our common love and adoration for Christ Jesus and accept what he did for us. We remember the new covenant between God and man that says that our sins are wiped away because of the death and resurrection of Christ.
We know that through Adam and Eve, our physical bodies were condemned to sin. Knowledge of sin became sin for us and we could not please God in our physical manifestations.
The new covenant gave us new birth through the death of Christ's physical body and his holy resurrection. The wages for our sins were paid there and then and the new life that was resurrected was our salvation. Our bodies are therefore dead to sin and the Holy Spirit bears witness with our spirits of this new life.
When we commune, we must remember that Christ expects us to love and cherish each other the same way he did for us. His sacrifice is the ultimate way you can show love to anybody. Laying down your life for somebody is the true definition of love.
When we eat the bread and wine, we should remember that spiritually, we are eating of his body and blood that was destroyed and poured on the ground for our salvation.
Sharing this communion with our fellow Christians must remind us of the common bond and inheritance we all enjoy in Christ Jesus. Christ is the church and we are the members. We are all one big family who shares this common inheritance in him.
We must therefore relate to each and every one just as he related to us. We must be prepared to sacrifice anything for our fellow brethren. When we commune together we admit and acknowledge each other as brothers and sisters under the same covenant. Our relations must reflect this truth.
Communion should not just be something routine we do but it must be a constant reminder of our responsibilities towards each other as demonstrated by the Lord Jesus himself. We must be worthy of eating at the Lord's Table before we take communion. We must not be ill-prepared but be fully confident that we have nothing to be ashamed of.
Prayers before communion
Thanksgiving prayer for communion
Dear Lord
Thank you for all you did to save my soul
Thank you for washing my sins away through the blood of your son Jesus Christ
Thank you for my life
Thank you for the grace and favor I receive each day
Thank you for the blessings in my life
Thank you for restoring my soul
Thank you for nourishing me with your spirit
Thank you for the good health I enjoy
Thank you for allowing me to share in the goodness and mercy
Thank you for turning evil away from my door
Prepare my heart for this communion
Let it remove all evil and pain from me
Make me worthy and cleanse me
Prepare me to dine in holiness with you
Rid my mind of all filth and nourish my spirit with the body and blood of Christ
Amen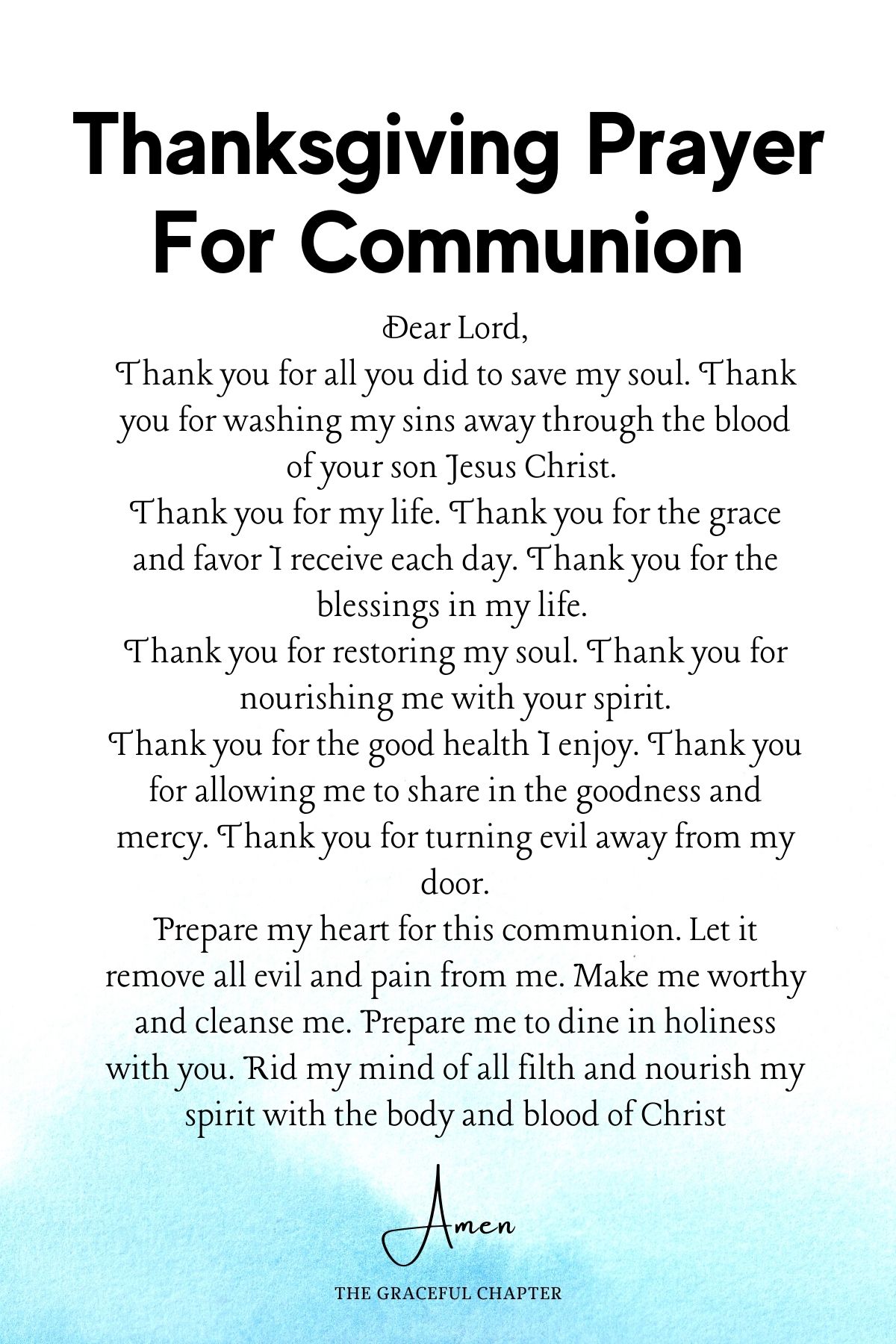 Forgiveness prayer before communion
Dear Lord in heaven
Please prepare my body and soul for this feast at your table
I ask that you forgive and cleanse me of any sins I have committed
Whether consciously or otherwise, I know I have sinned against you
I have also thought and said things to my neighbors I shouldn't have
I have lied and cheated to get ahead
I know I am not worthy
But Lord, please cleanse me in the blood of the lamb
Redeem my soul from the valley of sin
Let me be humble before you before I dine with you
Let me remember what you have done for me
Keep the holy fire burning within me
Let me not approach your table with hate in my heart
Let me lay all my iniquities at the door before I come and dine with you
Forgive my shortcomings, Lord
and make me worthy again
Amen
Prayer to resolve conflict before communion
Dear Lord in heaven
I ask for peace between me and my neighbors
I pray that you resolve any conflict in my life
Remove all hateful relationships between me and any other person
Take away all pain from my heart and help me forgive anyone who has wronged me
Soften my hardened heart and let me let it all go
Help me forget all the evil I have suffered from people
Help me accept and forgive those who harmed me
Give me a patient heart
Grant me serenity
Take anger from me
Let me be on peaceful terms with everyone
Let the love in my heart grow and be here for everyone
Help me love my enemies
Let me not repay hate with hate
Let me sit at your table blameless
Let me dine with you without a doubt in my mind that I have forgiven all who wronged me?
If I have wronged somebody, let me realize it and ask for forgiveness
Make me humble and let me accept my faults
Cleanse me, Lord, before I dine with you
Amen
Related Posts
Prayer for the hungry before communion
Dear Lord in heaven
Today, I ask that you feed the hungry
Feed those who are struggling
Please nourish them physically and spiritually
Let their souls be filled with your spirit
Touch their lives and take them from their suffering into glory
Bless their future and give them the desires of their hearts
Restore their belief in you
Let them know that you are the future
Quench their thirsts and satisfy their hunger
Care for the poor and abandoned
Help those in war-ravaged areas
Take evil eyes away from them
Let them break bread with you
Help them in their lives, Lord
Let this communion be a symbol of their restoration
In Jesus' name,
Amen
Prayer for the unbeliever before communion
Heavenly Father
Today, I pray for the lost
I ask that you touch their hearts and show them the way
Lead them to the light, so they can dine with you
Let this day strengthen us to bring others to you
Let the grace we enjoy be a light for them
I pray for their souls
Let them not be lured away into the abyss
Let them not follow their desires and give their souls away
Push them to come to you
Heal the brokenhearted
Let them know you will restore all that they have lost
Help them hold on and not give up on salvation
Hold their hands when they walk through the darkness
Let them find your face and your grace
Let them find their way to this table and dine with you
Amen
Christians use communion to remember their covenant with Christ. We accepted all his teachings and promised to do his bidding. This means that we must lead others to the light so they too can enjoy the grace, favor, and blessings we enjoy from him.
We also remember to live in peace and harmony with our fellow Christians. We must commune in love, togetherness, and forgiveness. We must encourage and admonish each other to be strong in the lord so nobody is lost along the way. We must be each other's shepherd and keeper.
But if we walk in the light, as he is in the light, we have fellowship with one another, and the blood of Jesus, his Son, purifies us from all sin.

1 John 1:7