And I will bless those who bless you, and the one who curses you I will curse. And in you, all the families of the earth will be blessed.

Genesis 12:3
We are born into families that have existed for a long time. Do you sit down to imagine where your family tree actually gets its roots from?
You are fruit on your family branch, that branch is connected to the trunk which gets its strength and power from the roots in the ground which is fed by the basic natural elements created by God. Each branch gets its strength and life from God and it is only in God that your tree can stand firm.
A generational curse is like a disease that is injected into the tree. This poison can travel through and stay in the tree thereby affecting any fruit that attempts to come from this tree. This is not the plan of God.
God wants us to live very fulfilling and peaceful lives that will help us reach our full potential. When a family tree is cursed every fruit it bears is negatively affected by this disease.
These diseases can be in the form of poverty, sickness, mental illness, barrenness, and premature deaths. When these diseases are in your family tree, you will not be happy in your life. This is not what God wants for us.
There is great news though, Christ said in John 15:5-8 I am the vine; you are the branches. If you remain in me and I in you, you will bear much fruit; apart from me, you can do nothing. If you do not remain in me, you are like a branch that is thrown away and withers; such branches are picked up, thrown into the fire, and burned. If you remain in me and my words remain in you, ask whatever you wish, and it will be done for you. This is to my Father's glory, that you bear much fruit, showing yourselves to be my disciples.
As long as we remain in Christ we are attached to his vine. His vine knows no curses and does not wither. That means it doesn't matter what anyone has said or done to you, it will not work on you as long as you are attached to the vine of Christ.
In Christ there is liberation. Christ created his own spiritual family tree when he overcame death for us. That means that as Christians we are branches on this very big and powerful tree. As long as we remain on this vine, we can correct or break any curses with the spirit of God.
When our bodies start to respond to the physical diseases in our physical trees we can heal and break them with the spiritual healing that continuously flows through our spiritual Christian family trees.
Prayers to break generational curses
Prayers to break the curse of illness
Father Lord in heaven,
Thank you for all the blessings you bestow on me
Thank you for all the good things in my family
Bless all those who bless us and curse those who wish us evil
Today, I pray to break every line of disease in this family
I cut off all branches of illness and sickness in the mighty name of Jesus
I burn anything on the earth or under the earth that is responsible for sickness in this family
I destroy all sicknesses in this family this very minute
Cleanse this family of all illnesses
Sanctify our blood in holiness
Let your healing spirit be our portion from now onward
Thank you for answering my prayer
Amen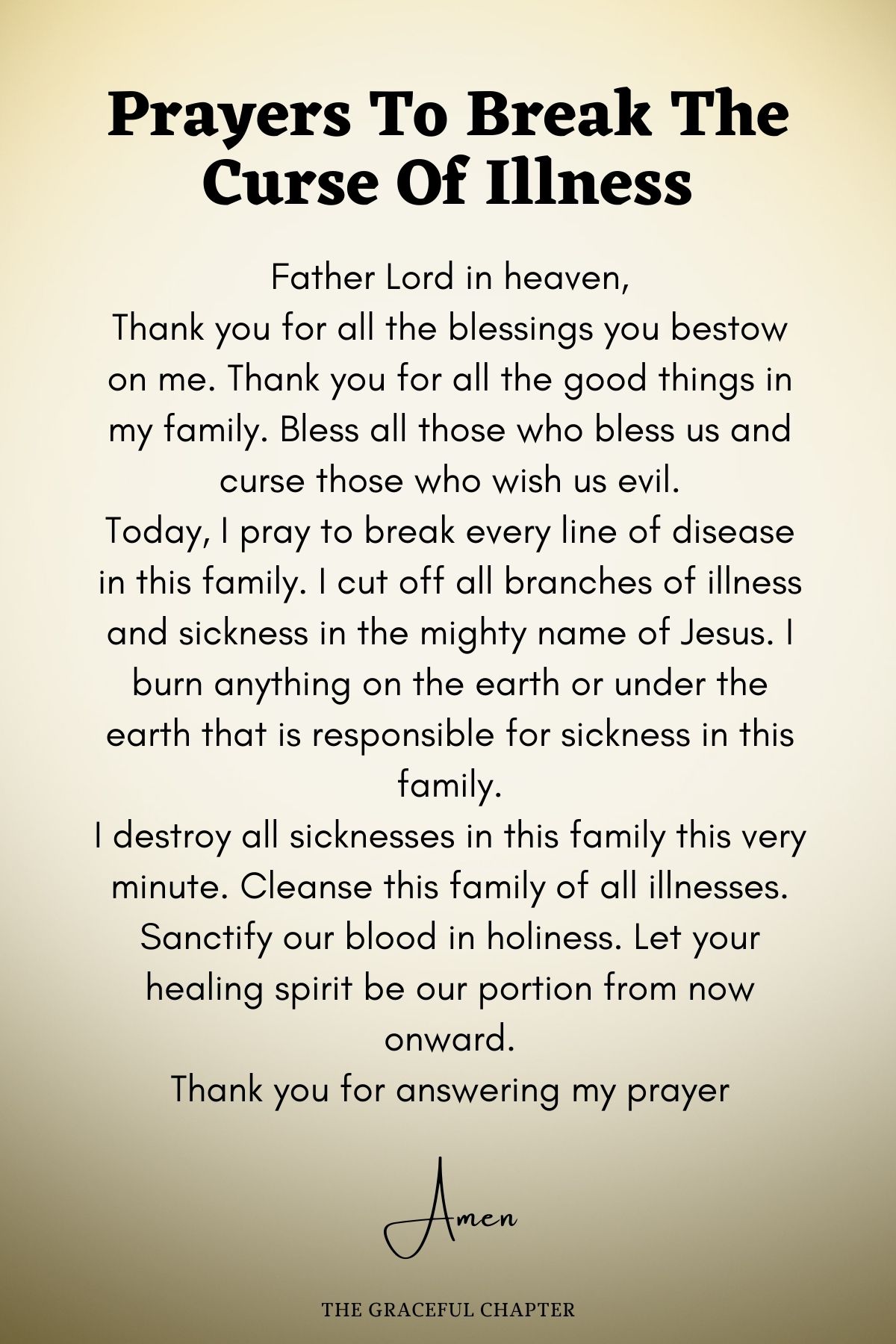 Prayer to break curse over finances
Heavenly Father,
Thank you for our lives today
We pray that you break the chains of poverty in this family
Unlock the doors of prosperity
Pour down your riches on us today
We burn up any curse or restraint that is blocking our riches in Jesus' name
We bind any spoken word that is meant to leave us wallowing in poverty
We destroy any incantation or charms that are responsible for poverty in this family
We replace all curses of poverty with blessings of prosperity
Let our family tree be merged with your spiritual vine
and let us receive blessings and riches unending
In Jesus' name,
Amen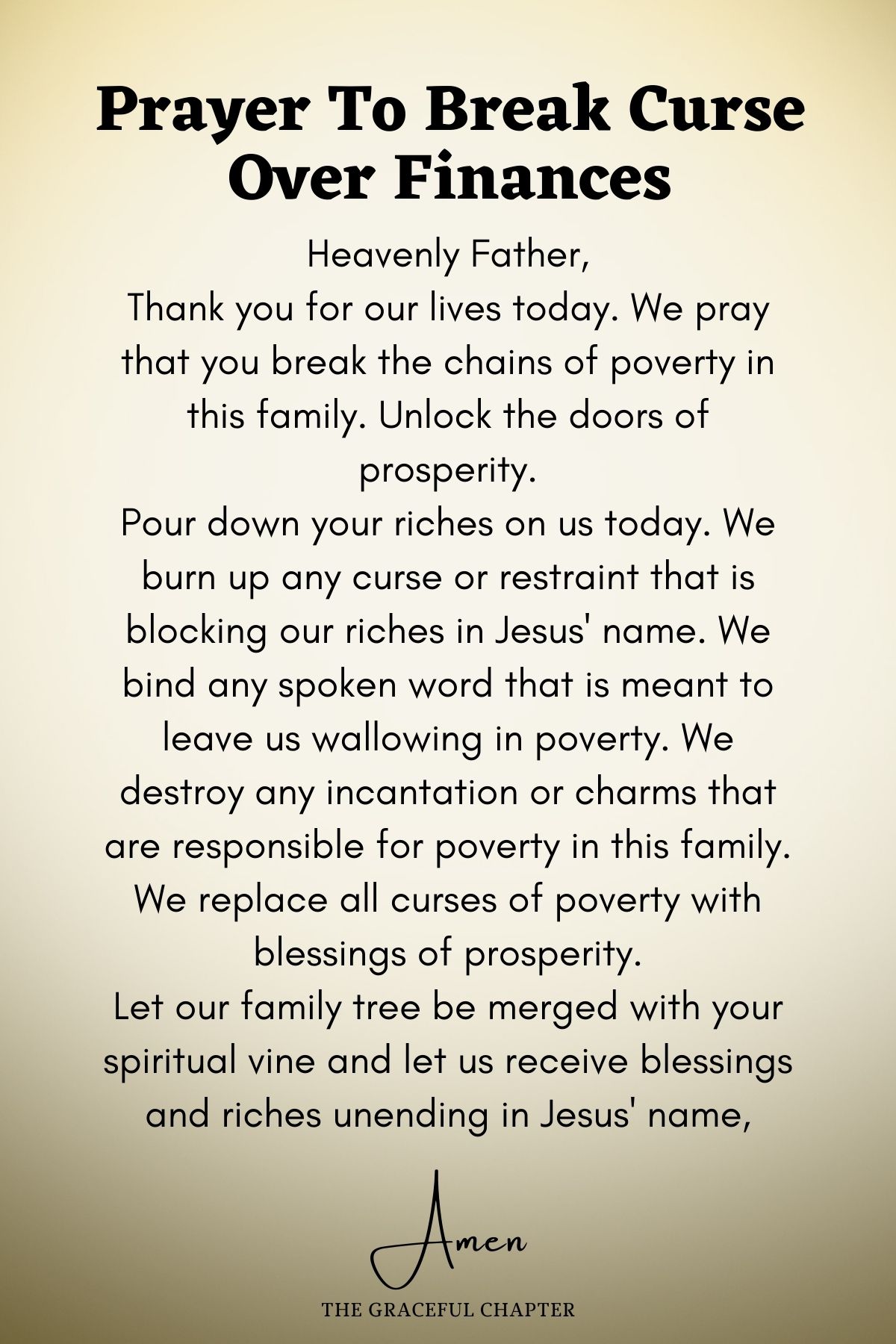 Prayer to break curse of premature death
Heavenly Father
Today, we come against any generational death curses
Some of the deaths in this family have been so sudden and unexplainable
We have lost enough and we block these sequences of early deaths in this family
We close our doors to any demonic spirit tearing us asunder today
We close our doors to the angels of death in his house
We declare from today that we shall all live long and fulfilling lives
We pray and break all strongholds that are established to kill this family's members
We separate ourselves from any valleys and shadows of premature death
Let life reign in this house from today
and turn all curses of death into abundant blessings of long life
Amen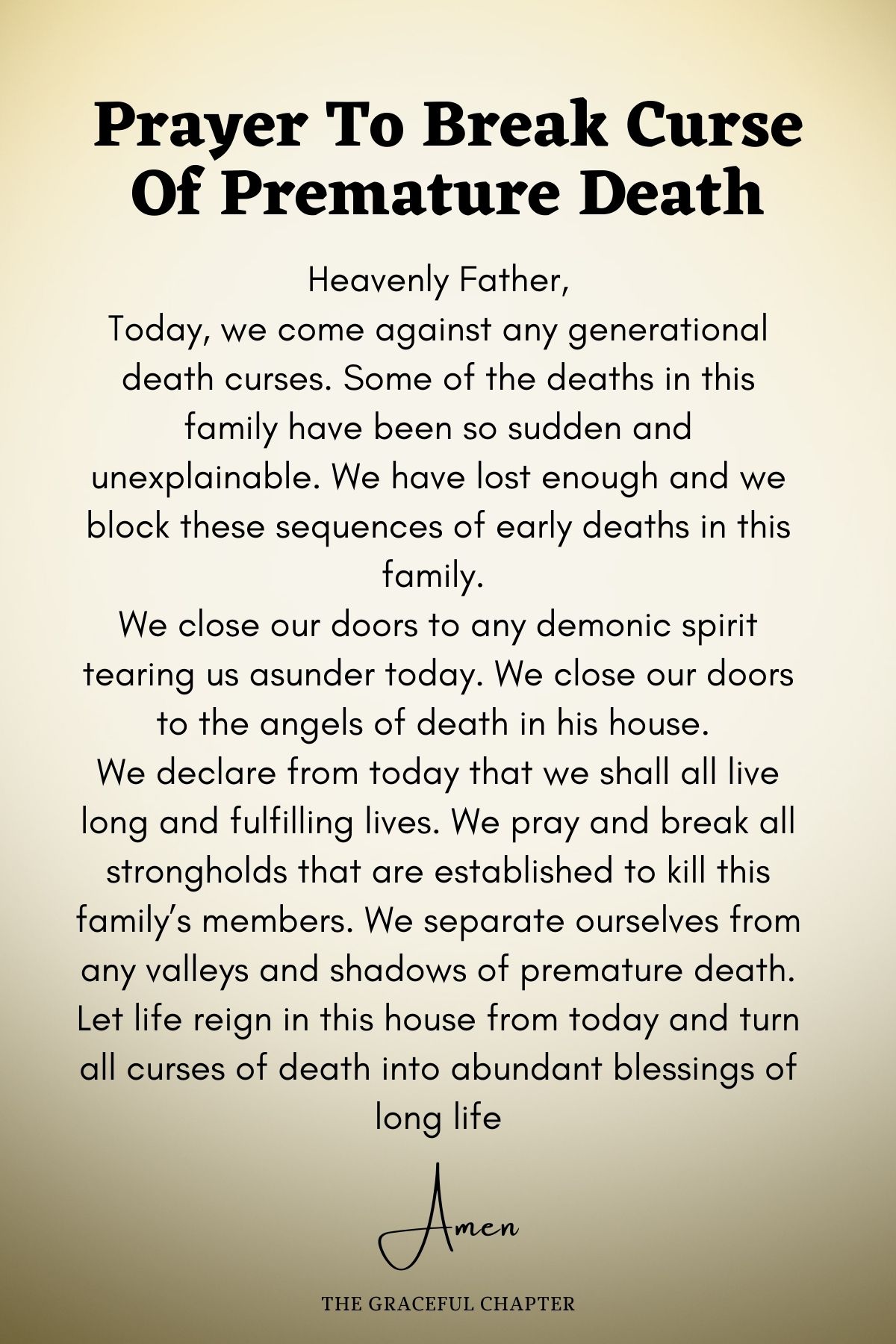 Prayer to break curses of barrenness
Dear Lord in heaven
Thank you for the blessings you give us each day
We pray to break all curses of barrenness today
We pray that you open all locked wombs in Jesus' name
We ask that you break all chains that are spiritually wrapped around any woman in this family
Destroy all evil spoken words concerning childbirth
Let this family continue to be fruitful and multiply
Let those who seek children receive them in Jesus' name
As we place our hands on our stomachs today
We ask that you remove all blockages and hindrances in our wombs
Let your spiritual fertility be our portion
Thank you for answering our prayer in Jesus' name
Amen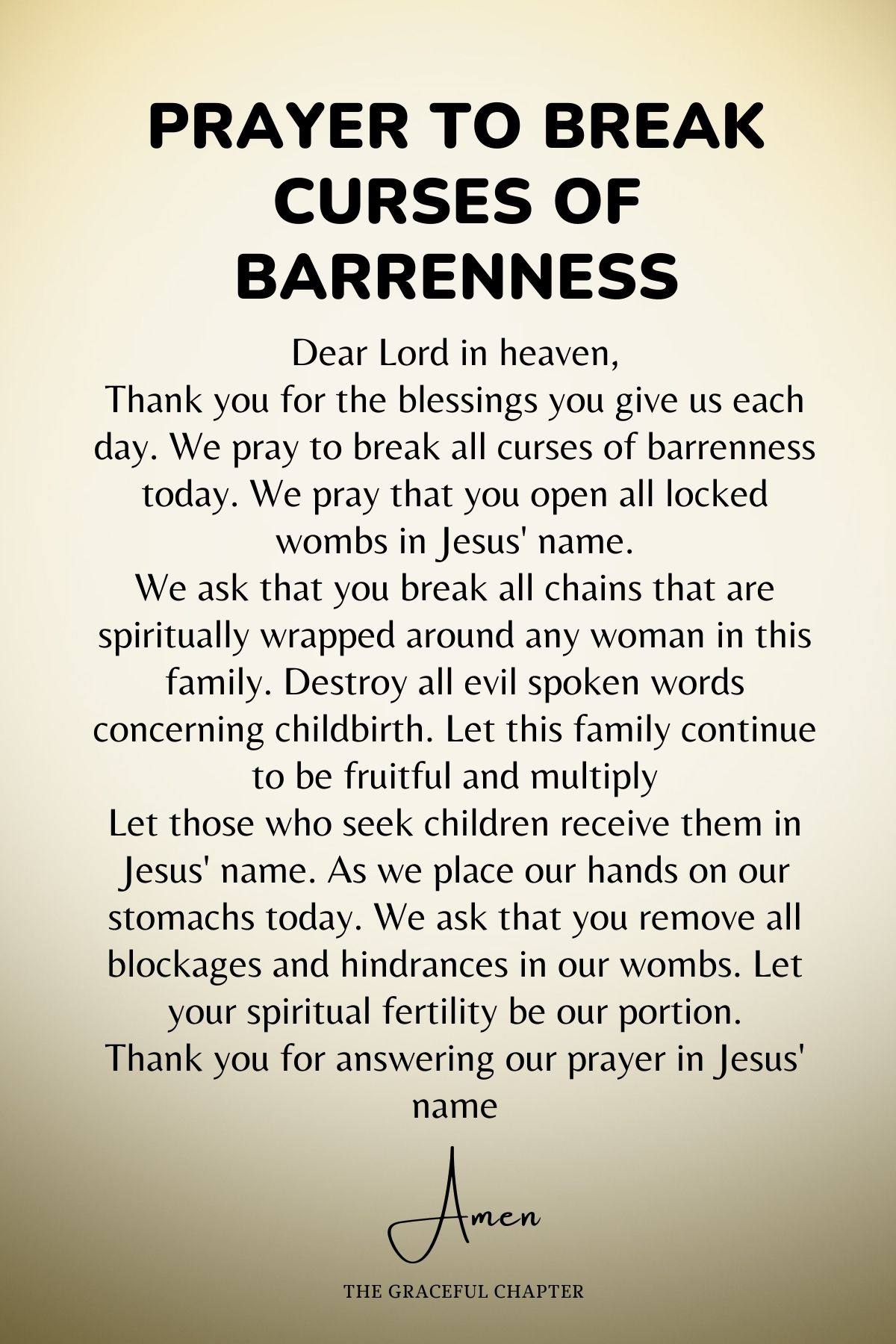 Related Posts
Prayer to break the curse of conflicts and family disputes
Dear Lord,
We break all curses of conflicts and misunderstandings in this family
We dig up all seeds of mistrust and betrayals in Jesus' name
We replace all unpleasantness with peace and harmony
We pray that you foster love and affection between all the members of this family
Let us resolve all issues that have been there all this while
Let any hatred in our hearts be laid bare and buried
Let all those fighting remember your love for them
Any spiritual quarrels are resolved in Jesus' name
Let all struggles and tussles about property and possessions be resolved today
Remove all spiritual incantations that are causing these misunderstandings
We disconnect ourselves from any curses of quarrels and fights and disharmony in Jesus' name
Amen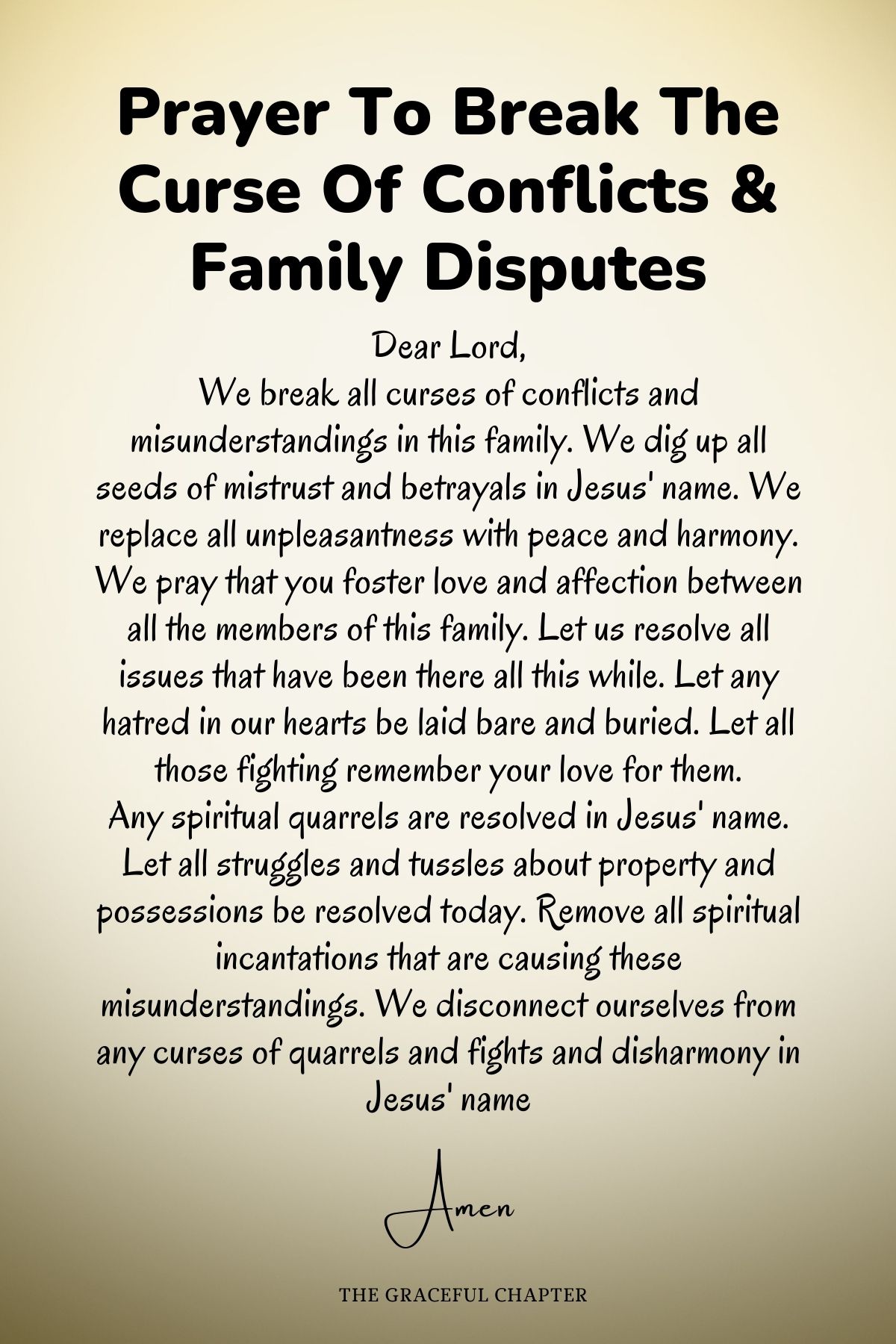 Prayer to break curses of mental illness
Heavenly Father
Thank you for your love and grace in our lives every day
We pray today committing our mental health into your hands
We resist all curses of mental breakdowns in this family
We pray that you protect each of us from madness and disgraceful diseases
We resist all evil words spoken about this family concerning mental health
Cleanse our heads of any evil wires and demonic fuses
Let us live healthy all our lives into our old years
We break all instances of Alzheimer's and dementia
We destroy all mental diseases in this family
We don't accept them as normal
We put them in the hell where they belong
Thank you for answering our prayer in Jesus' name
Amen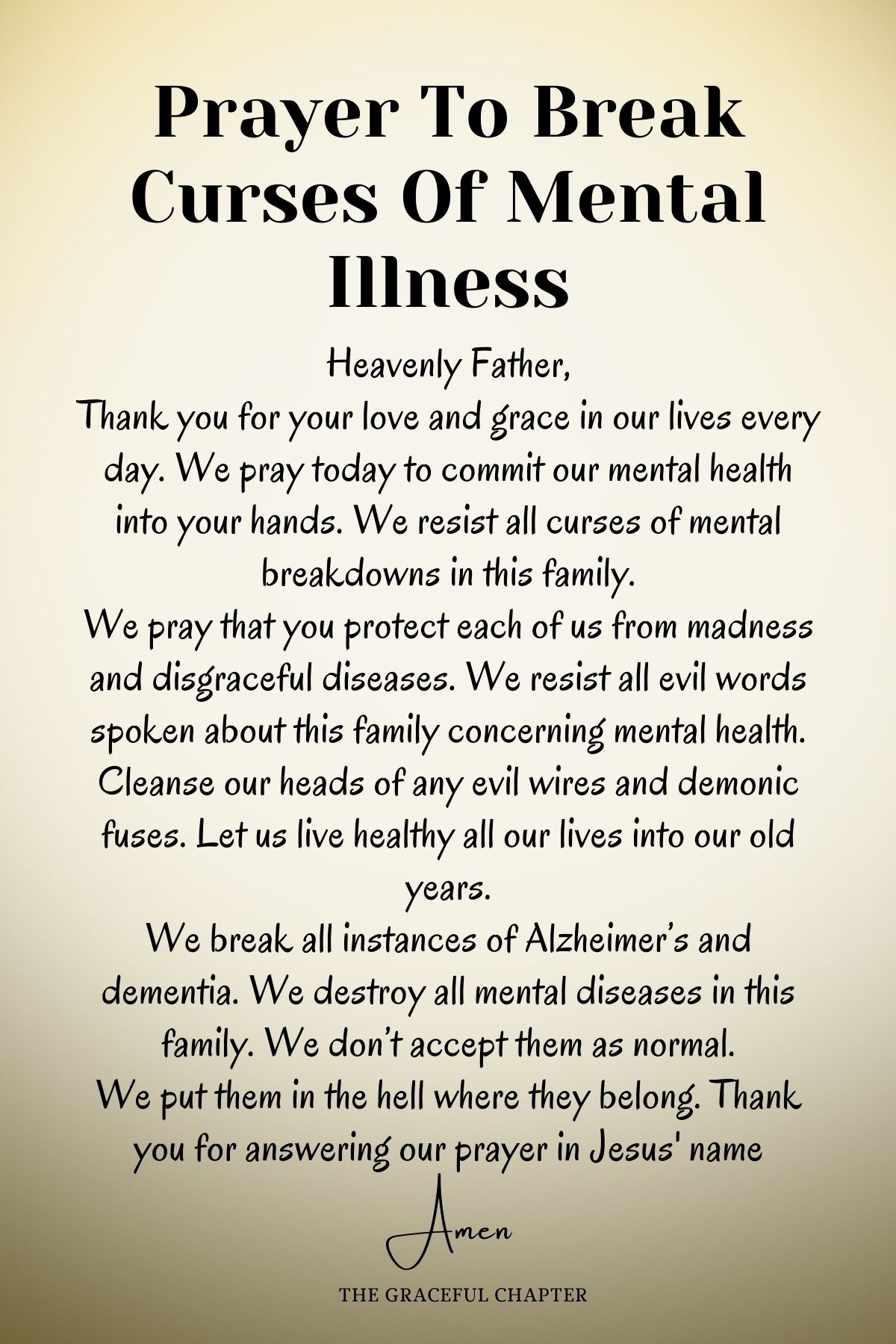 Prayer to break curses and release blessings
Father Lord in heaven
Every venture we try to start ends up collapsing
We pray and destroy all curses and plans against prosperity in this family
We pave the way for spiritual and physical blessings in this family
Let every step we take in this family result in blessings and prosperity
Let all who plot evil and disgrace for us fall into their own traps
Let prosperity be our food and water each day
We break all evil ties with poverty, decline, and disgrace
We accept pride and adoration into this family
We close doors to all evil plans concerning this family
In Jesus' name,
Amen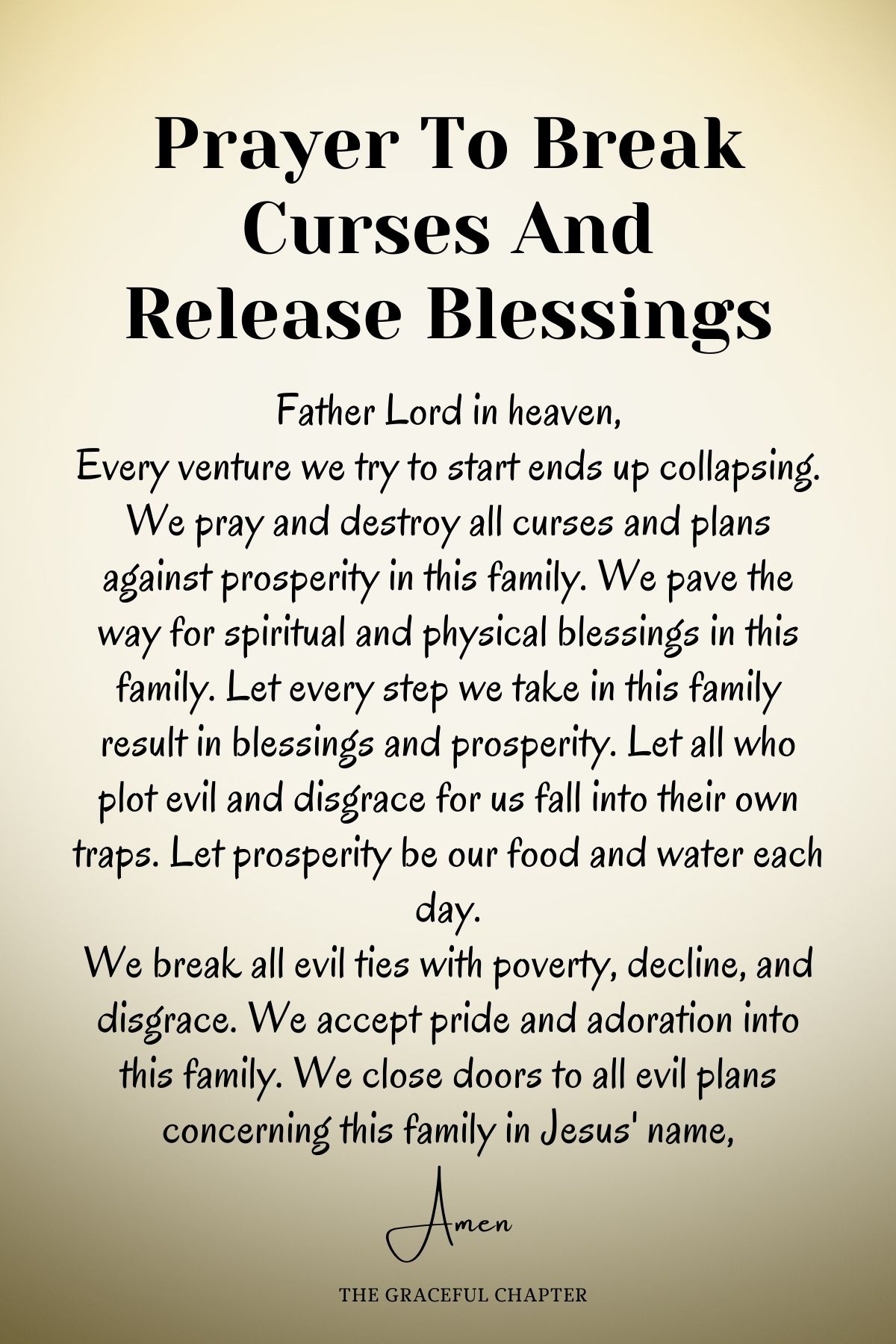 Prayer to break curses against marriage
Dear Lord in heaven
Thank you for your unconditional love for us
Marriages in this family don't last too long
A lot of us can't find faithful partners to marry
Those who are married keep having problems until they collapse
Today, we ask that you cover our family with your special grace
Let our bonds be made in heaven
Let there be unending happiness in all our marriages
Let all curses of divorce be thrown in the pits of hell
Let your loving spirit replace all breakups
Sustain our marriages and let them be glory to your name
Amen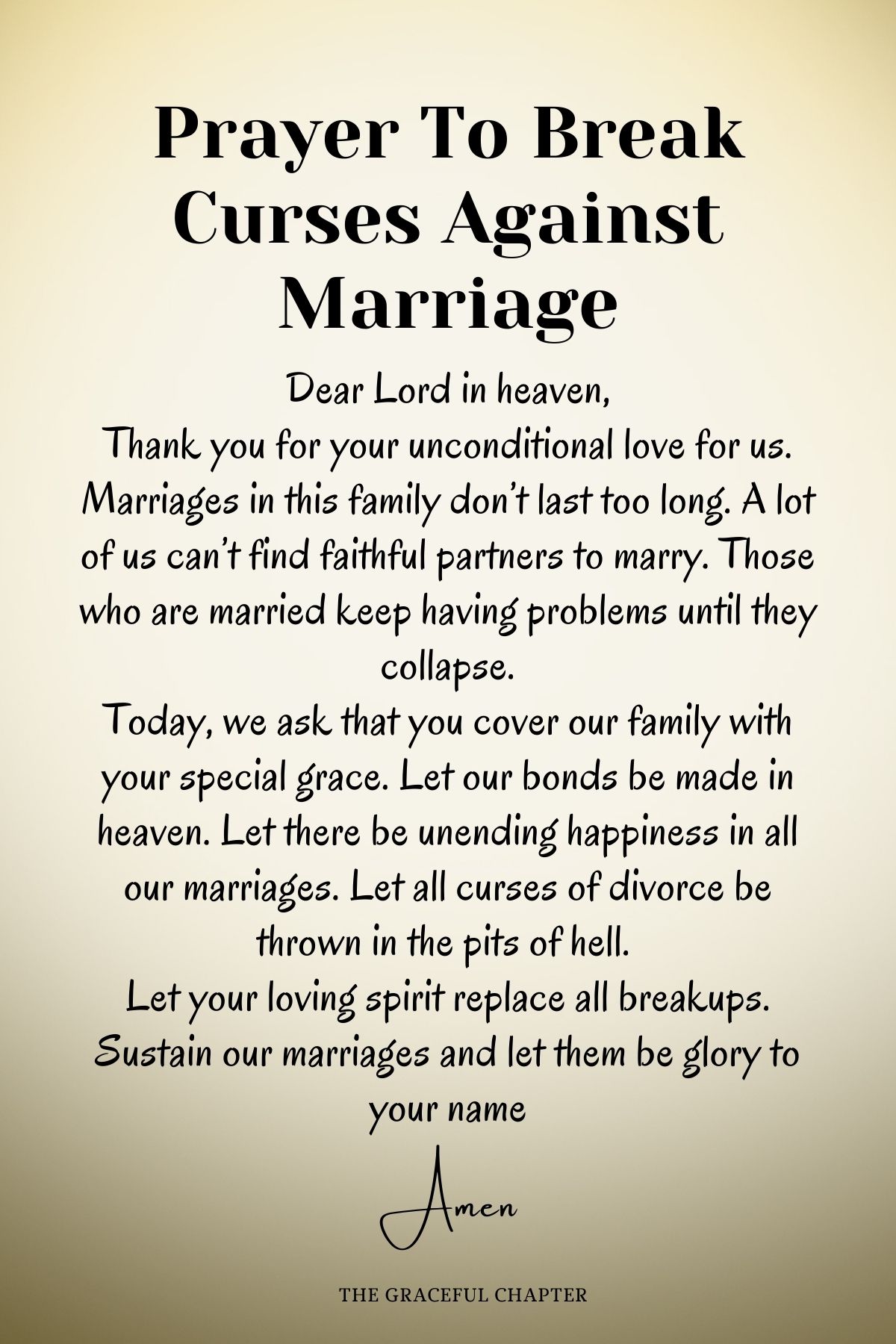 If Christ is our vine we must fear no evil. Go on your knees and speak to the problems in your life. Command every curse and hindrance to evacuate from your life today. Christ is your power and that power can destroy any evil in your life, physical or spiritual.
When you are in Christ and he is in you every evil that approaches your family is thrown into hell. When you pray to God he will answer all your prayers and grant all your heart's desires.
The Lord your God will inflict all these curses on your enemies and on those who hate you, who persecuted you.

Deuteronomy 30:7