For a Christian couple, adding any form of religious element to your wedding is a great way to share your belief with your friends and relatives. This can be a bible verse, a prayer, or even a hymn.
The Bible contains amazing verses that can be incorporated in your vows, your invitation cards, and other aspects of your wedding. So if you are looking for some Bible verses you can add to your wedding, below are some bible verses about love and marriage you can use.
Wedding bible verses about love and marriage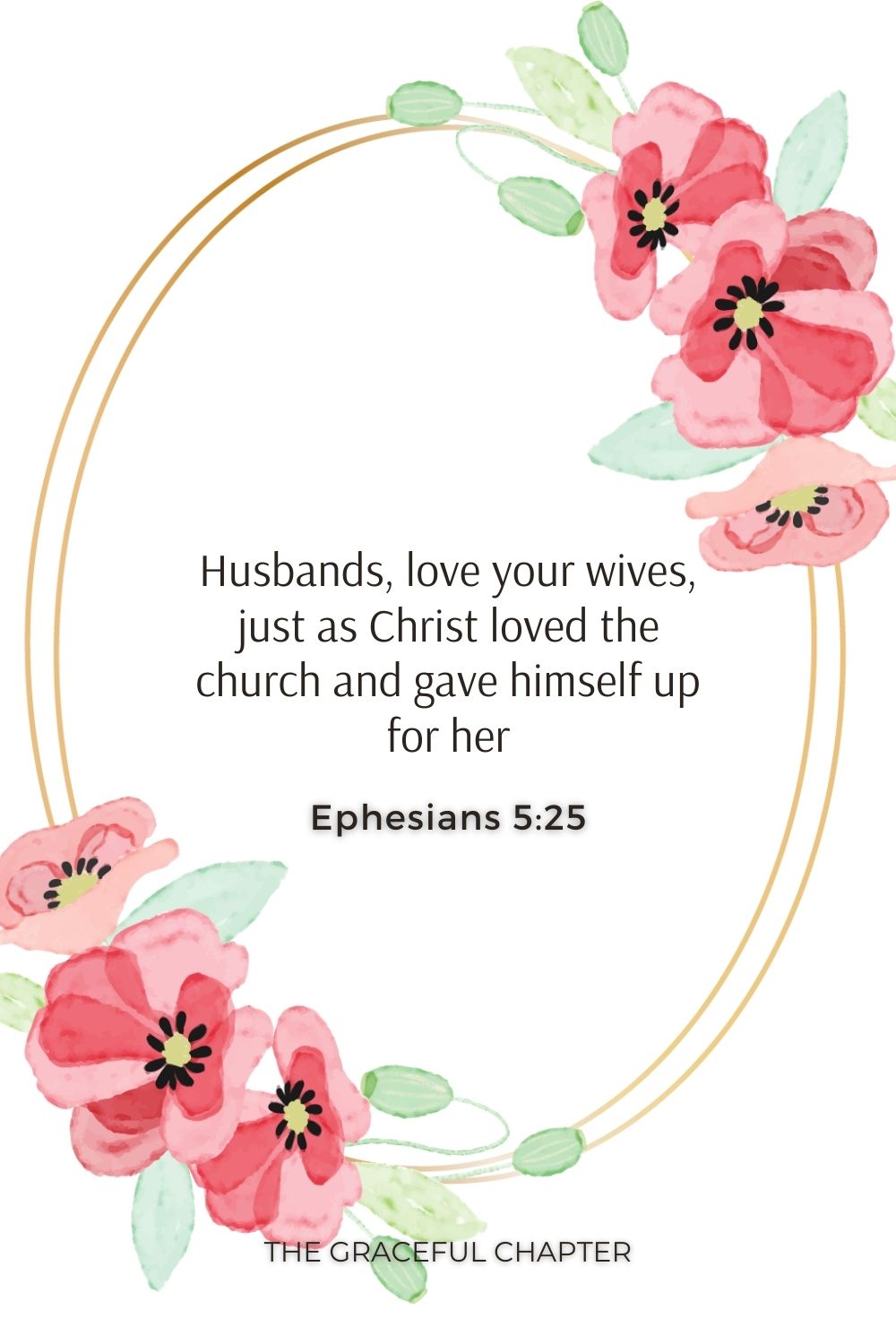 Ephesians 5:25
Husbands, love your wives, just as Christ loved the church and gave himself up for her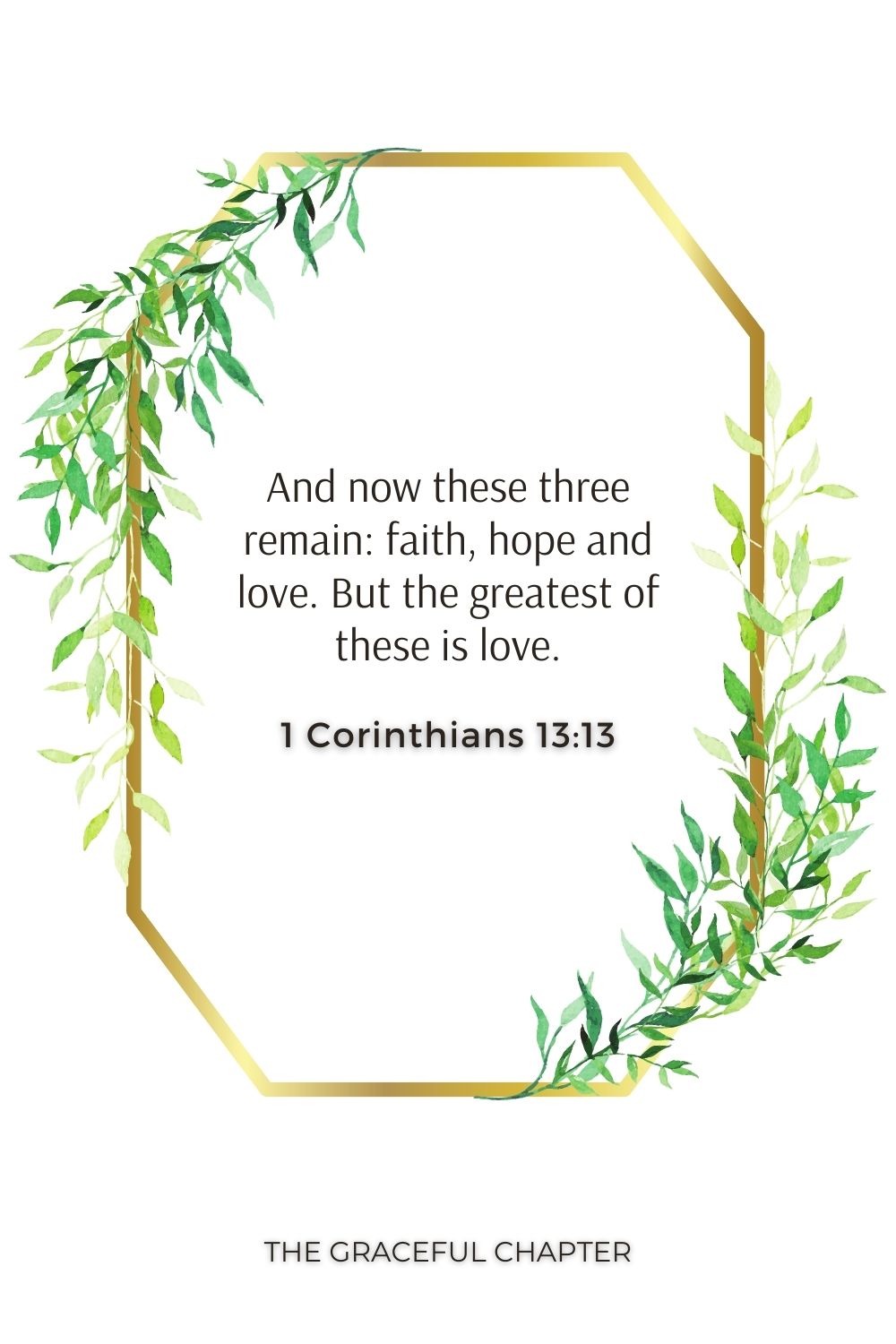 1 Corinthians 13:13
And now these three remain: faith, hope and love. But the greatest of these is love.

1 John 4:18-19
There is no fear in love. But perfect love drives out fear, because fear has to do with punishment. The one who fears is not made perfect in love.We love because he first loved us.

Ephesians 4:2
Be completely humble and gentle; be patient, bearing with one another in love.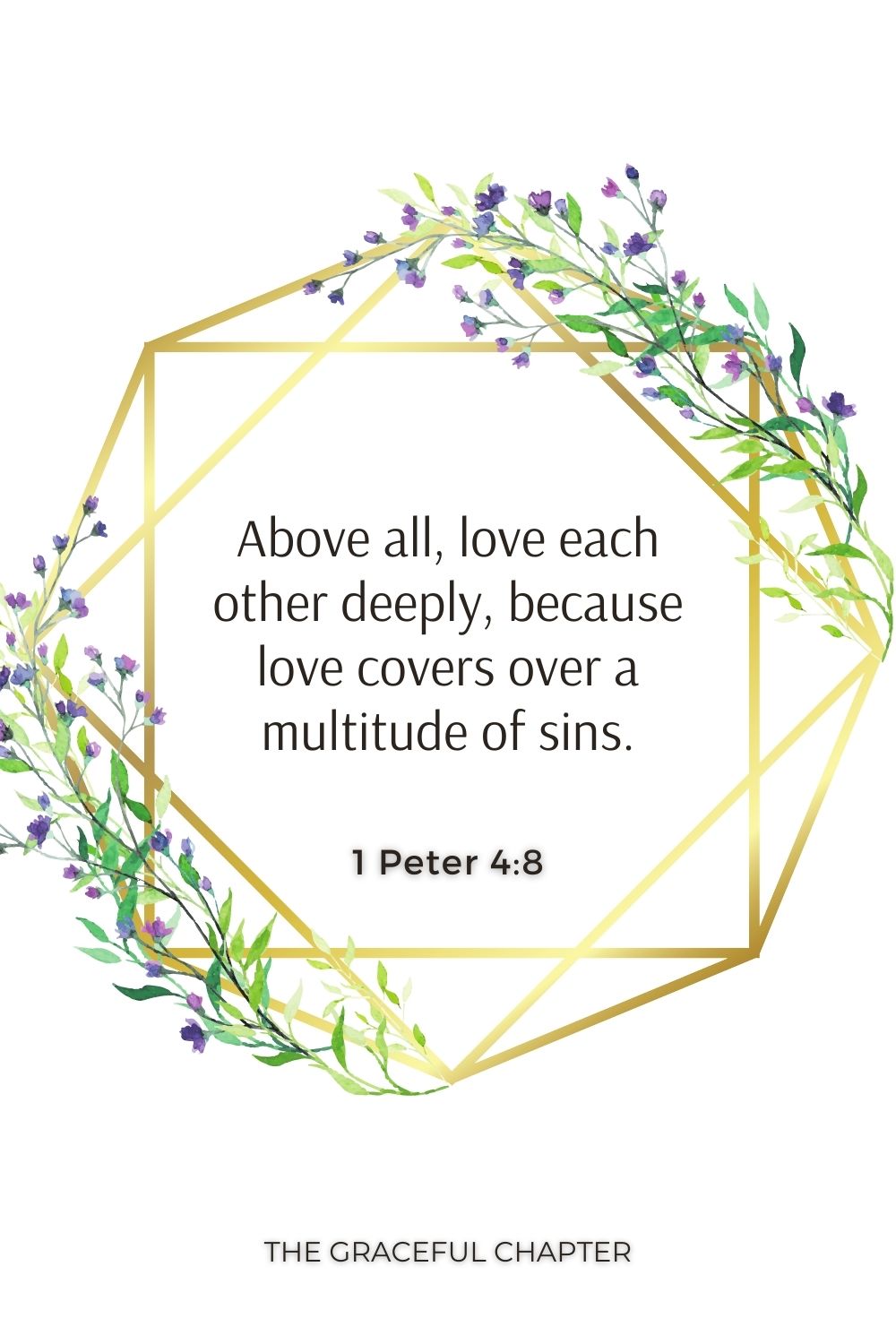 1 Peter 4:8
Above all, love each other deeply, because love covers over a multitude of sins.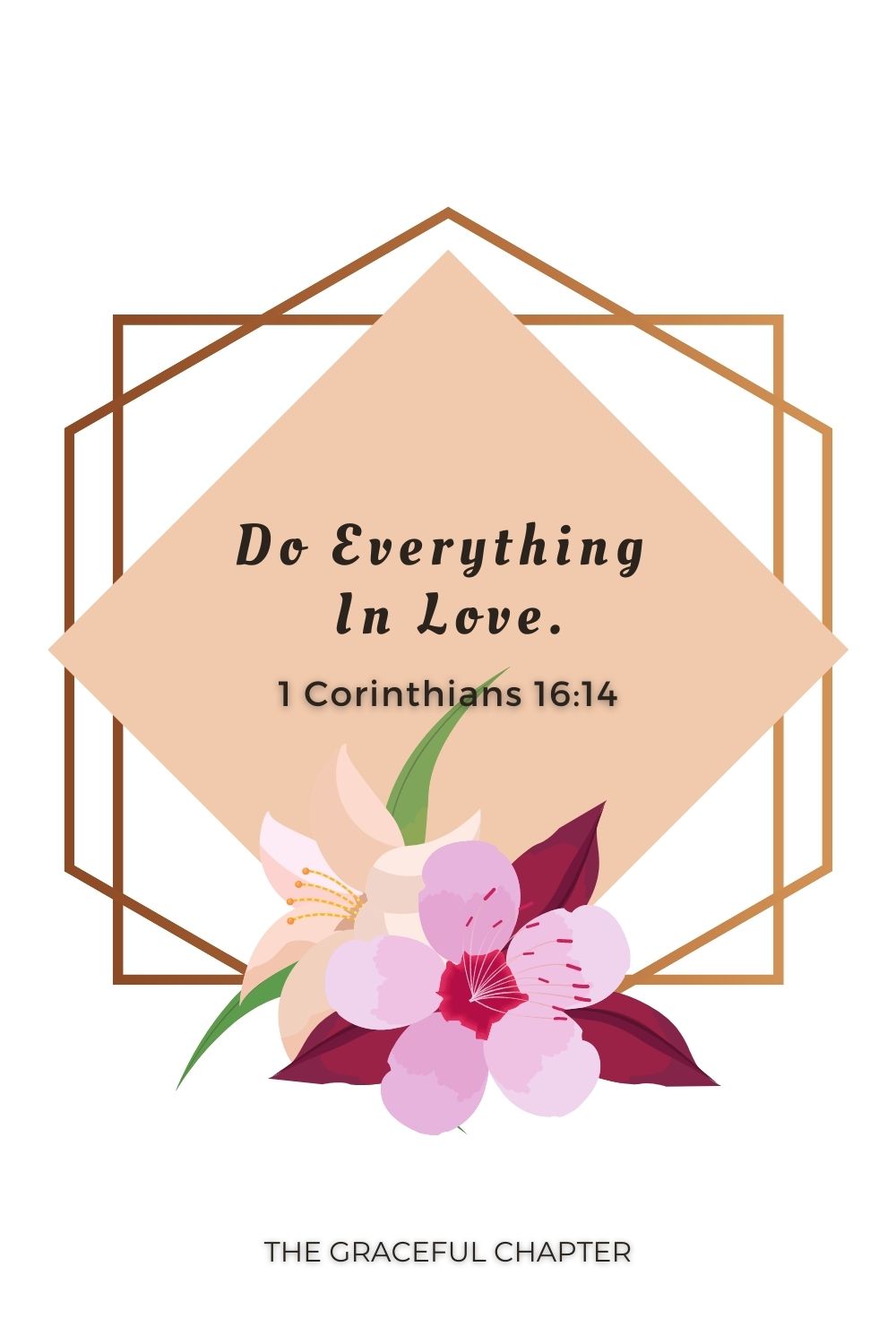 1 Corinthians 16:14
Do everything in love.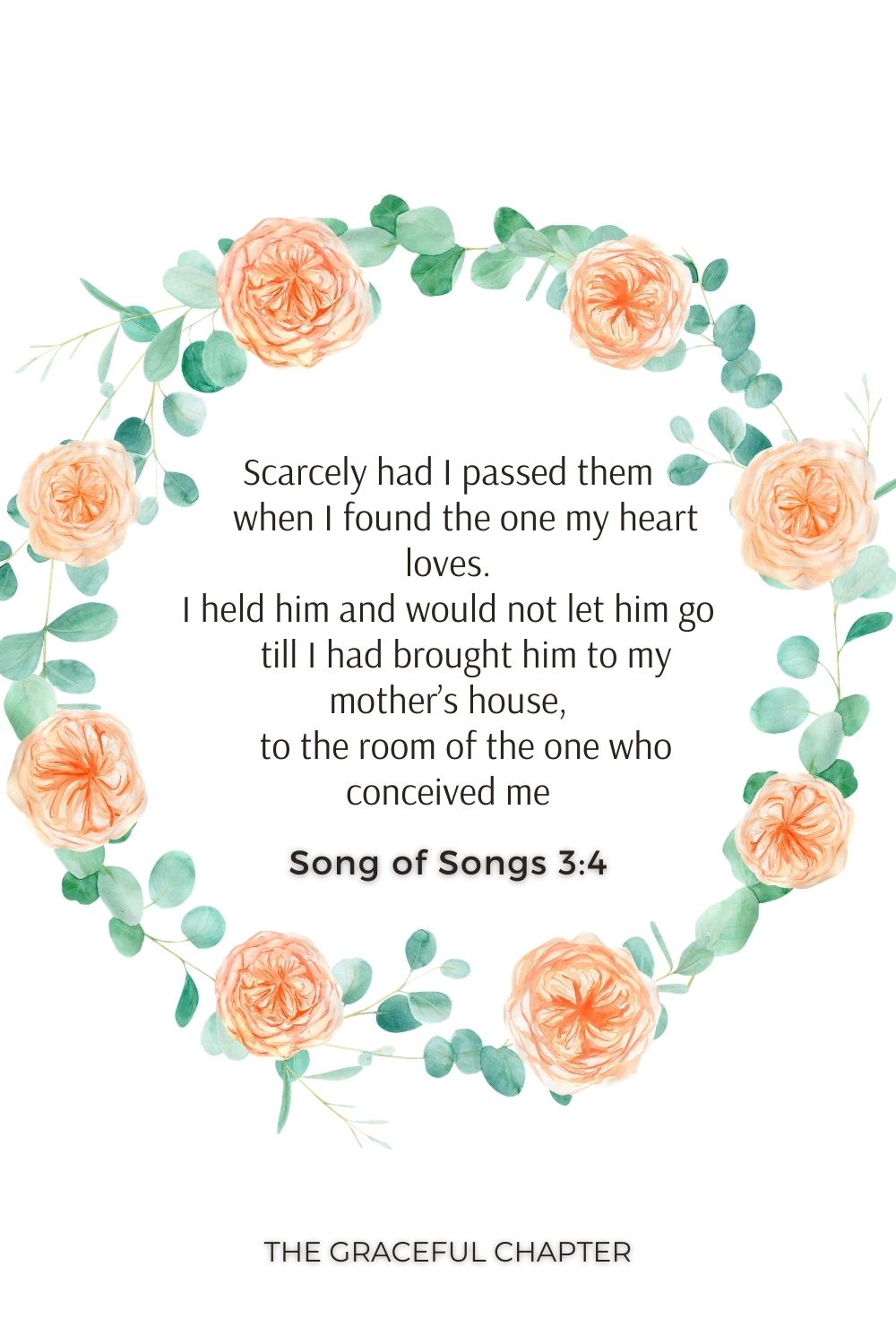 Song of Songs 3:4
Scarcely had I passed them
    when I found the one my heart loves.
I held him and would not let him go
    till I had brought him to my mother's house,
    to the room of the one who conceived me.

1 Corinthians 13:4-8
Love is patient, love is kind. It does not envy, it does not boast, it is not proud. It does not dishonor others, it is not self-seeking, it is not easily angered, it keeps no record of wrongs. Love does not delight in evil but rejoices with the truth. It always protects, always trusts, always hopes, always perseveres.Love never fails. But where there are prophecies, they will cease; where there are tongues, they will be stilled; where there is knowledge, it will pass away.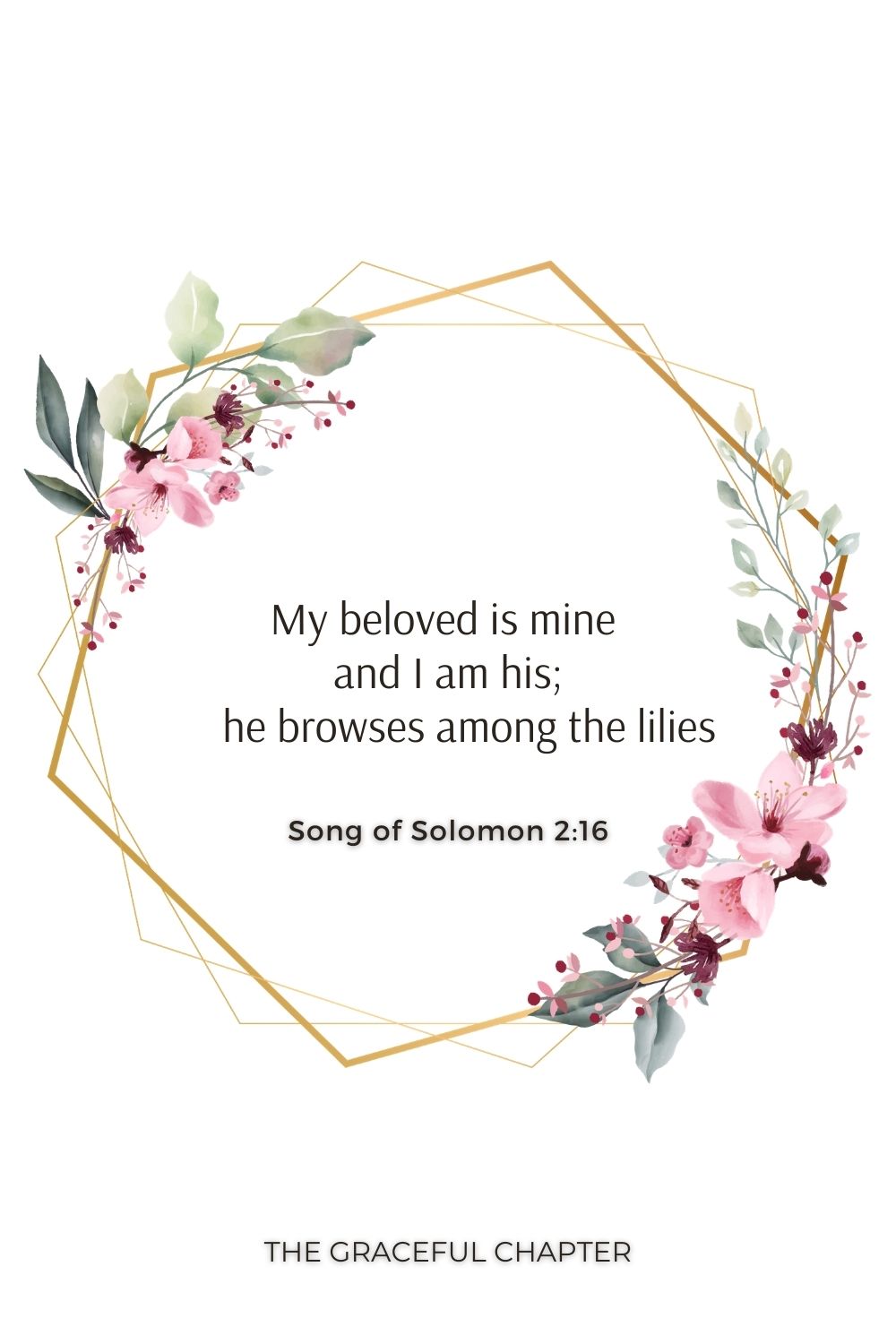 Song of Solomon 2:16
My beloved is mine and I am his;
    he browses among the lilies.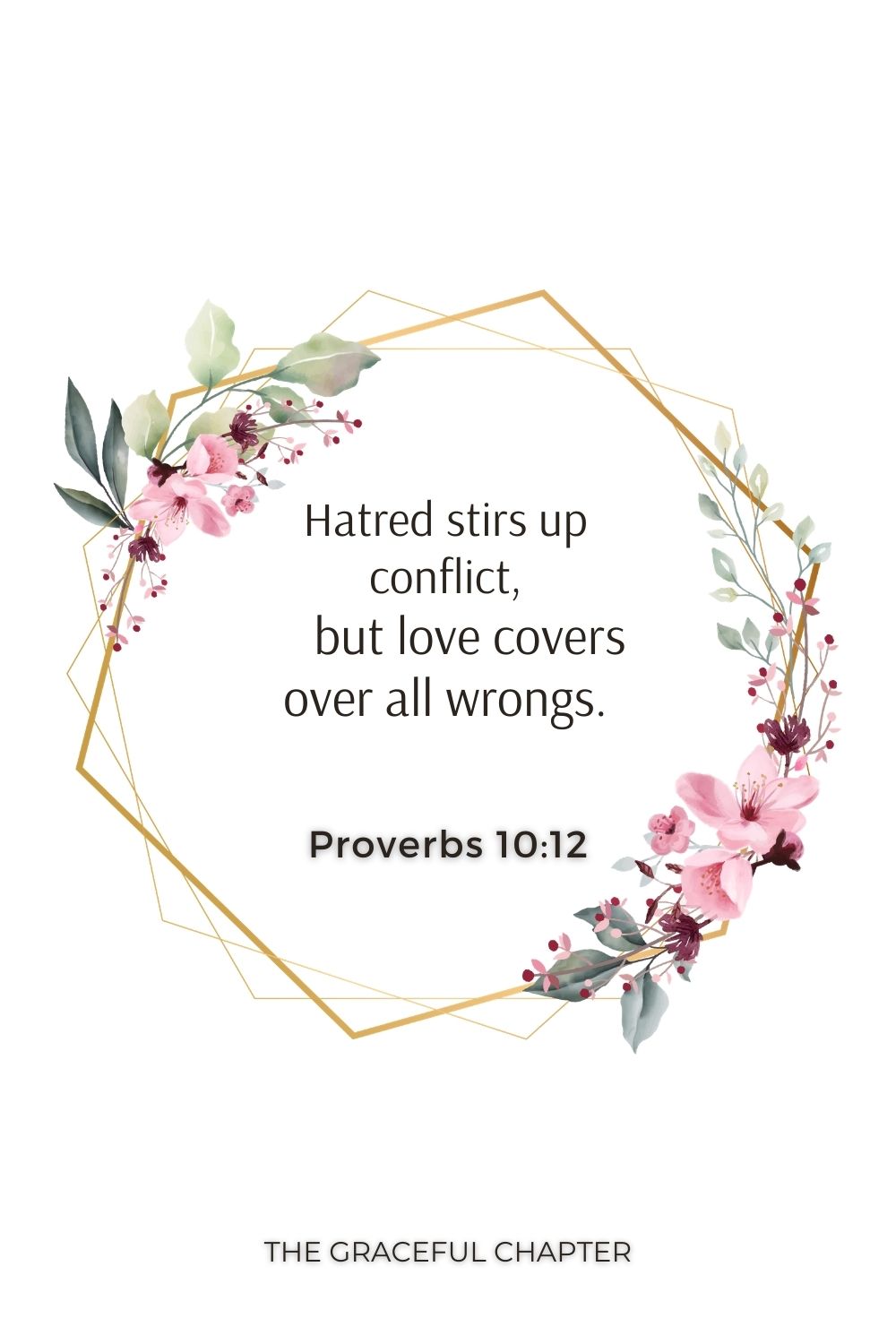 Proverbs 10:12
Hatred stirs up conflict,
    but love covers over all wrongs.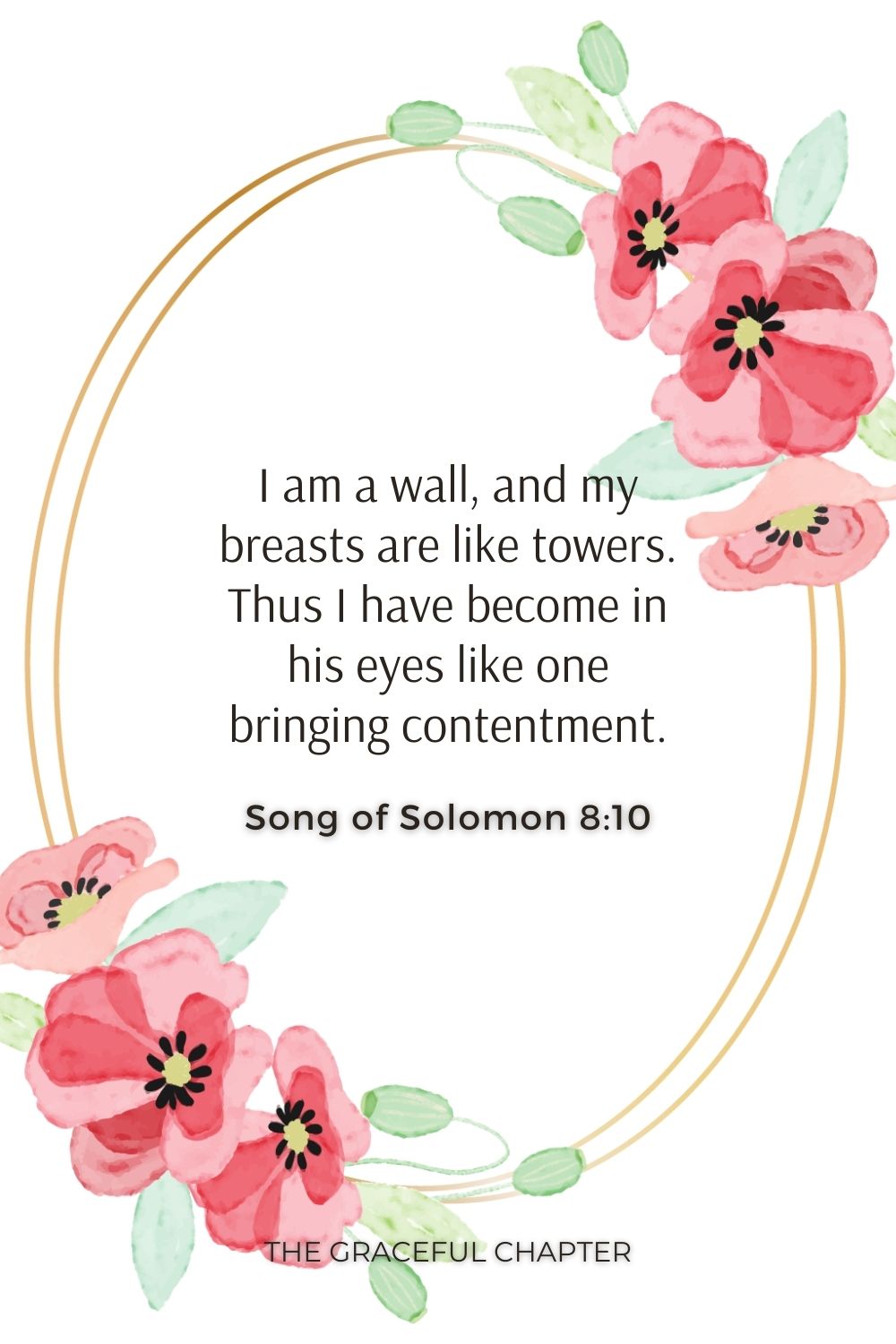 Song of Solomon 8:10
I am a wall, and my breasts are like towers.
Thus I have become in his eyes like one bringing contentment.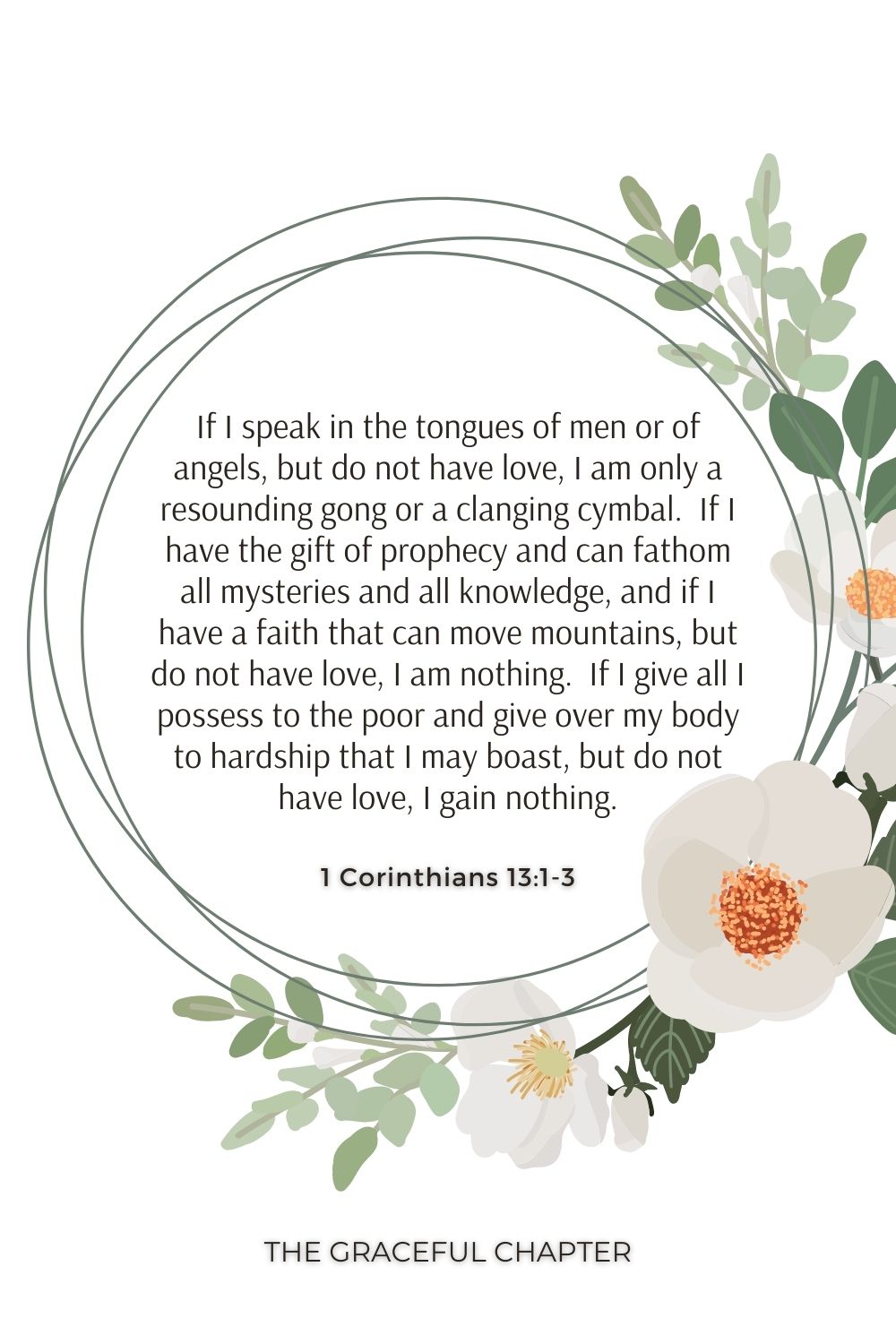 1 Corinthians 13:1-3
If I speak in the tongues of men or of angels, but do not have love, I am only a resounding gong or a clanging cymbal.  If I have the gift of prophecy and can fathom all mysteries and all knowledge, and if I have a faith that can move mountains, but do not have love, I am nothing.  If I give all I possess to the poor and give over my body to hardship that I may boast, but do not have love, I gain nothing.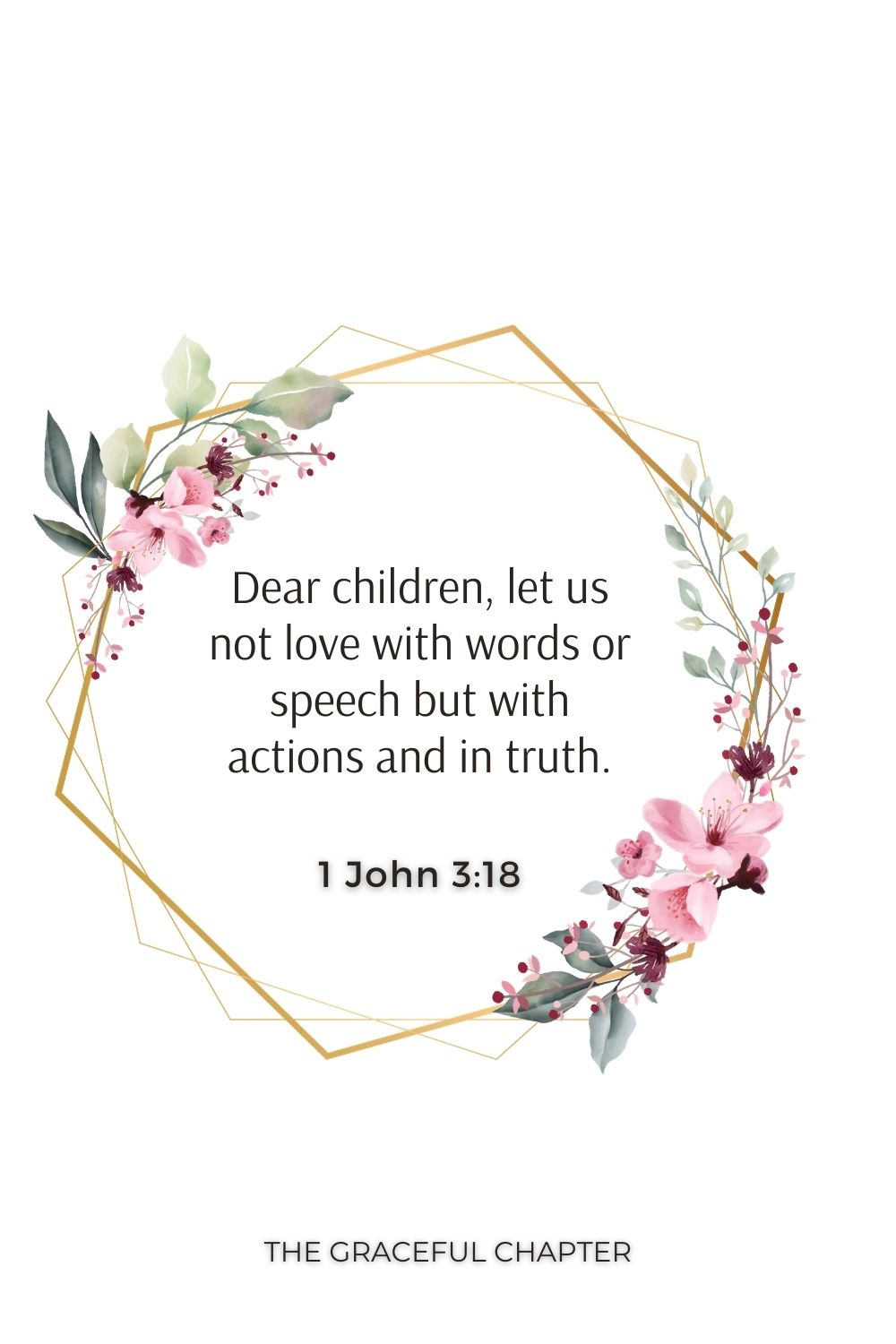 1 John 3:18
Dear children, let us not love with words or speech but with actions and in truth.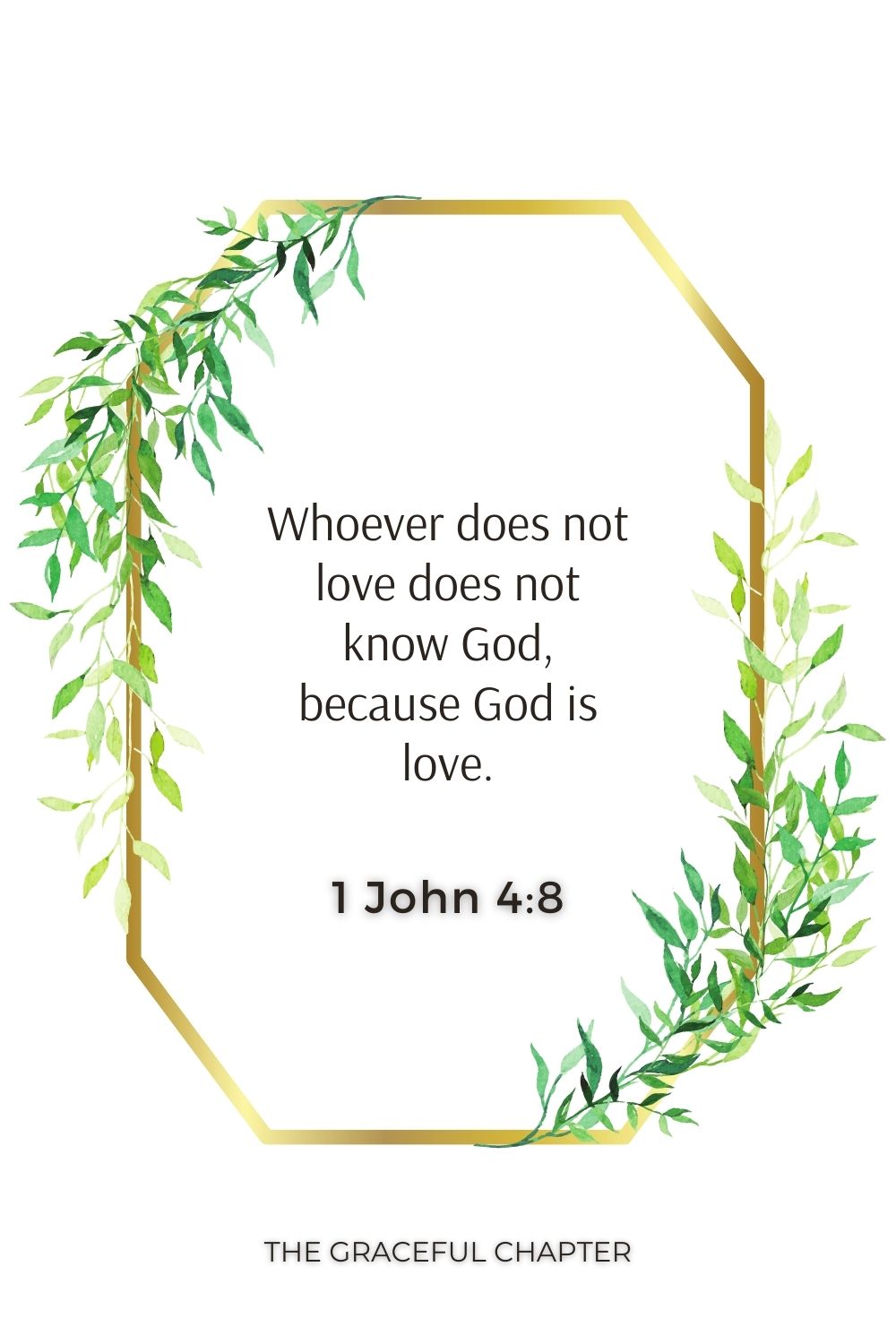 1 John 4:8
Whoever does not love does not know God, because God is love.

Romans 12:19
Do not take revenge, my dear friends, but leave room for God's wrath, for it is written: It is mine to avenge; I will repay, says the Lord.

John 3:16
For God so loved the world that he gave his one and only Son, that whoever believes in him shall not perish but have eternal life.

Ephesians 5:33
However, each one of you also must love his wife as he loves himself, and the wife must respect her husband.

Proverbs 17:17
A friend loves at all times,
    and a brother is born for a time of adversity.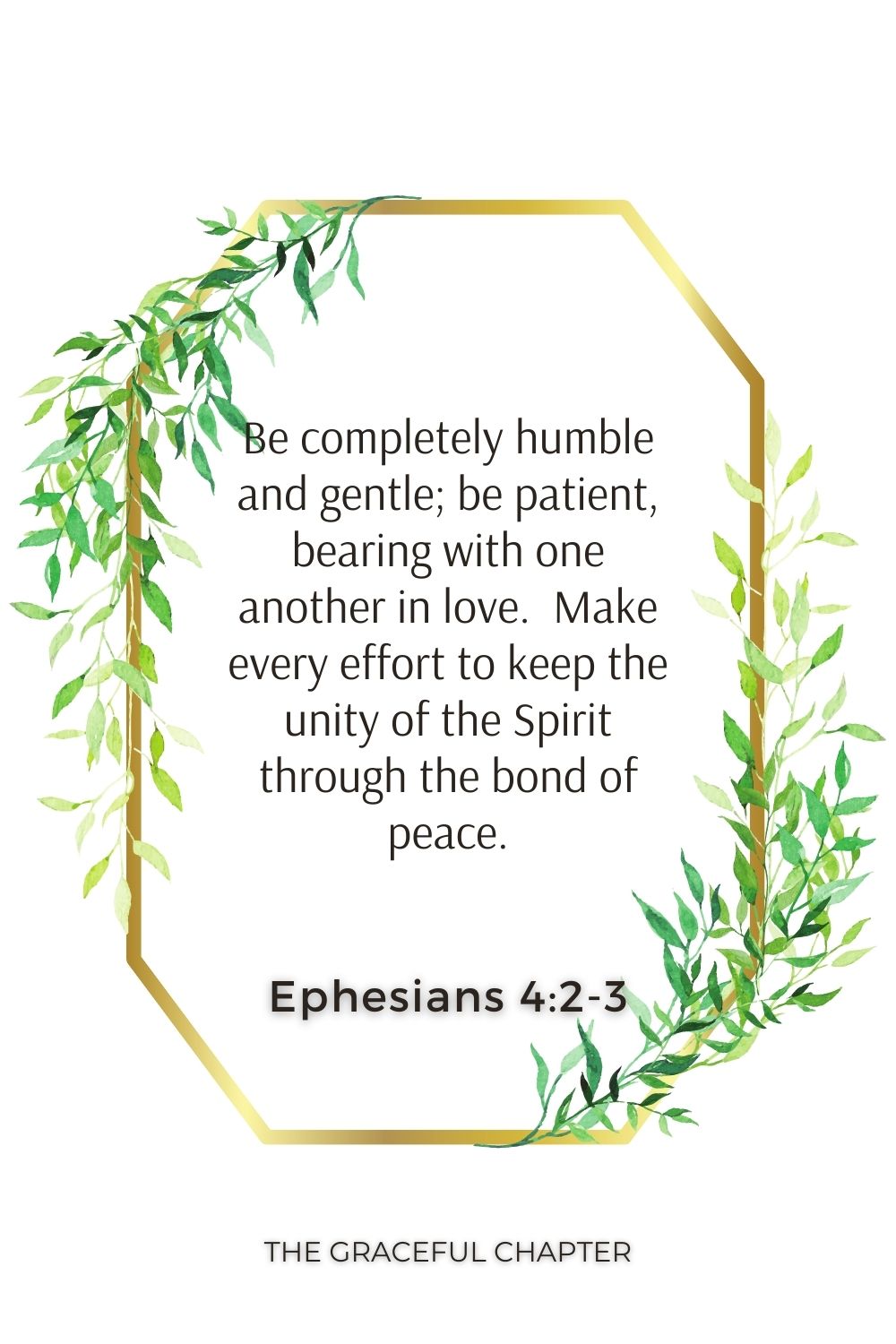 Ephesians 4:2-3
Be completely humble and gentle; be patient, bearing with one another in love.  Make every effort to keep the unity of the Spirit through the bond of peace.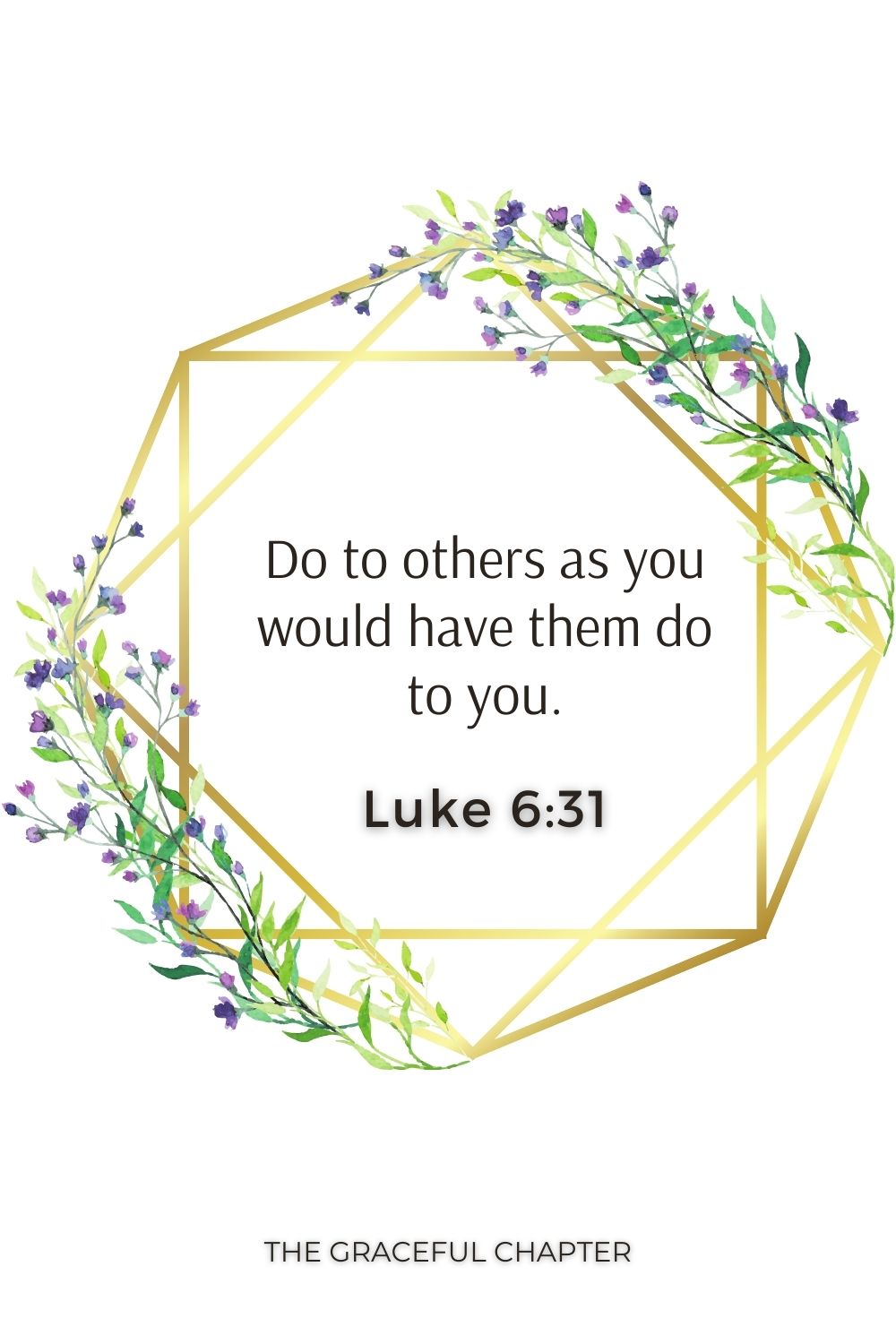 Luke 6:31
Do to others as you would have them do to you.

Related Posts
Genesis 1:27-28
So God created mankind in his own image, in the image of God he created them; male and female he created them.God blessed them and said to them, Be fruitful and increase in number; fill the earth and subdue it. Rule over the fish in the sea and the birds in the sky and over every living creature that moves on the ground.

Philippians 1:3
I thank my God every time I remember you.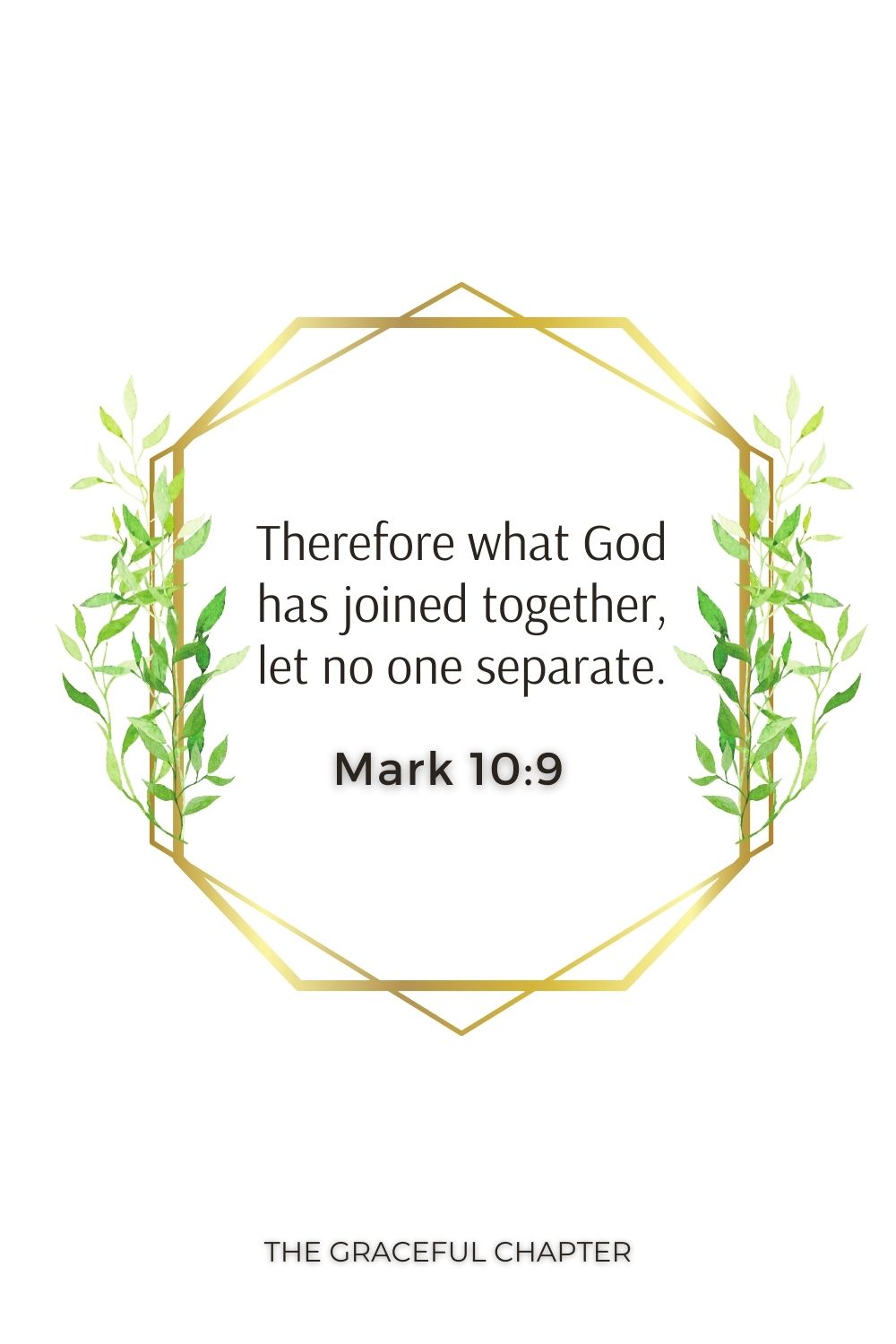 Mark 10:9
Therefore what God has joined together, let no one separate.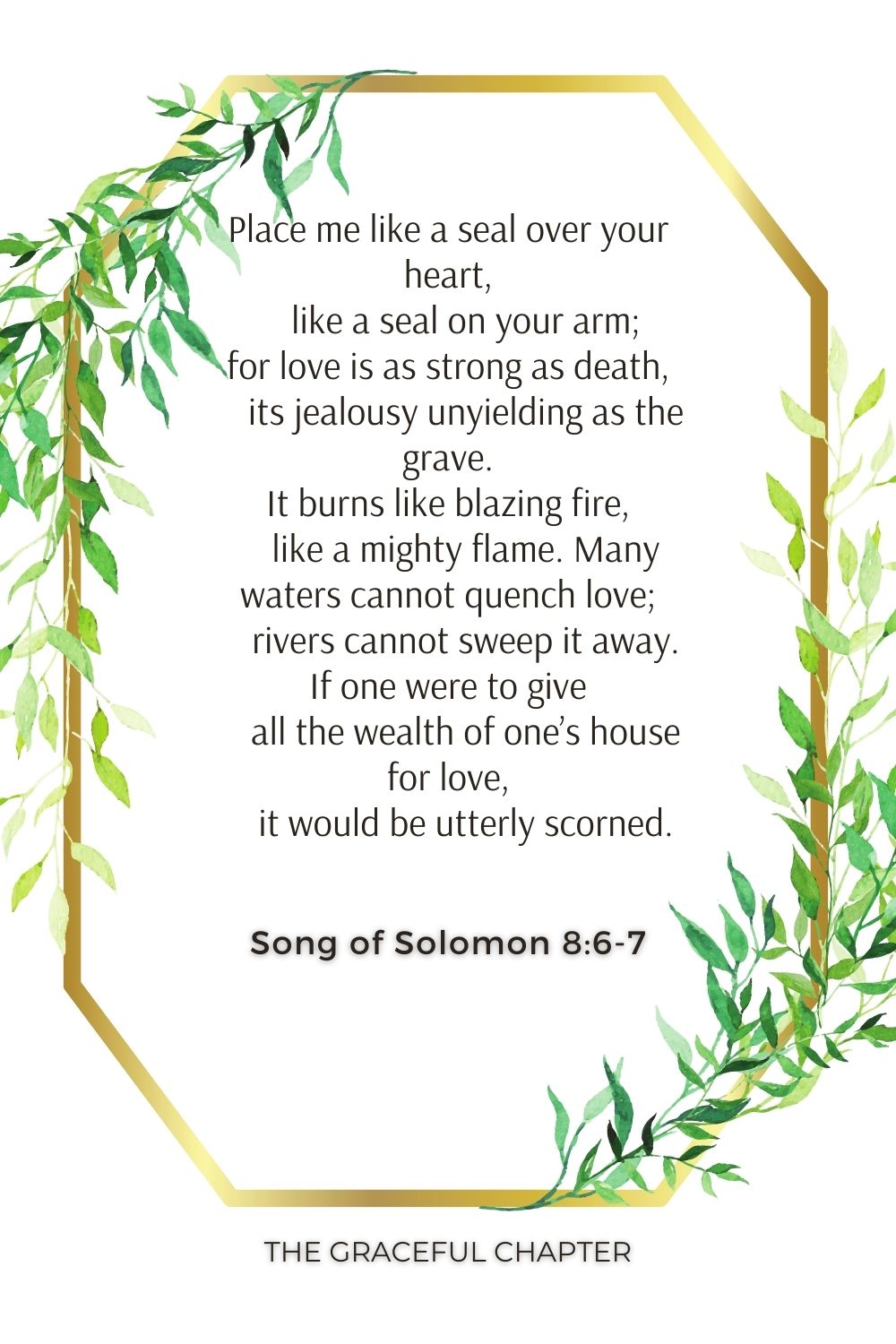 Song of Solomon 8:6-7
Place me like a seal over your heart, like a seal on your arm; for love is as strong as death, its jealousy unyielding as the grave. It burns like blazing fire, like a mighty flame. Many waters cannot quench love; rivers cannot sweep it away.
If one were to give all the wealth of one's house for love, it would be utterly scorned.

Ruth 1:16-17
But Ruth replied, "Don't urge me to leave you or to turn back from you. Where you go I will go, and where you stay I will stay. Your people will be my people and your God my God. 17 Where you die I will die, and there I will be buried. May the Lord deal with me, be it ever so severely, if even death separates you and me.

Genesis 2:24
That is why a man leaves his father and mother and is united to his wife, and they become one flesh.

Romans 13:8
Let no debt remain outstanding, except the continuing debt to love one another, for whoever loves others has fulfilled the law.

Proverbs 30:18-19
There are three things that are too amazing for me, four that I do not understand: the way of an eagle in the sky, the way of a snake on a rock,
the way of a ship on the high seas, and the way of a man with a young woman.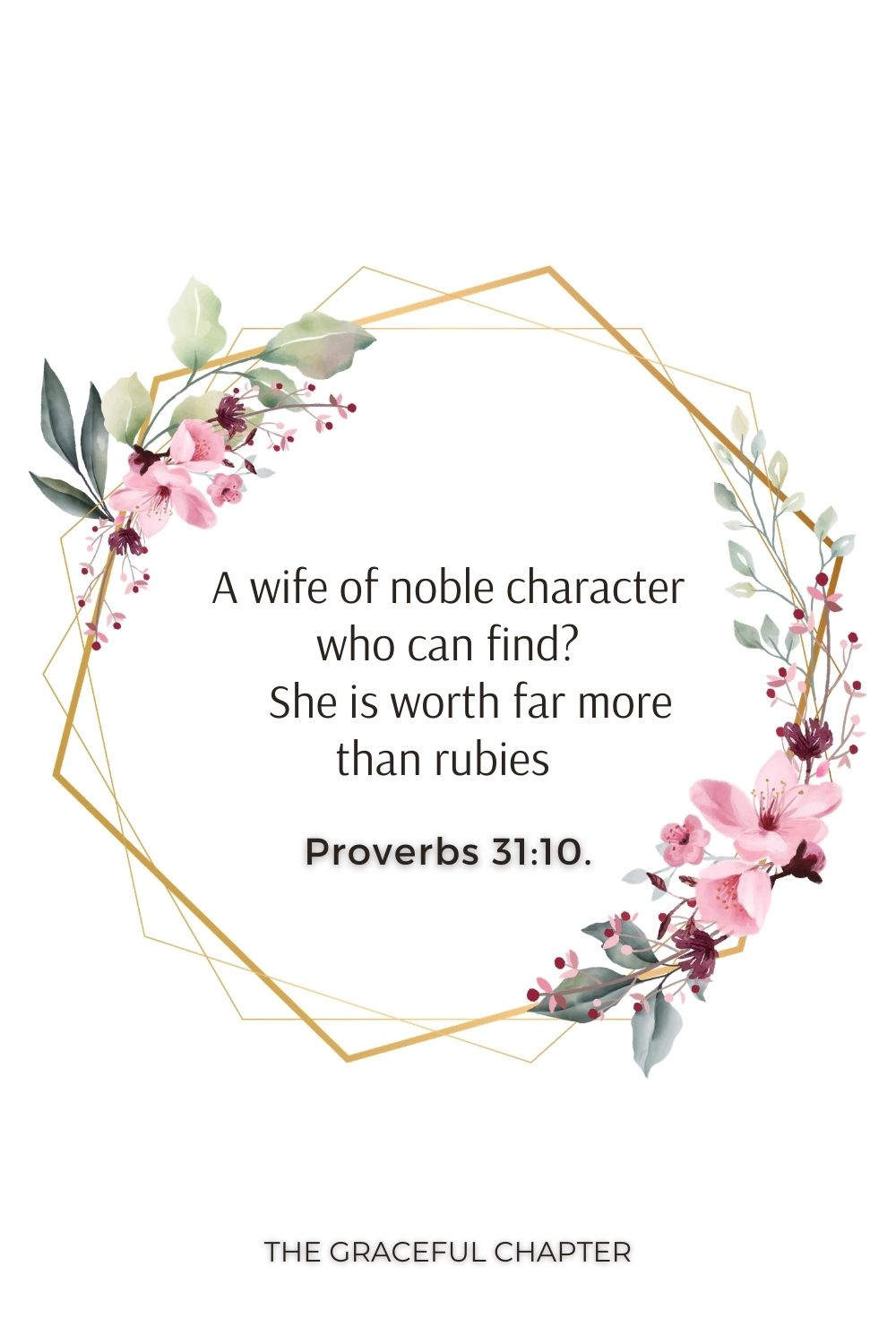 Proverbs 31:10.
A wife of noble character who can find? She is worth far more than rubies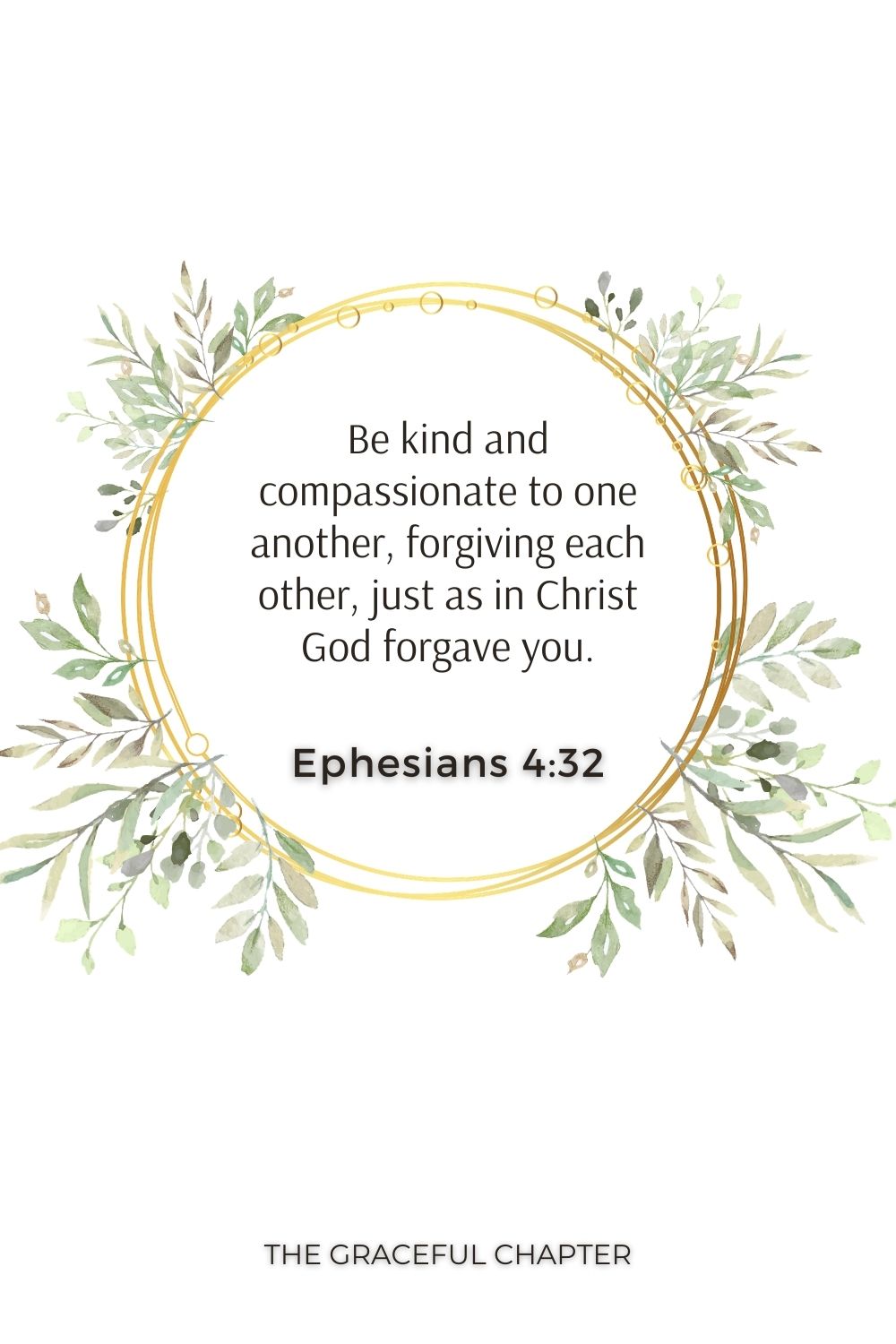 Ephesians 4:32
Be kind and compassionate to one another, forgiving each other, just as in Christ God forgave you.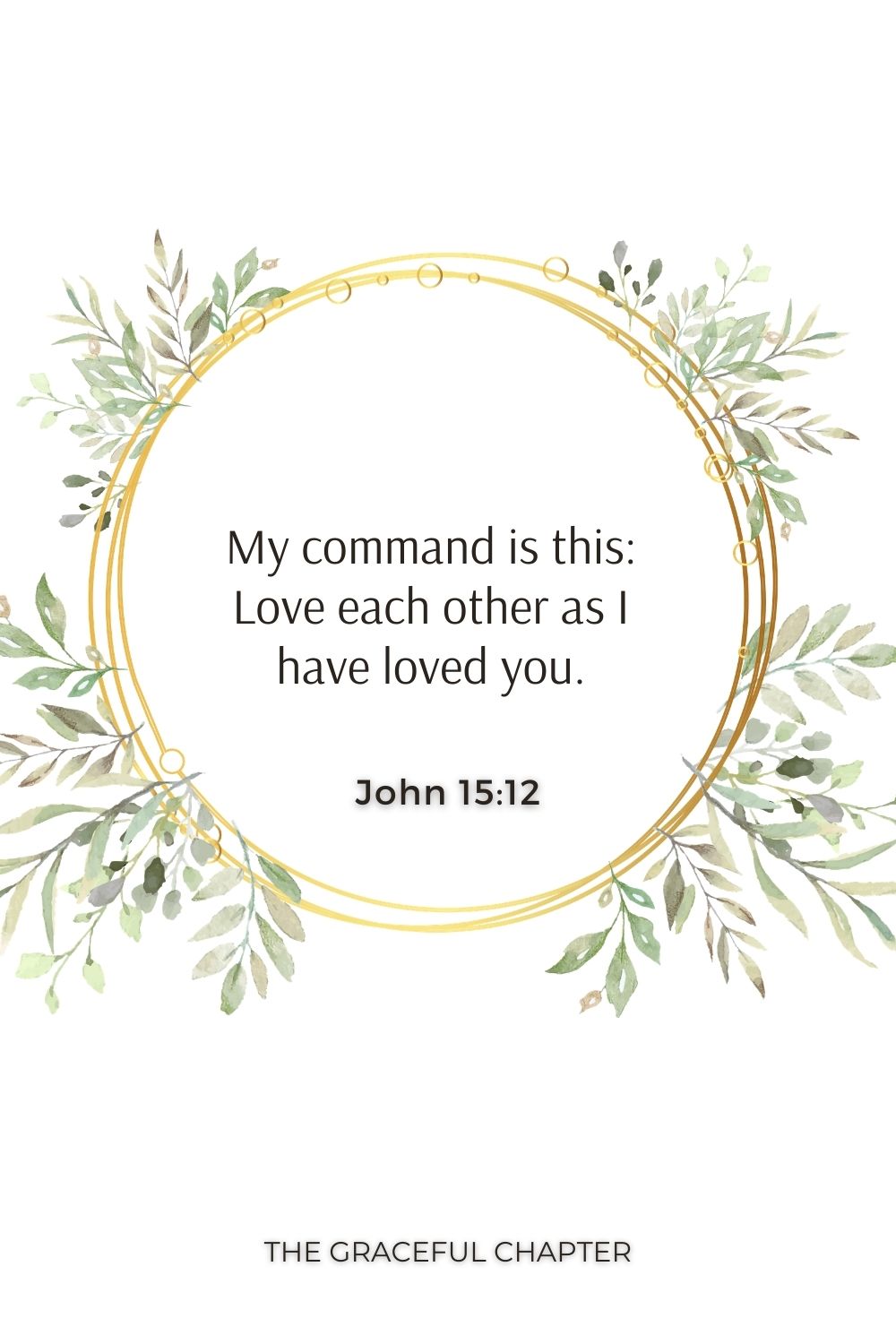 John 15:12
My command is this: Love each other as I have loved you.

Ecclesiastes 4:9
Two are better than one, because they have a good return for their labor: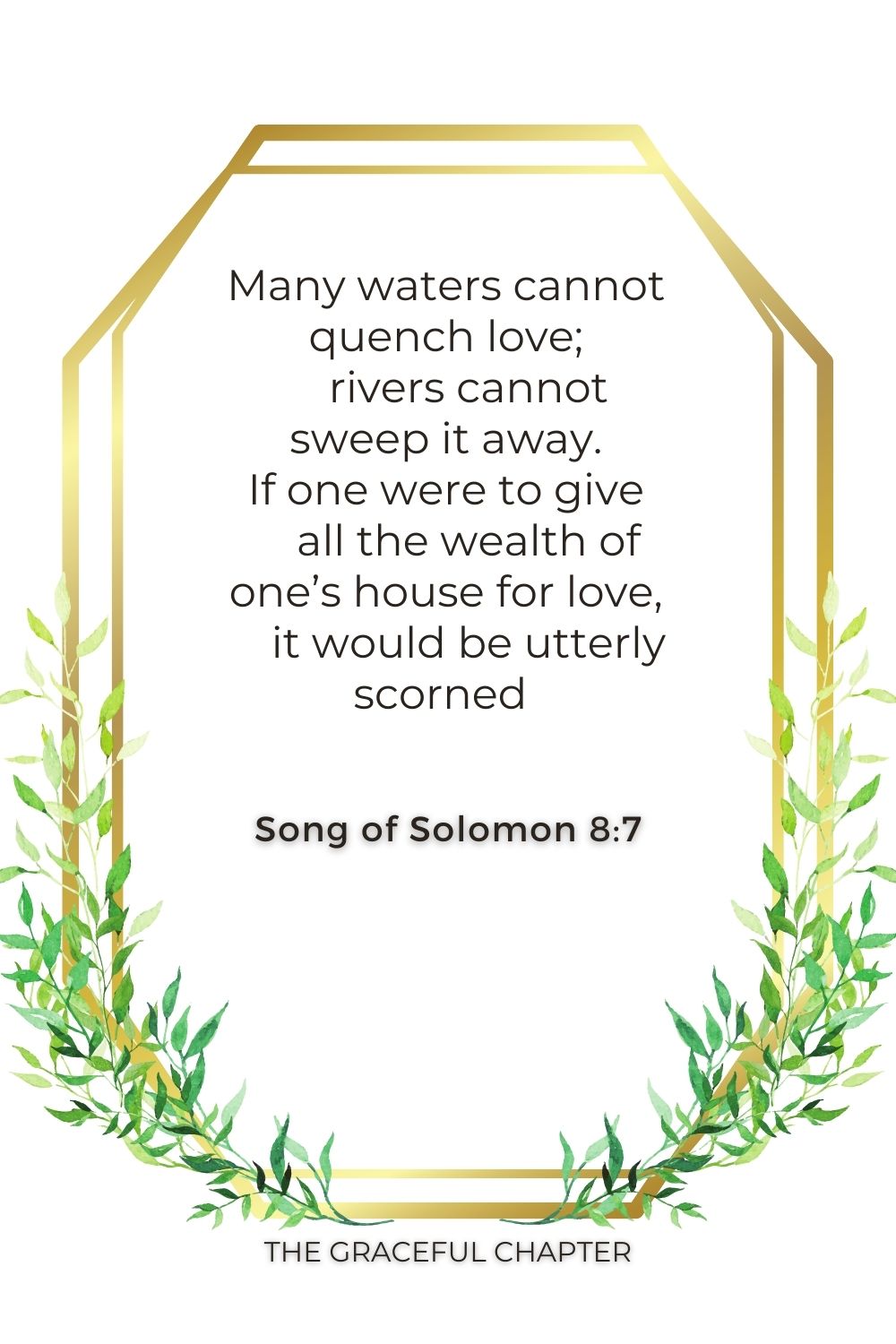 Song of Solomon 8:7
Many waters cannot quench love; rivers cannot sweep it away. If one were to give all the wealth of one's house for love, it would be utterly scorned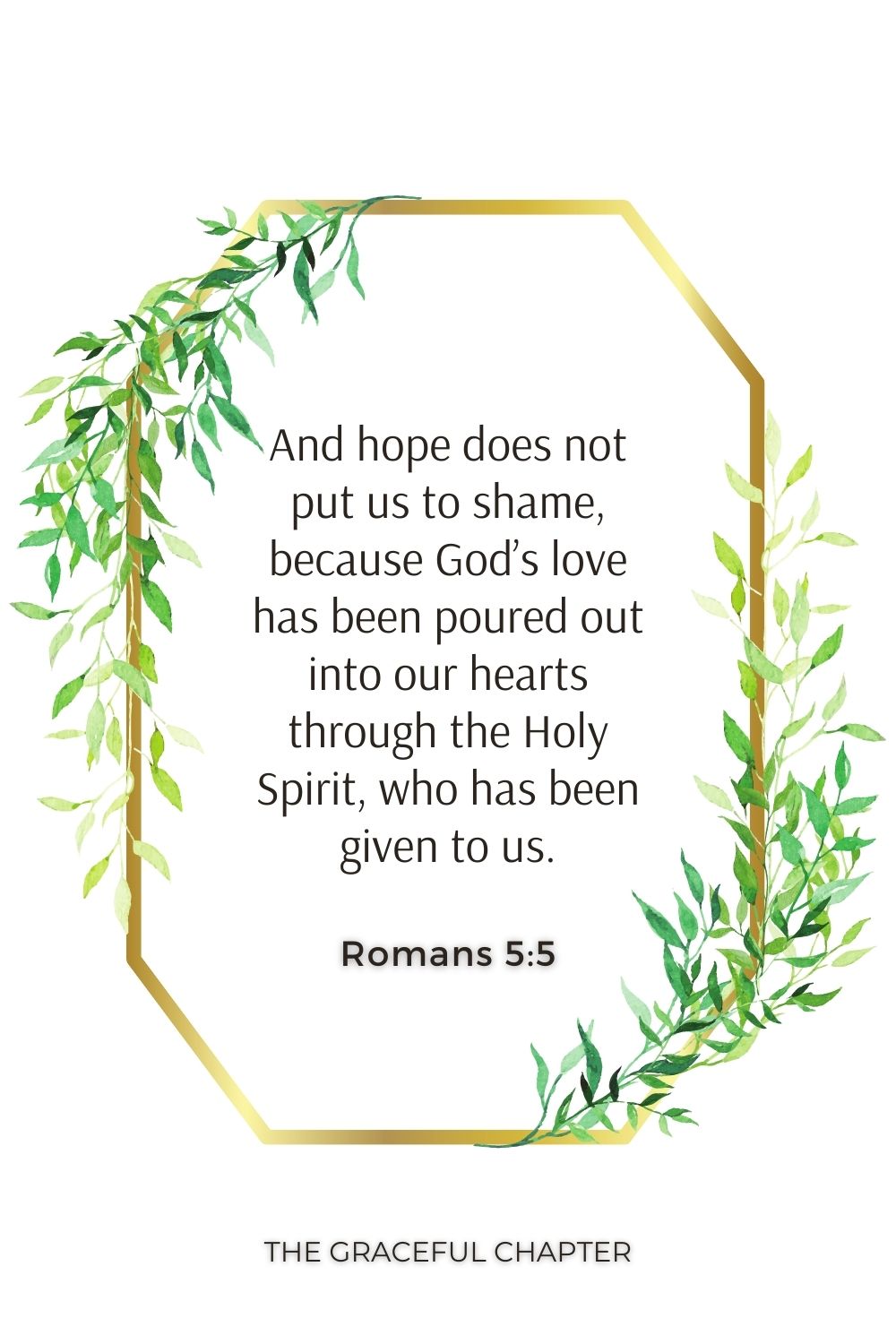 Romans 5:5
And hope does not put us to shame, because God's love has been poured out into our hearts through the Holy Spirit, who has been given to us.

Jeremiah 31:3
 The Lord appeared to us in the past, saying:I have loved you with an everlasting love;
    I have drawn you with unfailing kindness.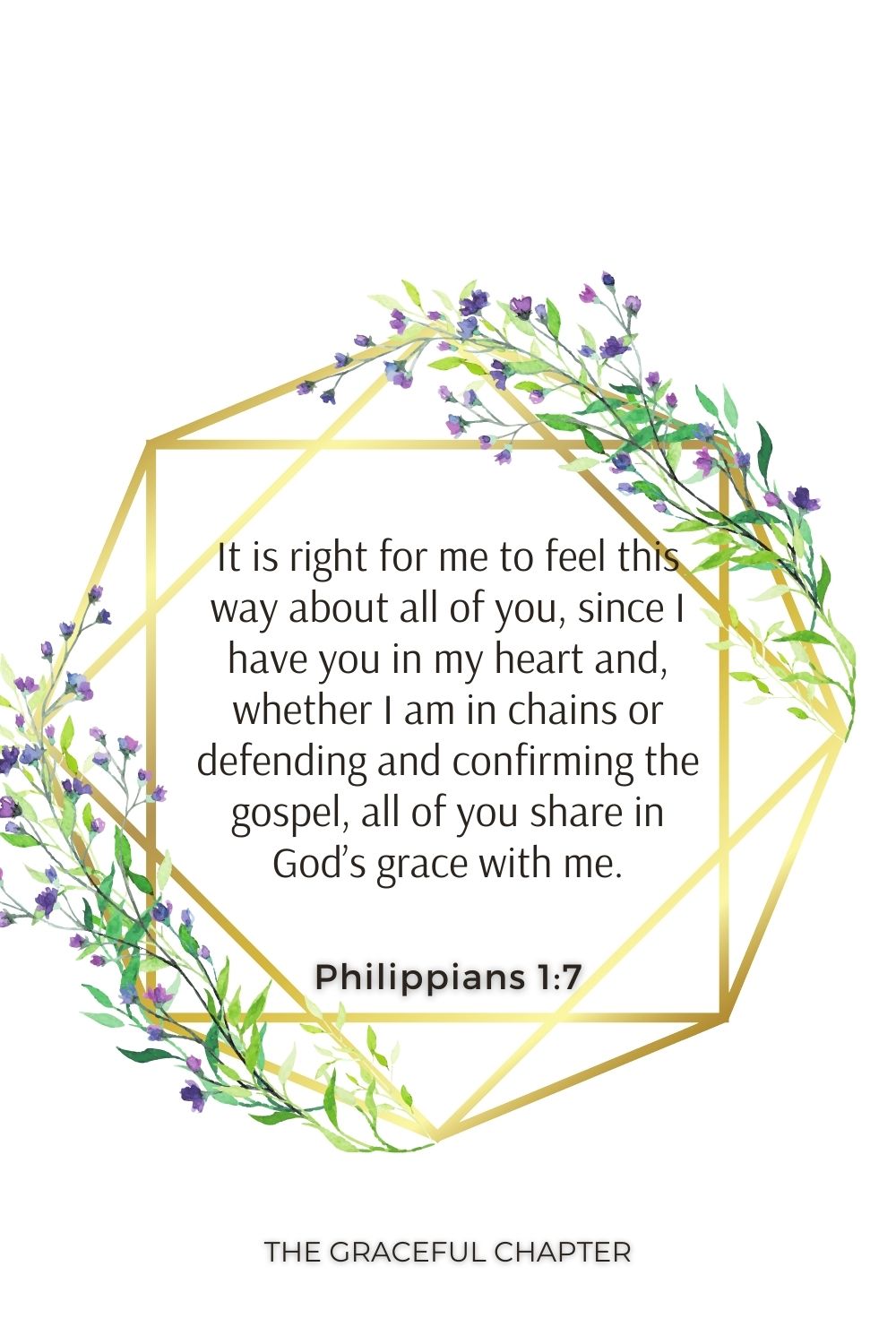 Philippians 1:7
It is right for me to feel this way about all of you, since I have you in my heart and, whether I am in chains or defending and confirming the gospel, all of you share in God's grace with me.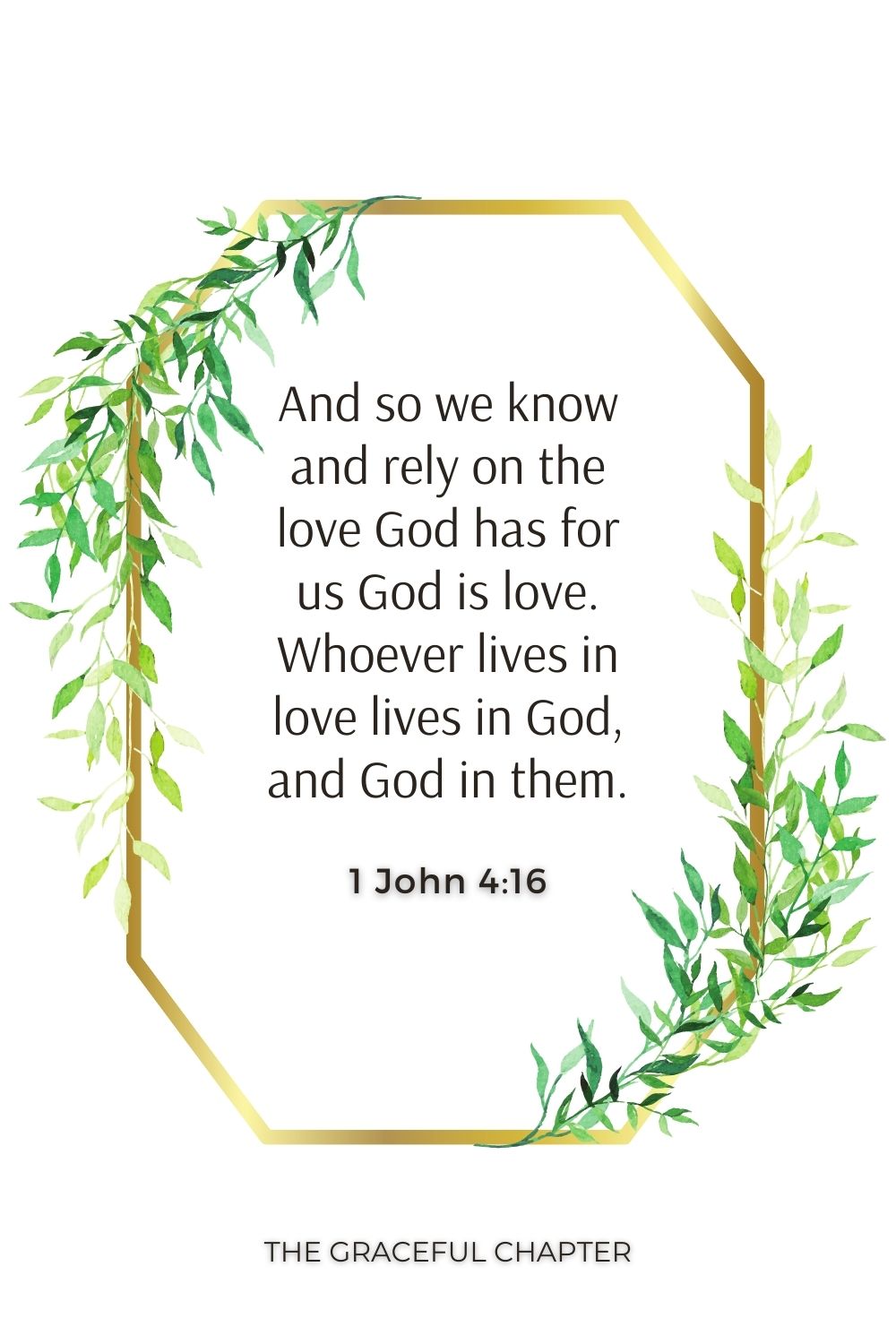 1 John 4:16
And so we know and rely on the love God has for us God is love. Whoever lives in love lives in God, and God in them.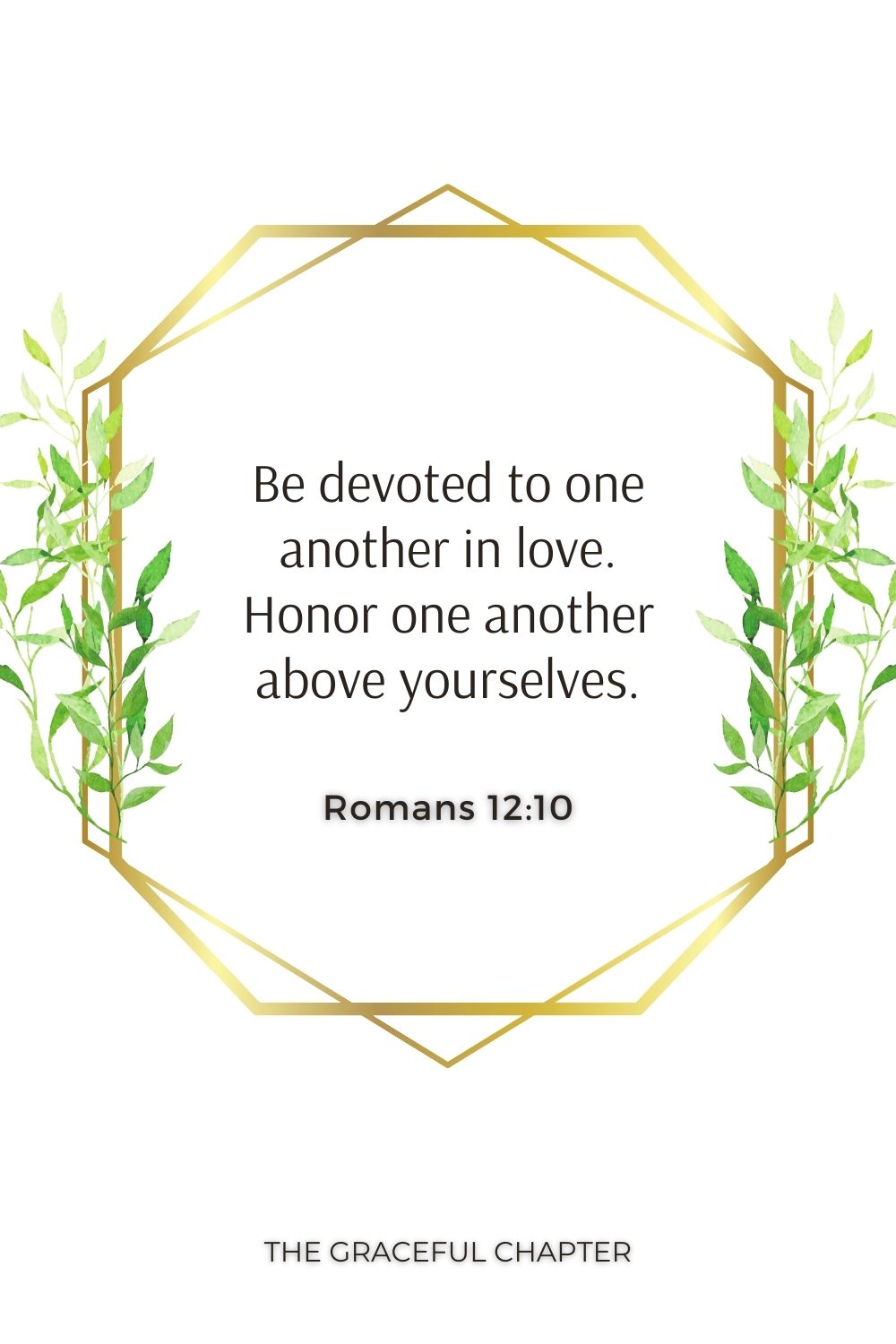 Romans 12:10
Be devoted to one another in love. Honor one another above yourselves.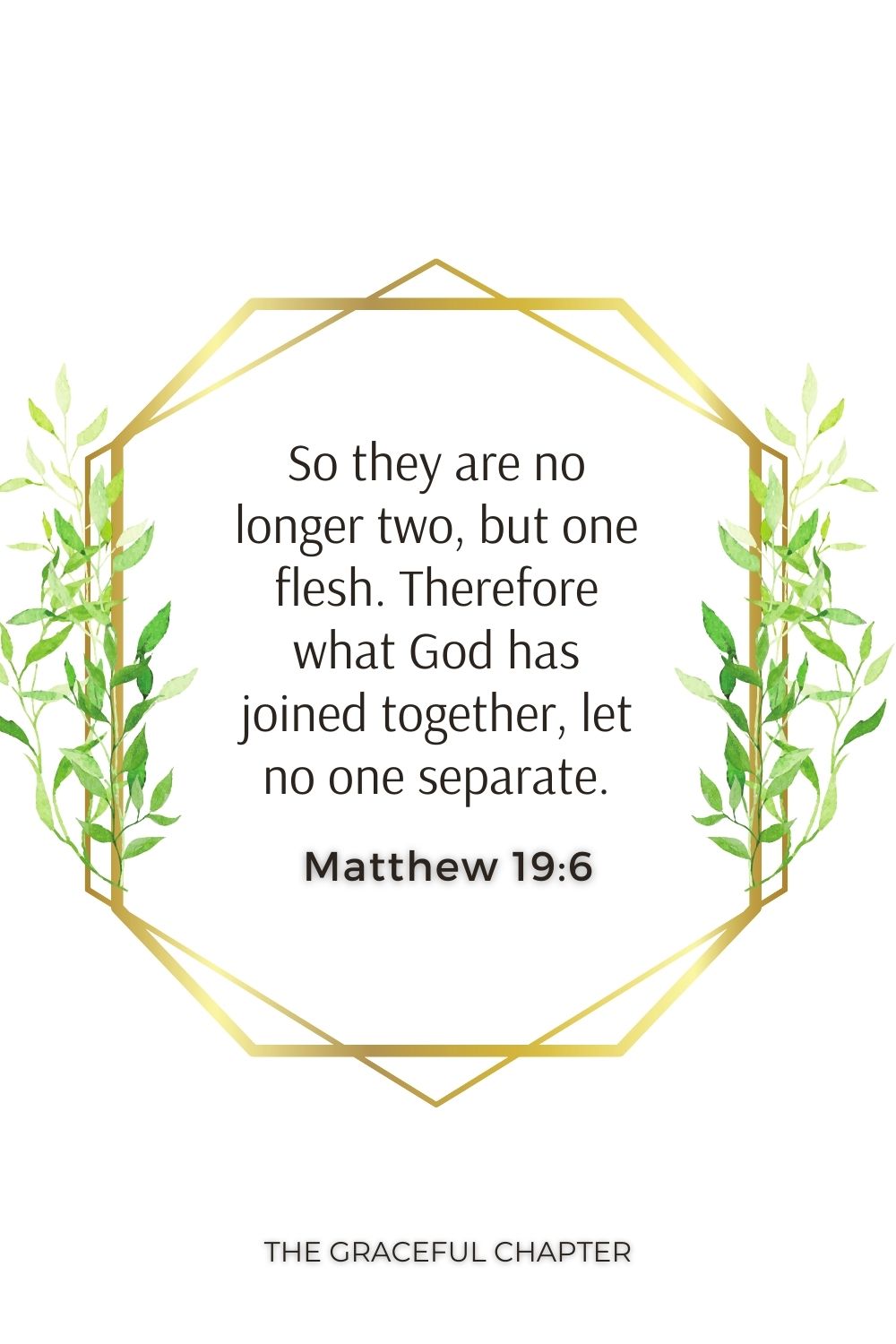 Matthew 19:6
So they are no longer two, but one flesh. Therefore what God has joined together, let no one separate.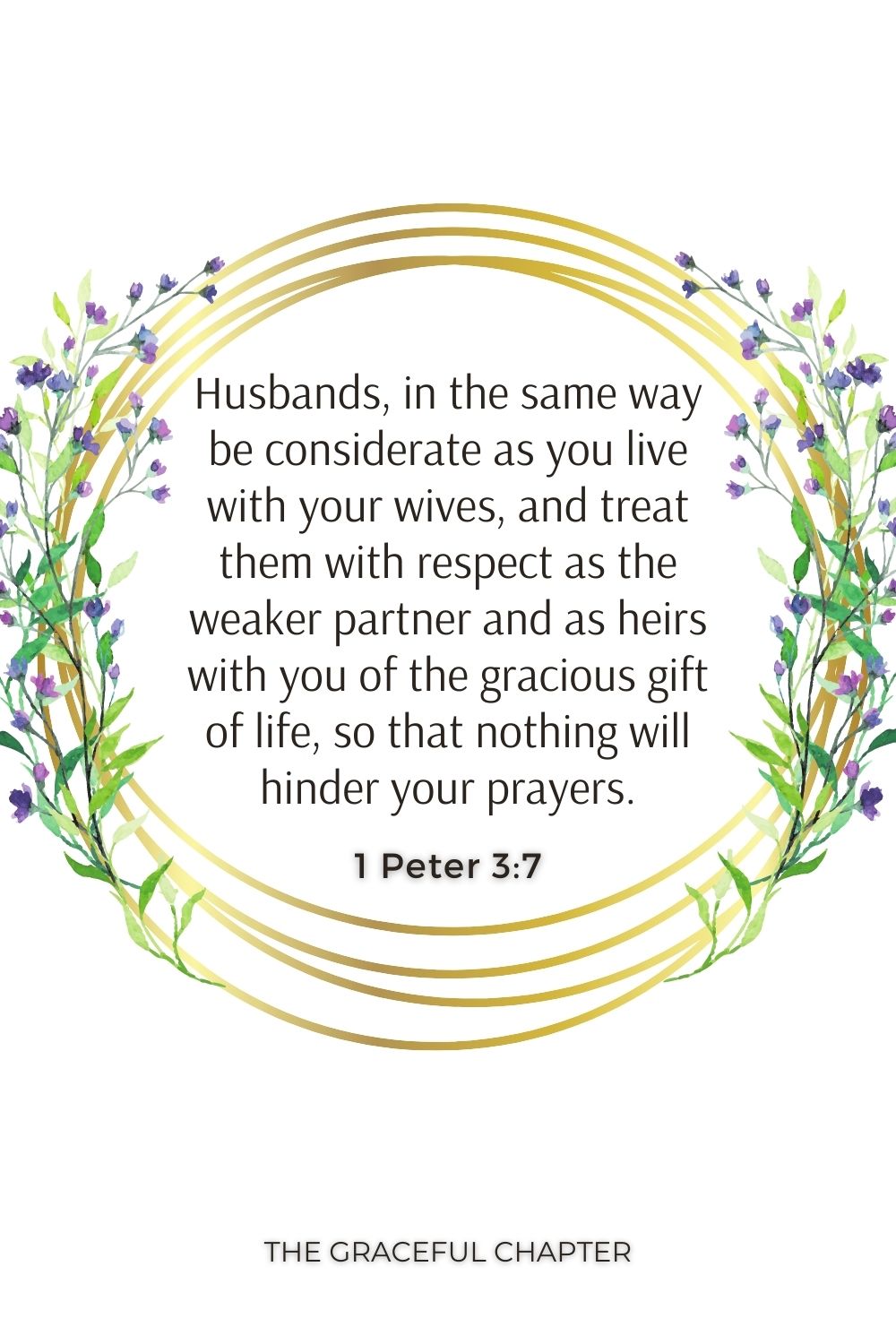 1 Peter 3:7
Husbands, in the same way be considerate as you live with your wives, and treat them with respect as the weaker partner and as heirs with you of the gracious gift of life, so that nothing will hinder your prayers.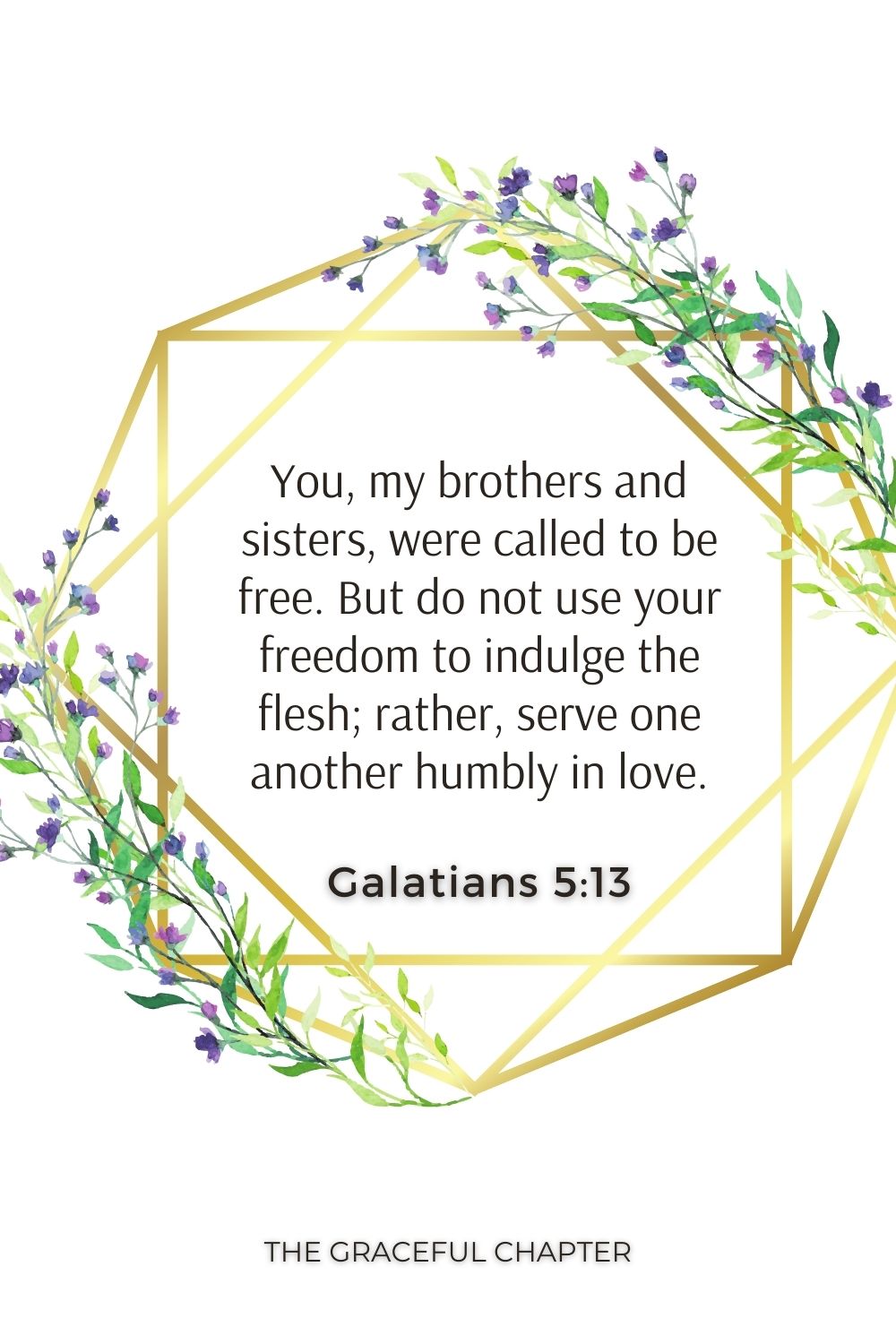 Galatians 5:13
You, my brothers and sisters, were called to be free. But do not use your freedom to indulge the flesh; rather, serve one another humbly in love.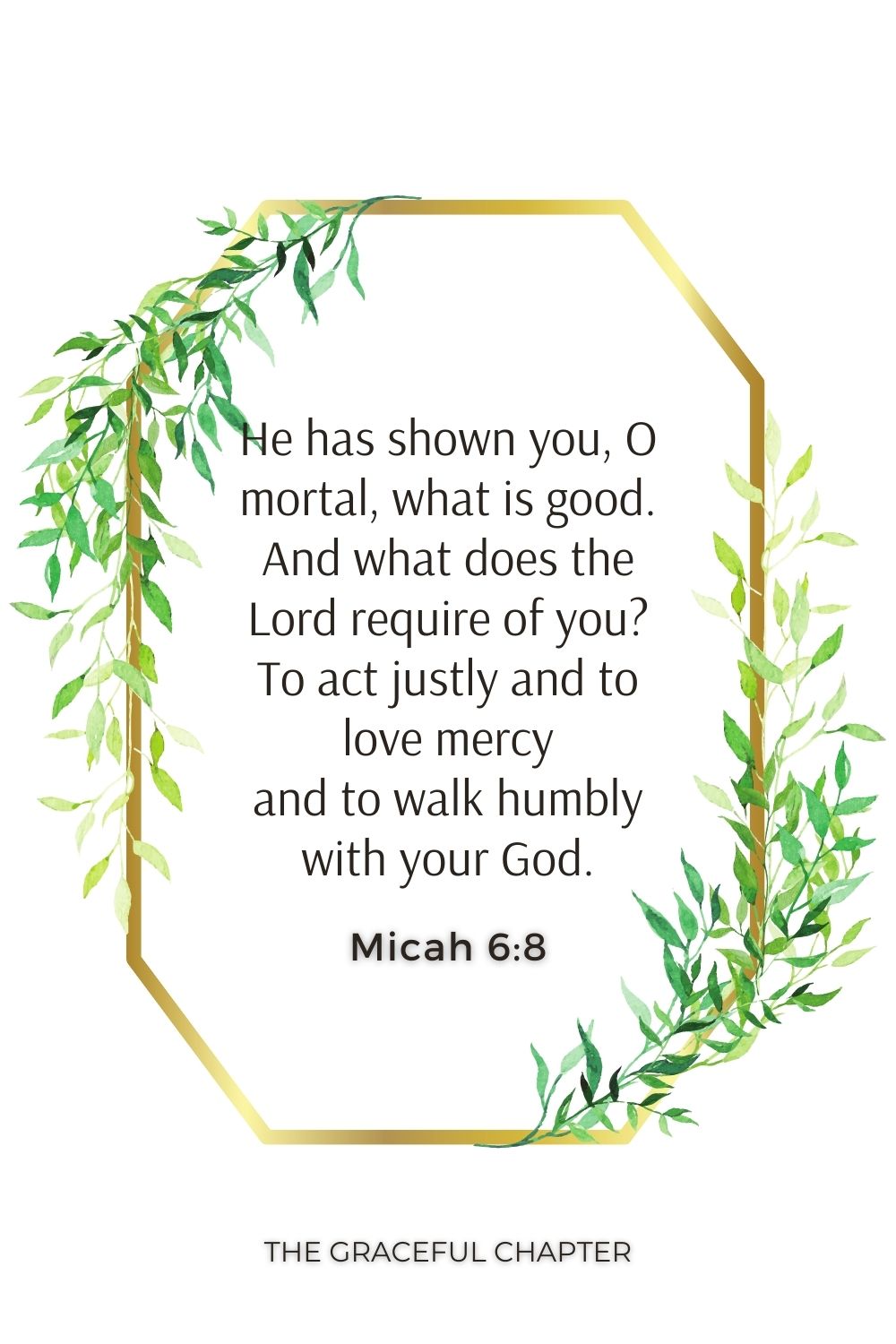 Micah 6:8
He has shown you, O mortal, what is good.
And what does the Lord require of you?
To act justly and to love mercy
and to walk humbly with your God.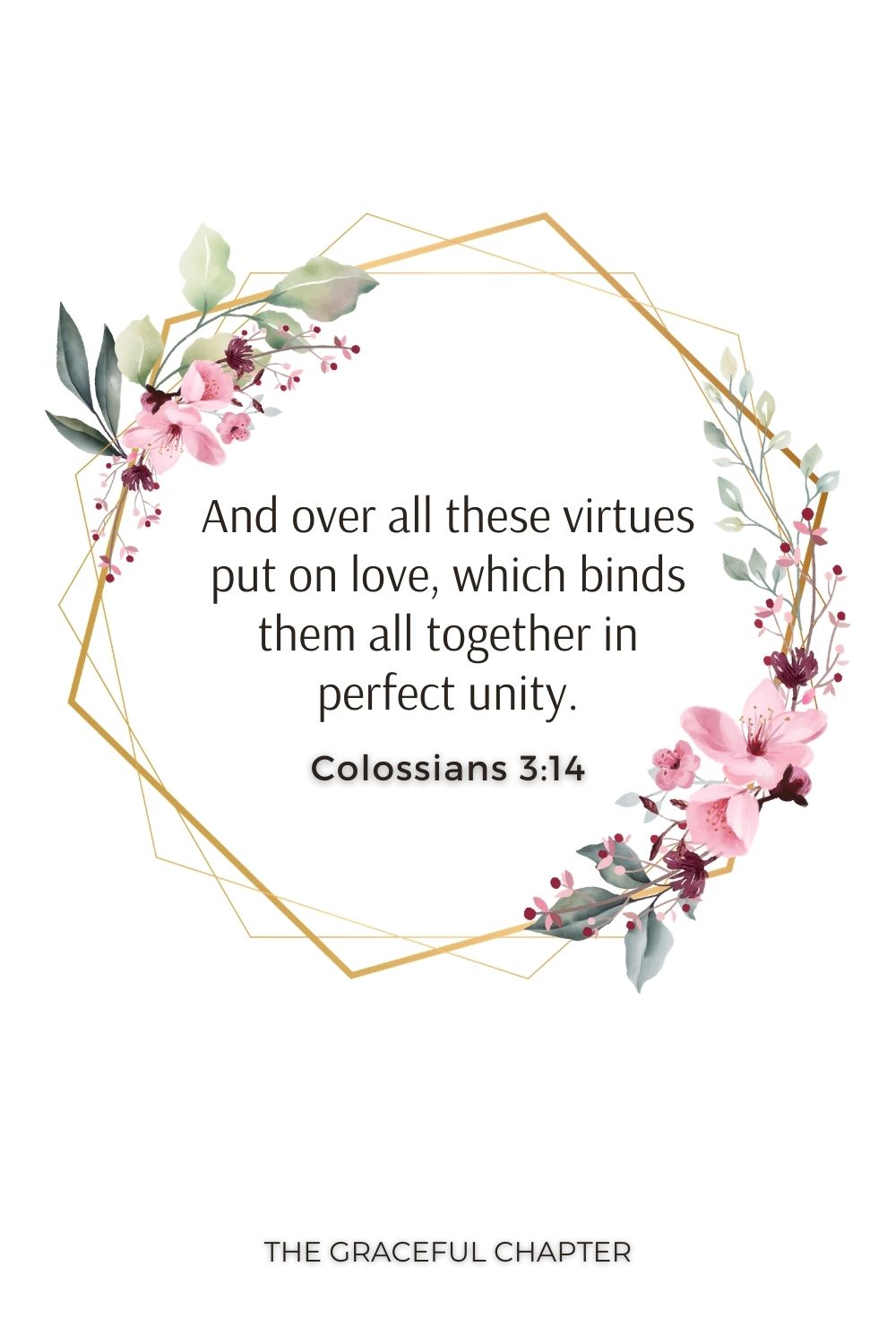 Colossians 3:14
And over all these virtues put on love, which binds them all together in perfect unity.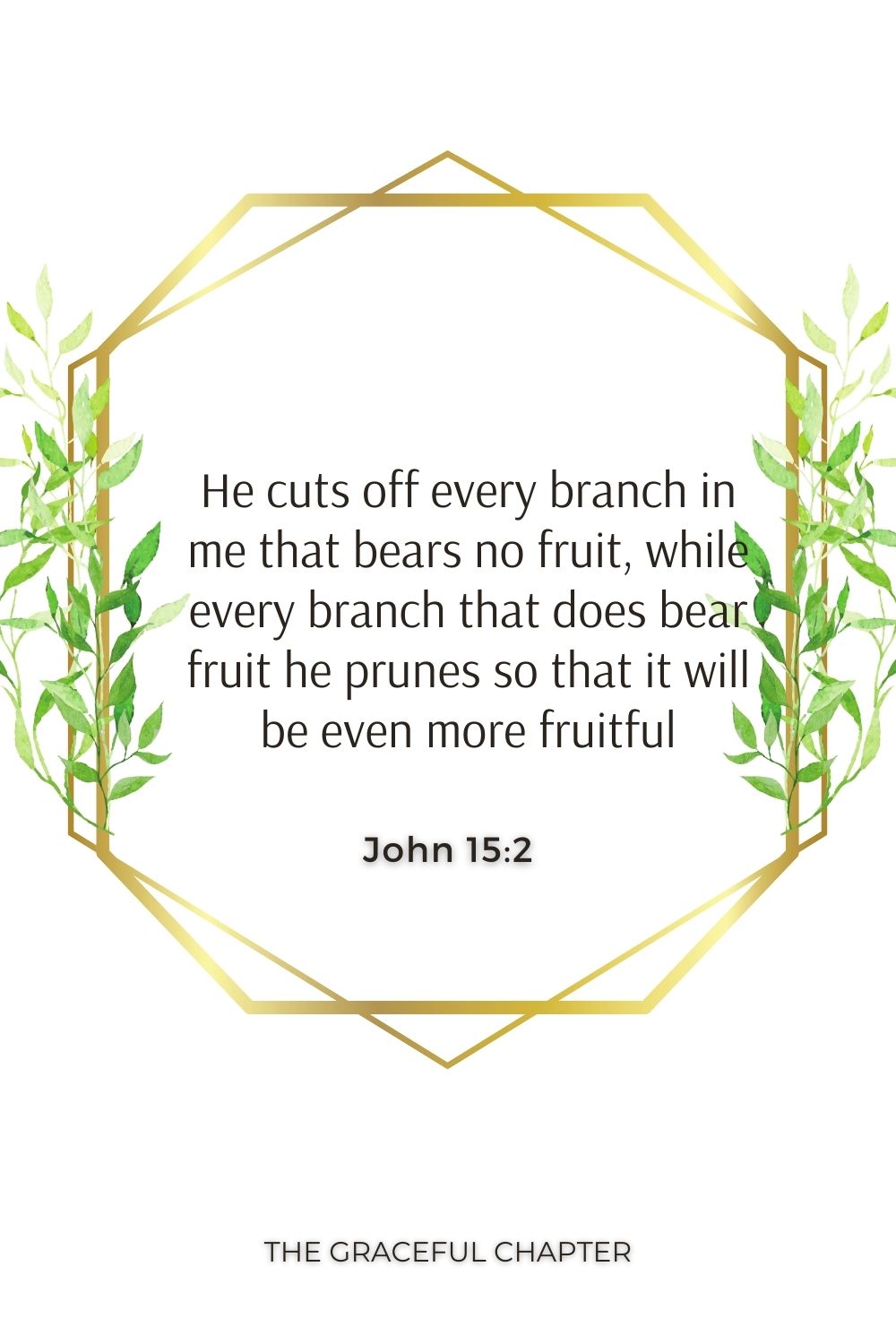 John 15:2
He cuts off every branch in me that bears no fruit, while every branch that does bear fruit he prunes so that it will be even more fruitful.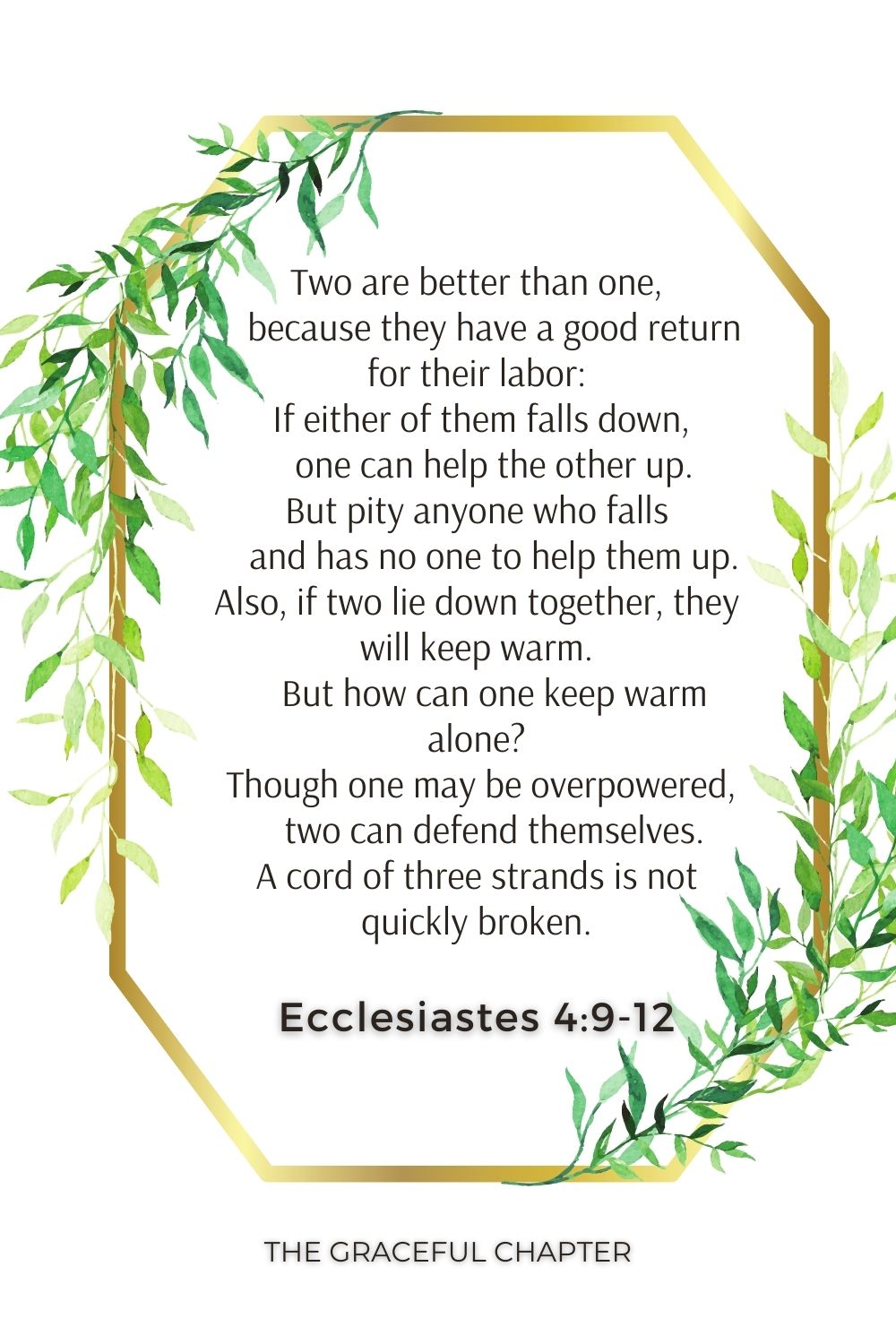 Ecclesiastes 4:9-12
Two are better than one because they have a good return for their labor: If either of them falls down, one can help the other up. But pity anyone who falls and has no one to help them up. Also, if two lie down together, they will keep warm. But how can one keep warm alone? Though one may be overpowered, two can defend themselves. A cord of three strands is not quickly broken.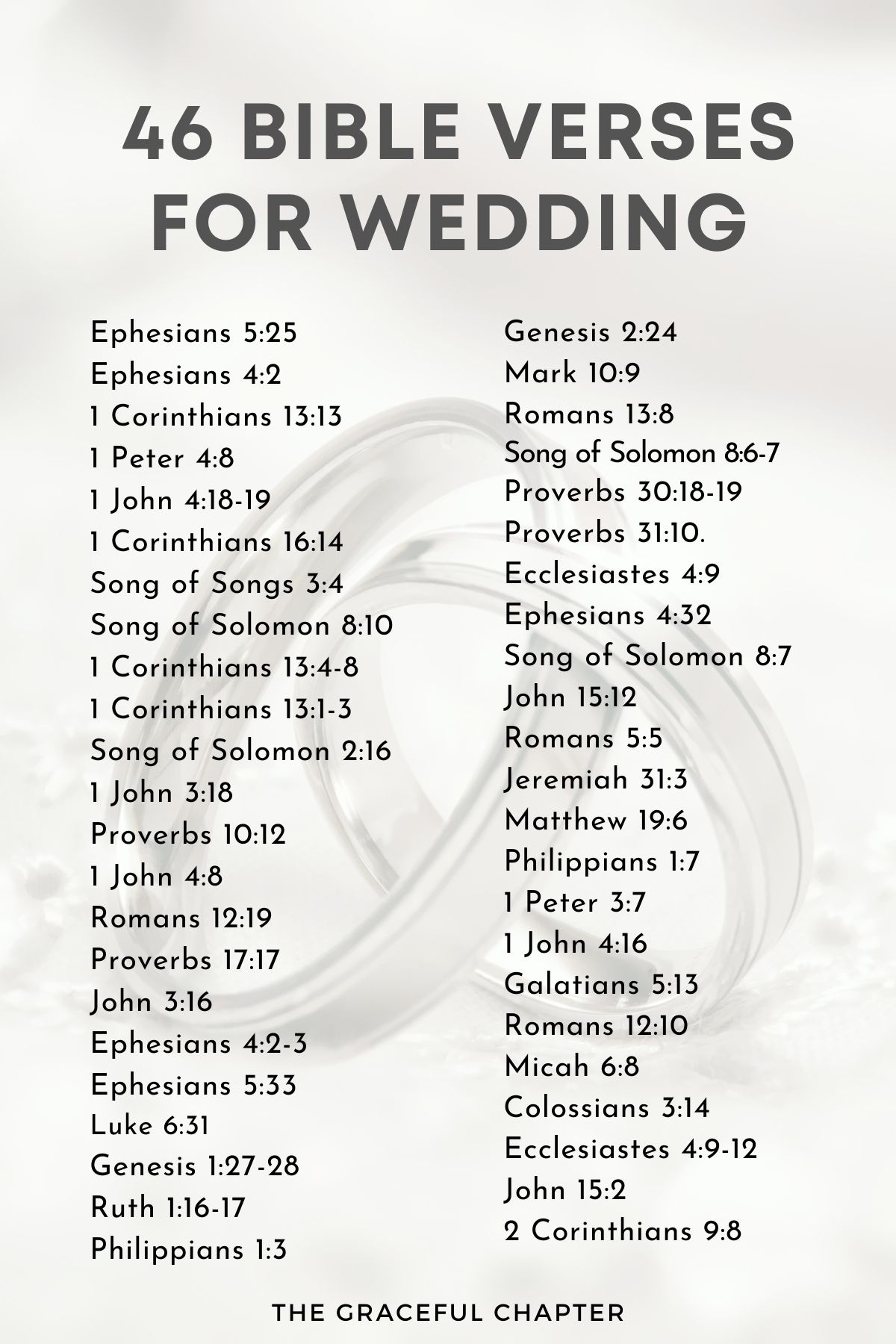 Prayer for your wedding day
Heavenly Father,
Thank you for this beautiful day
Thank you for the life you've given to us
As we embark on this marriage adventure,
Fill us with love and understanding for each other
Help us to make room for the emotional, mental, and spiritual growth of each other
Protect us from ill health and misfortunes
Teach us self control and help us to overcome temptations
Show us how to patiently care for each other.
Teach us to lean on you alone and hold on to our faith in you
Teach us to forgive and trust each other
Help us to live together in peace for the rest of our lives
Amen