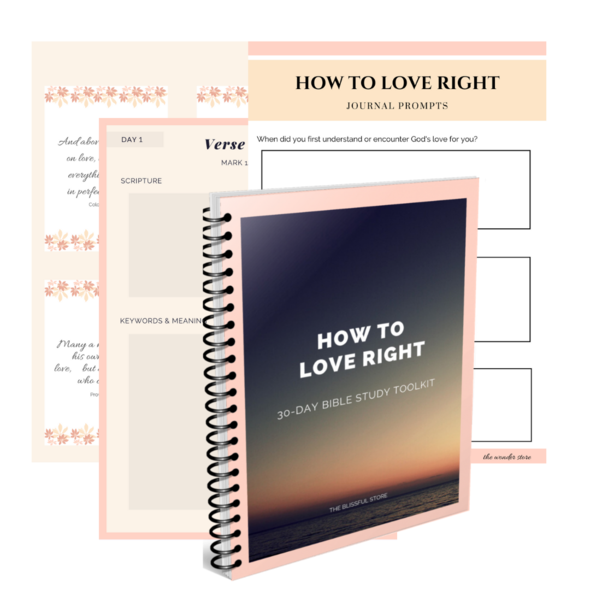 We can all agree that love is something special and beautiful and life would be a lot better if we all genuinely loved each other.
This How to love right Bible study toolkit is meant to;
Help you understand the importance of love
Teach you to understand and accept God's love
Learn to love yourself
Teach you how to love others
This 74 page Bible study toolkit contains;
A 30 Day Bible Reading Plan
Verse study sheets to help you gain a better understanding of the verses
Bible study journal with enough space to write down your thoughts on the scripture and how you can apply it in your life.
30 Printable Scripture cards to keep handy for when you need to remind yourself of God's love and how to love right.
A printable prayer on loving and accepting others to serve as a guide when praying.
Related Posts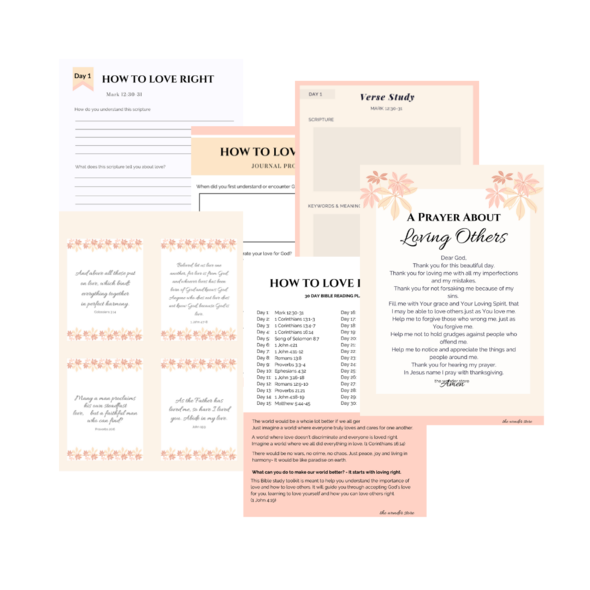 How To Use This Bible Study Plan For Maximum Impact
This Bible study toolkit includes;
Bible reading plan
Verse study sheets
Bible study journal
Scripture cards
A prayer
How To Use The Verse Study Sheet
Read the verse carefully and write it down
Write down the keywords that stand out to you and what they mean to you.
Note the concept of the verse (Is it a promise, advice, or encouragement).
In order to better understand the verse, it is important to read the verses before and after it.
If you don't understand the scripture, try reading other Bible versions and translations. (NKJV, GNB, ESV, KJV, NIV, etc)
How To Use The Bible Study Journal
Read the scripture again carefully. After reflecting and meditating on the verse, write it down as you understand it. (In your own words).
Write down what the scripture is trying to tell you about love.
Write down the important steps you need to take in your life right now to apply the scripture in your life.
Write down your prayer request.
Say your prayer to God so that you are able to apply the scripture you read in your life, this will help you to accept God's love, learn to love yourself and others.
How to use the scripture cards
Print out the scripture cards and cut them out to keep them handy, (it will be best if laminated)
You can keep them in your purse or wallet or stick them where you will see every day.
This will remind you of what the Bible says about love and how to love right.