1 Corinthians 7:34 'An unmarried woman or virgin is concerned about the Lord's affairs; Her aim is to be devoted to the Lord in both body and spirit…' A single Christian is an asset to the Lord. When you are single it is very easy to be devoted to the things of God because you are not distracted by commitments to your body or your human partner.
That is not to say that being married displeases God. Marriage is a spiritual union between two people witnessed by family and endorsed by God. If anyone wishes to be married they must first love themselves. God wants us to be happy and enjoy the things he made for us. If we choose to marry, we must respect his laws and abide by his teachings at all times.
Prayers for singles are meant to draw them closer to their God so he can teach them their purpose and help them fulfill their dreams and goals for the future.
Being single is not a crime. However, it does not also mean that you get to do what you want with your life or your body. It is the time when you are presented with so many paths in front of you. When you are not committed to anyone, it is time to carefully look into your own self and determine what you want to do with your life.
It is a time of self-evaluation and acceptance. Knowing who you are is an important prerequisite to choosing the right relationships. God created each of us differently. Our sensitivities and sensibilities determine who we are as humans and it should determine who we chose to be close with.
Ask God to show you the way to true happiness. A lot of people have tried to be happy with the wrong partners and have failed miserably. Choosing a life partner is a very important decision. Remember that a life partner to commit to can be anything. It can be a spouse and a family, a job or a business, or simply nothing. Ask God to help you decide on your future based on who you are.
Prayers for Singles
Prayer for Single Parents
Heavenly Father
I pray to you to ask for strength
I am raising these kids by myself but I know you are always with me
It has not been easy for me, doing this alone
I ask for your guidance in raising these children
Be my partner and my companion
Bless my work and help me pay for their expenses
Help me raise them in your name and with your word
When I feel overwhelmed and tired, help me stay strong for them
Do not allow me to be a laughing stock
Let me pull through this with them
Let them grow up with strong values and morals
Let them make me proud in Jesus name
Amen
Prayer for Single Women
Dear Lord
Thank you for my life today
I commit my future to your hands
I have met a lot of people who seek my commitment
I know that only you have the answers
and only you know what is right for me
I do not want to live a wayward life
I want to please you in every decision I make
Please help me make the right choice for me and my future
Let me not settle for anything out of desperation
Help me keep company that will enrich my life in a spiritual, emotional, and physical way
Let whoever I choose to commit to, be able to help me reach my full potential
Prepare me as a sanctuary for you
keep me pure in heart and help me commit my life to do the right thing
If I am to marry, give me a husband you have prepared for me and me alone
Help me raise my family in you
Bless my unborn children
Bless my future in Jesus name
Amen
Prayer for Single Men
Heavenly Father
Thank you for my life today
I pray for my future and I ask for your guidance
I have lived my life by myself up until now
It's time for me to make some big decisions
Please come and give me direction
Let your spirit lead me to get the right person in my life
I don't want to make mistakes I will regret the rest of my life
Do not let me use physical appearances to make my choices
I am only human and I will choose wrongly
Be my adviser and my friend
Help me start good relationships
Let the company I commit to, be one that will enrich my life and not take from it
If I am to marry give me a woman you have prepared for me and me alone
Help me raise my family in you
Please secure my future in Jesus' name
Amen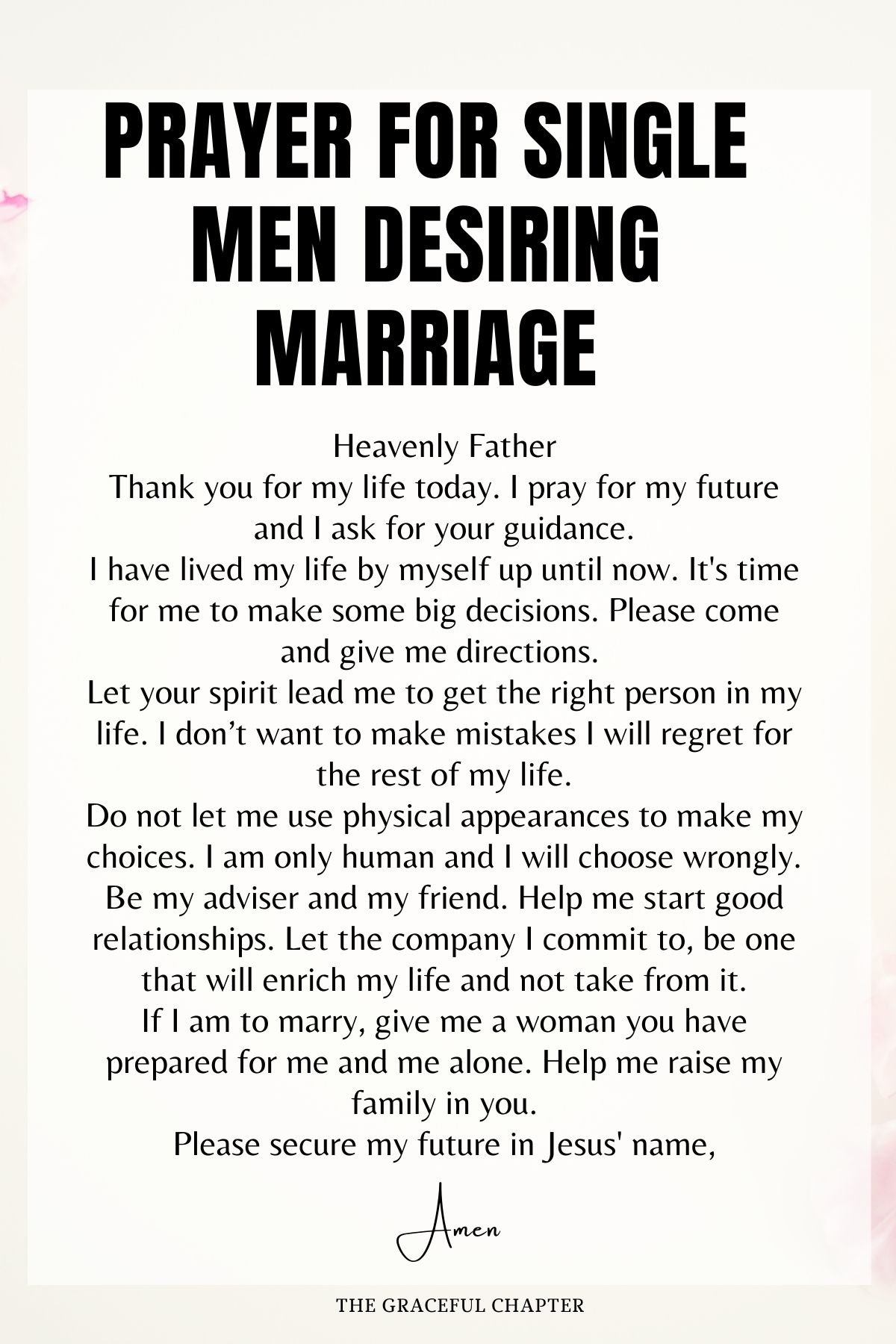 Related Posts
Prayer for Unemployed Singles
Father Lord
I ask you for a favor in my life today
I have reached a point where I am expected to be at a certain level in my life
I have been out of school for a while now but I still have not found a job
I have plans to be married and raise a family in the future
My unemployment Is really hindering me from my future plans
Please open doors for me today
I pray that you send me a breakthrough
Help me find employment
Help me build my own business so I can achieve my goals and dreams
I am often looked down on in my family because I am unemployed and single
Please reveal the value in me to the world
Let my gifts and talents be made bare
Help me fulfill my potential in Jesus name
Amen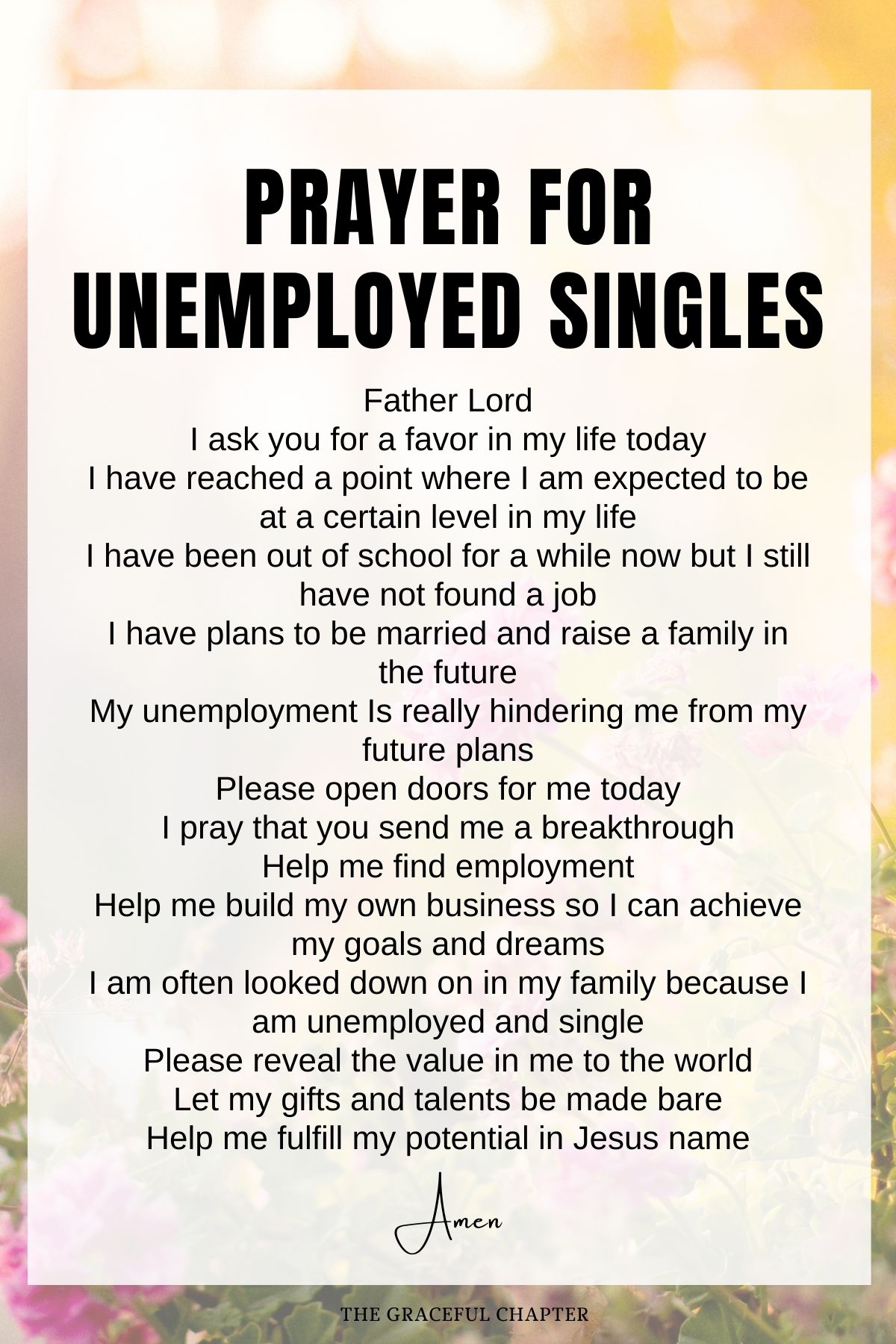 Prayer for Employed Singles
Dear Lord,
I bless your holy name for my life at the moment
I have found a good job and my business could not be any better
It is now time for me to find a partner and build a family
I pray that you deliver the right person to me
Let me not rely on my own sensibilities in making this decision
Give me a sign that will show me the right choice to make
Grant me a partner who will bring joy and laughter into my life and my heart
Someone to share my joy and my sorrow with
Give me someone who will be a friend, a lover, and a companion at the same time
Grant me someone who will be a good example for my kids and nurture them gracefully
Help me see the right one when they come along
Help me make this decision in Jesus name
Amen
Prayer for Broken Hearted Singles
Father Lord in heaven
I pray to you today, asking you to heal my heart
I have been let down by the one I thought I would spend my life with
I have lost trust in people
I have a broken and untrusting heart now
I am bitter and not interested in giving anyone any chances
I have been hurt and bruised
It has affected me mentally
I pray that you restore me today
Restore my faith in people and let me put myself out there
Help me forgive and forget all the wrong that has been done to me
Help me move on with my life and take control
Bless me to love even better than I did in the past
Help me grow and learn from this so I don't get my heart and trust broken again
Bless me with strength and guidance
Heal me Lord, and make me strong again
Amen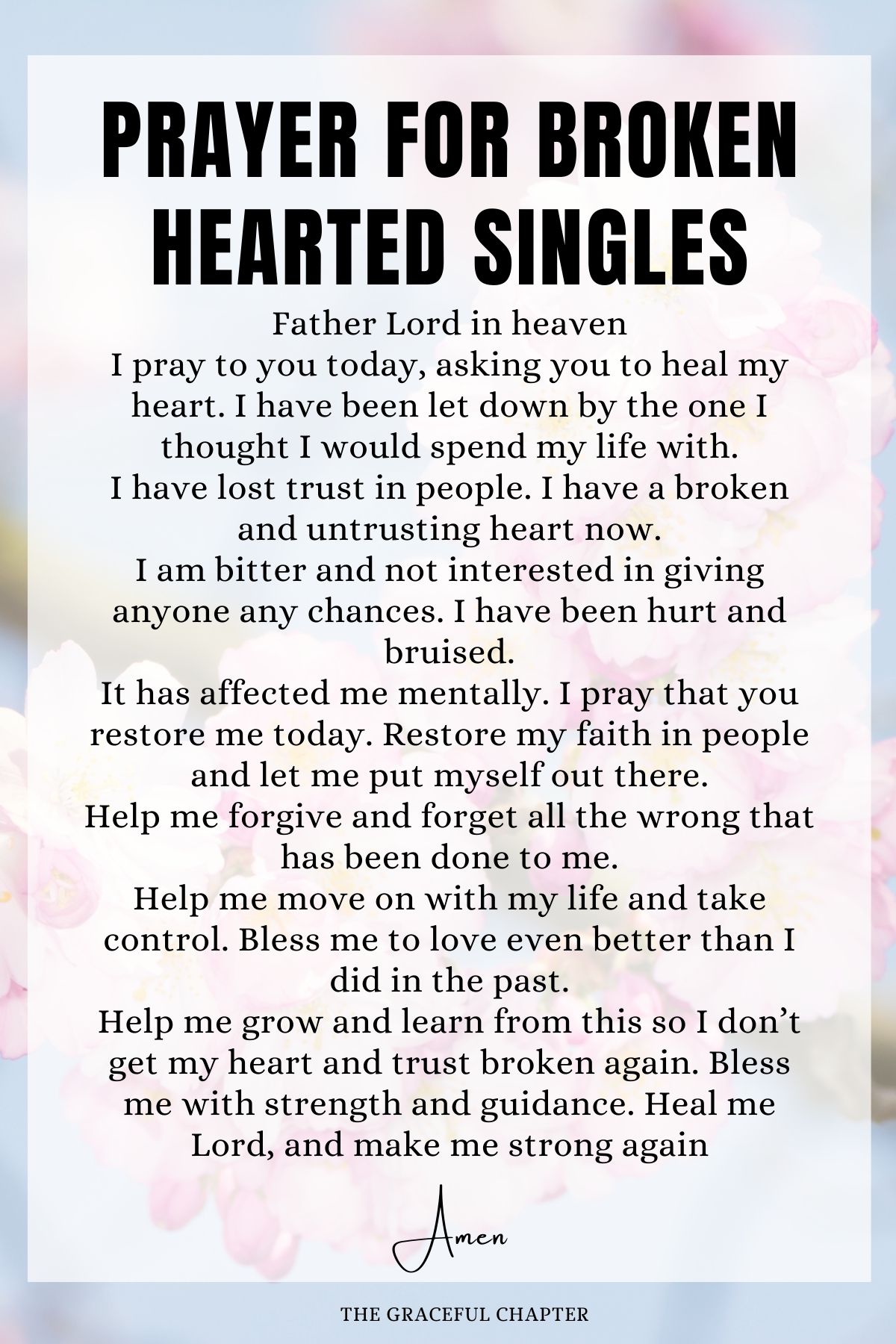 Prayer for Wealthy Singles
Dear Lord
You have blessed me with unending riches
I have everything that my heart desires that money can buy
You have given to me with both hands
I now need a partner to share this life with
Someone who will be with me for who I am and not what I have
Someone who will not deliver me to my enemies but protect me from evil
I need a partner who will be by my side no matter the consequences
Someone who loves me truly and will not hurt or steal from me
I need your guidance and direction
Help me make the right choice
Give me the wisdom to see the genuine from the fake
Help me see with open eyes
Protect me from any evil plan or spell from the devil
Give me a partner that you have prepared for me
Amen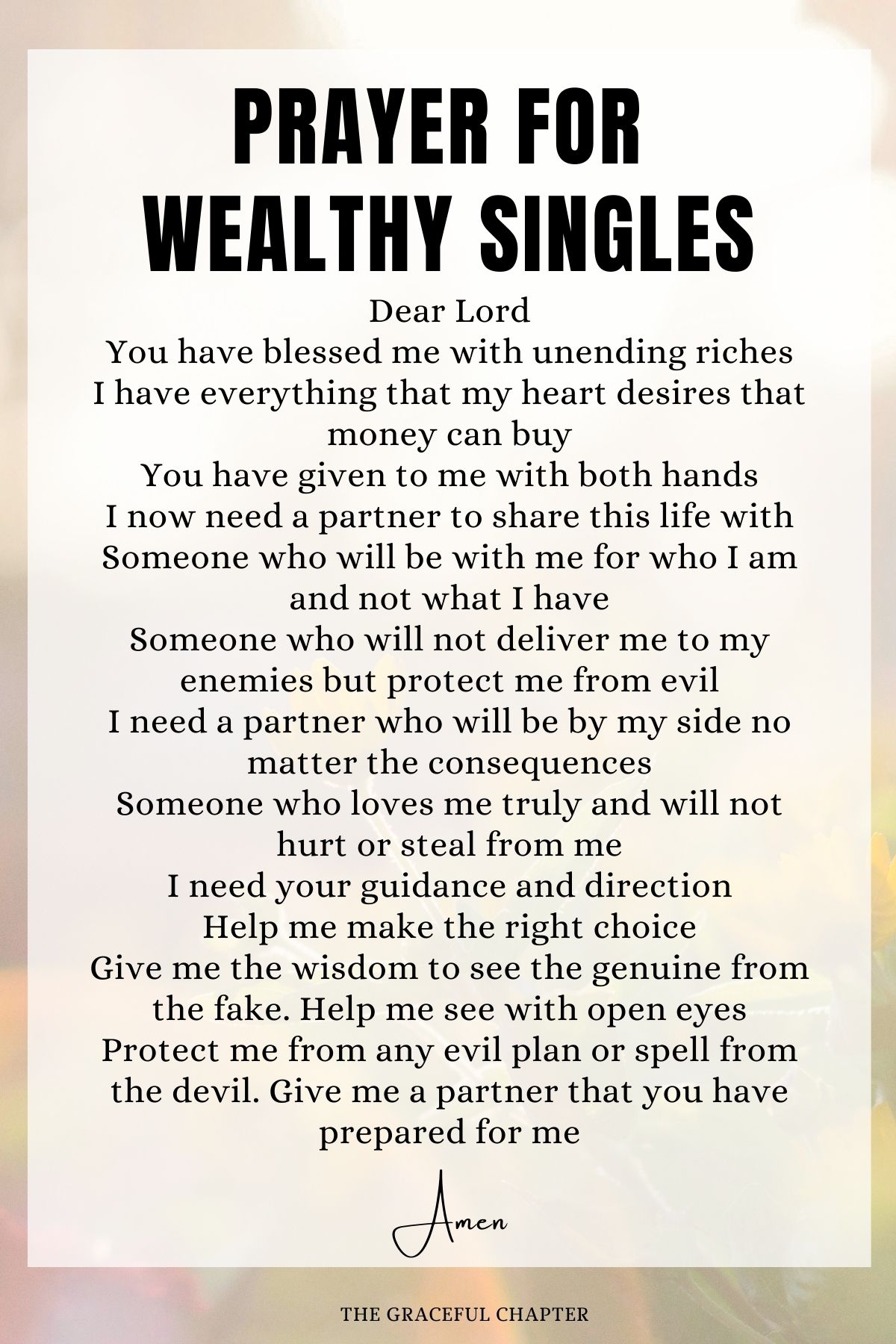 Prayer for Needy Singles
Dear Lord
I come to you today in dire need
My finances are a mess
I am on the brink of expulsion from my apartment
I am in massive debt
I pray that you come and help me
I have met people who want to be with me but I feel like they want to take advantage of my situation
I lack a lot of things and they try to use me because I need these things
Open doors for me, dear Lord, and grant me breakthroughs
Help me make something of myself so I can be self-reliant
I want to live to please you and not involve myself in anything wayward
Bless me with the strength to live for you despite this desperate time
Help me push through these times and be glorious in the end
Amen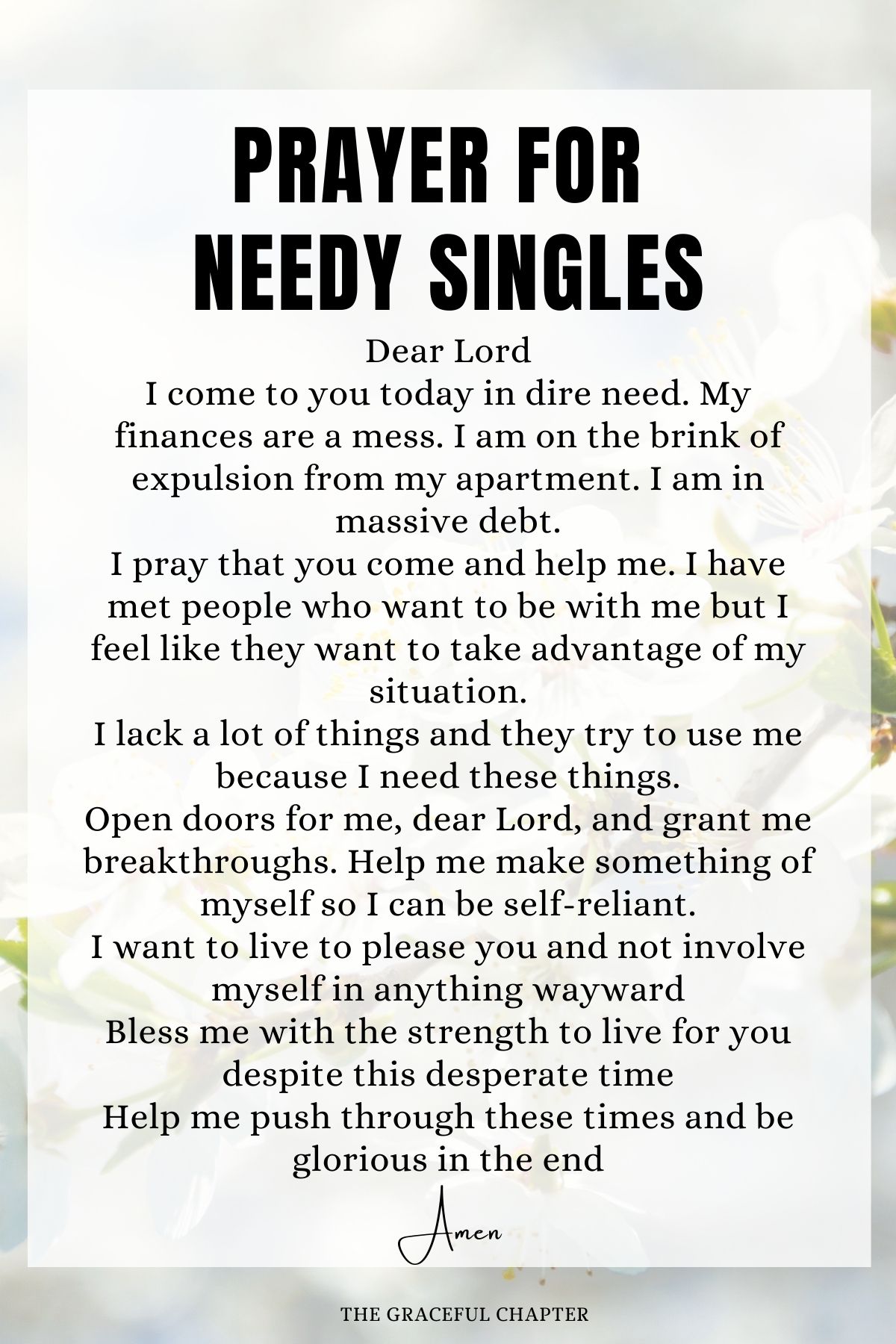 Being single is a choice for some people and should not be used as a way to attack them. The Lord loves all of us equally no matter our marital status. The devil however finds work for idle hands so we have to commit to God very well when we are not in a relationship with anyone. If you do want marriage then ask God to prepare you for the journey. A lifetime commitment takes strength and an unwavering spirit. Ask God to be your partner through it all.