Everyone wants to live a happy life, but how can you be happy when there's so much in your life or even in the world as a whole to make you sad.
The truth is, there's always going to be a reason to be sad, but the amazing thing is that there are also a lot more reasons to be happy. It all comes down to what you focus on.
So what fill your thoughts? What do you focus on? What thoughts run through your mind when you are alone? You don't have to go through life feeling sad and miserable all the time. You are deserving of happiness. So find a reason to be happy.
Find a reason to feel glad within, and when you have, share that happiness with someone by giving them a reason to smile too. Below are some bible verses about happiness that encourage us to be happy all the time.
May God have mercy on you and deliver you from whatever is making your heart heavy with sadness. May He fill your heart with peace, joy, love, and laughter, Amen.
Bible verses about happiness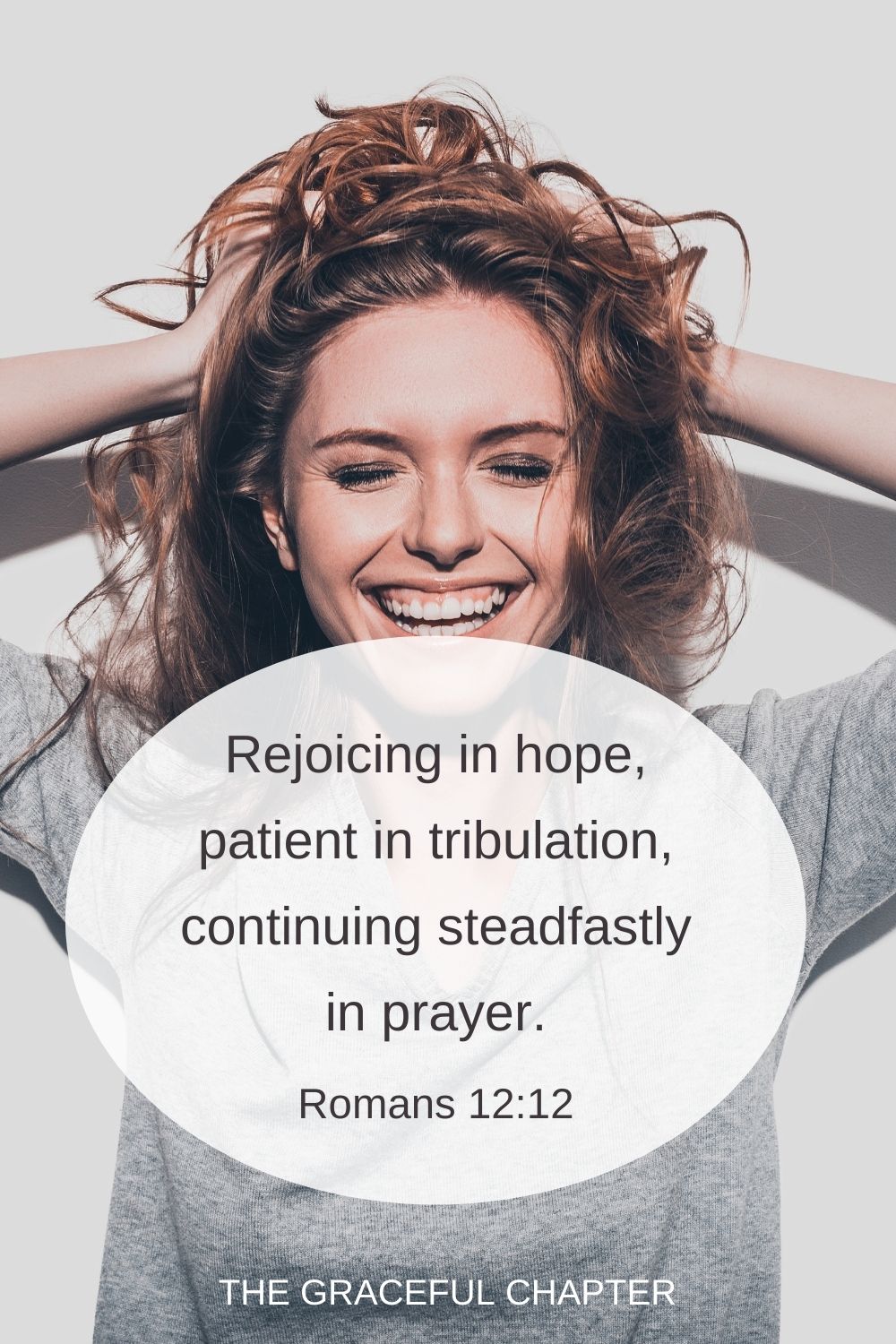 Romans 12:12
Rejoicing in hope, patient in tribulation, continuing steadfastly in prayer;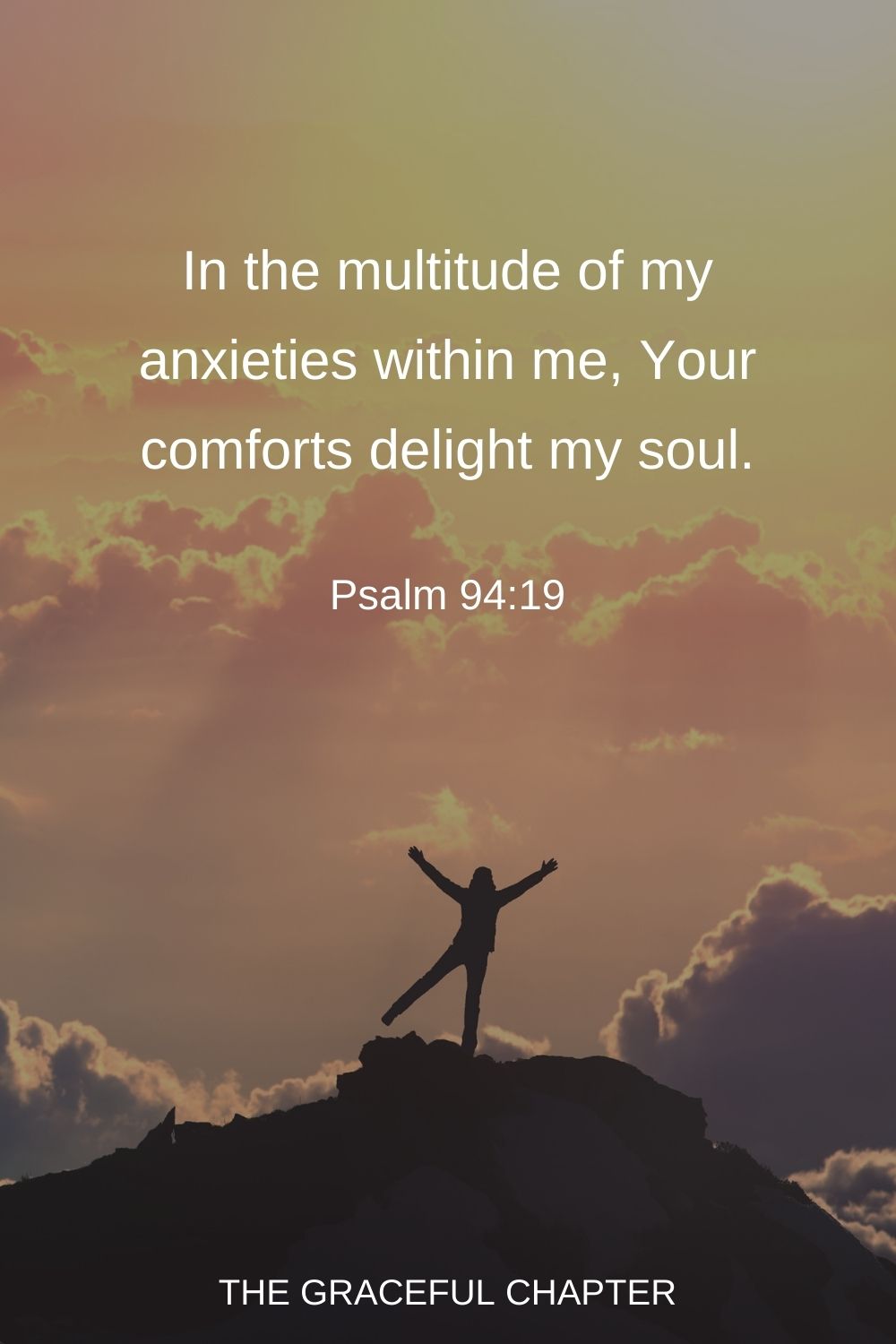 Psalm 94:19
In the multitude of my anxieties within me, Your comforts delight my soul.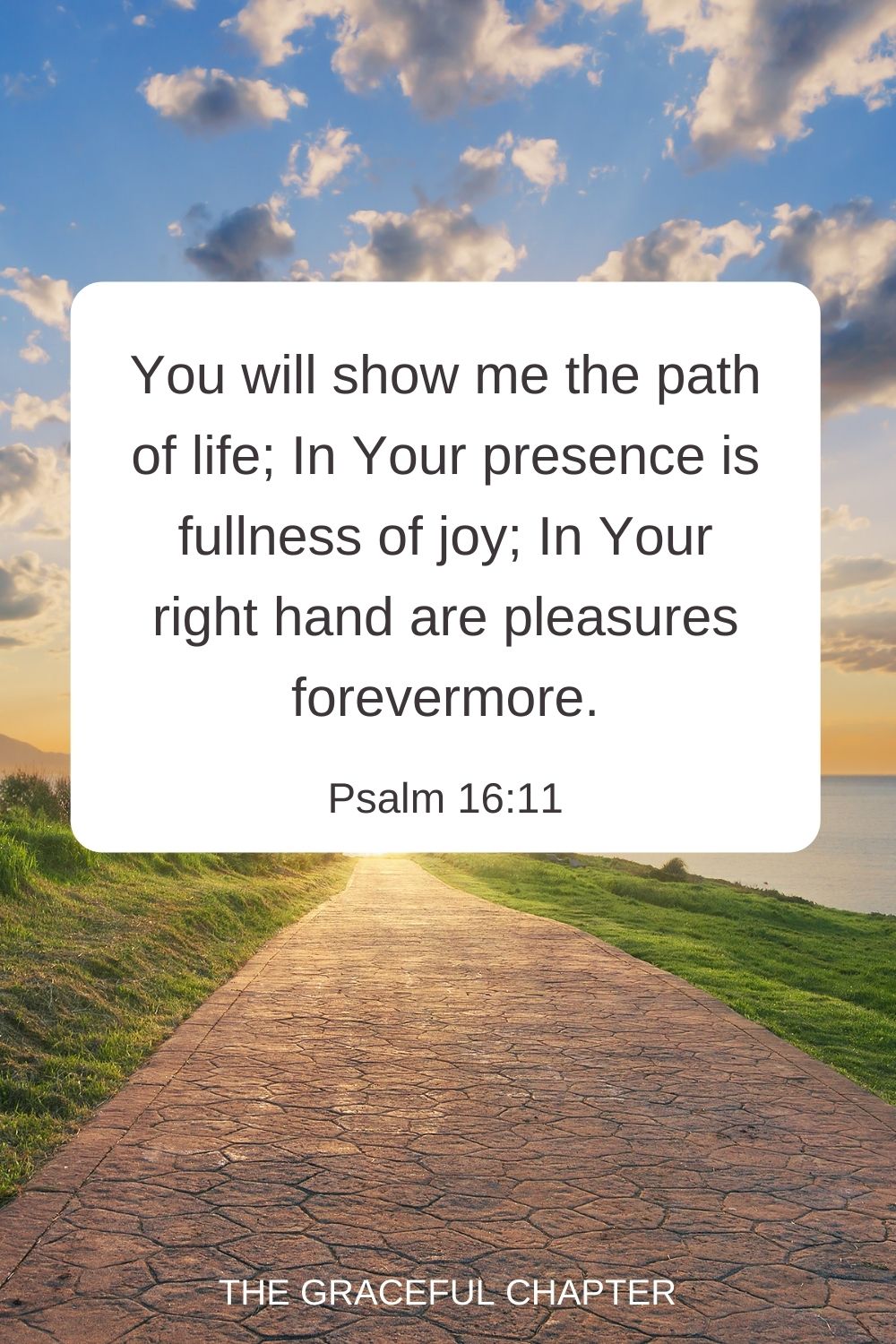 Psalm 16:11
You will show me the path of life; In Your presence is fullness of joy; In Your right hand are pleasures forevermore.

Philippians 4:4
Rejoice in the Lord always. Again I will say, rejoice!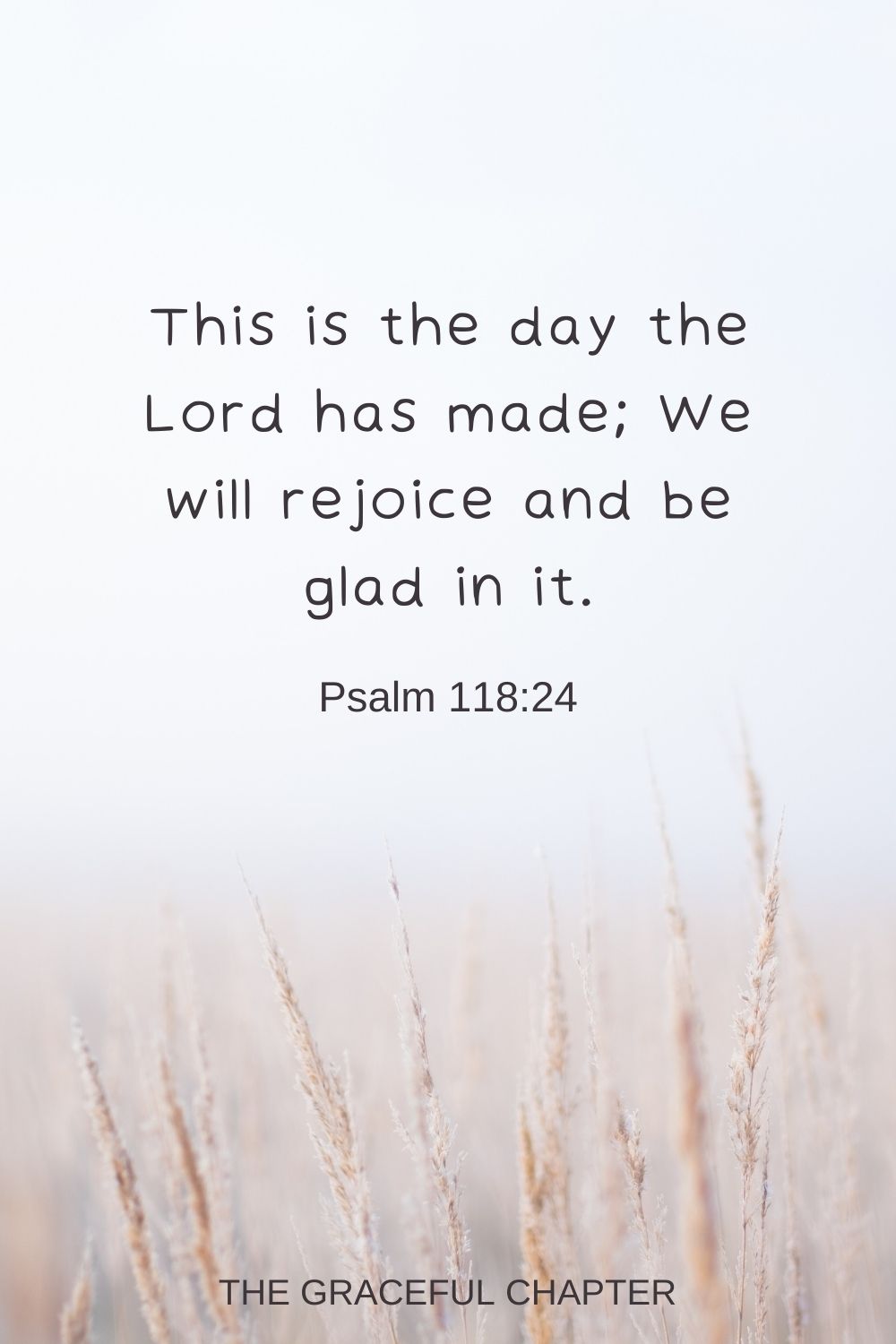 Psalm 118:2
This is the day the Lord has made; We will rejoice and be glad in it.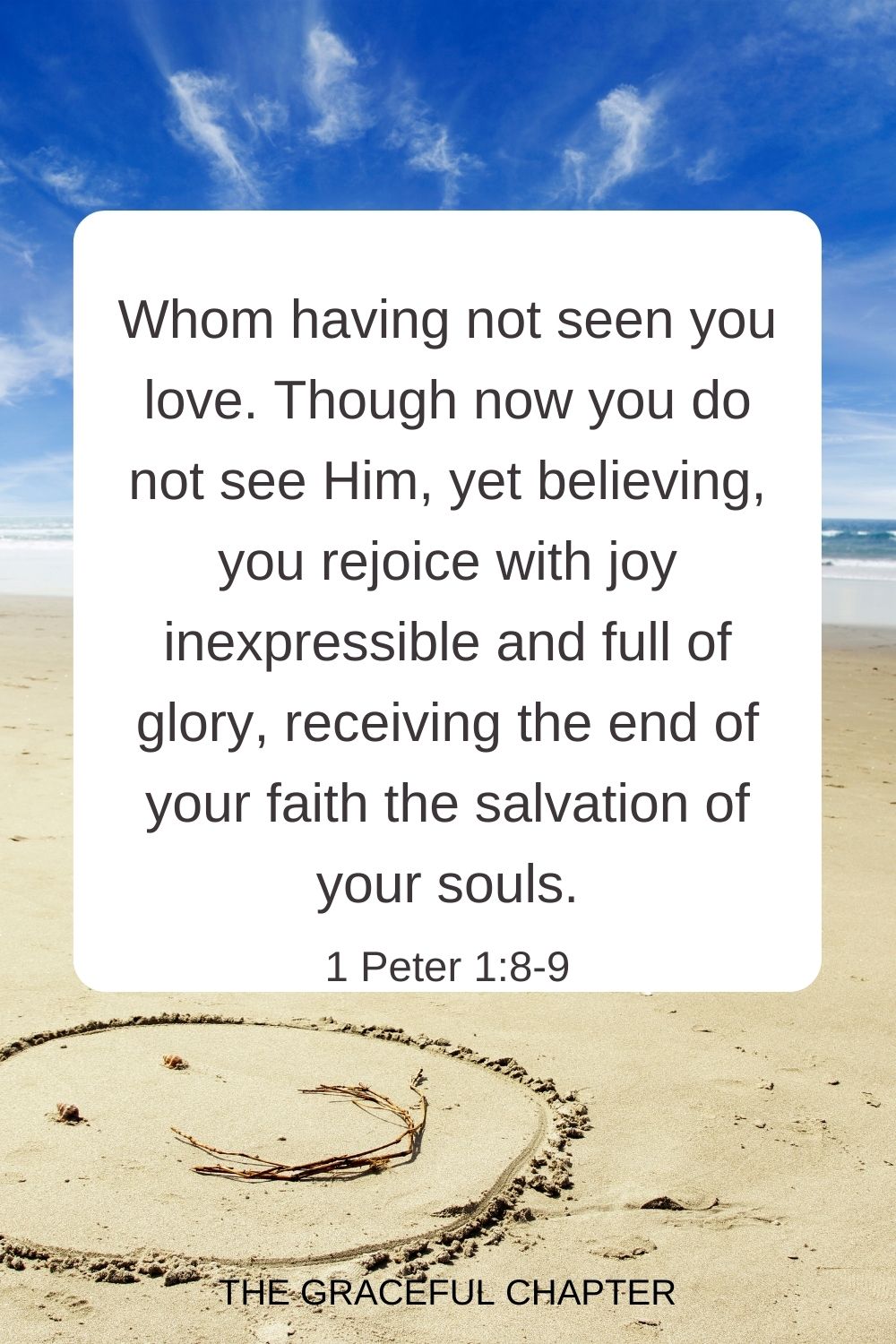 1 Peter 1:8-9
Whom having not seen you love. Though now you do not see Him, yet believing, you rejoice with joy inexpressible and full of glory, receiving the end of your faith the salvation of your souls.

Isaiah 61:10
I will greatly rejoice in the Lord, My soul shall be joyful in my God; For He has clothed me with the garments of salvation, He has covered me with the robe of righteousness, As a bridegroom decks himself with ornaments, And as a bride adorns herself with her jewels.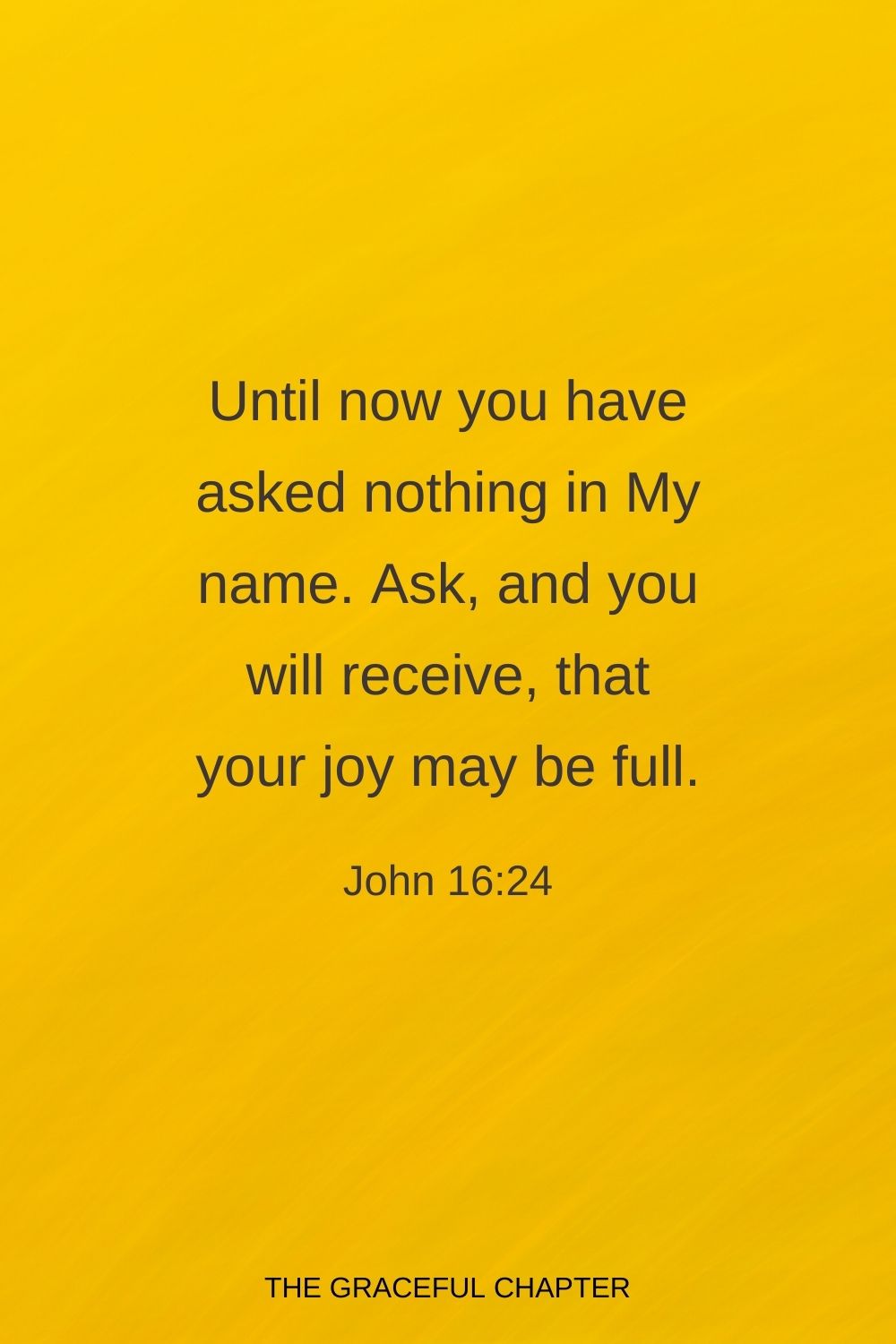 John 16:24
Until now you have asked nothing in My name. Ask, and you will receive, that your joy may be full.

Psalm 32:7
You are my hiding place; You shall preserve me from trouble; You shall surround me with songs of deliverance.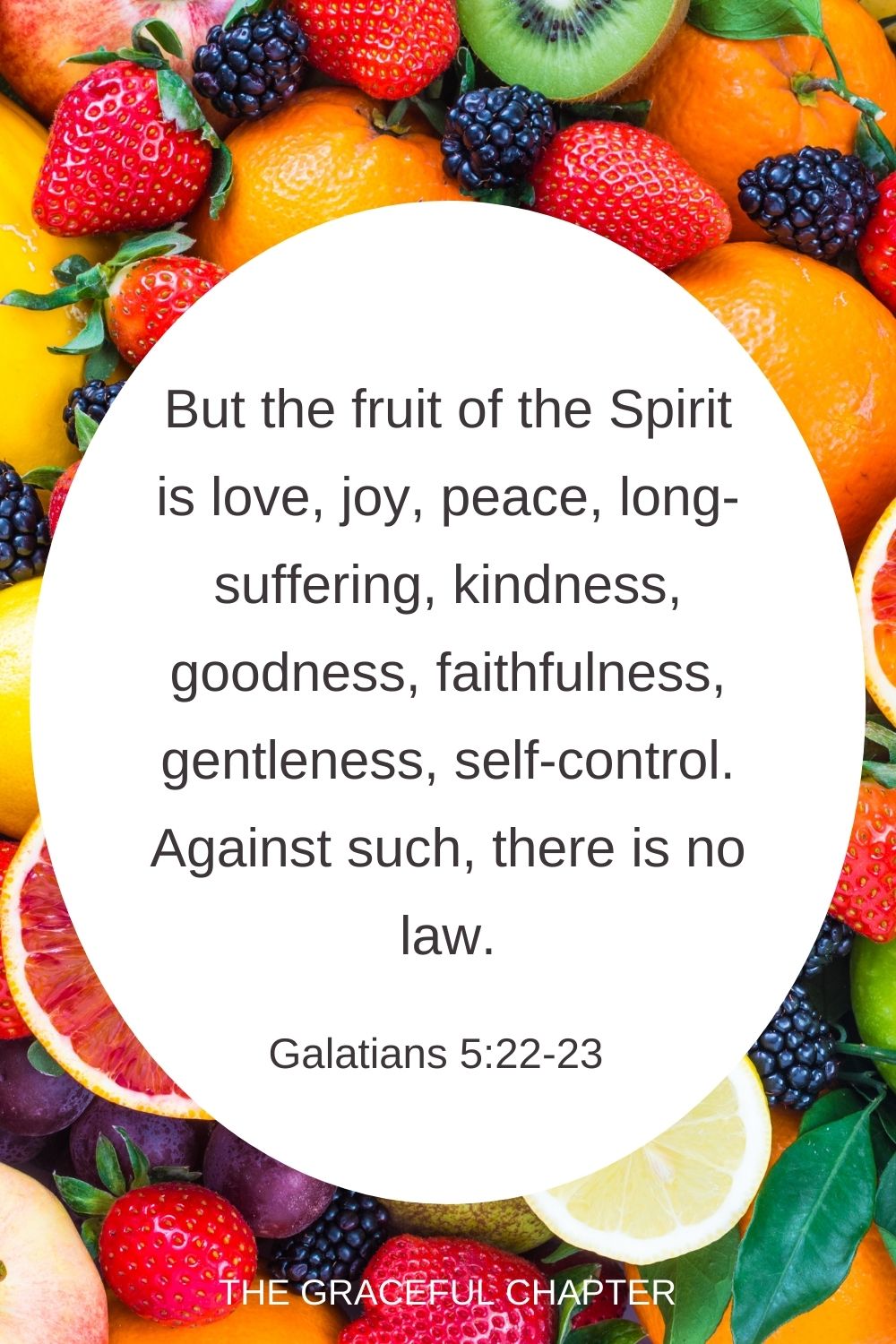 Galatians 5:22-23
But the fruit of the Spirit is love, joy, peace, long-suffering, kindness, goodness, faithfulness, gentleness, self-control. Against such, there is no law.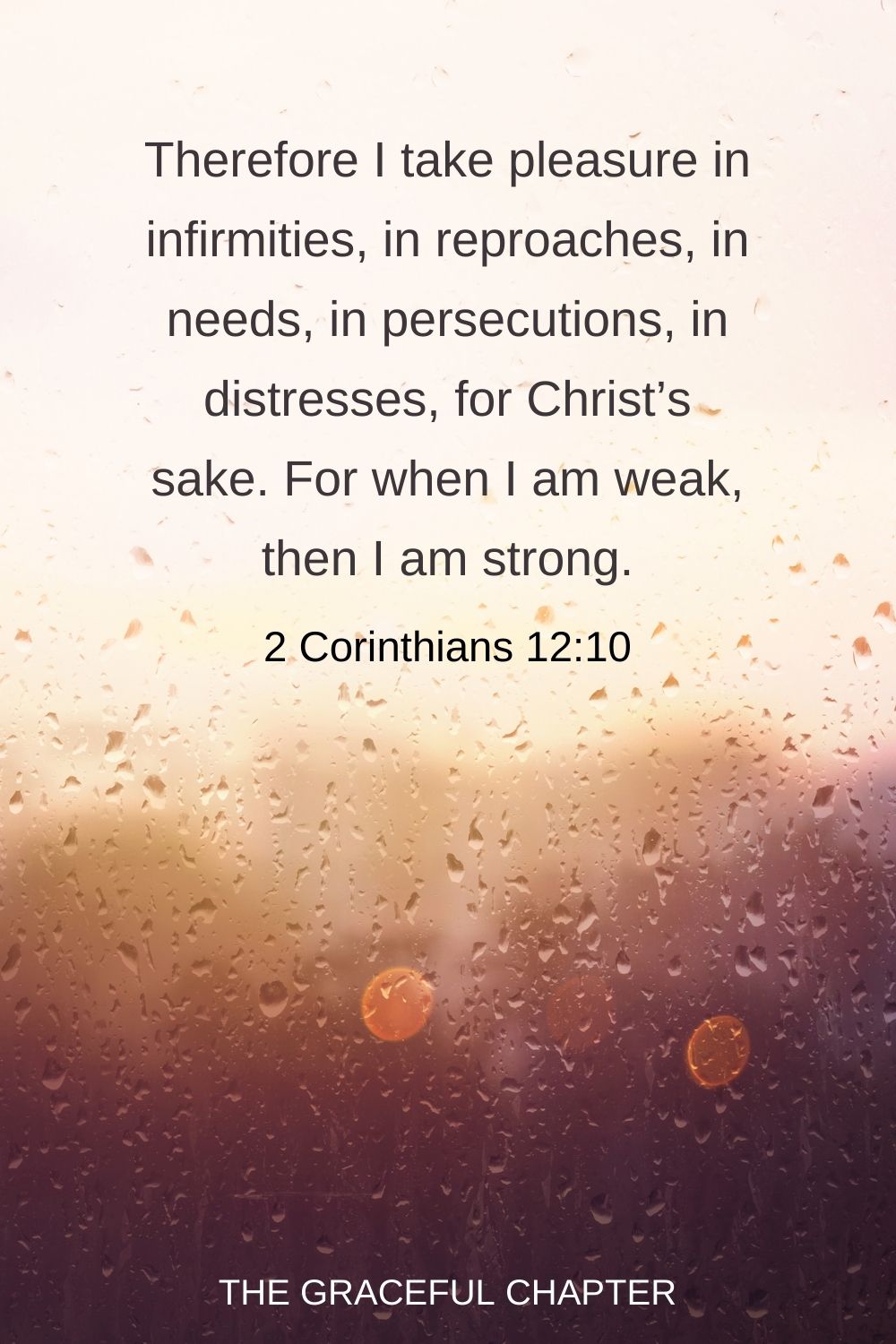 2 Corinthians 12:10
Therefore I take pleasure in infirmities, in reproaches, in needs, in persecutions, in distresses, for Christ's sake. For when I am weak, then I am strong.

Proverbs 15:23
A man has joy by the answer of his mouth,
And a word spoken in due season, how good it is!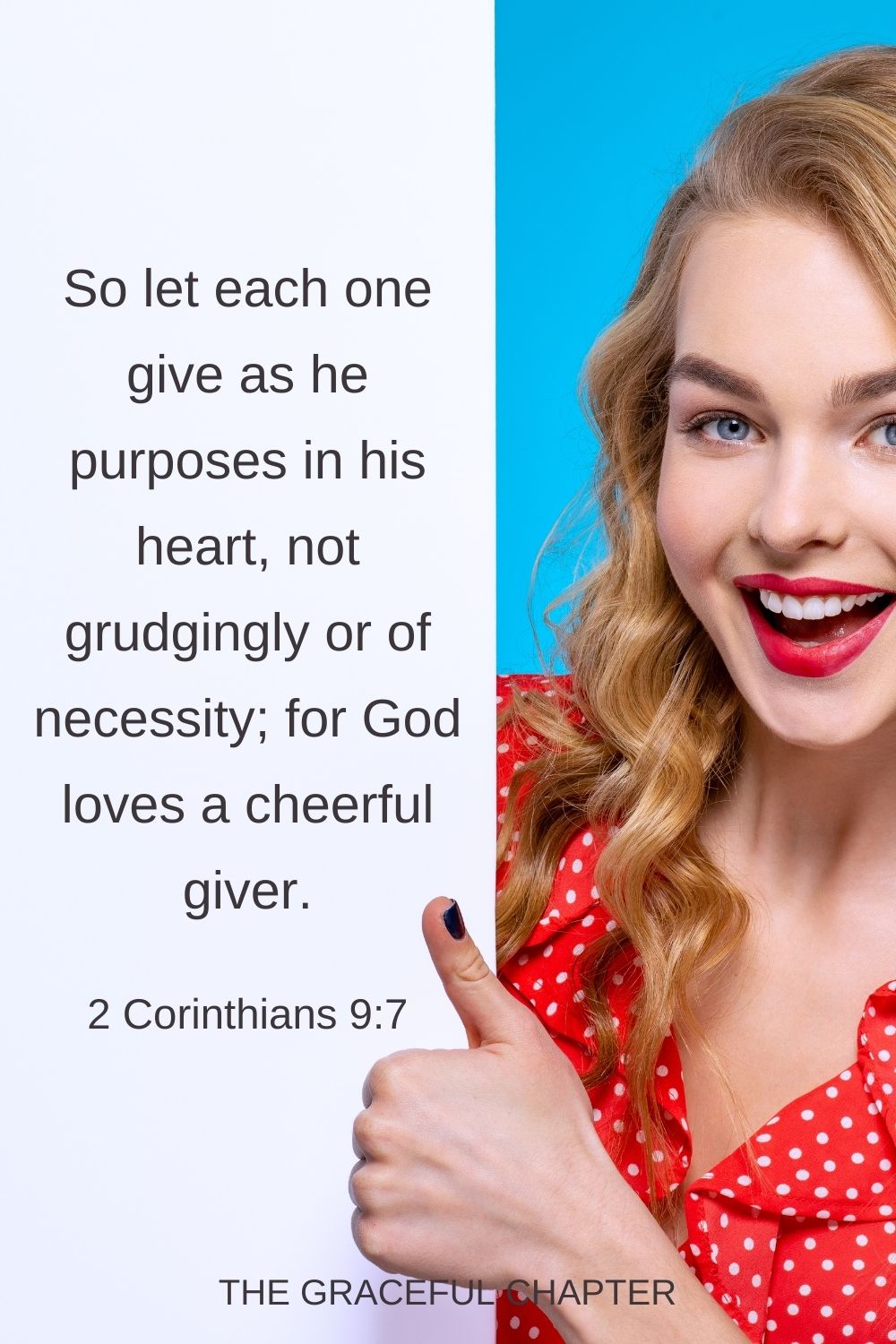 2 Corinthians 9:7
So let each one give as he purposes in his heart, not grudgingly or of necessity; for God loves a cheerful giver.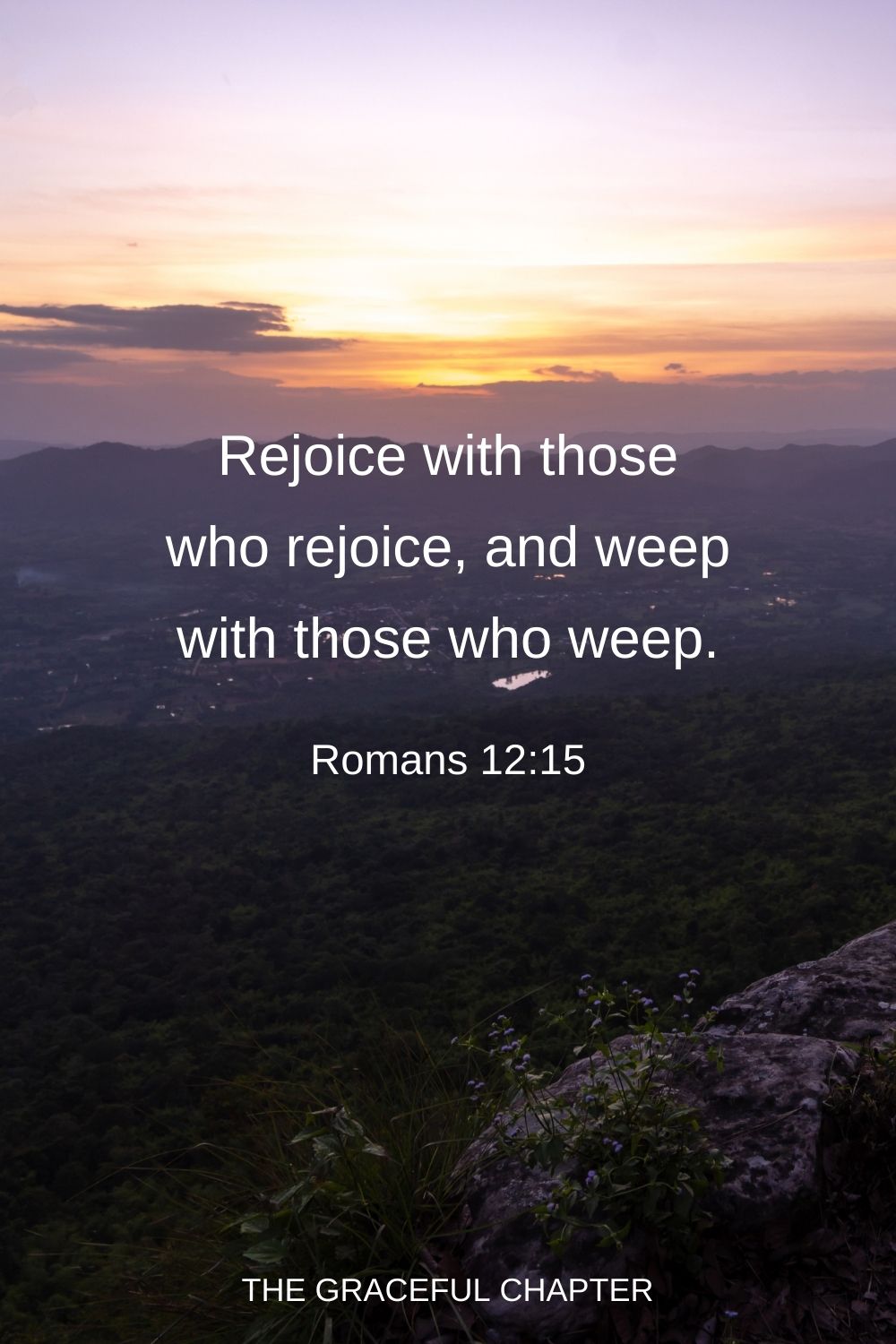 Romans 12:15
Rejoice with those who rejoice, and weep with those who weep.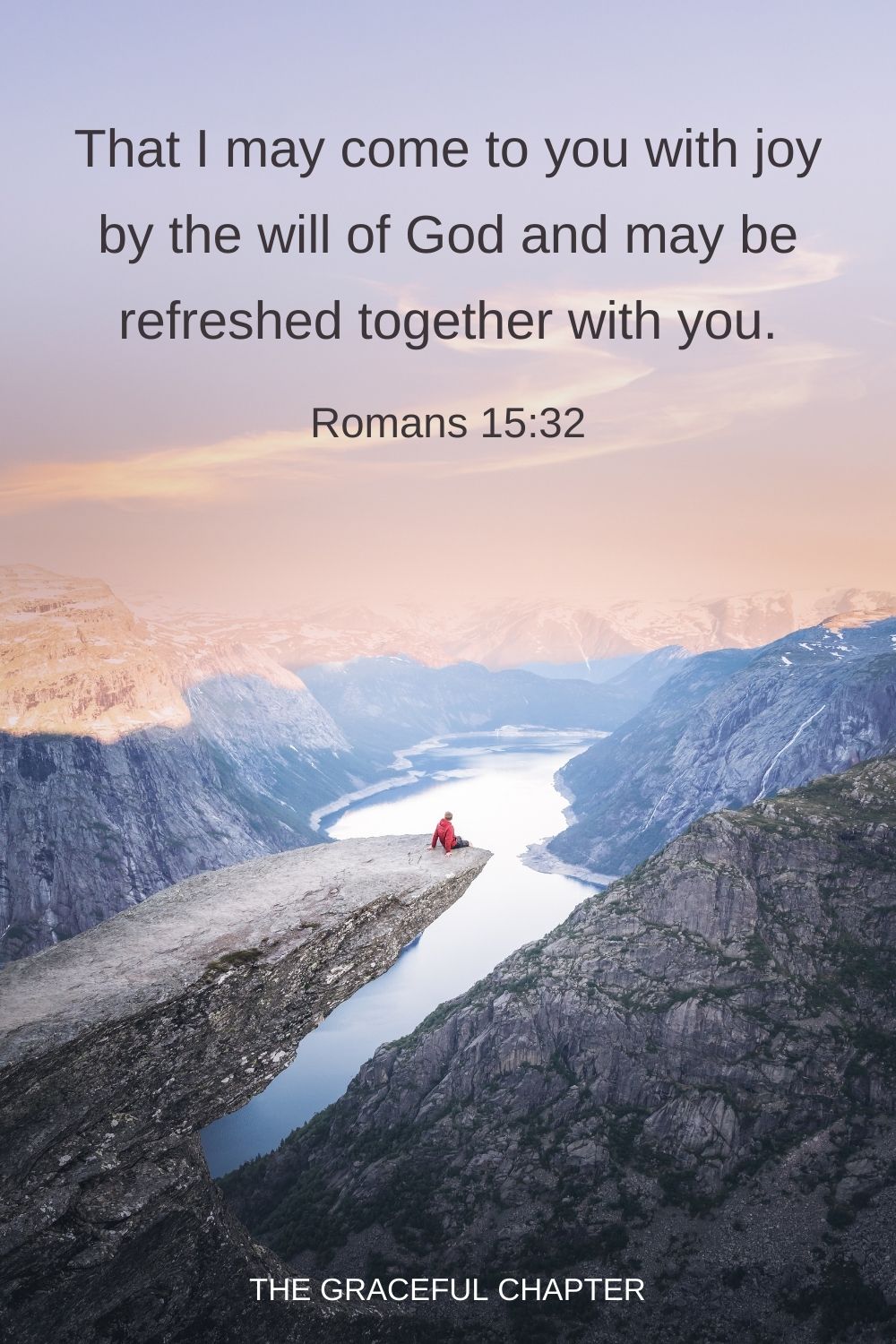 Romans 15:32
That I may come to you with joy by the will of God, and maybe refreshed together with you.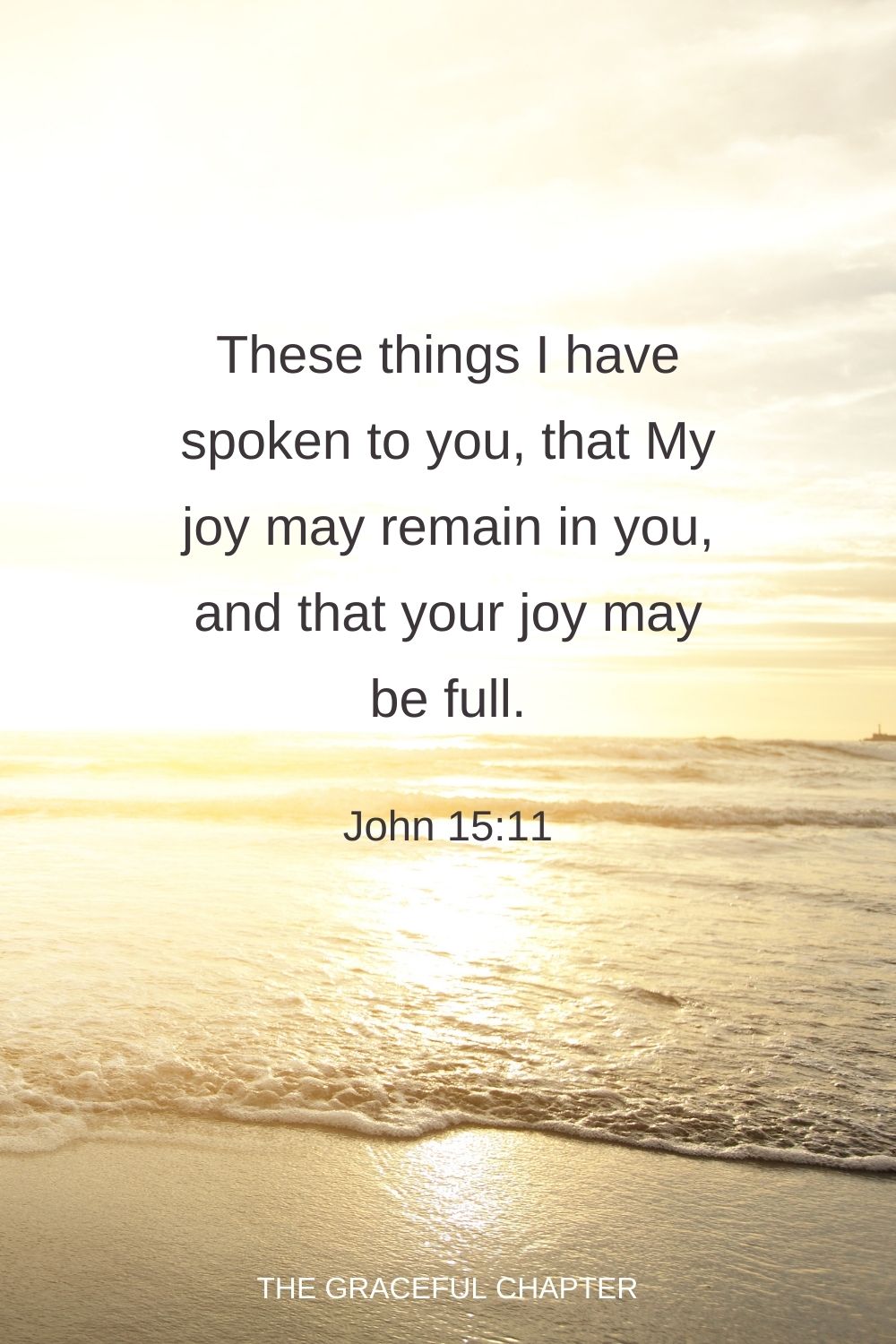 John 15:11
These things I have spoken to you, that My joy may remain in you, and that your joy may be full.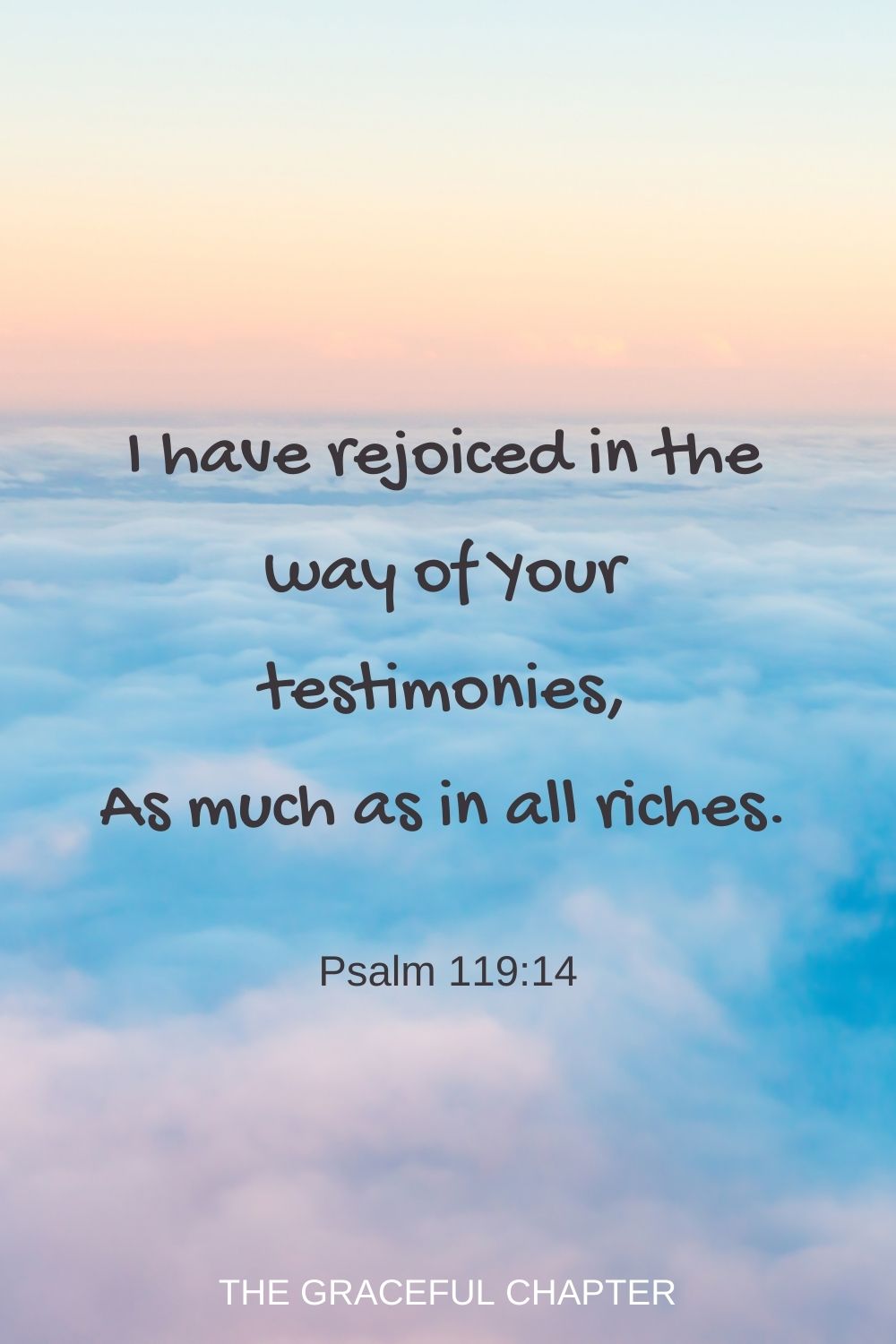 Psalm 119:14
I have rejoiced in the way of Your testimonies,
As much as in all riches.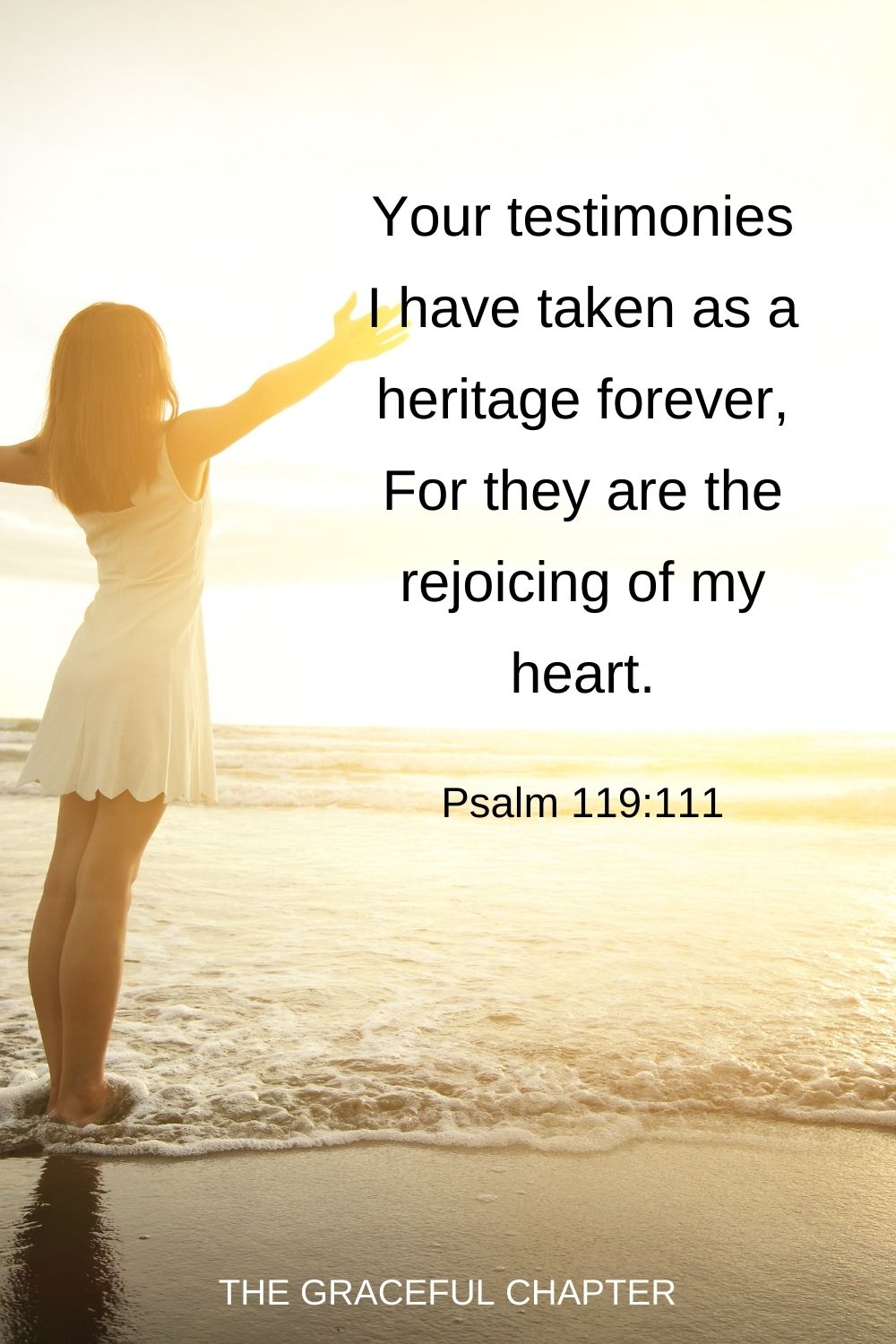 Psalm 119:111
Your testimonies I have taken as a heritage forever,
For they are the rejoicing of my heart.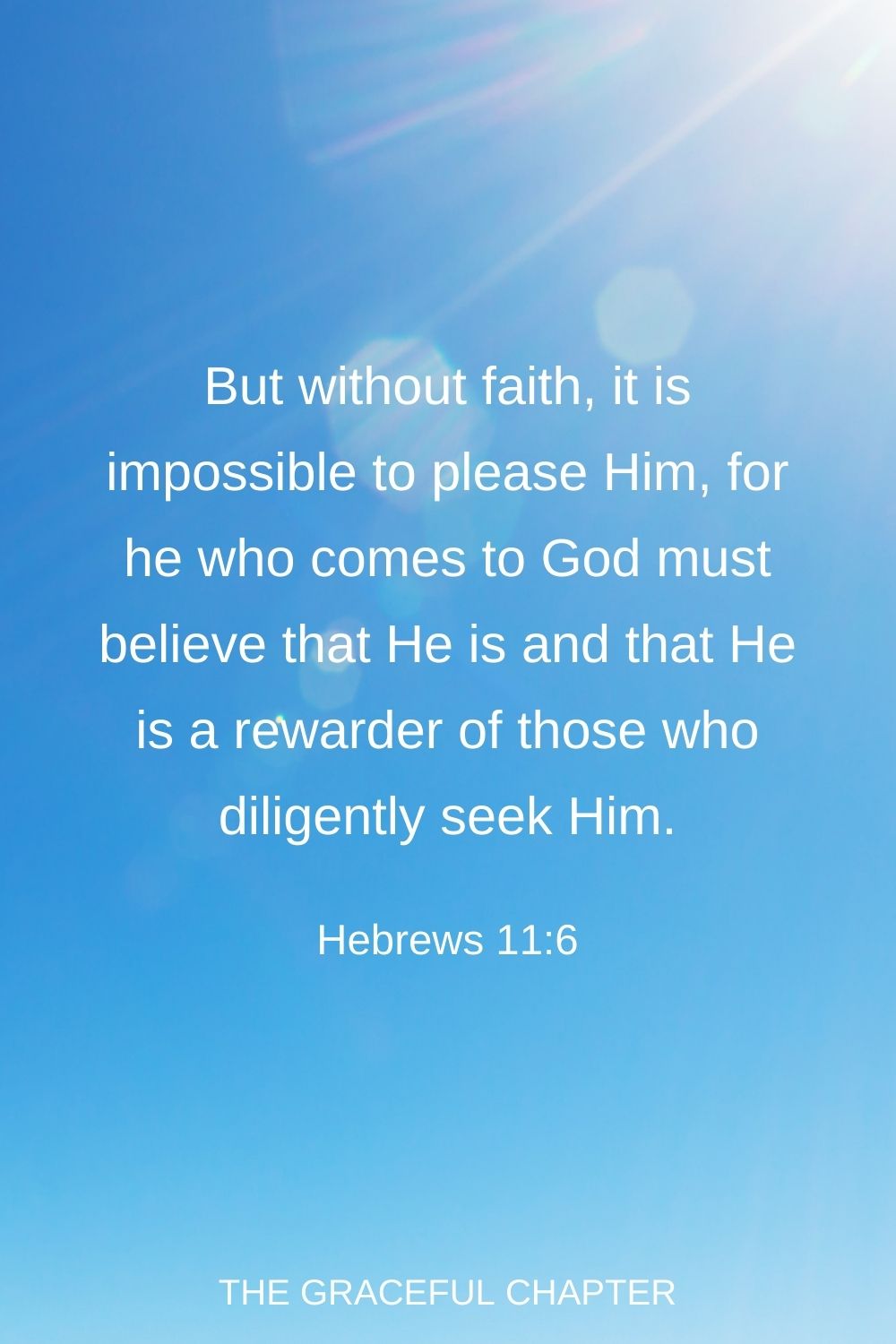 Hebrews 11:6
But without faith, it is impossible to please Him, for he who comes to God must believe that He is and that He is a rewarder of those who diligently seek Him.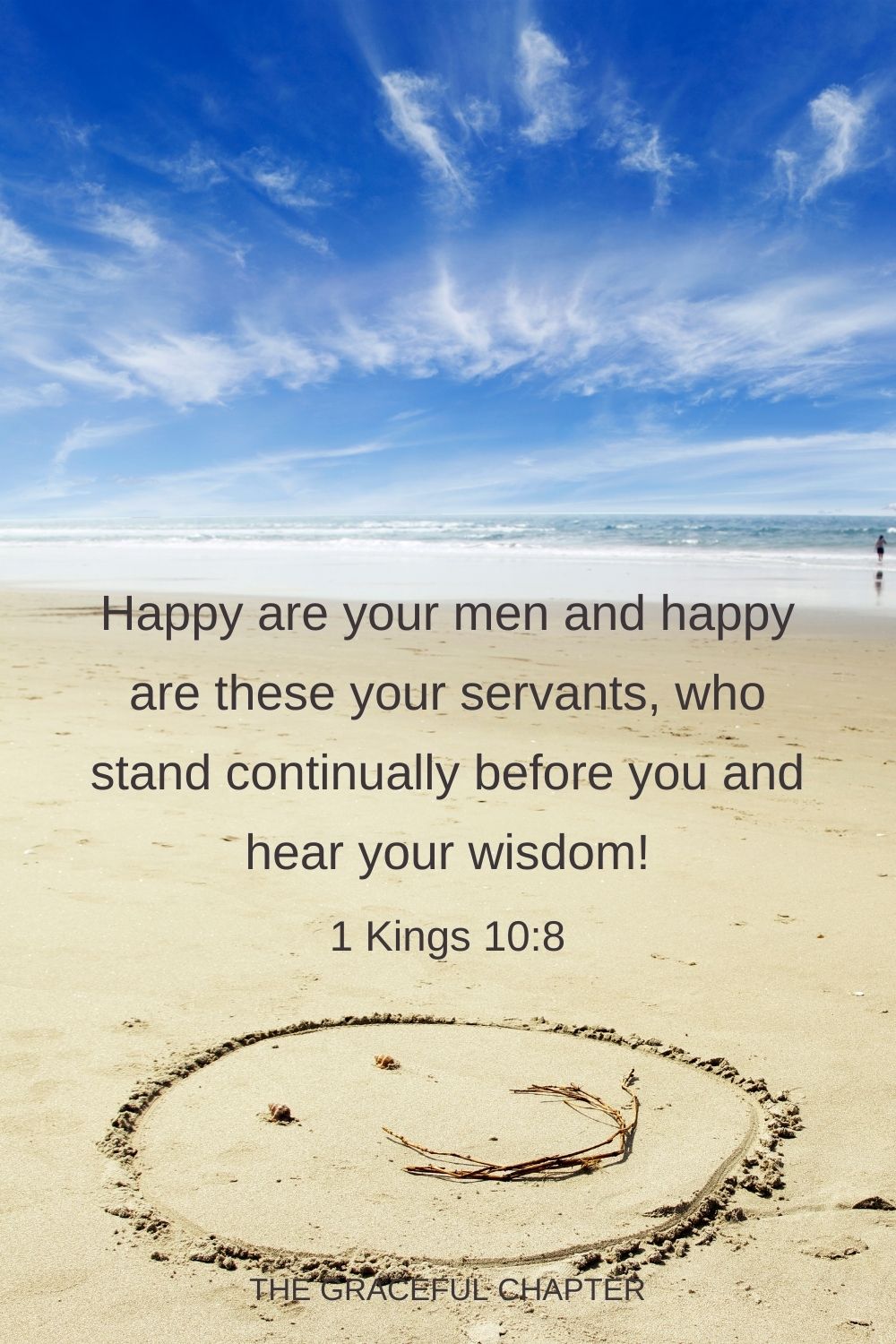 1 Kings 10:8
Happy are your men and happy are these your servants, who stand continually before you and hear your wisdom!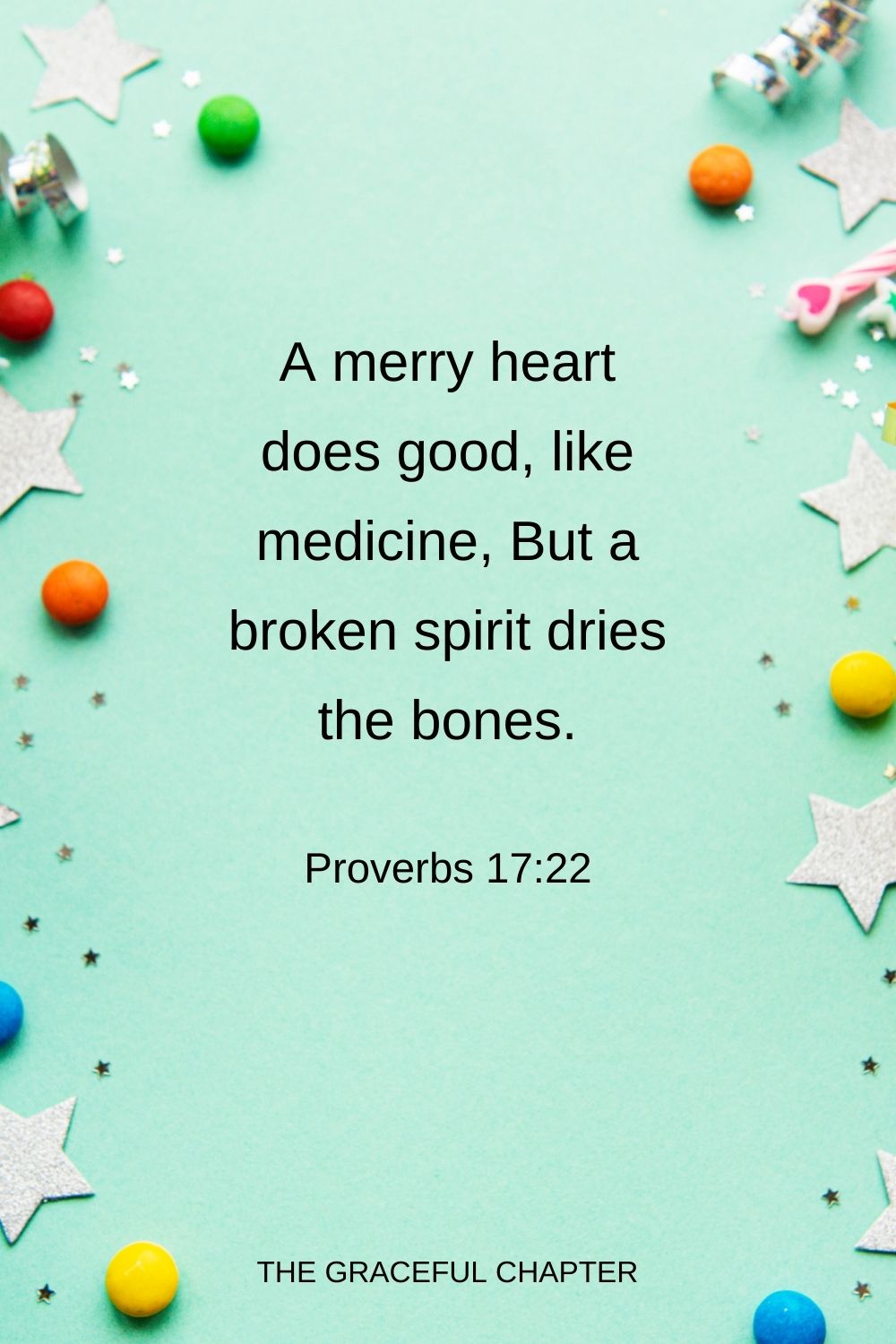 Proverbs 17:22
A merry heart does good, like medicine, But a broken spirit dries the bones.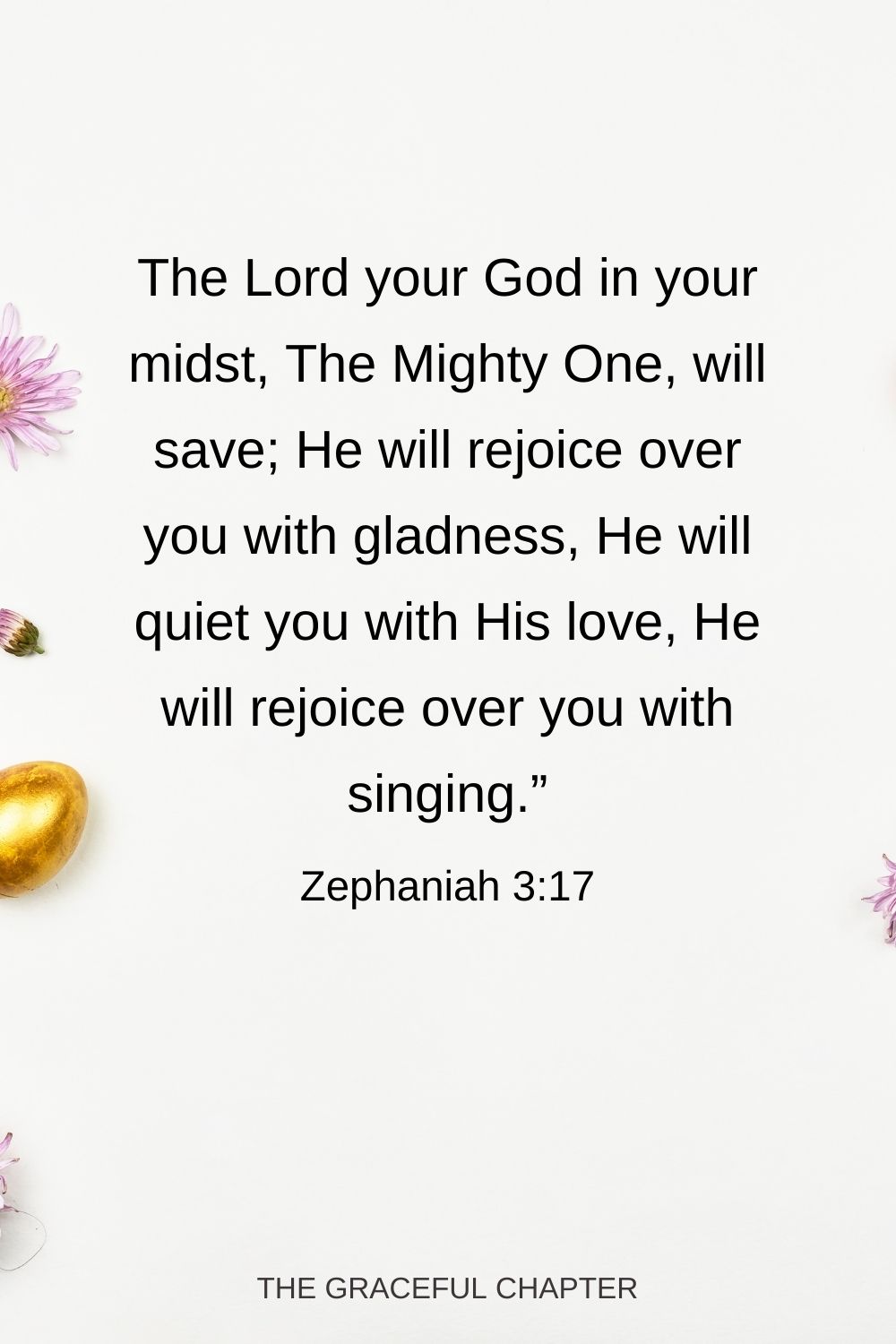 Zephaniah 3:17
The Lord your God in your midst, The Mighty One, will save; He will rejoice over you with gladness, He will quiet you with His love, He will rejoice over you with singing."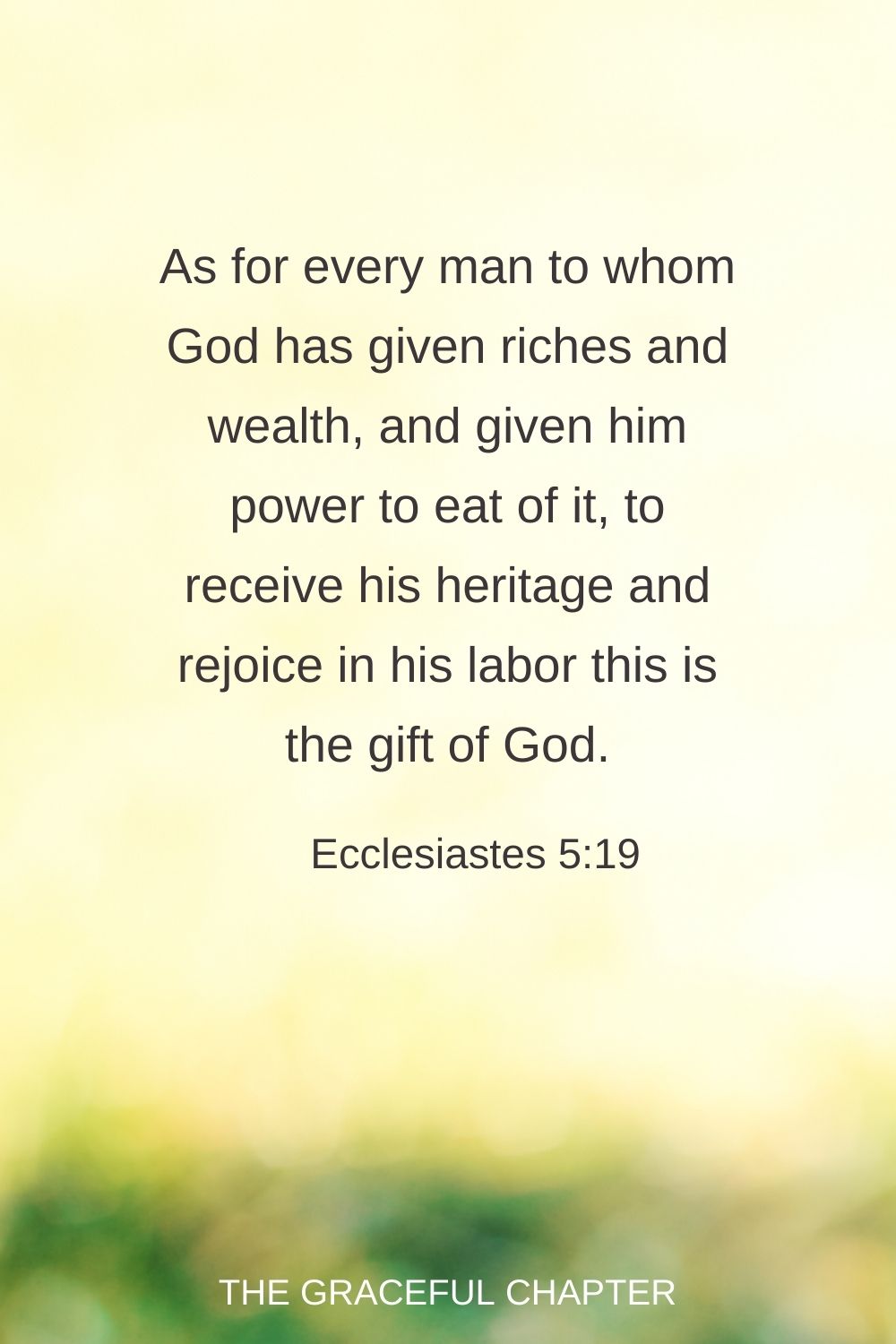 Ecclesiastes 5:19
As for every man to whom God has given riches and wealth, and given him power to eat of it, to receive his heritage and rejoice in his labor this is the gift of God.

Proverbs 15:13
A merry heart makes a cheerful countenance, But by sorrow of the heart the spirit is broken.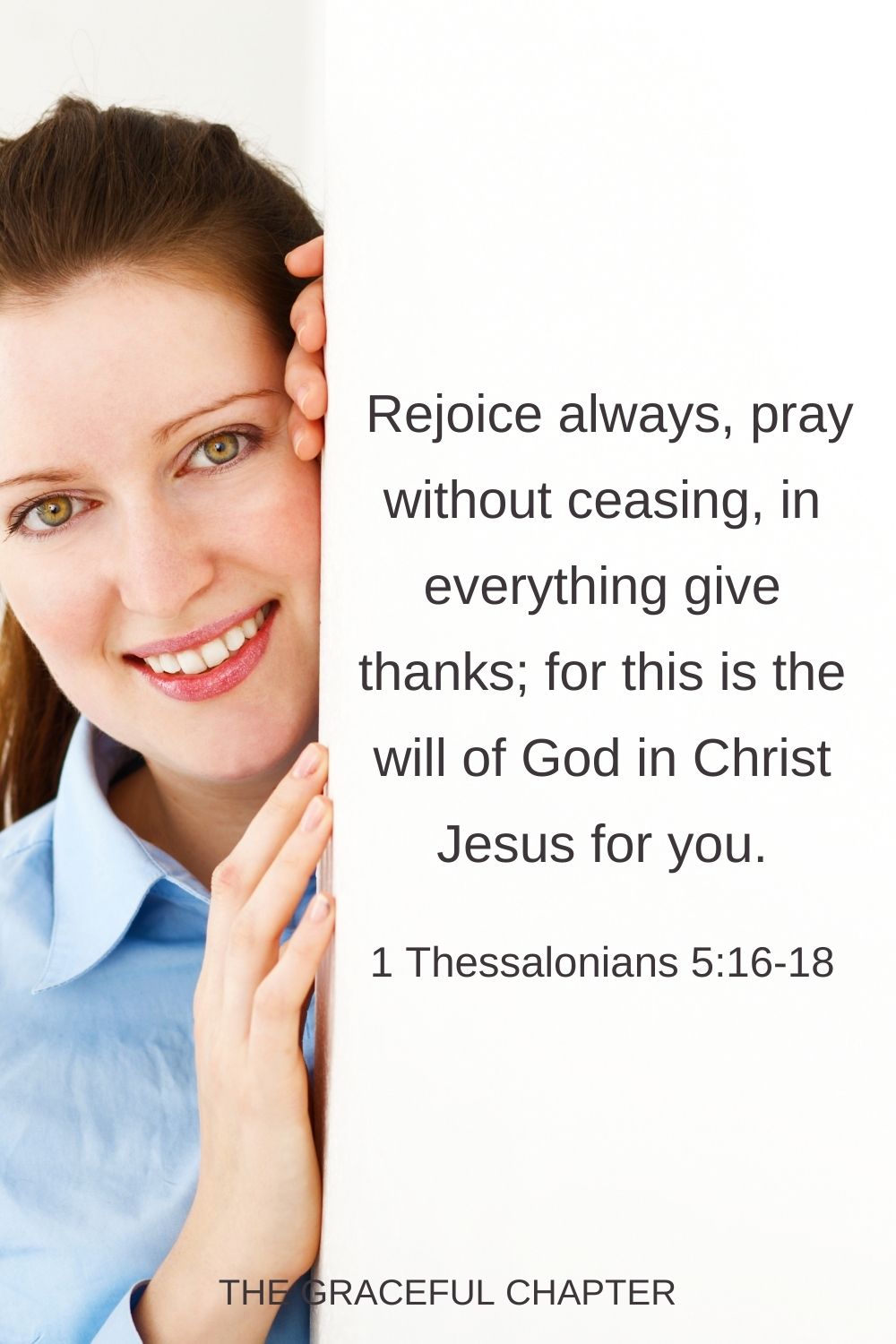 1 Thessalonians 5:16-18
 Rejoice always, pray without ceasing, in everything give thanks; for this is the will of God in Christ Jesus for you.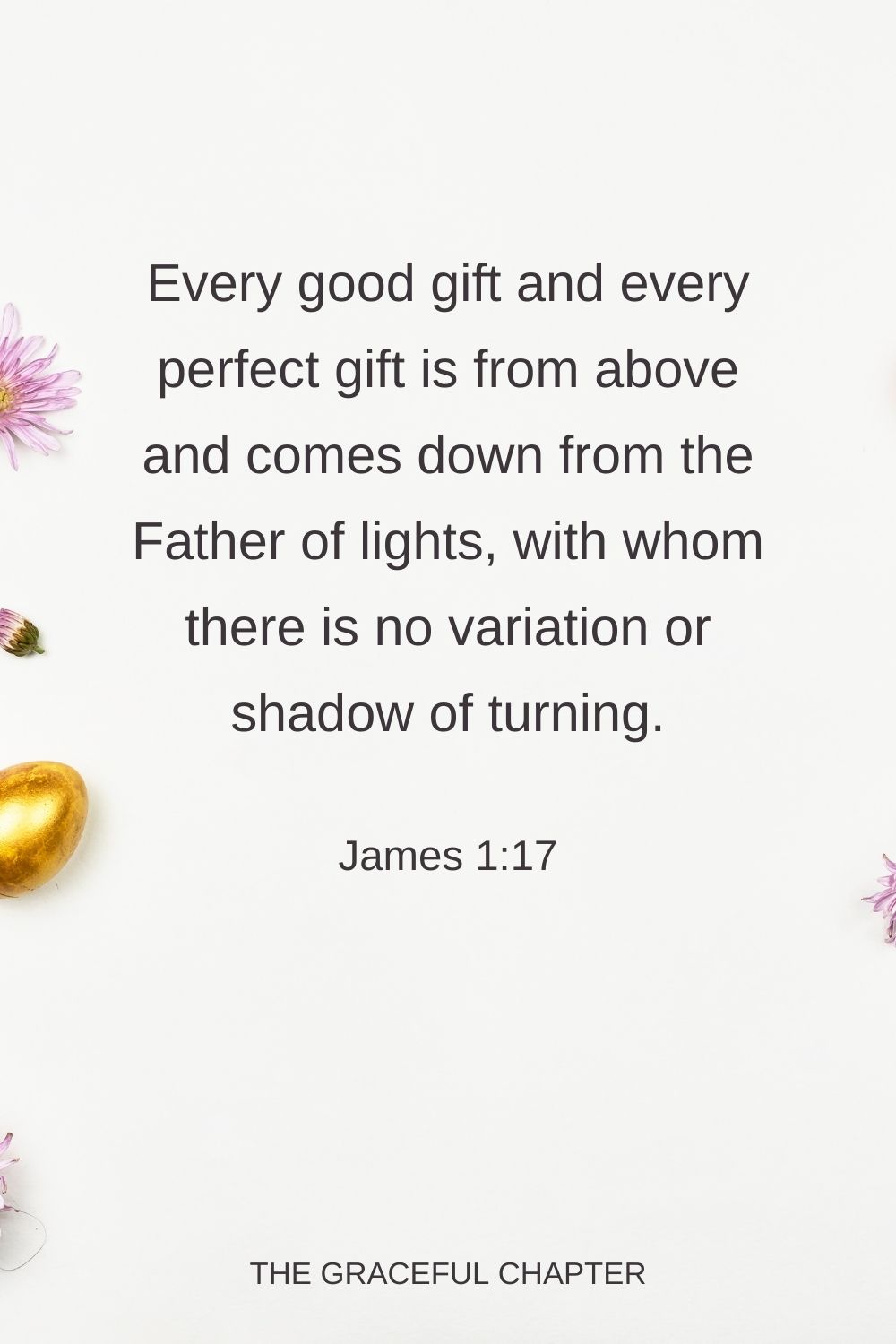 James 1:17
Every good gift and every perfect gift is from above, and comes down from the Father of lights, with whom there is no variation or shadow of turning.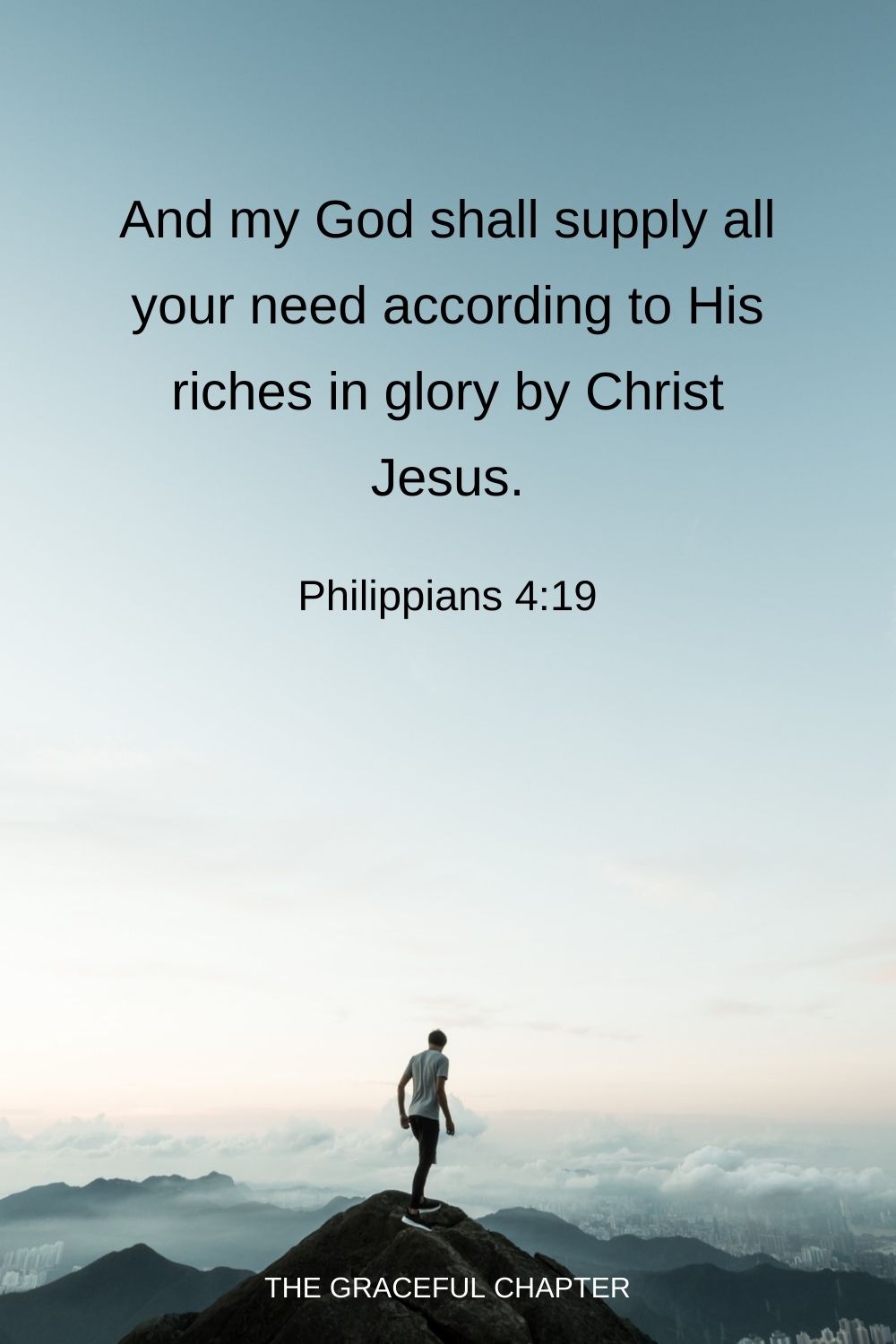 Philippians 4:19
And my God shall supply all your need according to His riches in glory by Christ Jesus.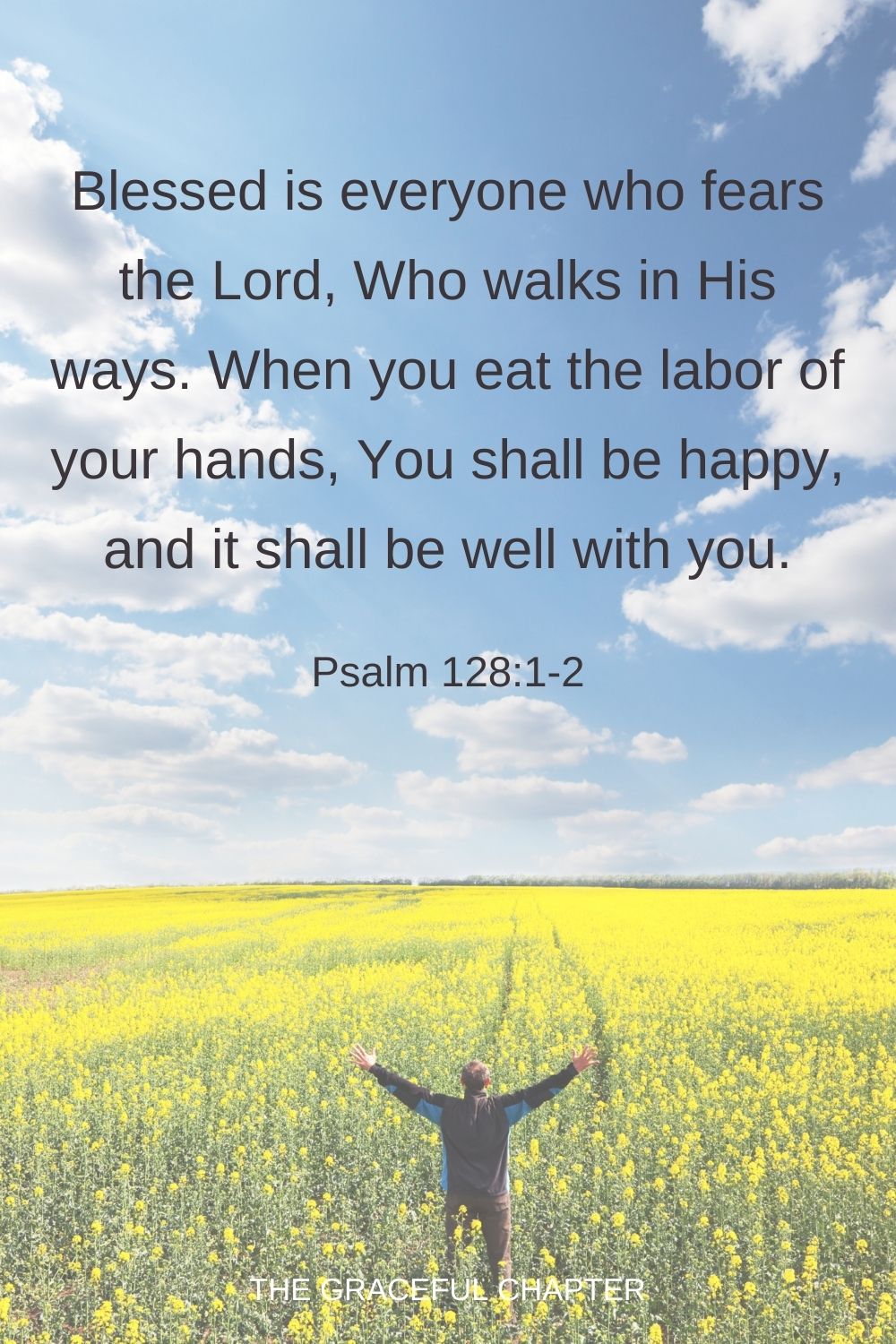 Psalm 128:1-2
Blessed is every one who fears the Lord, Who walks in His ways. When you eat the labor of your hands, You shall be happy, and it shall be well with you.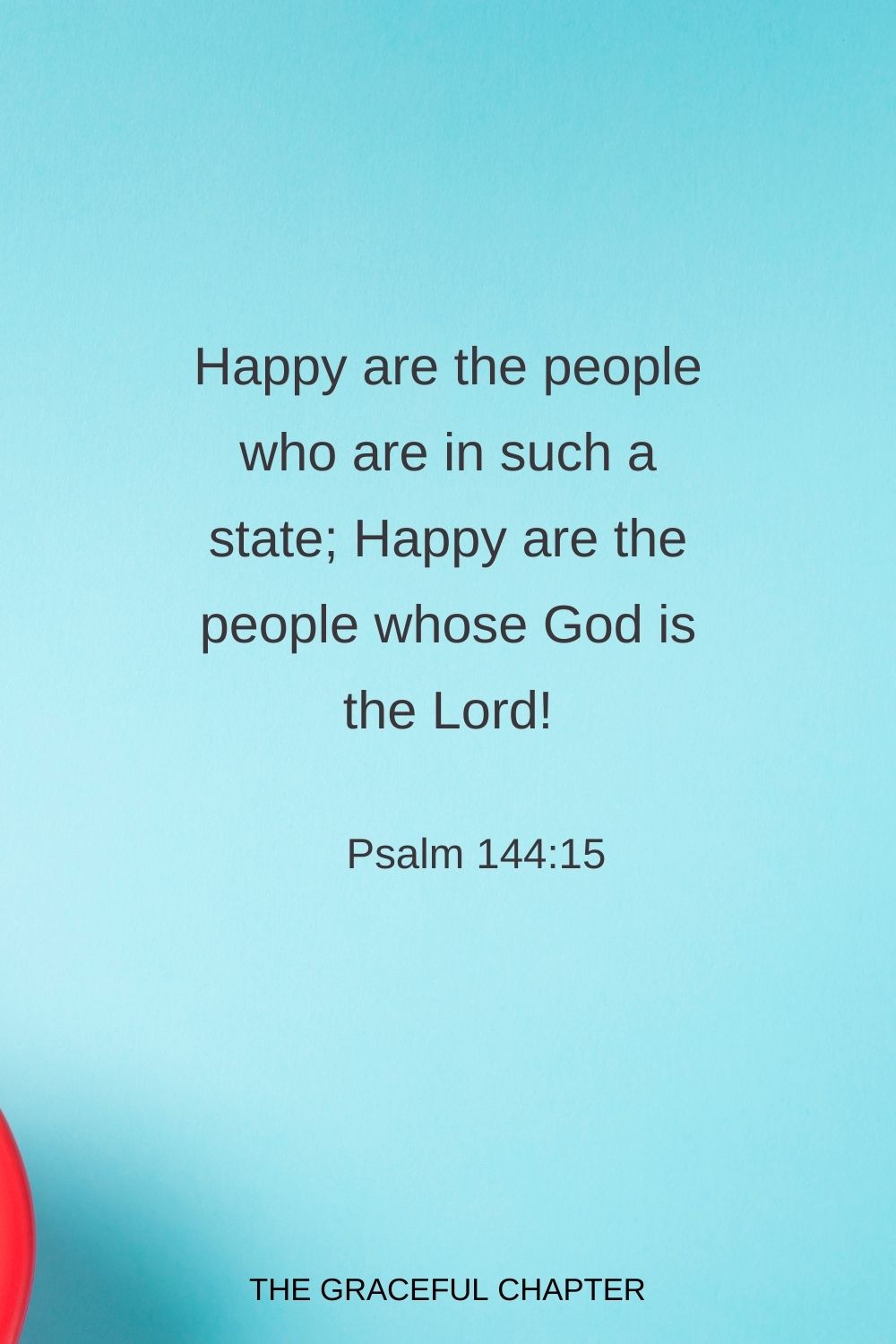 Psalm 144:15
Happy are the people who are in such a state; Happy are the people whose God is the Lord!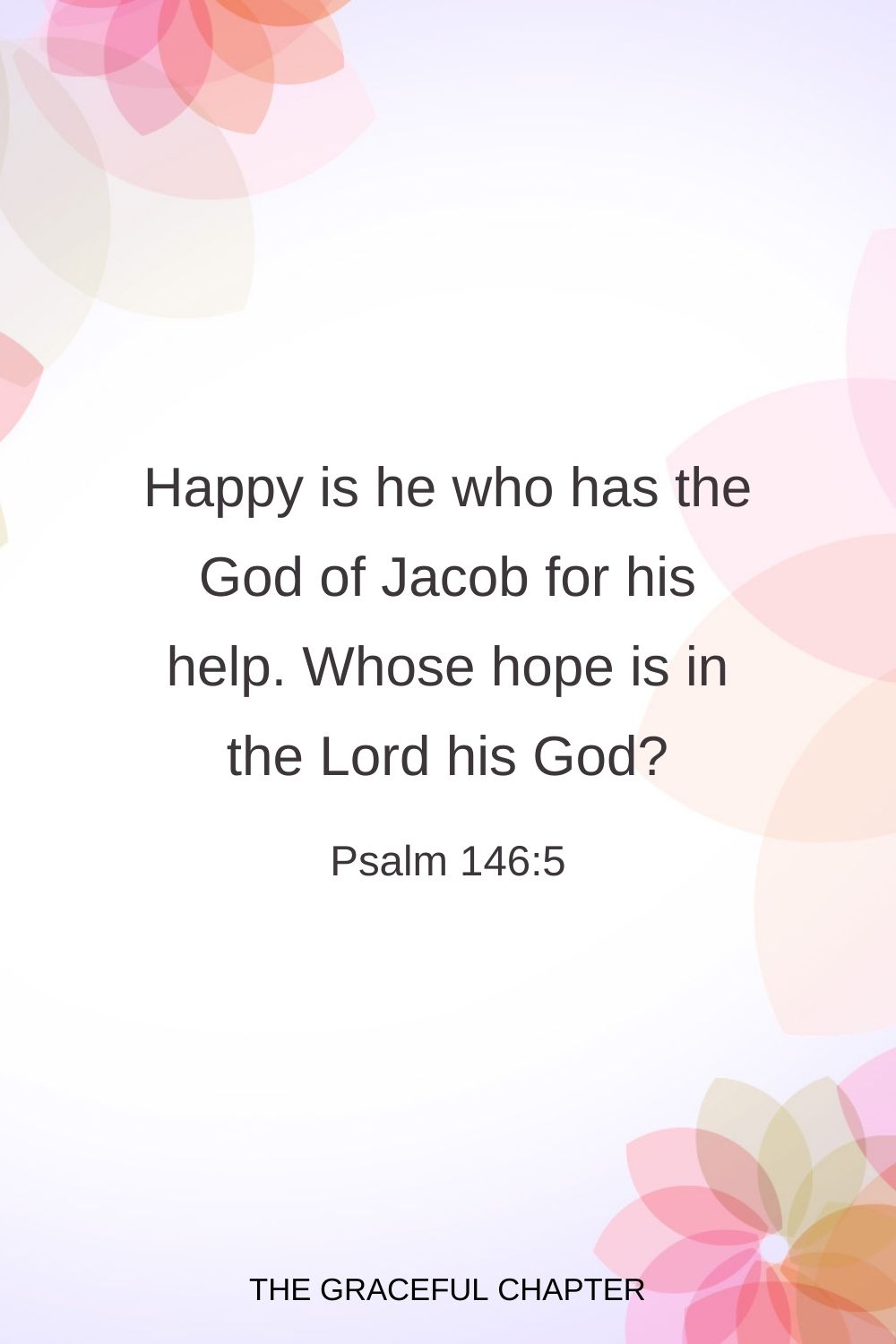 Psalm 146:5
Happy is he who has the God of Jacob for his help,
Whose hope is in the Lord his God.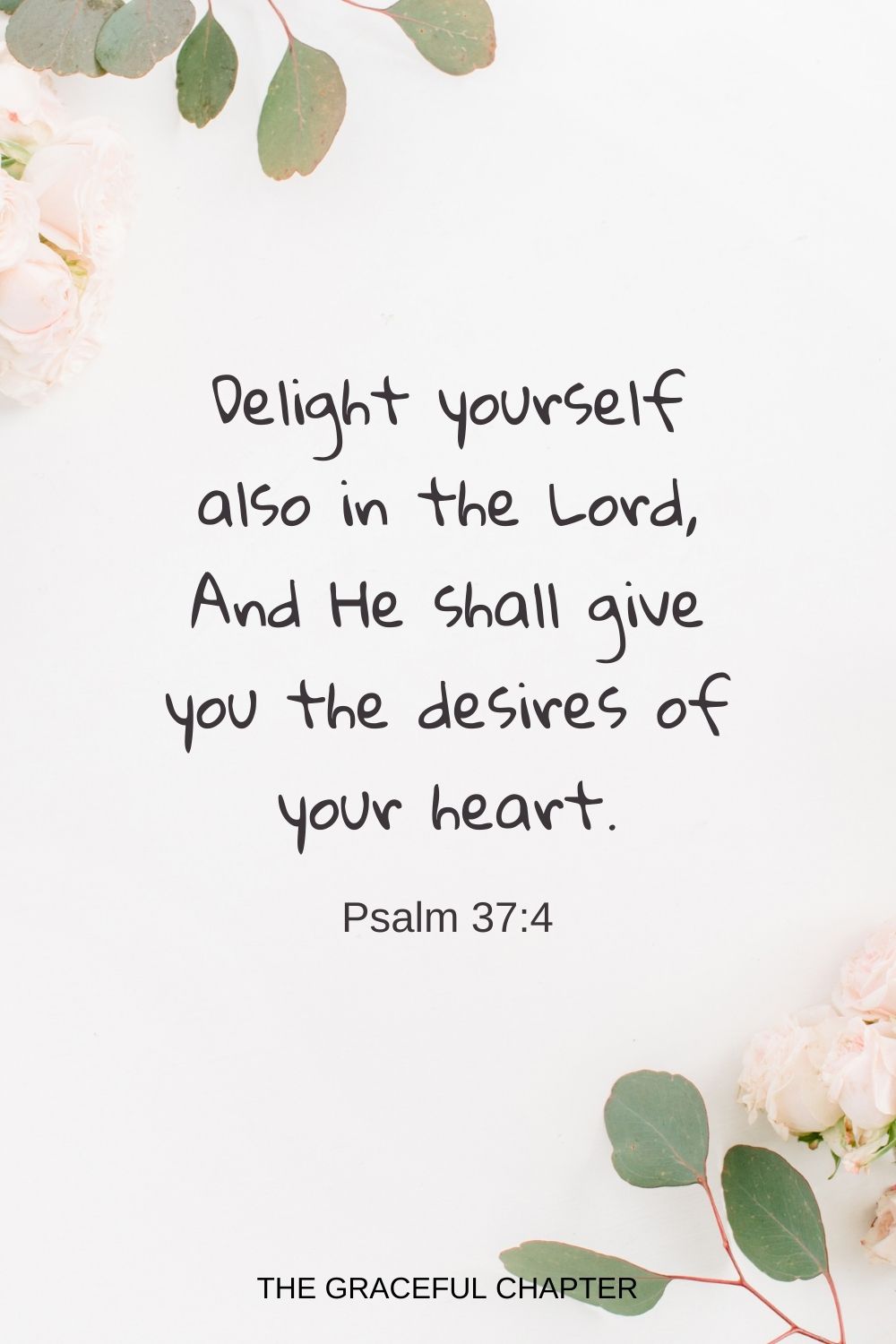 Psalm 37:4
Delight yourself also in the Lord, And He shall give you the desires of your heart.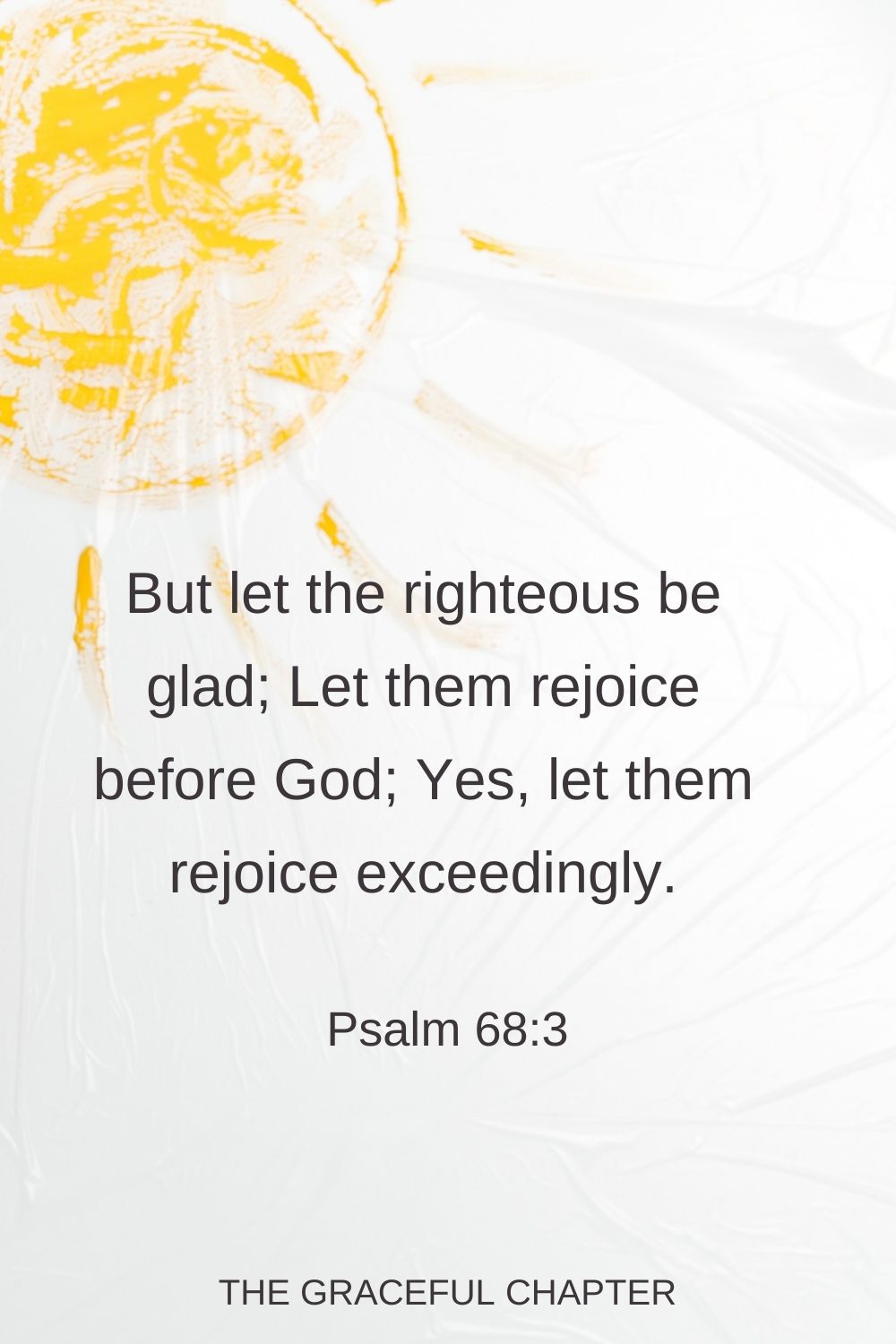 Psalm 68:3
But let the righteous be glad; Let them rejoice before God; Yes, let them rejoice exceedingly.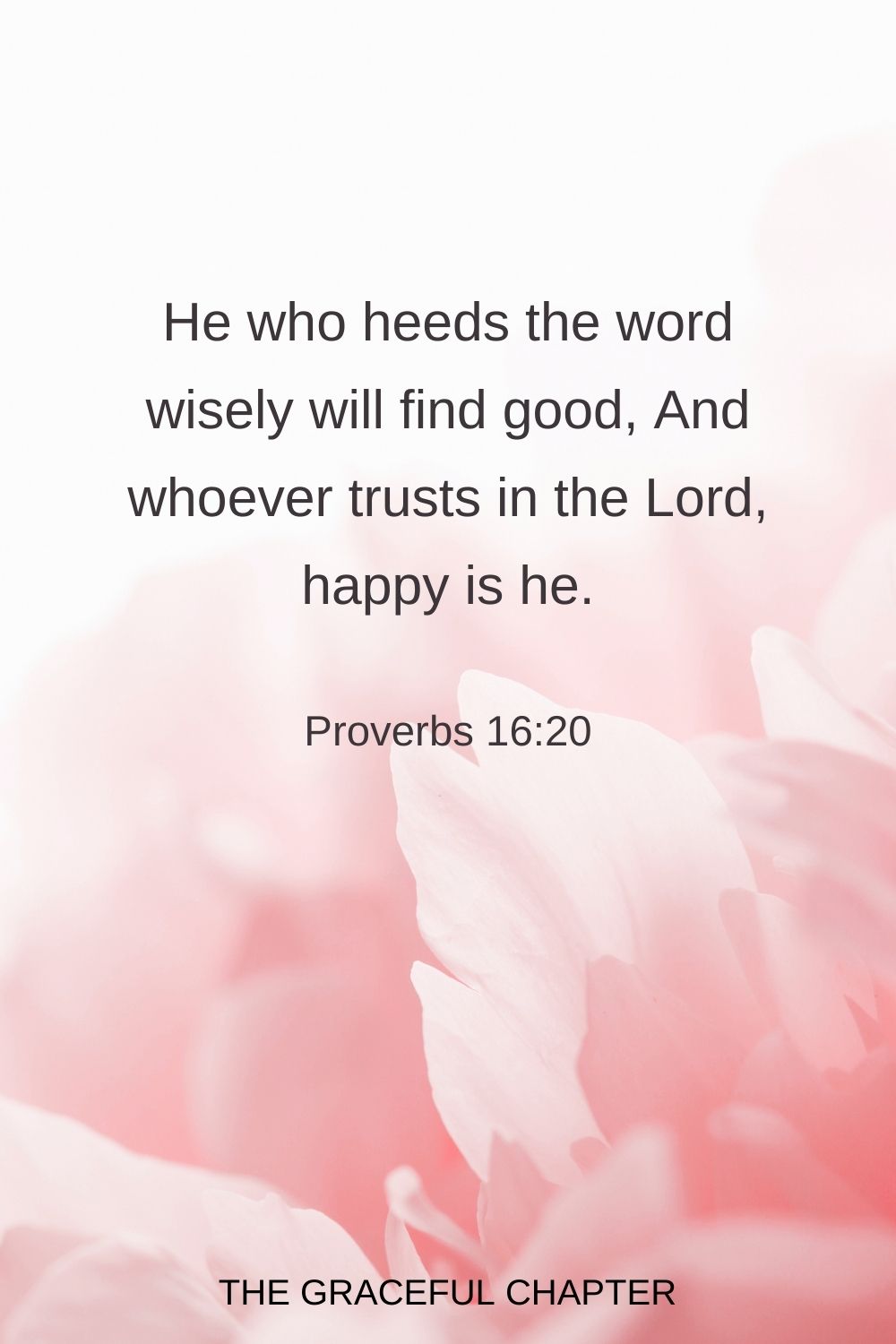 Proverbs 16:20
He who heeds the word wisely will find good, And whoever trusts in the Lord, happy is he.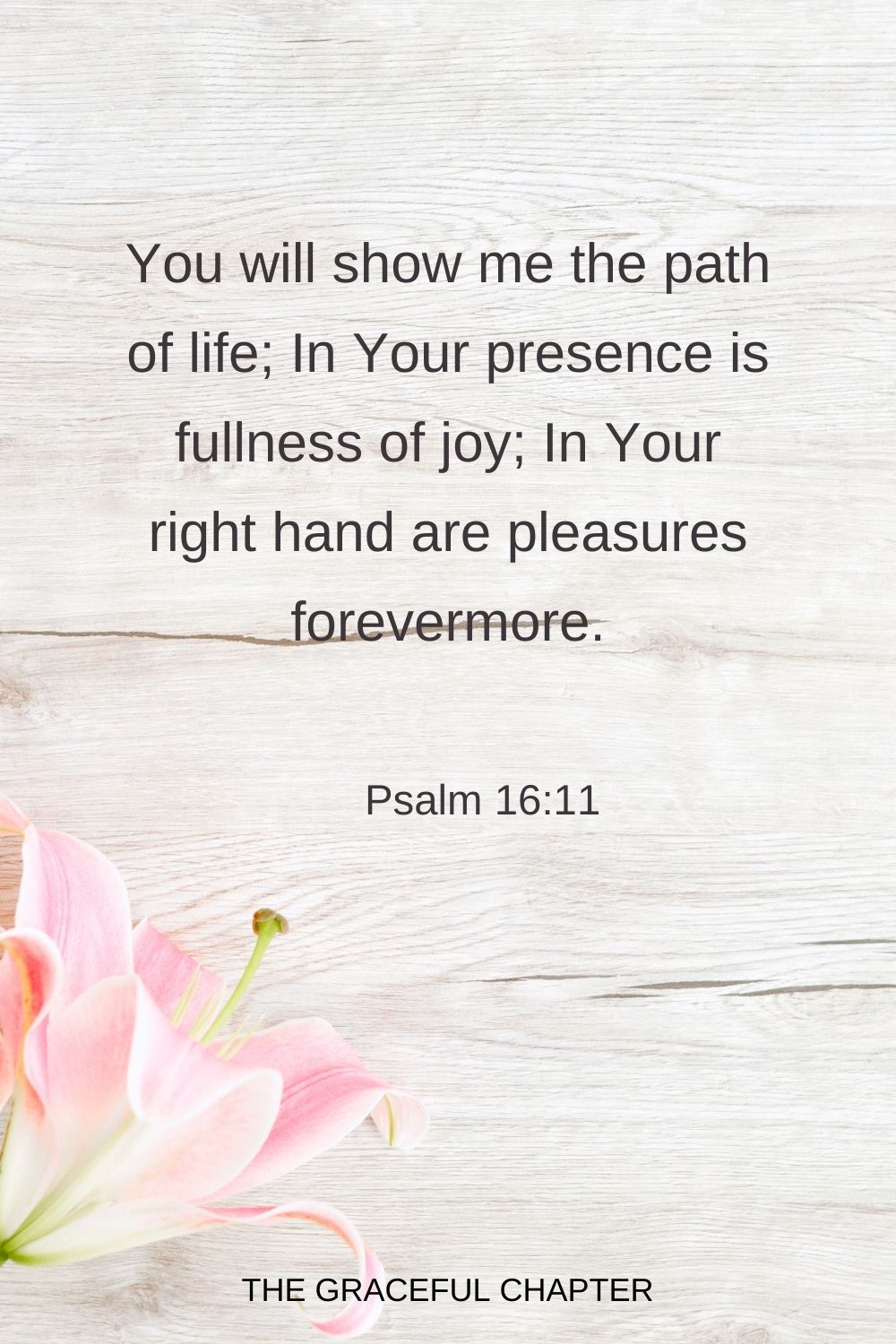 Psalm 16:11
You will show me the path of life; In Your presence is fullness of joy; At Your right hand are pleasures forevermore.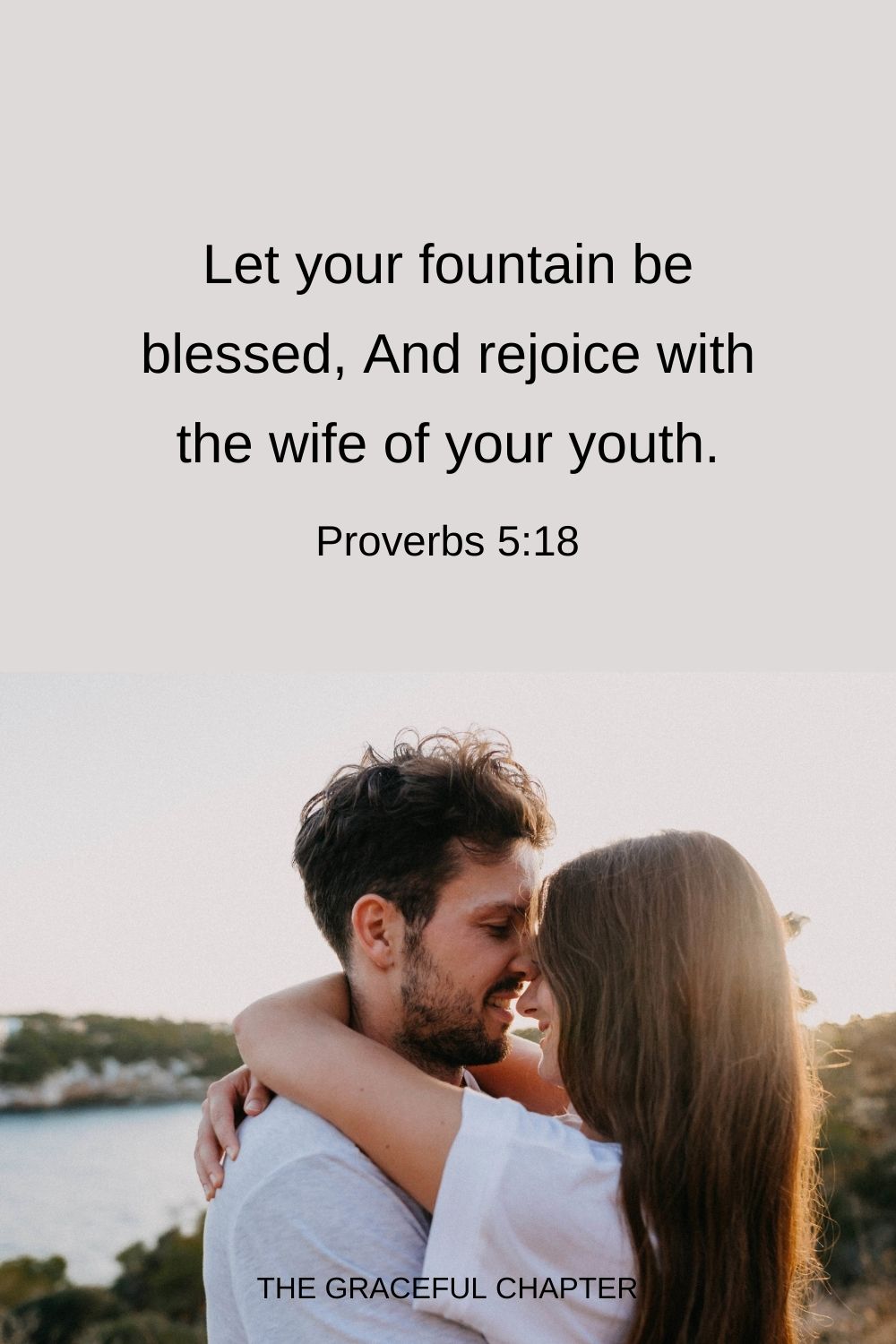 Proverbs 5:18
Let your fountain be blessed, And rejoice with the wife of your youth.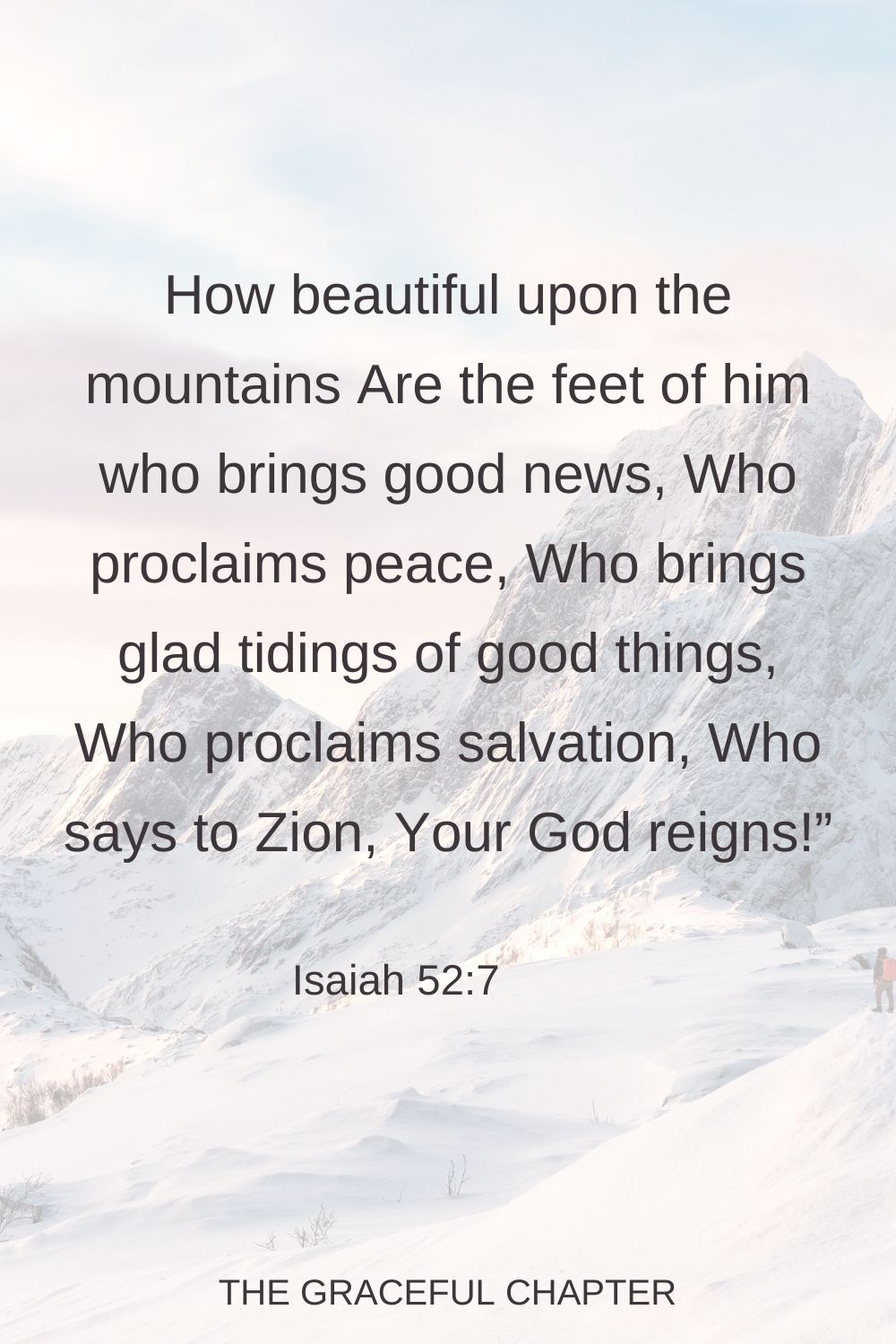 Isaiah 52:7
How beautiful upon the mountains Are the feet of him who brings good news, Who proclaims peace, Who brings glad tidings of good things, Who proclaims salvation, Who says to Zion, Your God reigns!"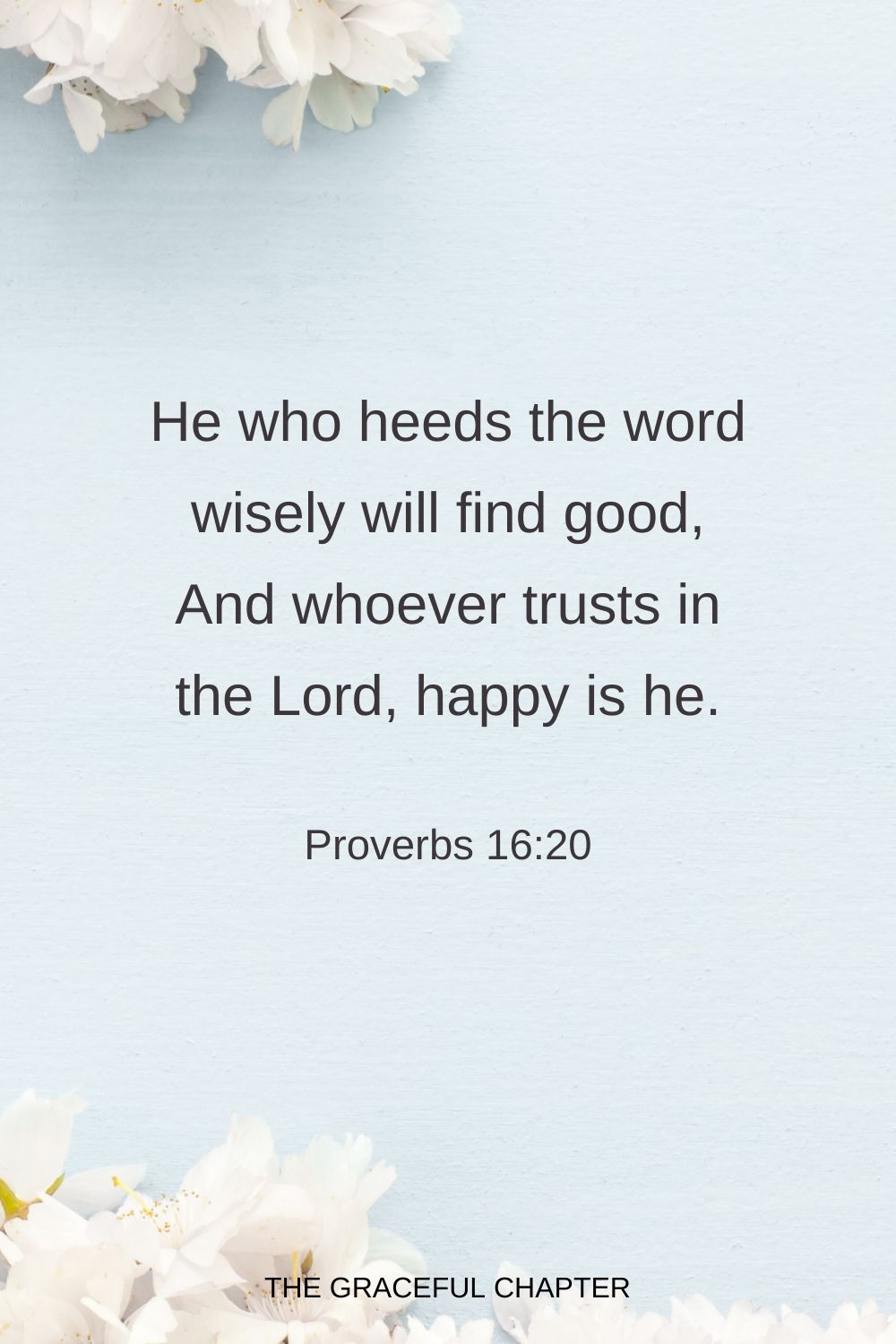 Proverbs 16:20
He who heeds the word wisely will find good, And whoever trusts in the Lord, happy is he.

Proverbs 3:17-18
Her ways are ways of pleasantness, And all her paths are peace. She is a tree of life to those who take hold of her,
And happy are all who retain her.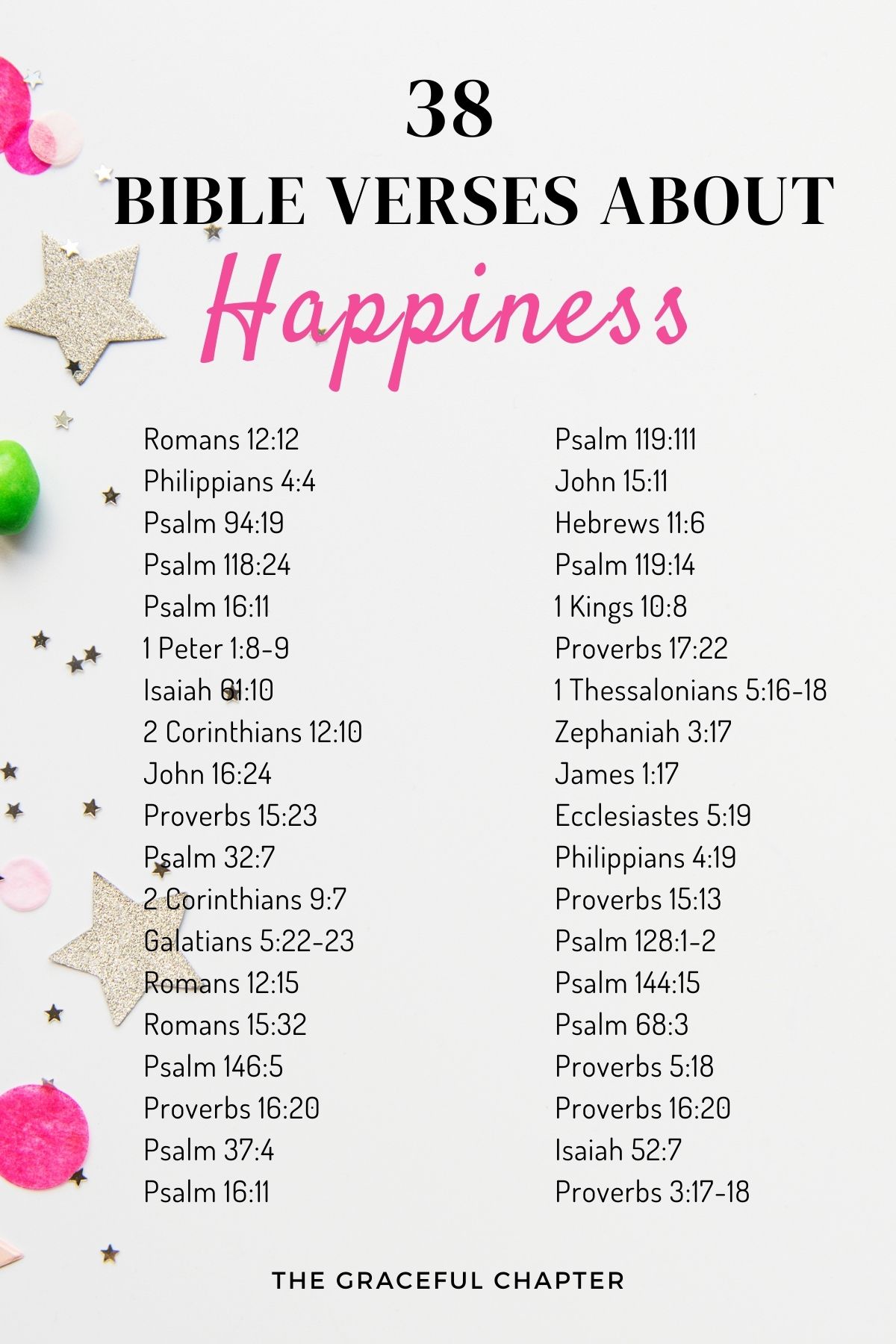 Prayer for happiness
Gracious Lord,
Thank you for this beautiful day
Thank you for my life and the life of my family and friends
Thank you for all the amazing people in my life
Thank you for your goodness and mercies in our lives
I come to you today for joy and happiness
Please take away from me anything that causes my heart to be sad
And fill my heart with joy and gladness
Help me to focus on you, your word, and your goodness in my life
Help me to focus on things that bring me peace and joy
Help me to be content and grateful no matter what comes my way
Thank you, Lord, for the abundant joy and love in my life,
Amen