Ecclesiastes 3:1 speaks of a purpose for everything under the sun. This means that God had a plan for everything he made. That of course includes you and me. When a father grooms their child to take over the family business they start at a very early age.
They teach them the ways and methods that they need to succeed in that business. They make sure they set them on a very specific route so that they will be ready when the time is finally right for them to take over. God wants to groom us to be in his kingdom.
He created us to serve that particular purpose and everything that we go through in life is to strengthen us for this cause. When God tells David that his son Solomon will build his Temple, David makes sure that everything needed for the construction is secured and his people were happy in their hearts to contribute to this project.
The Bible says that David blessed his people because they had found the joy in their hearts to serve a purpose for God. Prayers for purpose in life help us to realize what our contribution to God's kingdom is and move us in the direction to achieve that purpose.
David could have sulked and decided to abandon God when he was told he was no longer fit for the purpose of building God's temple but he did not do so. He found a way to still serve God.
Sometimes our fellow humans can make us feel like we are not fit for anything. That could not be farther from the truth. God had a plan for you even before you were born. He has already written the script for your life and you are merely an actor. Everything that happens to you is not by chance but by design. You have been deliberately placed where you are to do exactly what you are doing now.
Whatever you have in your hand right now is what God has purposed for you. He will use you to achieve his plan just like he used Moses, David, Jeremiah and so many other people. Never ever feel your life is not worth anything because it definitely is.
Prayers for Purpose in Life
Prayer for Direction in my Life
Dear Lord
I thank you that you made me the way I am
I know that my birth was not an accident
I also know that you made me achieve certain goals
I want to know my direction right now
I want to know which route I should take next
I want to be the best version of myself
I pray for your guidance and wisdom to know what my next route should be
I want to live to please you and be an instrument in your hand
I don't want to be a liability in this life
Help me find the path that will lead to success
Keep me from decisions that will tarnish my image and destroy my life
Help me know each day what my next adventure is going to be
Let me be a symbol of courage and positivity in everywhere I find myself
Show me your light in times of darkness
Let me choose right every time
Let me dwell on the path you have set for me
And let me live in your eternal glory
Amen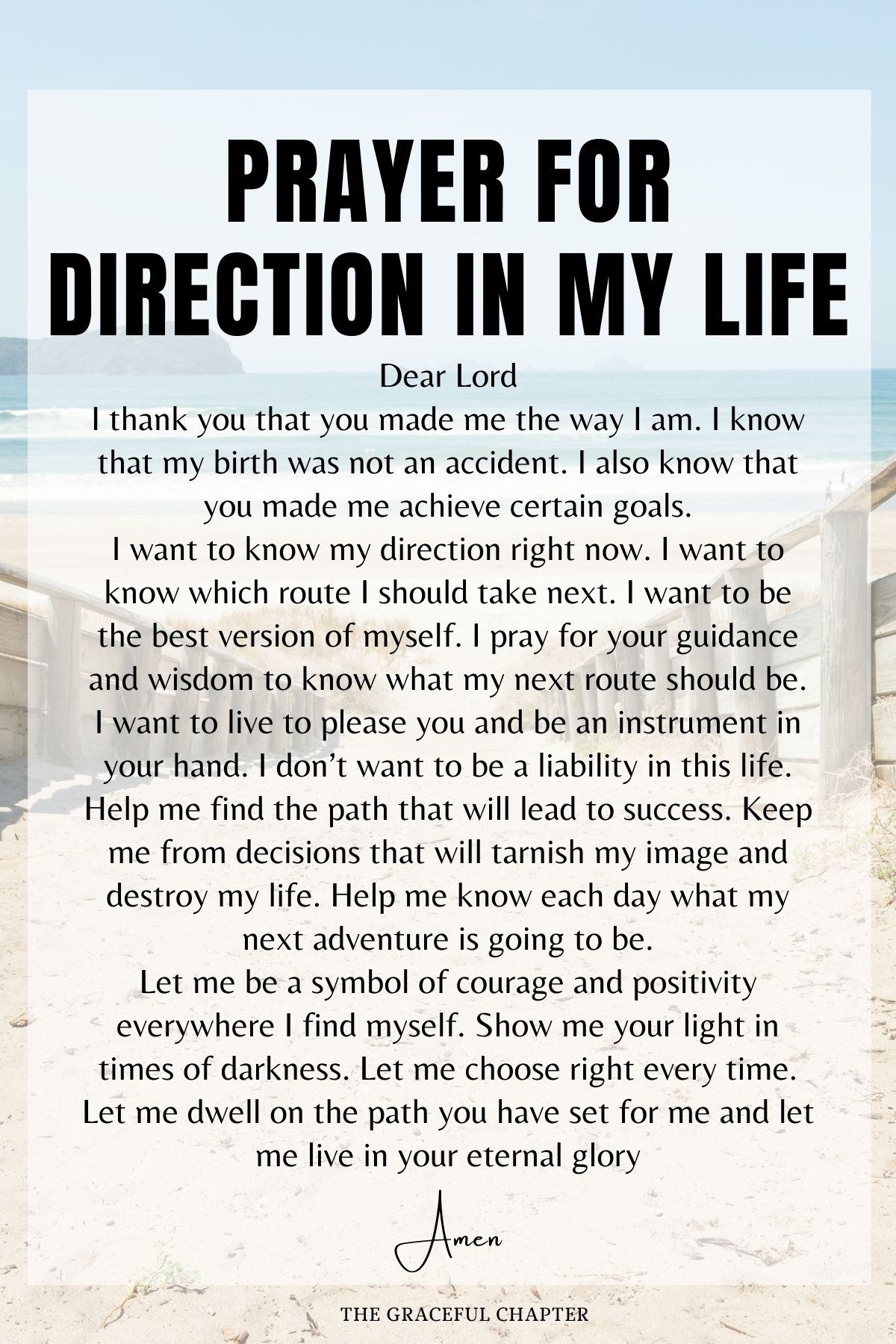 Prayer for God's Purpose for my Life
Heavenly Father
I'm glad that you made me
Thank you for your love and protection throughout my life
Thank you for the family I came from and all the influences I have received in my life
I pray to you today that you show me my purpose on this earth
Show me the path that I have been destined to take
Lead me to know what I have to contribute to your kingdom
Make me aware of the talents you have hidden in me and let me explore them
Let me know my use and objective in my life
I pray for guidance and direction
Let me not move with my own intentions and plans
I cannot succeed without your love and care
Grant me your grace and your favor to make the right choices every time
I know there are ways that may seem right to me but will end in disaster
Help me avoid those ways
Teach me to hear and listen to your voice
Teach me to obey your voice and your word
Lead me to your light and take me away from the darkness
Be my shepherd and keep me safe for all time
Amen
Related Posts
Prayer for Purpose for my Family
Dear Lord
I come to you today in prayer
I'm searching for my role in this family
Our family has suffered a lot of loss in our history
We have lost personalities, money, and dignity
We are not in an area of prominence right now
We are disjointed from each other and we do not look like a family
We do not care for each other and we have left ourselves to fight our own battles
Please reveal our roles to us
Let us know why you put us in this family
We know that you love us and want the best for our future
We need leadership and control in this family
We need togetherness and strength
Show us our purposes for being here
Open our eyes to see which roles we have to play
There are a lot of problems in this family that needs to be solved
There are children in this family that need to be raised the right way
Help us know how to bring them up
Give us a direction to go on so we can put this family on a pedestal
We are like the blind leading the blind at the moment
We need you to be our father right now
Show us the way to go to keep this family together
Give us your peace and love
Help us fulfill our full potential
Amen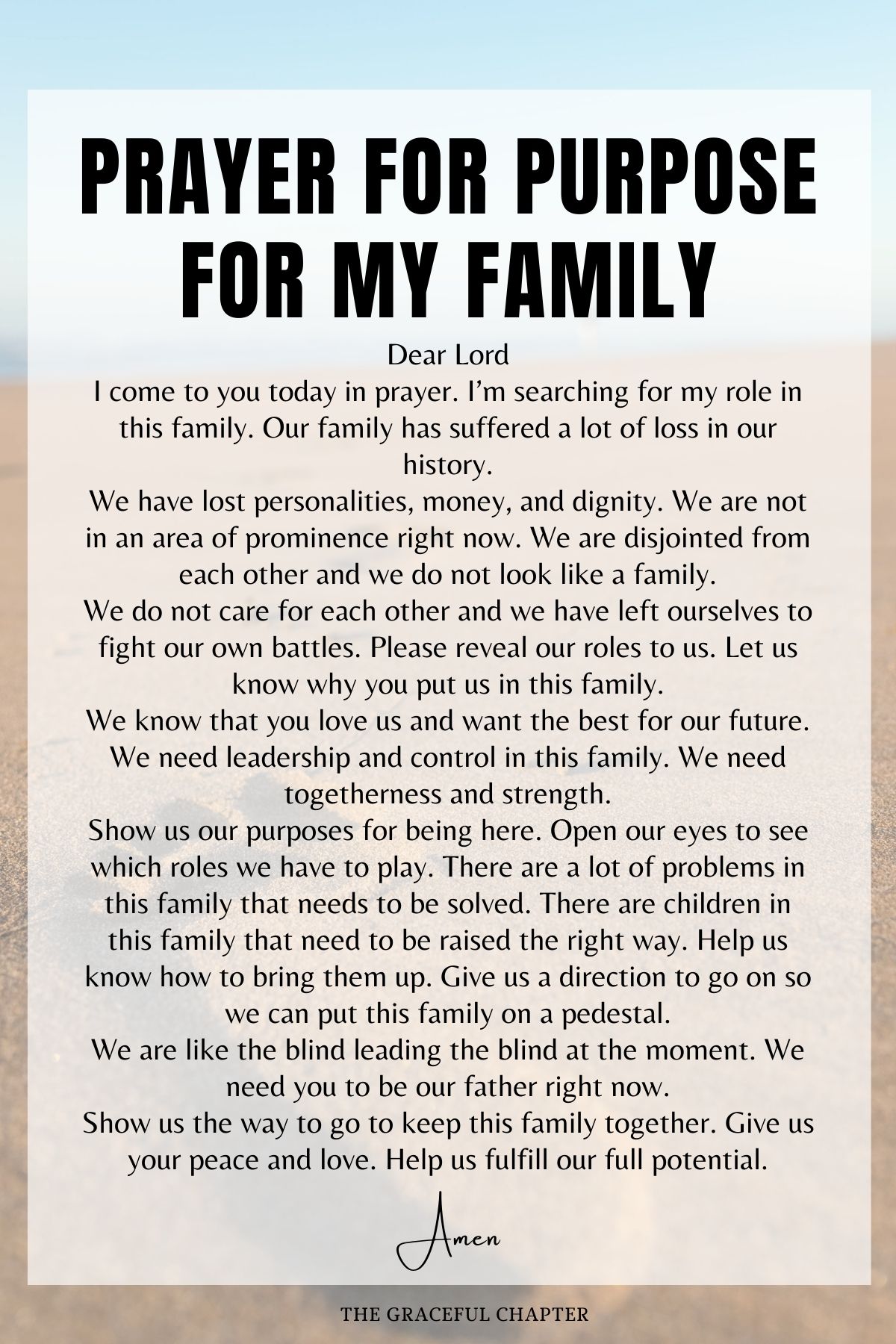 Prayer for Purpose in my Job
Dear Lord
Thank you for helping me find employment
There are days however when I feel like I'm only there to make up numbers
I have no motivation for the job even though I am very good at it
It seems like I am just going through the motions until the day that I retire
I have no intention to go for any new positions
I never meet deadlines and I don't even bother about it
I know you put me here for a reason
I need to know that reason, Lord
Help me find the route that will lead me to succeed in this job
Help me find the spark that will set me apart from my peers in this job
Let me not only be motivated by money but by how I can help people
I want to leave a legacy in this place and not just pass-through
Help me reach my full potential
Show me the way to go
Give me a sign and a purpose here so I do not leave here in disgrace
In Jesus' name, I pray,
Amen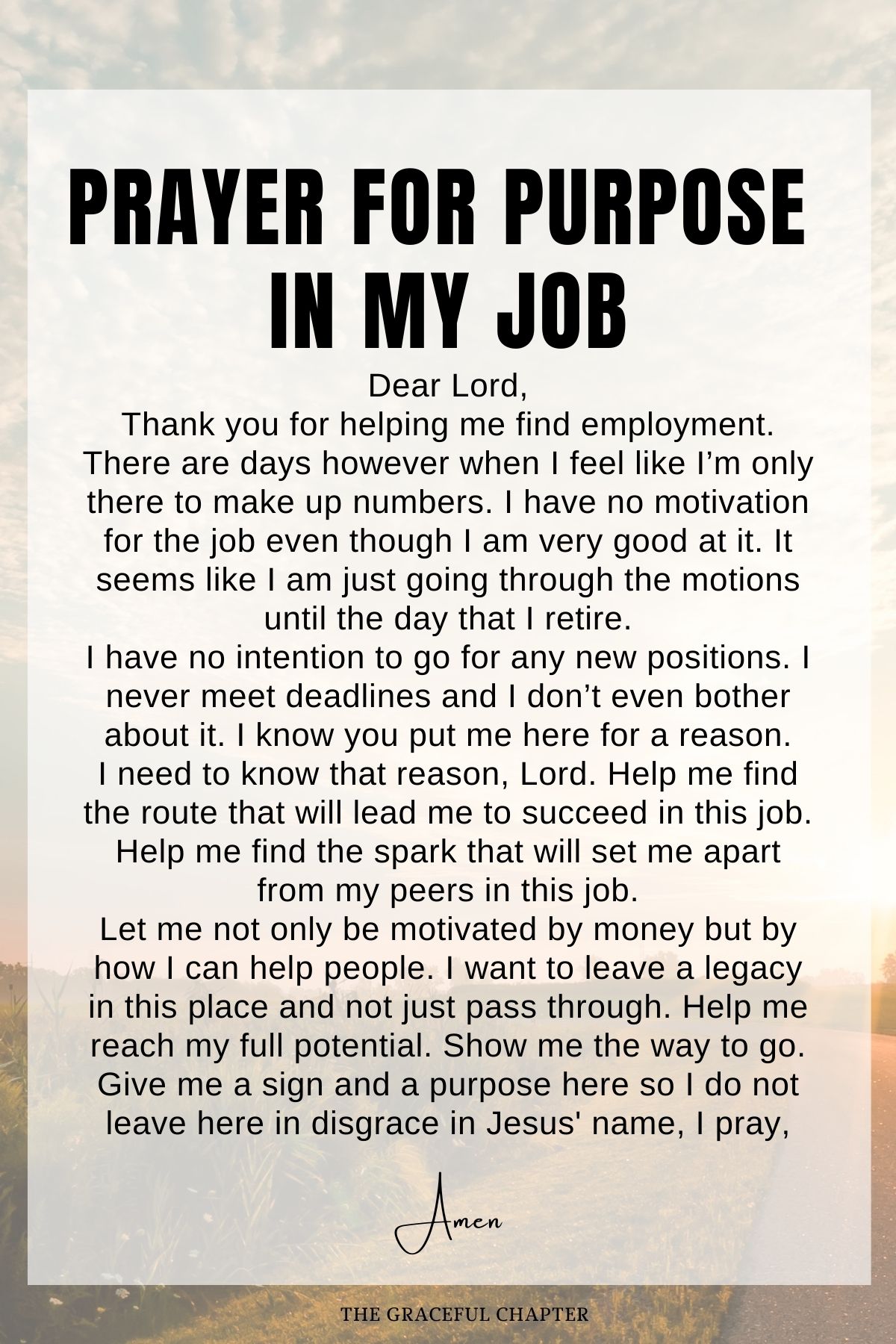 Prayer for Lost Direction
Father Lord in heaven
I have lost my way
Every avenue I try seem to fall apart
I am on the brink of giving up
I have lost my will to try
I don't have any more belief in myself or my abilities
I have often considered certain vices that could help me cope
I have gotten into trouble a few times
I have lost my sense of direction
I am being left behind by my peers
I pray for your help, Lord
Help me find a purpose
Help me discover my bearing
Give me hope and grace again
Bless me to overcome this bump
Show me your light in this darkness so I can reach for you
Touch my heart and give me the strength to carry on
Amen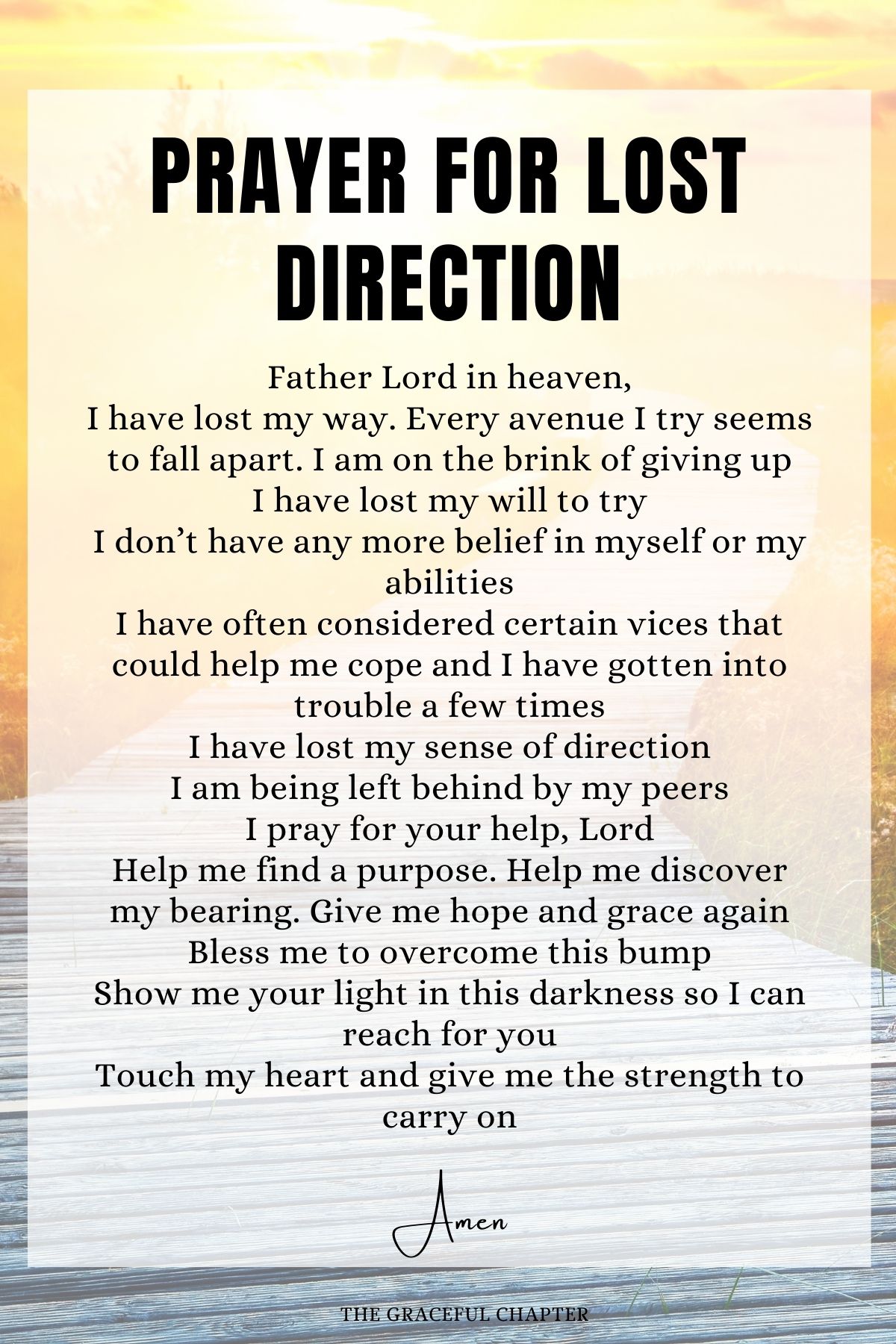 Not having a purpose can make it difficult to even wake up in the morning. God has a reason for your existence. Reach out to him and he will reveal himself to you. He will show you your strengths and potential. Only he knows what is good for you. Only he can change the course of your life. Lean on him and go to him in prayer for all the answers you seek. Put God in control of your life and you can rest assured.