It was at this time that He went off to the mountain to pray, and He spent the whole night in prayer to God.

Luke 6:12
At midnight I shall rise to give thanks to You Because of Your righteous ordinances.

Psalm 119:62
Nighttime symbolizes the end of the day. Metaphorically, the night can also represent the end of your time on earth, dark times in your life, times when you cannot see the way forward and times you need direction. During the day, people are normally busy going about their work so they can earn something to live on.
When the night comes, people take it easy and lay on their beds of rest so they can reflect on the day they had and plan for the day ahead. It is also a reminder of our lives on earth, about how we will live on earth during our days but leave this earth when it is time to go into eternal rest.
Nighttime prayers should help you reflect on your life so far and also help you plan on how to order your future steps so you spend your eternity with God.
The nighttime is a perfect time to talk to God since there are normally no distractions. There is normally a clear picture in your head about what is wrong with your life and where you need help.
When Christ needed strength from the Lord to face what was going to happen to him, he prayed in the night so he could be alone and clearly speak to his father.
We should learn to pray before we sleep so we can keep communicating to God about our lives. He is always ready to listen to our pleas and requests. Learn to begin and end your days in the company of God. His direction can be crucial for your life and open doors you never even thought existed.
Nighttime prayers
A night prayer
Precious Lord,
I give you all the adoration for all that you are
Thank you, Lord, for seeing me through the day
I pray that you will continue to guide and protect me in all my ways
Shine your face on me, Lord,
Pour your supernatural favor and blessings on me
I break every cycle of stagnation and frustration over my life
Grant me your grace to sail through life
Watch over me tonight and grant me a peaceful night sleep
Let me wake up in the morning fueled with your strength and your
power to face the day
Thank you, Lord, for being my rock and my fortress
Amen

Night prayer for gratitude
Gracious Lord,
Thank you for being with me throughout the day
Thank you for sustaining me and bringing me home in one piece
Thank you for your guidance and protection
I couldn't have made it through the day without you
As I am about to sleep, I pray that you, Lord,
will continue to be my shield and protect me from any evil
Grant me a good night sleep and wake me up in the morning
refreshed and ready for the day
Amen
Nighttime payer for strength
Dear Lord
Thank you for taking me through today
Thank you for everything that happened to me today
As I am about to retire to bed, I ask for more strength
Strengthen my body and my spirit
Give me your spiritual armor to battle against the things I cannot see
Give me the perseverance to not give up on myself
Give me the power to accomplish all the plans you have for my life
I will not be shaken by what I see
But I will continue to trust in your love
Let me grow from strength to strength
Guide me, o Lord, through this night and the rest of my life
Amen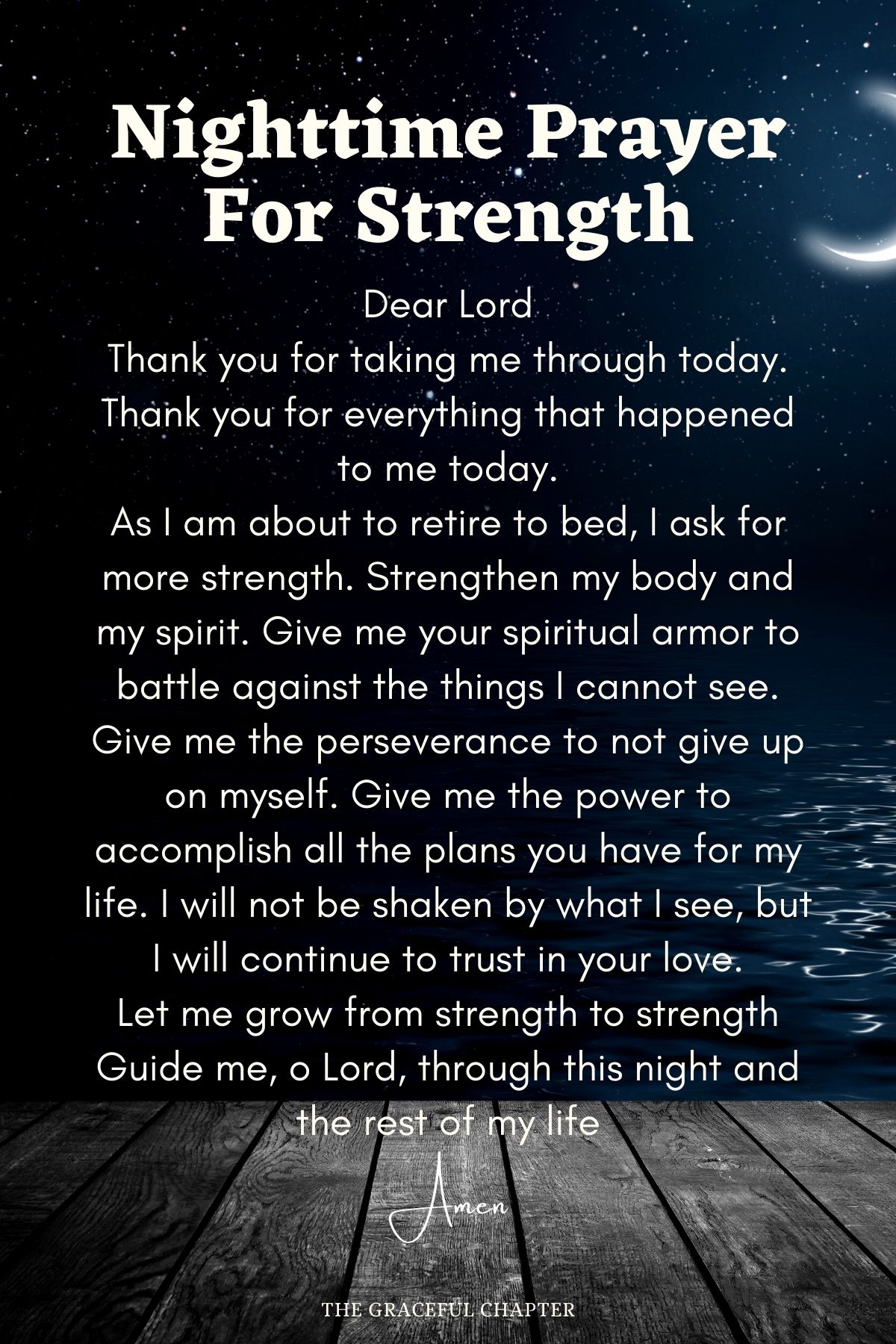 Nighttime prayer for protection
Dear Lord in heaven
Thank you for carrying me on your wings of love all my life
Thank you for bringing me and my family this far
I pray that you continue to shield and protect us through the night and all our dark times
Save us from any traps set ahead of us
Protect us from the plans of evil people
Let the pits they dig for us consume them
Protect our lives, our jobs, our businesses, and our finances
Cover us with the glorious blood of Jesus
Be our shield and the light unto our feet in dark times
Amen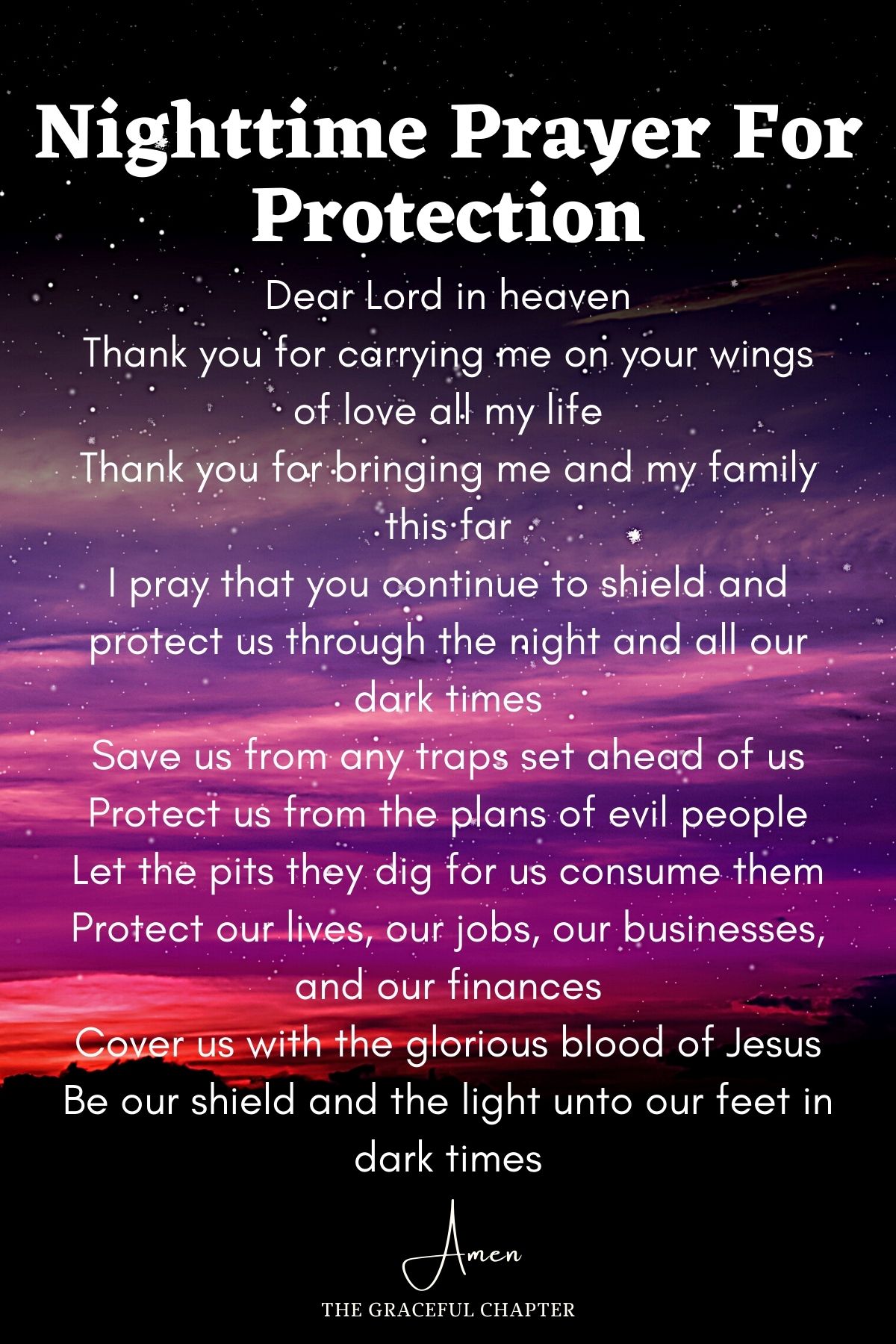 Night prayer for grace
Father Lord in heaven
As I fall asleep tonight, I pray for your grace upon my life
I do not know what the future holds and where my decisions will lead me
I pray that you order my steps into victory everywhere I go
Let everything I touch turn into a blessing
Touch my life and open doors of opportunities for me
Bless my home and my work
Save me from any accidents and cover me with your mark of grace
Amen
Night prayer for favor
Dear Father in heaven
Thank you for my life today
As I sleep tonight, I pray that you bless me and my family with unending favor
Let my face shine everywhere I go
Let your favor follow me all the days of my life
With you, everything is possible
When things seem difficult for everyone, make it easy for me
Let your love dominate my heart and let all my fruits be what you purposed for me
Grant me favor in my workplace and in all my business dealings
Thank you for answering my prayer
Amen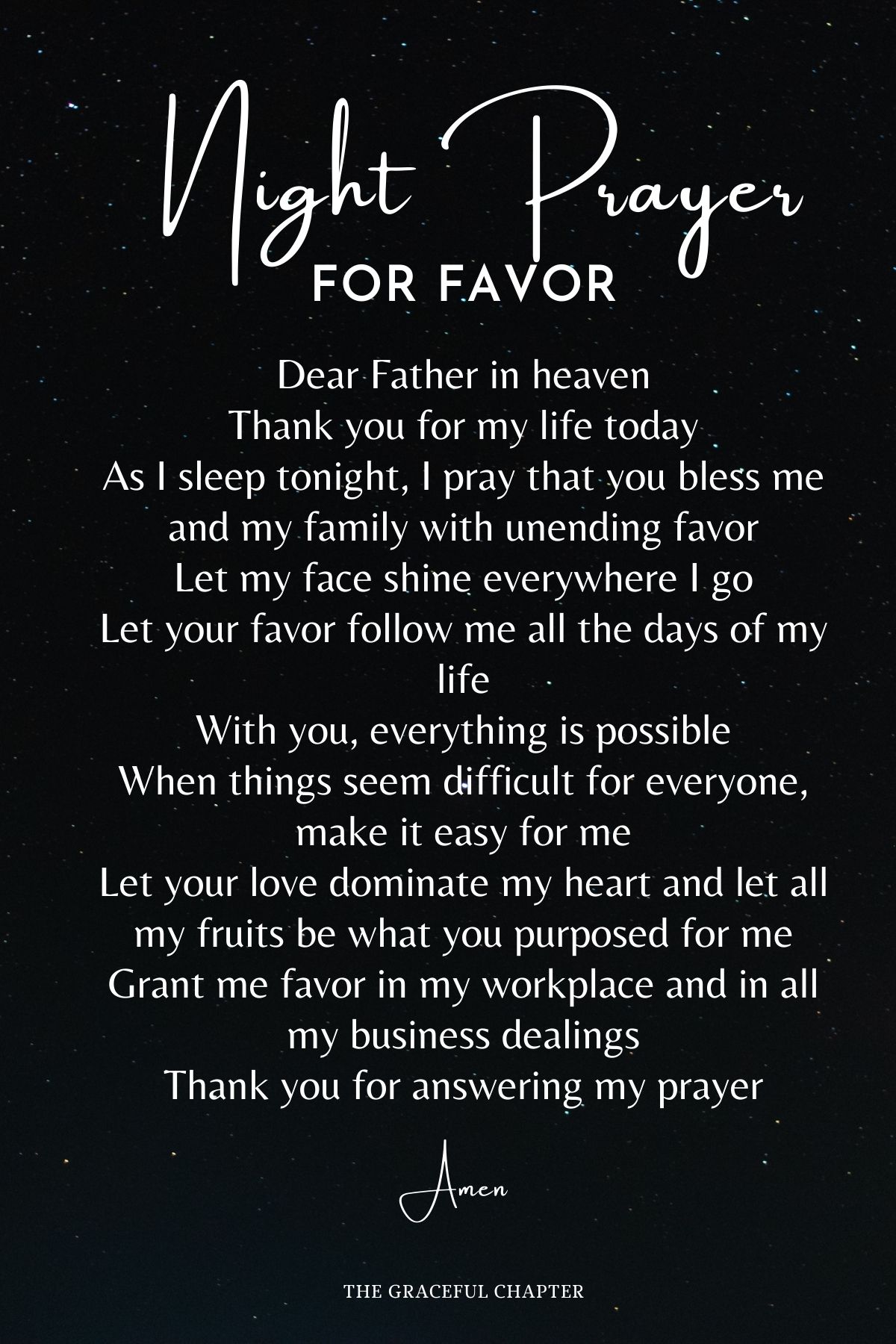 Related Posts
Nighttime prayer for forgiveness
Merciful Father,
Thank you for preserving my life and seeing me through the day
Thank you for sending your son to die for me so that I can come to you
I pray for your forgiveness
Please forgive me for all my unrighteousness and my sins of omissions
Grant me your grace and restore every favor I have lost because of my sins
Cleanse me of all my iniquities and help me to do what is right
In Jesus' name, I pray,
Amen
Night prayer against death
Heavenly Father
Tonight, I pray against any plans of evil in my life
Whatever plans of death in front of me, I destroy in Jesus' name
Let me live to fulfill the plans you have for my life
Save me from any untimely deaths
Let all my roads lead to life
Let there be health and strength in my home
Destroy all fatal plans of the enemies concerning my life
Let them fall into the very traps they have set for me
Let your love reign in my life forever
Amen
Nighttime prayer for health
Dear Lord,
I thank you for the air I breathe
Thank you for the beat in my heart and the water I drink
I ask for divine health upon me and my family
Grant me the strength to live a very healthy and long life
Take diseases away from my family
I vanquish all plans of the devil to strike me and my family with any spiritual or physical diseases
Let all plagues and pandemics skip me and my family in Jesus' name
Thank you for answering my prayer
Amen
Nighttime prayer for my spouse
Heavenly Father
Thank you for the life of my spouse
I pray for favor and grace upon their lives
I pray that you help them achieve any goals they have set for themselves
Bless the work of their hands and make them victorious in all they do
Grant them peace and serenity and make them abundantly successful
Give them power over their fears and let them dwell under your blessing forever
Amen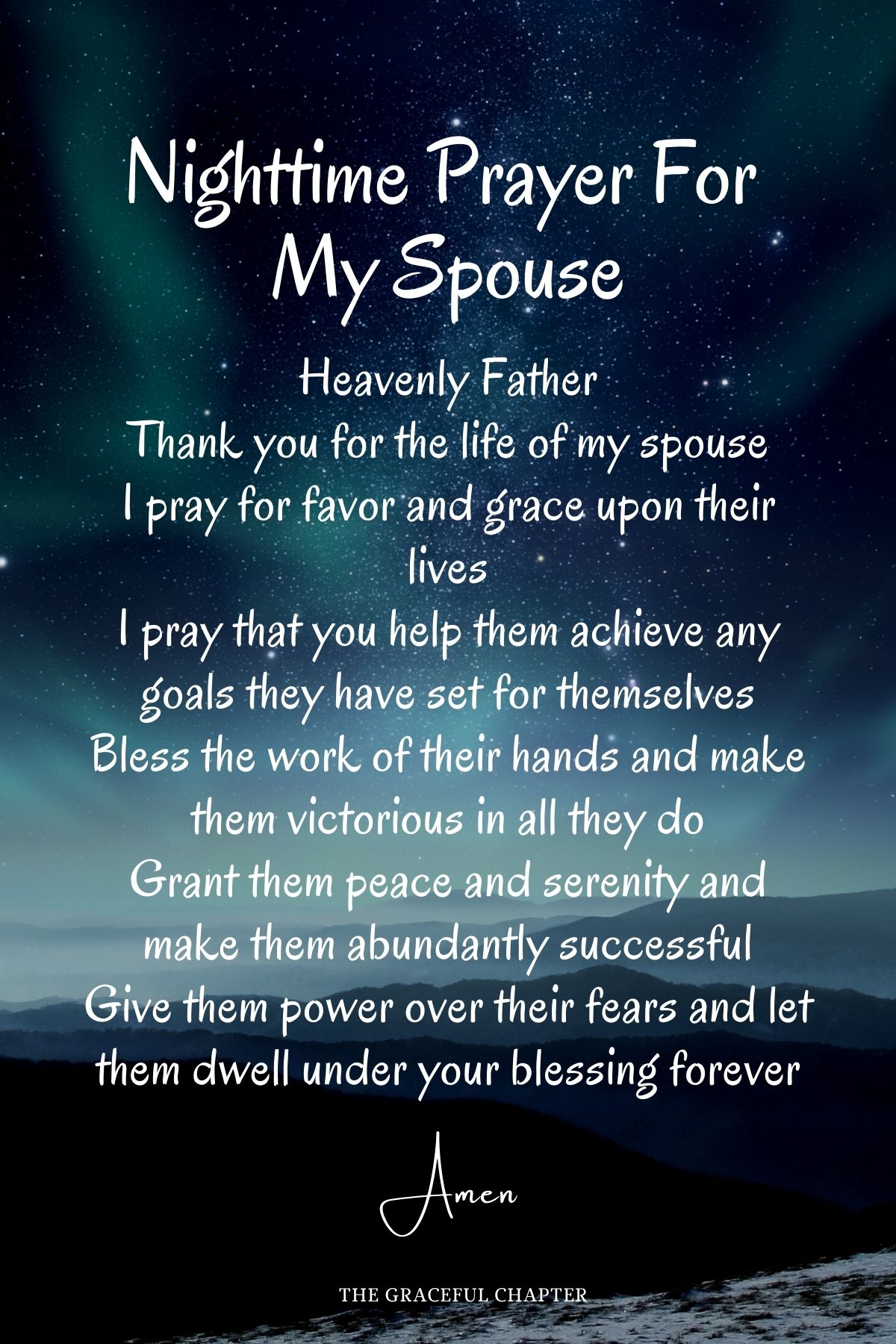 Night prayer for my children
Father Lord in heaven,
thank you for the children you have blessed me with
Thank you for always guiding and protecting them
I commit my children into your hands
As we sleep tonight, we commit their futures into your hands
I pray that you inspire them to live for you
Help them grow in strength and in power
Make them live their lives for you and have your peace in their hearts
Grant them wisdom and grace to go through their education
Grant them the desires of their hearts and let them live to make us proud
and honor your holy name
Amen
Night prayer for work
Lord in heaven
I pray that you help me excel in my work
Bless the work of my hands
Help me reach my full potential
Take me from promotion to promotion
Destroy any traps set to take me down
Let everything I touch be a success
Grant me favor and grace in all my endeavors
and help me be victorious in my work
Amen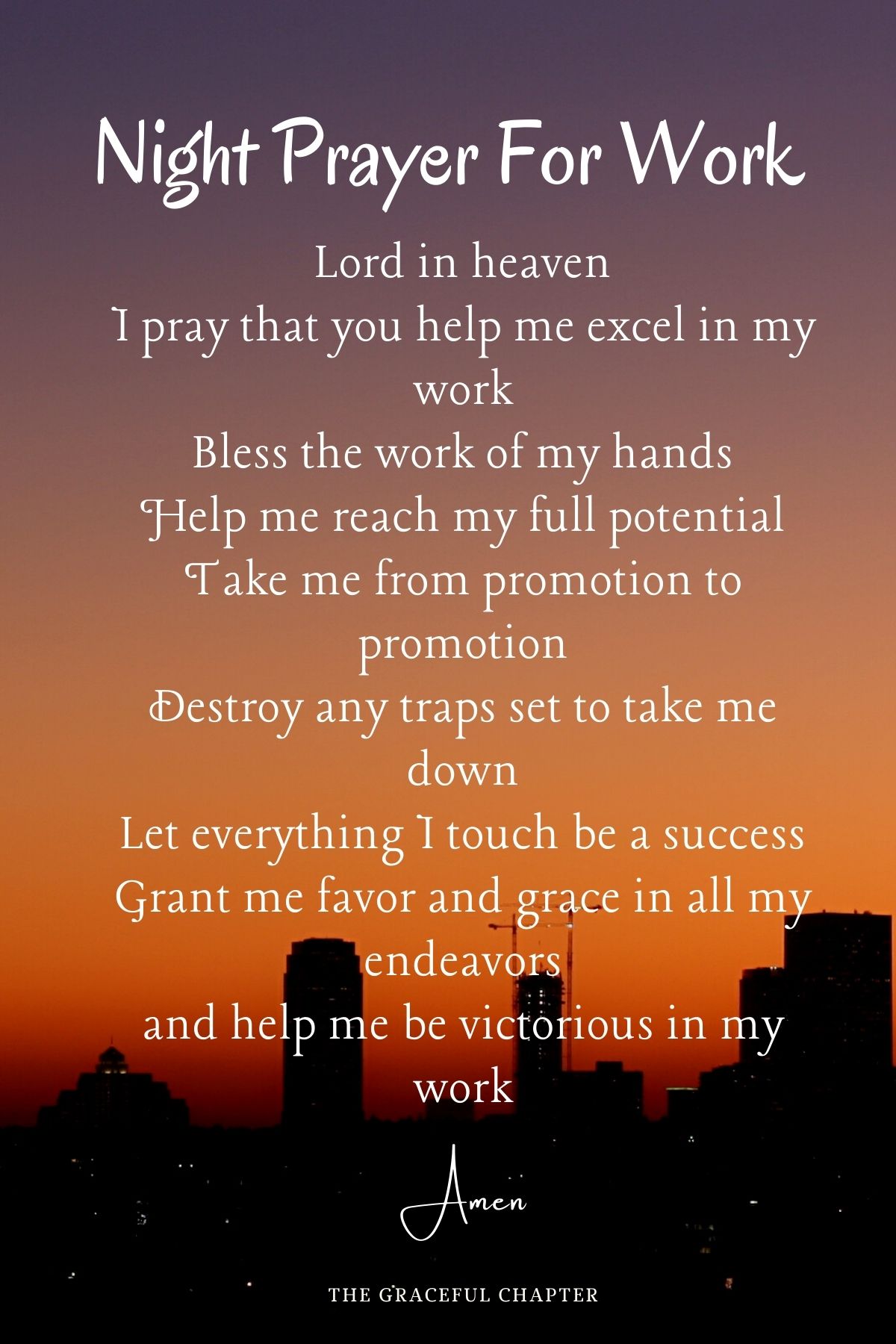 Nighttime prayer against spiritual evil
Dear Lord
Tonight, I pray to resist all spiritual evil
I cancel all generational curses in the form of diseases or misfortunes
Help me sail through my life without any pitfalls
Destroy all spiritual incantations put upon my life
Destroy all diseases and traps set for me
Any spiritual evil concerning my work, marriage, or family be burned up in the name of Jesus
Let your holy ghost intercede for me always and bless me to dwell in your house forever
Amen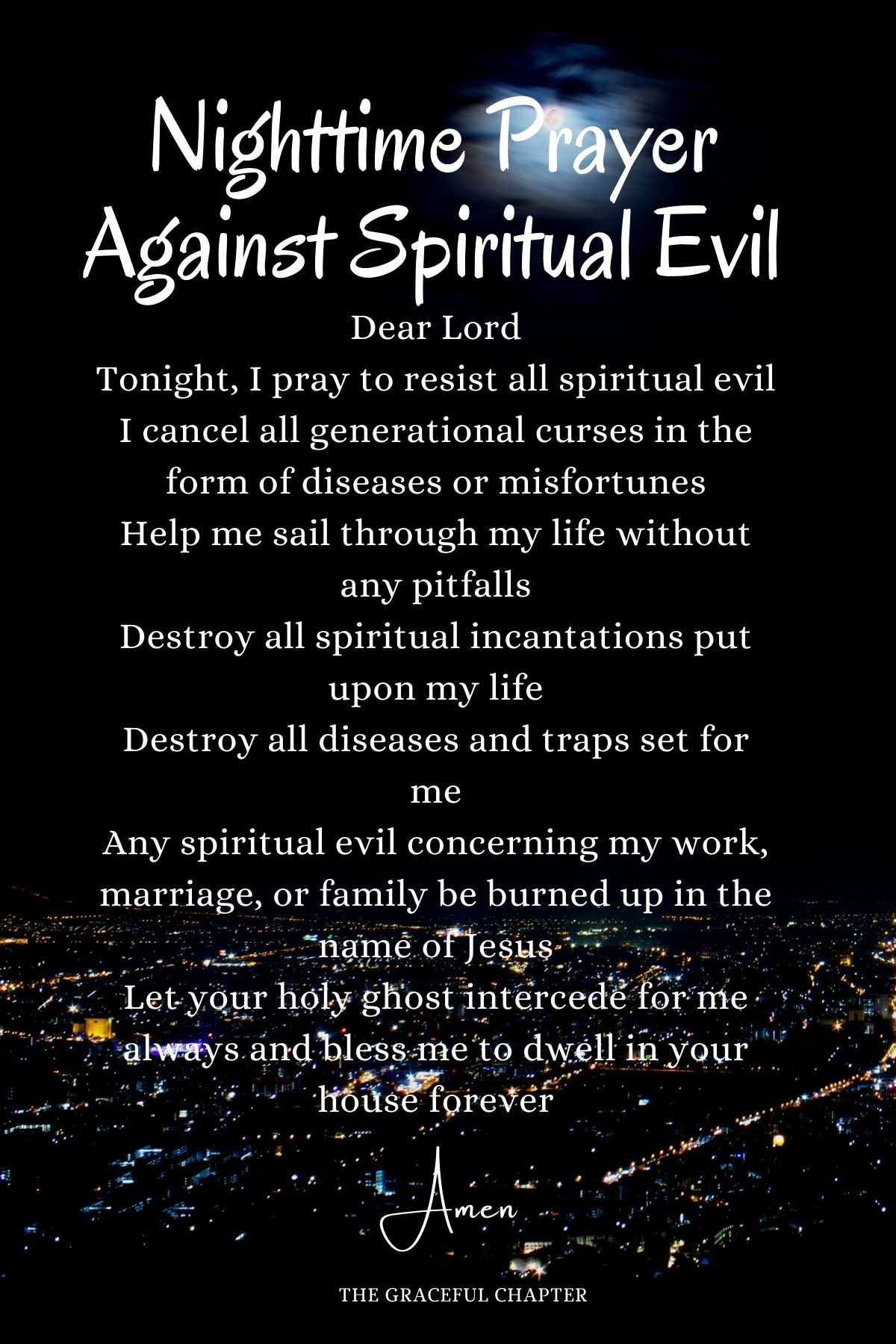 Talk to the Lord each night about your life before you turn in. It is a spiritual representation of you leaving your spirit with him to care of every day. When you go through bumps in your life remember he is always there for you. 'When I remember You on my bed, I meditate on You in the night watches' Psalm 63:6.