2020 has started off scary with the outbreak of the coronavirus. WHO has officially declared coronavirus (covid19) as a pandemic. Sounds scary right? But do not fear. Because God is with you. (Isaiah 41:10).
Moreover, one good news is that coronavirus is a controllable pandemic. Although at the moment, there is no vaccine for this viral infection to minimize the spread, WHO and other health organizations are trying their best to fight the coronavirus.
So as Christians, what can we do to help fight this pandemic? What we can do is pray. Pray for our loved ones, pray for the world, pray for the health organizations, pray for everybody.
This is because our God is a Living God and He is capable of healing us all and wiping this virus from the surface of the world. He is The Almighty. All we have to do is have faith in Him.
But He was wounded for our transgressions, He was bruised for our iniquities; The chastisement for our peace was upon Him, And by His stripes, we are healed.

Isaiah 53:5
This means that, because Jesus Christ sacrificed his life for ours and went through pains and afflictions for us, we can be healed if we call on Him.
Prayer answers all things. But there are certain things we can do to minimize the spread of this infection. And we will list them below.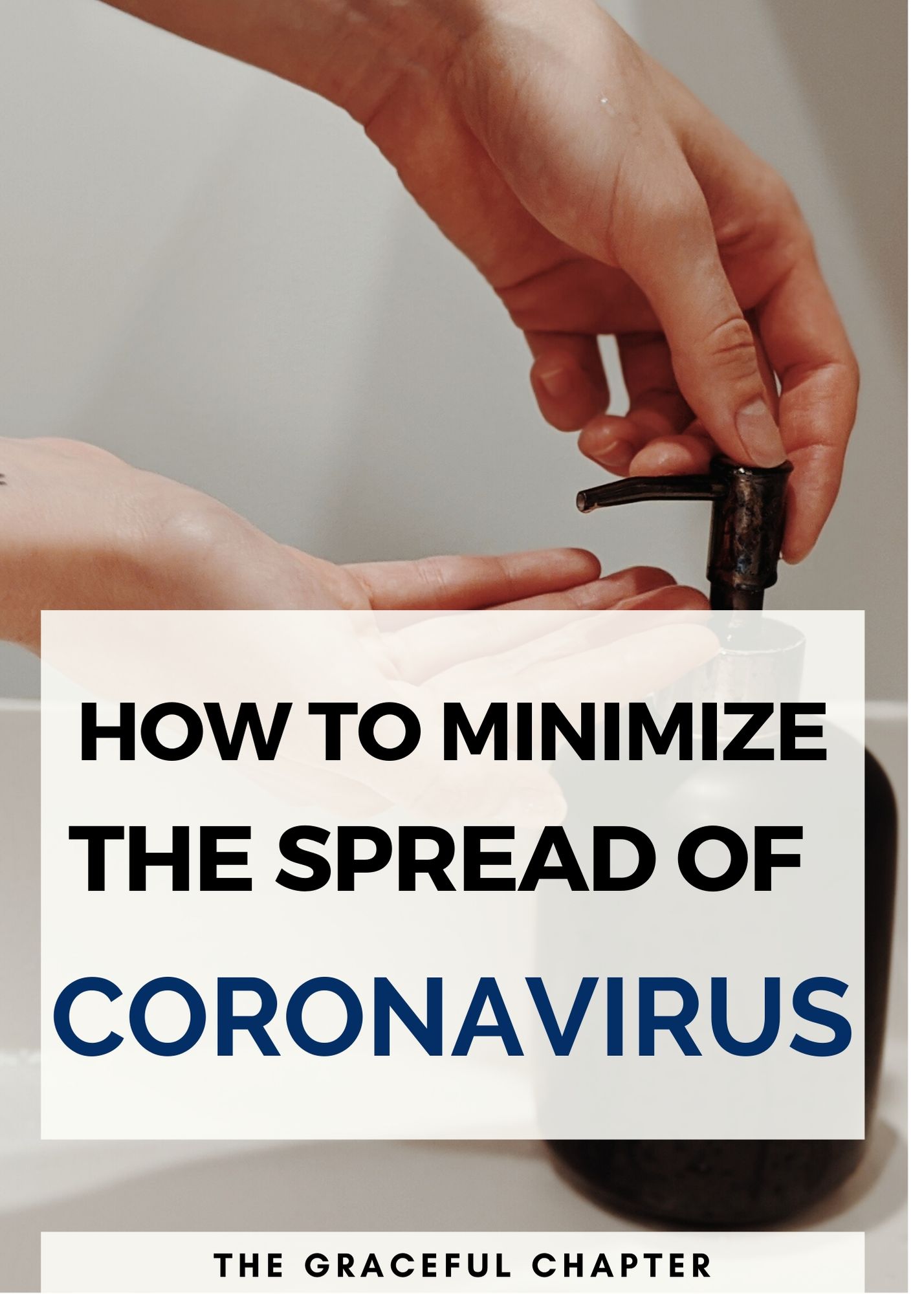 Ways to minimize the spread of coronavirus
Wash your hands regularly
Washing your hands regularly is very important. This helps to get rid of germs and other disease-causing organisms. So wash your hands regularly and wash them properly with soap.
You can also use hand sanitizer when you are at a place where soap and water aren't readily available. This is because the disease can be spread when you touch a surface contaminated with the virus.
Avoid large crowd
Since the disease is spread through direct contact with an infected person, it is advisable to avoid overcrowded places, since you can't really tell who has it in the early stages. So avoid crowded areas.
Don't stand close to someone who is coughing
Coughing doesn't necessarily mean coronavirus but it is a precaution since coughing is one of the symptoms of covid19. So don't stand close to someone who is coughing.
Be at least 3 feet away from anyone who is coughing or sneezing. This way if they have the virus, you won't breathe in the droplets from their cough.
Infected patients should use nose masks
It is not advisable to use a nose mask if you are not coughing or have the virus. But if you have coronavirus, then use a mask, to prevent it from spreading to other people.
Also, stay home if you are not feeling well and contact your healthcare providers if you have any of the symptoms.
Symptoms of coronavirus
The symptoms of coronavirus include cough, fever, fatigue, runny nose, sore throat and even diarrhoea. So if you have any of these symptoms, call your healthcare provider.
Now that you've done your part as a human, it is time to leave the rest to God Almighty in prayers.
Prayer against coronavirus
Coronavirus, I rebuke you in Jesus name.
I cast you out. You have no place here.
Father Lord, protect us from this disease.
Have mercy on us. Loose your healing on us Lord.
Deliver us from this virus and all other infections.
Cover us with the blood of Jesus.
The Bible says that by His stripes we are healed.
So, we call on your healing powers today.
Please heal us all.
Thank you for hearing our plea, Oh Lord.
In Jesus name, have we prayed.
Amen
Prayer for healing
Father God,
I come before you today to seek mercy and healing.
Have mercy on your children who are infected with coronavirus.
You alone can restore their health.
Heal them and make them whole again.
Give them the strength to carry on.
Comfort them in these scary times of their life.
I dedicate doctors and nurses to you, Lord
Help them in all their doings
Protect them from this disease.
And give them the heart to continue taking care of the sick.
In Jesus name.
Amen
6 bible verses for healing
For I will restore health to you, And heal you of your wounds,' says the Lord

Jeremiah 30:17
Behold, I will bring it health and healing; I will heal them and reveal to them the abundance of peace and truth.

Jeremiah 33:6
O Lord, be gracious to us; We have waited for You. Be their arm every morning, Our salvation also in the time of trouble.

Isaiah 33:2
Come to Me, all you who labor and are heavy laden, and I will give you rest. Take My yoke upon you and learn from Me, for I am gentle and lowly in heart, and you will find rest for your souls. For My yoke is easy and My burden is light."

Matthew 11:28-30
Have mercy on me, O Lord, for I am weak; O Lord, heal me, for my bones are troubled.

Psalm 6:2
Surely He shall deliver you from the snare of the fowler
And from the perilous pestilence.

Psalm 91:3
This pandemic has got most of us scared. You are not alone if you feel you are afraid. You can check out our choosing faith resources here to help you through these times.