Growing up, we didn't have much. My dad died early and my mom raised me as a single mom. And she tried her best but my mom wasn't always healthy and she fell sick almost every month or two. Which meant that she wasn't able to work as much and the little money we had was used to get her medication.
She had this chronic stomach pain and I never really knew what it was, maybe because I was too young to know what it actually was. But all I knew was that every now and then, this stomach pain would hit her and she wouldn't be able to do anything for days.
So we struggled with money a lot. There were times I would visit a friend in their home, and hang around till dinner time, just so I could have a meal that day. I was sent home for school fees so many times. And sometimes it was even hard to get just one meal a day.
I was one child who didn't know how to ask people for stuff or money. So what I would normally do is visit a neighbour or a friend, help them around and eventually, they will naturally give me something to eat or dash me some money for helping around.
When they gave me money, I would rush home and get my mom some mashed kenkey. Since she was sick and it was her stomach, she couldn't really eat anything heavy or much. So I would get kenkey on the way home and mash it for her. She could eat better when she drank it like a smoothie.
Riches come from God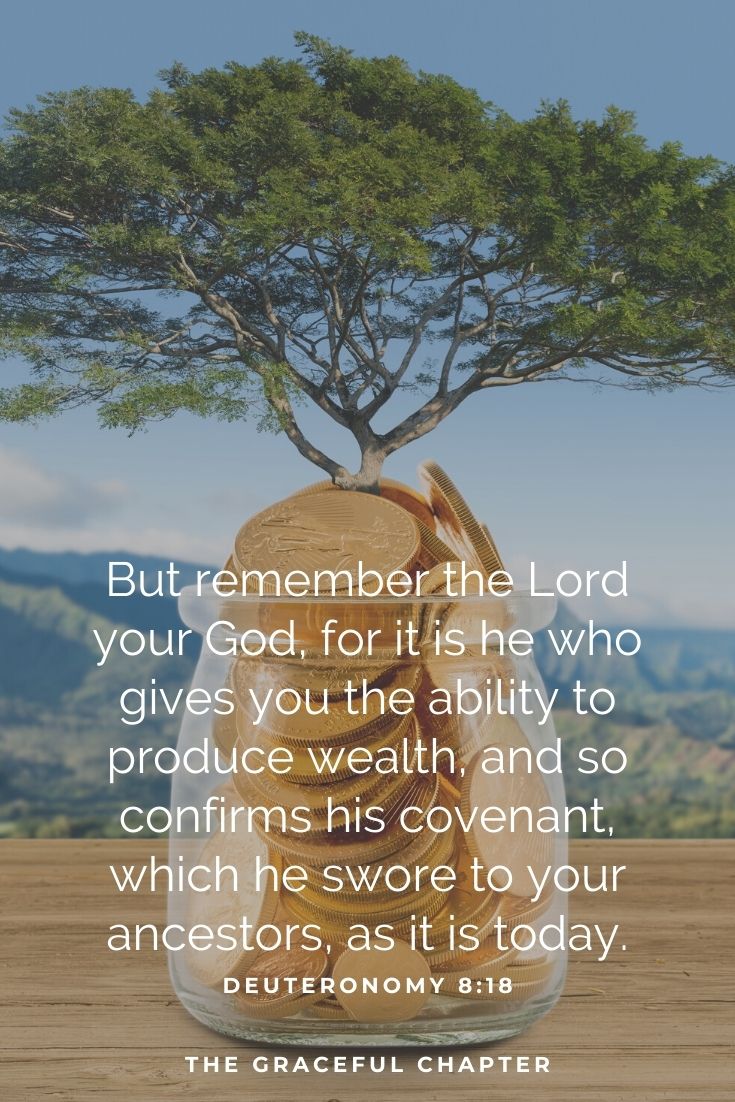 But remember that it is the LORD your God who gives you the power to gain wealth, in order to confirm His covenant that He swore to your fathers, as it is this day.

Deutronomy 8:18
It was during these times in my life that I promised myself to work really hard and make money for myself so that I wouldn't have to be poor all my life. But growing up, I came to the realization that it wasn't just about working hard.
This is because some people work really hard and yet, they are still broke. So yes, hardwork pays but that isn't enough for a financial breakthrough. The real secret to financial breakthrough is to find favour and mercy in the eyes of God.
God is the giver of wealth. So when you go to Him in prayer, He is faithful and just to listen and answer your prayer for financial blessings in order to confirm His covenant.
Yours is to have faith in Him and believe that in due time, He will bless your hardwork.
Earn money honestly
Dishonest wealth will dwindle, but what is earned through hard work will be multiplied.

Proverbs 13: 11
It might be tempting to use immoral means to gain some money. It seems like a quick way to get some money to keep going. After all, you have to eat and you have to pay the bills. But what you should remember is that in the pursuit of riches, you shouldn't let go the word of God and your honest life.
That is why the Bible states that the love of money is the root of all forms of evil (1 Timothy 6:10). So you should earn money honestly. And God will bless your hard work.
Earning money honestly might mean you won't get rich overnight and it might take time to build riches but you have to trust in God. And trust in the process of your life, that He knows what is best for you and at the right time, you will have your breakthrough.
Trust the process
One thing I believe in is that everything happens for a reason and there is something to be learnt from every situation. So although things might be really bad for you at the moment, you have to trust that it is all happening for a reason and learn something from this.
What I learnt from that stage in my life was to be kind for no reason. During that period of my life, a lot of people did things for me without even knowing my situation. I'm not one to be telling people, I'm hungry please get me food or my mom is sick please give me something small to get her food and medication.
Yet, everyday someone was kind enough to give me food or to give me money for helping around. They didn't know what they were doing for me back then but they did it just because. So I learnt to be kind especially to little kids.
I also learnt to be patient. Because things don't just happen. Sometimes it might take me spending all day in a friends house to be able to get something to eat. But I learnt to be patient.
I also learnt how to deal with money. That time in my life, although I was in primary school and very young, I learnt not to misuse money and save. So up till date, I live frugally and save all the time because I know what it's like to have no money and I don't want to go through that ever again in my life. So I save.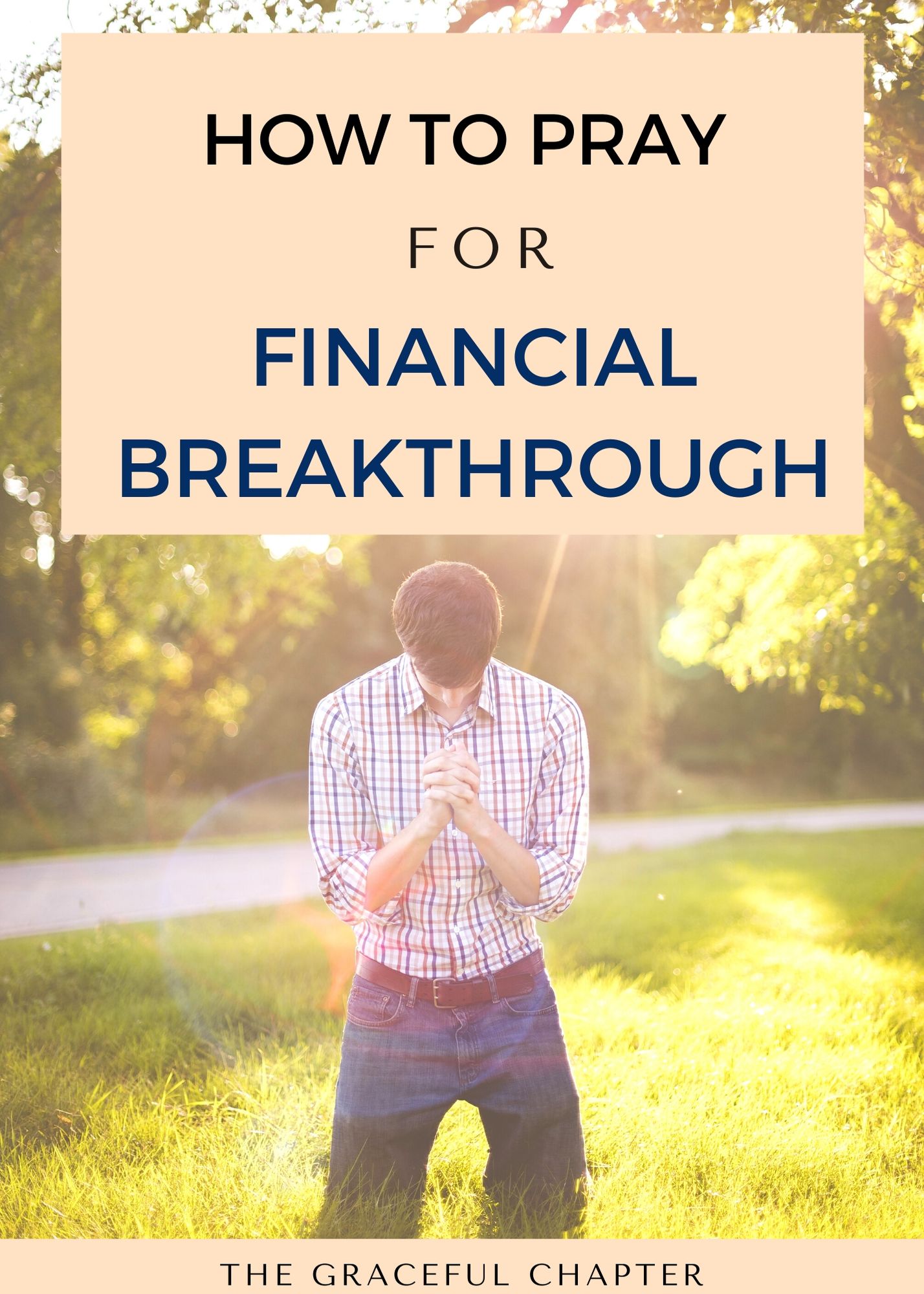 A lot of Christians are reluctant to pray over their finances because they think doing that is wrong. So we've put together a resource for Christians to help them understand money and the riches of God. This is a 31-day bible study workbook on money to guide you through a daily study of what the bible says about money, how Christians should view financial success, and what God requires of us in exchange for His blessings.
How to pray for a financial breakthrough
1. Give thanks
If you want to go before God in prayers for financial breakthrough, the first thing you have to remember to do is to thank Him. Yes, things are really bad for you right now. But that doesn't mean that God is not doing anything for you.
When you feel like God is not doing anything, that is usually the time that He is doing so much for you. See this, you have no money alright but somehow you survive every single day and you are surrounded by the people you love. You also have something you are doing even if it is not bringing in a lot of money right now.
So start by saying thank you to God for everything He keeps doing for you each and every day.
2. Pray for good health
The next thing you have to do is to pray for good health. This is because it will be difficult to earn any money at all if you are weak and sick. So pray for good health, so that you will have enough strength to keep working hard.
3. Tell God what you want
The Bible says that we should ask and it shall be given unto us.(Matthew 7:7). So just ask. Tell God what you want from Him. Whether it is to bless your business, so you gain more money or it is to earn a promotion so that you earn more. Just ask. Say it all.
4. Tell Him why you want the breakthrough
Now the next thing you have to do is to tell God why you want this financial breakthrough. It is just like going to ask your dad for money. You ask "daddy, can I have some money?" He will ask what for? So tell God why you want this financial breakthrough.
5. Thank God
Yes, you start the prayer with thanks and you end it with thanks. So you end by saying thank you to God for listening to your prayers and for answering them.
Recommended Resources
3 prayers for a financial breakthrough
Prayer for financial blessings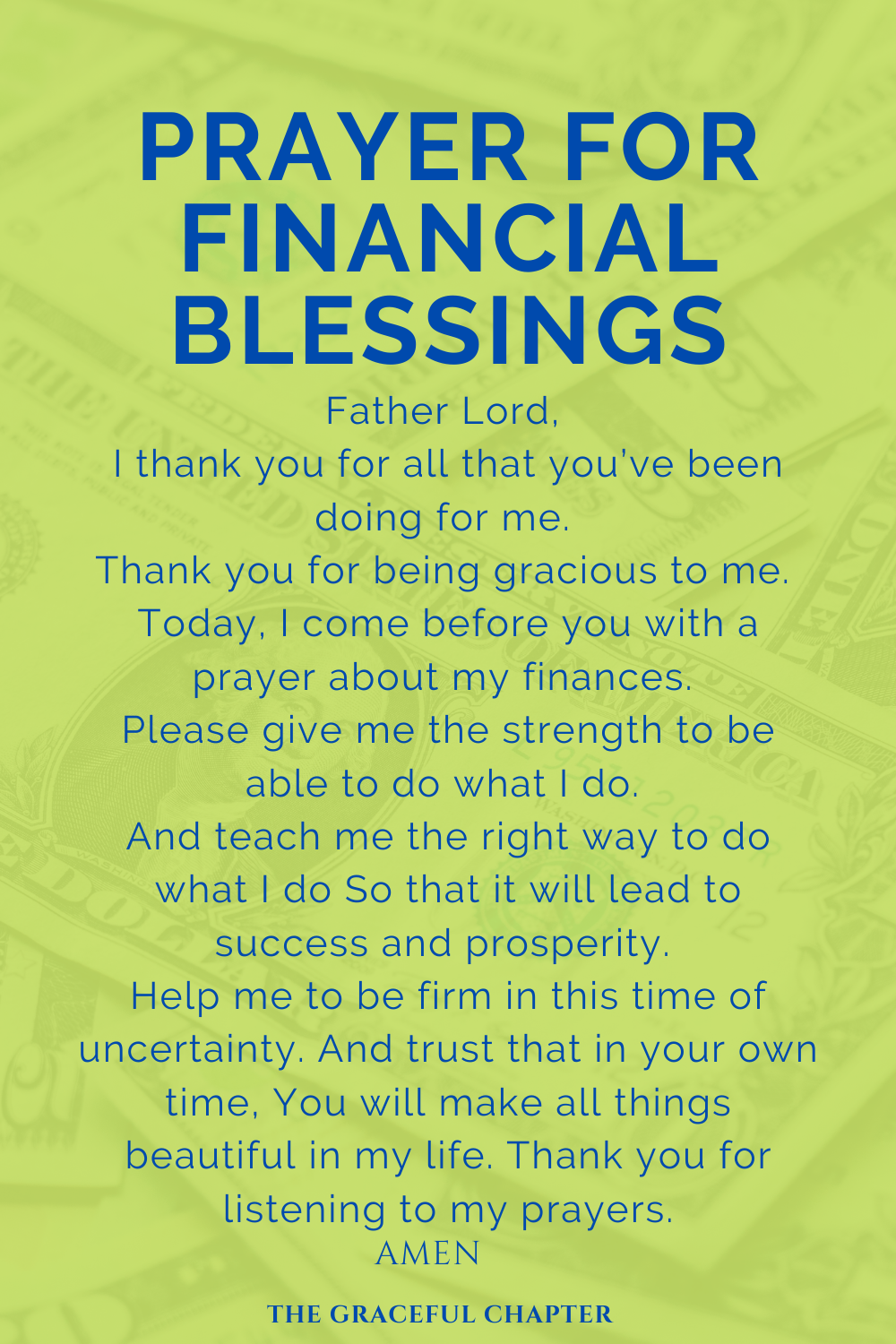 Father Lord,
I thank you for all that you've been doing for me.
Thank you for being gracious to me.
Today, I come before you with a prayer about my finances.
Please give me the strength to be able to do what I do.
And teach me the right way to do what I do
So that it will lead to success and prosperity.
Help me to be firm in this time of uncertainty.
And trust that in your own time,
You will make all things beautiful in my life.
Thank you for listening to my prayers.
Amen.
A prayer for your finances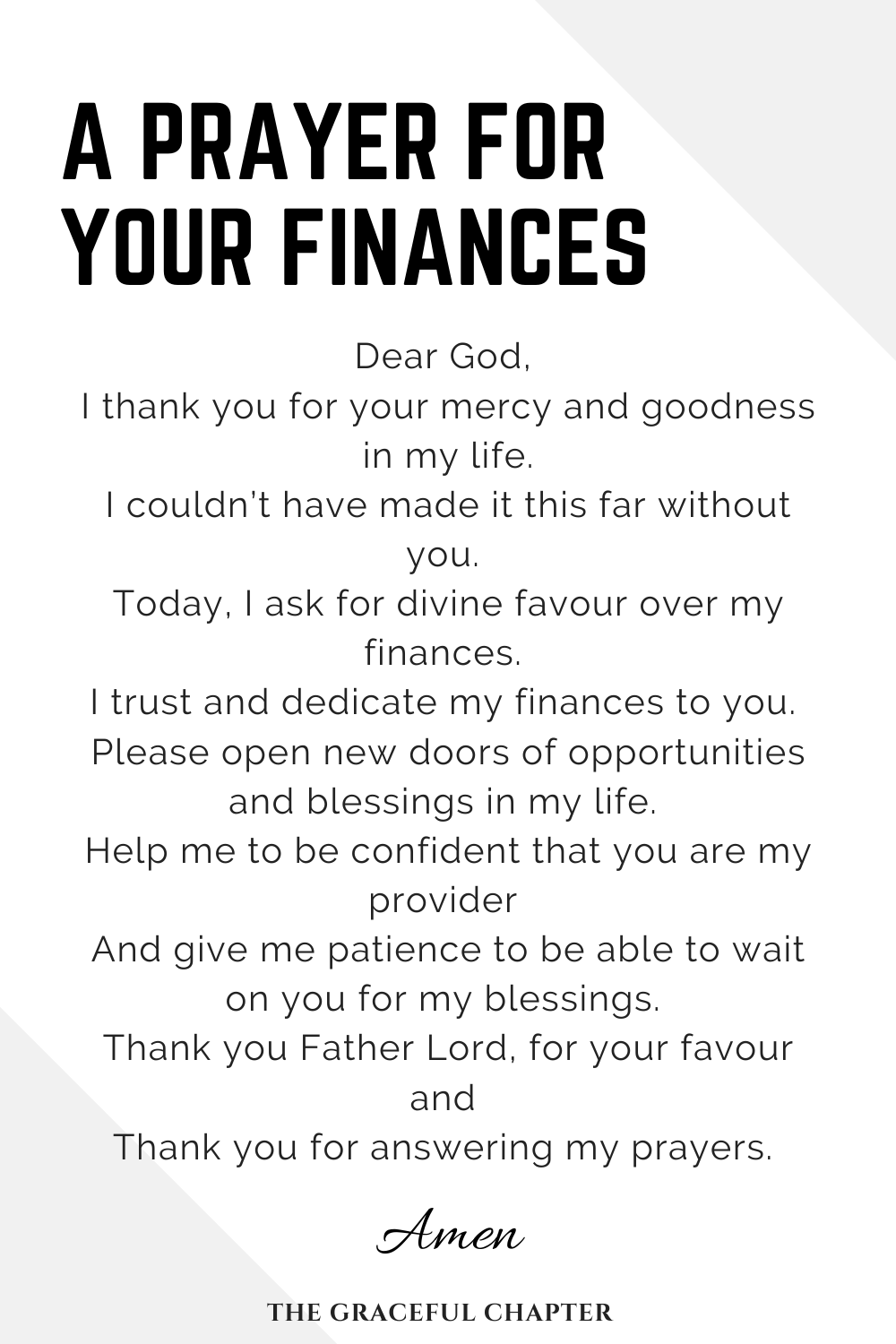 Dear God,
I thank you for your mercy and goodness in my life.
I couldn't have made it this far without you.
Today, I ask for divine favour over my finances.
I trust and dedicate my finances to you.
Please open new doors of opportunities and blessings in my life.
Help me to be confident that you are my provider
And give me the patience to be able to wait for you for my blessings.
Thank you, Father Lord, for your favour and
Thank you for answering my prayers.
Amen
Prayer for money problems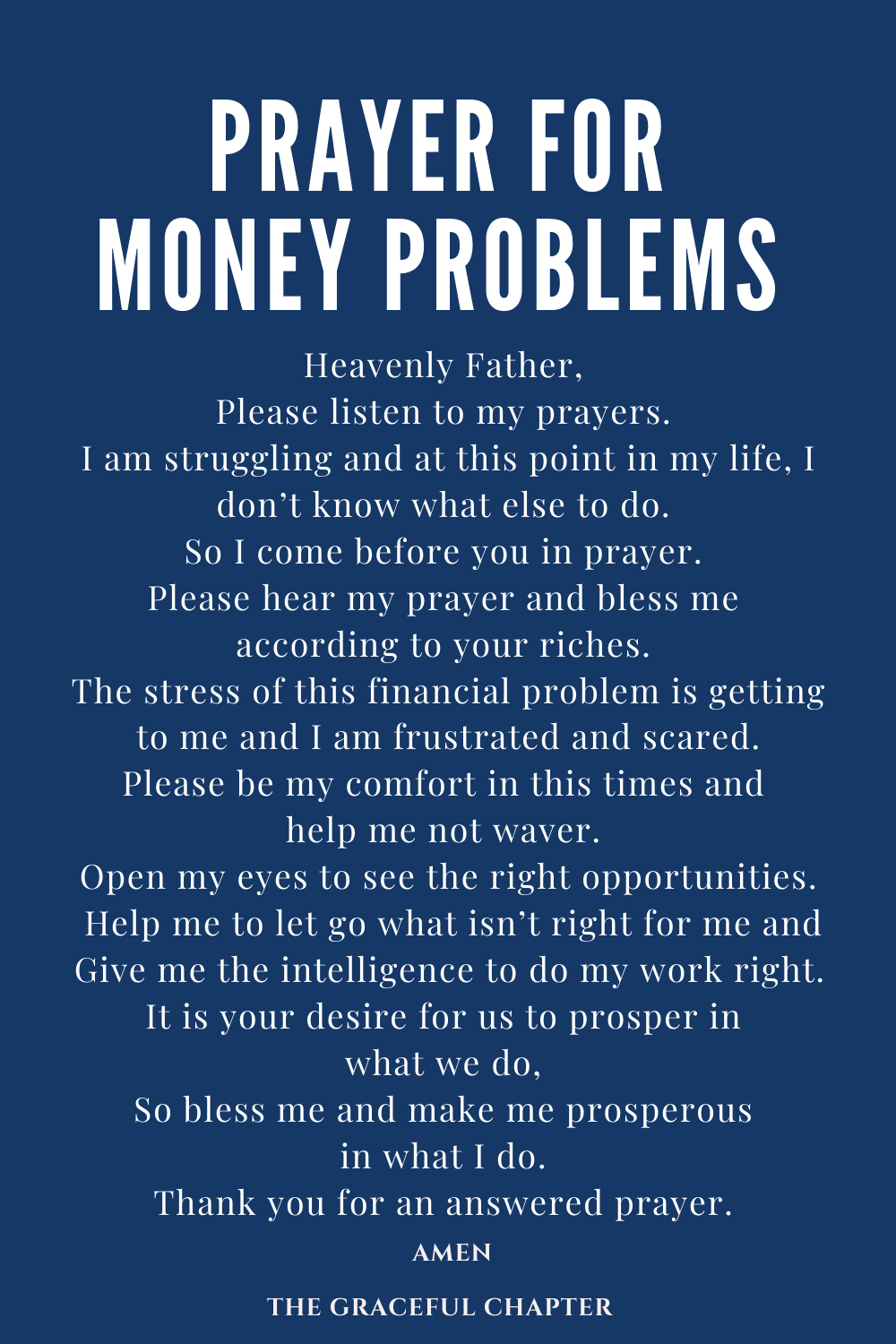 Heavenly Father,
Please listen to my prayers.
I am struggling and at this point in my life,
I don't know what else to do.
So I come before you in prayer.
Please hear my prayer and bless me according to your riches.
The stress of this financial problem is getting to me and
I am frustrated and scared.
Please be my comfort in these times and help me not waver.
Open my eyes to see the right opportunities.
Help me to let go of what isn't right for me and
Give me the intelligence to do my work right.
It is your desire for us to prosper in what we do,
So bless me and make me prosperous in what I do.
Thank you for an answered prayer.
Amen.