Life is all about decision-making. And each decision we make has an effect on our life. Just one decision made can alter the course of your life for good. So you have to always make sure you make the right decisions.
But as humans, we can only know so much, and this means that we may not always know which decision is best for us. That is why it is important to always seek guidance from God. God is all-knowing. He knows the beginning and the end and he knows which decisions will be best for us.
So instead of relying on your own choices and wants, seek wisdom and guidance from God through prayer in all you do. The bible says that "if any of you lacks wisdom, you should ask God, who gives generously to all without finding fault, and it will be given to you". James 1:5
King Solomon asked God for wisdom and God gave him. If you ask God too, he will give you. The bible says to ask and it shall be given to us. Asking God for wisdom and guidance means you are giving him total control of your life, so he will direct your path and order your steps.
Here are some prayers for wisdom and guidance to pray over your life daily.
Prayers for wisdom and guidance
Please take control of my life
Heavenly Father,
Thank you for all that you do for me
Thank you for guiding and protecting me always
Forgive me, for all the times that I failed to seek your guidance first in my decisions
Please take control of my life and order my steps
Help me to be able to follow your path as you lead me to success and prosperity
Grant me wisdom and understanding in everything I do
Teach me to hear and understand your voice when you speak to me
In Jesus' name,
Amen
Help me to rely on you in all that I do
Dear God,
I come before you today in total submission
I open my hands and my heart to you
Help me to rely on you in all that I do
Please take control of my life and guide my thoughts and my actions
Help me understand your words and fix my heart on you.
Walk with me, Lord, and order my steps
Grant me wisdom, strength, and guidance in everything I do
Lead me through the pitfalls of life and bring me to the life you have planned for me
Let your will be done in my life always,
Amen
Wisdom and guidance in friendships and relationships
Dear God,
I come to you in prayer today about my friendships and relationships
Help me to make the right friends who will help improve my life and draw me closer to you
Grant me wisdom in my personal interactions
Guide me to appropriate friendships and relationships
Surround me with people who will assist me in developing my character and improving my skills
Help me to discern the intentions of people and a bad company that won't help me in life
Put people who will be helpful in my life on my path
Help me cross paths with those that will help me attain great heights
Let your purpose for my life prevail in Jesus' name,
Amen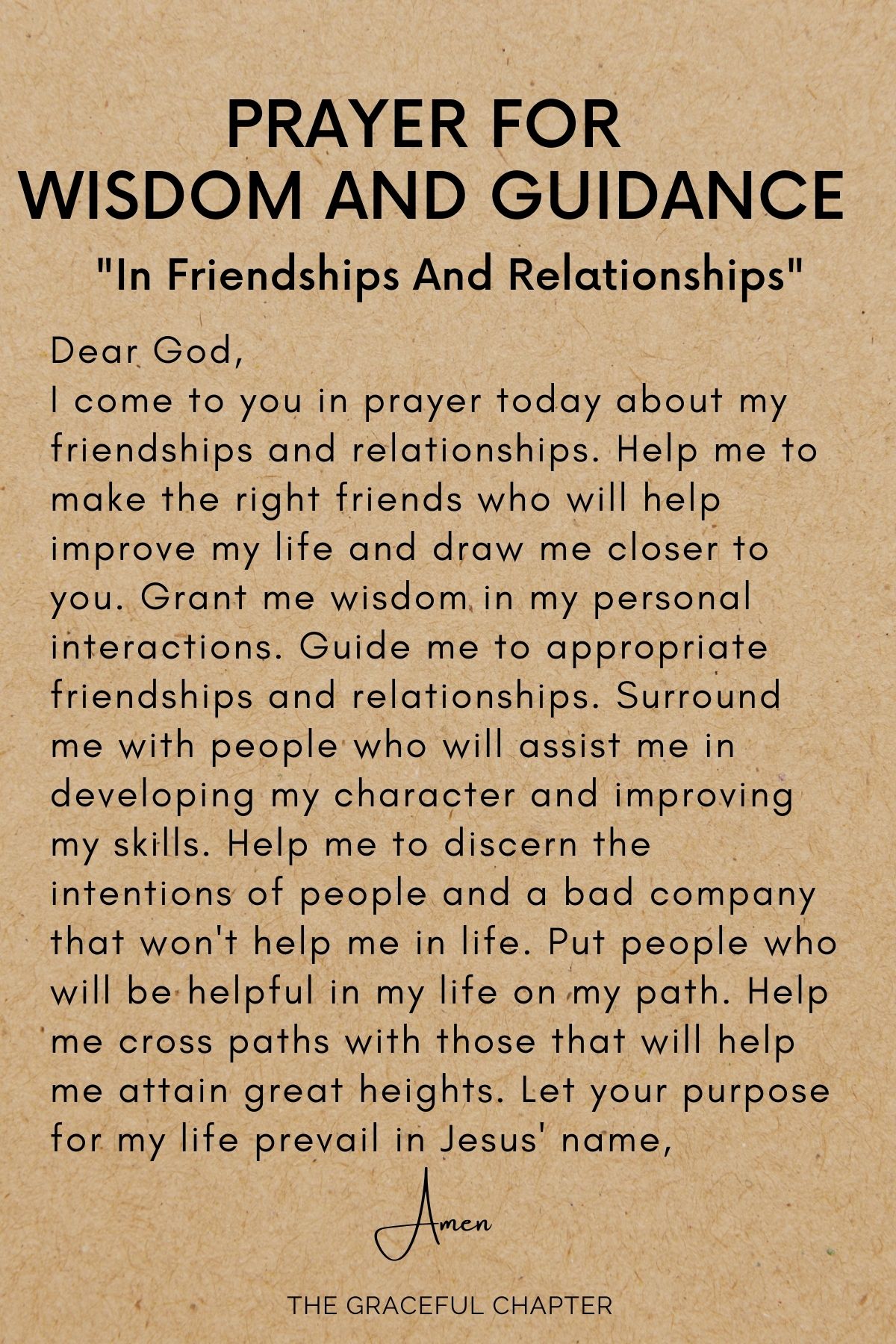 Help me to make the right decisions in life
Dear God,
I pray for your wisdom and guidance in everything I do
I commit my daily activities to your care
Help me to always make the right decisions in life
Teach me to know and understand the benefits and the drawbacks of everything that I do
Guide me as I make decisions so that I can always make the right decisions
that will bring me closer to your purpose for my life
Help me to let go of what is wrong and ineffective in my life
Teach me to focus on what will offer me fulfillment in you,
Thank you for answering my prayers,
In Jesus' name,
Amen
Wisdom and guidance for raising kids
Dear Lord,
Thank you for the children you have blessed us with
Thank you for their lives and their health
I pray that you bless us with the wisdom to raise these children
Help us raise them in you so they don't depart from it in their adulthood
Help us not expose them to the snares and bile of this world
Help us know exactly what they need for them to grow in wisdom and understanding
Guide us to protect them from any adversity that will harm their lives
Help us give them all that they need to be successful in life
Let us provide a conducive environment for them to grow in wisdom
Let us know and understand your word so we can teach them your ways
Help us guide them away from a bad company that will hurt their lives
Give us the wisdom to impart on them so they will grow up as wise people
Bless them through us and give them all they need to grow in you
Thank you for answering our prayers
Amen
Related Posts
Wisdom and guidance for Profession
Heavenly Father,
Thank you for this profession you have blessed me with us
Thank you for all I have gained in this profession
I pray for your guidance and protection through this job
Grant me the intelligence and wit to be profitable in this profession
Help me not make any decisions that will be detrimental to the health of my profession
Save me from any collapse in my professional framework
Help motivate and inspire my workers to fully contribute to this work
Remove any impediment that will retard the progress of my profession
Help me solve any problems that may arise in this profession
Preserve me from greed and help me not overinvest in anything unnecessary
Thank you for answering my prayer through Jesus Christ, our Lord,
Amen
Wisdom and guidance for marriage
Dear Lord
Thank you for preserving my marriage till now
Thank you for helping me through all the bumps in the road
Thank you for the life of my partner
I pray that you bless us with the wisdom to get through all our problems
Give us all the good counsel we need to make this marriage work
Guide us through our arguments and help us not escalate
Let us not listen to bad counsel that will affect our marriage
Let us be an example of a perfect marriage for our children to follow in future
We commit our marriage to your care now as we did at the beginning
Guide us through this marriage in Jesus' name,
Amen
Wisdom and knowledge for your business
Heavenly Father,
Thank you for my business
Grant me wisdom and knowledge to be able to do this business right
Whenever I'm faced with a difficult situation in my work,
Lead me through the storm and help to make the right calls
Show me the right way to do things
Fill my heart with love and understanding for my workers
Help me relate well with them
Teach me to be a good leader and help them to do this work right
Thank you for your love and guidance,
Amen
Wisdom and guidance in decision-making
Dear God,
I'm at a point in my life where I need to make this important life-changing decision
Father, I am so confused and terrified as I do not know what the right move is
So, I come to you for wisdom and guidance
Fill me with your wisdom, Lord
Send down your Holy Spirit to come and be my guide
Show me what to do and help me to see and hear you
I do not know what the outcome of my decision is going to be but you do
So, I put all my trust in you, Lord, teach me what to do
Show me your way, Tell me what to do
And help me to relax, knowing that you are in control
and everything is going according to your works
Thank you, Father, for your grace,
Amen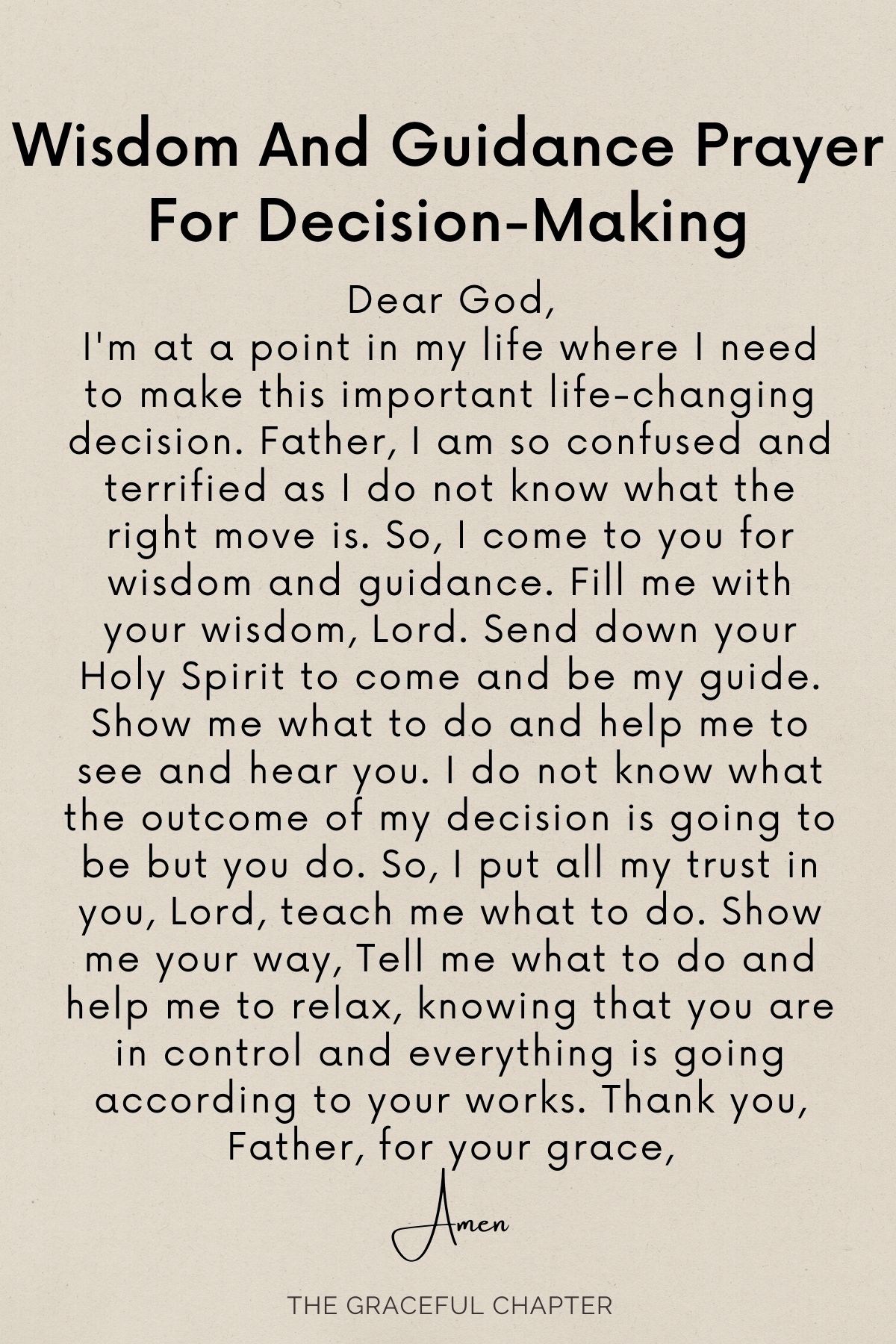 Wisdom and guidance for finances
Gracious Lord,
Thank you for all you have given me
Thank you for all the money you have given us
Thank you for the work of our hands
We pray for guidance on how to manage our finances
Help us not waste money on anything unnecessary
Grant us the guidance and wisdom to use the resources you give us judiciously
It is said that a fool and his money are soon parted
We pray for your help so we don't lose all we work for
Help us produce more from the talents you have given us instead of losing them
Amen
Wisdom and guidance during bad times
Dear God,
Thank you for our lives today
We commit this situation in which we find ourselves in your hands
Guide us out of this wilderness
Grant us the wisdom to find our way out of this financial trouble
Give us the patience to not turn on each other
Bless us with the strength to not turn away from you
Let us stay under your protection and not seek help away from you
Keep your love in our hearts so we do not give up on ourselves
Bless us, dear Lord, to keep meditating on the promise of your word during this time
Let us keep this trust in you and not relent in reading your word
Keep us grounded in you and let us not fall on our faces
We know and trust that you will sail us through this storm
Thank you for answering our prayer,
Amen.