May the favor of the Lord our God rest on us; establish the work of our hands for us— yes, establish the work of our hands

Psalm 90:17
Trust in the Lord with all your heart, and do not lean on your own understanding. In all your ways acknowledge him, and he will make straight your paths

Proverbs 3:5-6.
Finding a new job is like opening a new door in your life. This new door will contain new experiences with new people. A new job is an opportunity for us to grow in responsibility and duty. It is a new chapter that presents us with a new path to follow.
We learn, we teach, we befriend and we share in our new jobs. It is also a chance to achieve our dreams and aspirations. They open new financial avenues for us to better our lives and realize goals that we set for ourselves.
As Christians new jobs present us with opportunities to lead others to God. It should not surprise you to realize that an untouched life may be the reason God gives you a job. It is our duty to empower, encourage, motivate and console our coworkers with the word of God each day with any opportunity we get.
We must conduct ourselves in an exemplary manner so others will look at us and give glory to God. We must be dignified, glorious, and set apart from all evil. This will make people come to us when they have problems. We must work with wisdom and grace so that our mere presence becomes a calming influence on our coworkers.
Peter followed Christ because he listened to his word with faith and then acted on it. The bible says that Peter fished what he had never done before after that. We must be Christ-like in our workplace and let people listen to us through faith. This will give them fulfilling lives and glory in the Lord.
Prayers for Starting a New Job
Settling In
Heavenly Father
Thank you for this new opportunity
I pray for strength and calm
Help me settle in well to my new job
Remove any impediments that might cause me to doubt myself
Let me go in full of confidence in myself and my abilities
Give me the boldness to overcome any fears
Cause me to resist any thoughts of inadequacy
Give me peace and control overall I am tasked with
Be with me every day
Amen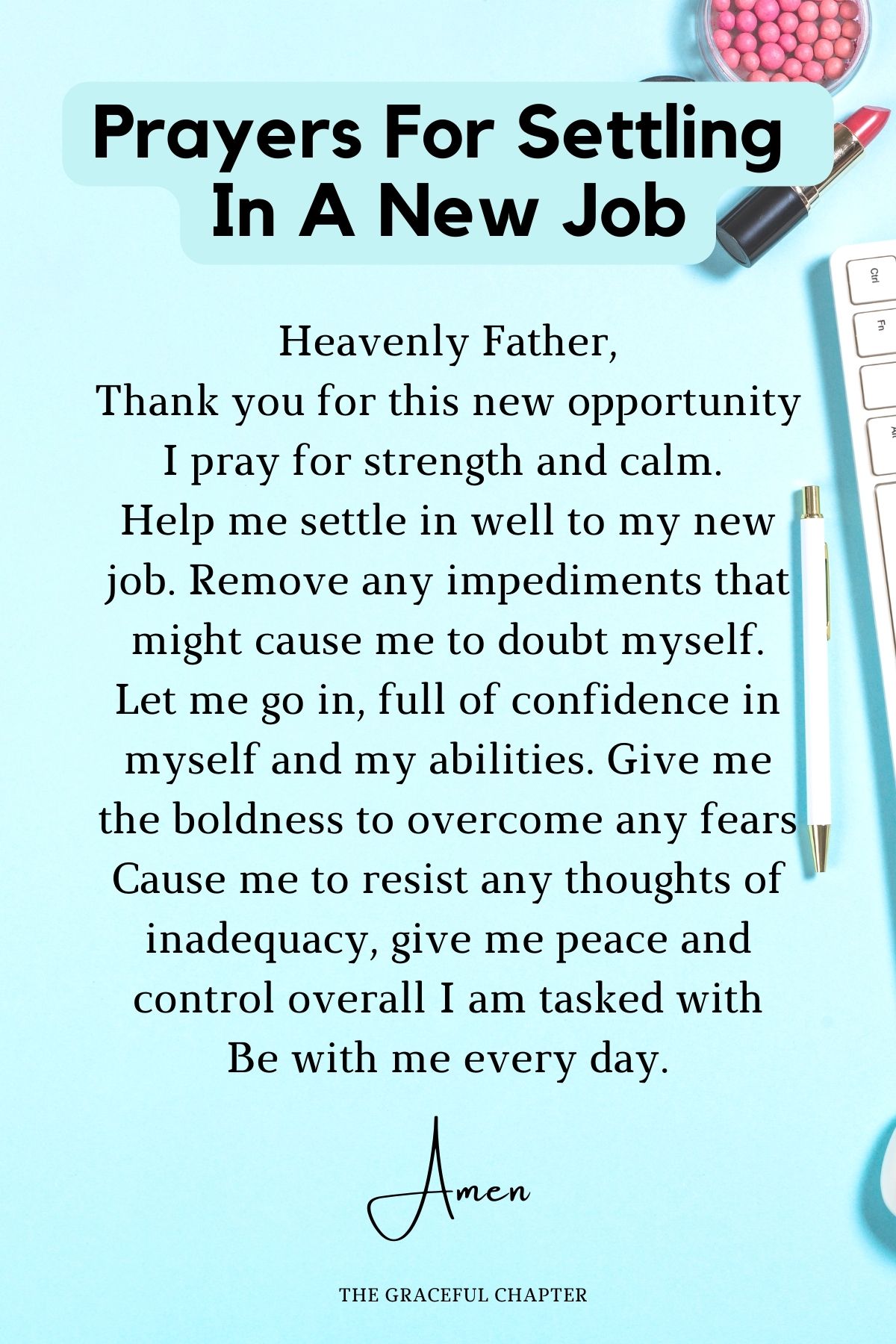 Family Adjustment
Dear Lord
Thank you for this new job
I pray for my family
Please help them adjust to this new place
Let my children be accepted into their new school with warmth
Help my partner settle in well
Let us relate well with our new neighbors
Let us settle in well in our new church
Help us find peace and tranquility in all we do
Grant us protection in our new home
and be with us every step of the way
Amen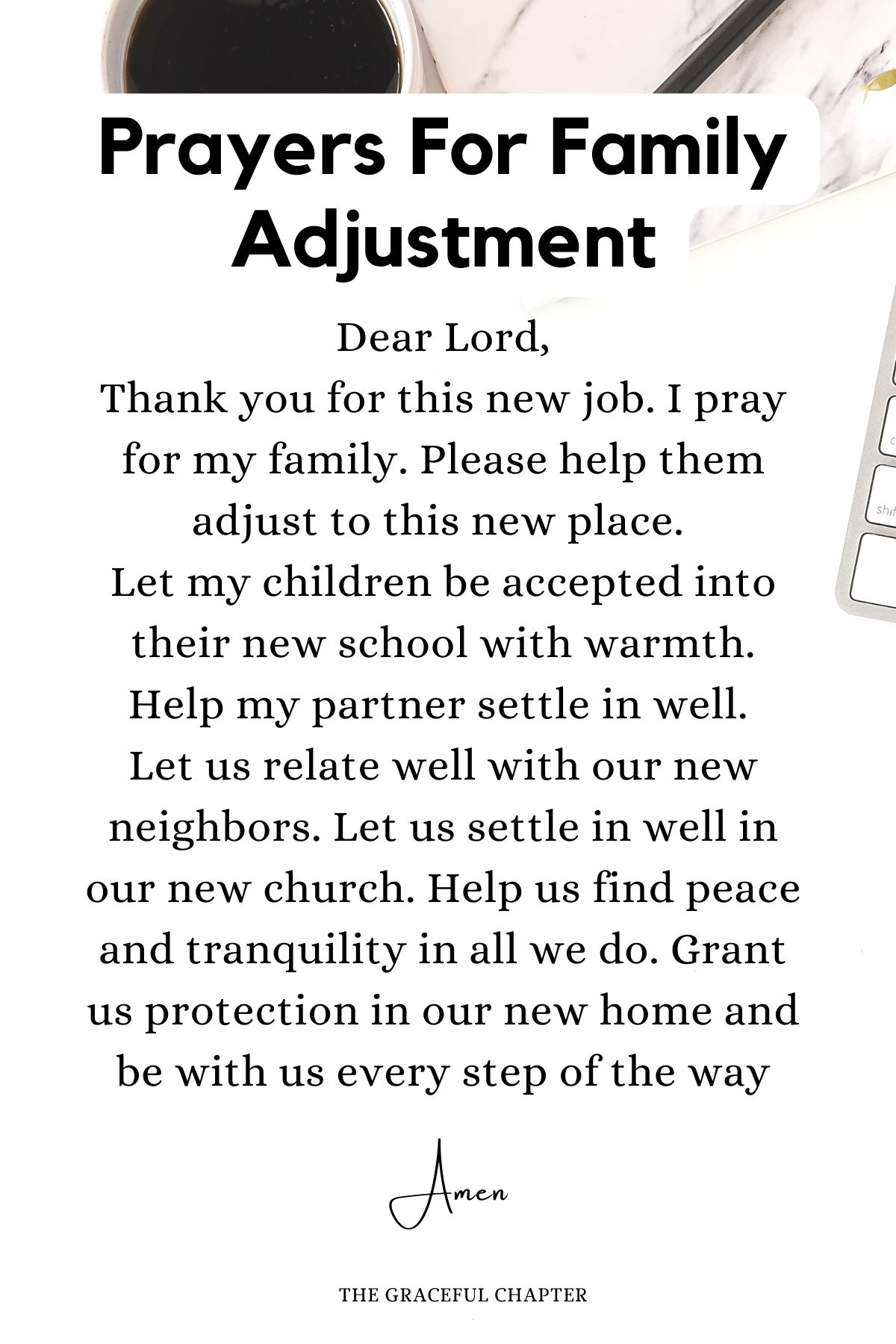 New Role
Heavenly Father
I pray for my new position
I ask that you sanctify my office with your holy spirit
Cleanse it of all evil and hate
Guide me to fill it with dignity and efficiency
Let me be a revelation to the company
Let everything I touch be covered with excellence
Let my inputs be filled with wisdom and good direction
Help me listen more and talk less
Let me conduct myself with impeccability
and let my footsteps be good examples for others
Amen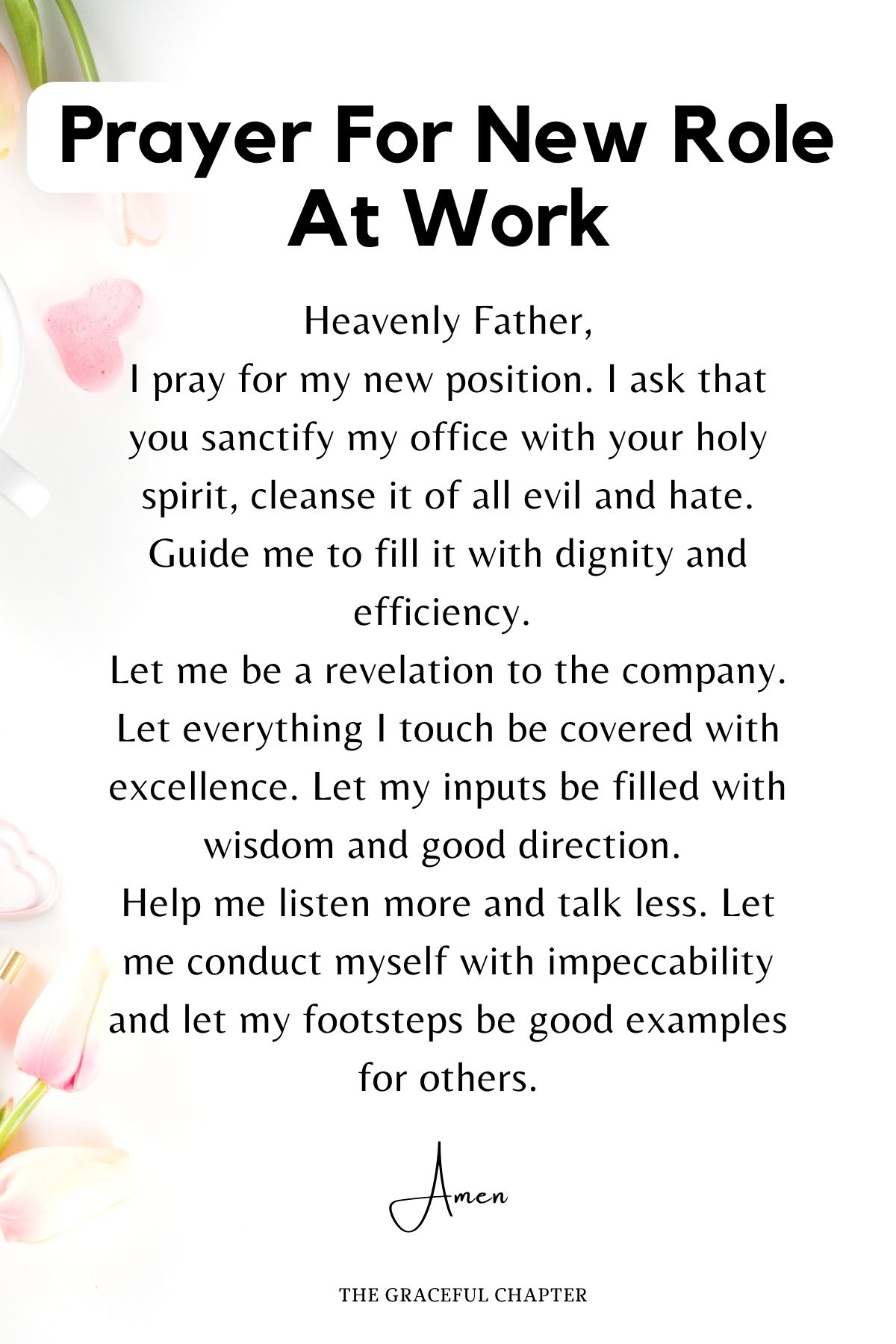 Coworkers
Merciful Father
I ask for guidance in relating to my coworkers
I know they are your children too
Help me relate well with them
Help me set aside my ego and be humble
Let me take criticism when it's warranted
Help me bring out the best in them
Help me listen to their opinions and never make it about myself
Let us work in peace and harmony without any problems
Grant us understanding to work together
Help us not focus on our differences but rather on our strengths
Amen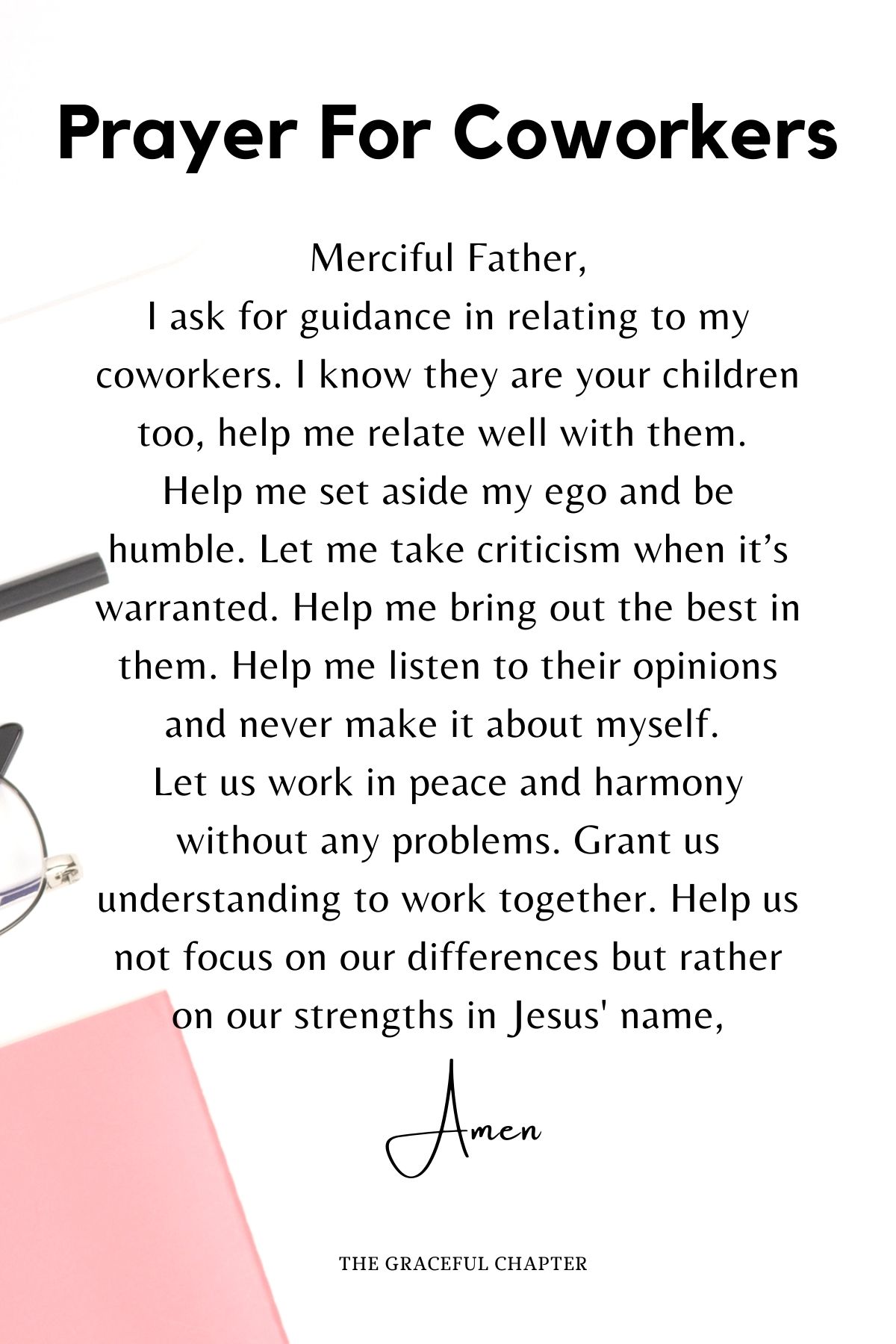 Bosses
Dear Lord
I pray for my superiors
Give them patience and wisdom with me
Help us complement each other
Let me not be rebellious or headstrong when I am given direction
Let me respect them and do as I am told
Let my presence there enhance their abilities to function properly
Give me the wisdom to make their jobs easier
Kill all negative preconceived notions about me
Let them work diligently with me and not harbor any hatred for me
Let harmony and peace reign between us
and let us cause each other to rise in our various positions
Amen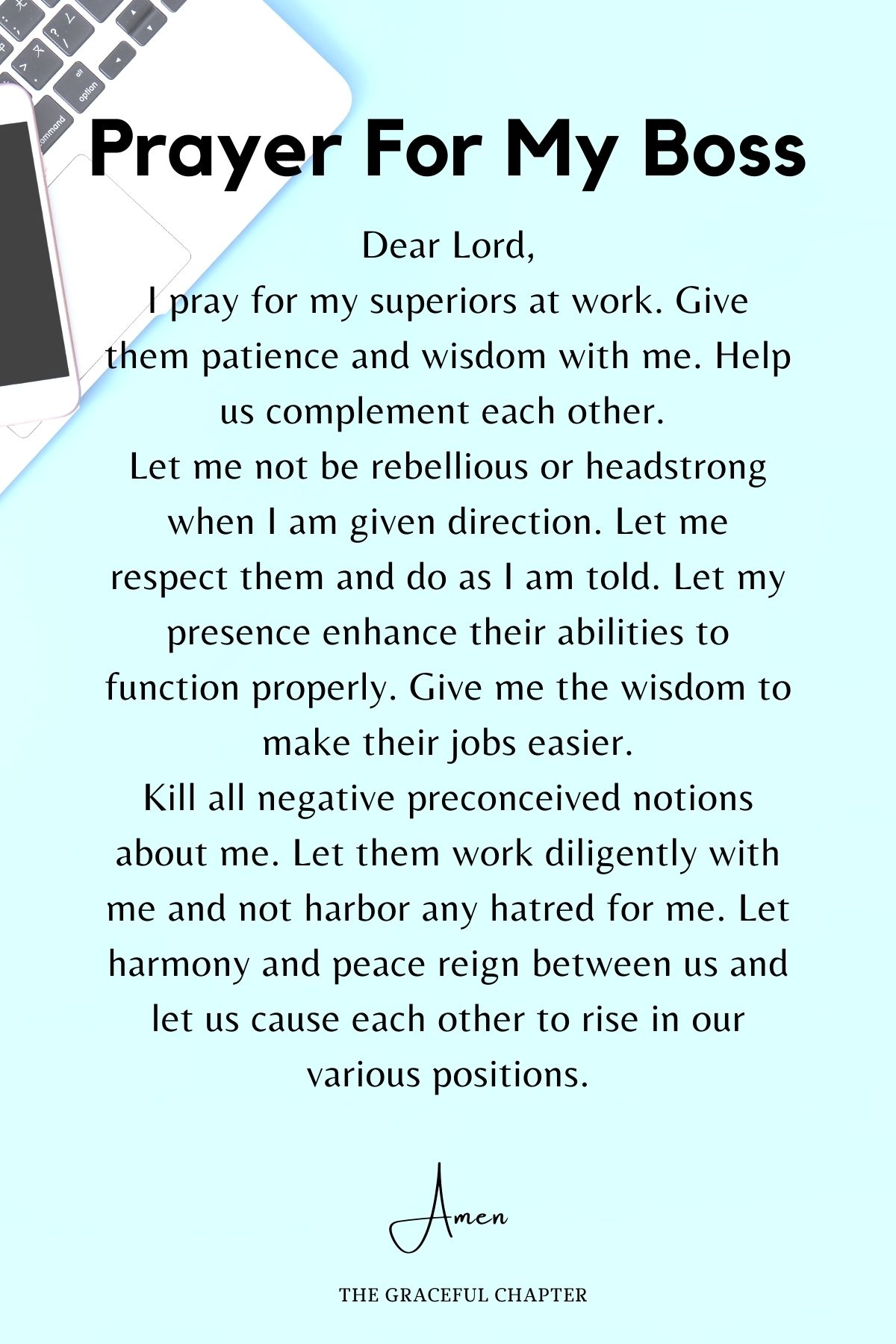 Related Posts
Favor & Grace
Dear Lord in heaven
Thank you for this opportunity given me
I ask for grace and favor
Let everywhere I step to be covered in acceptance
Let my face shine with glory in all that I do
Let all I touch be successful
Open doors that have been shut for years because of me
Let blessings in abundance follow me everywhere I go
Let your light shine bright everywhere I step
Let my words and actions be accompanied by miracles and breakthroughs
Let my presence solve problems and overcome challenges
Let my words be words of wisdom
and let your holy spirit dwell with me in all my days doing that job
Amen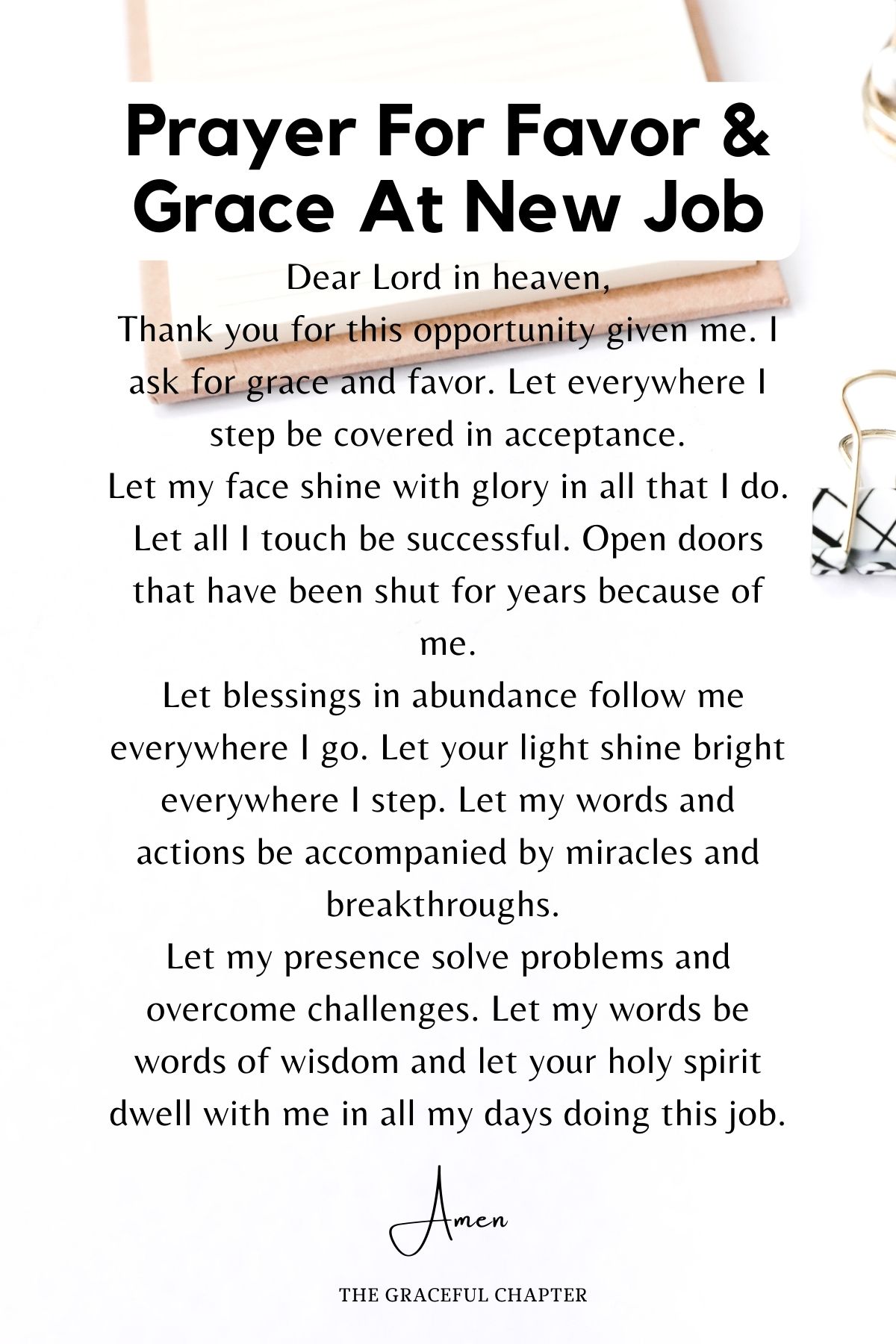 Aspirations
Heavenly Father
Thank you for my life today
Grant me the foresight to order my steps well
Clear my path to stay focused on my goals
Let me not be distracted by anything evil
Cause me to work hard every day and not take shortcuts
Let my good work be rewarded and applauded
Let me be promoted when it is my turn
Let no one take any progress away from me
Let what belongs to me come to me
Let my dreams and aspirations be realized
Let me keep faith in you and never be discouraged no matter the circumstances
Let your peace reign on my life
and let my hope and trust in you never waver no matter the delays I may encounter
Amen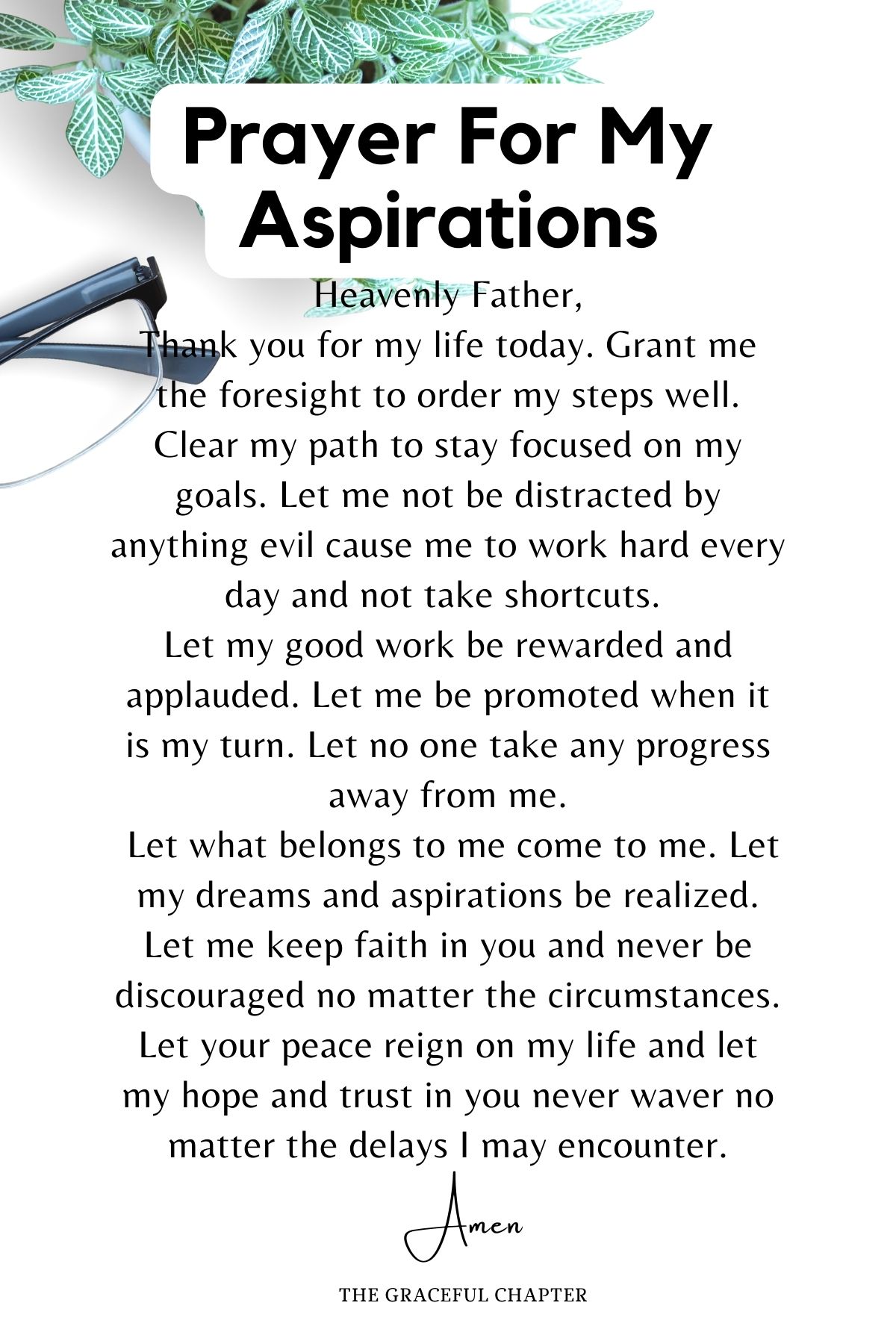 Prayer against malpractice
Merciful Father
Thank you for my life today
I pray against any traps set for me to fail in this place
Help me resist all temptations to conduct malpractice
Keep my focus on my goals and not ruin my career here
Let me conduct myself in exemplary fashion
Let me set myself apart from taking short routes to riches
that will tarnish me or get me in trouble
Let me not fall into any traps set for me
Let the evil plots people take about me fall on them
Let the poison they feed me poison them
Protect me from the plans of the devil
Take greed and jealousy from my heart
Let all good things come to me in your own time
and let me wait for your face each time
Amen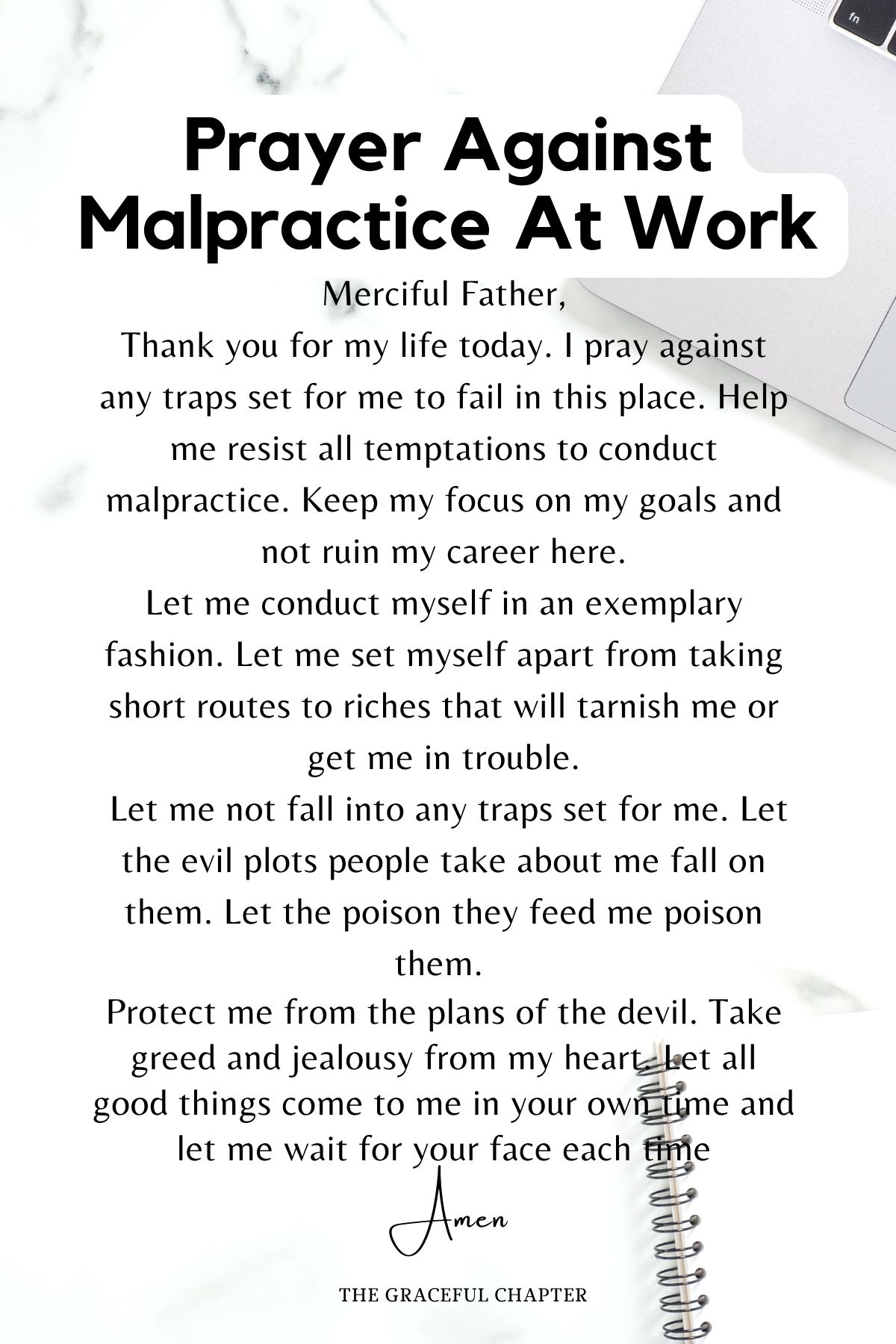 Go with God to your new job. Let him guide you always and do not lean on your own understanding. When you are faced with a dilemma go to him in prayer and supplication. Let your focus remain on your long-term goals.
When you know where your destination is you are not bothered by any temporary bumps in the road. Let Christ be your coworker and your inspiration. Whenever you feel empty and motionless, look up to Christ and he will give you direction.
A Psalm of David
The Lord is my shepherd; I shall not want. He makes me lie down in green pastures. He leads me beside still waters. He restores my soul. He leads me in paths of righteousness for his name's sake. Even though I walk through the valley of the shadow of death, I will fear no evil, for you are with me; your rod and your staff, they comfort me. You prepare a table before me in the presence of my enemies; you anoint my head with oil; my cup overflows

Psalm 23:1-6
Let these words of David be your constant reminder of God's presence in your life.