And it came to pass when he had made an end of speaking unto Saul, that the soul of Jonathan was knit with the soul of David, and Jonathan loved him as his own soul.

1 Samuel 18:1
A soul tie or soul bond is a very deep connection between the souls of multiple entities. When two people are bonded by the soul their emotional exhibitions are often sensed by one another even if they are not together.
Soul bonded people share love and affection that is not easily transferable or breakable. Soul ties are formed when two people discover affection for each other which transcends mere physical and emotional feelings of attraction.
Two people bonded at the soul may not even be right for each other but their bonded souls keep them together. When objects are bonded together with strong adhesives, it becomes difficult to separate them, and forcing them apart might break off pieces that were never intended for separation.
Soul ties are like that. Some people are tied together with others through intimacy.
Flee fornication. What? know ye not that he which is joined to an harlot is one body? for two, saith he, shall be one flesh,.. every sin that a man doeth is without the body; but he that committeth fornication sinneth against his own body. –

1 Corinthians 6:16, 18.
When you become intimate with someone you do not love, your two bodies become one and may be tied at the soul. You may find yourself longing for the person when they are not with you. You may be suffering some kind of abuse from them but still, stay with them because you have become one with their body and their soul.
As Christians, we must be considerate when it comes to forming emotional attachments and soul ties. We must seek the wisdom of God and really understand the behavior of our would-be partners before we decide to bond with them. Bonding with the wrong person can destroy your life and cause you to separate from God.
Prayers for breaking soul ties
Prayer for breaking spiritual soul ties
Dear Lord in heaven
Thank you for your grace and favor upon my life
Thank you for sustaining my body and soul
Today, I pray to ask you to break all spiritual soul ties in my life
Please destroy generational soul ties that happened before I was born
If I have been soul boded spiritually to anything or anyone
I ask that you cut through it with your holy sword
Free my soul from all chains and spiritual contracts
Release me from soul ties that were given me through food or drink
Cancel my name from any spiritual ties in my life
Save me from spiritual connections that I have formed unknowingly
Open the door for my freedom and save me from the consequences of these ties
Let me live freely without suffering for any of them
in the mighty name of Jesus, I pray
Amen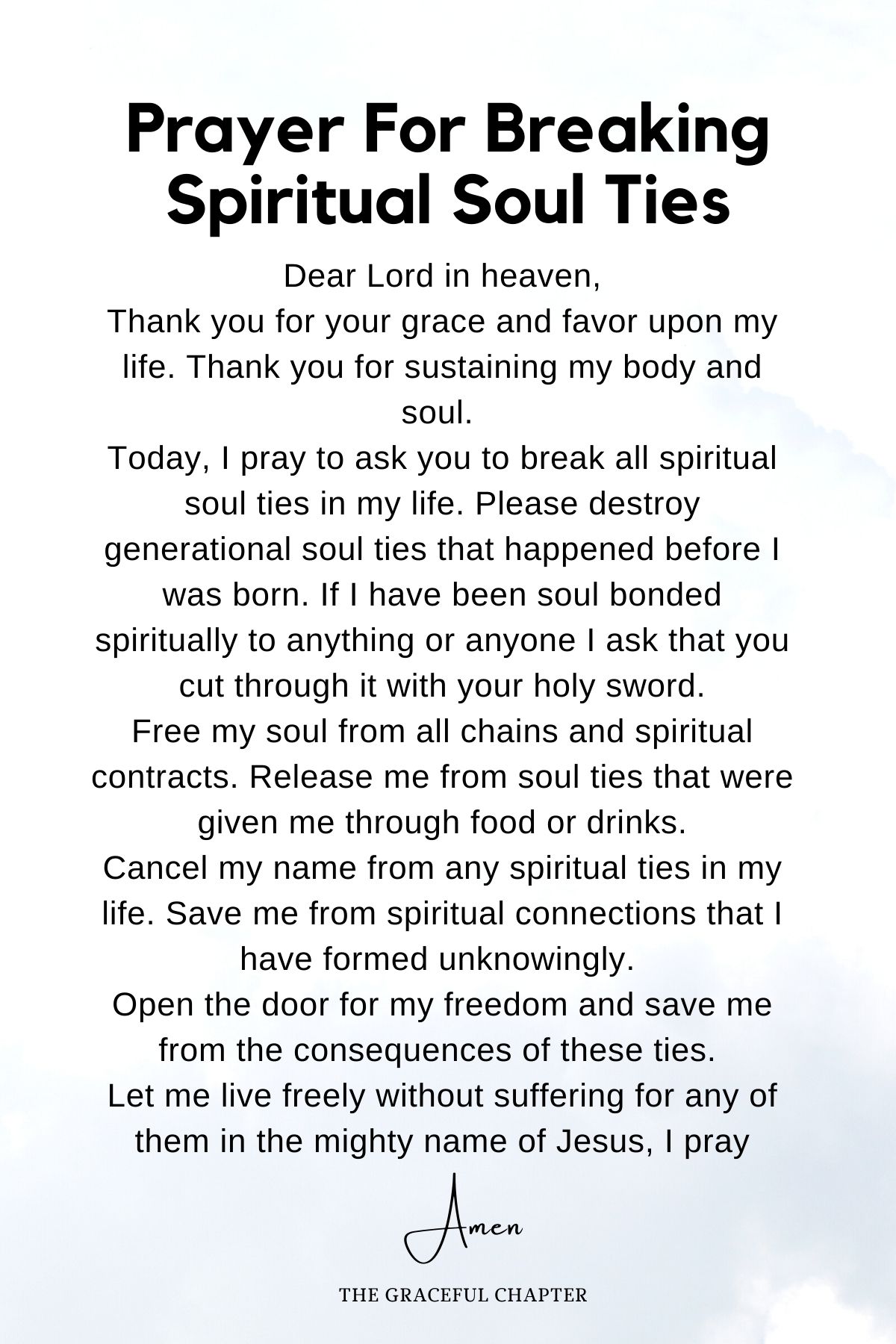 Prayer for breaking emotional soul ties
Dear Lord in heaven
Thank you for my life
Today, I break all bad emotional soul ties in my life
If through my feelings for people I have connected my soul to any of theirs
I ask that you release me from it
If anyone is taking advantage of my love for them to manipulate me
I ask that you open my eyes to it and save me from it
Save me from pity, hope, or any other emotional blackmail
Don't let me fall into any traps as a result of my feelings
Break all emotional unholy bonds that may be destroying my life
Break any emotional soul ties that are affecting my way of thinking
Strengthen me to resist them
and guide me to know when I am falling into any traps
Amen
Related Posts
Prayer to break sexual soul ties
Dear Lord
Today, I pray that you break any sinful sexual soul ties in my life
I have engaged in intimacy with people I don't love
I have entwined my body with that of people who are not right for me
I am finding it difficult to break free of this bond
Sometimes my judgment is clouded and I don't make the right decisions
I am unable to release myself from these ties
I ask that you help me
Separate me from sinful intimate soul ties
Give me the strength to take them out of my life
Please forgive me for engaging in this sinful act
Help me break free from this evil intimacy
My soul longs for them in silence
My body wants them even though I know its sinful
Please save me from this prison
in Jesus' name, I pray
Amen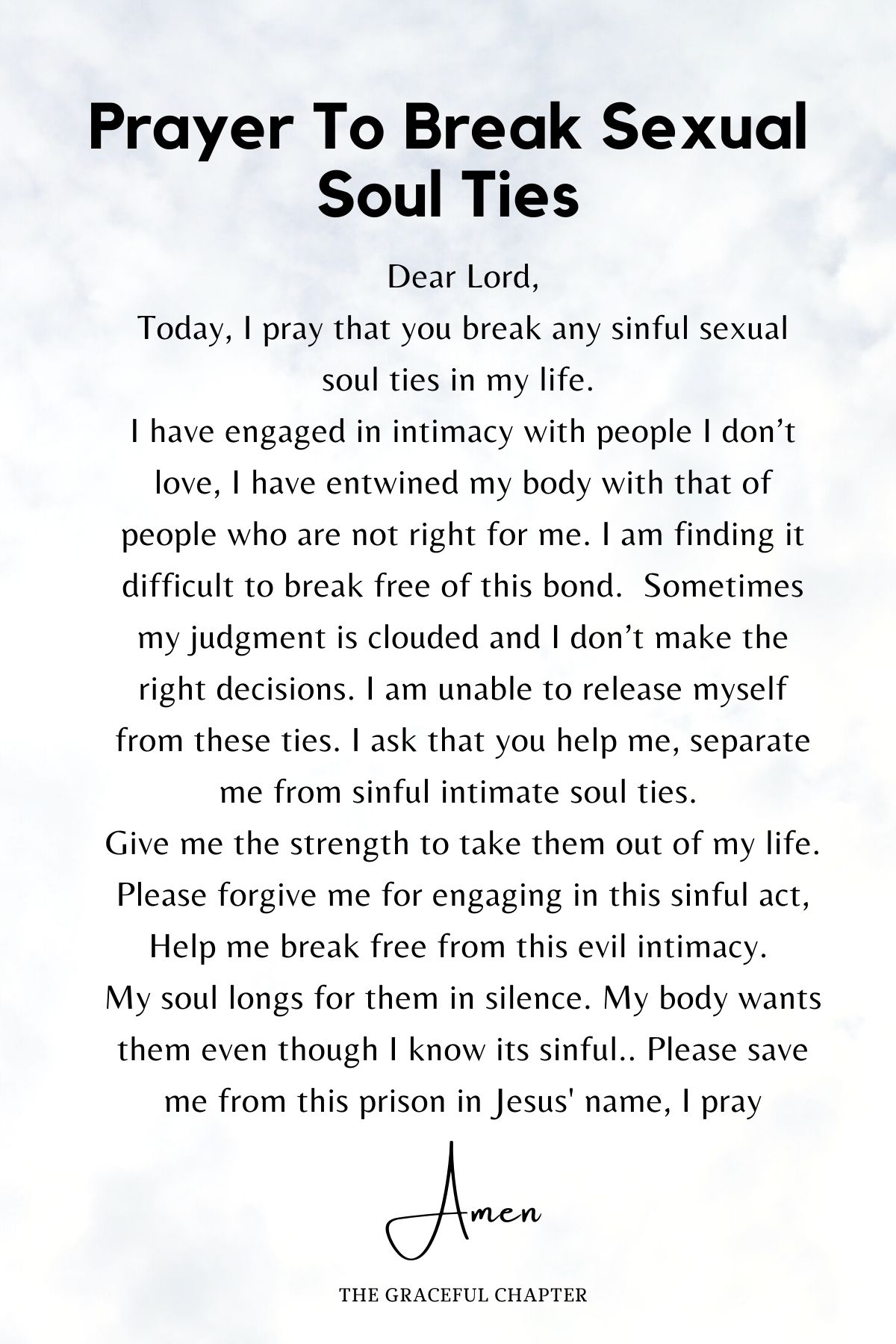 Prayer to break evil soul ties
Dear Lord
Today, I pray to break all evil soul ties in my life and that of my family
I ask that you protect my children from any unholy bonds prepared for them by the devil
I ask that you sanctify all their meals and drinks and any other ways they can be bonded to any evil spirits
Break any generational and spiritual evil soul ties
Cleanse their bloodline with the holy ghost fire
Clear their hearts and minds and let them live their lives in freedom
Help them grow in freedom to choose who they love
Destroy all evil soul bonds that may be troubling my marriage
If any of us remain tied to anyone in our past
We ask that you cut those ties with the holy sword
Prepare our future for us and let us let go of any ties that may be holding us back
Clear our bad history so we can have a glorious future
Amen
Prayer to break soul ties with the dead
Dear Lord
I ask that you help me separate from ties with people no longer here
No matter what relationship we had, I pray that you help me break free
Break my soul tie with them
They are no longer alive but it is difficult for me to move on from them
Thank you for blessing my life with them
But it is time to move on and I ask that you cut me loose

Let me live the rest of my life free of these ties
Help me focus on the future and restart my life
Give me the strength and power to move on from this tragedy
Hold my hand when I am afraid
Give my soul peace and let it rest
Let me not forget the good things they did in my life
and let me cherish what we had forever
Amen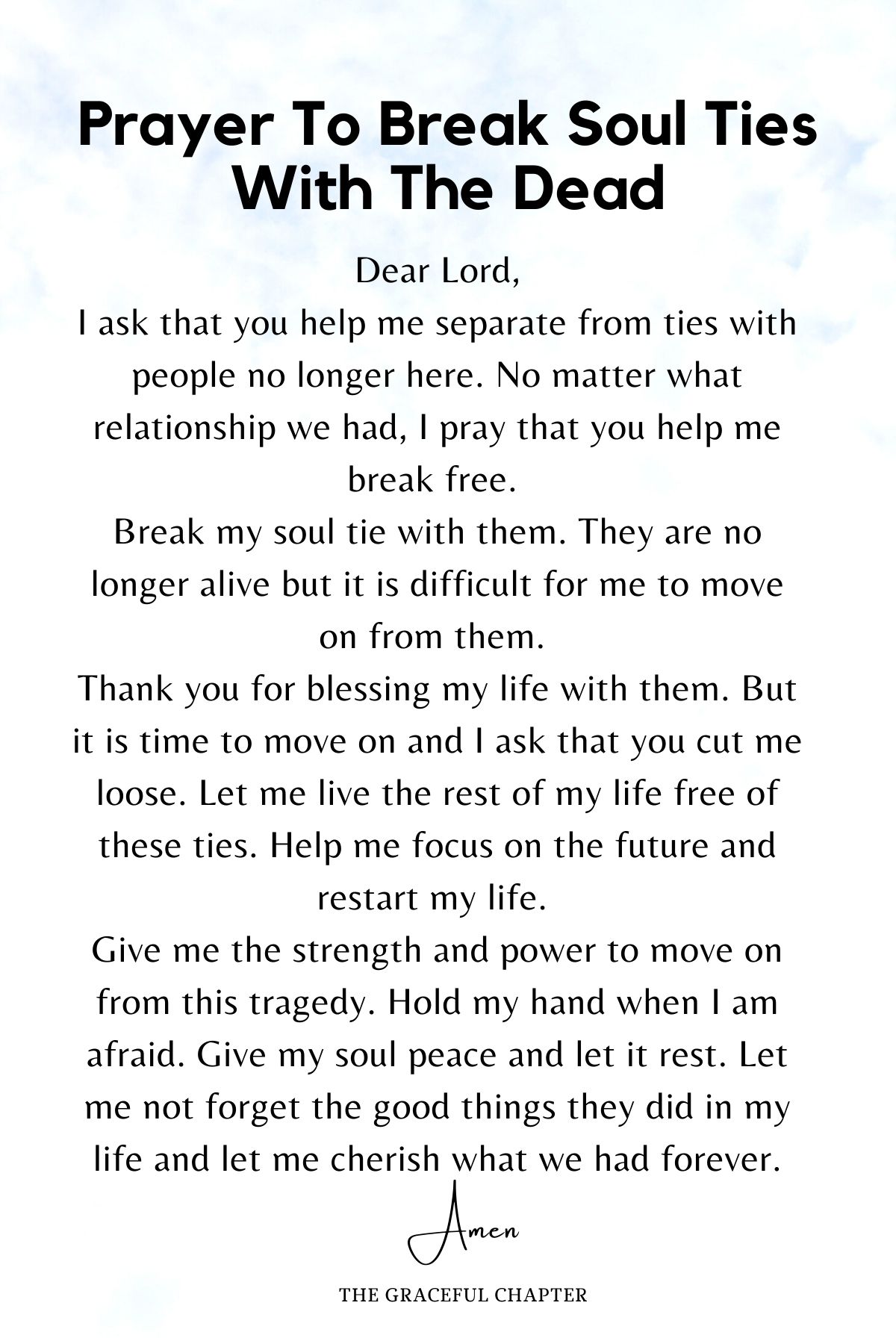 Your soul is the essence of your life. It needs to be bonded with the right things. Your soul mates have a maximum effect on your behavior and your happiness. God wants us to live happy lives and be free from all evil bondage and prisons.
As Christians, we must pray for guidance, wisdom, and strength each time we are faced with an important decision like choosing a partner for life. Also, we must pray to disconnect ourselves from any evil that may have preceded our existence. This is the only way we can fully please God.