Jeremiah, say this to the people of Judah: This is what the Lord says: You know if a man falls down, he gets up again. And if a man goes the wrong way, he turns around and comes back.

Jeremiah 8:4
Failure only happens when one gives up. As long as there is life and good health we can make it out of any situation. Remember that God created us in his own image. He made us resilient and gave us the strength and wisdom to face any challenge on this earth.
He has even made us victorious over death by giving us eternal life through his son Jesus Christ. This means that no matter what mountains we may face we are already victorious in the eyes of God.
Most times, we condemn ourselves to failure even before trying. We feel like we are not simply good or strong enough to withstand the adversities our adventures will throw at us.
We must, however, remember that our minds have been renewed and will only manifest good things in our lives if we take the necessary steps forward to success.
See yourself where you want to be and walk towards it. Every step you take forward marks a distance reduced in your journey to success. The moment you stop or turn backward you have already failed.
Failure is mental defeat. When your mind is focused on success or a particular milestone, your body follows suit. It's like setting a destination on the GPS in your car.
As long as your destination is clear you can be confident that all the movements you are making are in the right direction.
For Christians, our destination is always success, goodness, mercy, and blessings galore. God has already given us these beautiful gifts, all we need to do is journey towards them knowing in our hearts that they are already fulfilled.
Failure comes in the form of doubts. Little doubts combine to form big doubts in your own ability. These doubts are sometimes facilitated by the challenges we face, voices of discouragement, and defeat or weakness in our faith.
The way to remove these things is to know who you are and how special God has made you. When you are convinced of your ability to adapt, move forward, and tune out negative voices inside or outside your head you can fully claim the blessings God has placed in your future.
Prayers against failure
Prayer against setback and failure
Everlasting Lord,
Thank you for my life and my health
I dedicate my life and all that I do to you
Please help me to overcome any setbacks and failures in my life
Fill me with your spirit, let it grant me the strength to keep going on in life
I pray against any regression and backwardness in my life
Let me only move forward in life
Let me go from grace to grace in Jesus' name
Help me to rise above my enemies
Help me to always be the head and never the tail
Release life and profitability into everything that I do
In Jesus' mighty name, I pray,
Amen
Prayer against failure in life
Omnipotent God,
I call on you today.
God, you are the almighty one and there's nothing you can't do
And that is why I know that if I dedicate my life to you and
let you take charge of my life, I will be a success
So, Lord, I call on you today, come and take over my life
Lead me, order my steps and teach me what to do
With you as my teacher, failure won't be my portion in Jesus' name
With you as my compass, progress and prosperity will be my portion in Jesus' name
Help me to hear your voice when you speak to me
Teach me to understand you, when you show me what to do
I pray against the voices of my enemies and evil ones in my life
Help me tune them out and not follow them
for their ways will only lead me to failure, destructions, and disappointments
Take my hand, Lord, and help me to succeed in life
In Jesus' name,
Amen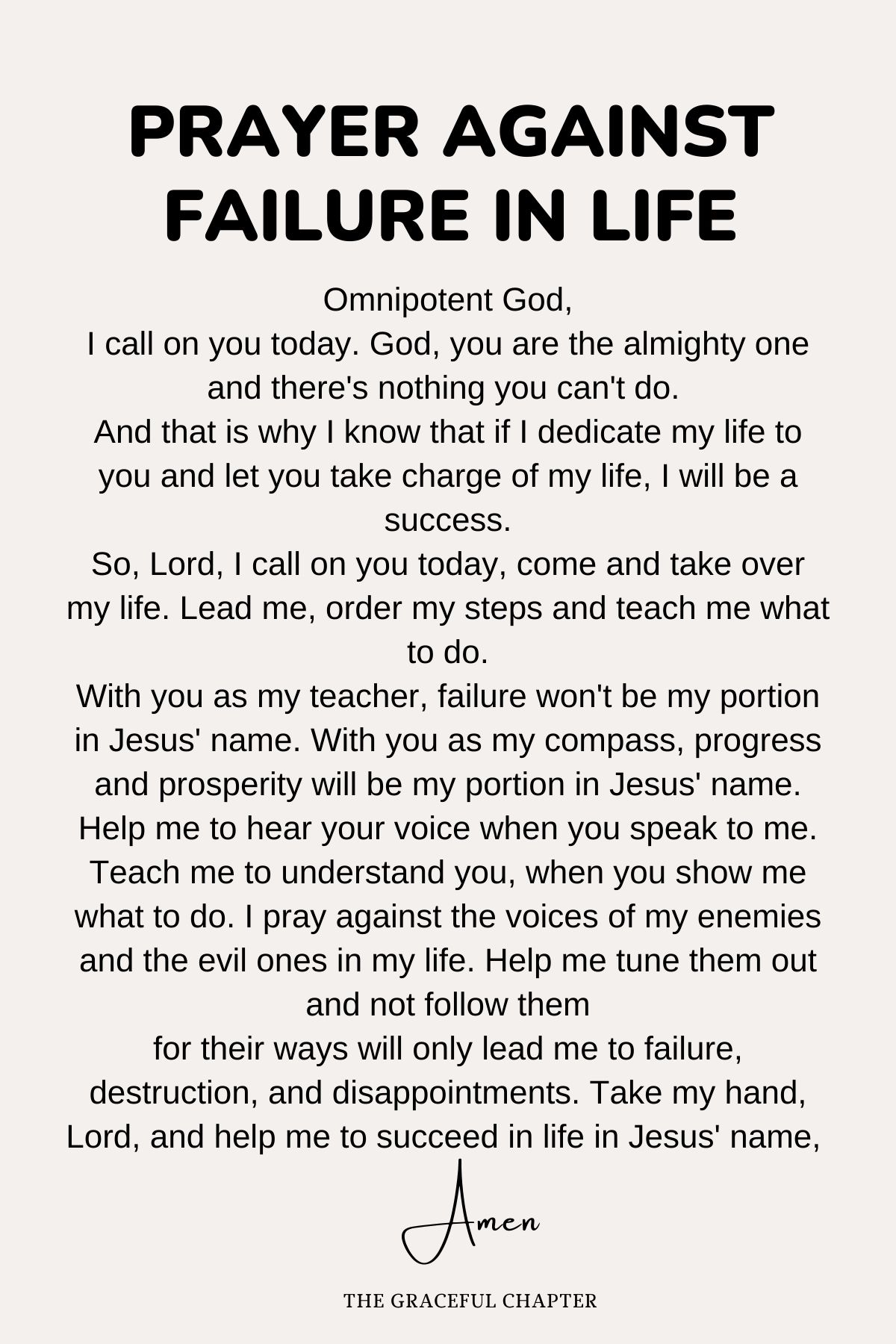 Prayer against the fear of failure
Dear God,
I come to you for the renewal of my mind
Father, I'm stuck in life, because I'm afraid
I'm afraid to try anything in life because I don't want to fail
I feel stuck and hopeless in my life
I pray against the spirit of stagnation in my life
Help me to rise above setbacks, disappointments, and failures in Jesus' name
Remove any fears from my mind and my heart
And fill me with hope and optimism
Give me the confidence and courage to go after my dreams and aspirations in life
Give me the victor's crown and help me to be prosperous in all my endeavors
In Jesus' name,
Amen
Prayer against failure in marriage
Heavenly Father
Thank you for being with us through this marriage
Thank you for all the guidance and protection you bless us with every day
We have faced problem after problem in this marriage since it begun
We know you helped us find each other
We also know that our union is not by accident
So we pray for strength to fight through this
There has been interference from people who want to see this marriage fail
There has been disrespect and disgust thrown at us by external family members
We have started projects together and not succeeded
We have gone for counseling sessions without success
Most days we find ourselves fighting each other
But we know that you are the Lord of peace
We declare that our union will never break
We pray that you strengthen our bonds
and keep this marriage from failing
Solve our problems and bless us with wisdom and grace to stay together
Amen
Prayer against failure in business
Heavenly Father
Thank you for this business that I am in
I have faced issues for a very long time here
Each day brings its own set of challenges
Different people come and go with a different set of challenges
I am burdened and weakened
I am almost on my knees
Deep inside I know that this is what I am meant to do
I know that you have blessed me with all I need to succeed here
Strengthen my feet and my hand
Let me hold on fast to my dream
Hold me in your arms and comfort my weary soul
Let me press on and persevere in this business
I will not be dismayed or discouraged
I will keep going until I reach where I want to be
Give me life and give me health
and let me succeed and give glory to your Holy Name
Amen
Prayer against failure in parenting
Dear Lord
Thank you for blessing us with these kids
Thank you for their lives and protecting them always
I pray that you fill us with wisdom
Help us understand them and everything they need
Let us be there for them in their difficult times
Help us meet them at their points of need
Let us not lose any of them in the wilderness
Help them find the right paths
Strengthen us to do all we can for them
If they have been marked for destruction we pray that you release them
Help us know what they need and provide for them
Let us never fail them but fill them with light and bravery
Let us leave them as God-fearing and strong members of the society
Nourish their souls each day and let them know they have our endless love and support
As you do for us, let us do for them
Let them know they can rely on us always
Bless them always and make their paths straight
Amen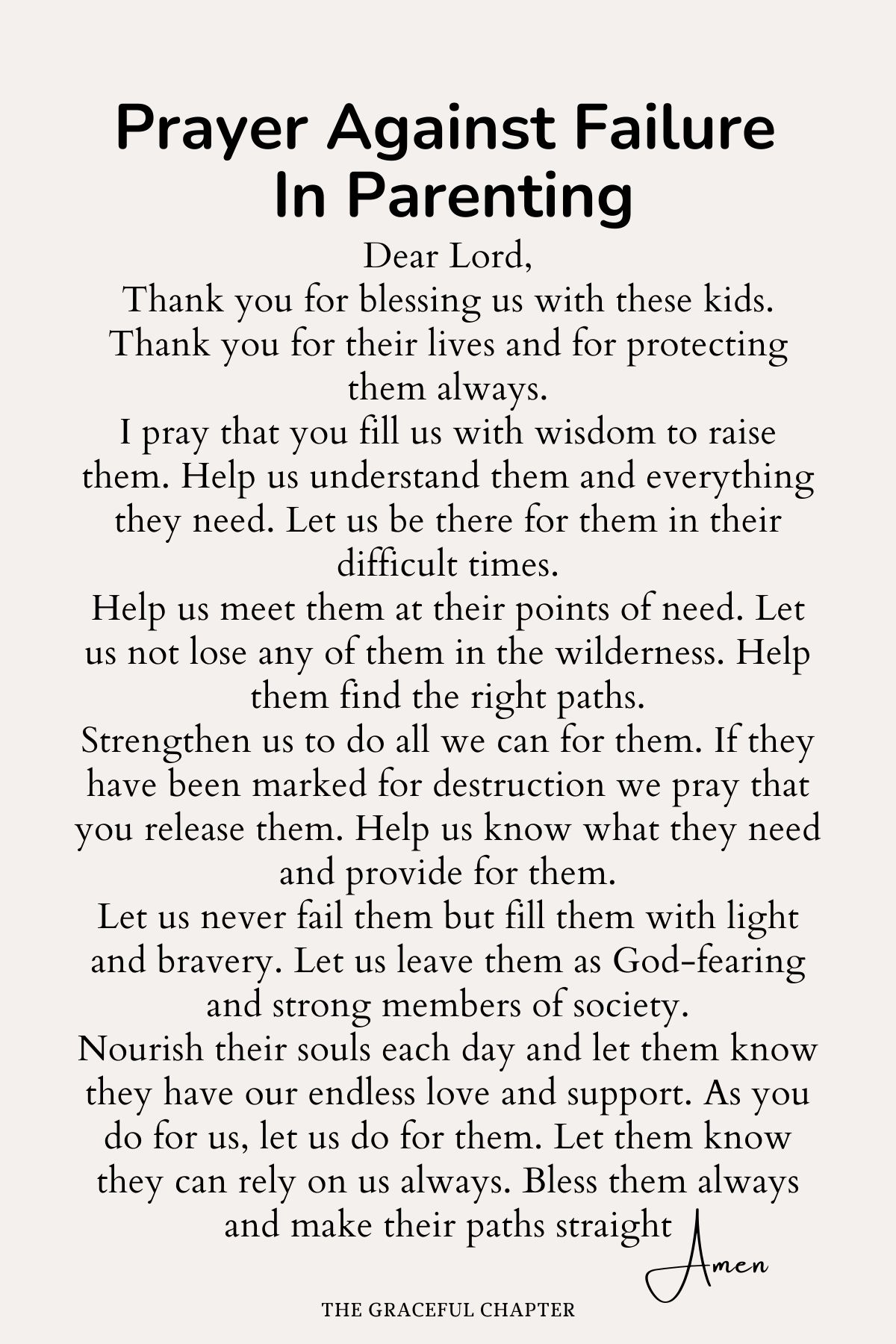 Prayer against failure in school
Dear Lord,
Thank you for my life and my education
I pray that you help me during my studies
Give me the wisdom and strength to overcome any challenges
Let me not give up on myself
Let me harness the inborn willpower to succeed
Let me never be overwhelmed
Let me stay focused on my goals and achieve them with flying colors
Block out all defeatist voices from my head
Let me surround myself with winners and not failures
Let the company I keep be full of encouragement and constructive utterances
Lead me down the righteous path
Let me never give up no matter the challenge
Bless my life in school and let all my enemies be put to shame
In Jesus' name, I pray,
Amen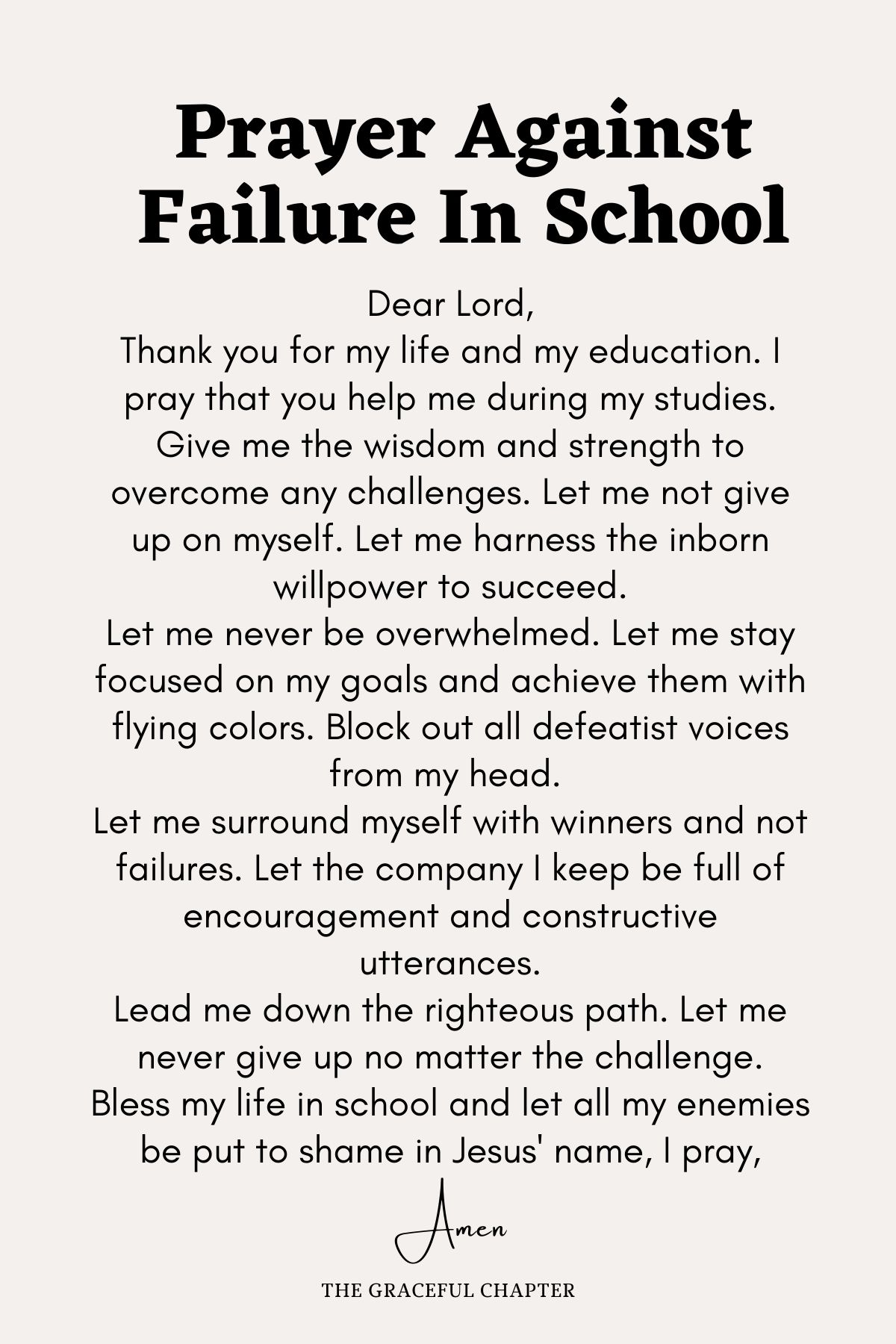 Related Posts
Prayer against failure in exams
Almighty God,
I come before you today to pray for wisdom and knowledge
Father, your word says that if we lack wisdom,
we should ask and you will give us
So, Lord God, today, I ask you,
Please give me wisdom
Help me to understand everything I am taught in school
Help me to excel in school
As my exams are approaching, I pray that you help me learn
Grant me an understanding of the things I learn
Help me to remember what I learn and not learn to forget
When it's time for the exams, give me the confidence to write
knowing that I have learned and you Lord, are my reminder for all that I have learned.
Amen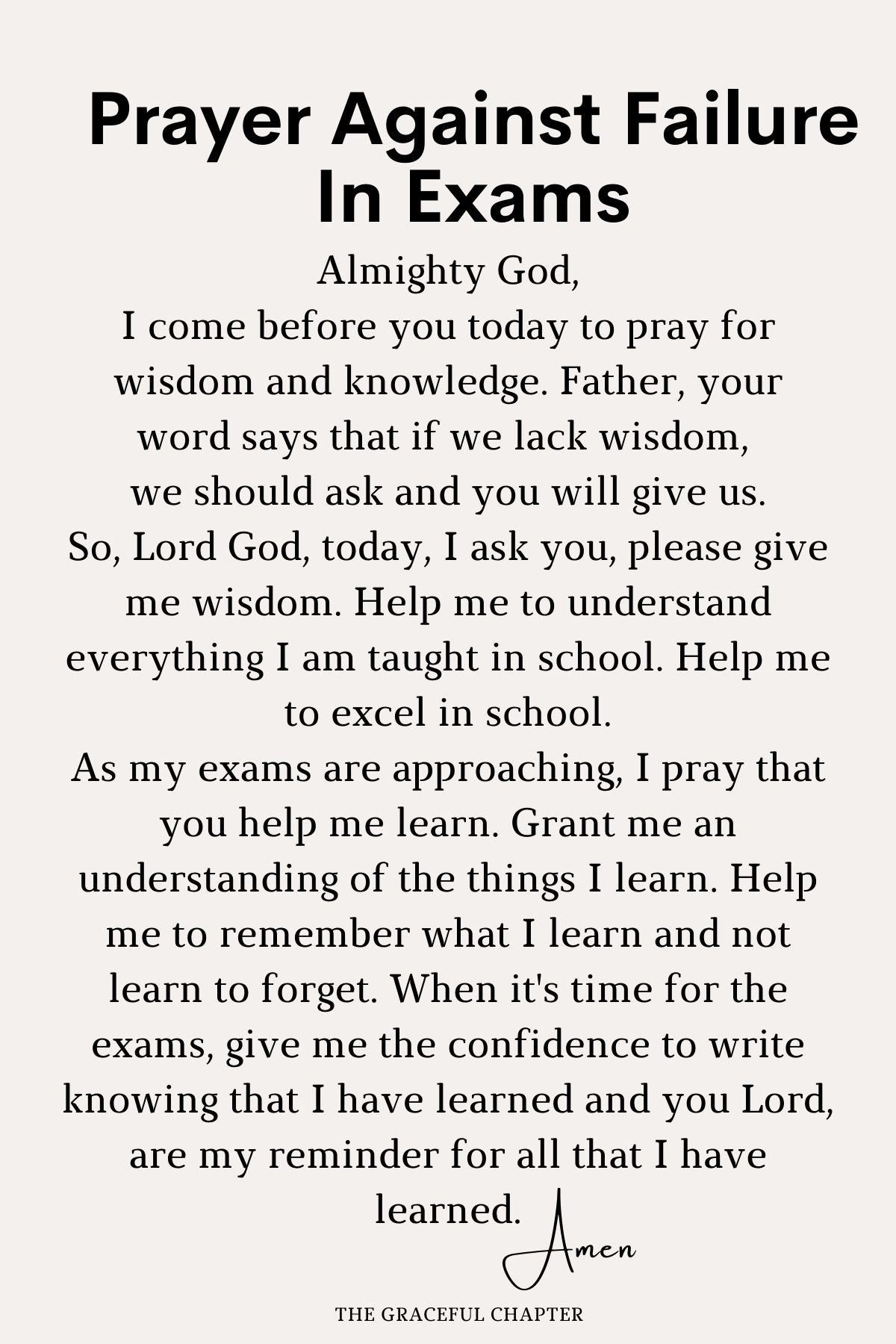 Prayer against failure in accomplishments
Dear Lord
I commit all my projects into your care
Everything that I have planned to do I commit to you
I know that you stay with me through it all
I ask that I don't get weary in the middle
Let everything I dream of be accomplished in your name
Let me not get stuck in the middle
Let me always believe in myself and keep moving
Remove any accident that may cripple me from my path
Close all traps that have been placed before me
Let my doubters eat their words
My plans are made manifest in Jesus' name
Let my hopes and dreams be real
Grant me peace and serenity
Let me be calm in my heart when I face challenges
Let my spirit never be broken
let me always be victorious in all I do
Amen
Prayer against failure in career
Heavenly Father
I commit my career into your holy hands
I pray that you direct my path and restore my strength every day
Renew my love for what I do each day
Never let me feel dragged down or disillusioned by my career
Let me always strive for what's ahead
When I achieve something, let me enjoy it
Help me see my path clearly and never ever feel like there's too much work to do
Let me always believe in myself and my abilities
Grant me success at every milestone
Bless me always and keep me under your wing
Let me not be discouraged by where others have reached or where they are going
Let me always focus on myself and never doubt my abilities
Grant me peace in my heart and help me achieve all my goals
Amen
Prayer to overcome failure
Dear God,
I'm not happy. Everything I try to do fails
No matter how hard I try and how much effort I put into things, they still fail.
But I refuse to accept defeat. I refuse to be a failure
I break every curse of failure working against my life
I pray against any demonic stronghold that is hindering my progress
Let the Holy Ghost Fire descend on any satanic manipulation in my life
Let the destructive schemes of the enemies backfire in Jesus' mighty name
I shatter and overturn the curse of futility in my life through the power of the blood of Jesus Christ.
Blind evil eyes that keep watch over my life, my business, and my relationships
Silence any evil mouth that speaks evil on my life
Confuse any evil mind that plans destruction for my life
Henceforth, let your goodness and mercy follow me
Grant me the grace to improve, progress, and advance in life
Let victory, blessings, and prosperity be my portion from today
In Jesus' name,
Amen
As long as you keep going you cannot be labeled a failure. When your mind is set on the victory you will do anything to achieve that victory. God gave every one of us the tools and the spark to put those tools into action to achieve any goals we have set for ourselves.
Only you can cause you to fail. The moment you give in and tell yourself that it will never happen is the moment you embrace failure. Those who succeed are those who keep going. 'If you quit, you're right but if you don't you might.' But in Christ, if you don't quit, you definitely will succeed.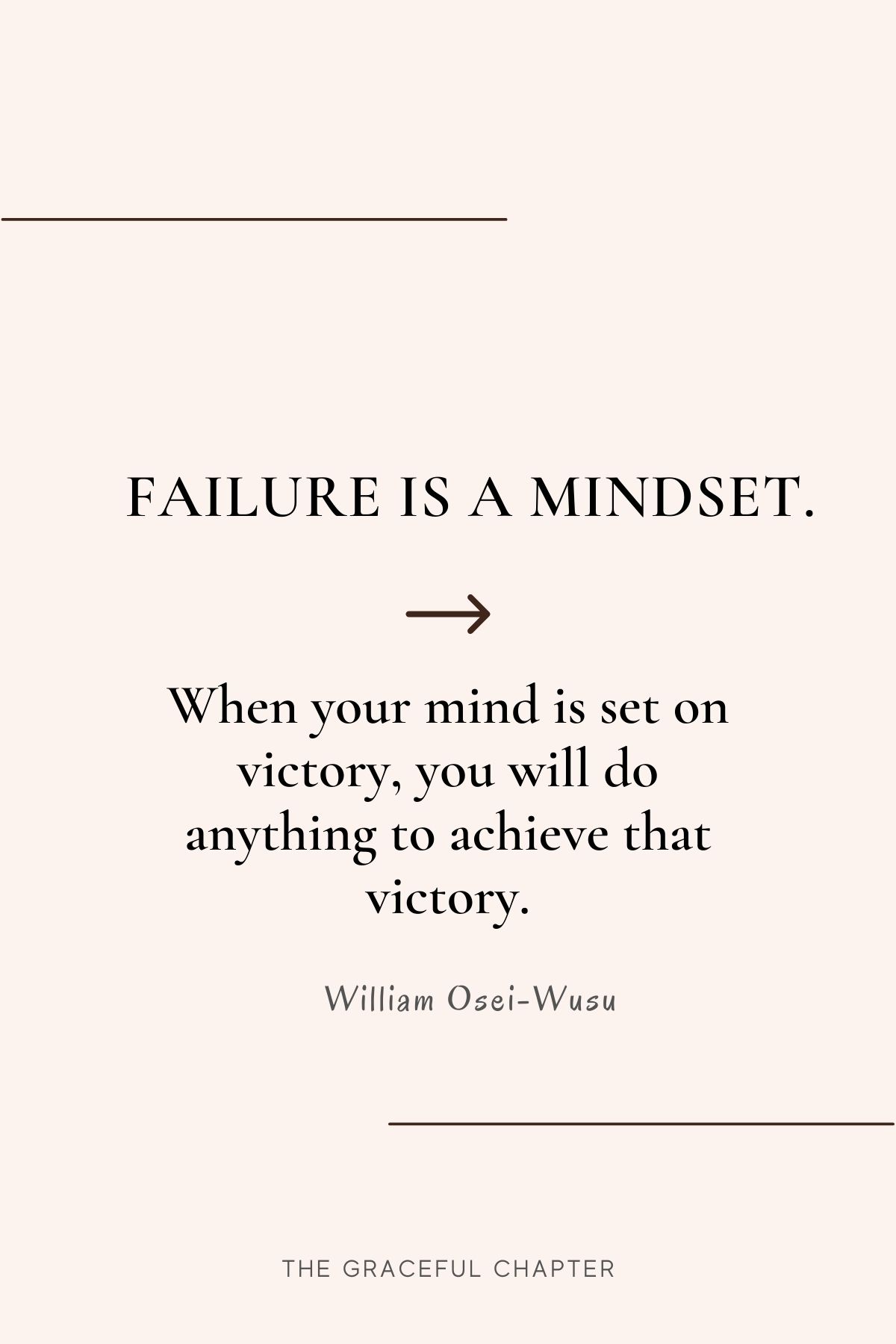 I know your works. Because you have limited strength, have kept My word, and have not denied My name, look, I have placed before you an open door that no one is able to close

Revelation 3:8