These prayers and many more can be found in the book "Release Healing". You can buy the physical copy here or buy the downloadable copy instead.
James 5:14 onward speaks to us about directions to take when we fall physically ill. In the end, it is not the laying on of hands or the anointing oil that heals us but the prayer of faith. Faith can move mountains as Jesus hinted to his disciples.
Our biggest weapon against disease and sickness is our faith in the healing spirit of God. Illness can change someone's whole life. A strong can become a lame beggar overnight because of illness. Naaman was struck with leprosy and lost his strong command.
As Christians, we do face different challenges in our walk with God. We should however remember that there is nothing He cannot do for us. Prayers against illness are meant to keep us grounded in the love and faith of God so we do not disconnect from our source of life. When something is disconnected from its source of life it normally dies.
We highly recommend our prayer book – Release Healing, which contains 50 prayers for healing and strength.
1 Peter 2:24 tells us about how Christ's death and resurrection meant that we no longer have to suffer for sins and also about how we were healed through the marks on his body. This means that we are eternally connected to divine health.
It also means that spiritually we cannot die for our sins once believe in Christ and what he did for us on the cross and through his resurrection. We are now tasked with fortifying our spirit by strengthening our faith. When the spirit is strong, no physical disease can enter and control the body.
God wants us well and strong so he has freely implanted his spirit into ours and given us everlasting life. We must transfer that strength and immortality our spirit enjoys into our mortal bodies. The Bible says that the spirit that raised Christ from death is what dwells in us and that same spirit gives life to our mortal bodies. Isn't that wonderful to hear? Now fill your heart with that good news and build your faith from it.
Recommended Resources
Prayers against Illness
Prayer against Mental Illness
Dear Lord
We thank you for your abundant grace in our lives
We pray today to ask for your protection against mental illness
We go through plenty of emotions in our lifetime
Sometimes the disappointments and stresses of this life get to us
We find ourselves unable to cope mentally with setbacks that we face
Some of us mentally break down and become unrecognizable
We do things we would not normally do and behave in unspeakable ways
We become burdens on our family and we abandon normality for abnormality
Today, we pray and come against all cases of mental illness
Whether they be from our own breakdown or from evil people have placed on us
We bind it in Jesus' name
We cleanse all minds with your pure spirit
We remove any webs of disappointment and deceit and replace them with beautiful thoughts
We pray for families who have a member suffering from this illness
Please hear their prayers and bring their precious ones back to them
If anyone's friend, child, lover, mother, or father does not recognize them because of this,
please purify their minds and bring them home
In our old age let us be healthy
Let us retain our mental fortitude
Don't let us be burdens on our children
Please hear our prayer, dear Lord
Amen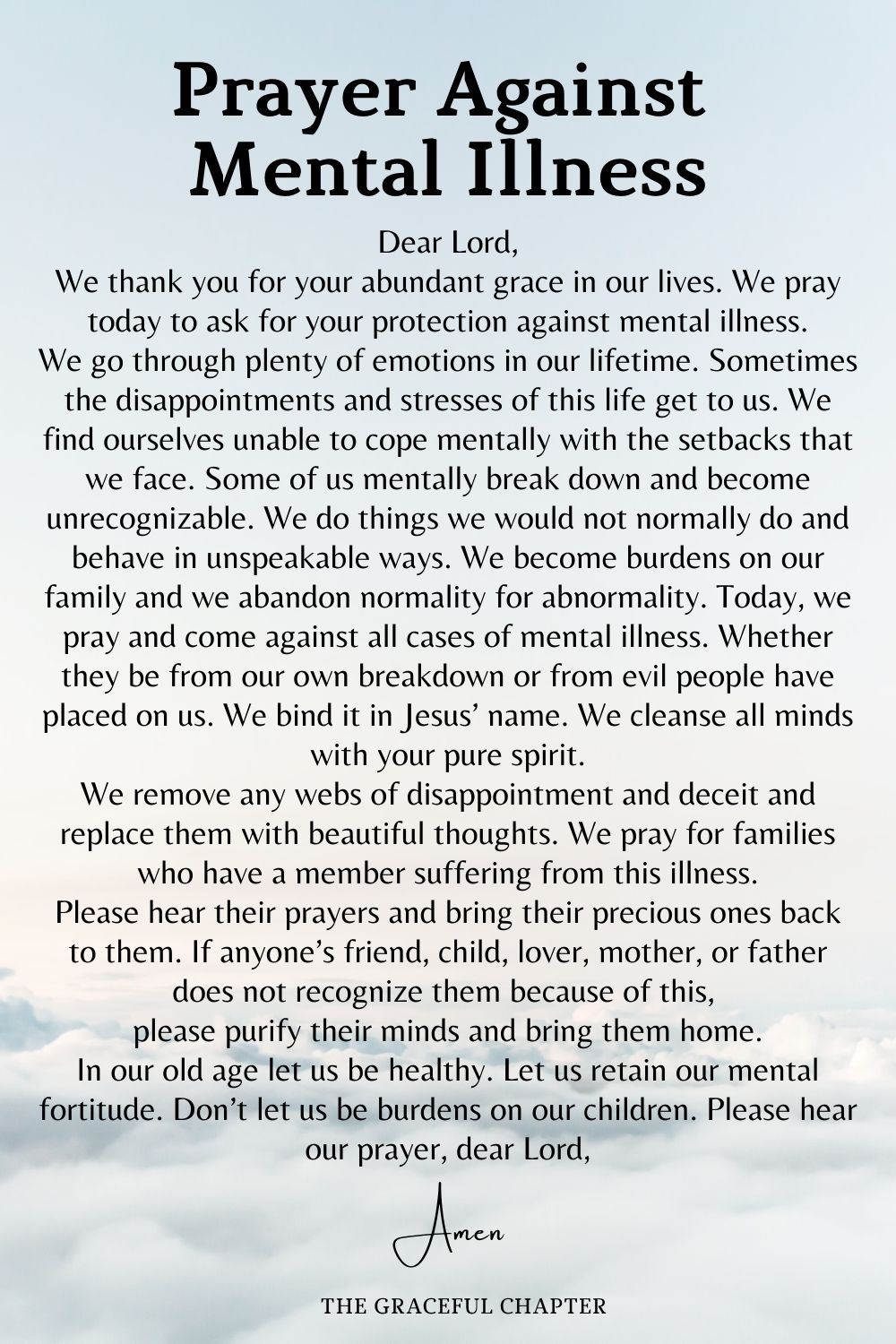 Prayer against Chronic Sickness and Cancers
Father Lord in heaven,
We thank you that we are alive today
We come to you in prayer to intercede for those living with chronic diseases
It is a painful life that they live here
A life without happiness or joy
They are your children who have been burdened by diseases some for their whole lives
Chronic ailments cause families a lot of resources and heartache
These illnesses can cause people to lose their jobs and their marriages
Just as you did for the woman with the blood issue in the bible
We pray with faith that you heal all children and adults living with these illnesses
Send your healing spirit to come and live in their bones right away
Please make right any dead or dying cells in their brain or in their bodies
Bring harmony and freedom to these families today
You are our healer and our giver of strength
We cast out all chronic ailments instigated by the devil and his evil followers
We know that you, Lord, is the giver of good things
Grant us your healing power
Take away from us any chronic illness that is destroying us
Amen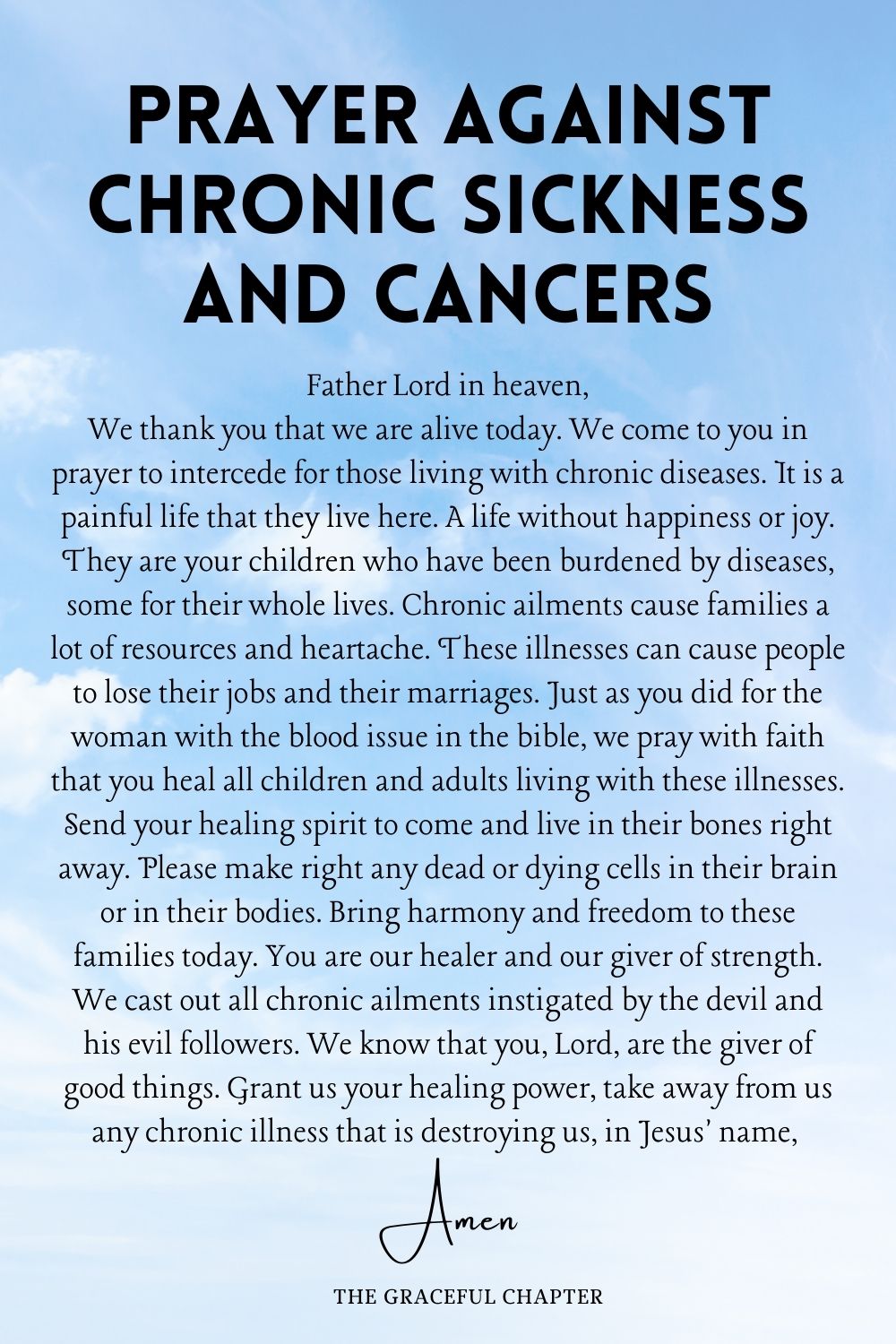 Related Posts
Prayer against Spiritual Sickness
Everlasting father
We pray today and come against spiritual sicknesses
We uncover all evil plots against our lives
We break evil chains that bind us spiritually
We cast out devils and demons that cause diseases and pestilence to come upon our lives
We remove all evil people who have enslaved us in spirit and exposed us to spiritual illnesses
We disconnect ourselves from unexplainable ailments
We reject all untreatable and untraceable diseases in Jesus' name
Whether they were given to us at birth or at an older age we burn them with your holy spirit
Whether they were bought for us by family members or by strangers we cast them into the pits of hell where they came from
We declare that from today we shall live in perfect divine health
We speak purity into our mortal bodies
We cleanse our spirits of leprosies, cancers, diabetes, or hypertension in Jesus's name
Touch us with your healing hand, Lord
Give us dominion over the evil spirits in our lives and that of our children and their children
Let us live in strength to please your holy name
Amen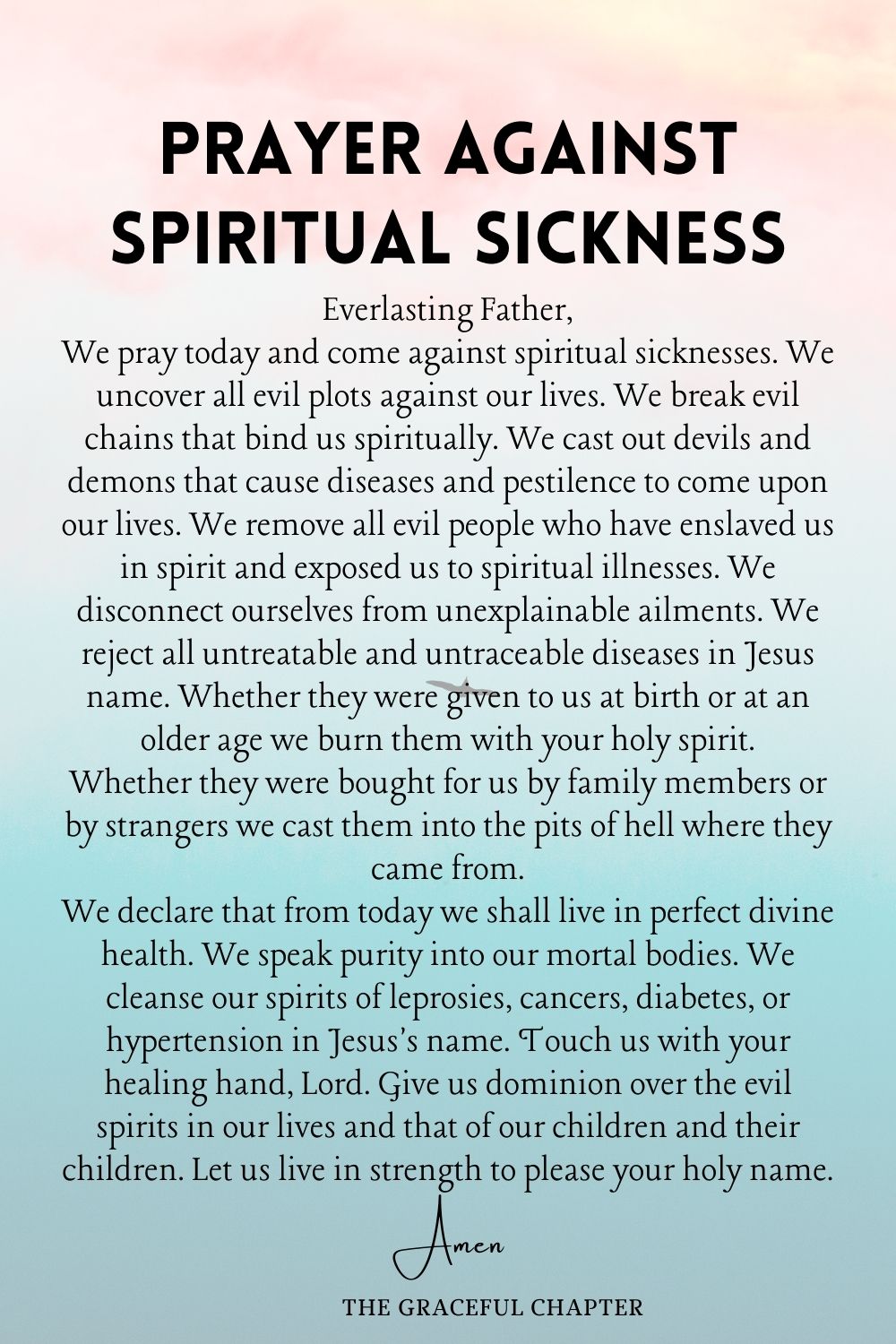 Prayer against Generational Sickness
Dear Lord,
We pray today and come against generational diseases
We nullify any bad deals our ancestors may have struck with the devil
We disconnect ourselves from any line of unwanted genetic ailments
We are born of you and your spirit
Sickness is not our portion in Jesus name
We resist the bloodline of disease and declare that it will end right here and now
We burn all evil contracts that this family has with any sicknesses be it mental, physical or spiritual
We cover ourselves with your healing blanket
Let your holy spirit dwell in the bones and bodies of us, our children, their children, and their great-grandchildren
All spiritual deals with the disease have been thrown out in the name of Jesus
We receive only good gifts and glad tidings in this family from now on
Let our last name be known as healing
Give us abundant grace and divine health
Thank you for answering our prayers
Amen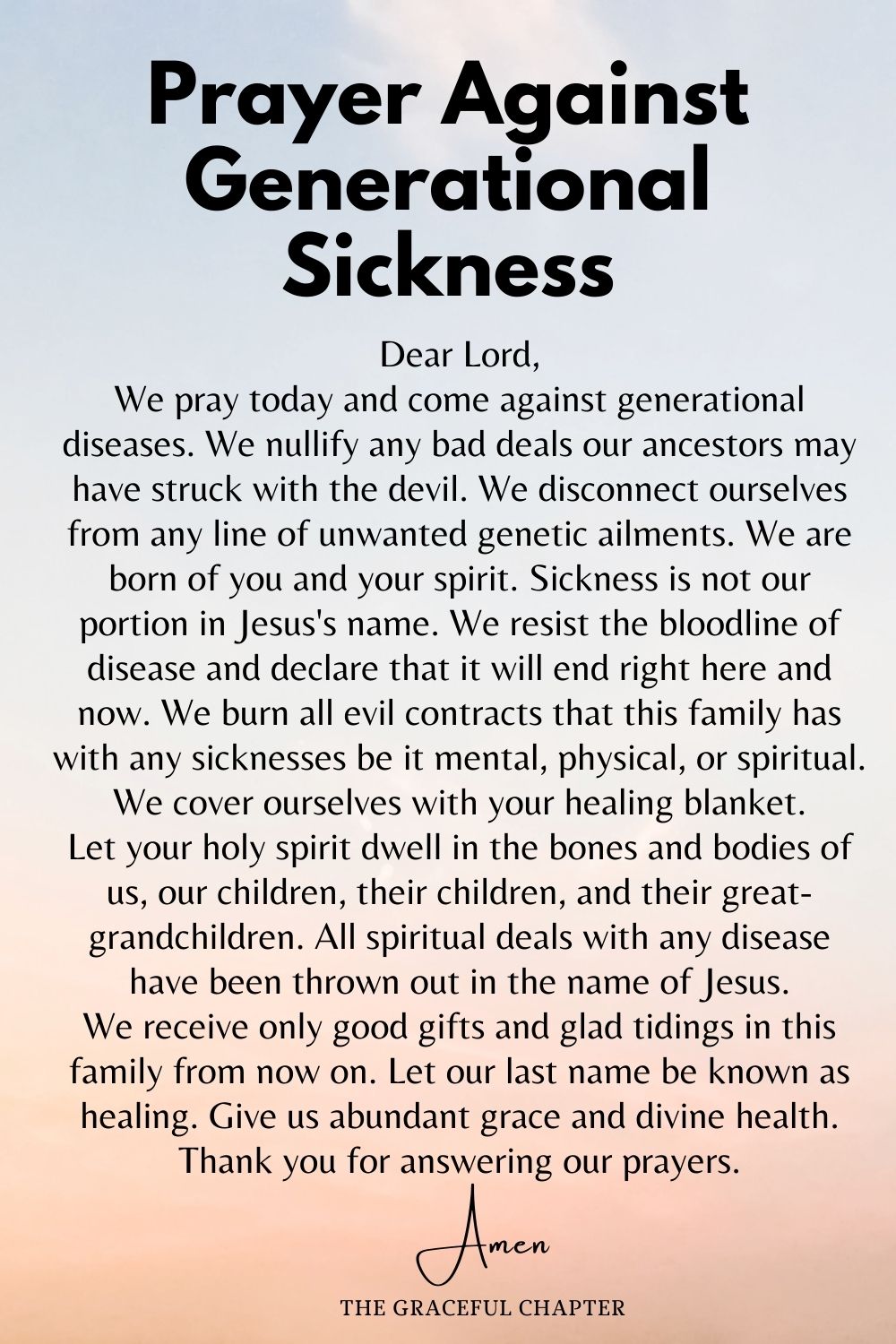 Prayer against COVID
Dear Lord
Thank you for our lives today
We come before you in prayer to ask that you take this deadly disease away from us
It is no respecter of age and it has left many families in grief
This deadly sickness has no place amongst your children and we bind it in your name
We declare that there is no room in our bodies anywhere for this terrible illness
We ask that you heal every adult or child suffering from this disease right now
We ask that it doesn't make any more widows or widowers amongst us
We condemn this disease and we cast it into the depths of hell
We pray that you strengthen everyone who has lost an important person to it
Help us fight this illness
Help us eradicate it from our midst
We destroy it from the face of this earth
Keep it away from your children
In Jesus' name,
Amen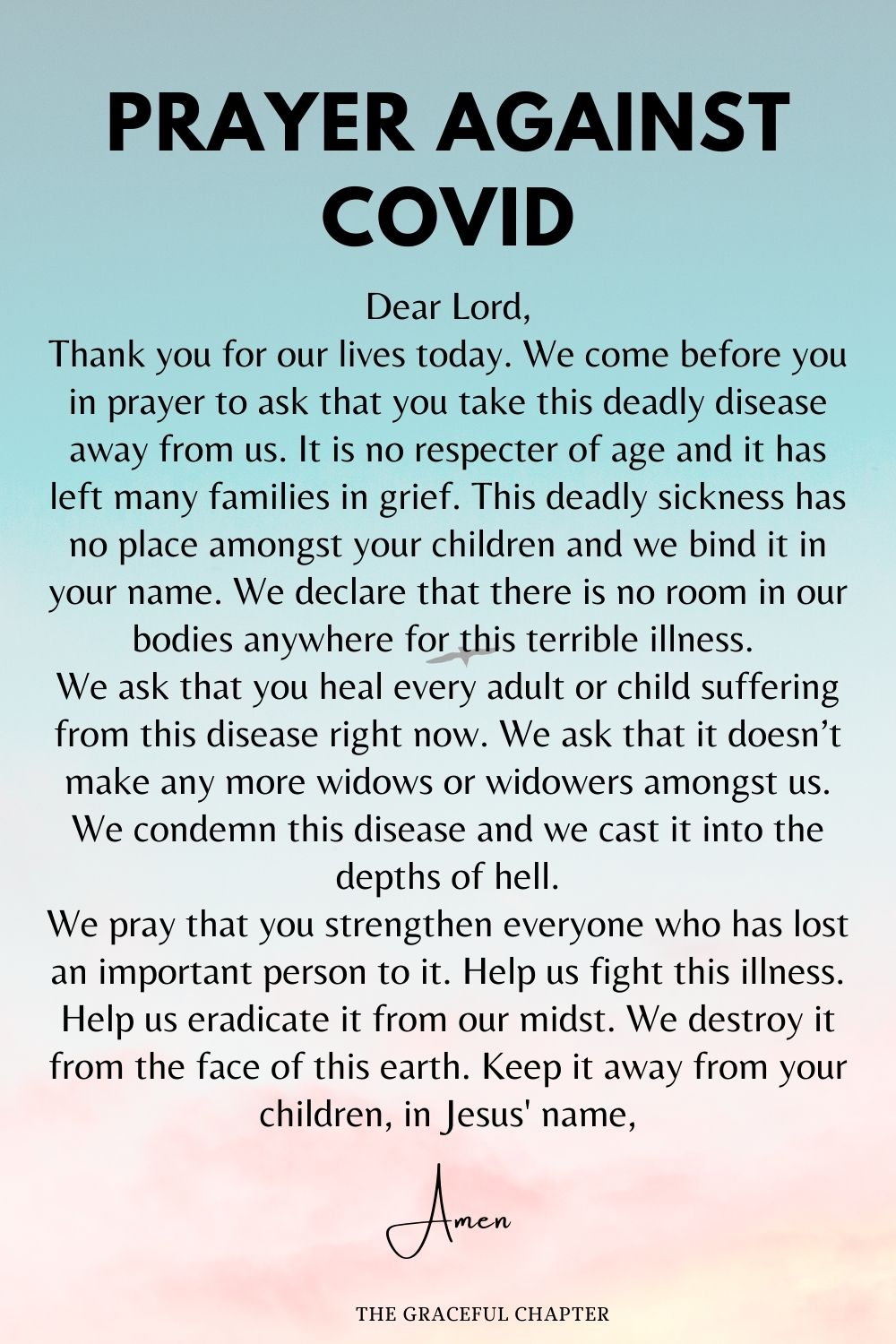 We should live by faith. We should fortify our spirits so that it dictates what the body does. When something foreign enters your body your spirit should be strong enough to kick it out. By faith, we can command anything into possibility. The great men of God lived by faith. We should be strong enough to command diseases out of our bodies. Remember God wants us healthy to fulfill his calling of us. He does not want us sick. Stay healthy In Jesus' name.
These prayers and many more can be found in the book "Release Healing". You can buy the physical copy here or buy the downloadable copy instead.