Furthermore, you shall select out of all the people able men who fear God, men of truth, those who hate dishonest gain; and you shall place these over them as leaders of thousands, of hundreds, of fifties and of tens. Let them judge the people at all times, and let it be that every major dispute they will bring to you, but every minor dispute they themselves will judge. So it will be easier for you, and they will bear the burden with you.

Exodus 18:21-22
From the text, we gather that Jethro, Moses's father in law advised him to establish a court that would help him govern the people through the will of God. He knew that it would be easier to govern the people if he gave them all responsibilities.
The leaders would however be men who feared God, men of truth, and men who hated dishonest gains. In this process of selection, Moses would choose people who were selfless and were willing to be truthful and just in judgment.
The court is not something that is foreign to Christians. In our lives on earth, they may be times when you will be dragged to court or go to court to settle a matter between you and another party. When this happens to you do not be afraid.
As Christians, the Lord expects us to cooperate with the laws of our land. He does not expect us to be rebellious but rather gentle and obedient. We should go to court with a clean conscience and humble and truthful hearts.
Then I will draw near to you for judgment; and I will be a swift witness against the sorcerers and against the adulterers and against those who swear falsely, and against those who oppress the wage earner in his wages, the widow and the orphan, and those who turn aside the alien and do not fear Me," says the Lord of hosts.

Malachi 3:5
The Lord has promised to be a witness against those who oppress and twist justice to suit them. There are people who have been able to maneuver themselves into places of power through earthly influences.
Some of these men do not possess the qualities that are stated by Jethro but still have to power to judge God's people. When you find yourself against these leaders who have not been chosen by God, do not be afraid for the Lord will be with you in judgment.
He will be a swift witness in your favor against people who try to bend the law to favor them and oppress the less privileged.
Prayers for court
Prayer for wisdom in court
Dear Lord in heaven
I am due in court shortly
I am involved in a tussle with a fellow man
Today, I pray for your grace
I pray for direction and wisdom
Help me put my emotions in check
Let me speak with honor and clarity
Let me not say anything that may land me in trouble
Grant me humility and gentility
Give me wise words to say and let me not babble my way to defeat
Amen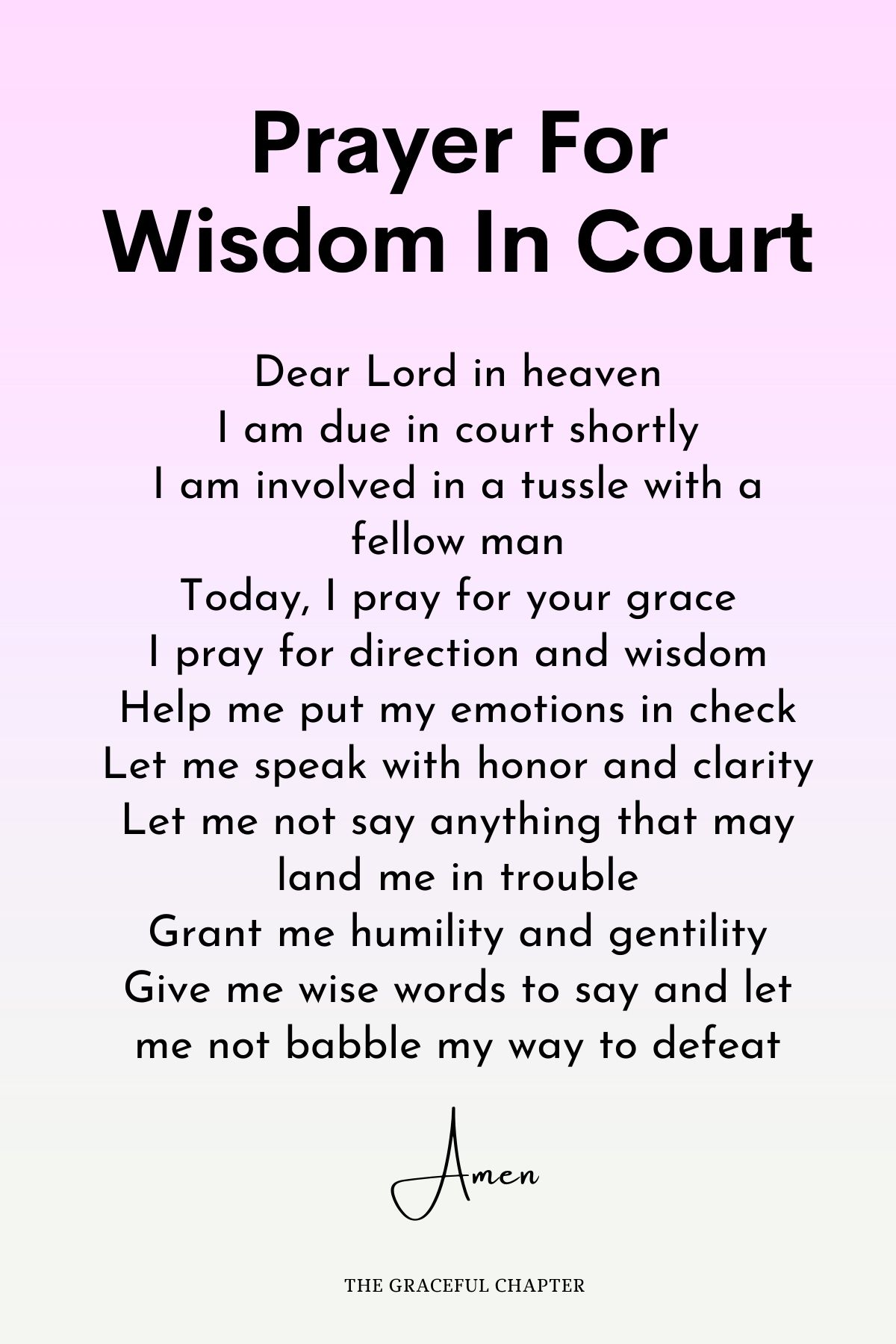 Prayer for fair judges in court
Dear Lord
I pray for the judges that will sit on my case
I ask that you mold them into the men Jethro was talking about
Let them be God-fearing and only seek fairness
Let them seek only the truth and justice
Remove any greedy judges from my case
Resist men who seek to bend the laws to favor them
Remove men who are easily influenced to bend the law
Let men who seek your will be on my case
Let justice be served through these men
and let my toil not be in vain
Amen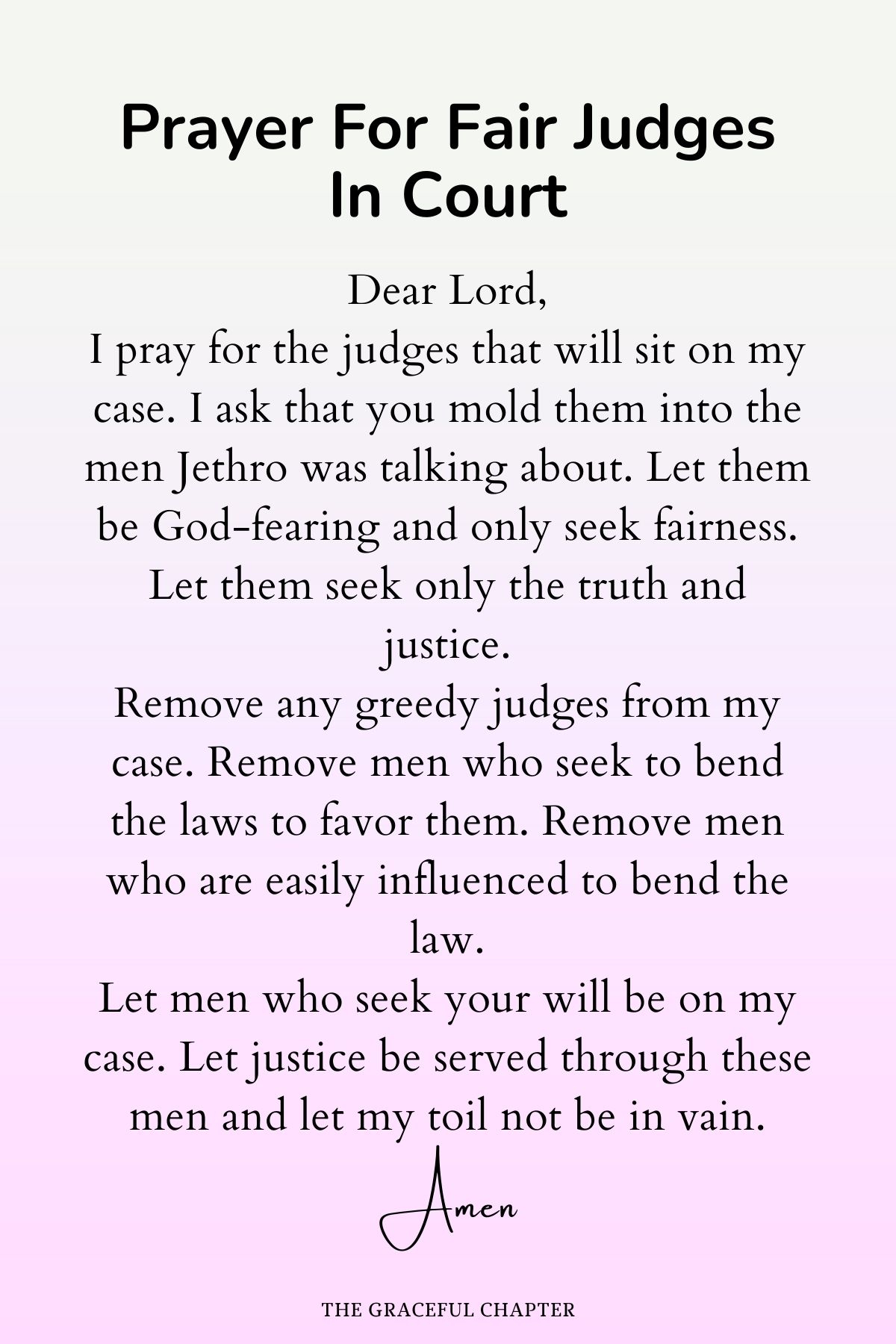 Prayer against false witnesses in court
Father Lord in heaven
I pray against any false witnesses
I bind all those who have been influenced to spread lies
I destroy all evil plans of the enemy to thwart the verdict
Let everyone who sits in the witness box speak the truth and nothing but
Take control of their tongues and let them not twist words
Grant them the strength and wisdom to say what is right
Remove all fear from their hearts
Let them not feel badgered or intimidated to tell lies
Let them be witnesses, you have chosen and let justice be done in the end
Amen
Prayer for my lawyer
Heavenly Father
I pray for my lawyer
I ask that you be her mouthpiece
Let her prepare a good case for me
Grant her the wisdom to speak in the courtroom
Let her see everything clearly as it happened
Clear her mind and order her steps into the courtroom
Let her speak with conviction and grace
Let her mere presence mean victory for us
Be her hand and her voice
Let all ears that hear her speak be moved and persuaded by her honesty
Grant us justice and victory in the end in Jesus' name, I pray
Amen
Related Posts
Prayer for victory in court
Heavenly Father
I pray for victory in court
I know in my heart that you have already done it
My heart is pure and I am blameless in all this
I know that you have searched my heart and seen this to be true
I ask that you pave the way for me in court
Let the true story be made bare
Let everything that happened be revealed
Let me be vindicated and victorious
Let those who doubted my innocence be put to shame
Let those who deserted me learn from their mistakes
and let my victory bring hope to the wrongfully accused
Amen
Prayer to be truthful in court
Dear Lord
Thank you for my life this day
Thank you for keeping me strong throughout this process
I ask that you take the spirit of deceit from my heart
Remove all lies from my tongue
Help me resist any urge to bear false witness to get ahead
Let me speak truthfully and never be shaken or moved no matter what
Let me not disobey your word
Let me say what is the way it is
Let my yes be yes and my no be no
In the name of Jesus, I pray
Amen
Prayer to be patient in court
Dear Lord in heaven
I pray for patience today
Help me hold my peace and wait for justice to be served
Let me not try to take matters into my own hands
Let me wait on you and be quiet
Do not let my emotions have the best of me
Let my struggles be rewarded in the end
Let me not toil in vain
Let me not lose anything I worked for
Help me maintain my composure
Do not let my enemies get to me
Let me continue to trust in your glory and grace
and give me my victory gift wrapped in glorious blessings
Amen
Prayer for justice in court
Father Lord in heaven
Thank you for how far you have brought me
I pray that in the end, you let justice be served
I bind any entity that seeks to twist the verdict to their favor
Let the law work in this case
Let me be vindicated and freed
I am innocent of all this
Let that be revealed at the end
Let all due process be done in the right way
Let there not be any shortcuts
Let there not be any planted evidence or manipulations that will defeat me
Make me spiritually victorious and let the courts follow suit
Amen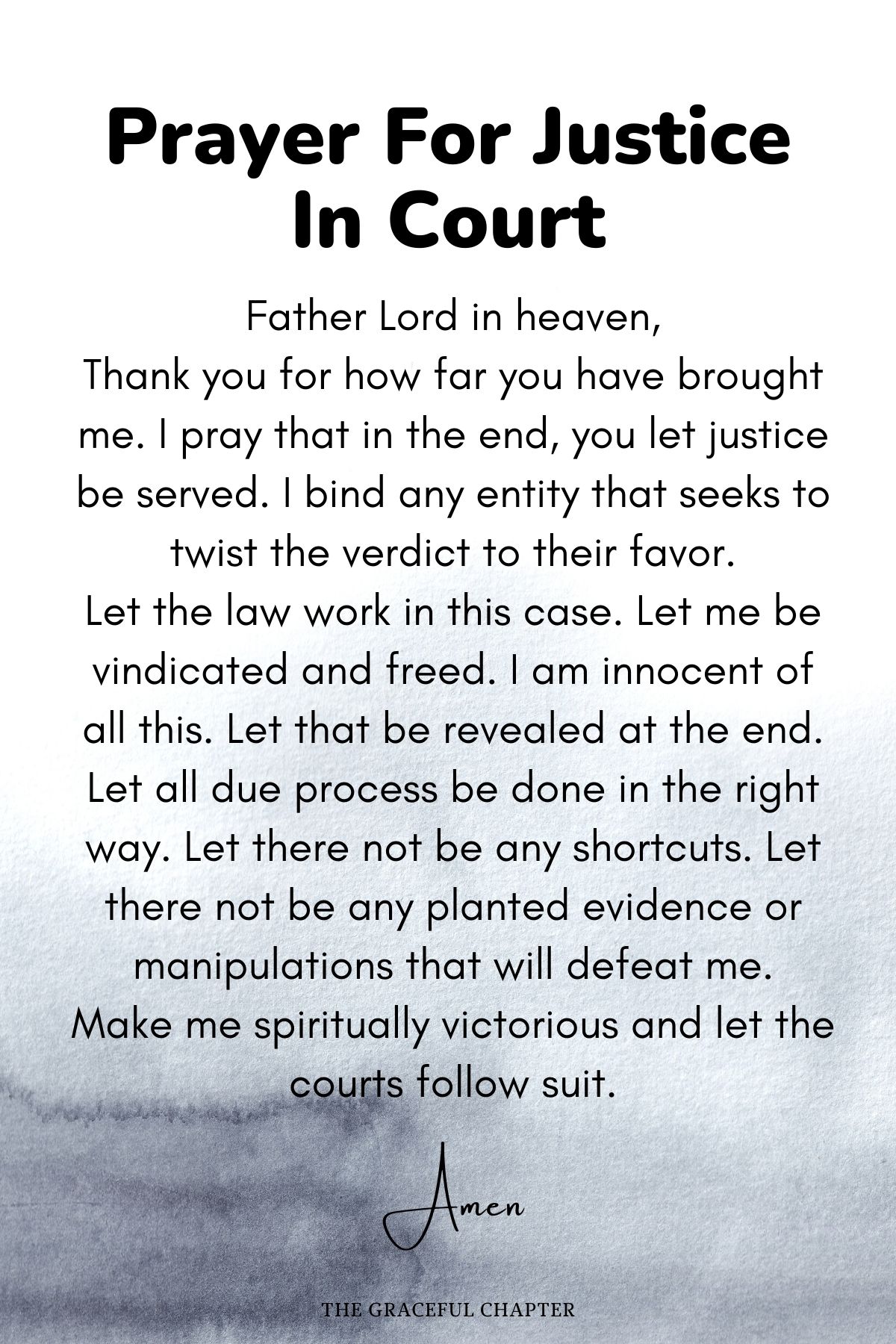 If you have been wrongfully accused and arrested let the Good Lord be your companion at all times. God has the power to release his children from prison as we saw with Paul and Silas. It is never too late with the Lord because he is all-knowing and all-powerful.
Pray to the Lord to stay with you in your times of distress and doubt. Know in your heart that the moment you opened your mouth to pray he already freed you. Be joyful in your heart because he has won it for you already and go to court in faith and belief of justice and victory. Put him to the test and you will not regret it.
No weapon that is formed against thee shall prosper; and every tongue that shall rise against thee in judgment thou shalt condemn. This is the heritage of the servants of the LORD, and their righteousness is of me, saith the LORD.

Isaiah 54:17. 11
When you are brought before synagogues, rulers and authorities, do not worry about how you will defend yourselves or what you will say, for the Holy Spirit will teach you at that time what you should say.

Luke 12:11-12