Don't let anyone look down on you because you are young, but set an example for the believers in speech, in conduct, in love, in faith, and in purity.

1 Timothy 4:12
Teenage years are confusing years for everyone growing up. It is the bridge between childhood and adulthood. Teenagers are exposed to a lot of pressures and choices in the world. It is important for them to make the right choices in order to have a good future.
There will be a lot of roads in front of every teenager eventually and it is important that they select the best one. It is impossible to know exactly what the future will hold for them but as Christian parents, we must make sure that we usher them along the best paths.
When you are young, people do not pay much attention to you. You may feel insignificant from time to time but this is no reason to look down on yourself.
How bright your future will be will depend on the choices you make as a teenager. Sure those choices may not seem important or relevant to you right now but you should know that they will shape and determine your adulthood.
Christian caregivers must take responsibility for these teens. God has placed something different in each one of them and has planned exactly what their future should look like.
Helping a teenager achieve their full potential is the job of every Christian caregiver. We should be careful not to force them down a path that we feel is right for them but we should pray to God concerning their lives so that the right paths for them will be revealed to us.
By just talking to them and raising them with love and understanding, we will learn exactly what the Lord has destined them to do. We must teach them to take up the responsibility to serve God in purity and honor.
We must help them to not defile their bodies with the impurities of this world but preserve it like the temple it is. We must teach them to not be swayed by bad company but be wise in the Lord and only seek to do what is right at all times.
A teenager who finds strength and wisdom in the Lord will be a strong adult who also raises strong children in the Lord.
Prayers for my teenager
Prayer for wisdom for my teenager
Dear Lord
I pray that you make my teenager wise
Help him to discern between what is right and wrong
Let him make good choices
Let him spot danger when he sees it
Let him flee temptation
Help him choose good friends
Lead him to stay out of trouble
Bless him to be a shining example
and let him make us proud
In Jesus' name,
Amen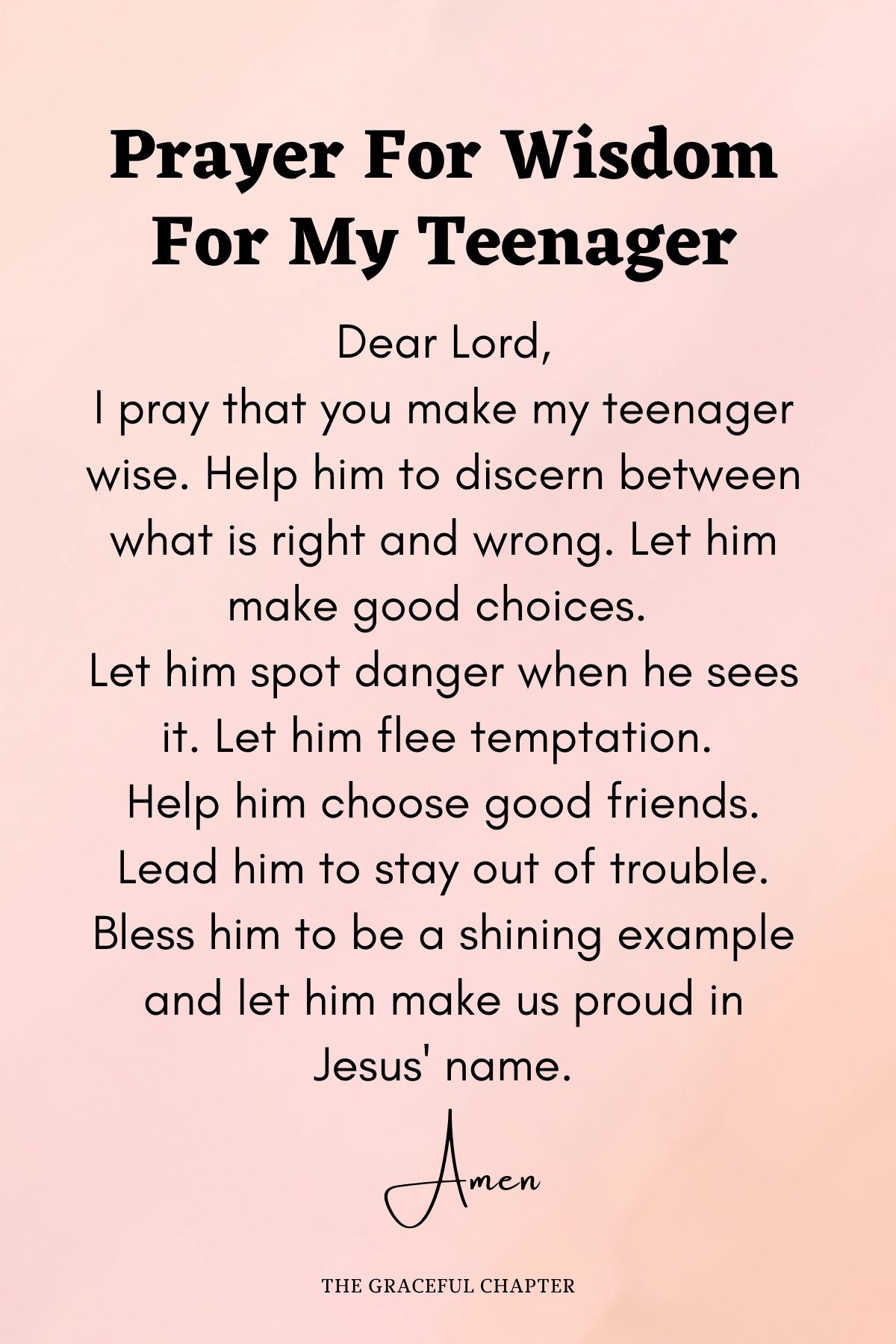 Prayer for my teenager to resist evil
Dear Lord
Thank you for the life of my teenager
I ask that you make her strong
Give her a very strong will
Let her always seek to do what is right
Let her not be swayed by earthly evil attractions
Let her not be led down bad paths by evil friends
Let her set their eyes on you and please you
Strengthen her to resist all evil and make us proud
Sanctify her and set her apart for your work
Amen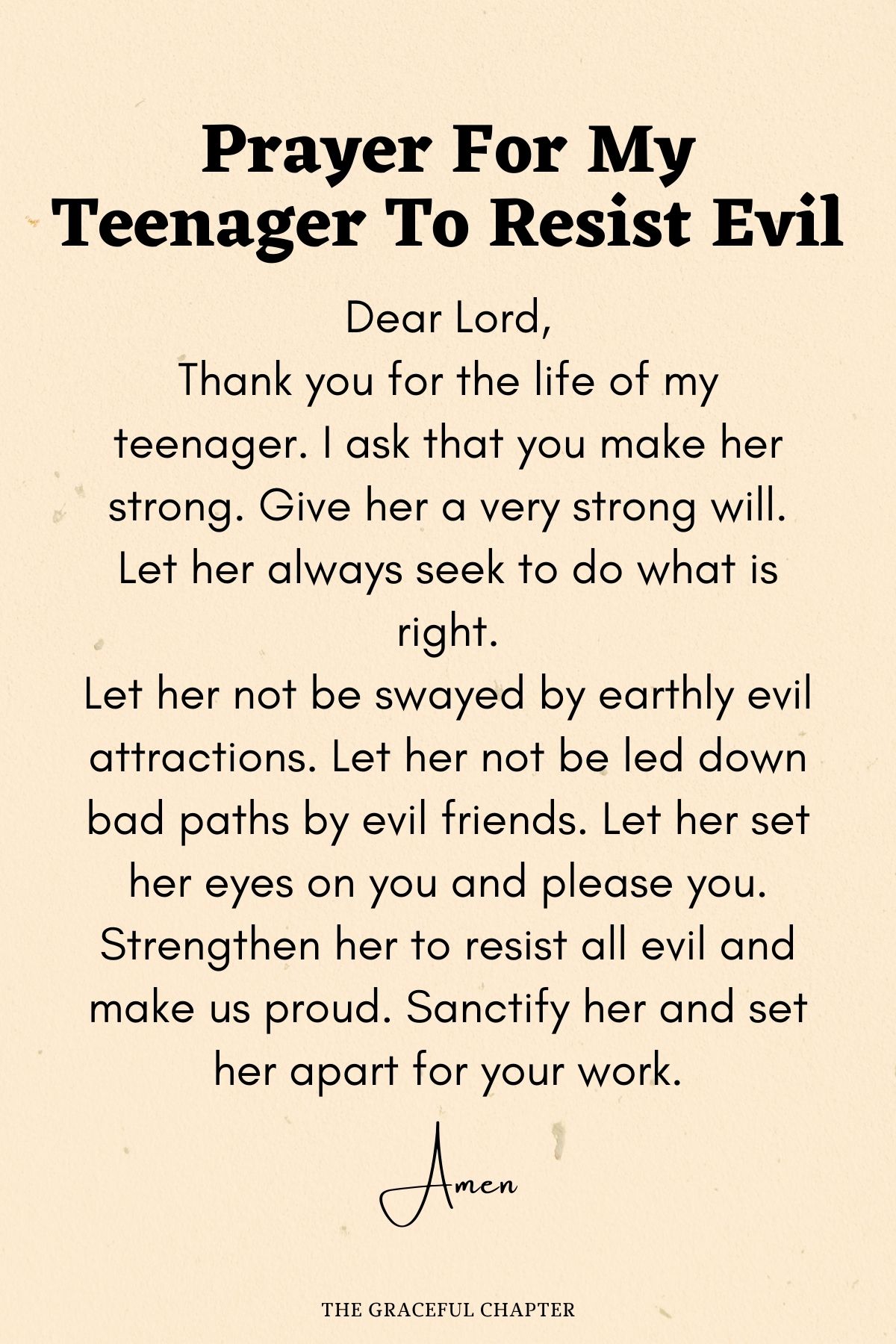 Prayer for my teenager to make the right choices
Heavenly Father
I pray that you help my teenager in this crucial moment
Help him realize what you want for him
Touch his soul and lead him
Let your light be his companion
Grant him conviction in what his future holds for him
Lead him on the best path for his life
Give him signs that will teach him his own strengths
Let him discover his talents
and help us nurture those talents for him
Amen
Prayer for my teenager to stay in the Lord
Dear Lord in heaven
Thank you for my teenager's life
I pray that you make her dwell in your house always
Let her choose to honor and please you always
Let your word be sweet on her lips
Let your house be her home
Let your music be in her ears always
Let your light be a candle in her heart
Let your word be a light onto her path
In this confusing period in her life, please guide her
and let her grow in your house and fulfill your plans for her
Amen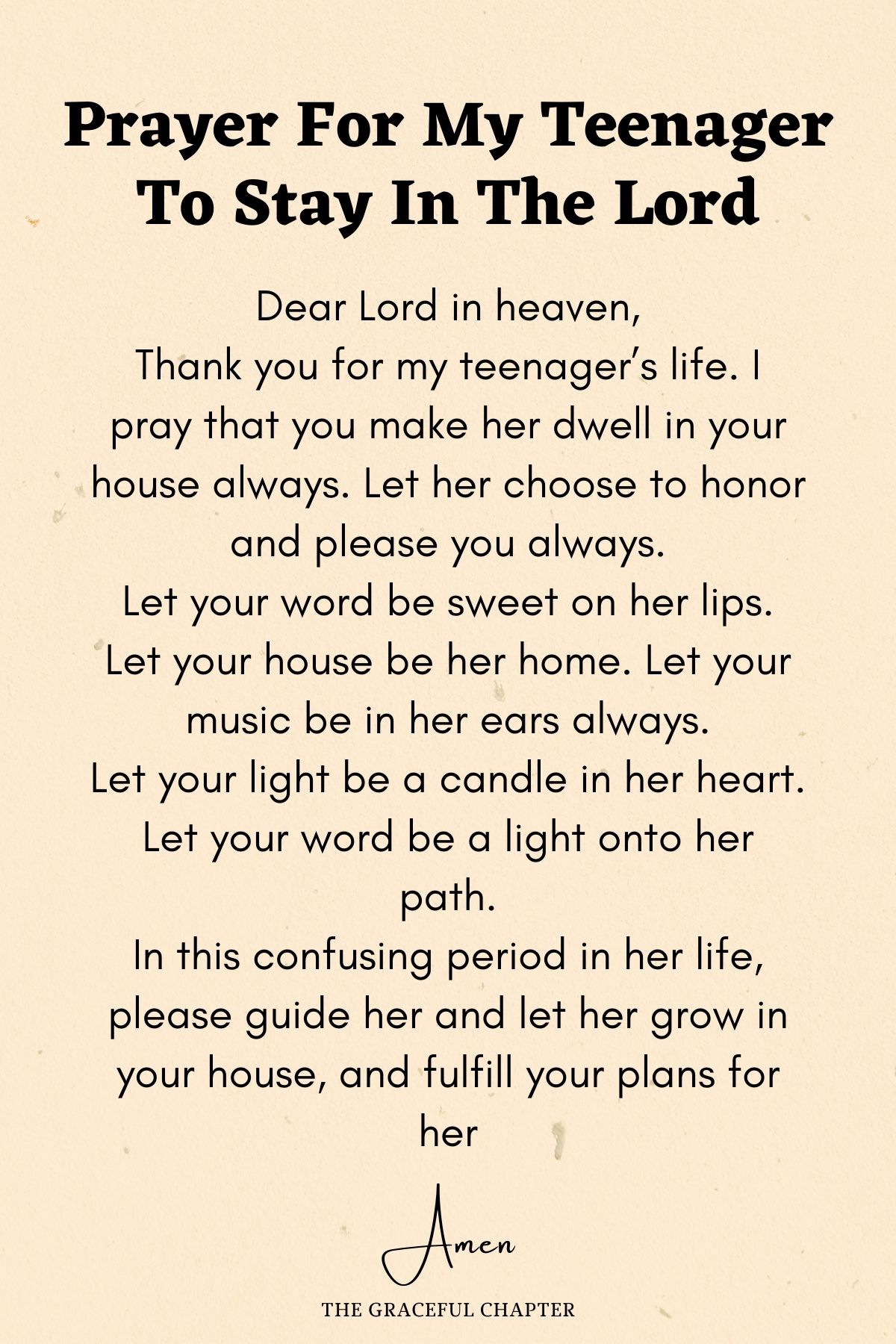 Prayer against bad influences in my teen children
Dear Lord
I bind and resist any bad influences in my teen children's life
Let all the words they hear be encouraging and motivating
Do not let anyone put them down or make them feel bad about themselves
Give them honor and respect
Let them be joyful always and love themselves for who you made them to be
I resist all bad friends and people in their lives
I cancel all plans to lead them down bad paths
Help them know what is right always and strive to do it no matter what
Let them spot evil as soon as they see it
Let them not be deceived and taken advantage of
Dwell with them always, dear Lord
Amen
Protection prayer for my teenagers
Heavenly Father
Thank you for being with us till today
I ask that you protect my teenagers from all evil
Remove all evil traps from their paths
Be with them when they travel and bring them home safe
Sanctify any food they eat or water they drink
They shall eat poison and it won't harm them
Let those who plot their downfalls fall in their own pits
Cover them with your grace and blessings
Save them from their own mistakes
Forgive them of their transgressions
and fulfill their lives always in Jesus' name,
Amen
Prayer for grace and favor for my teenager
Heavenly Father
I ask for grace and favor in my teenager's life
I pray that you order his steps into victory always
Let him be looked on with favor everywhere he goes
Let his words and actions inspire and not discourage
Let him be favored in his schooling and his growing up
Be gracious unto him
Do not look at his shortcomings
Bless him no matter what mistakes he makes
Save him from his own bad decisions
Do not let him encounter your wrath but rather see your grace always
Amen
Related Posts
Prayer for the troubled teenager
Heavenly Father
I pray for my teenager today
I ask that you help her to open up to us
Let her trust that we will understand whatever she is going through
Do not let her feel alone and isolated
Take the troubles away from her mind
Help her focus once again
Let there be a breakthrough in her life
Let her know that we care for her
Assure her that she doesn't have to go through it alone
Help us be there for her
and let her be released of whatever pain she may be going through
Amen
Prayer for an addicted teenager
Heavenly Father
Today, I commit my teenager into your hands
I ask that you save him from this bad habit
Help him break free of this bondage
Give him a strong will to resist putting this substance in his body
Give him peace in his heart
Let him stop judging himself and know that you still love him
Let him realize our undying love and affection for him
Let him know he is appreciated and not seek to please anyone through this habit
Heal his broken heart and body
and cleanse him of this impurity
Amen
Prayer for the pregnant teenager
Heavenly Father
I pray for my daughter today
I pray for strength for her at this time
Hold her hand and help her deliver her healthy baby
Open her eyes and mind and let her find her path
Make her strong through this experience
Do not make her feel sorry or inferior because of this
Grant her grace and blessings
Be her strength and companion through this
Let us be there for her always
Let her know that we love her always
Let your peace reign in her heart
and let her glorify your name always
Amen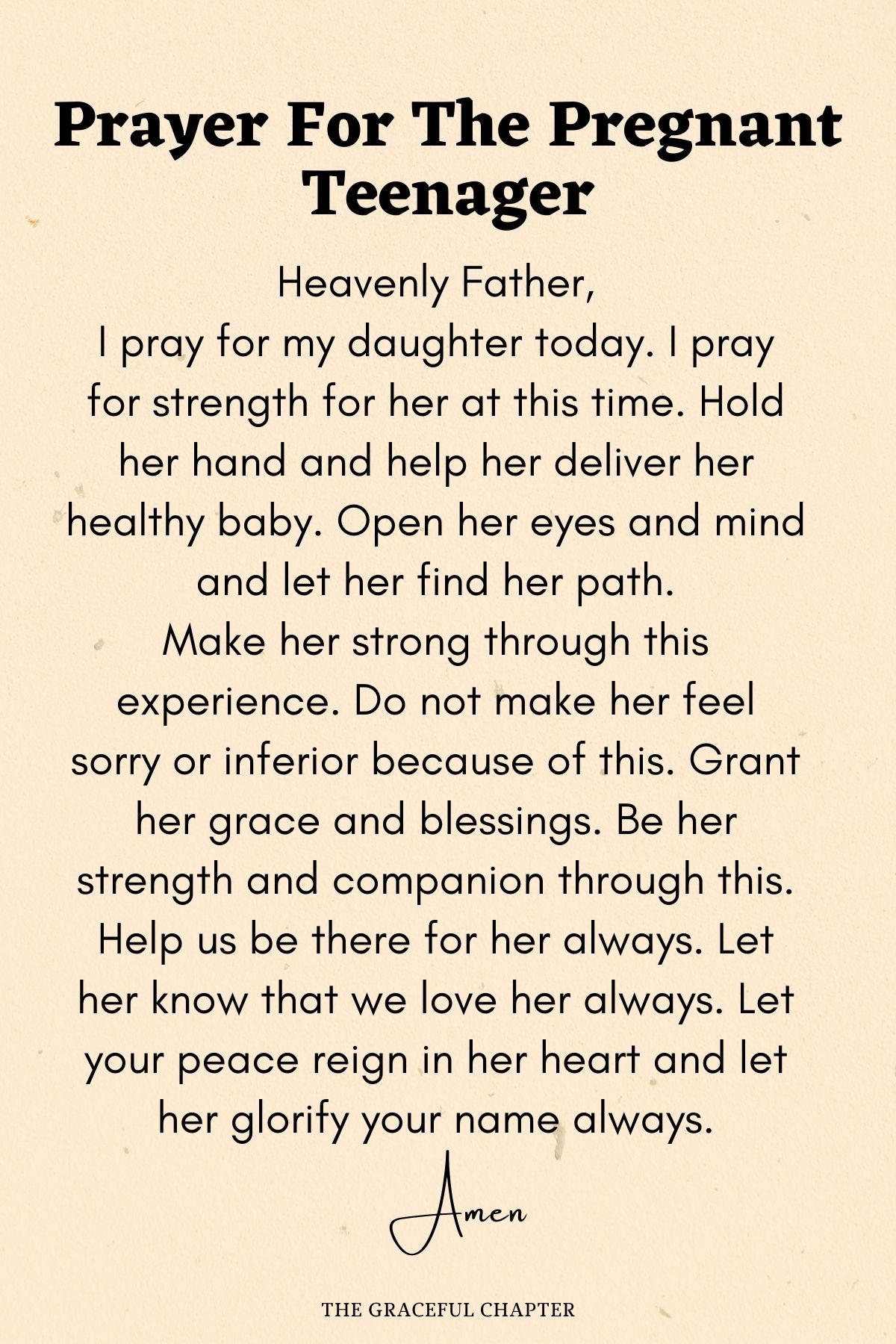 Prayer for the depressed teenager
Almighty Lord,
I come before you today for my teenager
Father, she doesn't seem like her usual self anymore
Lately, she would rather be alone in her room than speak to anyone
She doesn't even look forward to school or meeting her friends anymore
I can see she is troubled and her heart is heavy
Lord, I need you to be there for my daughter
I don't know what is wrong or what she is going through, but you do
I pray that you comfort her and be her friend
Let your light cut through the darkness in her heart
Reach into her soul, Lord, and uncover all her hurts and troubles
Lift her out of this depression and fill her heart with gladness
Help her understand that we are all here for her as her family
and we love her very much
Help her see that I am ever ready if she needs a listening ear and a confidante
Thank you, Lord, for being there for my child
Thank you, Lord, for giving her peace and joy
Amen
Prayer for the lost teenager
Graceful Father,
Thank you for your love upon our lives each day
Today, I pray for my teenager
His life is unrecognizable these days
He is doing all the wrong things and making all the wrong choices
He doesn't listen to us anymore
He has fallen into some bad company
We are troubled because this is not going to end well
I ask that you protect him
Bring him back to the light
Save his soul from destruction
and let him remember the good values he was brought up with
Amen
Teenagers may be confused most of the time because they are constantly learning new things about the world they were born into. The word of God is the light that we point unto their paths so that they are not lost.
We have to be their shepherd and find them when they stray otherwise they may be stolen by evil. We must draw closer to them and make sure that they know they are loved and can share every trouble they face with us. With the help of God and constant guidance, they will grow into powerful God-fearing adults who will also raise children in Christ Jesus.
For I know the plans I have for you," declares the LORD, "plans to prosper you and not to harm you, plans to give you hope and a future.

Jeremiah 29:11
How can a young person stay on the path of purity? By living according to your word.

Psalm 119:9