School begins from infancy. Some people go to school for almost all their lives. Whether basic, elementary or tertiary there comes a point where you have got to move on. These days being a secondary or tertiary graduate marks the beginning of your adult life. That is the time for choices.
Choosing to continue schooling or trying your hands on the job market using what you have been taught. Proverbs 9:10 says fearing the Lord marks the beginning of wisdom. Prayers for graduates are meant to prepare them for the world and all the curves life after school throws their way.
We go to school to learn about our physical world. We learn about how we can adapt, survive, manage and gain on this earth at the same time learning about how not to misuse the resources God has entrusted to us.
Proverbs 16:16 talks about how wisdom and understanding hold more merit than gold. Teaching a man to fish is far more beneficial than handing them a fish every day. Proverbs 19:21 however says that it is good for man to plan but it is God's purpose that will prevail.
We go to school to learn how to survive as men in the physical world but let us always remember that God's plans for our future are the priority. Go to school for the knowledge but stay with God for the wisdom to use that knowledge. Graduates are often faced with different dilemmas.
A lot of questions circle their heads about what job to do, marriage, where to work, and so on. These prayers are meant to speak to the graduate about how they need God from the first day to the last.
Prayers for Graduates
Thanksgiving Prayer for Graduates
Father God in Heaven,
Thank you for carrying me all these years
From basic school through secondary school you have watched over me
Through all the studying, the sick days, and the exams you have stayed with me
I am truly grateful for this divine favor upon my life
I started this journey with a lot of people who fell along the way
You have protected and been with me during all the many semesters, terms, and periods
There were times when I found it difficult to follow classes but you came through for me
When I felt like dropping out because of issues at home you gave me the strength to carry on
When I didn't do well in my classes and courses you held my hand and I kept pushing through
I am grateful for every day I spent in this school
Thank you for giving me the financial support I needed to complete this program
Thank you for your wisdom in helping me understand all that I learned
I bless your holy name
I give you all the glory and honor
I praise you omnipotent God
Thank you so much
Amen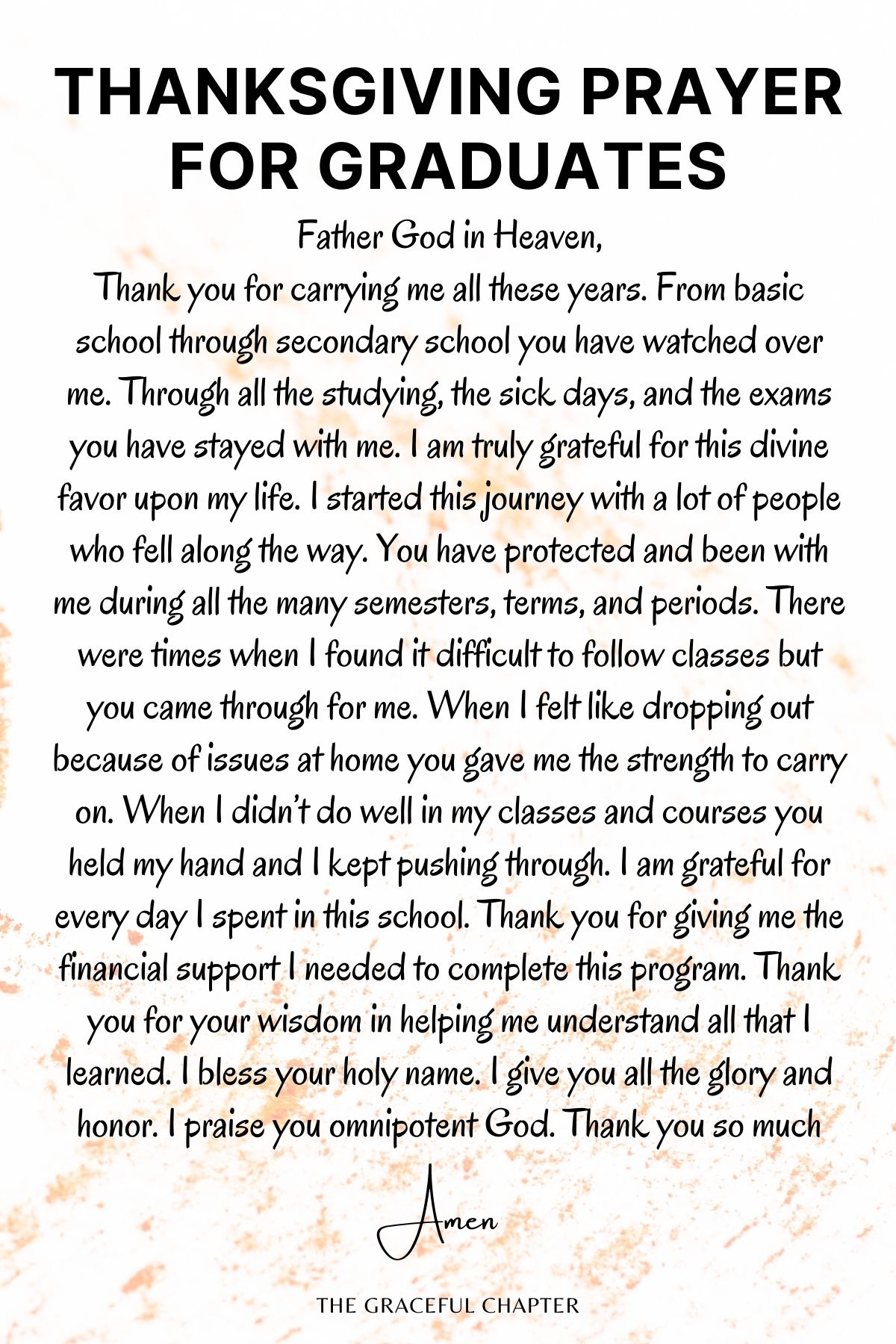 Let me be a blessing
Thank You, Lord, for Your guidance and grace through my years on campus.
I'm thankful to You for taking care of me in school
I'm thankful that I've been able to complete my course successfully
I'm thankful that today, I'm a graduate.
Thank You so much, Lord
Thank You for Your protection for all my days on campus.
I pray for more protection as I approach the world as a graduate.
Please teach me to number my days and protect me in all my ways.
I pray that You please continue blessing me with good health both physically and mentally.
Take away any ailments and weakness from me Lord. 
As I approach the world today,
I pray for You to lead me on this journey.
Lord, order my steps and make everything work out for my good.
Let me be a blessing to everyone that I encounter
Let me be a blessing to the world
In Jesus' name,
Amen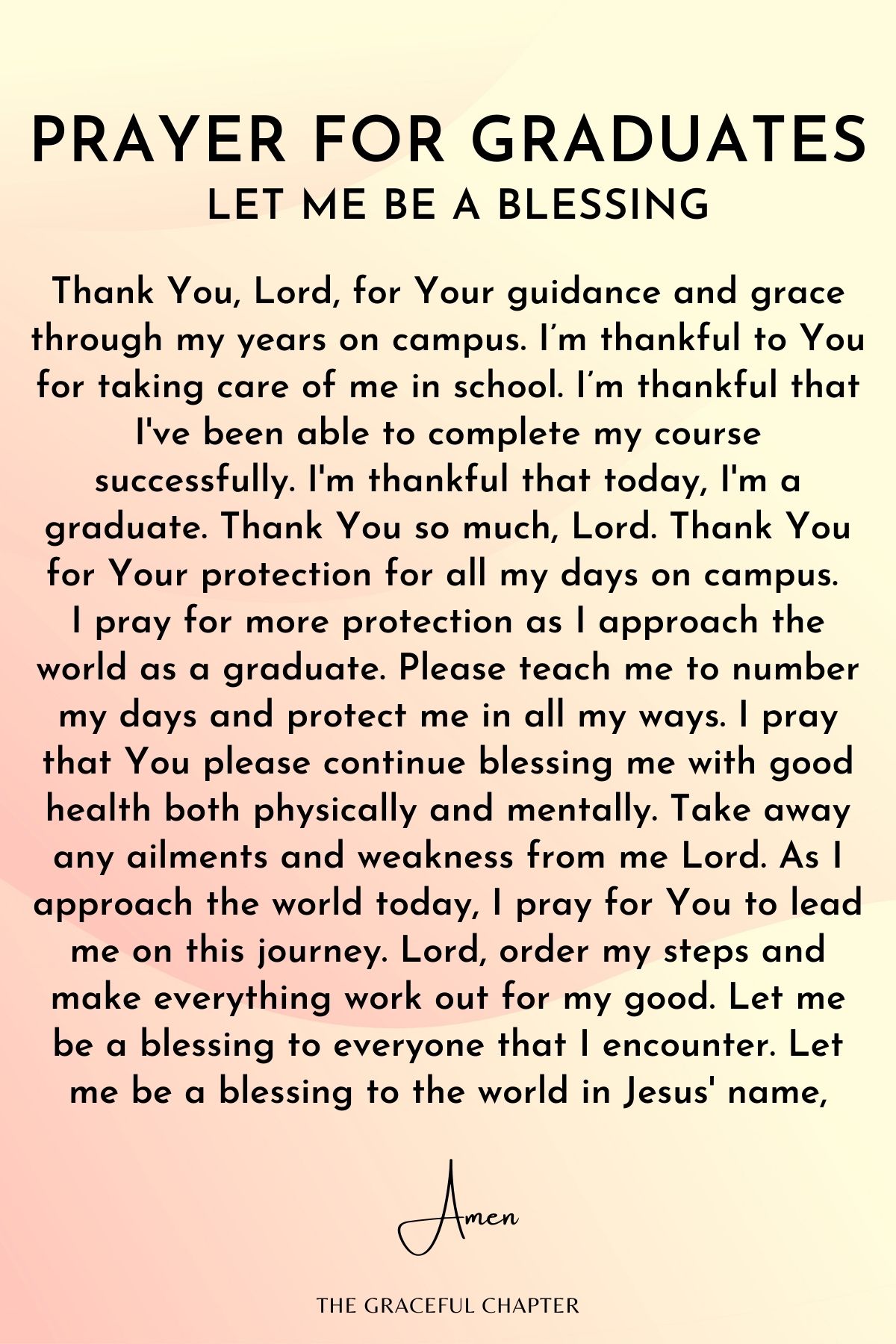 Prayer for Purpose
Heavenly Father
Thank you for taking me through my education
I have seen the finish line now
I pray for your guidance from here on out
Point me to my purpose
Allow me to see your vision for my life
Help me understand the right steps to take
Show me the way to a successful life after school
Guide me so I do not rush into anything I will regret
Let me pick the right career for my future
Help me discern between traps and opportunities
Let me go into organizations that will further enhance my professional career and not derail it
Help me set goals that I can achieve
Grant me the wisdom to flourish in any environment that I find myself in
Give the patience to wait on you when things delay
Show me how best I can be beneficial to my company as well as my country
Bless me to make those who give me chances proud
Amen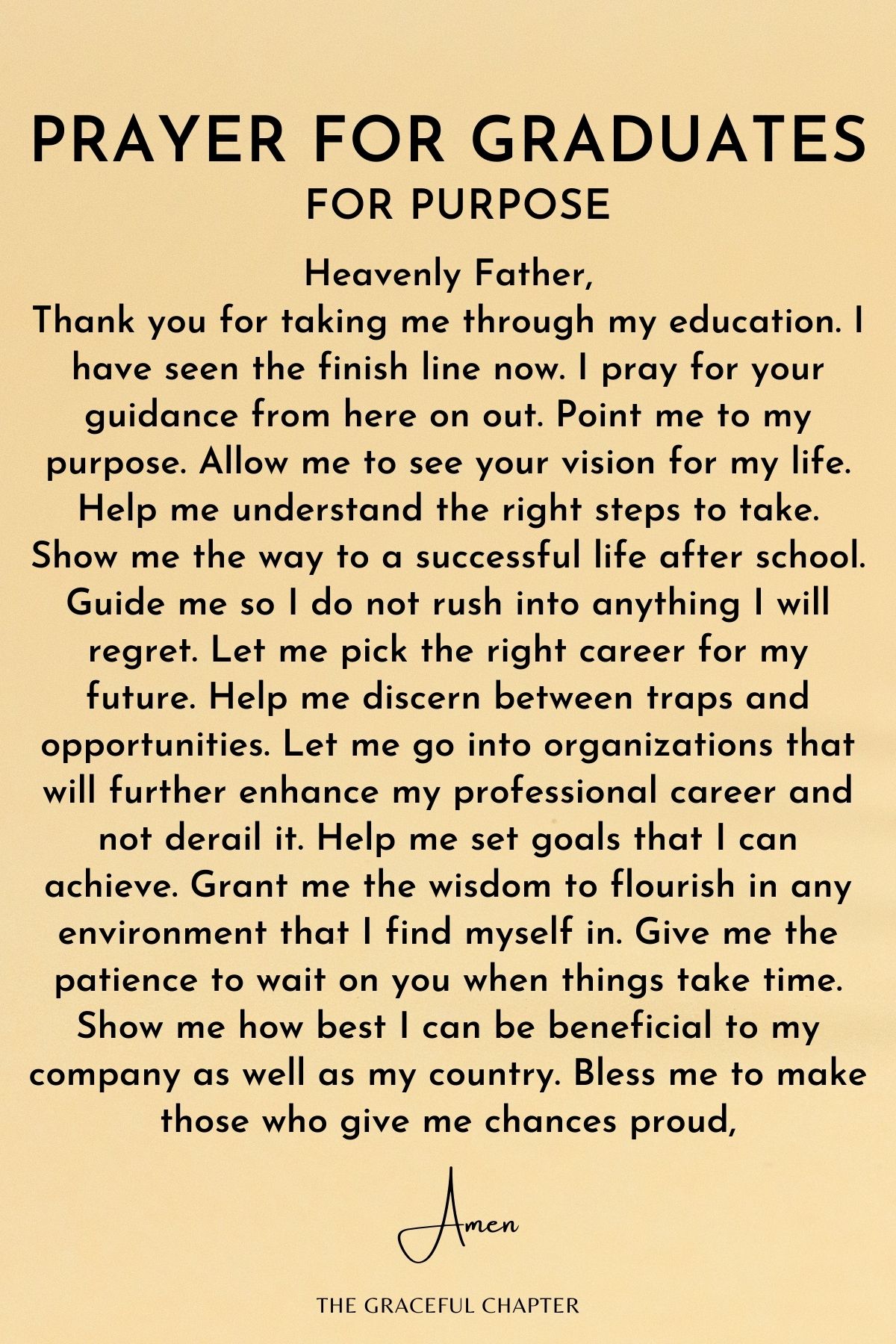 Prayer for the Right Occupation for Graduates
Dear Lord
Thank you for helping me graduate
Through all the toil and sweat you have been by my side
Now I have to make an important decision
Help me get a job
Let your favor follow my application
Bless me through all my interviews
Prepare me to impress whoever interviews me
I pray that you speak to me concerning the job that I choose
Help me choose something that I can do successfully
Help me commit to whatever I choose and let it be something I love
Show me the way, dear Lord
I want to end up in a place where I am appreciated for my talents
I want to wake up every day and go to work with a smile
Help me make waves in the job I chose
Guide me to choose wisely
Let me not follow the crowd and bless me to think for myself
Prepare a place for me
Let me fit in seamlessly
Remove any barricades that are in front of me
Help me make good impressions everywhere I go
Let me be fulfilled
Amen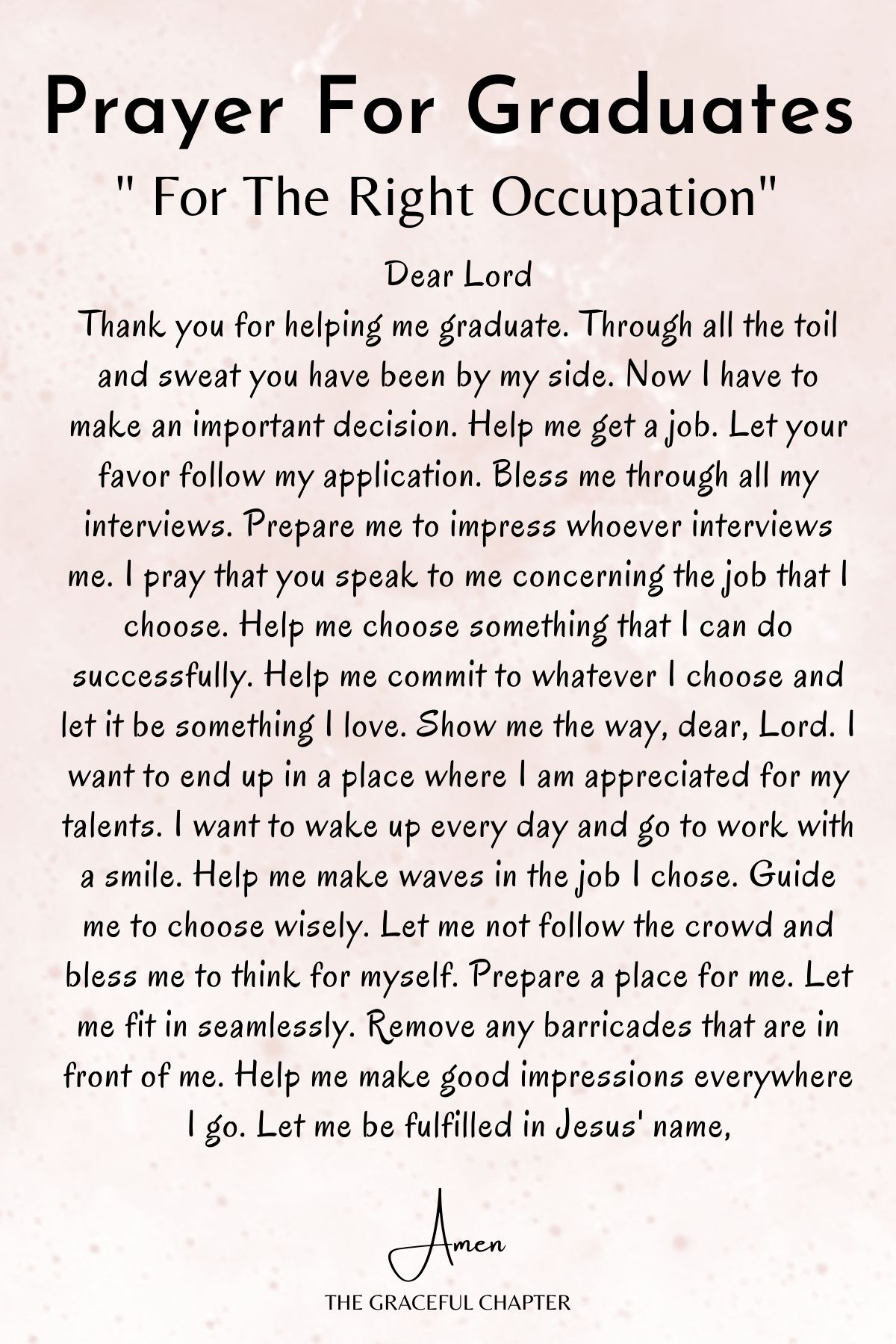 Please direct my path in this new life
My Father in Heaven,
Thank You for the blessings bestowed on me.
Today I graduate from school after years of hard work and studies.
I pray for grace as I embark on my new journey.
Please guide my path into the real world
I know I am not perfect and Lord I need You more than ever.
Please provide for me and give me strength for my weak and disturbed self. 
Please direct my path in this new life as a graduate.
Let Your goodness and mercies follow me all the days of my life.
I pray You cancel premature sickness and death in my life in Jesus' name.
Take the lead in my life and open big doors for me in the cooperate world.
Please take away unemployment and job-hunting stress from me
Please help me enjoy the fruit of my labor
and let me be a blessing to everyone around me.
Amen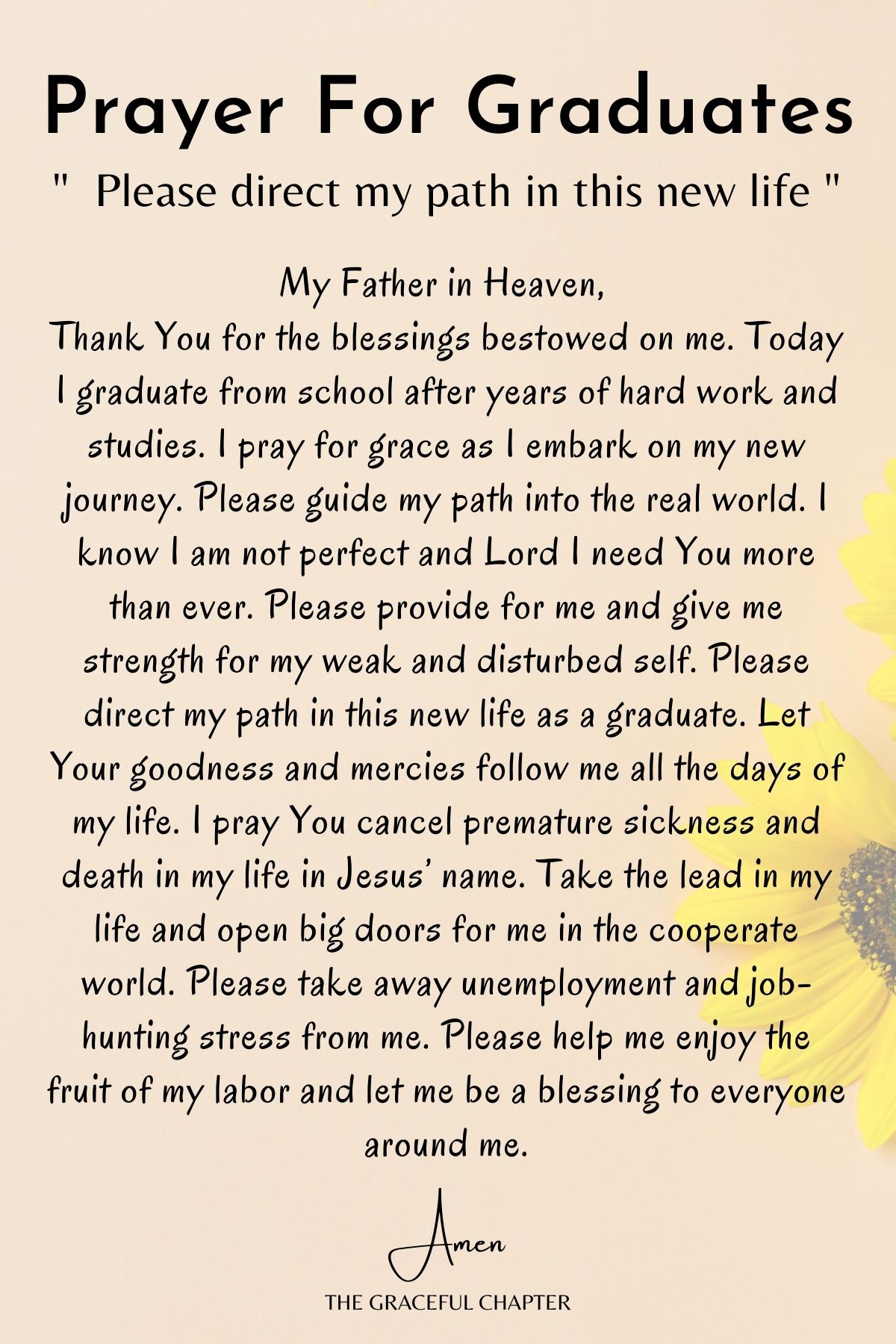 Related Posts
Prayer for the Right Marriage Partner
Father Lord
Thank you for helping me complete my education
I am now prepared to step into the world
I am new to a lot of things
I am prepared to find a life partner
I pray that you help me meet someone who will improve my life and share my dreams
Help me connect on a special level with somebody
I pray for our future life and kids together
Let me find someone who will relate to me on a spiritual level and will draw me closer to you each day
Let me not choose with my carnal brain but with your spiritual selection
I pray for patience and not desperation
Only you know the future, dear Lord
Help me choose the right one
Grant me someone to join our families together and not to rip it asunder
Whatever traits that are not desirable in me I pray that you help me fix them
Grant me your divine love and protection through this search period
Amen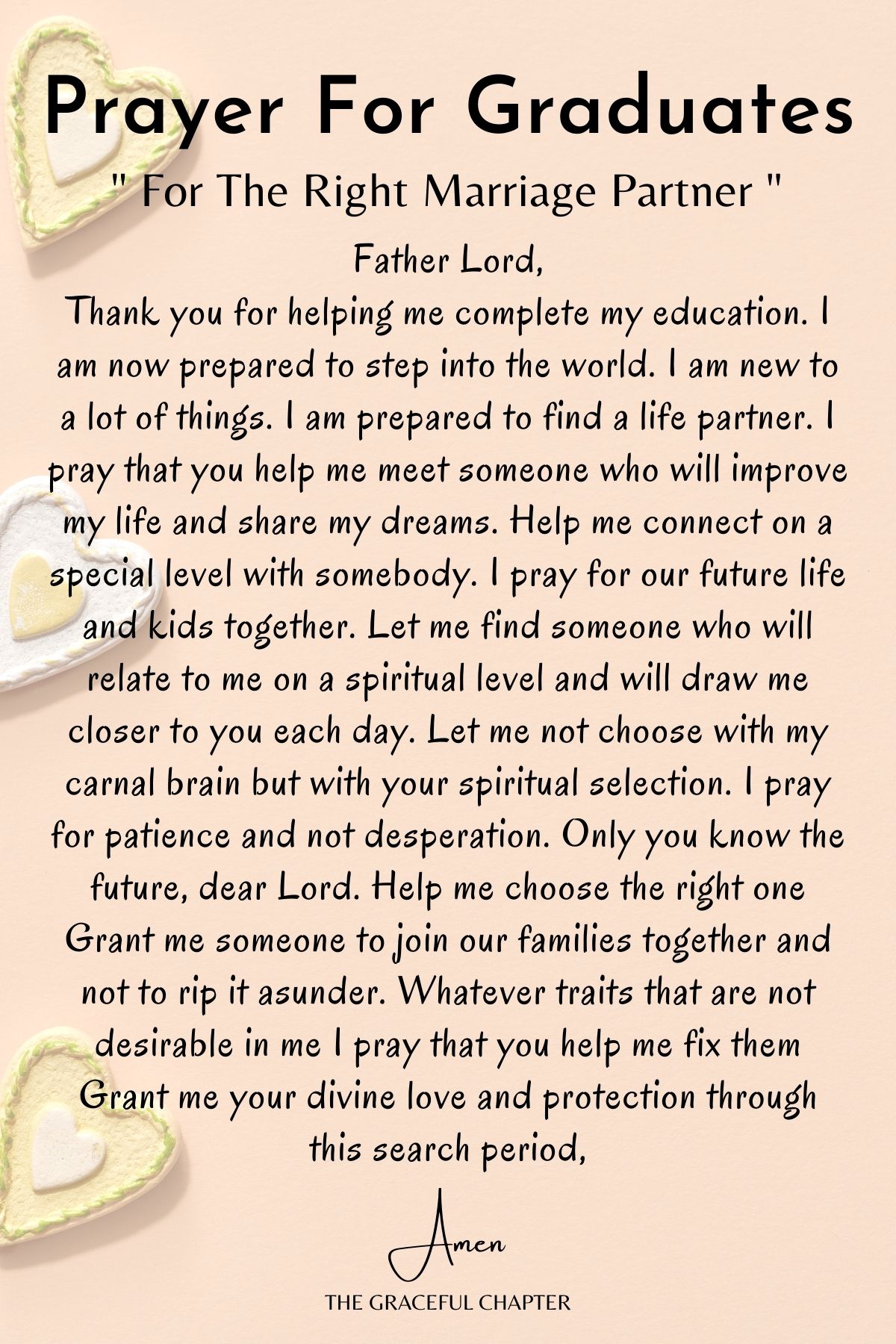 Let nothing hold me back
Heavenly Father,
Thank You for being with me as a graduate today.
Thank You for everything You blessed me with on campus.
I pray You continue surrounding me with people with good motives.
Let my relationships yield positive results now and always.
Surround me with godly people full of wisdom and good heart.
Connect me with people who will help me achieve my purpose and build a wonderful future
Direct my path and lead me to the future you have for me
I believe that you have plans for me to prosper
Thank you for this assurance in Jeremiah 29:11.
I know trusting You means there is great hope and a bright future.
Father, please inspire me in order not to be afraid to live my destiny.
Let nothing hold me back in this new journey.
Please help me fulfill my purpose and call in life. 
You commanded us in Your word to be courageous and strong,
not to be afraid for You're with us wherever we go.
Equip me as a mighty warrior to face every trial and tribulation with great faith and courage.
Let me always remember to not be afraid because you are with me
Help me face challenges with confidence and strength
Thank you, God, for answering my prayer,
Amen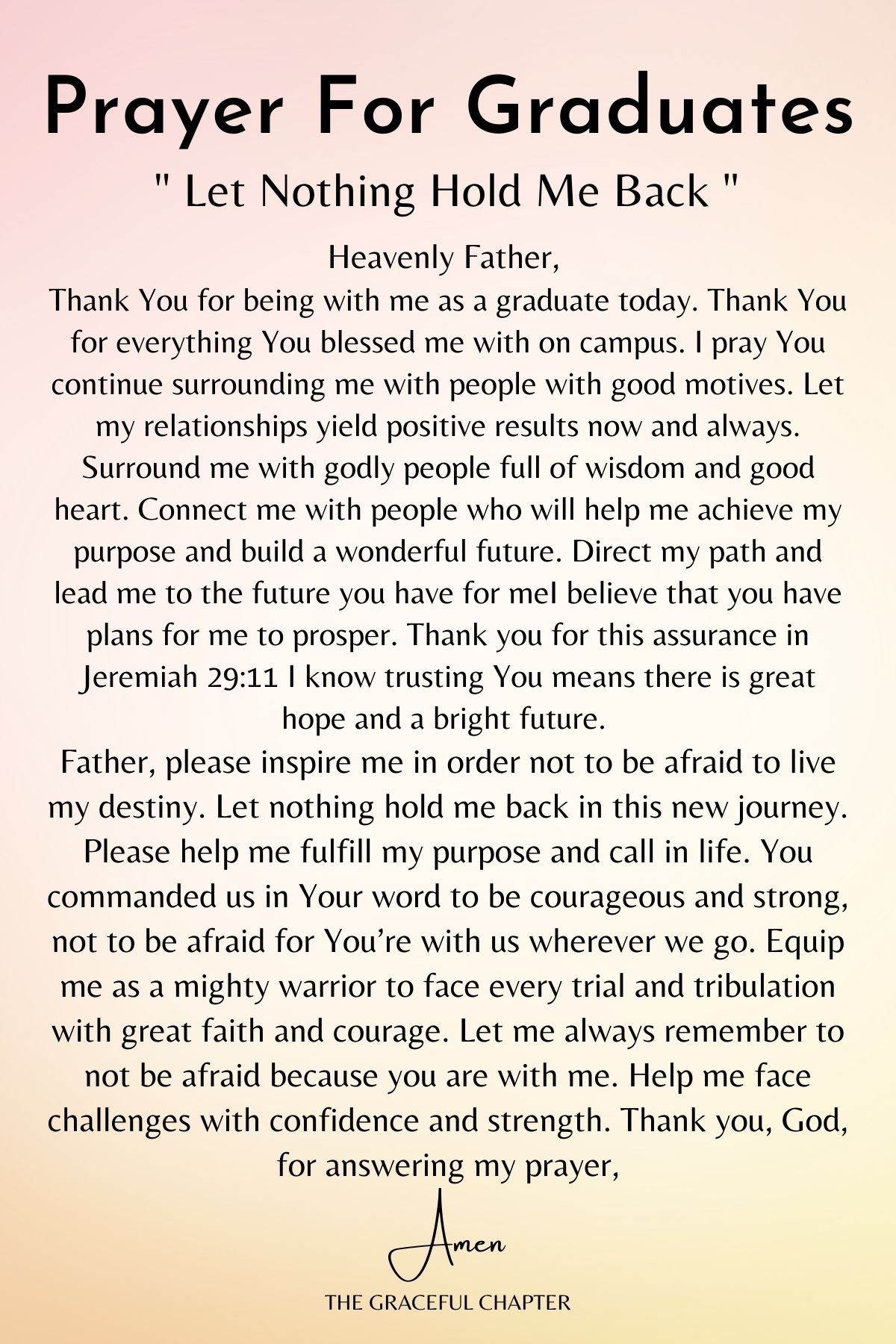 Prayer for Post Graduate Schooling
Father in Heaven
Thank you for bringing me this far
I am truly grateful
I want to further my education from here
I pray for my applications
I pray for your divine favor to follow all my applications
I want to study on a scholarship
I pray that you make a breakthrough for me
Help me get accepted into the school of my choice
Protect me throughout my schooling
Help me meet all the school's requirements
Please provide adequate financial backing for my mature education
Make a way for me where there is no way
Thank you for answering my prayer
Amen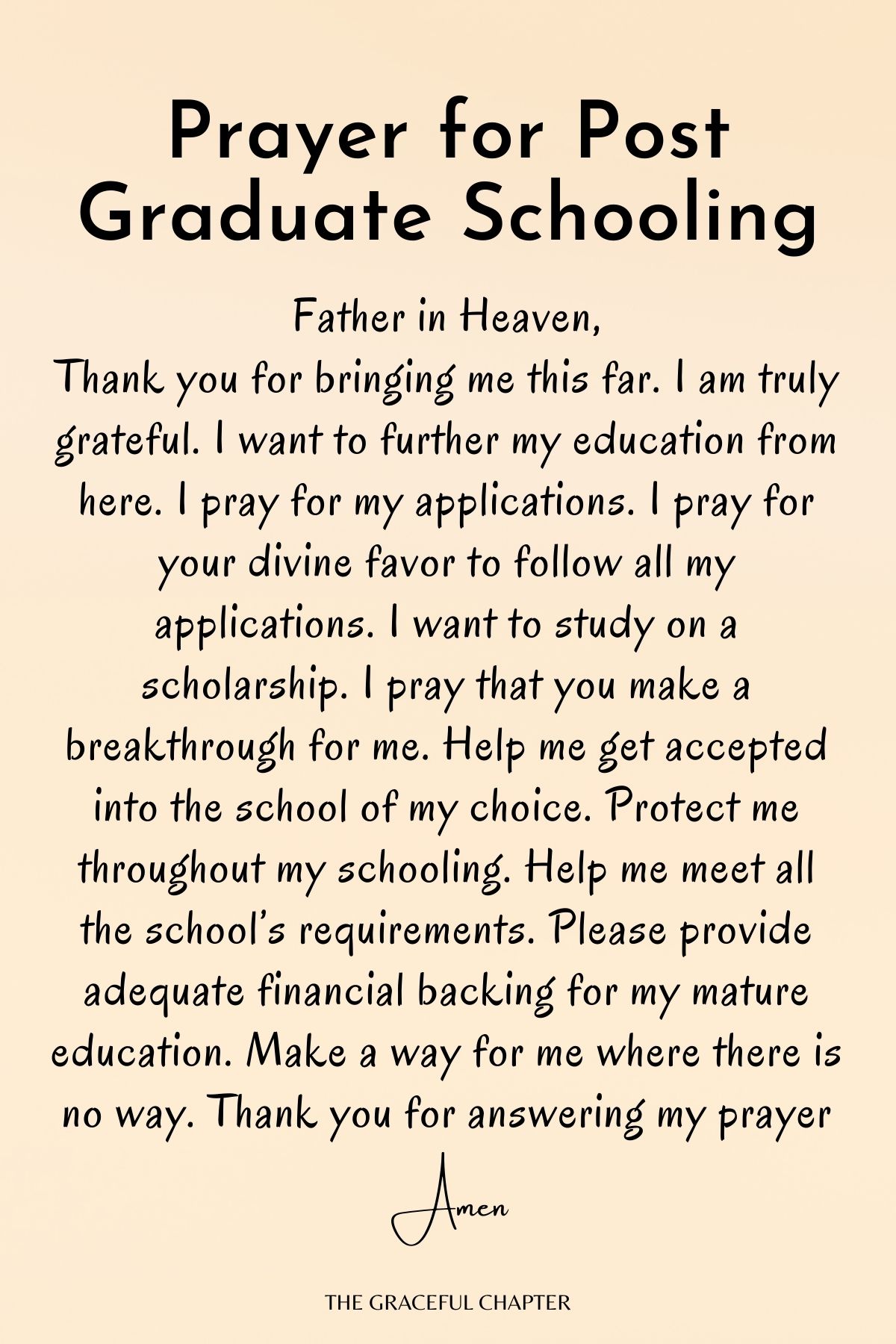 Graduation is only the beginning of your career life. Commit to these essential prayer points. Pray and commit your future into God's hands. He will certainly give you your breakthrough so you can make your family proud.