Mental breakdown is a term used to describe a period of extreme mental distress or emotional stress. When someone is having a mental breakdown, the stress is too much that they are unable to perform their everyday activities.
When a mental breakdown occurs, it affects a person's thoughts, emotions, and behavior. This is usually a result of too much stress on the person.
Different people experience mental breakdowns in different ways. For some people it is anxiety, for others it is depression. Other forms include panic attacks, insomnia, fear, extreme mood swings, post-traumatic stress disorder (PTSD), eating disorders, and obsessive-compulsive disorder(OCD).
Anyone who struggles with any of the aforementioned can have a mental breakdown if it causes them to stress and the stress becomes unbearable for them.
What does the bible say about mental health and mental breakdowns
Well, the bible doesn't exactly mention mental health and mental breakdown but it does mention most of the underlying causes of mental breakdowns. So if you struggle with any of those, then there is definitely a bible verse to help you cope.
Below we'll share bible verses about some of the various mental illnesses and hopefully, you will find a verse or two to help you cope with whichever one you struggle with.
One thing you should however know is that these bible verses are meant to bring you comfort and help you cope. So if you have any of these conditions, you should also see a doctor. There's nothing wrong with getting medical help when you need it. So don't feel bad about it. Just do it and you will find out that, it is rather helpful.
Bible verses for mental breakdowns
For fear and panic attacks
Jonah 2:5-7
The engulfing waters threatened me, the deep surrounded me, seaweed was wrapped around my head.
To the roots of the mountains, I sank down; the earth beneath barred me in forever. But you, Lord my God,
brought my life up from the pit. "When my life was ebbing away, I remembered you, Lord, and my prayer rose to you, to your holy temple.

Proverbs 16:24
Pleasant words are like a honeycomb,
Sweetness to the soul and health to the bones.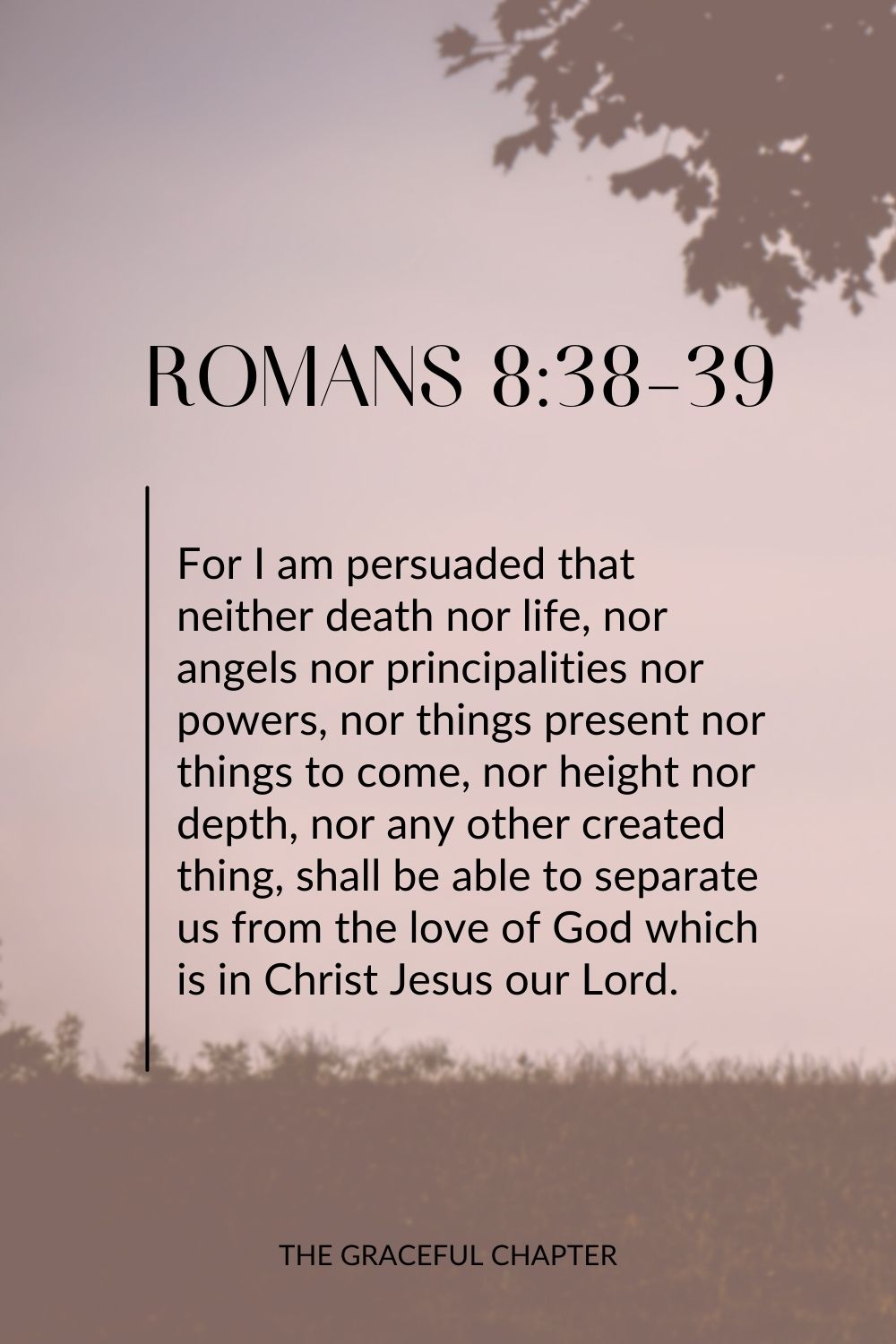 Romans 8:38-39
For I am persuaded that neither death nor life, nor angels nor principalities nor powers, nor things present nor things to come, nor height nor depth, nor any other created thing, shall be able to separate us from the love of God which is in Christ Jesus our Lord.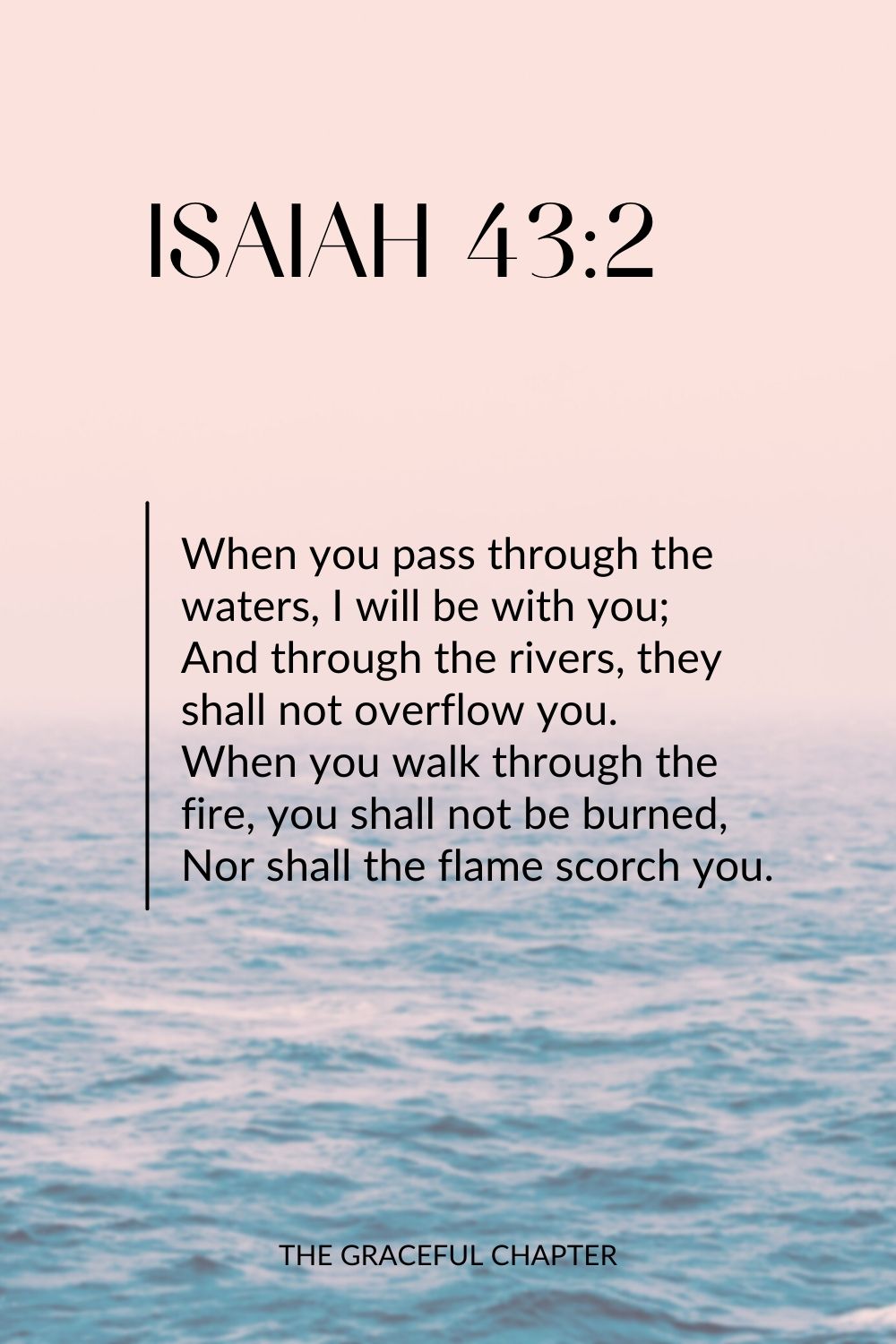 Isaiah 43:2
When you pass through the waters, I will be with you;
And through the rivers, they shall not overflow you.
When you walk through the fire, you shall not be burned,
Nor shall the flame scorch you.

Romans 8:31
What, then, shall we say in response to these things? If God is for us, who can be against us?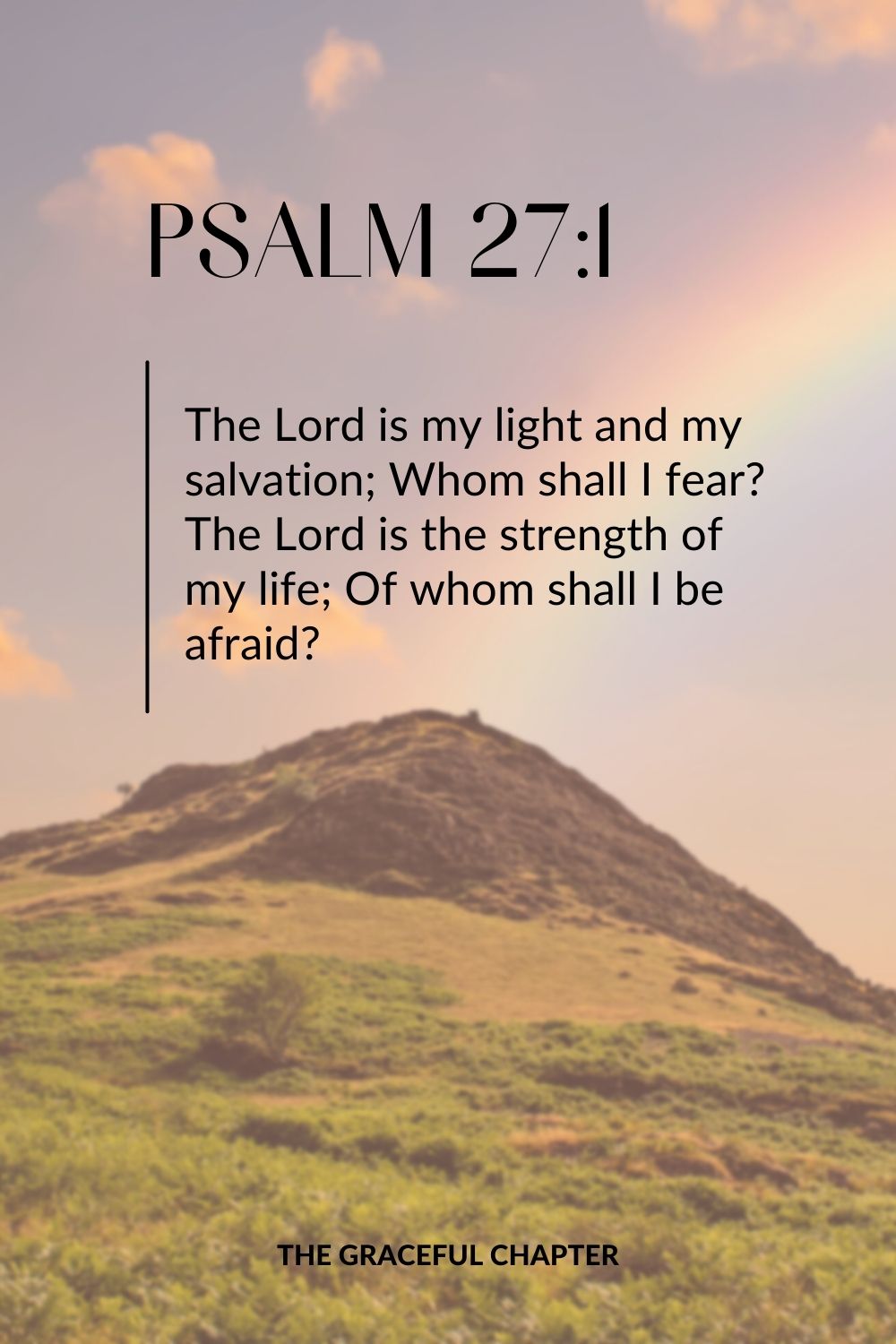 Psalm 27:1
The Lord is my light and my salvation; Whom shall I fear?
The Lord is the strength of my life; Of whom shall I be afraid?

Joshua 1:9
Have I not commanded you? Be strong and of good courage; do not be afraid, nor be dismayed, for the Lord your God is with you wherever you go."

Deuteronomy 31:8
And the Lord, He is the One who goes before you. He will be with you, He will not leave you nor forsake you; do not fear nor be dismayed."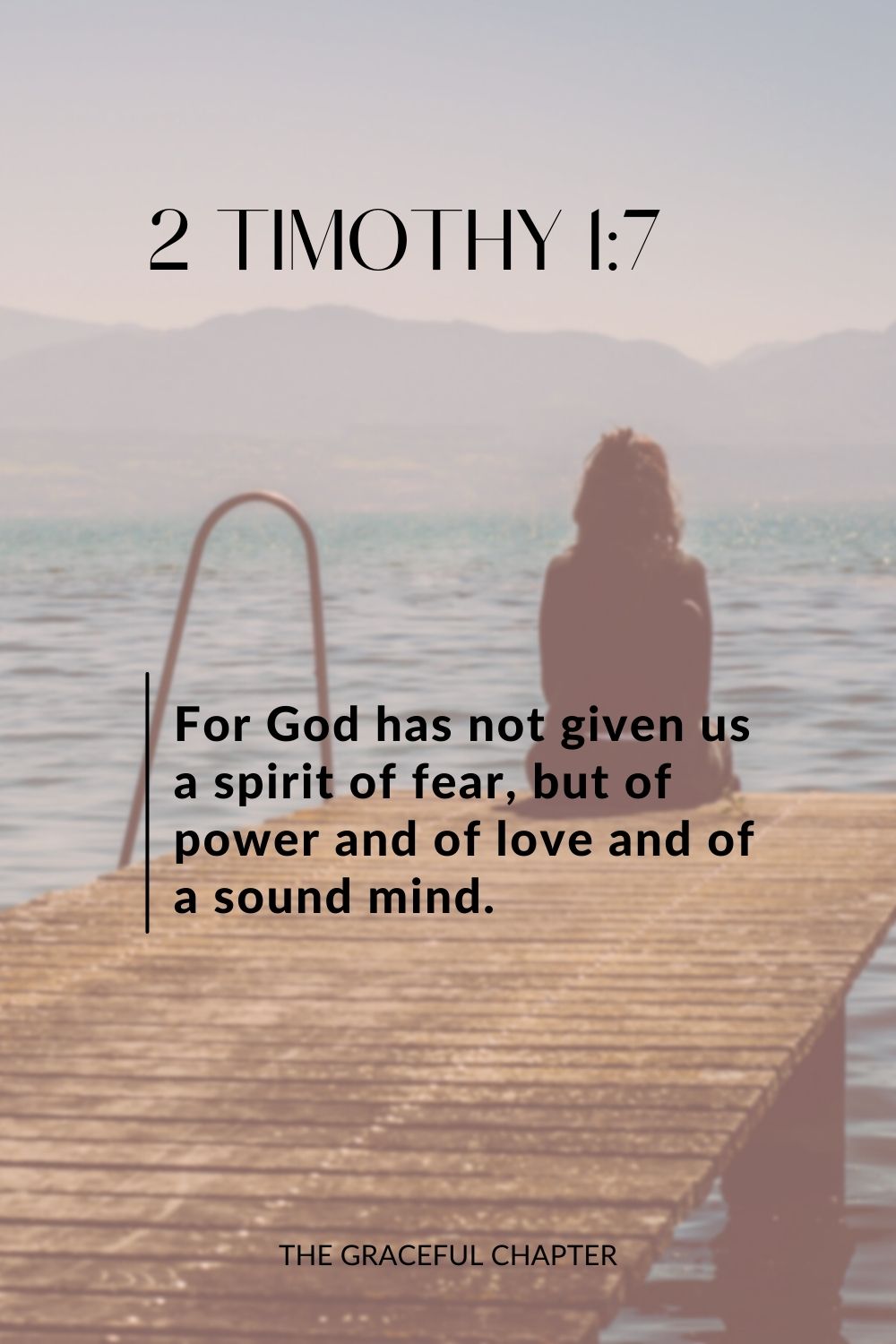 2 Timothy 1:7
For God has not given us a spirit of fear, but of power and of love and of a sound mind.

Psalm 91:11-12
For He shall give His angels charge over you,
To keep you in all your ways. In their hands they shall bear you up, Lest you dash your foot against a stone.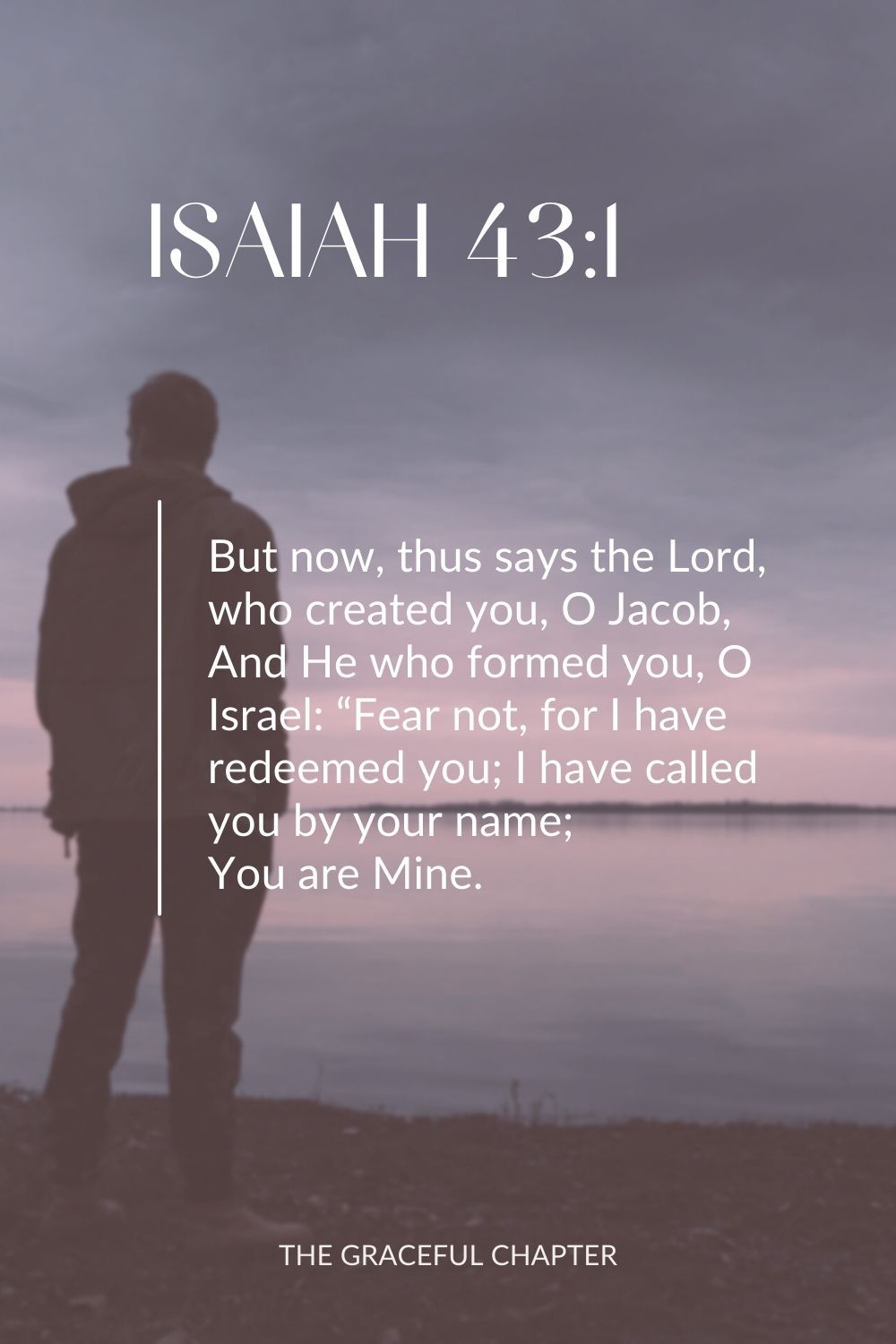 Isaiah 43:1
But now, thus says the Lord, who created you, O Jacob,
And He who formed you, O Israel: "Fear not, for I have redeemed you; I have called you by your name;
You are Mine.

Psalm 18:32
It is God who arms me with strength and keeps my way secure.

Prayer to calm fear and panic attacks
Heavenly Father,
I come before you to lay down my fears and my panics
My soul is like a turbulent sea
And it's like there's turmoil in my heart and my mind
Father, please calm my heart and soothe my soul
Please deliver me from these fears and burdens
That make me panic and feel weak and helpless
Father, when I'm afraid, please be my courage
When I'm worried, please be my comforter,
When I panic, please free my heart.
Fill me with your love and guide me to walk in your light
Please be my reminder that I'm never alone
And you are with me no matter what may come my way
Thank you for being my strength and my strong tower
In Jesus name, I pray,
Amen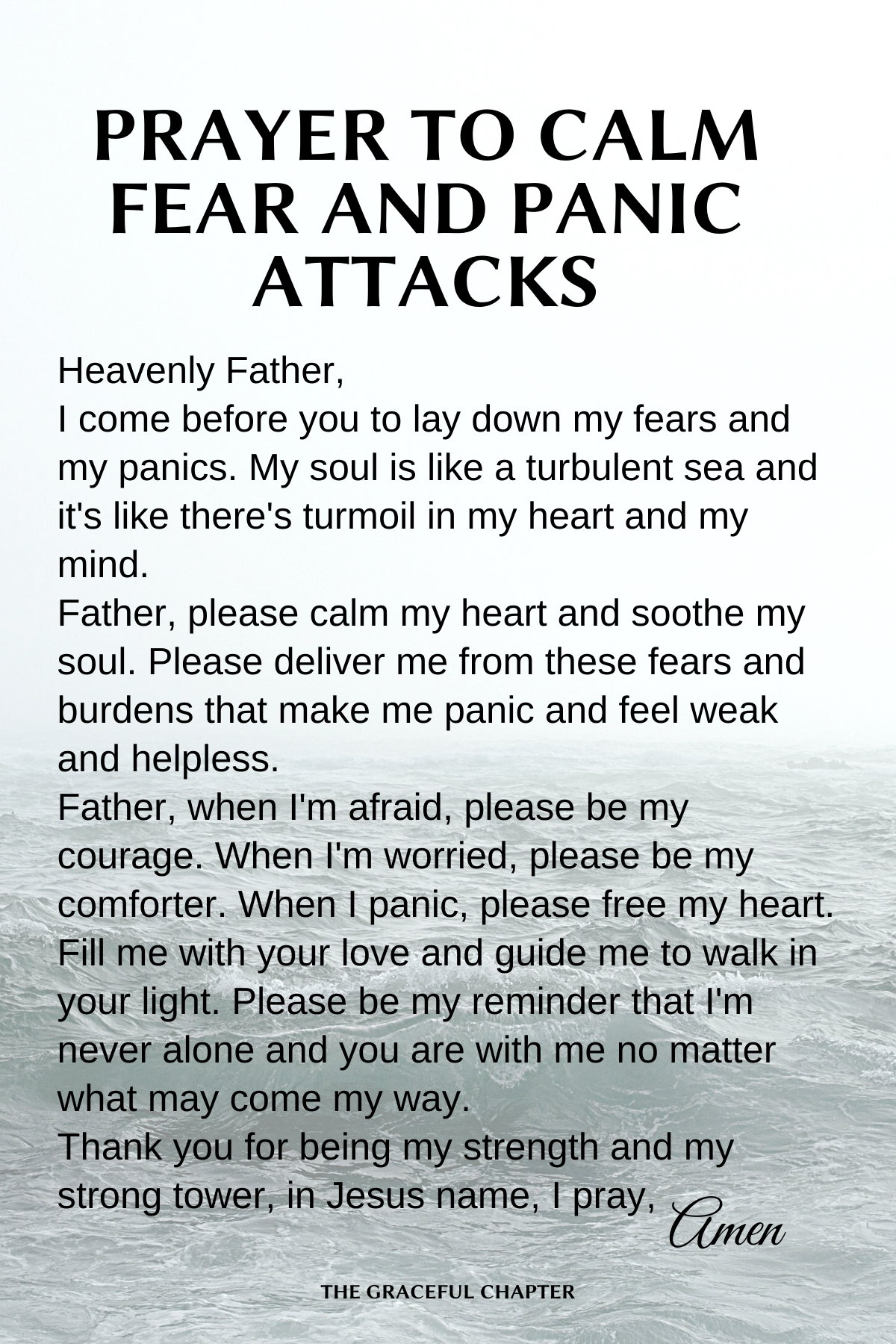 For anxiety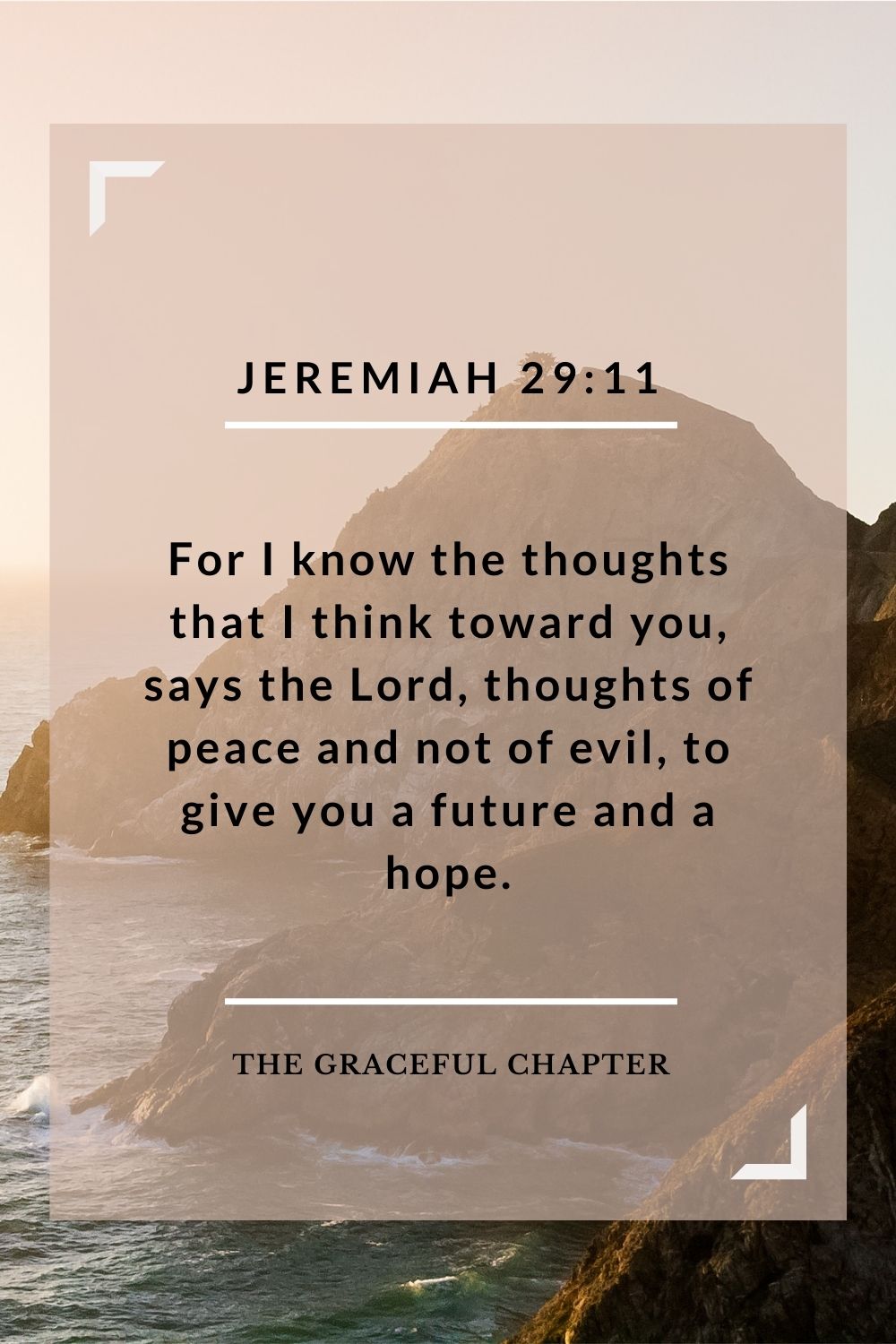 Jeremiah 29:11
For I know the thoughts that I think toward you, says the Lord, thoughts of peace and not of evil, to give you a future and a hope.

John 16:33
I have told you these things, so that in me you may have peace. In this world you will have trouble. But take heart! I have overcome the world."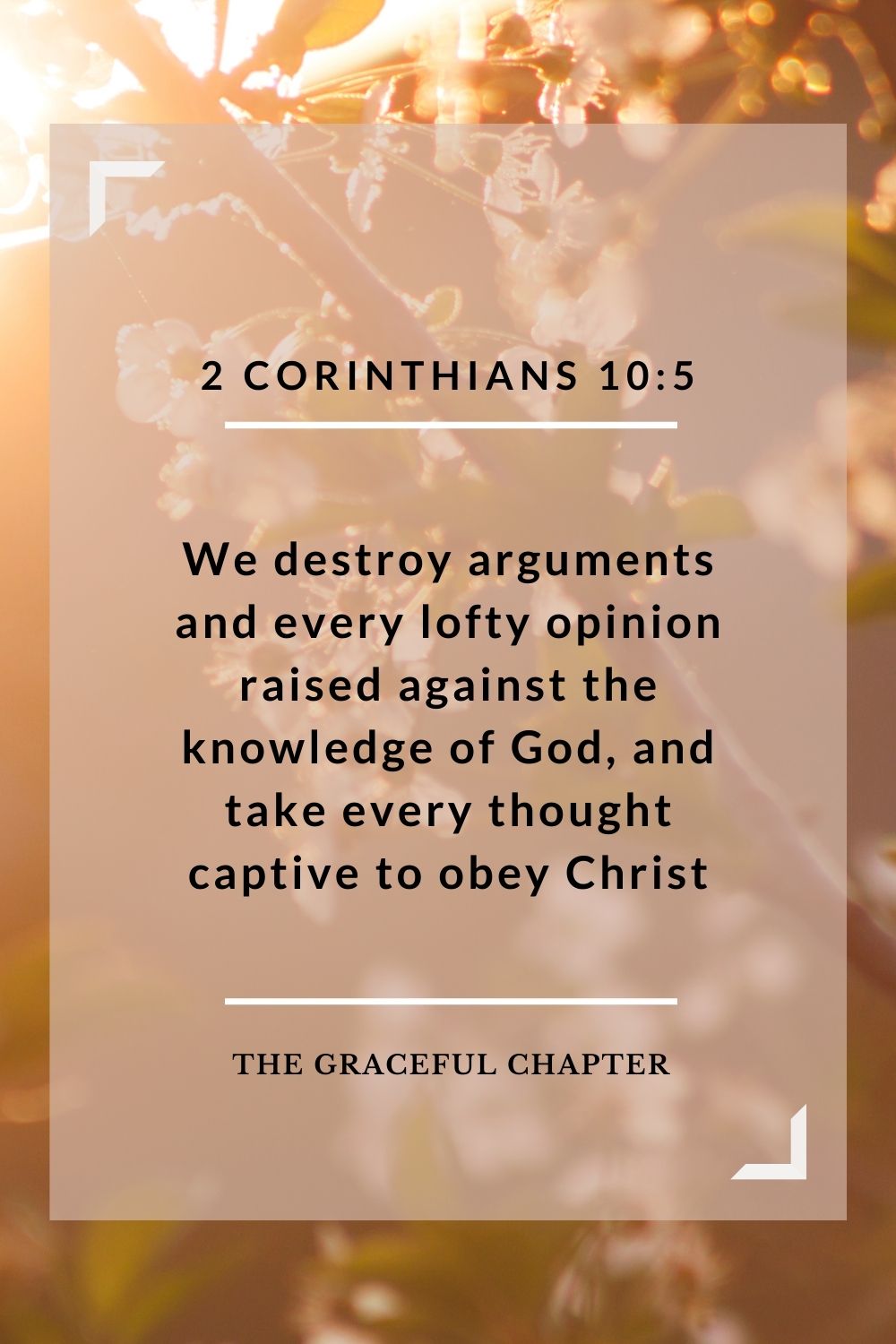 2 Corinthians 10:5
We destroy arguments and every lofty opinion raised against the knowledge of God, and take every thought captive to obey Christ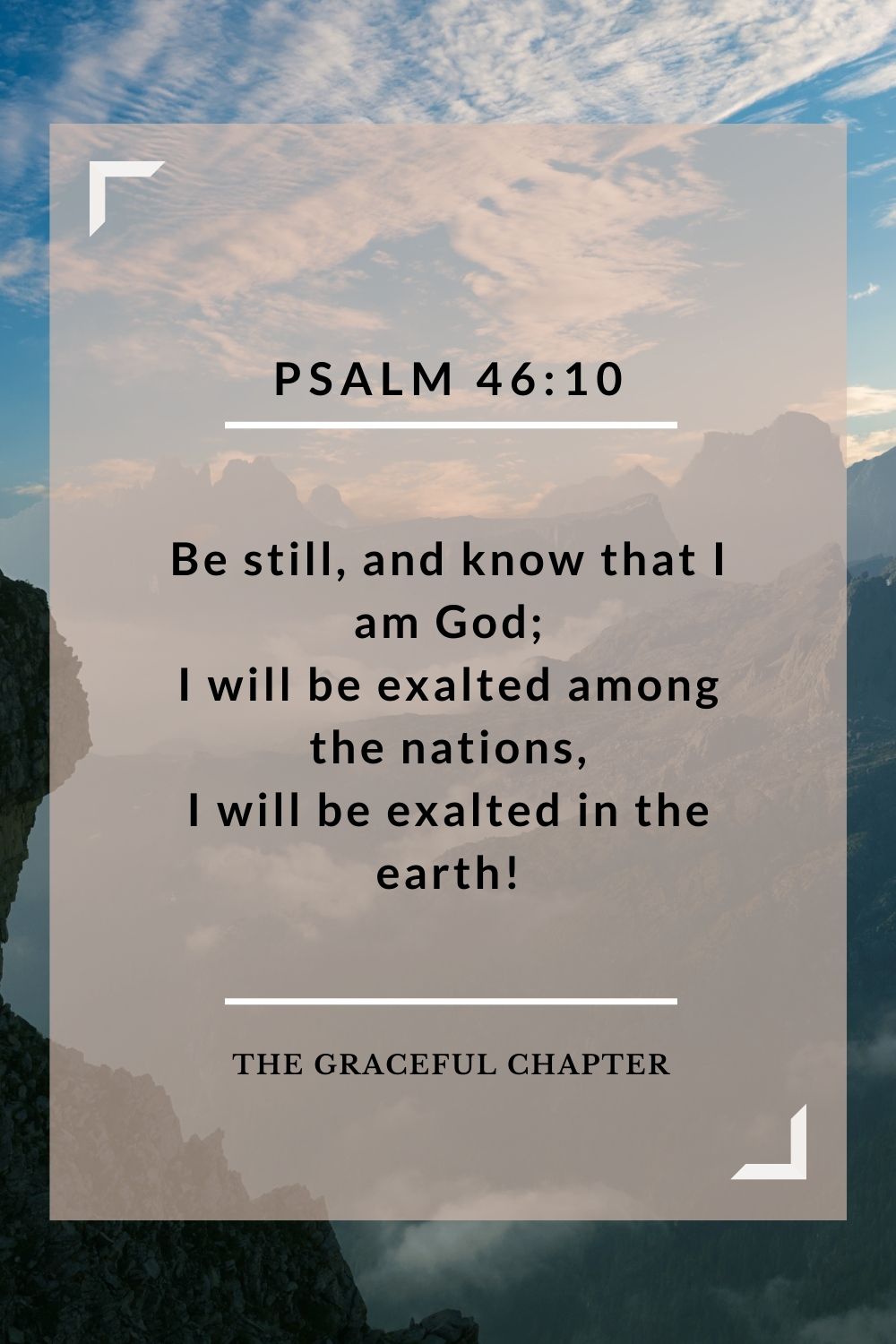 Psalm 46:10
Be still, and know that I am God; I will be exalted among the nations, I will be exalted in the earth!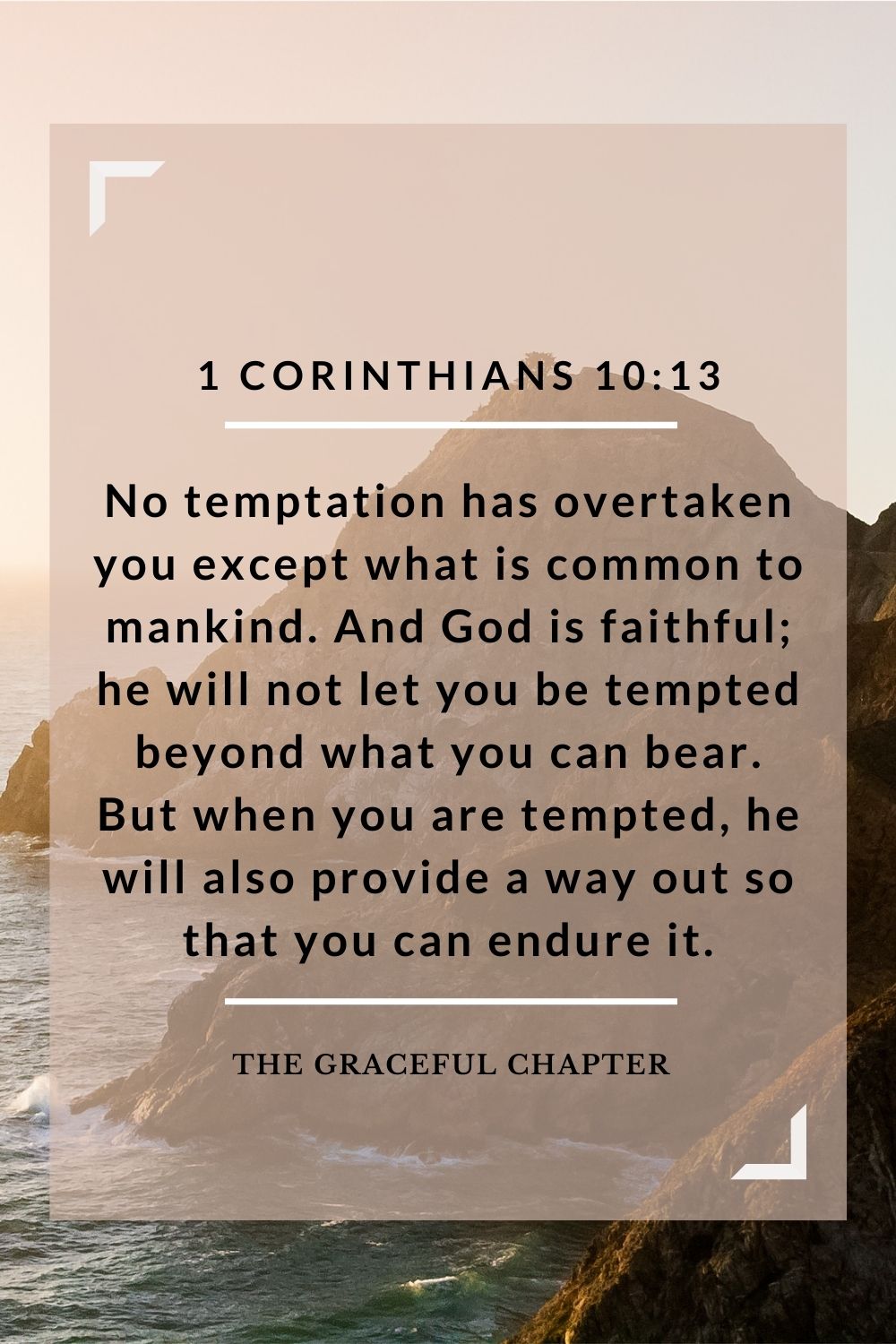 1 Corinthians 10:13
No temptation has overtaken you except what is common to mankind. And God is faithful; he will not let you be tempted beyond what you can bear. But when you are tempted, he will also provide a way out so that you can endure it.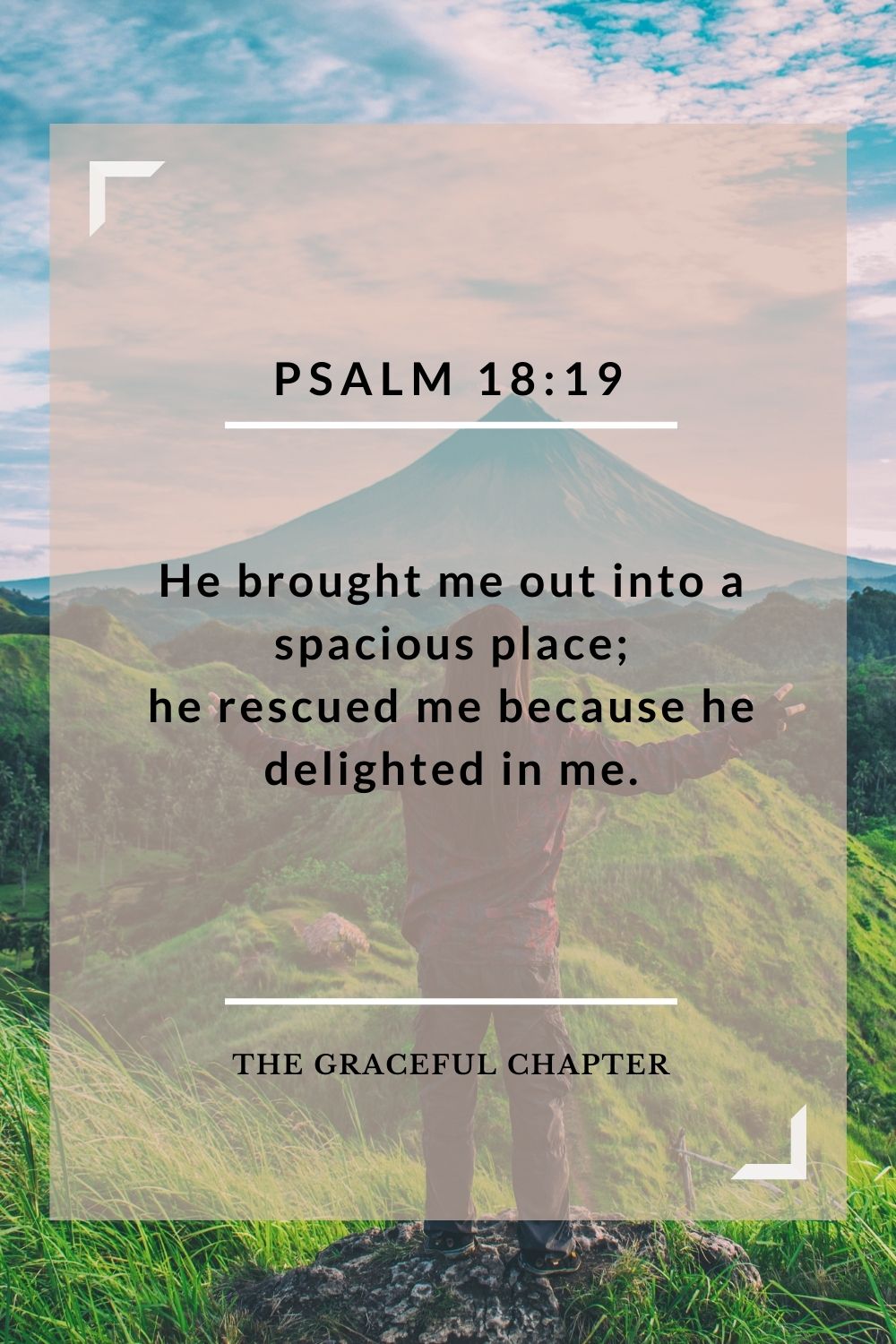 Psalm 18:19
He brought me out into a spacious place;
he rescued me because he delighted in me.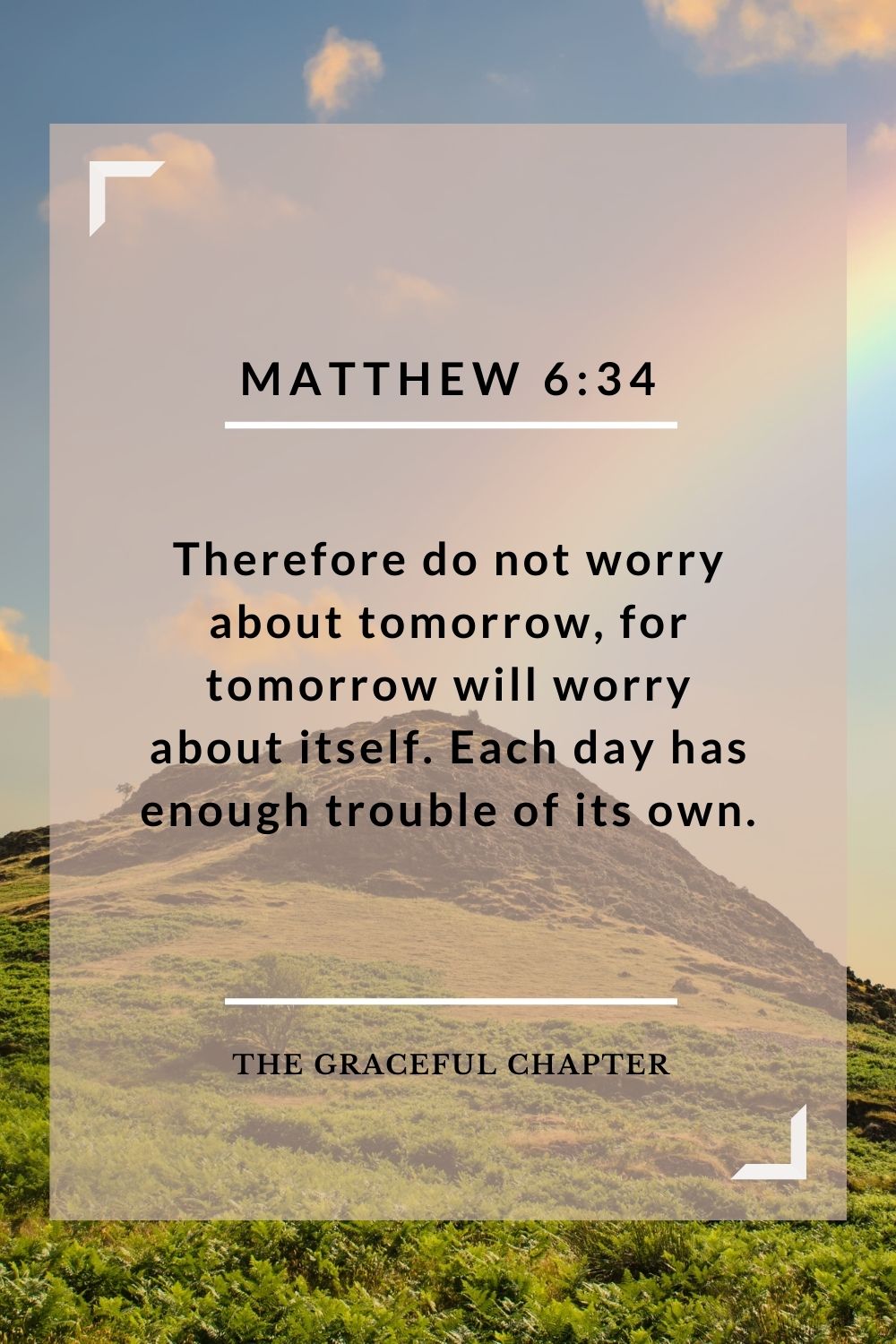 Matthew 6:34
Therefore do not worry about tomorrow, for tomorrow will worry about itself. Each day has enough trouble of its own.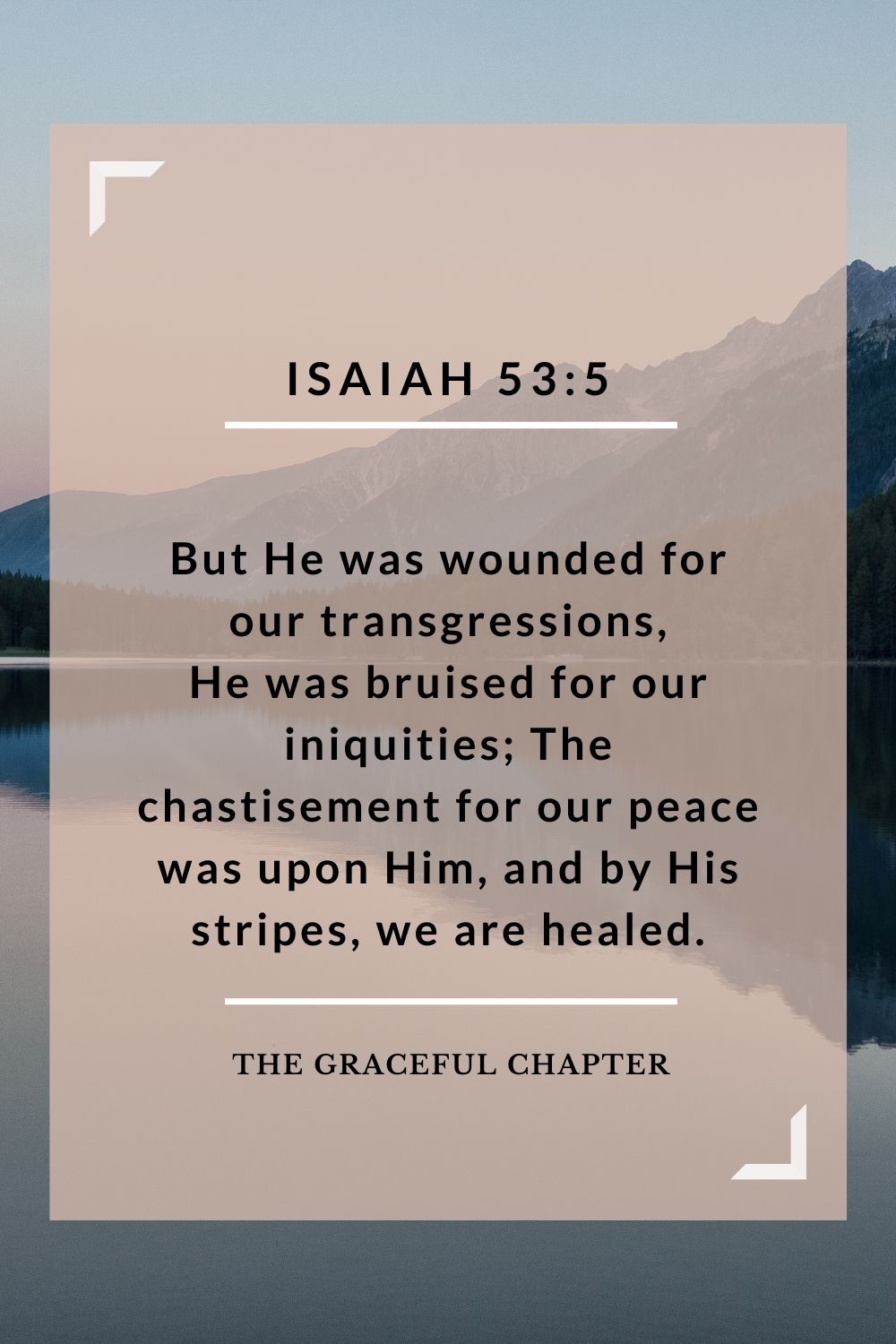 Isaiah 53:5
But He was wounded for our transgressions,
He was bruised for our iniquities; The chastisement for our peace was upon Him, and by His stripes we are healed.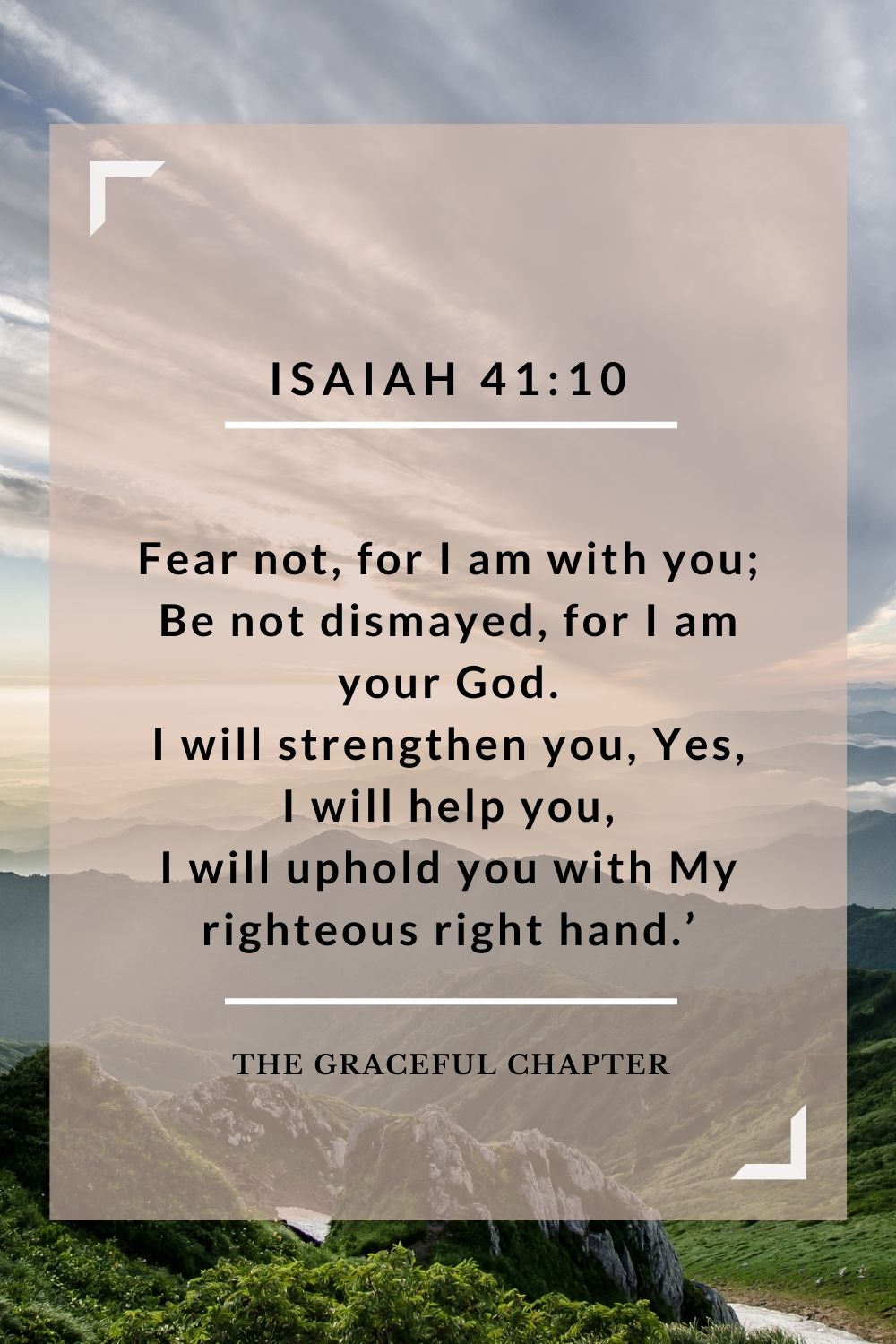 Isaiah 41:10
Fear not, for I am with you; Be not dismayed, for I am your God. I will strengthen you, Yes, I will help you,
I will uphold you with My righteous right hand.'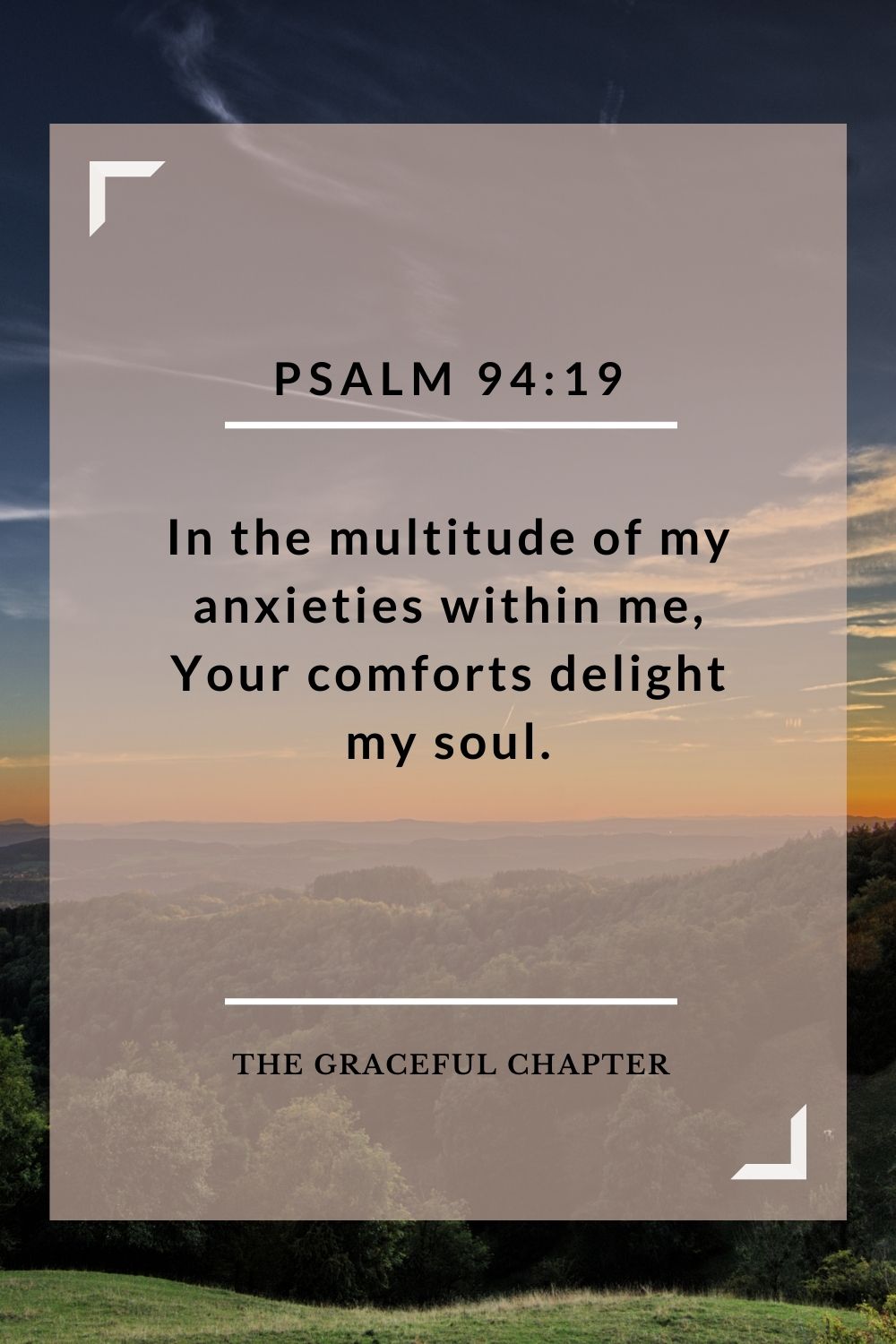 Psalm 94:19
In the multitude of my anxieties within me,
Your comforts delight my soul.

Prayer for anxiety
Merciful God,
I bow before you today, worried and helpless
Lately, I can't help but worry about all the challenges in my life
And I feel crushed by my own worries
So, I come before you, to humbly ask for peace
Grant me peace when I'm worried
Calm my thoughts, when I'm troubled
Give me rest, when I'm tired
Fill me with your love and your strength
Guide my path and order my steps
Help me to trust in you and surrender all my worries to you
Thank you for carrying my burdens and giving me peace
Through Jesus Christ, my Lord and personal savior,
Amen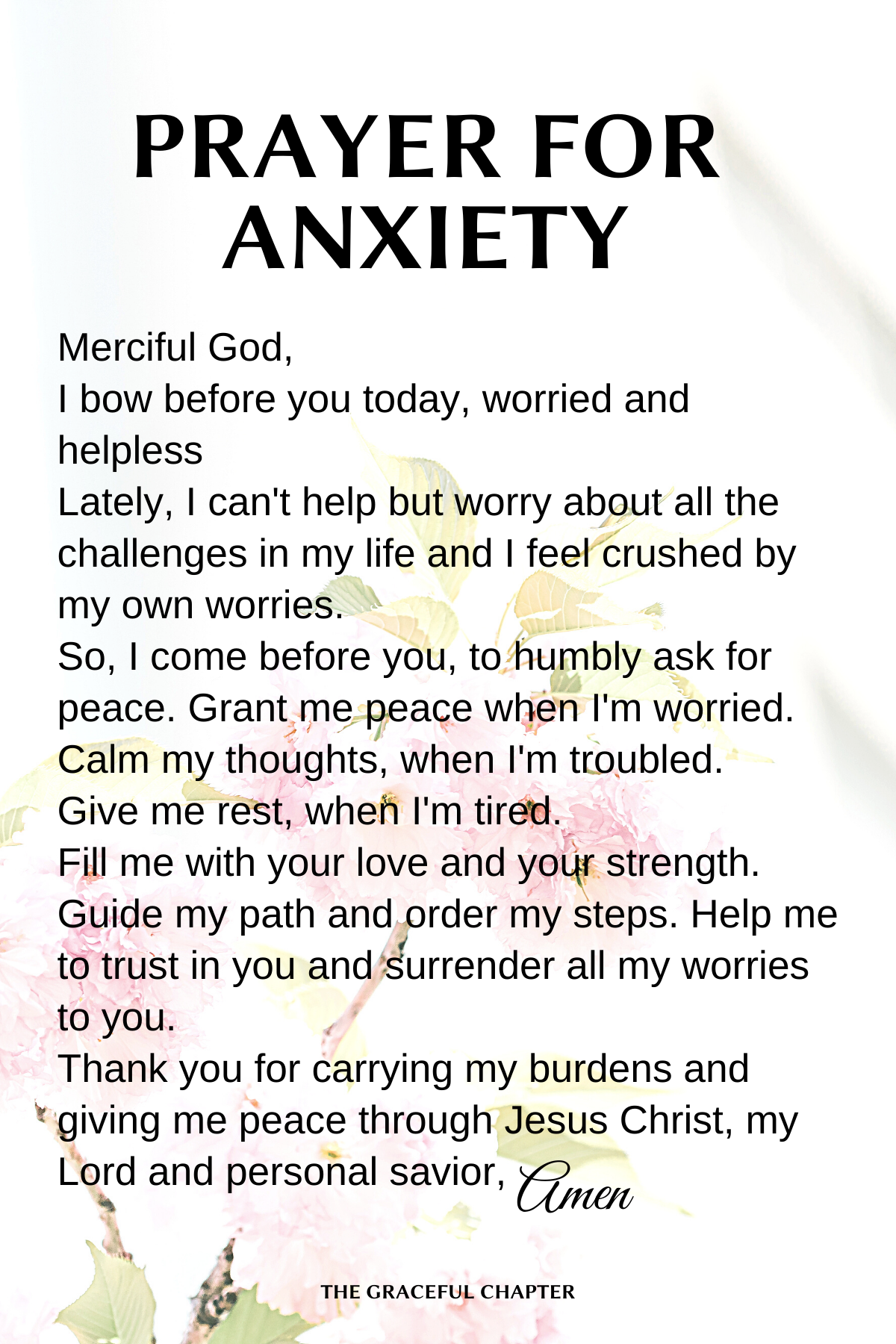 Related Posts
For depression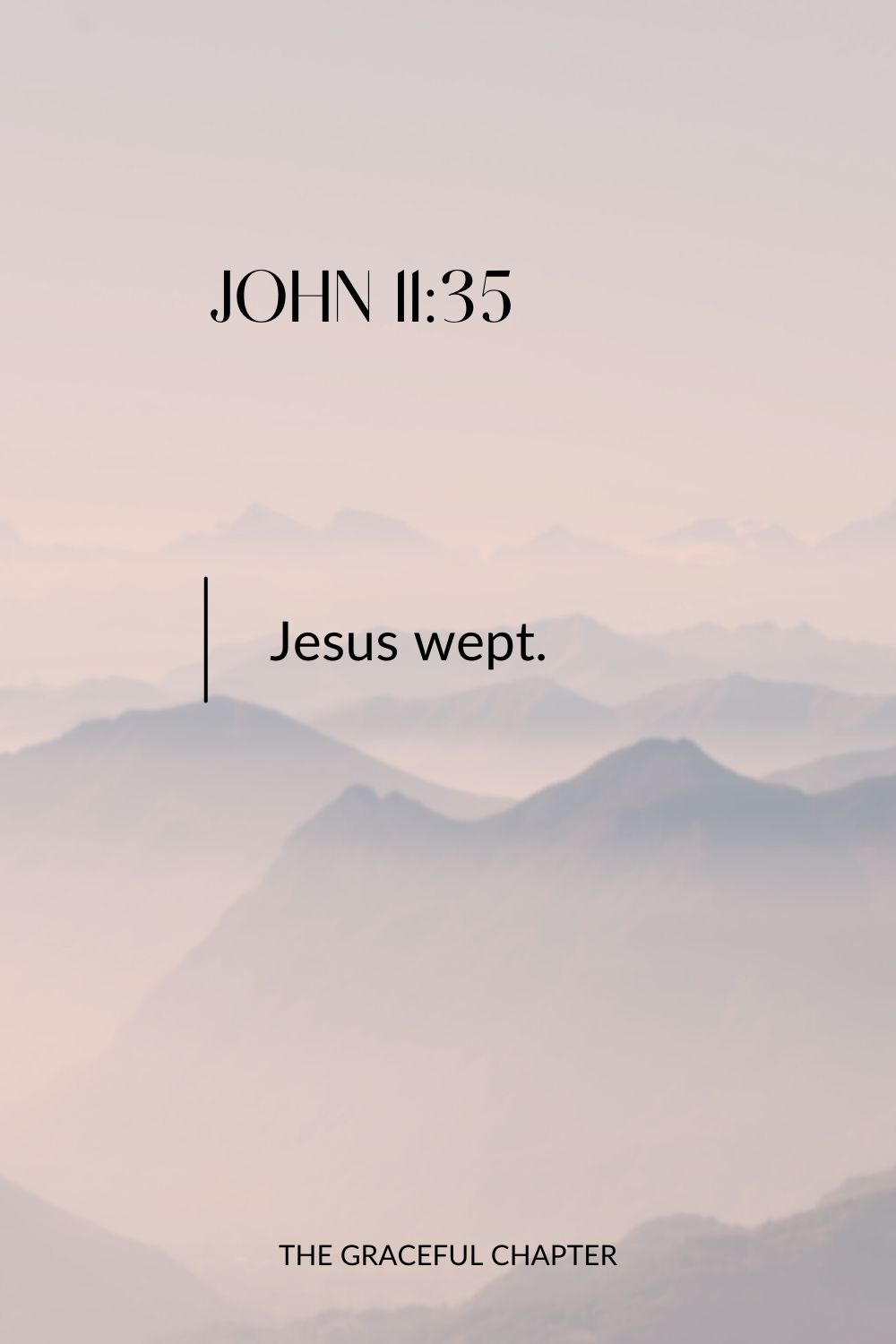 John 11:35
Jesus wept.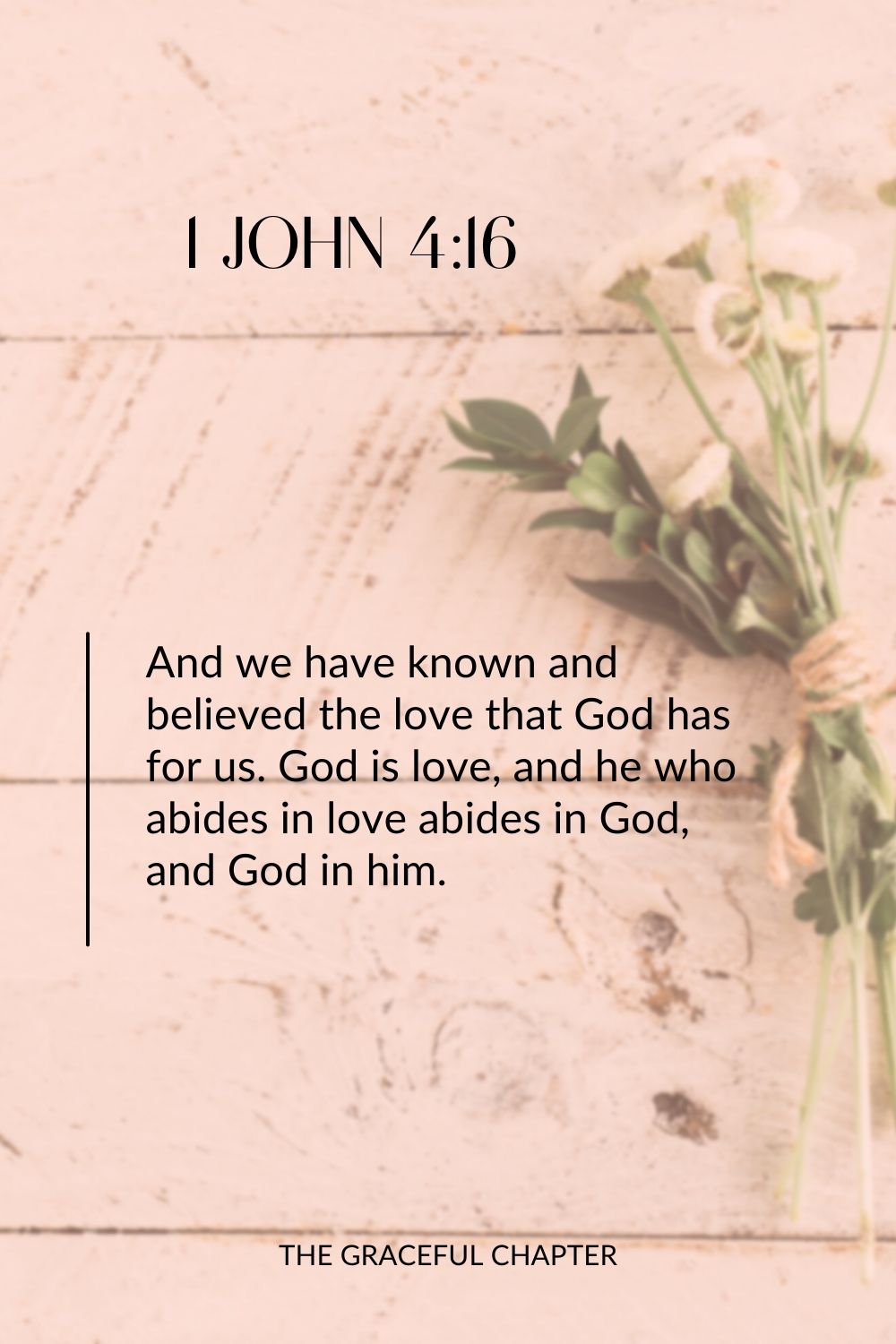 1 John 4:16
And we have known and believed the love that God has for us. God is love, and he who abides in love abides in God, and God in him.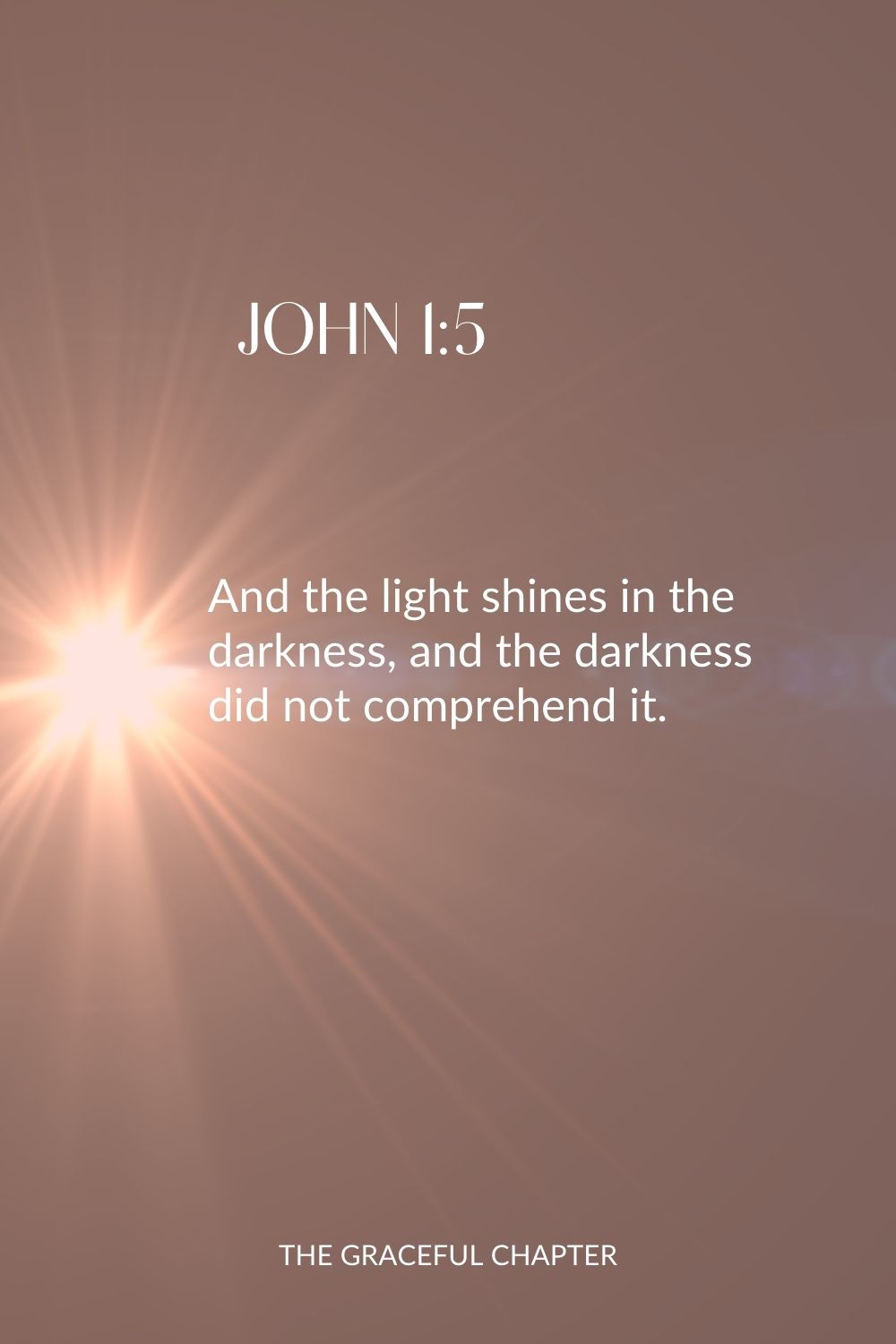 John 1:5
And the light shines in the darkness, and the darkness did not comprehend it.

Proverbs 31:25
She is clothed with strength and dignity;
she can laugh at the days to come.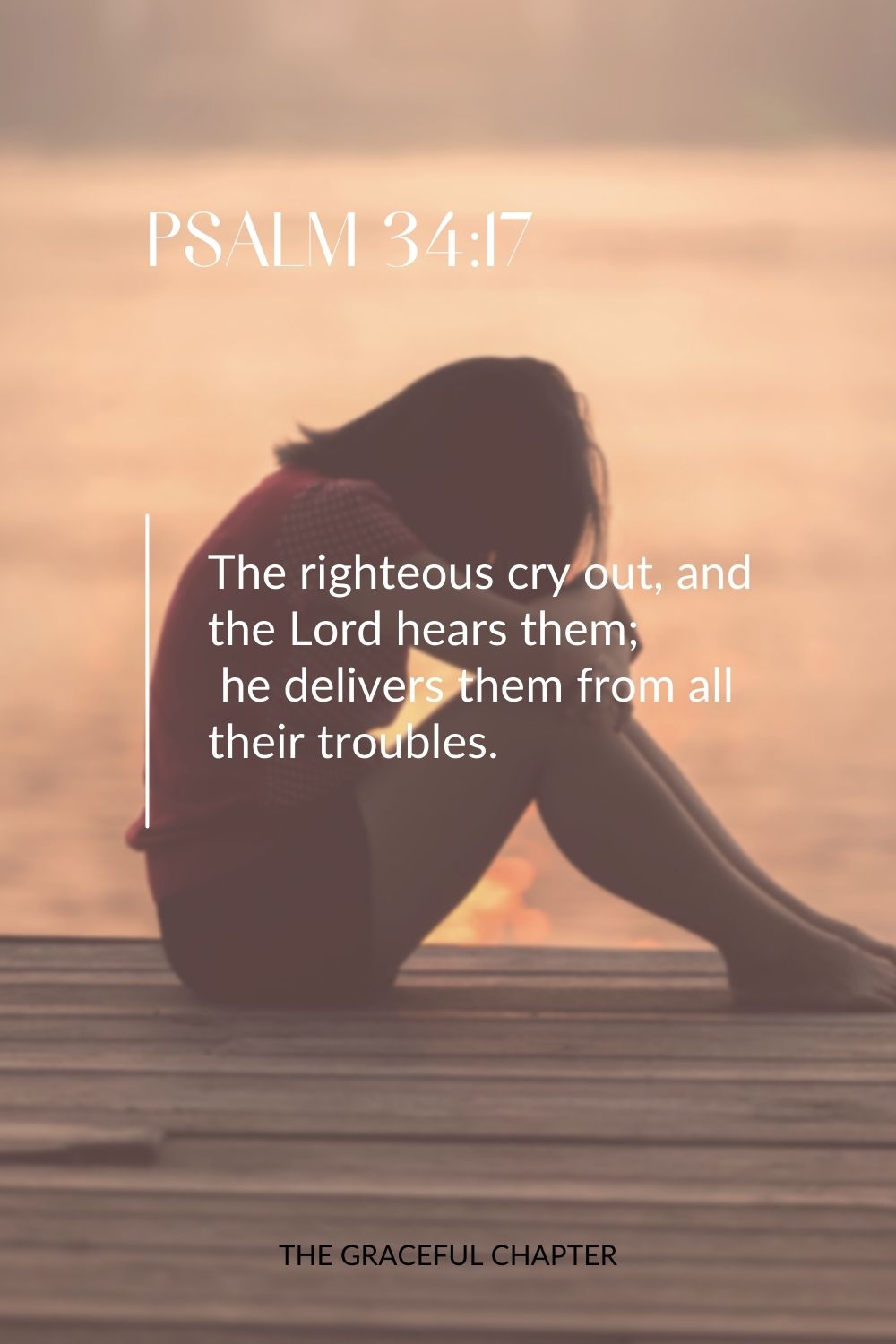 Psalm 34:17
The righteous cry out, and the Lord hears them;
 he delivers them from all their troubles.

Psalm 42:11
Why are you cast down, O my soul? And why are you disquieted within me? Hope in God; For I shall yet praise Him, The help of my countenance and my God.

Prayer for depression
Father Lord,
Today my heart is saddened and I feel deeply troubled
So I come to you to ask for help
The sadness I feel is so overwhelming for me that I do not even want to be around anyone
And I also know I don't want to be by myself either
So, Lord, I come to you
Please be with me through this moment of my life
Please be my comforter and fill my heart with joy
Lift me out of this depression
Sustain me with your grace
And hold me in your loving arms,
Amen.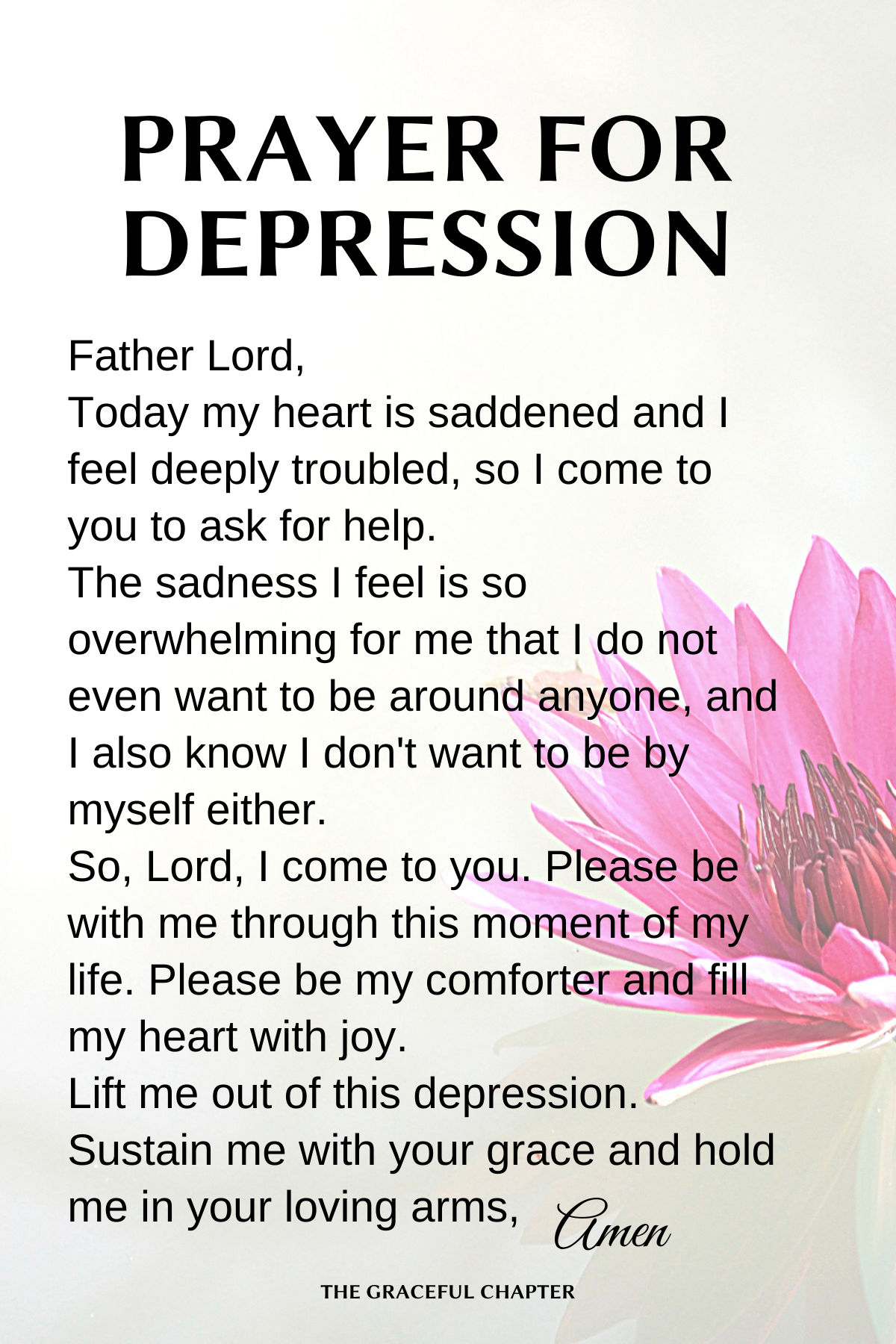 For perfectionism (Eating disorders and Obsessive-compulsive disorder)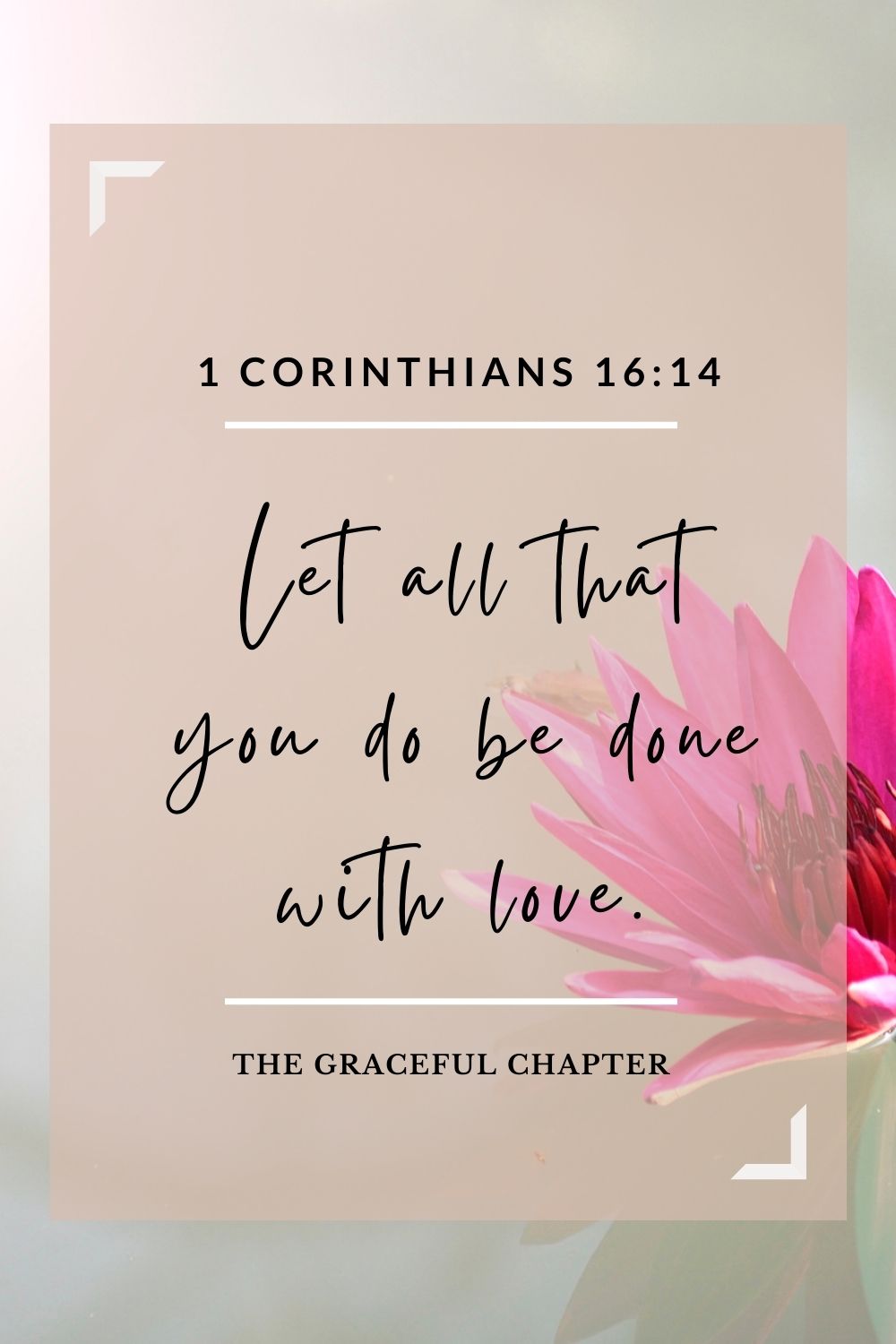 1 Corinthians 16:14
Let all that you do be done with love.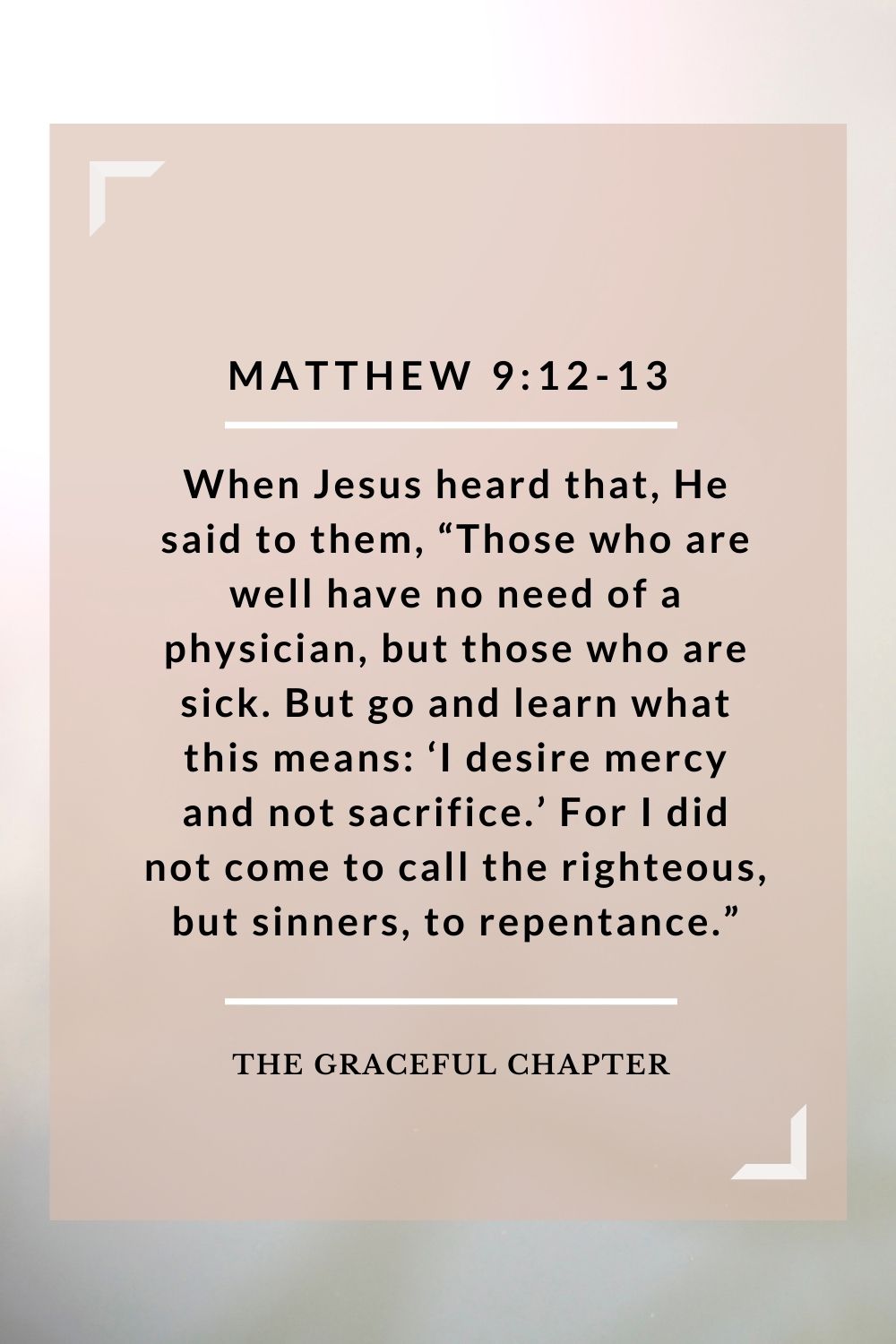 Matthew 9:12-13
When Jesus heard that, He said to them, "Those who are well have no need of a physician, but those who are sick. But go and learn what this means: 'I desire mercy and not sacrifice.' For I did not come to call the righteous, but sinners,to repentance."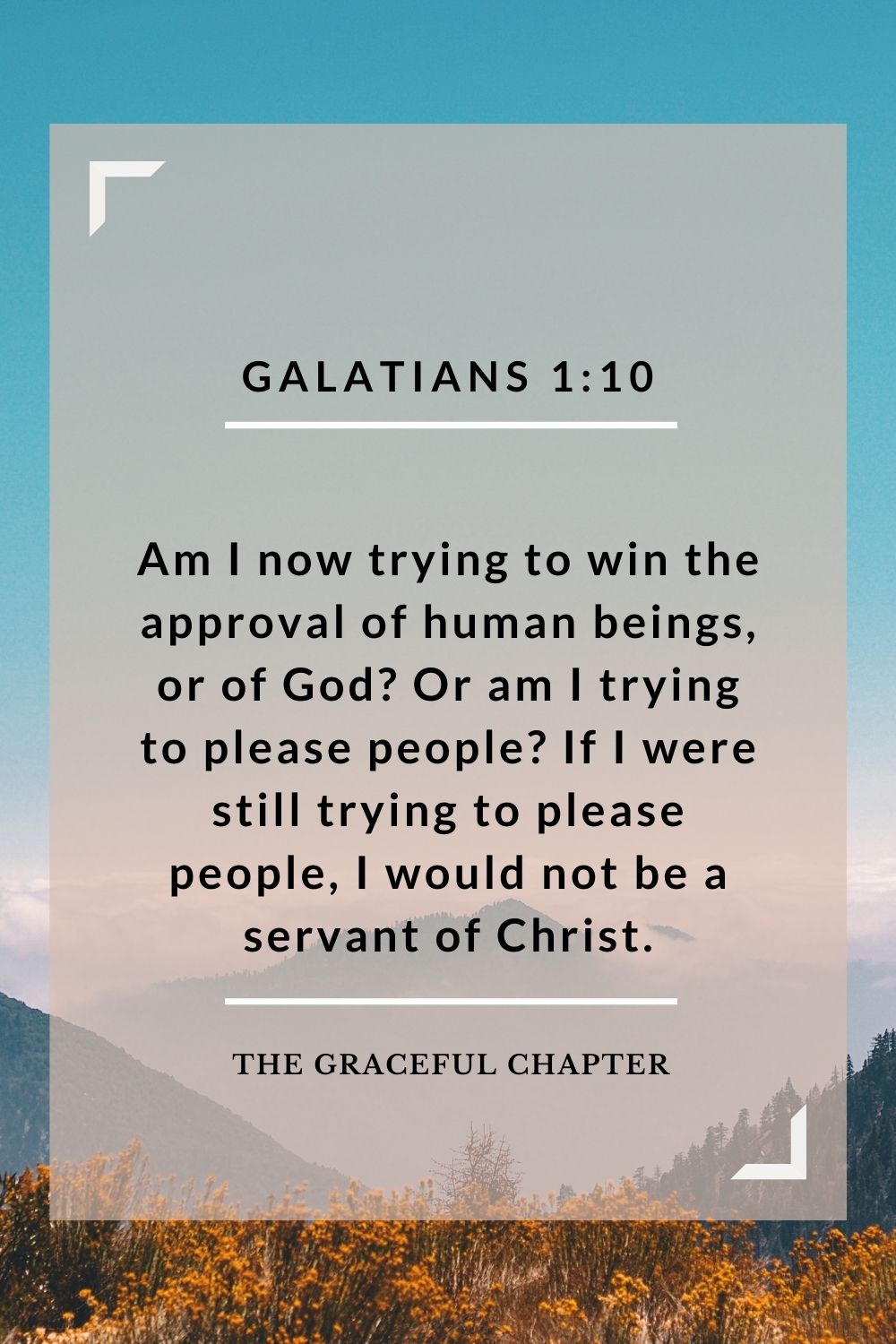 Galatians 1:10
Am I now trying to win the approval of human beings, or of God? Or am I trying to please people? If I were still trying to please people, I would not be a servant of Christ.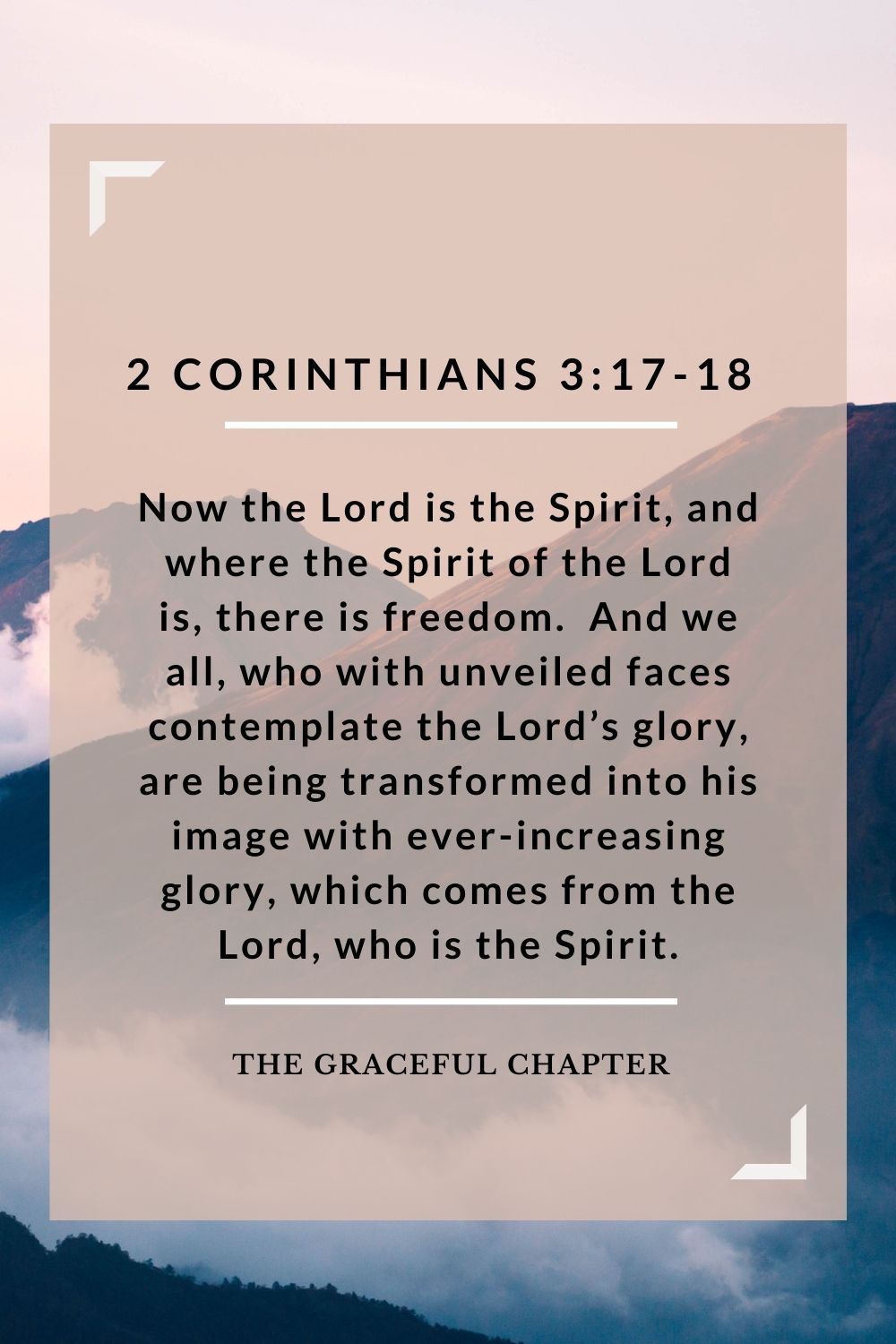 2 Corinthians 3:17-18
Now the Lord is the Spirit, and where the Spirit of the Lord is, there is freedom.  And we all, who with unveiled faces contemplate the Lord's glory, are being transformed into his image with ever-increasing glory, which comes from the Lord, who is the Spirit.

Mark 2:17
When Jesus heard it, He said to them, "Those who are well have no need of a physician, but those who are sick. I did not come to call the righteous, but sinners, to repentance."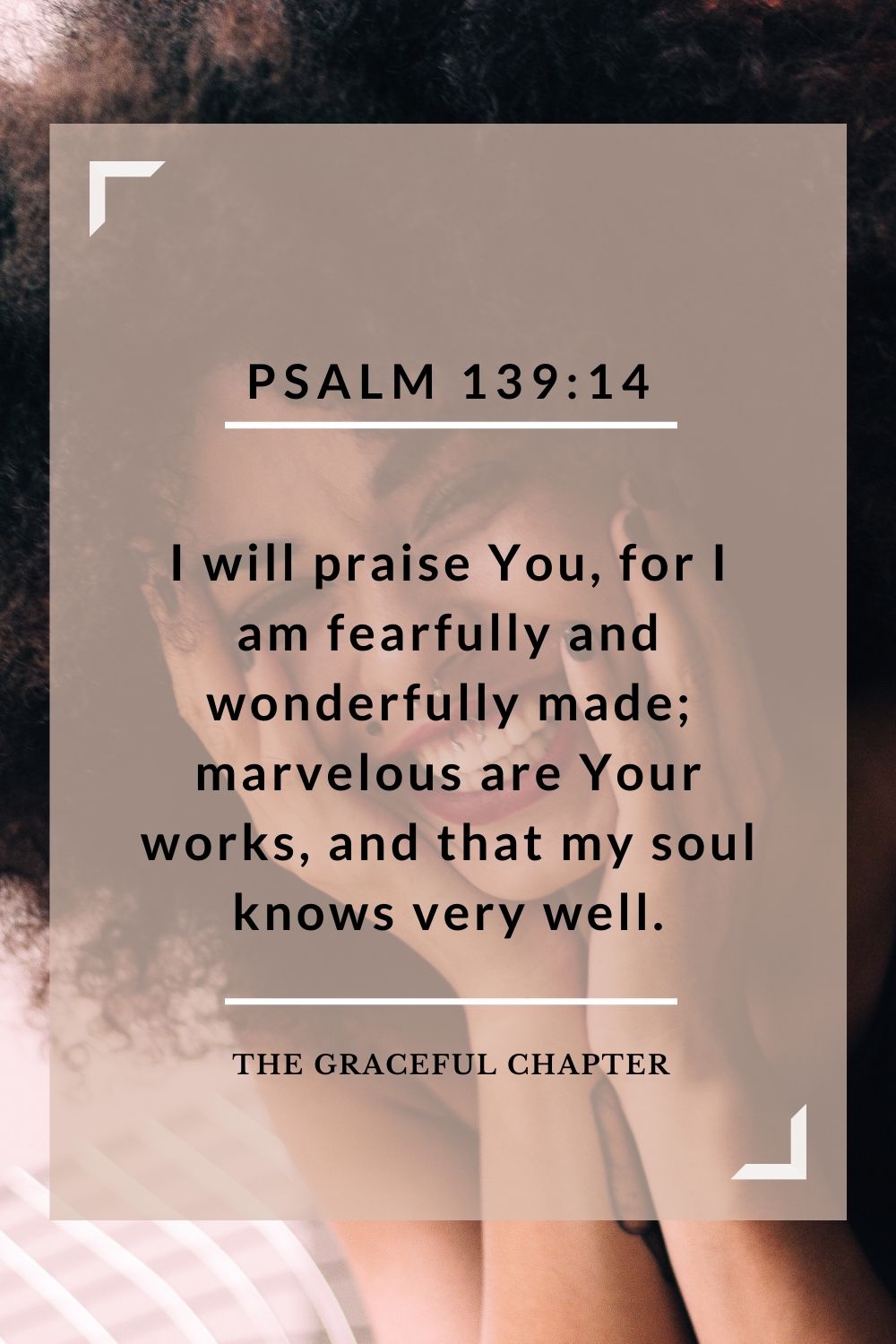 Psalm 139:14
I will praise You, for I am fearfully and wonderfully made; marvelous are Your works, and that my soul knows very well.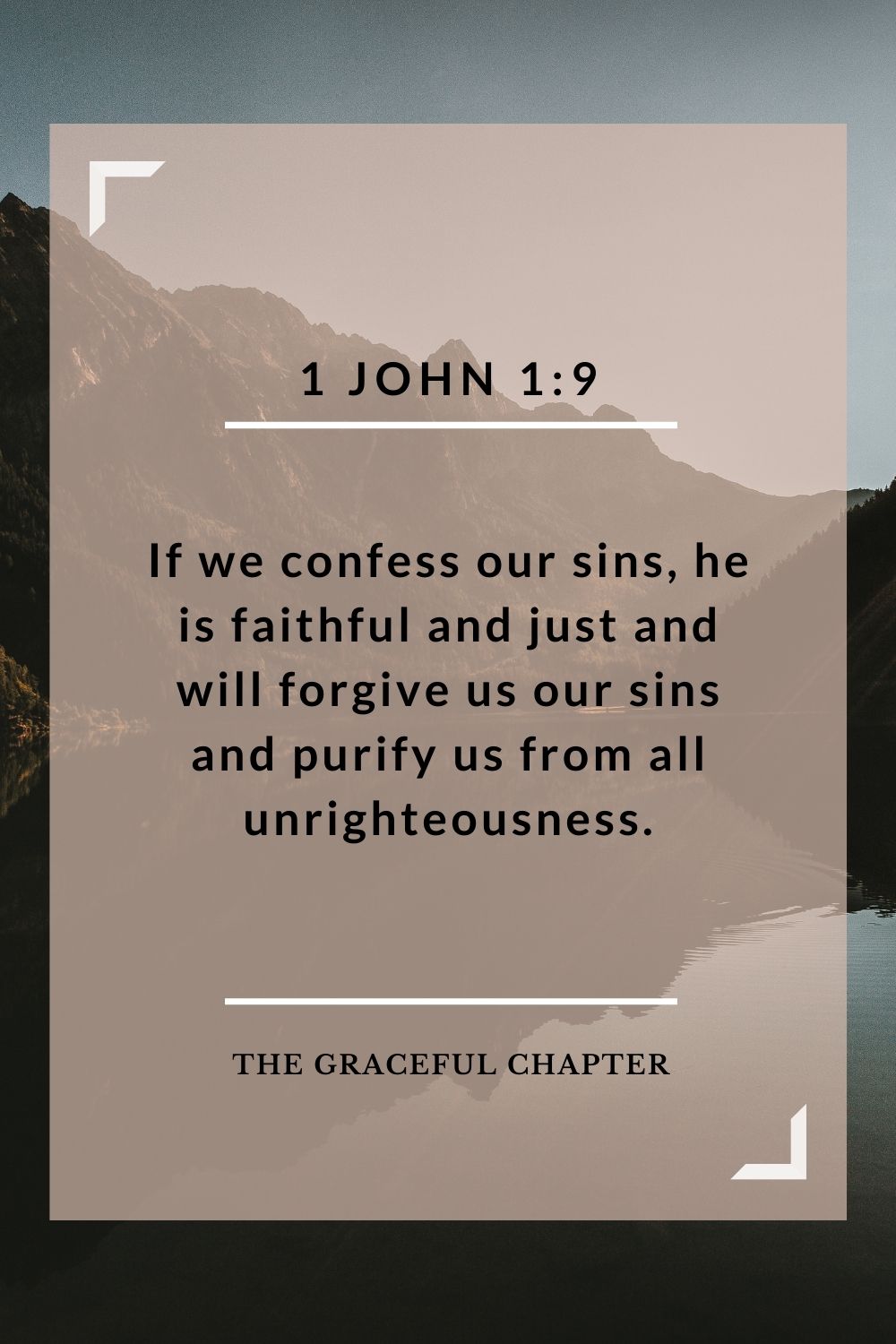 1 John 1:9
If we confess our sins, he is faithful and just and will forgive us our sins and purify us from all unrighteousness.

2 Corinthians 5:21
God made him who had no sin to be sin for us, so that in him we might become the righteousness of God.

Prayer to overcome perfectionism
Loving Father,
I come to you today for a change of heart and a change of mind
I struggle with perfectionism and the need to make everything perfect
This has taken me down a dark and lonely road as I struggle to make everything perfect
I'm filled with self-doubt and I constantly worry that I'm a failure
Father, please forgive me for letting such thoughts flood my mind,
Instead of focusing on you and your love for me
Lord, I come to you today to renew my mind and my heart
Teach me to understand that you have already made everything perfect
Teach me to do everything with love and accept things as they are
Help me to focus on serving and pleasing you
Help me to make more time for you and meditate on your word.
Grant me wisdom and clarity in everything I do.
In Jesus name, I pray,
Amen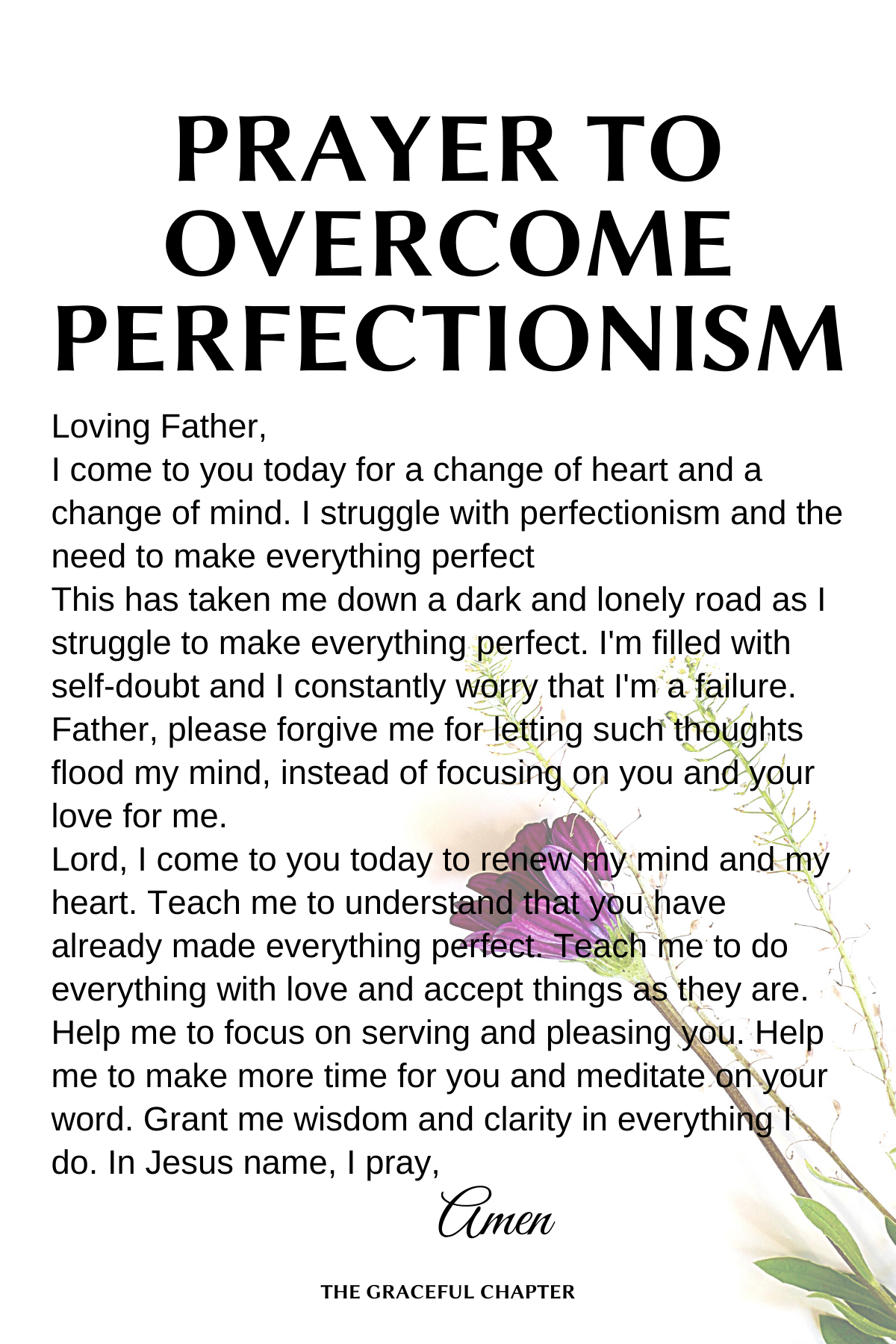 For stress
Isaiah 40:31
But those who hope in the Lord will renew their strength. They will soar on wings like eagles;
they will run and not grow weary, they will walk and not be faint.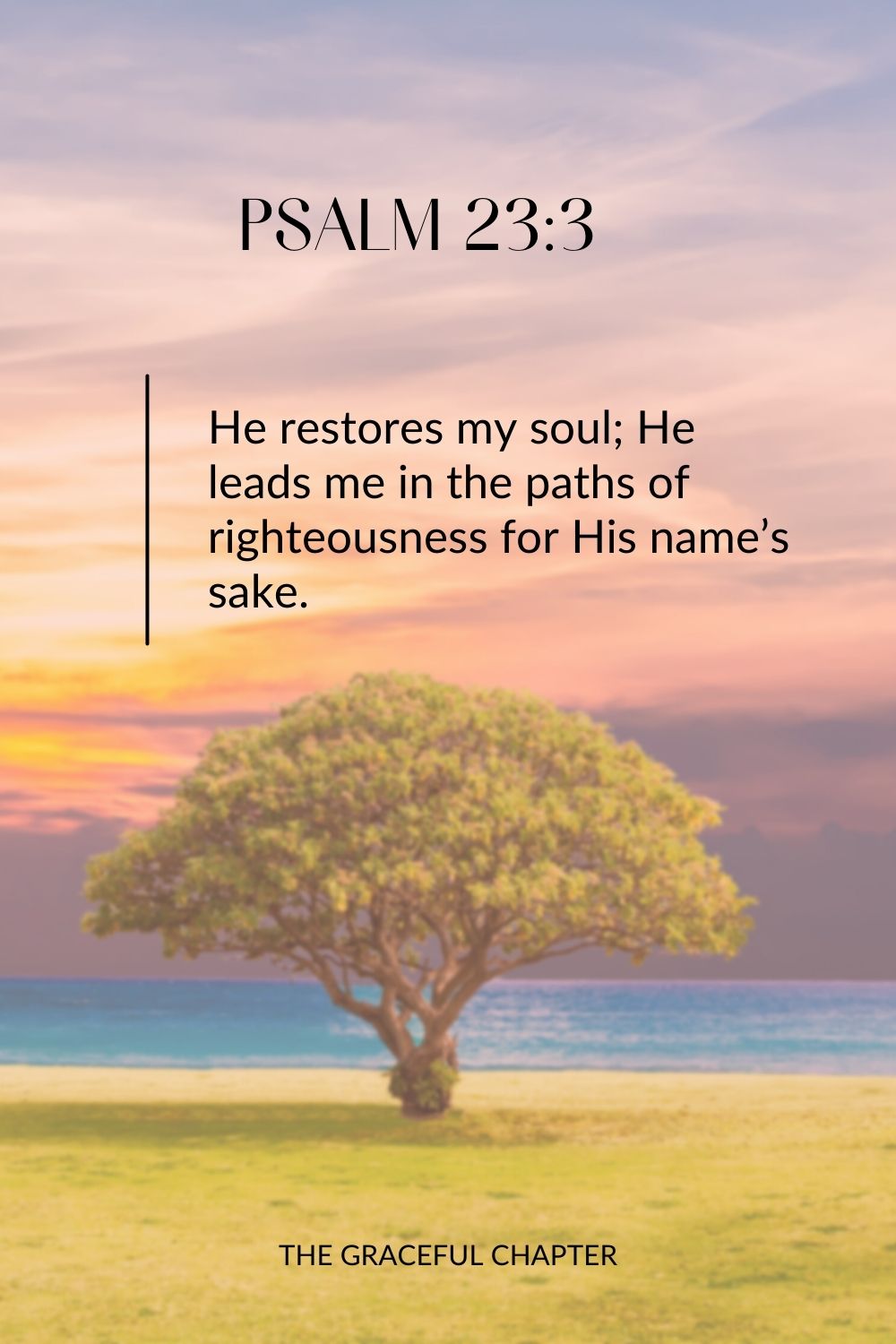 Psalm 23:3
He restores my soul; He leads me in the paths of righteousness for His name's sake.

Matthew 11:28
Come to Me, all you who labor and are heavy laden, and I will give you rest.

Exodus 14:14
The Lord will fight for you; you need only to be still.

Prayer for when you are stressed
Dear God,
Things haven't been easy for me lately,
And I feel so overwhelmed, frustrated, and stressed out.
The difficulties I'm facing weighs on my mind, my heart, and my shoulders
And because of that, I can't seem to get anything right or even sleep at night
And that even makes me weary and stressed out even more.
God, you said we should come to you with our heavy burdens and you will give us rest
So, God, I come to you, take my burdens and my frustrations, and grant me peace
Take away this stress that I feel and restore my soul
Everything around me is crumbling God, but I hope in you
Help me to relax and surrender it all to you
Give me strength and clarity of mind
And teach me to take each day at a time
Thank you, Lord, for your everlasting love,
Amen