Family is the definition giving to people related to each other by blood. However, God encourages us to treat each other as we would like to be treated. Anyone can be a sister, a brother, a mother, or a father. This relationship should not start or end with blood.
A sister can be that person that's more than a friend to you. Apart from a blood relative, you can make someone feel like they can call you family. How you relate to somebody will determine how they relate to you. Someone not related to you can be all the things a father needs to be to you.
Today challenge yourself to let more people call you family. Keep a prayer list called prayers for my sister. Your sister is that female you directly relate to. The Bible encourages us to be close together like a family. It tells us to encourage, help, motivate and be each other's keeper.
Most family members reflect on each other. When one family member has been corrupted the whole world points fingers at the entire unit as though every last one of them is corrupted. You may all have been taught the same godly values when you were growing up but you will each react differently to the challenges that life throws at you.
This is why Cain and Abel were of the same blood but very different. You need to pray often for your sisters. Ask God to be their strength and love them so they can bring honor to you and your family.
Prayers for my sister
Prayer for Protection for my Sister
Dear Lord,
Thank you for the life of my Sister
I am grateful for all the moments we shared growing up together
I pray that you protect her in every endeavor
Guide her in every decision that she makes
Be her protector through her schooling
Remove any distractions that will cause her pain
Protect her from the plans of evil people
Grant her independence
Let her be self-sufficient
Order her steps into glorious success and not failure
Let your angels guide her when she sleeps at night
Let them protect her in dark areas so she doesn't come to any harm
Bless her heart and let her never detach from your love
Amen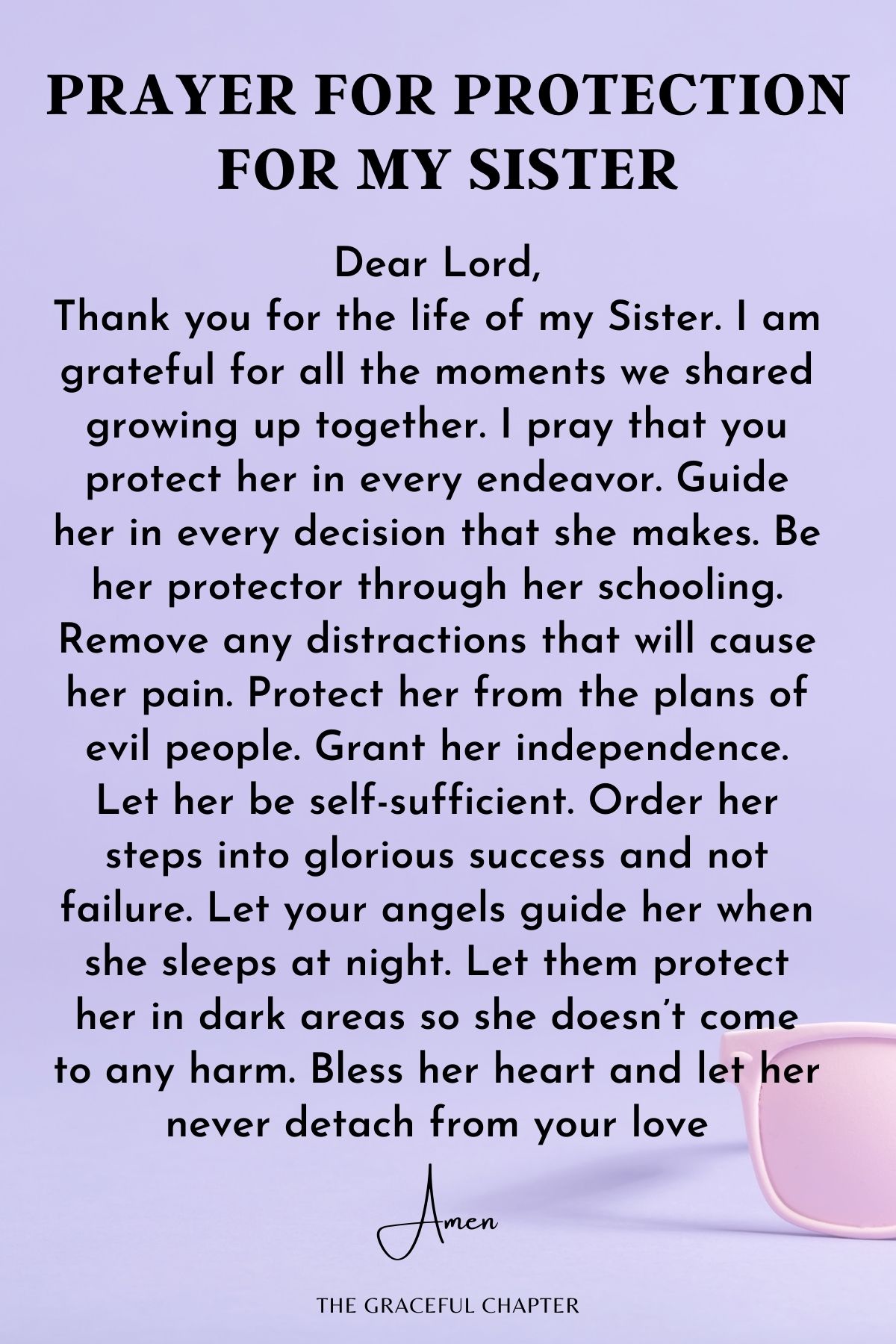 Prayer for my Sister's Relationship
Heavenly father
I thank you for my sister's life
I pray that you bless her relationships
Let her meet people who will enrich her life and not take from her
Let the company she keeps be those that bring her prosperity and not trouble
Bring her friends that draw her close to you
I pray for understanding and harmony between her and her acquaintances
Give her role models and people who will only move her forward
Let her surround herself with those who will be there in her times of need
Let her not entangle with neglectful people
Help her resist the company of thieves, back bitters, gossips, and liars
Let her friends build her up and not tear her down
In Jesus' name,
Amen
Prayer for a married sister
Heavenly father
I bless you for the life of my sister today
Thank you for finding her a life partner
I pray that you bless her marriage
Grant her and her husband all the love and togetherness they need to make it work
Be their protector, mediator, comforter, and their strength through all they do
Give them peace in their marriage
Bless them with strong and healthy children
Be the answer to all their prayers
Let them work out every challenge they face
Help them resist any evil plot to destroy their marriage
Bless them with unending affection for each other
Let their union be an example to other people
Keep their union as solid as ever
In Jesus' name, I pray
Amen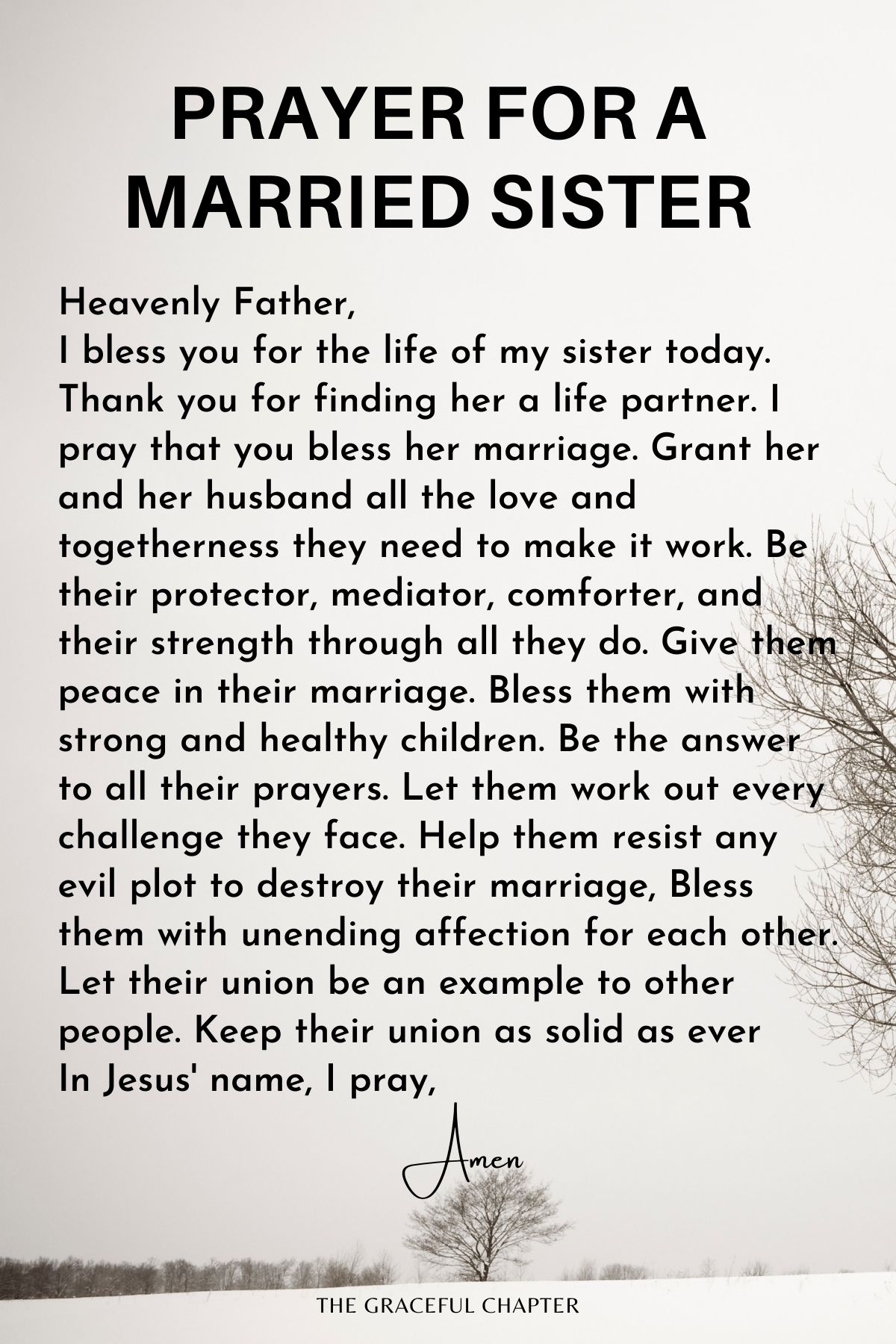 Prayer for a sick sister
Dear Lord,
I thank you that you have blessed this family with my sister
Thank you for the loving care we have received from you
I pray today that you heal my sister of her ailments
Just like Christ did for the sick I pray that you do the same for my sister
Even the winds and seas obey you
We know therefore that whatever disease that is threatening her life will obey you too
I pray and bind any disorder in her body
I burn with your power the cancer that is in her body
You are all-powerful and all-knowing
Restore my sister's health in the name of Jesus
Let your healing spirit be one with her spirit
Cleanse her soul and body from hair to toe
Quicken her bones with the same spirit that gave life to dry bones
Give her a living testimony about your magnificent power and loving-kindness
Save her from the belly of the earth
Rip her from the jaws of death
Grant her an even better life than she had before
Thank you, Father, for hearing my prayer,
Amen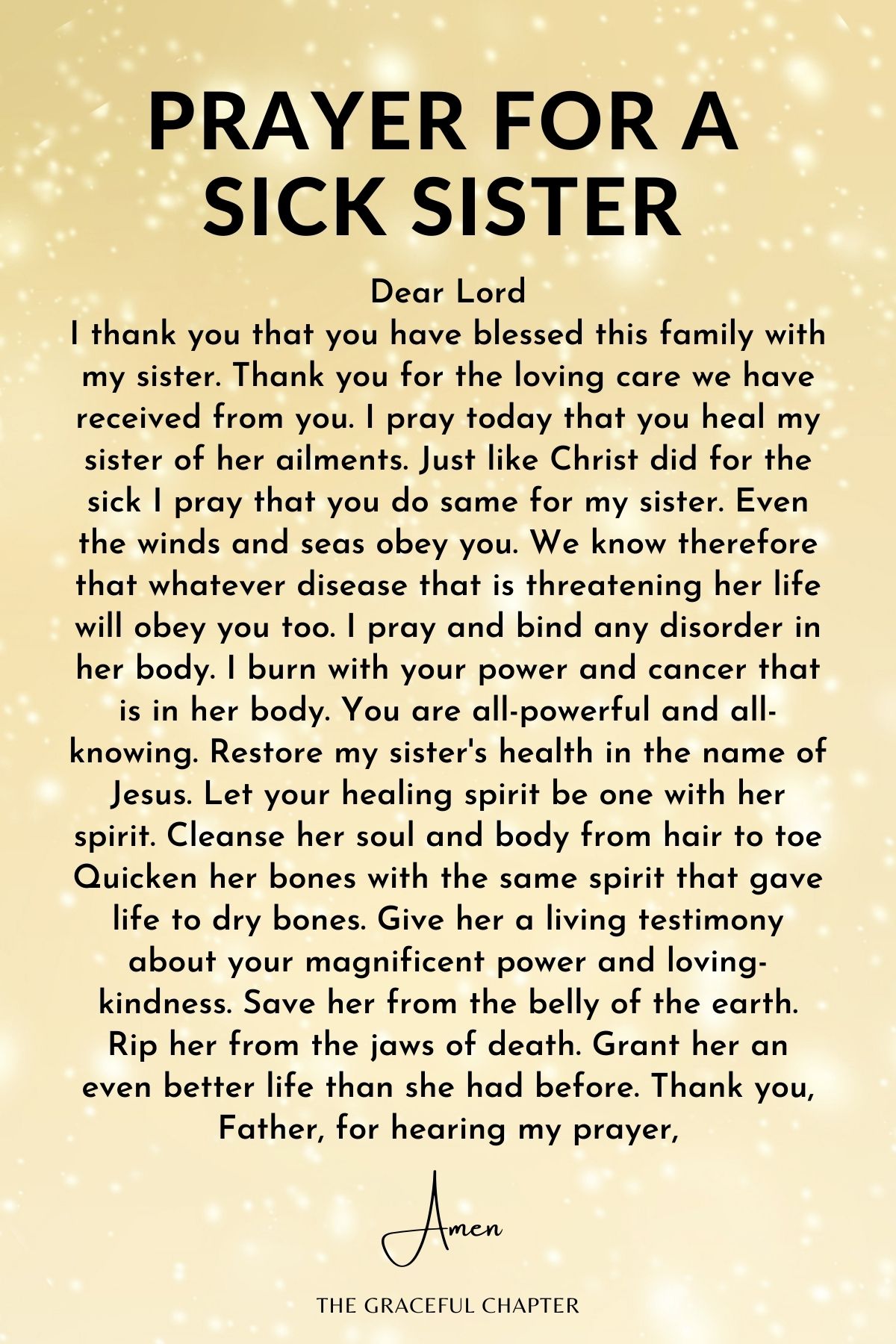 Prayer for my sister's job
Father Lord,
We praise your name for our lives today
Thank you for the work that we do
I bless you for finding my sister a job
I pray for her success there
Let her be fulfilled by what she does
Let her work touch so many lives
Let her receive any promotion that comes her way
Let her abilities be rewarded each year
Make her a strong contributor to her company's progress
Push her higher and higher on the corporate ladder
Let all her dreams be realized in that organization
Grant her peace at the workplace
Remove any bad plans concerning her progress at her job
If there are plans to sabotage her I pray that you destroy them
In the name of Jesus have I prayed,
Amen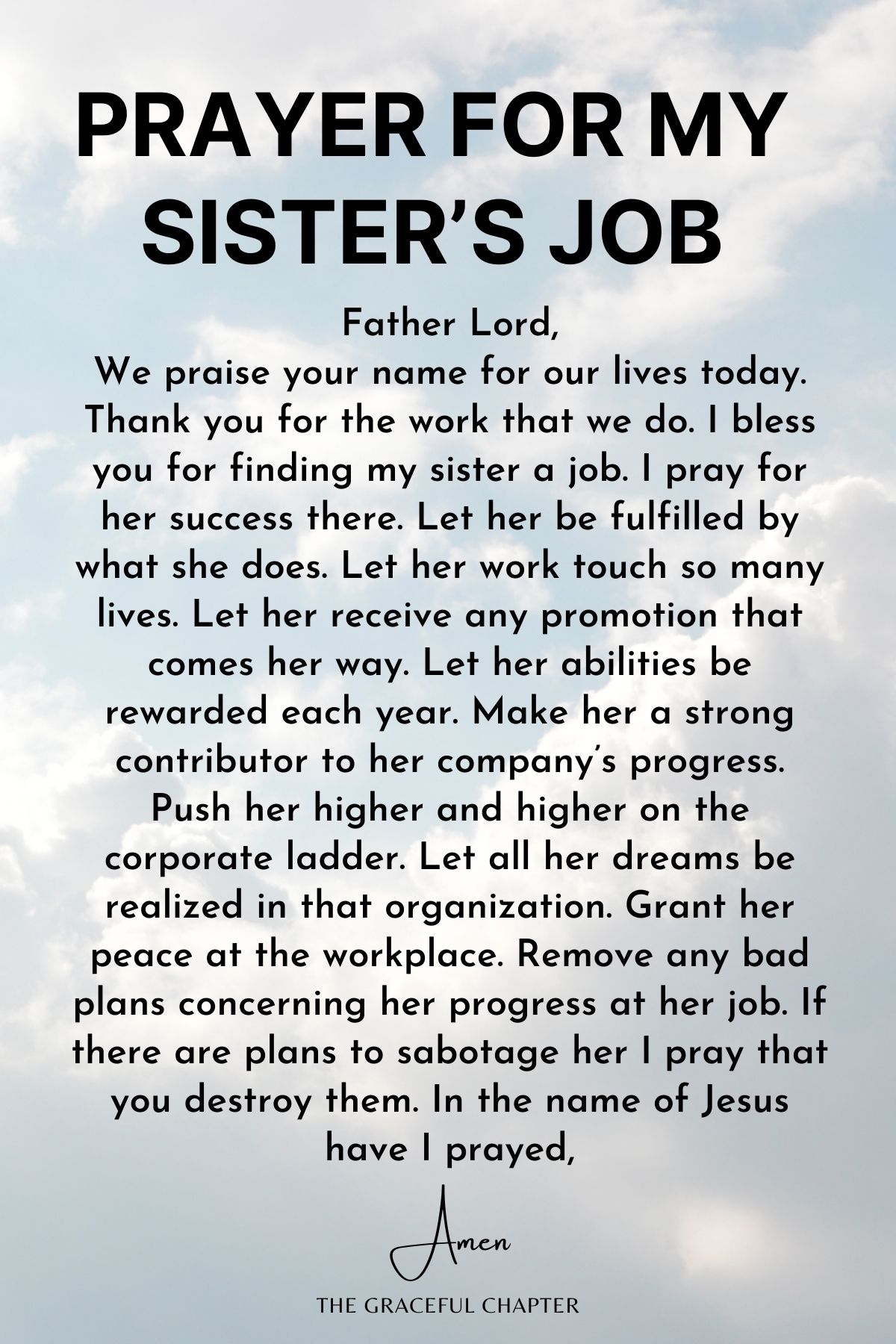 Prayer for our family bond
Father God
Thank you for the union that exists in our family
Thank you for our strong family bond
Strengthen this bond throughout our lives
Let us always be there for each other
When everyone turns their backs on us let us still have each other
Let us be the shoulder each of us cries on
Bless us to help each other always
Let us constantly be committed to getting each other out of trouble
Help us learn from each other
Let us make our family proud no matter where we go
Bless us to share our good times and our sad times as well
Let nothing or nobody tear us apart
Let not money, or material things, or other beings be able to ever come between us and the love we share
Amen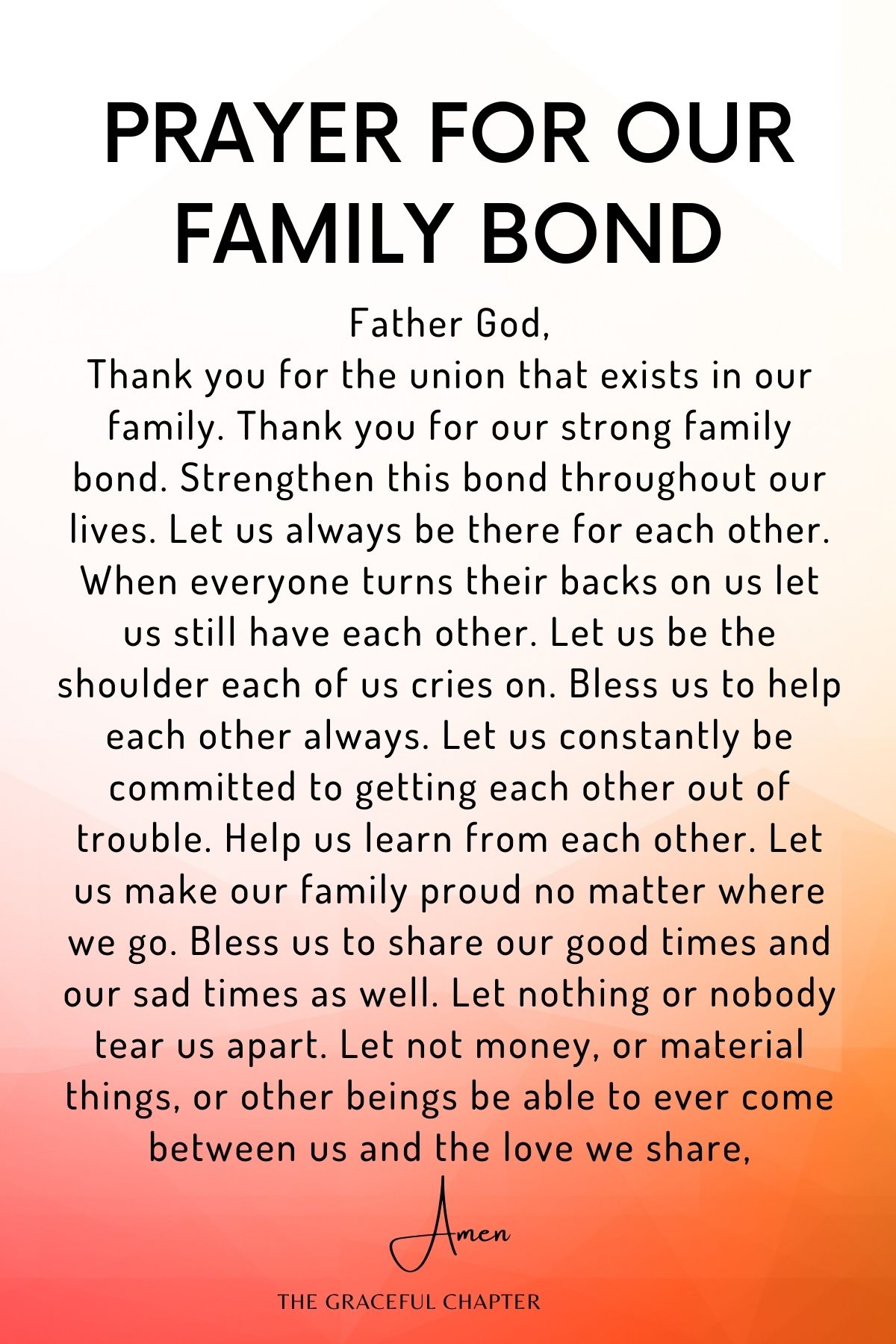 Prayer for a wayward sister
Father Lord in Heaven
I bless your name that you have gifted us this wonderful girl
I pray for her today that you touch her life
She has fallen into some very bad company
Her life has suddenly taken a turn for the worse
She is constantly in trouble and dragging our family name in the mud
I ask that you save and help her repent
Please draw her mind back to you
Put an end to this wayward lifestyle she has adopted before it's too late
Let her not destroy her body and soul
Seize control over her life in the name of Jesus
Cause to realize her mistakes and turnaround from her evil deeds
Remove her from the evil company that she keeps
Let her stop putting abusive substances into her body and rather meditate on your glorious word
Replace the devils in her life with angels
Let your light shine on the darkness in her life
Amen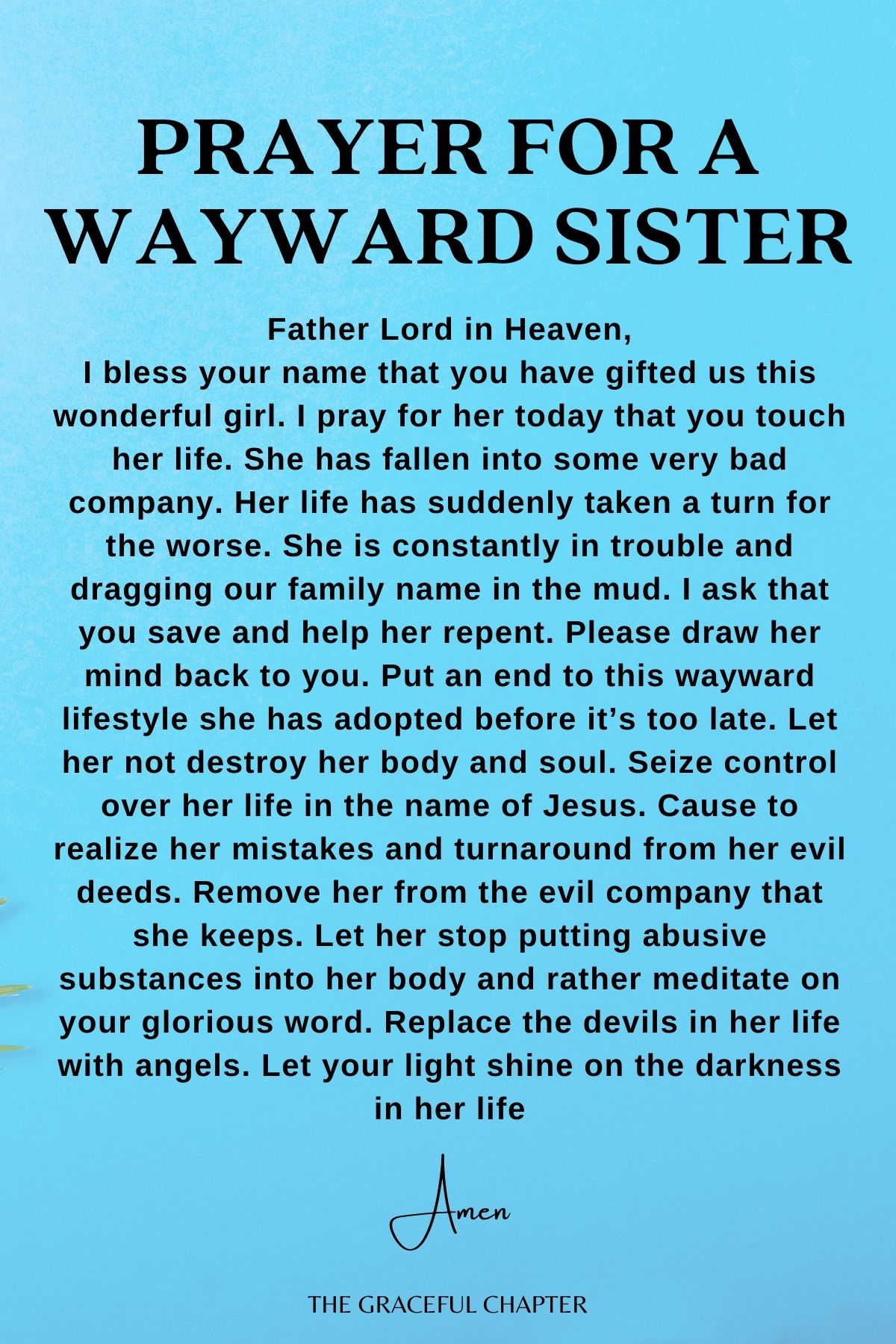 Prayer for my sister's prosperity
Dear Lord
I pray to thank you for all that we are
Thank you for our lives, our jobs, and our children
I pray for my sister and ask you to make her prosper
Let her be victorious in everything she does
Bless whatever she touches
Push her beyond her boundaries and let her be a success in life
May all her dreams become real
Grant her the desires of her heart
Help her fulfill her potential
Bless the works of her hands
Let her be a shining example in the midst of her peers
Give her an advantage over whoever she competes with
Let her be a testimony of your unfailing love
In Jesus name,
Amen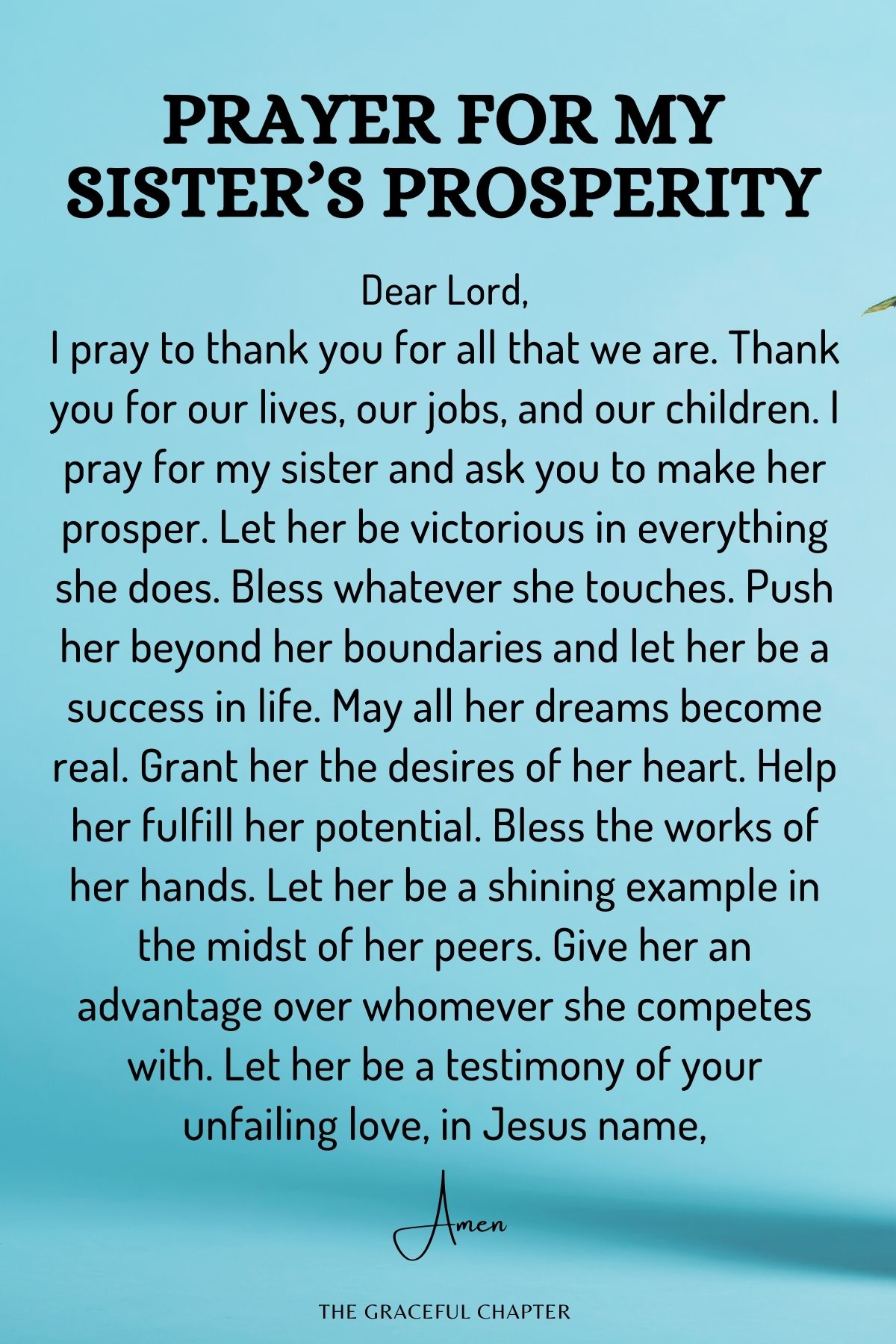 Prayer for a childless sister
Graceful Lord,
I commit my sister and her partner into your hands today
Listen to their worries and their prayers
Grant her the fruit of the womb
Put a child in her today
They have been trying for such a long time
I know that you are a prayer-answering father
Give them what they want
Help them multiply and fill their quiver with arrows
Bless their house with young ones
Miracle worker, way maker, and life-giver
Please put a smile on their faces today
Merciful Lord, have mercy on them
Work miracles in their lives today
In Jesus name, I pray
Amen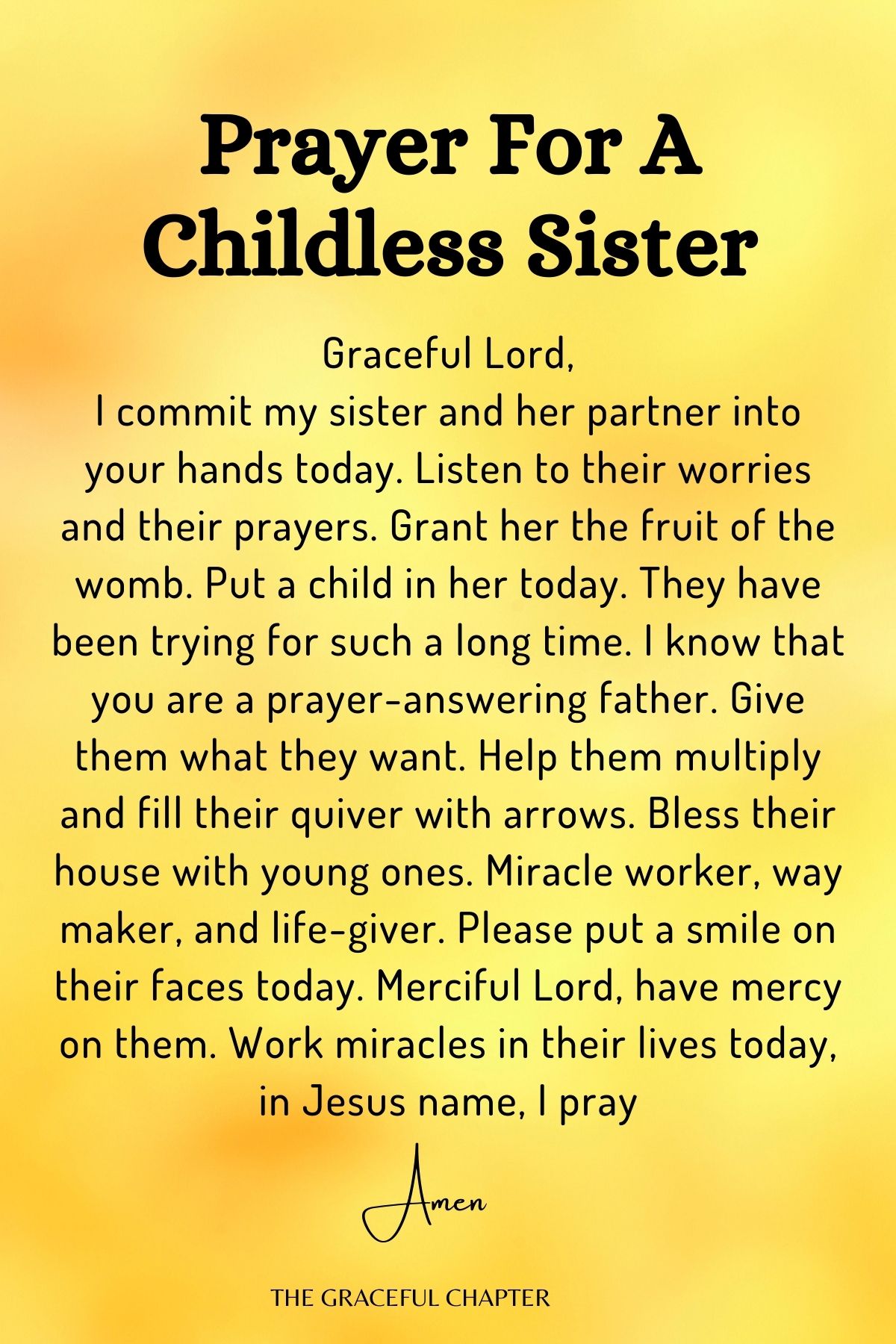 Related Posts
Prayer for an estranged sister
Father God in heaven
Thank you for our lives today
I pray today for my estranged sister
Please be her light wherever she is now
Be her comforter and her companion
Grant all the love and luck that she needs
Protect her from evil schemers and let all her dreams be realized
Lead her home to those who love her and want nothing but to be with her again
Remove any mental block that is preventing her from coming home
Let her forgive and forget any grudge that is keeping her apart from her loving family
Draw her closer to you each and every day
Keep her in your bosom all the days of her life
You find food for the birds in the sky
Feed my sister always no matter where she is, be her family
Thank you father, for hearing my prayer,
Amen
Make her heart your home
Thank You, Lord, for the life of my sister.
Thank You for gifting me with a beautiful and bright human as my sister.
I'm so grateful to You and our lives together have been so beautiful.
I pray you grant us more fruitful years together.
Let us make You the foundation of our home now and forevermore.
Lord, my sister has known You since her birth.
She has trusted You all these years and You haven't failed her.
Please make her heart Your permanent home all her days on earth.
Let her run to You in times of troubles and tribulations.
Let her remember You will always be in her heart and be dependent solely on You.
In Jesus' name, I've prayed,
Amen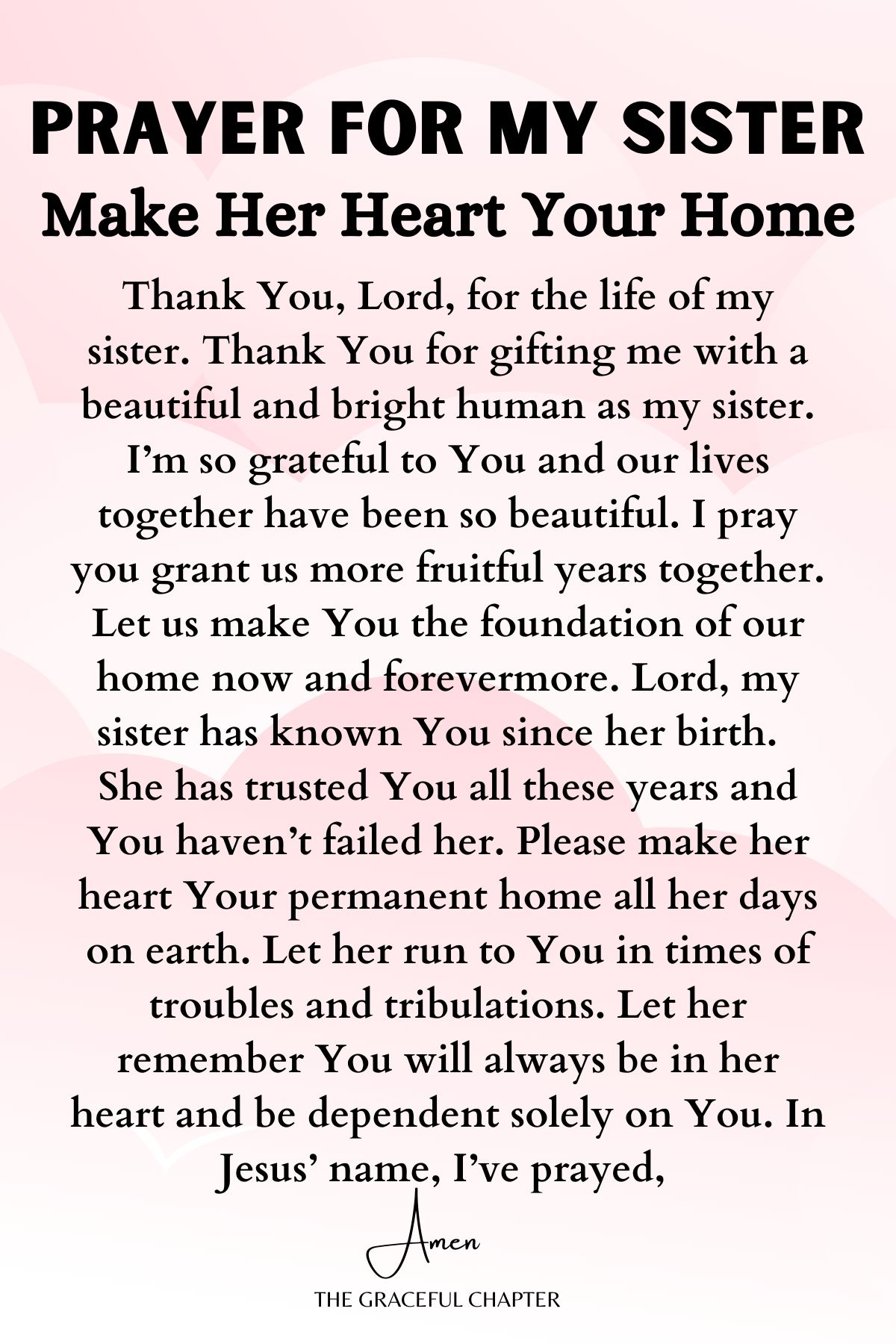 Let Your grace be abundant in her life
Father in Heaven,
Thank You for the grace You have extended to us through Your son Jesus Christ.
By this grace, we have been saved.
I come before You as Your humble servant to ask for special protection for my sister.
Wherever my sister goes and whatever she touches, let Your angels protect her Lord.
Order her steps and protect her ways.
Let my sister be honored everywhere she steps.
Let Your grace be abundant in her life, let her elegance attract kings and queens wherever she goes.
Day by day, help her understand Your grace more in her life.
Thank You for listening to my prayer.
Amen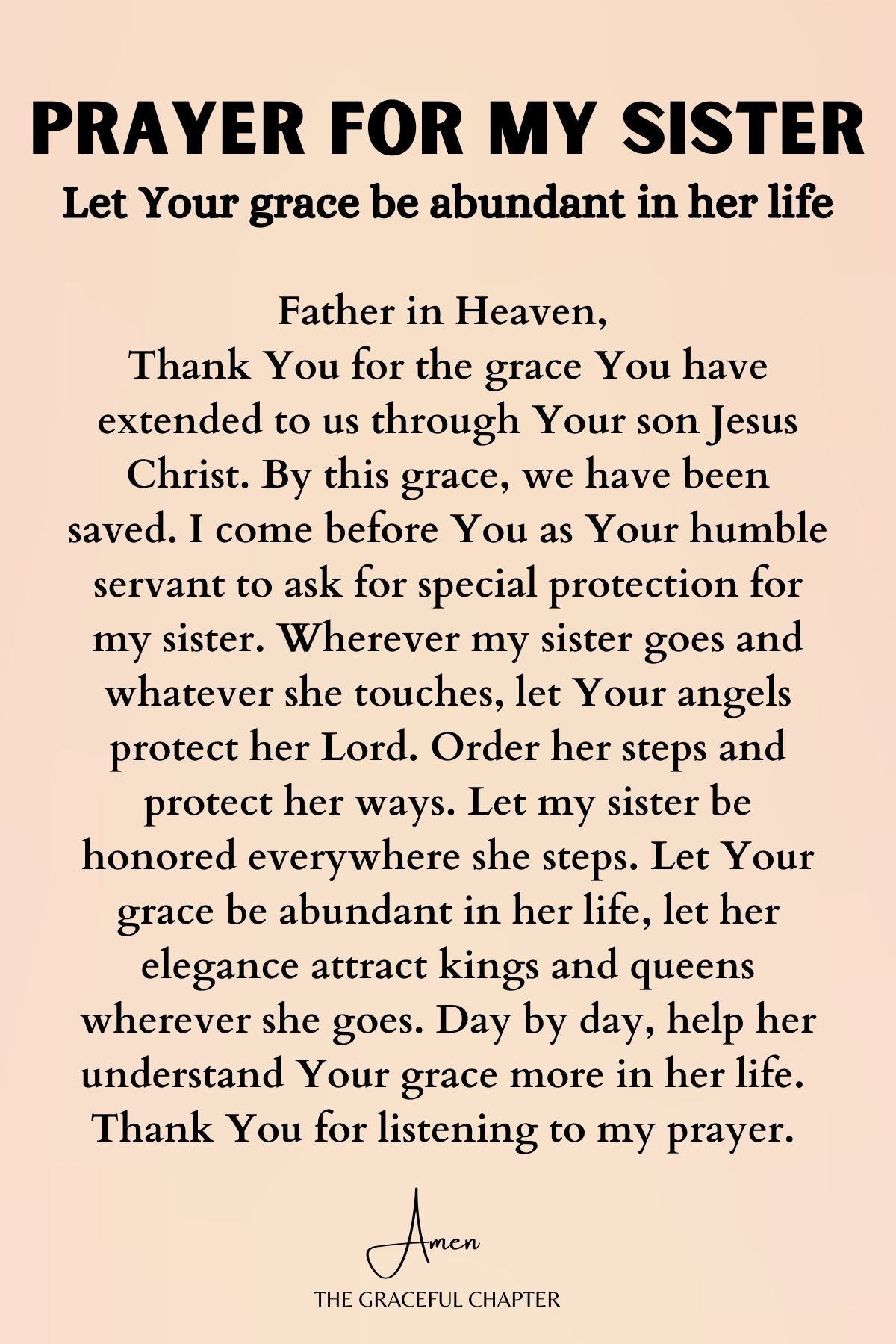 Provide for her
Dear Lord,
I call on You today to provide my sister's needs and special requests on her heart.
You are our Shepherd so we shall not want.
Lord, please do not let her lack anything she wants on this earth.
Provide for her exceedingly and abundantly
Let her make the right decisions, Lord especially in her career.
Make her self-dependent and successful
and remind her that You, Lord, make a man rich and add no sorrow.
Please make her the head and never the tail in her academics, profession, and life.
Make her great and let her name bring a positive influence to society.
Thank You for answering this prayer
Amen
Let people see your goodness in her
Almighty Father,
Thank you for the life of my sister
Make her heart beautiful so people are drawn to her
Help her make positive impacts in people's lives.
Let people see your goodness in her
Make my sister a Proverbs 31 woman.
Lord, I humbly pray for the marriage of my sister.
Lord, make her a virtuous woman, let her home be so peaceful and beautiful.
Never let her lack the fruit of the womb, m
Make her a great mother to everyone that comes into contact with her.
Let her husband be a good man and see her as his only one.
Let Jesus be the head of her household forever,
Amen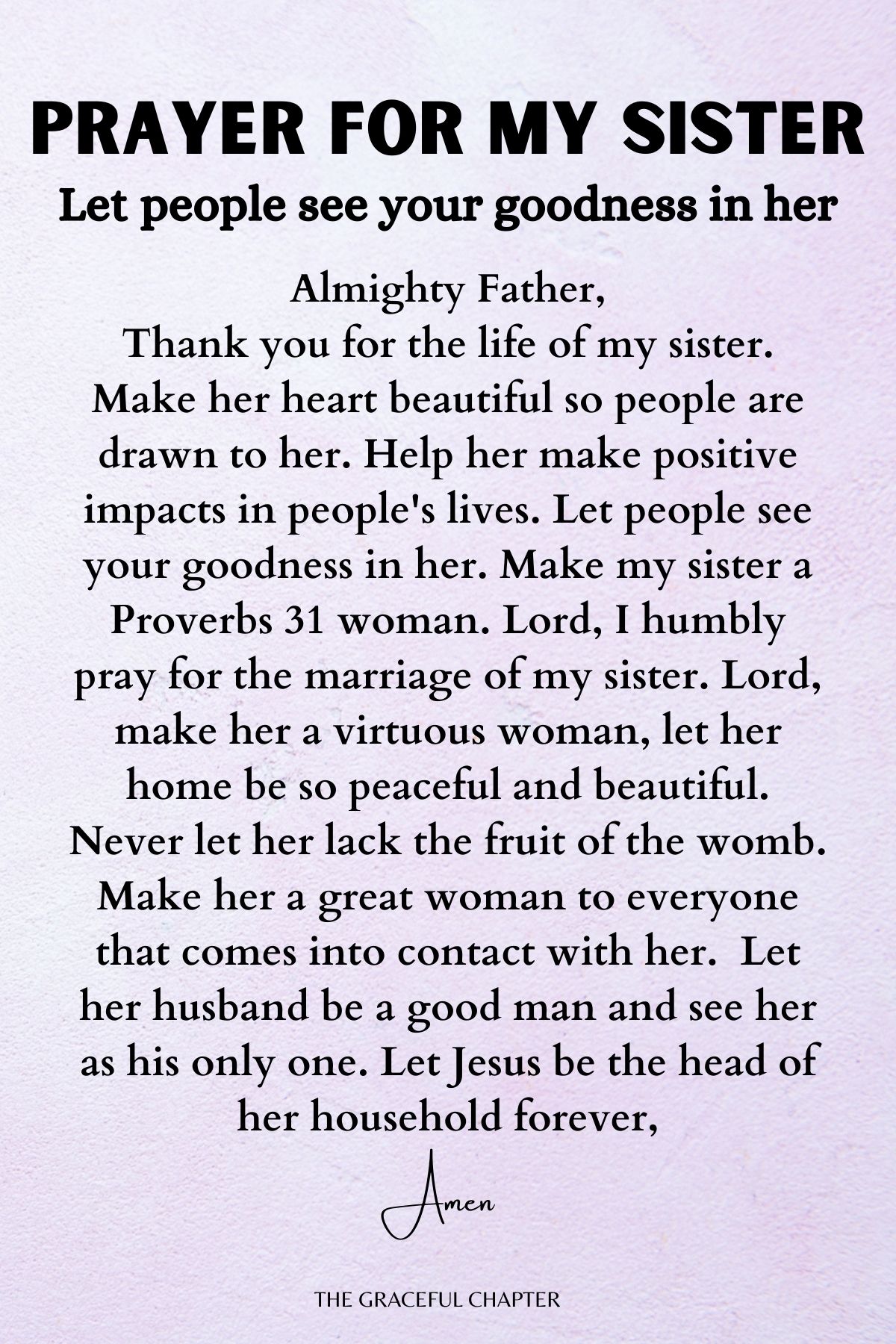 I commit her into Your hands
Gracious God,
Thank You for the good health and life of my sister.
You said the fear of You is the beginning of wisdom.
Let her be praised because she fears You, Father.
Let strength and dignity be her clothing.
I commit her into Your hands,
let nations be drawn to You when they see the fear of You in her.
I rebuke untimely death and misfortunes from my sister's life in Jesus' name.
Any planned evil things from enemies are canceled in Jesus' name.
Let my sister be victorious in life, Lord.
Do not let any evil befall her.
Take any ailments from her and her household
and let Your glory be manifested all her days
Amen
Pray for your family no matter where they are. Your prayers may be all that they need to make it in life. Whenever you think of any of them randomly, say a prayer in your heart for them. May God keep your family together and bless you richly. Amen