In a world, full of uncertainties and disappointments, it is normal to find yourself scared and anxious most of the times. But the Bible says that God has not given us the spirit of fear but of power, and of love, and of a sound mind. (2 Timothy 1:7)
It also goes on to encourage us to cast all our fears and our burdens onto God. This means that if there's anything that scares you, anything that troubles you, or anything that makes you worry, you should go to the Lord in prayer and lay them at his feet. Our God is a faithful God and he hears our prayers and watches over all of us.
With life and all it entails, one thing that we all worry about is protection and safety for ourselves and our loved ones. The bible says in Psalm 127 that unless the Lord watches over the city, the watchman watches in vain. Our God is the protector, in Him we find safety and comfort.
So you don't have to worry about your safety and your family's safety; say these prayers for protection and leave it to God. He will protect you, he will protect your home, your family and your friends. Just pray. May the Lord be with you.
Some good prayers for protection
Protection for children
Dear Lord,
Thank you for my life today
Thank you for the lives of my children
I pray that you keep watching over them
Be their shepherd and protect them from the wolves of this world
Hold their hands in troubling times
Give them the divine guidance and protection that they need to live their lives
Lead them on roads that will take them away from temptation
Lead them to choices that will bring dignity and praise to their family
Keep them away from ailments, injuries, accidents, and heartbreaks
Help them to be unified and love one another
Help them achieve their dreams to bring glory to your name.
Thank you for answering my prayer
Amen
Protection at work
Heavenly father
Thank you for the work I do
Thank you for giving me something to do so that I am not idle
Thank you for everything you have given to me through my work
I pray for your ever presence at my workplace
Be by my side in every activity that I do there
Grant me your wisdom and understanding throughout my workday
Save me from any mistakes or catastrophes that will put my work in danger
Help me submit to authority and not rebel against my superiors
Grant me the grace to be accepting and polite to all who require my services
Defend me from the evil eyes of colleagues who may want my downfall
Let everything good that you have planned for me come to me
Let me be rewarded when I deserve to be
Let me be promoted when I deserve to be
Do not allow anyone to retard my progress in my workplace
Help me be respectful and graceful at work
Let me be a good example to those who follow me
Thank you Father for answering my prayer
Amen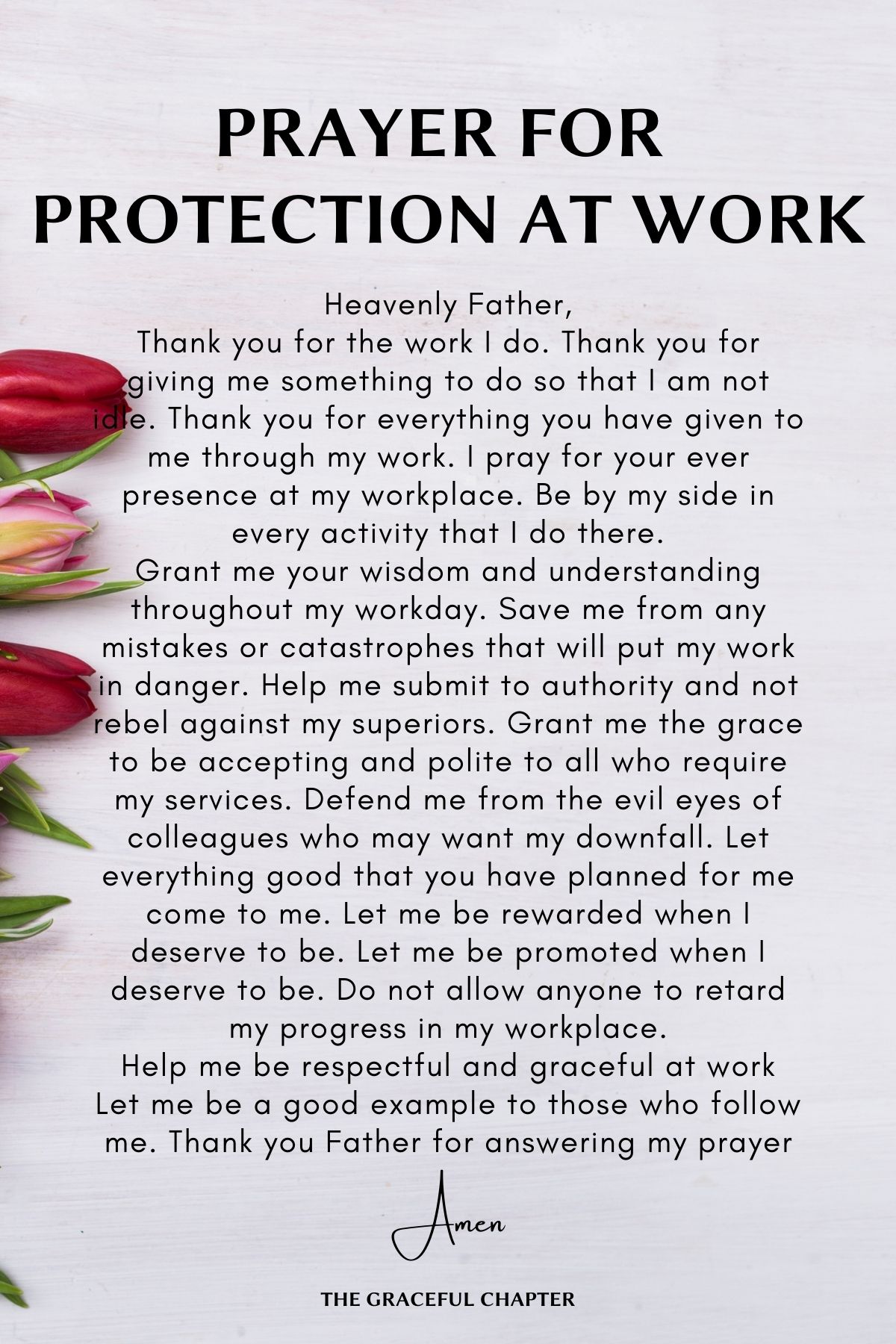 Protection at home
Omnipresent lord,
Thank you for the gift and breath of life this day
Thank you for giving your children a place to lay our heads
Others have no place to sleep at night, please remember them
I pray for your peace and love in my home today
Please be our surveillance in this house 24/7
Protect us from any evil invasion in this house my lord
Let us sleep peacefully and not worry about the enemy
We commit this house into your care dear lord
Send your angels to be our guards in every room in this house
Let the walls in this house be as strong as metal, dear Lord
Let your defensive spirit be our soldier in this house
Even when nobody is home we invite you to stay in this house
Grant us your protective hand and shield us from all evil
Thank you for answering our prayer, dear Lord
Amen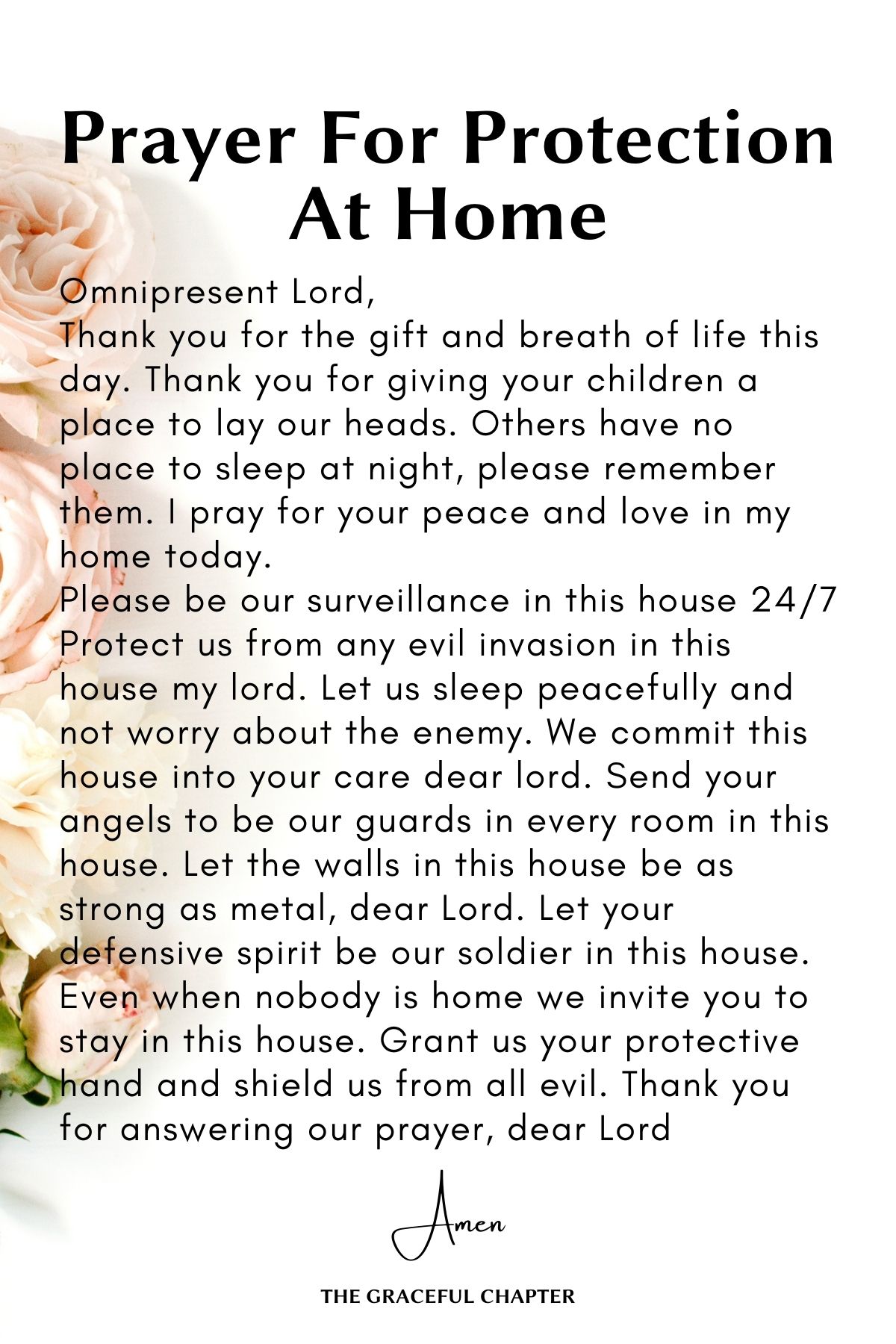 Protection during travels
Heavenly Father,
Thank you for the lives of my family today
Thank you for all you do for us
Thank you for our food, our shelter, and our water
I pray for our travels today
Whenever we leave our home we want you with us
Be it on foot, in a car, in a plane, or on water
Please be our protection during our movements
When we travel please protect us from accidents, robberies, and car troubles
Take us to our destinations safely and bring us back home safely as well
Protect our families and friends from bad travel experiences
Keep them as a bird keeps her nest
Bless us and preserve our lives to your glory
Thank you for answering our prayers in Jesus' name,
Amen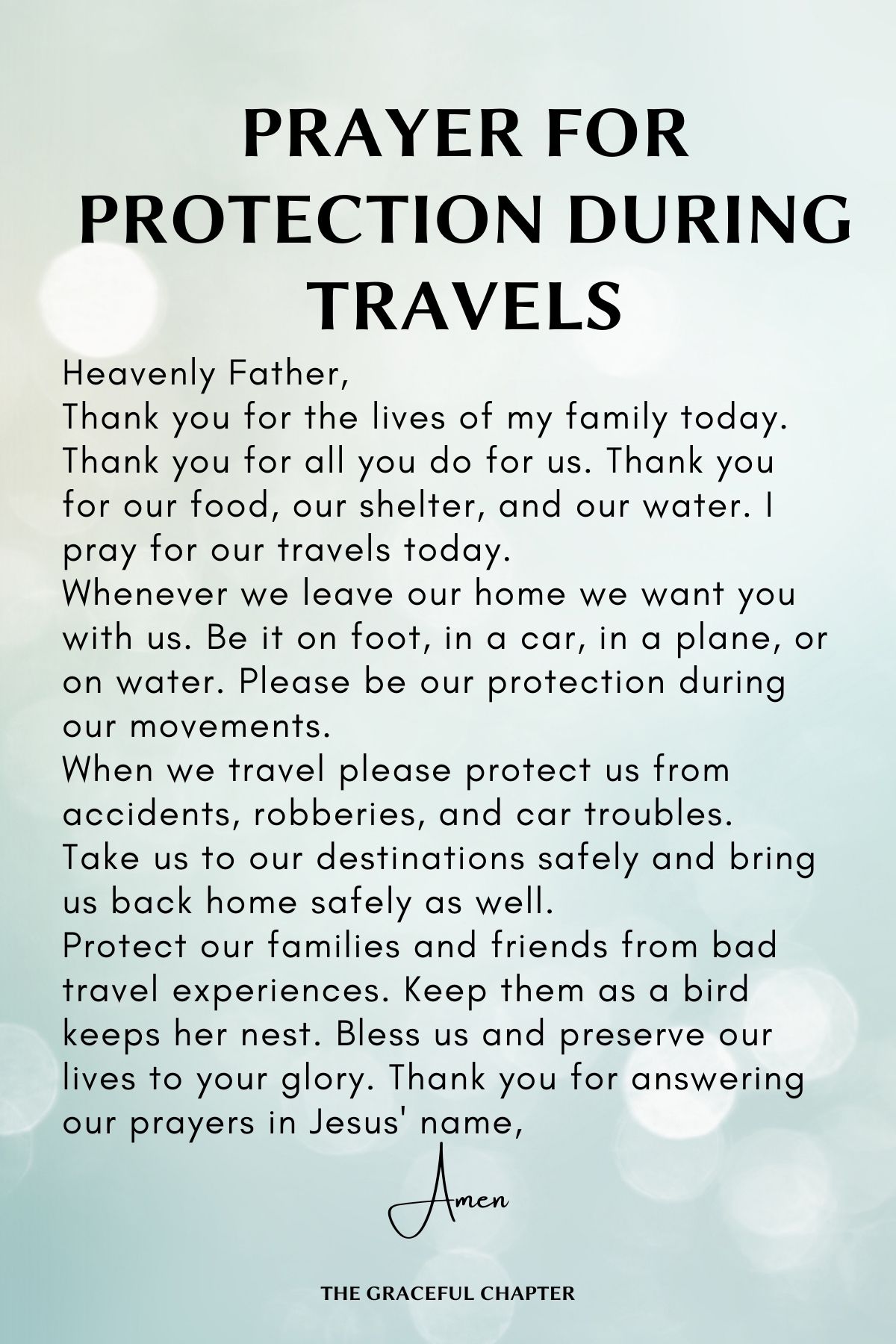 Related Posts
Protection for friends
Merciful Father,
Thank you for the friends I have experienced in my life
I pray for your grace and favor upon them
I pray that you protect their children
I pray that you protect their marriages
Protect them from the eyes of their enemies
Help them deal well with their grief
Bless them and protect them from temptation
Help them be successful at what they do
Thank you for answering my prayer
In Jesus' name, I pray,
Amen
Protection for livelihood
Heavenly father
Thank you for my livelihood
Thank you for the talent you created me with
Thank you for helping me turn my talents into a livelihood
I pray that you help me keep this grace
I pray that you keep me healthy and fit to be able to continue with my work
Give me the intelligence and knowhow to uncover new ways to make money
Help me not give up when things don't go my way
Grant me the protection to keep this going
Thank you for answering my prayer through Jesus Christ,
Amen
Protection from enemies
Dear Lord,
I pray for your protection today
Let anyone who wishes evil for me and my family faces your wrath
Let me have the heart to love those who hate me
But protect me and my family from those who want to hurt me
Fight my battles for me, dear Lord
Speak for me when I have no words
When every voice turns against me be the loudest for me
Protect me from the snares of the evil one
Grant me favor over those who hate me
Keep me safe for the thieves and robbers who want to destroy me
Grant me a peaceful and fulfilling life
Thank you for answering my prayer,
Amen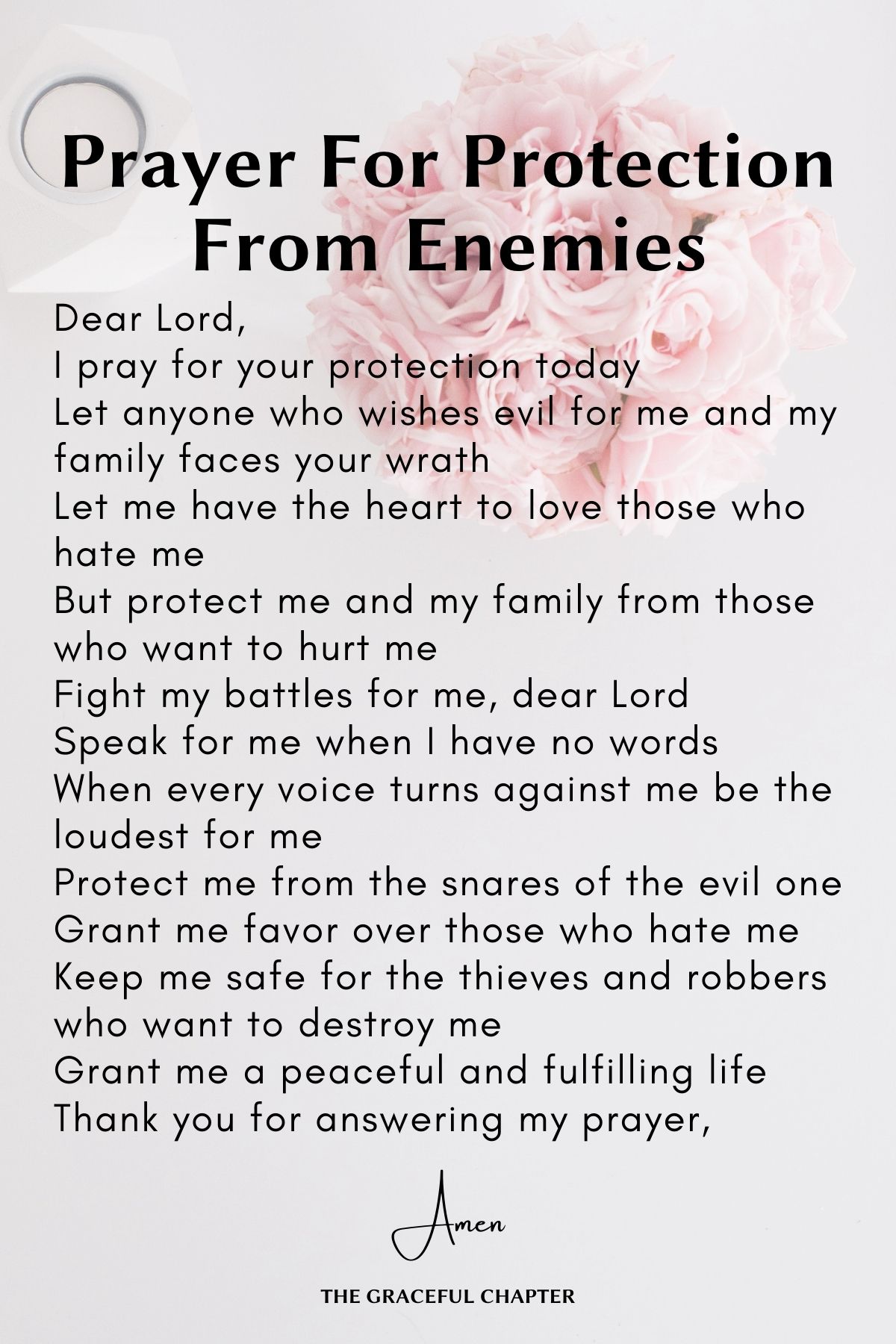 Protection for marriage
Dear Lord
I pray for my marriage today
Help us in dire and confusing times
Give us the strength to keep fighting against evil plans concerning our marriage
Protect us from evil destructive seeds that will ruin our union
Help us fight our battles together
Help us not lose the connection and bond we have in this marriage
Give us the grace to seek you when we lack direction
Keep our marriage safe from intrusions from outsiders
Help us solve our own problems
You who gives life, please give life to our marriage
Let our children see our togetherness and grow in the strength of the family you have put together
Grant us a long healthy life to take care of our family
Make our children a living shining example of the love we share
In Jesus' name,
Amen