Most people start to realize as they age, that no matter how hard they try, and how much they achieve, there will always be uncertainties beyond their control. The old adage, Man Plans and God Laughs is surprisingly true, and there often comes a point in everyone's life, where it seems perfectly logical to give up planning and controlling, and just focus on praying and hoping for the best outcomes.
There are a lot many things that can be done to ensure safety and prosperity in your new home, and beyond the mandatory locks, sturdy walls, and security systems, households should consider inviting blessings of the divine Lord through prayer and meditation. If you're not sure where to start, we lay out some of the best prayers for safety and prosperity in this article, with brief overviews on each of them.
Pray for protection of the home
The first step is to protect your house from all the evils and dangers that lurk outside, this can include crime, natural disasters, fires, and more. 
This should ideally be done right after you move into a new house, but you can make it a part of your daily routine by praying it everyday, before going to bed, or after waking up, etc. 
Such prayers can also be said during periods of stress or uncertainty, or when you or your family members feel spiritually attacked for any reason.
We've included a prayer for protection below, that covers most essential bases, but keep in mind that prayers are inherently personal, so please feel free to change, modify, or revamp it to suit your individual requirements.
Prayer for protection of the home
"Dear God,
We come before you today,
to ask for your protection over our family and home.
Please surround us with your angels,
and shield us from all harms and dangers. 
Protect us from disease, sickness, accidents, and disasters,
along with all forms of evil and those who wish us harm. 
Please fill our home with your glorious love and light,
to help make it a place of safety, peace, and tranquility.
We ask this in Jesus name,
Amen."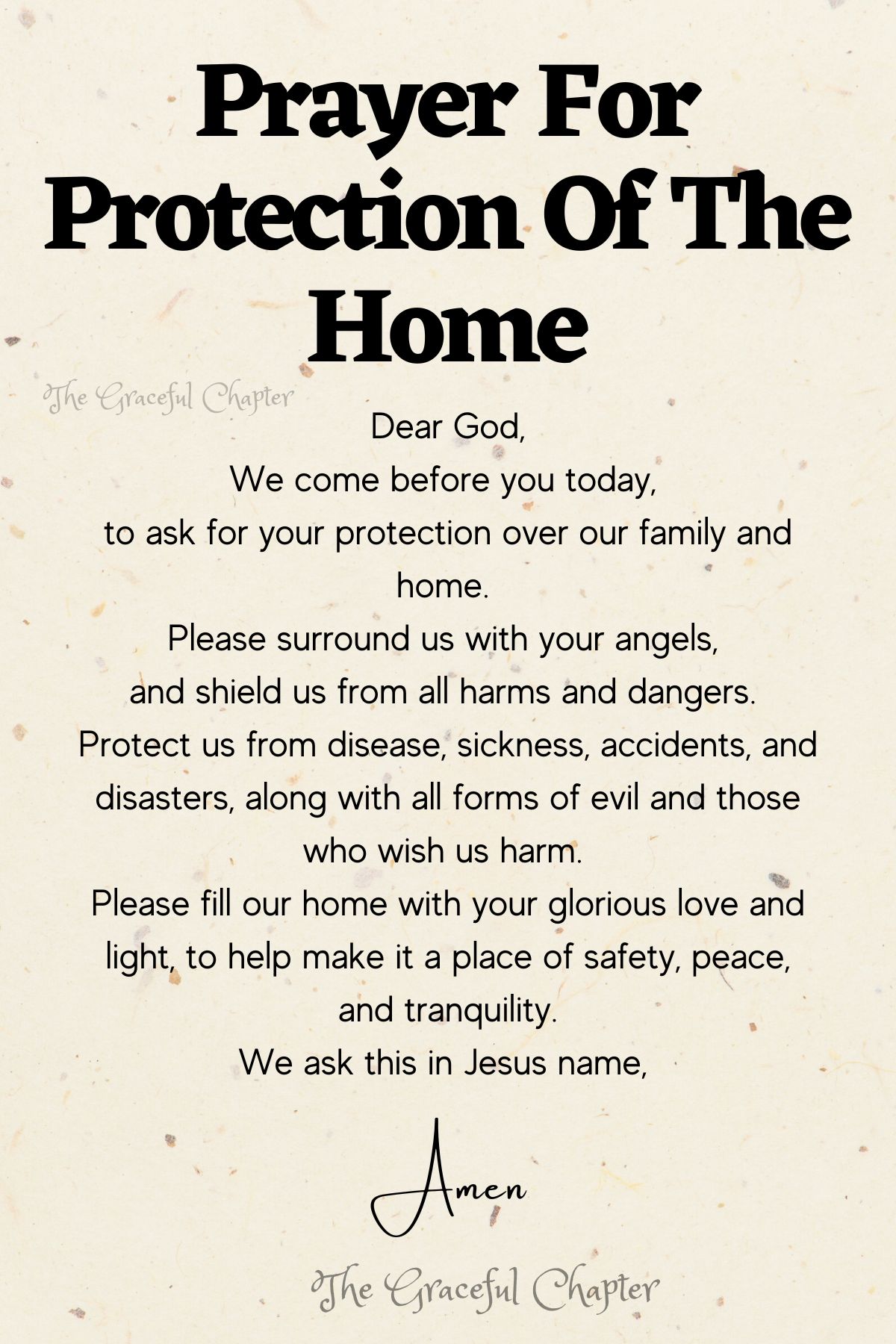 Related Posts
Pray for prosperity in the home
In addition to safety and protection, your new home cannot give you peace of mind without financial stability. So, following a prayer for your protection, it is good to invite divine blessings to shower abundance on your house and its inhabitants, or at least fulfill the bare minimum material necessities.
This again, can be done anytime throughout the day, but is ideal before breakfast, lunch, and dinner, as a means of being thankful and grateful to our daily bread. 
Regularly saying this prayer, even if you are well-off, or well provided for can result in much needed stability and peace of mind, especially in these uncertain times. 
Prayer for prosperity in the home
"Dear God,
We ask for your abundant blessings for our house and family.
Please help us prosper in all aspects of our lives,
in our finances, careers, and relationships. 
Fill our home with bountiful harvests,
and let it be a place of abundance, peace, and limitless prosperity.
Guide us in making the right decisions,
and help us stay eternally grateful for the blessings we receive.
We ask this in Jesus name,
Amen."
Final Words
Prayers do work, and they help provide much needed respite when we're faced with insurmountable challenges. 
All individuals have to do their part to achieve their material goals, and this can be finding the right home, and getting competitive home loan rates, among other things. However, in the end, the success or failure of most endeavors boil down to a range of invisible factors beyond our control, requiring divine blessings and interventions from God.