Sometimes a fresh start is what we need. After going through something traumatic people normally take a look at their lives and hit the restart button. Prayers for new beginnings can be just as helpful when you are about to start an adventure. When you are troubled or oppressed in any situation in life it is necessary to begin again.
There are a lot of fearful thoughts that can enter your heart. There are people who just find it easier to stay put rather than rock the boat even though they may be very unhappy. The beginning of a new chapter may appear daunting since we may not know exactly what lies in our future.
The Lord wants us to have no fear. 2 Corinthians 5:17 speaks of how being in Christ makes you a new creature and admonishes you to let go of the past. Our pasts are sometimes filled with self-loathing/doubts, judgments, and regrets. This is why God wants to help us move on.
God took Abraham unto new beginnings and he was never the same. After Job went through his trial time his new beginning was a great one. His latter glory was even more abundant and beautiful than his former one.
Do not be afraid to take a new step and direction. With God on your side, you will have the strength to begin, carry out and complete any new adventure you set your mind to.
Prayers for new beginnings
Prayer for beginning a new relationship
Dear Lord in Heaven,
Thank you for your protection and love in my life today
I have recently met a new person that I like
I pray that you guide me through this relationship
I know that with my instincts, I feel this is the right person for me
But I need your loving hand and direction to see if this is the right road for me
My last relationship did not go and end well
Help me not project any insecurities on my new partner
Bless me to be understanding and patient during my time with them
I pray that you let this journey end someplace good
Give me the strength to move on
Thank you for answering my prayer
Amen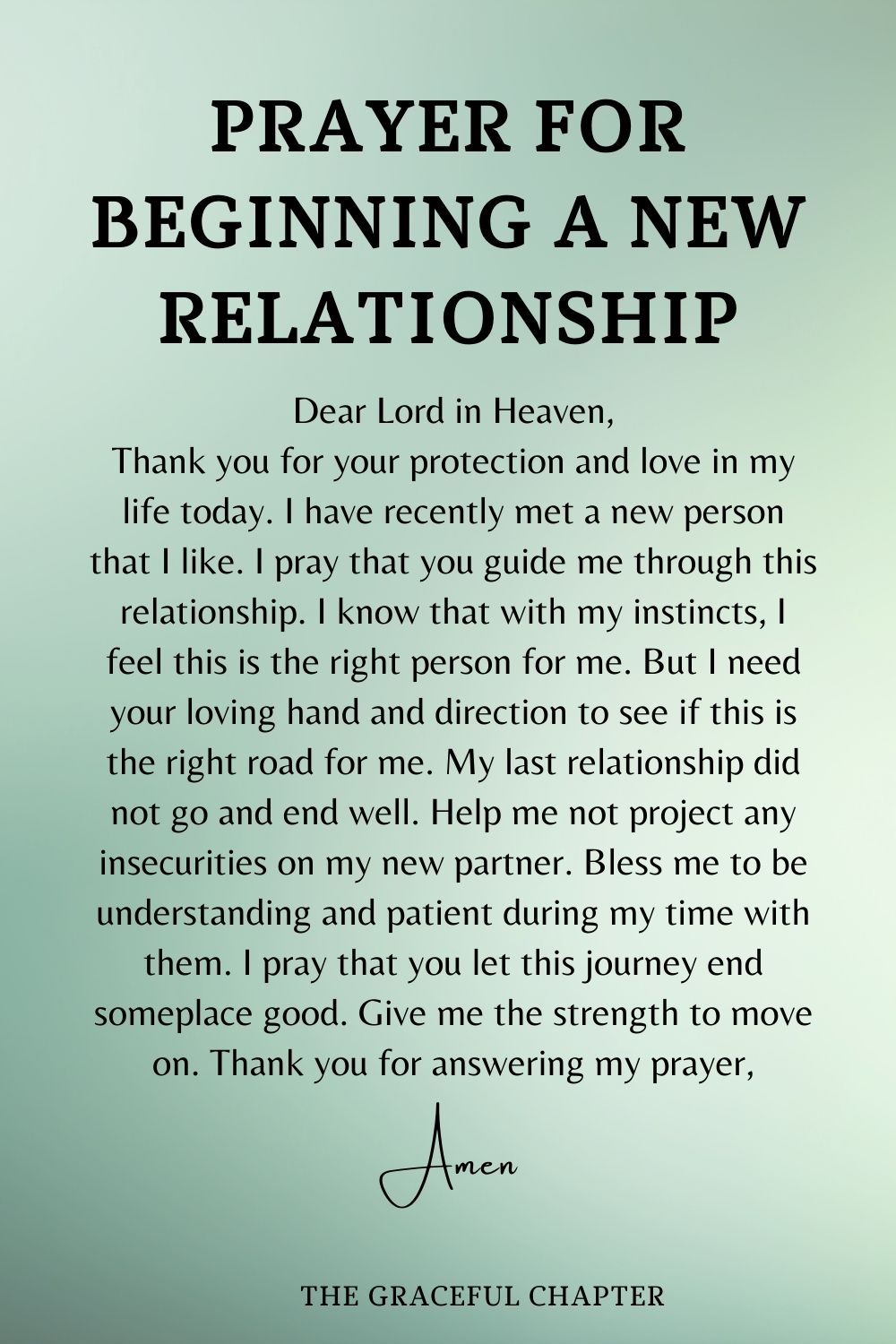 Prayer for beginning a new marriage
Father Lord in heaven,
I thank you that I am about to begin this journey
Thank you for helping us through all the ceremonies and celebrations
I am a little scared of this journey
I want to spend the rest of my life with my spouse
I commit our union in your hands this day
Begin with us and stay with us all the way through it
Be our provider, comforter, and mediator
Grant us the fruits of the womb and grant us the wisdom and patience to raise them
Give me the courage and strength for this long journey
Where others have failed, let us succeed
In the name of Jesus, I pray
Amen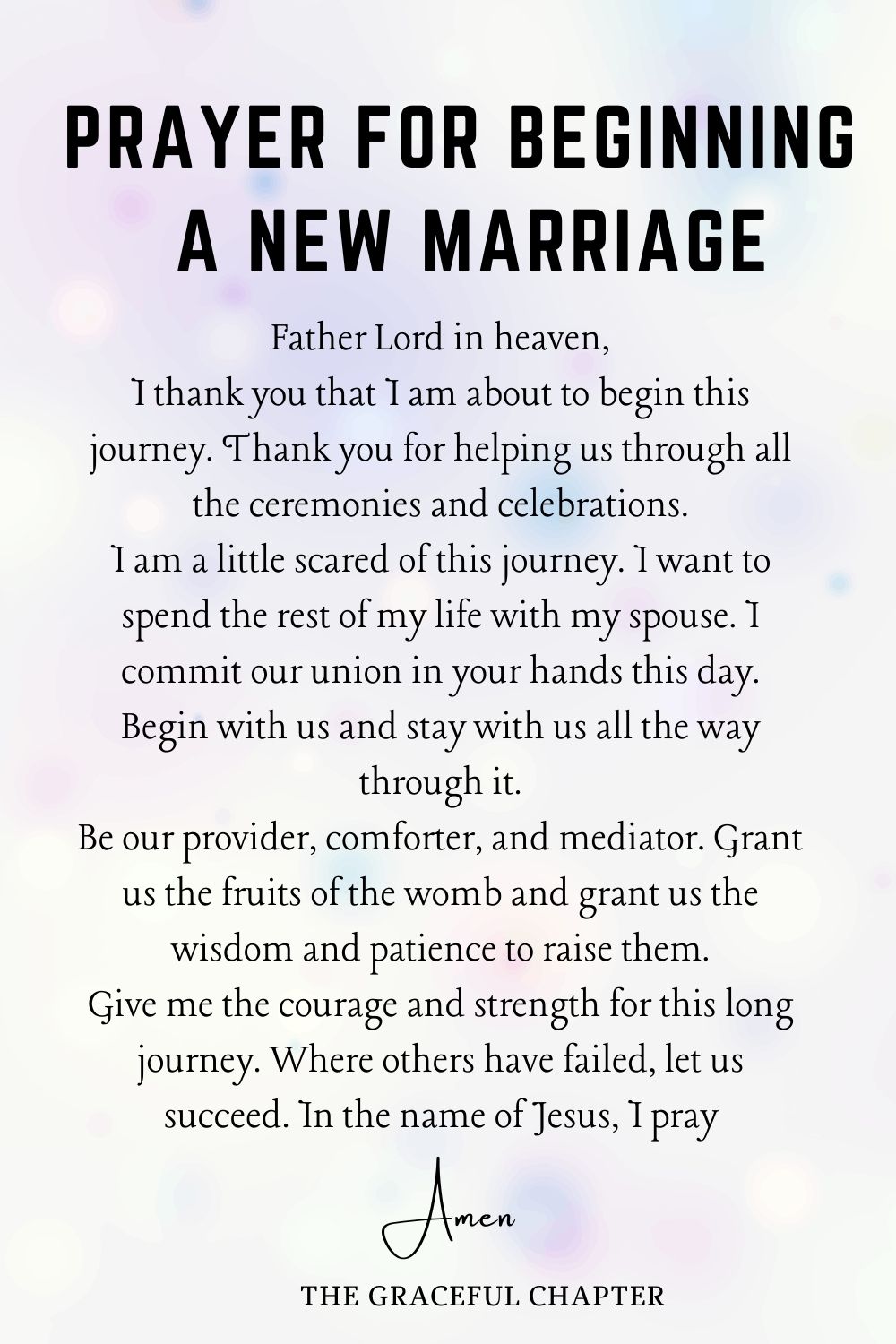 Prayer for beginning a new job
Heavenly Father,
I thank you for this great opportunity you have given me
I am going into a new job today
I pray that you give me the strength to make a good impression
Help me with good work ethics and help me push boundaries in this profession
Let me establish myself as an indispensable worker
Give me the wisdom to solve all kinds of problems I encounter
Prevent me from falling into any traps
Remove from me every greedy, covetous or impatient spirit
Help me relate well to everyone
Let me move up the corporate ladder and help me be a shining example at the workplace
Let me mirror the values of Christ at the workplace
Thank you for an answered prayer,
Amen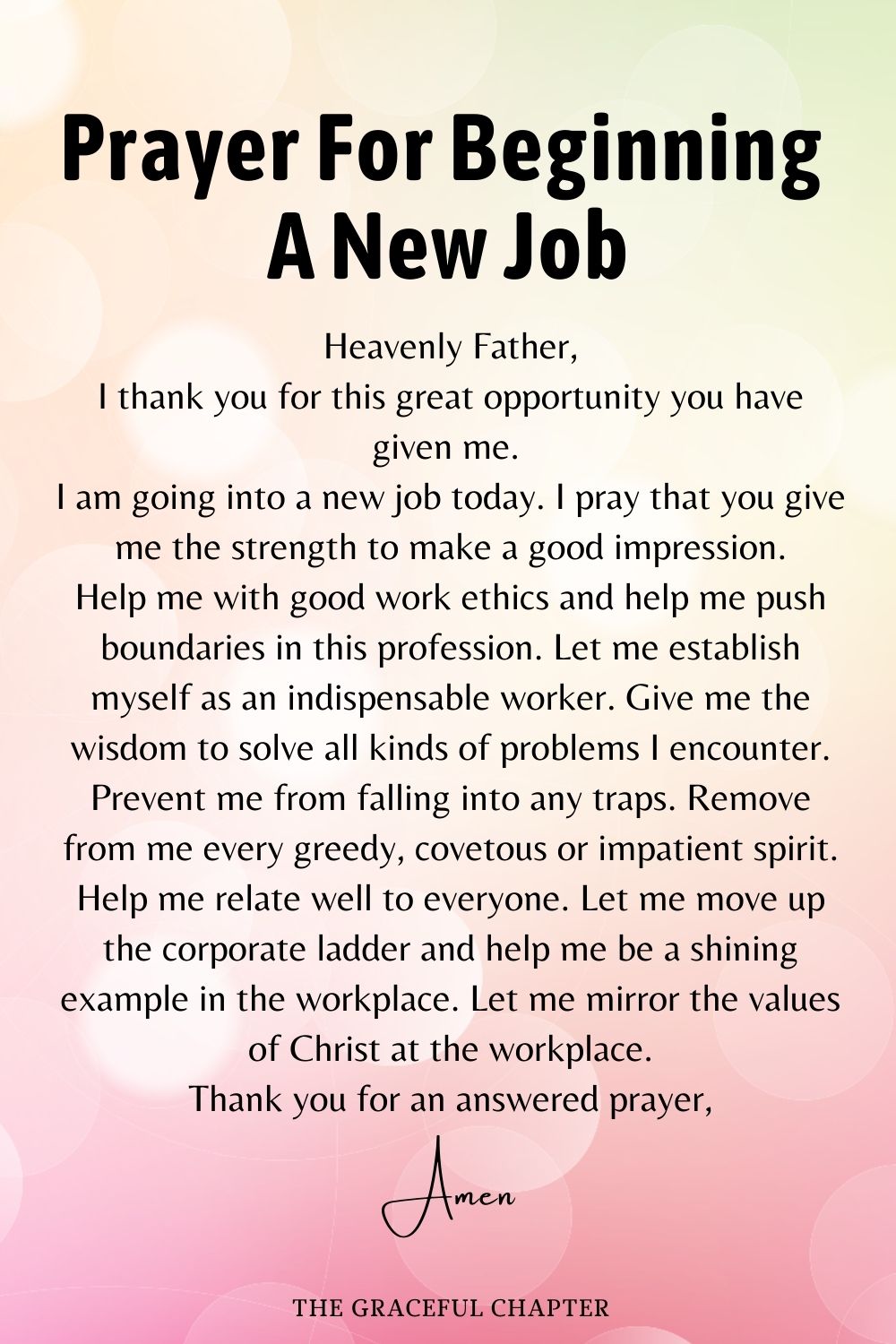 Prayer for starting a new position after promotion
Father Lord,
Thank you for all the protection and guidance I have received in this office
Thank you for your divine health throughout all these years
I bless your holy name
I am grateful that my hard work has not gone unnoticed
I am excited about this new chapter in my professional life
I pray that you help me stay humble and focused on this job
Let this not be my endpoint but bless me to reach new heights every day
Let me be an example to those that follow me
Help me in my decision making and guide me to not let those who trust me down
Let me be kind and live harmoniously with my subordinates
Let me keep this office in order and let me not repeat the mistakes of others gone before me
Thank you for your love and grace once again
Amen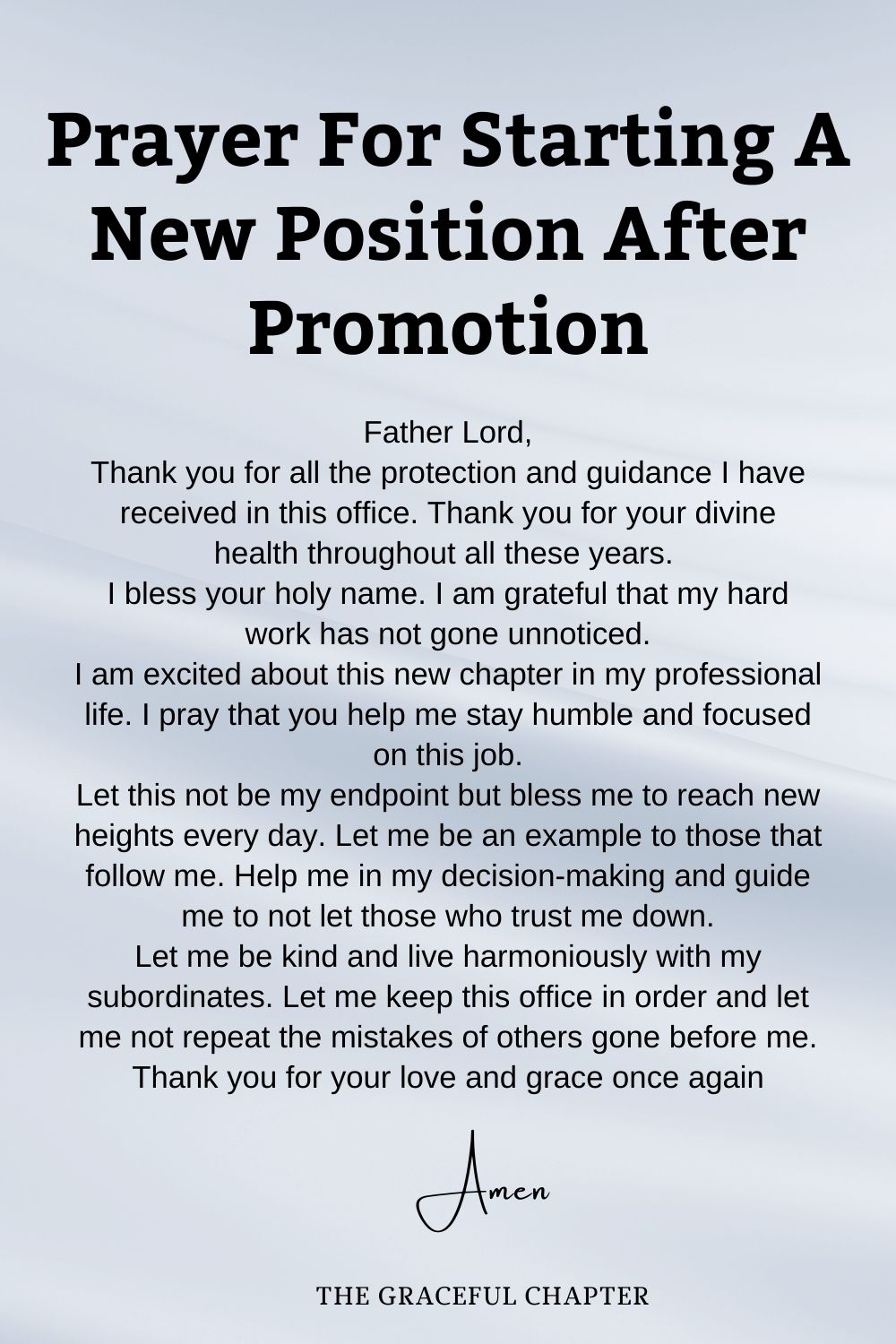 Prayer for moving to a new neighborhood
Dear Lord,
Thank you for your blessings and grace upon my life today
We are today moving into a new neighborhood
We are unaware of the perils and dangers of this place
We pray that you come and be our security
Help us settle in with no negative consequences
We pray for the people who live around us
Let us be a good influence on them and let them be a good influence on us
Let us not be targeted by any means
We pray for your divine favor and protection during our stay in this place
Let it be a home that you have sanctified
Let our children grow with us here in perfect harmony
Let the friends they associate with not lead them down any blind alleys
Be our light in times of darkness and stand with us even when no one else does
Amen
Prayer for starting at a new school
Dear Lord in Heaven,
Thank you for my life today
I start a new journey in my education today
I have arrived at a new school for a new challenge
I will meet new friends and new people
I will be introduced to new things and subjects
I pray that you protect me from any evil
Help me focus on my learning and pass all my exams with flying colors
Help me avoid bad company and any trouble that might get me expelled
Help me stay focused and disciplined
Let me relate well with others
Fill me with kindness for the less privileged students
Let me overcome any obstacle I may face in my learning life
Thank you for answering my prayer
Through Jesus Christ,
Amen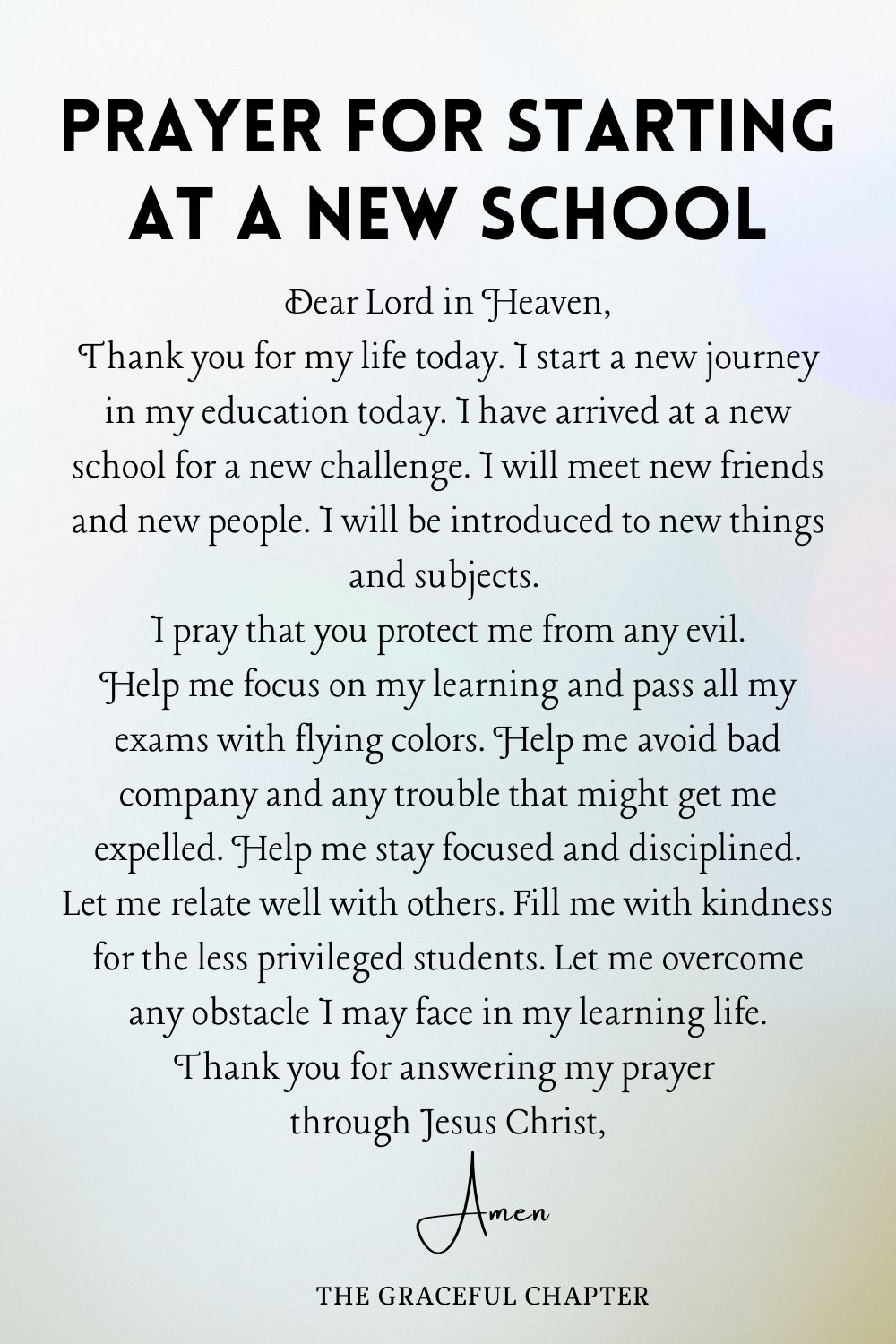 Related Posts
Prayer for life after divorce
Dear Lord,
Thank you for my life today
Thank you for all the things that happened in my marriage
It's a shame it couldn't work
I give glory to and honor to you
I pray for my new life
Grant me strength and courage to go through this period in my life
Help us deal with this situation as a family
Help our children adjust well to these changes
Help them grow up in love regardless of our broken home
Let us learn lessons from this breakup and use it as experience moving on
Let us not hinder any hatred towards each other in our hearts
Give me your divine sense of direction in any new relationships I find myself
Let me not repeat any mistakes I made in the past
Bless me to hold my own during this time
Amen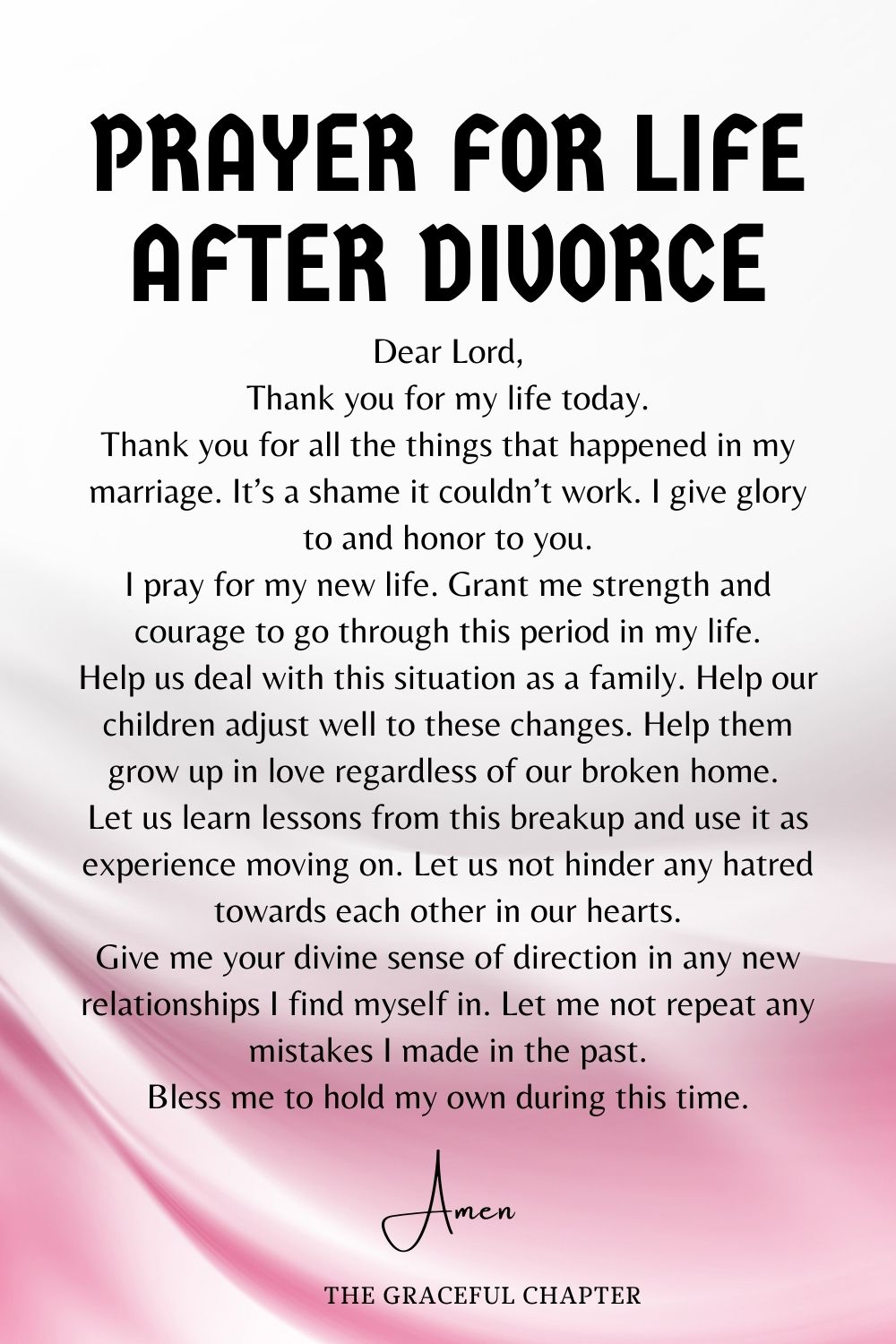 Prayer for life after a disability accident
Heavenly Father,
Thank you for my life today
Thank you for preserving my life through this gruesome experience
My old life as I know it is gone
This new way of living will be a difficult one
It is something I have never experienced in my life
I pray for your divine strength and motivation through this difficult period
Inspire me with your divine grace to be able to live on in your strength
Hold my hand through all the negativity and mockery
Let me not wallow in sorrow or feel sorry for myself
Let me be an inspiring disabled person
Let others see me and feel motivated to live life
Bless my heart and let me not feel any hatred for others
Help me keep my strength and love in my heart
Order my steps into glory and a peaceful heart
Thank you, Lord
Amen
Prayer for starting a family
Dear Lord in Heaven,
Thank you for the lives of me and my wife
We are thinking of starting a family
We pray that you open her womb and help her conceive
Fill our children with wisdom and strength
Help us bring them up under your light and direction
Let them be filled with your spirit right from the womb to the time they grow
Let them never depart from your teachings
We begin this journey in your name and your spirit
Let us not do anything according to our own understanding but through your spiritual guidance
Keep us together so our children will learn from our strong family bond
Amen
Prayer for moving on after a grave loss
Dear Lord,
Thank you for giving us the strength to deal with this disaster
We are never truly prepared for a loss like this
You gave us the courage to wipe our tears away and begin anew
Help us forget this pain and move on
Take this grief away from our hearts
We know nothing we do can bring back what we have lost
Be our replacement for this grave loss
Only you Lord can restore what has been lost in our lives
We are grateful for the impact that they made in our lives
We cherish every moment we spent with them
We love every impact they made in our lives
Let us move on
Push us to be strong
Hold our hands through this difficult time
In Jesus' name,
Amen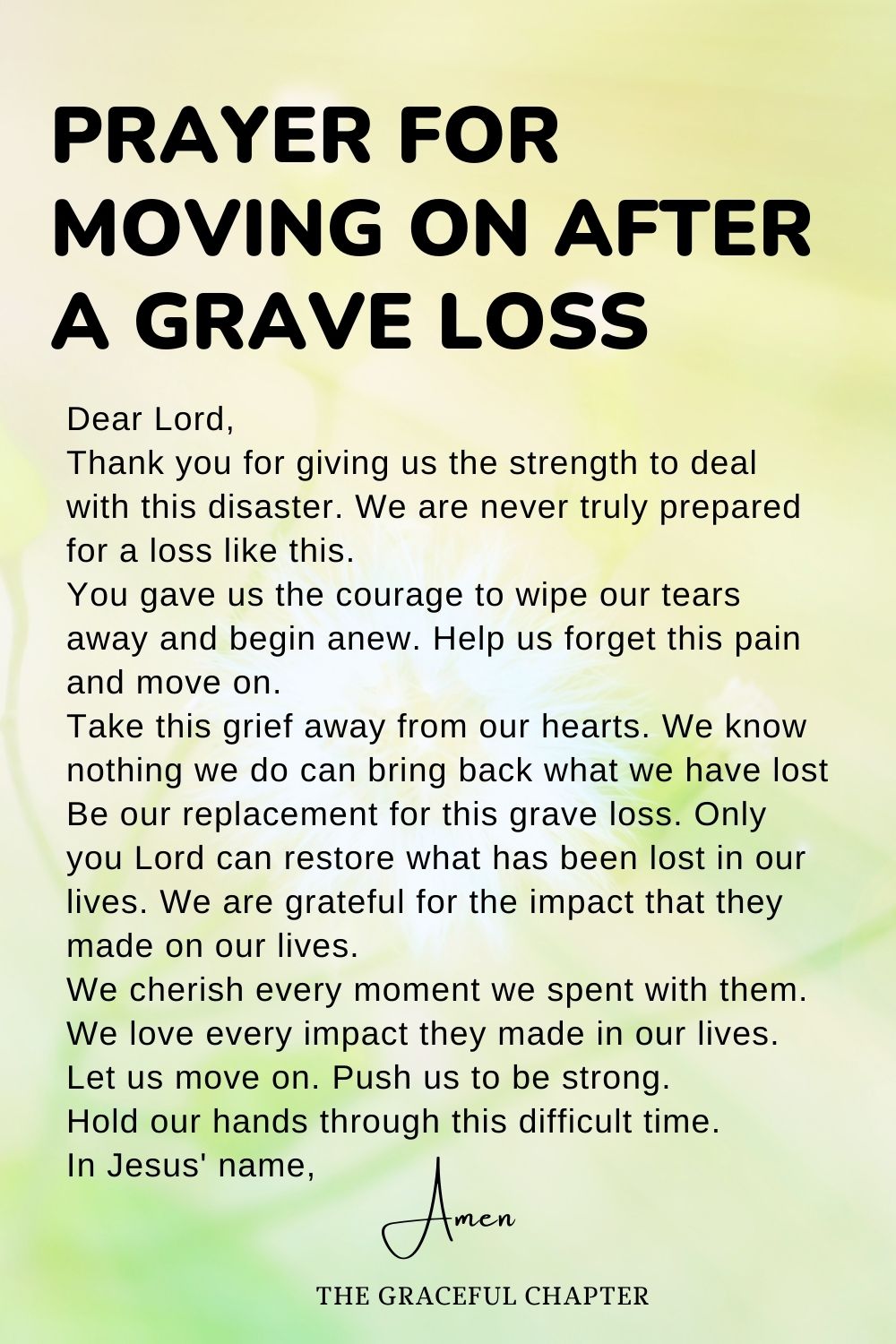 A new beginning is a new challenge. Imagine being at the foot of a very tall mountain. You might want to give up even without trying. God wants to tell you that he won't let you fall. It may be difficult but as sons and daughters of God, we can do anything.
Do not be afraid, be strong and courageous and the Lord will fight your battles for you. It is this conviction in grace and love that keeps us going on despite many challenges in life.