When times get really tough, it can cause our faith to waver a little and we begin to doubt God. But it is very important that we hold on to faith and not give in to our fears especially in difficult times.
The best way to keep the faith and our trust in God is to remind ourselves of His promises for us. That is why it is very important to read your Bible in such difficult times.
These faith Bible verses are to help you draw closer to God in these times. And to remind you of His love and His promises for those who abide and trust in Him completely.
What are you afraid of?
Every now and then, something happens in life that scares us. When this happens, our faith waver as we worry more about our problems.
When you concentrate on how many problems you have, you begin to lose any assurance that your problems will ever go away and that even scares you more.
And once you let fear in, you start losing faith. Fear shuts you down and stops you from going forward and fighting the good fight.
So it is very important to focus more on God and draw closer to Him. That way your faith in Him will keep growing stronger, because once you believe in Him, everything is possible.
Have faith, because God is at work even when you can't see. When things look dark, remember, it's always darkest just before the dawn appears. Your path is going to shine brighter and brighter until the new day has come.(Proverbs 4:18)
He sees you, He knows you, He sees what you are going through and if you believe in Him and trust His timing, He will make everything beautiful in your life. (Ecclesiastes 3:11)
You can check out our Bible study toolkit on choosing faith over fear and download for free.
Faith Bible Verses
Be anxious for nothing, but in everything by prayer and supplication, with thanksgiving, let your requests be made known to God.
Philippians 4:6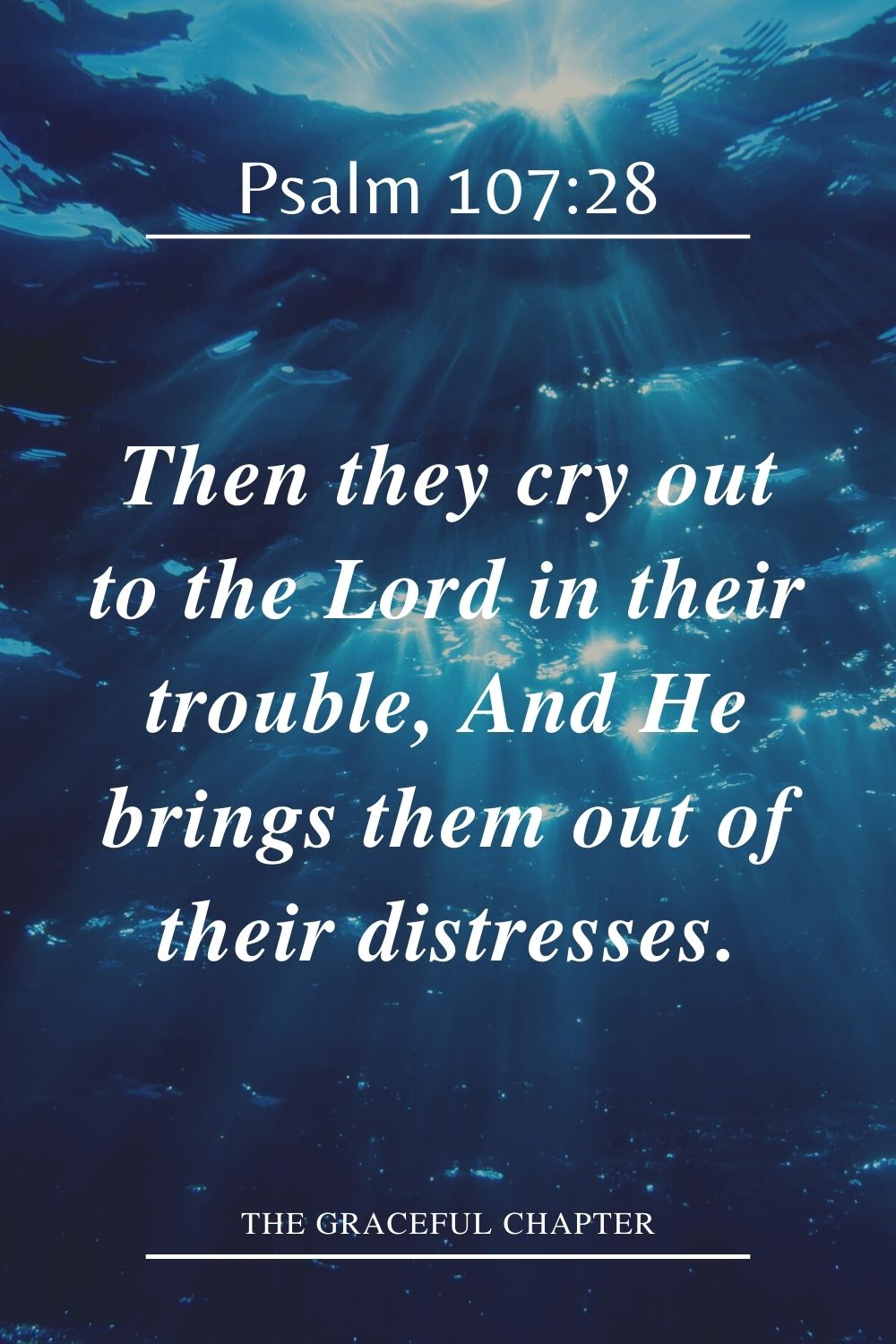 Then they cry out to the Lord in their trouble, And He brings them out of their distresses.
Psalm 107:28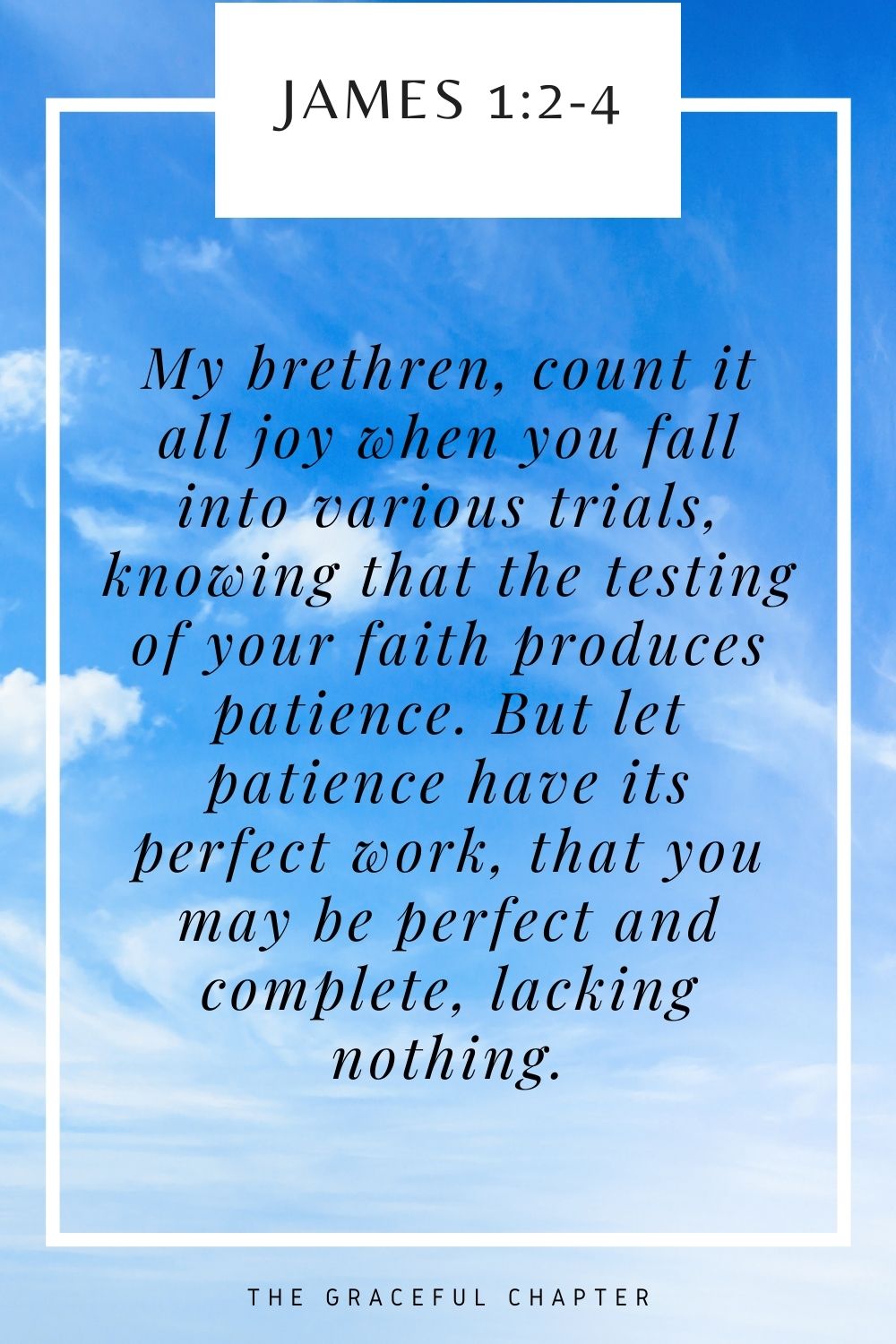 My brethren, count it all joy when you fall into various trials, knowing that the testing of your faith produces patience. But let patience have its perfect work, that you may be perfect and complete, lacking nothing.
James 1:2-4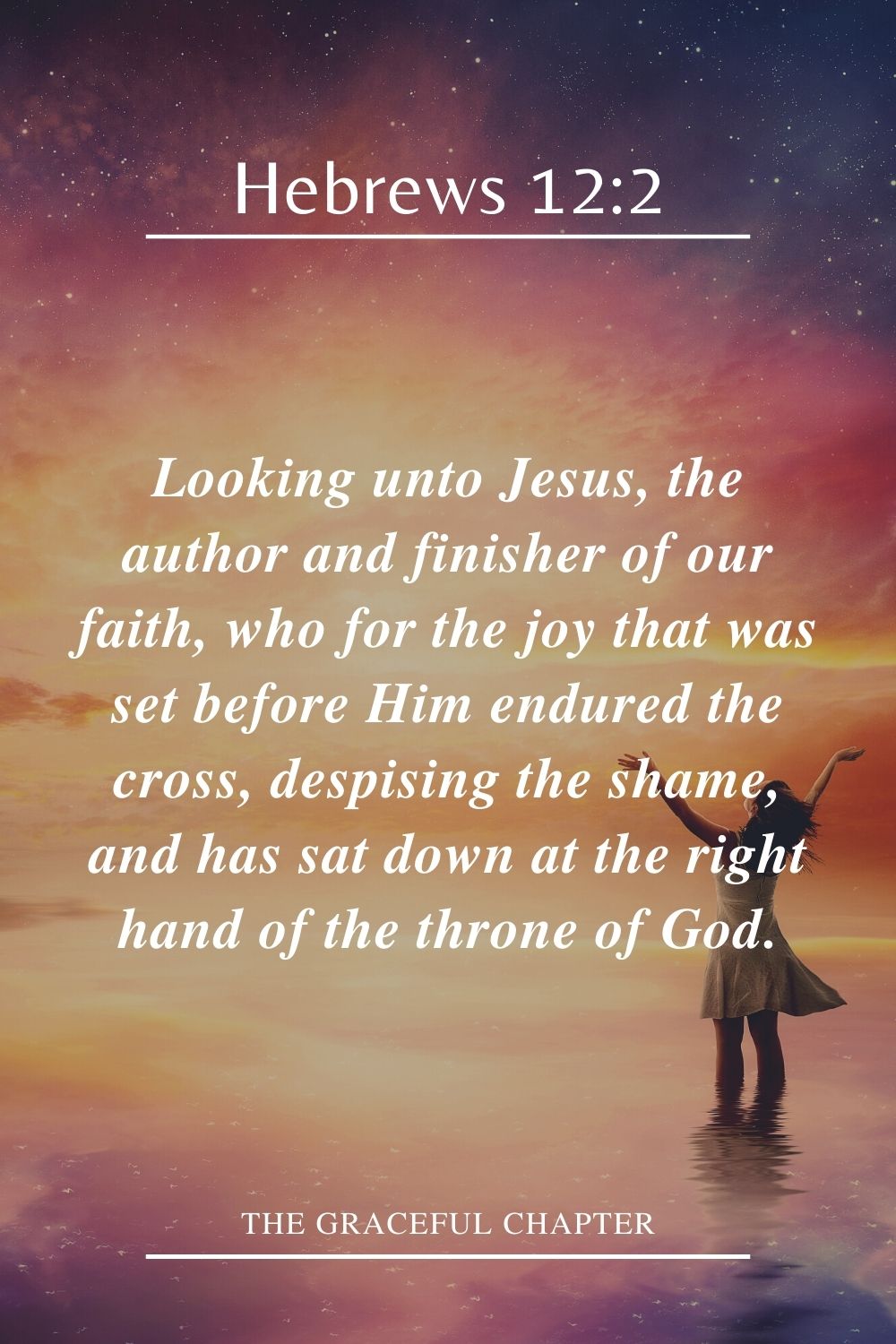 Looking unto Jesus, the author and finisher of our faith, who for the joy that was set before Him endured the cross, despising the shame, and has sat down at the right hand of the throne of God.
Hebrews 12:2
Fear not, for I am with you; Be not dismayed, for I am your God. I will strengthen you, Yes, I will help you, I will uphold you with My righteous right hand.
Isaiah 41:10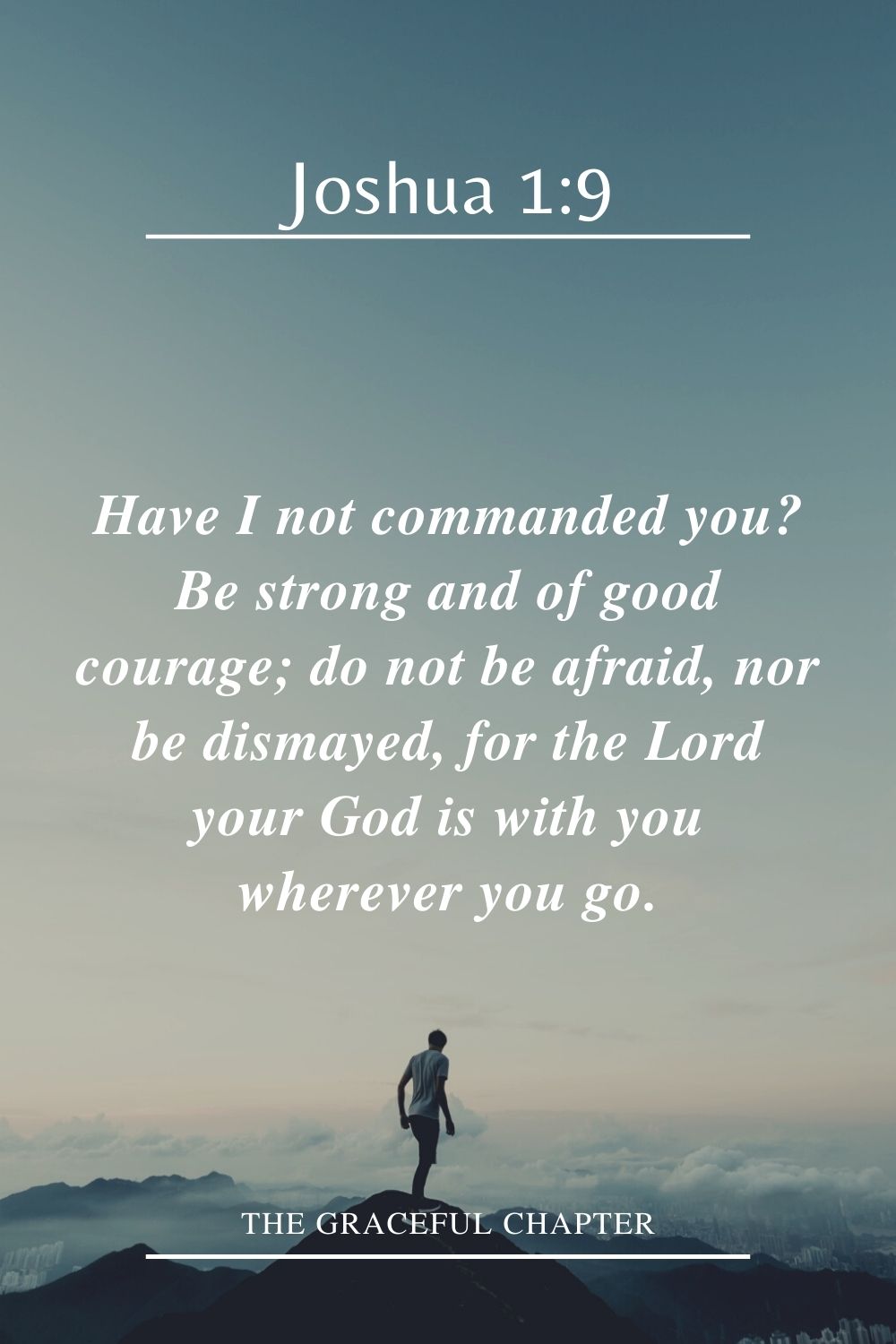 Have I not commanded you? Be strong and of good courage; do not be afraid, nor be dismayed, for the Lord your God is with you wherever you go.
Joshua 1:9
For God has not given us a spirit of fear, but of power and of love and of a sound mind.
2 Timothy 1:7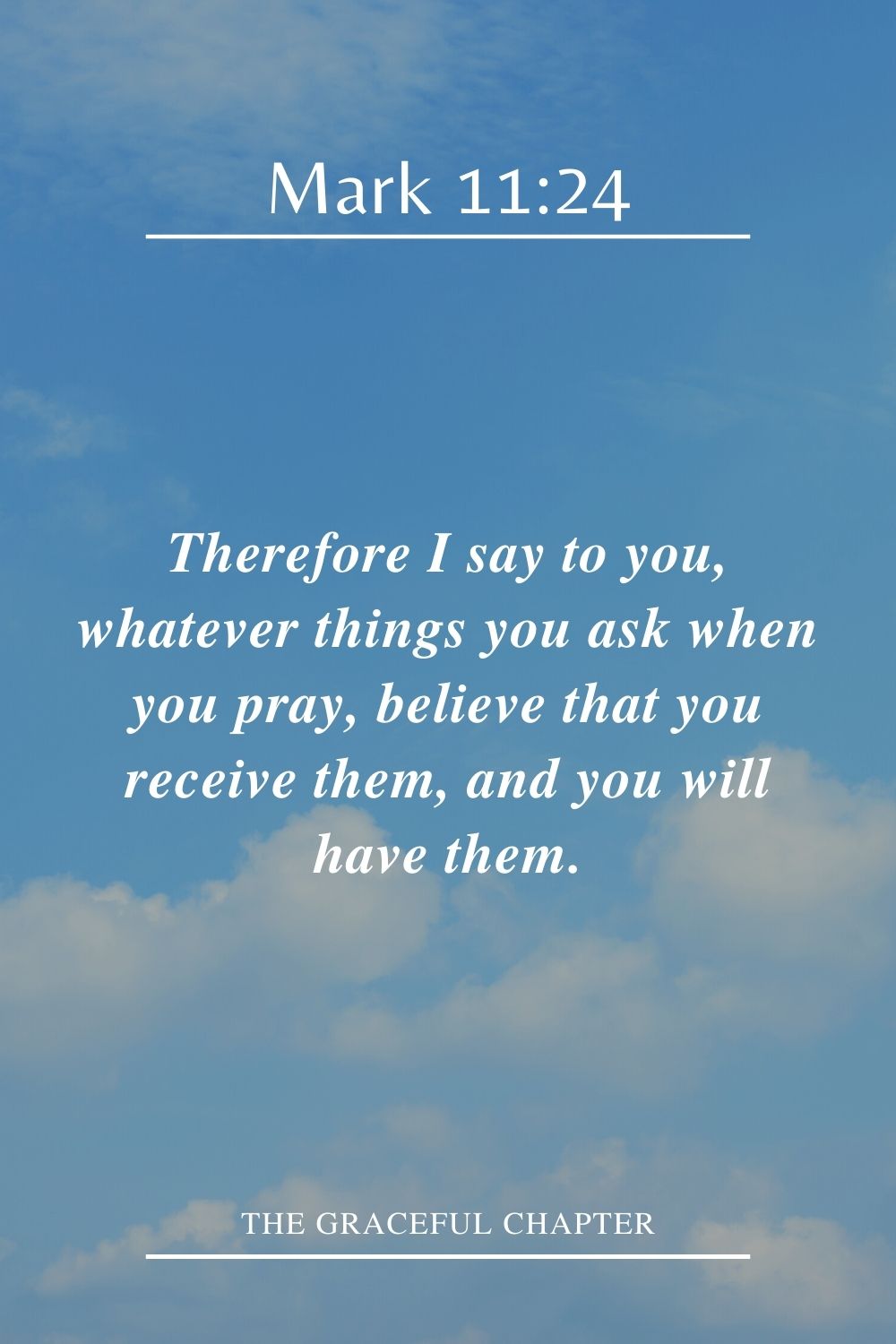 Therefore I say to you, whatever things you ask when you pray, believe that you receive them, and you will have them.
Mark 11:24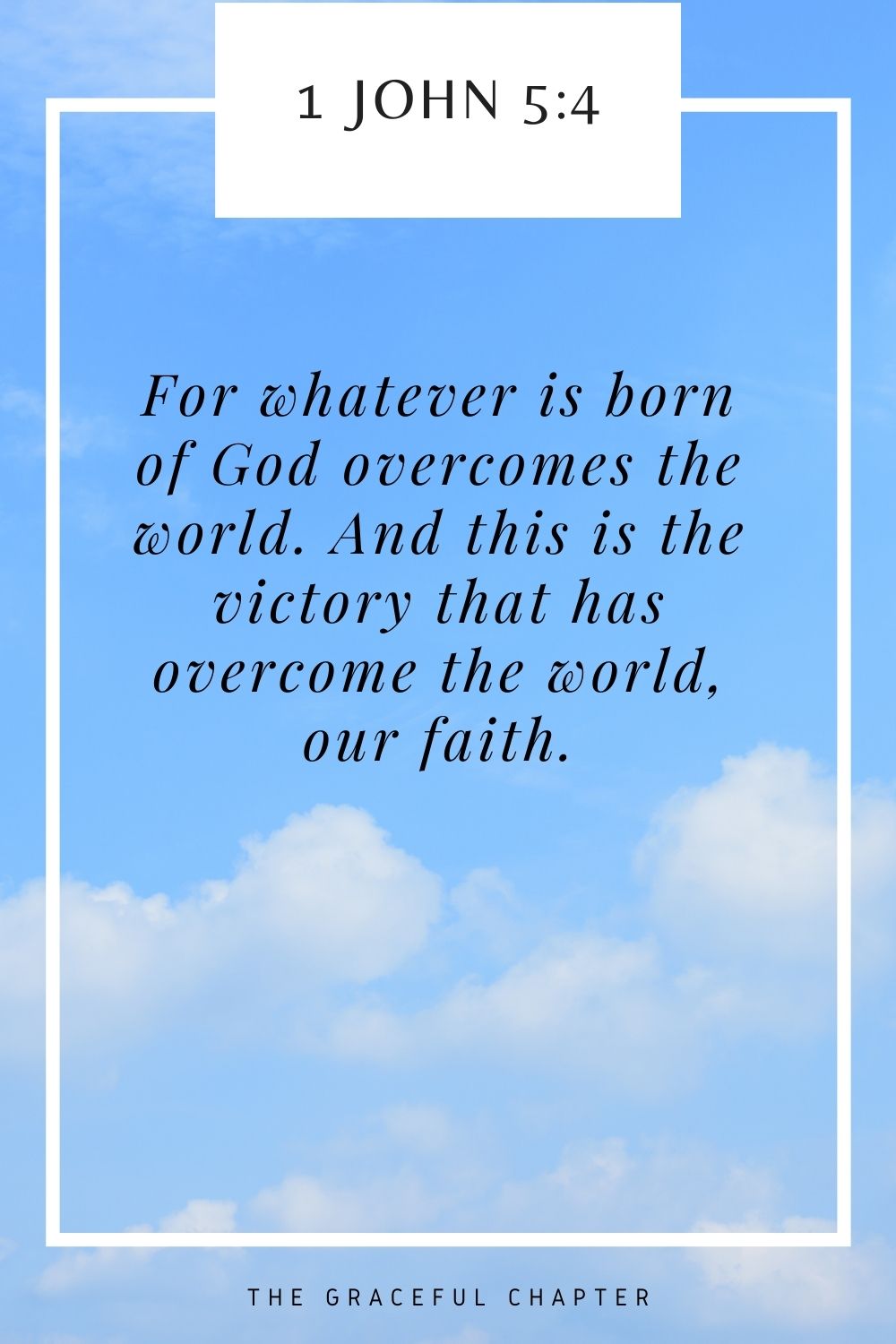 For whatever is born of God overcomes the world. And this is the victory that has overcome the world, our faith.
1 John 5:4
Therefore take up the whole armor of God, that you may be able to withstand in the evil day, and having done all, to stand.
Ephesians 6:13
But He said, "The things which are impossible with men are possible with God.
Luke 18:27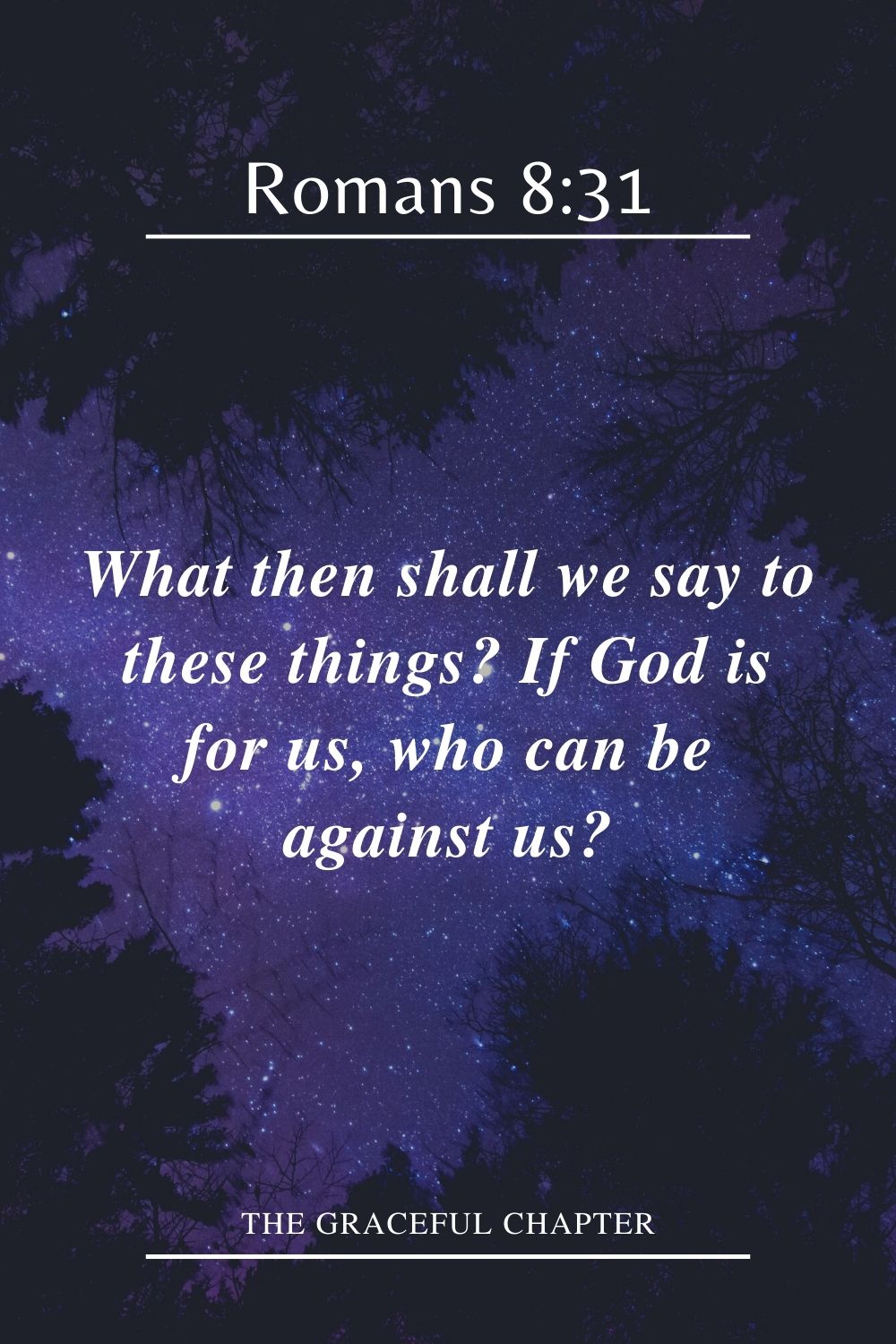 What then shall we say to these things? If God is for us, who can be against us?
Romans 8:31
So Jesus answered and said to them, "Assuredly, I say to you, if you have faith and do not doubt, you will not only do what was done to the fig tree, but also if you say to this mountain, 'Be removed and be cast into the sea,' it will be done.
Matthew 21:21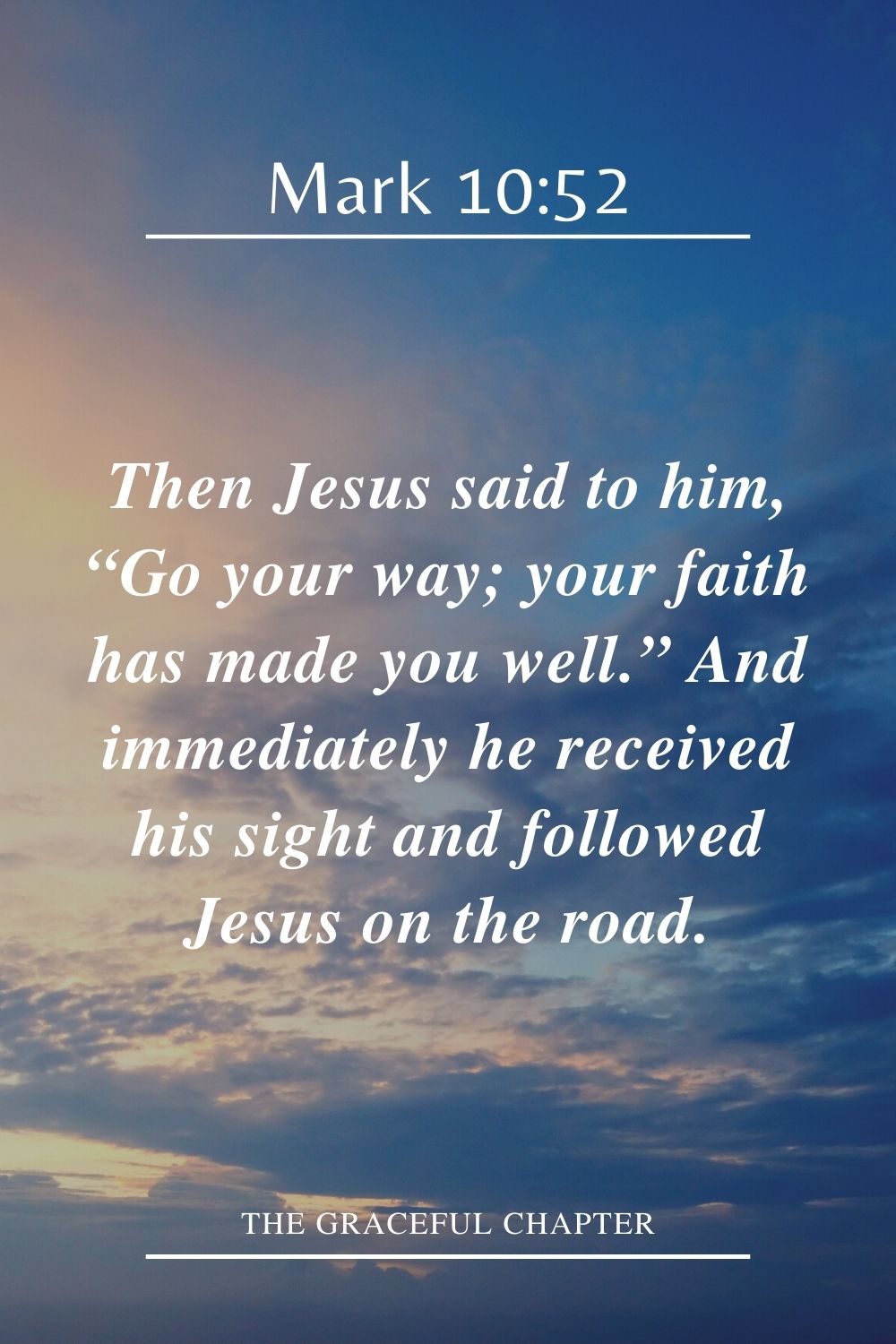 Then Jesus said to him, "Go your way; your faith has made you well." And immediately he received his sight and followed Jesus on the road.
Mark 10:52
Related Posts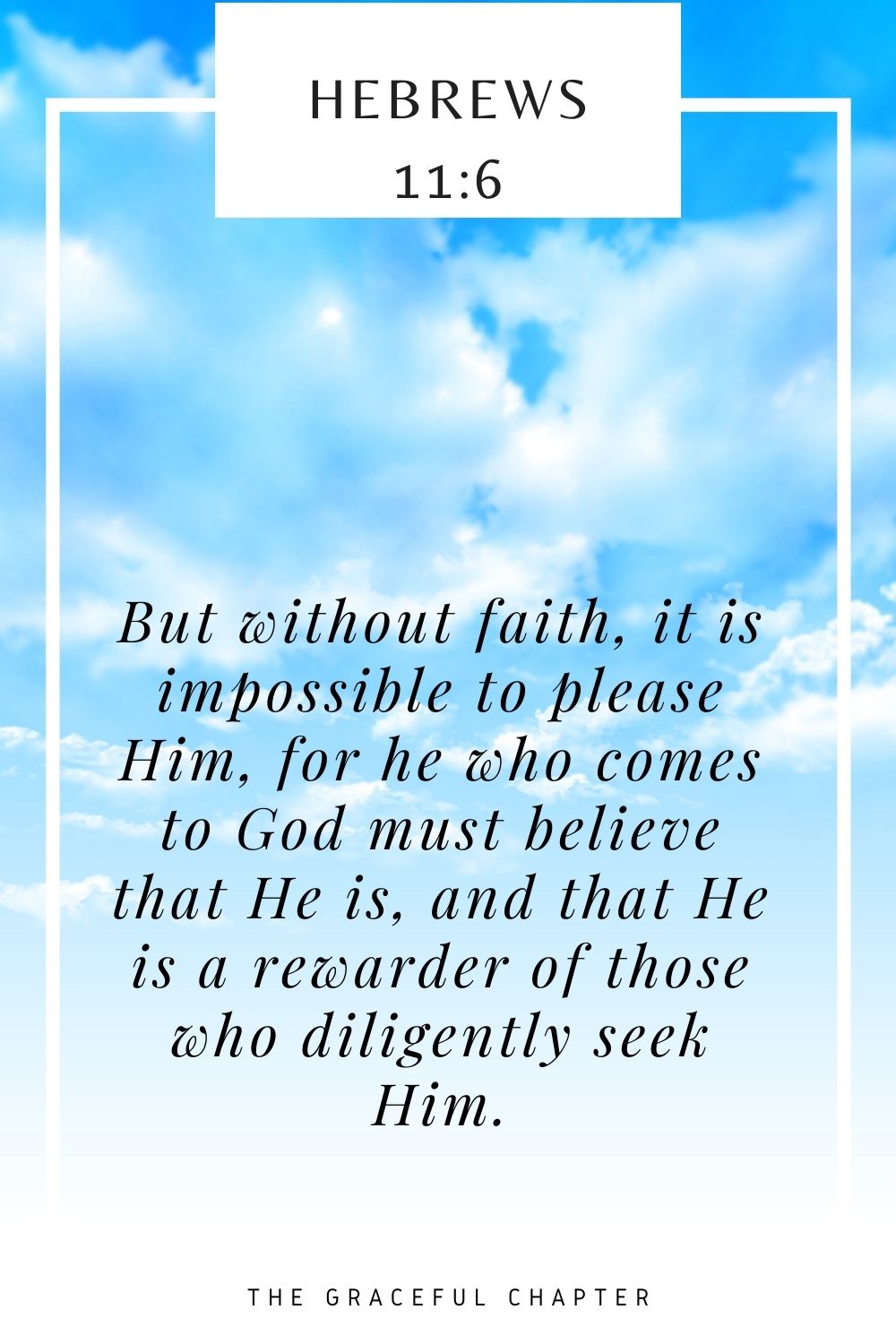 But without faith, it is impossible to please Him, for he who comes to God must believe that He is, and that He is a rewarder of those who diligently seek Him.
Hebrews 11:6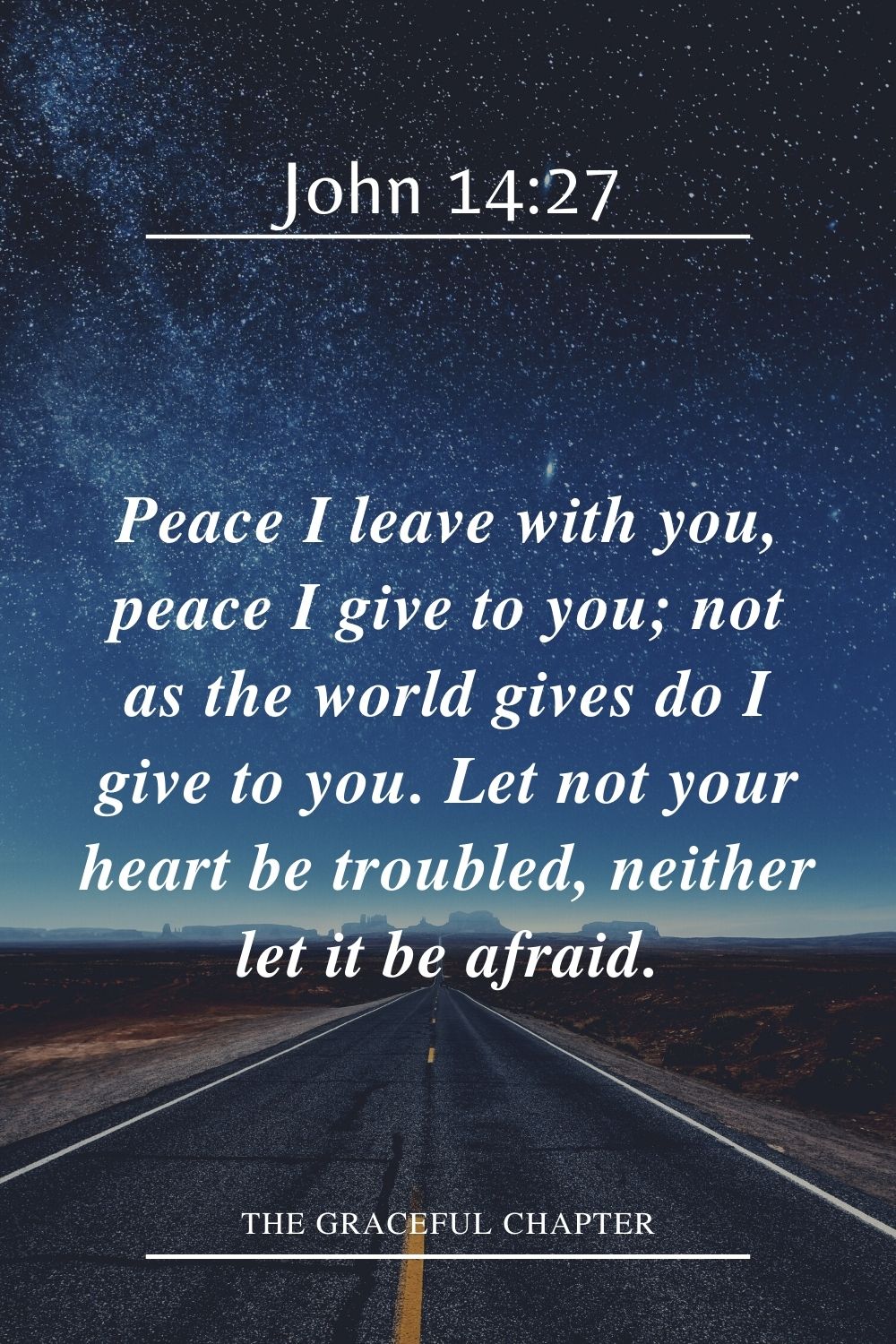 Peace I leave with you, peace I give to you; not as the world gives do I give to you. Let not your heart be troubled, neither let it be afraid.
John 14:27
Therefore we do not lose heart. Even though our outward man is perishing, yet the inward man is being renewed day by day. For our light affliction, which is but for a moment, is working for us a far more exceeding and eternal weight of glory.
2 Corinthians 4:16-17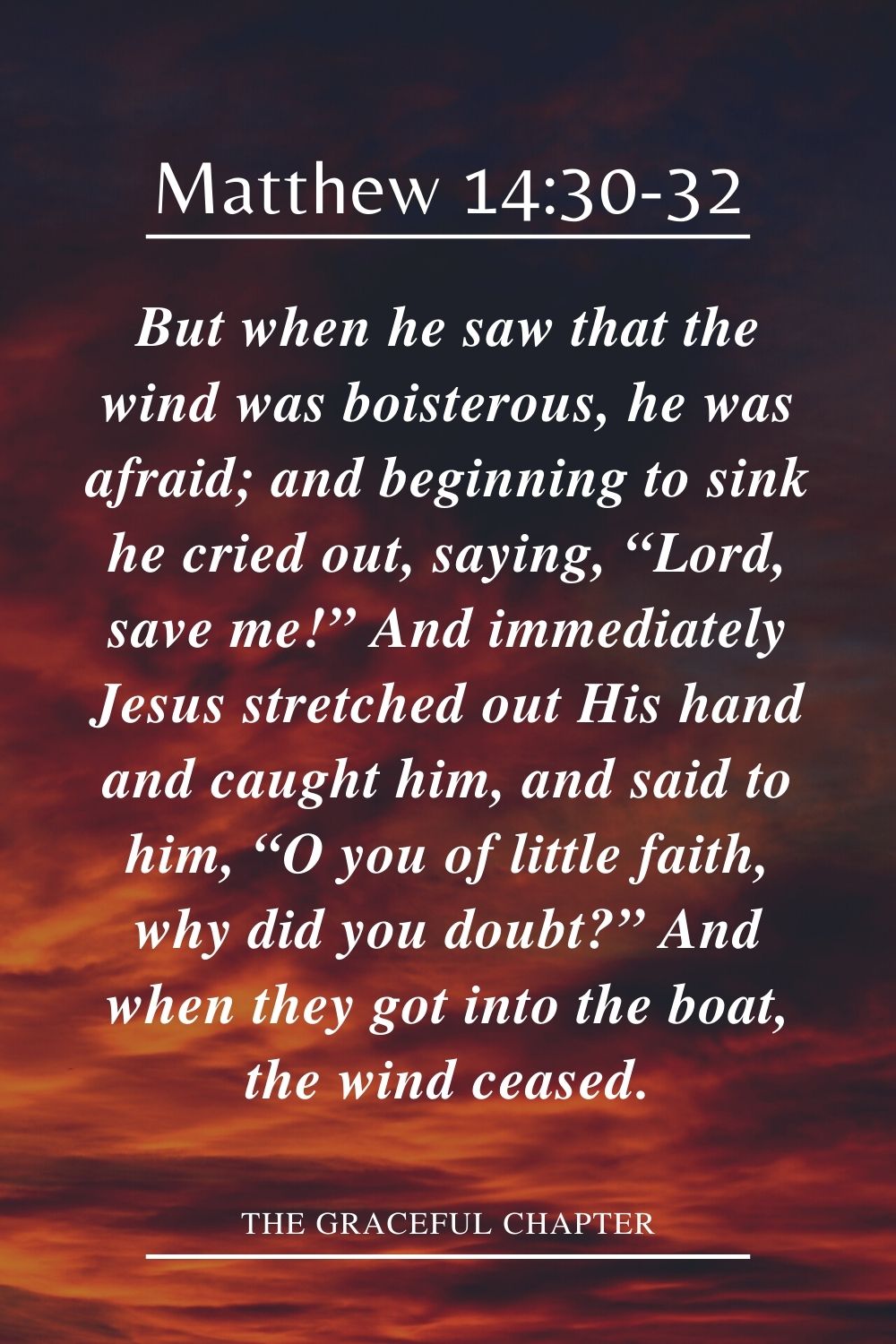 But when he saw that the wind was boisterous, he was afraid; and beginning to sink he cried out, saying, "Lord, save me!" And immediately Jesus stretched out His hand and caught him, and said to him, "O you of little faith, why did you doubt?" And when they got into the boat, the wind ceased.
Matthew 14:30-32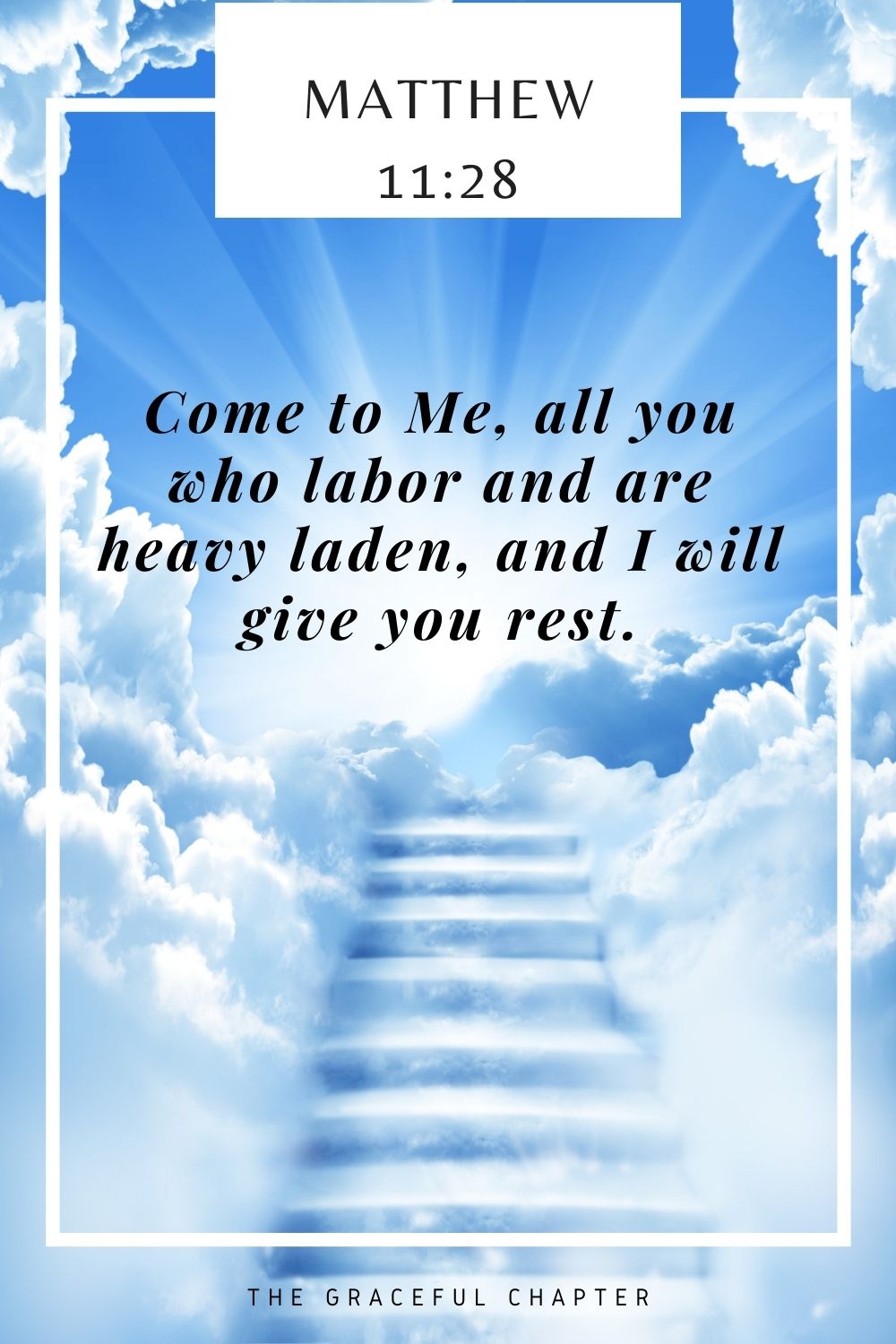 Come to Me, all you who labor and are heavy laden, and I will give you rest.
Matthew 11:28
Jesus said to him, "If you can believe, all things are possible to him who believes."
Mark 9:23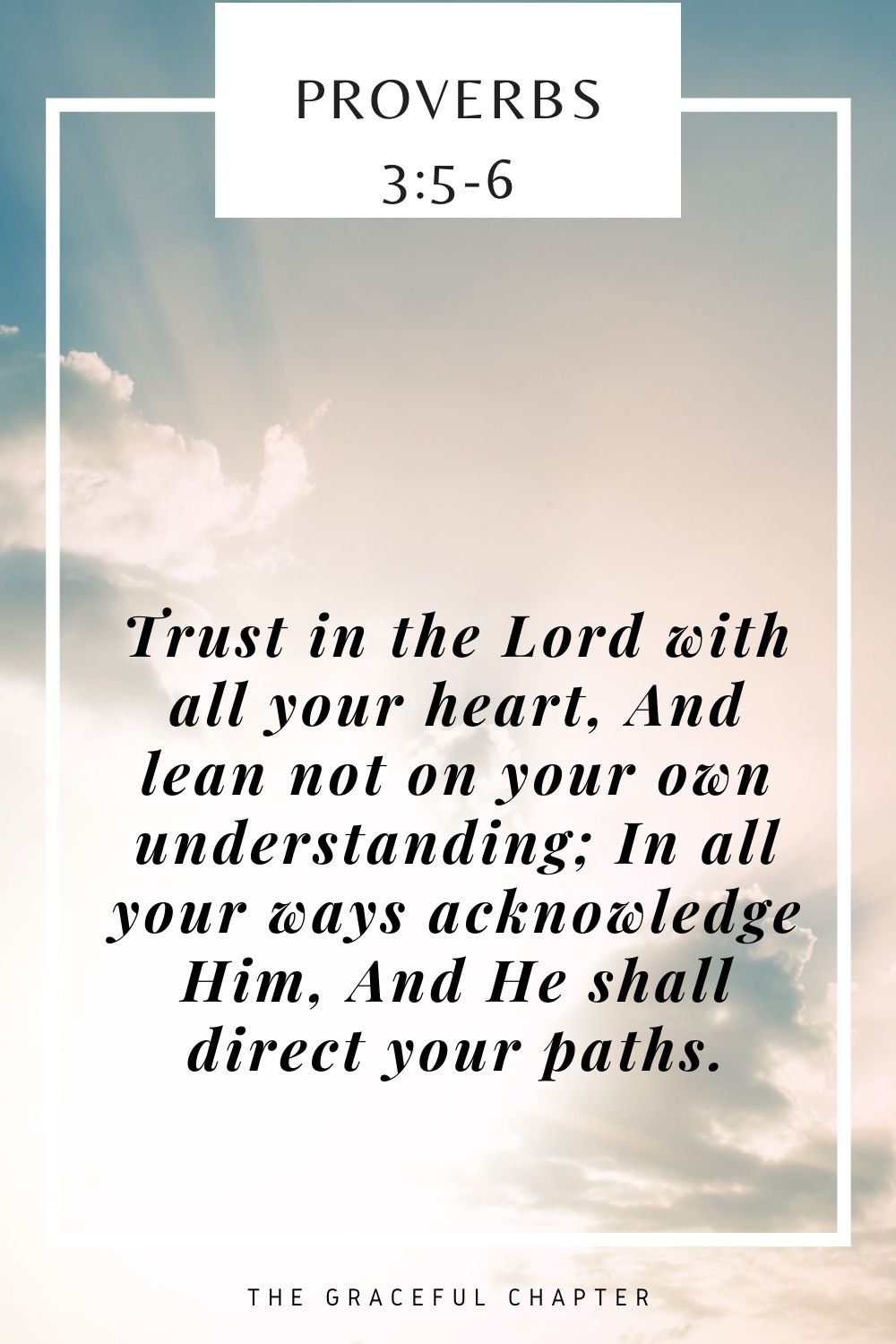 Trust in the Lord with all your heart, And lean not on your own understanding; In all your ways acknowledge Him, And He shall direct your paths.
Proverbs 3:5-6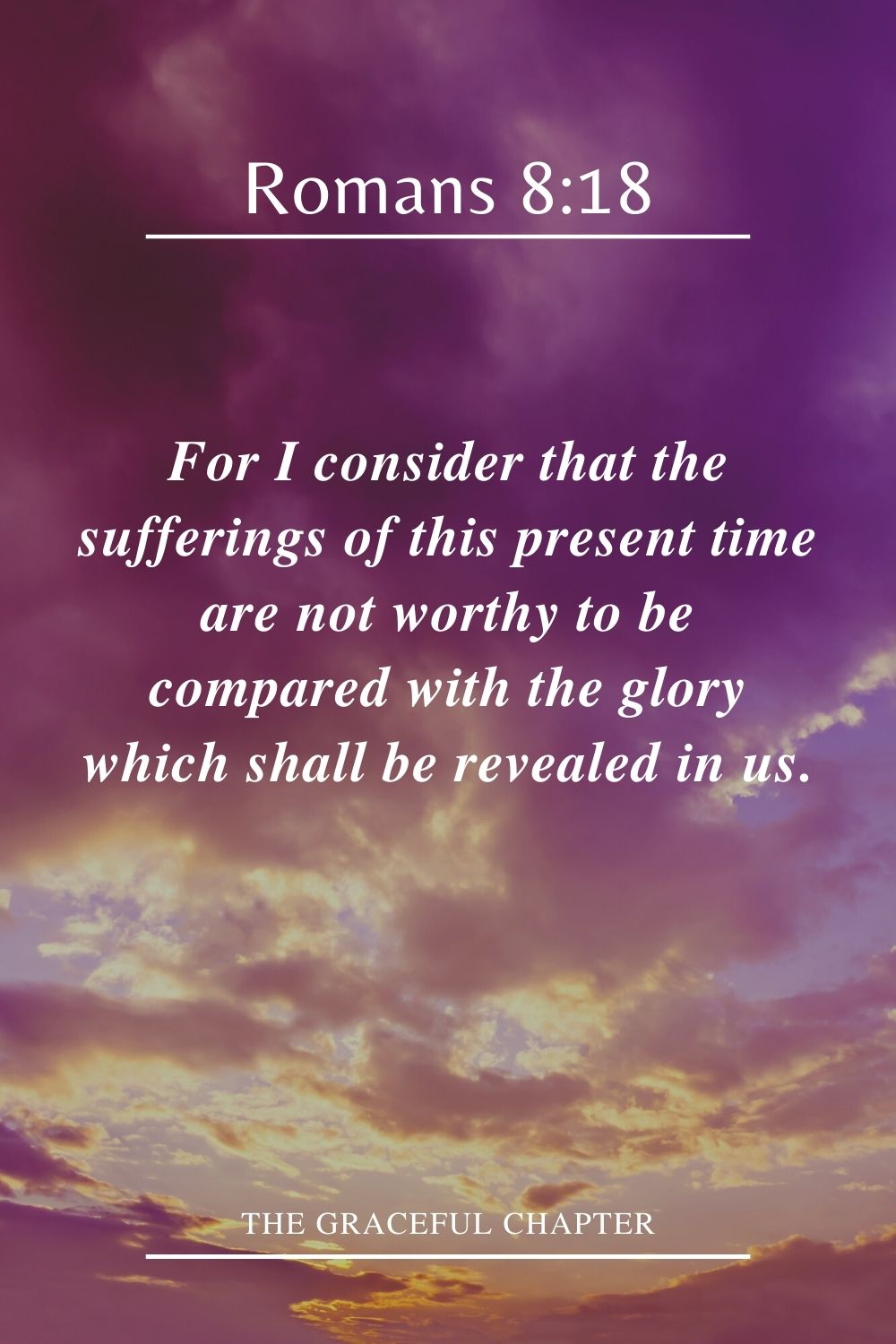 For I consider that the sufferings of this present time are not worthy to be compared with the glory which shall be revealed in us.
Romans 8:18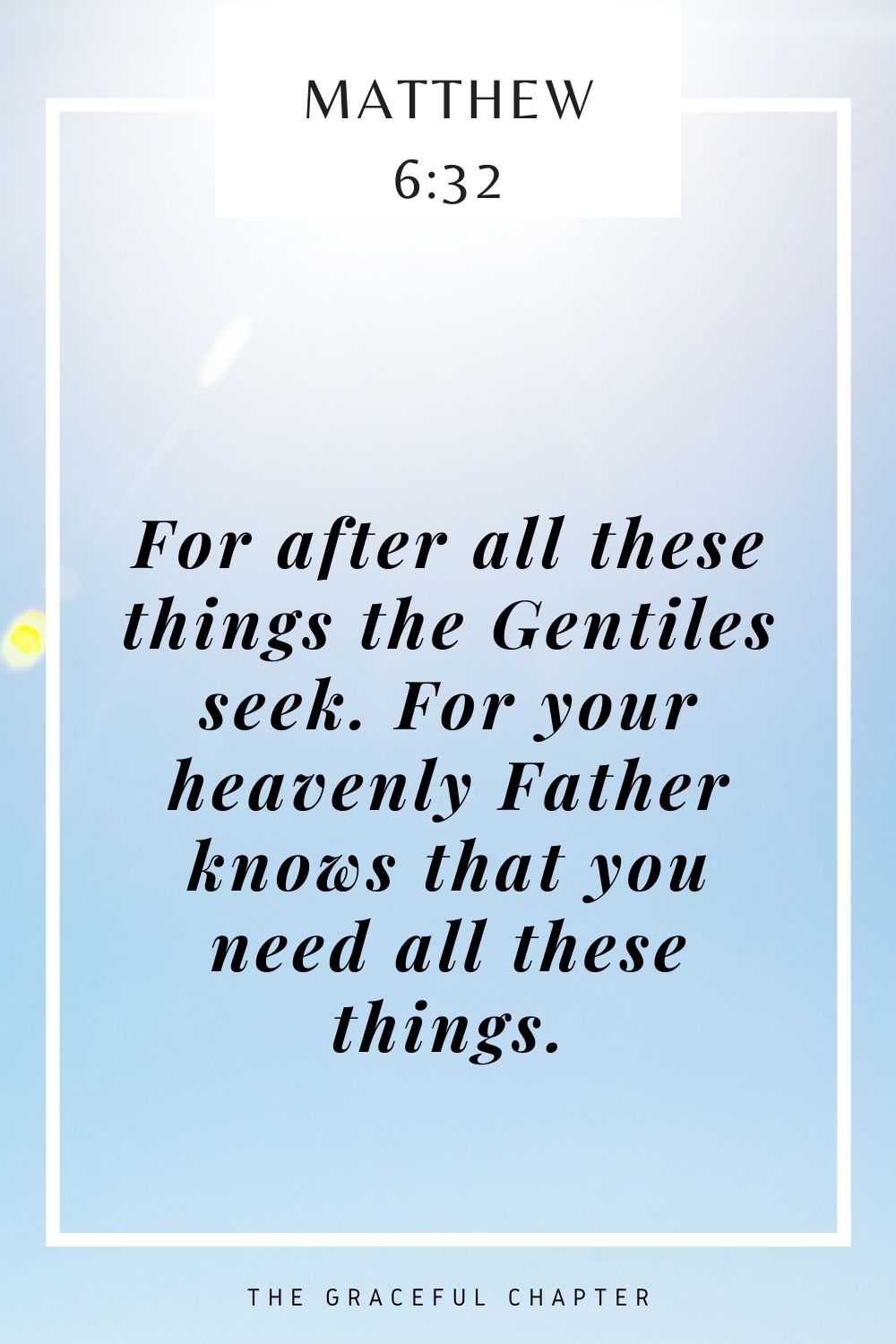 For after all these things the Gentiles seek. For your heavenly Father knows that you need all these things.
Matthew 6:32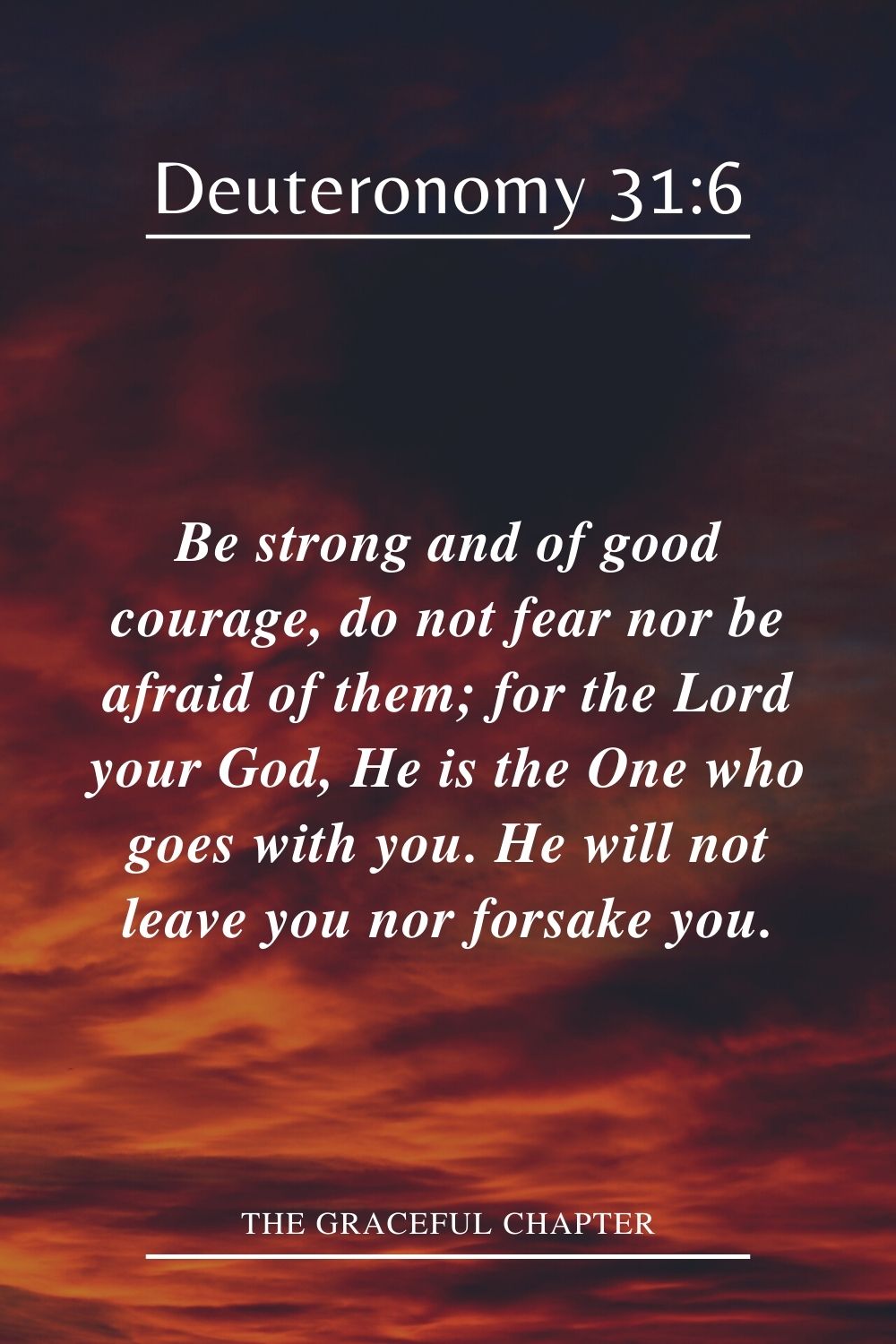 Be strong and of good courage, do not fear nor be afraid of them; for the Lord your God, He is the One who goes with you. He will not leave you nor forsake you.
Deuteronomy 31:6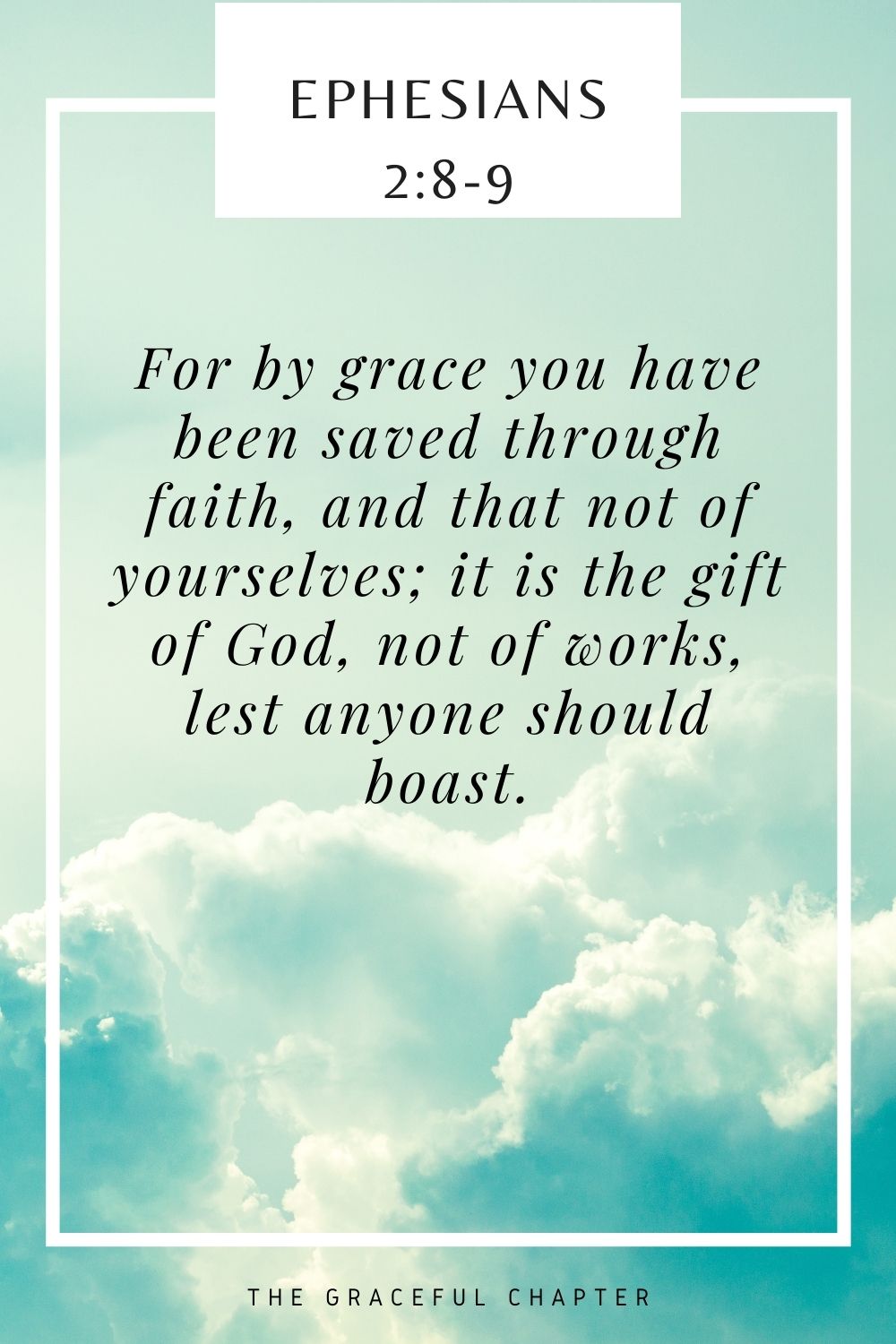 For by grace you have been saved through faith, and that not of yourselves; it is the gift of God, not of works, lest anyone should boast.
Ephesians 2:8-9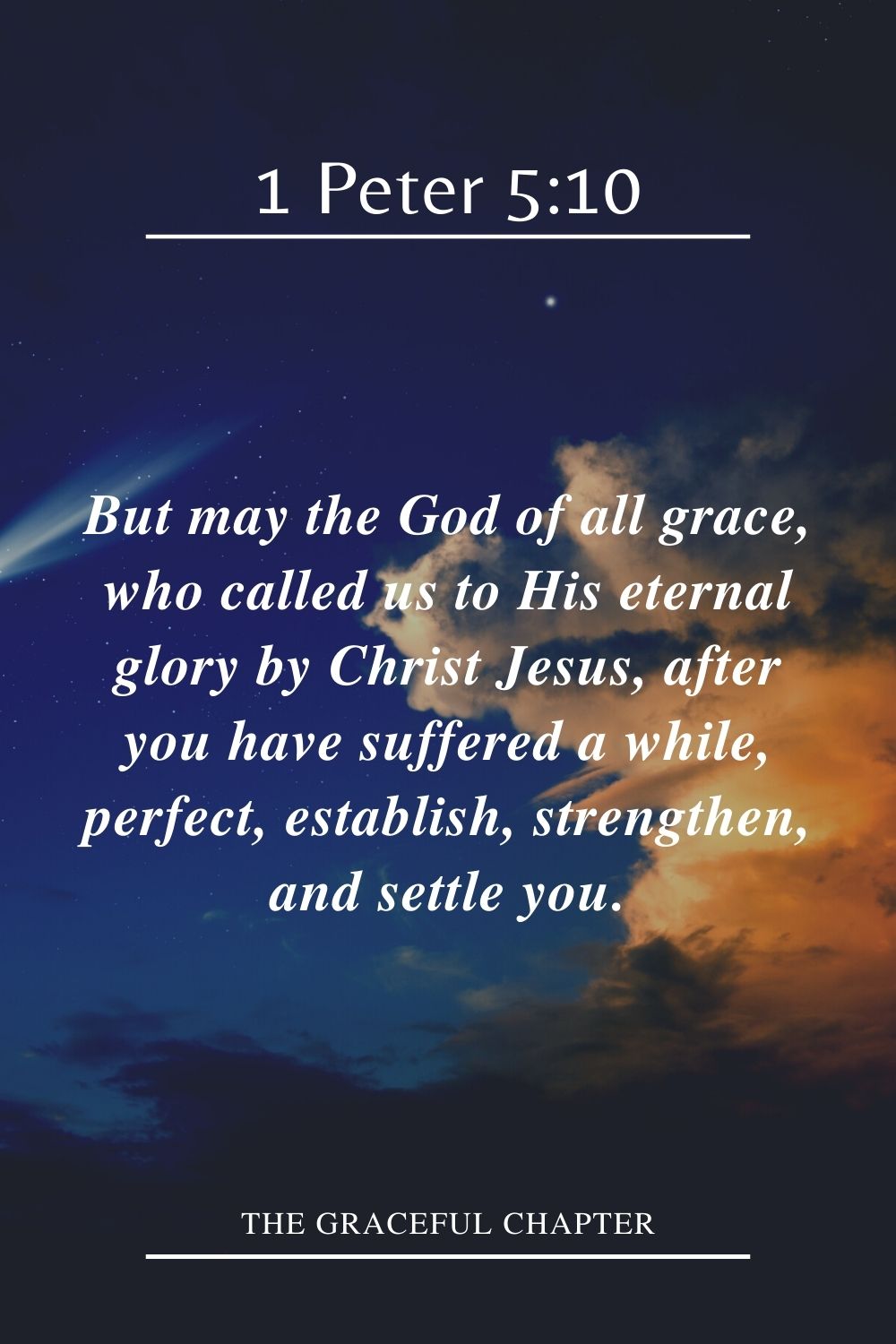 But may the God of all grace, who called us to His eternal glory by Christ Jesus, after you have suffered a while, perfect, establish, strengthen, and settle you.
1 Peter 5:10
So then faith comes by hearing, and hearing by the word of God.
Romans 10:17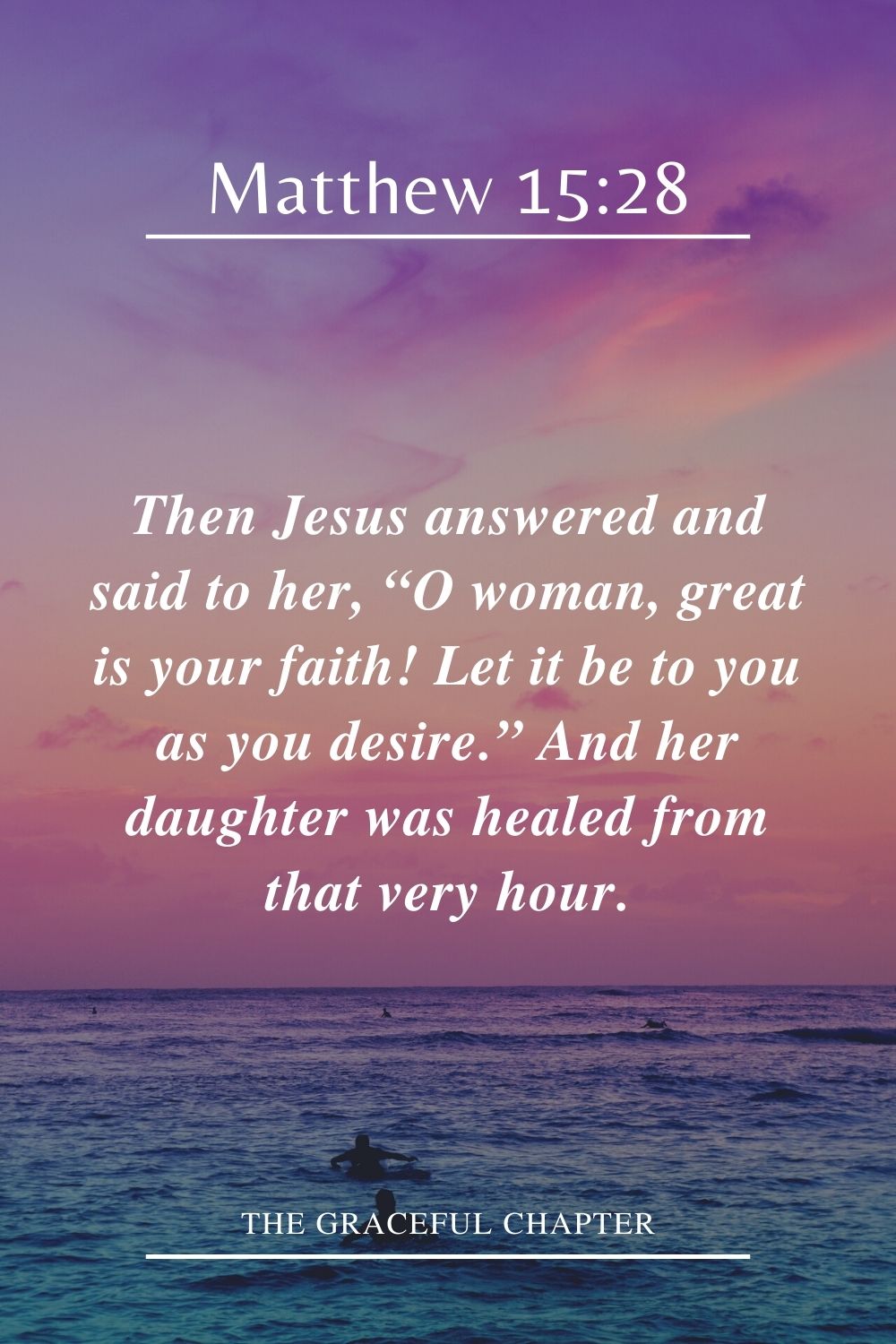 Then Jesus answered and said to her, "O woman, great is your faith! Let it be to you as you desire." And her daughter was healed from that very hour.
Matthew 15:28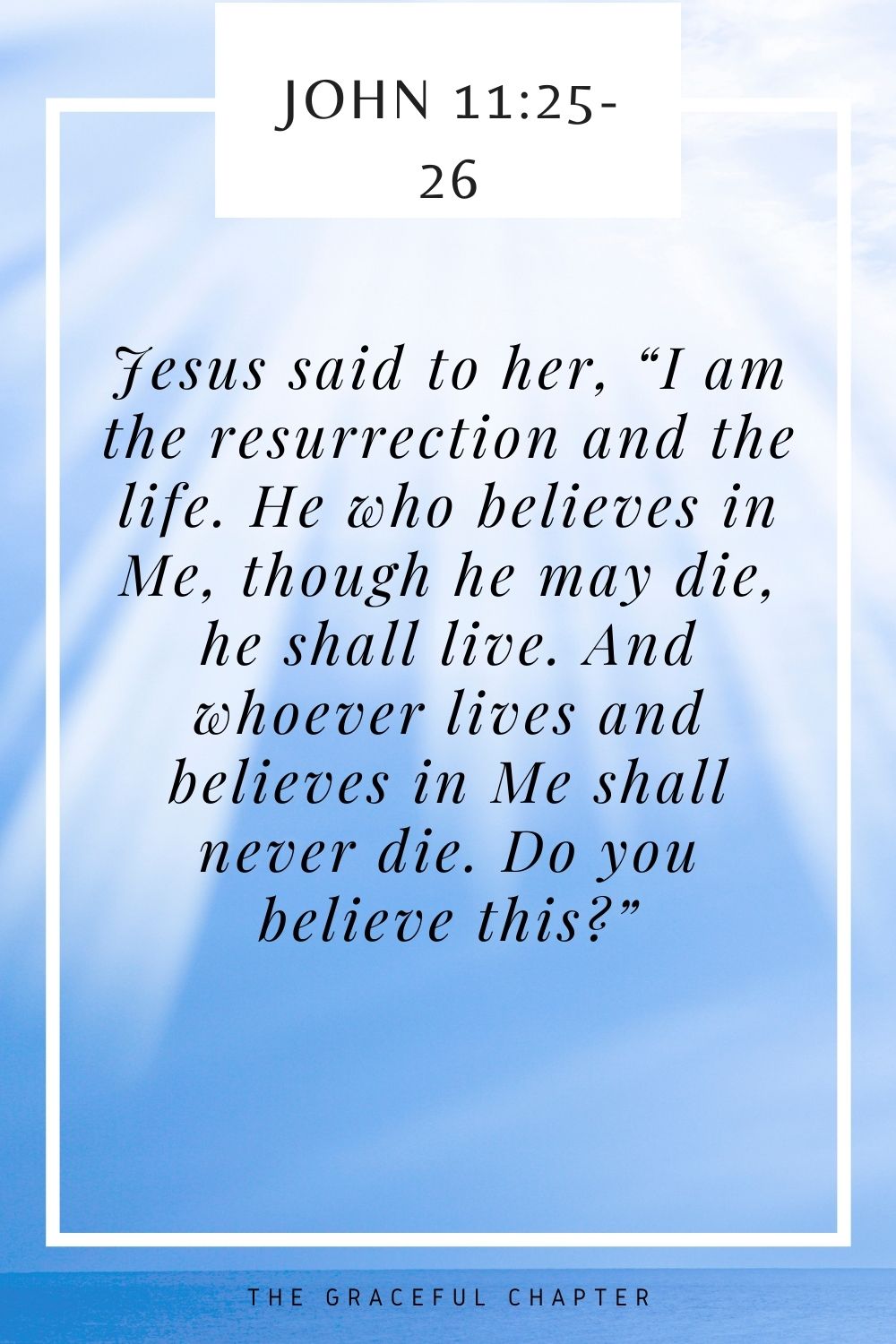 Jesus said to her, "I am the resurrection and the life. He who believes in Me, though he may die, he shall live. And whoever lives and believes in Me shall never die. Do you believe this?"
John 11:25-26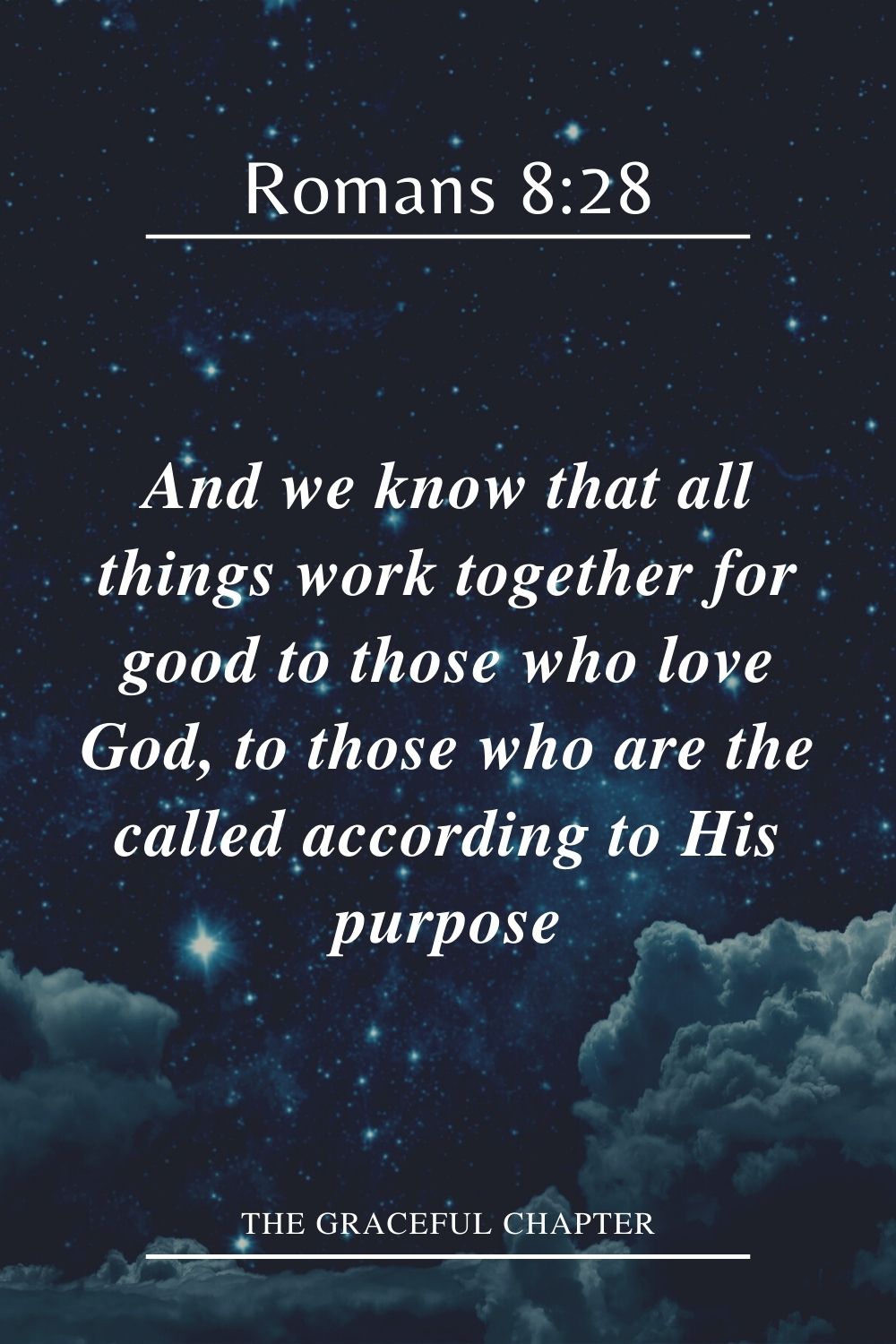 And we know that all things work together for good to those who love God, to those who are the called according to His purpose.
Romans 8:28
Prayer for difficult times
Heavenly Father,
Thank You for all You've been doing for me.
Father, You know everything happening in my life right now.
God, this is all too much for me and I can't do this on my own.
Please forgive me for worrying so much about my problems
and letting my faith fade.
Right now, I cast all my problems onto you.
I give you all of my stress.
I give you all my burdens.
Please take them from me and grant me with inner peace and serenity.
Comfort my heart, give me the strength to pull through each day.
Help me not to be discouraged but rather,
help me to grow in faith and trust in Your timing.
Thank you, Father, for listening to my prayer.
In Jesus' name, I have prayed.
Amen